This article may contain affiliate links; if you click on a shopping link and make a purchase I may receive a commission. As an Amazon Associate, I earn from qualifying purchases.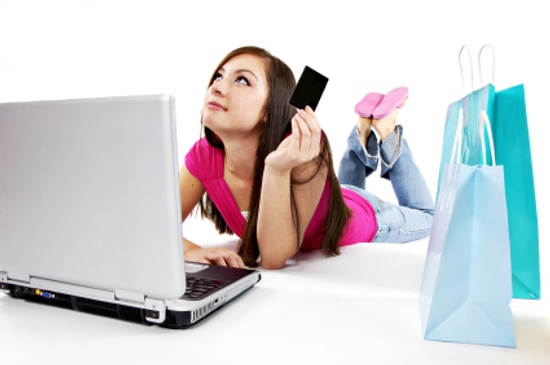 For a long time, I was terrified of eBay. I didn't understand it, and felt that I could easily be scammed by sellers who were passing off fakes as authentic, taking my money and not sending me items, pretty much getting screwed by the whole process.
A few years ago, I fell madly in love with the Sandhurst hobo bag from Banana Republic. I went into the store often to drool over it. I would stand in front of a mirror, hold it in my hand, sling over my shoulder, and admire my reflection. However, I just couldn't afford the price. A friend suggested I look for it on eBay. I did, found a seller who had the exact style and color I desired and was able to get the bag brand new in its dust cover for 30% off the retail price.
After that I was hooked on eBay for brand-name accessories. If I loved a certain necklace from J. Crew or bag from Rebecca Minkoff, I would get the style number and name, the color, the measurements, and then head to eBay. Often times I could find it, and for far cheaper than retail.
I don't claim to be an eBay expert, but many of you have asked about how I go about shopping on the site. Here's some of my tips and tricks for navigating eBay: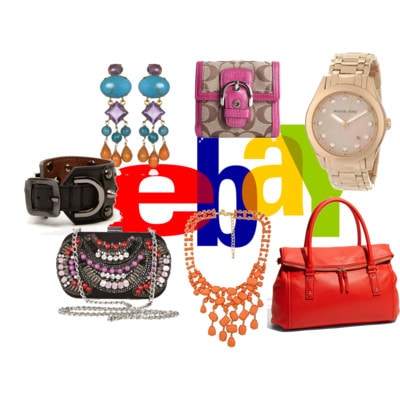 Shopping for Accessories on eBay
When You Know Exactly What You Want
So you want the Essex bag from Kate Spade? Before you buy retail, head to eBay. There are lots of reasons why people are selling items on eBay. Maybe they got it as a gift or won it in a contest, possibly they are thinning out their collection, maybe it's a store sample, and yes maybe it's hot or a fake.
The search function on eBay is pretty robust. I usually start by typing in the brand and style name into the search function (you can often find this info on Google if you don't already know it). If that doesn't give me the results I desire, I will make the search broader and just enter the brand name, and then the type of item (handbag, jewelry, sunglasses, etc.). Often times sellers do not know the style name or number, so by adding that to your search you may end up with zero results.
I then search through the selections and in a separate browser tab/window, open any that fit my criteria. I then look at each different auction. Are they really the same item and color? What is the condition of each? Who has the better options and price for shipping? What are their return policies?
I look at the seller – I care less about how many thousands of sales they have had, and more on the quality of their feedback. I go and read the feedback; I am especially interested in negative and neutral feedback. Recently I purchased a blouse from a seller who claimed the item was New Without Tags, never worn, pristine condition. When I received it, it was missing a button. I left neutral feedback, as that the blouse was as described except for the fact that a very important button (cannot be replaced) was missing and this was not in the description. The seller contacted me, angry about the neutral feedback and asked for me to return the blouse and remove my feedback. I again looked at her feedback and saw that in the past six months she had two other neutral feedbacks from folks stating their items were not quite as described. I chose to leave that feedback to warn future customers; I wonder how many either didn't notice their purchase's flaw or accepted the seller's offer to return the item and remove the feedback.
Once I find the item and seller that I like, I stop and think, what is the maximum amount I would pay for this item? I then write it down so it is more concrete. I bid, and I NEVER go over that number. eBay will let you know when you are close to being outbid and when you have been outbid, and it's so tempting to add a couple more dollars just to stay in the game. DON'T. I have a friend who admitted she spent $50 more on an item on eBay than it cost in the store just because she got caught up in the thrill of the auction. I feel that if you are bidding within 30% of the actual retail price for something on eBay it's usually not worth it. Wait until you get a store coupon so you have the customer service to go with the item in case there is an issue/need for repairs or a return.
Nine times out of ten what you are bidding for on eBay you don't need in the first place, so if it's not in your price range, let it go. Seriously, let it go.
Once you get your item, carefully open the shipping package and inspect it from head to toe. Does it match the photos and description of the item? Were you extravagantly overcharged for the shipping? If you are happy, leave quick and detailed feedback about the shipping, the price, the quality, the communication of the seller. If you find an issue, let the seller know; she may offer a quick solution. If you're wildly unhappy, don't keep it to yourself – let the seller know and let the world know with your feedback. Feedback isn't just for the seller, it's for future customers, future yous who want to buy and know they are getting their money's worth.
When You Don't Know What You Want
You can search more general terms like "Stella and Dot ring" or "Ann Taylor" and then use the eBay-offered categories to break down to jewelry or shoes or bags. From there you can usually break it down even further by color, size, and specific type of item. I usually don't, and let my mouse do the walking through dozens of pages of auctions while I eat my lunch or wait for a friend to arrive. If you don't know what you want, it's good to really take a tour because you may be pleasantly surprised with what you find. A search for peacock-feather earrings ended up finding me a great dress for Bonnaroo; a search for a charm bracelet got me my Anthropologie crystal bracelet.
As with others, investigate your seller, and write down a final price. Be sure to check shipping prices – sometimes they are so high (or coming from overseas) that it's not worth it to wait for it to arrive, or you might as well buy it retail.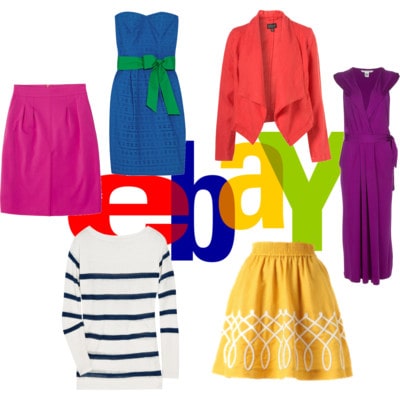 Shopping for Clothing on eBay
I hardly ever go outside my brand comfort zone on eBay. I shop brands whose fit I know is consistent. It is either something I have already tried on in a store, or a designer with whom I am very familiar (hello Ann Taylor). Keep in mind, even your go-to brand (hello Ann Taylor!) changes its sizing over the years – you may be an 8 at that brand, but if the item is five years old you may find an 8 to be a bit snug.
The only time I will go outside my complete comfort zone is with vintage clothing, and then I have to have very detailed clothing measurements in the description. If you have questions, ask them! Ask the seller for a photo of the back view of the dress, ask if the skirt is lined or what type of slit it has in the back. Ask if it's more of a midnight navy or a dark blue, and ask for the fabric content. If you are unsure of the year, ask to see a photo of the label (most retailers slightly change the logo or look of their label every couple of years – you can often Google to find a timeline of the brand's logo). It sucks to receive an item that isn't want you believed it to be and go back and realize the seller didn't misrepresent, you just filled in the blanks without asking.
I prefer a seller who has multiple pictures of an item, and of the actual item, not a JPEG lifted off of Google Images. This way I really know I am getting what I desire.
eBay Shopping Support
PayPal: If you don't already have a PayPal account, you will need one to shop on eBay. I prefer PayPal to credit cards for online shopping because I have less chance for identity theft. PayPal is very user secure and friendly, and you can easily set it up to your checking account (or multiple bank accounts) so when you have a $0 PayPal balance, it will just withdraw right from your bank.
PayPal can be used at so many other sites online (hello Etsy, drugstore.com,Lands End Canvas and Zappos and more!) that it makes sense to have an account with them.


eSnipe: I haven't used eSnipe in a while, but loved it back when I was looking for my Sandhurst bag. My hairdresser told me about it, and it has helped me score some great prices on eBay auctions. Instead of having to constantly stalk your auction to ensure you have the highest price, eSnipe will do it for you. Tell them your maximum price that you are willing to pay and in the last couple of seconds of an auction eSnipe will bid on your behalf, helping you win the auction, and not go above your budget.  FYI, eSnipe is now only free for a trial period, and then has a slight cost.
Ebates: I have a love affair with Ebates.  Sign up for free, visit Ebates before heading to most online shops and get cash back on your purchase.  They have popular online retailers like Sephora, Nordstrom, Target, Ann Taylor and Old Navy, but Ebates also gives you 1-4% cash back on all purchases on eBay!
Ebates gives you an actual check once a quarter, no points to redeem, no gift cards, actual cash.  No spam, no strings, just 30 seconds for money back.  Be sure to sign up and visit Ebates each time before you head to eBay!
Some eBay Acronyms to Know:
NWT – New with Tags. This means the tags should be ATTACHED unless otherwise stated in the description
NWOT – New without tags. This means new condition, an item could be found at a store like this. No perfume, no dog hair, no creases from wear.
NWOB – New without box. (everytime I see this acronym I think NKOTB)
NRFB – Never removed from the box
EUC – Excellent used condition. Means like-new, though not as perfect as NWOT.
MNT – Mint condition (again doesn't mean new, but is closer to NWOT)
VGC – Very good condition.  This means the item was worn, but is still in wearable condition (no stains, holes, etc.)
GUC or GU – Good used condition. This description has many shades of gray and it's important to know details, see detailed photos and ask questions to fill in the blanks.
NBW – Never been worn
TTS – True to size
S/S or SS – Short-sleeved
L/S or LS – Long-sleeved
FB – Feeback
DBL – Double
FP – Fixed price
GBP – Great British Pounds
ITF – Impossible to find (often used in title for limited-edition pieces)
VHTF – Very hard to find (ditto, often in auction titles)
eBay Etiquette
Leave feedback. No matter what you purchased, or how many times you shopped from the same seller, leave feedback for every individual purchase you make. Many people make their living off of eBay auctions, and your feedback supports their livelihood. Feedback also helps your fellow shoppers, letting them know who to trust, and who to avoid.
Pay promptly. If you don't have the money, you shouldn't be bidding in the first place. When I win an auction, I pay within 24 hours. I have sold on eBay and it's frustrating to have to chase down a customer to beg for your money. Not paying promptly is like being rude to your waiter – he will care less about pleasing you and you may get spit in your soup… or a delayed shipment.
Pay. Again, if you don't have the money, you shouldn't be bidding. Winning an auction and then never paying won't just give you negative feedback, but will also screw over the seller. There is a lot of steps a seller has to take to prove that you didn't keep up your end of the bargain, to get back their selling fee, and finally be able to re-list the item. A good month could go by and that's possibly the rent or grocery bill for that seller.
If something unexpected happens where you just can't pay… contact the seller. Let them know as soon as possible. Don't hide and ignore the invoices you will receive. Bad things happen to good people, we have all been there. Don't leave your seller high and dry.
Accept the seller's terms. As a previous eBay seller, nothing is more frustrating than having a person from Belgium try to bid on an item when I clearly stated I only ship to the US. I have had sellers try to pay via money order when I write that I only accept PayPal, ask me to ship FedEx when I use USPS, request I take the item off auction and just sell it at a reduced price to them. Read the description, all the fine print. It doesn't hurt to ask if it's a small change (offer to pay additional for expedited shipping or delivery to Canada from the US), but remember these are people, not major corporations. They don't have the time, resources, money or desire to be your personal valet.
Have you had success shopping on eBay?  What are your tips and tricks for navigating the site and getting great fashion deals?
Please visit my other "How to Shop" posts:
Follow Me | Twitter | Facebook