This article may contain affiliate links; if you click on a shopping link and make a purchase I may receive a commission. As an Amazon Associate, I earn from qualifying purchases. 
Dear Allie,
Are you going to Bonnaroo again this year? I am going too! What do you suggest I pack?
Dear Allie:
My boyfriend got us tickets to Outside Lands (it's a fest in CA). What sort of clothes should I wear to such an event? I haven't been to a fest of this size before. Thank you so much!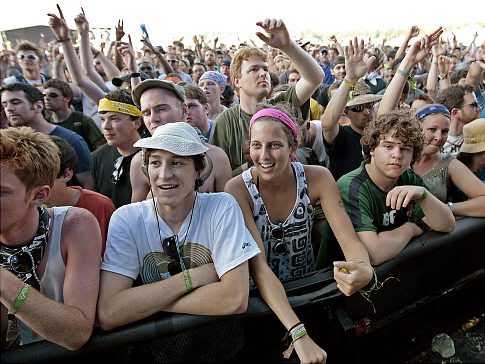 Ah, the music festival. A life-changing event for anyone, no matter how large of a music fan. Music festivals are all-day or multi-day events full of music, art, food, and sights you may never seen before. I have been to a few one-day festivals and have now attended the Bonnaroo festival in Tennessee for three years. Bonnaroo is four days, and I have done general admission, which is camping sans electricity or proper bathrooms (hello porta-potties!)and a lot of walking in extreme heat. As a slightly high-maintenance woman, I feared my first music festival, but found that with the right wardrobe and supplies, anyone can be comfortable AND stylish at such an event.
Surviving the Heat
Most music festivals are during the hottest months of the year. This is great for those in school – no need to skip classes to see your favorite artist. However it's pretty tough to spend 12+ hours in high heat for multiple days. It is important to dress and pack correctly so that you protect your skin, your energy, and your health during a festival.
I highly recommend wearing 100% cotton (not jersey) dresses. Pure cotton will float away from your body with the slightest breeze and will dry quickly when wet from sweat or a Super Soaker
. In the summer, it's not hard to find adorable cotton sundresses at most any retailer. For this year's Bonnaroo I scored several sundresses for under $20 each at Ross, and also saw plenty of dresses that would be perfect at Old Navy and Target. Don't take your designer duds – no matter what you do, clothes can get dirty. Not only is there the potential for mud (even if it's dry, there can and will be mud), there will be messy carnival food, large crowds of people bumping into you and possibly spilling their food/drink, and folks trying to get into the spirit with water guns, glitter, glo-sticks and other various things that can be tossed into a crowd. If you do find a great score at a discount place, be sure to secure the straps. A friend and I both had a strap break on a sundress while at the festival this year (and be at the ready with a mini sewing kit and some safety pins just in case of any wardrobe emergency).
No matter your size, many women experience that which we lovingly call, "chub rub". Many women have curvy thighs, and when walking long distances and sweating, you can get a rash on the inside of your legs. I have found the best thing to combat this is a pair of bike shorts under my sundress. In 2007, I bought two pairs of moisture-wicking black bike shorts from Kmart for $9.99 each and have used them ever since. They do a great job of preventing chafing, and also offer modesty so I can easily sit cross-legged on the ground during a show. I know many women who prefer using BodyGlide
(or use it along with the shorts). BodyGlide
can be applied like a stick deodorant and will help prevent chafing, even if you sweat.
When there is heat, there usually is sun. A music festival is not the place to work on your tan. You won't realize how much sun you have gotten until you end up with a nasty burn that evening. I have found that even when I wear SPF 30 sunscreen, I will come home from a festival with plenty of color. This year I used SPF 30 on my body and 55 on my face, and carried both with me all day for easy reapplication. Aerosol sunscreen is a great choice for such an event because you can reach your back, you don't have to run it in with grubby hands, and that type of container is less likely to leak in your bag. I also take a stick or tube of higher SPF sunscreen with me to the shows to apply to the face and any sun-sensitive places (shoulders, back of neck, tops of feet) on a regular basis. It's also wise to get a lipbalm with SPF – your lips will get dry from the heat, and they are quite susceptible to sunburn.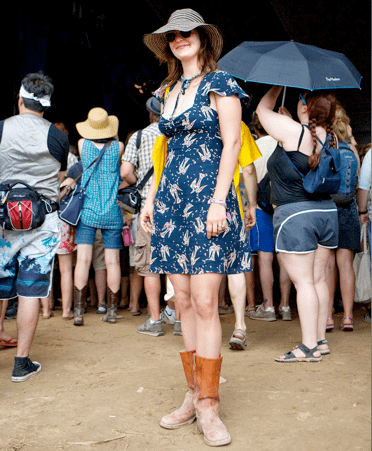 With so many cute hats in fashion right now, it's silly to not wear one to a music festival. A basic straw cowboy hat is always stylish at such an event, and will do a good job of keeping your neck and nose protected. Fedoras and porkpie hats are trendy now – they aren't really good at protecting you from the sun, but will offer protection to your scalp. The best choice is a floppy hat with a large brim – I have a crushable straw one that I have had for over a decade. I can roll it up and stick it in my bag when I am indoors or it gets dark, and easily pull it out for when it's sunny. I have found great sun hats at Title 9, Athleta, Lands End and Macy's. I also recommend checking out Etsy – you can find some really unique and cute sunhats there – check out these adorable numbers from Bonniesknitting!
Another great item to pack for sun protection is a bandana (or two!). A bandanna can be tied around your neck to protect it from the sun, it can be tied over your head like a kerchief to protect the scalp and tip-top of your forehead, and it can be dunked in cold water and used to cool you off in a jiffy. I tie a bandanna to the zipper of my bag to have at the ready – it's also great to mop sweat off your brow. If you don't like the look of bandannas, any cotton scarf will do. This year I took a candy-colored cotton voile scarf from Lands End's Canvas line and it worked just as well (and laundered just as well) as a classic bandanna.
You MUST stay hydrated! Don't expect a water bottle or two from a vendor to suffice. It's easy to get dehydrated and not even notice. Next thing you are feeling dizzy or worse. Even though they are not chic, I carry a backpack that has a hydration pack inside it. I have one from Kelty
that I bought several years ago – it is very small and fits right between my shoulder blades, but has room to hold 50 ounces of water along with my essentials. If you can't imagine carrying a Camelbak-type bag
, I recommend having a large aluminum or Nalgene-type bottle
that you can hook to your bag and can be filled quite often from water stations. If you have to carry your bottle in your hand the entire time, it very well may be discarded for being a nuisance. I don't want to be all TMI, but if you haven't had to hit a porta-potty in a bit, it's a good chance that you aren't drinking enough. And know for every alcoholic beverage you consume, that much more water you need to consume to stay properly hydrated.
Be smart – find shade between shows, be it under a tree, from the shadow of a tent, or even if you decide to head back to your tent or hotel for a quick break. You really need to pace yourself – prioritize the performances you wish to see, so if you're feeling a bit woozy, tired, or overheated you can take a break. Beer gardens, movie tents and vendor tents are great places to duck in and get some shade. In 2007 I almost passed out from the heat, and this year a person I knew died from the heat at a music festival. I would hate this to happen to any of you, so please stay cool, stay hydrated, and pace yourself.
Surviving the Lack of Plumbing
Porta-Potties
Be you attending a one-day fest or a multi-day camping adventure, you will likely be dealing with porta-potties. No one enjoys them, but they are a fact of life. Here's a few things that can make your bathroom experience quick and less painful:
Don't expect each porta-potty to have toilet paper. Bring your own. I see many people who enter porta-potties with a whole roll of T.P. I personally don't like that option because then there is something you need to hold while in there. I will fill a sandwich baggie with pre-torn piles of toilet paper. Then before I enter a porta-potty I will tuck the little pile of TP into my bra strap or pocket. Nothing to have to hold, and I am prepared in case the porta-potty isn't well equipped.
Not only will portable toilets be sans toilet paper, they will also be disgusting. I carry a second sandwich baggie with Clorox wipes. I take one in with me (tucked in the other bra strap or pocket) and wipe down the seat before attempting to do anything in there. I am a petite woman, and there is no way I can properly hover over a porta-potty and not make a mess. It is far easier to clean the seat than try to not touch it. Also, it is a "pay it forward" sort of act for the woman in line after you who may not have thought to bring sanitizing wipes!
If you can, head to the porta-potties with a friend. Then she can hold both of your bags while you are in there, and then you can reciprocate the favor. If you don't have this option, it's great to have a cross-body bag or backpack that you can put on the front of your person and keep from touching any surfaces.
Bring hand sanitizer! I prefer sanitizing wipes to the liquid in this case, so I can use it to scrub off stuff instead of rubbing it in. I wait until I am out and out of way of the line before attempting to use this. Some porta-potties come with sanitizer, but you can't rely on that.
If you will be at a multi-day event, I recommend a third sandwich baggie with personal cleansing wipes in it. In case your carnival food doesn't sit well with you, or just if you want to do a wipe down to feel refreshed and less sweaty. Be sure to mark the bags so you know which baggie is Clorox and which is Cottonelle!
If you are going to be at a festival at night, it's a good idea to clip a headlamp or LED light to your bag so you can see what you are doing. Some porta-potties are perfectly set up near outdoor lighting, but many times, especially in camp sites, they will be located in a dark corner of the grounds. My husband picked up a cheap LED head lamp for me (small light on an elastic band) from some Big Box retailer – I never stick it on my head, but I have slung it around my neck when walking in dark locations, have held it in my hand to light my path, and have switched it to the red light and attached to my backpack so my friends can find and follow me in a crowd.
Porta-potties are another reason why dresses are a great option for attire. To have to wiggle off sweaty jeans or shorts in a rush can be awkward, difficult, and can give you more opportunity to accidently bump into a surface in there. Also jeans and pants can drag on the floor. Every woman I know agrees that dresses and skirts are FAR more porta-potty friendly, especially in the heat!
Bathing
If you are staying in general camping, running water may not exist, or if in the case of the Bonnaroo Music Festival, it may be ice-cold well water running from spigots in a metal trailer. It's pretty much a given that you won't be spic n' span at a fest, but you can still be comfortable and relatively stink-free.
If you have running water (troughs, spigots, etc.):
My sister thought of the brilliant idea of bringing a child's play bucket – the type one uses at the beach. In it, put your soap, shampoo, washcloth, etc. Then you can place it on the floor or hang it off a hook or fence and have all your necessities at arm's reach and not getting gross. Sometimes the floors at these water stations can have several inches of water, so your regular shower caddy with open sides won't always be a good bet.
You can't get fully naked (unless you are very daring), so I have found it best to wear a bikini or a bra-tank or bikini top with a skirt or pareo when you go bathing. Be sure to wear shoes with good grip because it can get slick and muddy at the water stations.
Though I am a stickler for high-quality shampoo and conditioner for my highlighted hair, at a fest I go with a travel-sized bottle of 2-in-1 shampoo/conditioner. It's easier.
For cleaning the body, I take a bar of Ivory soap. I can then use it to clean my whole body and even clean clothes if need be. My husband prefers a bottle of Dr. Bronner's soap because he will even use it as his shampoo. Either way you look at it, a multi-tasking product makes the most sense. I find a washcloth to be easier than a shower poof or just my hands – easier to scrub grubby feet and to get sticky sunscreen off shoulders.
I also pack one of those small, lightweight microfiber hair towels. It's usually too hot to bother with drying my body, and these towels dry fast, will sop up moisture from your hair without having to rub, and can make a really great turban or tuck into your bag or bucket when finished.
If you know the water station will have spigots with threads on them (like a spigot off your house), it's a great idea to take an old hose, cut a couple feet off the female end and take it to have a DIY shower. One can often find old hoses for offer on Freecycle. Home improvement stores also carry short hoses specifically for washing machines that have finished ends – this is a nice alternative and also means you can attach a nozzle to control water flow.
If you have shower stations (shower trailers, pay showers):
Don't expect the luxury of even the cheapest motel – these showers are small and cheap. At Bonnaroo they have pay showers sponsored by Garnier Fructis. For $7 you get a teeny plastic stall (think RV bathroom – we're talking a space not wider than your shoulders) and a very thin shower curtain that has been torn and trashed by previous users. The floor of your shower stall is littered with leftover packets of sample shampoos and balls of hair. These stalls will be lined up along the wall of the trailer, there rarely are mirrors or a changing area.
Wear shoes in the shower. Not only can you scrub them clean, but you keep your tootsies safe from fungus and other grodiness.
The bucket again can come in handy, it can be placed on the floor, a shelf, even over the shower head if you are tall enough.
Bring a bigger towel, and hang it over the shower curtain for some modesty.
Wear something that is super easy to get off and back on when you are damp. Again this is where a cotton sundress comes in handy.
Other ways of staying clean:
Outdoor stores sell personal cleansing cloths that are thicker and larger in size than ones you can find at Target. However either type is wonderful to wipe down with after a sweaty, sticky day.
Outdoor stores also have what's called solar showers. Pretty much these are bags you can fill with water and hang from a tree, a hook, or even buy a tent created just for a solar shower. Just be sure that it's not set up in a way that the runoff will spill into a neighbor's campsite.
Surviving a Day Away from your Home/Hotel/Campsite
The way to have a successful day at a festival is to be fully prepared. Yes you want to look stylish, but there's no point in looking cute if you have blisters, sunburn, and no camera to take a picture of your fine self.
As previously mentioned, my day bag of choice is a very small backpack with a hydration bladder in it. What I fill it with:
My three baggies for the porta potties
Two hair elastics
A few safety pins of varying size
Hand sanitizer
Sunglasses with case and little cloth to clean them
Camera, in a plastic bag (protect from condensation from the hydration bladder, and also if it rains, someone spills a beer on my bag, etc.)
Lip balm with SPF
Face sunscreen with high SPF
Body sunscreen (aerosol) with high sunscreen (or if a friend has a bigger bag and I know I will be with them the whole time, they can carry it)
Cell phone with the numbers of every darn person I know at the festival PLUS the number for the nearby tow truck or taxi company (usually comes with your tickets)
Booklet/map provided with the festival
Cash in small bills (never more than $40 unless I know I will be buying a souvenir)
Sharpie (you never know when you may bump into a celebrity and want their autograph!)
Business cards (I have ones from VistaPrint which are cheap, have my name, my cell, my email, my Website. Great to trade with new friends you make, and can always make notes on the back with your Sharpie)
A snack (Clif bars, granola bars, cheese and crackers packet, baggie of granola – something that will give you long-running energy and will hold up to the heat. Lines may be long at vendors, you may run out of money, you never know and it's nice to have a snack just in case)
Bandanna or cotton scarf, tied to the exterior
I highly recommend you get a bag you don't mind wearing for long periods of time and you can wear while dancing. Cross-body bags can be great if they are small, but can but a pain if they keep banging into your thigh while rocking out at your favorite show. A regular purse will not be comfortable on your shoulder for long periods of time. Look for a sleek and smaller cross-body bag or a backpack. Fill it with everything before you go to see how it feels on your body and try walking around and dancing. You don't want to put your bag on the ground for fear of mud and thieves.
What I leave back at camp, locked safely in my car:
iPod
Wallet
Rest of money
Chargers for cell and camera
Anything else of value
Festivals are a great place to meet very friendly, like-minded people, but they also attract jerks and thieves. Protect yourself by not carrying everything in your bag, having a bag you don't mind carrying at all times, and putting all your valuables into your car out of sight. If you drove a car there, keep a key to your car safety pinned into your bag or clothes, and leave the rest of the keyring in the car. Also hide a second car key at camp or give it to a friend in case your bag is stolen.
Treat Your Tootsies Well
Finally, one of the most important things for a good long day at a festival is proper footwear. This is not the time to try out your cute new gladiator sandals or to wear your $1 Old Navy flip flops. You want a pair of shoes that will treat your tootsies well for hours upon hours on end of standing on hard ground and asphalt, cushion you over walking on rocky terrain, can handle a sloshed beer or a mudpuddle, and have traction.
When I say traction, I don't just mean on the bottom of the shoe. This is why flip flops are not the best option. Have you ever tried to run in a pair of soaking wet flip flops? It's a recipe for disaster and a sprained ankle. I have been to festivals where it has rained; even a 20-minute sunshower can create ridiculous mud which will literally suck flip flops right off your feet.
A great choice are athletic sandals like Tevas
, Merrells
, or Chacos
. These will stay on no matter the conditions and won't leave you with a blisterful pair of feet. Many people like lightweight canvas shoes like Chuck Taylors
or TOMS; I have a special place in my heart for Sanuks – a company with a good heart that makes super comfy "Vans"-like shoes with a sole as cushy as your favorite flops.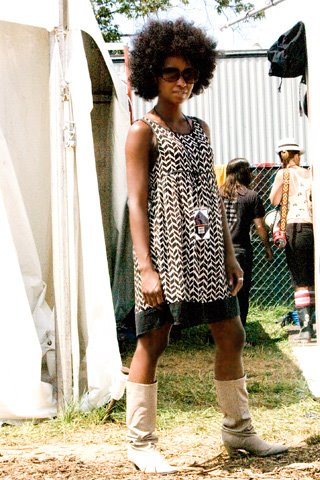 I have worn my brown leather DUO boots (the Bern) to many a concert and festival – they are shearling lined (keeps me cool) and I have added a waterproofing spray to the exterior. They have a low heel, good traction, an additional cushioning insert and let me tromp through most anything feeling secure. I despise despise DESPISE Crocs
, but I have to say they are the perfect festival shoe
– they cushion your feet, let them breathe so they don't get sweaty and stinky, will stay on in even the muckiest of mud, and can easily be rinsed off at the end of the day. They also give a bit of protection to the foot if a beer bottle is dropped on you or you have to enter an especially soggy porta-potty or water station.
Whatever your footwear, be sure they are broken in prior to heading to the festival. Nothing will cramp your good time more than painful, chafed, blisted, cramped toes.
So, What Should I Pack?
If you are staying onsite or at a hotel nearby, I recommend two outfits for each day. If it's hot or rainy, you will want to change into dry clothes. And when I mean a separate change of clothes, I include underwear in this. Pack two pairs of underwear for each day (if your clothes are sweaty, so will be your undergarments), and bring a bra that you can switch into while the other is hanging up to dry.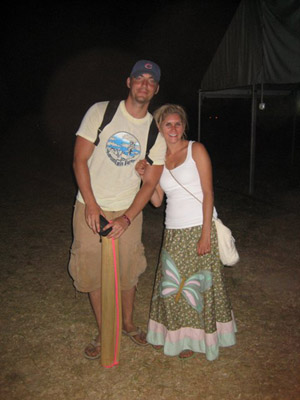 On top of this, I recommend some clothes to keep you warm when the sun goes down. I don't recommend jeans (see above re: porta potties, also jeans suck to put on when you are achy or sunburned). If you are wearing a dress, pairing it with a pair of full-length leggings or some floaty linen pants is a great idea. I often just change into a maxi dress or a completely different outfit with a long skirt. Also if you bring a hoodie, it's usually enough and then you can tie it around your waist or on your bag when you warm up from dancing.
Pack more than one pair of shoes. Even if you have broken in your shoes, they can very well give you some pain after wearing them for 12+ hours at a time. It's healthy to switch your shoes each day anyhow. I also like to pack a simple pair of basic flip flops for when at camp or for the drive there and back.
Bring two pairs of sunglasses – you never know if you may lose a pair and it would suck to go without.
Pack a survival kit. Safety pins, a small sewing kit, extra hair elastics and Bobby pins or clamp barrettes, Shout wipes
or a Tide to Go pen
, Immodium AD
and Pepto Bismol
, pain reliever of your choice, something with electrolytes (Propel
, Gatorade
, I really like u hydration tablets, which aren't full of all the fake stuff and sugar of many other electrolyte tabs and they taste really great), if you are within a week or so of your period pack some feminine hygiene products just in case, an extra pair of contacts or glasses, first-aid basics (band-aids, something to clean a wound), extra car key, insurance and AAA card, a hidden $50 that you won't spend at the festival in case you need a jump, tow, taxi, etc.
Pack some clothes that are fun. When the sun goes down, the party gets crazy at music festivals. Bring your face glitter, your neon pink lip gloss, your angel wings or tutu. You may not feel brave enough to don them, but festivals have a way of bringing out the party girl in most any woman!
But I'm not a Dirty Hippie/Hipster/I'm a Music Newbie!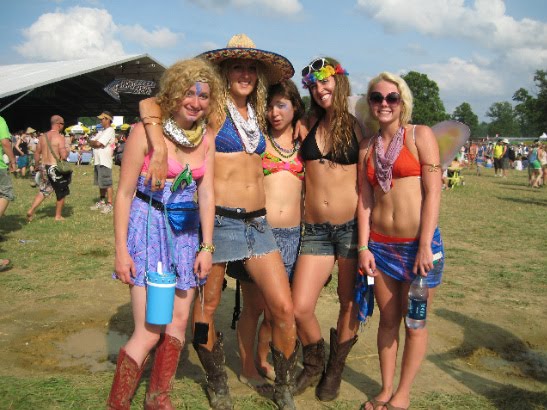 If you Google photos of people who have attended music festivals, you may think that all of them are young and cool, or else decked out in tie-dye and hemp. Neither is true, festivals are great because they attract every type of person. I have returned to Bonnaroo so many times because it is a festival that offers pretty much every genre of music.
No need to buy a whole new wardrobe of peasant skirts and rope sandals, or fedoras and Ray Bans
. I buy sundresses for music festivals because they are comfortable, and they can also be worn again on summer weekend days. When doing your summer shopping, instead of buying clothes just for this event, see if you can find things that will do double-duty. Instead of buying a dry clean only frock, look for one that can be washed in the machine. Instead of polyester, look for cotton. In place of safe black, consider a cheery print.
Keep in mind that a festival is a laid-back environment. No need for a ton of accessories, coordinated pieces, perfectly polished ensembles. Simple is better, you will get sweaty, you will get dusty and you will want to dance. I leave at home my wedding set and the only jewelry I bring is a turquoise necklace my husband brought back from his yoga teacher training in Mexico, and a pair of silver hoops.
If you are the type of woman who can't leave your home without at least five pieces of makeup, you may want to adjust your routine for this event. Makeup doesn't hold up too well in 100-degree heat, and you won't have regular access to a mirror for touch-ups. That doesn't mean you need a bare face. At Bonnaroo I wear waterproof mascara, bronzing powder dusted on my cheeks, and Burt's Bees tinted lip balm
. I carry Urban Decay's De-Slick
to combat shine. If you have a bad zit, it's fine to try to touch it up with some concealer and pressed powder, but a fully "done" face will only leave you with a mess and a smear.
And if you are not familiar with most of the artists, well all the better! Some of my favorite bands in 2010 are ones I never heard of three years ago. They became faves because I saw them perform at a music festival. Festivals are great places to learn about new music, and find your personal music style without being biased by corporate radio, TV, or friends. At a festival, every artist will have an audience of raving fans, so there isn't any bias, you can't choose wrong. Go ahead and see a performance or two by yourself – you will make instant friends with the other excited people in the audience!
What to leave at home:
Heels, tight miniskirts, tight jeans, hairspray, flat iron, anything that is dry clean only or delicate or can't handle getting wet, expensive jewelry, designer anything, your favorite purse, anything that won't be comfortable enough to dance in or sit in on the ground.
Also leave at home any snark, eye-rolling or criticism. Seriously, you will see EVERY type of person at a festival. Many people travel from fest to fest because they are huge fans of music, but also because festivals are a place where they can feel accepted. That woman in the chain mail bikini and Indian headdress may actually be upper management at a stuffy corporation during the week, the "dirty hippie" may be her college's fashionista come fall semester. Relish in the fact that you are able to go somewhere where you can be totally relaxed, not stressed over hemlines or heel heights. Be comfortable, feel attractive in your own way, and wear the best accessory out there – a big happy smile.
And be sure to come back and share your experiences at your next fest!