This article may contain affiliate links; if you click on a shopping link and make a purchase I may receive a commission. As an Amazon Associate, I earn from qualifying purchases. 
Allie,

I'm just curious, I notice that in your previous postings, you had on Ann Taylor pieces that were on sale some time ago and yet I don't see you wearing them in current times. What do you do with those styles that no longer seem to fit the current trend? I ask because I have several older style sweaters, skirts, etc. that no longer work and they end up just sitting in my closet gathering dust.

Thanks.

Sonia
Hi Sonia:
When a piece is no longer seen in my outfit posts it's for one of many reasons:
It no longer fits
It wore out it's welcome (faded, permanently stained, stretched out, damaged)
I sold it
Here's some tips on what to do when items in your closet are no longer the wardrobe essentials they used to be: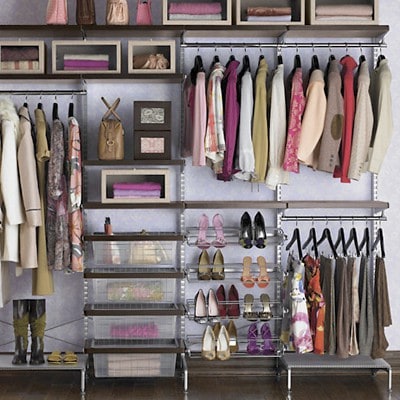 It's in Great Shape but No Longer Fits
If it's due to weight loss and you adore the garment, consider visiting a tailor or seamstress. A couple nips and tucks can make a piece one or two sizes too large fit like a custom garment. Do know when you get into more complex garments (lined, jackets, etc.) the price for alterations increases – it's important before you get an alteration that it's really worth that additional cost. Often, I find it to be a better value to search sale racks off-season for a replacement jacket than deal with complicated alterations.
If you don't feel it will fit right after alterations, or don't feel it is worth the cost, consider selling the garment. I have had much success selling on eBay – they make it very simple, and you can search for similar items on the site to know how to price in a competitive manner.
It's No Longer in Great Condition
The best way to not encounter this is to baby your clothing. Don't wash after every wear – layer over camisoles or tanks to prevent body oils from damaging the fabric, spot clean as needed, and only wash when truly dirty. Even if the label says you can throw it in the dryer, line dry to preserve color and weave. Invest in a garment rack to let pieces dry flat to prevent stretching.
If you have done all you can and a piece is still past its prime, consider donating the piece. One woman's trash is another's treasure – some may find your faded black pants the perfect piece for a costumer, or are crafty with the RIT dye and sewing machine.
I do read of many who revive black clothing with a dye wash in the machine; I have yet to do this due to lack of time and knowing that if I can destroy a bathroom with a bottle of Clairol even with gloves and old towels, I would probably kill my laundry room with RIT. However if you aren't a klutz like me and your pieces are cotton, a box or bottle of fabric dye isn't too costly to experiment.
It's No Longer In Style (or Your Style)
Sell it. Swap it. Donate it. Whatever you do, get it out of your closet! Holding onto garments that you don't wear only makes dressing each morning more difficult. Remove anything from your closet that doesn't fit, isn't in wearable condition, or you no longer like on yourself.
I like selling my old clothing because it gives me money towards proper wardrobe replacements. As I mentioned earlier, I usually sell on eBay. I have a box in my closet of shipping bags and tissue paper from online orders I have placed so I don't have to spend money on such items. eBay and USPS.com are great tools to figure out shipping costs so you can plan accordingly with each bid. Feel free to limit who can bid (I don't allow international shipping), and how the bid works (I don't allow returns). It's better to over explain than under explain – along with the size, offer the length, the waist in inches, the year you purchased it, the fabric content, an item in everyday life that is similar to the color ("while the photos show the piece as bright pink, in real life the dress is more the color of a ripe raspberry."). The more information you provide, the more likely people will bid, receive what they expected, and provide you with positive feedback.
eBay isn't the only way to sell your clothing – vintage and consignment shops are popping up all over and are a great place to take quality items in excellent condition. What may seem dated to you may seem ironic or hip to another. Many of these places will offer you 50% of what price they plan to sell the garment; some offer more money in the form of store credit.
I also love swaps – be they large events sponsored by an organization, or a small gathering with your friends, it's a great way to rid yourself of the not-quite-right pieces in your closet and acquire new faves. Swap.com hosts events across the country, I have attended swaps in this area hosted by Goodwill – you can often find out about such events by following these or similar groups on Facebook or Twitter. If you'd like to host your own, this link provides some great tips on ensuring your swap is successful!
If You Think It May Come Back in Style
Keep it… but not in your closet. In my attic, I have several storage bins separated by type of garment. While some hold my out of season clothing, others hold pieces that either don't fit right now (but hopefully will in the near future), or don't fit my life right now (but may in the future). In there are things such as a silk crepe cocktail pantsuit, a leopard print faux-fur a-line mini, a taffeta bubble dress covered in pink polka-dots, an orange satin sheath covered in hot pink sequins and fringe, a black tea-length tutu, cadet blue silk palazzo pants, a white safari shirt, an olive cargo pencil skirt. These are all things I won't be wearing any time soon, but may either want to wear in the future or want to pass down to my daughter. I "shop" these bins each season – when I switch out my clothes for the weather, I revisit these clothes to see if anything from them can be incorporated in my current closet. Just this fall, I was able to take a dark green leopard print faux fur coat out of one of those bins as that sort of look came back en vogue and after a few pounds the coat fits again. If you positively adore it and it was perfection the first go-round, it may be worth it to hold on to it for the future you.
If You Have a Trusty Seamstress (or are handy yourself!)
Restyle a piece! Just writing this, I think of my friend Kathy at La Petite Marmoset who can take the strangest thrift store pieces and rework them into on-trend fashion. A cold shoulder, a mullet hem, a bit of bedazzling… small adjustments can make for major impact.
A seamstress can take a dowdy blazer and make it trim, a Laura Ashley prairie dress and turn it into a flippy sundress, a bulky button-front shirt and make it a dress. Before you give up on your wardrobe fave, consult with an expert on how to give it a second life. And heck, if you don't like the final result you haven't lost much since it was already collecting dust in your closet!
Follow Me | Twitter | Facebook