This article may contain affiliate links; if you click on a shopping link and make a purchase I may receive a commission. As an Amazon Associate, I earn from qualifying purchases.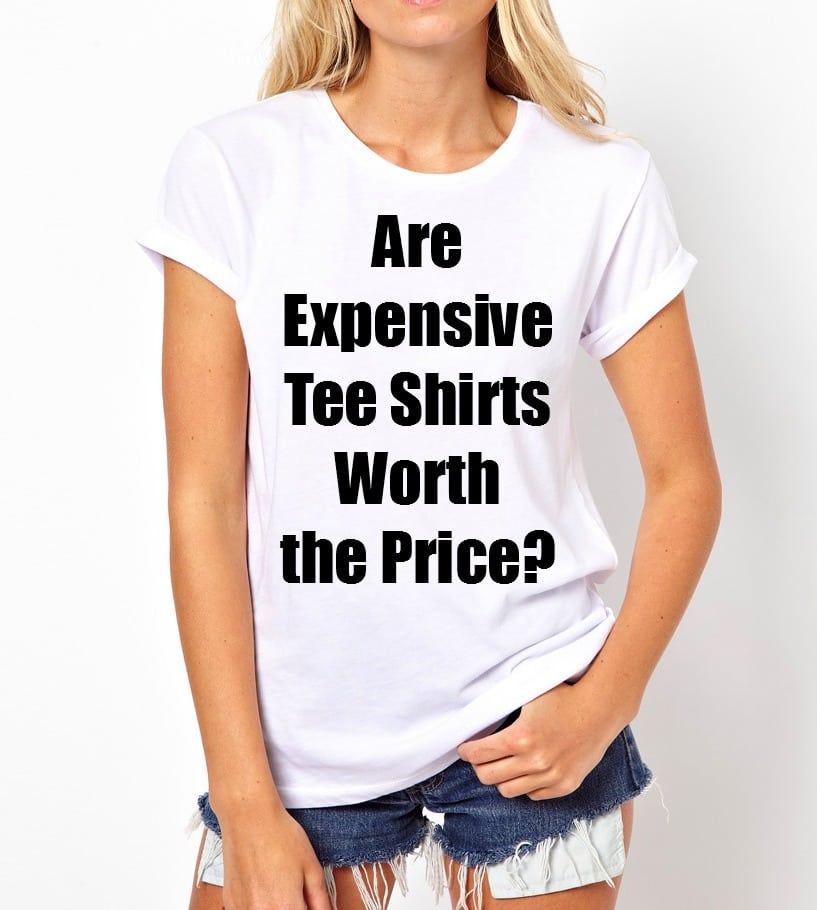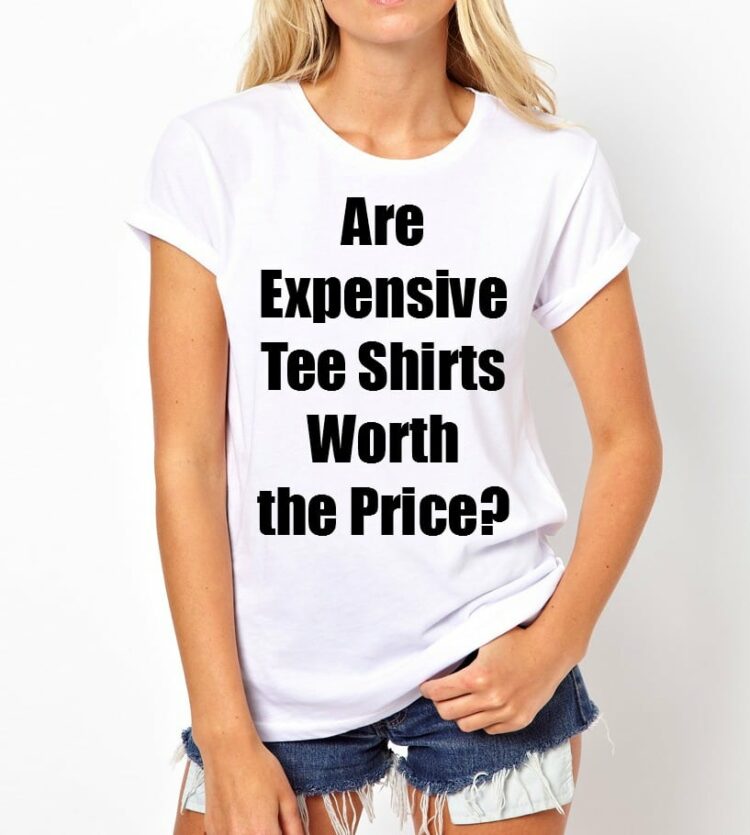 When some things become popular I really wonder what trendsetters were smoking. This is especially true when commonplace things have a fancy name slapped on them and they're suddenly worth $500. I'm not going to spend my hard-earned money to advertise YOUR brand, especially if I can find similar at Target for a bundle less. This is how I have felt about tee shirts for a long while. Somehow, that which was purchased from Hanes or Fruit of the Loom is now worth $150 just because some hot designer decided to add it to his collection. No thank you.
When I was in college, my favorite v-neck (when you're short and busty, v-necks are a godsend) came in a two-pack from Kmart and did just fine. When they got grubby, I'd bleach them, and replace them when they started to yellow. They were a classic, and looked great with my grunge, then preppy/minimalist aesthetic.
After college, I was a visual merchandiser for Express and fell hard for their "Metro" v-neck tees. Does anyone else remember these beauties? I had them in a rainbow of colors, but a half dozen in white (the ones from the Mariana Islands were a bit thinner but still opaque and had a better fit over my curves. Yeah, I was that much of a fan of these tees).
For my early '30s I bounced around budget-friendly retailers and nicer brands found at Marshalls and TJ Maxx. Most of these tees would last a season at most. When I switched to a desk job, I found white tees at my corporate attire stores; Ann Taylor was often where I'd find tees of high quality, though not always the best fit.
And here I am, a couple months from 40 and I'm realizing I have spent a boatload of money on white tee shirts that have never satisfied. Too thin, too tight, too boxy, too stretchy, not stretchy enough, just plain wrong. Hrm, maybe there is something to that $150 "perfect" tee shirt. If it truly IS perfect, it could end up saving me money in the long run.
I'm no longer a sloppy young kid who will destroy my tee shirt at a bar crawl or tailgate, I'll keep the cheap tees for weekends but would like an awesome white tee for concerts, to wear under jackets, to pair with a sequined pencil or taffeta ball skirt. You know, that casually cool tee that looks perfectly worn and slouches in just that right way.
So I did my own white tee shirt science experiment, trying on and ordering over a dozen different shirts ranging in price to see if I could find my Tee Shirt Holy Grail and if a fancy brand and crazy pricetag does make for a better shirt. I originally planned to share each tee and rate it, but I learned from this process that a simple tee shirt is a very personal purchase. Like a pair of jeans or a tee shirt bra, what is Holy Grail for one is incredibly awful for the other. But what I did learn:
Price Does NOT Equal Quality. I was horrified by the quality of some of the pricier tee shirts. J Brand and James Perse both surprised me by the mediocre quality and construction for the price, especially after reading rave reviews from some of my favorite bloggers. An Old Navy Vintage V-neck, if you removed the tag, could be mistaken for many of the $60 – $90 tees I tried, showing that you don't need a fancy label to get a good tee shirt.However, more expensive tee shirts more often than not had features that made them worth the money, and provide a better fit. Some had back seams, which really improved fit for my curvy figure. Some had no seams, which gave a more refined look and trimmer fit. A big place I noticed the difference was in sleeve length and width; more expensive tees had attention to detail and better fit in this area. Shoulders fit and didn't just round into sleeves, necklines were made with care, not too wide or low but still a flattering and modern cut. A lot of them had cotton blends that made them drape better or have a different finish (for example this tee from A.L.C. was blended with cashmere, which helps explain the higher price).
Don't Assume You Know Your Size. I wear a 12/14 and I have a large chest. Many of the brands known for expensive/fancy tees I knew didn't sell clothing in my size, so I assumed their Large would be equivalent to an 8/10. For example, rag & bone's Large is supposedly a 10/12 yet I found is almost too big for me (the Medium fit but too tight for my comfort). What is slouchy loose on a tall willowy model may be the perfectly not too fitted tee for a shorter curvy woman.
Just Because It's a Tee Doesn't Mean You Can Abuse It. Whether it's from Target or T by Alexander Wang, if it's a Holy Grail tee for you, treat it like fine silk. These aren't your father's Fruit of the Looms, they're a thinner cotton, often a blend, cut specifically to glide over a woman's curves or slouch in just the right way. Throw them in a machine and let them tumble dry and no matter the cost you may end up with a misshapen dish rag. I recommend washing in a lingerie bag and letting air dry. If like me you don't have room for a drying rack, do NOT line dry your tee. It will grow and likely end up with bumps in the shoulders. I take two pant hangers and fold it over both of them so it balances the weight and doesn't end up with bends. Once dry, it can handle a couple minutes in the dryer to soften and get rid of any wrinkles.
Tee Shirt Bras Exist for a Reason. The current trend of tees is thin and broken-in, which can make a tee a bit transparent. A nude-to-you tee shirt bra (my favorite one), free of lace and decoration can become virtually invisible even under slub knits.
Know Your Tee's Purpose. There's tees to wear to the gym, tees to wear gardening or cleaning out the garage, tees to wear to your friend's house with leggings and an oversized flannel shirt to watch movies. But then there's tees that can replace a going out top for a night at a bar, tees you wear under a blazer for Sunday brunch or a casual office place, and tees you wear to dress down a more glamorous piece like a sequined jacket or my previously mentioned taffeta ball skirt. Know WHY you need such a tee shirt in your wardrobe before you shop so you get the right fit, neckline, and opacity.
No One Needs a $150 Shirt. Seriously, if you're perfectly happy with the tees your currently own, don't go trying on designer tee shirts. Your life will be perfectly lovely and stylish without having one in your wardrobe. One thing I did learn from reading the reviews on tee shirts during this process is how people shop for all the wrong reasons. Just because you own the tee shirt that your favorite actress or blogger owns doesn't mean you will look the same in it, or carry it off with the same panache. Just because a certain brand is in your wardrobe doesn't mean you're fashionable. It's okay to be inspired by another person, but you will never be fashionable if you're purchasing to imitate another or to impress with pricepoint or brand. Style comes from knowing yourself and dressing the part, if you feel a tee shirt over a certain pricepoint is utterly ridiculous no matter the fit, that's knowing your personal style. Stick to that, be true to yourself, and your style will shine.
As for me, I ended up buying two white tee shirts:
rag & bone "Classic V" (size Large) $80.00 – This isn't tight, but it's not sloppy or boxy. It's sheer, but you can't see my nude tee shirt bra (or belly button or the mole on my back) through it. It's longer, which makes it easy to tuck in, but it seems to gather/slouch on my hips far better than any other long tee I've tried. The V is the perfect length for me (I was looking for a going out tee, not something that would be worn to work). The shoulders and sleeves fit perfectly, and the back seam gives the whole shirt a better drape and fit.
Free People Shredded Muscle Tee (size Large, but I was tempted to size down to Medium and would if it was a darker color) $58.00 – This is a novelty tee for me, I mean who really NEEDS a shirt riddled with holes? I bought it at the end of August and loved it untucked with distressed denim shorts and my silver Birkenstocks for weekends, but now that it has gotten colder I've paired with slim jeans and booties for a night out with the girls, and also wore under a blazer for brunch and loved how the distressed tee contrasted with a traditional jacket. This is boxy, but the neck fits nicely (no need to stretch it out like I have to with so many crewnecks yet doesn't fall off the shoulder), you can't see my bra when I raise my arms, and it's thin without being Saran wrap.
And now I'd love to hear from you, how much have you paid for a tee shirt? And if you've found your Holy Grail tee, please share in the comments along with your general body type. Your Holy Grail very well may be the tee another reader has been looking for all her life!