This article may contain affiliate links; if you click on a shopping link and make a purchase I may receive a commission. As an Amazon Associate, I earn from qualifying purchases. 
It will be December in just a couple of days, yet yesterday in Washington DC it reached 75 degrees. This crazy warm spell has me feeling for you folks in warmer climates. You often email me asking how to dress appropriately for the season, even if the thermometer says it's flip-flop weather. Here's some suggestions on how to dress seasonally appropriate in warmer weather: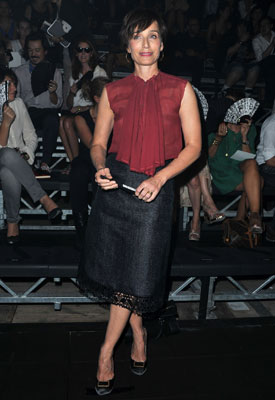 While Kristin Scott Thomas is wearing summer-weight pieces, her color choice makes this ensemble  winter-appropriate


A Whiter Shade of Pale. You can carry off lightweight pieces if they are in a darker shade. If pink is your signature color in the summer, consider berry or fuchsia for fall and winter. While still in the pink family, the darker or brighter tone will feel more seasonally appropriate. Switch out turquoise for teal, banana for mustard, orchid for plum.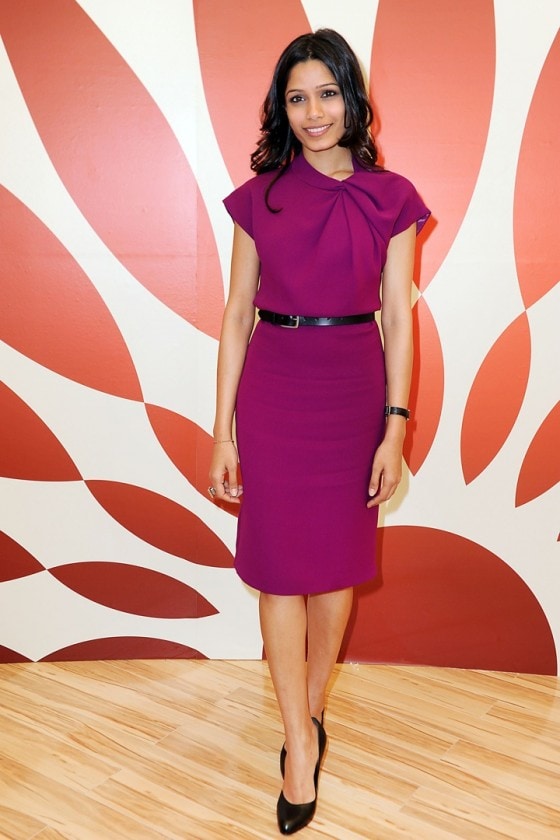 This same ensemble on Freida Pinto in lighter tones would look inappropriate in the dead of winter

A Life Shot in Black and White. While summer screams for crisp white pants and skirts, such pieces look out of place come fall and winter. Consider switching out your white and beige pieces for similar garments in black, charcoal, camel, and taupe. Balancing your colors and neutrals with a darker accent color will make the entire ensemble feel more seasonally appropriate.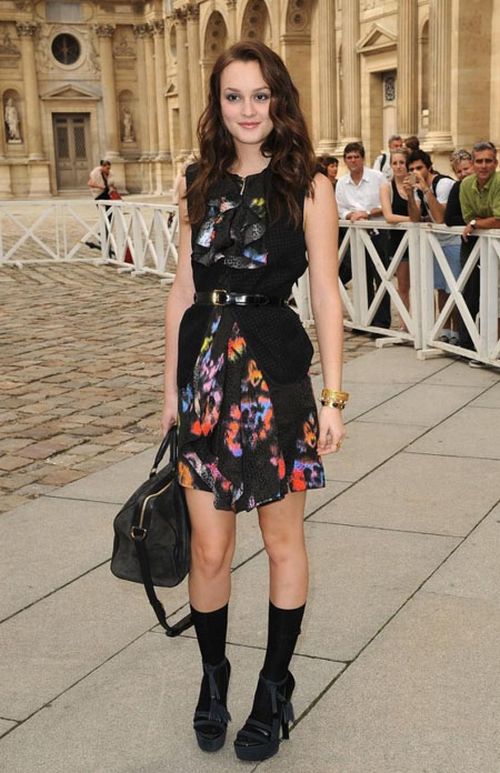 Leighton Meister makes a summery dress work in fall with the addition of chunky bangles and solid black accessories
Solid as a Rock. By switching out delicate strappy sandals and whisper-light chains for more solid wooden bangles and platform shoes, you create a more sturdy and seasonally-appropriate look. While flip-flops and huaraches may be fabulous in July, they can look inappropriate with autumnal and wintry fashions. A strappy platform in a darker color with a solid wood sole will still let your toes breathe on the hottest days, but will far better complement winter fashions. Chunky bangles and pendant necklaces, wide belts in darker shades made with wood and leather, platform sandals and peeptoe booties are accessories that will take a simple knit sundress and transform it from summer to warm-climate winter fashion.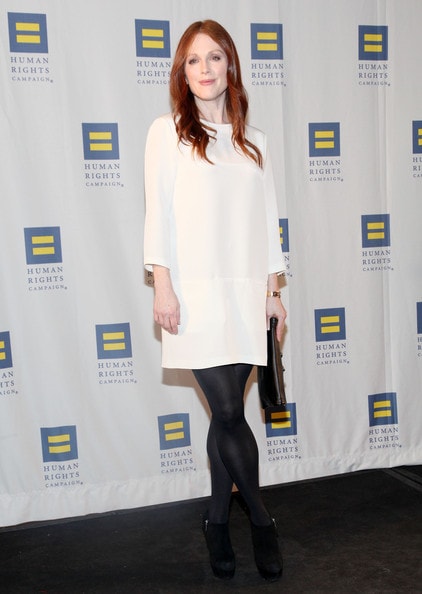 Julianne Moore makes a light-colored dress look seasonally appropriate with black tights and ankle booties
These Boots Are Made for Walkin'. Boots are an easy way to make summery dresses and skirts feel more seasonally appropriate. A pair of brown riding boots complement floral frocks, black engineer boots balance floaty white sundresses, sleek black or brown classic knee-high boots look elegant with pencil skirts and sheath dresses. I have a pair of boots with shearling lining which is surprisingly comfortable in hot weather – the material wicks away moisture and keeps my legs feeling cool.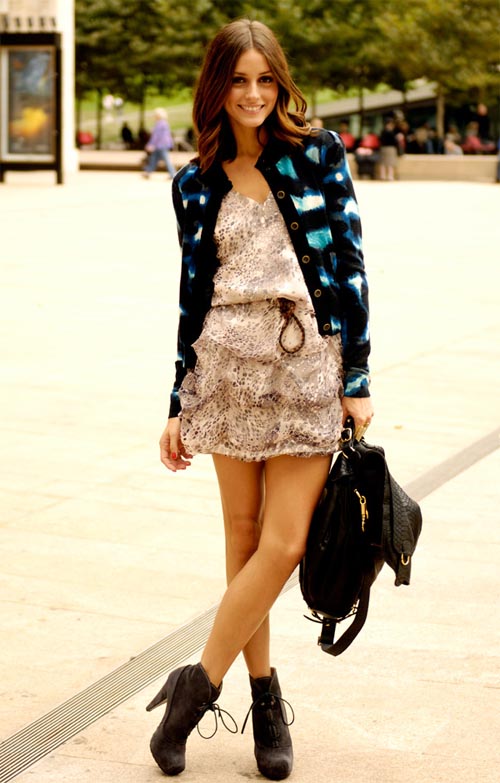 Olivia Palermo's addition of a jacket and heavier accessories takes this dress from summer to fall with style
Short Skirt Long Jacket. The addition of a lightweight jacket can immediately transform most summery dresses into a winter-weather ensemble without too much weight. Cargo jackets are hot right now and look fantastic with stripes, florals, and solids alike. Olive is a gorgeous color with neutrals as well as brights like yellow and pink – in lightweight cotton you can cinch the waist, roll the sleeves, and get a seasonally-appropriate looks with little bulk. For those who want a more polished look, a lightweight leather jacket (unlined or lined in acetate or another lightweight fabric) can be a great way to winterize your look without much bulk.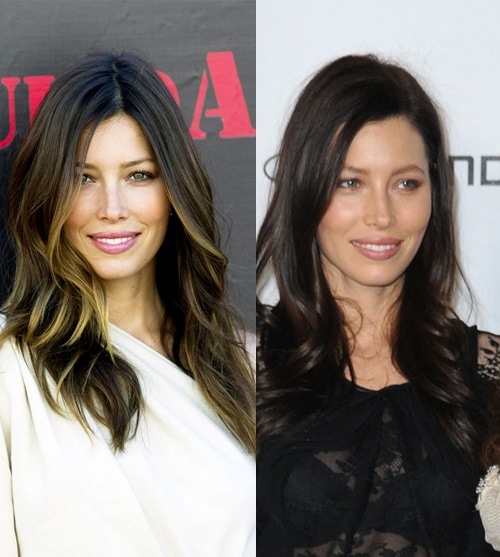 Jessica Biel's change last fall to a darker hair color was flattering and appropriate with the change in seasons

Get a Pedicure, Get Your Nails Did. A simple change to the color of your nails, lipstick, and even your highlights can make a big difference in embracing the season. Switch out tangerine and candy pink for the season's hot dark shades of nail color, consider a dark red or berry lipstick in place of your pink gloss, and ask your stylist if she could add some caramel or toffee highlights to your regular highlights.
***
Today I am wearing a black and ivory striped sailor tee shirt with a black heavier-knit fit-and-flare skirt and black platform peeptoe ankle booties. The colors and solid feel of the pieces makes it feel right for the last week in November, while the lightweight tee and bare legs keep me cool in this crazy warm weather.
Follow Me | Twitter | Facebook