This article may contain affiliate links; if you click on a shopping link and make a purchase I may receive a commission. As an Amazon Associate, I earn from qualifying purchases. 
After happy hour, I went home and did laundry. Hubby came home from a hockey game, we watched a movie and fell asleep on the couch.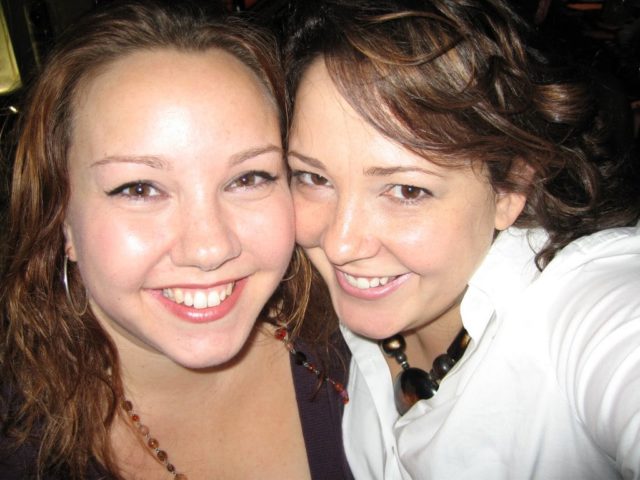 Saturday – It was my husband's birthday. We started the day off with breakfast with the parents, then the two of us took a short hike, then he went to see Tool in concert in the city with three of his best friends and I went to dinner in the city at a soul food restaurant with my sister and then to see a trumpeter at a jazz club. I wore the white shirt from Ann Taylor again with my denim pencil skirt from Gap and brown peep toe heels from Maripe. You can see I wore my Target tortise-shell necklace to complete the outfitt. No full-body picture as that I was running terribly late. I did take my black cherry merino v-neck to slip on if it got cool. I did wear it on the subway ride home. Hair was curly, in this picture my lipstick had worn off on my wine glass but I did the typical Revlon ColorStay shadow, a soft lipgloss shade on the lips.
Sunday – Some of our best friends are pregnant and are doing a lot of home renovations before the baby arrives. We spent the day at their house painting, moving furniture and such. Nothing exciting, old pair of Gap jeans that aren't that flattering and a navy tee shirt that says Property of NASA that I got on one of my trips to Kennedy SFC.
Monday – We left for vacation. We had to be home by 3pm on Thursday so we just went o a road trip to a town 3 hours away. I packed:
Teal knit kimono dress from Target
teal suede wedges from Seychelles
denim trousers from Gap
white ribbed tank from J. Crew
Brown on brown striped kimono sleeve v-neck top from Old Navy
dark denim pencil skirt from Gap
black cherry merino v-neck from J. Crew
dark red scoop necked tee from American Apparel
sneakers from New Balance
black quick-dry activity pants from Target
light aqua tee from Mossimo
Black cashmere shell from Banana Republic
Large silver hoops and silver cuff
Hairdryer with diffuser and curling iron
On our trip we went to see some historical sites, hiked a bit, walked around town, went to dinner, went for drinks, went to a party, looked at possible vacation homes (decided against it). The wardrobe was easy to switch around and I felt appropriately dressed for every situation.
Thursday – after we got home we went to see a concert with the parents. Black tape yarn scoop top from Ann Taylor Loft, black and white print sequined-trim circle skirt from Marshall's, black peep toe heels from Steve Madden and hair curly.
Friday – I was filmed for a video about bloggers. Yes readers, it's a video for the FTC about bloggers, how they are affecting marketing and buying and online security and safety. We concentrated mainly on THIS BLOG! and it's readers and how long I have done it and why I do it. A pretty interesting experience!
I wore an orange-red silk-knit tank from Banana Republic, navy twill blazer from Talbots, two coral glass chip necklaces, new Gap Curvy Flare jeans, my teal suede wedges, and my hair messy wavy. I do not have any pictures because we were moving furniture around in our house and the table from the foyer was blocking the mirror.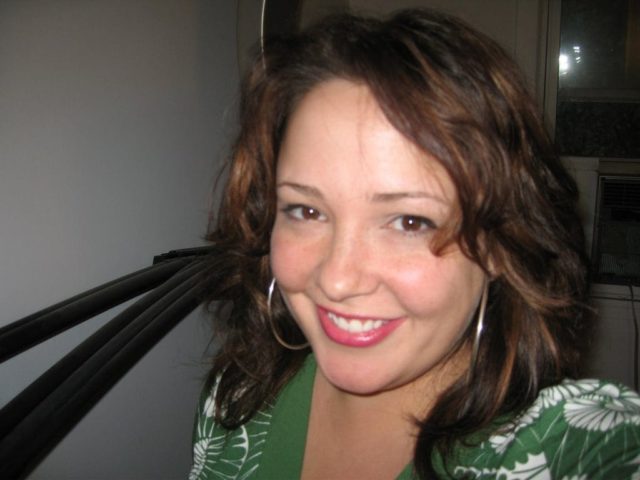 That night we had a wedding reception for friends who eloped. B y that time we had moved the furniture to it's correct places and I could take a picture. Wore a green and white print knit wrap dress from H&M, my pink pumps, matching pink lipstick (Maybelline) and my hair in messy waves (raining all day and no point in trying to do my hair). Large silver hoops and silver cuff bracelet. A little girl at the reception said my shoes were "Glenda the Good Witch Shoes." I bought this dress the day at the mall during the interview, but didn't consider that I didn't have any shoes to match it! I liked the pink as the contrast, though I think this dress deserves a wedge or a round toe… something more quirky and not so Mankiller. But it worked.
This was my first successful shopping trip at H&M. Every time I have gone I have been overwhelmed by the mess, haven't been able to find my size, or find it but it looks horrible on the body. This time I found this and loved the $34.90 price! I also found a cotton kimono-inspired top, but they had my size in the color I didn't like, and didn't have my size in the color I wanted. I may consider visiting a different H&M for that top. This H&M I had never visited before, it is actually in the same spot as the 2nd Express store I ever worked in. So weird, I worked in that Express for a year. It was my first full-time managing position with the company so that store was like my home. To see it shaped the same, but menswear where fitting rooms once were and fitting rooms where the backroom used to be was a trippy experience. The store was well merchandised and organized and I had a pretty easy time shopping it. I didn't find a lot that I would wear though. There are a few bargains, but a lot of their stuff is pure junk. Itchy shedding sweaters, see-through knits, poorly cut dresses… I just feel that I am too old to purchase such disposable clothing. But this dress… well I do love green, I do love wrap dresses, and I do love dresses that are cheap so I couldn't pass it up!