This article may contain affiliate links; if you click on a shopping link and make a purchase I may receive a commission. As an Amazon Associate, I earn from qualifying purchases.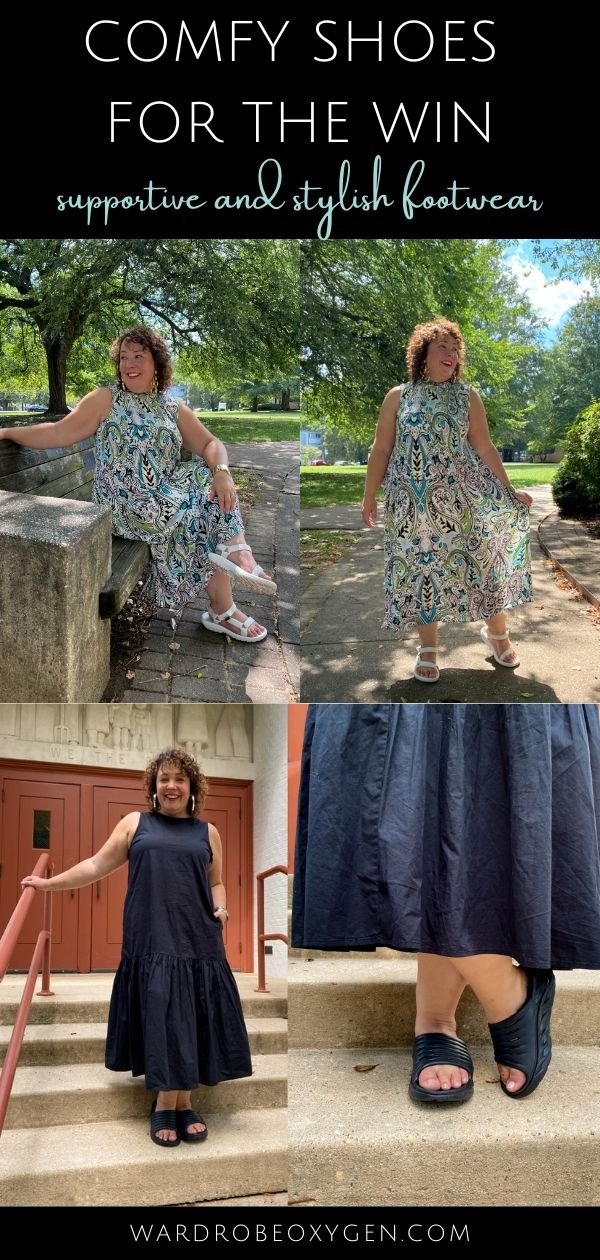 As I mentioned Monday, I am no longer sacrificing my comfort for style, and will no longer feel trapped in my clothing. the biggest change I've made with my style is with my shoes. I have always been self-conscious of my legs and feet and felt that heels balanced my body, making me look longer and leaner.
I walked on my toes as a child, and still do when I am tired. Doing this built up not only my calves, but also my shins and ankles. My feet grew extra padding on the balls, making my short toes appear even shorter. I felt that a high heel in a low-contrast color (beige pumps, soft gold strappy heeled sandals) helped make these "issues" I had not as apparent.
I was good at walking in heels… until I wasn't. It was after I turned 40 where my knees would cry out in pain when I tried to walk down stairs in my 3″ pumps. I stopped feeling secure dashing to catch the Metro or even standing for a few hours at an event in heels. I kept doing it though. I'd save my heels for special events. I'd slather my knees and feet in Equilibria Relief Balm and find furniture to lean against or seats to plop down on to give myself a break. We all make sacrifices for fashion, right?
Well the pandemic gave me a year where I had nowhere to go and no need for a heeled shoe. When getting back into the world, I found most of my go-to heels too painful beyond a photo shoot for the blog. And I thought… why am I selling an image in heels when IRL I am not wearing them? I was on a quest to find shoes that looked cute but also didn't hurt.
Birkenstocks have been my favorite comfy shoe for a long while, but they have their limitations. I really felt them on our road trip; when my feet were tired from my HOKA sneakers, I wanted to put on my Birkenstocks but I knew I would regret it if I had to walk a distance. I needed some sort of sandal that was better attached to my foot and had more support than my completely flat dressy sandals.
Comfy Shoes FTW: Teva Hurricane Sandals with a Chiffon Maxi Dress

As I mentioned in this Friday Shop post, I always liked the idea of Teva sandals, but they never fit my short, chubby feet. But the Teva Hurricane sandal looked different. Instead of the classic yoga mat-esque sole, these were more molded, and the straps were different. These differences made the sandals work great for my feet and I have been wearing them nonstop since I got them. I am so excited to have them as we have a couple of more adventures this summer.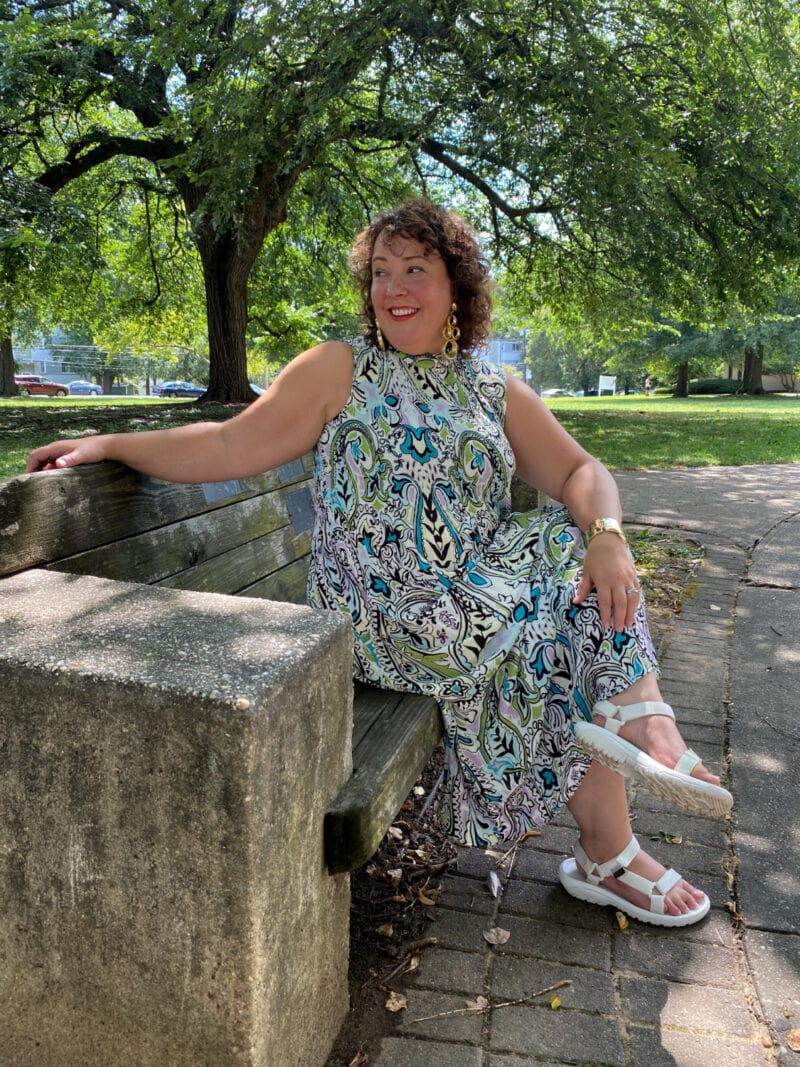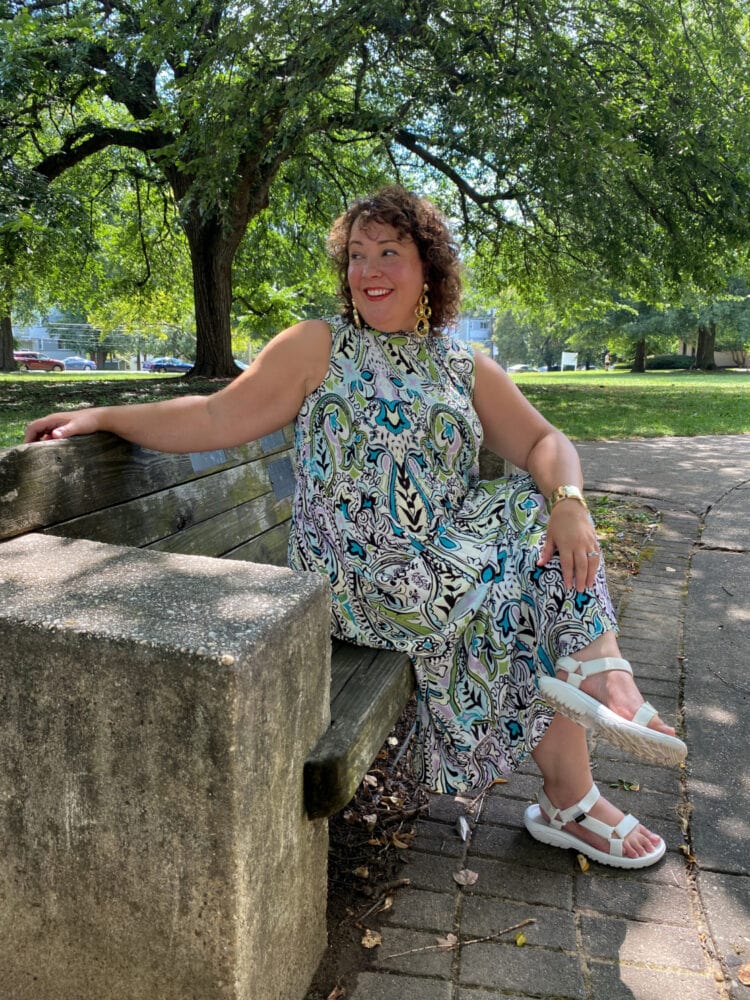 While I have worn them with swimsuits and casual sundresses, for this look I decided to glam them up with a chiffon overlay maxi dress from Chico's Black Label collection. This is the kind of dress that can read super dressy or more casual and its look can be transformed with the addition of a belt. I love this paisley print but this dress also comes in black. I am wearing size 14.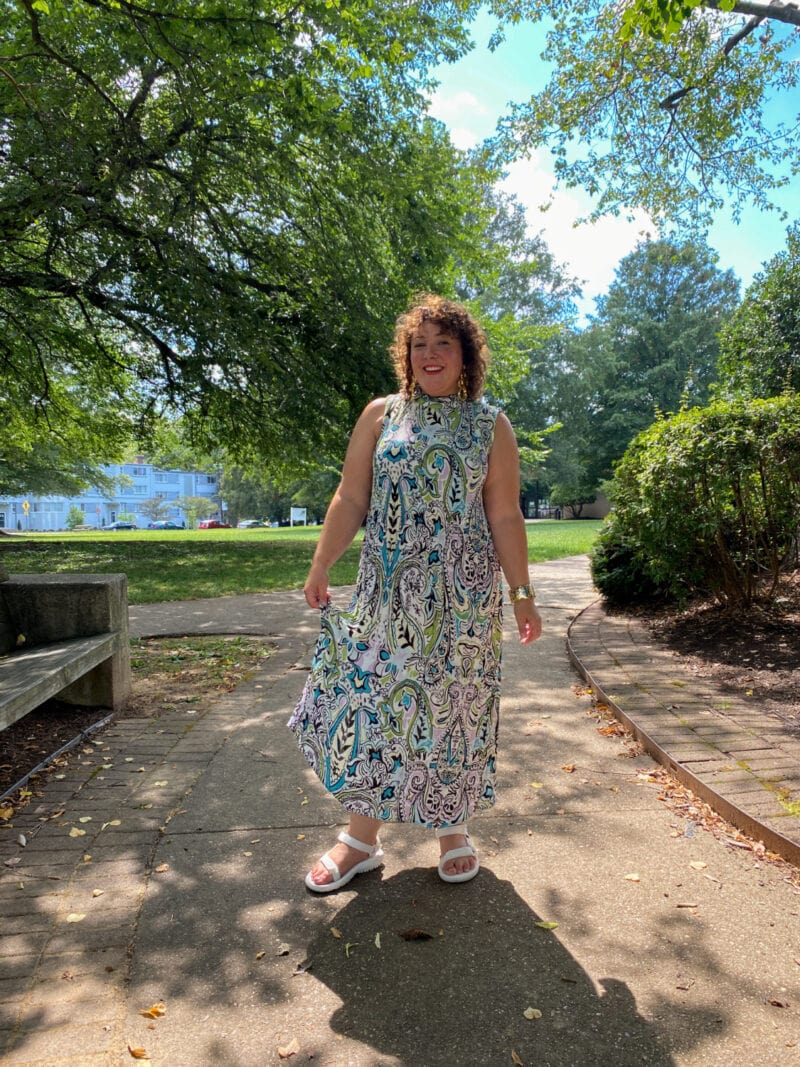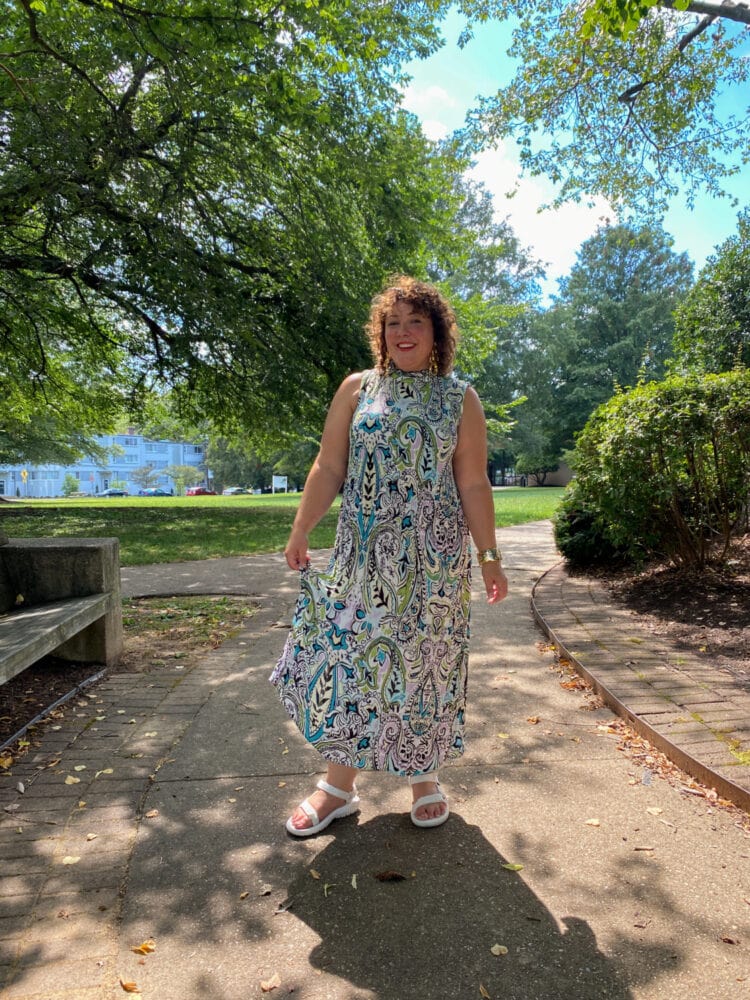 I liked the idea of making it a vibe for a beach wedding or other festive outdoor event. I added a pair of gold vintage clip-on earrings I have had. for years (see them on me here in 2017 and here in 2018) and a gold cuff from Chico's. Keeping things fun and summery, I chose an orange sheer lipstick (this one from Glossier in the color Coupe), no eyeshadow, and a turquoise liquid liner (this one from Dior).
Comfy Shoes FTW: HOKA Recovery Sandals with a Cotton Sundress

After having so much success with HOKA sneakers on the road trip, I was curious about the brand's recovery slides. Tons of cushioning and arch support, these looked like an alternative to my Birkenstocks that I was using as house shoes. I found them comfy like Birks, but additional cushioning and support that felt amazing after a day on my feet.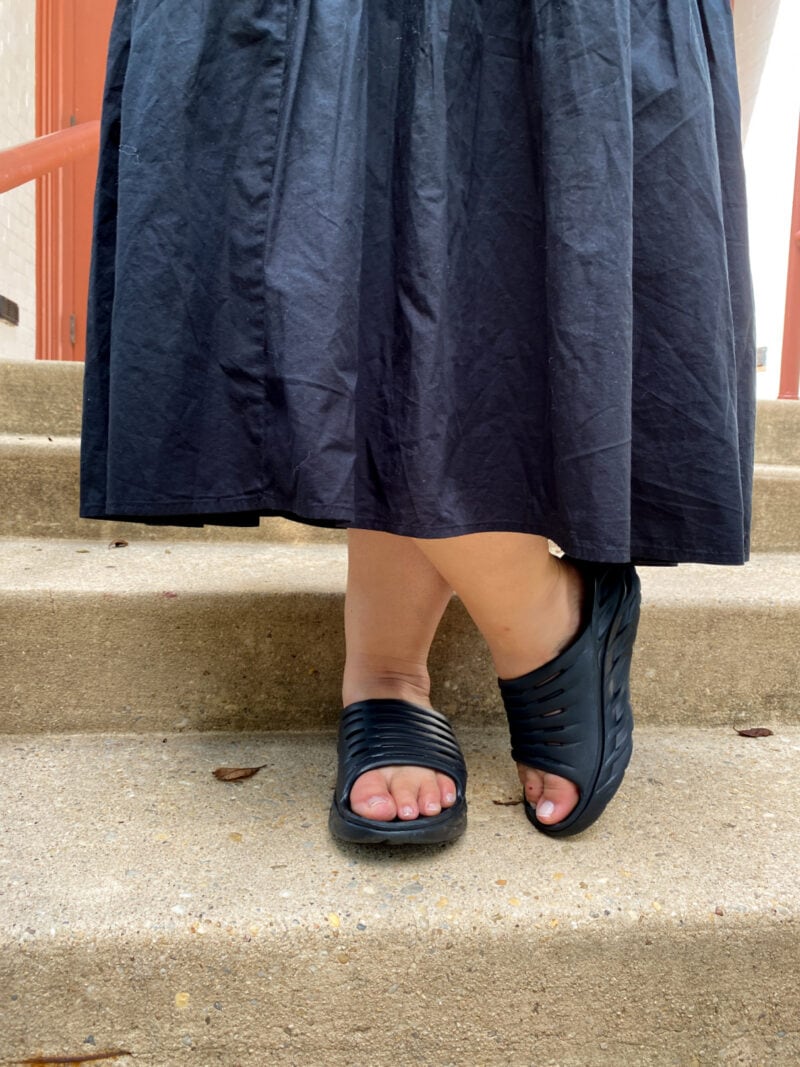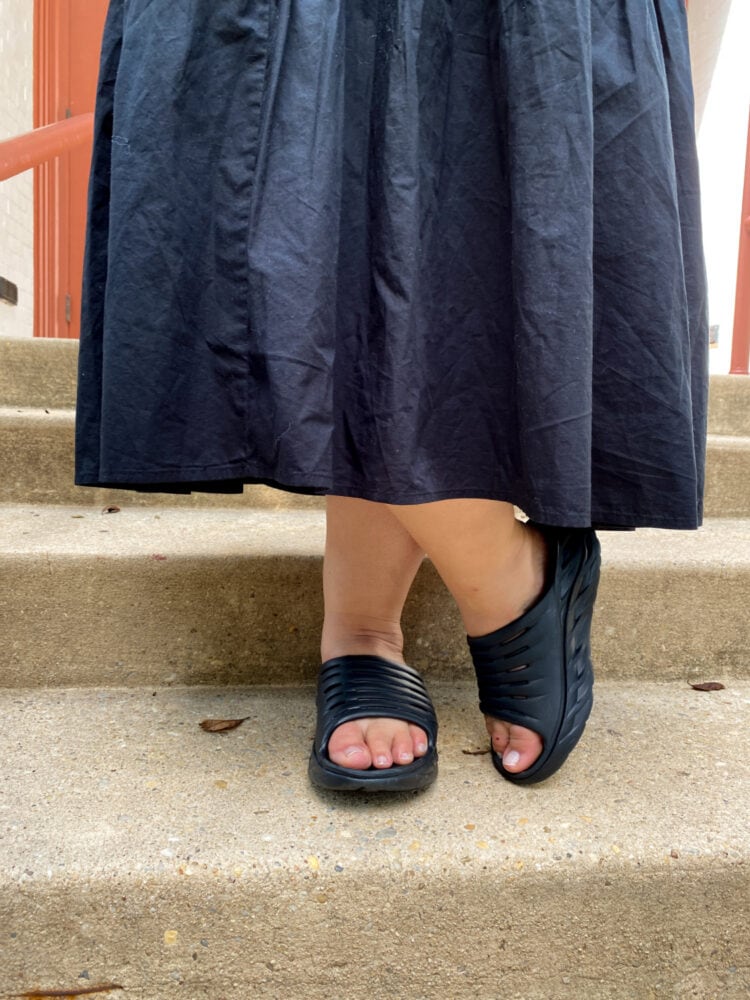 I totally planned on keeping them house shoes until the other day when I slipped them on with this dress to help a neighbor. She said she really liked the look and when I came home and caught the combination in my mirror, I did too. This is the dress I shared last Friday that is an in-stock, similarly priced, and size-inclusive (XXS-3X) alternative to my Christopher John Rogers for Target dress. Unfortunately, this dress I'm wearing is only available in black and earth/tan.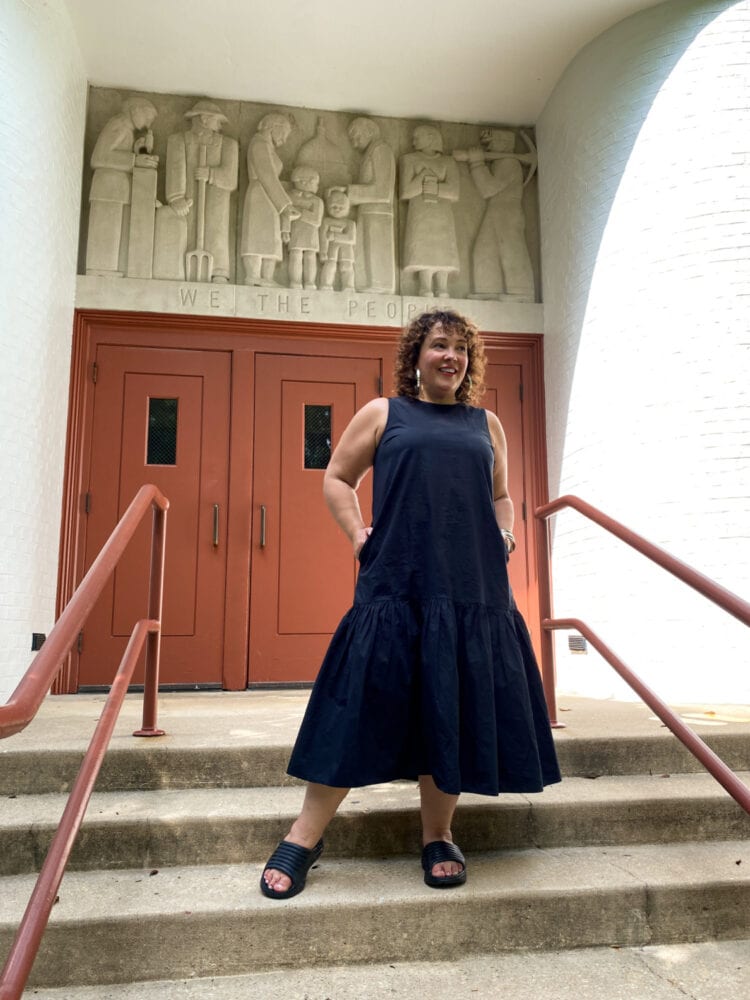 I shared this Saturday that I tried to cut out the lining and ended up damaging the dress. Don't do what I did; the lining is sewn to the dress itself and removing the lining removes the shoulder and neck seams. Luckily, I still had some fabric leftover and used Stitch Witchery to tack it down. I am toying with using embroidery floss to sew down the edges, making them colorful and a bit crafty. What do you think?
Two looks with two pairs of hella comfortable shoes. I believe that anyone can wear whatever the heck makes them happy. If heels make you happy, rock them my friend, they're fierce and can make you feel fabulous. But if heels are starting to be torture for you, there are alternatives. They may not be what you ever would have considered before, but we are living in different times. It seems pretty ridiculous to survive a pandemic and then destroy your feet for fashion. I'll continue to share the comfy yet IMO cute shoes I find here on Wardrobe Oxygen. And if you have any winning comfy shoes, do share them in the comments!
Shop These Looks: