This article may contain affiliate links; if you click on a shopping link and make a purchase I may receive a commission. As an Amazon Associate, I earn from qualifying purchases.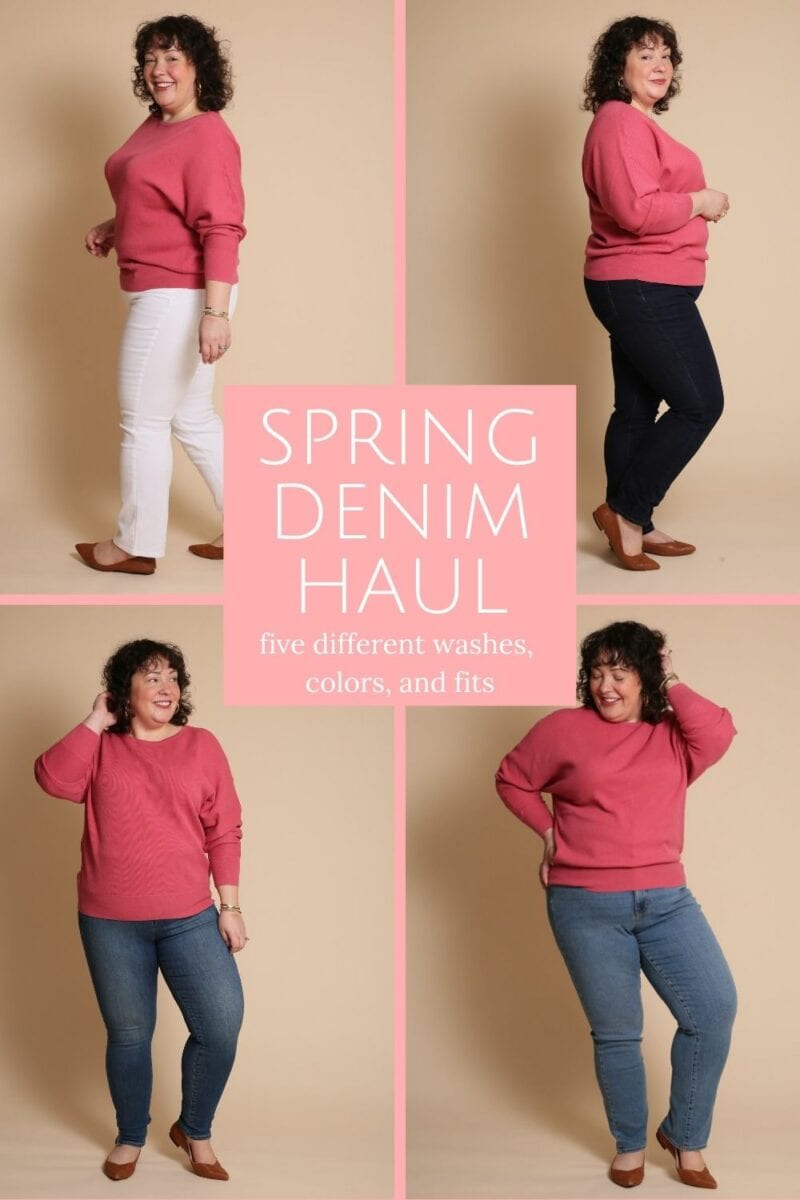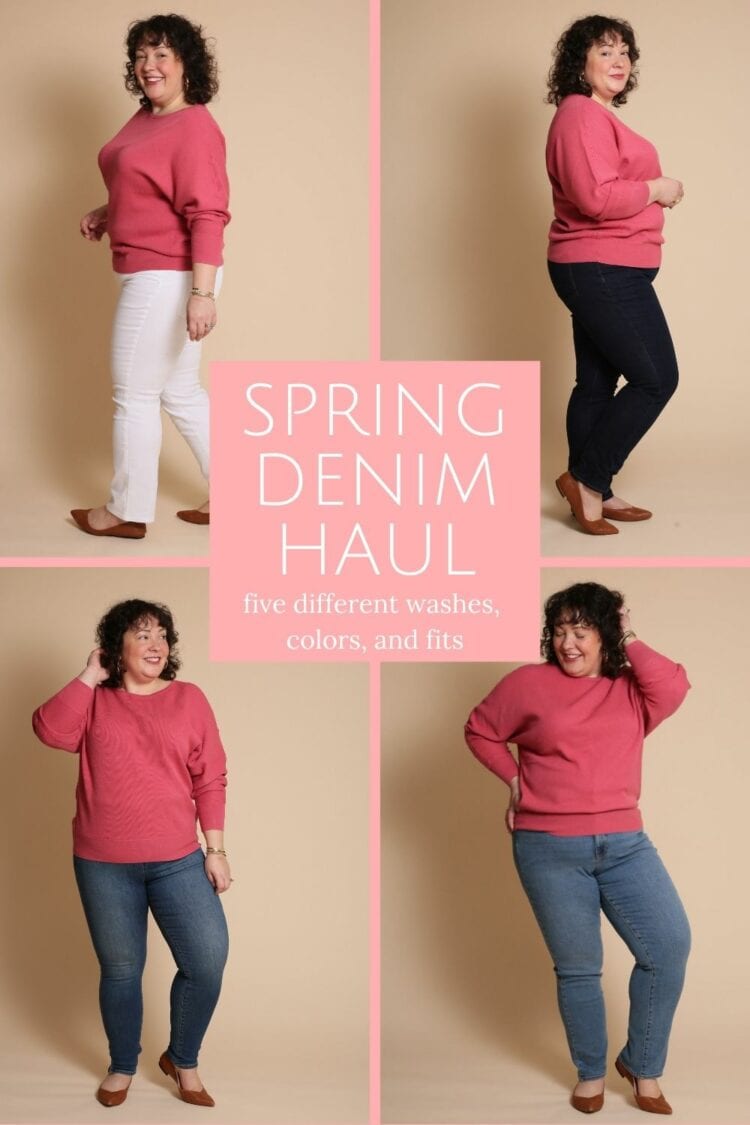 What are the best denim washes? Can a change in your jean's color or wash change the way your existing wardrobe looks or change the way your body looks?
I previously wore this coral batwing sweater with white jeans. I was surprised how much I liked the sweater. When I got home from the shoot, I kept on the sweater but changed from the white jeans to a faded pair in a different silhouette. It was astounding how different the sweater looked, and I looked, with a change of denim wash. It was such a fantastic example of how the wash and cut of your jeans can really transform any look.
I decided to photograph a variety of jeans in my wardrobe with the same sweater so you could also see how changing the color or wash of your jeans could change your life… or at least your wardrobe.
If you feel stuck in a rut or are toying with trying a new color, wash, or even cut for denim, I hope this post will inspire you to venture out of the denim box!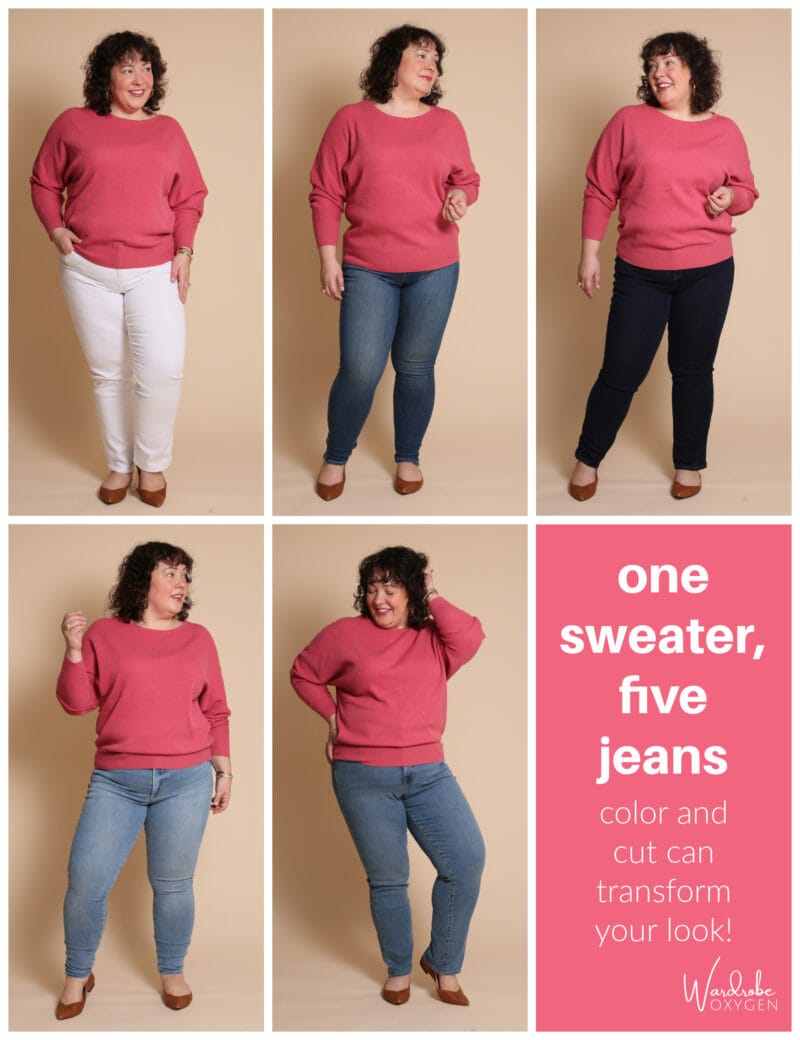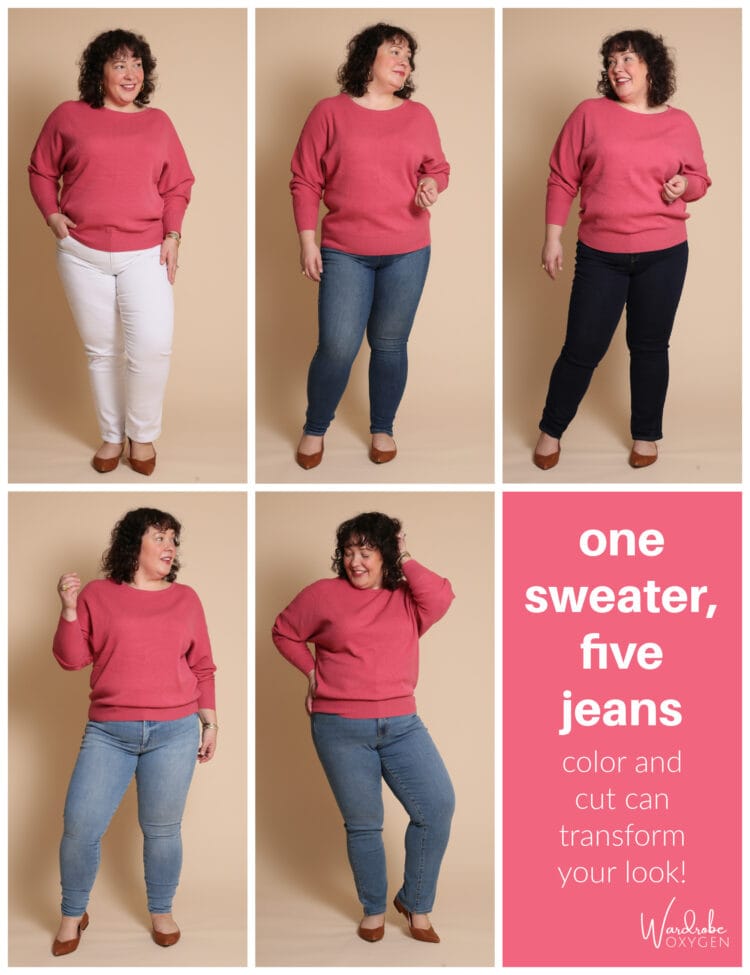 I mean, look at that. Same sweater, same shoes, same day but the choice in denim changes the color of the sweater, the way it hangs, the shape of my body, and how modern or fresh the whole look appears.
Below I will break down the different jeans I am wearing and my thoughts on them and if any of them are the best denim washes for all wardrobes.
Chico's So Slimming Girlfriend Jeans Review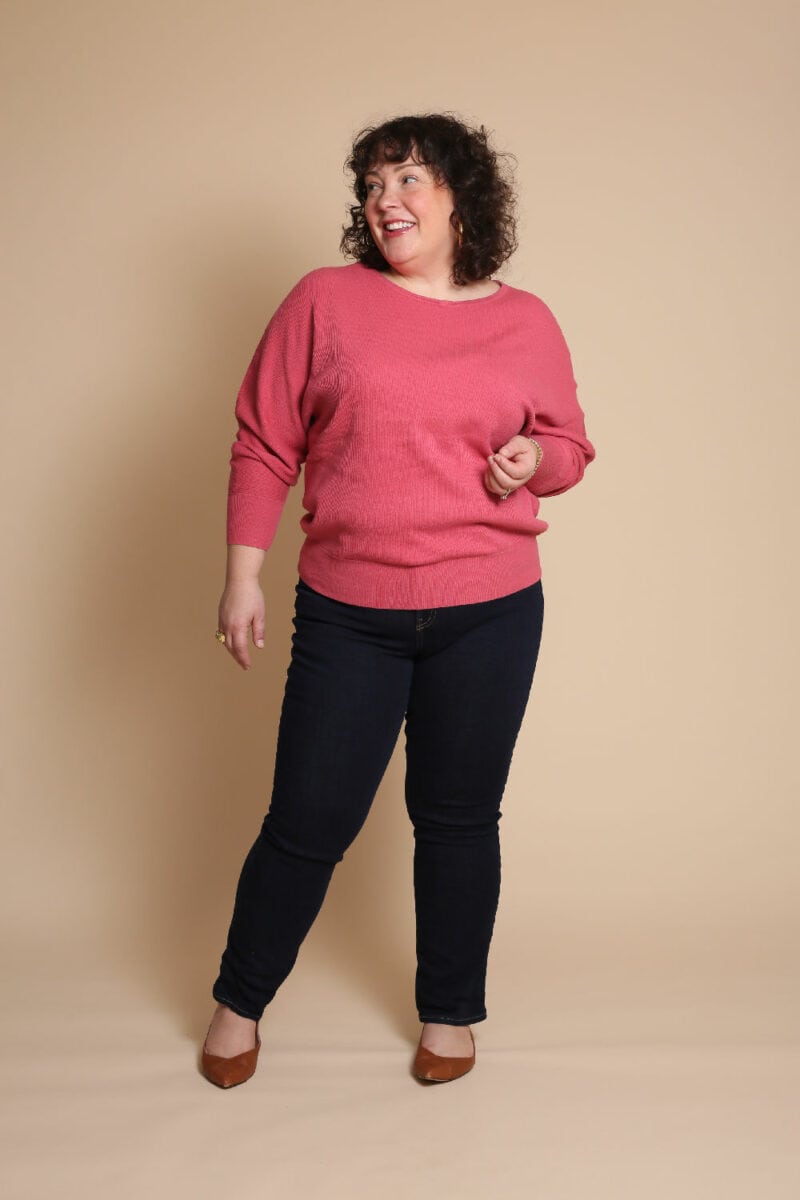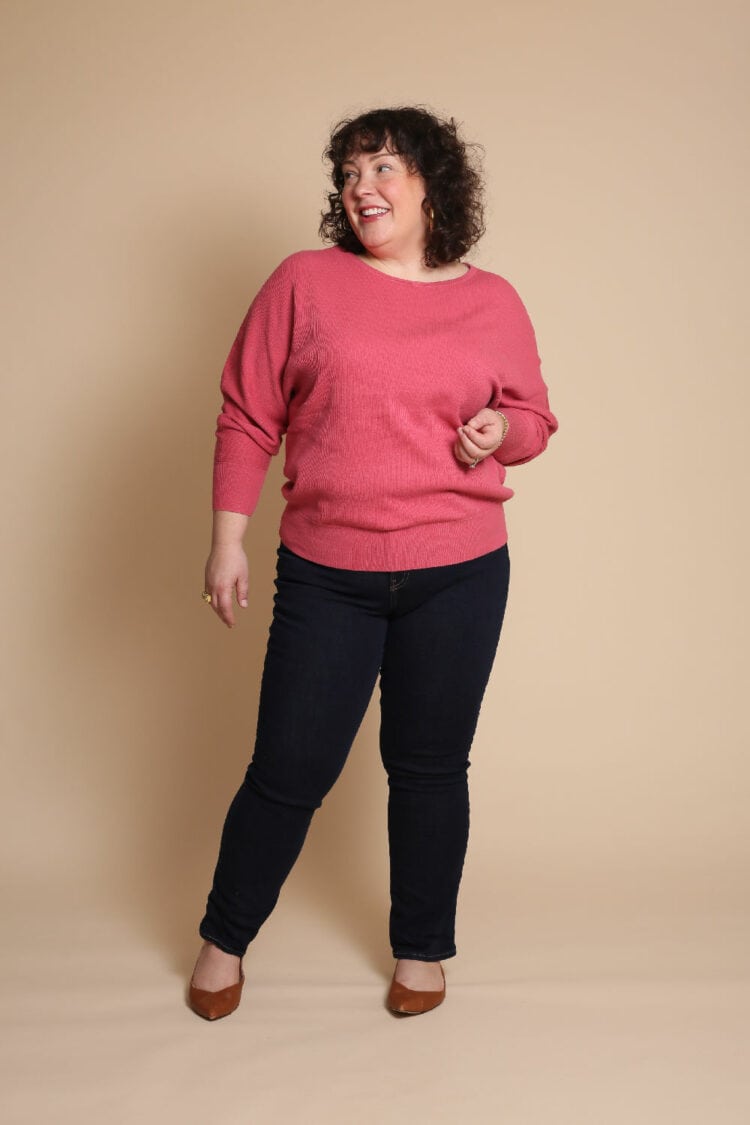 The label inside the Chico's So Slimming Girlfriend Jeans say they are a straight jean and I agree they are a slim, straight jean with a mid-rise. These jeans come in Regular, Short, Tall, and Petite; I am wearing a 2 Petite.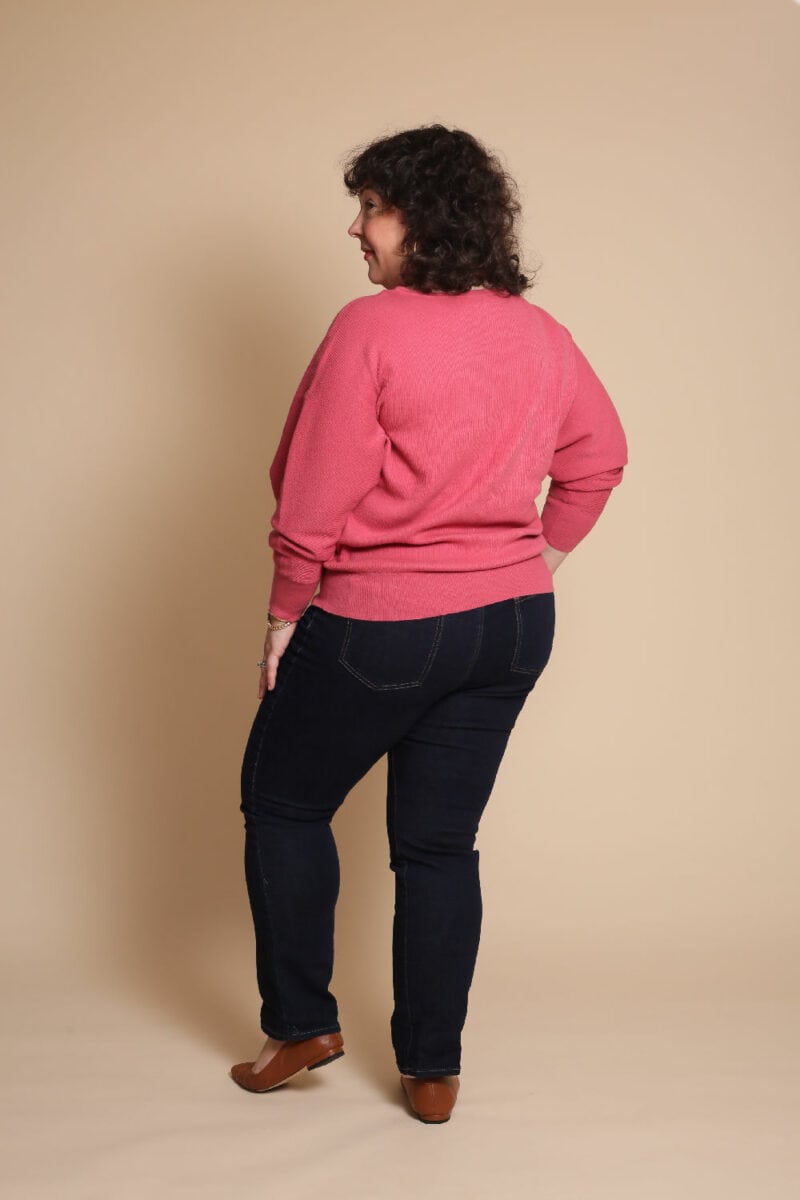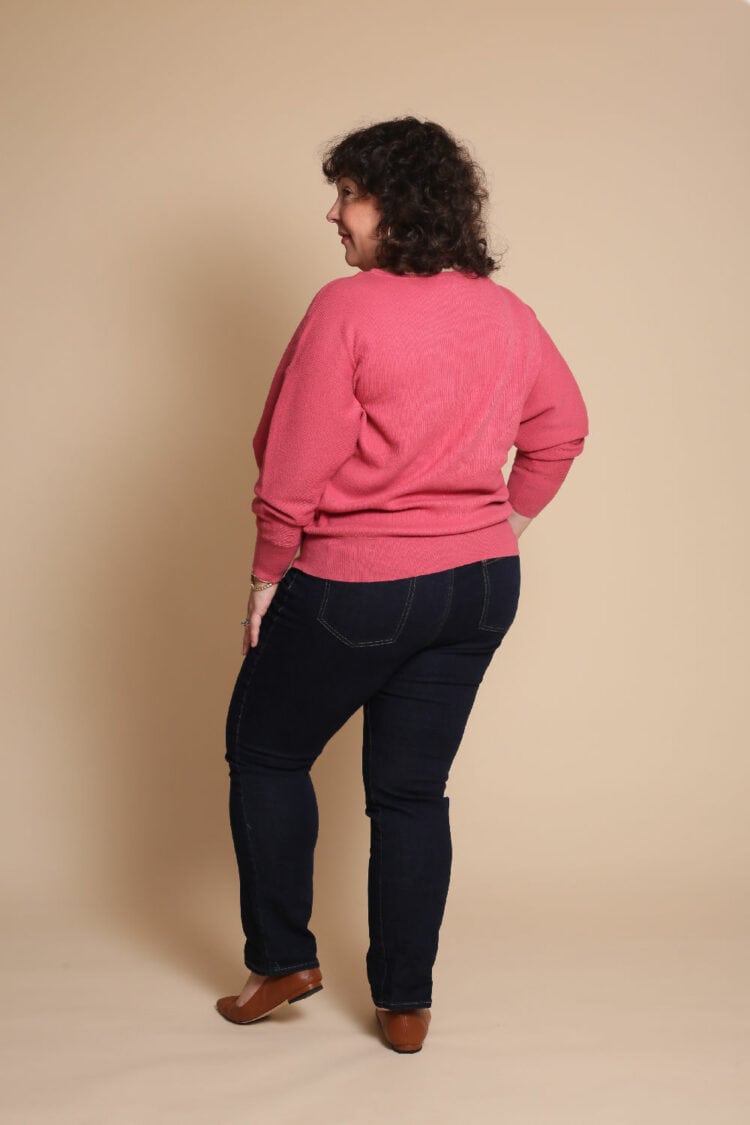 You have seen these jeans before in this blog post and if you know me IRL have likely seen them more than that. These are very comfortable jeans that hold their shape pretty well and launder nicely. They are a cotton, rayon, polyester, spandex blend stretch jean.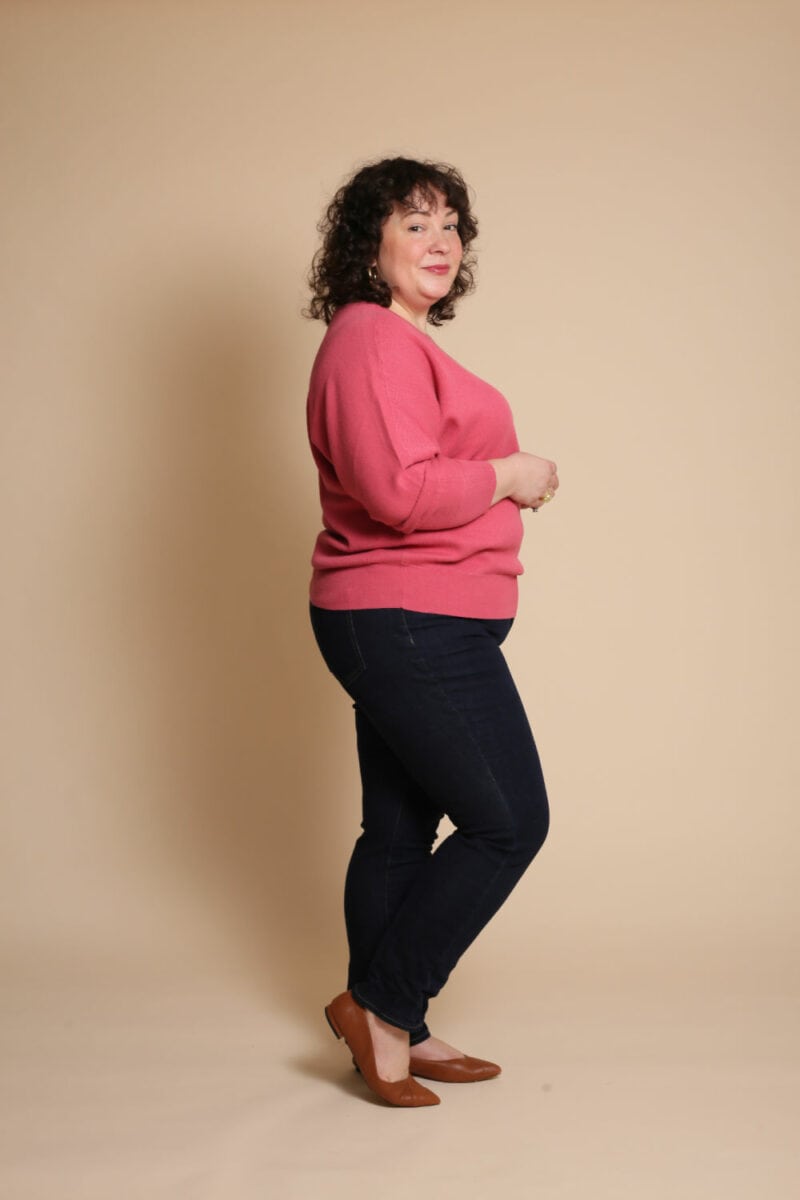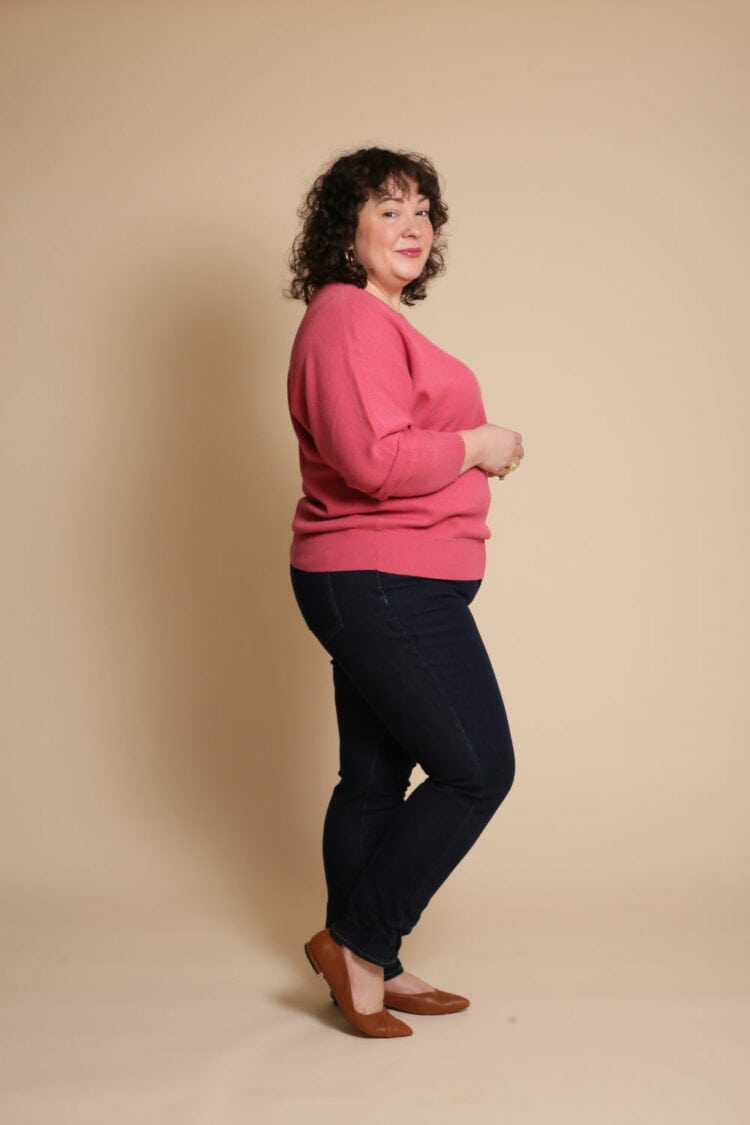 The dark wash is classic, but with this on-trend dusty rose-colored sweater, the feeling is autumnal, not spring and the color feels more dusty. However, the slim but straight silhouette works well with the cognac leather flats and the untucked dolman-sleeve sweater.
For spring, I would balance dark denim like this with lighter colors – white, pale blue, maybe a fresh stripe with a white ground. I would also lighten up the bottom half with a trendy white sneaker or a flat in a cheery spring color.
Chico's So Slimming Girlfriend Ankle Jeans Review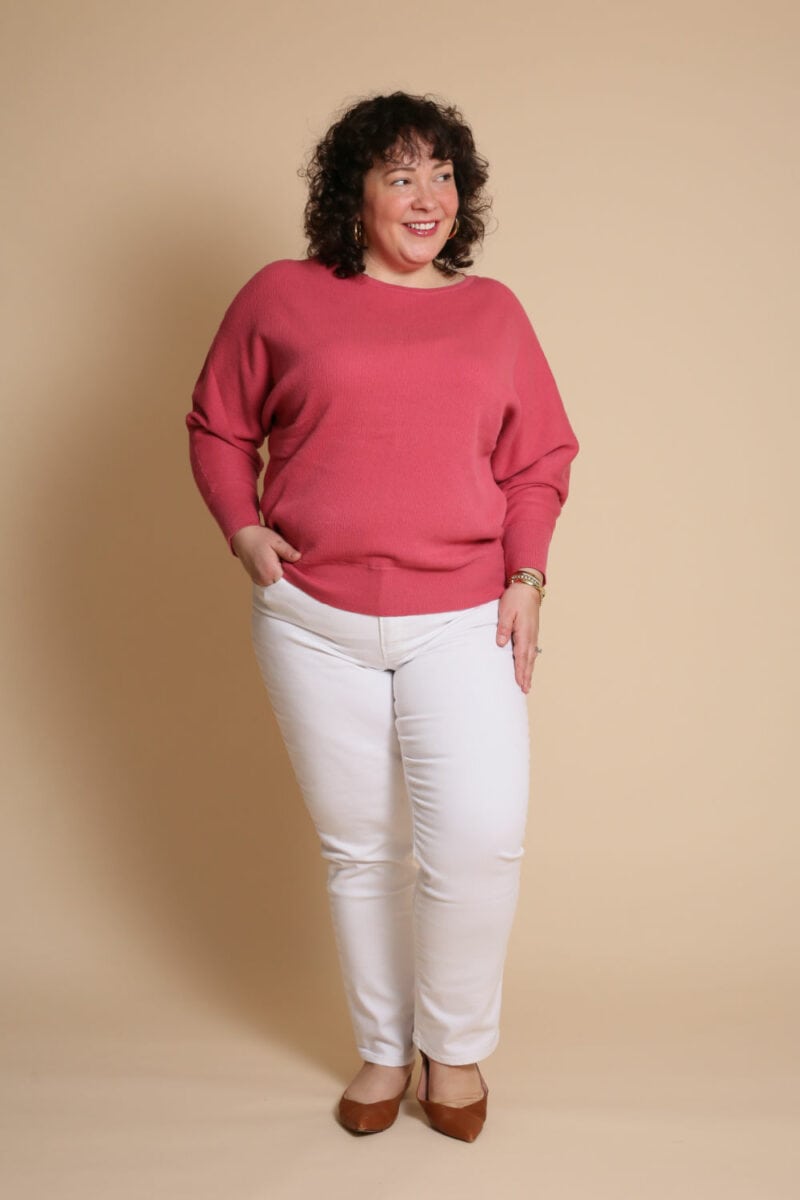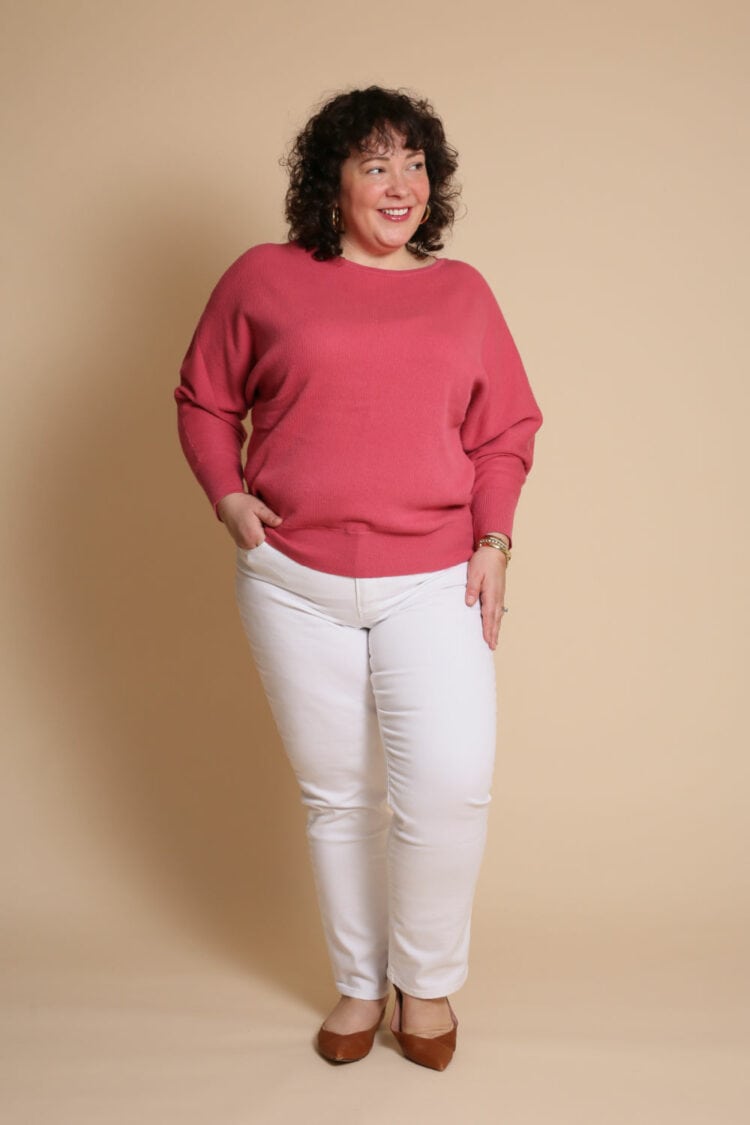 These are essentially the same Chico's jeans, just in white to show how a wash or color of denim can make such a drastic difference in how a look reads, and also how your body looks in said look. Again, I am wearing a size 2 petite with Chico's. Chico's has a variety of washes and embellishments for their Girlfriend Jeans; if you like the fit you'll likely find a style right for you.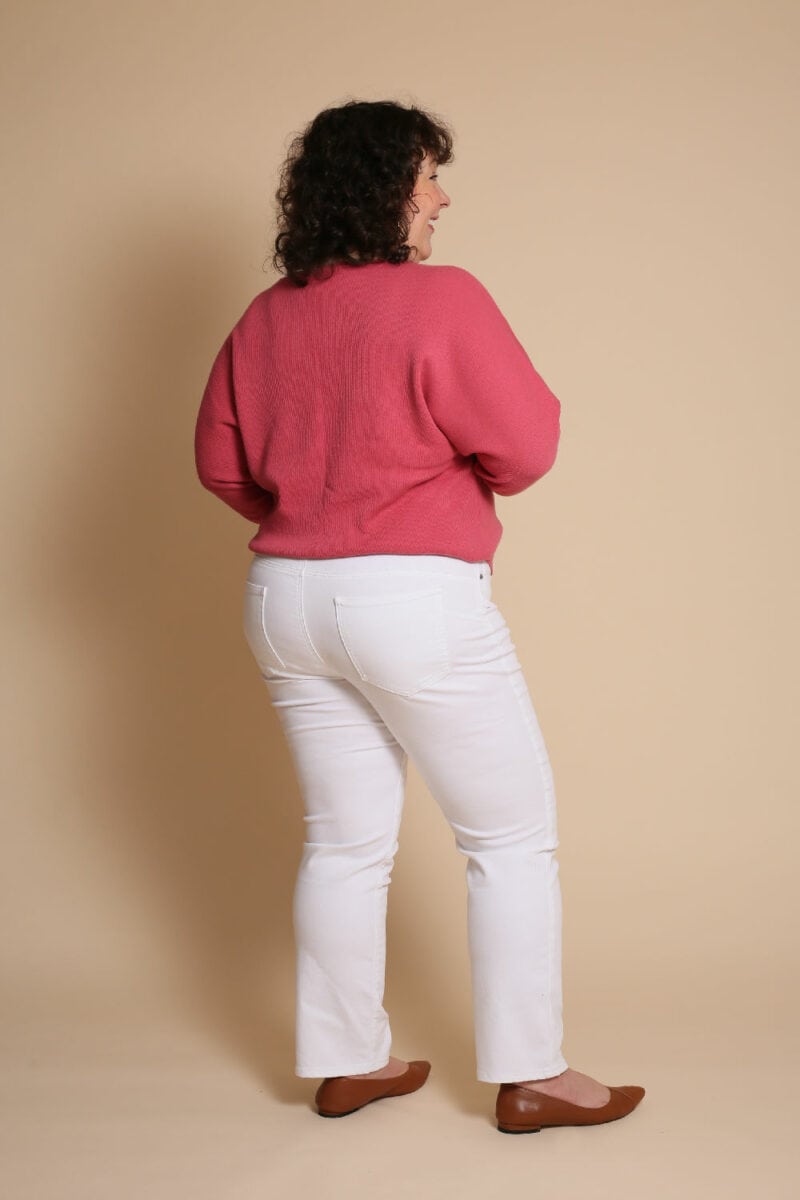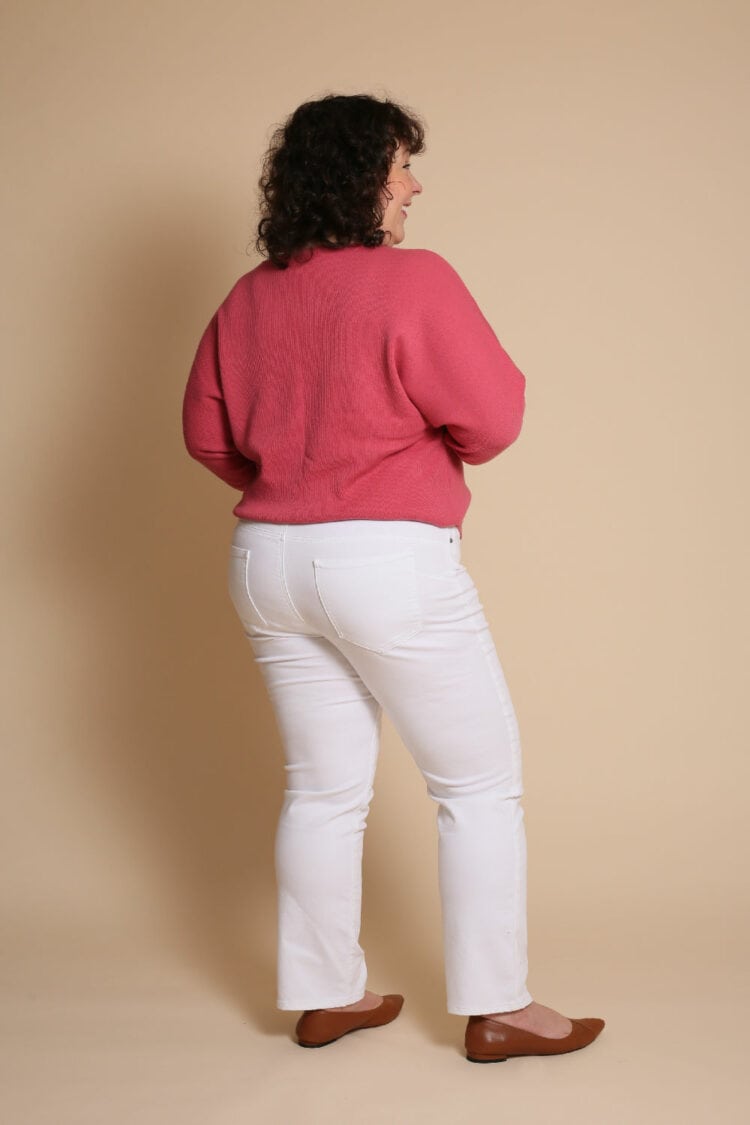 Chico's makes great white jeans; they aren't too stiff but hold their shape, don't put bumps or undies on display (I am wearing mauve-colored undies with the jeans for this shoot), and these have technology in the fabric that helps them resist stains. No really, liquids will bead up and you can brush off your dog's footprints!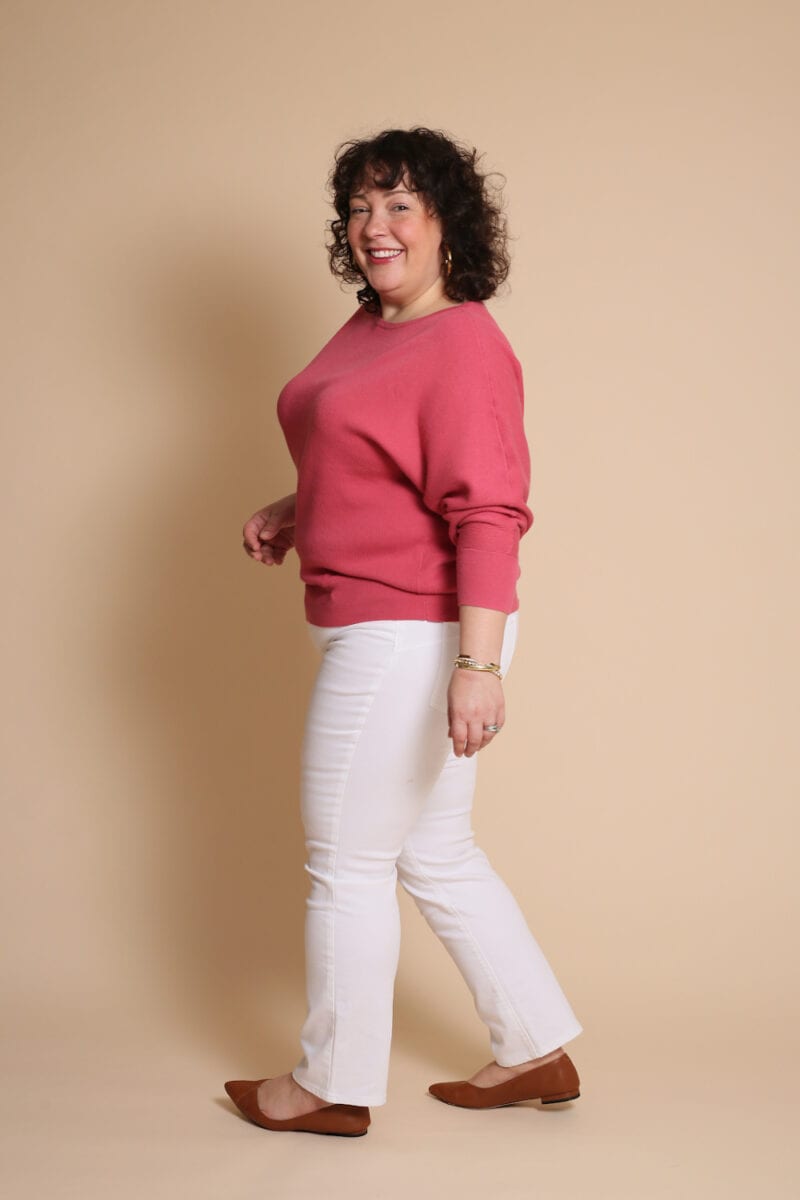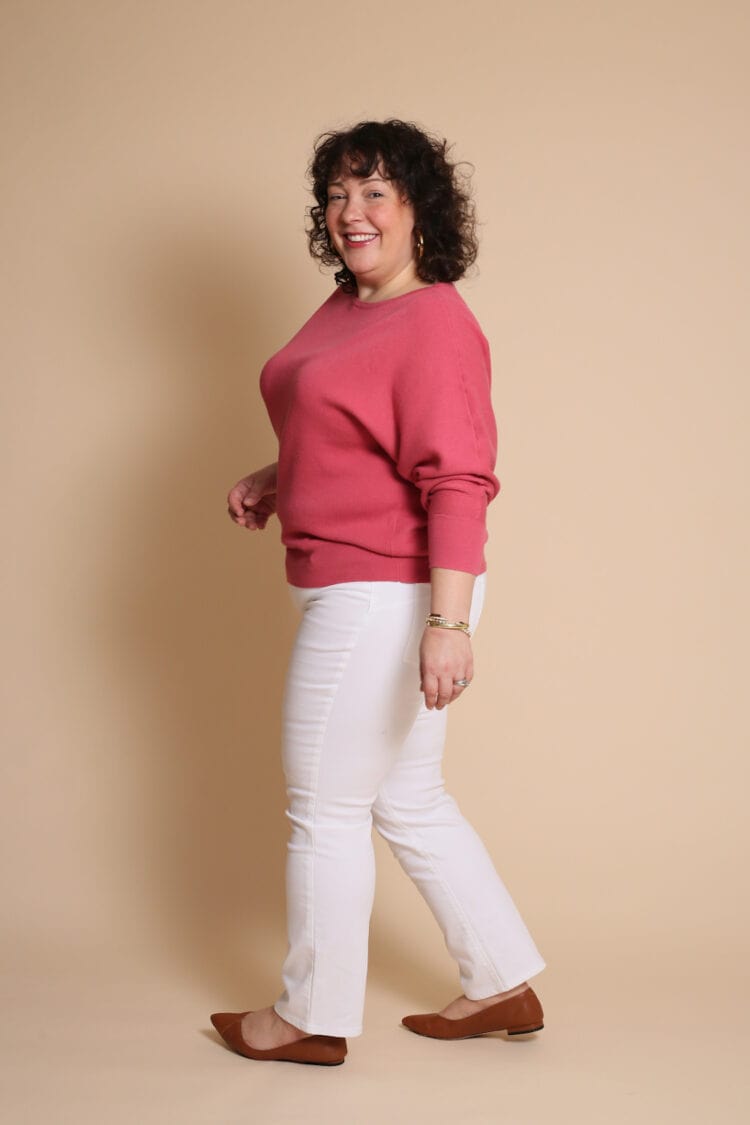 I mentioned in Monday's blog post where I wore these jeans that I don't love the "so slimming" panel in front. Thanks to the suggestion of readers who have done this, I plan to snip it out with a pair of small scissors and I think that will make these jeans pretty close to perfect.
White denim no longer is reserved just for late spring and summer. White jeans can be worn year-round; check out this post where I styled white Chico's jeans for winter. And this season, you can wear pretty much anything with white jeans… except white shoes.
I know some can carry it off, but in general white sandals, flats, loafers, and other non-athletic shoes with white jeans can look dated and too matchy-matchy. Instead, try a shoe in a nude-to-you or a low-contrast color (for example, blush pink is very low contrast on me; for others, they may find colors like bronze or olive or yellow or gray or clay to be a good choice). This will put a modern spin on your white jeans.
NYDJ SpanSpring Skinny Ankle Pull-On Jeans Review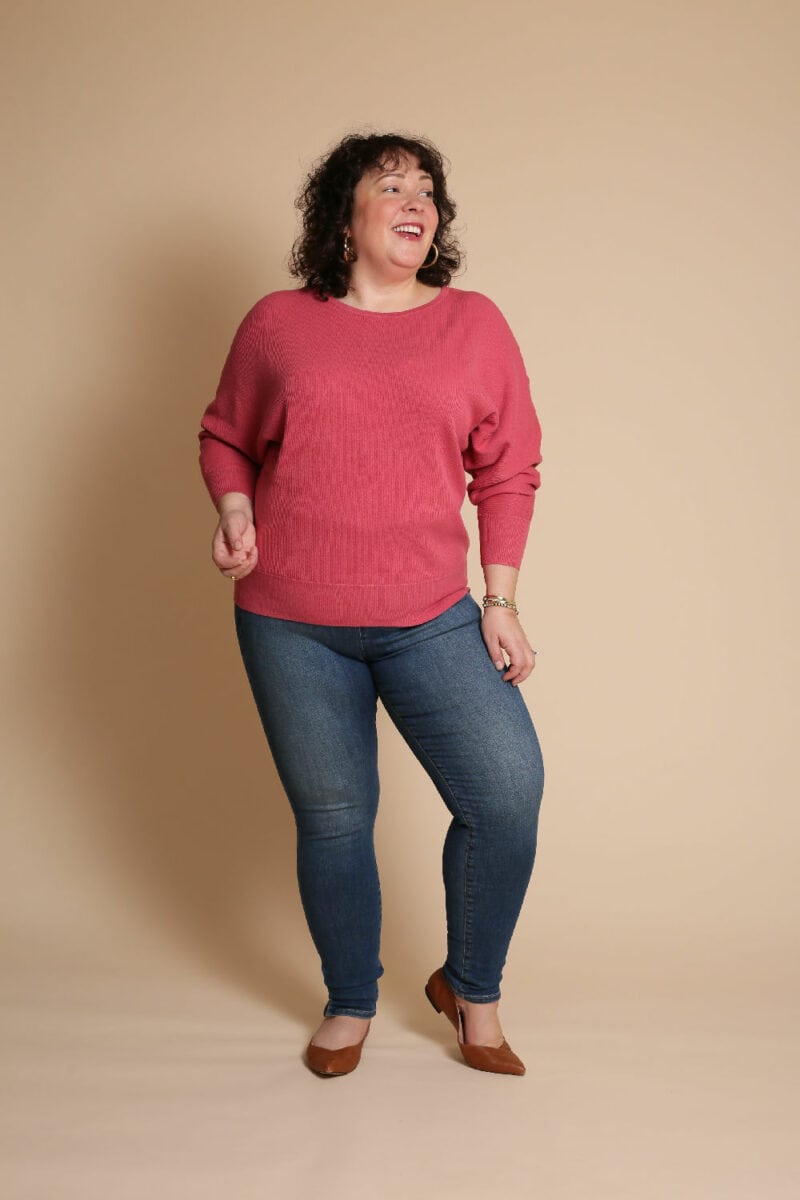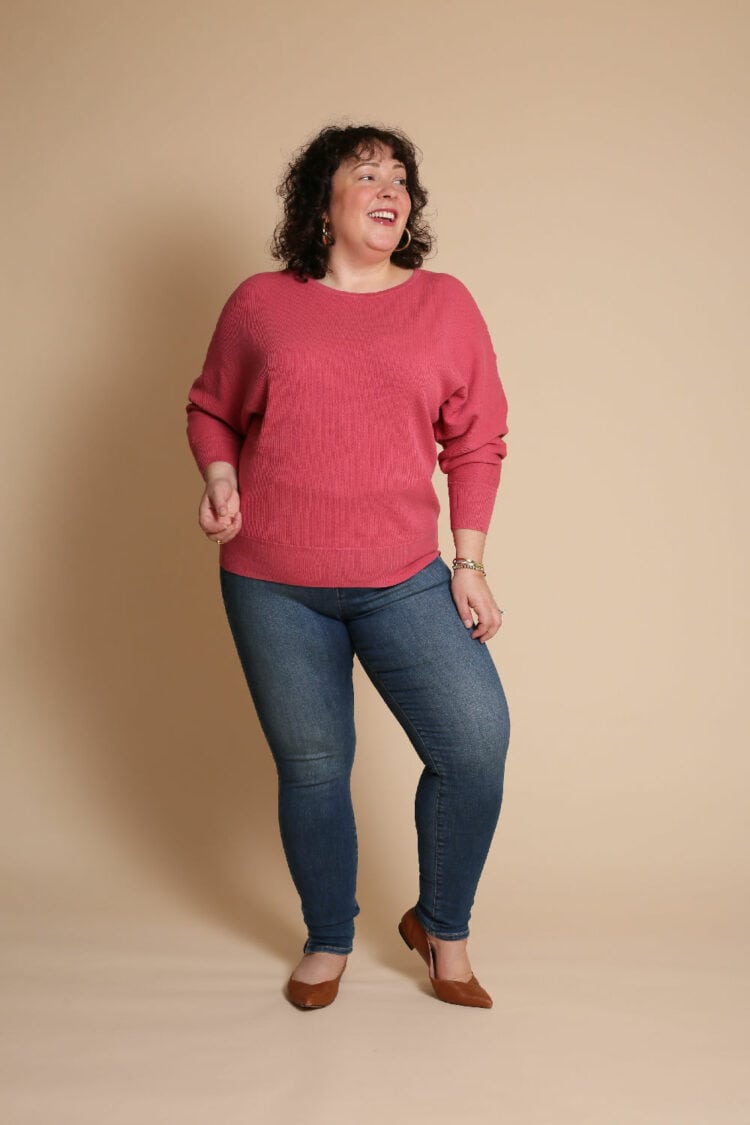 I did a quick NYDJ SpanSpring denim review in a Friday Shop post. These are a type of jeans that should fit you through three sizes. Genius for those of us who have had their shape and size fluctuate this past year, those going through perimenopause or hormonal weight fluctuation, and for so many women who just don't stay the same size week after week.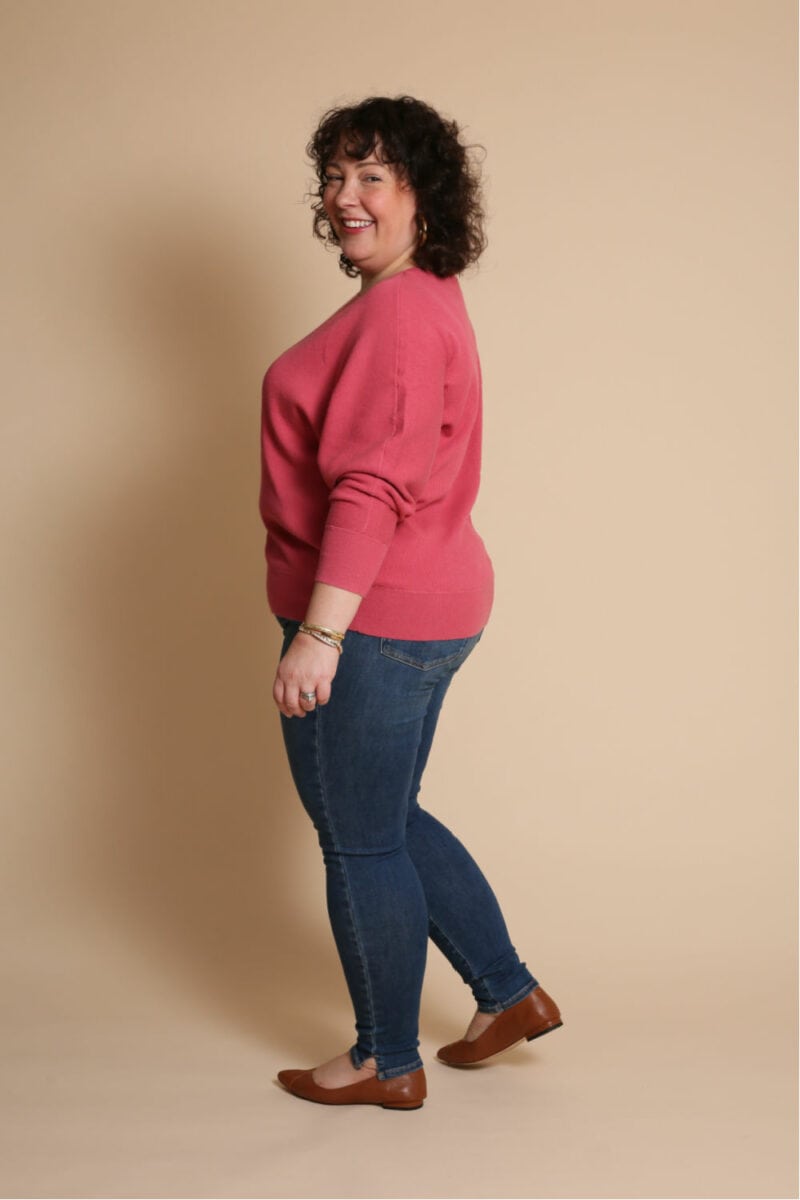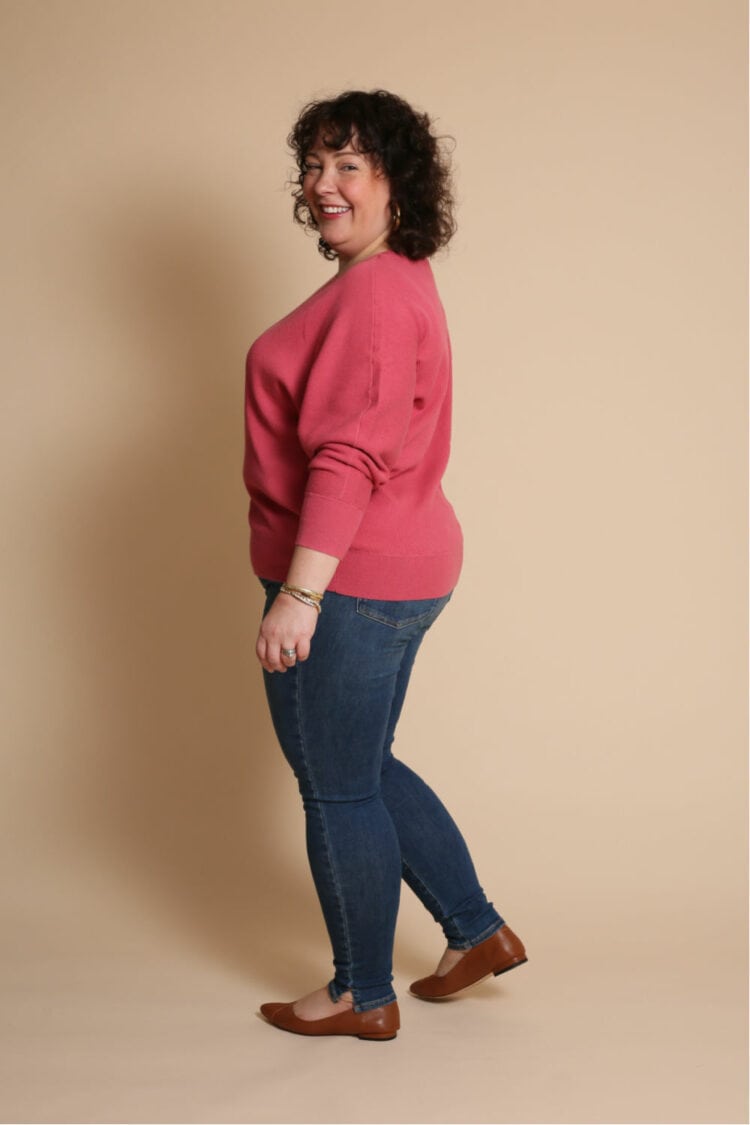 The Large which I am wearing, is to fit sizes 12, 14, and 16. While these stretch and mold to your body, I don't really think these are big enough to comfortably fit a size 16. Being 5'3″, I need to have these tailored (which would get rid of the ankle slit, which isn't really my style anyway).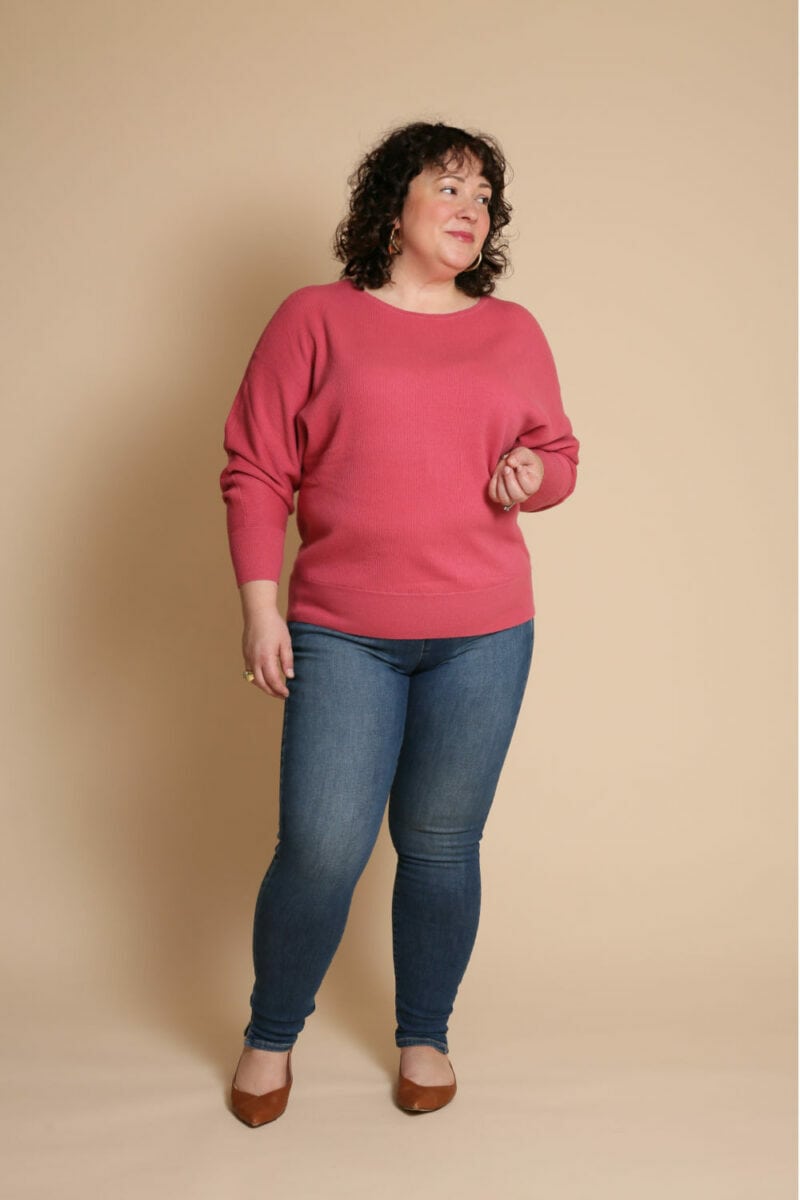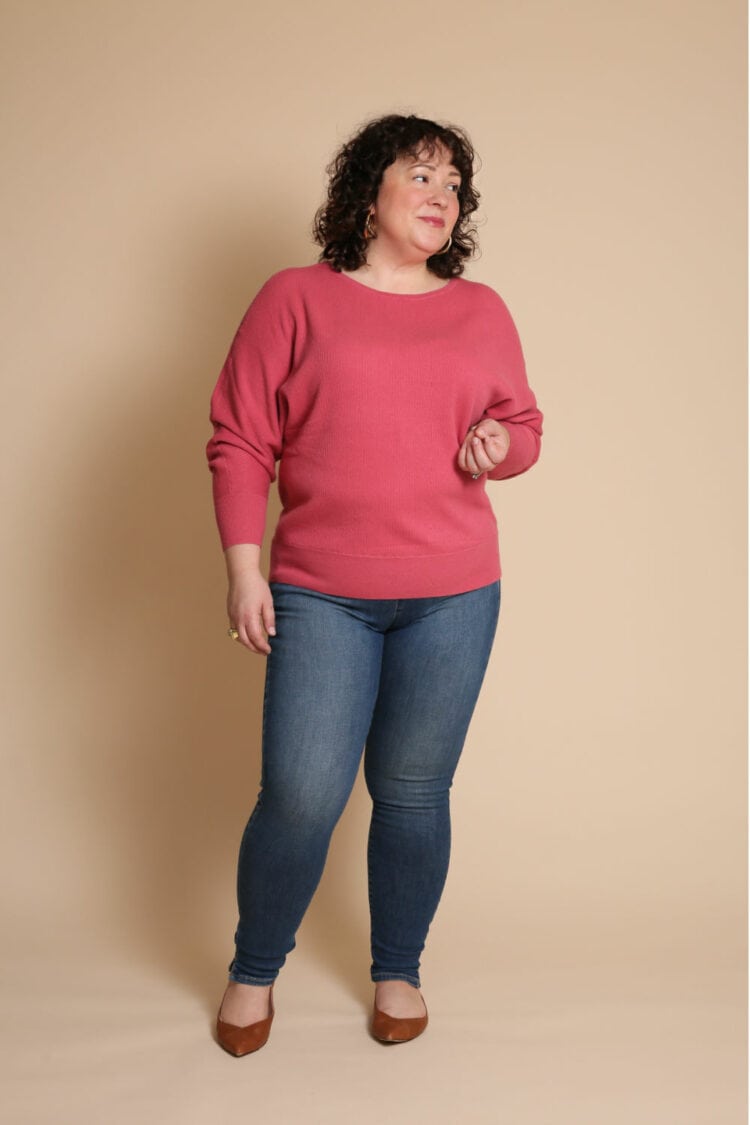 This color is called Clean Allure which is sort of like a stonewashed color: it's lighter than the dark wash of the Chico's jeans above, but still gives more of a fall/back to school vibe.
If you like this color of denim, I again encourage you to go lighter for spring and summer. Consider going denim on denim and styling this wash with a faded chambray shirt or a pale blue oxford shirt, or go with light neutrals with a flax-colored linen sweater or pale gray silk blouse. Add some nude-to-you flats and gold jewelry to add polish.
Frame Le One Skinny Jean Review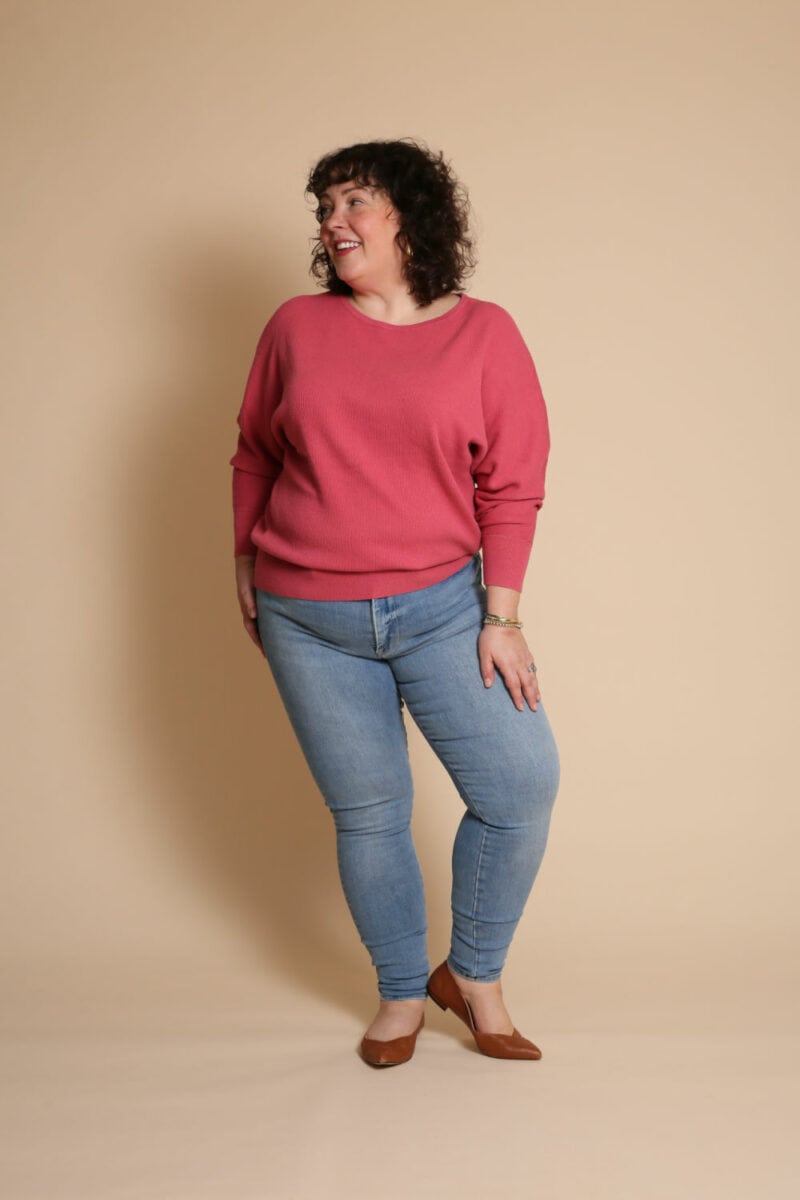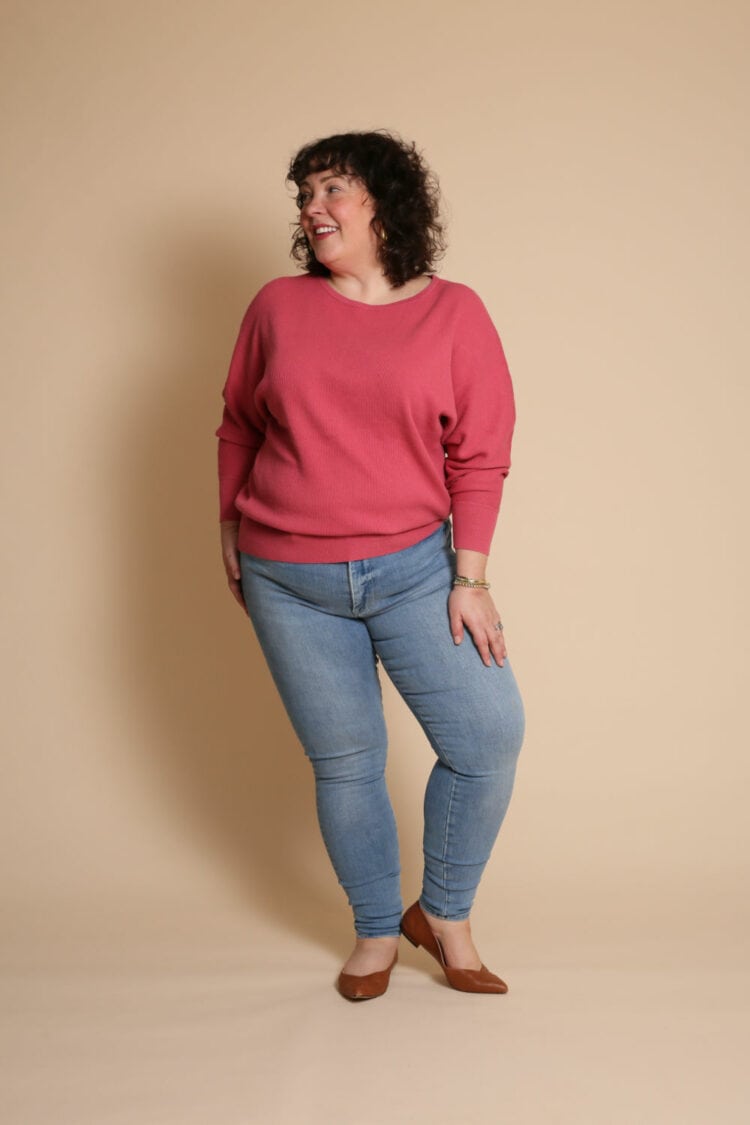 When I shared the NYDJ jeans that are to fit three sizes, a few of you DMed and emailed me asking if I had tried the Frame Le One which is also a jean that is supposed to fit multiple sizes, adjusting with you.
Made from sustainable denim, these jeans come in only two sizes – one to fit sizes 23-28, and one to fit sizes 29-34. Since I am a size 14 and in Frame I am a 33, I went with the second size. They come in three colors but I chose faded because, spring and all that.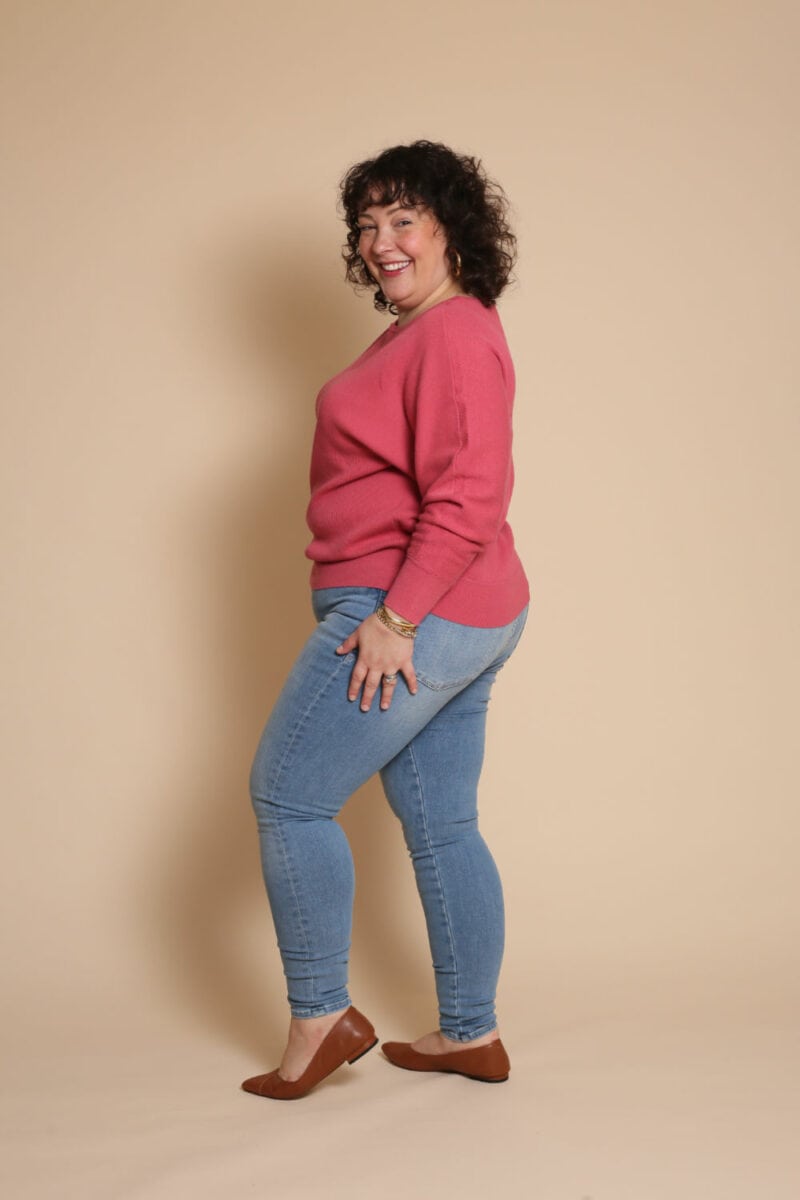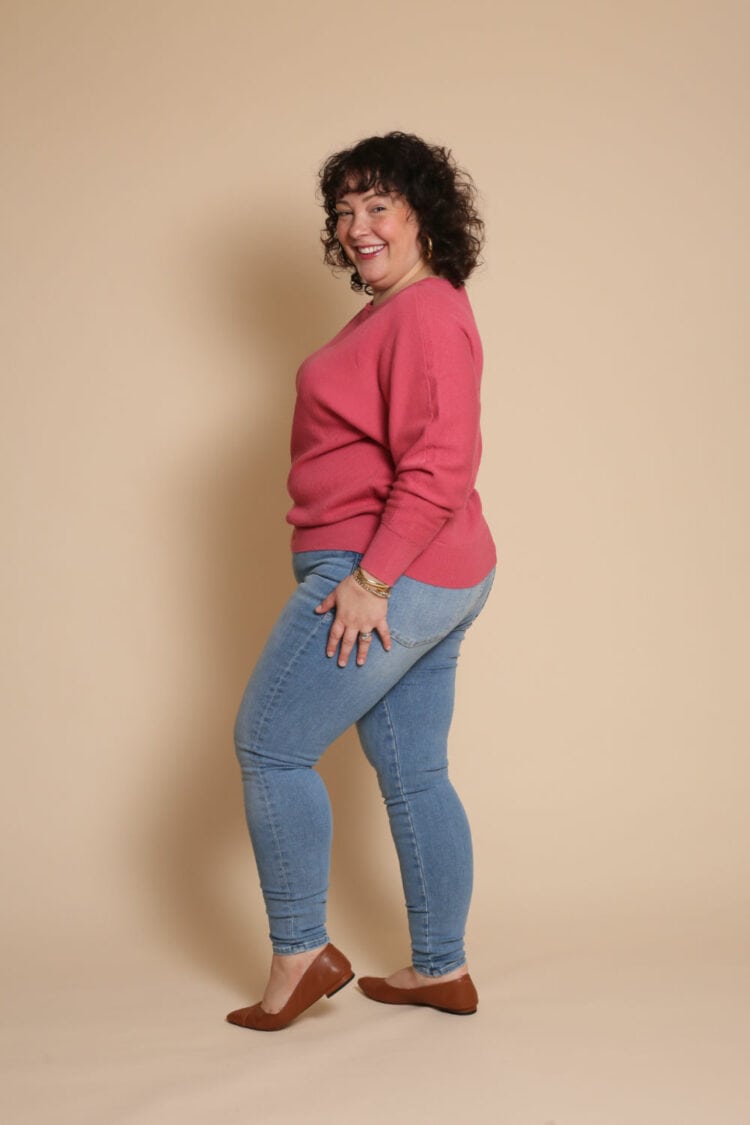 These are some seriously skinny jeans, but they are stretchy and will mold to fit you. However, they run incredibly straight up and down and I am not straight up and down. Have you ever bought cheap skinny jeans that are a hair too small and you keep having to hike them up or else you end up with muffin top and a saggy bum? That's what these are, except they cost over $200.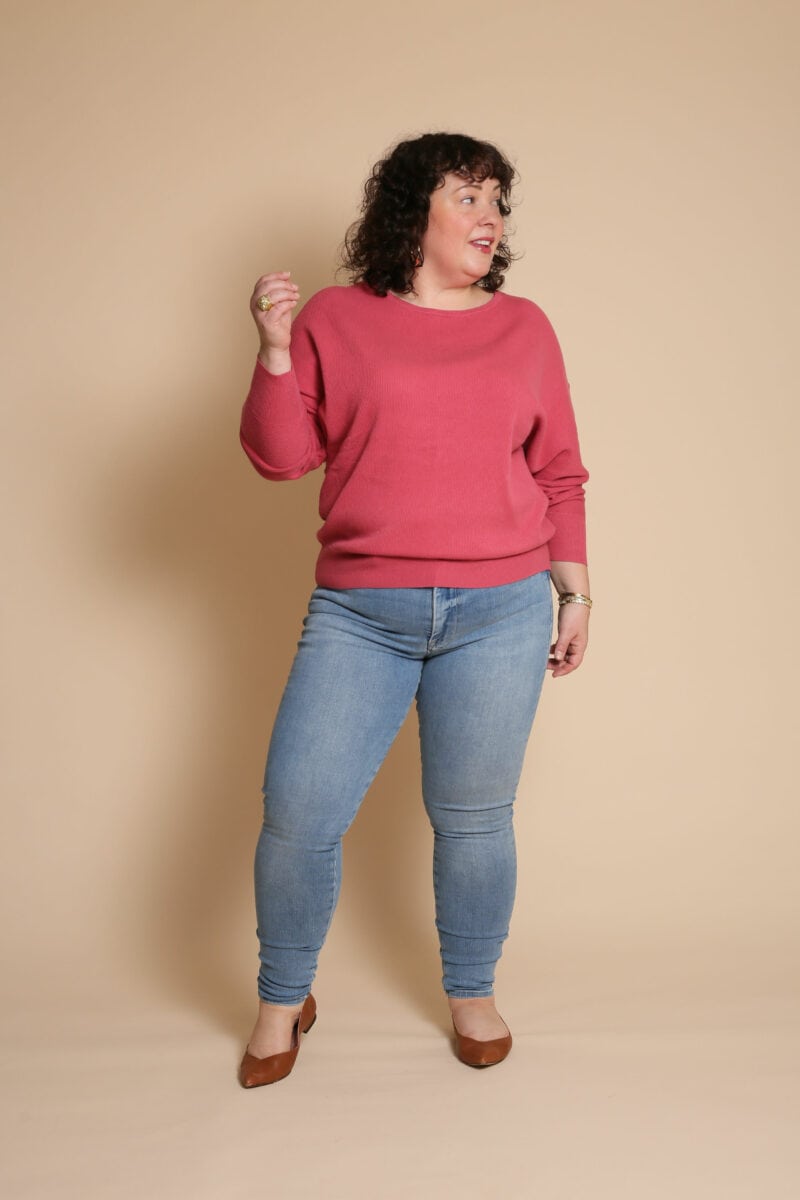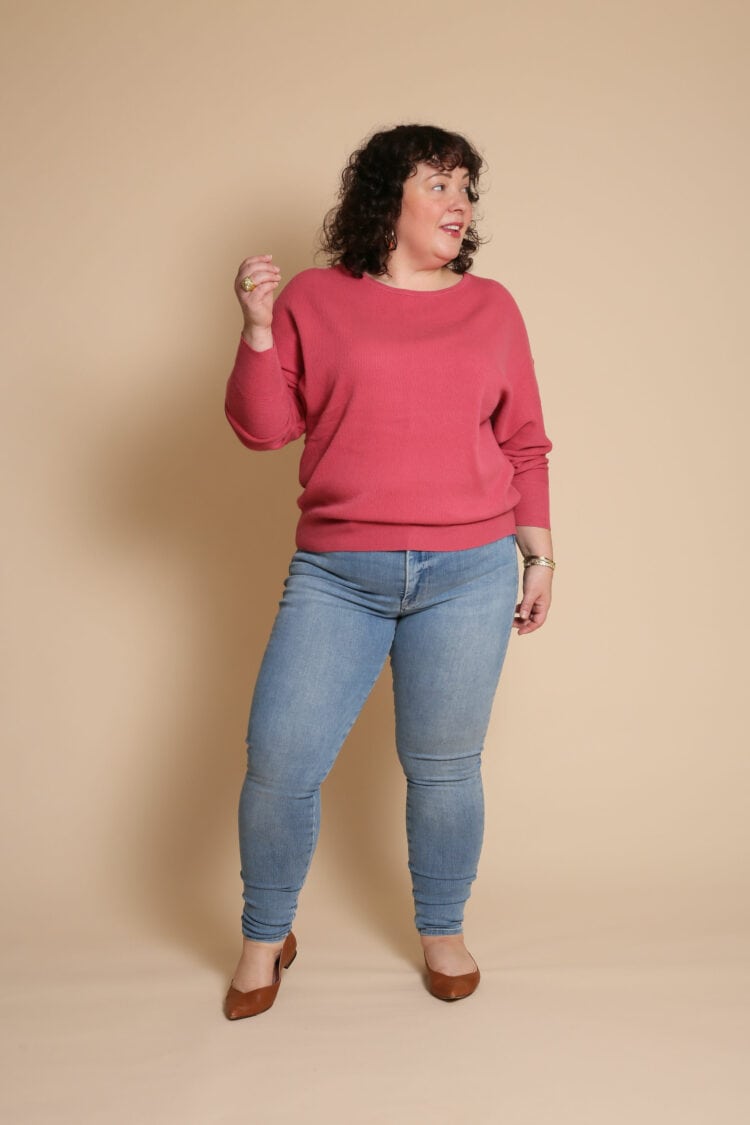 While I do not like these jeans for me, they are a good example of a faded wash that is hot this season and how well it works with the desert-inspired colors and soft neutrals that have been on trend the past few months.
If you love a skinny jean, consider trying it in a lighter wash. Just comparing the last jeans to this one shows how a faded jean can really transform items already in your closet and give them a fresh look. Faded denim goes with most any color this season; just if you do black consider wearing a non-black shoe so it doesn't look wintry or veer into Lita Ford territory.
Talbots Slim Ankle Jeans Review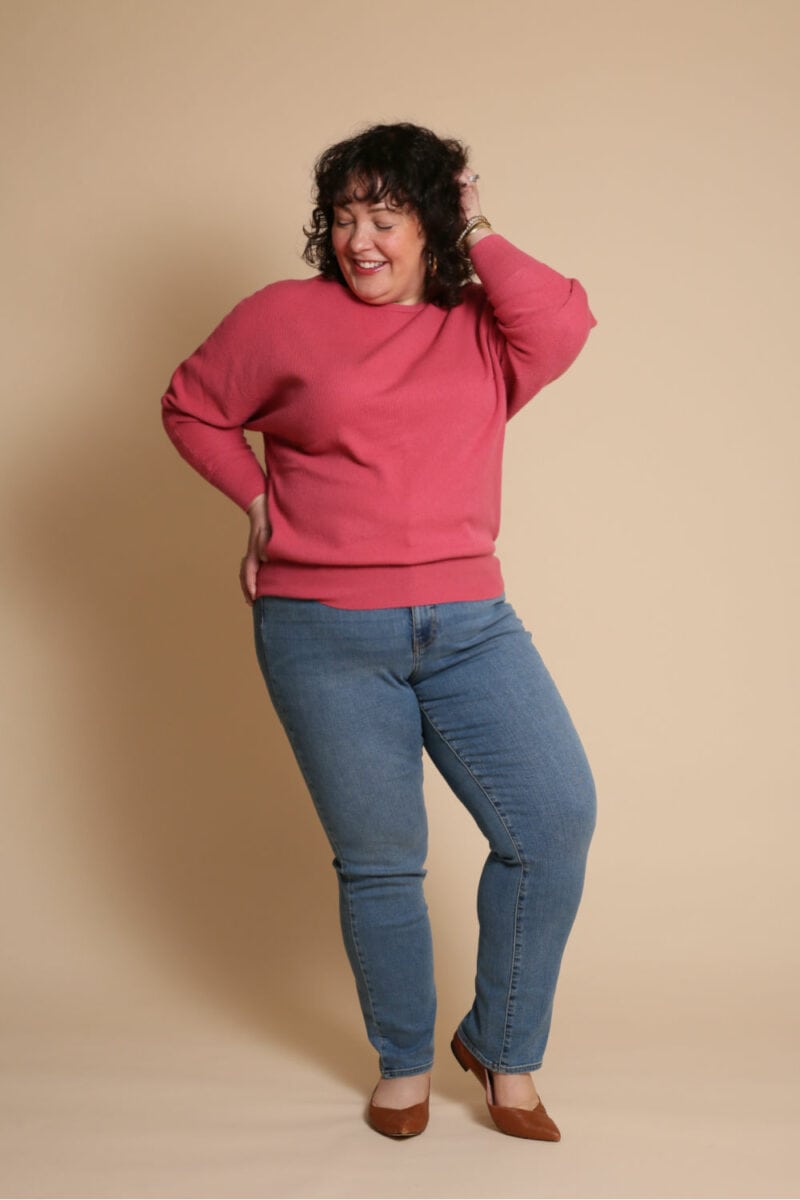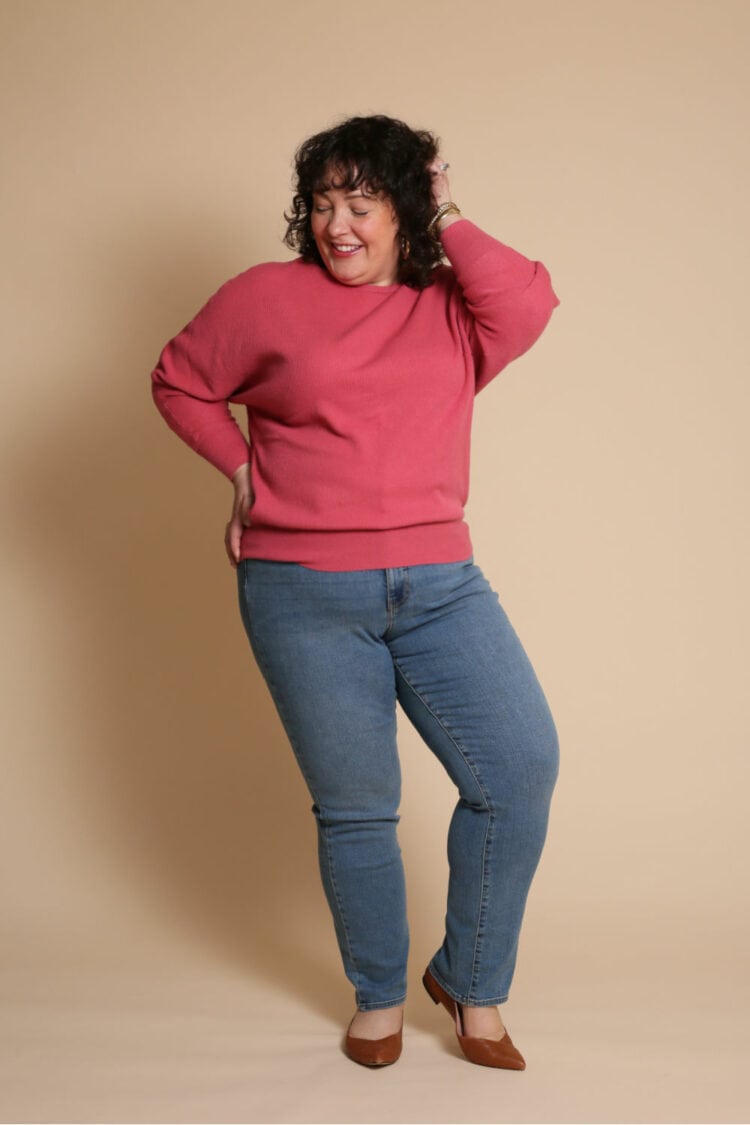 In my Madewell denim haul, I shared how the Talbots Slim Ankle Jeans are some of my favorite jeans. Year after year, I find they fit the same, and they also fit the same regardless of wash. This year I decided to embrace the faded denim trend for spring and ordered a pair in what Talbots calls, "Wake Wash."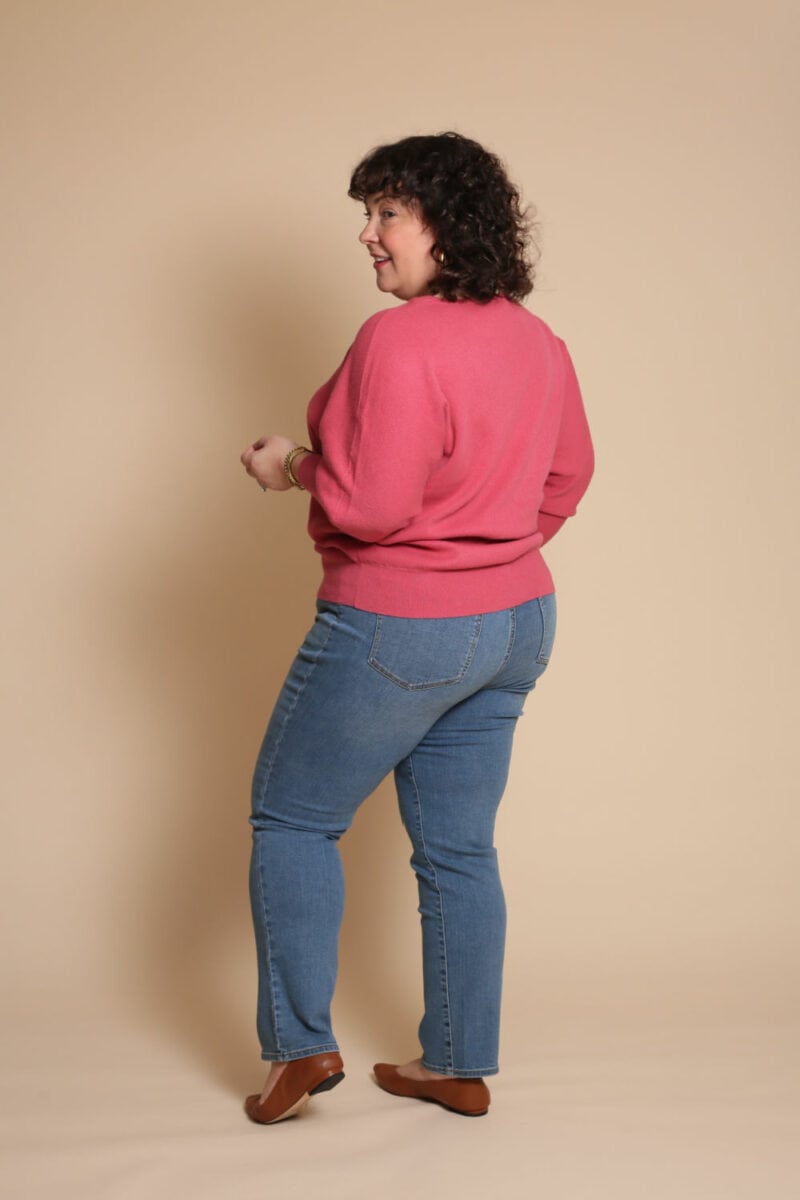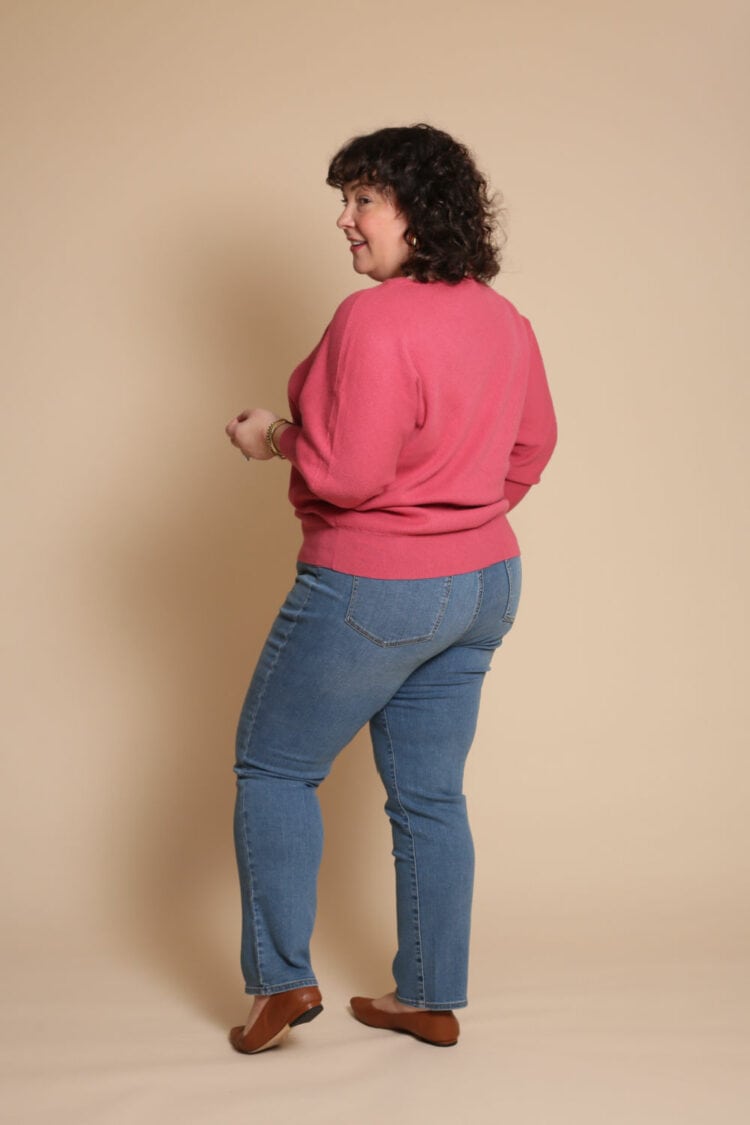 I don't love this wash. This spring, the faded look is vintage, a bit tinged gray or beige, and these are very blue. That plus a lack of any distressing or weathering makes these jeans feel dated.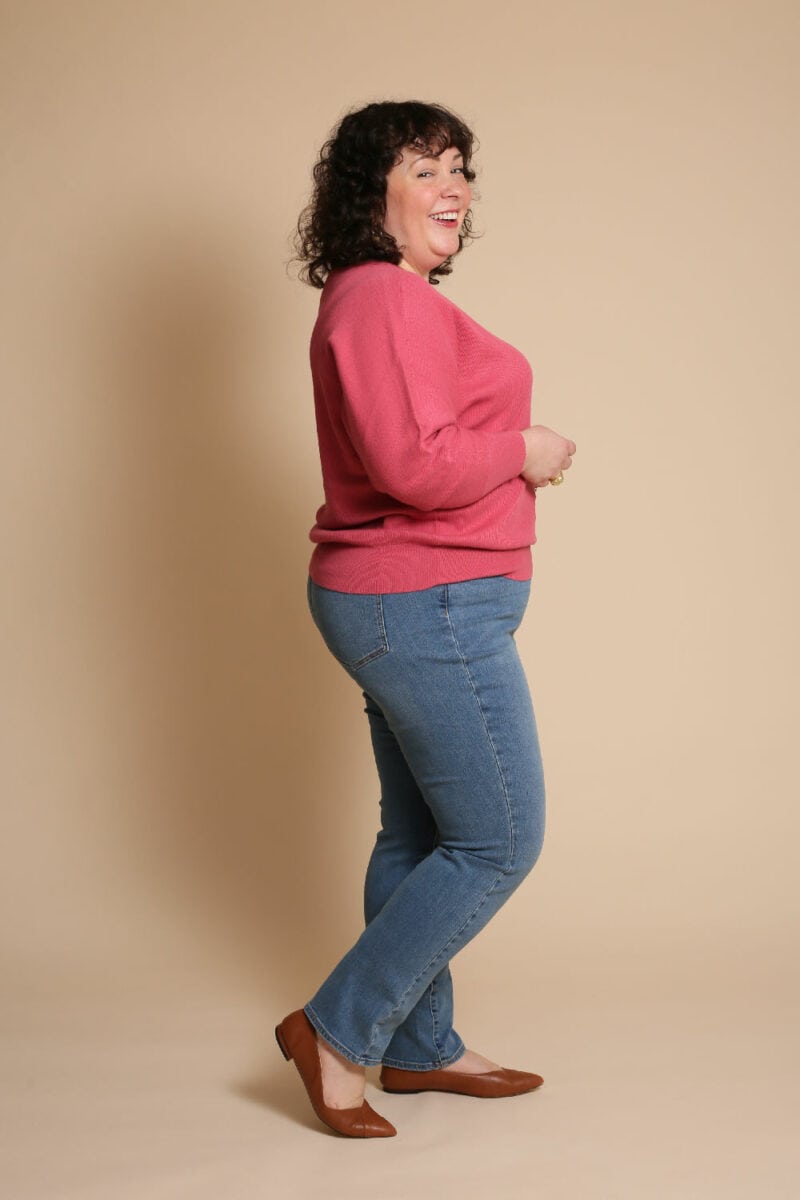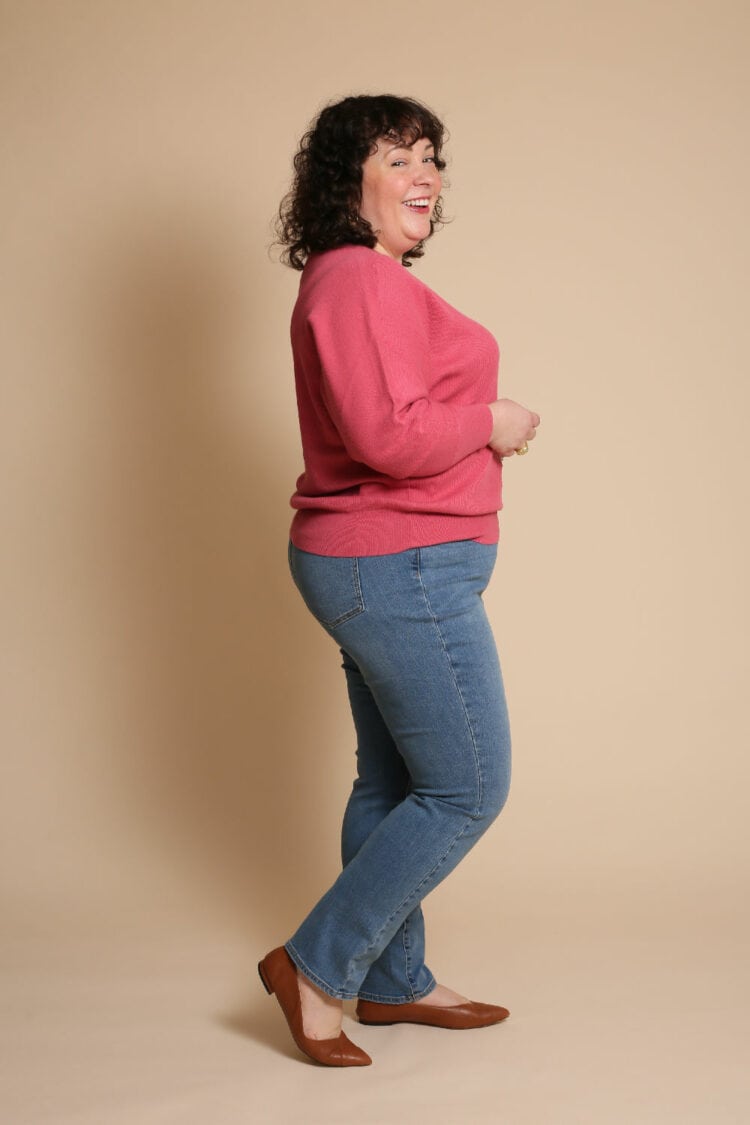 That being said, I will continue to buy this jean, just in a different color. And I will be on the hunt to see if Talbots chooses to have a different faded wash for the season (to be fair, they have had other faded washes in the past that felt more modern). For reference, I am wearing a size 14 petite in these jeans.
If you own this color of faded blue in your wardrobe, I think it's important to tone down the newness of the wash. I would pair with a navy silk shirt with an extra button unbuttoned or a purposefully rumpled linen shirt with the sleeves rolled up to balance the crispness.
Tips on Gently Distressing Too-Fresh Jeans
I'd even consider taking some sandpaper to the hems and edges of pockets to make the jeans look a bit more worn in. Don't stress about coarseness, just use what you have (even an old nail file can work). Gather up the hems into your hand and do a few swipes, see what you think, and then some more. Don't saw, just swipe. Hit the edge of the fly, the edges of front and back pockets.
If you want more distressing, consider scraping the edges with the blade of a pair of scissors. Go slow and small, you don't want to ruin your jeans. Consider testing on a pair you don't love to get used to how much pressure is needed to get the weathering you desire.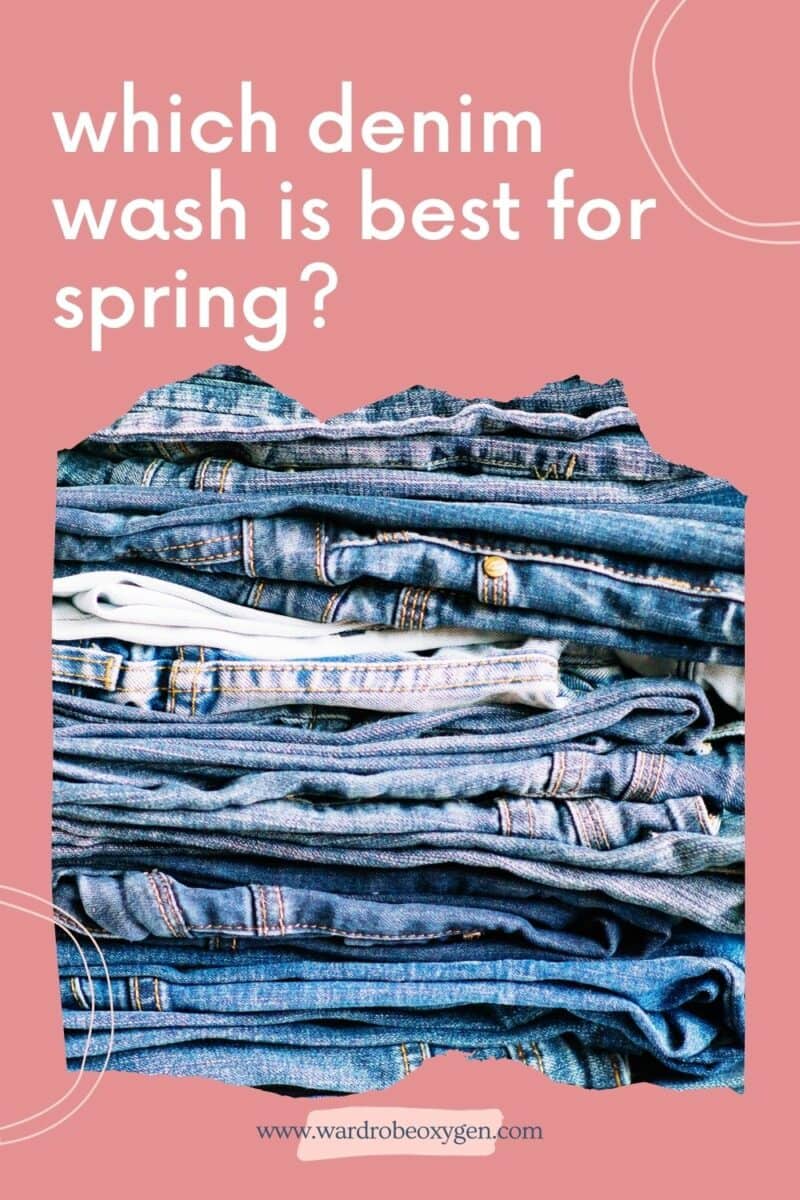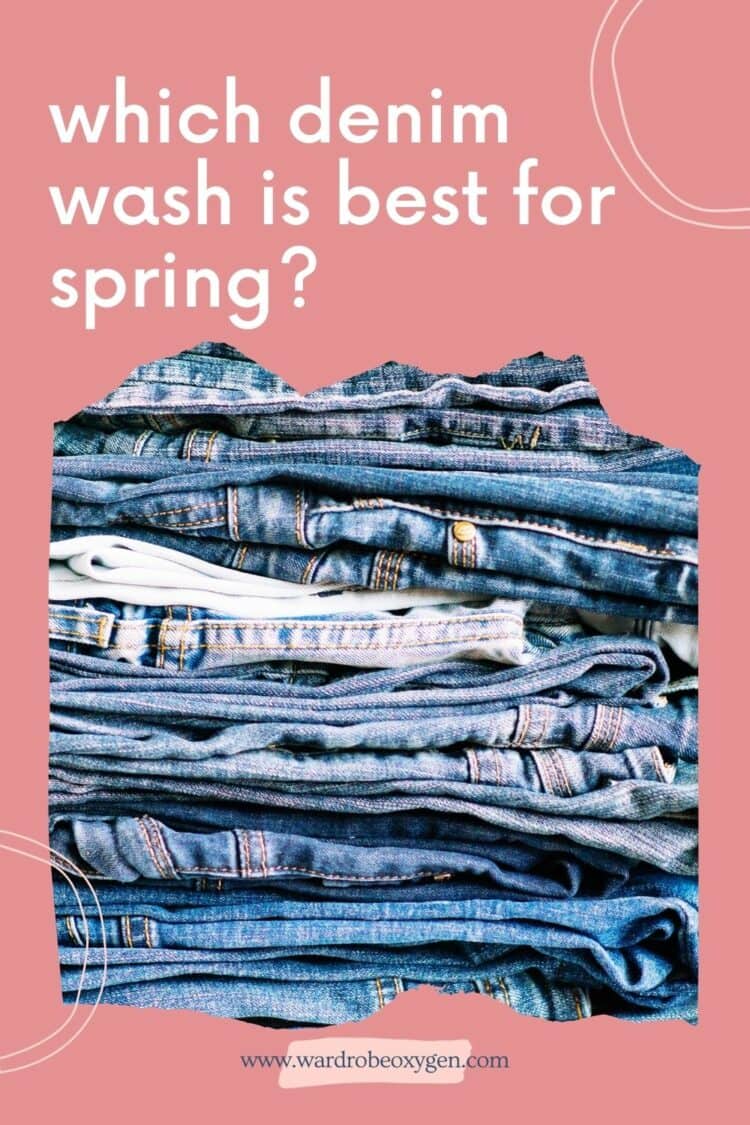 So What Are the Best Denim Washes?
Woman, only you know what are the best denim washes for you, your bod, and your wardrobe. Sure, the spring denim trend shows plenty of faded and light washes, but that doesn't mean you can't rock what you love and look great doing it.
Let go of the thought that X is in and Y is out. Style is no longer so black and white. Style comes from wearing what you love with confidence. My style tips above are just guidelines, not gospel, to make any wash work this season and beyond.
But if you're oh-vah your current jeans wardrobe, consider switching up your wash. You may be surprised how it can elevate your current closet, make your wardrobe staples feel fresh, and modernize a lot of your looks.
Does Denim Silhouette Matter?
I am not saying one silhouette or cut of denim is better or more stylish than another. I also am against the concept of "flattering" clothing because that is just a term to equal clothing that makes you look slimmer and achieve a patriarchal ideal.
But I do think this blog post shows how different cuts of denim, along with different colors/washes of the jeans can change the formality of a look, the fit of the rest of the ensemble, and the shape of one's body. Take that however you wish, and wear what makes you feel good.
---
With the jeans, I am wearing this sweater in size 2 (it also comes in black), and these flats (use WO2FLATS to get 10% off a pair and click here to read my Ally NYC flats review).