This article may contain affiliate links; if you click on a shopping link and make a purchase I may receive a commission. As an Amazon Associate, I earn from qualifying purchases.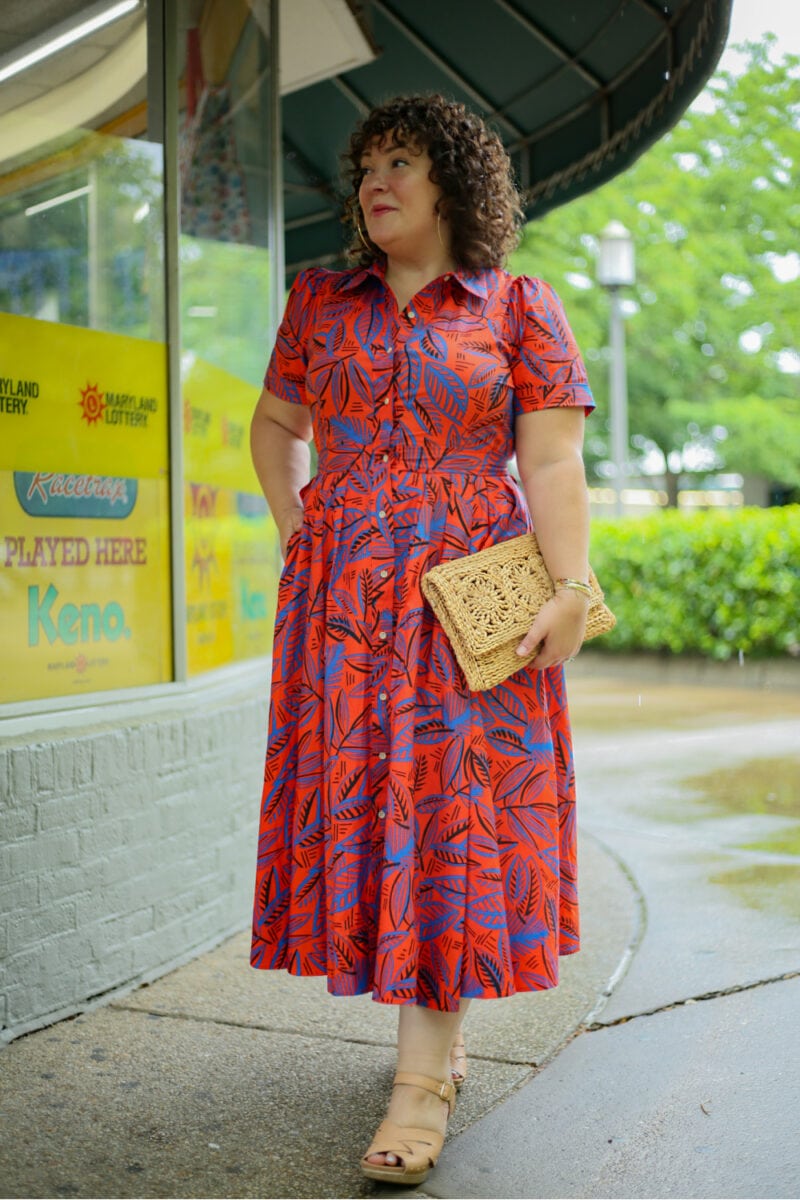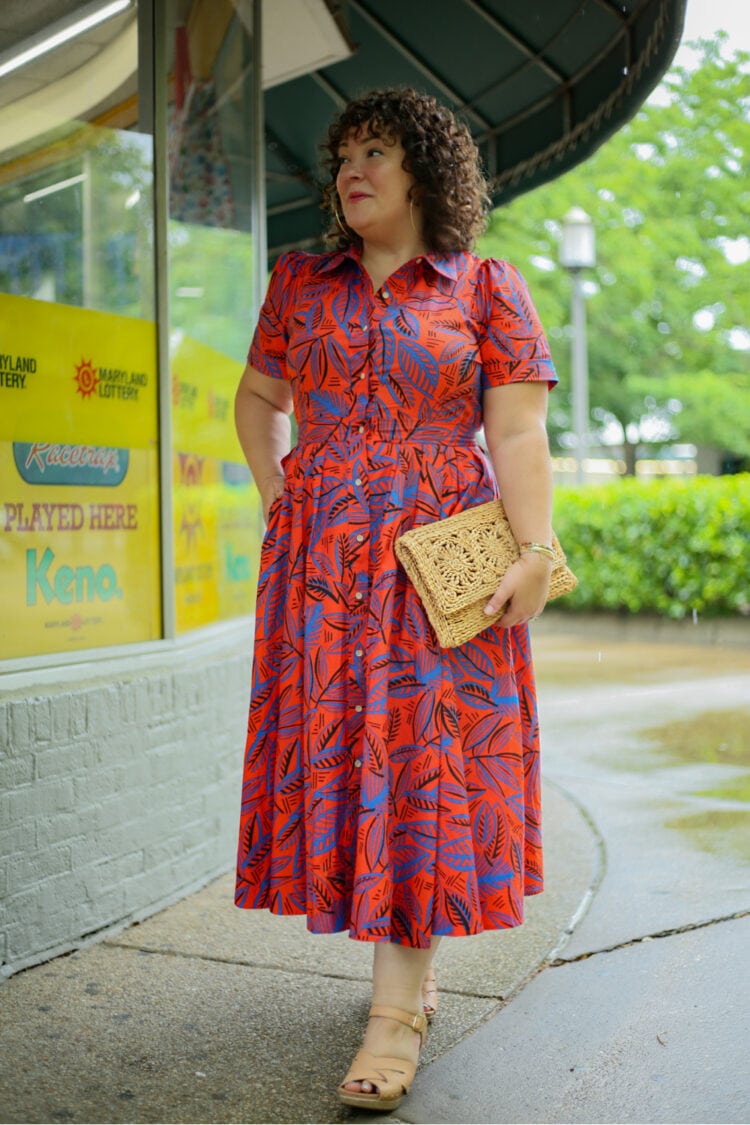 I have always been a fan of a cotton poplin shirtdress. When my husband was a wedding photographer and I was his assistant, my uniform was a black cotton shirtdress with a full skirt and deep pockets. Rain, humidity, historic buildings without A/C, climbing under tables to plug in lights, squatting and kneeling on grass to straighten hems and veils… I could do it all in such a dress (this one to be particular).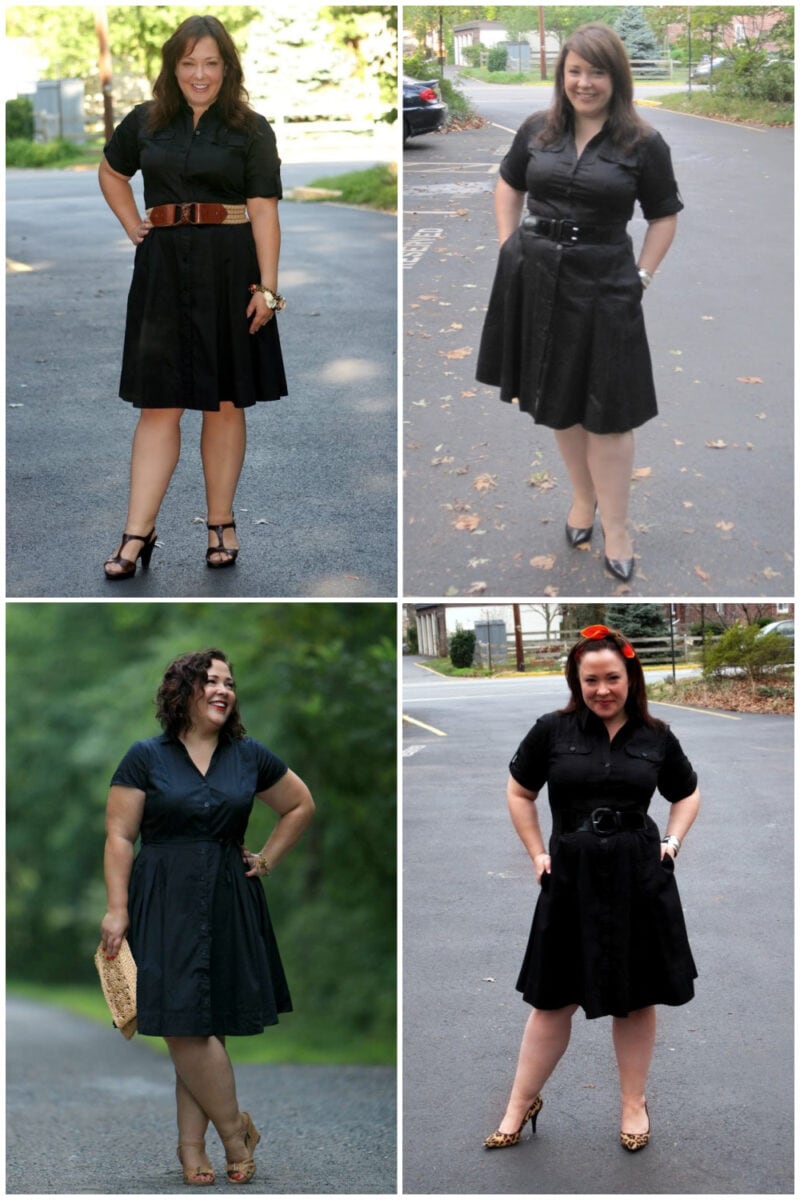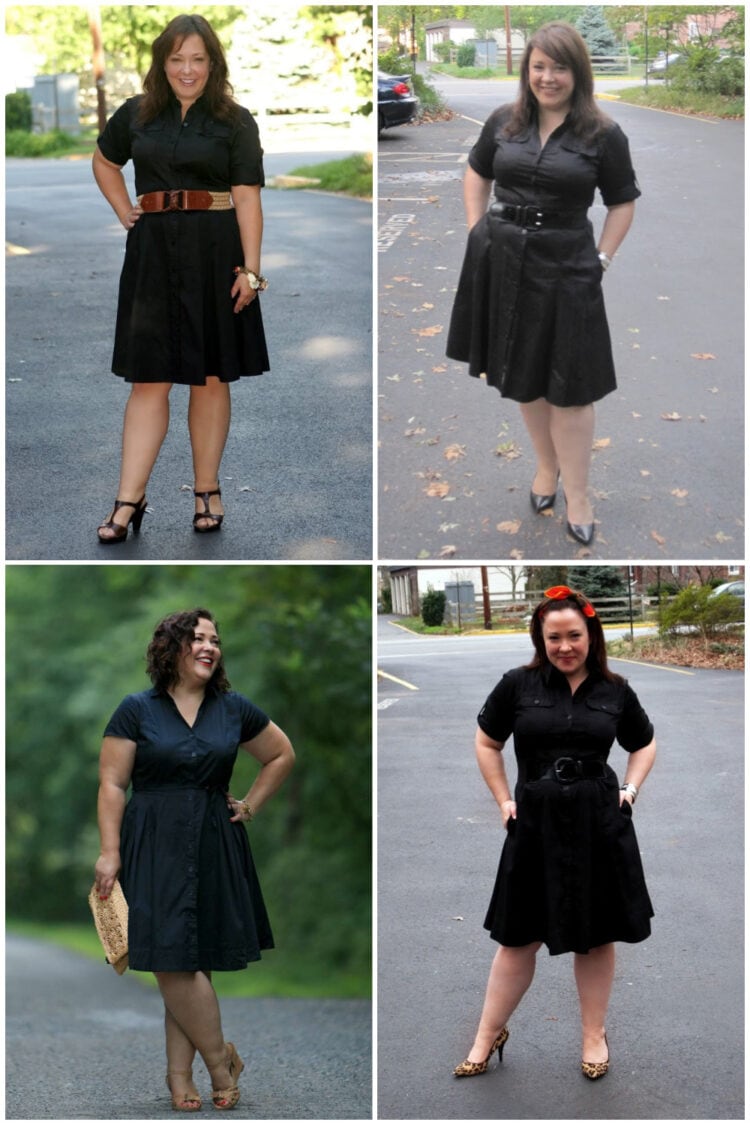 Over the years, my style has gotten a bit… I wouldn't say casual or edgy but it's more sporty, more varied, and I saw such shirtdresses as more ladylike and proper than I felt. But that isn't fair to the cotton shirtdress, which can come in so many different styles, silhouettes, colors, and prints. And when I saw this ALEXIS for Target Tropical Leaf Short Sleeve Shirtdress part of the recent Target Designer Dress Collection, I immediately purchased it.
The recent Target Designer Collection is best known for offering dresses from fashion designer Christopher John Rogers, but he wasn't the only designer tapped for this collection. Another one is ALEXIS.
Tell me About The Fashion Label ALEXIS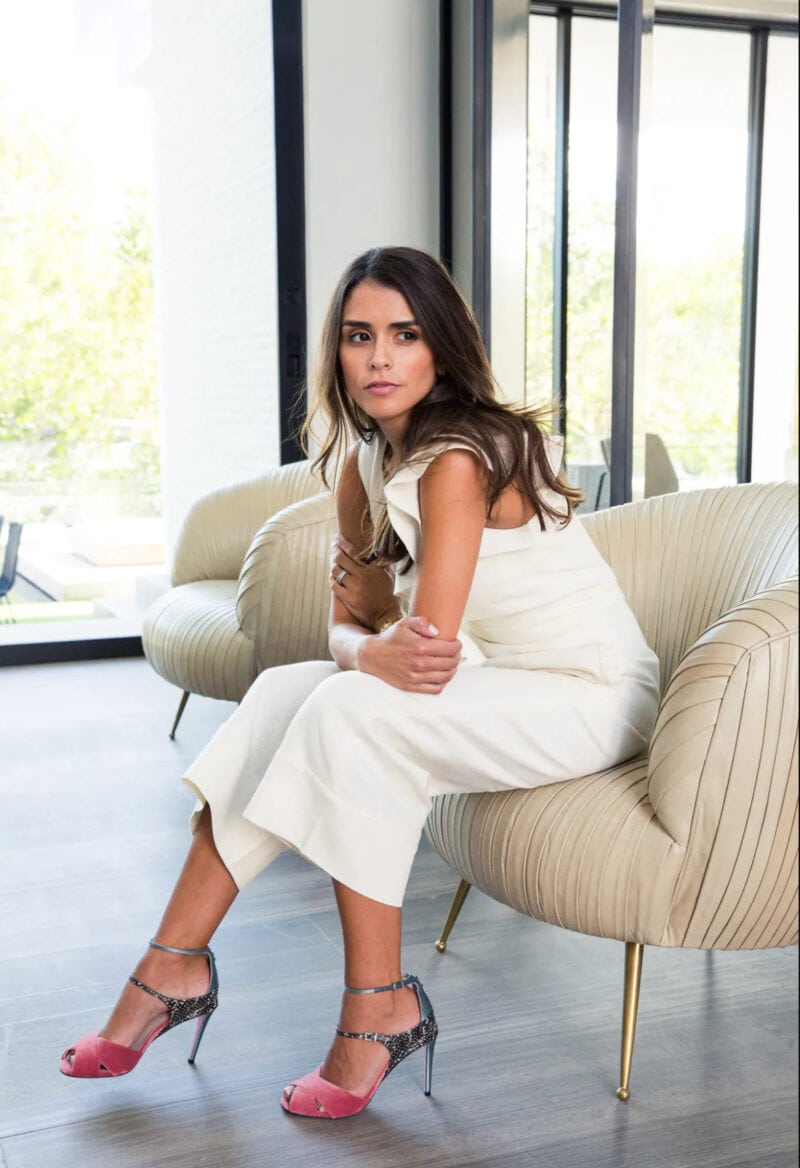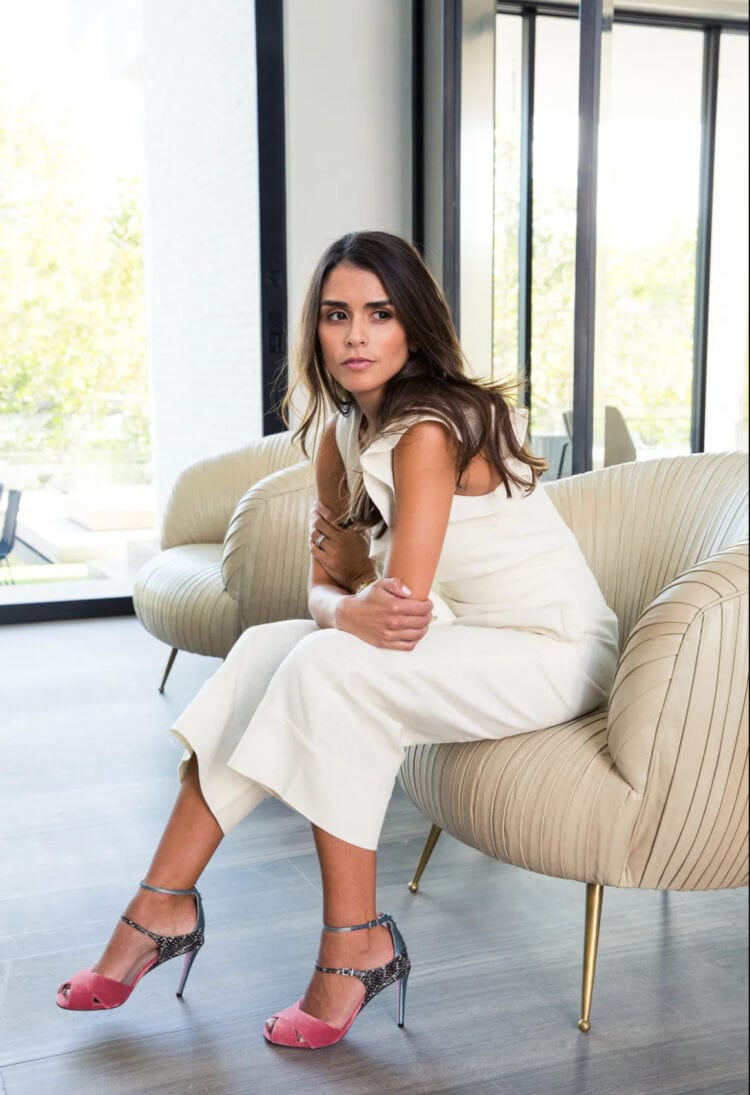 Founded in 2008 by mother-daughter team Ana Barbara and Alexis Barbara Isaias, ALEXIS is a line of ready-to-wear fashion designed for the contemporary woman. Cuban-American Alexis Barbara Isaias has become the voice of the brand though she runs it with her mother and brother from Florida. ALEXIS is best known for its amazing dresses, but the collection is full of separates, jumpsuits, and other gorgeous garments worn by celebs such as Beyonce, Zooey Deschanel, Olivia Culpo, and Heidi Klum.
The ALEXIS brand can be purchased on the brand's website as well as popular retailers such as Neiman Marcus, REVOLVE, and INTERMIX. ALEXIS dresses range from around $300 to $1,000 and the largest size offered is XL which is equal to US 10/12 so it's nice to see more affordable fashion from the ALEXIS brand available in sizes XXS-4X at Target.
Shop ALEXIS for Target:

ALEXIS for Target Tropical Leaf Short Sleeve Shirtdress Review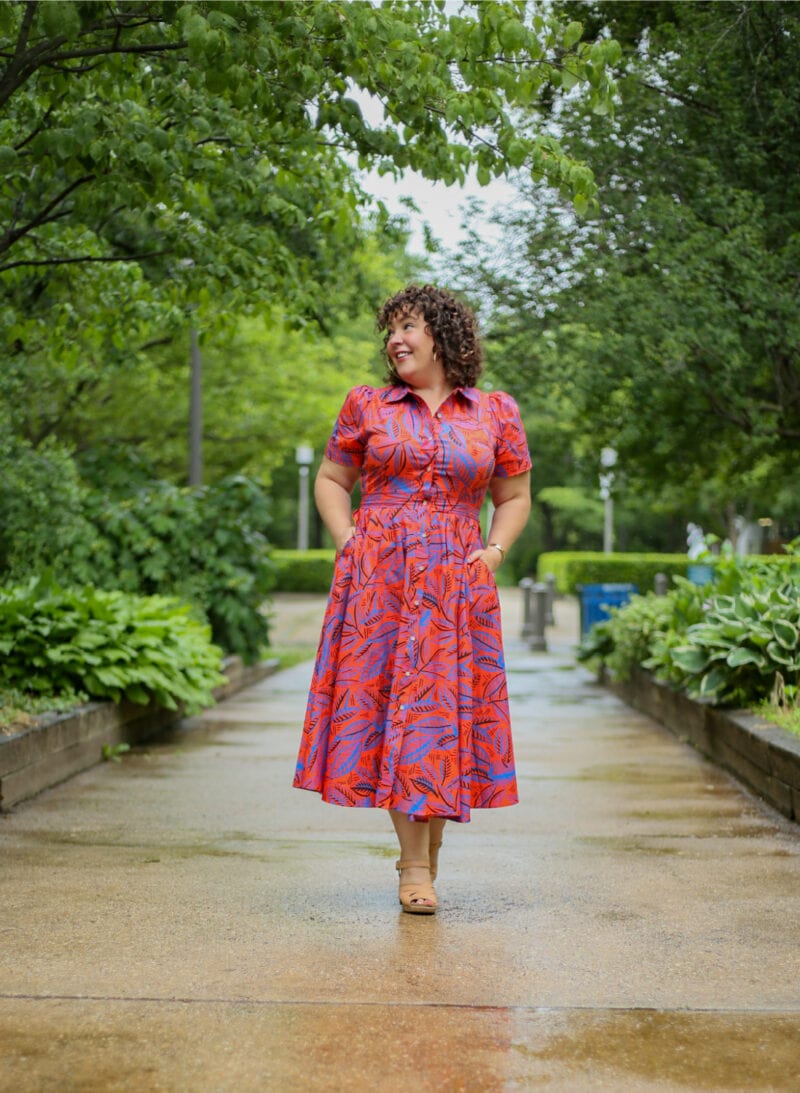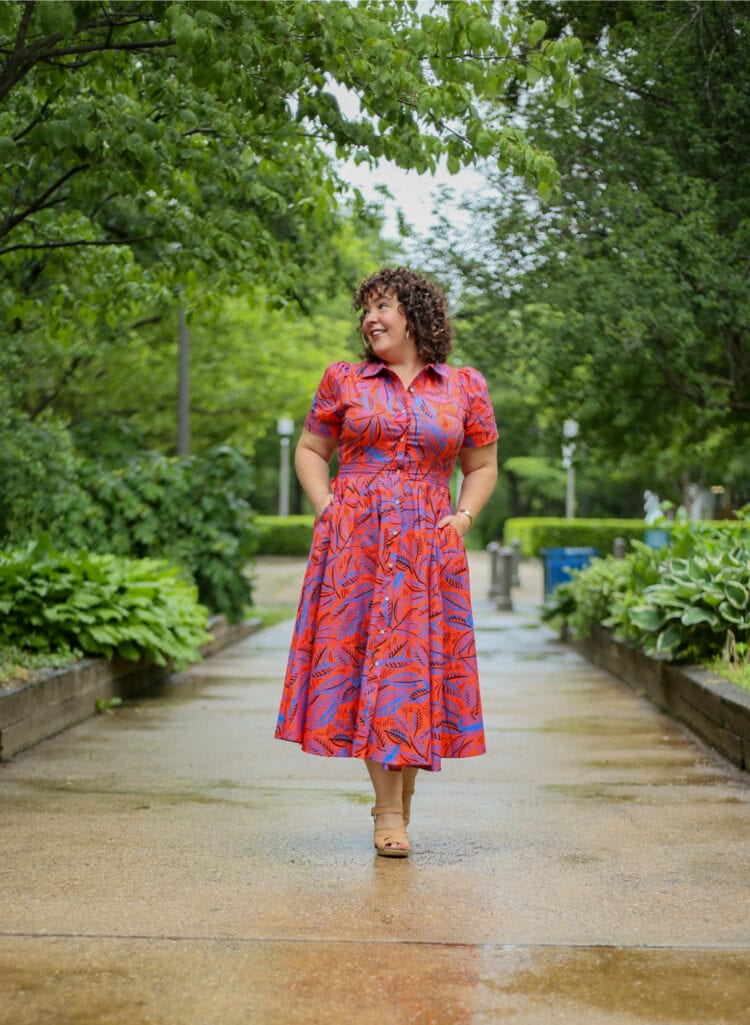 Looking online, reviews said that the ALEXIS for Target as well as other designer collabs at Target run big, so I ordered this dress in Large. For reference, I usually wear a size 14 and if items are a letter size, I am usually best in XL. When this dress arrived I felt it was too snug at the waistband, which on me is just below the bottom of my ribcage/above my belly button. However, it was perfect everywhere else, including the bust.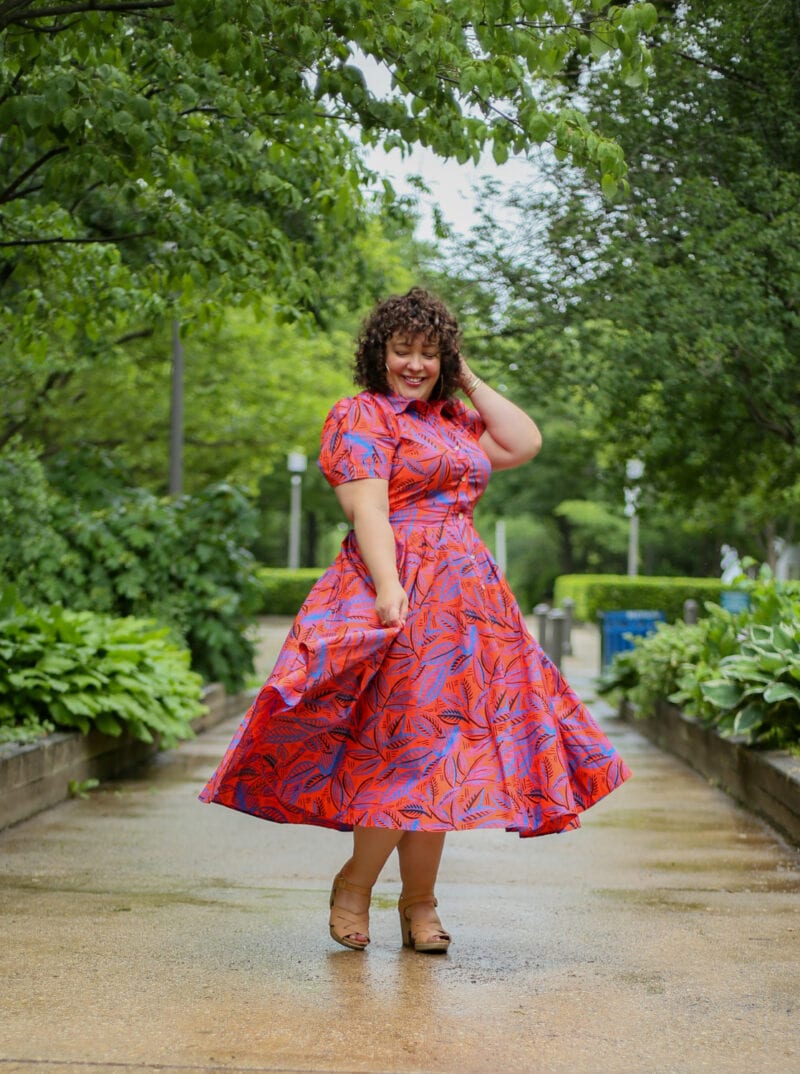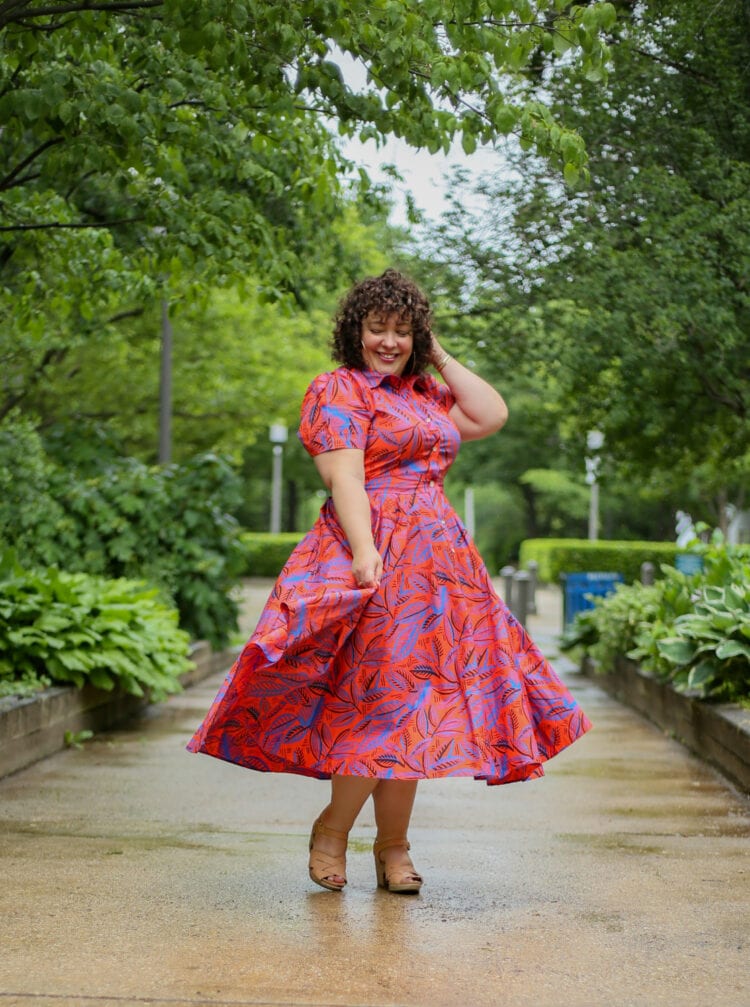 I considered returning it, or exchanging it for a larger size. My fear was a larger size would be bigger everywhere and longer. And the longer I wore the dress, the more the cotton stretched to fit my figure. So I put a safety pin between the buttons along my rib cage and wore this dress the same day with my Allbirds sneakers to walk to visit my mom.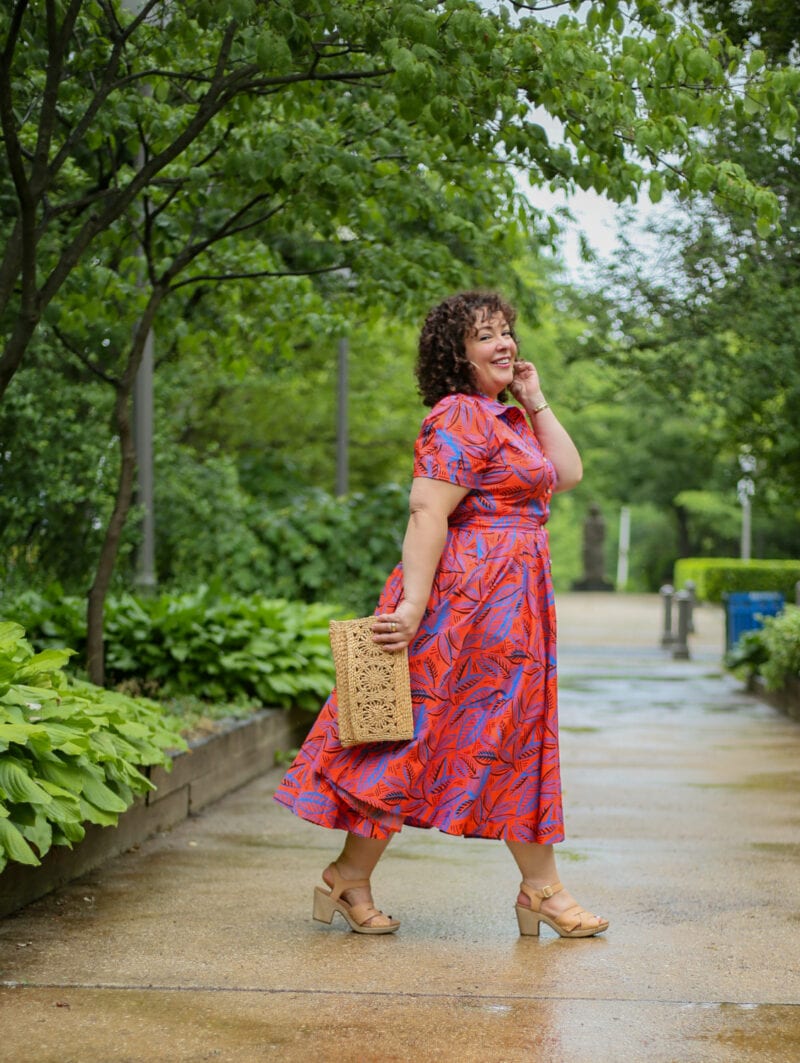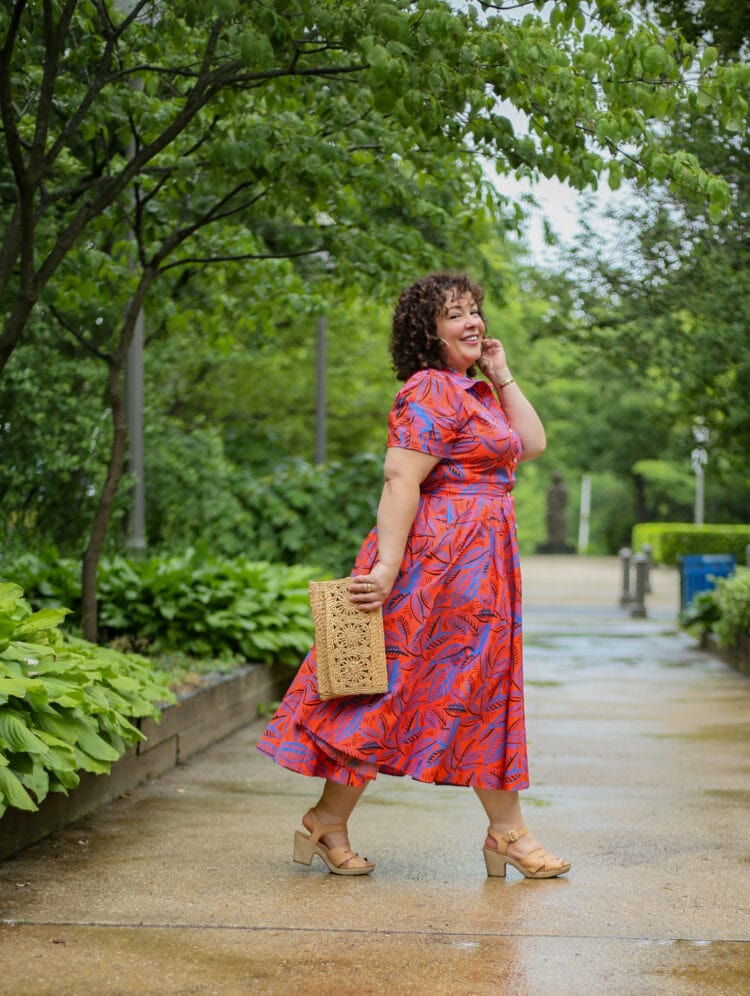 I found the dress incredibly comfortable on that muggy day. The 97% cotton 3% spandex fabric moved with me, but didn't cling even when I got sweaty. The sleeves are supposed to be more of a bell, but I have full upper arms and the effect is almost like a straight sleeve on me but more comfortable. The buttons are well placed; no peek-a-boo even when sitting or hunched over. I think if this dress was at a department store I would have returned it, but for this price and how gorgeous the fabric (and how comfy the sleeves) I made it work.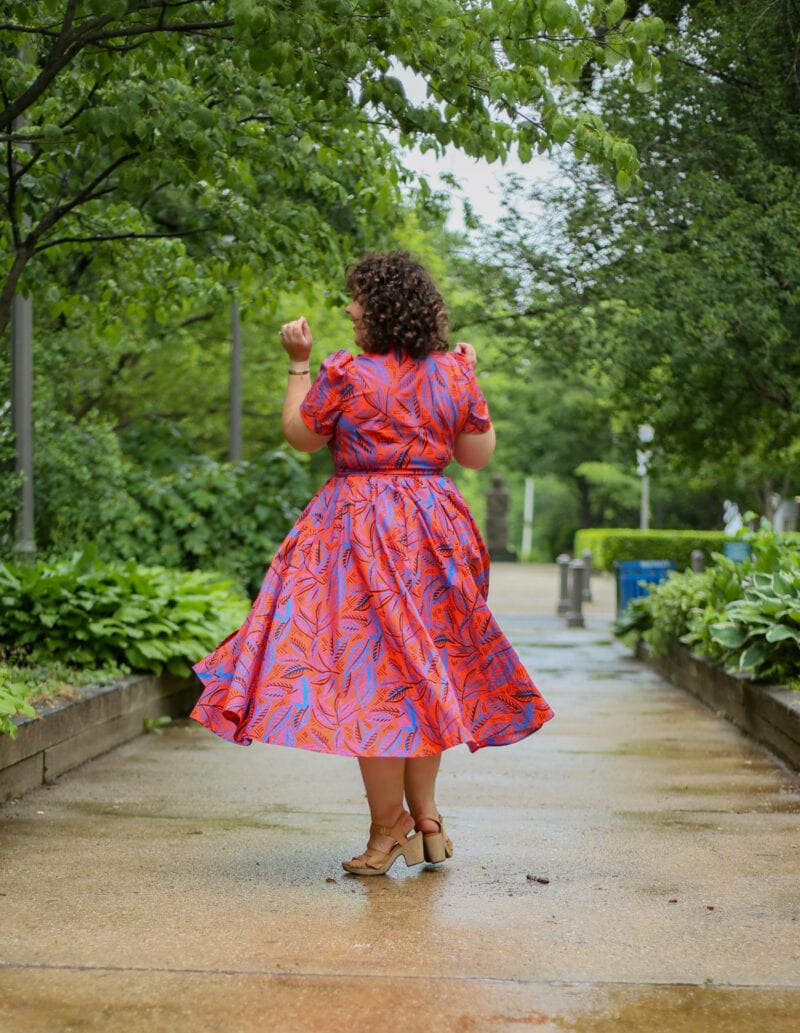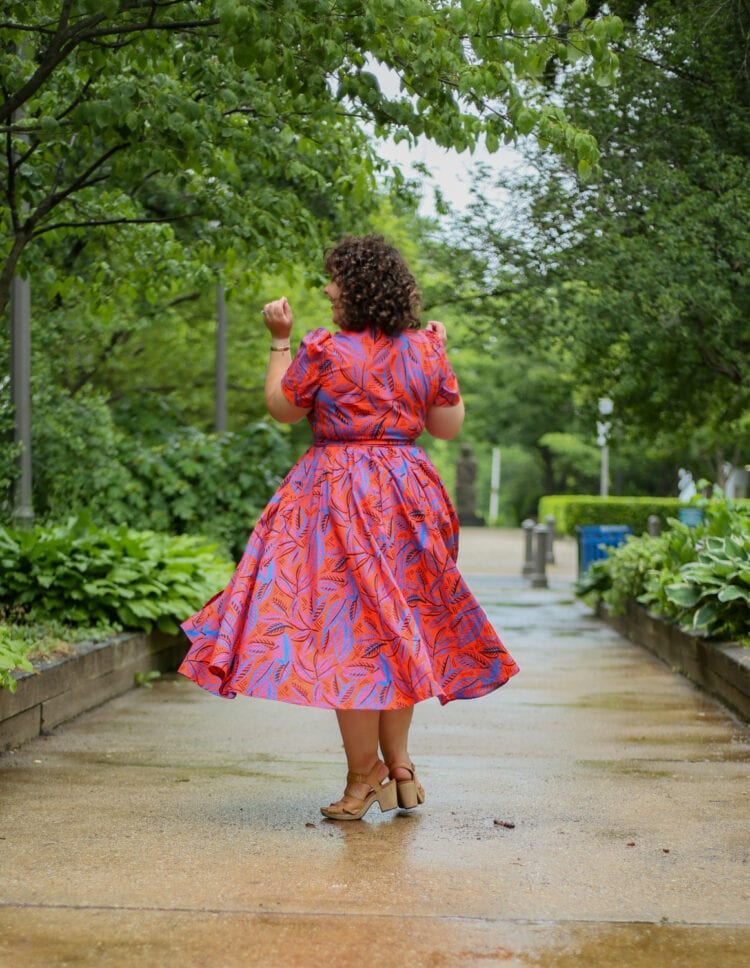 Here I dressed it up with a raffia clutch (I've had it for over a decade; this one is similar) and these clogs from Rockport (they come in widths!). However, the way I wore it most recently? As a house dress… sans bra!
Shop This Look:

The style of this shirtdress offers separation between bust and waist. As a short curvy person with a large chest, this is the only way I can comfortably carry off no bra. It's not about aesthetics, it's about skin sticking to skin in the summer heat and humidity. I think many of you reading can relate to not really wanting to wear a bra for shape as much as to keep them lifted from your rib cage. And this dress achieves that without me looking so all over the place I can't open the door to sign for a package or have a chat with a neighbor over the fence.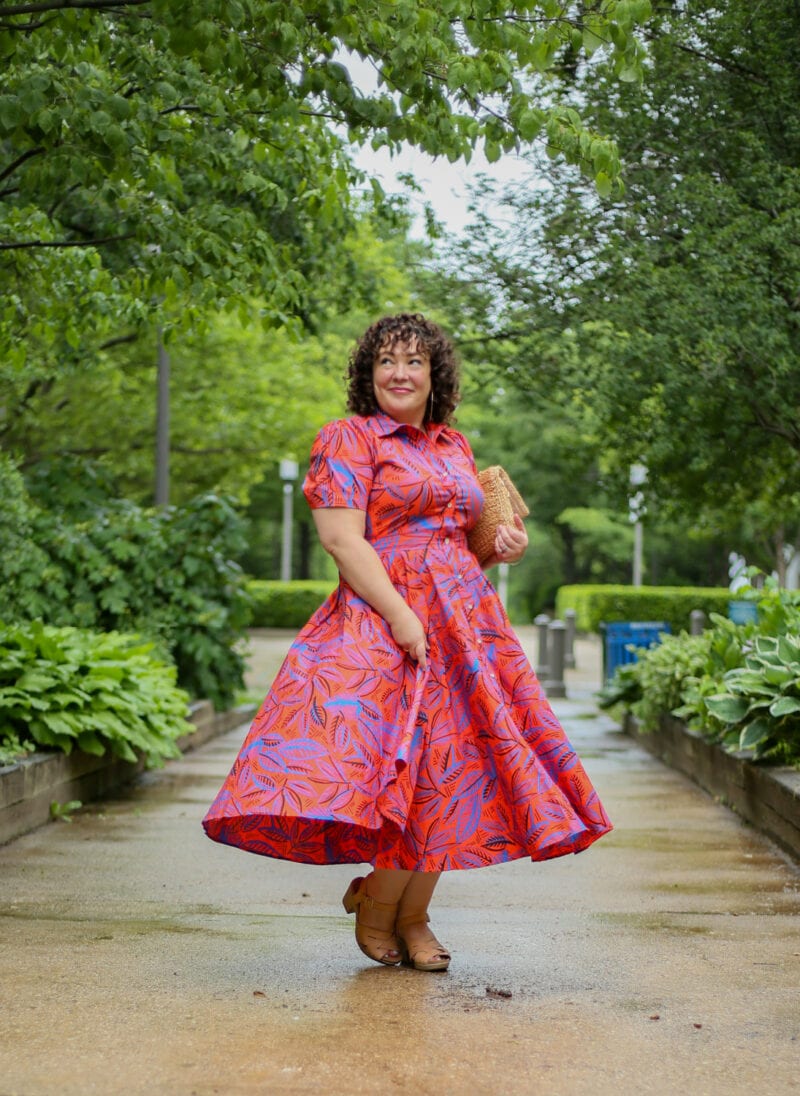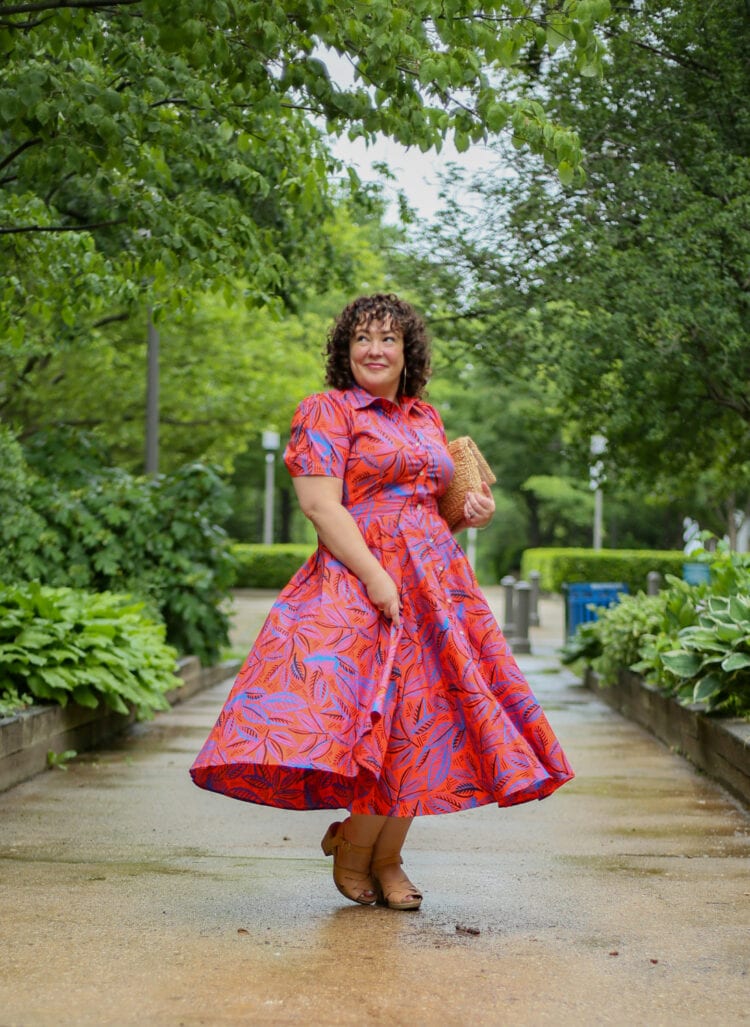 I think of how women wore dresses like this for so long. Some with sleeves, some without. Some were longer, some shorter. But a cotton poplin shirtdress, just like when I wore it as a photographer's assistant, is such a darn practical dress for so many situations. We've forgotten about its perfection with the arrival of jersey knit dresses and separates. But let's be real… jersey knit is NOT fun to wear when it's hot AF out!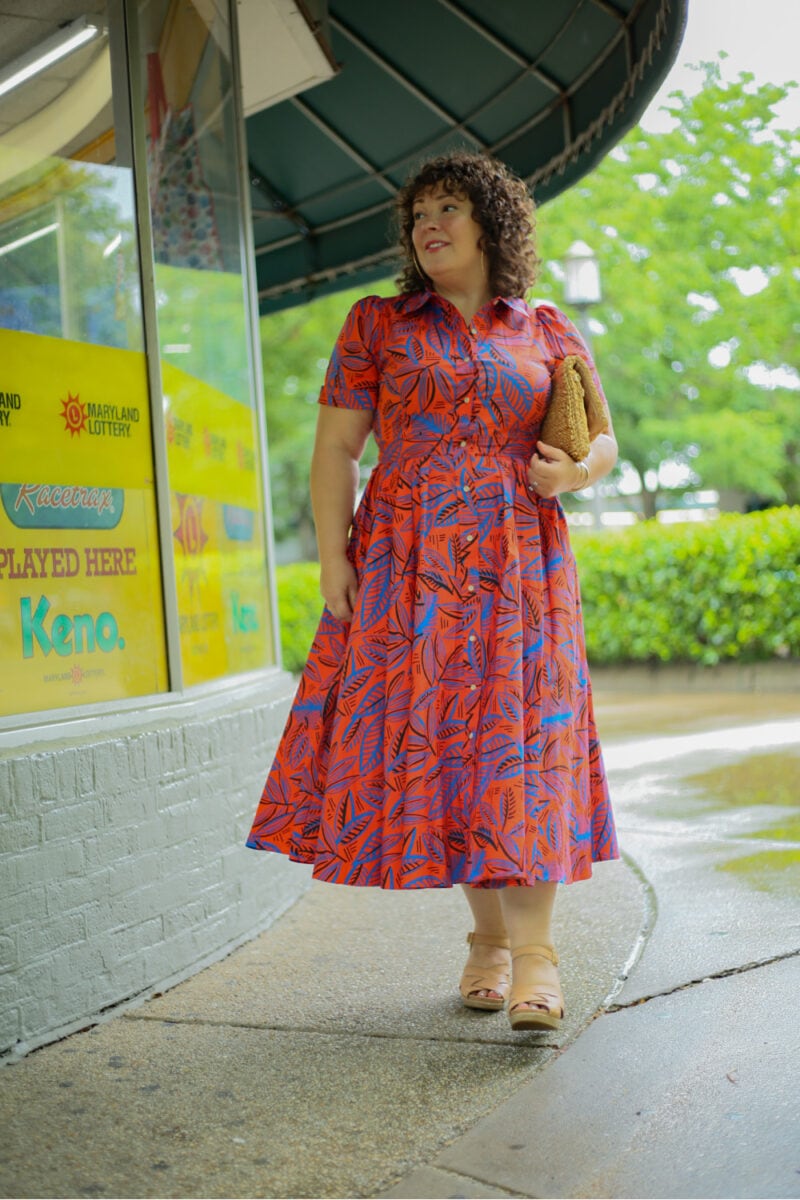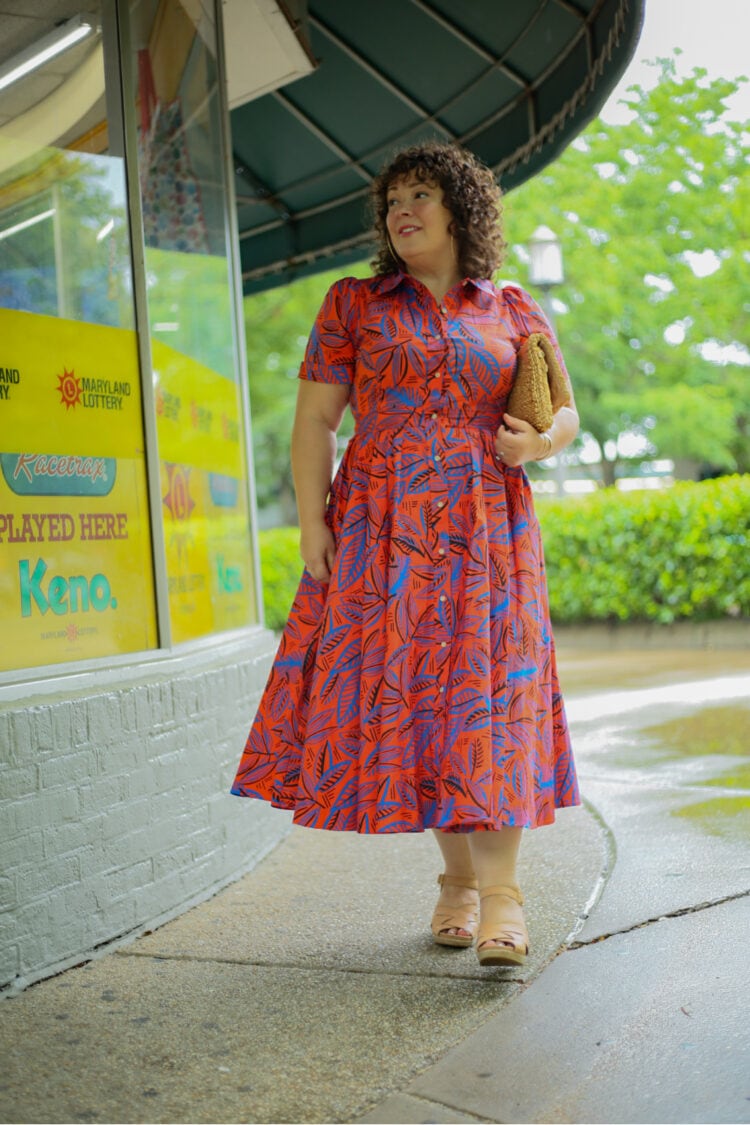 I am loving this dress so much I have been tempted to buy it also in the solid blue option. But I will hold off, because I know this dress will be worn most at home and puttering around town during the week, and I don't need multiples, especially since this dress can go on the gentle cycle, hang up to dry, and be ready to wear the following day.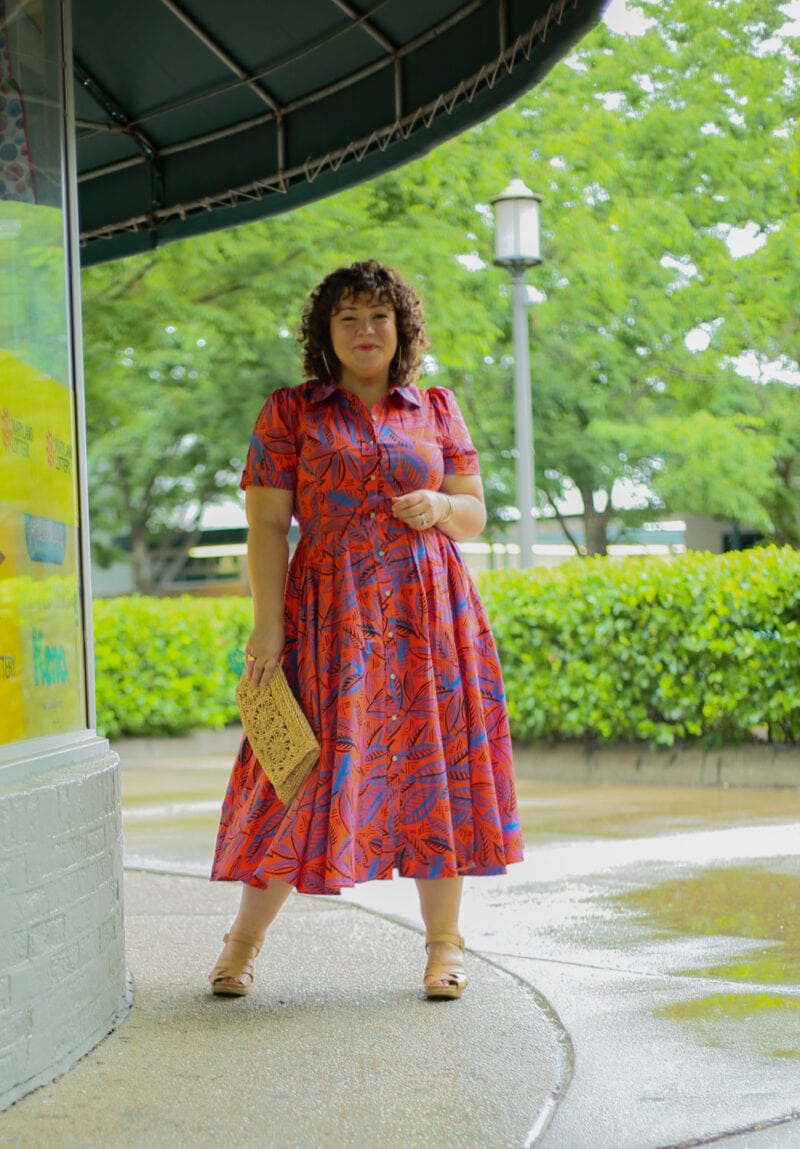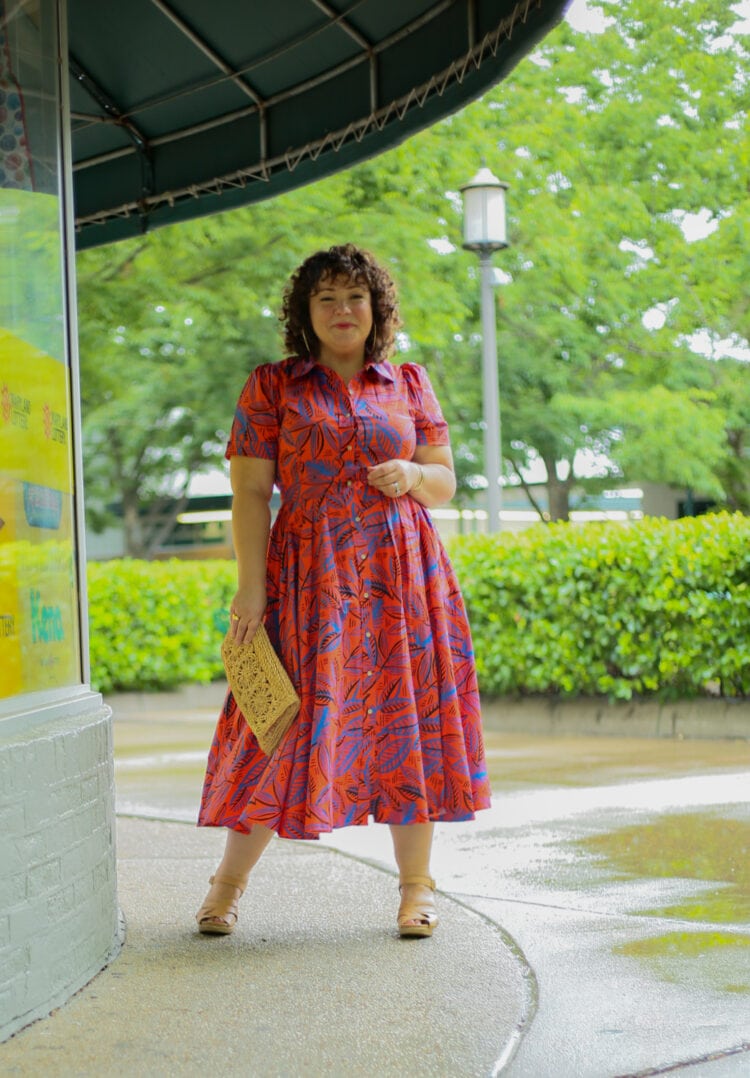 This print may not be your jam, but if you like the idea of a cotton shirtdress for summer, I found a few other options and share them in the carousel below:
Shop Summer Shirtdresses: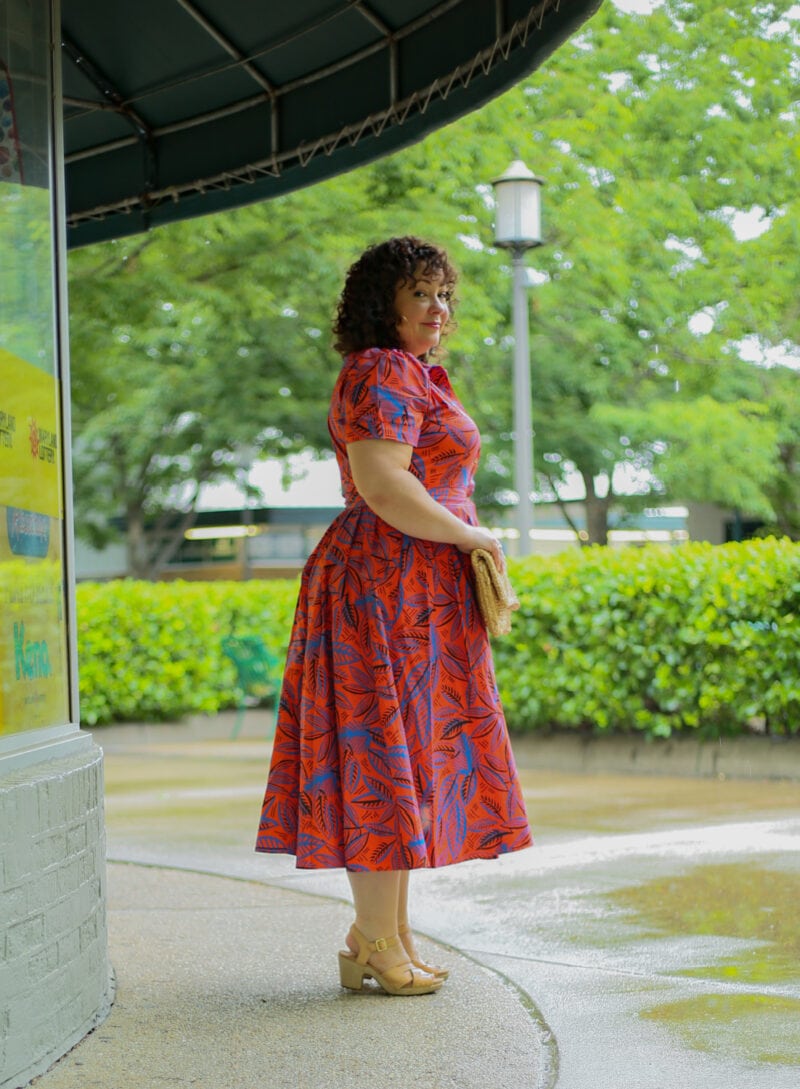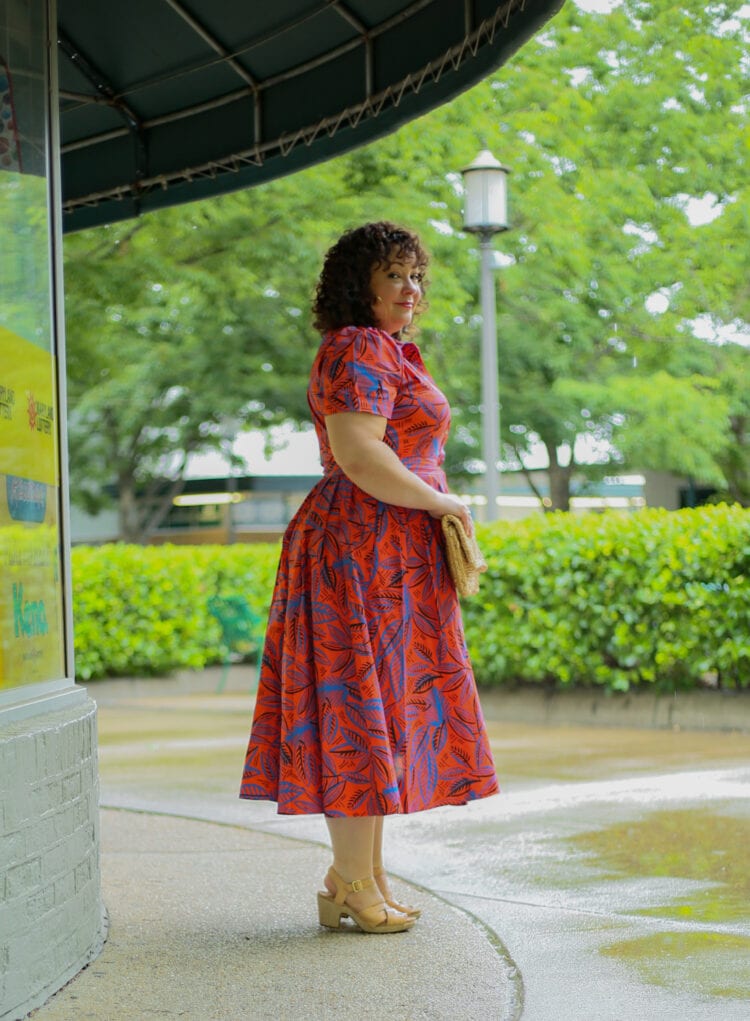 At the time of writing this, this shirtdress is still available at Target in XXS-M and 4XL; the same dress in solid blue is available in sizes XXS-S and 4XL. However, I encourage you to keep checking because this collection seems to have been restocked or replenished from returns.
Have you shopped the Target Designer Dress Collection? Do share your hits and misses from this collection in the comments below!