This article may contain affiliate links; if you click on a shopping link and make a purchase I may receive a commission. As an Amazon Associate, I earn from qualifying purchases. 
I am not one to wear polish on my fingernails. I chew and pick (though working very hard to stop this habit), and I just don't want to draw attention to my hands. However I do like a nicely pedicured food, especially come spring and summer.
Since having Emerson I have neither the time nor money for regular salon visits – I think my last professional pedicure was over a year ago. Having to go DIY, I have started buying things like nail polish, and really checking out quality, brand ethics, and ingredients.
Through this, I have found and fallen in love with Zoya polishes. Zoya polishes are vegan friendly, free of toluene, formaldehyde, Dibutyl Phthalate, and camphor. All this, and over 300 colors to choose from!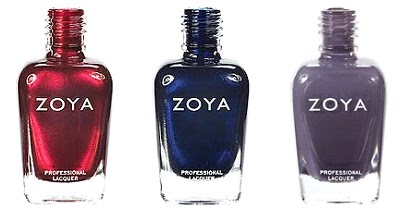 If you "Like" Zoya on Facebook, you will be the first to know about many of their promotions. A couple months ago, they had a great promotion where you could pick any three colors and get them for just the price of shipping ($6.95). I got a Isla (classic dark red with some shimmer), Ibiza (a dark sparkly navy), and Kelly, which is not green but a gorgeous shade of creamy cool-toned gray.
Kelly is my new favorite. I want to paint my bedroom in this gray, own clothes in this gray, and I love wearing it on my toes.
Zoya polishes are a bit thinner than your classic polish, but that doesn't affect it's quality. I find I need at least two coats for a nice finish, but find Zoya doesn't chip as fast as some other polishes, and it keeps its shine and look for weeks. In fact, I have been doing the Lazy Woman's/Busy Mom's pedicure for the past couple of weeks where all I do is layer some more polish over what I already had to fill in the space from growing nails and chips from trimming the length. The coverage is even, it's not lumpy, doesn't chip and looks… well, polished!
I like purchasing products that are made ethically, and with less chemicals. I love it when such products are also of excellent quality. I find my Zoya polishes rival OPI, Essie and all my other old favorites.
Have you tried Zoya? What do you think of it?