This article may contain affiliate links; if you click on a shopping link and make a purchase I may receive a commission. As an Amazon Associate, I earn from qualifying purchases.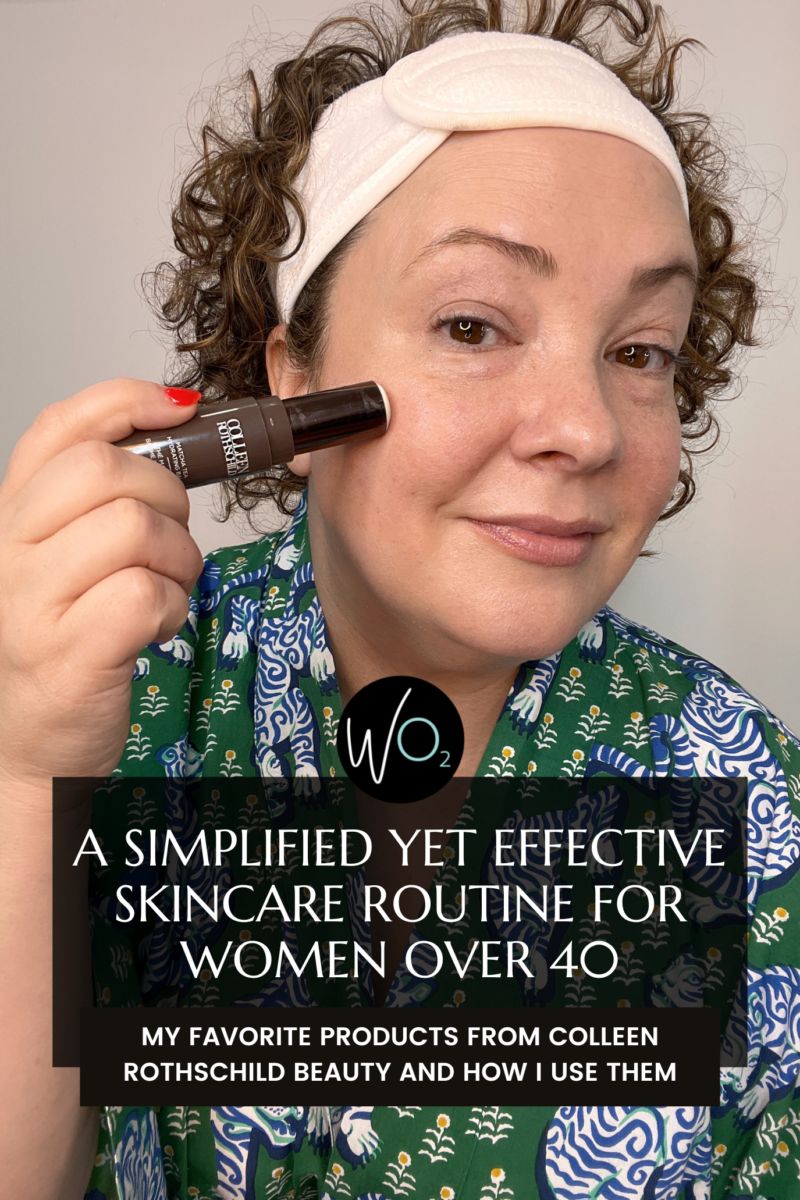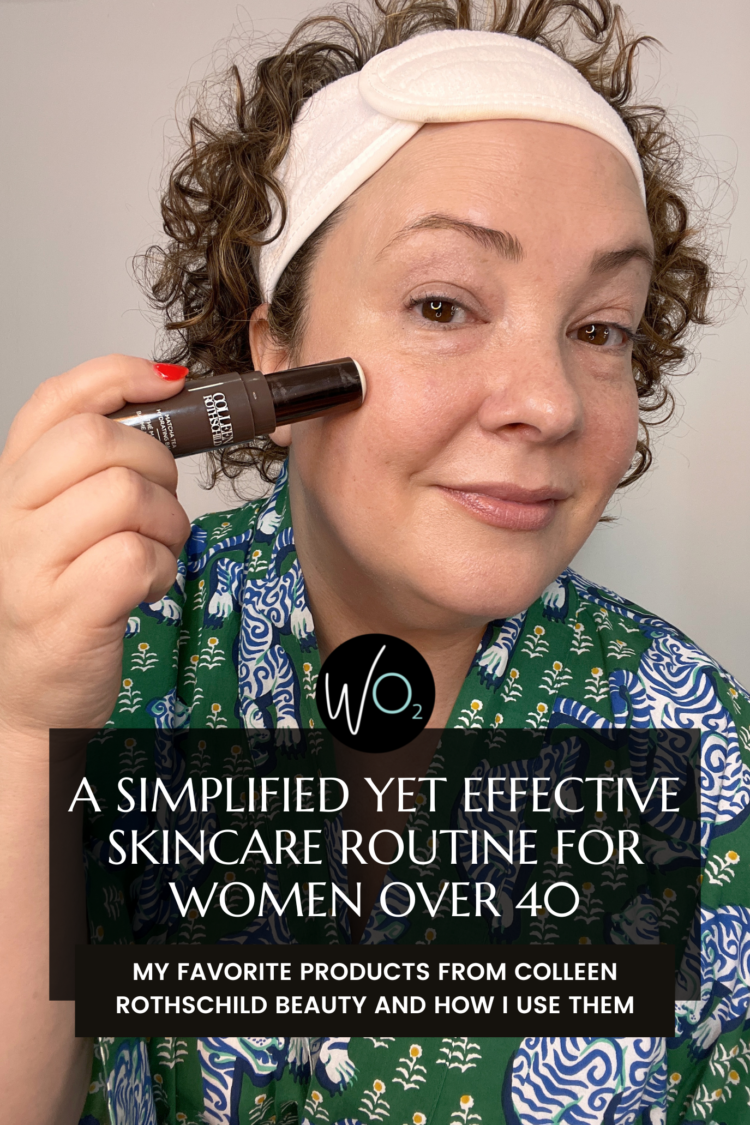 As I got older, my skincare routine got more complex. I looked for products to reverse the damage I did from years of tanning beds, no sunscreen, and going to bed with my face still coated in the day's makeup and mess. But in the past couple of years, I have been looking to pare down. Life is busy, sleep is sacred, and I want a simplified yet effective skincare routine that is caring and quick.
This post is sponsored by Colleen Rothschild Beauty. Scroll to the bottom for an exclusive Colleen Rothschild discount code just for Wardrobe Oxygen readers!
As you know, over the years I have become a big fan of Colleen Rothschild skincare. It consistently provides me with exactly what I am looking for: gentle effective care for my skin. And because it is quality, consistent care for my skin I have been able to simplify my skincare routine while still seeing benefits. You can see all my years of Colleen Rothschild reviews at this link.
My Simplified Yet Effective Skincare Routine: Nighttime
Step 1: Remove Makeup (if applicable)
If I wore a full face of makeup, my first step at night is wiping my face with Colleen Rothschild Micellar Cleansing Water. Micellar water has little suspended oil particles called micelles that attach to dirt, oil, and makeup and remove them from the skin without soap or harsh ingredients. On top of that, Colleen Rothschild's Micellar Cleansing Water is formulated with pumpkin seed extract, which is rich in free-radical fighting antioxidants and Vitamin E; it also includes Peptides to boost the health of skin and lashes.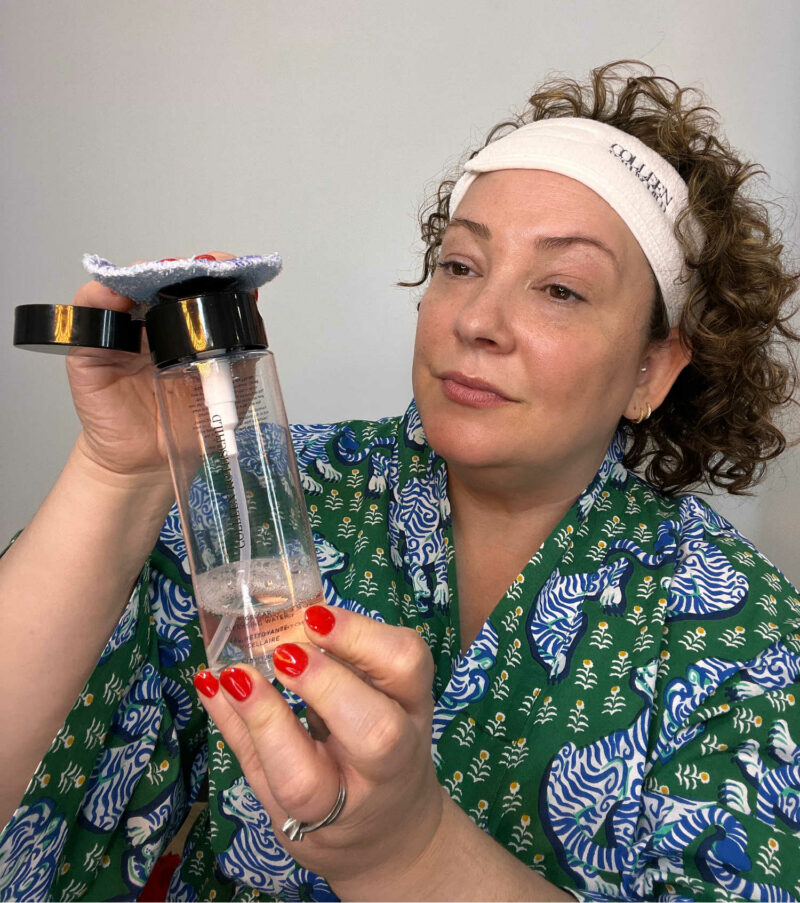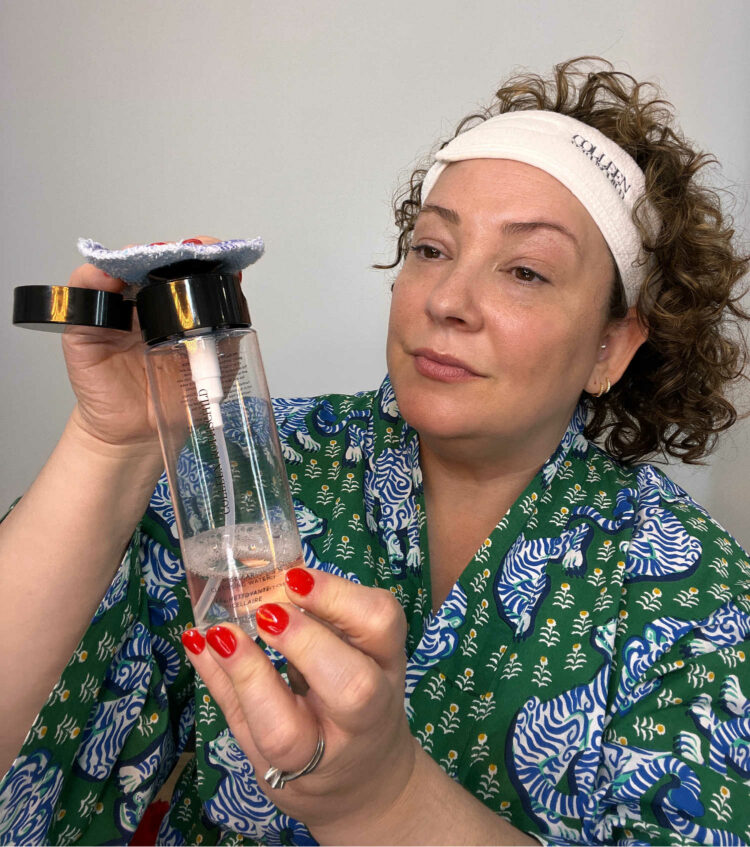 The Colleen Rothschild Micellar Cleansing Water comes in this gorgeous bottle with a pump top where you can press to get the right amount of product. I love this because I'm prone to squeezing a bottle too hard and wasting a lot of product. This has me use the right amount and the bottle is pretty enough to have a place of prominence on my dressing table.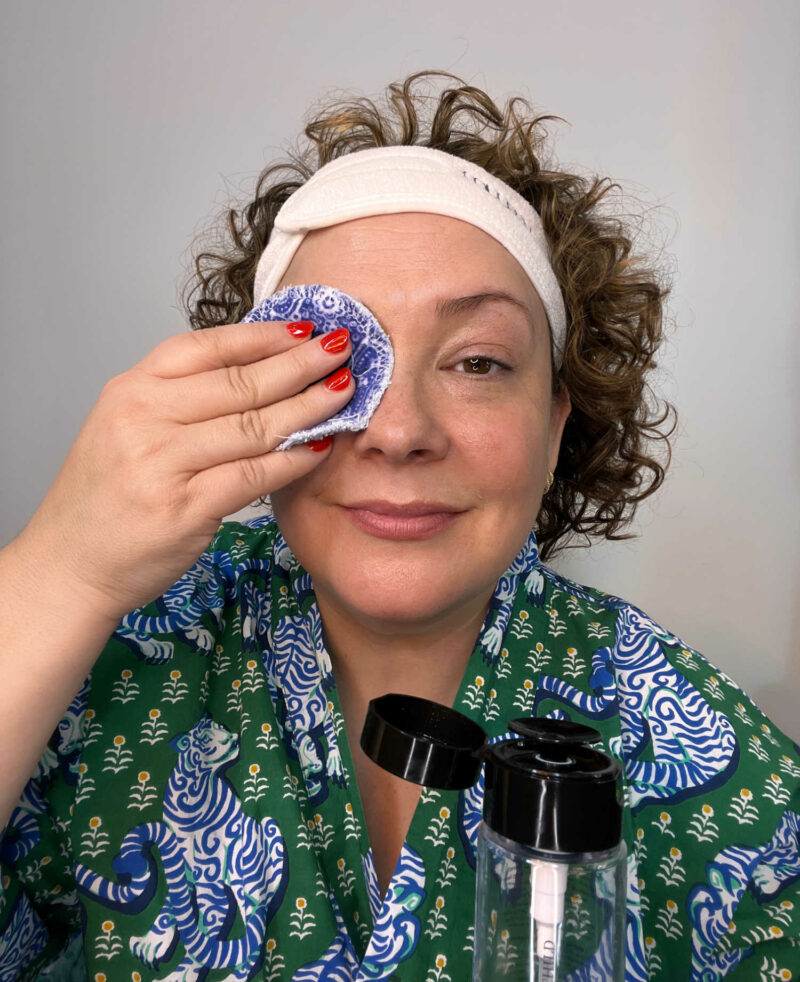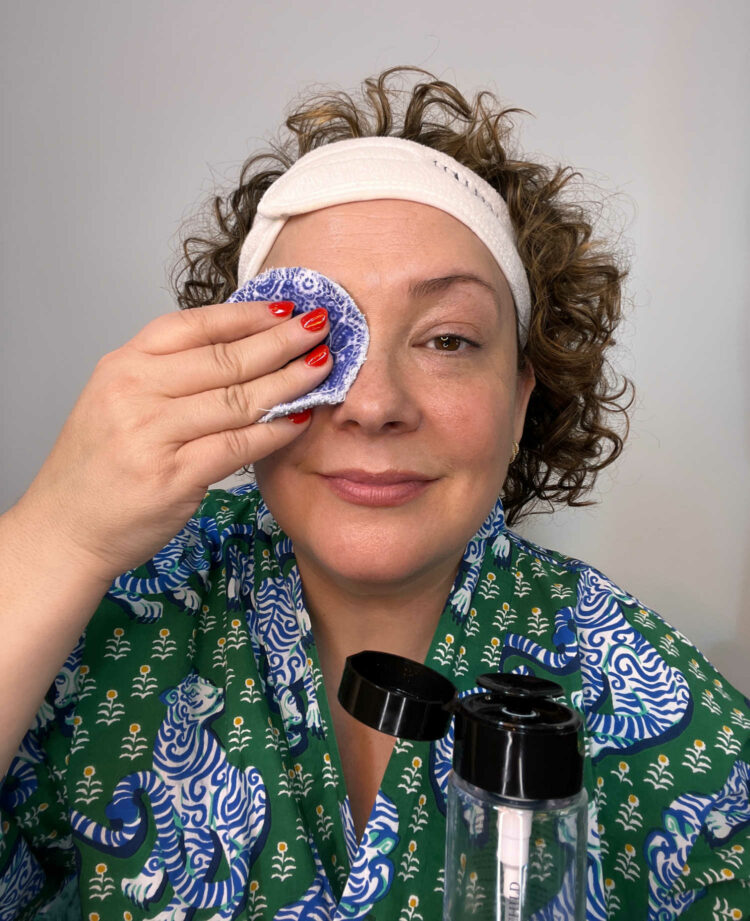 I use reusable cotton rounds instead of disposable. Better for the environment, better for the wallet (mine are several years old), and I find more absorbent and just as gentle. I have bought rounds like these from GreenLittleNest and CozySimpleLiving on Etsy. If you prefer solid-colored rounds, check out BrooklynMadeNatural which I've also shopped from. Dump used rounds in a lingerie bag and when full, zip up and throw in the laundry with your other towels.
Step 2: Cleanse
I am beyond obsessed with this solid oil-based cleanser. I have tried other brands, I have tried products in my pantry, and nothing else compares to Colleen Rothschild Radiant Cleansing Balm for removing everything while leaving my skin super soft and comfortable.
On dry skin (micellar water dries quickly), massage a small amount of Radiant Cleansing Balm onto your skin. You don't need a lot, and if there is makeup still on your face you will immediately see it dissolving. Instead of 50 different products, use that time for this massage. It's relaxing, it helps increase blood flow, it will help your skin feel and look better.
Once massaged in, use a wet washcloth (or the muslin cloth that comes with each jar of Radiant Cleansing Balm) and place it over your face. I like using a warm to hot damp cloth and leave it sitting on my face as I breathe in the spa scent of the cleanser, my eyes closed. Once the cloth cools, I then wipe off the cleanser. If you are using tap-cold water, no need to let it sit.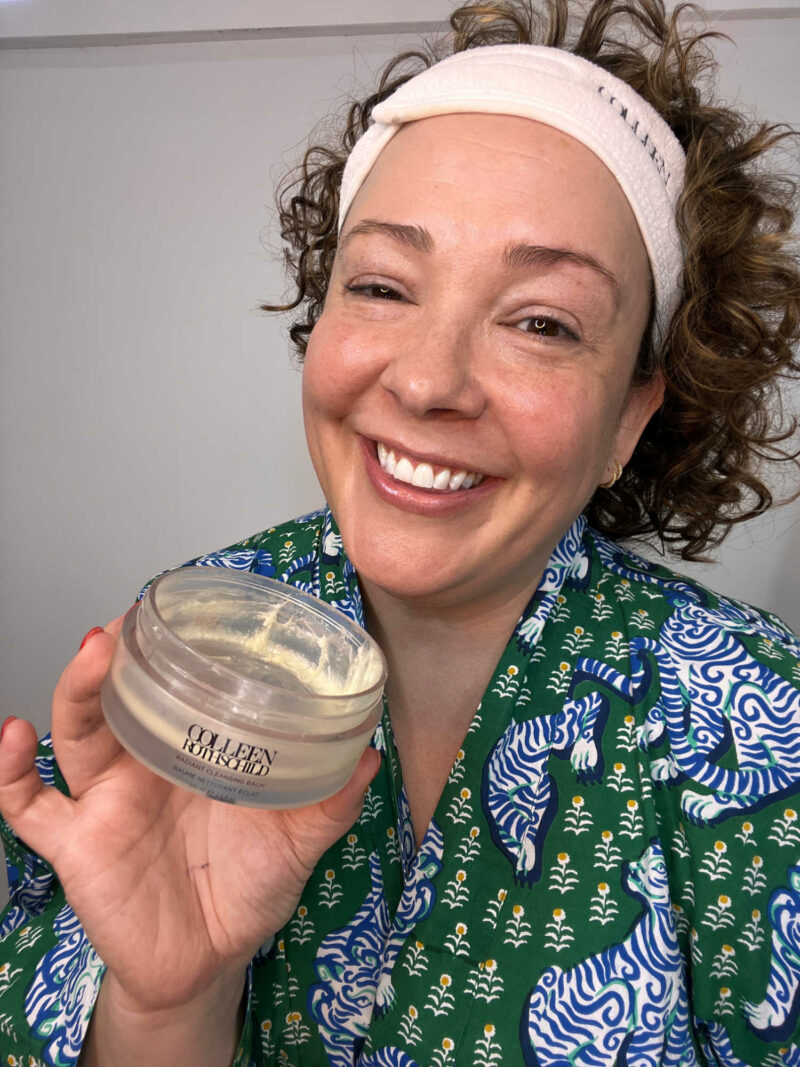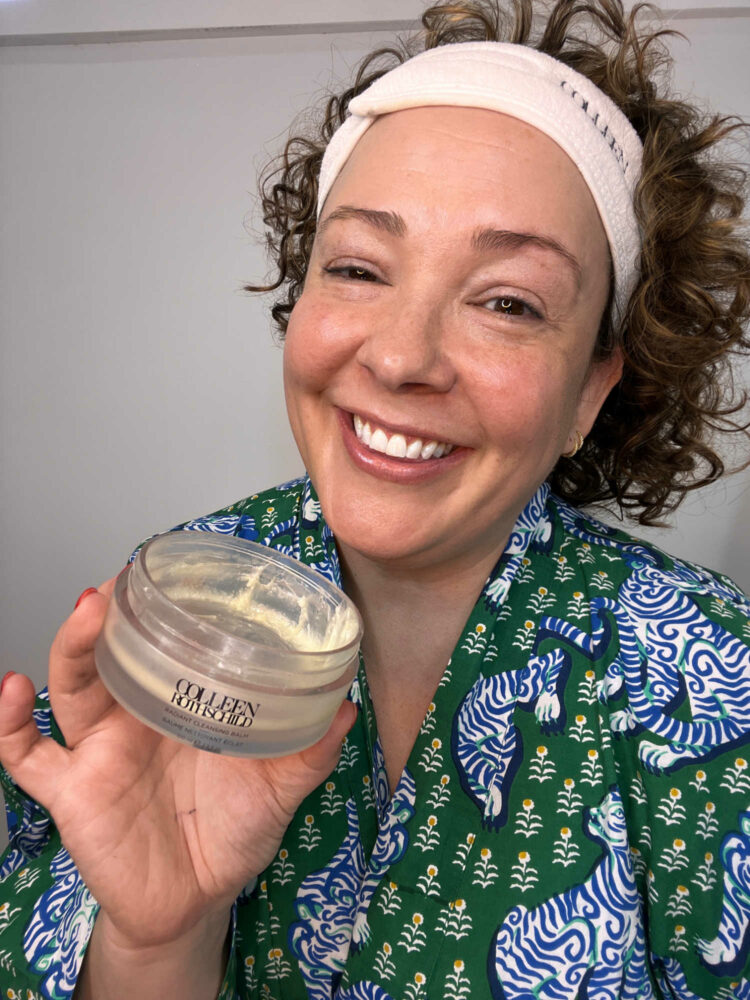 My skin after using the Colleen Rothschild Radiant Cleansing Balm is soft, hydrated, not greasy. Using this cleanser has completely changed my skin from being combination/T-Zone zitty and dry/irritated around my nostrils and on my cheeks to pretty normal and happy, even in the coldest and driest months of the year.
Step 3: Treat
As I have mentioned in the past, Step 3 is where I will often try out new products that are sent to me, review products for reviews and sponsored campaigns, and vary my routine. But when I want effective simplicity, I always go back to Colleen Rothschild Retinol Supreme Oil.
Retinol increases collagen production, which helps your skin look plumper, fresher, and can reduce the appearance of fine lines. Retinol also exfoliates and can unclog pores. Retinol can make your skin sun sensitive so if you use this, use it at night and in the morning apply an SPF, even if you don't plan on spending the day in the sun.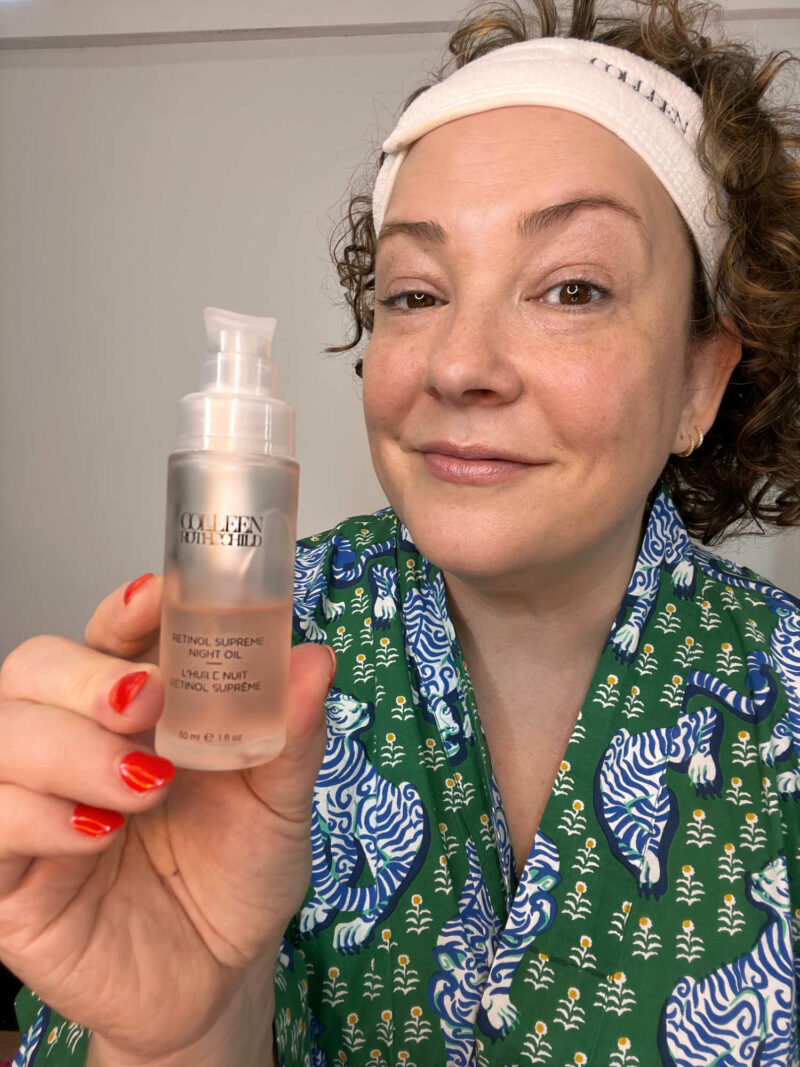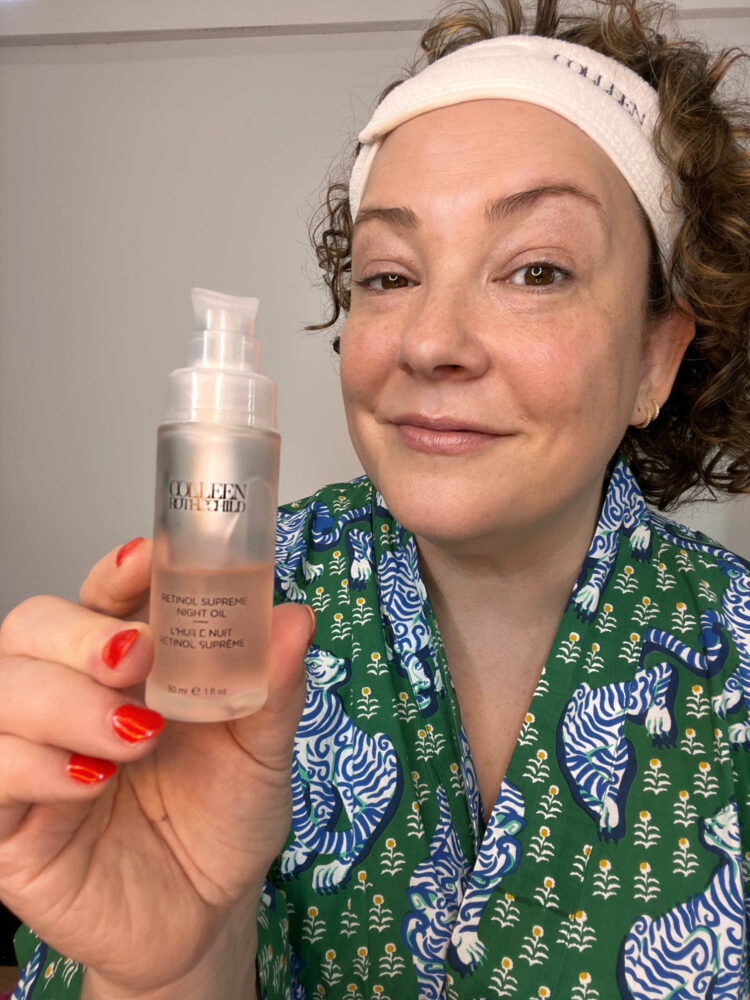 I love Colleen Rothschild's Retinol Supreme Oil because it's not fussy. One pump and I just massage it into my face, neck, and collarbone. I don't wait some certain time after cleansing, I don't let it sit or pat or whatever. Pump, massage, move on.
Plus, I never get redness or irritation from Colleen Rothschild's Retinol Supreme Oil because it hydrates as well. In the summer, I can just put this on and go to bed without additional moisturizers. It's an effective and simple product I have been recommending for years.
Step 4: Moisturize
This, IMO is the G.O.A.T. for intense moisture without greasiness. My chin and around my mouth will react if something is too harsh (red and irritated) or too greasy (breakouts). I have never had either with Colleen Rothschild Extreme Recovery Cream, and it's so hydrating my skin is happy even when the weather is super dry, and it will make my skin happy if I went too hard on acids and exfoliators or spent a day out in the sun or wind.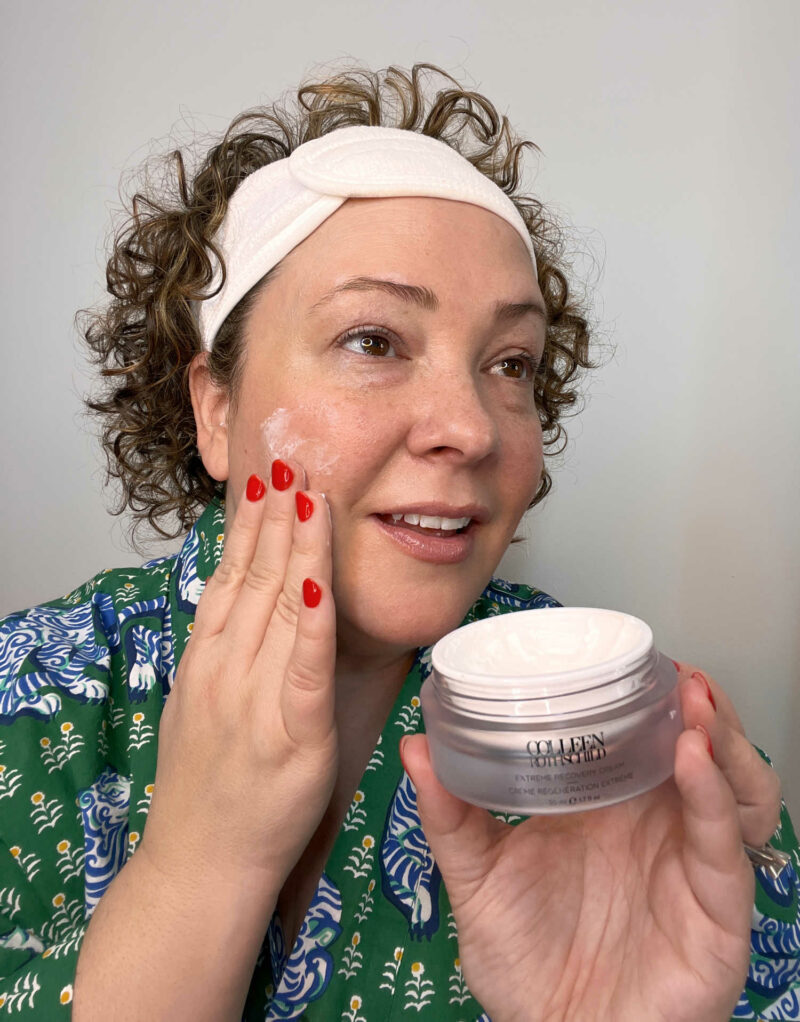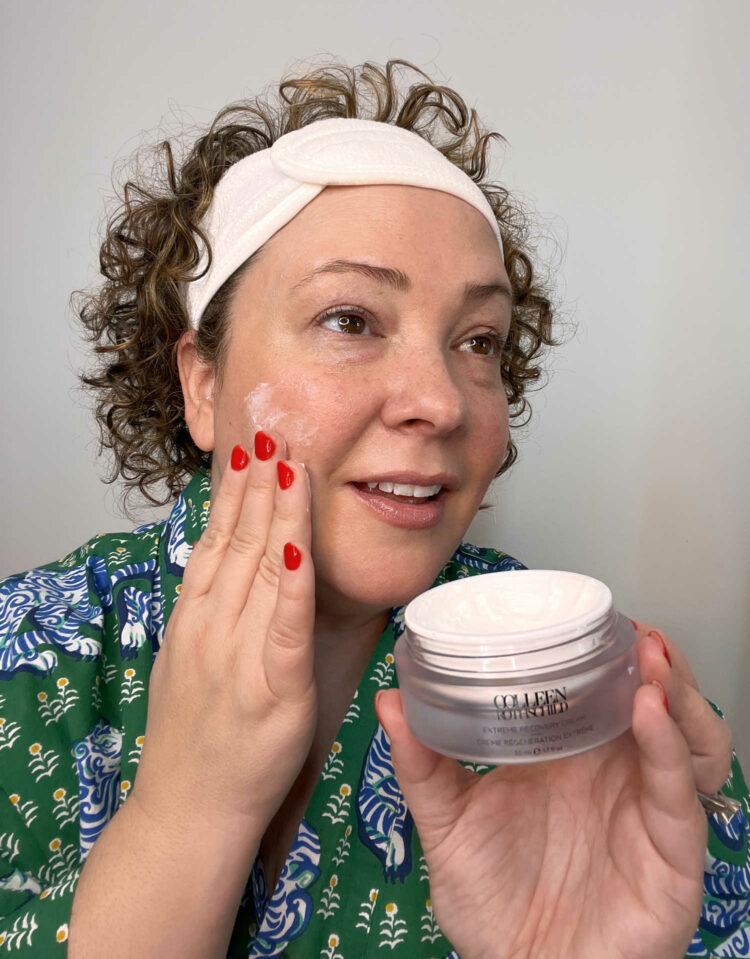 A little Colleen Rothschild Extreme Recovery Cream goes a long way, and again I am not precious about how I apply this. Slap on, massage in, move on. I don't usually use an eye cream, this goes all over the entire face and then I'm ready for bed!
My Simplified Yet Effective Skincare Routine: Morning
Step 1: Rinse
Usually, I wake and just wipe my face with a wet washcloth. It's enough to get rid of the sleep from my eyes and any residual skincare from the night prior. If I am testing a new product or had especially dry skin and used more than Extreme Recovery Cream, I will wipe my face with Colleen Rothschild's Micellar Cleansing Water.
Step 2: Treat
Again, this is where I vary products and if in a rush, I skip completely. In the daytime, I use products that are not sun-reactive and that maintain moisture. I am really liking Colleen Rothschild's Hyaluronic Serum. I apply it to damp skin, and then place my SPF moisturizer over it.
Hyaluronic acid binds to moisture (hence applying to damp skin) and will keep your skin feeling hydrated all day. Colleen Rothschild's Hyaluronic Serum also includes Niacidimide, Silver Ear Mushroom and peptides that work to tackle the appearance of fine lines, discoloration, and rough texture. No irritation, no weirdness with other products, I find Colleen Rothschild's Hyaluronic Serum very easy to use and like all of this line's products, a little goes a long way.
Step 3: Moisturize with SPF
I am always trying new SPF moisturizers, looking for something that blends well, offers enough sun protection, and doesn't act weird with my makeup. SPF is a given, especially if you want a simplified skincare routine. There is no point in using any treatment or serum if you are not preventing future damage.
Colleen Rothschild's Triple Defense Sunscreen Broad-Spectrum SPF 40 is a reef-safe mineral sunscreen that doesn't make my skin greasy while also hydrating. It's pretty lightweight for an SPF moisturizer and doesn't act weird with my makeup.
Additional Ways I Care for My Skin with Colleen Rothschild
When I worked for a skincare brand in the 2000's, the founder believed all you need to do to have great skin is cleanse, polish, and protect. After decades of going beyond that with multiple products, tools, and professional treatments, I've gone back to this simple process and have to say I am loving the results.
However, I do occasionally add steps a couple of times a week. They aren't necessary, but they make me more comfortable and happier with my skin and they are pretty simple.
Gua Sha to Reduce Jaw Tension
At night, when I am sitting in bed reading my Kindle, I take two pumps of Colleen Rothschild Face Oil No.9 and apply all over my face and neck. Then with the Colleen Rothschild Gua Sha Beauty Tool (by far my favorite, it's big and smooth and has a wristband so it doesn't slip away with the oil) I slide along my jaw from chin to ear, and then slide along my cheekbone from nose to ear. I have a video of how I do it on Instagram.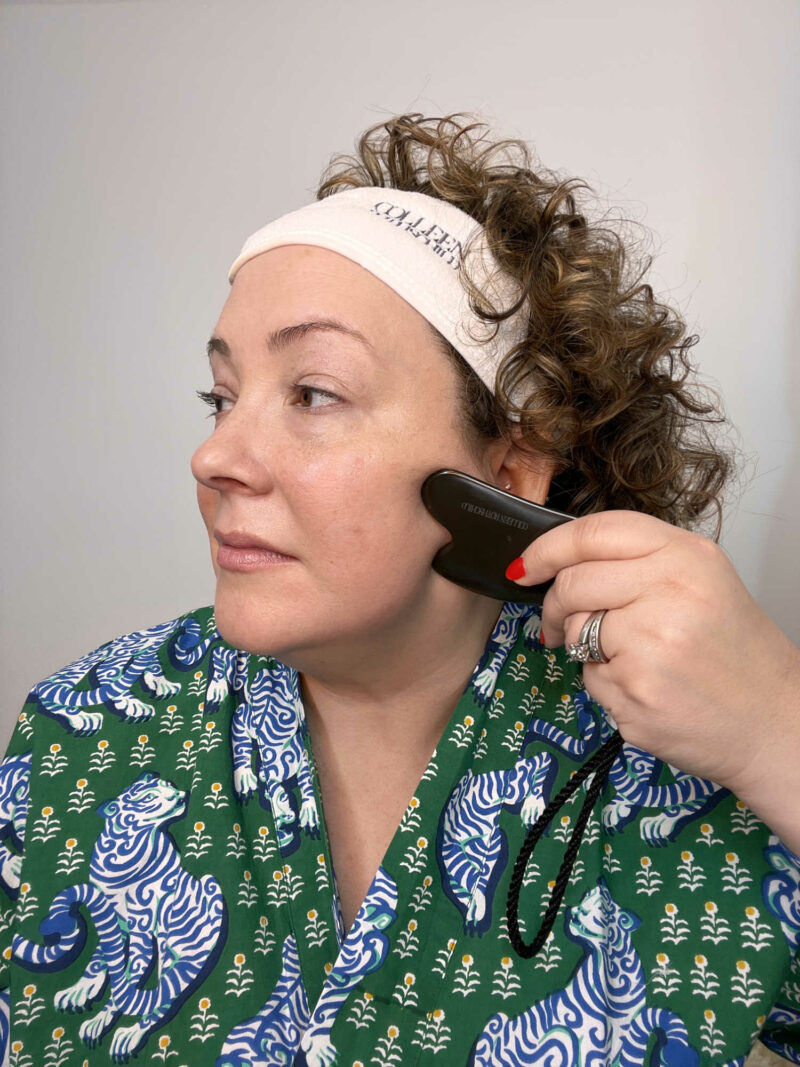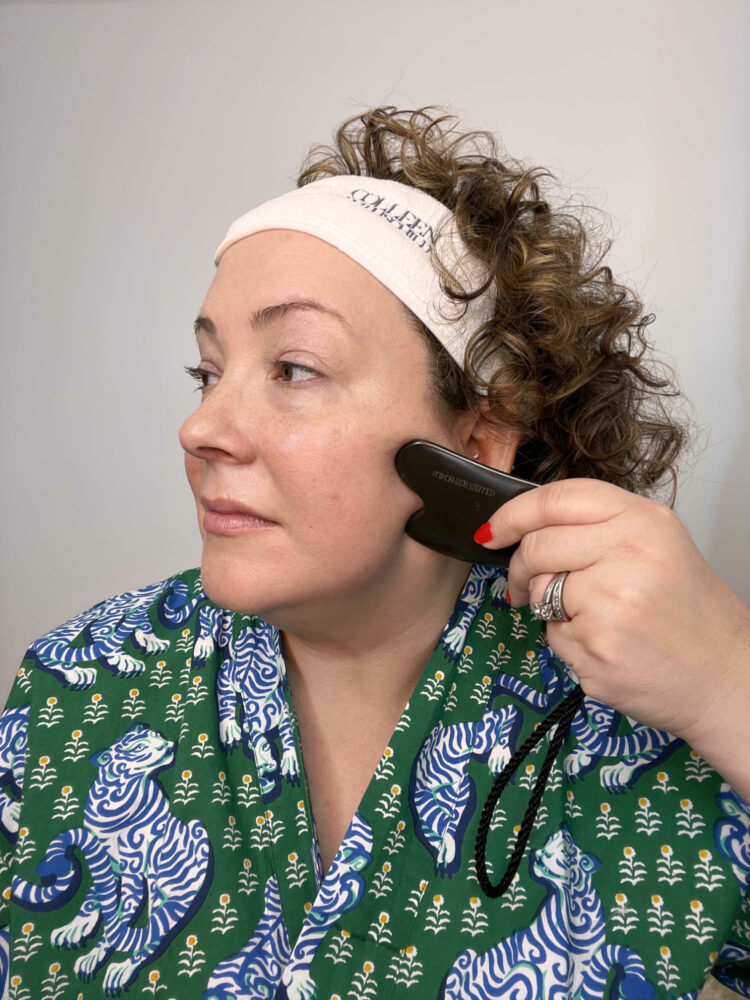 I also will use the smooth side of the gua sha tool and go along my brow bones to my temples and from the center of my brow up to my hair. I also have used it along my neck to reduce tension. If you want tutorials, there are plenty on YouTube and Tiktok; search gua sha tutorial.
Exfoliating in the Shower
My entire household is lowkey obsessed with the Colleen Rothschild Micro-Mineral Resurfacing Scrub. If you fear physical scrubs after growing up with apricot scrub, know this is a whole other kind of product. This is super fine, and you gently massage it, not rub it. No abrasion, nothing intense, but super effective.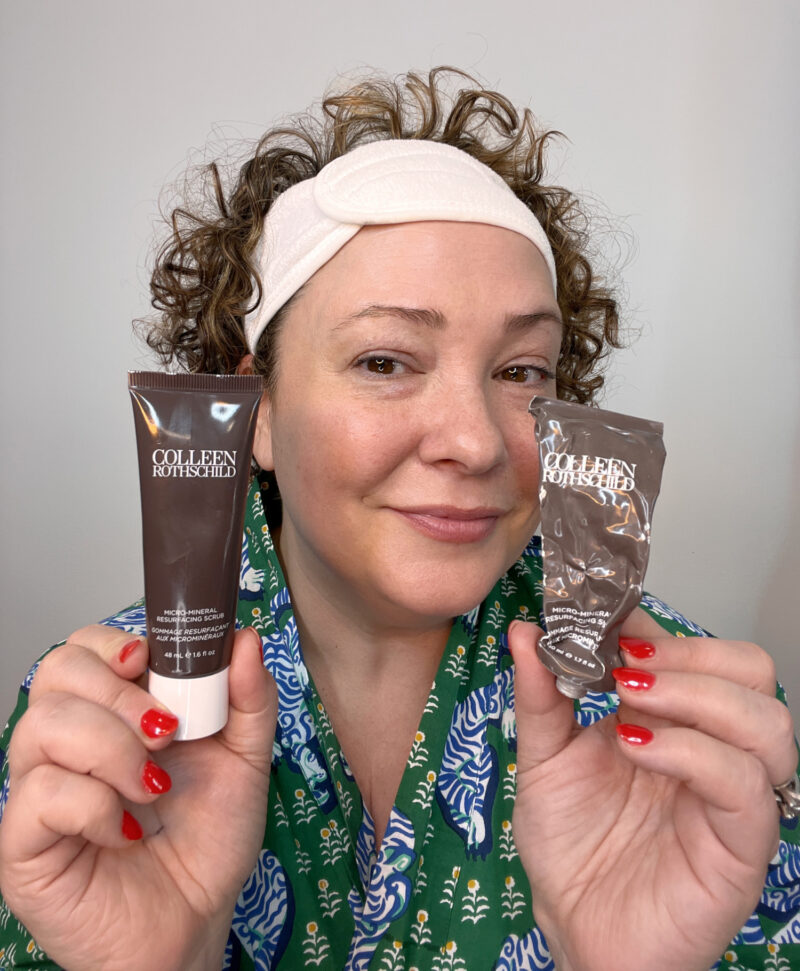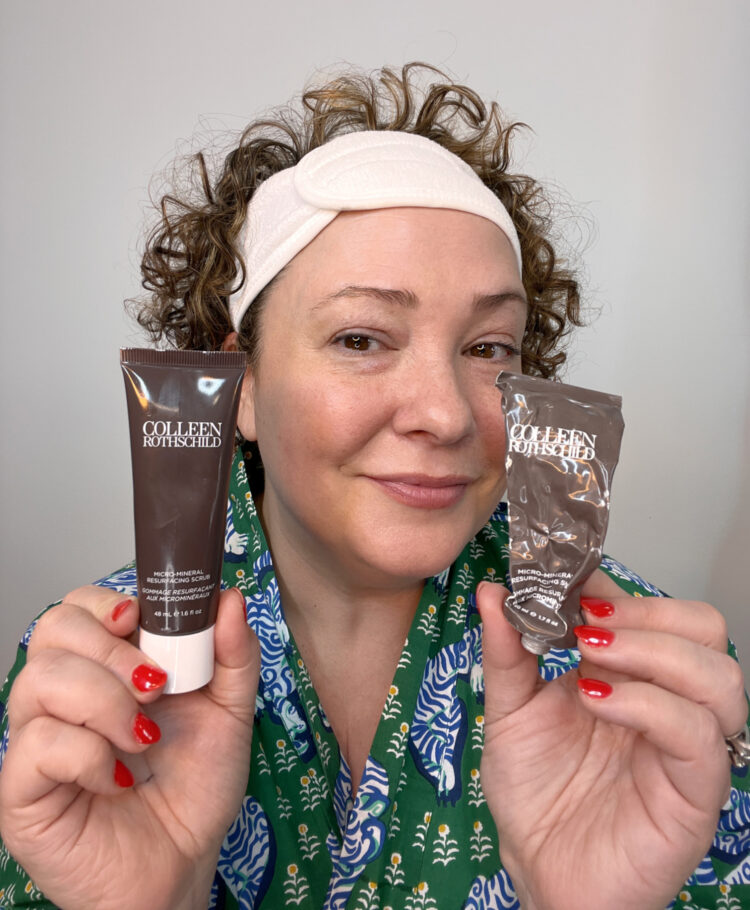 We love the Micro-Mineral Resurfacing Scrub in the shower, we take a pea-sized amount and gently massage it on our face and rinse it off. There is zero residue and your skin is left feeling soft and happy. We use it maybe once a week, sometimes twice in summer when we've done a lot outside and are extra grimy, sweaty, and coated in sunscreen.
The exfoliation from the Colleen Rothschild Micro-Mineral Resurfacing Scrub is done with super-fine rose quartz and other mineral nutrients. Zinc and malachite help reduce the appearance of redness and neutralize free radicals. Licorice root acts as a skin-conditioning agent to improve the appearance of dry and damaged skin, while radish root offers antibacterial properties. Rosehip oil, an anti-irritant and anti-inflammatory, is added to calm the skin and reduce redness.
Moisturized on the Go
As I have gotten older, I have found I am so much drier. My purse used to be filled with lipcolors and cosmetics, it's now filled with ways to stay moisturized on the go. In my purse are always eye drops, a lip product, and something I can use on my skin that won't mess up my makeup.
I love the Colleen Rothschild Kiss & Tell Lip Trio. I keep the lip scrub in my shower, the lip mask next to my bed to apply before going to bed, and the Vitamin E Lip Moisturizer is so good I got individual ones so I can have one at the office and one next to my Peloton bike.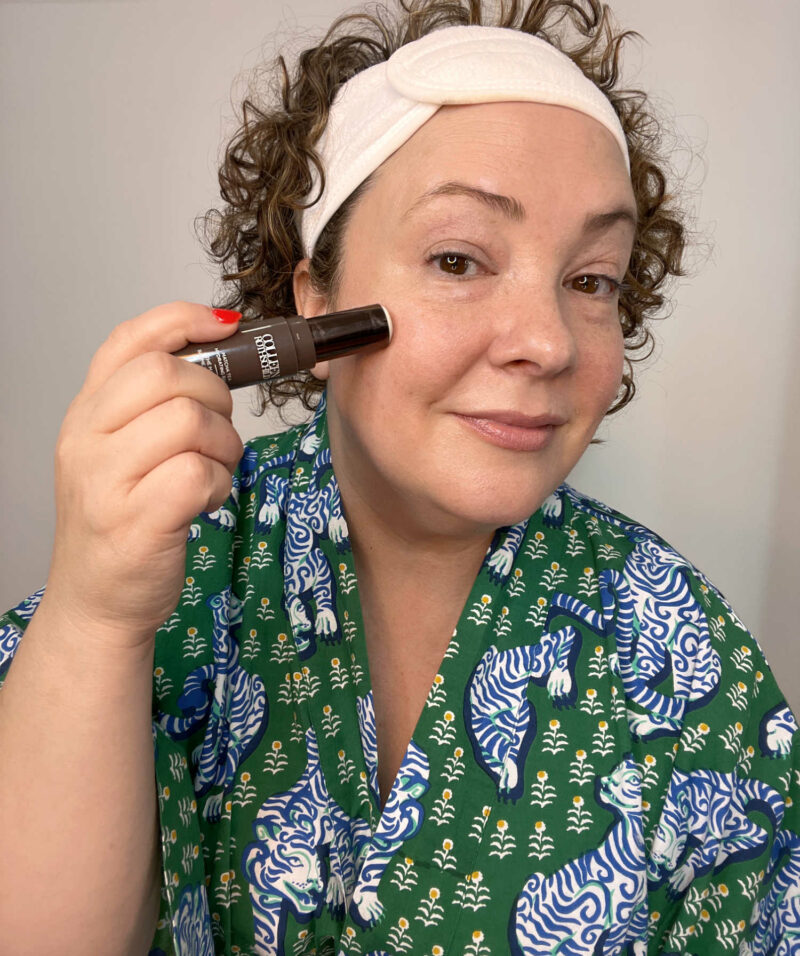 I'm also a new fan of the Matcha Tea Hydrating Balm. It's like a giant lip balm and you immediately feel the weightless moisture and cooling from a swipe. I'll swipe along my cheeks, my chin, between my brows and pat in place and my makeup stays but I get all dewy and comfy. It's also great on bare skin and the packaging makes it perfect for your purse and for travel (no liquid!).
Simplifying Travel Skincare
I can't rave about the Colleen Rothschild Discovery Collection enough. It has minis of the bestselling products from this beauty line (including my beloved Radiant Cleansing Balm) and all but one container is refillable. It also comes in a super chic travel bag. TSA-sized and perfect amount for up to a week of travel, I refill these containers over and over and have them at the ready for my next getaway. This is also a great way to try the Colleen Rothschild Beauty line.
Keep it Simple, Sweetheart
It's easy to think that we need more more more as we get older, but honestly what is going to make your skin look its best as you get older is consistent gentle care. Wash off the day every evening. Protect your skin from the sun and other elements. Keep your skin balanced and hydrated. I find my simplified yet effective skincare routine with Colleen Rothschild accomplishes this.
Colleen Rothschild Discount Code
As always, you can find my favorite products from Colleen Rothschild at my personal shop page on the Colleen Rothschild website. And be sure to use discount code OXYGEN20 for 20% off your entire order at Colleen Rothschild. This code cannot be stacked with any other promotion.