This article may contain affiliate links; if you click on a shopping link and make a purchase I may receive a commission. As an Amazon Associate, I earn from qualifying purchases.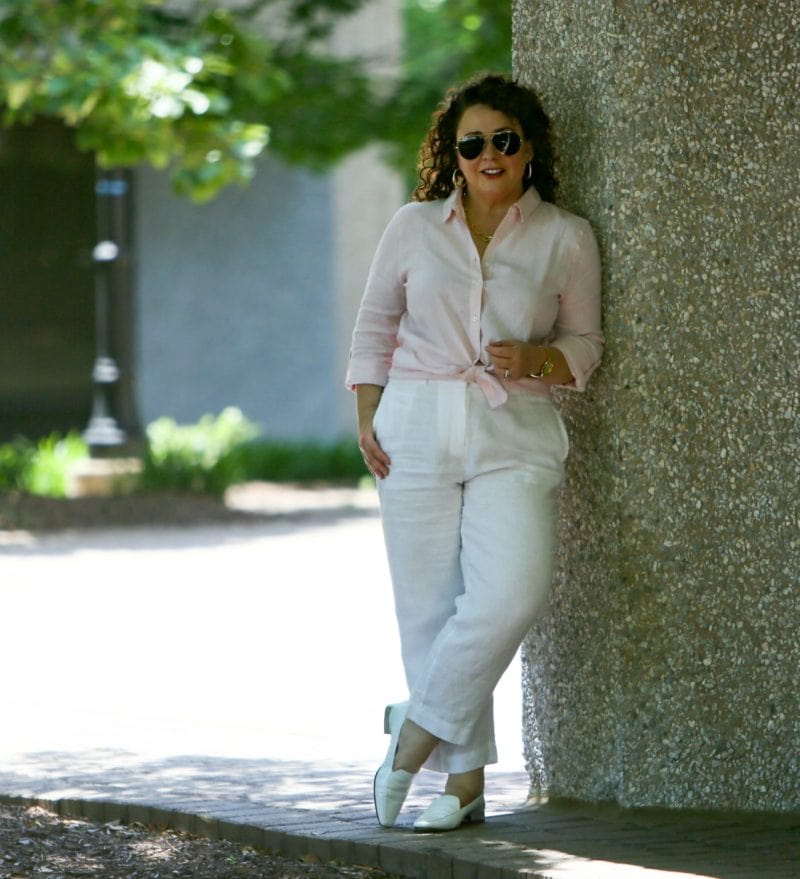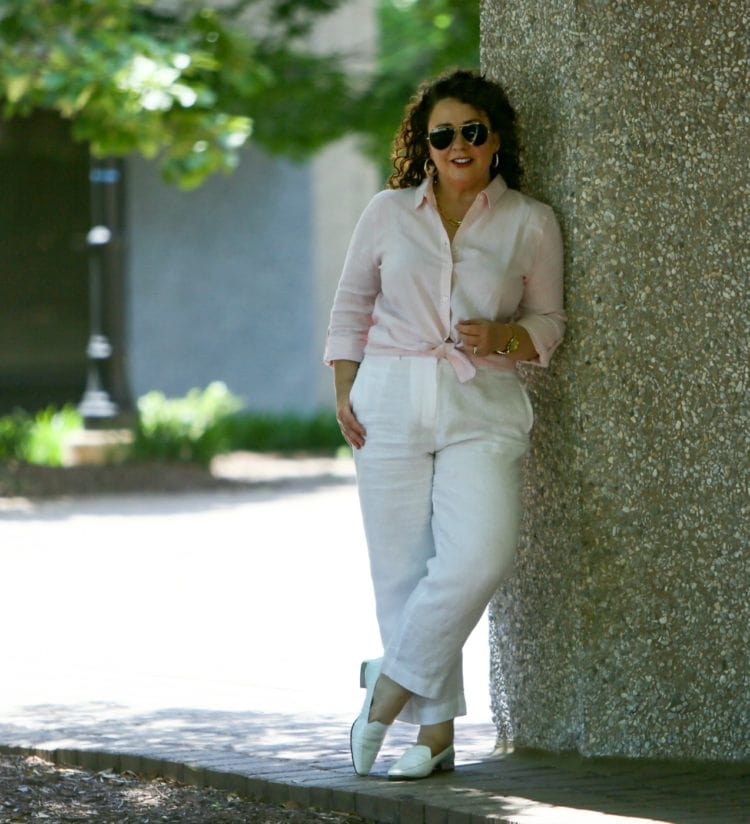 Way back in 2018 (which feels both like a year ago and a decade ago) a reader in the Wardrobe Oxygen Community asked me to review the wrinkle-free linen from Chico's. Was it truly a no-iron linen? And if so, how did it look, feel, and wear? Here is the link to my Chico's no-iron linen review from 2018; not only have I remained a fan I still have the white linen shirt!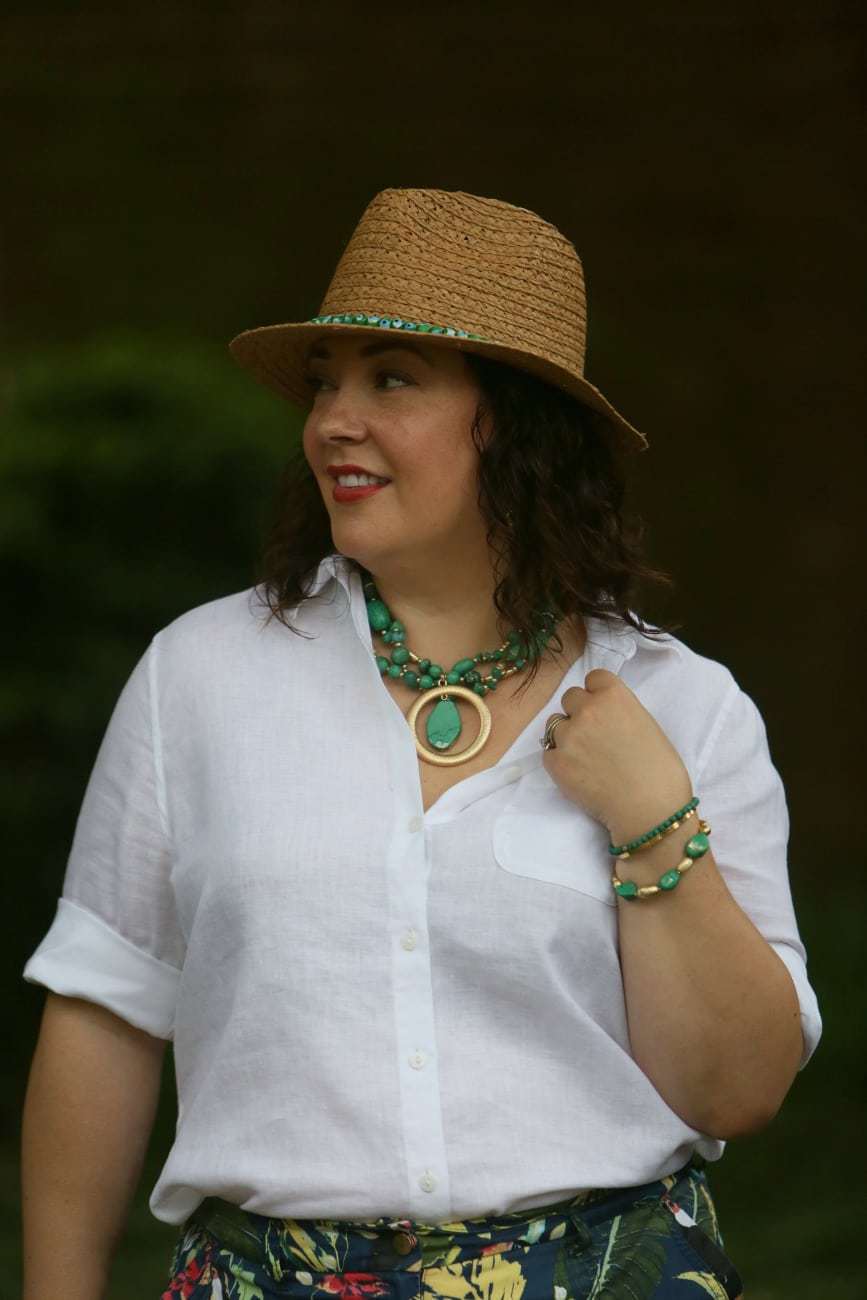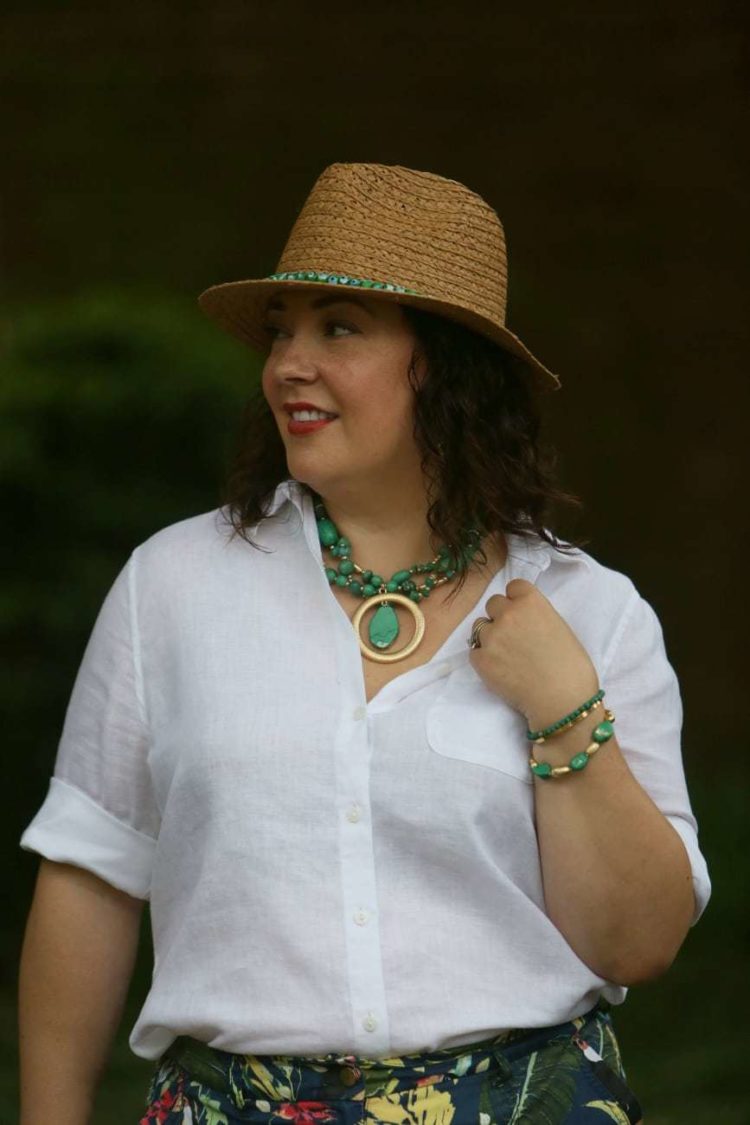 Needless to say, I have been a fan of Chico's linen ever since. Their no-iron linen shirts have become a summer mainstay in my wardrobe, leaving untucked over denim and chino shorts or tied over jeans and fit and flare dresses. A rumpled linen shirt looks so good tucked into high-waisted flare or wide-leg jeans and trousers; I like to finish it with some metallic sandals and gold hoops and pretend I am at a resort and not my back deck.
The Benefit of a Wrinkle-Free Linen Tunic for Summer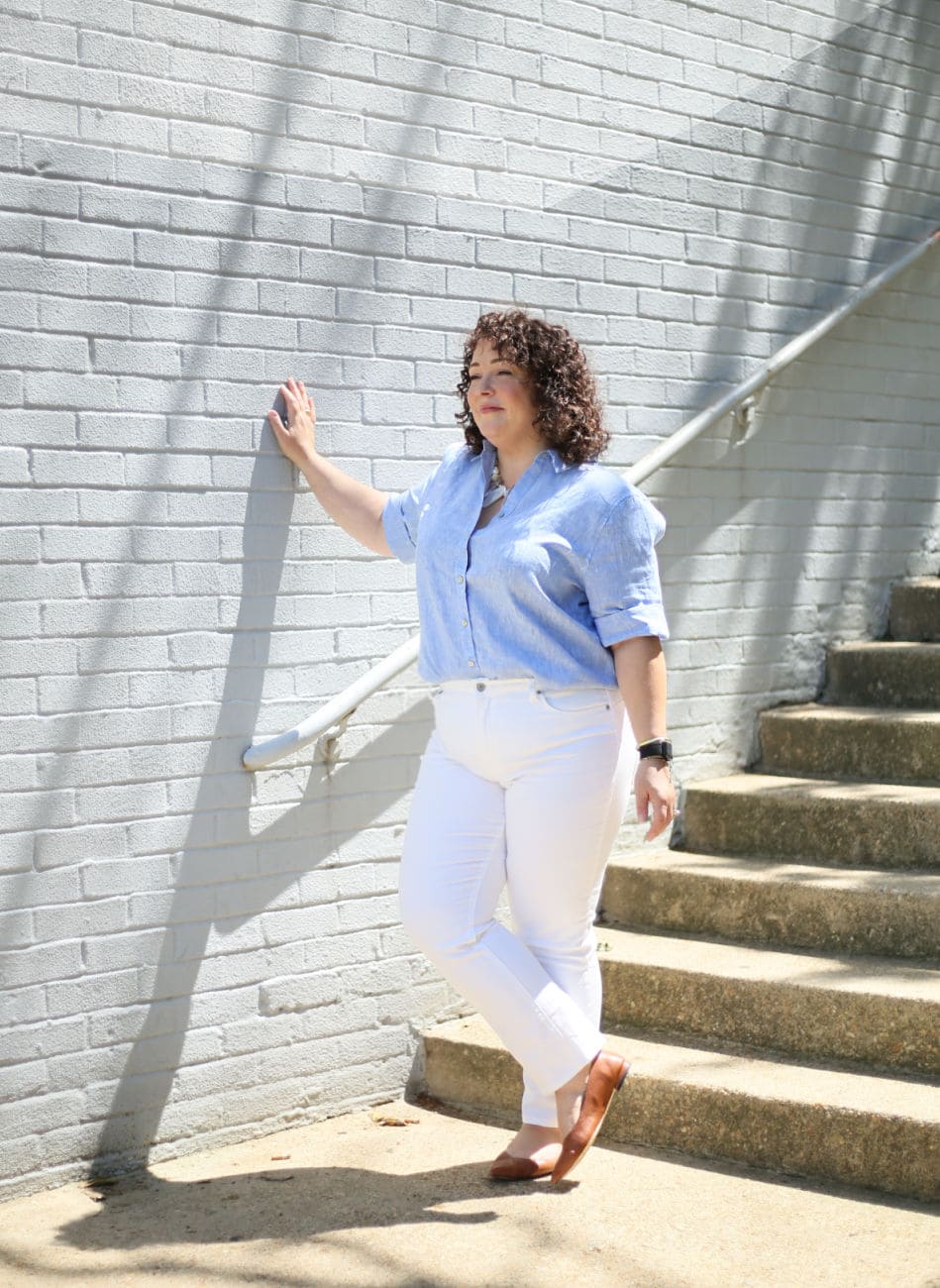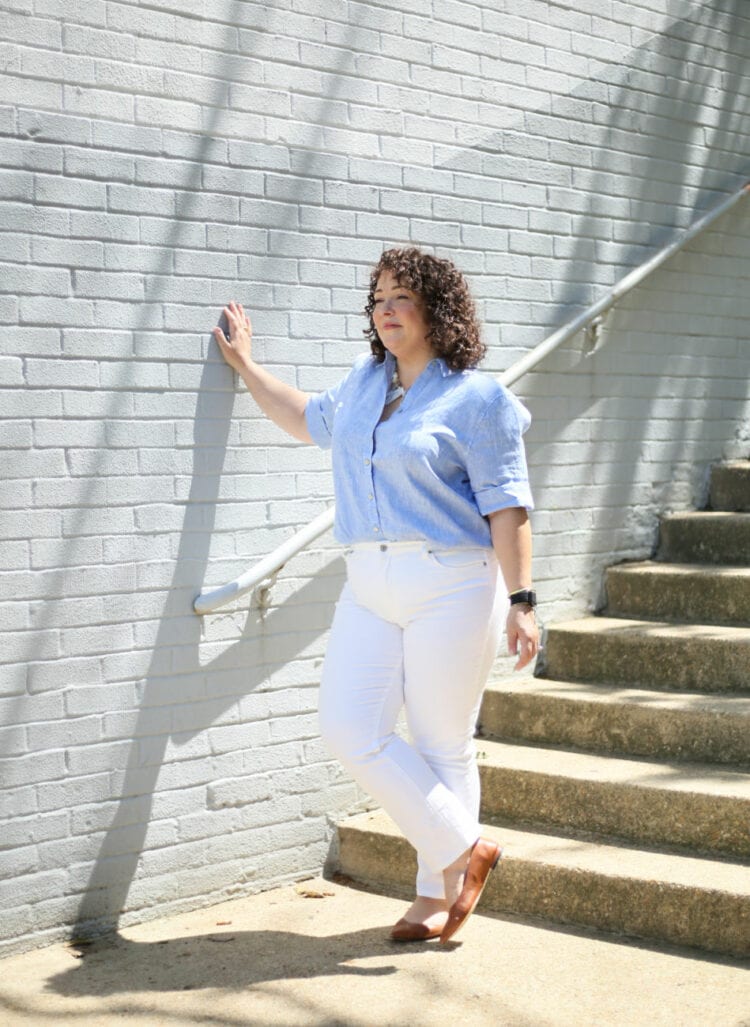 To update my wardrobe for this summer, I asked Chico's if I could get another one of their wrinkle-free linen shirts: this tunic, in size 2. I'm not normally a tunic kind of gal, but a linen tunic, especially one from wrinkle-free linen, is my JAM for spring and summer:
Tuck into white jeans as I have done here; any color linen, no matter how rumpled, looks chic and purposeful with white denim.
Tie at the waist with darker denim. Want to summerize your rinse and darker jeans? Throw on a linen shirt, roll up the sleeves, and tie it at the waist. That was my plan with this blue tunic; I thought it would look great with my Talbots high-waisted flares or my indigo Universal Standard Seine jeans and make the jeans work with sandals.
Wear untucked with shorts. Desire a longer length short but find it looks unbalanced with shorter and tucked in shirts? A longer top in a breezy fabric can help; even better if it has slits or a button-front where you can create even more movement.
Throw over your swimsuit. Linen dries fast and keeps you cool; a linen tunic is a great piece to keep the sun off your shoulders while diving into that beach read, for throwing on over a still-wet suit to walk to the concessions stand, and pair with loose linen shorts or cropped pants over your suit to head to the boardwalk to grab lunch.
Wear as your summer night topper. A linen shirt is my summer equivalent to a denim jacket. It's lightweight enough that I can tuck into my bag or even tie around my waist and it doesn't look weird thrown over sundresses, t-shirt dresses, tanks, and short-sleeved tops.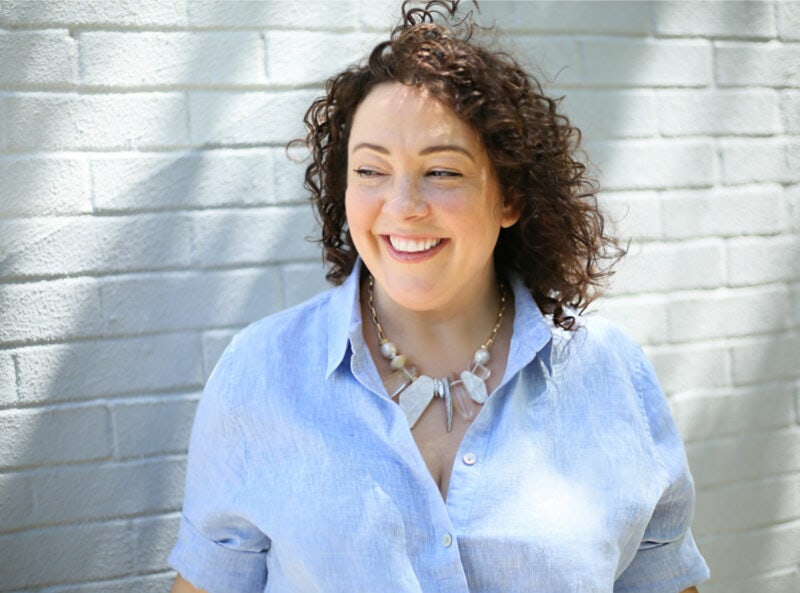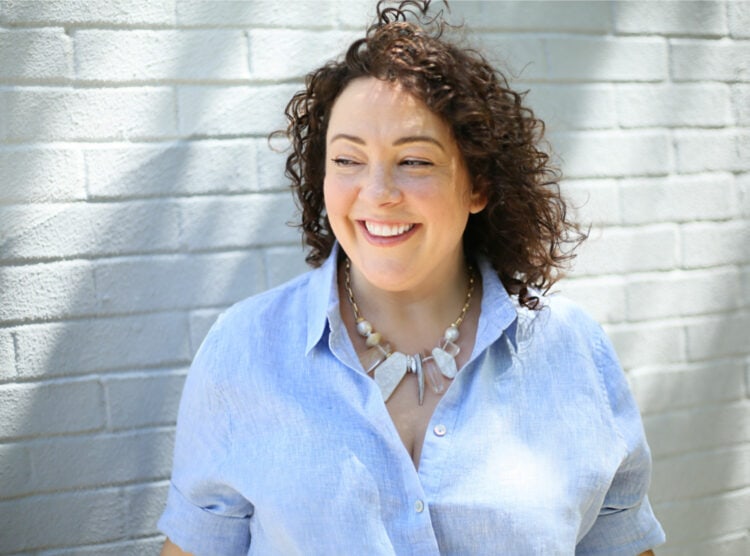 The no-iron collection of shirts at Chico's is pretty extensive; most are linen but Chico's also offers no-iron cotton. I find both fabrics to only be a hint stiffer than traditional linen and cotton, still offering similar drape, opacity, and comfort. Chico's wrinkle-free linen coordinates with standard 100% linen nicely; you could easily mix and match with other linen brands and separates for a cohesive ensemble.
Shop Chico's Wrinkle-Free Linen Collection: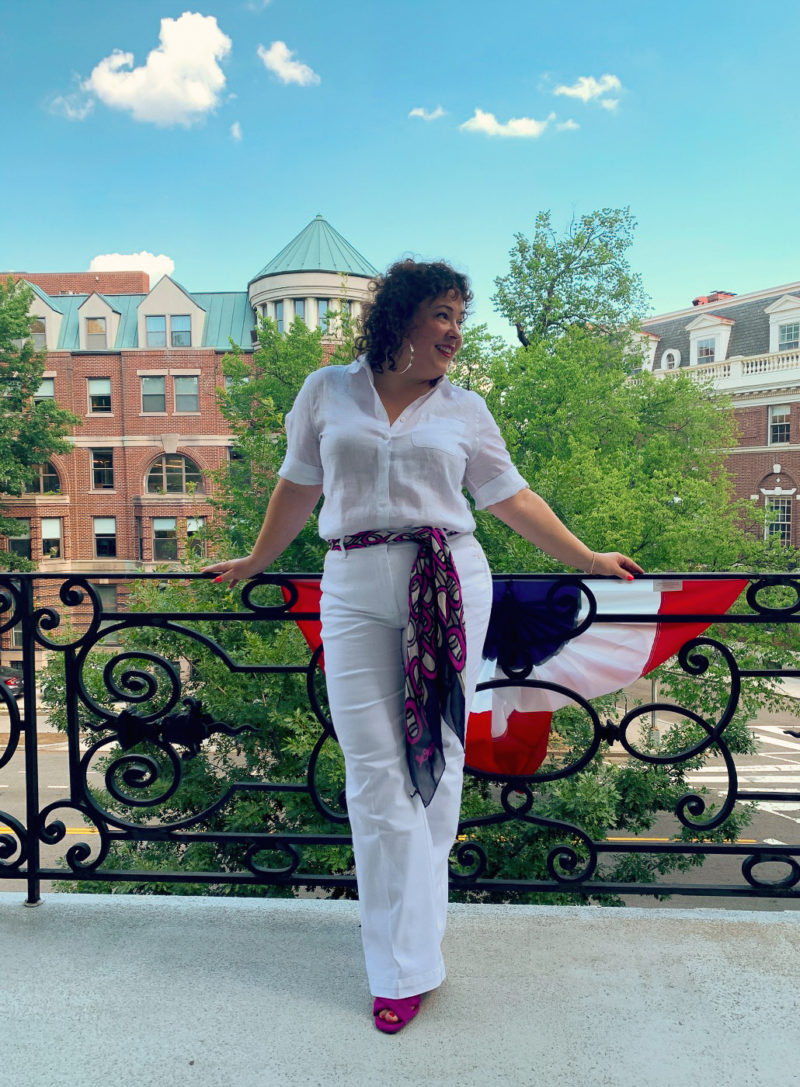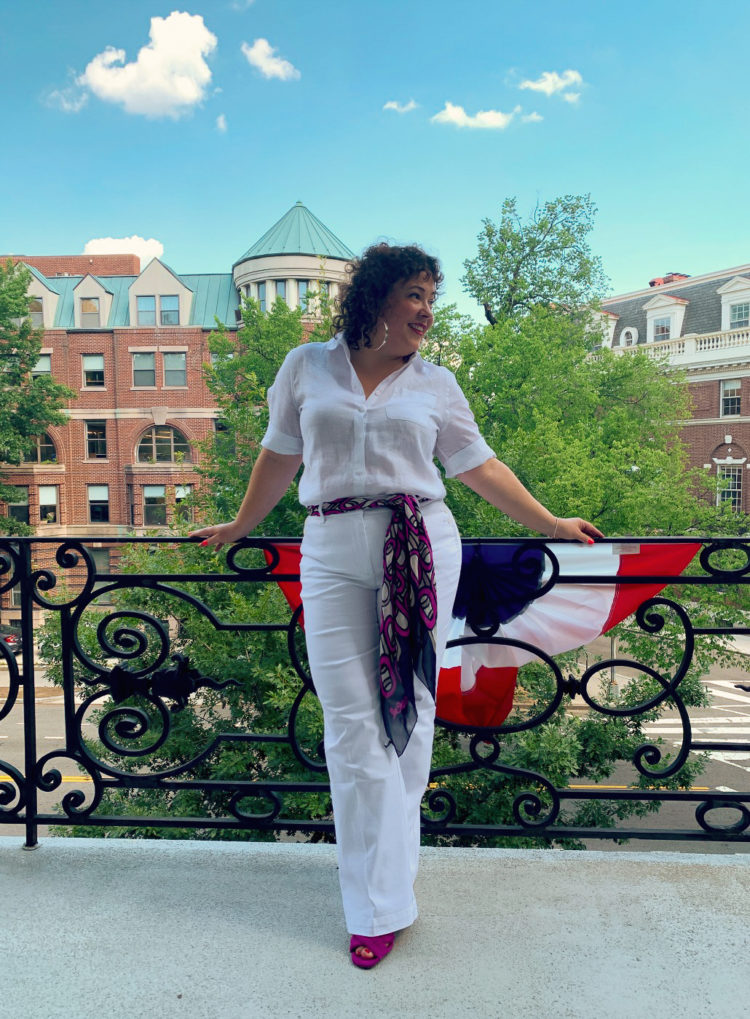 I find that over time, the no-iron feature fades, but didn't totally disappear. As I shared earlier, I still have my 2018 white no-linen shirt from Chico's (here it is on the blog later in 2018, and here it is in 2019). Now it's not so white, and nowhere as crisp, but it still looks nice enough to wear with denim cutoffs and EVA Birks on a Saturday in July and still seems more resistant to wrinkles than traditional linen.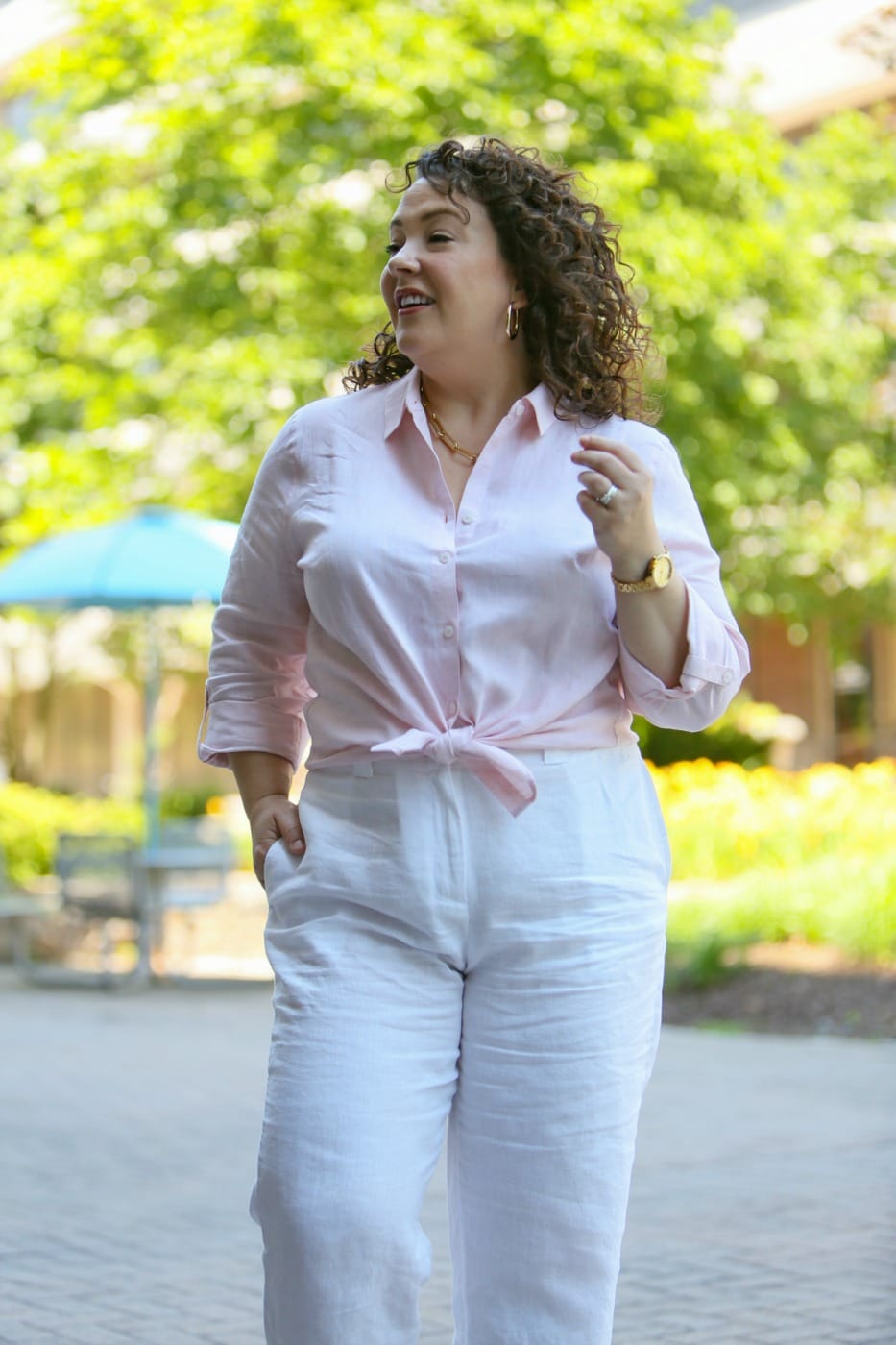 That being said, this wrinkle-free linen is 100% linen, it is not a blend. You can machine wash it and tumble dry low. When it comes out of the dryer, it isn't crisp, but it's wearable in a more rumpled/relaxed manner. I have steamed mine to have them look crisp again and remain crisper throughout the day.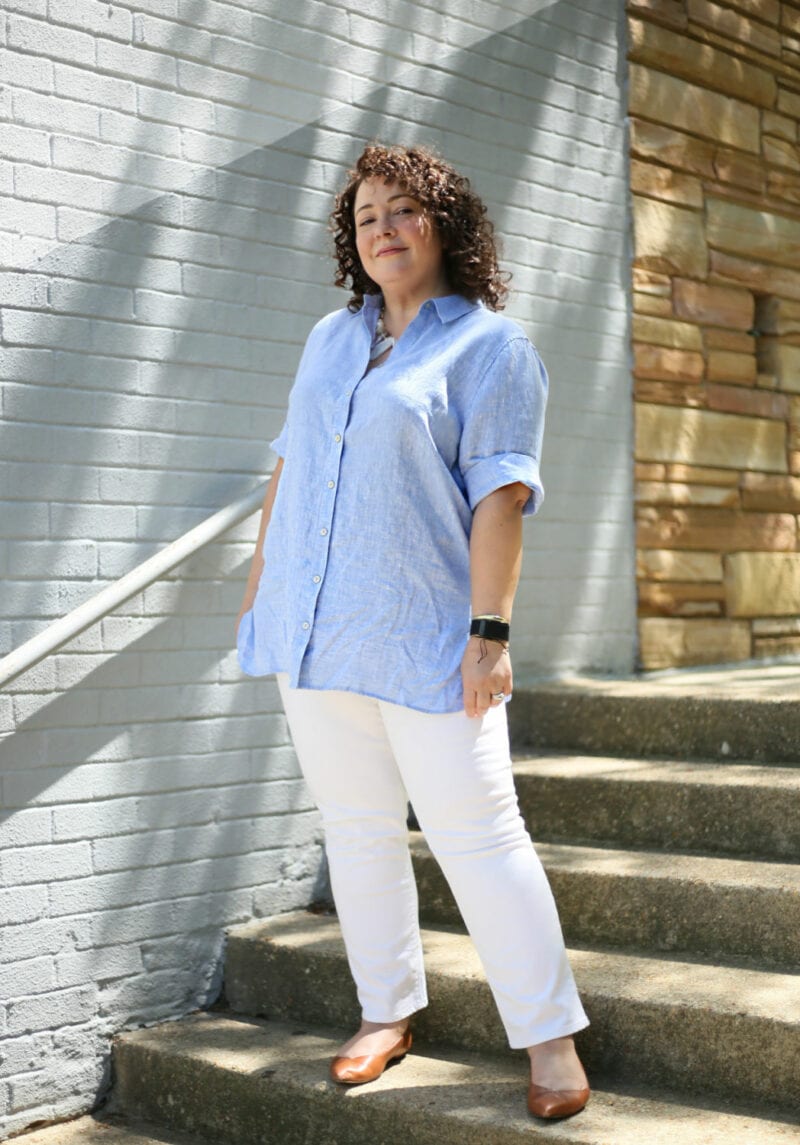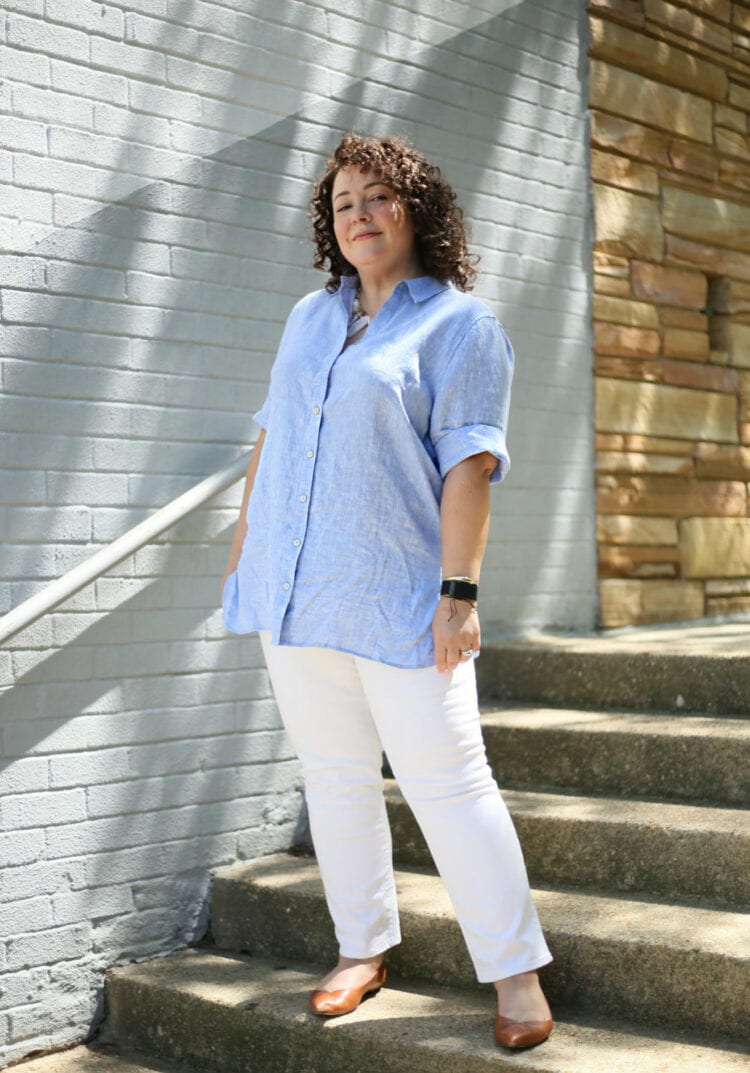 Speaking of remaining crisp… I had this Chico's no-iron linen tunic tucked into these snug-fitting jeans for about an hour before I untucked it to take these photos so you can see how it creases. Also the night prior I tied the shirt trying to figure out how to wear it today and wore it that way for a while; no need to iron after, the creases fell out by morning.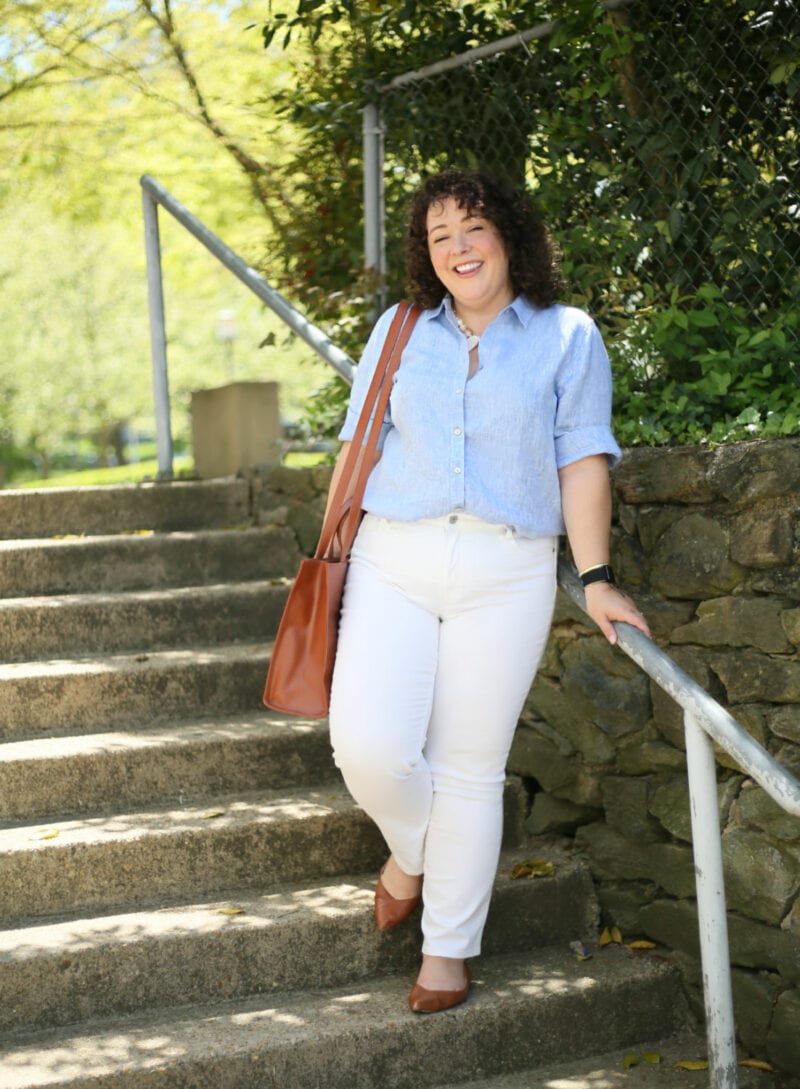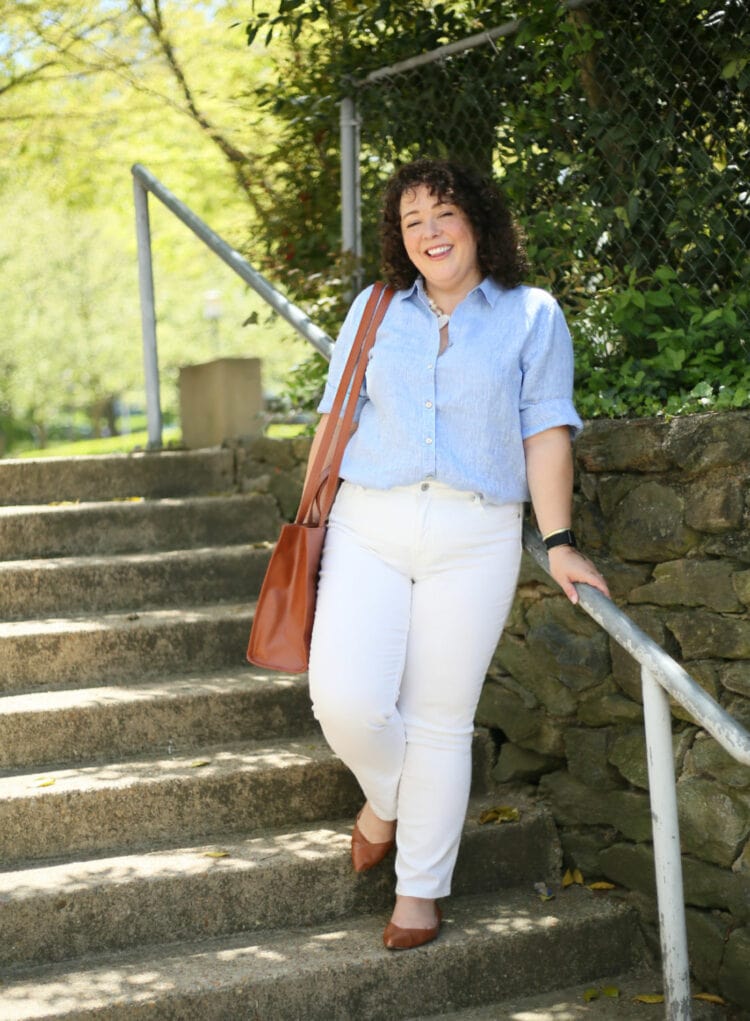 Chico's carries sizes 0/2-20/22 and many styles, especially pants and jeans, are available in lengths as well as tall/petite. I am a pretty standard size 14, petite when available, I wear a size 2 in Chico's unless it's stretchy or a very relaxed fit, then I sometimes size down to 1.5.
Shop the Post: