This article may contain affiliate links; if you click on a shopping link and make a purchase I may receive a commission. As an Amazon Associate, I earn from qualifying purchases.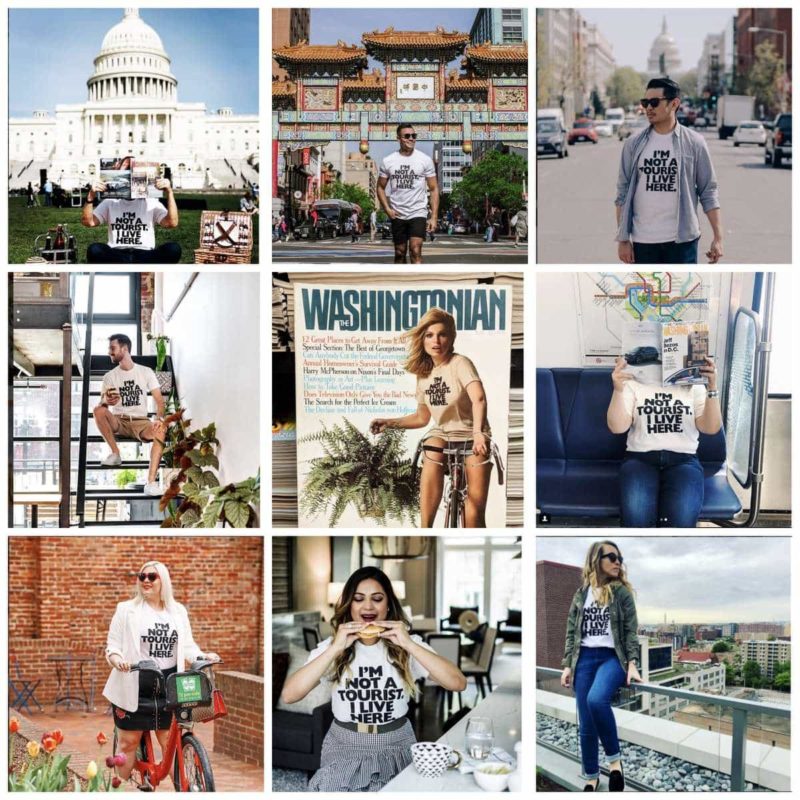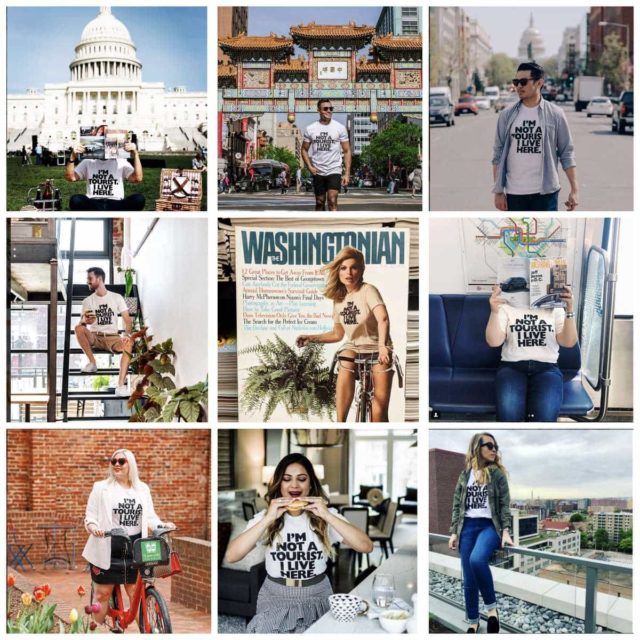 In 1727 Benjamin Franklin created The Junto, also known as The Leather Apron Club. The members of the Junto were drawn from diverse occupations and backgrounds, but they all shared a spirit of inquiry and a desire to improve themselves, their community, and to help others. The goal of the club was mutual improvement.
My friend Alison told me about The Leather Apron Club in 2014 and I was obsessed. I LOVED this idea. I had always been of a similar mindset. Together, we can achieve much more than alone. Yet I was a blogger, going at it completely alone. I reached out to some of my friends and suggested we create a Leather Apron Club. We were from diverse occupations and backgrounds, but we all had a desire to improve ourselves and others. We created a Facebook group and had monthly dinners. We sought ways not just to help ourselves but help one another. Over the years, the group fell apart as people had new jobs, moved away, and their businesses grew so much they didn't have the time. I think a sign of a successful group like this is that it dissolves due to communal success. Though the original Leather Apron is no longer, the idea of creating community and looking for ways to help one another improve hasn't left me.
Blogging can be a very solitary, competitive job… but it doesn't have to be. If you think about it, we're not competing against one another because none of us are alike. Put six bloggers of the same age, same dress size, all who have the same favorite brand, and a similar size audience together and you'll find them all drastically different. Give them all the same dress and they'll style it differently, shoot and edit it differently, write different content about what they like about the dress, and choose different methods to share the post on social media. So why not help one other? Brands never work with just one and only one blogger. Most blog readers don't read only one blog. Companies don't have a pot of money and decide they'll either give a bit to a few bloggers or all to one blogger. Relationships are made based on work, not scarcity.
I find the more I help my fellow blogger, the more successful my business. Since 2014 when I started that first Leather Apron group with my friends, I've looked for ways to help others and it has never done me wrong. But I always have room for growth, I'm always learning, and this week I learned a very important way to help fellow bloggers.
A blogger friend recently informed me that before she attends any event or press trip for a brand, she asks for the media list or what other bloggers are invited. This way, she can better determine if the event is appropriate for her audience. Let's say the event is for a handbag line, something many women use. But if the rest of the bloggers invited are mommy bloggers, you can ask the brand if the focus is on their diaper bags or on their whole line. While you too may be a mom, your blog content isn't about that and the event could end up being a waste of time for both you and the brand. Also, by knowing the guest list ahead of time you can do some homework. Look up the bloggers, possibly email or DM to start a connection before the event, look up the faces of the press so you can be sure to introduce yourself.
This week I learned asking for this information is important not just for events, but campaigns. It can benefit you, but it can also benefit your fellow bloggers.
At the end of March, I was contacted by Washingtonian Magazine. They were having a campaign where they reissued a t-shirt from one of their 1976 covers that said, "I'm not a tourist. I live here." They were looking for DC-based influencers to photograph themselves in the t-shirt and share a promotion Washingtonian had where you could get a magazine subscription and this limited t-shirt for a special low price.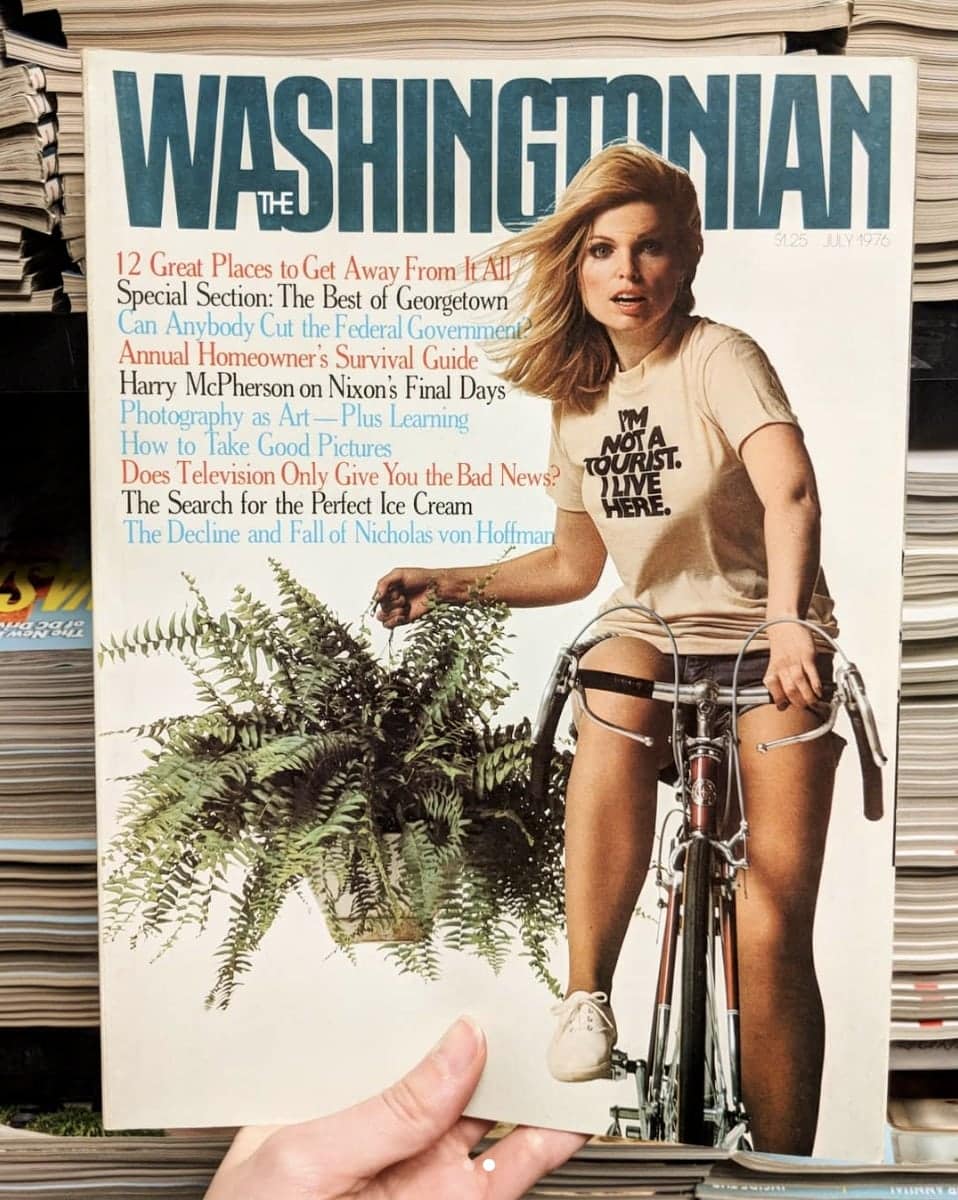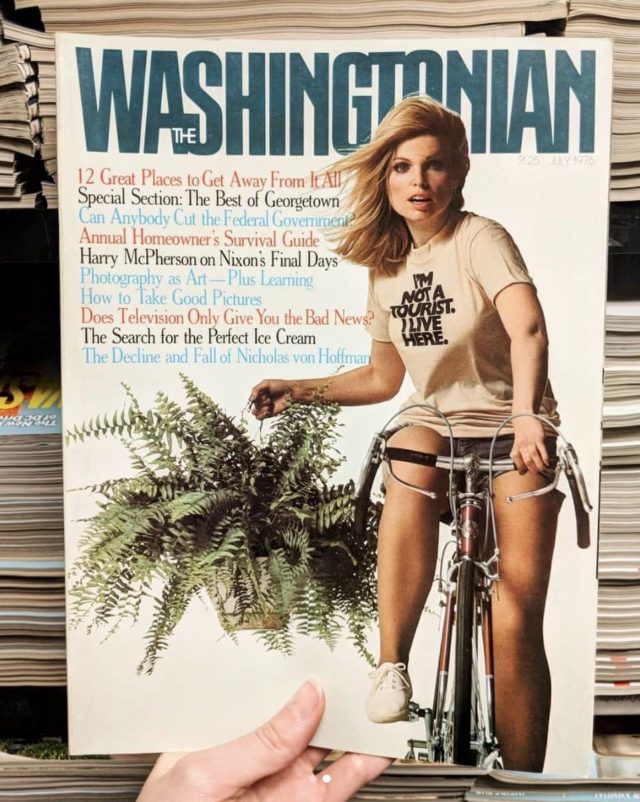 While I don't live inside the DC city limits, I was born in the city and my parents and I lived here for a couple years before my parents moved us to Prince George's County for a bigger home and a yard for their growing family. I have lived in the DC area all my life, almost always less than 20 miles from the city. Most of my jobs have been in DC, and on my blog, I've always told people I live in the suburbs of Washington, DC. This city has always had my heart and I thought it would be fun to be part of this campaign.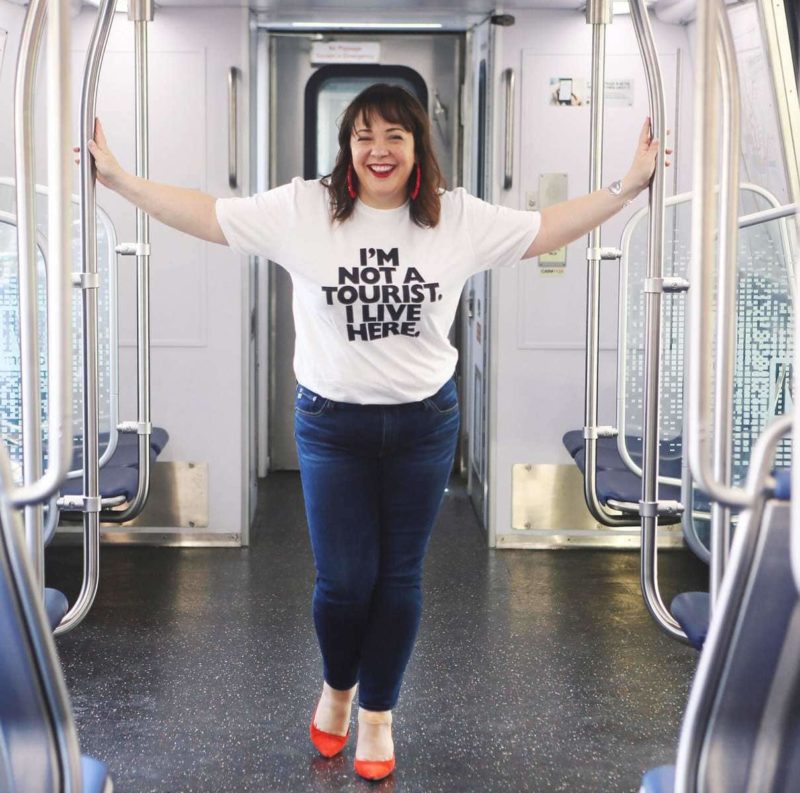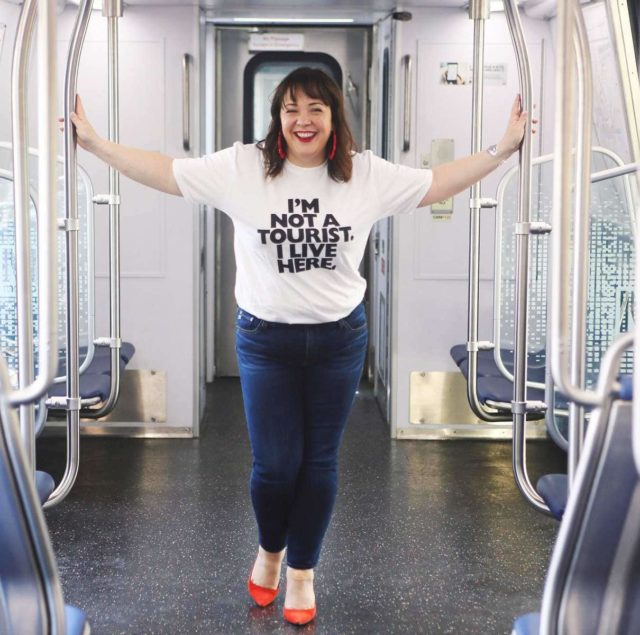 I was surprised that Washingtonian asked me. I don't think DC is unusual in that there's a core group of influencers that are always invited to events and are always the ones chosen for campaigns and promotions. I don't focus on DC with my blog. I don't have a primarily DC-based audience. And let's face it, most popular influencers are essentially models, and I'm not really the age or size of your typical model. So by inviting me to be part of this campaign, I assumed a lot of influencers would be a part, and they were looking for a broad and diverse group to show the diversity of Washington DC. I agreed to be a part, and last week I shared my photo on Instagram.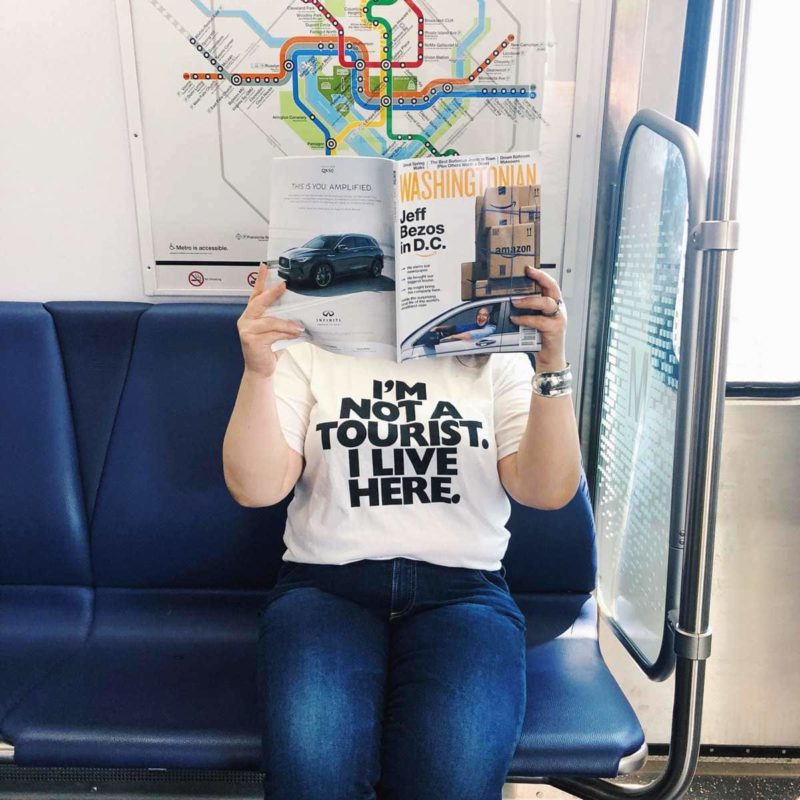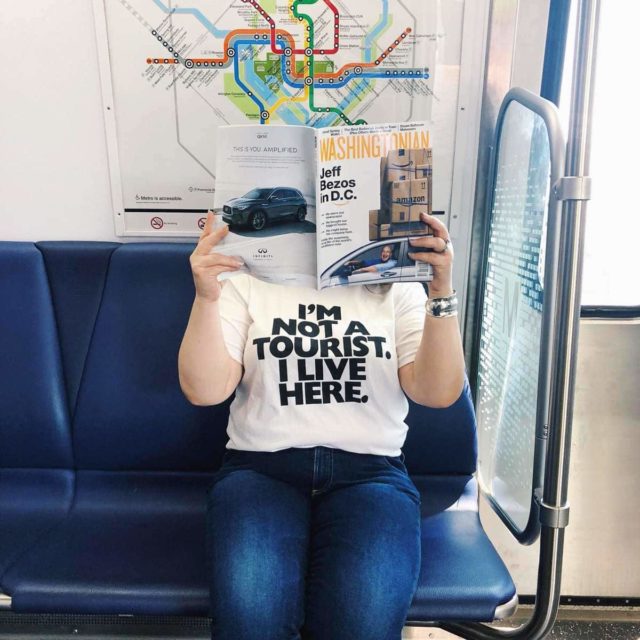 The campaign didn't have a unique hashtag, so it was hard to find all the other people part of the campaign. However, I followed a few and some tagged Washingtonian on Instagram so I got a glimpse of several. A lot of faces I expected to be in the campaign were included, but I was surprised by both the small amount of photos, and the people chosen. Very few were from DC, and most were relatively recent transplants. And though DC is known as Chocolate City and is over 47% percent Black, I didn't see any Black influencers share their photos. There was no due date on the campaign so I just figured more would be sharing throughout the month.
A couple weeks ago, Washingtonian tagged me in a photo on their feed introducing the campaign. I clicked to see who else was tagged to get a feel of who else was in the campaign. Erin Krespan, photographer. Chris Cruz, photographer and videographer. Libby Rasmussen of Libby Living Colorfully. Julien Garmen of It's Julien. Dani Sauter of Blonde in the District. Diego Gonzalez-Zuniga of Diego Downtown. Justin Schuble of DC Food Porn. Laurie Collins of DC City Girl. All talented influencers with gorgeous photos of their lives in the DC area. But none of them Black.
This week, Washingtonian Magazine shared a slideshow on Instagram featuring the photos of a few of the influencers part of the campaign. It was Diego from Diego Downtown, Julien from It's Julien, Dani from Blonde in the District, Justin from DC Food Porn, Laurie from DC City Girl, and me. I knew we weren't the only ones who had posted our photos, we also weren't the first to submit our photos. On top of that, even I, a white girl from the suburbs saw a glaring issue with that slide show – not a single influencer was Black.
I wasn't the only one who noticed this. Monday night, DC social media was buzzing about the lack of Black people in the campaign. How could Washingtonian do such a campaign and NOT include any Black people? What were they trying to say and what audience were they targeting with such wording AND a lack of diversity? The story was picked up by local news channels, radio stations, and several online media sites. Washingtonian took down the slide show. Their President and CEO Cathy Merrill Williams posted a response on Instagram and their website stating, "This was the very beginning of a campaign in which all intentions are to include the many communities that make up our city. We solicited pictures from a diverse group of people and put the pictures up in the order they came in. People who saw the initial gallery of pictures had no way of knowing that it was not, in fact, the entirety of the marketing campaign. We took down the initial post because it created an impression that was inconsistent with our values and standards. We're confident that when the campaign is complete it will reflect the diversity of the readership that we serve."
But is this entirely true? Why would it be that a month into this campaign not a single Black person has posted a photo in this t-shirt? Why wasn't a single Black person tagged in that initial campaign photo, or featured in the slide show?
And why didn't I say anything?
If I had asked who else was in the campaign when I received the offer, I would have known. I could have recommended some amazing Black DC-based influencers, individuals with far more talent, larger audiences, and more gorgeous feeds than I. I pride myself on helping my fellow bloggers and working together for mutual improvement and completely missed an opportunity to do just that.
One quick scroll through the Instagram feeds of rewardStyle's liketoknow.it or Instagram Stories of press trips sponsored by major brands and you'll see how blindingly white it is. A lot of these companies (such as Revolve and rewardStyle) have been called out and now include more people of color, but it's still a drastic minority and not a proper representation of this country or the blogosphere.
Some have spoken up to demand change. For example, after the Revolve debacle, my friend Val from the blog On a Curve created You Belong Now. It showcases content creators who are consistently overlooked because of skin color, ethnicity, class, religion, gender, size, age, and more.
But more can be done. And we, the white bloggers who are being chosen for campaigns need to do it.
When we are invited on a press trip, to attend an event, or included in a campaign we need to ask for a list of the other influencers. Those we don't know we need to look up and we need to see if there is diversity. And if it is lacking, we need to speak up and suggest influencers. We know our community, we know what brands are looking for. If you're attending an event for a cosmetics brand and all of the bloggers attending have more than 25K Instagram followers, suggest they include a Black beauty blogger with an audience of the same size who would be a good fit for the brand.
This can feel scary. You're excited to get an invite or a paid gig, you don't want to screw it up by seeming difficult. But any brand or PR person should see this as a helpful gesture. No brand wants to look like racists, right? No PR firm wants to be fired for lacking diversity in a campaign. And if they DO find you difficult for suggesting diversity, are they really a brand you want to promote?
I'm really upset about what happened with this campaign. I'm disgusted that Washingtonian didn't even think to include a Black person in their first-run of this campaign and feature them in that slide show. I'm embarrassed to be part of a campaign that was so tone-deaf and poorly thought out. I'm angry that so many incredibly talented people of DC were dismissed because a magazine I have subscribed to for over a decade didn't find them appropriate for their image.
But there is one positive. If it weren't for this campaign, I would never have thought to ask who is in a campaign with me so I can help make it more diverse. And if it weren't for this campaign I wouldn't be writing this blog post urging you fellow white bloggers to do the same.