This article may contain affiliate links; if you click on a shopping link and make a purchase I may receive a commission. As an Amazon Associate, I earn from qualifying purchases.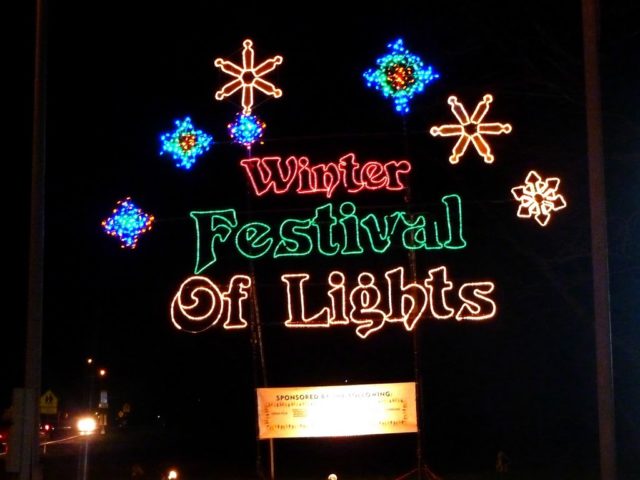 Friday I left work early so I could get home in time to take Emerson to the Festival of Lights. Her favorite part of Christmas is all the "shine bright" and I knew seeing a light festival would blow her mind. We had her rear-facing in her carseat all this time and she has just gotten to the height where it no longer works. We turned the seat just before leaving to see the lights and even driving down the street was exciting for her.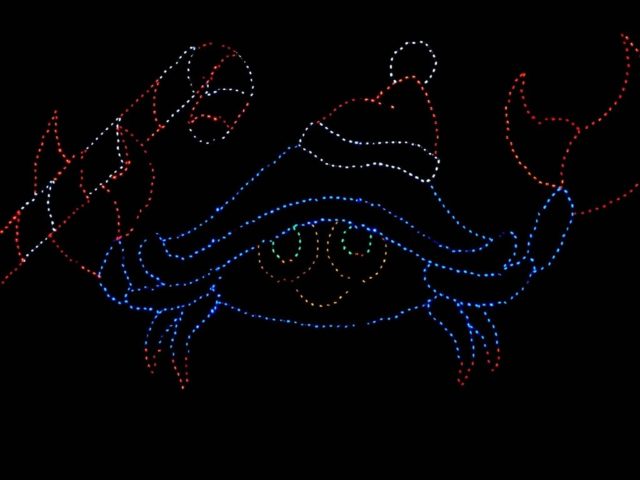 Of course my favorite light setup was the one of the crab – Maryland girl born and raised!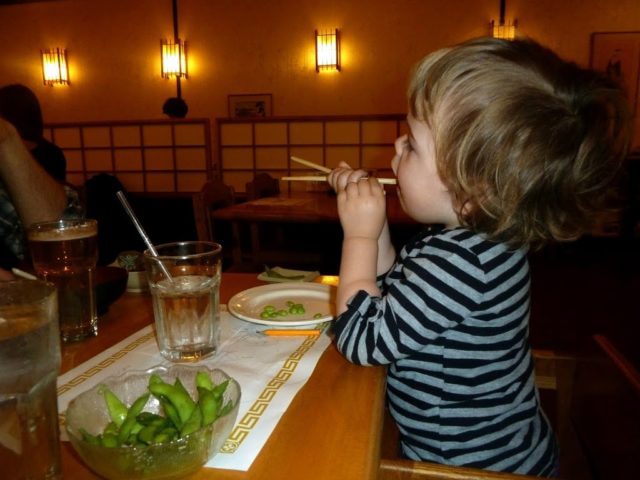 After the light show, we went to have sushi for dinner. Emerson made every attempt to eat with chopsticks.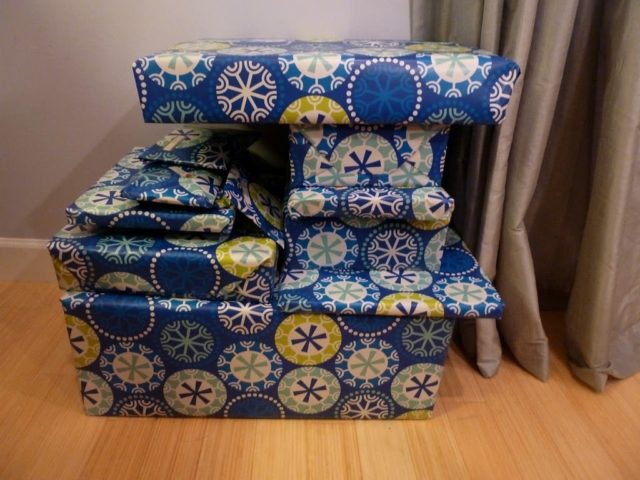 Saturday was pretty low-key. I wrapped all of the presents…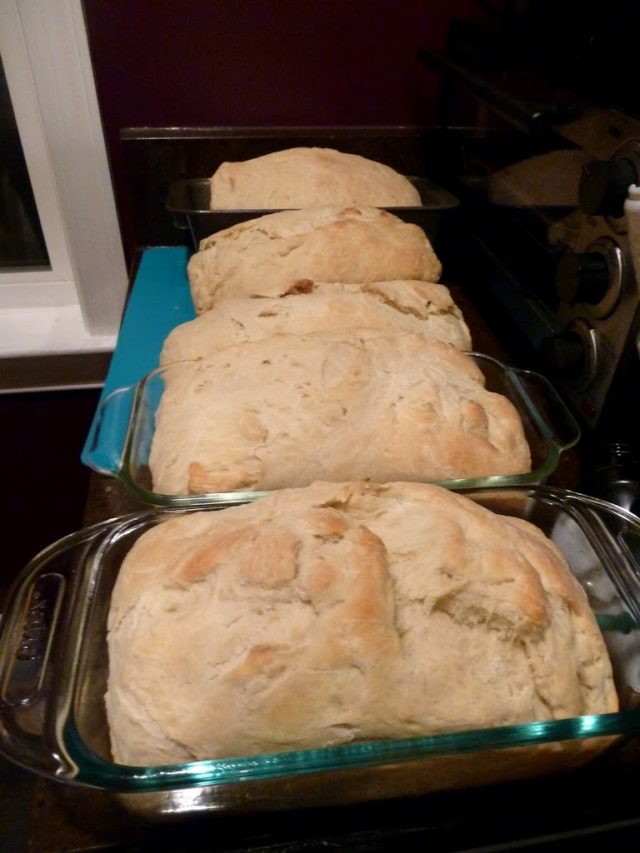 …my husband baked bread.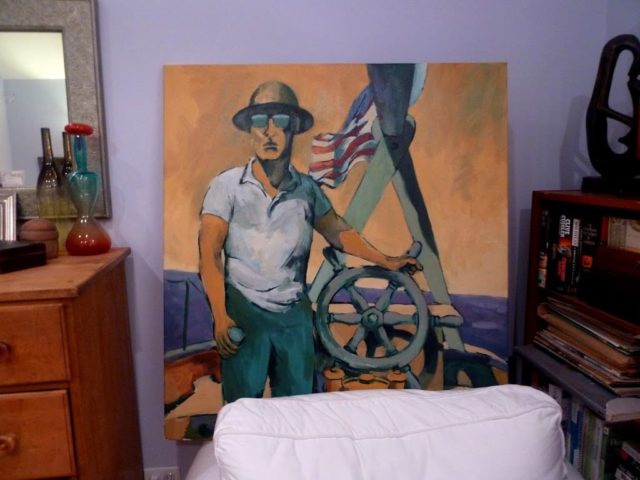 My husband got this painting from his grandparent's house – his grandfather painted it, a self-portrait from the late '60s. I just think it's so badass, we're going to put it above this chair in our bedroom. For now it's resting on top of the chair.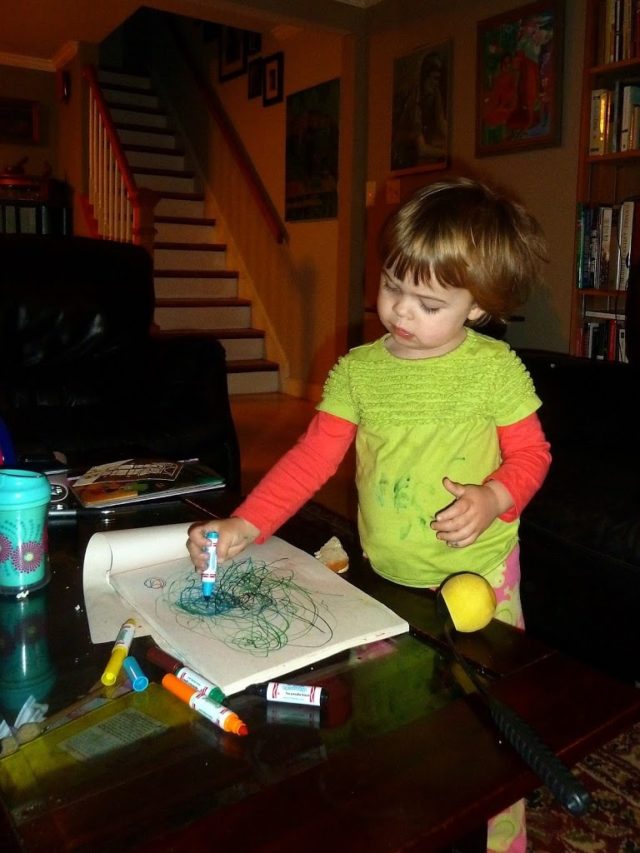 Saturday night, my husband had an event so I was on baby detail. Quiet evening, Emerson did some coloring, I did some writing.
Sunday, we went to my husband's aunt's house for a Christmas celebration.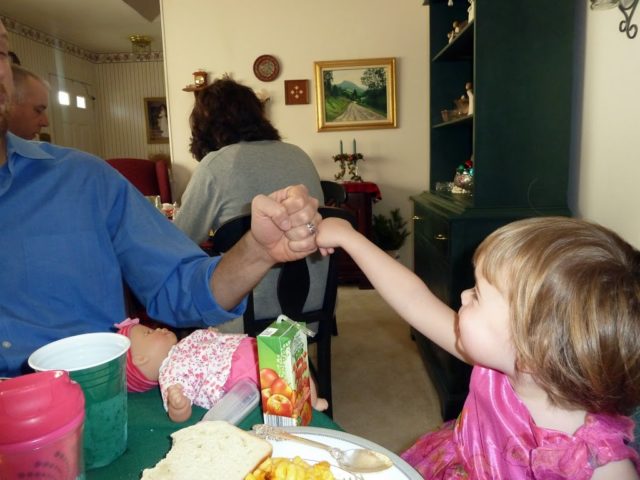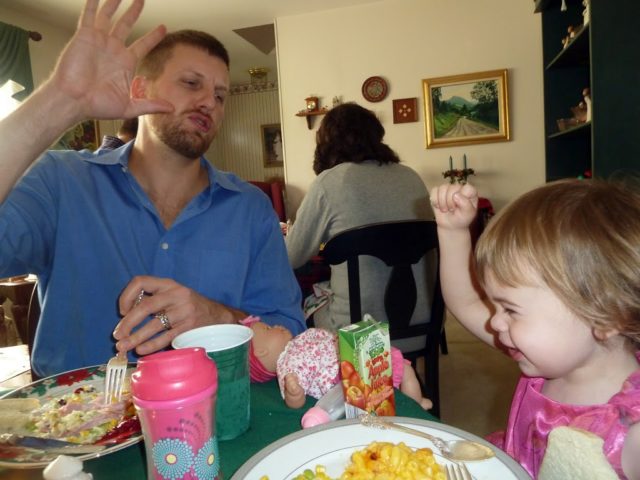 Each year we do this – she makes an amazing lunch, the kids get their gifts from the great-grandparents, we even bring my sister and mom!
Emerson looked so cute in her party dress – thanks
Aunt Debbie
for always keeping her looking so festive!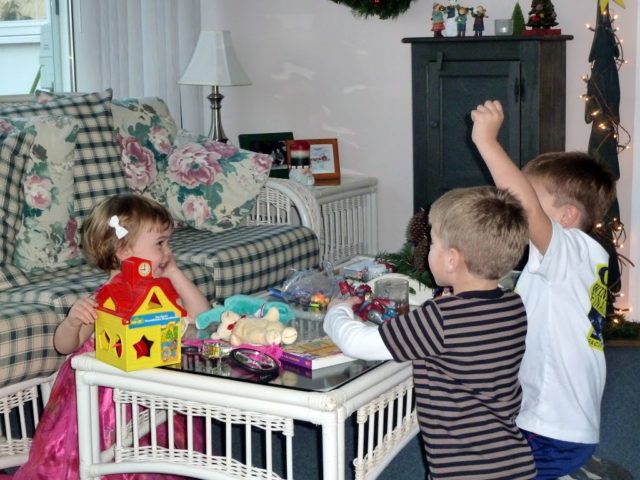 Emerson is now at the age where she can have fun playing with her older cousins, though when they started playing "Army" it scared her a bit.
Heading home that evening, we didn't even get a block away and realized we had a flat tire. While my husband, his cousin and uncle fiddled with the tire, the rest of us went inside to stay warm and cozy. We didn't get home until pretty late, so Emerson was immediately ready for bed. We were soon after her. My husband's Christmas gift to me was to repair my netbook, so we snuggled in bed and watched a movie and had an early evening.
How was your weekend? Did you do anything fun or exciting?
Note: While a pediatrician may tell you that you can turn your child's carseat once they are one year of age, the AAP recommends that a child stay rear-facing at LEAST until age two. Emerson will be three on January 8th, is tall for her age, but has been able to comfortably be rear-facing all this time. We only changed it due to her height and the setup of the backseat of my husband's car. If you have a little one and are thinking of turning his or her seat, I ask you to first view this video.
Follow Me | Twitter | Facebook