This article may contain affiliate links; if you click on a shopping link and make a purchase I may receive a commission. As an Amazon Associate, I earn from qualifying purchases. 
A couple weeks ago, I shared my workout journey. At the beginning of December, I signed up with Elite Technique, a personal training gym in Beltsville, Maryland. I had come to love my body, all 200+ pounds on a 5'3" frame. Since having my daughter almost a decade ago, I had fluctuated with my weight but was usually around a 14/16. I learned to dress this body, to cherish it, and to feel and look fabulous. Going to a gym wasn't about losing weight, it was about gaining life. At 43 years of age I was feeling old and achy. My father had a heart attack the summer before I went into 4th grade; my daughter is in 3rd grade. I had quit my job but I still felt exhausted and worn out. I thought a regular workout routine could help. I could never imagine the results after just six months with Elite Technique. Below are before and after photos – the first day I went to Elite Technique, and then just last week. I am wearing the same shirt in both photos; the original leggings I no longer own but am wearing another pair in the same size from the same brand.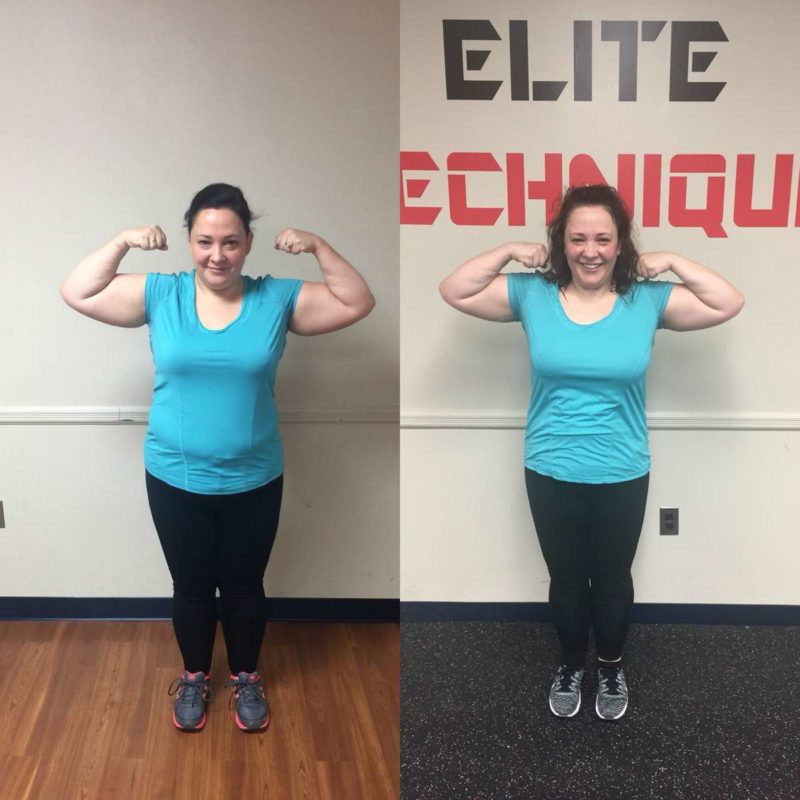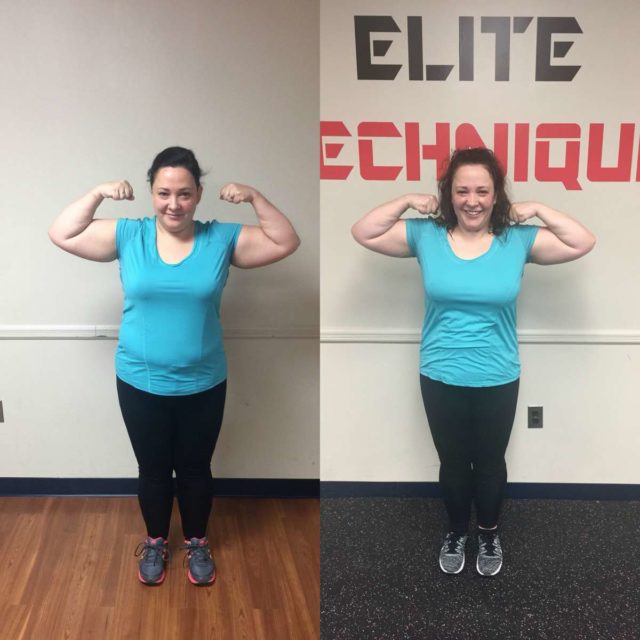 Almost every weekday morning I meet with Khalil at Elite Technique for 30 minutes. We start with the treadmill for ten minutes, then lift weights. Each day we focus on a different body part, and the exercises are always changing to keep me and my muscles challenged. There's many mornings when my alarm goes off and I just want to text Khalil and say I can't be there that day, but I go knowing it's only 30 minutes. And I always feel so much better after a workout.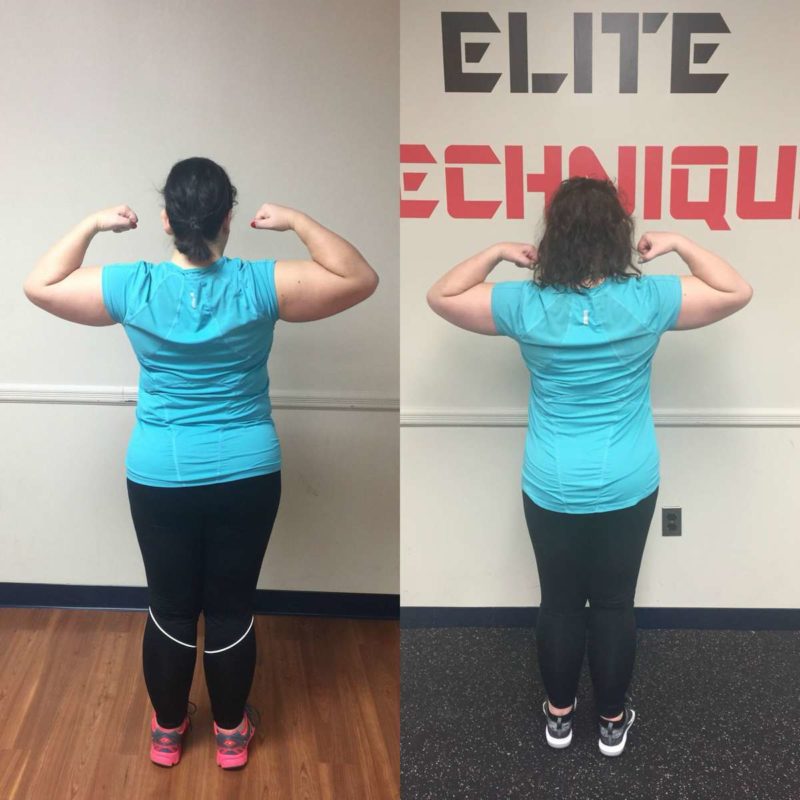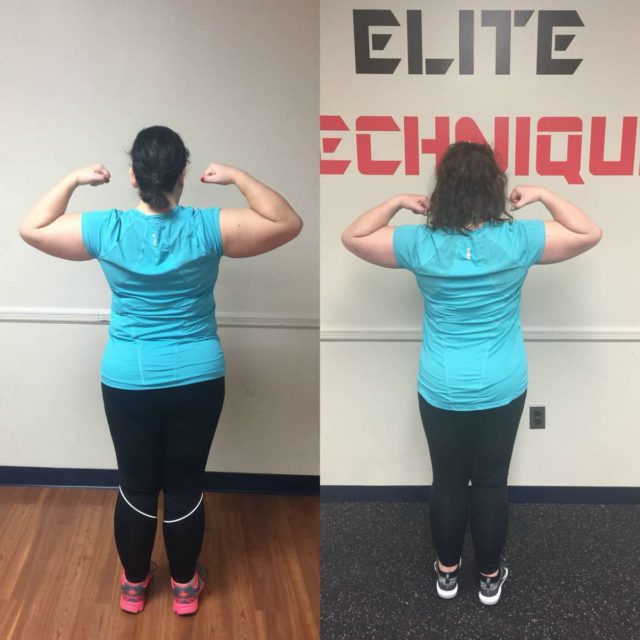 When people hear I've been working out regularly for six months they first question they ask is how much weight I lost. Weight was never a factor for me. In fact, as a full-time style blogger I make a good amount of my money from plus size fashion and many of you follow my blog because you can relate to my body shape and size. But money doesn't buy happiness, and a successful blog doesn't equate a long and healthy life. My goal was strength. I wanted to be able to keep up with my family. I wanted a body that could better fight illness and recover from injuries. I wanted sound sleep, an alert mind, and to not feel older than my years. And I think I am achieving that.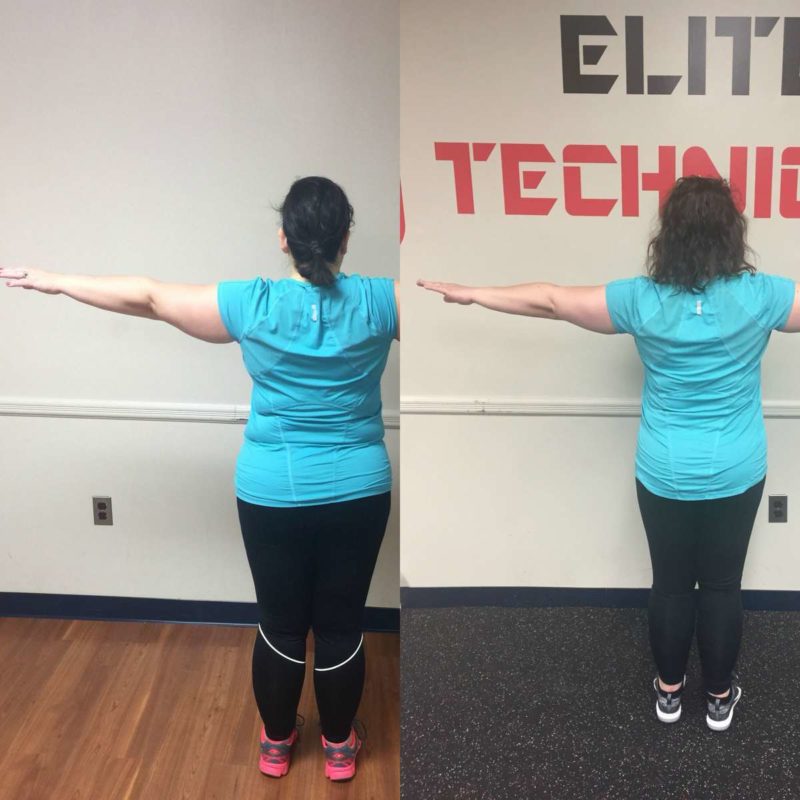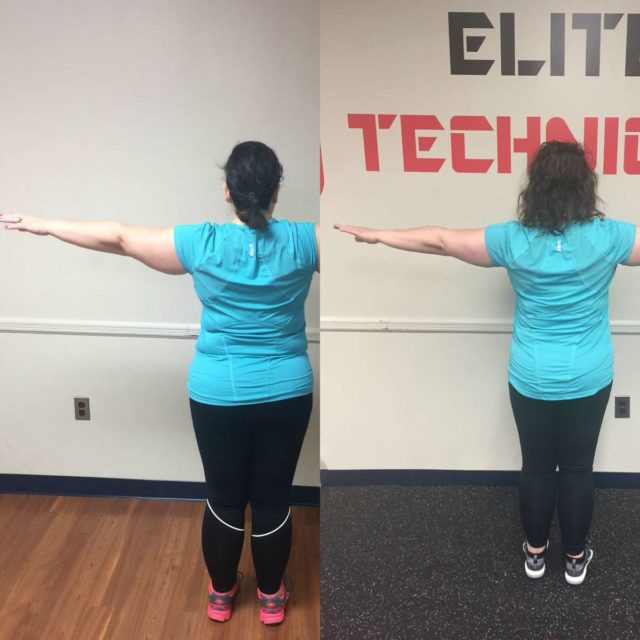 I have only lost, at the time of writing this, less than 15 pounds. However, I've gone from a 34 or 16 jeans to a 32 or 12. My bra size went from a 38F to a 36DD. I went from wearing a 1X to a L. I can finally buckle ankle strap shoes around my leg, and went from WW sandals to just W and on occasion can fit standard sizes. The other day I tried on a brand I've worn for years. I own their pants in 16 and 14… and when I tried on their fall collection I fit best in a 10. I haven't worn a 10 since right after college.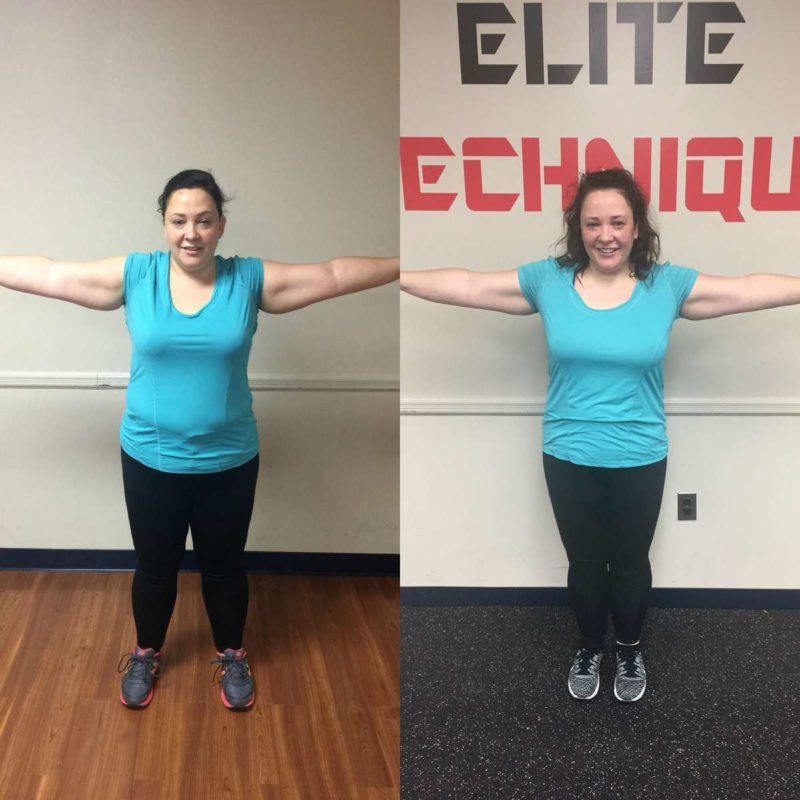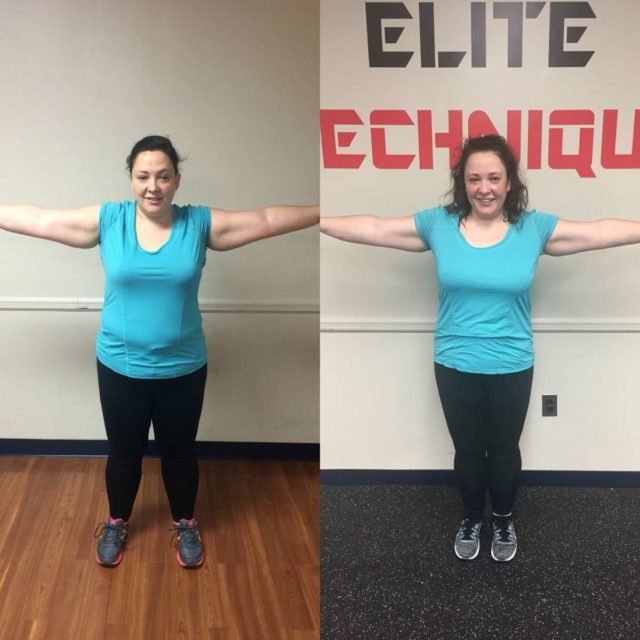 My diet has changed, but the main reason is to maintain strength for my workouts. When I drink alcohol, when I eat pasta, a lot of cheese, or fried foods my energy is depleted. Now because I've gone six months without consuming such things on a regular basis, when I do eat them I feel bloated, my sleep is affected, I get headaches, and wake up feeling hungover. I mainly eat lean protein, fruits and vegetables, and the occasional whole grains.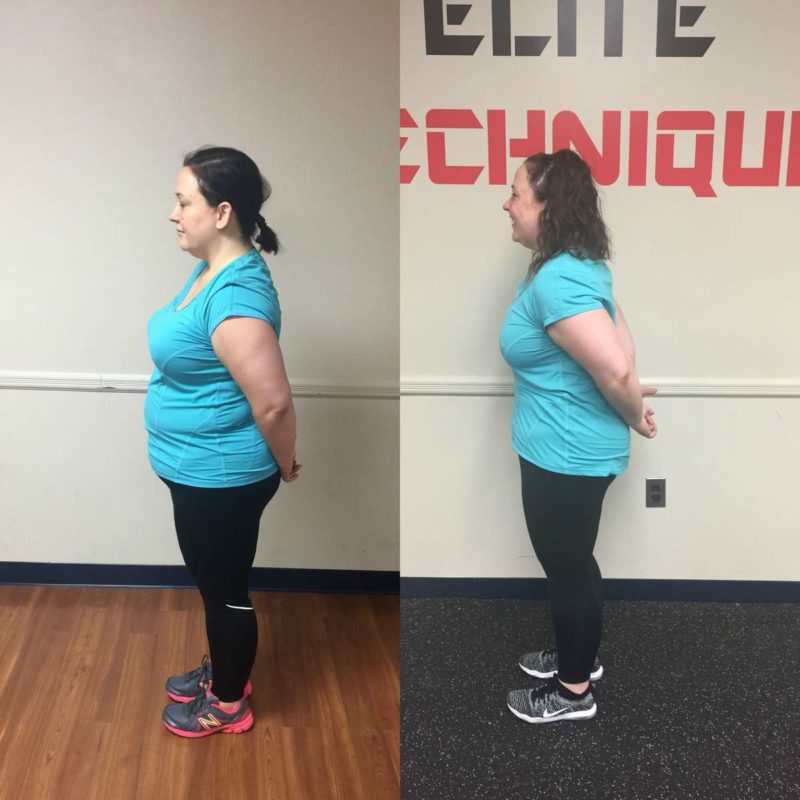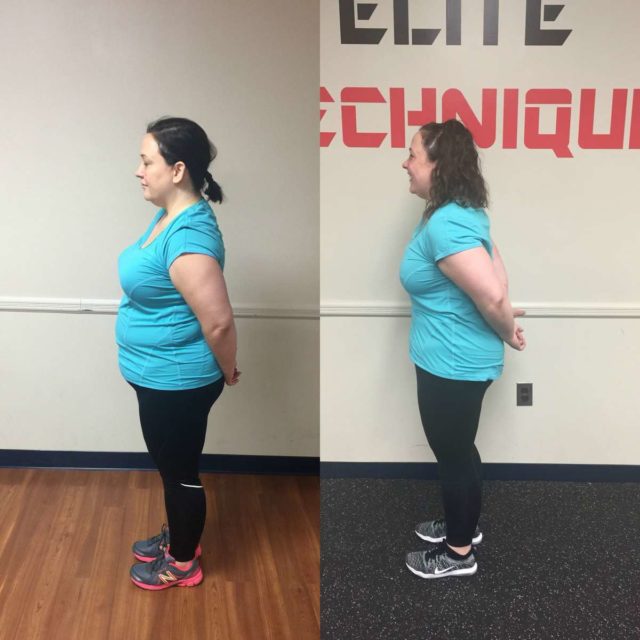 All my life I made excuses to not be athletic. My dad always said I should have been a lawyer because I could argue myself out of any situation. It was especially true with physical activity. I truly didn't think I could accomplish all I have in the past six months. To be consistent with a workout, to lift as much as I do, to actually run (I've NEVER run). It's pretty exhilarating and writing all of this down here is making me tear up. I'm proud of myself and proud of these before and after photos.
I keep using the phrase "new normal" on this blog. My life as a full-time blogger, working from home, changing my personal style, and well now working out is my new normal. When I miss a workout, I feel stiff and achy and a bit depressed. And I crave things like nachos and French fries and wine. But when I work out, I feel good. I'm on a bit of a high, and have a positive outlook for the rest of the day. I can better tackle stressful or terrible things, I'm nicer to my family, and I do weird things like walk past the refrigerator and open the tub of spinach and shove a handful into my mouth because it sounds tasty.
It's not about a certain dress size or a number on the scale for me. It's about quality of life. And I feel I have accomplished that in this sort time. Gosh, I can't wait to see how things improve!
To learn more about Elite Technique visit their website or follow them on Instagram. Elite Technique is located in Beltsville, Maryland but they also have a virtual training program. This is NOT a sponsored post. I wasn't paid to do this post. I am just doing it because I am so psyched about my experience and results I had to share it!