This article may contain affiliate links; if you click on a shopping link and make a purchase I may receive a commission. As an Amazon Associate, I earn from qualifying purchases. 
When it's Spring Break, it's time for the tourists to swarm upon our Nation's Capital. Though the Metro is pretty quiet during the morning commute, once it's 9:30 out comes the families, the sight-seers, the day trippers. It can be annoying as a local yokel (hey folks, stand on the right side of the escalator, walk on the left), but in general I love that people love this city and choose to spend their holiday visiting it and taking in its history and beauty.
I see tourists on an almost daily basis, and I have been a tourist myself. I have seen bad tourist fashion, but I have also seen great tourist fashion. It really is possible to be comfortable and chic on your next sightseeing adventure.
This morning I passed the Mayflower Hotel on my way to the office. I wedged myself through throngs of tourists – kids in matching tye-dye DC tee shirts, dads with fanny packs and Tommy Bahama polo shirts, girl friends on the town in coordinating twinsets with cropped pants and flip flops. In that crowd I noticed a couple. They were obviously tourists ready to start a day of sight-seeing, maybe waiting to get on a double-decker tour bus or take a taxi to The Mall. The couple looked to be in their mid-50s, average in height and weight, but what struck me was their perfect tourist fashion.
The gentleman was wearing a dark brown leather jacket that hit right at the hips, a very classic style. Underneath he had a checked shirt, dark jeans and dark brown shoes that were very simple, subtle, but had a sturdy rubber sole that I can image would be quite comfy for a day on his feet. A camera bag on his shoulder, aviator sunglasses on top of his head.
The woman was the most striking. She had short spiky red hair, fabulous statement glasses, and very simple makeup. She was wearing a black motocross-inspired soft leather jacket with a leopard print oblong chiffon scarf tucked in at the throat. Dark crisp straight-leg jeans free of adornments and black boots that had a molded rubber sole with a very slight wedge – simple, yet obviously comfortable and supportive. A small black leather crossbody bag was worn over the ensemble and a black travel umbrella in her hand.
Today is cold in DC; it was 43 degrees when I left the house this morning. It has been drizzling off and on for the past couple of hours, but there is always a chance in this city that either the clouds will part and we will be blessed with an additional 20 degrees of warmth, or will end up with hail or monsoon-like rainstorm. I was impressed that this couple seemed prepared for whatever the weather could bring them, while doing it in a chic and appropriate manner.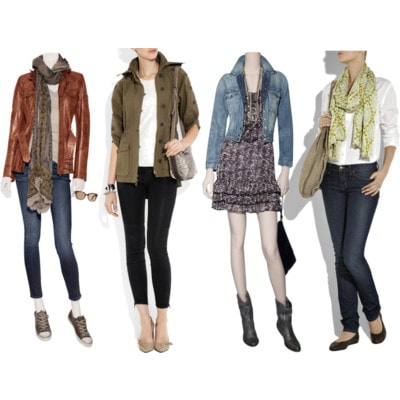 How to Be a Stylish Tourist:
1. Dress like Yourself. I regularly get emails from people asking me what to wear when sight-seeing. Well what do you wear when you spend a day walking around a mall? What do you wear when you take your children to the park for several hours of activity in the sunshine? What would you wear if you were volunteering at an outdoor event in your community?
No need to purchase an entire new wardrobe, you will feel the most comfortable and most confident if you stay true to your personal style.
2. Consult the Almanac. No matter what you wear, you're not going to be chic or comfortable if you didn't dress for the weather. Before heading out, look at an extended-day weather forecast, and if you are planning far in advance check the farmer's almanac for a general idea of how the weather may be. And then prepare for the unexpected.
This couple was especially chic because they had outfits that handled the current weather, and the potential later-day weather. Leather jackets repel the wind while looking chic; the woman was holding an umbrella that is small enough to tuck into the camera bag, but large enough to cover the heads of the two of them if they get caught in a downpour. Their shoes were closed which meaned they wouldn't end up with wet feet if they accidently stepped in a puddle.
I love crossbody bags because they keep your hands free, they hold your valuables close to your body deterring pickpockets, but they make a great place to rest your jacket. Instead of trying to tie your outerwear around your waist when the temperature rises, you can drape a shorter jacket over a sturdy crossbody bag – this looks less frumpy, and also adds an additional layer of protection to your valuables as you sight-see. This woman's soft waist-length leather jacket would easily drape over her bag if it got too warm and she wouldn't have to worry about it dragging on the ground or looking too ridiculous.
If the weather is going to be hot, please dress accordingly. This doesn't mean booty shorts, worn-down flip flops and a tank top without a bra; what it means is to dress to stay cool and comfortable while having style. Pure cotton dries quickly and can float away from the body, allowing in a cool breeze. A sleeveless or short-sleeved cotton sundress with low-heeled boots, or a sleeveless cotton tunic with crisp Bermuda shorts and flat sandals are chic yet warm-weather appropriate ensembles when being a tourist.
Be ready for the unexpected – if it seems even in the slightest that there may be a drop in the temperature or rain, tuck a pashmina and/or a travel umbrella into your bag. And always, if there is sun bring sunscreen. I can't tell you how many sunburned tourists I see each day, even when it's partially cloudy and cold. Put on before leaving for the day and bring a little bottle to reapply when you sweat.
3. Show Some Respect. You will be visiting museums, houses of worship, government buildings. You may stop to dine in a nice restaurant, grab a beer in a local pub or lounge, relax in your hotel lobby. Show respect for these establishments and the fellow patrons by dressing with some modesty and class.
Even though you may be spending the day in the blazing heat, walking miles, that doesn't mean you have to wear baggy knits or athletic gear. It is possible to be comfortable and chic. Twill Bermudas and pants with a hint of stretch, breezy sundresses (even with short hidden bike shorts underneath to prevent chafing), dark jeans with a Breton-striped knit top, a heavyweight knit dress with riding boots. All of these ensembles can be quite comfortable when being a tourist, but will still be appropriate if you decide to take a step into a café or cathedral.
Speaking of cathedrals, be respectful of the religion of the city or house of worship you visit – pack a cardigan or shawl to cover your shoulders.
And finally, ask before taking flash photography in museums and houses of worship, keep your voice low during conversations, and put your phone on vibrate before heading out for the day. Respect your fellow tourists as well as your tourist spots.
4. Keep it Simple. No need for an ornate ensemble when sight-seeing – the focus should be on the sights, not you. Extra belts and bangles and layers will only become a frustration in six hours. Choose one color story, and pick pieces that are simple, flattering, chic. Choose only one accessory, and one that won't cause you to constantly adjust your outfit throughout the day. Keep in the mind the woman mentioned at the beginning of this article – I bet under that jacket she was just wearing a simple quality knit top. She still had great style because of the choice of simple pieces, the way they fit her, and she showed her personal style with the addition of the leopard-print scarf.
5. Be Comfortable. You will be walking, you will be standing. It could be sweltering hot outside and frigid in museums. You may be smashed into a crowded subway car or taxi, and may have to make a quick dash across a street or out of the rain. Dress appropriately.
A few suggestions:
– Always bring a layer. Even if it's 105 degrees outside, most interiors these days are air conditioned, and it may get cooler once the sun goes down
– Stay away from easy-wrinkle clothing. Leave your crisp linen shirts and silk dresses at home. You want to wear fabrics that can handle a long day. Fabrics with a hint of stretch, and lightweight fabrics that look okay with some creasing are good choices.
– Consider a crossbody bag. You can then have your hands free to deal with your phone or map, holding your child's hand, or an iced coffee. As previously mentioned, it becomes a great tool to drape your jacket or shawl.
– Cut down on the stuff. It's easy to want to be a Boy Scout when traveling, but seriously consider each item you put in your bag. The more you carry, the heavier your bag, and this is something that will be on your shoulder for several hours. Pare down the makeup kit, clean out the wallet, leave home the iPod and the novel and the engagement calendar and the big ring of keys. Every ounce helps your shoulders, as well as your ability to quickly grab your camera to get the perfect picture.
– Leave the heels at home. I have walked on my toes my entire life and feel more comfortable in a 2" heel than a pair of flats. That being said, even I wouldn't wear heels as a sightseer. A low chunky heel with lots of arch support or a low wedge is about all you should attempt when being a tourist. Rubber and cork heels give more cushioning than traditional materials.
– Test drive your ensemble. Don't wear a brand-new outfit; pick classics from your wardrobe that you know can handle a long day. Choose pieces that give, that flex, and that flatter.
And finally, have fun! The best accessory a woman can wear is a confident smile!
Follow Me | Twitter | Facebook