This article may contain affiliate links; if you click on a shopping link and make a purchase I may receive a commission. As an Amazon Associate, I earn from qualifying purchases.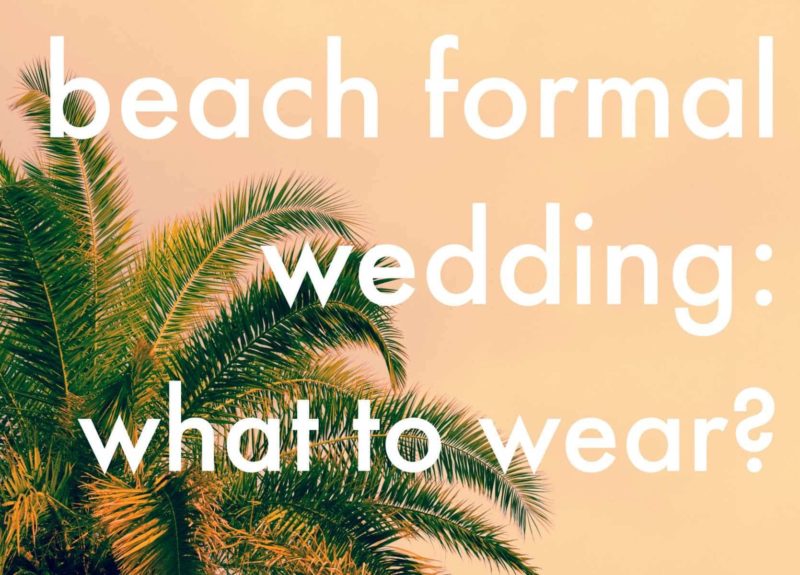 I've been invited to a 5pm beach wedding- in Florida. In August. The attire requested is "Beach Formal". I have no idea what this means and no idea what to wear. Late August in Florida is extremely hot and humid. At 5pm the sun is still high in sky, and hours away from setting. All the websites I've looked at show slim 20 somethings in spaghetti strapped sundresses. I'm a borderline plus size 50 year old woman so little sundresses are not really an option. Any advice you can provide will be greatly appreciated.

Ah yes, the spaghetti strap sundress that is a "wardrobe staple" for occasions like this… yet a piece that is unrealistic and unwearable by the majority of the population. It's not a realistic choice, but it is a good jumping-off point in crafting a look that will work for your figure, your age, your lifestyle, and your personal style.
The reason so many recommend this sort of dress is because it's lightweight (perfect for heat and humidity), it's breezy (with heat and humidity you want to be able to catch and feel any breeze that passes your way). Beach formal isn't traditional formal. Sequins and lace don't play well with sand and salt air. You can get away with more casual fabrics; look for matte jersey, chiffon overlay, rayon, silk (and poly versions of silk), and poly blends without a lot of stretch. Think fabrics usually geared towards work dresses, but in a non-office silhouette.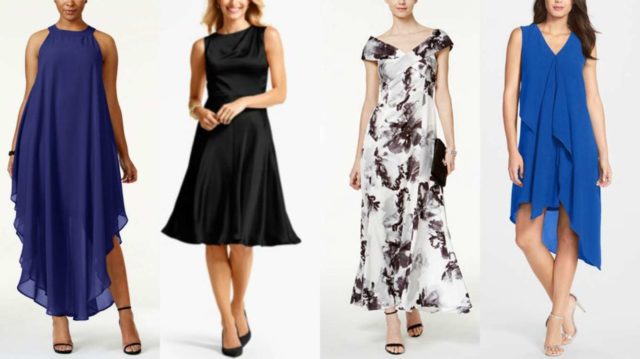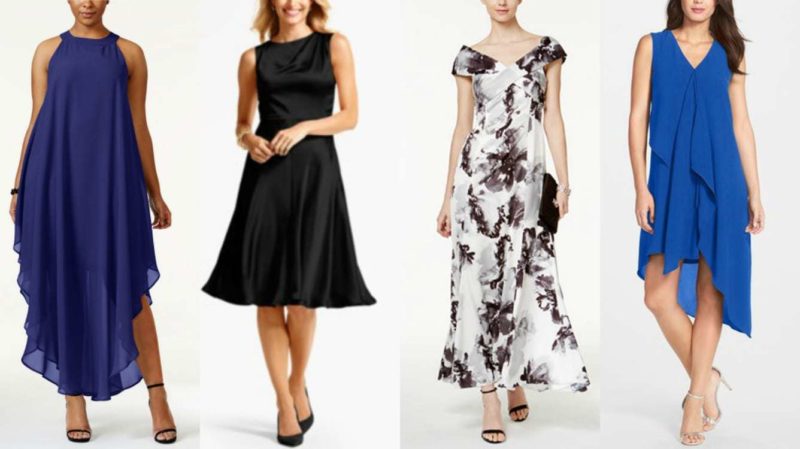 Dresses by Love Squared | Talbots | Tahari ASL | Adrianna Papell
Because there's a breeze, it's a great opportunity to wear dresses that have some movement. Ruffles, layers, cold shoulders, asymmetrical hemlines. Not only will they move and look great on the beach, they do a great job of camouflaging the figure and look more festive and dressy than a simple shift dress. You also want movement because you will be moving; unlike a traditional wedding in a garden or indoor venue, a beach wedding you're often standing and you will have to hike over some sand to get to the ceremony location. A dress that is flowing will be far easier to walk in on sand than a tailored style.  Speaking of which, because of breezes I recommend a dress that is anywhere from below the knee to ankle length.  Shorter is more likely to get caught in the breeze and cause a "Marilyn moment"; true maxis can easily get wet in the surf and get tangled up when walking over the sand.  If you buy a maxi, consider taking to a tailor (a single layer dress can be tailored by most dry cleaners).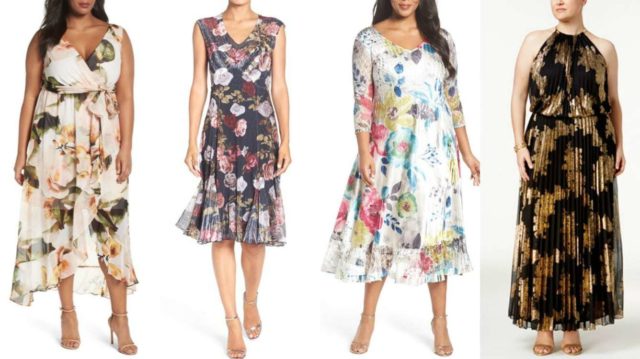 Dresses from Sangria | Komarov | Komarov | MSK
Dresses like these often come in florals and various prints; to keep it looking more formal I recommend if the fabric is more casual, stick with a solid. If it's a more formal fabric (silk, chiffon, charmeuse), you can do a print. Right now isn't the best time of year to look for such a dress; from April on you will have more options. However, I found this dress and this dress from Eliza J, this dress from Talbots, this one from Tahari, and Komorov is a brand that makes formal dresses with plenty of movement that come in a nice range of sizes and flattering styles.
Shop Beach Formal Wedding Guest Dresses:


The widget above this paragraph has options I found online that come in cusp or plus sizes and would be appropriate for the event. Even if your budget is more Boscov's than Bloomingdale's I recommend you check out higher-end department stores. You may be surprised that the prices aren't that much higher and the selection is more appropriate and extensive in your size range. Nordstrom, Bloomie's, Saks, Macy's, Neiman… these are all great places to have better success finding this kind of dress that will fit and flatter you and the links on their names are tailored to remove any sizes or styles that won't work for this event.
Shop Beach Formal Jewelry:


Especially if your dress is simple and a solid color, accessories are what will make your outfit "beach formal." A sparkly piece of jewelry can go a long way in setting a tone for an ensemble. Sparkly costume jewelry is on trend right now so it's easy to find a faux gem collar necklace, dangle earrings, or a bracelet that will glam up your look. The widget above this paragraph has some pieces I found that I think would work with the kind of dress I suggested. No need to get all three, especially with a beach wedding one statement piece of jewelry can go a long way.  A tip: sweat and costume jewelry don't mix.  If you feel you'll be sweating a lot consider earrings instead of a necklace, which can tarnish, turn your skin green, or cause irritation (or a necklace on a ribbon like this one).
Shop Evening Bags and Clutches:


Also switch out your daily purse for a small clutch or bag on a chain; this is where you can bring in the dressy fabrics. An evening bag in satin or covered in beading is a great item to always have for formal occasions and will be perfect for this wedding. The widget above this paragraph has some great evening bags I think would work for a beachside wedding and beyond.
Shop Beach Formal Footwear:


And now, the shoes. With a beach wedding, heels are a no-no, and unless they're very low, wedges are too. To survive walking and standing in the sand especially in a dress, stick with flats. A pair of sandals in a metallic finish will do the trick and luckily these types of shoes are always available at retailers in spring and summer, and available in all sorts of pricepoints. To keep it looking "beach formal," look for a slim sole in leather or a neutral material that won't draw attention and will look dressy. This is not a time for silver Birkenstocks or gold mirror-finish Merrells. Also look in the bridal department of shoe sites; they often have flat or low-wedge sandals in metallic and neutral colored satin that would also work. Know you very likely may take your shoes off. Above this paragraph I have a widget with a few styles that would be appropriate; if you need wide or narrow widths check sites like Nordstrom, Marmi Shoes, ASOS, and even David's Bridal that have flat formal shoes in extended sizes (the stores are linked to their appropriate selections).