This article may contain affiliate links; if you click on a shopping link and make a purchase I may receive a commission. As an Amazon Associate, I earn from qualifying purchases. 
Question: could you do a post about styling the trendy cropped wide leg jeans? I have a pair in black like this that I scored at a thrift store, but I am 5'4″ and have curves and in my 30s.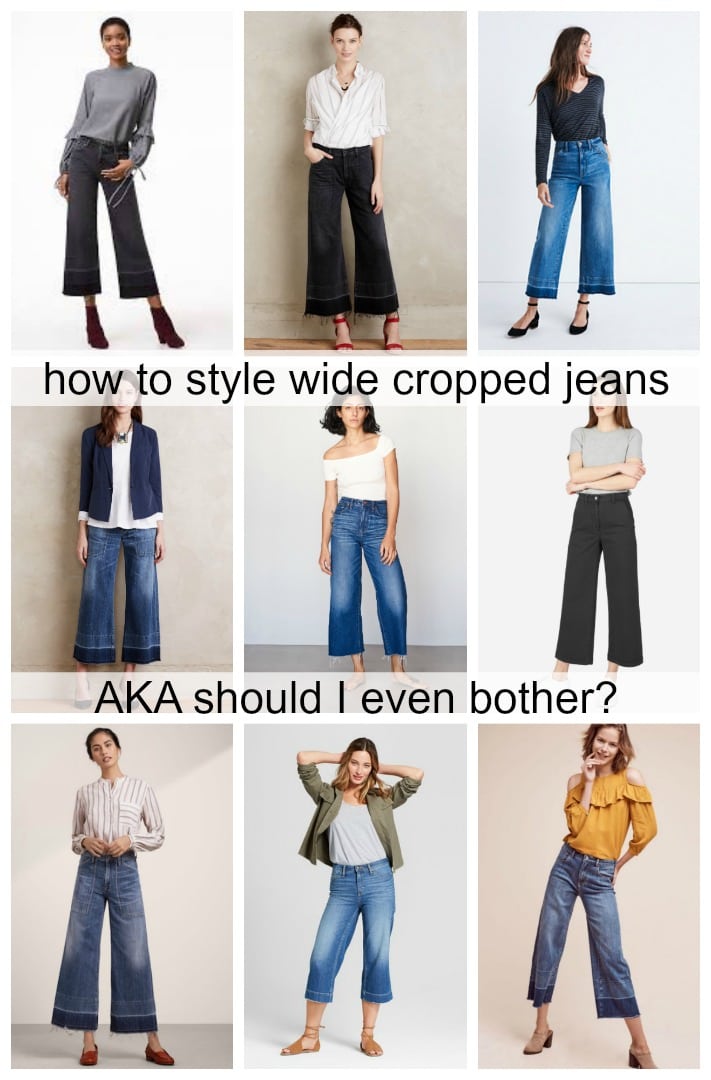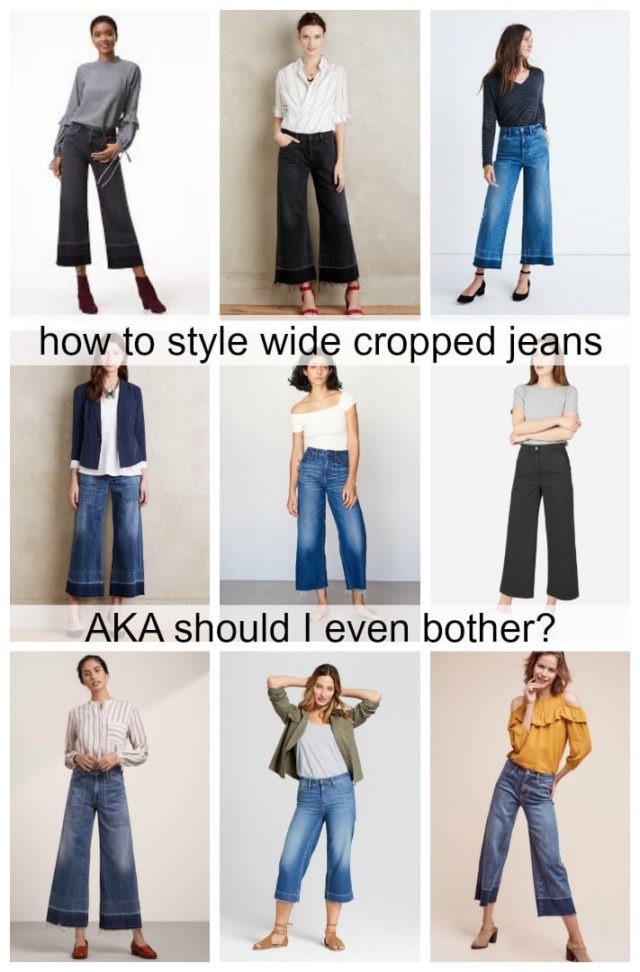 I'm going to give you some advice that you likely don't want. But I see you readers as my friends and this is what I would tell a friend.
Hardly anyone looks good in cropped wide leg jeans. This is part of the trend that has been happening for the past decade where designers make traditionally unflattering clothes to evoke a feeling of I could care less, I'm so chic I can make a paper bag look stylish. Cropped wide leg jeans are always modeled on very slender tall women, often with a pair of aviator-frame glasses, a fitted tee with a witty saying in French, and a pair of $400 sneakers or $400 clog-style sandals. Even those tall slender women wearing those yellow-tinted aviators and foregoing a shower for dry shampoo would likely look better in a pair of classic Levi's 501s.
About a decade ago, I owned similar jeans. I got them from Gap, at the time they were called gauchos. I freaking loved those cropped wide leg jeans. I'd style them with a tube top or fitted tank, a funky necklace… and then wish I could go barefoot. Once I put shoes on my 5'3″ curvy frame I looked squat, thick, and dumpy. Go through my blog's archives and you'll see I either wore them with flip flops or with stiletto heels. Both looked lame, but they looked better than anything else. And I tried. Lord, I tried. I must have bought five different pairs of shoes to try to make them work with these gauchos.
I ended up cutting off my gauchos and turned them into shorts which went to many a music festival with me. When the trend returned a couple years ago I regretted cutting off my gauchos… for a hot second. And then I was glad I did it so I didn't have to try to force a trend to work on me.
Some things are just not easy to wear. It's not you, it's the clothes. If you have to work hard to make an item in your closet work, it doesn't deserve to be in there. No garment deserves so much attention and stress to work. Our lives are busy and stressful enough, our closets shouldn't add to it.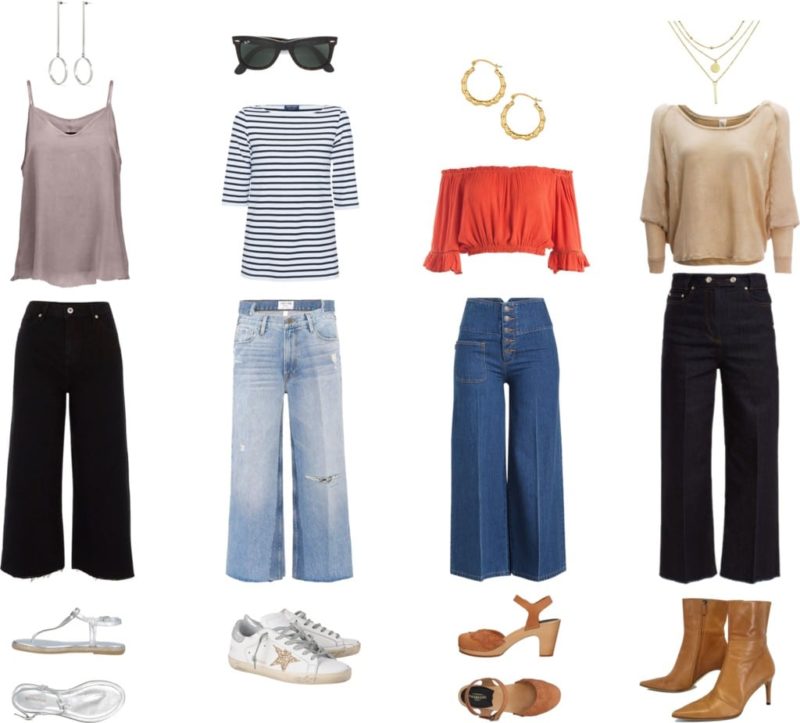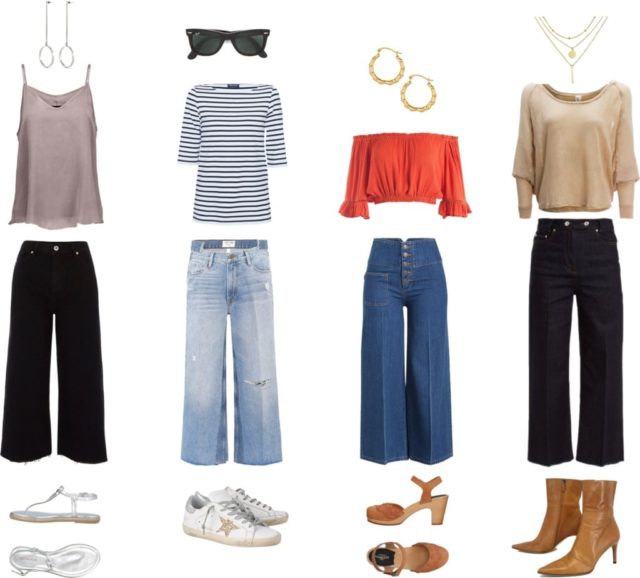 Sure you could wear these cropped wide leg jeans with some low-profile trendy sneakers or a pointed-toe flat or a pair of nude or soft metallic sandals that aren't too bulky. On top you can wear a fitted tee with a witty saying in French or any language, or a spaghetti strap silky cami tucked in with a scarf in your belt loops, or a slouchy off the shoulder knit top found at Anthropologie that can showcase your multiple delicate gold necklaces. But if you're writing to me to figure out how to make these cropped wide leg jeans work I am guessing it's because you either don't have these items in your closet or you do and you tried and it still doesn't look quite right.
It's not you, it's the clothes.
It's not you, it's the clothes.
Let me say it again because with popular trends and brands and Instagram you may not fully believe it. But it's true. It's not you, it's the clothes.
Your email is a good reminder to everyone, myself included that we are square pegs and a lot of fashion is round holes. We try to shove ourselves into those round holes with compression garments, uncomfortable shoes, and over-shopping thinking there's that perfect something that will make us suddenly chic. Style comes from within you, not within your closet. You are fabulous just the way you are. You deserve clothing that doesn't require so much effort and so little payback.
And once again for those in the back… it's not you, it's the clothes.