This article may contain affiliate links; if you click on a shopping link and make a purchase I may receive a commission. As an Amazon Associate, I earn from qualifying purchases. 
Some of you have requested it, and some of you have asked for it on forums (I see you BabyCenter peeps and welcome you to my blog!). I created a SAHM capsule wardrobe previously, but here's an update for the warmer months of the year.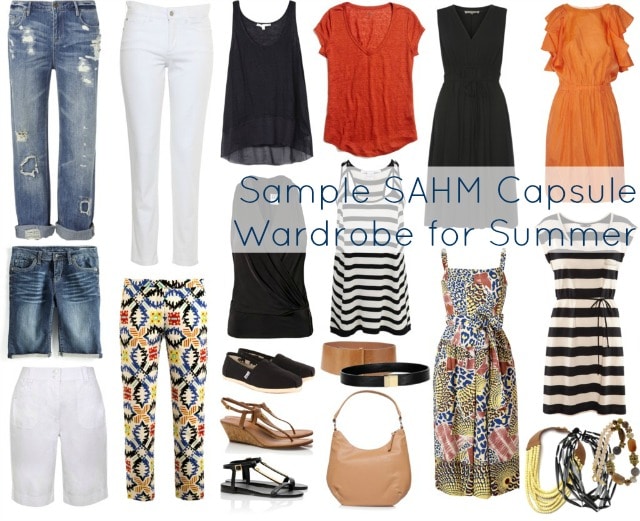 I don't like a lot of prints most of the time – they are too memorable to wear often, and they look dated more quickly. However, my opinion changes for summer and for a few reasons:
They hide sweat and stains nicely
They are distracting during a season when so many silhouettes are fitted and shrunken
A solid blue tank can look cheap and dumpy if you have curves or if it gets washed too much, a printed tank creates an optical illusion, and also looks more expensive. A pair of solid capris can be a bit too harsh in summer and the thin fabric may show more than you like; a printed pair camouflages curves, adds a bit of light and if you choose wisely, a print can actually fade nicely with regular washings (I'm partial to light-background retro florals, Ikat prints, and dots). A print can also dress up and down nicely with a quick change of accessories.
I have a lot of dresses in this capsule, and it's because I find them to be more wearable, more simple, and more comfortable in summer than skirts and separates. While you can find jersey dresses anywhere, they can cling with sweat and humidity if too thin. I'm partial to cotton, chambray, linen and silk (and blends with these two fabrics). Such fabrics dry quickly, catch the slightest breeze, float away from the body and don't cling. If you choose a style with a bit fuller of a skirt (even a-line) that comes to knee or lower, you can still chase after your toddler and crawl under a table to capture a lost sippy cup. My secret for summer dresses? Bike shorts. Get a pair of moisture-wicking bike shorts in a solid color, and they will prevent chafing as well as provide modesty.
Social events in the summer are never as dressy as those in the colder months; you can get away with a night out with the girls in a pair of white jeans and an interesting top; leather sandals with some metal detail will be a dressy enough shoe and is just as comfortable as cheap flip flops. For summer weddings, a dress in a silk or linen blend paired with wedge or heeled sandals and an interesting necklace will be lovely, and such pieces can be incorporated into your daily wardrobe.
Switching out black accessories for tan makes most everything look more summery. This is a great way to make winter staples (chambray shirts, darker colored knits) look seasonably appropriate. Not only that, a tan bag doesn't have to be stowed away come September. I always prefer leather bags over fabric because they can be cleaned and conditioned, and look good with a bit of wear. Fabric bags can be very hard to clean, and a stained tote can really ruin your overall look. A bag with a shoulder strap as well as a crossbody strap means you can sling it over your body when your hands are full, or carry it on your shoulder or the crook of your elbow if in a rush or have a little one on your back.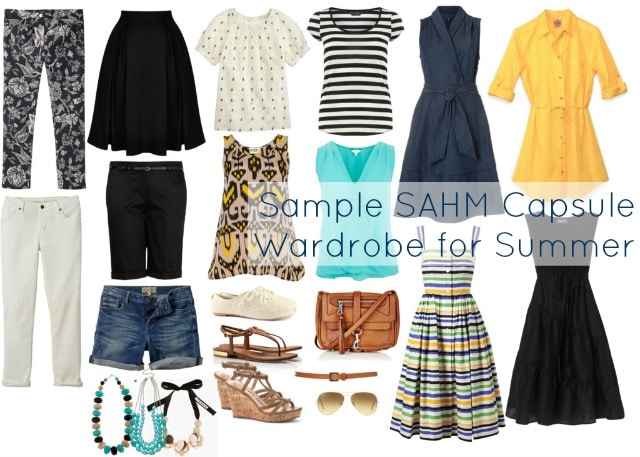 Shorts are terrifying for most women, but these days there's more than 2" inseams and skintight cutoffs. Last summer I lived in two pairs of shorts – weathered denim and a pair of white chinos. With my curves, I find it best to size up with shorts – this way you get less creasing with sitting, less VPL, they're more comfortable, and aren't fitted on the thighs. I also like to cuff them once to get a better length on me – petites are too petite, regulars are too long; in denim and chino a single cuff isn't a bad thing. When it comes to denim, I encourage a more distressed look so you have a modern and hip look to your outfits. Summer is the time for prints, and for a more distressed or boho feel to your wardrobe. Very dark denim shorts and longer denim shorts with a very severe cuff can look dated and dowdy. Last summer I bought a pair of denim shorts at Target and self-distressed them. Check out this post that has many tips on how to DIY denim. But once you get over your shorts fear, you'll find they can be as flattering as skirts. If need be, take them to a tailor – a great fitting pair of shorts is worth the trouble. White is a great summer neutral and in denim or heavy chino they are relatively opaque. If you fear white, consider olive (military inspiration is all over this season's fashion), or a signature color (I have a pair of faded orange chino shorts I love and pair with everything from hot pink to Breton stripes to a simple white v-neck).
It may seem too hot for jeans, but often you are spending time inside instead of out. Loose boyfriend jeans that cuff above the ankle bone are lighter weight denim, have some ventilation with distressing, and are a trendy way to update simple tee shirts and tanks. White jeans are a great way to dress up knit tops for the evening or even for a daytime event like brunch or a casual shower.
Come summer, I prefer beaded necklaces to metal. Costume jewelry doesn't play nice with sweat – it will tarnish, peel, and often irritate your skin. Not only that, it gets hot when the sun beats down on it. You can find beaded necklaces for cheap, be it at craft shows, Etsy, big box discount shops, or the teeny-bopper jewelry kiosk in your mall.
Stick to a single color story and aesthetic for the season so pieces mix and match more easily. As you can see with the first collection, it's black, white, and rusty orange shades. The second one, it's black and ivory with aqua and yellow.  For some, it may be shades of blue, for others it may be tans and browns. I recommend at least one pop of color for variety, and consider summer accessories to switch things up.
Speaking of accessories, I am all for signature sunglasses. A pair that is well-made, comfortable for long periods of time, and on trend will improve all outfits. I'm glad oversized Ray-Bans are back in style, I have a gold pair and a black pair; my sister is more the type to wear oversized plastic frames and my mom has been rocking the same black plastic Fendi frames for a few years and they still look quite chic.
For shoes, it's tempting to spend all summer in $2 Old Navy flip flops, but I highly recommend investing in at least one pair of leather sandals – they're just as or more comfortable and add a level of sophistication and style to your casual outfits. Sandals in a skin color with a wedge or slight heel can be worn with pants, dresses, skirts, and even shorts of all lengths and add a bit of a dressy vibe. A pair of canvas shoes, be they Keds, Chucks, or TOMS are perfect for mulch playgrounds, walking to the farmer's market, or running errands around town while keeping you cool.
Sunglasses and shoes are two accessories you can find mega cheap come summer (hello Old Navy flip flops) but the quickest way to ruin your style. Buy the cheap v-neck tee shirt (hello Old Navy Vintage V-necks) but buy the best quality your budget can afford for sandals and shades and you will look more polished, trend aware, and sophisticated.
Finally, a comment to all – do not sacrifice comfort because you have an issue with your limbs.  Your arms, your legs, we all find them to not be toned enough, too veiny, too soft, too pale, to lumpy, too something.  No one is analyzing your arms and legs as much as you are.  While there are lovely cropped pants, below-knee skirts, and floaty sleeved tops out there, sometimes you just need to wear some shorts or a sleeveless top.  You will look more conspicuous sweating in an elbow-sleeve top and cropped pants than having fun and living life with exposed arms and legs.  Live your life, enjoy yourself, and dress the part!
Other posts you may find helpful:
Follow Me | Twitter | Facebook | Instagram