This article may contain affiliate links; if you click on a shopping link and make a purchase I may receive a commission. As an Amazon Associate, I earn from qualifying purchases. 
Today it is over 80 degrees in The Nation's Capital… and today I have seen some of the worst work fashion travesties in months! Ladies, just because it is warm out does not mean decorum, class and style should go right out the window. It really is possible to stay cool and be cool about how you do it.
1. Respect Your Profession. Even when I worked at a very trendy fashion boutique, I didn't flash a lot of skin. I respected my company, and the clients who shopped there, so I chose to enjoy the summer months with a bit more skin showing, but not letting it all hang out. Unless you are a lifeguard, a waitress at Hooters or a car show model, there is rarely a reason why you should have your stomach showing for work (this includes those shirts that barely hit your waistband and show an inch or two every time you swing your arms or reach for something off a shelf). Tube tops, backless halter tops and dresses, and short shorts are included. Your office may be very casual, but as my old boss at that trendy boutique said, "one should dress not for the job she has but the job she aspires to have." Upper management is rarely seen in beachfront cantina-worthy attire, and those who are, they are rarely respected by their subordinates.
To keep cool, a sleeveless top or dress that is loose enough to let the breeze flow will do nicely. If you must wear that gauzy halter sun dress, pair it with a thin cotton cardigan. Adding a couple extra inches to your shorts will not cause heat stroke and no matter your figure, your colleagues will thank you for dressing with respect.
2. Flip Flops are NOT Shoes. Flip flops are terrible for your feet, dangerous on wet streets, make horrible sounds when you clop around and are not the footwear of stylish women. Flip flops are for the beach, running around your house, the pool and maybe a trip to the grocery. Consider a thing made out of leather, suede, patent or fabric that has a more substantial sole. Another great alternative is a traditional sandal. To work so hard and spend so much on a lovely blouse and trousers and then kill it with your rubber thongs from Old Navy or Reef… it just doesn't make sense.
3. Shine a Light. On your light-fabric and light-colored clothing, that is. Yesterday while walking to the train, a beautiful woman was walking ahead of me. She had on adorable mules, a teal twinset and a mint-colored linen bias-cut skirt. Oh, and purple striped bikini underwear with pink lace trim. Getting a quick glance in your full-length mirror may not tell the true story about your garments. Have a light shine behind you, and then move as if you were walking. Get a hand mirror, turn around and examine your back view. If you can even slightly see your undergarments, they will be on full display once you are out in the midday sun.
Can't stand thongs? There are many styles and fabrics of underwear that are made to be invisible under garments. Choosing a lightweight fabric in your skin tone that is free of decoration is a good start. Also, to save time and stress when dressing, don't purchase items that are prone to being transparent (light colored linen and thin cotton, unlined white trousers, light colored nylon). You'll never see me in a light colored skirt that isn't made of a very heavy fabric or comes with a lining – too much trouble, too much worry and not worth my time or money.
4. Heat Does Not Equal 24/7 Casual Friday. This rule is about respect; your office may not have a rule about dress code, but to respect yourself and your office you should make your own. Sloppy tee shirts, ribbed tanks, shorts, frayed denim, rumpled clothing does not have a place in the workplace.
Knits can be great if they are of a high-quality fabric, have a more formal style (slightly fitted, interesting neckline or sleeves) and are of a nice color. Ribbed tanks, when worn under a jacket or cardigan can be appropriate but are not work-worthy on their own. Some current styles of shorts (walkers, city shorts, Bermudas) can work for the office if paired with a jacket or tailored blouse, but few other styles look good outside the plant nursery or Home Depot. Frayed denim may be chic, but is best left to the weekend. As for rumpled clothing? If you loathe to iron, then don't buy items that are so easy to wrinkle.
Great options for beating the heat while looking chic:
Breezy shift and sheath dresses: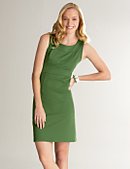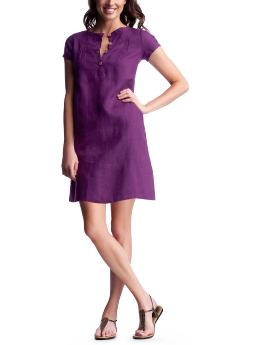 Paired with gladiator or traditional sandals, this is a warm-weather favorite. Not only is this look great for the office, but it works for weekend social events, or even for running errands around town. Choose a fabric that can handle the washing machine, and either hang dries to perfection or can take a tumble in the dryer so you have a low-stress wardrobe go-to.
Capris, city and walking shorts: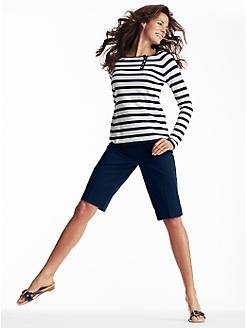 In a crisp fabric, these garments will look professional and resist wrinkles. Pair with a short-sleeved blazer for a casual summer suit, or with a crisp no-wrinkle shirt or feminine knit and a pair of ballet flats or peeptoe wedges.
Flat or low wedge sandals: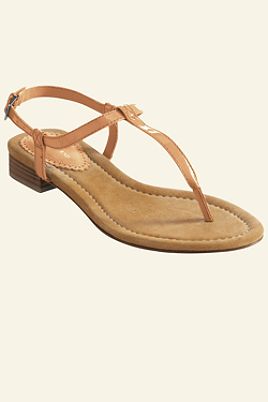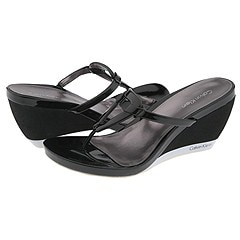 Just as comfy as your favorite flip flops, but with more polish and structure. Pair with your favorite dresses, shorts and trousers for casual elegance.
Airy blouses and shirts: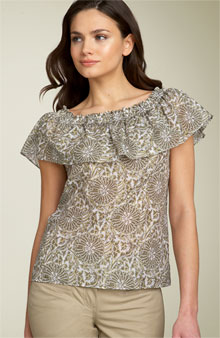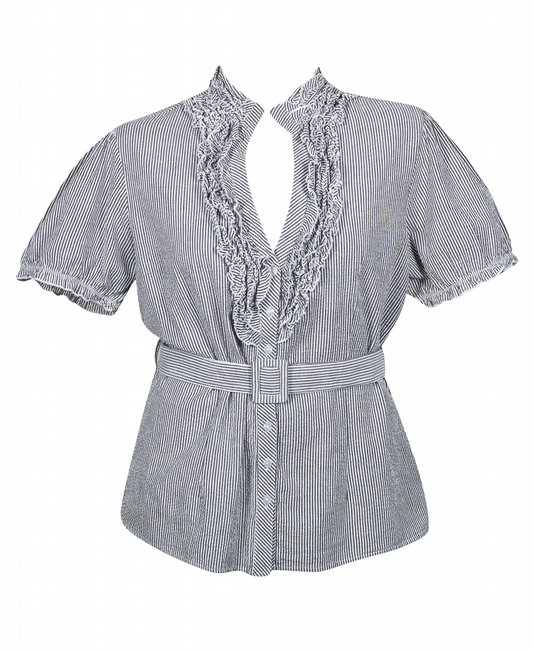 Let the air flow and look proper in these great tops. Paired with a crisp twill pencil skirt, Bermudas, or wide-leg trousers and a pair of flat sandals, you will be chic and feeling cool.
Black striped belted seersucker blouse for women from Fashion Web
– $36.00 at Alight