This article may contain affiliate links; if you click on a shopping link and make a purchase I may receive a commission. As an Amazon Associate, I earn from qualifying purchases.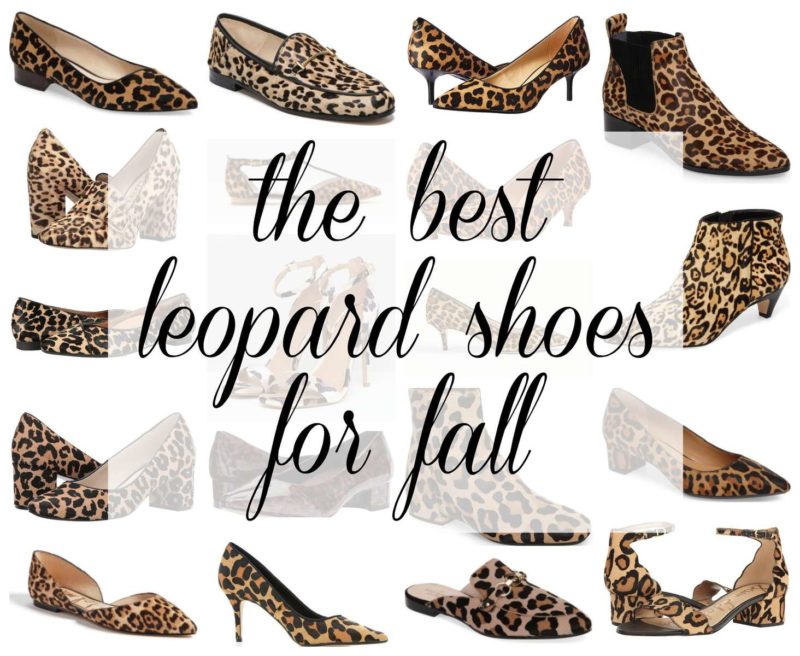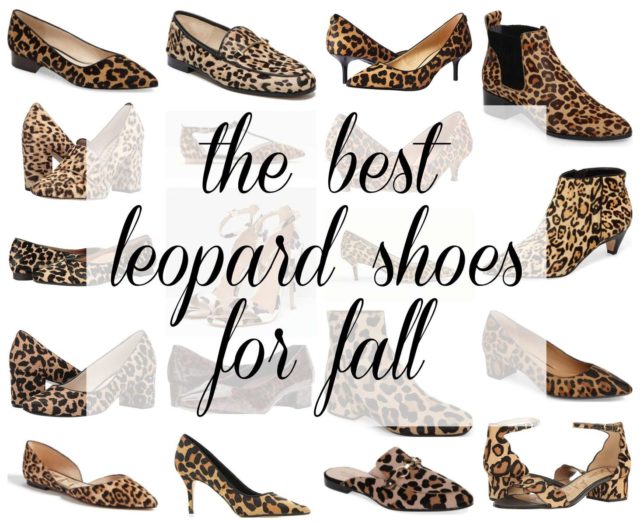 Leopard is a neutral, amirite? It's a print that goes with everything, and really helps to add polish and style to a look. A leopard print shoe has been a staple in my wardrobe for over a decade, and always works, even if my personal style changes. This season I was on the hunt for a very low heeled leopard print flat or leopard print kitten heel so I've seen some of the best leopard print shoes for sale. My picks for the best leopard print shoes: flats, pumps, booties, and more and tips on how to wear them:
The Best Leopard Print Flats
I love a pointed-toe flat, it's far more flattering than a rounded toe and looks so chic paired with trousers. These flats have a d'Orsay profile (the sides cut out) which is an elegant touch that will look great with ankle pants and jeans but also can be worn to the office with suiting trousers. They get positive reviews and are classic enough of a style to be chic for many years to come.
The picture is misleading, I've tried on this shoe and while it does have a heel, it's very low and looks and acts like a flat. But that hint of heel and pointed toe makes this flat very polished, structured, and perfect for the workplace. However, such a shoe is also great with jeans and knits for the weekend.
With arch support and a removable microfiber-lined EVA footbed, this is a flat that looks good and feels good. I have a few pairs from VIONIC and they're amazing for those who have to stand on their feet all day and the quality is quite impressive, having them be shoes that will last for years.
For those who desire a bit more support with their flat, this t-strap version from Boden is a great option. Even if not, the strap detail adds interest and looks great with dresses as well as trousers of all lengths. If you don't want a classic leopard, they have a great white pony spot with orange accent trim.
The Best Leopard Print Pumps
Another pair of shoes I actually own. I needed to replace my traditional leopard print calfhair pumps because they were from a brand I no longer wish to represent on my blog. I found it harder than expected to find a pump with a pointed toe, slim heel, and a print that wasn't too yellow or brown so it could pair nicely with blues, greens, and neutrals. These do exactly that and are surprisingly comfortable for their height.
At 2 ¼" high, this is a wearable yet sleek and stylish pump. While I don't own this in leopard print, I have owned the 'Flex' in black and found it to be one of the most comfortable pumps for all day office wear with the occasional walk down the block to grab lunch or get to your parking garage. The black heel makes it easy for a cobbler to refinish them along with a reheeling to keep them great even after months of pounding the pavement.
It's hard to find pumps with less than a 2" heel that aren't frumpy. These are amazing. The pointed toe and sleek heel keep these shoes looking chic and feminine, and the 1 ¾" heel height makes them wearable all day. The leopard haircalf fabric is a gorgeous color that will work with black and brown. I bought these and love how they look great with traditional length trousers, ankle pants and boyfriend jeans, full midi skirts, and pencil skirts. I know these will be a hard-working pair of shoes in my wardrobe.
Made from textured leather instead of calfhair, this almond-toe pump with a solid 1.5" block heel is sturdy and comfortable yet stylish and classic. This is a shoe that will work with a pair of dark wash ankle jeans as well as your most professional pantsuit while also pairing nicely with a full skirt or dress.
With an almond toe and 2" block heel, this is a statement shoe that can become a wardrobe classic. High enough to look great with skirts and dresses of all lengths, but solid enough to look great with jeans and trousers of all silhouettes. The simple taupe and black pattern makes these pumps extremely versatile.
Unlike the other pumps which are calfhair or a synthetic alternative, these are made of glossy leather with almost a tortoiseshell effect. They're just as stylish, just as versatile, and these come in four different widths and receive rave reviews for comfort, even with bunions.
Available in regular and wide widths, this low-heeled pump has a flexible rubber sole, a foam-padded insole molded with biomechanic contours, and plenty of rave reviews for comfort even with fussy feet. All that and an elongated toe and slim heel to provide style with space.
The Best Leopard Print Loafers
I used these loafers in my capsule wardrobe for the weekend. They're so chic looking yet comfy. They get great reviews and will look smart with denim, but also envision with black ankle pants and a cashmere turtleneck or a Breton tee!
With a beige-background, this leopard print is a true neutral and will complement all the colors in your closet. The gold detail and black heel keeps it from looking like a bedroom slipper. Pair with boyfriend jeans, ankle pants, or a wider leg full-length trouser. While the slip-on loafer is a hot trend this fall, this is a shoe that is classic enough to look chic for seasons to come.
The block-heeled loafer became a popular trend last year, but far too many styles looked like Gucci knock-offs. What's great about this loafer is it is shaped and styled just like a classic loafer, just with a higher block heel. This means not only does it not look like a Gucci knock-off, it's a style that will continue to look chic for many years.
A classic style in a more subtle leopard print, this is a fantastic alternative to a pump to wear to the office or with a not-so-little black dress.  However, it also looks smart with trousers and jeans.
Now I'm not one with the personal style to wear driving moccasins, but if I were I'd totally wear these.  They look so comfy, so luxe, and the type that you may wish to baby but if they get a little bit of wear over the years that will only add to their charm and style.
The Best Leopard Print Ankle Boots
Wait what, a waterproof leopard print calfhair bootie? Yes, it's true and it's good looking too! With a walkable 1.5" heel and a weatherproof exterior, this is a bootie you can wear on your commute, on the weekend, everywhere. I have a pair of leopard ankle booties and they go with so much all fall and winter; if they were weatherproof like these I'd likely never take them off!
Wide fabric goring makes these booties easy to slip on and off, and also be less likely to rub against skin when breaking them in. The 1 ¾" heel is just high enough to elongate the leg and flatter longer pants and jeans while remaining comfortable enough of a height for running errands.
If I didn't already own a pair of leopard print ankle boots I'd totally get these. A classic leopard print and a sophisticated shaped heel make this bootie the type you can pair with jeans or dresses, rock on the weekend or wear to the office. This is the kind of statement bootie you'll find wearing far more than you ever expected.
Who says leopard print has to be brown and black tones? These blue jacquard booties from Banana Republic make any outfit look cool.  Style with black tights, with denim, with color, with everything!  And with a sturdy block heel they're comfortable all night.
So not a leopard print, but the hidden wedge on these badass booties made the grade to be included in this roundup.  With a hidden 1.75″ wedge, you get lift without sacrificing comfort or stability.  The low front makes these flattering with tights and bare legs and works well with cropped pants and boyfriend jeans.  Do not be surprised if you see me wearing these booties later this fall!
A slim heel can make any look elegant and is a great alternative to pumps in the winter (they hide wool socks!).  The v-cut vamp gives the bootie a really chic look and also makes them more flattering when worn with skirts and dresses. So elegant, these booties could work for the evening!
The Best Leopard Heeled Sandals and Dress Shoes
The cutout detail and the black trim make these shoes look far more expensive than their pricetag. The 2" heel makes them great for pant as well as skirts, and the shape makes this shoe look gorgeous with opaque tights in winter, or bare legs in the warmer months.
This shoe somehow looks vintage and modern at the same time.  With the cross straps at the toe, you get extra comfort and security.  The wider straps and thicker heel balances filmy dresses and skirts, works well with hosiery, and can look chic all year round.
With a low block heel and ankle strap, this is a fun and fashionable shoe that will keep you sure-footed. The scallop trim adds interest and also makes them look more expensive. While this shoe can easily work in the warmer months with bare legs and a fresh pedicure, don't be afraid to try styling these with opaque tights this winter.
A high but solid heel, and thin straps that are festive and easily turn formal, this is a nicely priced versatile dress shoe that will look great with so many different outfits in your wardrobe.  Leopard print heels is what you needed to pair with all the colorful frocks in your closet or to glam up your not-so little black dress.  With almost 200 mostly positive reviews, you can truly assess whether these shoes will also be a winner for you.
Not sure whether to wear black, nude, or a metallic? How about all three with these gorgeous heels? The shine and subtle leopard print makes these the unexpected neutral you needed in your closet to style with all your party dresses. But don't stop there, these would also look amazing with dark slim denim and a silky blouse, fun sweater, or a blazer and cami.