This article may contain affiliate links; if you click on a shopping link and make a purchase I may receive a commission. As an Amazon Associate, I earn from qualifying purchases.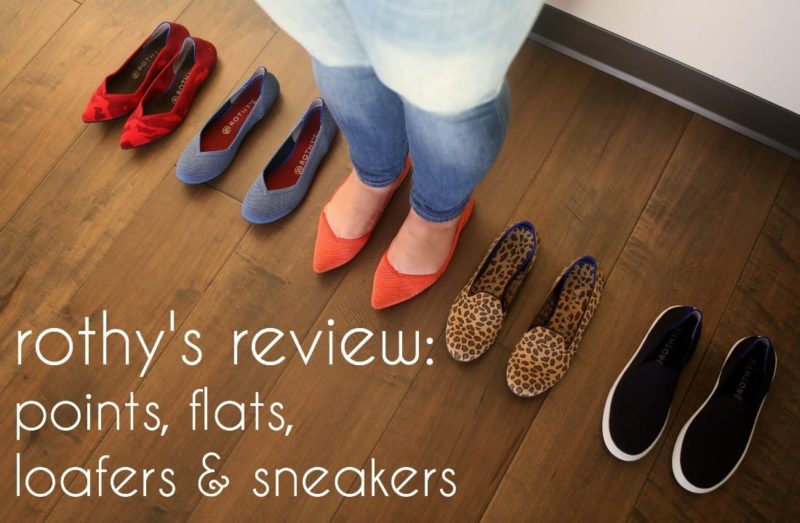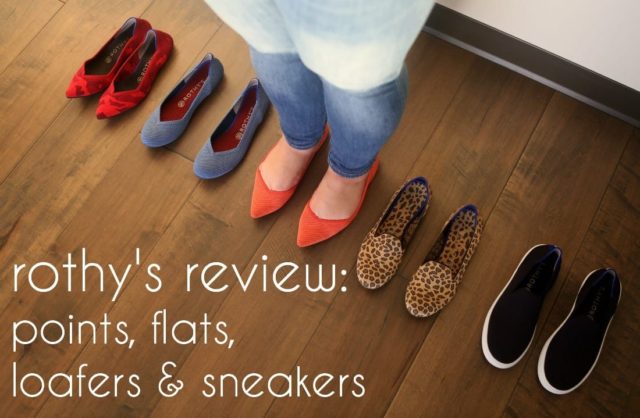 A year ago, I purchased my first pair of Rothy's flats. After giving them a real beating through the streets of New York, I wrote my first Rothy's flats review. Since then, tens of thousands of you have read that review and purchased your own pairs of Rothy's. And since then, I have added to my Rothy's shoe collection, trying out their Points, Flats, Loafers, and their Sneaker. I have washed my Rothy's several times, found inserts that fit in them, and wanted to provide an honest, unpaid review of all four styles of Rothy's.
For those unfamiliar with Rothy's, they are shoes with knit uppers made from post-consumer plastic water bottles. The foam in Rothy's insoles are made from recycled shoes. They are completely vegan, and the company strives to use as many recycled and renewable materials possible for both their shoes and their streamlined packaging. All this, and Rothy's flats, loafers, and sneakers are washable, comfortable, and stylish.
I have trouble with flats. I have both wide feet and a high instep. I don't have much of a curve in my Achille's so flats often rub the back of my ankles raw. I find most flats either too wide or too narrow; my feet sweat easily and will slide around in flats causing me to stretch them out and my pinky toes to escape. I was curious about these shoes because I heard Rothy's flats are great for wide feet, and I read the knit doesn't stretch out and also keeps feet cool/less sweaty. I found Rothy's to fit my wide feet and not a single blister or hot spot on my ankles. Below I review the four styles of Rothy's shoes and how they held up after multiple washings, long walks, a year of pounding the pavement, and more.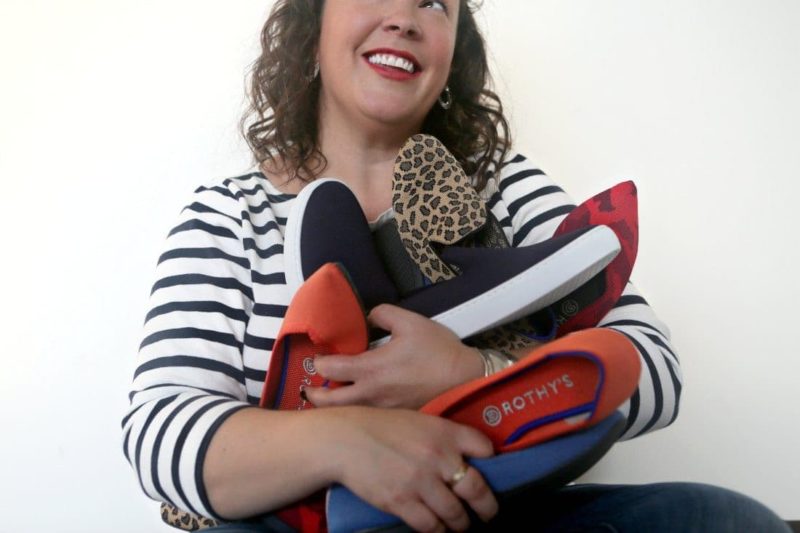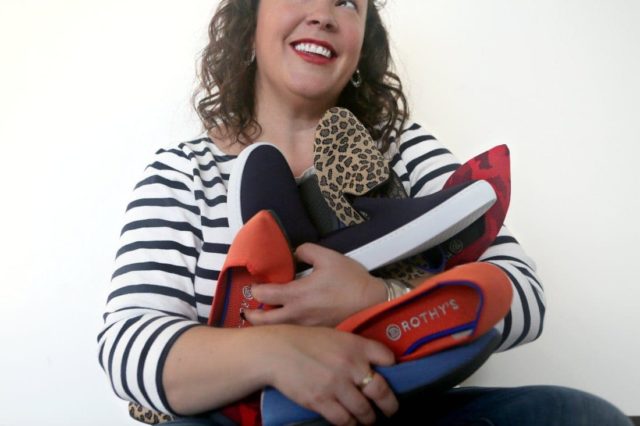 Rothy's The Points Flats Review
My original Rothy's flats review was for The Points in Red Camo. I usually wear a size 8 and purchased these in 8. They were great, not too snug even with my wide feet. I washed them once and they looked great. Washed them twice, still looked great but couldn't tell if it was because it was at the end of a long day but they felt a bit snug. Washed them a third time… yep these babies shrunk about a half size. The shoes still fit, but you can see the shape of my toes in the point, which isn't cute at all. Also, the insole didn't shrink with the shoe so the insole buckles a bit inside. Every time the shoes were washed, it was cold water, gentle cycle, line dry.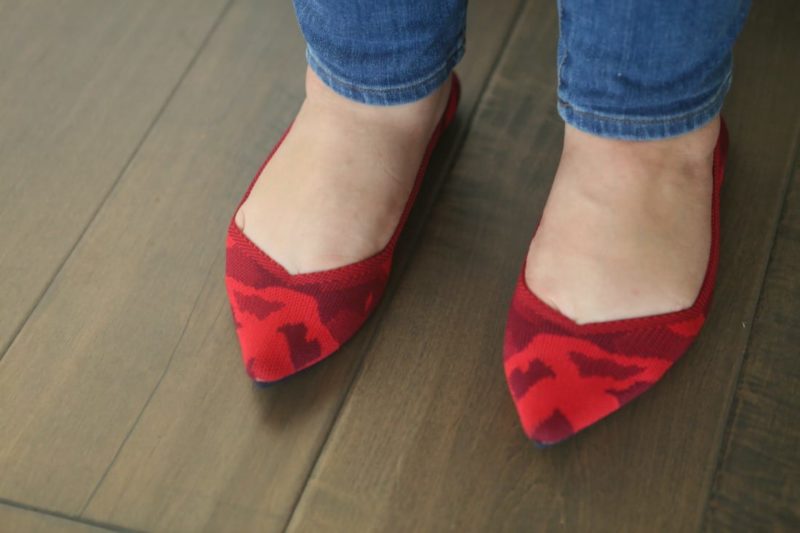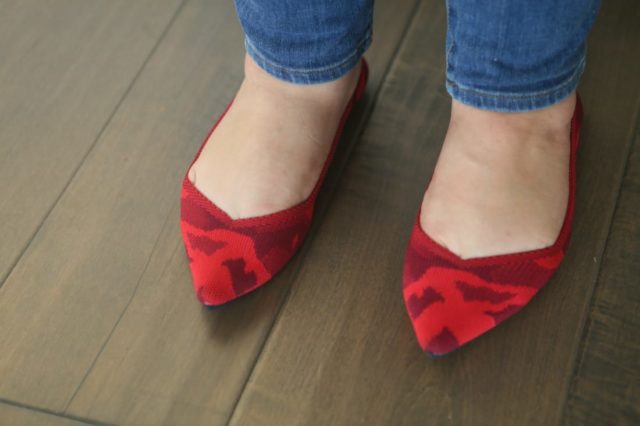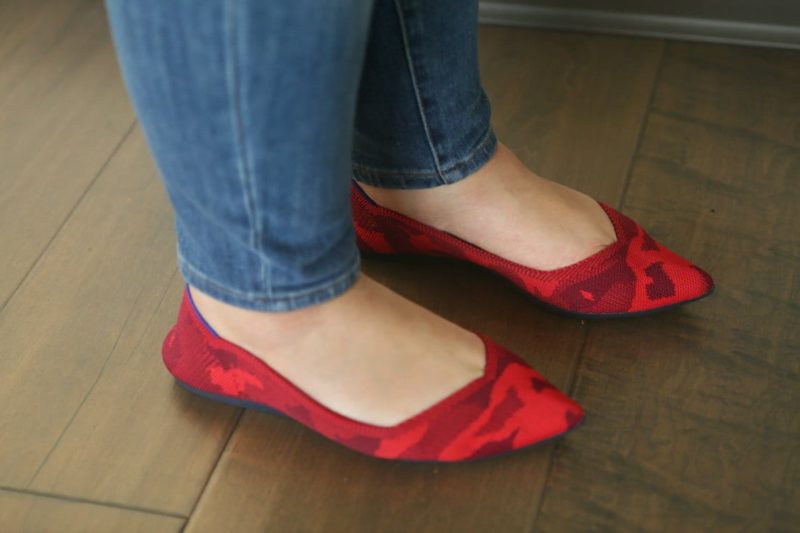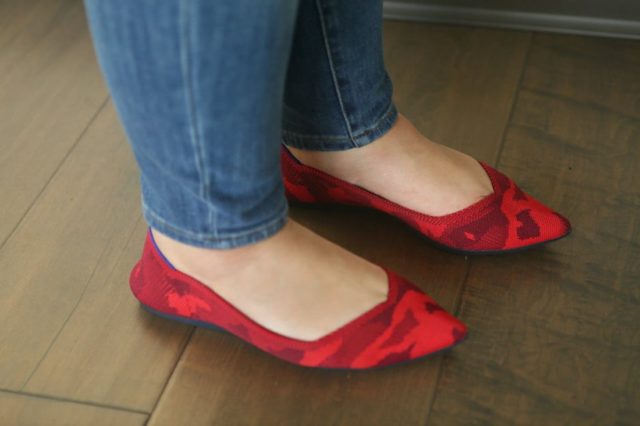 I reached out to Rothy's to see if they would like to collaborate since I was selling dozens of pairs of their shoes each week from that original review post and they offered to send me three pairs of their shoes for free. I asked for The Points in Black. I was tempted to get them larger to make room for shrinkage, but that would mean they'd be unwearable until they did shrink. So I went with 8 again. I have washed them twice, they haven't shrunk.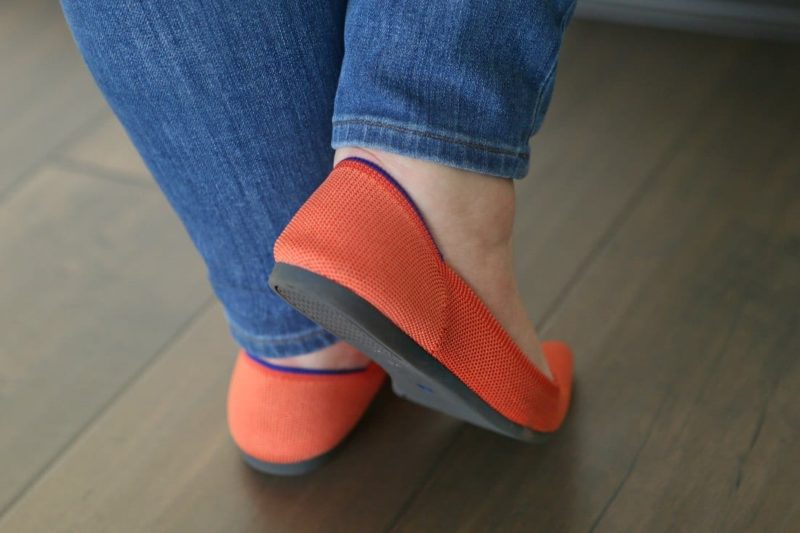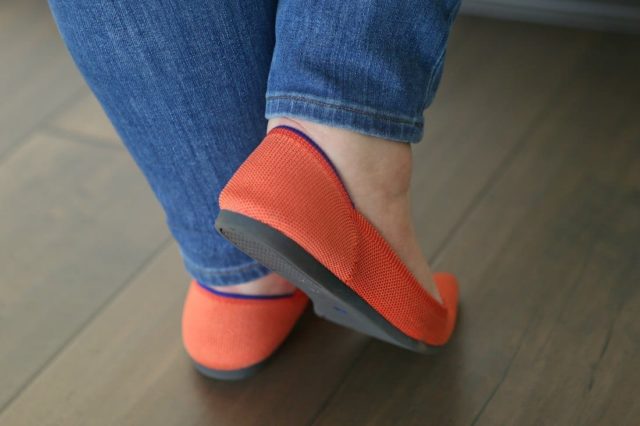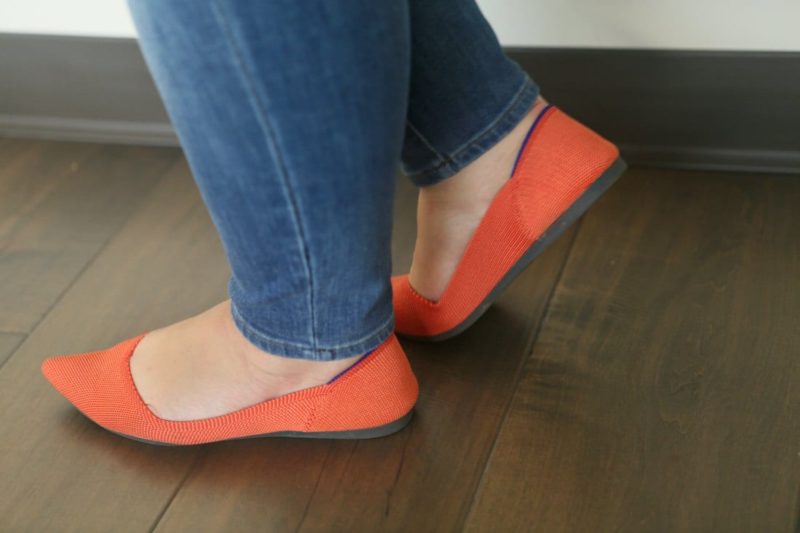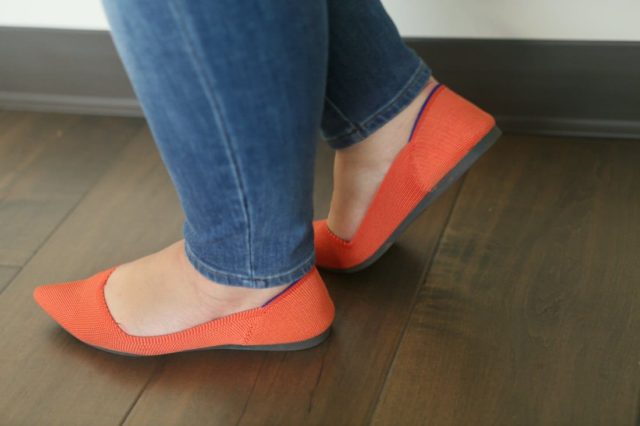 I didn't know if this was a fluke, so I ordered a pair in Persimmon with my credits from referring others. Again, I ordered an 8. These out of the box were slightly larger than the other two pairs. I have washed them only once so far and they haven't shrunk. I'll admit I'm scared to wash these shoes for fear that three time's the charm and they will end up being too small like my red camos. I will wash them when necessary and if they do shrink I will update this post accordingly.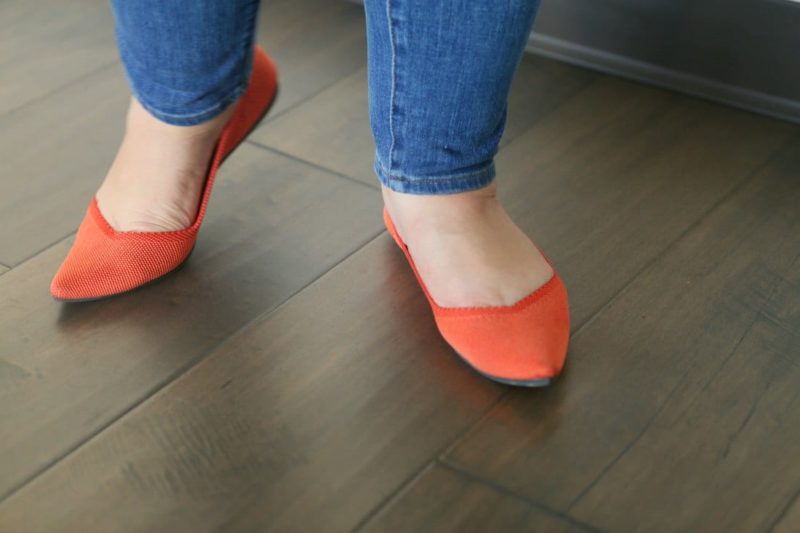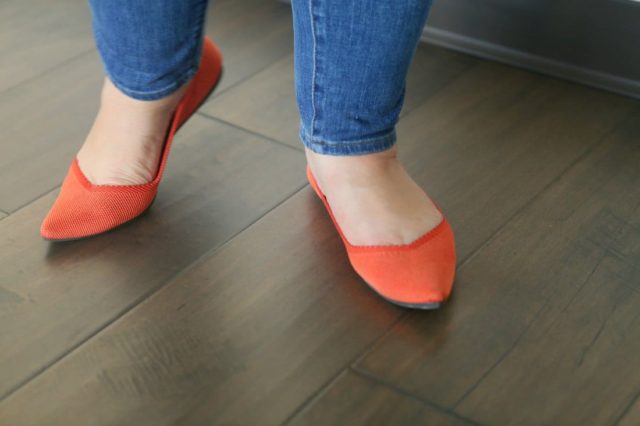 I think the Rothy's The Points are pretty great looking shoes. The woven texture looks more polished than plain cloth and is more flexible than leather. Unlike fabric and leather shoes that can stretch out and end up being unwearable, these stretch around your feet and then retract back to the original size. As someone with short, thick legs and ankles and short feet, I find the pointed toe and the lower vamp to be flattering. These shoes have become a favorite to wear with skinny jeans and ankle pants. And no, my pinky toe never falls out.
However, these shoes provide no support whatsoever. My feet pour over the sole and I pronate so the shoe's upper is practically on the ground. From the side, the shoes will look cute but from the back or the front, it looks a bit messy and uncomfortable. I often have to tell friends and even strangers, "No, they're actually really comfortable!" because they think the shoes are too big or broken because they don't have stability.
These shoes have zero arch support, so they are not good for long days on your feet if you deal with fallen arches or plantar fasciitis. However, that is the fact for most flats. While they will fit a wide foot, I think someone with an average to narrow foot and one with a lower volume foot will likely find this shoe more comfortable and flattering. I find them to be great running around town or spending most of my day at a desk shoes. I also love how lightweight and flexible they are and often tuck them in a bag when I'm wearing heels to be able to switch out when my feet start hurting or I need to walk somewhere.
Rothy's Flats (The Round-Toe) Review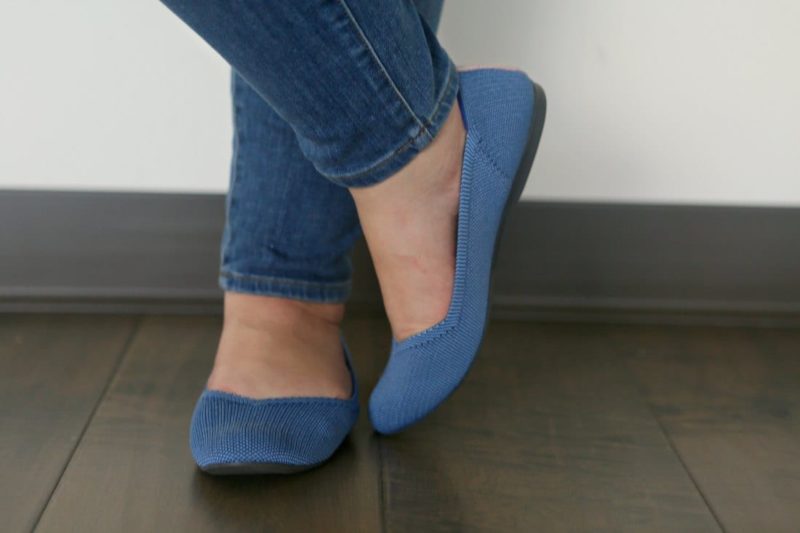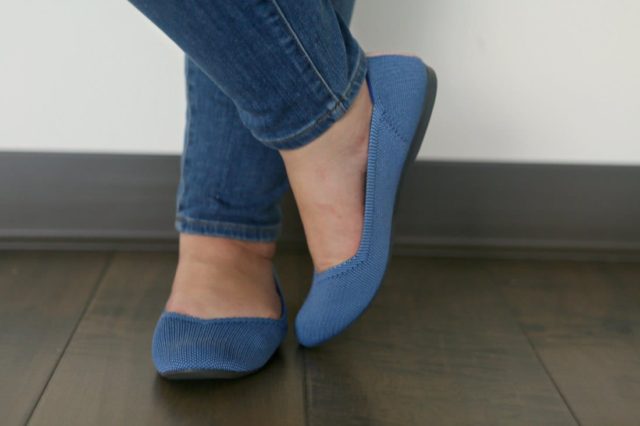 I don't like round-toe flats. Being short and curvy with wide feet and short toes, round-toed flats make me look as though half my foot is missing. However, Rothy's offered me a pair for free so I decided to order a pair and test drive them for a review on the blog. I ordered a pair of Rothy's Flats with the round toe in blue (not currently available), thinking they would look cute with jeans.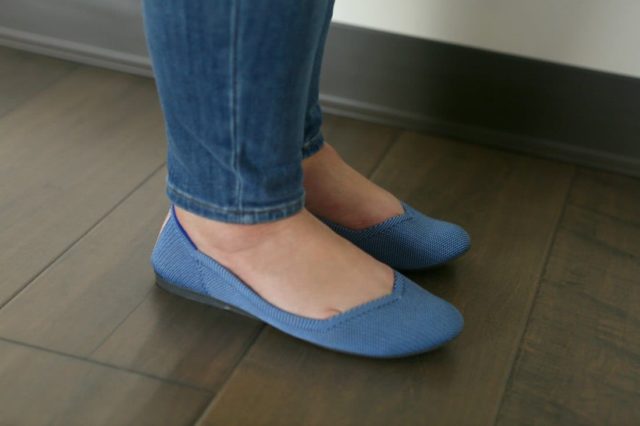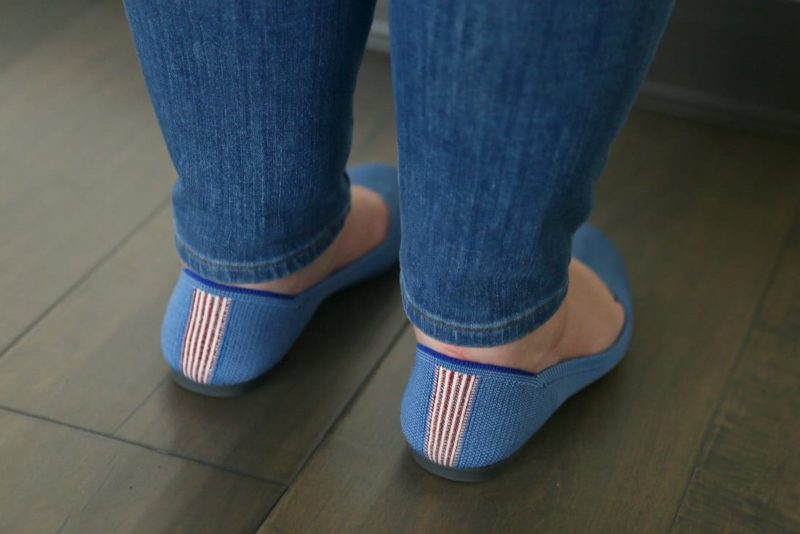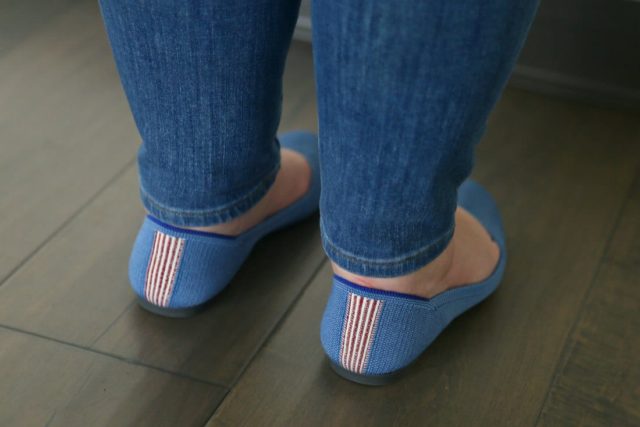 These round toe flats run far wider than The Points. So much so, they feel as though they are a half size bigger and my feet sort of slide around in them. This is unheard of for me. I wore them once out of the house and regretted it because they ran so wide and my toes so short that pinky toe was trying to escape. I ended up getting a cramp in my foot from working so hard to grip onto the shoes so I didn't walk out of them. However, this seems to be unusual from reviews I read online and the feedback you all have provided me. I haven't tried washing them to shrink them as I don't really like the round shape, I plan to give them to a friend as a gift.
Rothy's The Loafer Review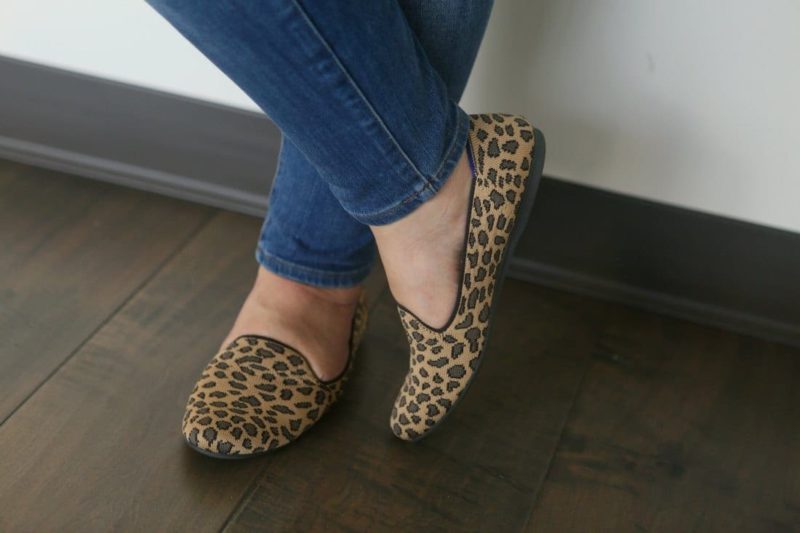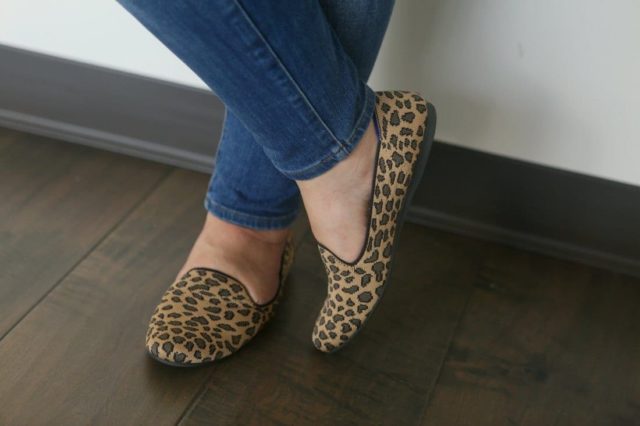 Loafers rarely work on me because of my high arches. I was excited to try Rothy's loafers because I knew the shoes were stretchy and they'd likely fit. So when Rothy's offered me three free pairs, one I got was a pair of the loafers. I chose them in Spotted because I believe leopard is a neutral and goes with everything.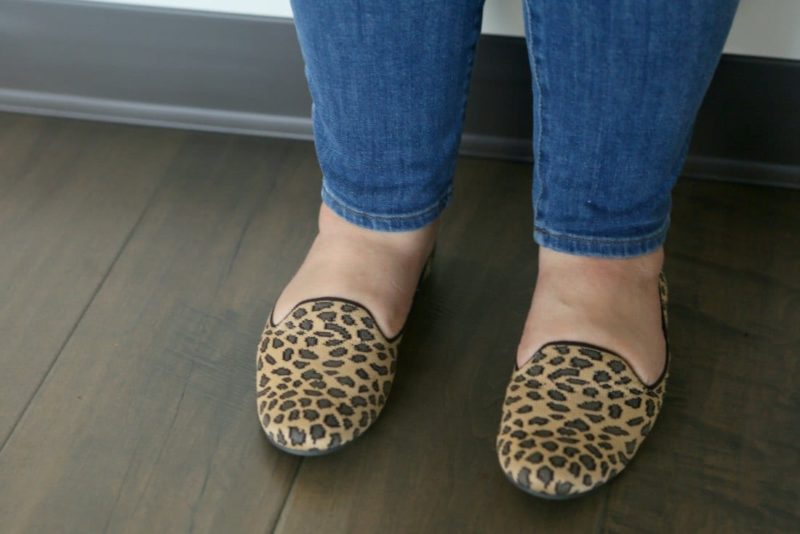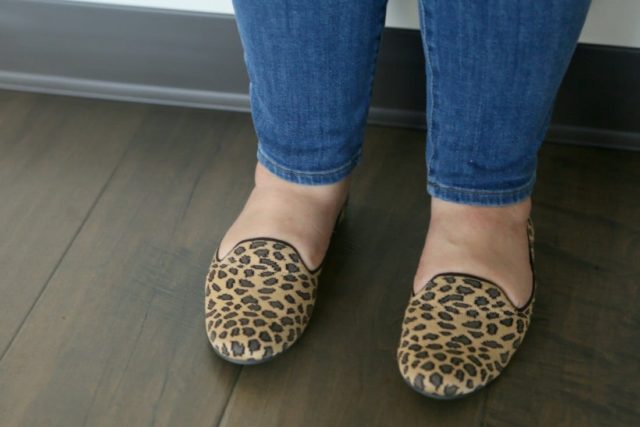 The loafers do fit… technically. They are extremely snug and make my feet look like a popped can of Grands Biscuits. After only five minutes I had the woven print embedded into my skin. Nope, these are not for me and are going to be gifted to a friend.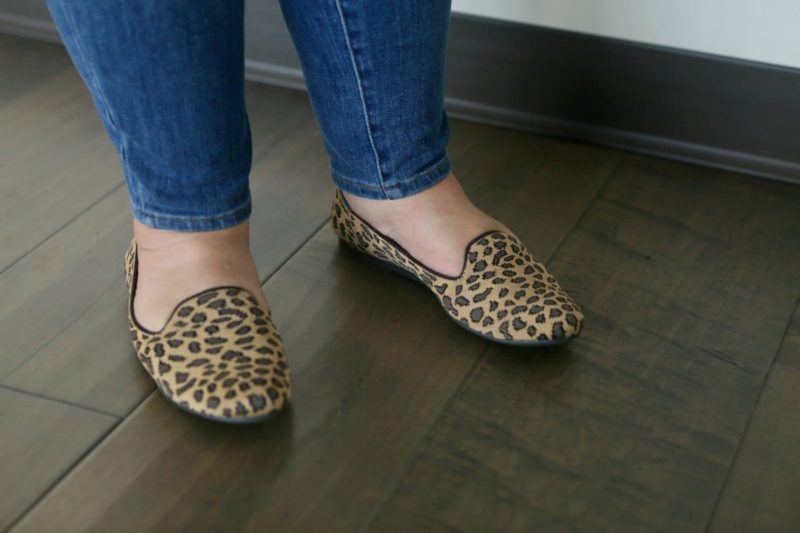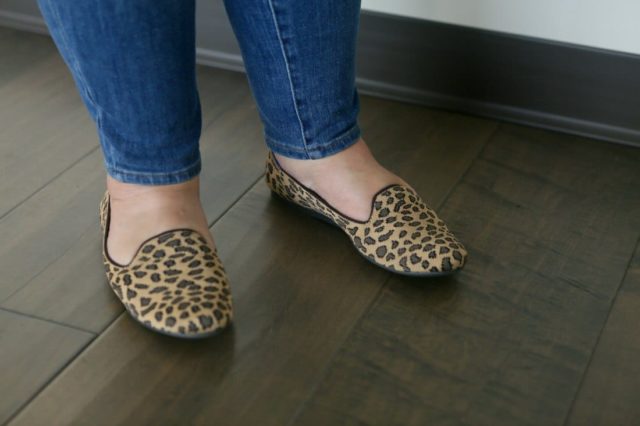 However, if you have a lower volume foot, even if its wide, I think these loafers are a great choice. What makes them great is because there is more fabric, there is less spillover of the foot and a bit more support. Rothy's Loafers are flattering, look more professional than the Rounds, provide more coverage than the Points, and when the temps drop, if you're wearing full-length pants could get away with a trouser sock.
Rothy's The Sneaker Review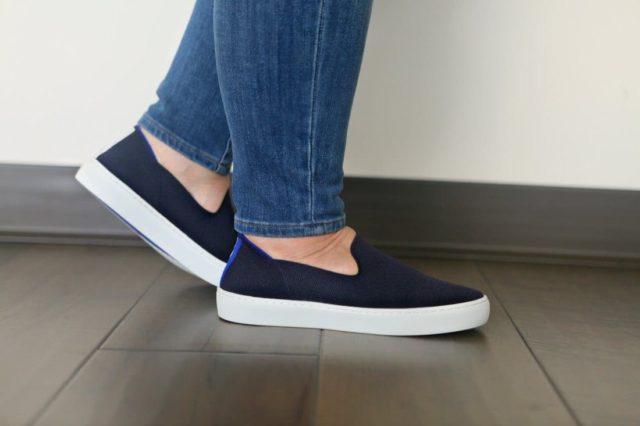 As soon as Rothy's made their sneakers available I purchased a pair. I love the idea of a slip-on sneaker but rarely find a pair that works for my wide and high-volume feet. Knowing the Rothy's woven fabric, I knew these shoes wouldn't look too bulky. I love the idea of sneakers with dresses and cropped pants but with my thick ankles and wide feet I don't find the look flattering; I was thinking these may provide a sleeker look that would work with such fashions. I ordered them in Navy.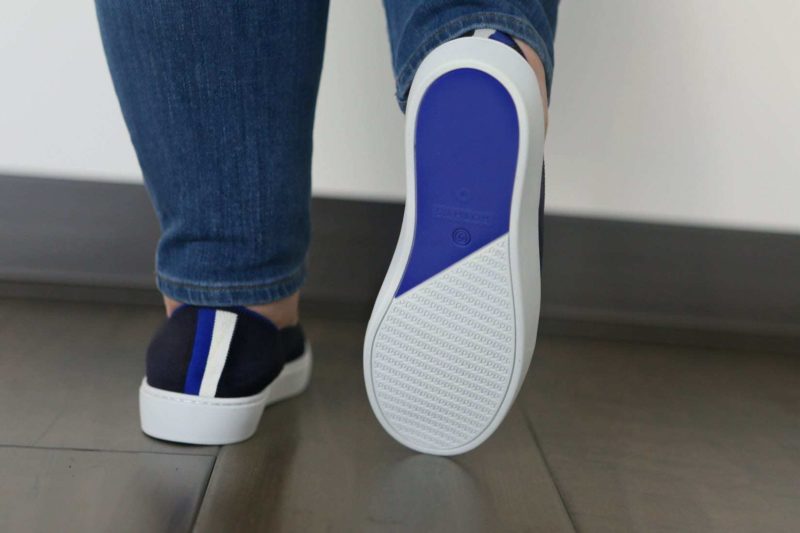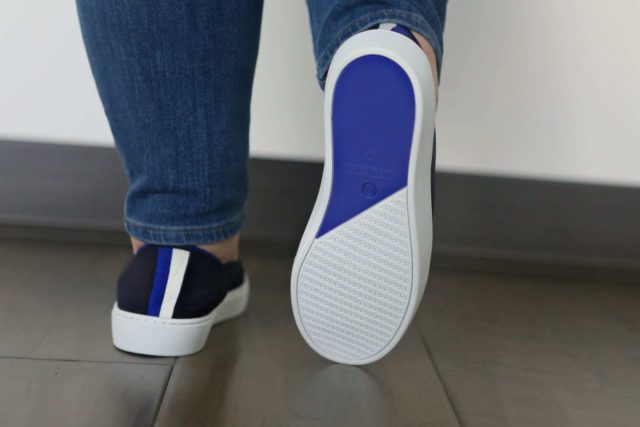 While my wide feet are comfortable in Rothy's other shoes, I was very aware that my foot was wider than the sole in Rothy's sneakers. I could feel the edge of the sole pressing into my foot, and feared if I wore them around I would end up with blisters. While the sole of the Rothy's flats and loafers is flexible, the sole of the Rothy's sneakers is thicker and therefore stiffer. The lack of flexibility was very obvious when walking around my bedroom and it made my feet press harder into the too-narrow sole. The shoe is more structured than the flats or even the loafers, but like the other shoes by Rothy's there is no arch support.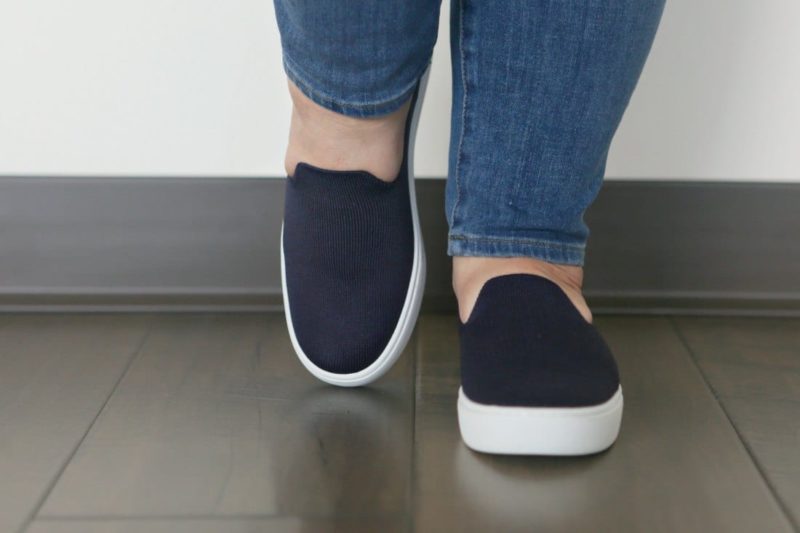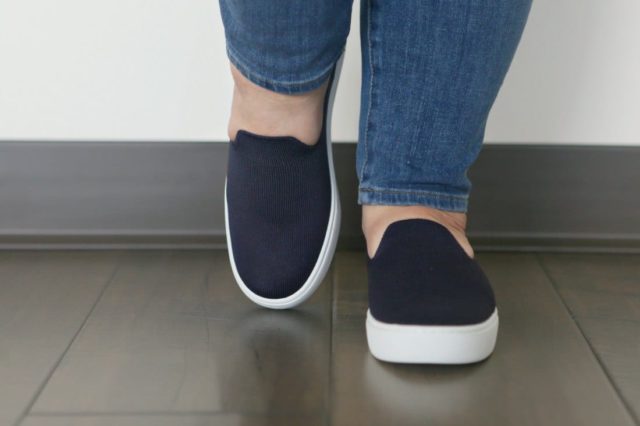 However, the stretchy upper did make these shoes not only fit but fit well. These were far more comfortable than the loafers for my high-volume feet and looked good on. And yes, these are shoes that looked cuter with skirts and cropped pants than traditional sneakers. The navy with the white soles had a nautical vibe, I do wonder if some colors would come across as being orthopedic shoes because they are very utilitarian and solid looking. It's why I chose navy over Sand or Bright White and why I'm drawn to the Washed Pink and Electric Lemon.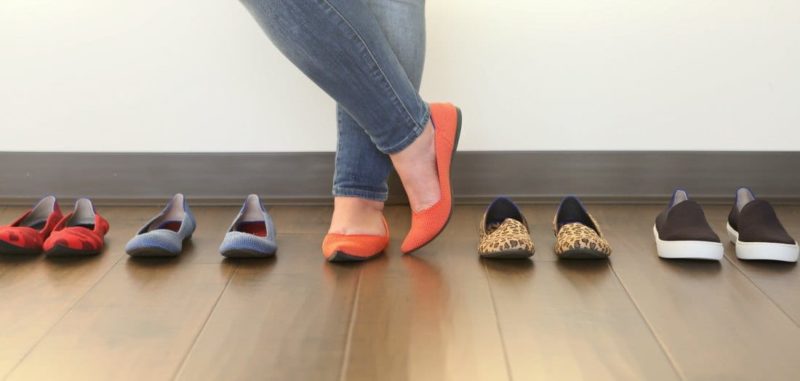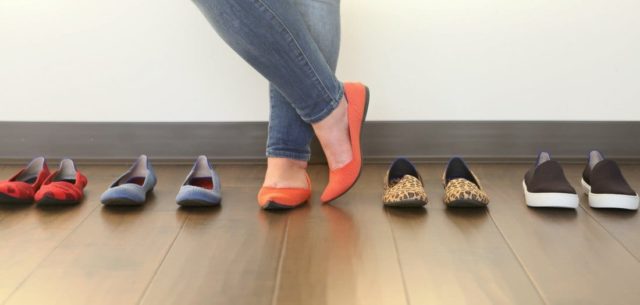 Rothy's Shoes Review – Overall
While I only wear one style of Rothy's shoes and my review of Rothy's Points after a year of wear isn't 100% glowing, I still highly recommend these shoes. I love that they're made from low-waste, low-impact materials and handmade. I love that Rothy's as a company strives to create as little waste as possible (they will even recycle your old shoes).
And their shoes are comfortable. No, they will not support your feet but they are flexible, cushioning, washable, and kind to the environment. Rothy's is an innovative brand, in the past year they came out with loafers for children and their sneakers. They regularly come out with new colors and patterns (hello sparkly shoes!) and I look forward to what they will do next.
Best Insoles for Rothy's Flats
One of the most popular questions I get is can you put insoles in Rothy's flats and what insoles fit in Rothy's. Rothy's are low-profile shoes that don't leave a lot of room for traditional insoles. However, I have found a few that do work with Rothy's:
If you've had success with other insoles or have any fit tips for Rothy's do share them in the comments and help others!
For more information about Rothy's, please visit my first Rothy's Flats Review