This article may contain affiliate links; if you click on a shopping link and make a purchase I may receive a commission. As an Amazon Associate, I earn from qualifying purchases. 
This post is sponsored by cabi and all cabi fall 2017 clothing in the post was gifted by the brand.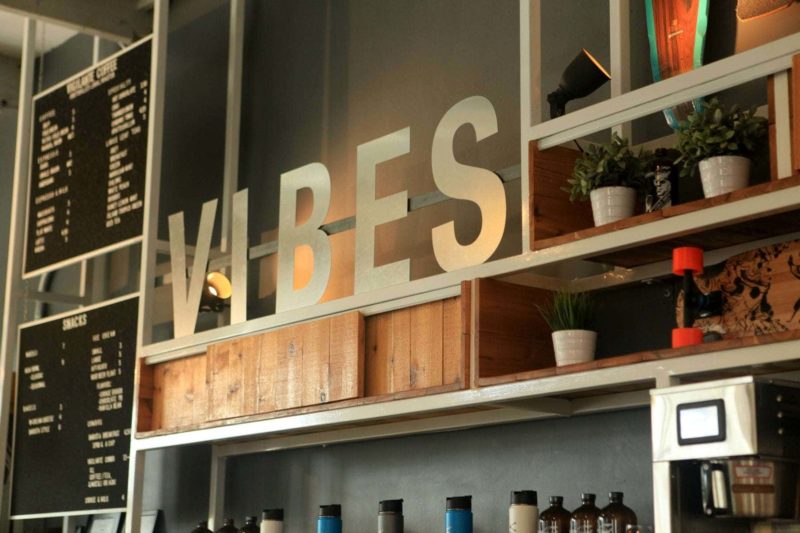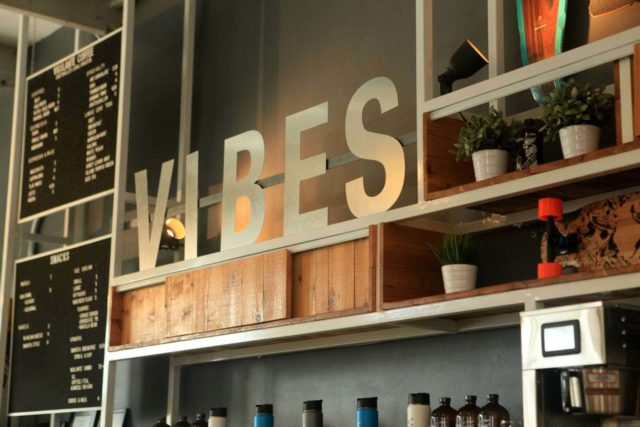 Vigilante Coffee is in Hyattsville, Maryland and a favorite place for me to go with Karl or friends for coffee and chatting, a yummy pastry, or even to telework away from the home.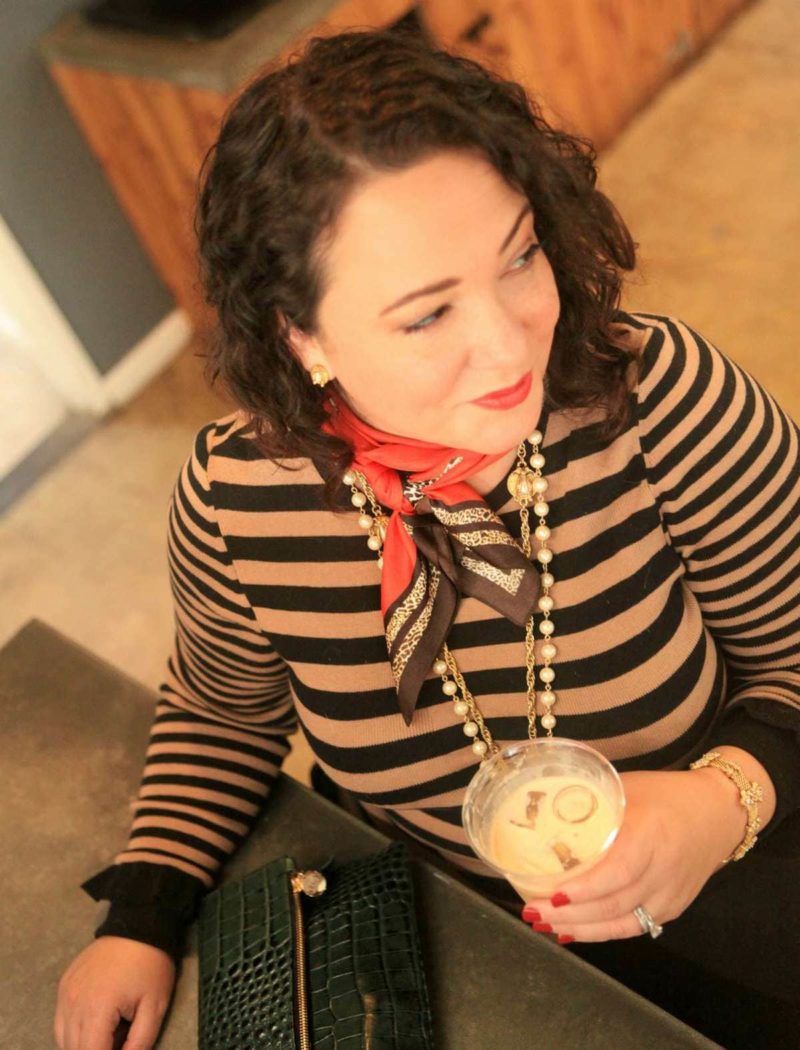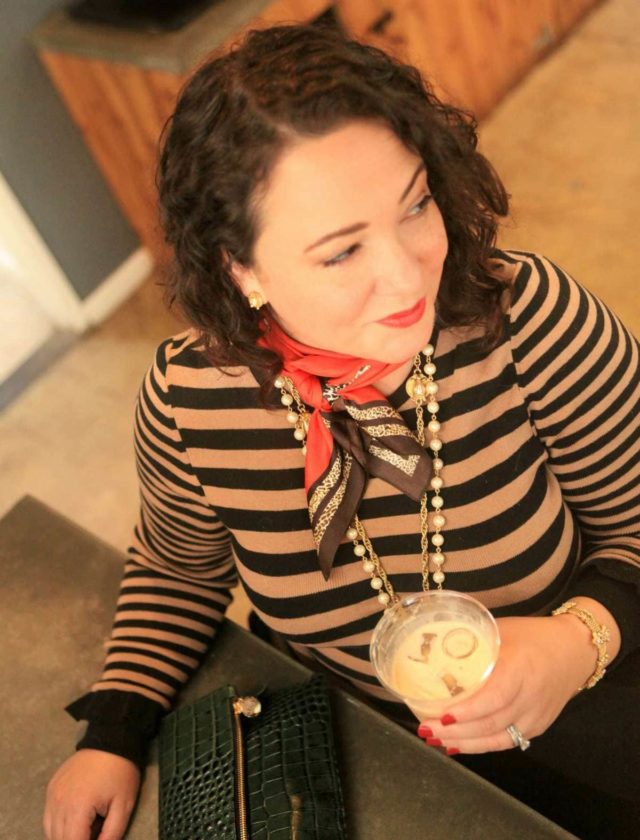 With Emerson at a sleepover, Karl and I had time for a date at Vigilante. I'm drinking their Hyattschilla, a drink made with espresso and salted caramel ice cream. Yes it was as delicious as it sounds!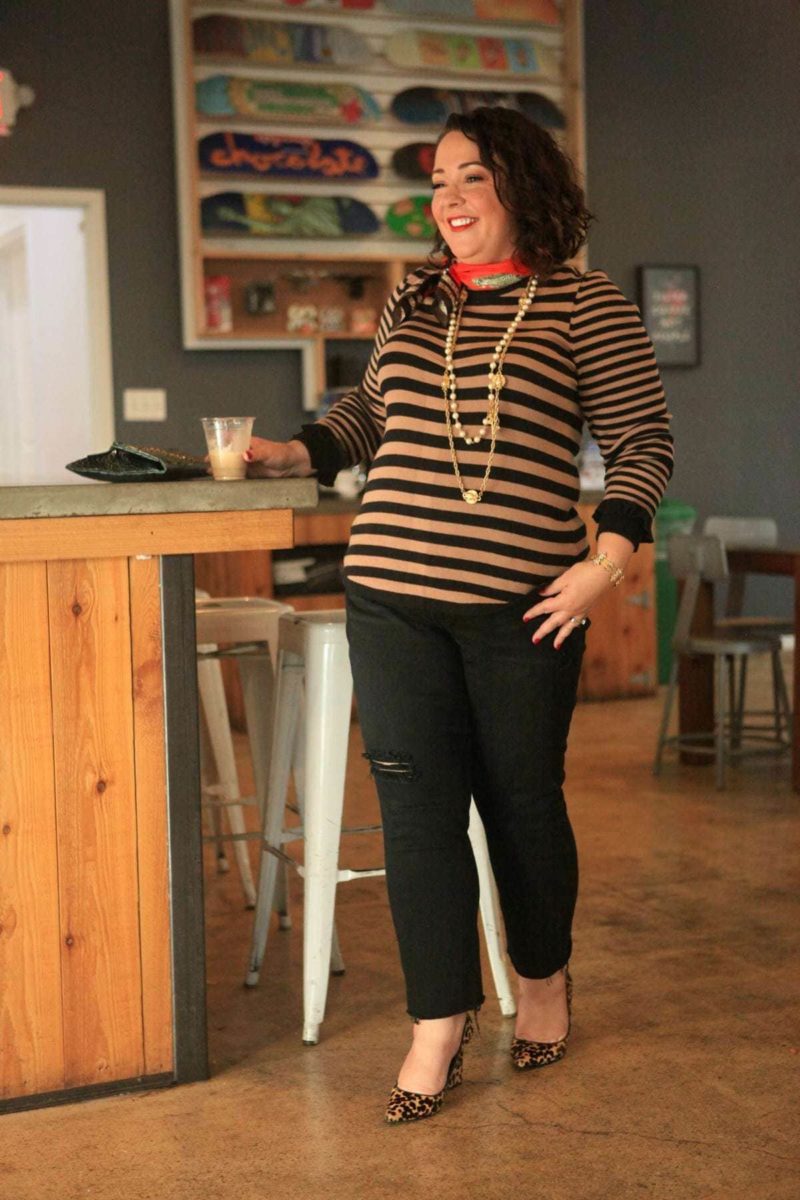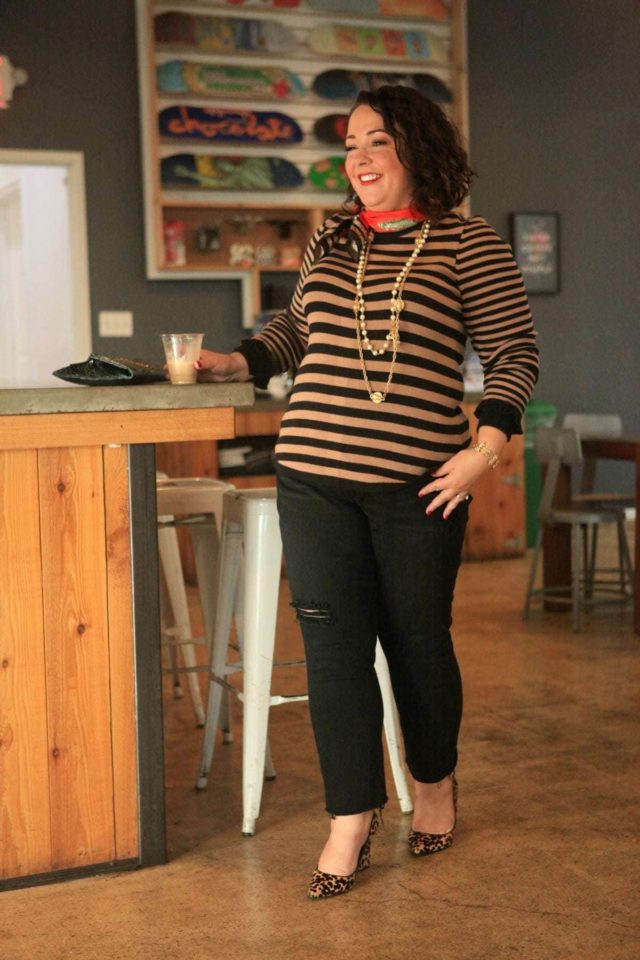 When I attended cabi Scoop, I saw a preview of their New Arrivals collection Penny Lane Lovely and could not WAIT for it to arrive. While I loved many pieces from it I immediately fell for this sweater. I loved the camel and black combination, and could see how it would work so well with orange, red, green, plum, mustard, and all the autumnal colors that are hot this season. I loved the ruffle detail on the wrist and how the cuffs have thumb holes so I can pull down the sleeves and keep my hands warm in winter. Like all cabi clothing, it was so smartly designed for wear, but also for coordinating with previous seasons of cabi.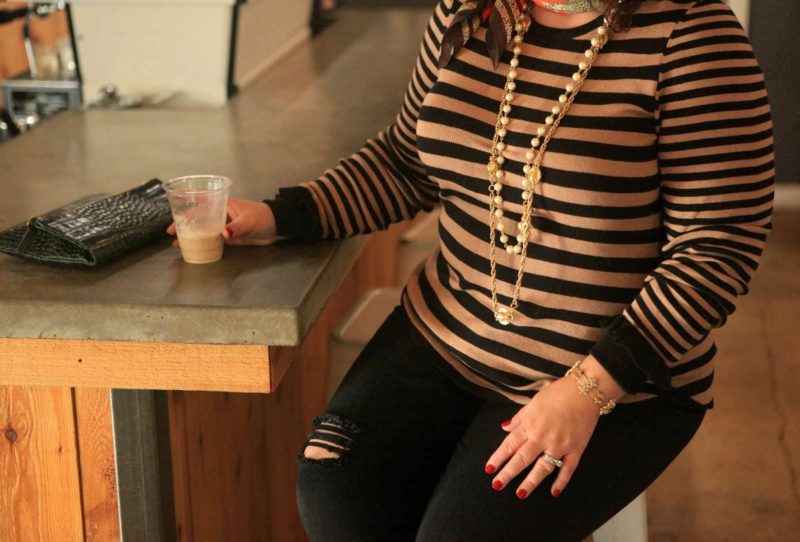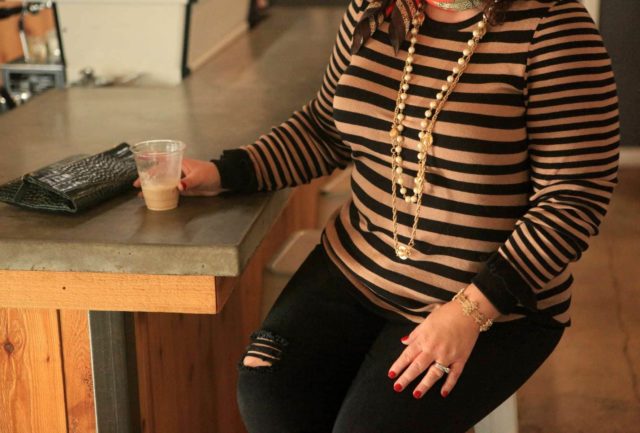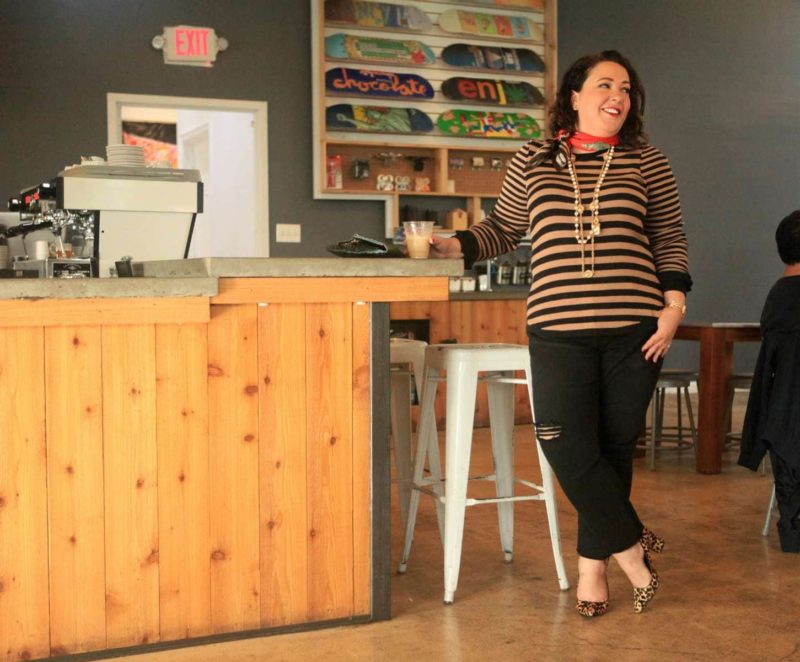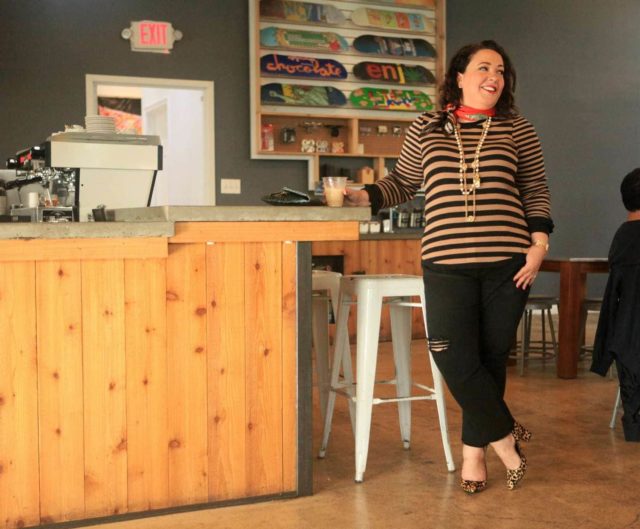 Speaking of smartly designed… the jewelry I'm wearing is all cabi, and almost all of it works double duty. The bracelet is actually part of the Bon Vivant Necklace. It's a pretty necklace but has little clasps to remove one portion and turn it into a bracelet.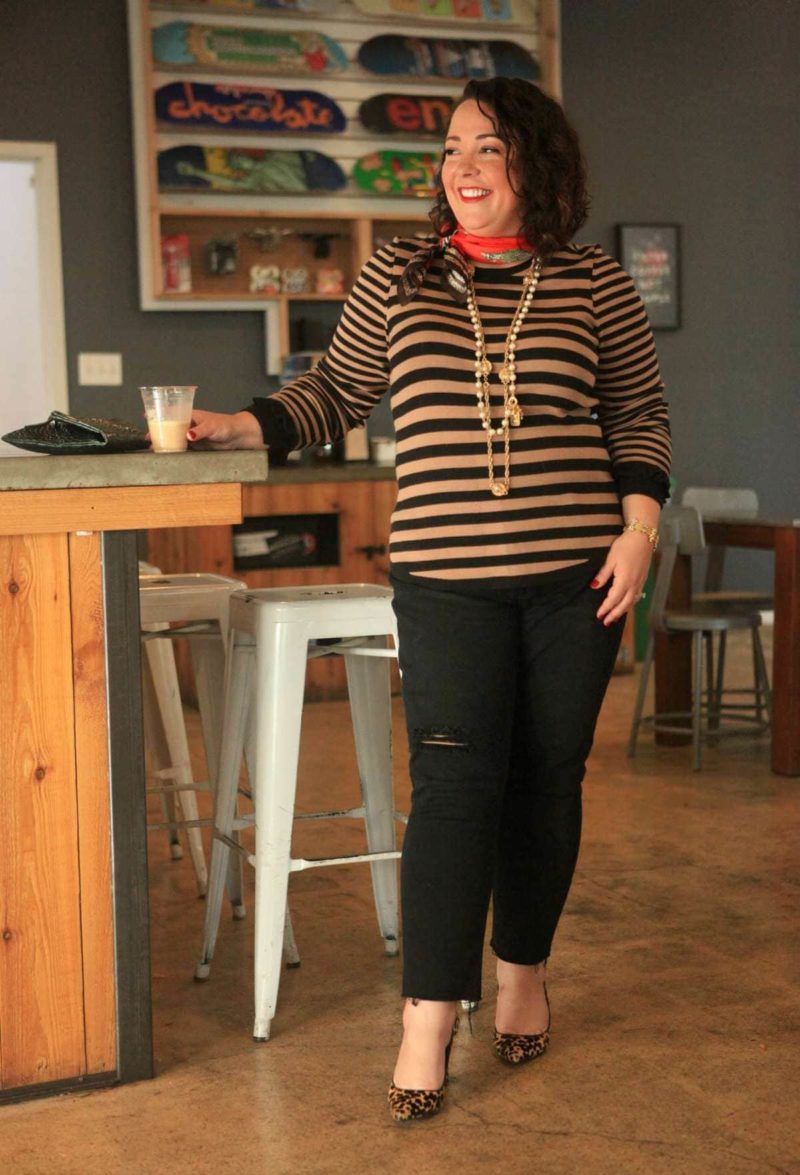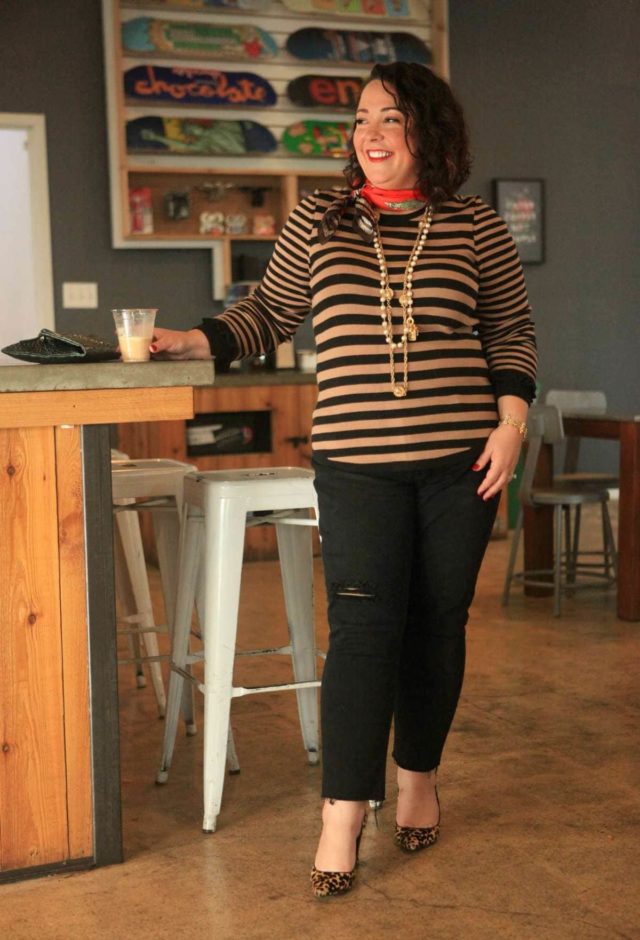 Sweater: Earn Your Stripes Pullover c/o cabi (XL) | Jeans: Slim Boyfriend c/o cabi (14, cut and frayed the ends myself) | Earrings: Buzz Earrings c/o cabi | Chain Necklace: Buzz Necklace c/o cabi | Pearl Necklace: Two of the Heritage Necklace c/o cabi ) | Bracelet: Portion of the Bon Vivant Necklace c/o cabi | Scarf: Deidre Scarf c/o cabi | Shoes: Nine West (no longer available; similar) | Bag: Clare V. | Lipstick: L'Oreal 'Eva's Red'
The chain is the Buzz Necklace, which has several connectors hidden in the design to turn it into smaller necklaces or even a bracelet. The long pearl necklace? It's actually two of the Heritage necklaces hooked together! You can see me wear the Buzz and Heritage necklaces as shorter pieces in this outfit post. Even the Deidre Scarf, it's a perfect length where I can double it around my neck without choking myself and have also worn the scarf as a belt.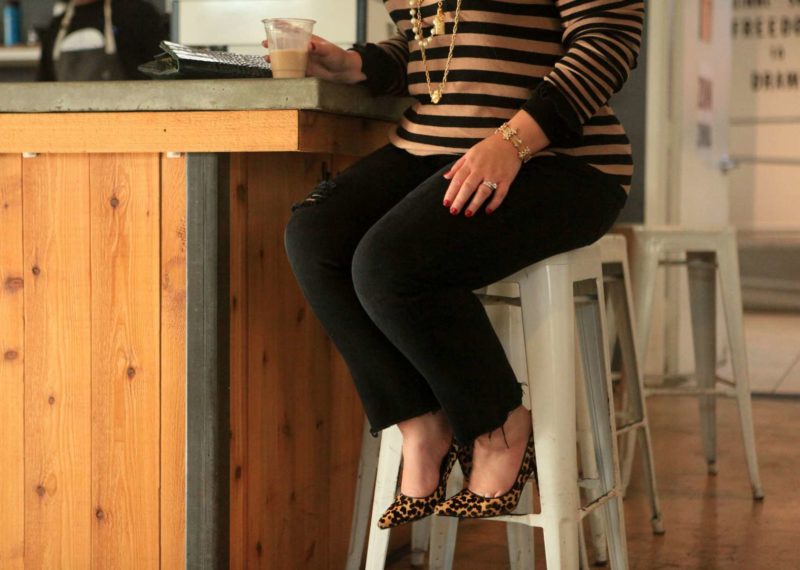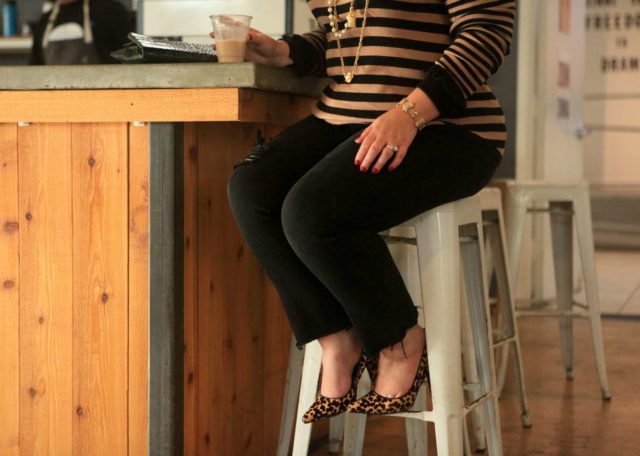 cabi shared a video on Facebook on customizing jeans and I decided to try their tips on my pair of cabi Slim Boyfriend jeans. I love the look of these jeans but with my height rolling them up to a proper length looked bulky. I trimmed, washed, and love the result!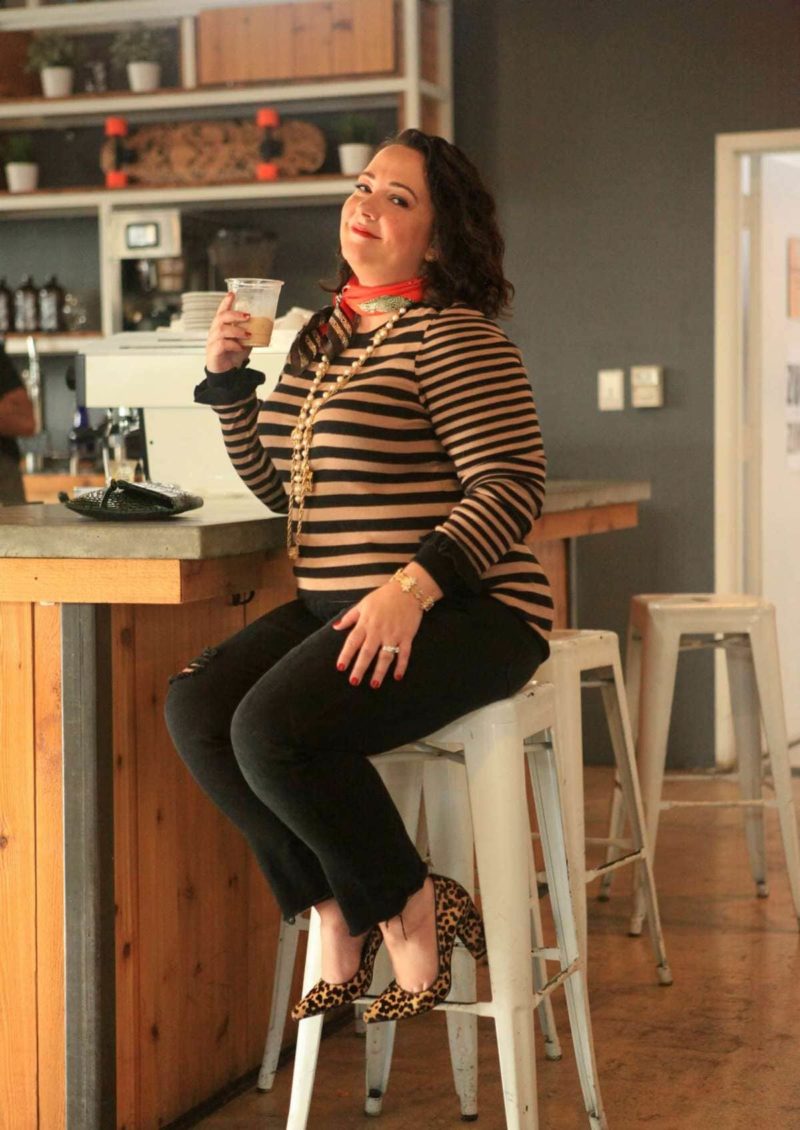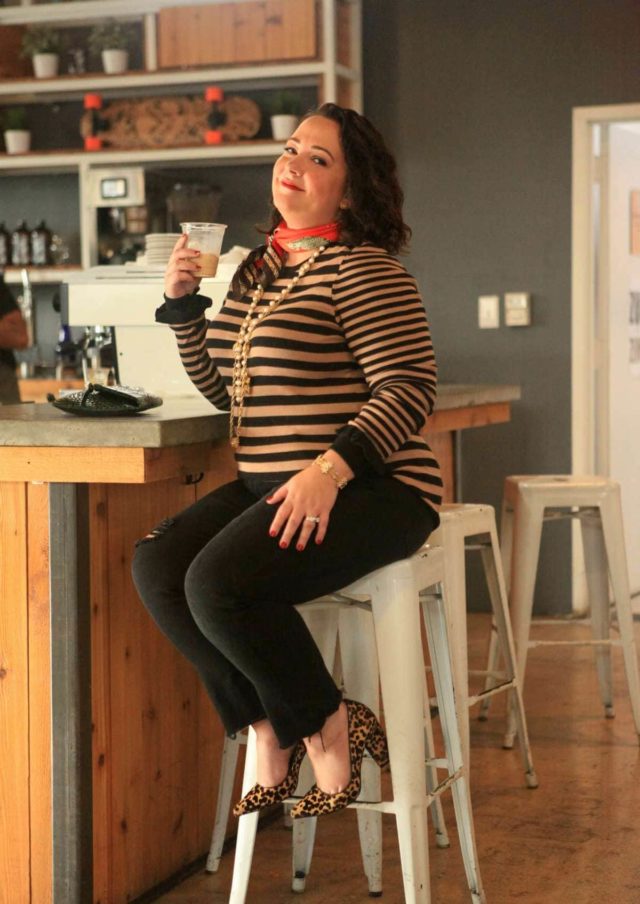 And I love the result of pairing the distressed denim with dressy jewelry. I've always been a fan of mixing high with low, and this look really encompasses it for a style that's perfect for brunch with friends, Casual Friday in the office… or a coffee date with your sweetheart. cabi really covers all the sartorial bases for one's life. I often wear cabi to work, I've worn cabi for evening events, and for casual weekends. Visit the Looks Page on cabi's site to see fabulous looks by occasion to see cabi's true versatility.
Thank you cabi for sponsoring this post. I love the cabi fall 2017 collection and am so excited for your New Arrivals to complement it.