This article may contain affiliate links; if you click on a shopping link and make a purchase I may receive a commission. As an Amazon Associate, I earn from qualifying purchases.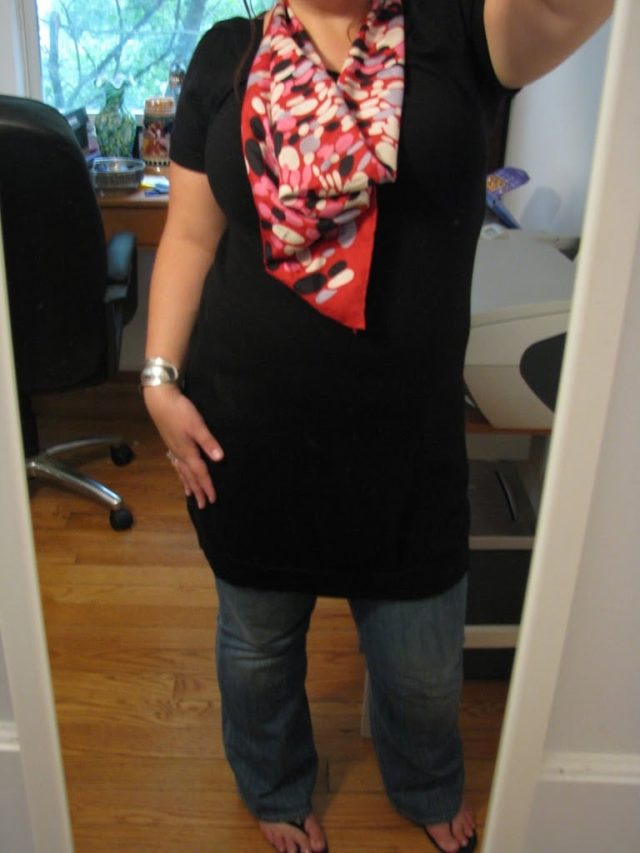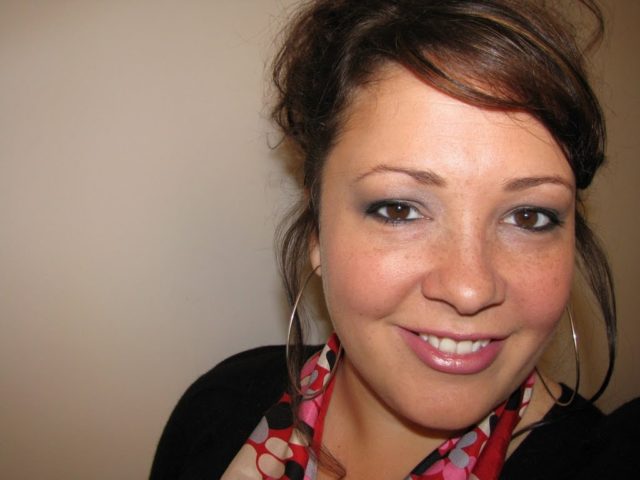 Attire:
Banana Republic: Black wool shift dress
Gap Maternity: Bootcut lowrise jeans
Liberty: Silk Scarf
B.P. for Nordstrom: Black leather heeled sandals
Silver cuff and hoops
Hair:
Second day
Messy ponytail with black elastic and a few Bobby pins
Matrix Sleek.Look spray
Curling iron to smooth bangs
Beauty:
L'Oreal: True Match foundation in C3 as concealer
Cargo: Matte BeachBlush in Tenerife as spot powder
Nars: Blush in Orgasm
Maybelline: Brow Powder in Dark Brown, Shadow quad in Mocha Motion – darkest gray on lid, Ultra Liner in Black on top lash line – very fine
Body Shop: Eye Color in Soft Black in crease and along lash lines
Avon: Luxury Eye Liner in Black
Imju Fiberwig
Victoria's Secret: Lipstick in V.I.P.
Burberry London
So I went out on a limb and ordered some maternity stuff at awesomely low prices from Kohl's. It didn't hurt that on top of the low prices, i had a coupon for 10% off and free shipping.
All so gross. Sorry, but I have NEVER had luck at Kohl's. I know many of you email me, swearing by this store but I find most clothing there in the same category as Kmart or Wal Mart – which in my opinion are steps below Target. It usually misses in sense of style (not quite on trend or a couple seasons behind) and the fabrication and construction is often quite cheap. I got a red simple crew-necked tee, a pair of denim Bermuda shorts, and a print cotton typical short-sleeved empire waist maternity top.
The tee is fine… but MAN it runs small! I couldn't believe it was a maternity AND a large. I will keep it because it came out to be about $3, but if it was over $6 I would probably return it for fear it won't fit me in a few weeks. Also it is really cheap construction – found far better quality knit and construction at Old NAvy and Target.
The shorts are hideous. Big buttons on the back pockets in a very feeble attempt to look hip/True Religion. Why do cheap brands do this? Keep it simple and don't try to mimic the designer brands. That is the failure of most department store and lower-end clothing. Keep it simple (hello Target and Old Navy_ and no one can tell if it's $600, $60, or $6. On top of the dorky back pockets, the shorts were that cheesy stonewashed color that was hot a decade ago, they tapered, and they had these little weird slits on the sides of the leg openings that made them look even MORE dorky. Not even worth the $8 – so heading to the nearest store this weekend to return them.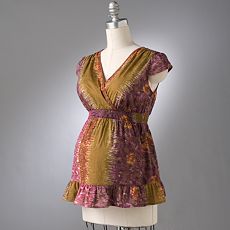 The top… well typical of a cheap brand (see left). The sleeves are slightly flutter, but short. The armholes are cut weird so you see a bit too much armpit from the front view (surely doesn't fit like the mannequin – maybe because I have Pregnant Woman Boobs), but the bra is covered. Surplice neckline, smocked band at the empire waist, straight midsection that ends with a ruffled band. Print is a plum/rust/olive combo that is sort of boho (why I considered it in the first place). In person, the print is not as watery/blendy but still not too extreme/gaudy like most maternity prints. However the fabric (100% cotton) is this weird slimy texture and it stinks like major chemicals. The print is through the fabric/not silkscreened so not really sure what is causing the icky texture and horrible smell. As with the tee, this runs pretty small in the tummy area (tiny bit loose now but should be as that I am only 18 weeks – not sure how it would work in a few weeks from now). Anyway, this top ended up costing me $12 and I am still torn as to whether I should attempt washing it to fix the texture and smell, or return it with the heinous shorts. It does look fab with gold jewelry, the color is fun and unique, it is comfortable and not a bad price and it looks nice with denim, with white, and would be appropriate for work even once the dress code is instituted when paired with tan, brown, or ivory trousers.
In other news… Time for a haircut! It has been… gosh three months! I am going through Kathleen (my brilliant and cool stylist) withdrawal! I'll see if I can fit in an appointment next week before my trip to Rehoboth Beach…