This article may contain affiliate links; if you click on a shopping link and make a purchase I may receive a commission. As an Amazon Associate, I earn from qualifying purchases.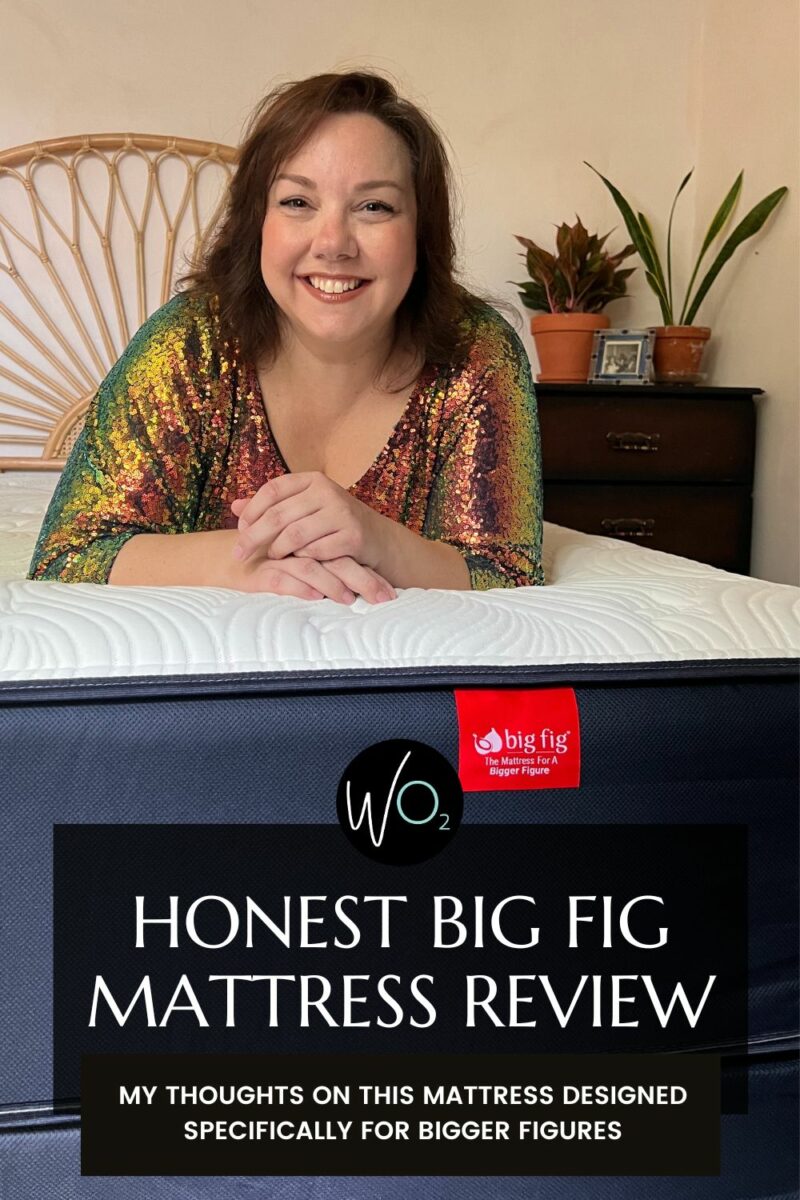 I first heard about Big Fig Mattresses in 2017, they had a booth at The Curvy Fashionista's Style Expo, where Alison was speaking (and I as her sister tagged along). The name Big Fig stands for big figure. The idea of a supportive mattress designed for bigger figures was appealing, but at the time I wasn't in the market for a new mattress.
Recently, Big Fig Mattress reached out to Alison to see if she wanted a free mattress in exchange for a Big Fig mattress review on her site. Her mattress isn't that old, so she asked Big Fig if I could do the review instead. This review is in exchange for the mattress featured in the post; no other payment was received nor did the brand review this prior to posting. All thoughts are my own.
Before I agreed to this Big Fig mattress, I checked out the company online and read a bunch of mattress reviews. My mattress was about 12 years old and saggy in the middle, but I was sleeping just fine on it. Online reviews were mixed and a lot of folks talked about how firm it was, but then I saw Emily Ho's review and decided that if she liked it, I bet I would, too.
I continued to read Big Fig mattress reviews as I was waiting for it to arrive, and I was super nervous. I don't like really firm mattresses; I sleep on my side, and definitely have had my arm fall asleep before. I'm also not the best sleeper, though taking magnesium and melatonin really help me stay asleep and listening to audiobooks helps me fall asleep. But these are recent additions, would they hold up with a new mattress? Would I find comfort on the Big Fig mattress system?
Big Fig Mattress Review
This is a complete Big Fig mattress review, from choosing my mattress and other Big Fig products, my experience with delivery, setting up the Big Fig mattress system, what I think of sleeping on it, as well as delving into price, materials, and what makes a Big Fig mattress unique and possibly the best mattress choice for you.
Big Fig provided not only the mattress, but the foundation and frame. This was wonderful because I needed a new bed the same way I needed a new mattress. I bought an IKEA four-poster bed the summer before my senior year of college and have used it ever since. I loved the clean lines, the color of the wood, and that it's a poster bed, though to be honest, after 14 years of it being in my relatively small bedroom, I was getting a little tired of maneuvering around the posts. Also after being dismantled and rebuilt with each place I lived over two decades, it wasn't feeling as sturdy or stable.
What is the Price of a Big Fig Mattress?
There is only one style of Big Fig mattress and only one choice of firm level, you just choose the size right for you and any additional products to complete your bed system. I already had a queen-size bed and was looking to replace it with a mattress of the same size.
At the time of writing this Big Fig mattress review, a queen-sized mattress is $1,799. However, also at the time of writing this, there was an automatically applied discount code for $300 off. The queen-sized foundation I received is $299, the frame is $150, and the mattress protector is $129.
I thought about keeping my IKEA four-poster bed and using only the new Big Fig mattress and foundation, but then I thought about how this mattress would weigh more than my old one and the whole fear of it collapsing and I quickly talked myself out of using this bed. I took apart my old bed to use the entire Big Fig mattress system: mattress, foundation, and bed frame.
What Materials Are Used for Big Fig Mattresses?
The Big Fig Mattress is a one sided mattress built with all the comfort layers on top, so you'll never need to flip it. A a hybrid innerspring mattress, Big Fig utilizes a high coil count with individually wrapped spring system combined with high density and specialty foams. The queen sized Big Fig mattress I received has 1,200 coils. Big Fig also uses 3 layers of high density foam (2 layers of 2.5 lb foam and 1 layer of 1.8 lb foam) and 1 layer of gel infused, perforated latex foam in every mattress.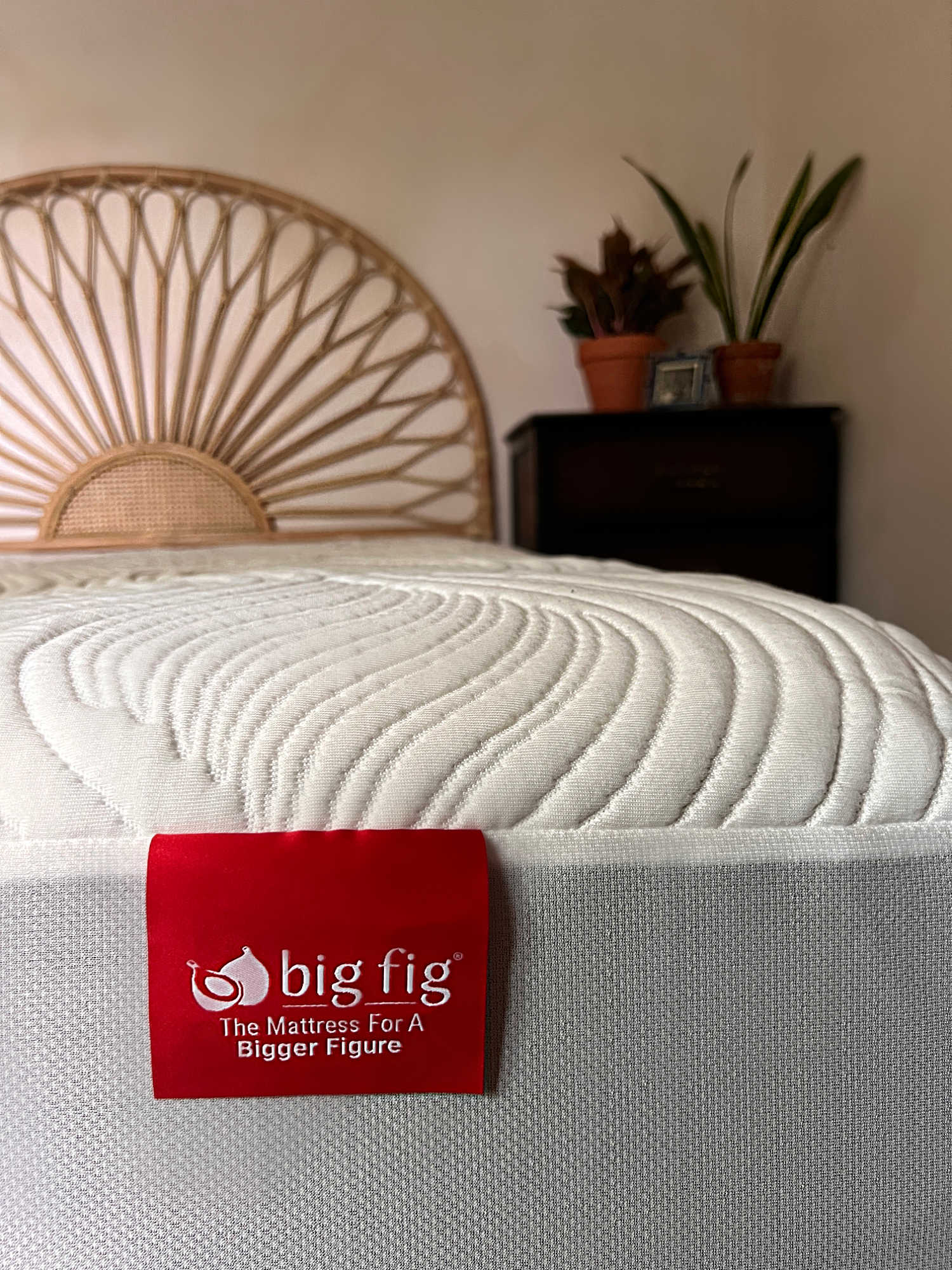 Big Fig treats the fabric on the surface of its mattress with an innovative material called ThermoGel. When it comes into contact with moisture (as you normally perspire while sleeping) it converts the moisture into a refrigerant, immediately cooling the sleep surface. Big Fig also gel infusions into the top layer of latex in the mattress upholstery. The Gel provides temperature regulation properties to the latex, cooling it when subjected to elevated temperatures. Big Fig mattresses and systems undergo extensive testing, which they share at this link.
Purchasing a Big Fig Mattress
Big Fig mattresses are bed-in-a-box, with all the components delivered right to your front door. I was provided the free Quick Ship Delivery, which is FedEx Ground, with a signature required, but they also have an option for White Glove Delivery, where for $199, they'll set up your mattress in the room of your choice.
How Much Does the Big Fig Mattress Weigh?
Big Fig mattresses are designed for a bigger figure, supporting 550lbs per sleeper, and the foundation supporting 5 times the weight of a normal box spring. This also means that the mattress is heavier than a normal mattress – a queen weighs 116lbs.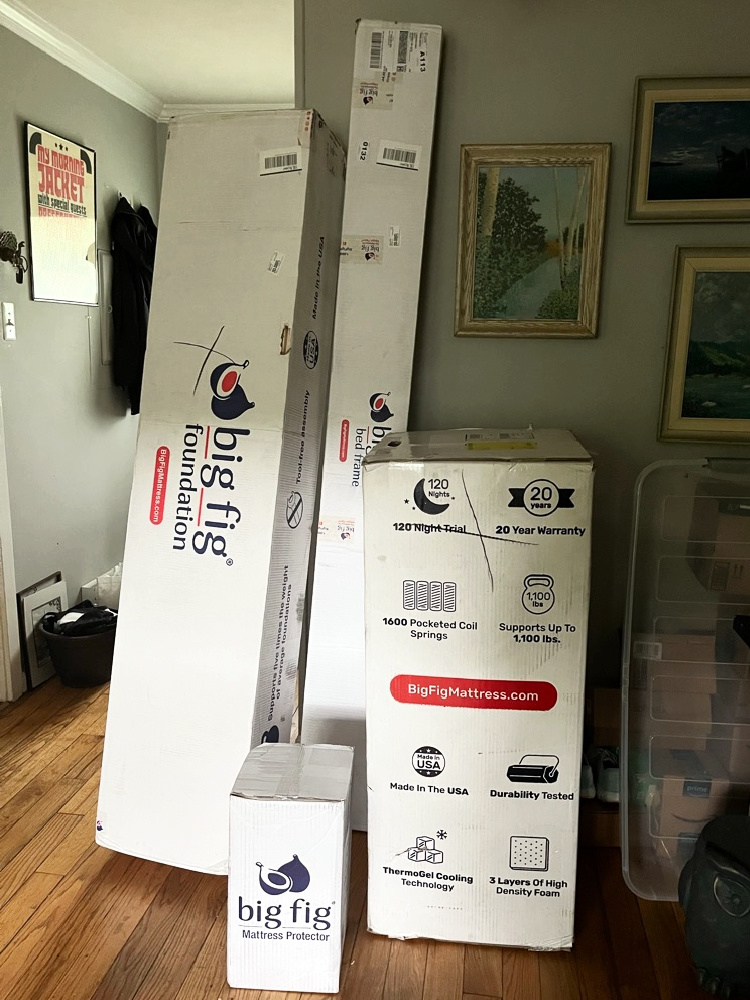 Delivery of my Big Fig mattress system was surprisingly easy. I received a tracking number and FedEx delivered the four boxes right on schedule, 7 days from when it was ordered (they say shipping will take 7-10 days). The driver offered to help me get them over the threshold, though I then moved them further into the house by myself.
The mattress and foundation boxes were really, really heavy and I had to kind of walk them out of the doorway, but it wasn't the worst. Getting them upstairs, however, took some effort. The foundation box being so long worked to my advantage and I was able to scootch it up the stairs by myself. As I was pushing, the top would angle up a bit, clearing the lip of each step. I am pretty strong and used to moving furniture around myself, but in hindsight, this probably was not the best idea.
Setting Up a Big Fig Mattress
When receiving and setting up your Big Fig mattress, I'd definitely recommend using a second person. The frame box was relatively light, so getting that upstairs was easy. But the mattress is 100% a two-person job. The mattress probably weighs the same as the foundation, but because it's more of a stocky box, it doesn't have the same leverage that the foundation box does. But my brother-in-law was able to get it upstairs without a problem.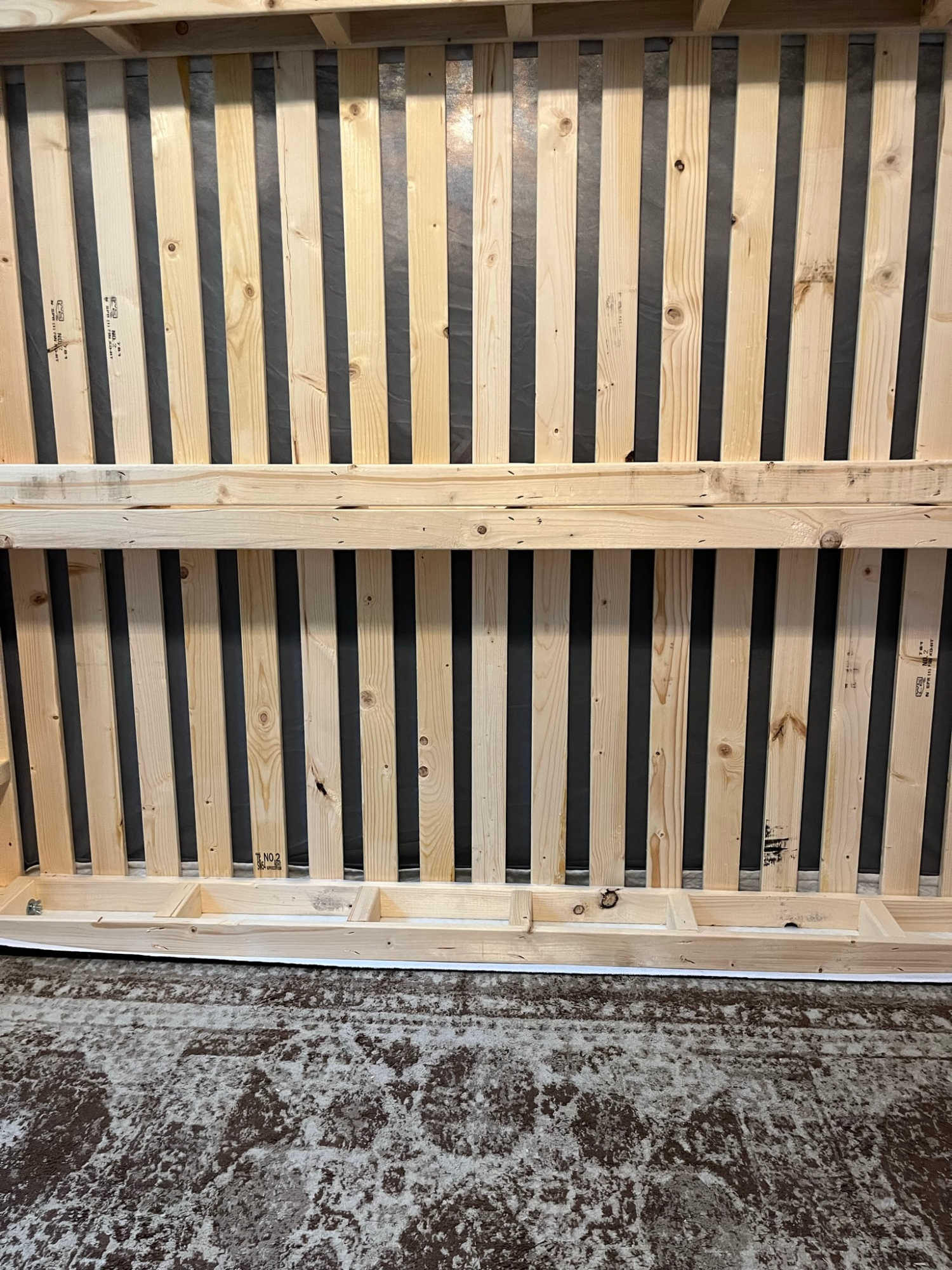 I put together the frame and foundation myself. It took about an hour (I didn't time it, but that's the length of my Lizzo playlist and I finished just as Spotify started playing non-playlist songs). I was happy to find that both pieces were Allen-wrench free (and didn't need any tools at all). Getting the slats right for the foundation was a bit fiddly, but they're just secured with Velcro, so it wasn't a problem to reposition them a few times.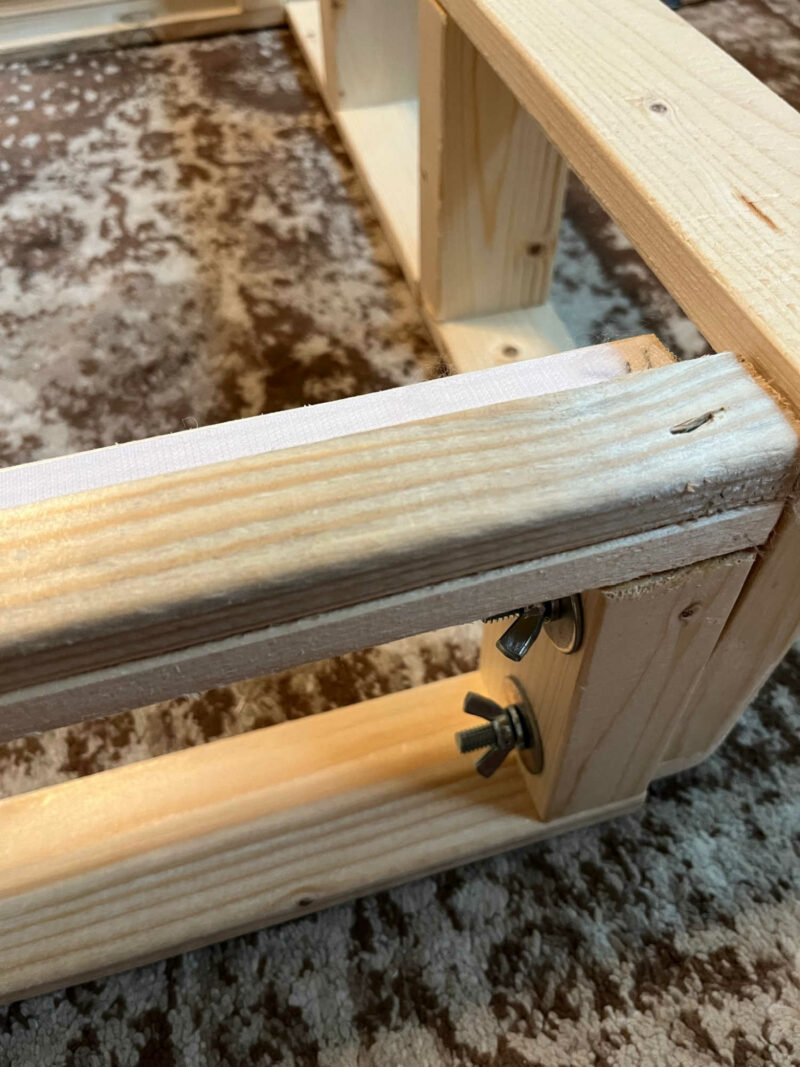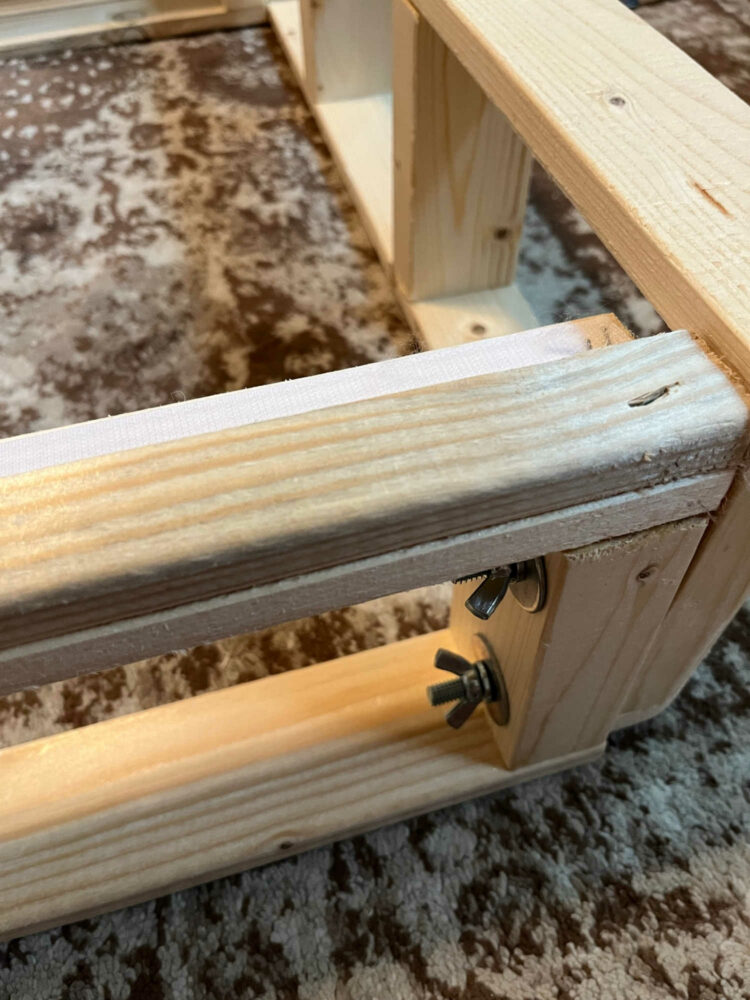 If you don't have a second person to help you, I would recommend Big Fig's White Glove Delivery, which includes unboxing and setting up the mattress. This is $199 ($249 to also have them take away your old mattress), but there's no way I would have been able to do this all by myself.
Sleeping on a Big Fig Mattress
My first night of sleep on the Big Fig Mattress, I slept perfectly and have continued to do so for the past month. I'm one of the many side sleepers out there (and sometimes one of those half on my side and half on my stomach sleepers) and have had no pain in my shoulders or hips. Every review mentions how incredibly firm the mattress is – and it definitely is firm and supportive – but I would say it's more medium firm on the firmness scale, and it's also cushy.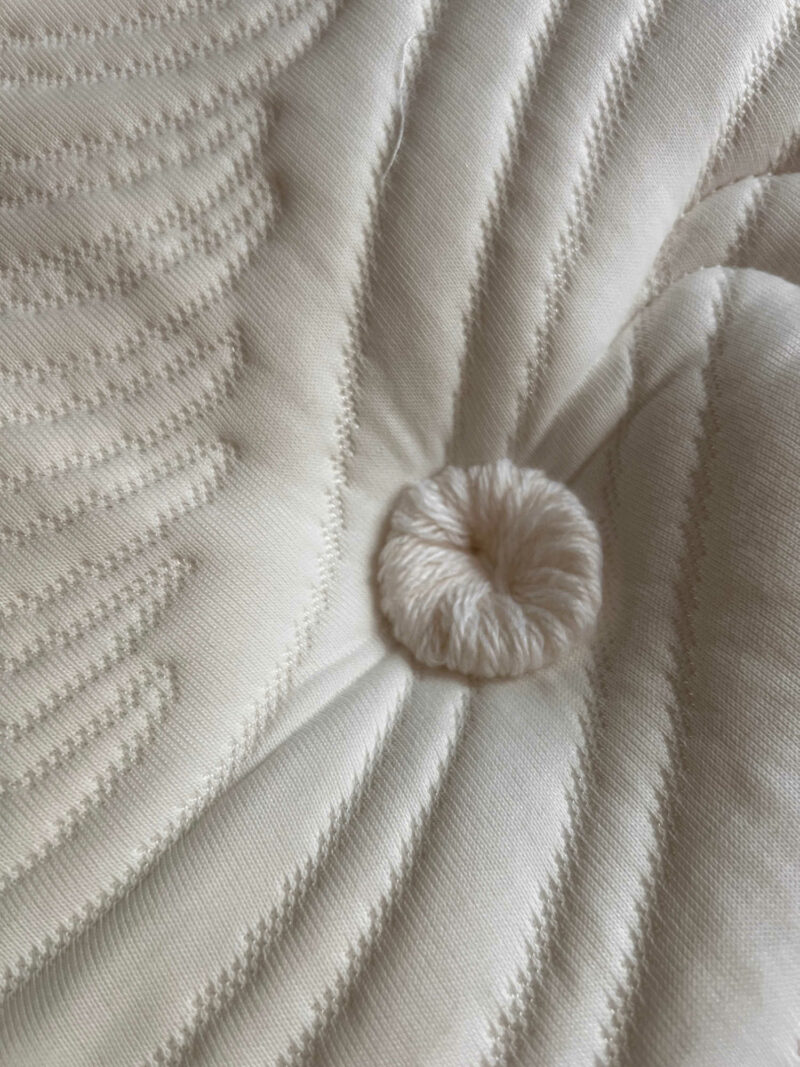 The Big Fig mattress has a hybrid construction with 4 layers of foam – 1 layer of gel-infused perforated foam and 3 layers of high density poly foam – as well as 1,600 pocketed spring coils, and I think it's this combination that makes it so comfortable. It also has ThermoGel treated fabric to help lower body temperature, so the foam does not make me run hot. It has the cutest tufts all over, so the materials won't shift over time.
Overall, the Big Fig bed feels really sturdy and supportive, both with the foundation and the frame. The edge support works; it supports me when I sit on the side of the bed. Even crawling around on the center of the bed as I did for these pictures isn't awkward. The legs on the frame are set in a few inches, so I don't stub my toes on them.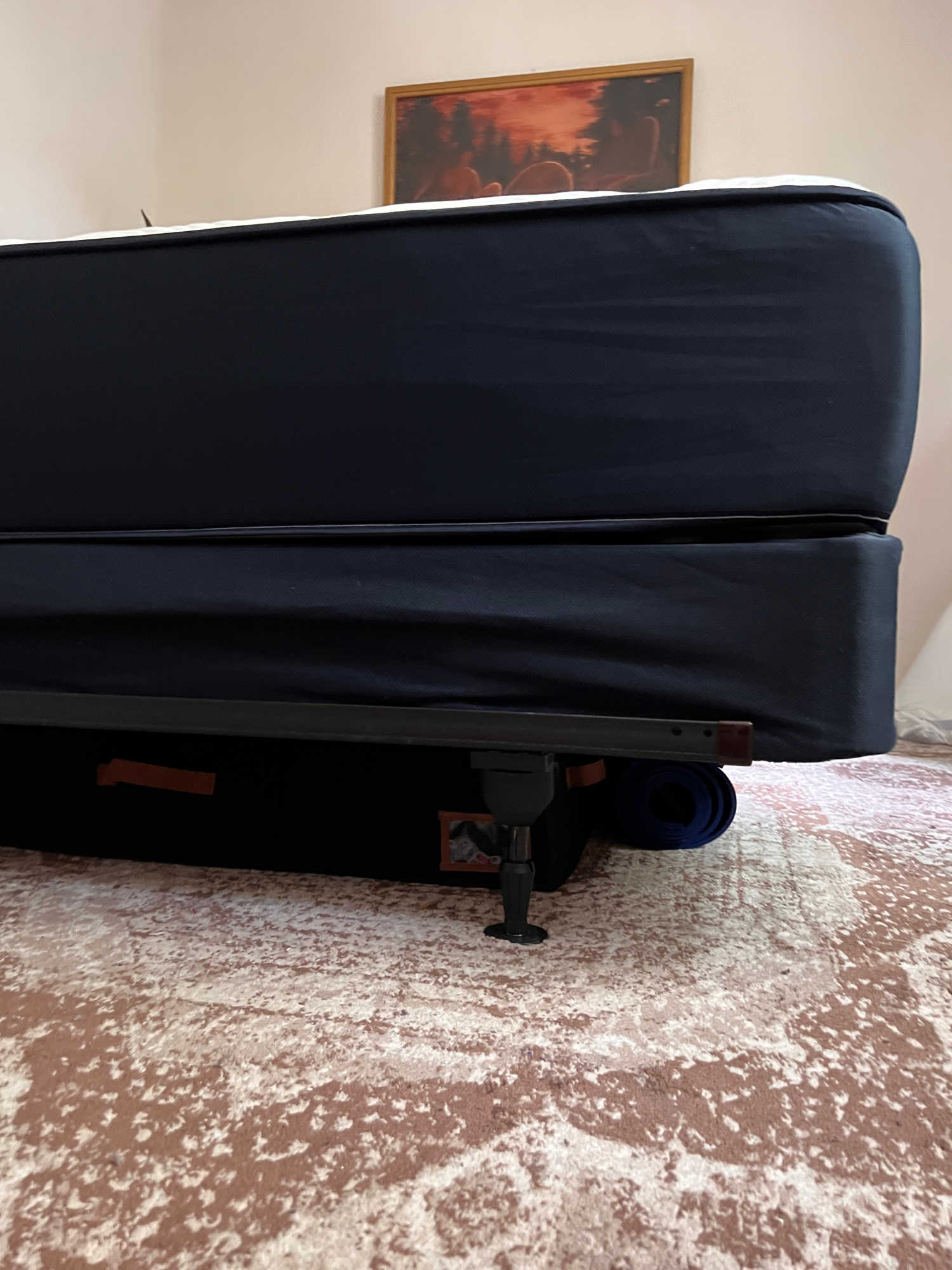 The Big Fig bed frame is also high enough that I can fit a few storage boxes underneath – there are legs in the middle of the bed so the boxes only fit lengthwise, but I can fit one on either side, as well as a folding table. And because of the extra legs in the middle, I can also store a yoga mat under the foot of the bed, and it won't roll away from me.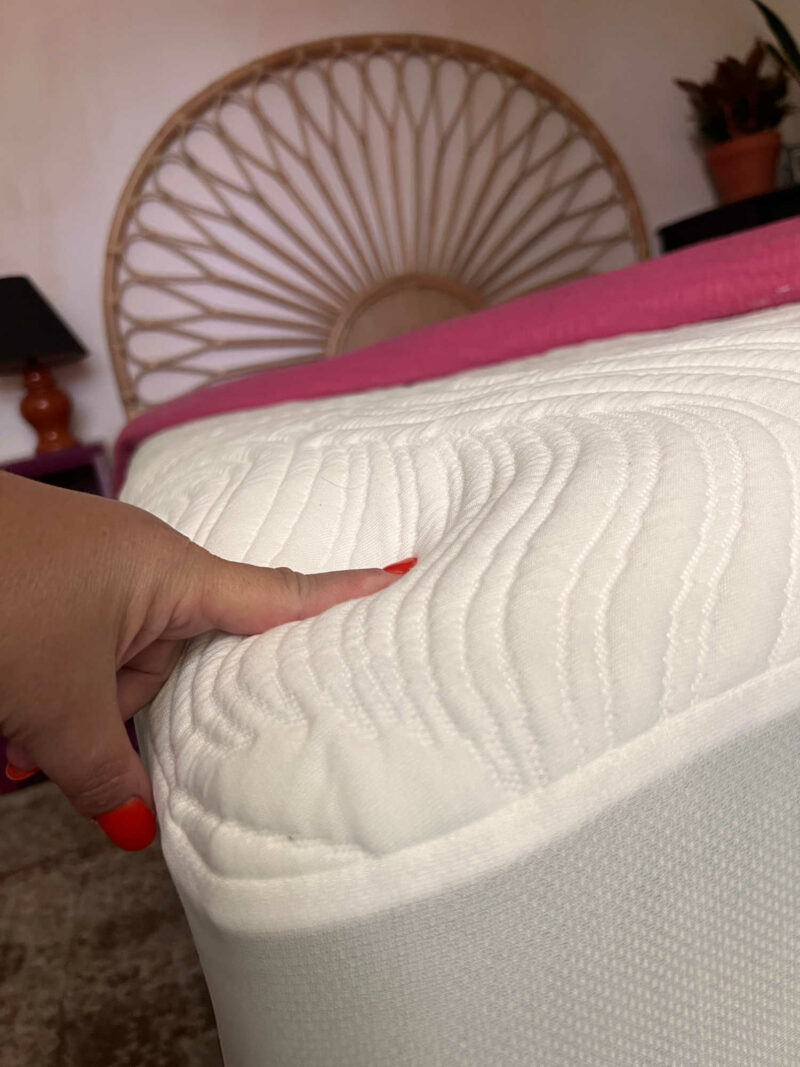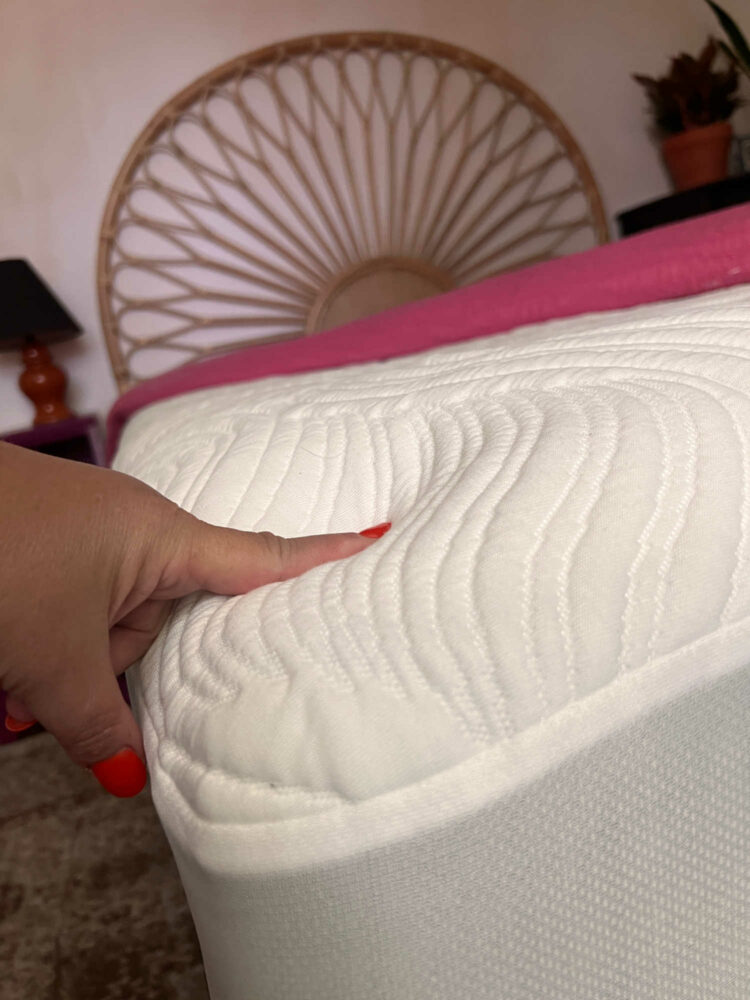 Big Fig also sent me the mattress protector, which protects the warranty, is water resistant, and adds another layer of the ThermoGel cooling fabric. The mattress protector is roomy; it can slide around and bunch up a bit when making the bed, but then when lying on it, I don't notice the bunching (and I'm a total Princess & the Pea). I'm not a fan of this mattress cover being spot-clean only, but it is completely quiet, and I think adds more cushiness of the mattress.
How Often Should You Rotate Your Big Fig Mattress?
You are supposed to rotate the mattress frequently – every month during the first six months and every 3-4 months after that – though it's a one-sided mattress so you never have to actually flip it. Since taking these pictures, I've added a bed skirt and wiggling that under the mattress was not super difficult even with the extra weight, and I imagine rotating it would be the same.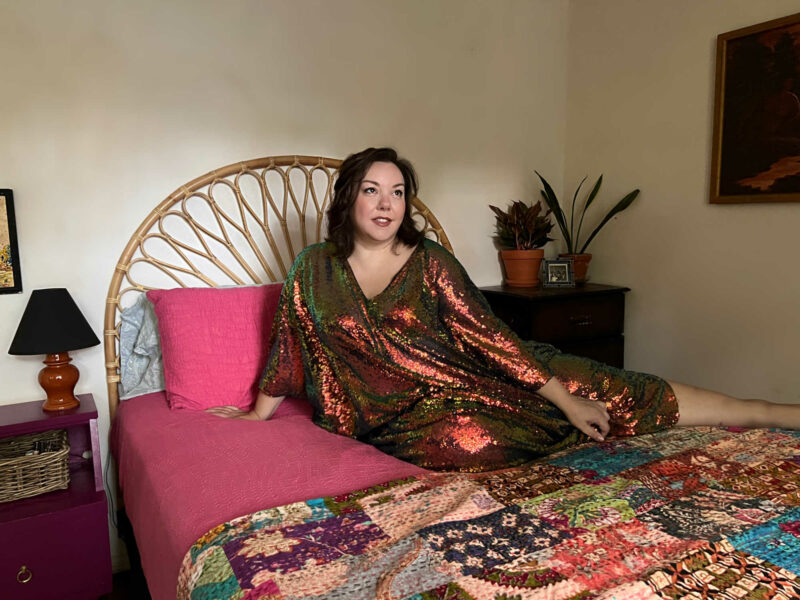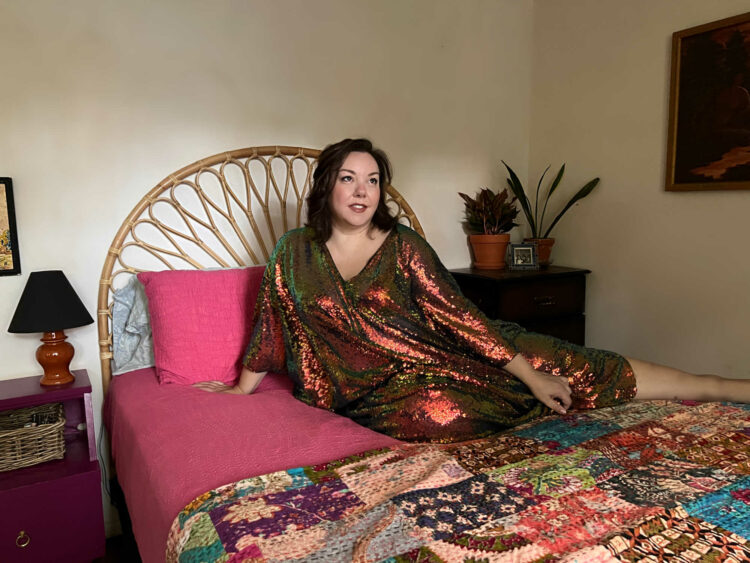 How Long Does the Big Fig Mattress Last?
Big Fig has a 20-year warranty, which I think is kind of amazing. The average mattress lasts about 6-10 years, and I've found that to be very true. Knowing that a Big Fig mattress is designed to last twice as long is one of the reasons I agreed to receive this mattress!
Big Fig Mattress Return Policy
Big Fig has a 120-night sleep trial period, starting on the day you receive your mattress, and requests that you try out your mattress for at least two weeks to let it break in a bit before starting a return. But if you do, returns for the mattress are free and you just arrange with them to have it picked up. The foundation, frame and mattress protector are not returnable.
Styling My New Big Fig Mattress System
So now that I have this new mattress and frame, I needed to decorate around it, which meant a new headboard. I knew I wanted just a headboard and to fit in my room, I didn't want it any wider than the mattress. I looked all over the place: Anthropologie, Crate & Barrel, Urban Outfitters, Serena and Lily, Target, Amazon, Wayfair, Overstock – seriously, everywhere.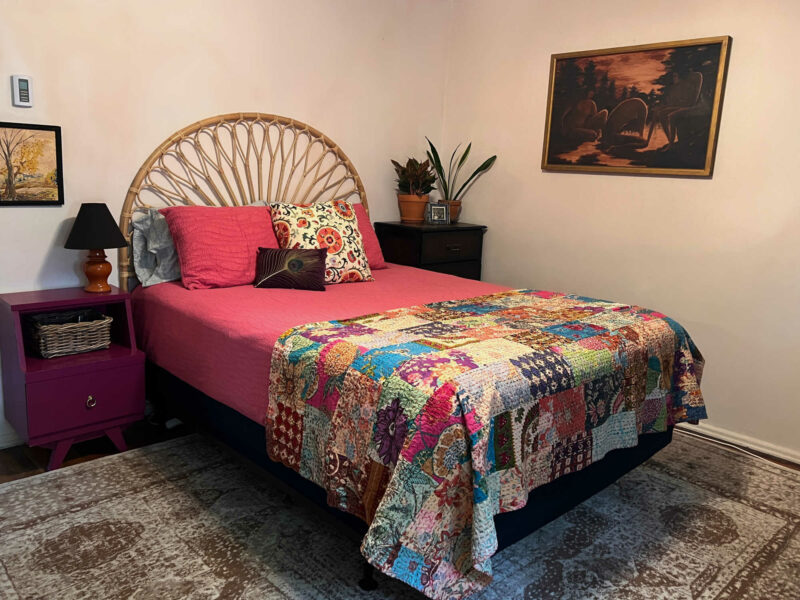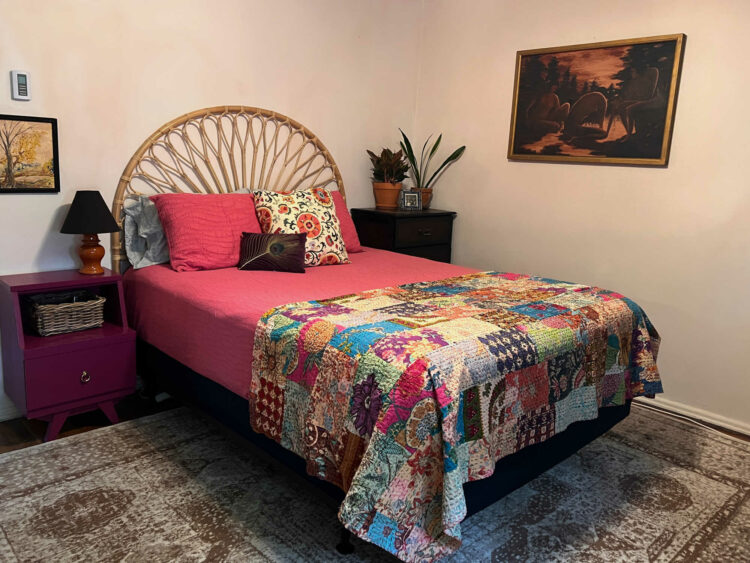 Shopping for a Rattan Headboard
Rattan headboards kept calling out to me when considering a new headboard for my Big Fig mattress system. I was particularly drawn to the ones that seemed straight out of the 70's. I narrowed it down to a few styles and decided on this sunburst style. I saw the same thing at both Target and Amazon at different price points, so Googled the brand and found it for about $50 cheaper with a very slightly shorter shipping time at Home Depot.
If you are shopping for a rattan headboard, I recommend you do some googling to find the best deal. Double check shipping charges to ensure it is the best deal, and not more expensive once that is added in. Also check for the method of shipping and return policies if it's a store you don't know, as this is sold all in one piece, so the box is quite large. This is not an easy piece of furniture to return by mail.
While shopping for a rattan headboard, I found a lot of other similar styles. If you want rattan but not the sunburst; here are some other rattan headboards I considered:

The rattan headboard I chose is designed to just sit behind the mattress (though it did come with hardware to attach to the wall). The headboard itself is very lightweight; I can pick it up with one hand. I have it so it ends right at the top of the ends of the bed frame, so the whole sunburst shows over the the mattress.
Details on My Bedding
Since I was upgrading my mattress and headboard, I also decided to upgrade my end-of-bed blanket. I always used an afghan my mom crocheted for my childhood twin bed, but even folding it lengthwise, without the poster bed, it looked skimpy. I think this patchwork Kantha quilt looks a lot better, especially with my pink bedspread and the suzani pillow (similar).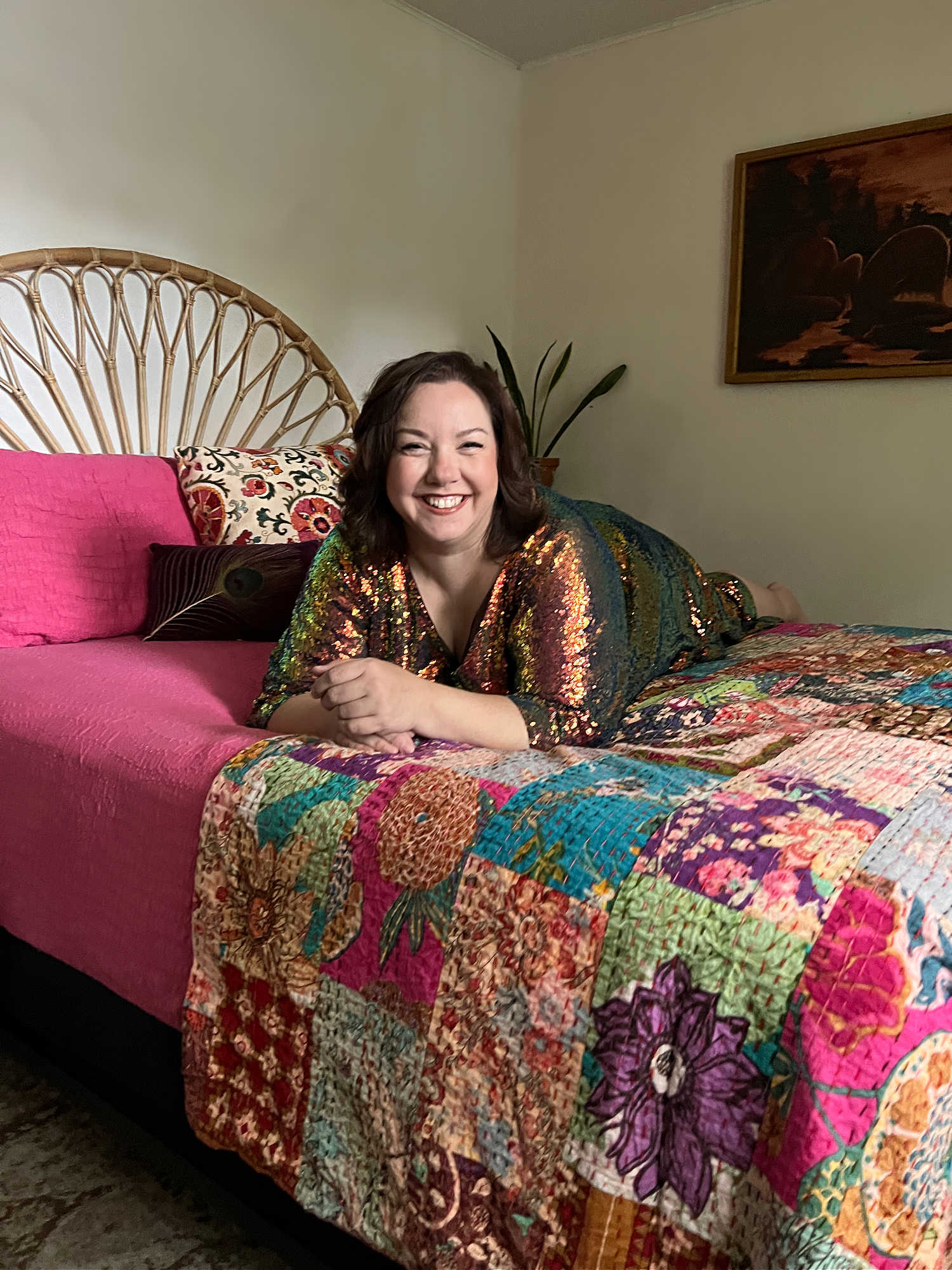 The pink bedspread is 14 years old from Crate and Barrel and I can't find a replacement anywhere. And I've been looking! This one is threadbare in places and really needs to be replaced, but the color is so perfect I will keep it until it completely falls apart. And not to worry, the afghan from my childhood is back where it belongs on my childhood bed, which is now my guest bed in my guest room/home office.
My niece told me that my updated bedroom is a vibe and I have to agree with her. It's full of hand-me-down furniture and the walls desperately need to be painted (that's next! I've ordered some sample colors), but it's cozy and warm and I just love that I'm sleeping so well in here on my new Big Fig mattress.
---
Thank you, Big Fig for this opportunity. And thank you, Debbie for this Big Fig mattress review! To read more articles by my sister Debbie, check out her archives; you can also follow her on Instagram. Continue the discussion in the Wardrobe Oxygen Community on Facebook!