This article may contain affiliate links; if you click on a shopping link and make a purchase I may receive a commission. As an Amazon Associate, I earn from qualifying purchases.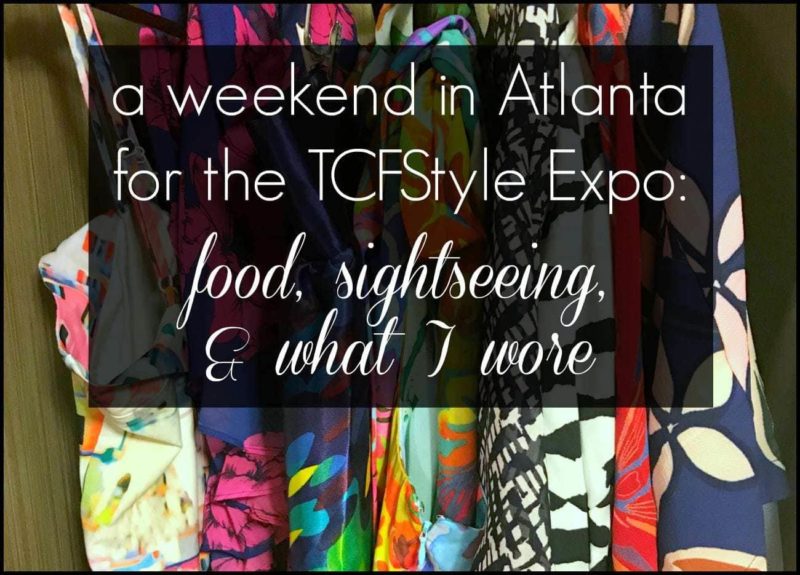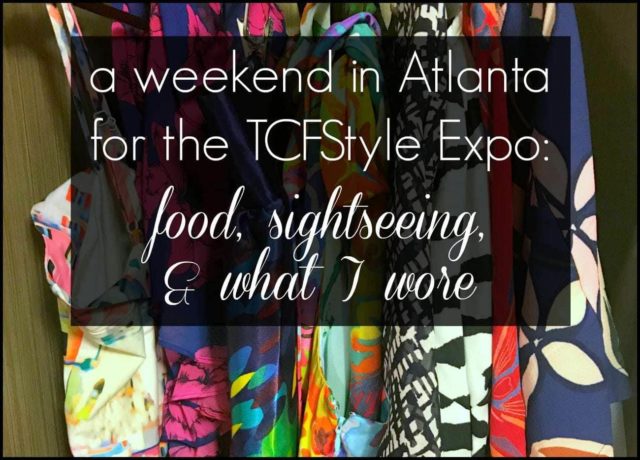 When Marie Denee of The Curvy Fashionista invited me to speak on a panel at The TCFStyle Expo I was thrilled. One of my blog goals for 2017 was to do more public speaking and the TCF Expo looked like such an awesome event. I invited my sister Debbie to join me and we made it a much-needed girls' getaway weekend.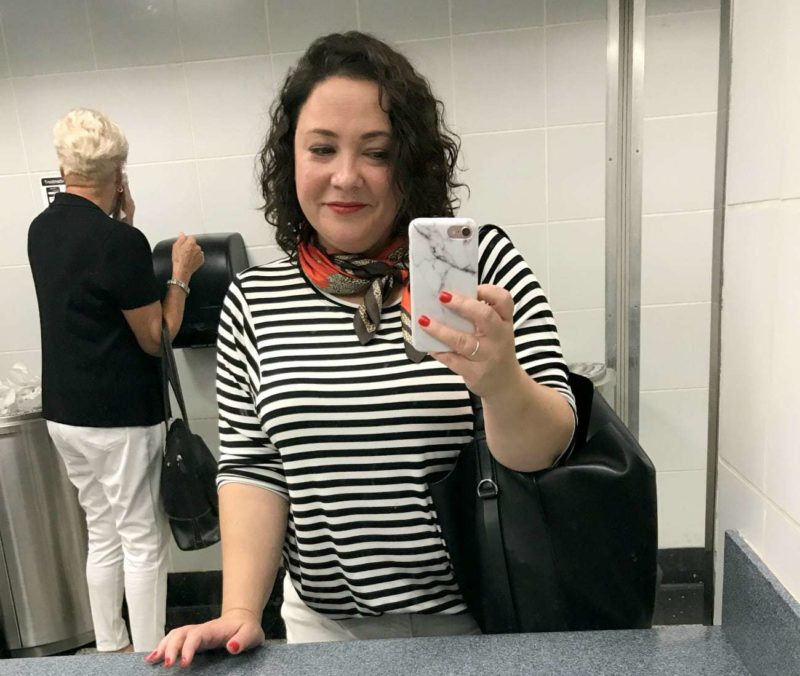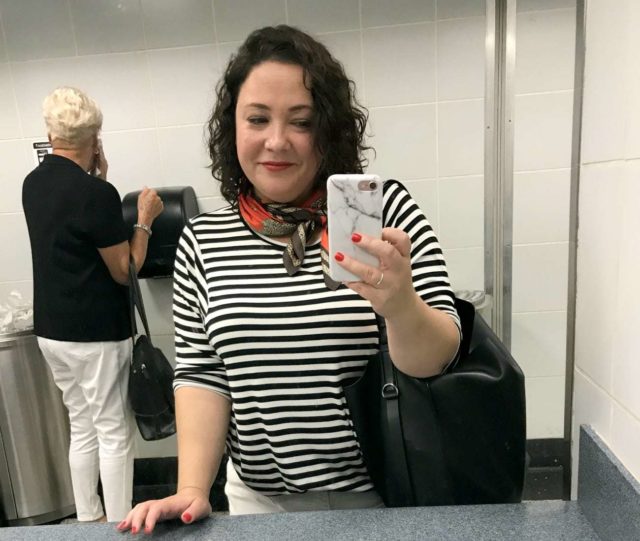 What I Wore on my Flight:
cabi tee (last season; similar) | Talbots ankle jeans (14P) | cabi 'Diedre' scarf | white Arizona Birkenstocks | Black Ponte blazer from Rachel Roy; not pictured (0X; same blazer in straight sizes) | ALLSAINTS tote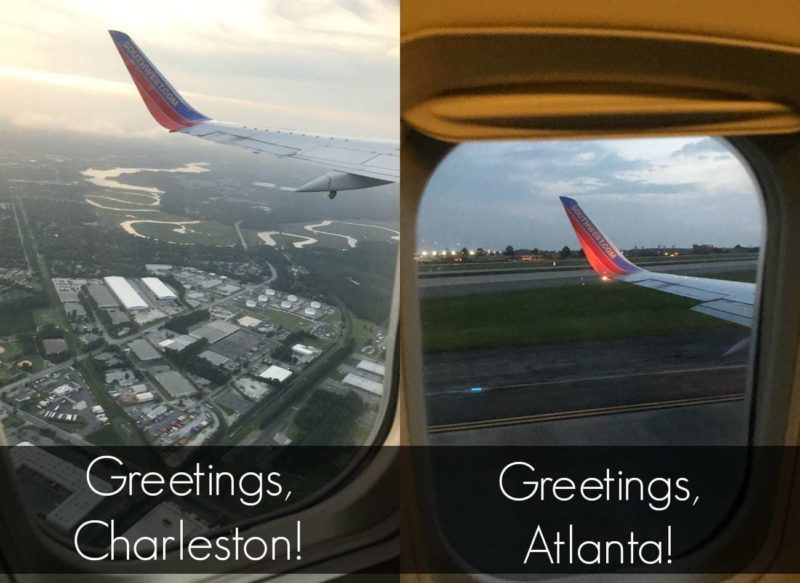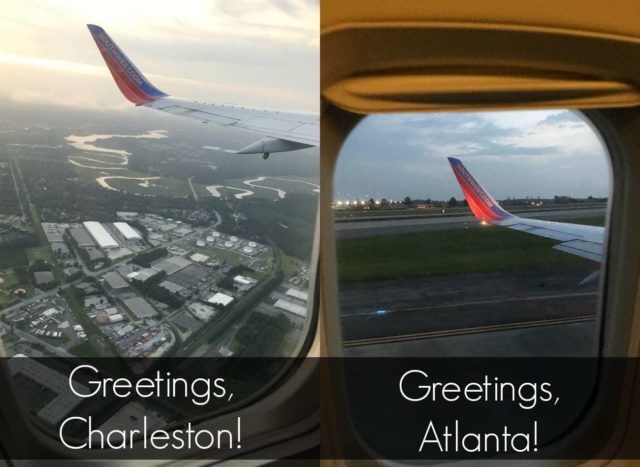 The TCFStyle Expo was on a Friday and Saturday, so my sister and I decided to fly in Thursday evening to get a good night's sleep and have an extra evening in Atlanta. My sister even scored us reservations Thursday night at Canoe, a highly-rated restaurant. However, Mother Nature wasn't on our side. We were to fly into Atlanta around 6pm, but due to rain our plane was rerouted to Charleston and we didn't end up in Atlanta until after 9pm.
The TCFStyle Expo recommended the Sheraton Galleria for those attending the event and provided a great block rate. We arrived at 10:15pm and they were cheerful and the hotel was clean, airy, and looked to be recently updated. We got in our room in just enough time to order room service for our late dinner.
We stayed in a King Suite and it also looked to be recently updated, and by someone who has a sense of style and way with pattern mixing. Subtle prints, a gallery wall, lots of mirrors made the space feel luxe and modern even though I'm guessing this hotel is a few decades old. The only issue with the room was lack of storage and hanging. In the bathroom only one hook behind the door and no shelf or hooks near the shower to hang towels. At the vanity, only space to hang one hand towel. The only drawers in the entire suite were the two tiny ones in the nightstands and two small ones under the TV; I ended up storing my jeans and gym clothes under the sink in the kitchenette and we moved the towels from the shelf under the vanity and used that to store purses and accessories!
Day 1 of the TCF Style Expo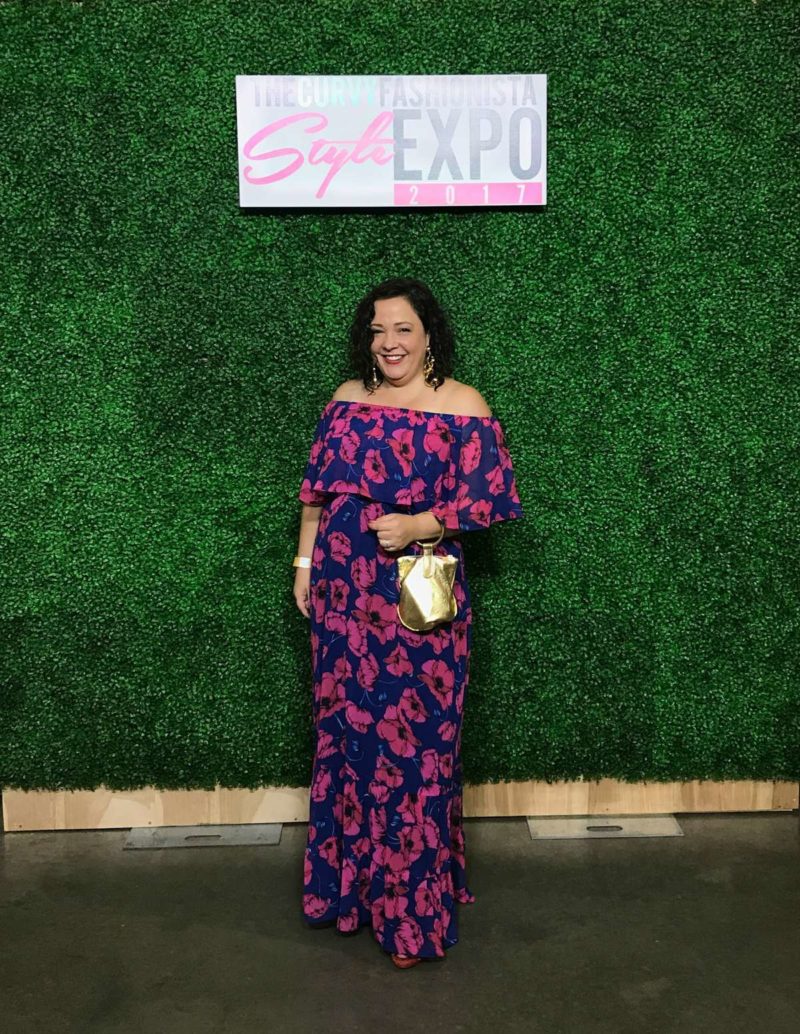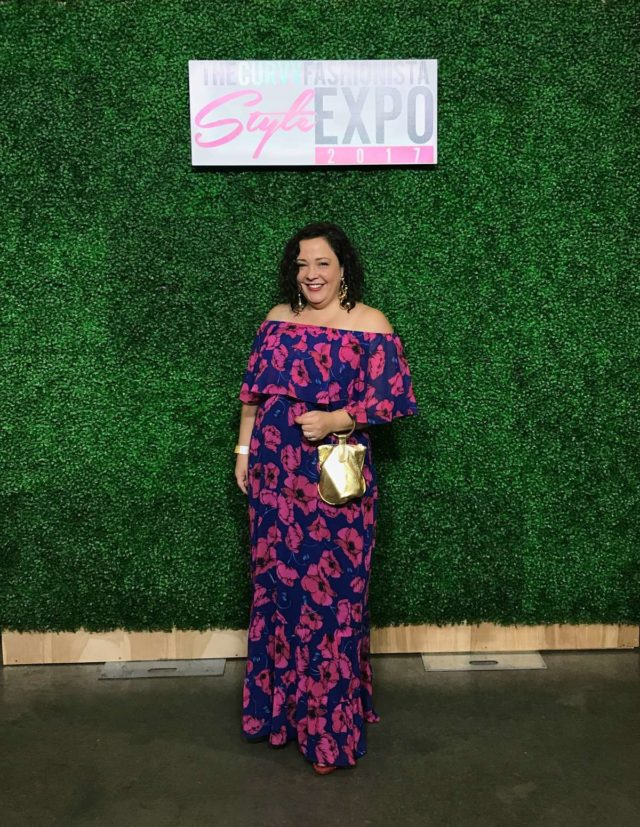 What I Wore to Speak on my Panel:
Donna Morgan off the shoulder dress (sold out; similar in straight size; similar in plus size) | Naturalizer sandals | OTAAT/MEYERS Collective bag | Vintage earrings (more from same Etsy seller) | L'Oreal Lipstick in 'Eva's Red'
A little behind the scenes: this was NOT what I planned to wear the first day.  I planned an outfit with an ELOQUII top and maxi skirt but forgot the top at home. However, I overpacked for this event and had options.  I wanted to wear a maxi skirt or dress because I saw in photos that in previous years speakers sat on stools and I didn't want to worry the whole time about accidentally flashing the crowd.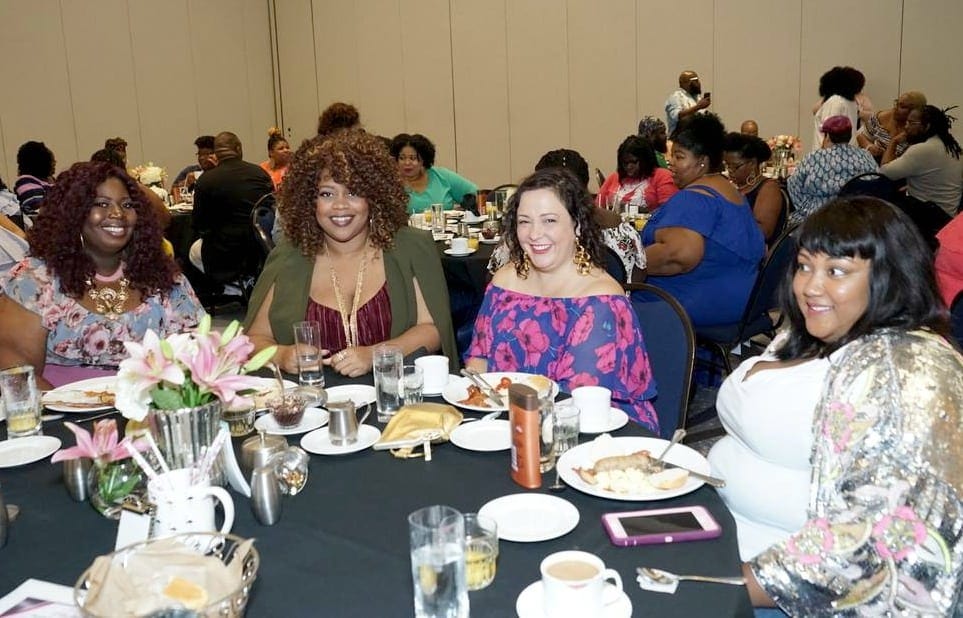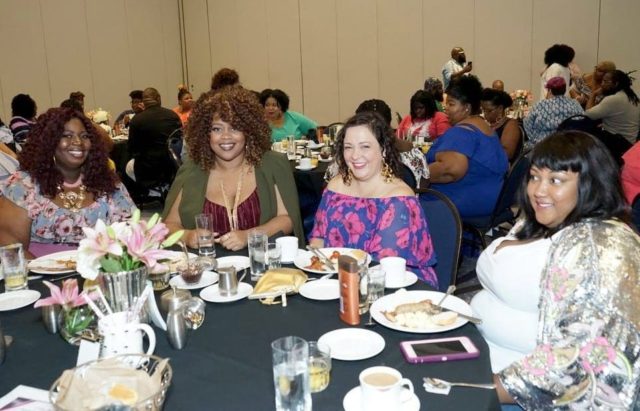 The day started with a blogger breakfast so I left the hotel before my sister. I walked down to the lobby and saw so many familiar faces and such amazing fashion! It was like the lobby was a rainbow. I've been to blogger events before but never seen such fantastic fashion as I did at this event. It was great to see women like Amber from Style Plus Curves and Malia from Style by Malia, women I've followed online for years, finally in person. We all took the hotel shuttle to the Cobb Galleria where the Expo was taking place. At the breakfast I ended up sitting at a table between Ariel and Sabrina and we had the best conversation. Right after the breakfast was my panel!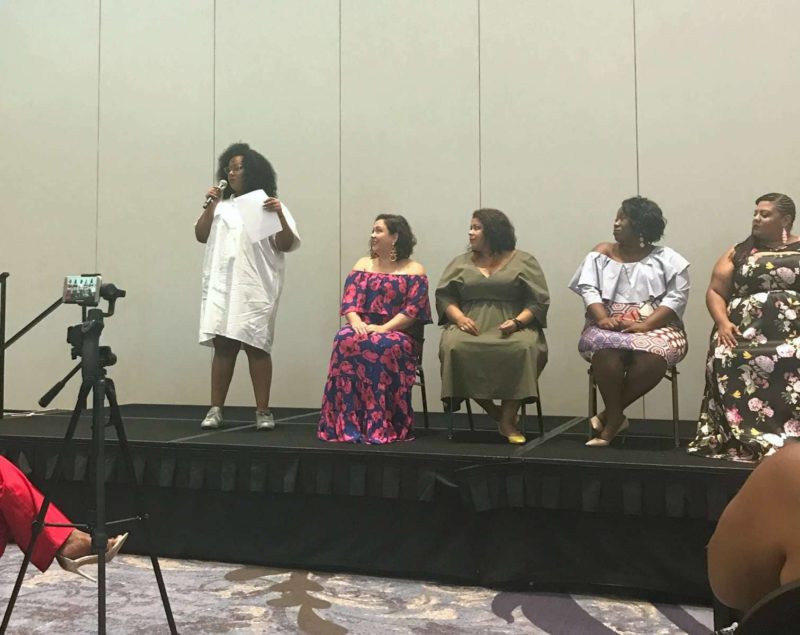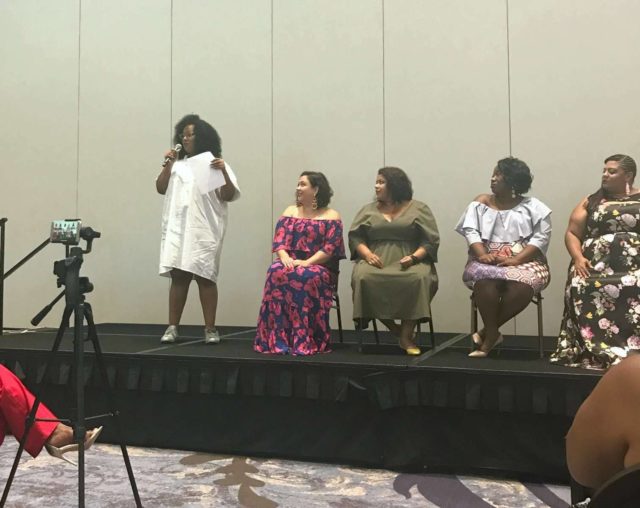 The title of the panel was, "Style Has no Age or Size" and was presented by Lane Bryant. The panel was led by Georgette of Grown and Curvy Woman, and along with me the panel also had Shakera from The Real Sample Size, Jeniese from The Je ne sais quoi, and Darlene from Suits Heels & Curves. It was a great mix of women; we were all over 35 but from different parts of the country, with different lifestyles, different bodies, different outlooks but we all had the same general beliefs about style and plus size fashion. Georgette did an amazing job providing thought-provoking topics and questions and keeping us on topic and on schedule.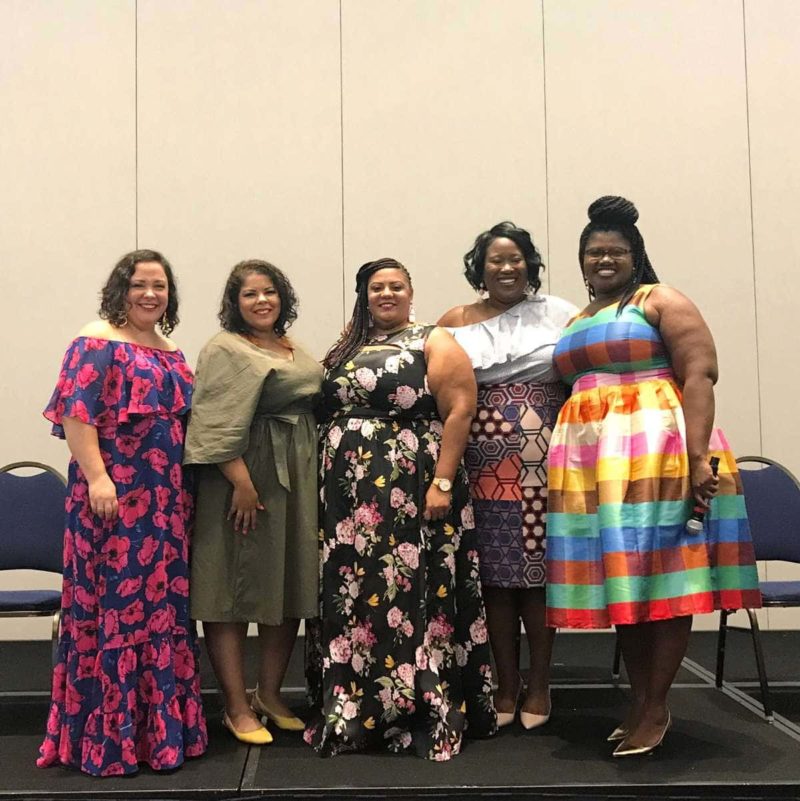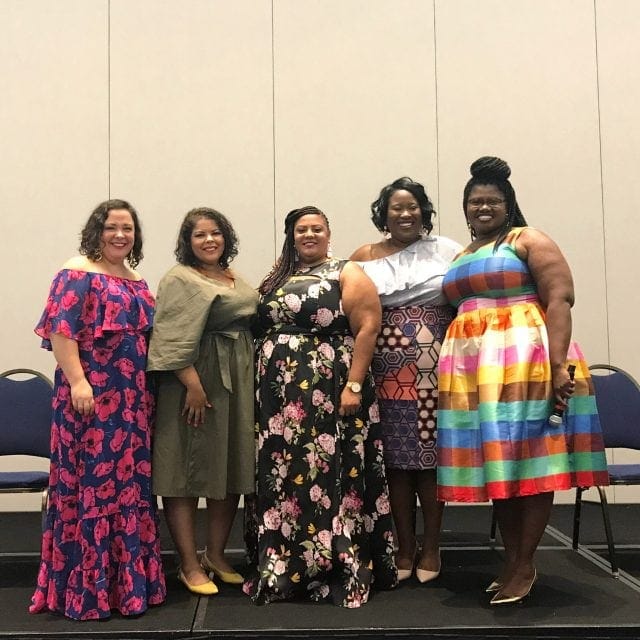 I loved getting to know these four women I already admired better. My sister InstaStoried a good amount of the panel but there isn't any proper video from it – see another reason to follow me in Instagram! After, it was cool chatting with the audience. I was thrilled to meet two women who came all the way from Spain to the event!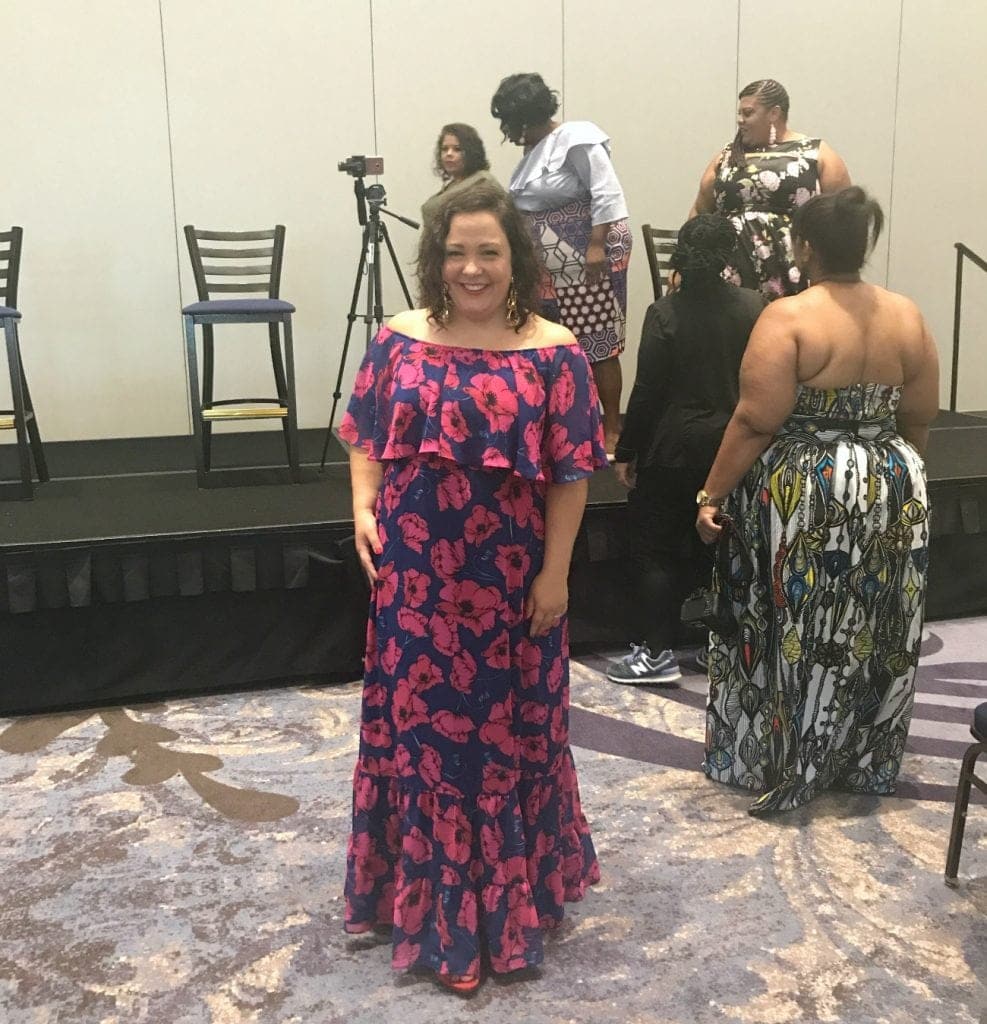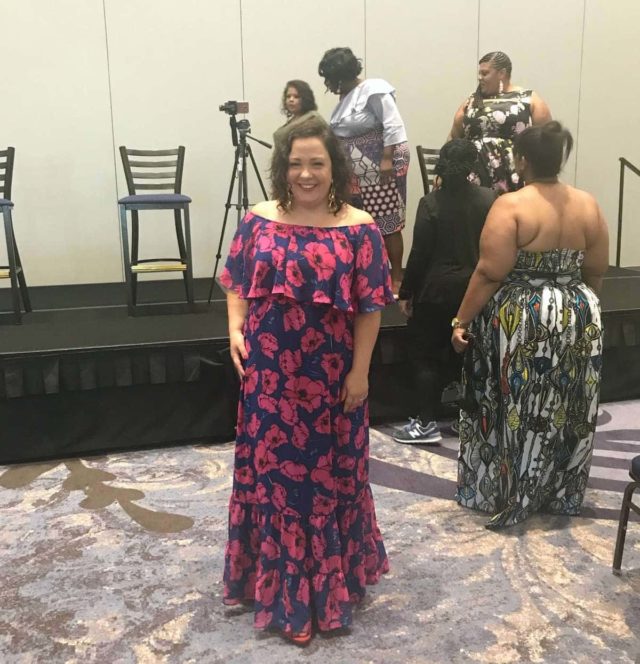 As for sitting on stools?  We panelists got up there and decided no way.  We moved the stools off the stage and snagged a few chairs from the audience.  Not only do "grown women" better know themselves and their personal style, they have no problem switching out chairs and making themselves more comfortable!  Panelists after us?  You're welcome!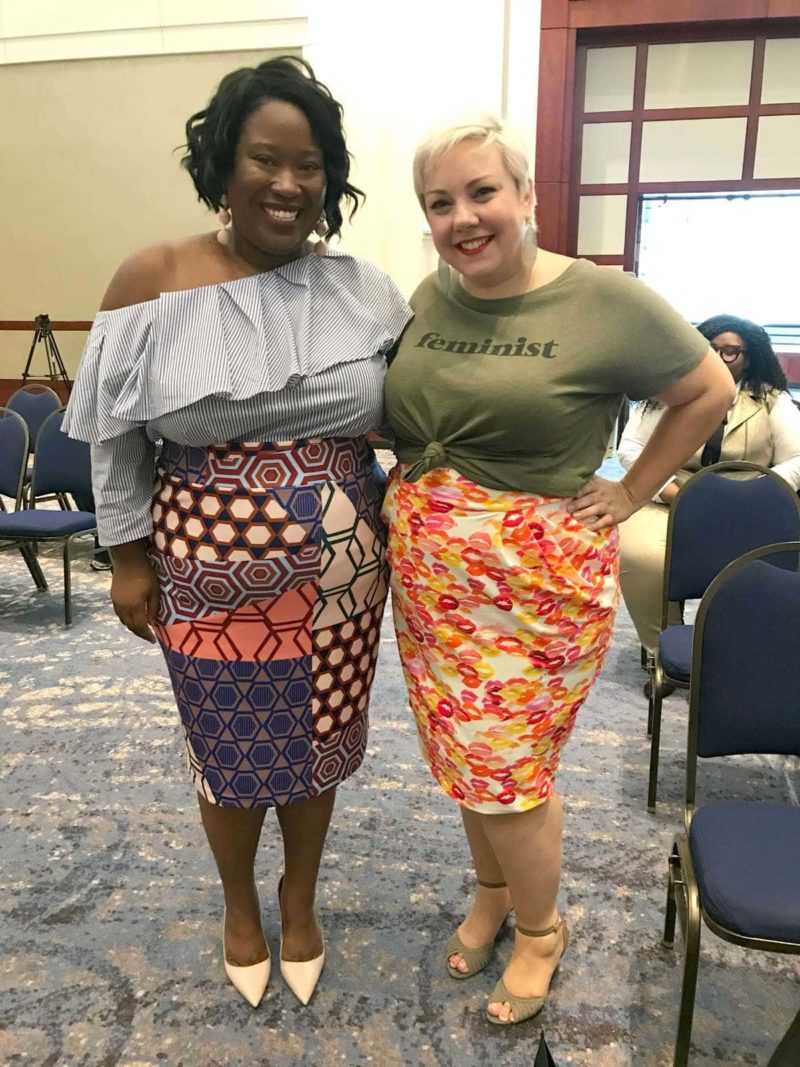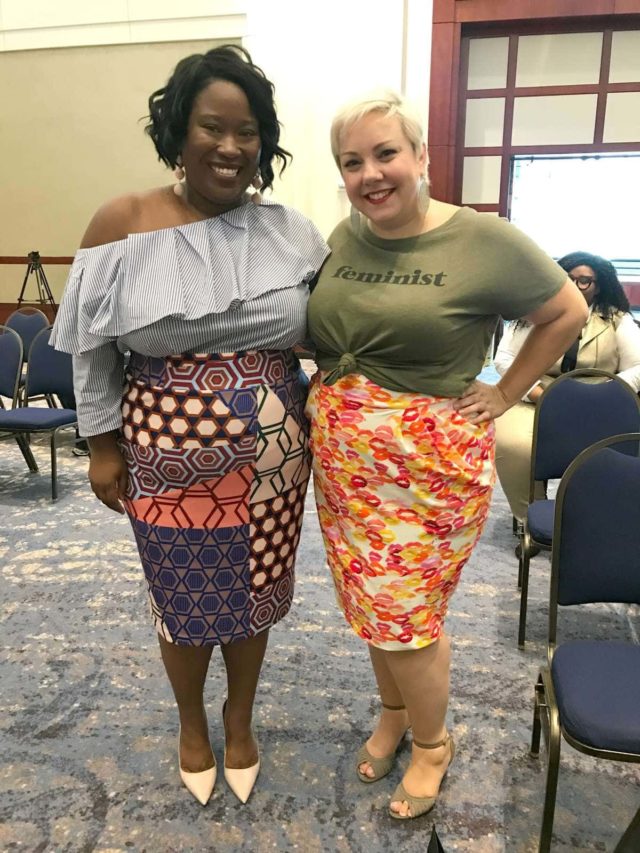 I didn't each much breakfast so we decided to grab some lunch. Not having a car and with it drizzling outside, we decided to stay local and just went to Murph's which is in the Cobb Galleria. Nothing to write home about, but nothing terrible, we had a great time giggling like school girls, looking through my blogger swag bag, and recapping the first half of the day.
We raced back and caught the majority of the panel, "Name it. Claim it. Walk in it. – Stepping Into Your Purpose Without Apology Discussion presented by Generose." Again, an interesting discussion took place with a range of speakers. Unlike our panel which had five speakers, this one only had three. I would have liked to see four or five speakers to have a more robust discussion, but still glad such a panel took place.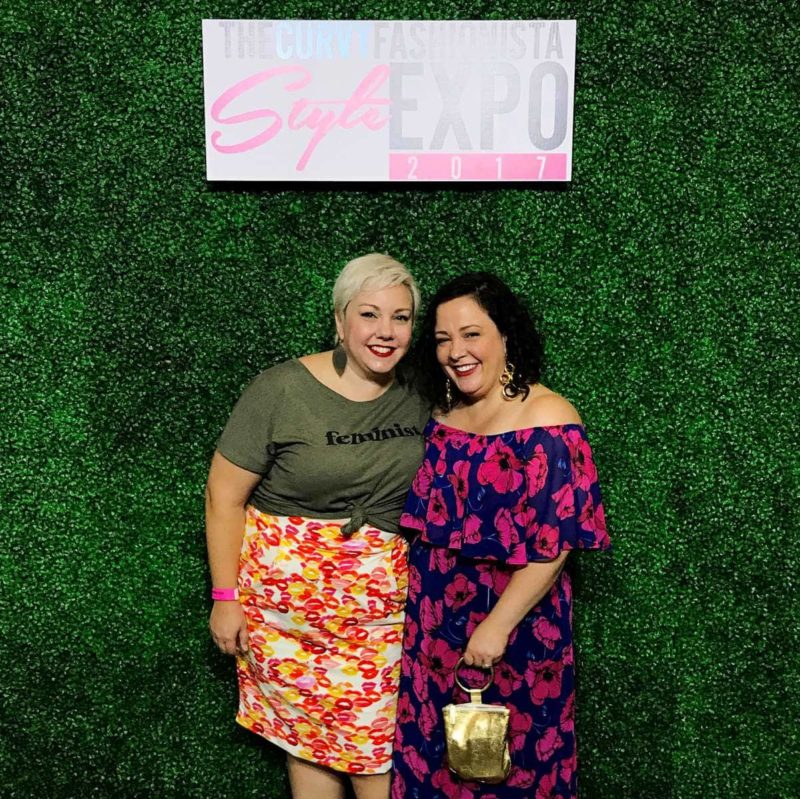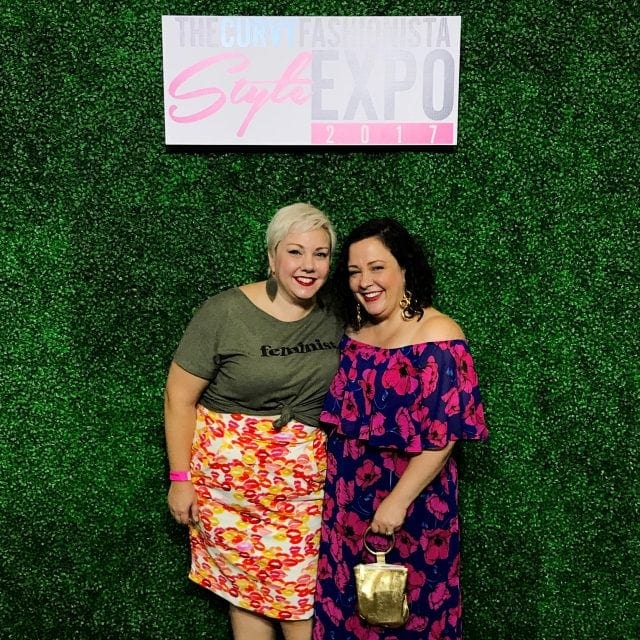 After the panel, Debbie and I checked out a bit of the Expo Hall. A ginormous room, the Expo Hall was full of booths and tables of larger companies and small businesses who create fashion and products specifically for the plus size community. Dia&Co had this huge wall where we could all write on it what style means to us – reading what other attendees wrote was so inspiring! Music was playing, a lot of the booths had mini fashion shows taking place to show off the fab and fun clothing they offered, and there was a selfie wall where Debbie and I got our picture taken.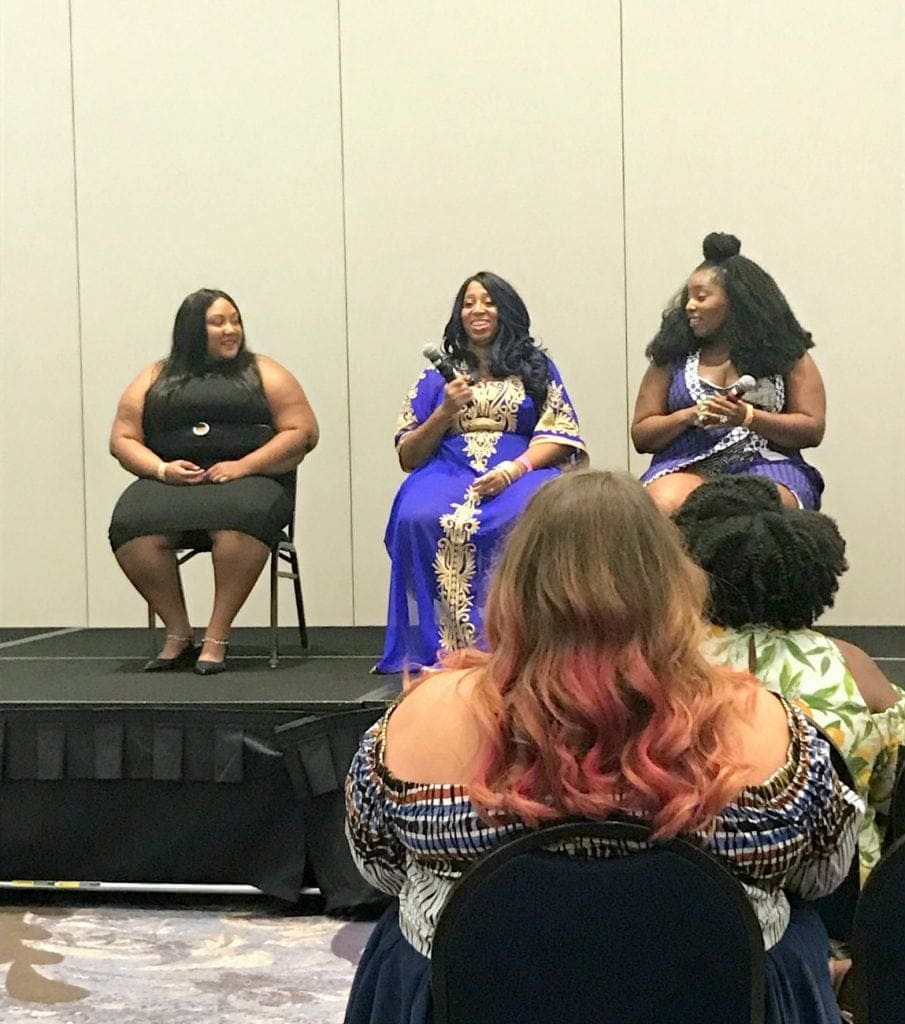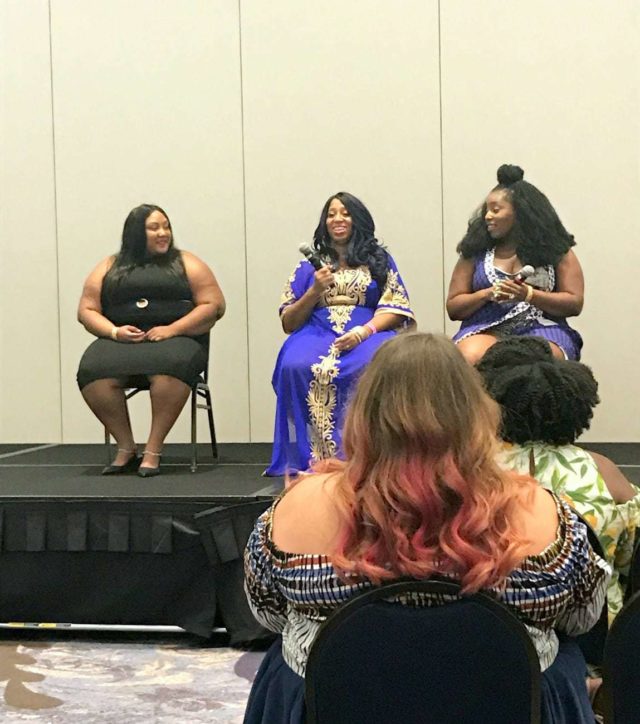 We then went to see the panel, "Body Politics: Finding OUR Identity & Representation Discussion presented by Plus Zone." Ariel was speaking at this panel and I promised I'd attend. Even if I didn't promise, there was no way I was going to miss this discussion! It was an amazing talk and one that needs to be had in these times where the world thinks they've mastered diversity and inclusiveness by featuring Ashley Graham in a bustier. We've got a long way to go and these panelists weren't afraid to say it. Again, I would have liked to have another couple of panelists as I think it would have made the conversation more interesting and reduced the times that people in the audience took over the discussion. Not to say what they said wasn't interesting, but I came to hear from the panelists and some of those who in the audience got up to speak were promoting their own things or clearly didn't even listen to the panelists. But Ariel Woodson, Cassy Jones-McBryde, and Ivory Jinelle brought a thought-provoking discussion that I'll remember for a long while.
Dinner at St. Cecilia Atlanta
After this panel, my sister and I headed back to the hotel. While there was a mixer that evening part of the Expo, we decided to pass and check out the restaurant scene in Atlanta. Especially since we missed our reservations for Canoe and had the most dreadful room service and mediocre lunch, we were ready for some proper dining. Checking out Yelp and TripAdvisor and seeing where we could get a reservation, we decided on St. Cecilia. And oh wow, what a good decision that was!
Atlanta, what is UP with your Uber drivers? We had some of the worst and weirdest on our trip. The craziest by far was the guy who took us to St. Cecilia. He drove over curbs, made a wrong turn, told us about his childhood home and childhood dog who killed a cow (and way too many gory details about it), and how he loves the Minions and sharing them on Facebook. We were so relieved to make it to the restaurant in one piece, and even more relieved when we entered its doors.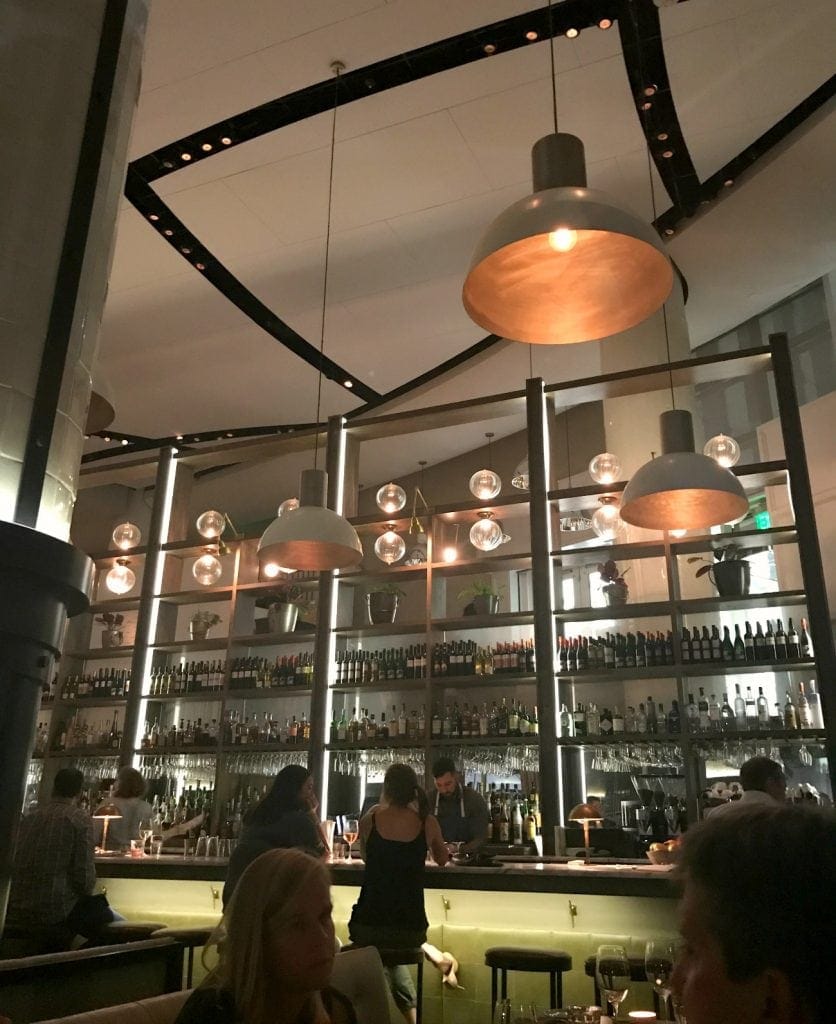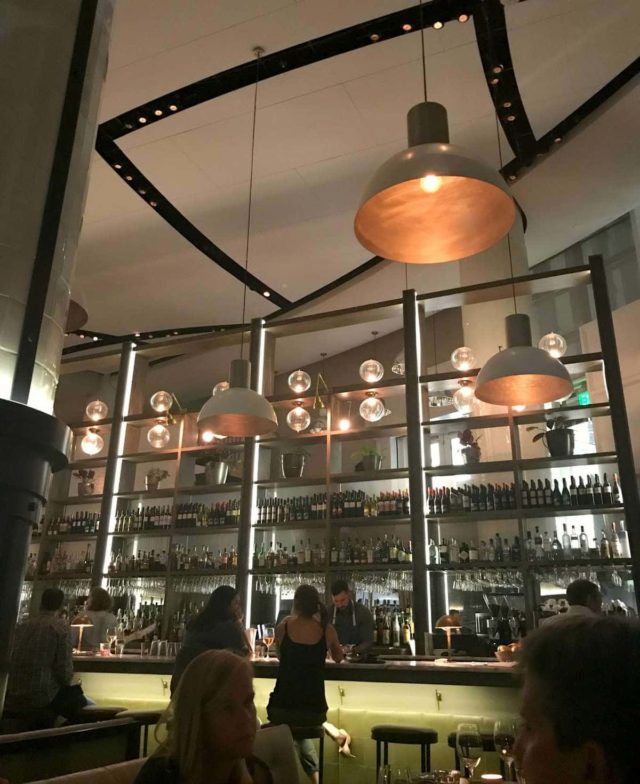 This is a super pretty restaurant. This is the kind of place you go when you want to impress a date or celebrate a special occasion. While it's large, each table still felt intimate. We were seated at a table along the window wall and had two servers attend to us. Both were friendly, extremely knowledgeable, and not a bit of pretentiousness. While this place is fancy, it's a place you can go and feel comfortable if you don't know anything about food or wine. Their staff wants to share what they know with you and have you be as excited as them about their offerings.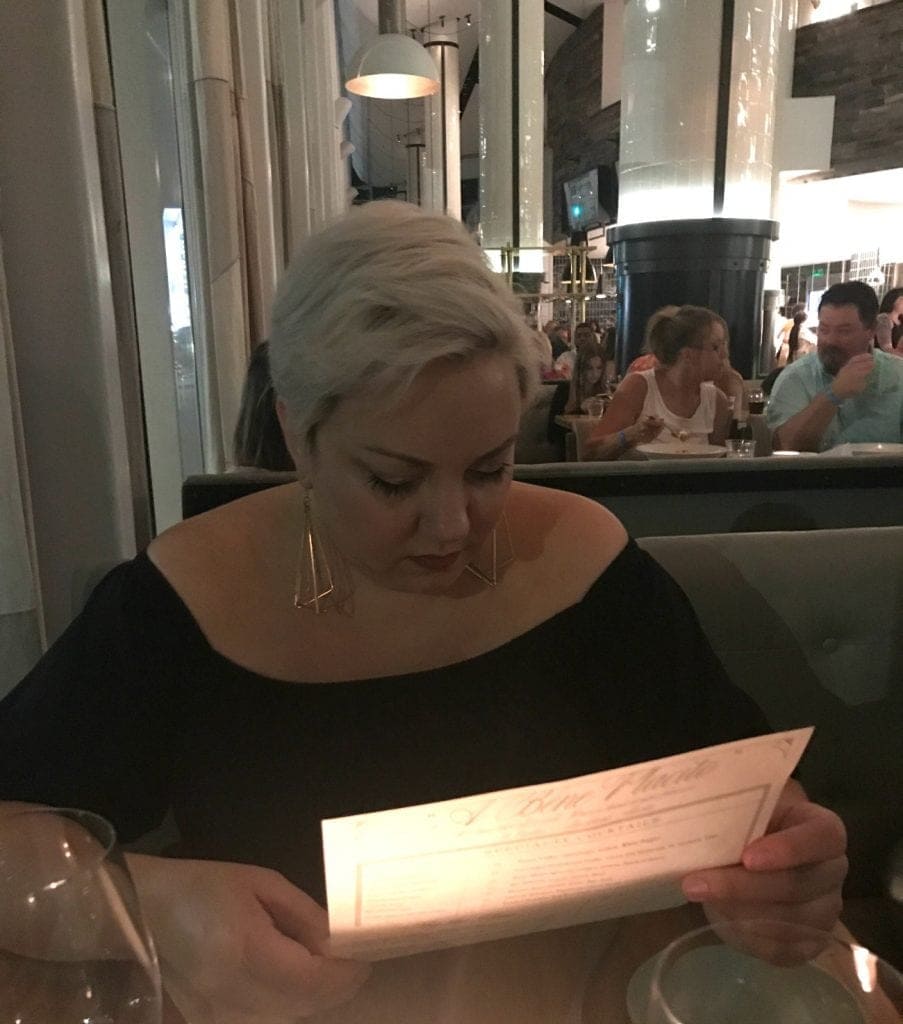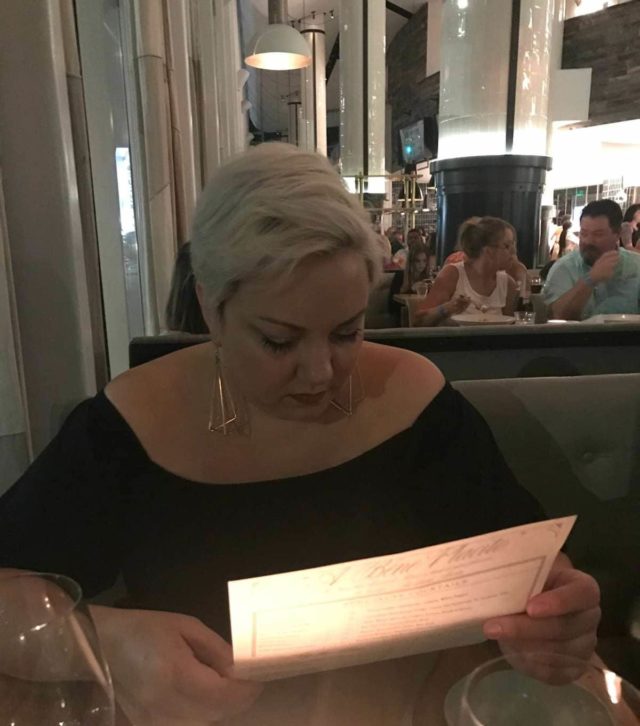 Neither Debbie nor I could decide what we wanted and our server told us that they were having a five-course pasta tour. While they usually only have it during the week, they were offering it that evening. We both decided to try it.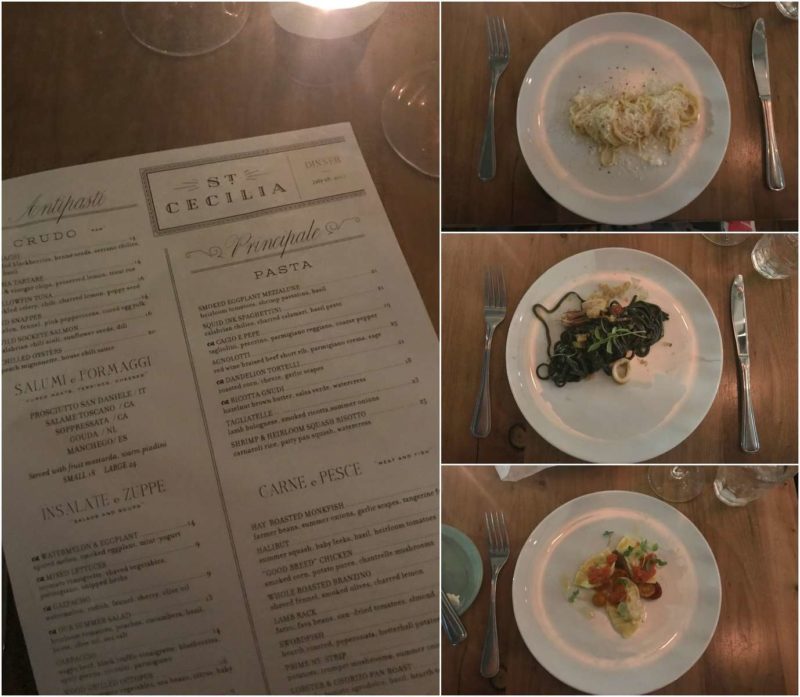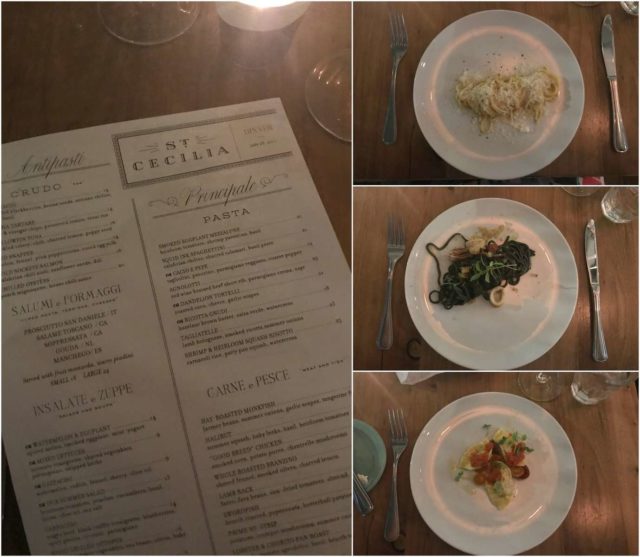 Since doing Whole30 I don't eat a lot of pasta, and when I do it's gluten free (AKA disappointing and just a means to consume Karl's delicious tomato sauce). This was utterly decadent, and some of the best pasta I have eaten in my life. So good, I hate eggplant but ate their Smoked Eggplant Mezzalune and enjoyed it so much I am reconsidering eggplant. Their Cacio E Pepe makes me never want to do Mueller's with some Smart Balance and Kraft grated parm ever again. I've dreamed about their squid ink spaghettini. They even brought out a sixth course for us.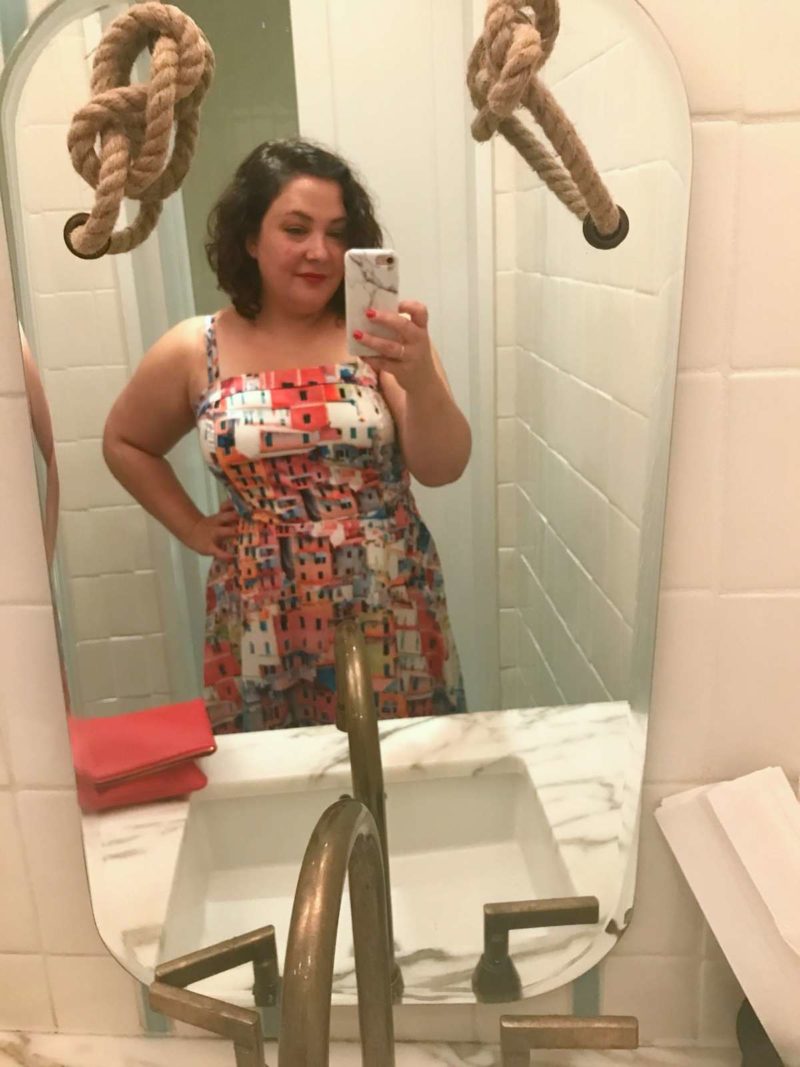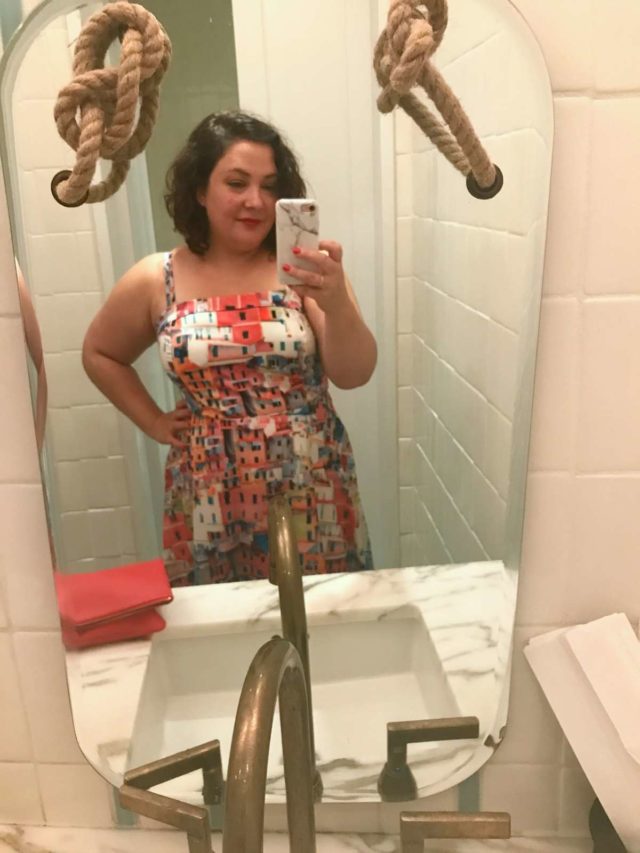 What I Wore to Dinner:
CityChic dress via Gwynnie Bee (XS) | Everlane Clutch | Aerosoles Sandals
We went to find the bathroom and got lost upstairs in their beautiful private room. Even their bathroom was charming. Seriously, if you visit Atlanta and want an amazing dining experience, do consider St. Cecelia!
Day 2 of the TCFStyle Expo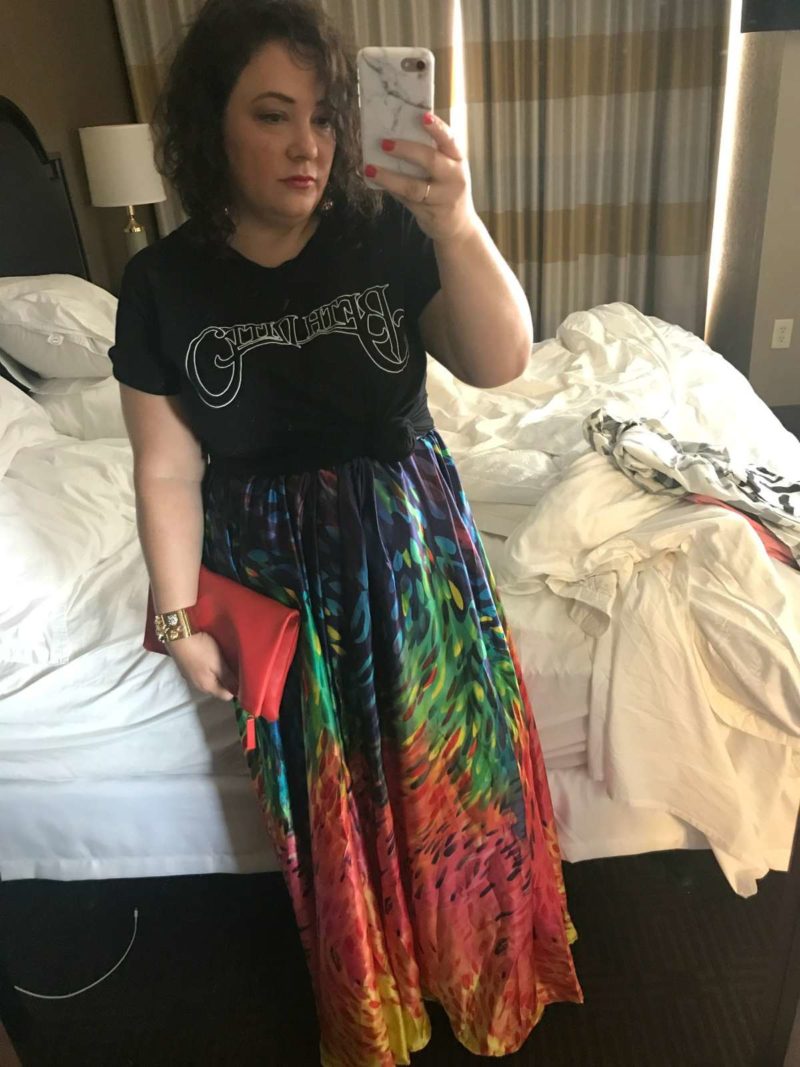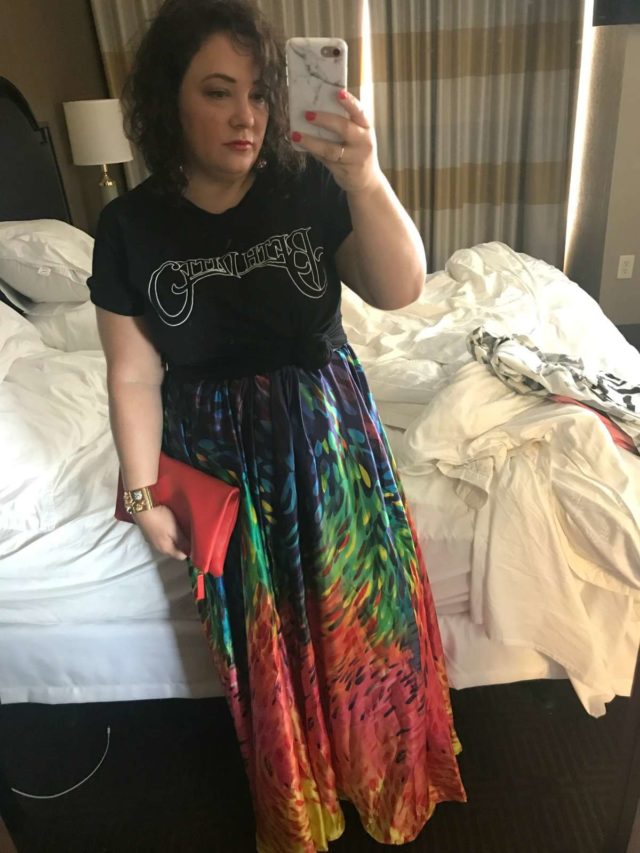 What I Wore:
Beth Ditto concert tee (XL) | Etsy Skirt (custom size) | Naturalizer Sandals | Everlane Clutch | cabi 'Secret Garden' cuff | Fraiser Sterling Earrings in Pink
The next day there was a blogger brunch hosted by Dia&Co. I love Dia&Co and have partnered with them in the past and wanted to attend. While Debbie stayed at the hotel, I headed back to Cobb Galleria. Since I wasn't going to be on stage today, I felt I could be more relaxed with my outfit. THIS is the maxi skirt I planned on wearing the day before. As you can see by the pile on the bed I tried a few things before I decided to wear this skirt with a t-shirt I packed to wear to bed! I rolled up the sleeves and knotted the hem and liked the final result.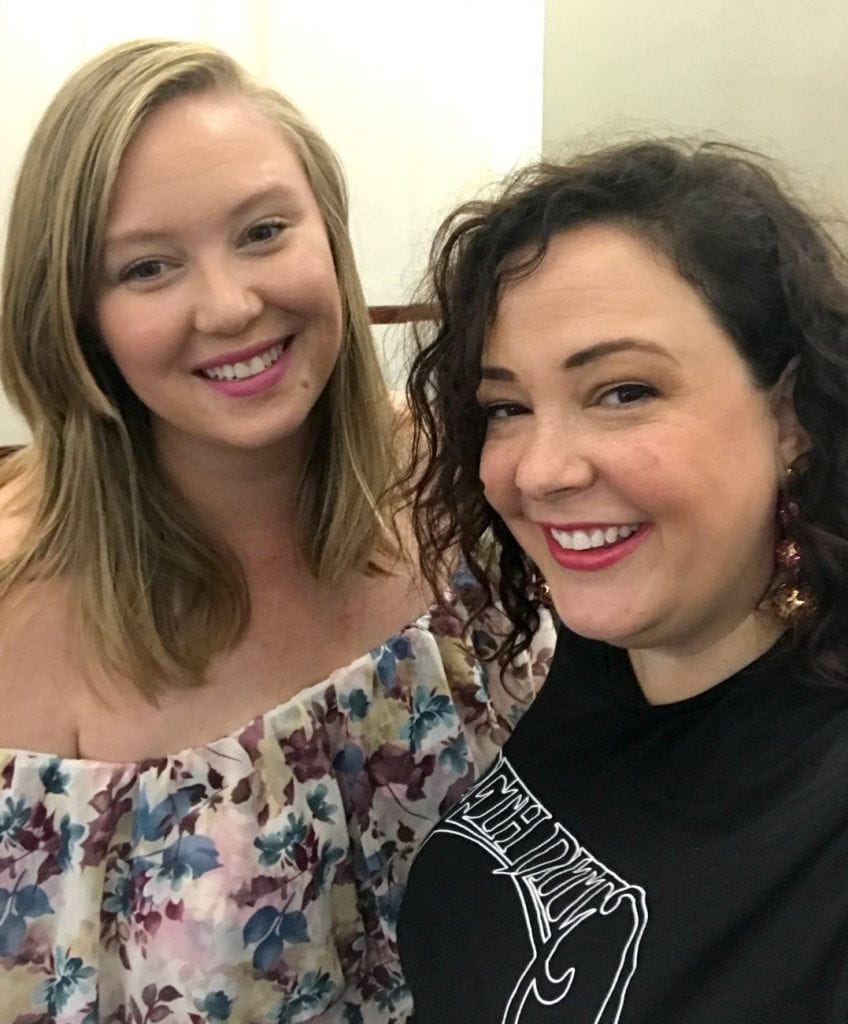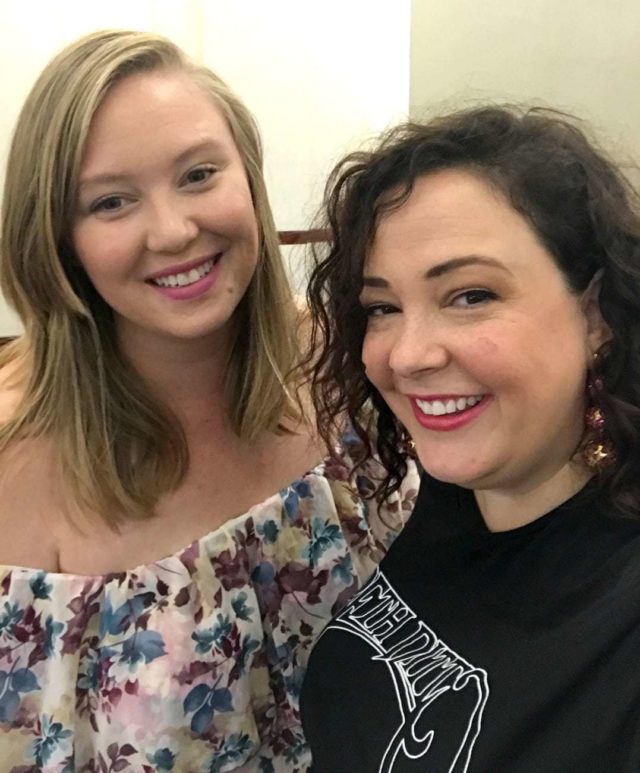 The brunch was fun; Ashby Vose from Dia&Co interviewed Marie Denee and did a game where Marie had to answer questions in a set period of time and if she made it one of us in the crowd won a free Dia box. I chatted with Ashby who I became friendly with through my Dia&Co collabs and seeing her in NYC for my Gwynnie Bee event. She mentioned the night before she and the Dia team went to Canoe. She said it was amazing and so worth the visit. Ugh, I want to visit before we leave Atlanta but there are no reservations available!
After the brunch I decided to take another tour of the Expo Center. The music was great, I felt relaxed, and was sort of dancing through the aisles checking out all the brands. I sauntered through an aisle and a guy at one booth commented on my skirt and I swirled it for him. He noticed my shirt, said he was friends with Beth Ditto and could he take my photo and text it to Beth. Um… yes! We exchanged cards and shook hands and as I bopped down another aisle I realized who he was… Daniel Franzese from The Winston Box but may be familiar to all since he was Damien from Meal Girls! How fun!  As an aside, if you have a big and tall man in your life… check out The Winston Box.  I found it utterly brilliant!
While the Expo was awesome, I didn't want yet another trip where I visit a new city and not see a bit of it because of work. Before this visit, the only bit of Atlanta that I had visited was it's airport for layovers. I decided to head back to the hotel, change, and Debbie and I would go see some of Atlanta with our last day in town. I walked out of the Cobb Galleria just as the shuttle was driving away. The hotel was literally across the street, less than a block away as the crow flies. However, there's no pedestrian walkway, no lights, a major intersection and some crazy traffic. To get to the hotel you have to take some walkway, go up in an elevator, down in an elevator, spin around five times and do ten jumping jacks. Not exactly, but anyone who said they used the walkway between the hotel and the Expo said they regretted it and wouldn't do it again. I stood outside for 15 minutes waiting for the shuttle and then decided screw it, I'm going to figure out how to walk to the hotel.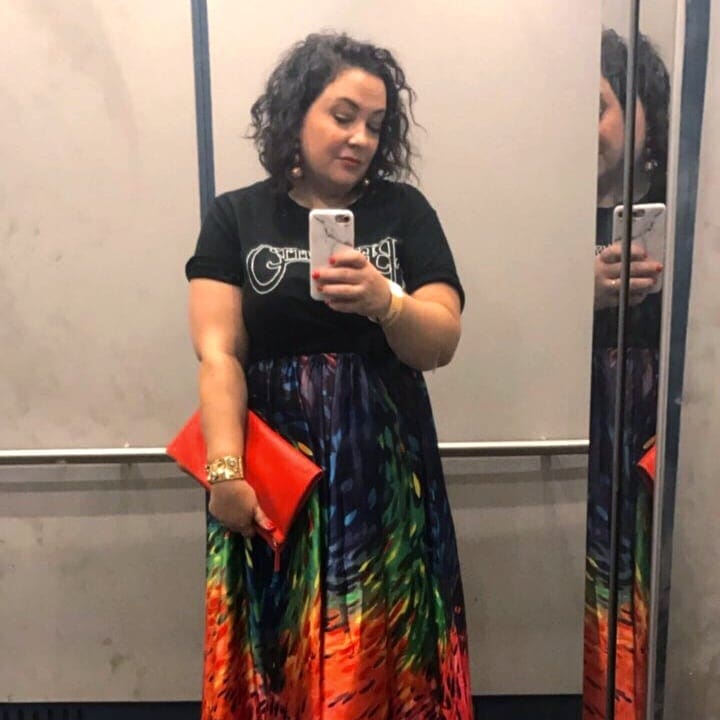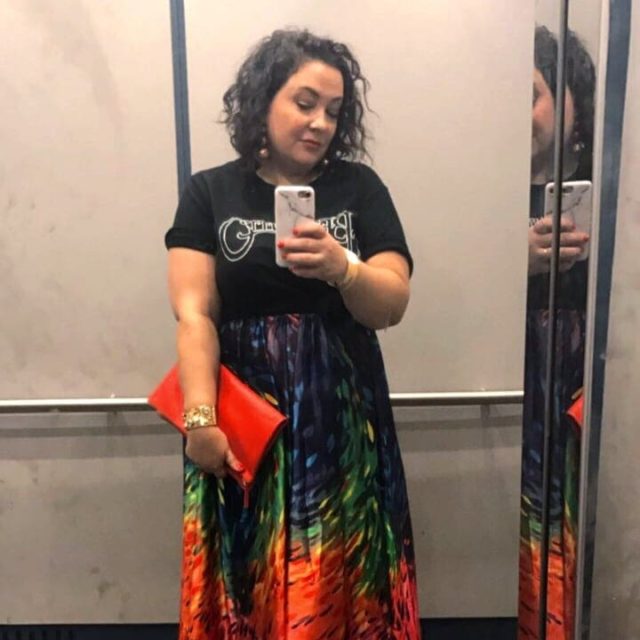 I was tempted to dart through the streets, but that would suck to be killed in such a manner and I could just envision my long skirt tripping me up.  I found a crosswalk, went across the street and walked to a parking garage entrance. I was a bit closer, but there didn't seem any way to get out of the garage from that side. Walking around I found an elevator, took it to the basement which seemed like street level on the side of the garage facing the hotel. Got out, and there was only one way out, down a creepy hallway. I knew I wasn't walking in the direction of the hotel but figured at that point I might as well see where it lead. At the end was a flight of stairs that took me outside… and exactly where I started just as the shuttle arrived! Well, it was more interesting than sitting there for another 15 minutes!
Seeing More of Atlanta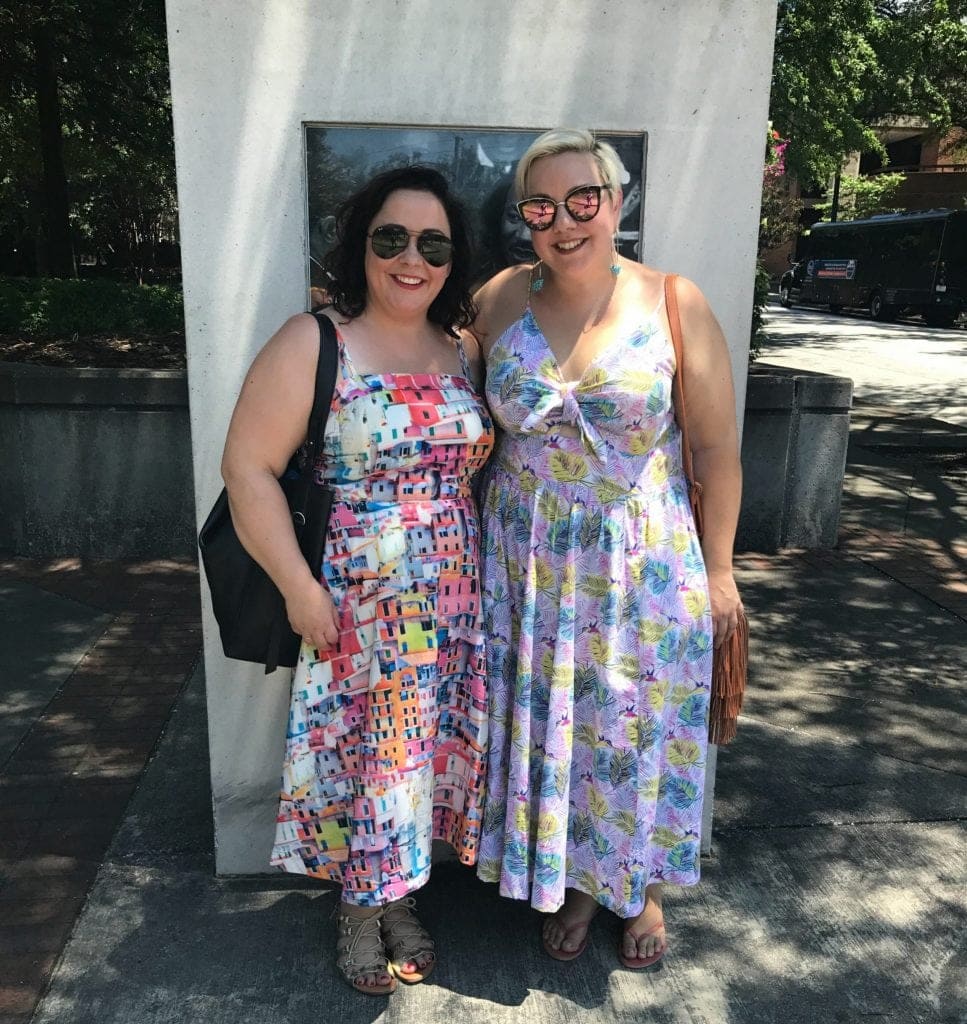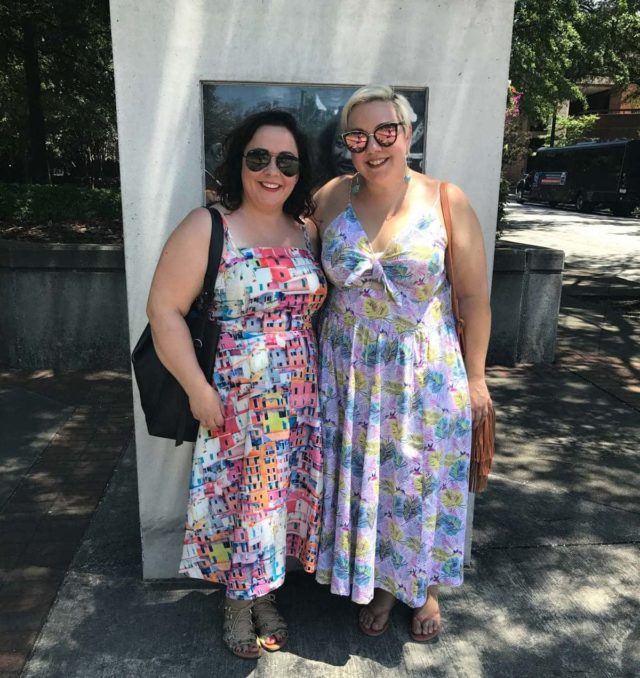 What I Wore Sightseeing:
CityChic dress via Gwynnie Bee | Bella Vita Sandals | Ray-Ban aviators | ALLSAINTS tote
(Debbie's dress is from eShakti; the specific dress is no longer available but this one has the same top.  Style tip from Debbie: the tie part separates from the dress.  Untie it, then tie it around your bra to keep the dress from shifting)
Debbie and I changed into our most comfortable clothing for sight-seeing, sundresses with full midi skirts and flat sandals. I hardly wore the CityChic dress the day before so I put it on (with Skimmies underneath, butofcourse!).  While my bag didn't "go" with my outfit, it kept my hands free and provided plenty of room for souvenirs.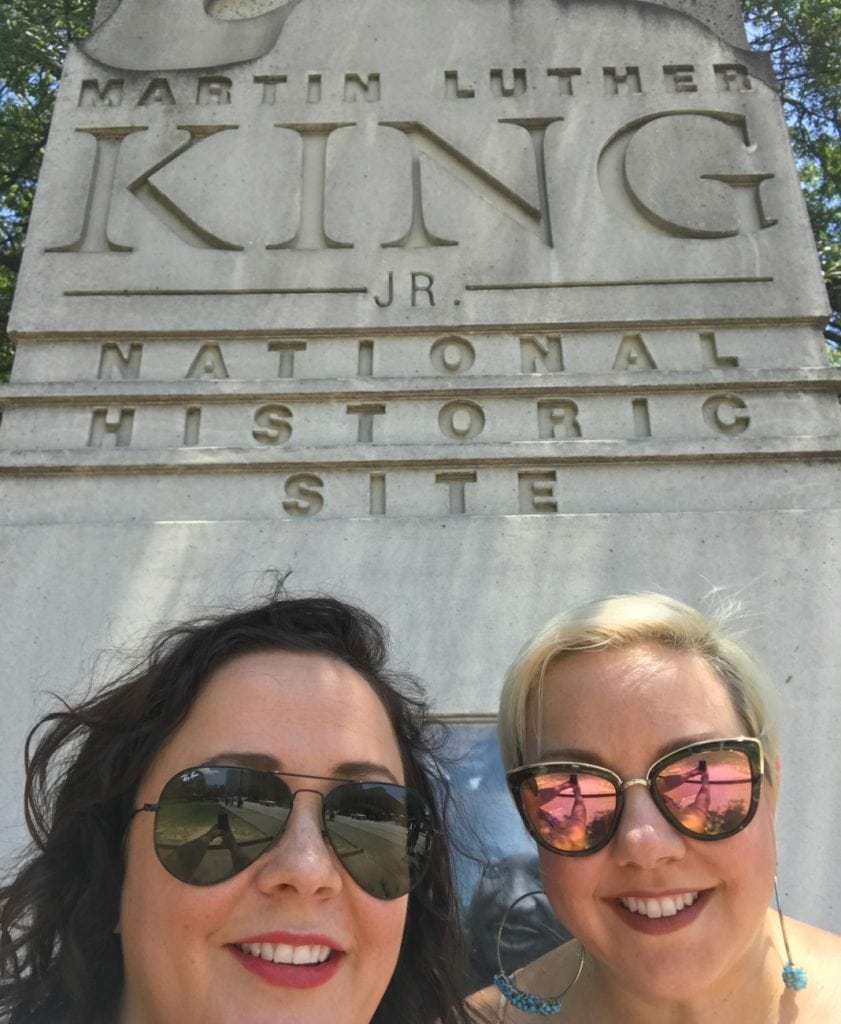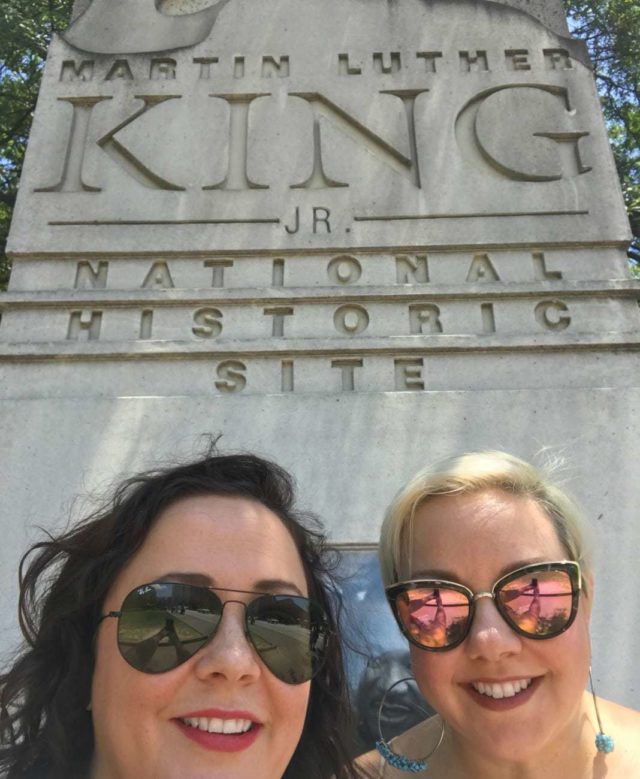 We visited the Martin Luther King Jr. National Historic Site.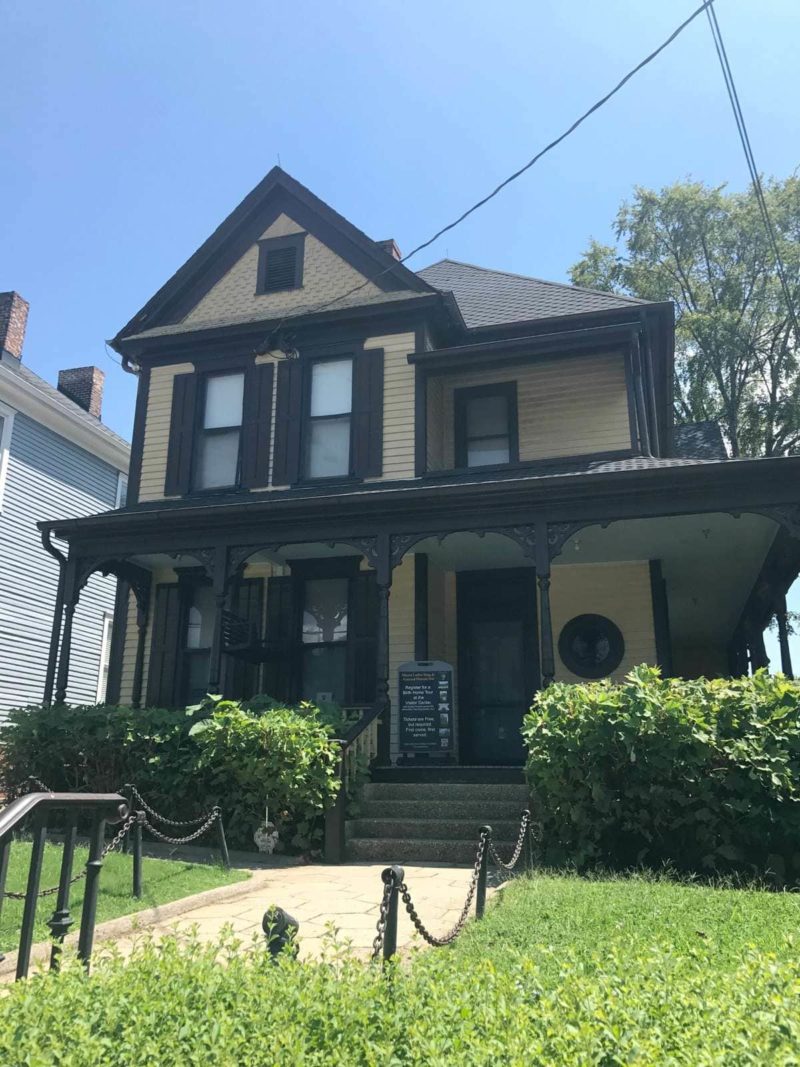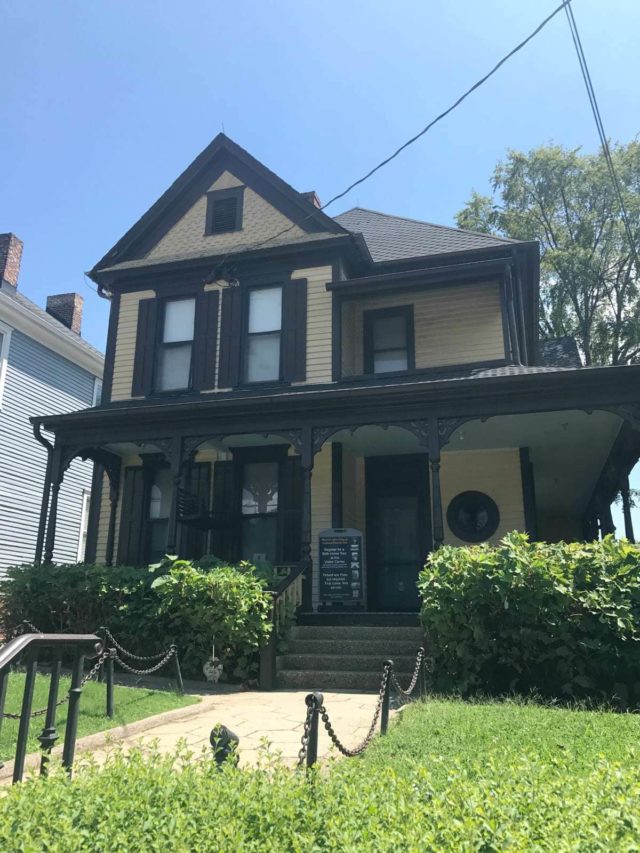 Since we didn't have specific plans, we didn't get there in time to get a tour of Martin Luther King Jr's childhood home (though we walked past it).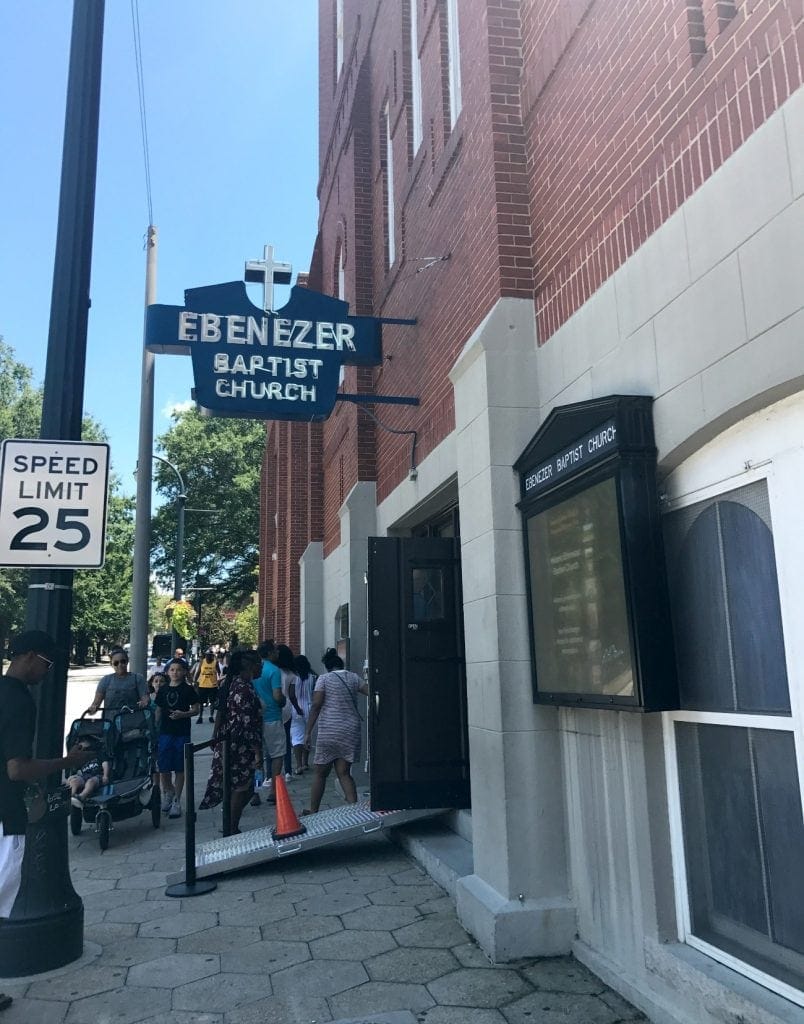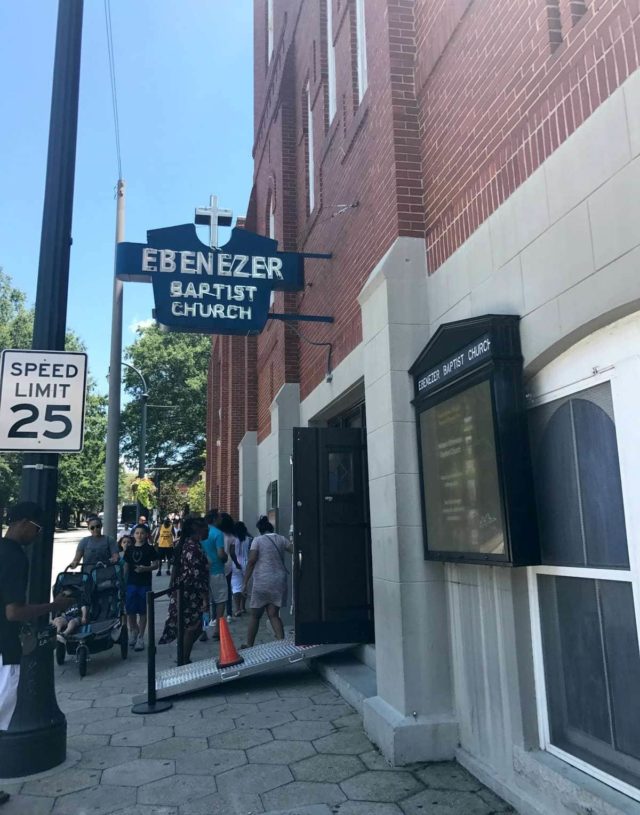 However, we were able to tour the visitor center, the King Center, and Ebenezer Baptist Church.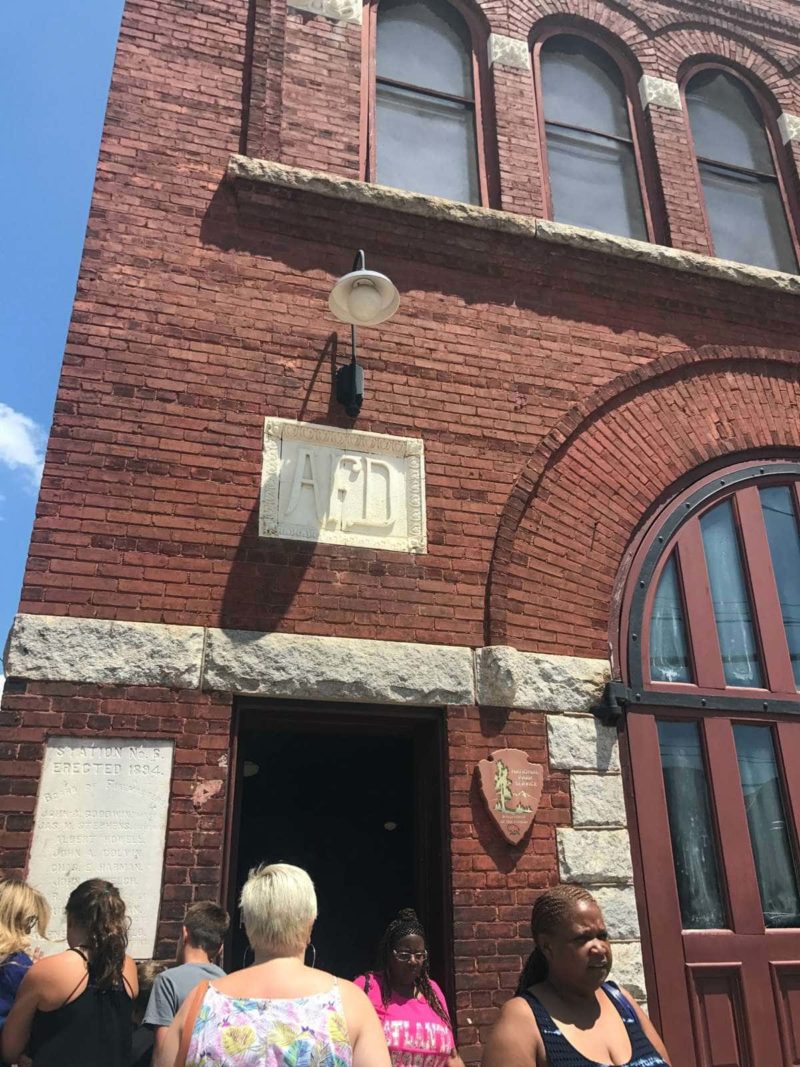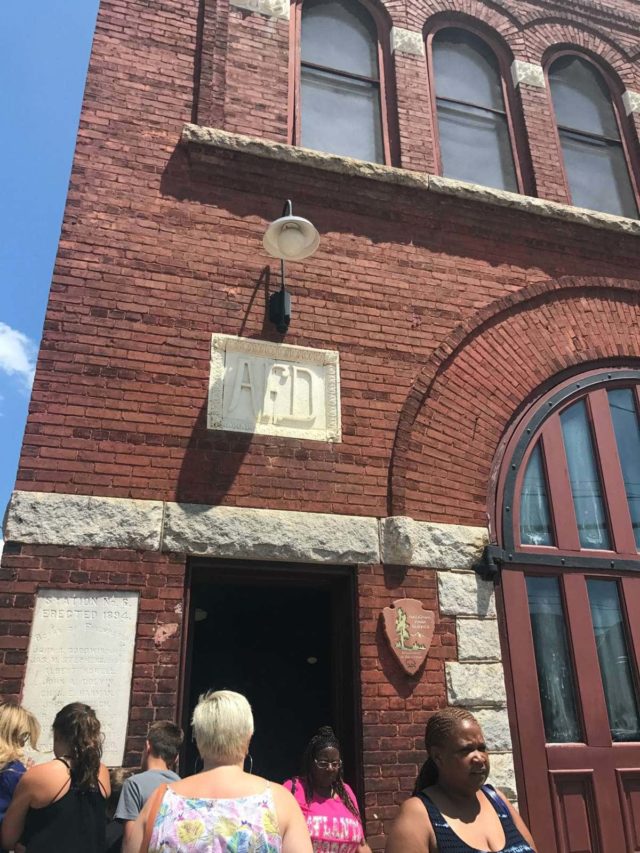 We also visited Fire Station No. 6. There were several family reunion groups there, and plenty of crowds in general.  However, everyone was really friendly, courteous, everyone smiling at one another.  It may feel cheesy but you could feel a peaceful spirit in the air.  Even in the crowded warm rooms of Freedom Hall, everyone was considerate of one another, giving space to get through, to see exhibits, to help one another take pictures.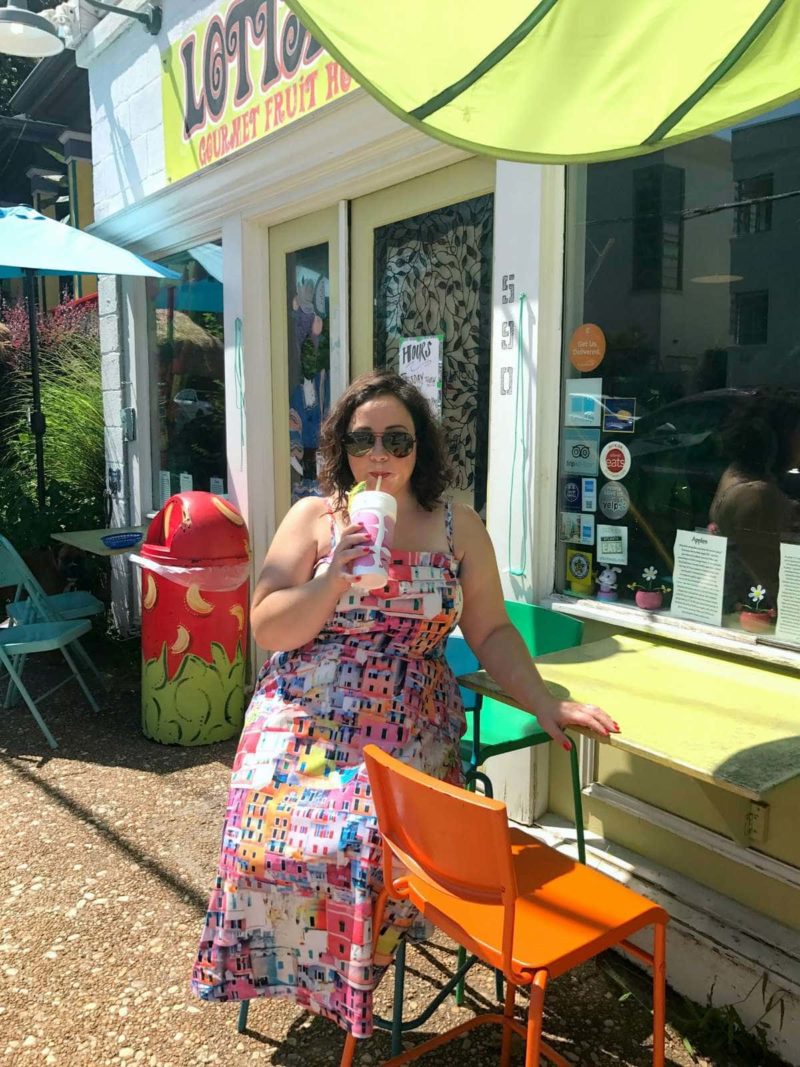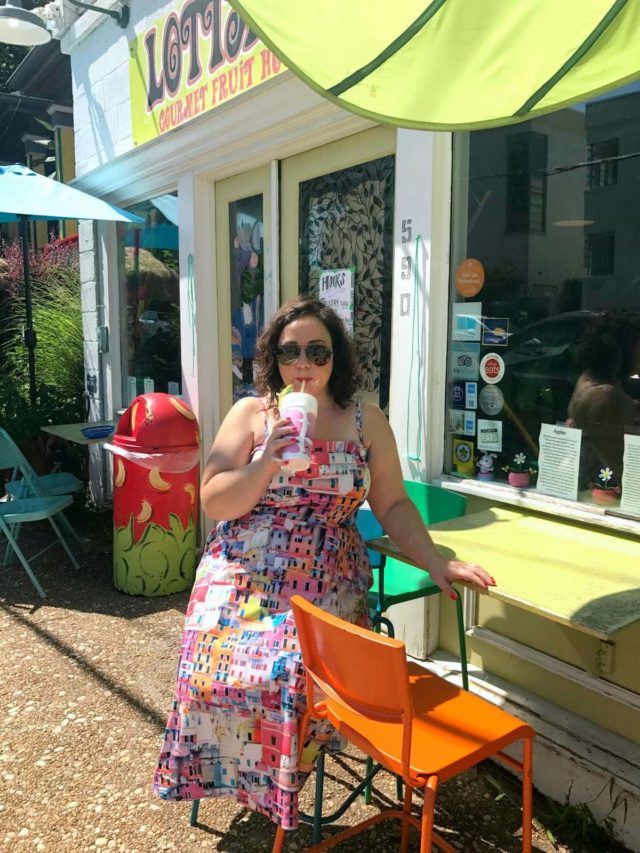 After we saw on our phones that there was a marketplace walking distance away. We headed towards it and saw the most colorful building. Lottafruit. We didn't know what that meant so we decided to go in and check it out! It was a bustling place that offered smoothies, fruit cups, and other treats. Each of us got a smoothie to enjoy on our walk.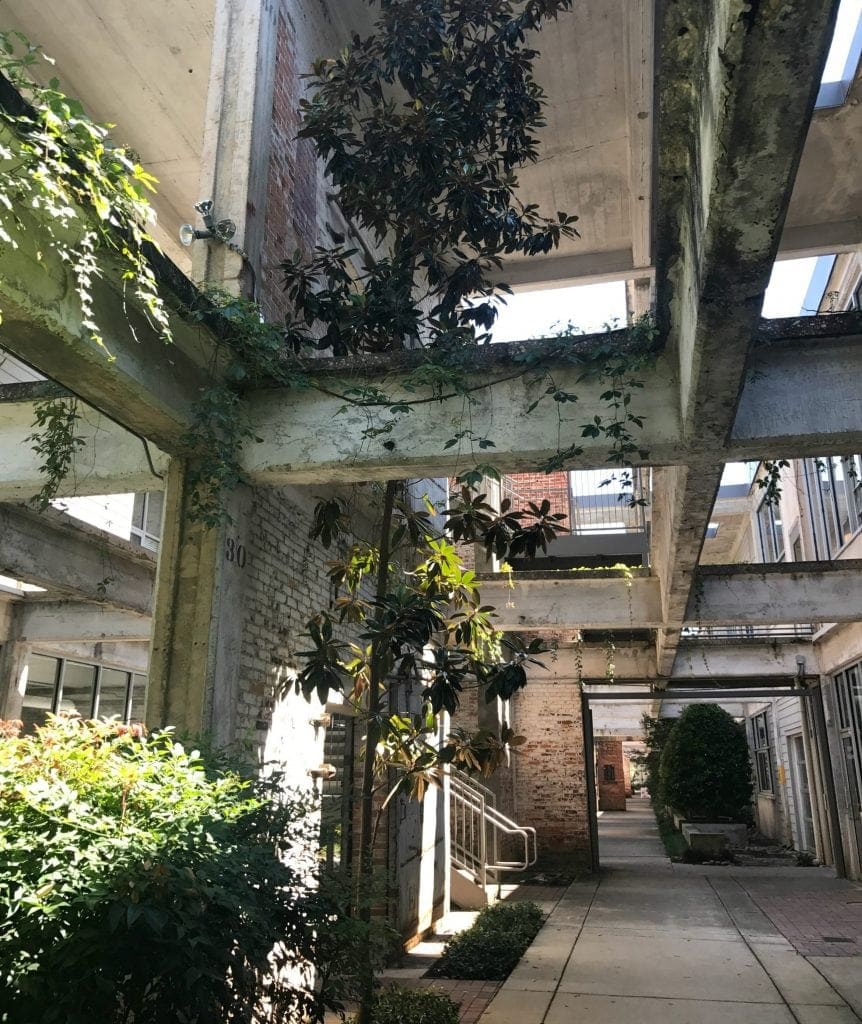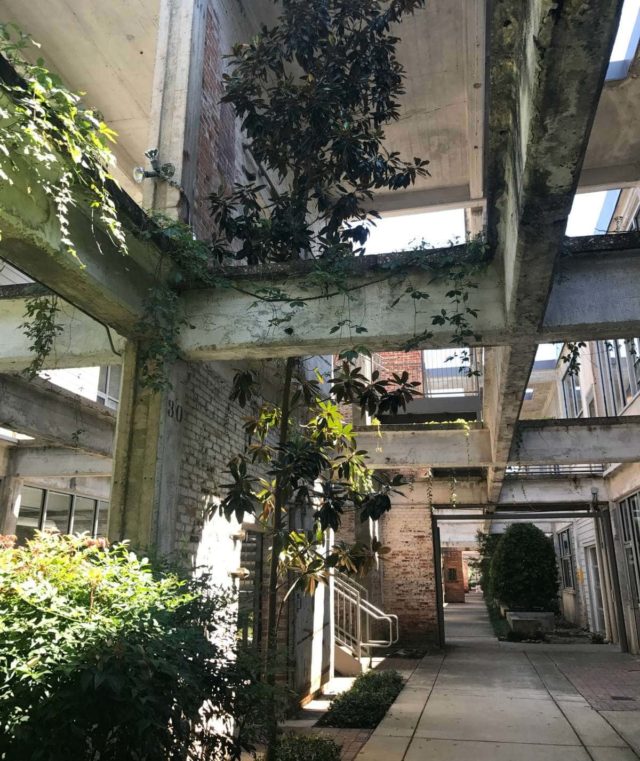 It was nice being able to walk around on a gorgeous day with no timetable, no place we had to be at a certain time. We walked into Studioplex which looked like a dilapidated building that was converted into office space and art studios.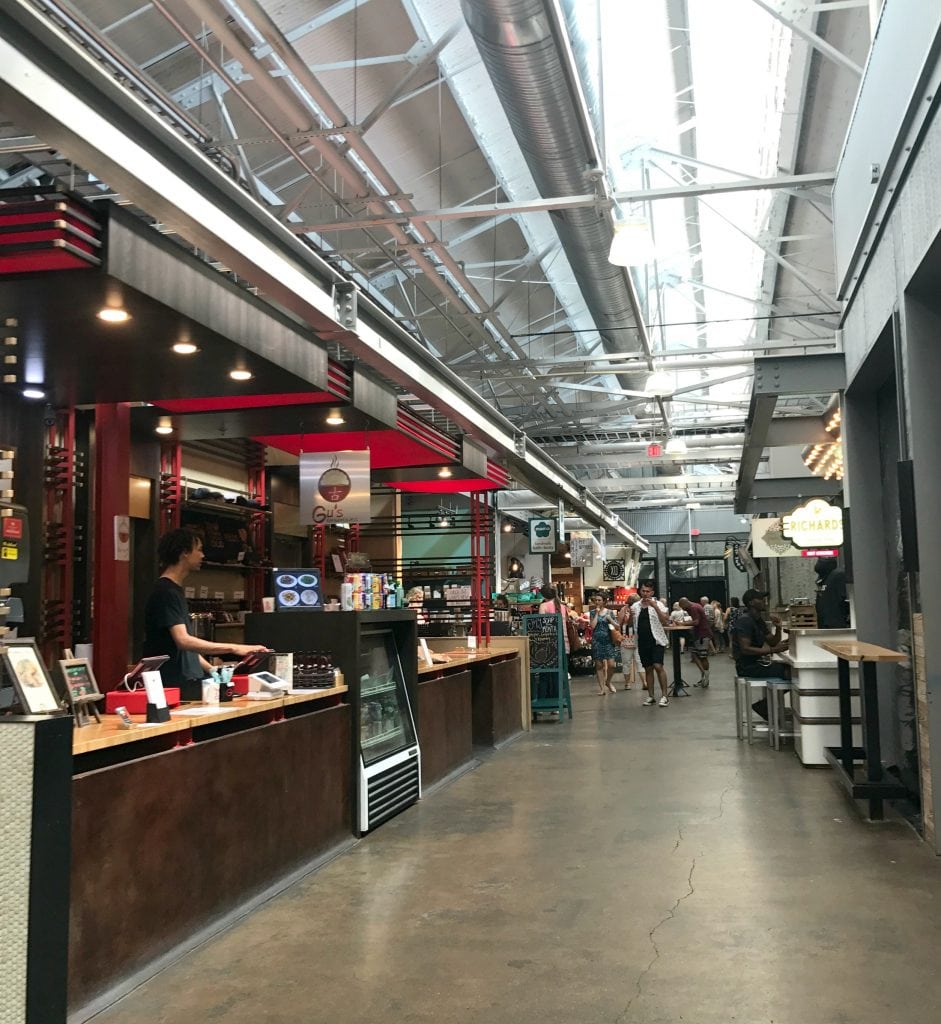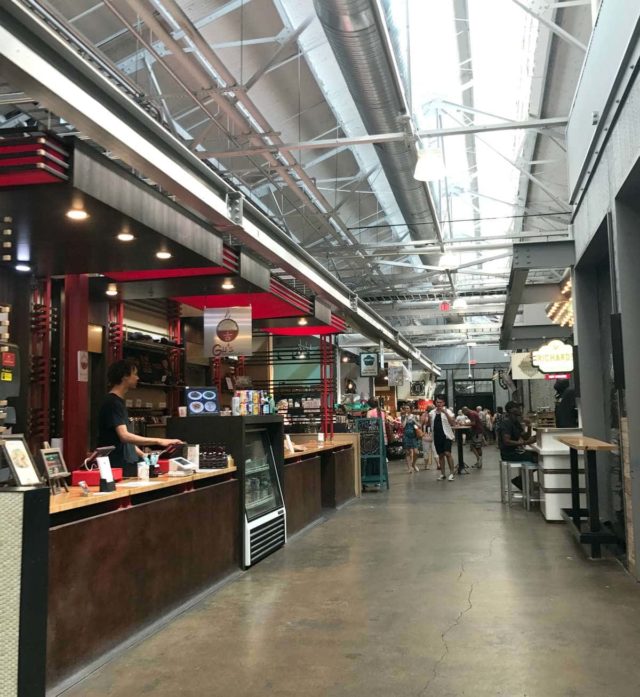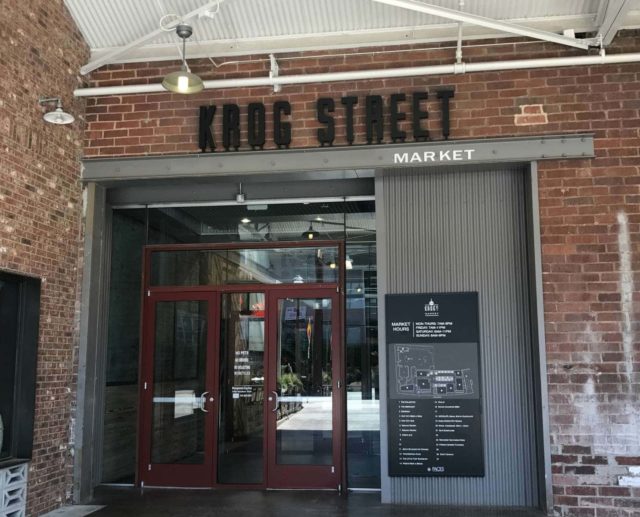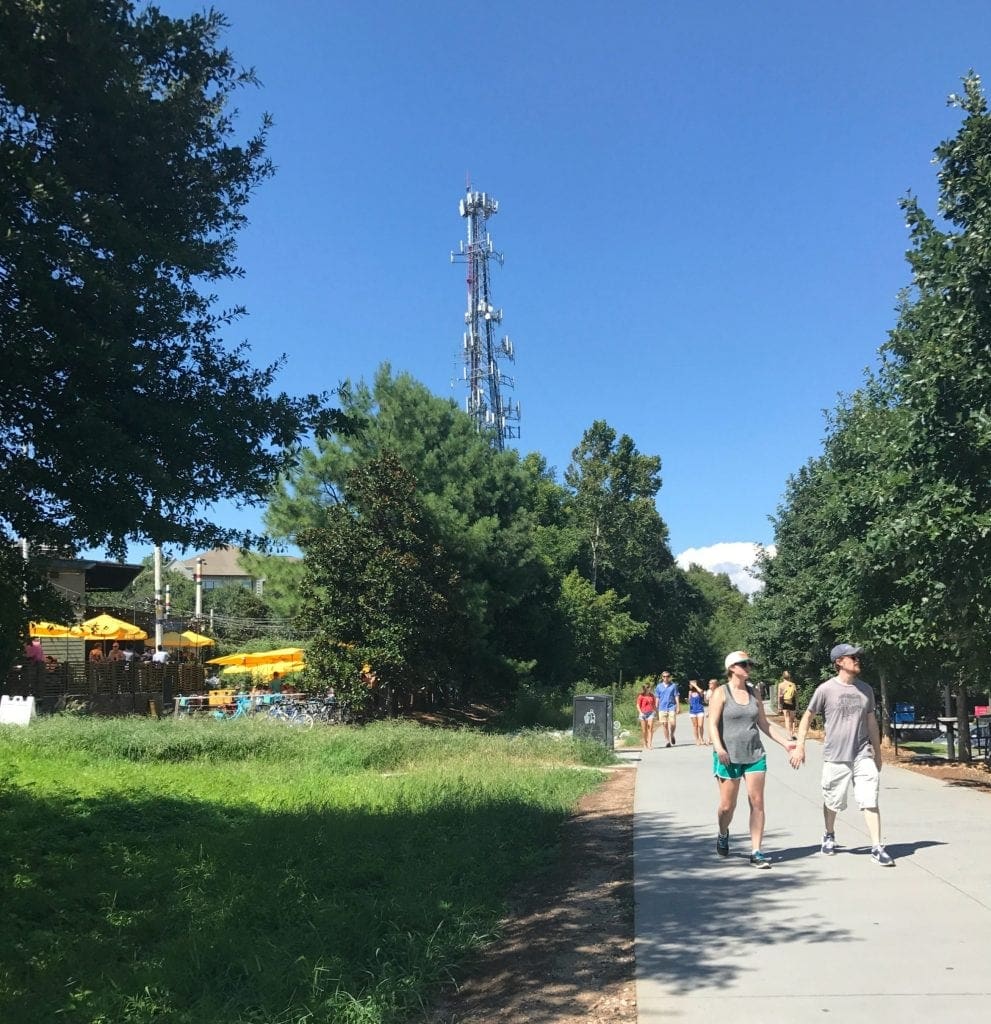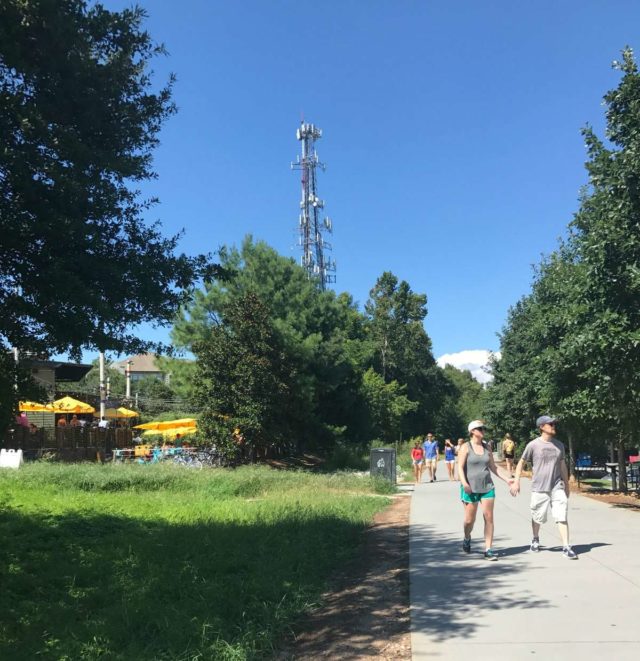 We walked part of the BeltLine. We visited the Krog Street Market and took a look around, but weren't hungry after our smoothies and weren't looking to go shopping.
Dinner at Canoe Atlanta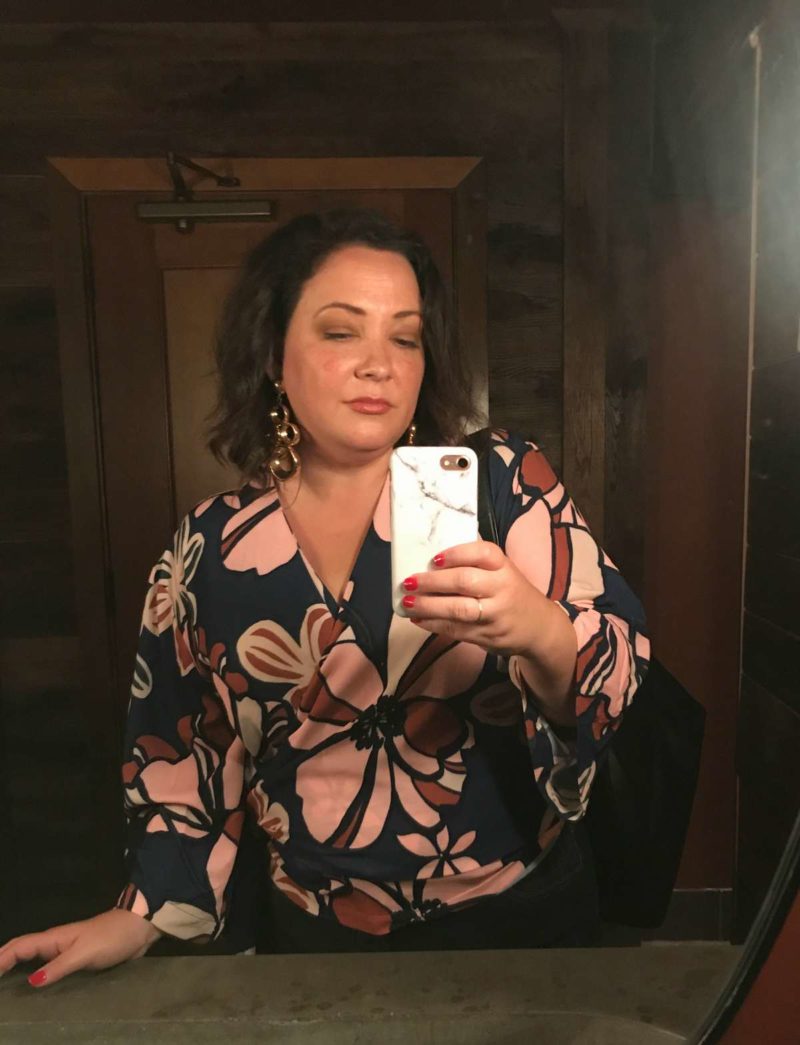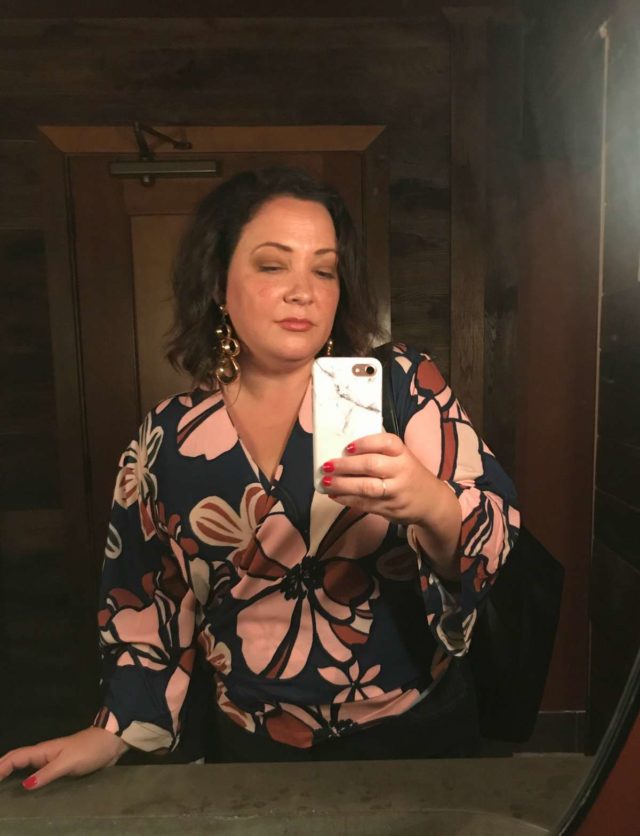 What I Wore to Dinner:
ELOQUII Kimono Wrap Top (14) | JAG 'Penelope' Jeans (16) | Aerosoles Sandals | Vintage Earrings
During this time I texted Ashby and asked her if there was an outdoor bar at Canoe; she said she saw one and it was right on the river. Debbie and I decided to head back to the hotel, change, and arrive at Canoe right around opening time and score two seats at the outdoor bar and dine there since we couldn't get reservations. We showered and quickly changed and ordered an Uber. As we headed out of the hotel we bumped into Ariel and invited her to join us and she hopped in the Uber with us. My friend Jessica from A Parent in Silver Spring who helped Marie promote the TCF Style Expo texted me to see what we were doing; I told her to grab an Uber or Lyft and join us.  Canoe party!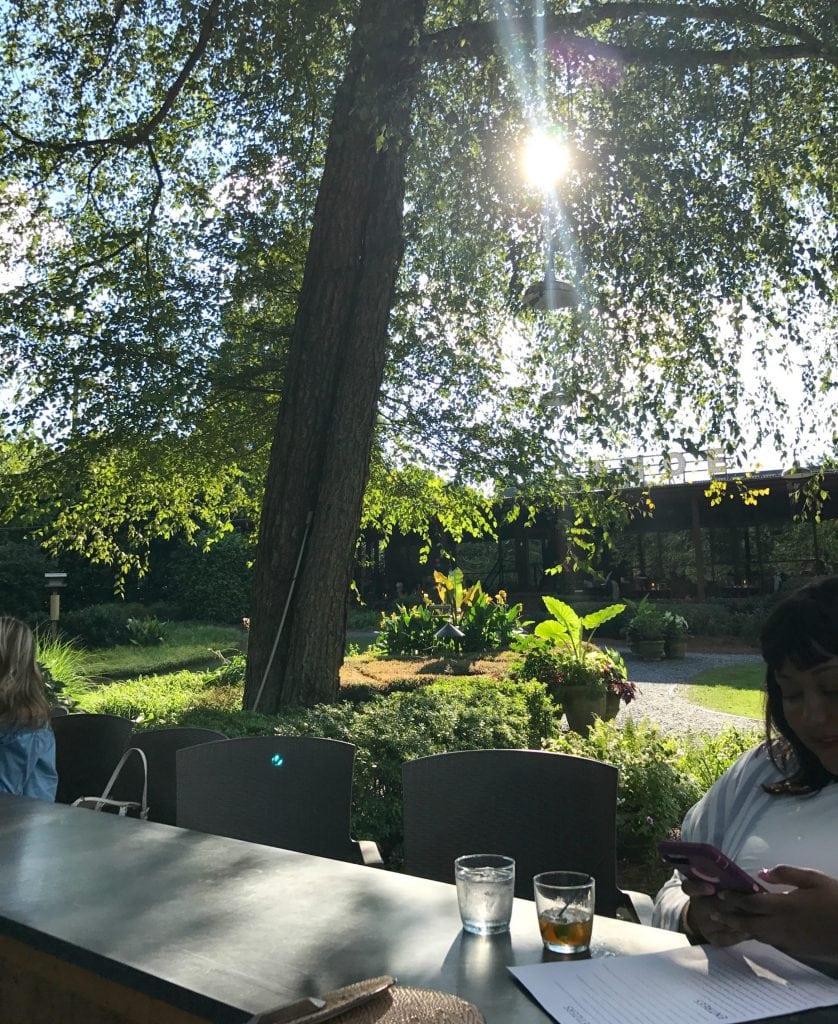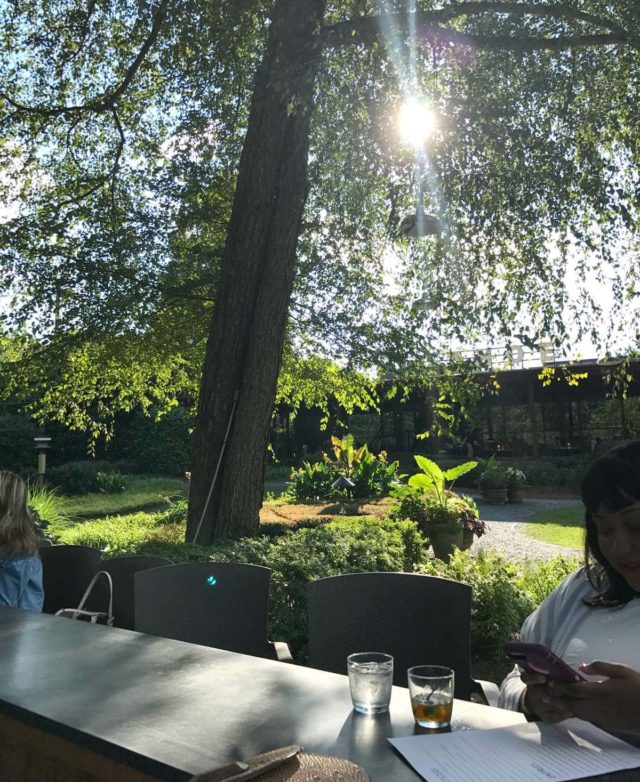 If you can't score a reservation at Canoe, maybe it's because Life is sending you a message to sit at their outdoor bar. Canoe is an unassuming restaurant in a strip mall. While it's cozy and gorgeous inside, walk through to the outdoors and there's gardens and gravel paths and old trees that lead you to a large three-sided bar right on the banks of the Chattahoochee River.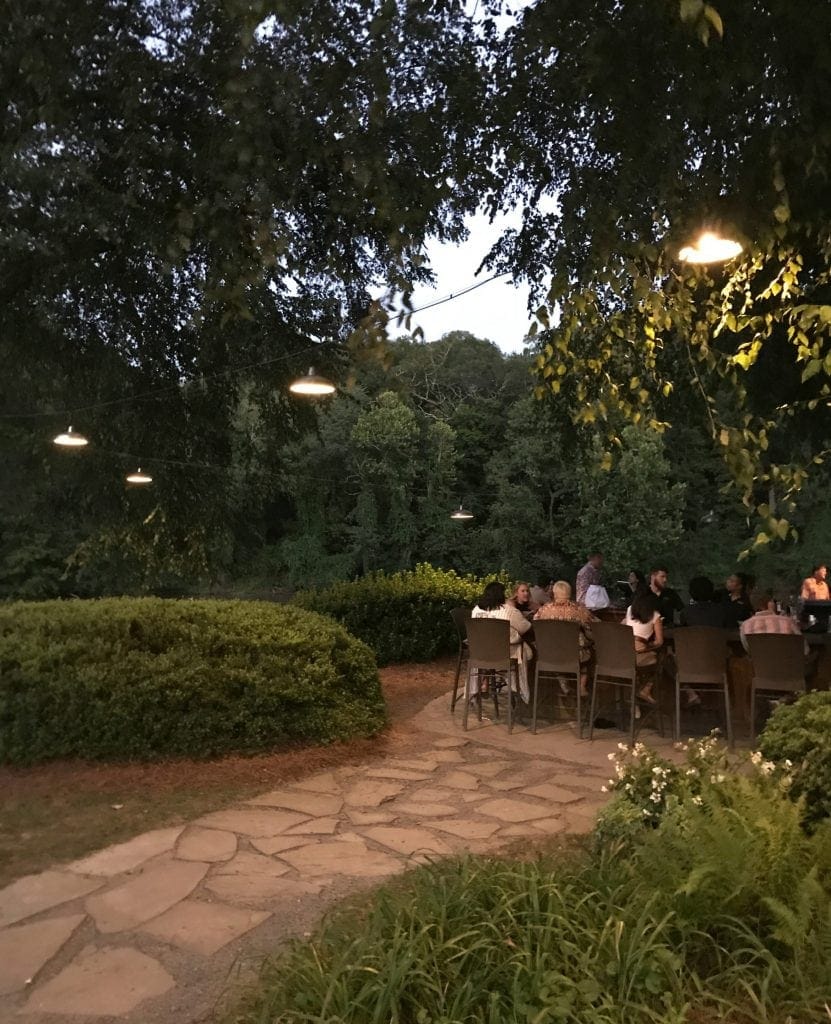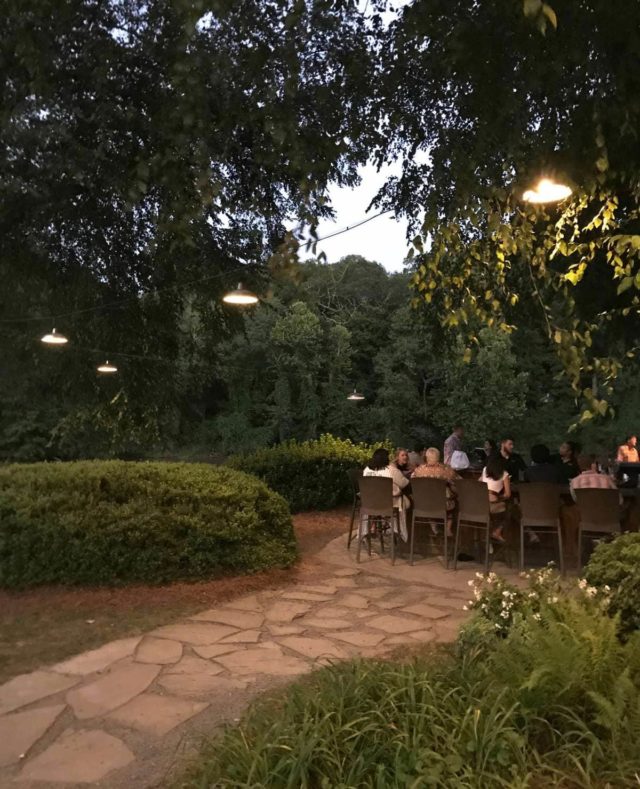 The view was perfect, the weather was perfect. The bartenders were so charming. And yes, they serve the full menu at the bar. The bartender knew the menu well and made the best suggestions for us.  I ended up having two appetizers as my entree. I started with Canoe's House Smoked Salmon which came with crispy potato cakes and Vermont goat cheese. Then I got the Crisped Rhode Island Calamari plated with sujuk, olive, tomato, and horseradish cream. Both were quite delicious and beautifully presented. We couldn't resist dessert, and each of us got a different one. My favorite candy bar is Almond Joy so I couldn't resist their dessert of the same name made with chocolate crumble, coconut cream, and almond ice cream!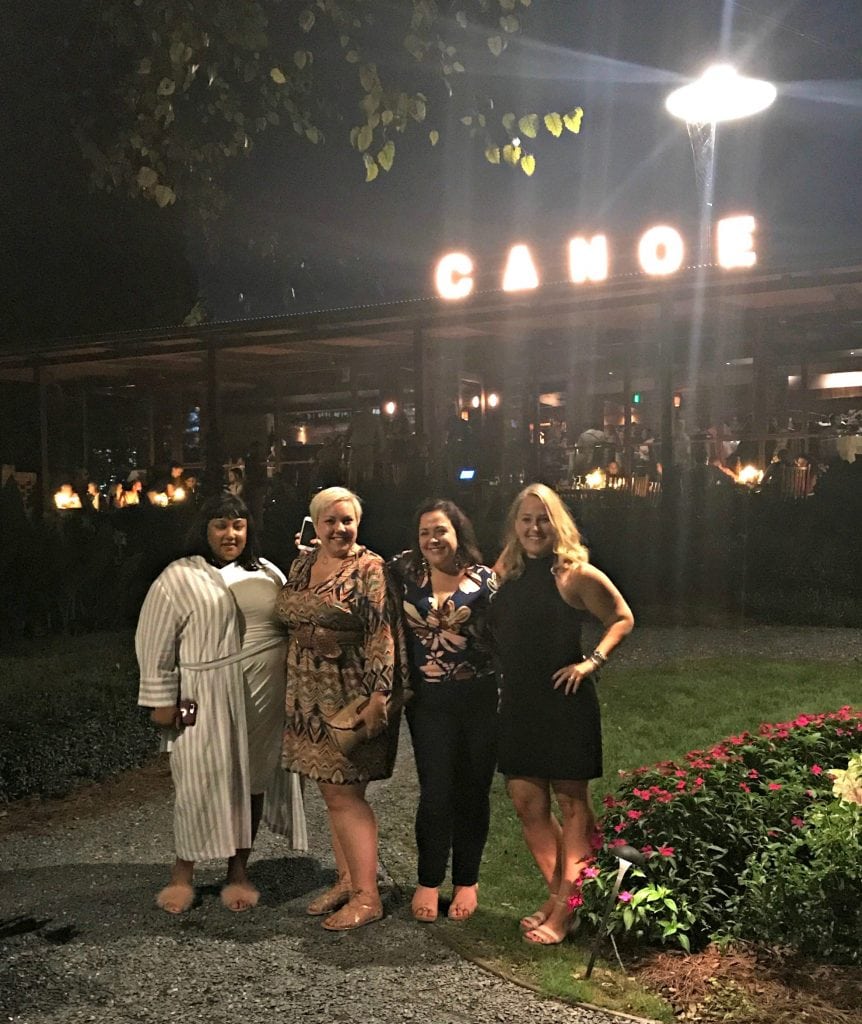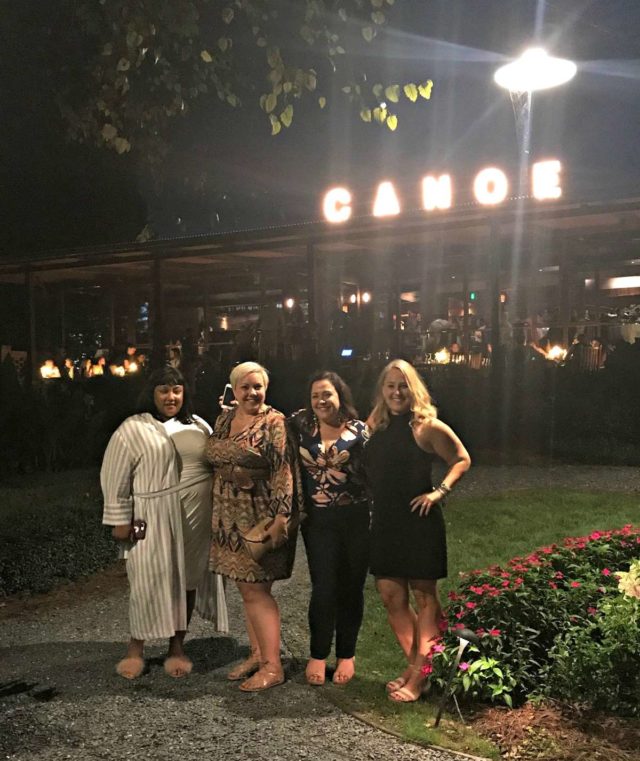 The four of us had the most amazing evening of great food, great drink, and even greater conversation. It was the perfect ending to what was an uplifiting, inspiring, and very stylish weekend with the TCFStyle Expo!