This article may contain affiliate links; if you click on a shopping link and make a purchase I may receive a commission. As an Amazon Associate, I earn from qualifying purchases.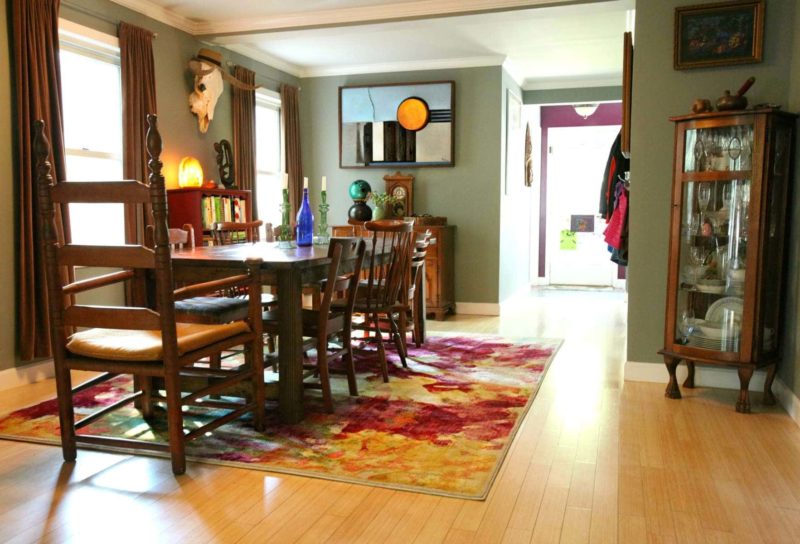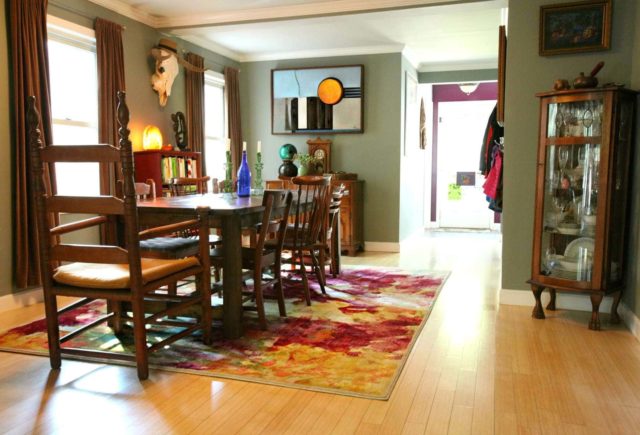 When we bought our home in 2001, it was an historic row home of fewer than 750 square feet. We loved the location – an end unit in a quiet part of town with a large backyard that backed up to woods. However, when we found out I was pregnant we knew the house wasn't big enough for three humans and three dogs. Instead of moving, we decided to renovate, adding another bedroom, one and a half bathrooms, enlarging the kitchen, and adding a proper living room. What is currently our dining room used to be the entire living/dining area for the original home.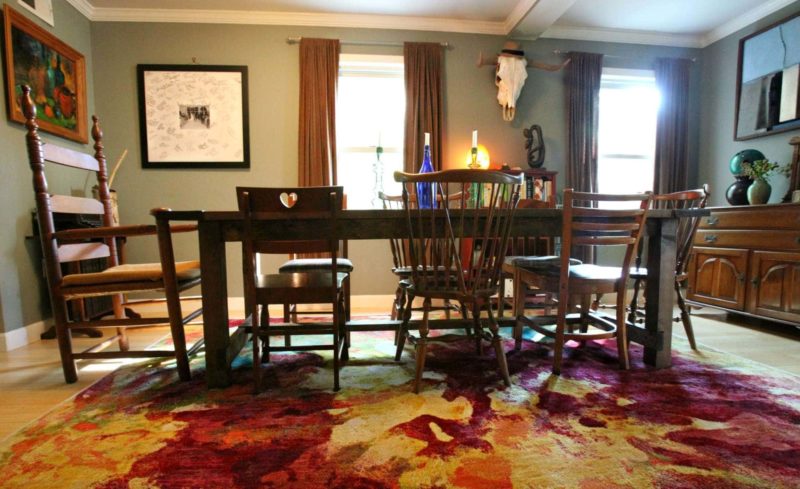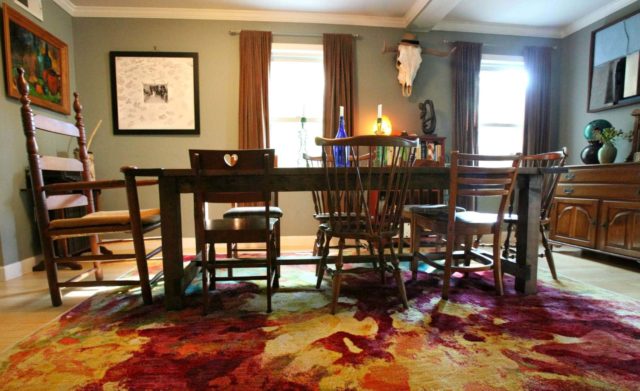 With a full-size dining room we could finally get a full-size dining table. We wanted something sturdy, rustic, that would look better with dings and damage from family life.  You can read about the dining table in this blog post.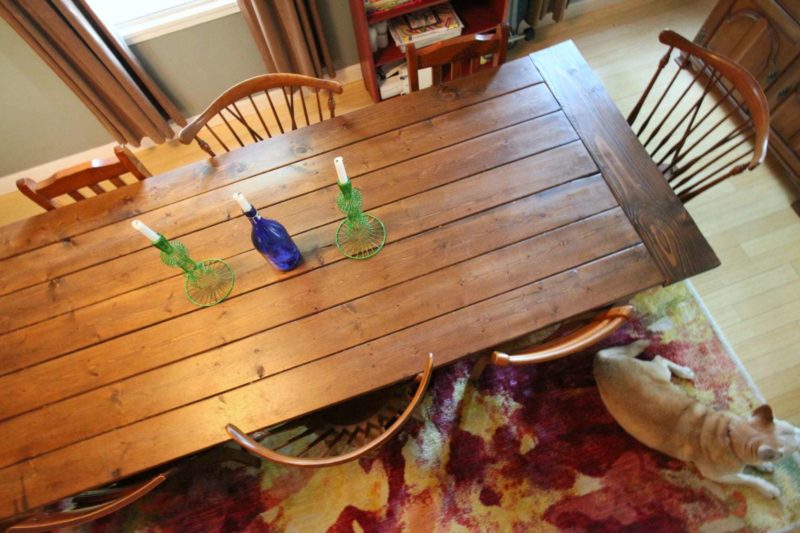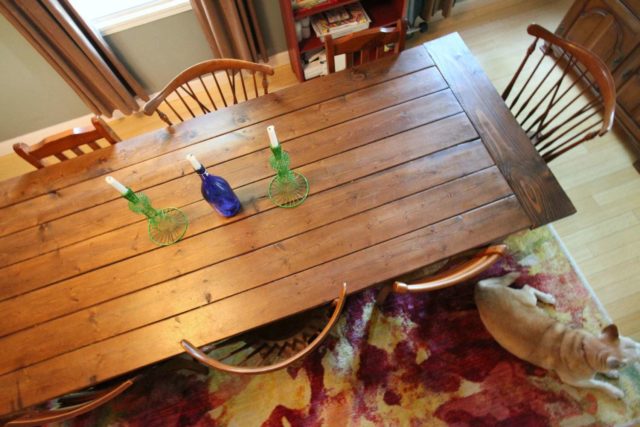 The chairs around the table are a random mix; the Windsor chairs are Ethan Allen and a Freecycle score, the two with padded seats were found on the side of the street, the school chair was from Freecycle, the heart and "throne" chairs belonged to Karl's grandparents.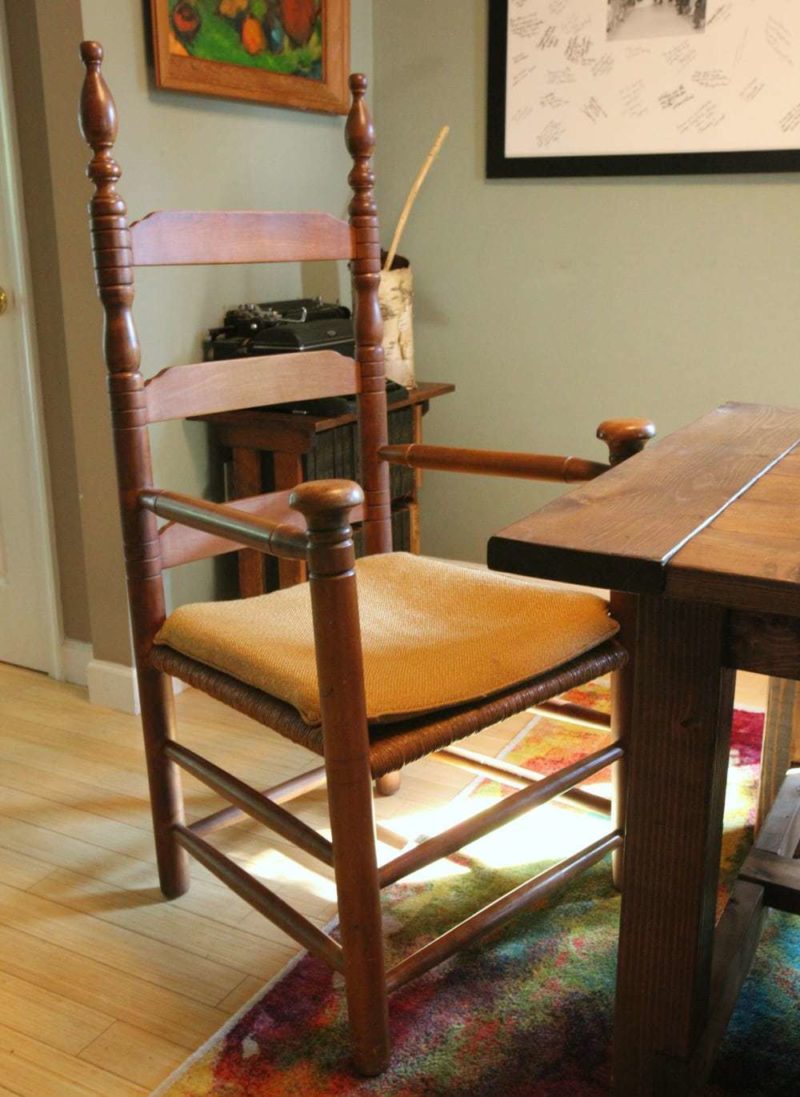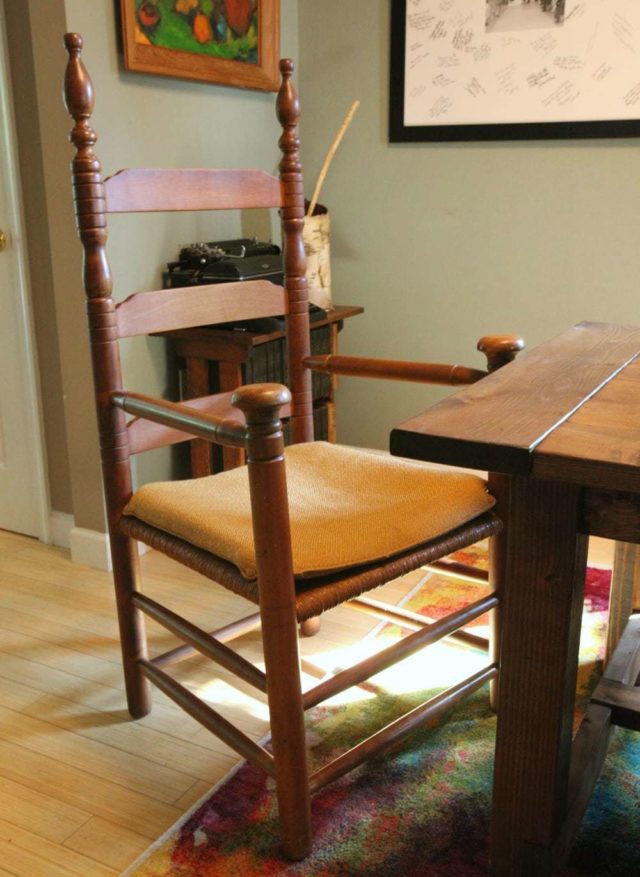 The story behind the throne is Karl's grandparents loaned some money to a friend. They paid it back instead with this chair. Supposedly woven into the wicker seat is the newspaper with the cover story of Kennedy's assignation. It's Karl's favorite chair. Emerson's favorite is the one with the heart in the back. I don't have a favorite (yet, we're always on the hunt for interesting chairs to replace the Windsors and street finds) and usually sit across from Emerson when we have dinner or next to her when we have guests so I can easily access the kitchen.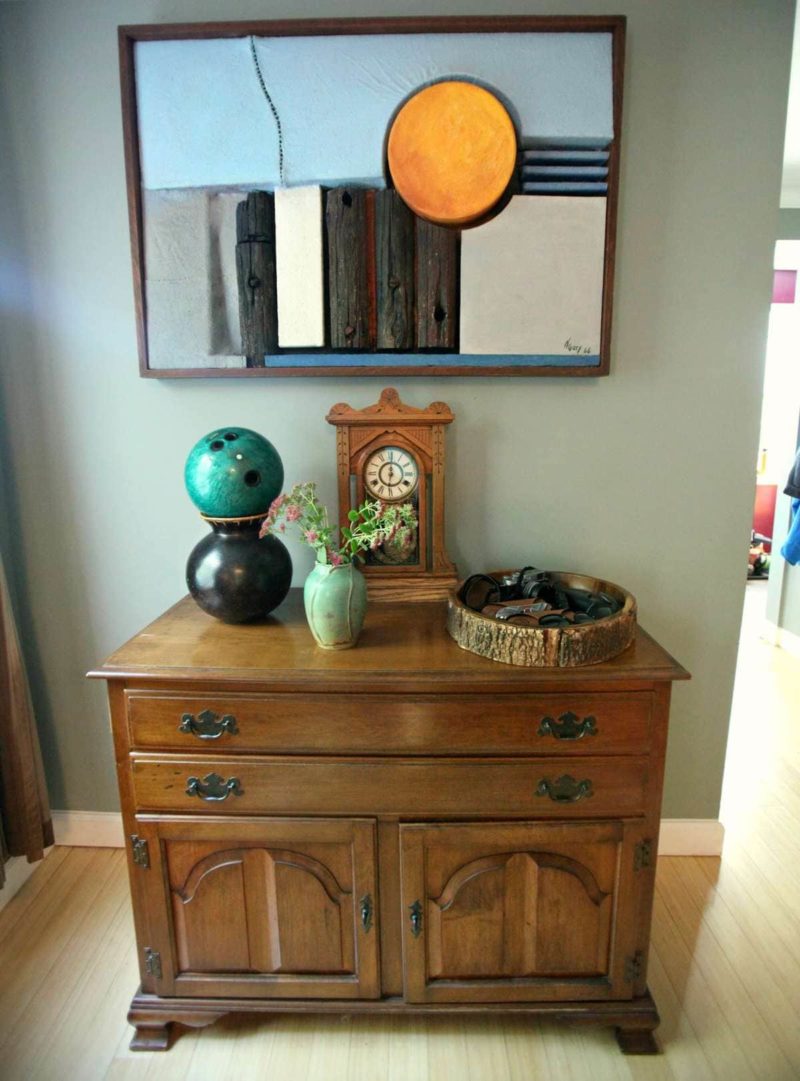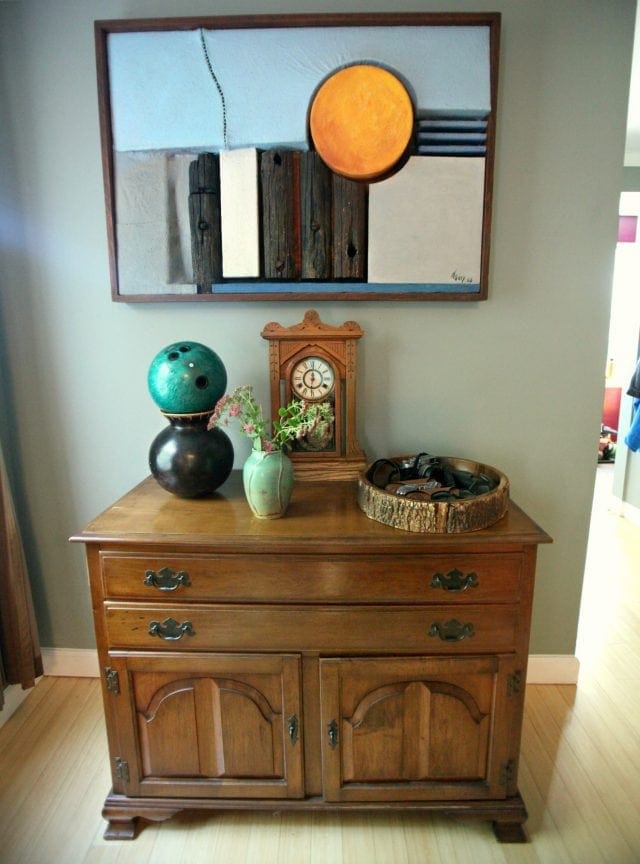 The sideboard belonged to Karl's dad. It's not my favorite in regard to style, but it's perfect for size and storage. Even with the renovation our kitchen doesn't have a lot of storage and this piece stores all our serving dishes, holiday dishes, melamine dinnerware for outside, plastic cutlery and dinnerware for parties, birthday candles, and more.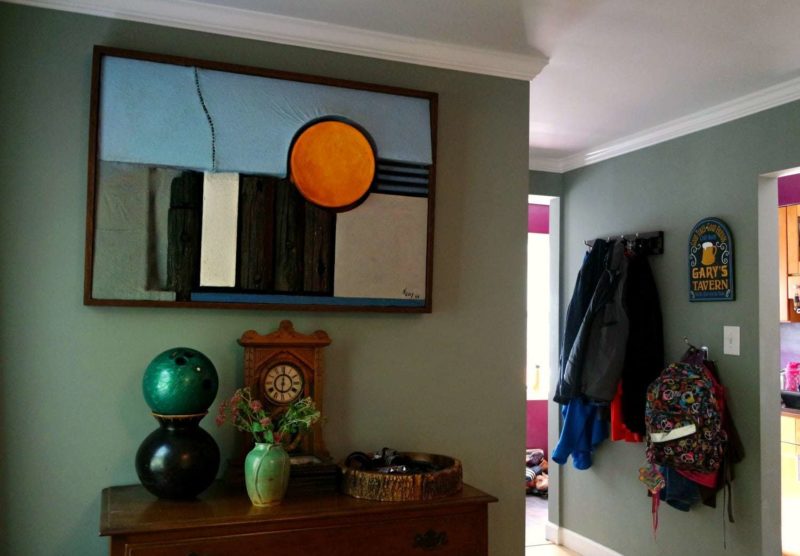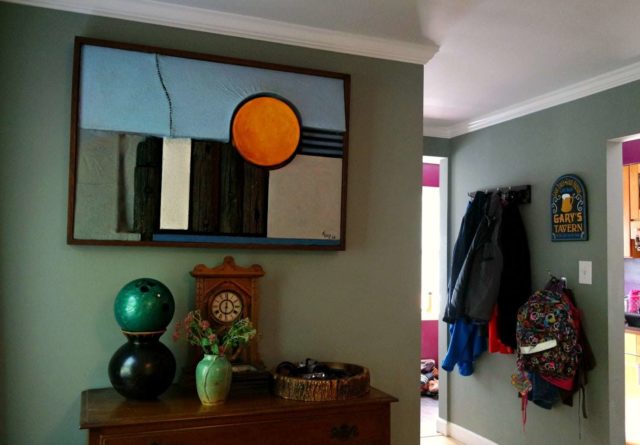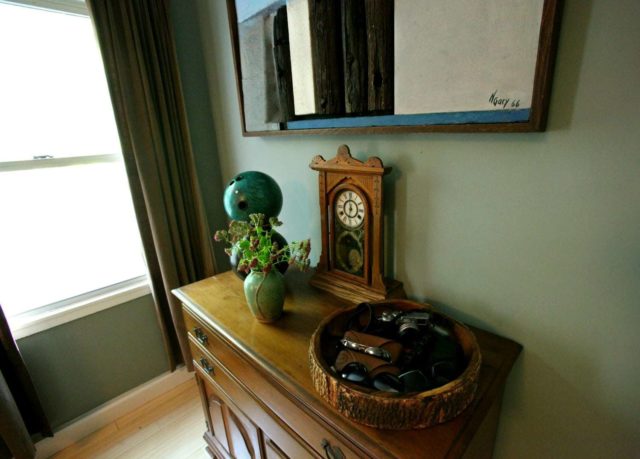 We have a friend who is a bit of a picker who found this bowling ball and gave it to us because it's engraved with the name Gary; I had nowhere to store it so I stuck it on top of this Pier 1 vase over a decade ago to keep it from rolling away and well… it's become a household fixture! The vase is from Roycroft Pottery; Karl gave it to me as a gift before we even lived together. The clock has been in his family for a long while.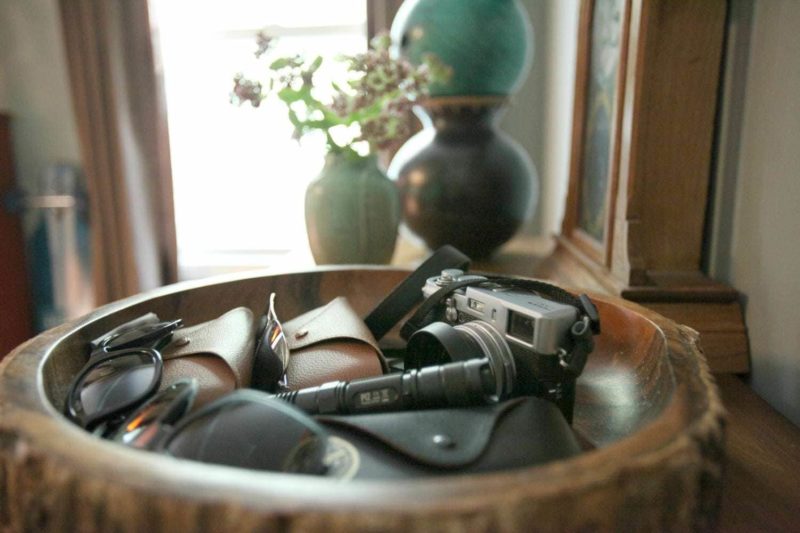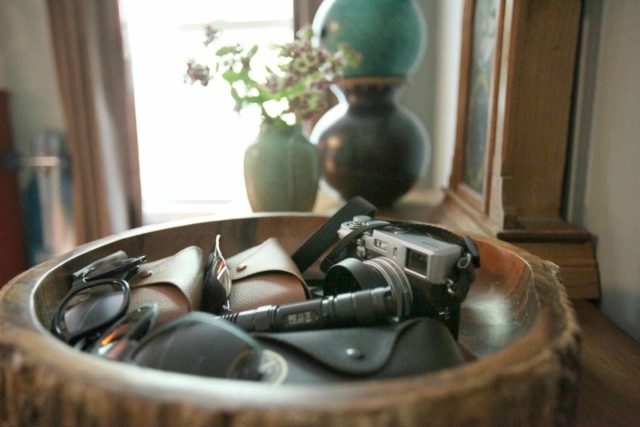 The bowl is Pottery Barn; friends gave it to me as a thank you gift for officiating their wedding. We put it there to store keys and such but as you see it's a corral for our sunglasses (we have even more in the sideboard, we're sunglasses junkies). The art above was done by Karl's paternal grandfather; we have his paintings hanging in almost every room of the house.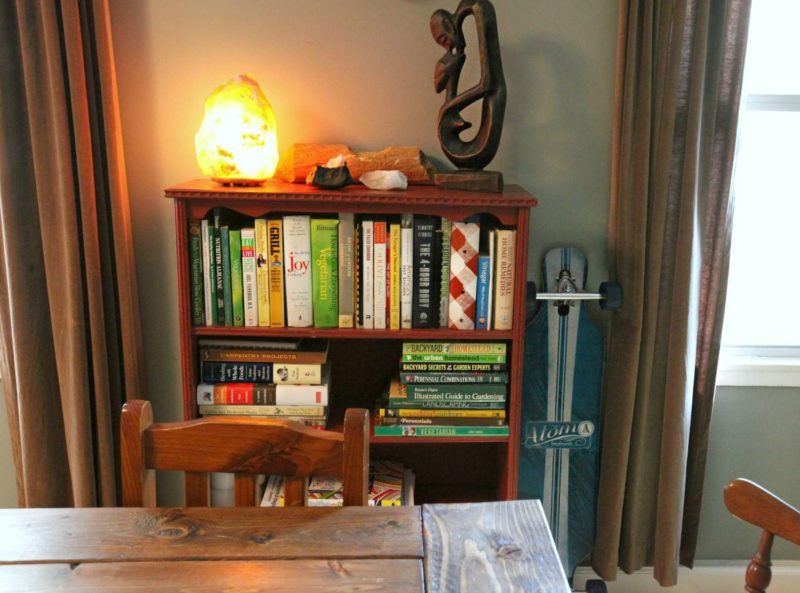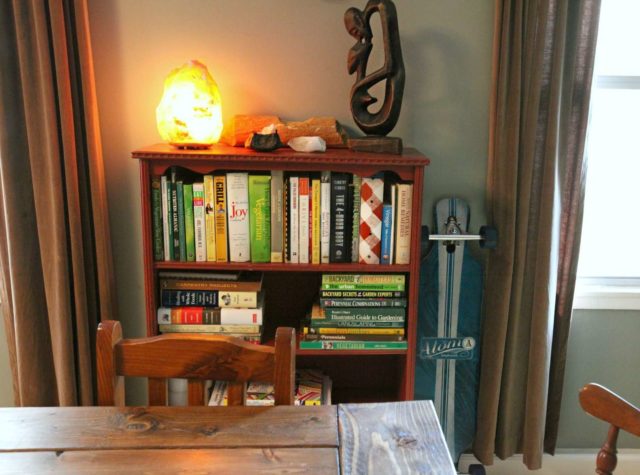 This bookcase I think was a yard sale find by my mom that she passed on to us when we moved in and were low on furniture. I love the details and have been meaning to repaint it, I've been thinking navy or a dark blue-purple. This is where we keep our cookbooks, gardening books, and Emerson's homework and school paperwork. I also keep my sewing machine on the bottom shelf; when I sew it's usually at the dining table. On top is a Himalayan salt lamp (supposedly they purify the air; it's a good nightlight in case Emerson comes downstairs when it's dark), a beaver pole Karl found at our town lake, some crystals and a lava rock, and a wooden statue Karl got me when he was in the navy and his ship visited St. Maarten.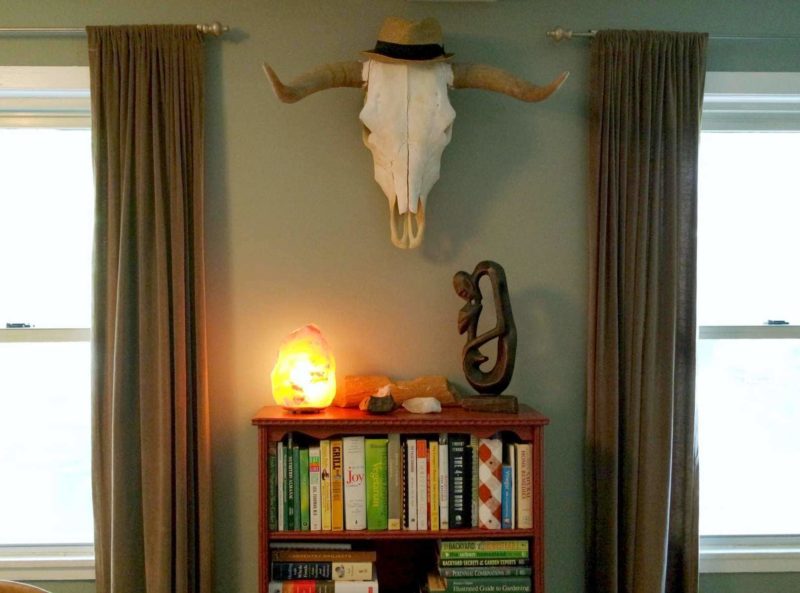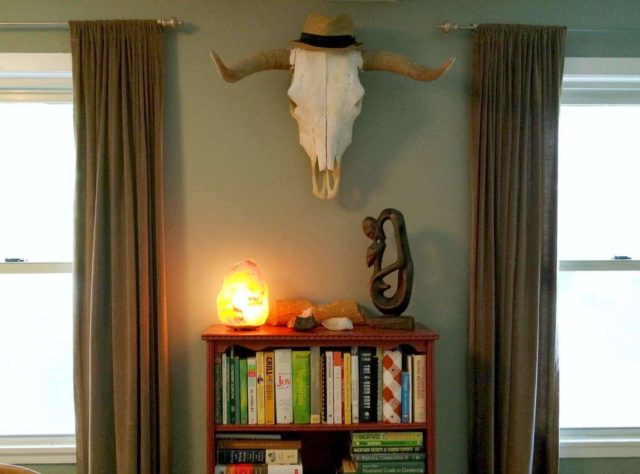 Above the bookcase is Bessie; I got her outside Sedona almost two decades ago when I went to visit my cousin.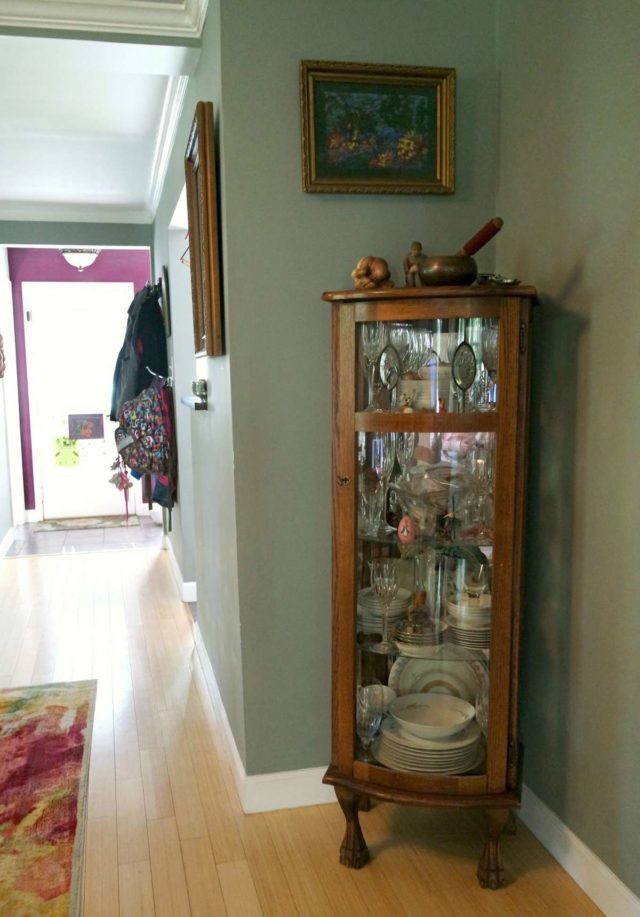 There's a little nook in the dining room near the stairs to the second floor where we have a glass cabinet that belonged to Karl's mom. In it we keep our china and crystal along with random knick-knacks we've wanted to keep out of toddler hands and have just ended up living there. Above it is a pastel on velvet done by my maternal grandfather.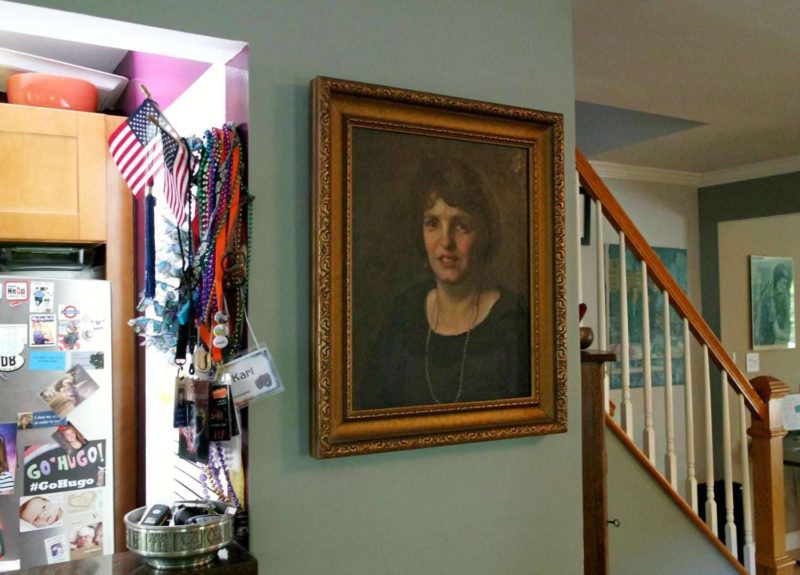 On the wall next to the kitchen is a painting of my great aunt Minna, a jewelry designer. My mom was cleaning out her house and gave me this painting; I put it here temporarily since we had it open and well, Minna's been there ever since. I think she brings good luck and creative mojo to the house.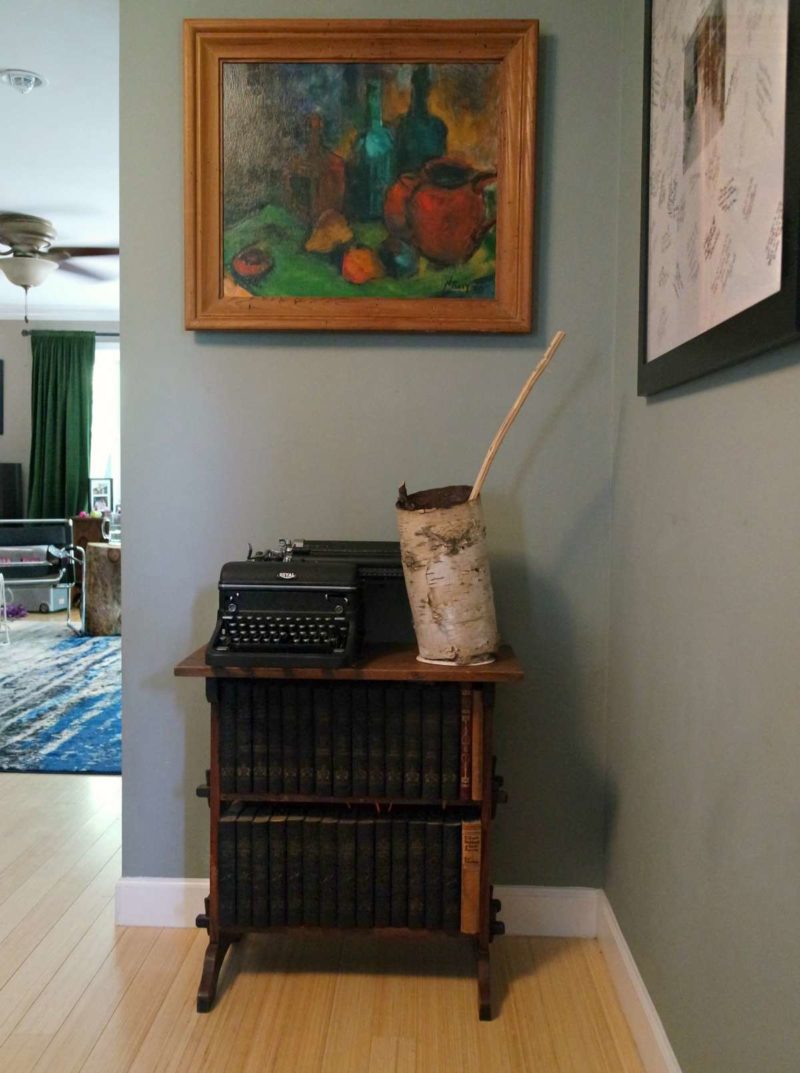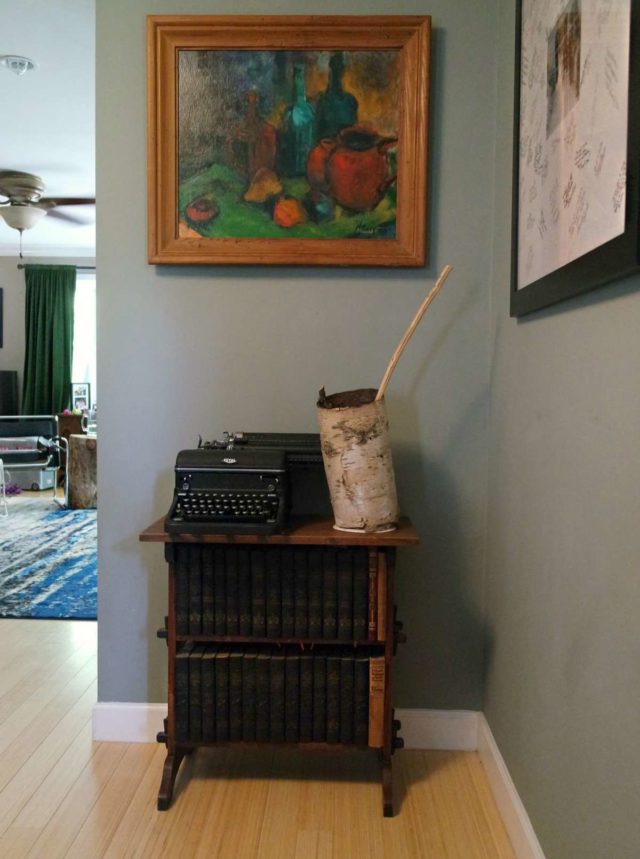 Karl inherited this bookcase with the books when his mother passed away; inside is the full collection of Little Journeys by Elbert Hubbard. On top is Karl's maternal grandfather's typewriter and inside the birch ring is a firestarting kit Karl made. Above is another painting by Karl's grandfather; to the right is the signature frame from our 2004 wedding.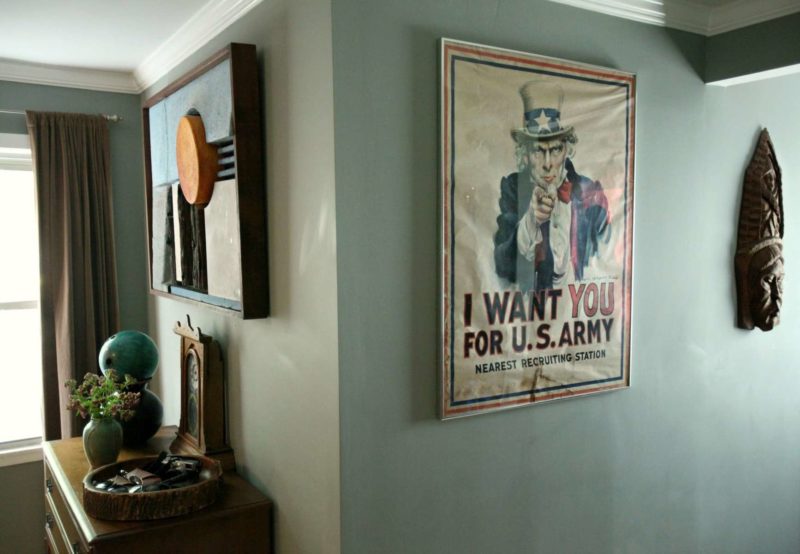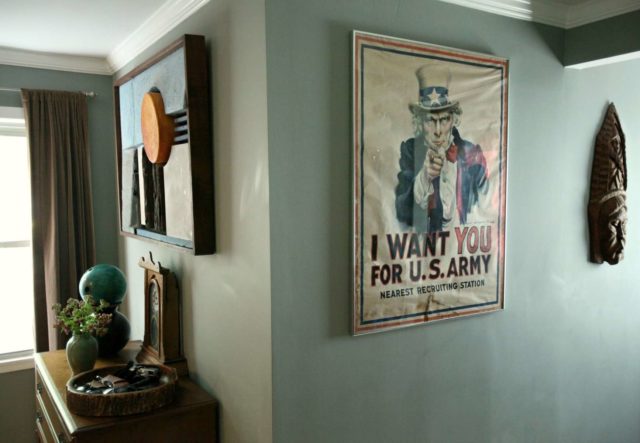 When you enter the house, to the right is the half bath/laundry room (featured in the blog in this post); to the left is the kitchen (seen in this blog post).  There's a short hallway.  On the left is a coat rack (there's no closet on the main floor) and the right we have this original Uncle Sam poster that belonged to Karl's dad and a mask my dad picked up in the '60s when he first visited Haiti.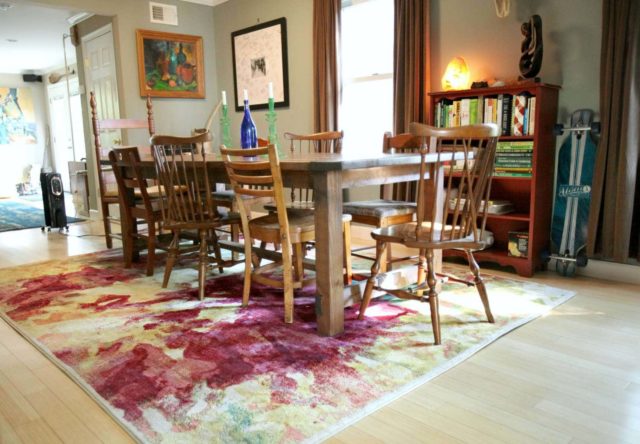 This room is still being worked on. The curtains and rods were left over from our first home. We put them up to get the job done and still wish to replace them with ones the right length and a color we like better. The paint color is nice but not really us; I picked it while on pregnancy bedrest from a small chip and would like to switch it for something more modern and cool toned. I'd like to eventually replace the sideboard with something a wider and with cleaner lines. Something we recently added is the carpet, which is a game changer.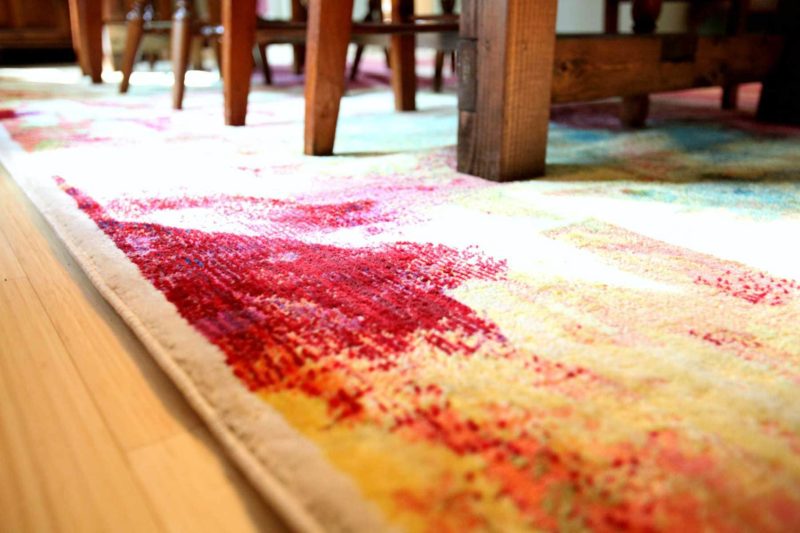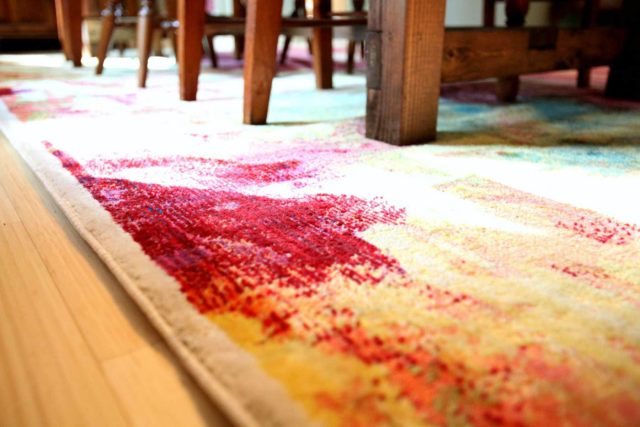 Rug Expedition reached out and asked if I'd like to try out their rugs. Where the dining room is, it can just feel like a large hallway to the living room; I felt a rug would make it more of a separate destination while also making our old drafty home cozier in the colder months. Rug Expedition is a family owned and operated company; they offer free shipping and a 30-day in home trial to be sure you love the rug you receive.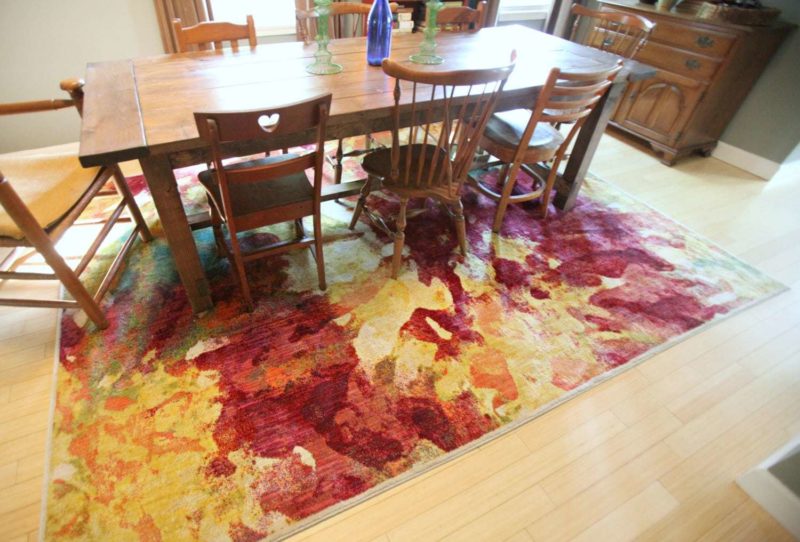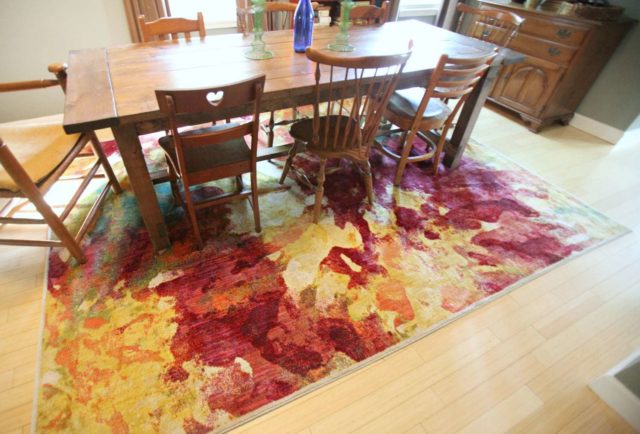 From the Madeline Collection we chose Flame. Our dining room opens right into our living room, which has an orange mid-century sofa with a zig-zag Missioni-esque pattern and a large rug that goes from deep turquoise to grey to pale blue. The dining room is sage green (for now), the living room tan, the kitchen a deep berry. We needed a rug that wouldn't clash or compete with all these colors in our open floor plan. The print Flame incorporated the berry of the kitchen, the green of the dining room, the tan and orange of the living room without being too loud. The rug is power loomed, 100% polypropylene from Egypt and is really plush, doesn't shed, and spot cleans nicely.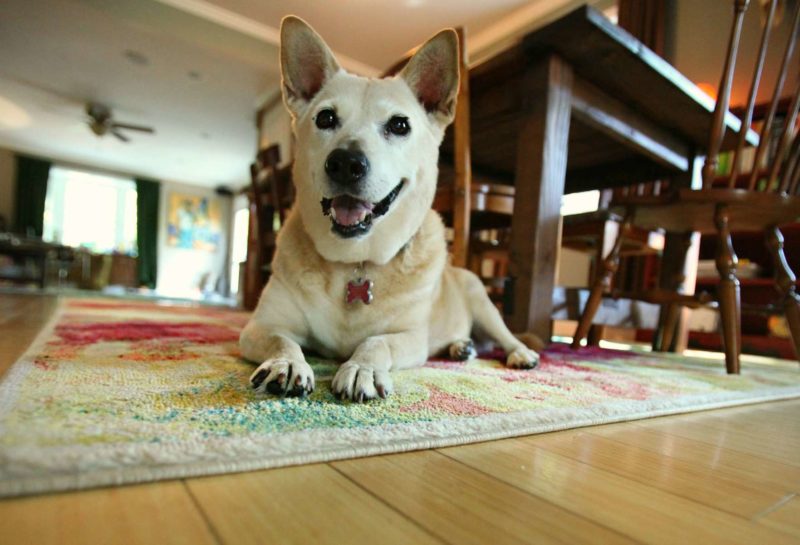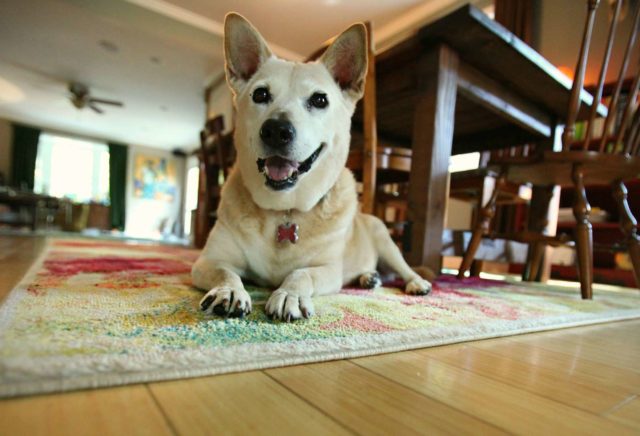 Cindy has dog beds in two rooms and there's rugs all over the home, but her new favorite place for a nap is on the new dining room rug. I don't blame her; it's really soft and in the center of the home where she can see everything and everyone. Another perk: the pattern hides blonde dog fur!
Rug Expedition Giveaway
Rug Expedition was kind enough to offer one Wardrobe Oxygen reader a $100 store credit for the rug of their choice. They have an extensive collection and unbeatable prices so you're sure to find something that is perfect for your home. Giveaway open to those in the Continental US and Canada.  Use the widget below to enter; good luck!