This article may contain affiliate links; if you click on a shopping link and make a purchase I may receive a commission. As an Amazon Associate, I earn from qualifying purchases.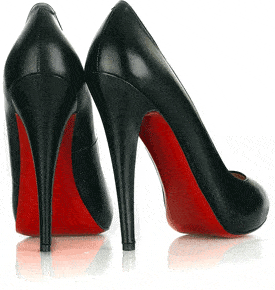 I don't own fancy shoes.
Not until the past couple of years did I even consider a pair of shoes over $75, and you'll never see me in boots over $250 or other shoes over $125.
Even if I won the lottery, I wouldn't wear Loubies.
A few other DC bloggers (Rosa Loves, High Fashion for Less, Apolinnas, The You Finder) have a Blogger Confessions series and it inspired me to do the same today.
I confess that I don't own expensive shoes and probably will never own expensive shoes for these reasons:
1. My feet smell. My feet have always stunk. I tried cotton socks, shoe liners, deodorizers, natural products to no avail. My mother said her feet smelled until she had children and I hoped and prayed that the same would happen to me. It did… until I stopped nursing. Gosh knows why, but the feet started kicking again a few weeks after I weaned Emerson.
I use Footpetals in most of my shoes to not only make them more comfortable, but to absorb sweat. I then can replace them when they get funky, leaving the shoes in relatively decent condition. However they still end up being a bit funky after 1-3 years and have to be removed from the wardrobe.
2. My feet sweat. I can put on a pair of shoes for an hour, sit the entire time, and stand up to squishy, slipping shoes. Again, Footpetals help immensely but this causes many of my shoes to stretch out over time.
3. I walk hard. I try to be a lady, but I walked on my toes all my life, which means I either bounce around, or a clomp around. I have my heel caps replaced several times a season and break at least one heel a year.
4. I am a klutz. I break heels, I break off heel caps, my heel gets caught in a grate or in the crack of a sidewalk. I trip, scuffing off the front of my shoe, or slip out of my shoe, stretching the toebox. Again, I try to be careful and ladylike but fail miserably 75% of the time.
5. I believe shoes should be worn. I am not the type to have commuter shoes, I want to actually wear the shoes I buy. For me, there's no point in wearing a pair of beater shoes to walk from the Metro to the office, then put on fancy shoes which are hidden behind my desk all day long. The shoes I buy need to be workhorses, ones that look good, feel good, and can survive a morning commute.
6. My accessory tastes change faster than my clothing tastes. Five years ago, I felt the most classic shoe was a peeptoe pump with a slender heel. I had the same BCBGirls "Aria" pump in black snakeskin, brown snakeskin, and leopard suede and felt they were the types of shoes I would wear for eternity. After I had Emerson they no longer fit so I got rid of the stinky black and brown ones and gave the newly replaced leopard ones to my best friend and went on an eBay search for replacements (the style was no longer available at retailers). I found a pair in black patent, won the auction, had them delivered, put them on… and they just looked wrong. Not me. They went back on eBay the very next day.
I can wear a simple black dress for a decade without tiring of it, but a black pump I like to switch up with the trends. I have a pointed toe in my closet and have had a variation of it for years, but right now I am really liking a slight platform and a rounded toe. Next winter I may want a thicker heel, or a different texture to the leather.
7. I prioritize. People often ask how I afford my wardrobe. I don't go on fancy vacations, I don't drive a fancy car, I live in a very small home, I bargain shop, I love me some Freecycle and Craigslist (and eBay, obviously!), and I don't buy expensive shoes. I choose to spend my money on what I care about, and for me, I prefer a wardrobe full of flattering versatile pieces than a wardrobe full of fabulous shoes. While I adore shoes, I get more pleasure from a dress or even a new necklace.
While I love me some Louboutins, think Manolos are pretty major, and celebrate the beauty of a pair of Jimmy Choos, I won't have any in my closet any time soon.
Follow Me | Twitter | Facebook