This article may contain affiliate links; if you click on a shopping link and make a purchase I may receive a commission. As an Amazon Associate, I earn from qualifying purchases.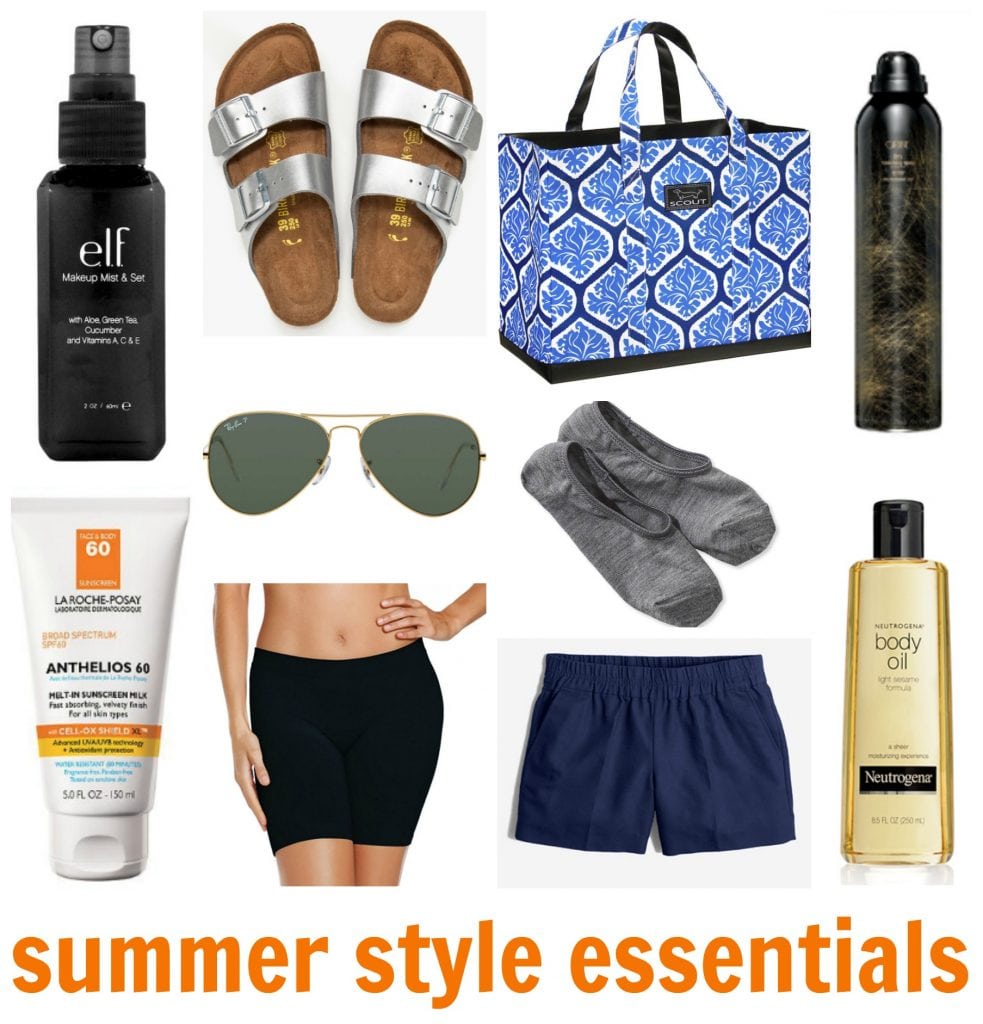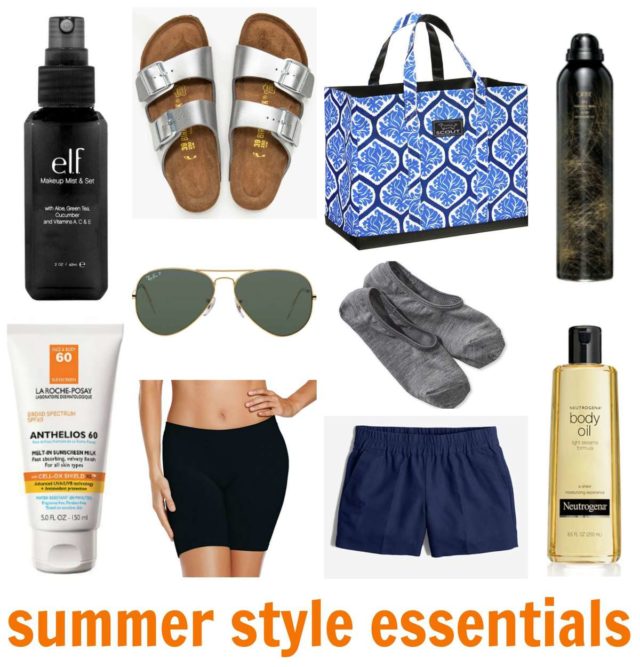 Summer is here, and boy did it slam us here in DC. Less than a week ago I was shivering in a coat and today it's 85 degrees. While I transitioned my wardrobe from winter to spring/summer a month ago, we're now heading into weather where jeans and short sleeved sweaters sound like utter torture. It got me thinking about my summer essentials, pieces I go to every year that go with my style as well as my lifestyle.
Ray-Ban 62mm Aviators
I have a big noggin. Even as a kid, I found I needed bigger hats and sunglasses than my friends and headbands gave me a headache. When the oversized black plastic sunglasses were a hot trend I was happy because it worked for my face. But the past decade, sunglasses have gotten smaller and in a variety of shapes that aren't flattering on me. That was until I found the 62mm size of Ray-Ban avaiators. I've purchased a few other brands and styles since then, but the only sunglasses I continue to love are these. They're lightweight, classic, and cool. I can wear them with shorts and flip flops, or with a suit. They may be trendy now, but they're a style that will never be completely out of fashion. My gold and green sunglasses I bought in 2009, my gold and gold ones 2010. I've found some gently used pairs on eBay for great prices, but usually buy on Amazon because they will offer them for a few dollars cheaper than department or sunglasses stores.
Oribe Dry Texturizing Spray
It's hard to explain this product. It's kind of like a styling product, a bit like dry shampoo, and can act like hairspray. It's in an aerosol can like hairspray, but it's not sticky or shiny. I like to add it to freshly washed hair to give it a bit of grit and texture; it works great to make humidity hair look purposeful. It doesn't get weird when your scalp gets sweaty; in fact I think it absorbs it a bit. I can messy blow dry or air dry my hair, spray in some Oribe Dry Texturizing spray, hit wonky spots with a curling iron or wrap around my finger that has some styling cream on it and I'm good for a beachy summery look all day and into the evening.
La Roche-Posay Sunscreen
When I head to the beach or pool I'm great with some water-resistant spray I can easily apply and reapply. I don't mind if I look shiny or feel greasy. But most of the summer is not spent on the beach (sadly), but still requires sunscreen. La Roche-Posay was at the 2015 BlogHer conference; I got some samples then and became a convert. Their sunscreens are effective, and absorb so well you can wear with your work attire and under makeup.
This summer I'm using the brand's Anthelios 60 Melt-In Sunscreen Milk and Anthelios Clear Skin Dry Touch Sunscreen. Both with Broad Spectrum SPF 60, both absorb super quickly, are very low on scent, water resistant, and don't cause breakouts. The Sunscreen Milk I apply on my body: neck, collarbone, arms, upper back, and legs. I apply my moisturizer first, usually in the evening or at least an hour before applying the sunscreen. The Dry Touch I apply to my face after serum and before makeup.
Note: La Roche-Posay occasionally sends me free product and did send me the two products mentioned in this review. However, I use and am including because I truly love the product and was not asked to write this.
Smartwool Hide and Seek Socks
Most no-see socks are a joke. Either they show, or they slide down and get all bunched under your foot. Not so with these socks. I've raved about Smartwool Hide and Seek socks before and I have to again. They stay in place, they don't show even in my lower profile sneakers and flats, and because they're wool they wick away moisture, preventing summer swamp foot. Zappos has 3 pairs for $39, I find the best price for individual pairs on Amazon.
Neutrogena Body Oil
I love this stuff. I've been using it off and on since college. I find something fancy, trendy, cool, but always go back to it. I adore the smell, it works so well with my perfume too. After a shower I apply it everywhere and let it soak in. It gives my skin a bit of a sheen that is so nice in the summer when exposing more. When I take a bath I sometimes add some to the water. It's lighter than almond oil, so it's more comfortable in the summer heat and humidity.
Birkenstocks
Some people hate Birks, some love them. I'm in the love camp. I wore them back in the '90s (my favorite pair was purple suede) and I've been wearing them the past few summers. Recently I wrote about my love for the Birkenstocks Essentials which can get wet and sandy. I also love the metallic versions and buy a fresh shiny pair almost every summer. They're not graceful or elegant, but they're comfortable, walkable, and fun. I like them with sundresses, my favorite pair of beat up denim shorts, with crisp Bermudas, with boyfriend jeans and camis on cool summer nights, and are best paired with a bunch of silver bracelets and necklaces.
J. Crew Factory Boardwalk Shorts
I'm short and curvy, a terrible combination when shopping for shorts. Petite shorts are usually so low in the rise they hardly cover my rear or else are too snug on the thighs, but regular sizes bunch like diapers and are usually at a frumpy length. J. Crew Factory's Boardwalk Short comes in 3" and 5", both have a comfortable width of leg, pockets that don't bow, and best of all? A pull on waist! The combination of the clean silhouette and the classic fabrics like chino and linen makes them look polished even though they have a comfy waistband. Each year they have different colors and fabrics and each year they sell out super-fast. I can often find them at J. Crew Outlet stores.
SCOUT Bags
Many moons ago, SCOUT Bags sent me their Junque Trunk to review. I first had it in the trunk of my car to keep groceries and other purchases contained. The box then came in the house and was at the bottom of my closet, first holding items that needed to be repaired/ironed/dry cleaned, and then being a place I kept out of season shoes. When Emerson came on the scene, the Junque Trunk moved to her room to be a toy chest. It sometimes ends up being dumped in the corner and transformed into a doll bedroom. But to have something that useful, sturdy, and still good looking for over a decade made me a SCOUT Bags fan for life.
SCOUT makes bags, coolers, accessories, and storage in the coolest patterns, the prettiest colors, the most durable materials, and in the smartest shapes with the smartest details. Oh, and it's also a company that started in DC! I have The Original Deano and it's my favorite summer bag. I'll carry it to the farmers market with a blanket and bottled water, fill it up with purchases, and then sit on the hill next to the market to enjoy brunch, knowing the bag won't tip and everything is secure. The bag is great for the grocery store, I can fit several bags worth of groceries in it, it keeps items upright on the car ride home. And for the beach it's great to carry everything to the shore but not worry about sand, saltwater, or sun damaging it. I can even hose it off at the end of the day!
Jockey Skimmies
Dresses are so comfy on hot and humid days, but oh the chub rub! I've tried so many products to battle chub rub (of course I've shared my chub rub solutions!) and Jockey Skimmies are my favorite go-to. They're virtually invisible under clothing, don't roll, don't ride, don't sag, don't give you swamp butt, and if you wash them on gentle and line dry they last more than one season, even if it's a season of repeated wear.
e.l.f. Makeup Mist & Set
This stuff is amazing. For less than $5.00 this bottle will truly help your makeup stay in place, even through sweat and humidity. I've tried pricier brands and don't think they are any more effective. For special situations like weddings or photo ops, I've done a misting between layers of makeup to have it hold even better. I don't find it to break me out or clog pores.
Shop The Post:


What are your summertime essentials?