This article may contain affiliate links; if you click on a shopping link and make a purchase I may receive a commission. As an Amazon Associate, I earn from qualifying purchases.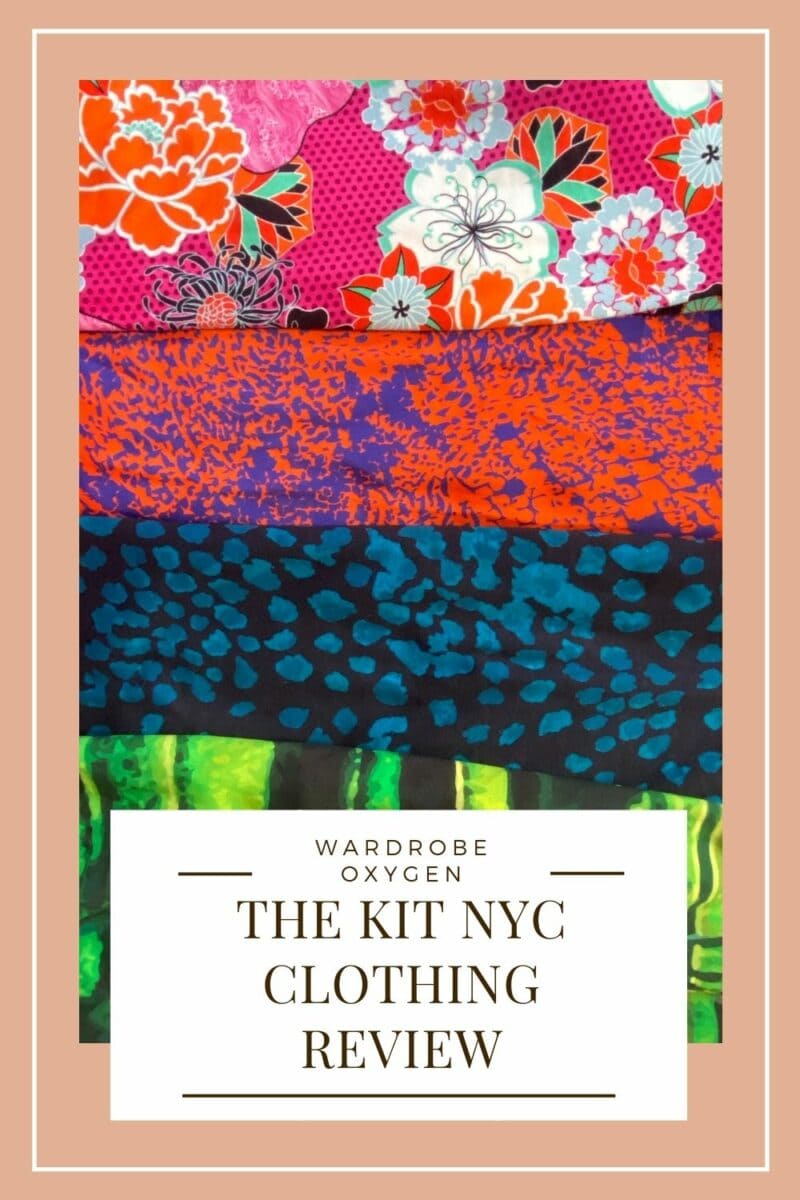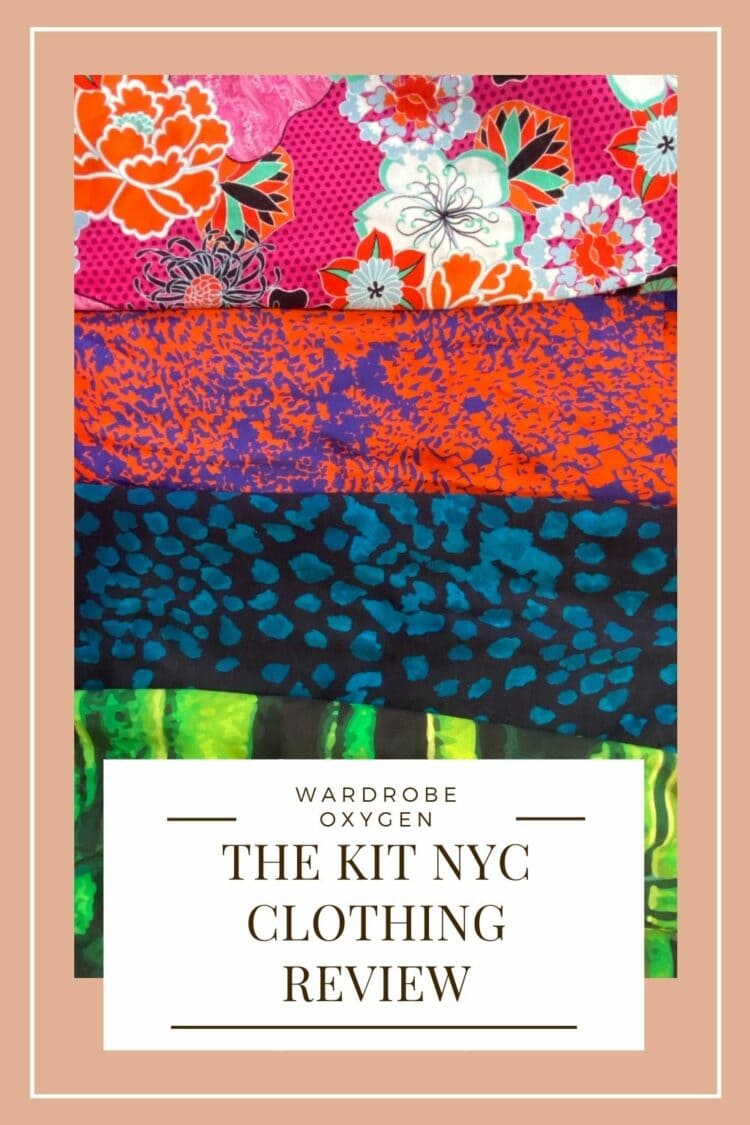 In the past few years, it seems as though every time I have opened Instagram I have seen an ad for THE KIT NYC, a sustainable and size-inclusive fashion brand known for its bold and colorful printed clothing. I liked the company's ethics, liked that they went up to 3XL, and loved seeing such aspects in a riot of color and unique patterns. I couldn't help but place an order in hopes of loving it and writing a raving THE KIT NYC review.
The thing is, the clothing I have received from THE KIT NYC hasn't really warranted a rave. Because I love the concept of THE KIT so much, I haven't made one, but three purchases of clothing from the brand over the span of two years hoping the previous one was a fluke and I could eventually write a positive THE KIT NYC review.
After ordering two shipments of clothing and receiving a dress from THE KIT as a gift, after experiencing four of the brand's fabrics and six different styles from the collection, I feel I can comfortably write this review.
However, this THE KIT NYC review isn't cut and dry a rave or a rant. Consider it a PSA to those who are over a size 10, and a plea to Daniel Vosovic, the designer behind THE KIT, to take things a bit further so this colorful, size-inclusive, and sustainable fashion brand can be as awesome as it appears on Instagram.
What is THE KIT by Daniel Vosovic?
THE KIT NYC (also known as THE KIT.) is a fashion brand by Daniel Vosovic. Vosovic created THE KIT in 2017 as an alternative to fast fashion. With every garment under $200 and most under $100, THE KIT is a sustainable fashion brand set up thanks to partnering with Resonance that doesn't require inventory, uses natural fibers, reduces waste, and offers an easy-to-use retail website and excellent customer service and order processing.
With so many sustainable brands offering only sizes up to size 10 or collections in neutral colors, THE KIT stands out by offering several of its styles up to size 4XL and every piece in richly colored digital prints that are both joyful and sophisticated.
Who is Daniel Vosovic?
You may recognize Daniel Vosovic's name as he was the runner-up on Season 2 of 'Project Runway' and the winner of a season of 'Project Runway All-Stars'. A skilled fashion designer, Vosovic received a BFA in Fashion Design: Women's Wear from both FIT and Polimoda. He also received additional formal and on-the-job training at Gorland/Ittiere in London and through fashion seminars by Li Edelkoort in Florence, Milan, and Paris.
In 2012, Vosovic was accepted into the class of ten designers for the two-year CFDA Fashion Incubator program. Daniel Vosovic has had an eponymous fashion line since 2009, and in 2017 launched THE KIT.
What is Resonance?
Above I mentioned that Vosovic partnered with Resonance to offer THE KIT. Resonance is a technology company that builds sustainable fashion businesses (brands, manufacturers, and retailers) using its proprietary cloud-based platform. Resonance is a cool concept that represents brands like Pyer Moss and Tucker NYC.
Resonance will do most everything to help a brand exist – it helps develop new products or get currently existing products on their platform, source the materials and make the product, ship the product, deal with returns and customer service. Resonance will also create a shopping website and help with basic finance needs like bookkeeping, accounts payable, and accounts receivable.
Resonance is genius, and I think a way for a lot of designers with amazing ideas but no staff or warehouse or much capital to create a successful brand and quick delivery of their fashion to the masses.
My First Purchase from THE KIT NYC Review: Fool Me Once
January 2020, after seeing THE KIT over and over show up on my Instagram feed and falling in love with the bold prints and modern yet simple silhouettes, I placed an order.
I chose the BIllie Pants in Pink Haze and the matching bomber cardigan (seen in the photos below but no longer available online). As a size 14 in most popular brands and scoping out the size chart, I purchased both items size XL.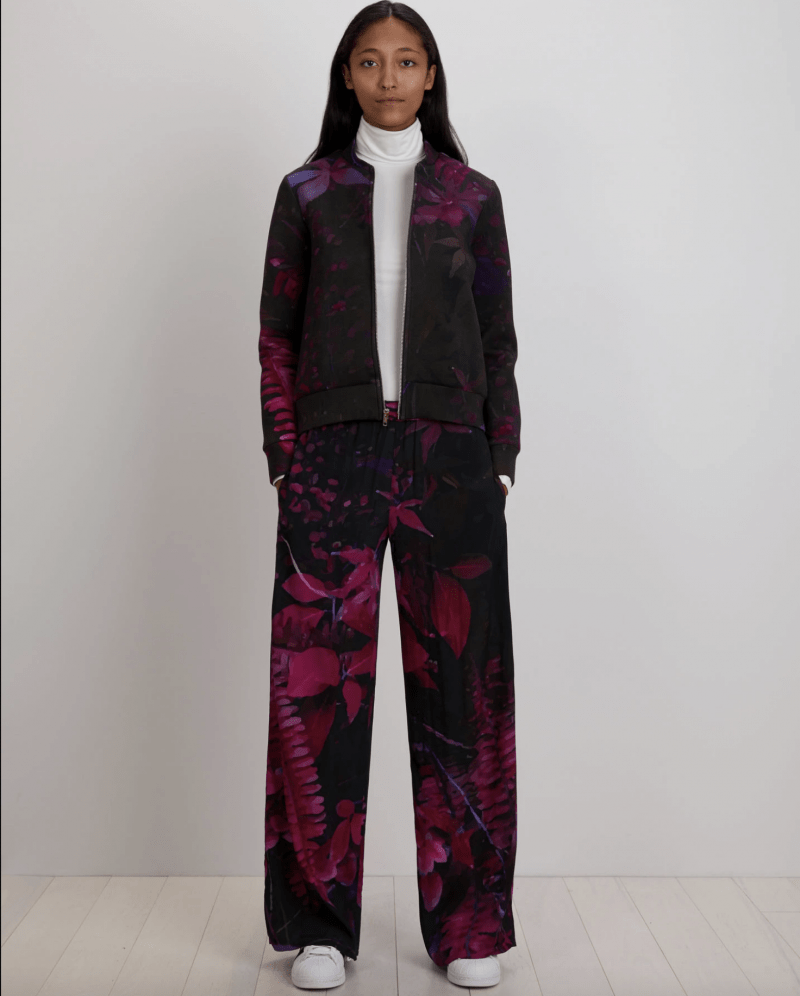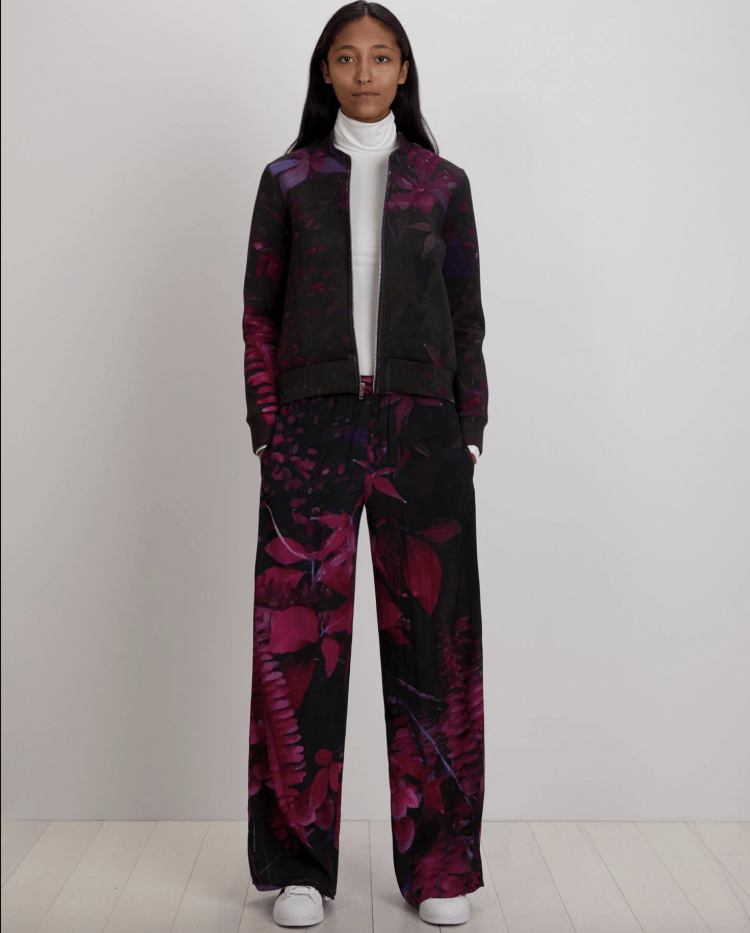 The garments from THE KIT arrived quickly considering each piece is made only when an order is placed. I was so excited, I opened the bag and before even unfolding the clothes I was disappointed.
The pants were a viscose/rayon blend (textured like a crepe) while the bomber was a heavyweight knit (not sure the fabric makeup). Made of different fabrics, they took the inks from the digital prints differently, and the bomber jacket not only looked faded compared to the pants, it didn't even look like the same color.
Both pieces had a magenta and purple print but were sewn with a white thread, extremely visible around the pockets and along the hem.
The back pocket on the elastic-waist pants was sewn on an angle and the print was a different angle from the pants. I couldn't tell if this was a purposeful design element or a manufacturing mistake. The front pockets of the pants were unusually low; I couldn't even get my hands in them with my elbows straightened.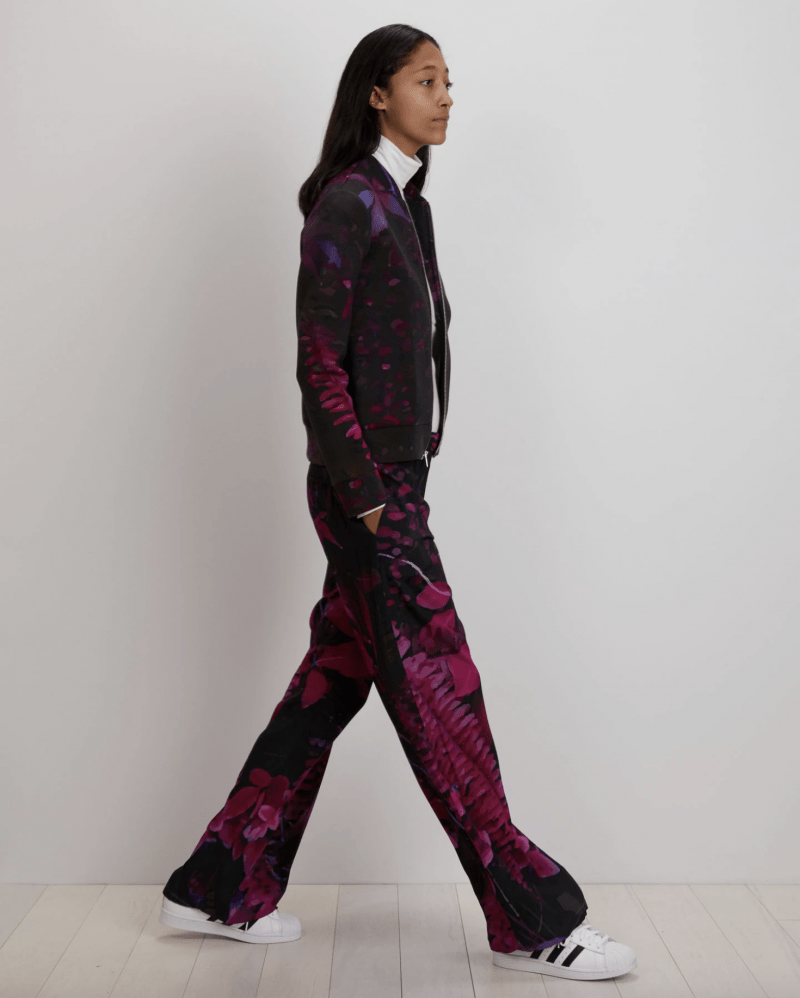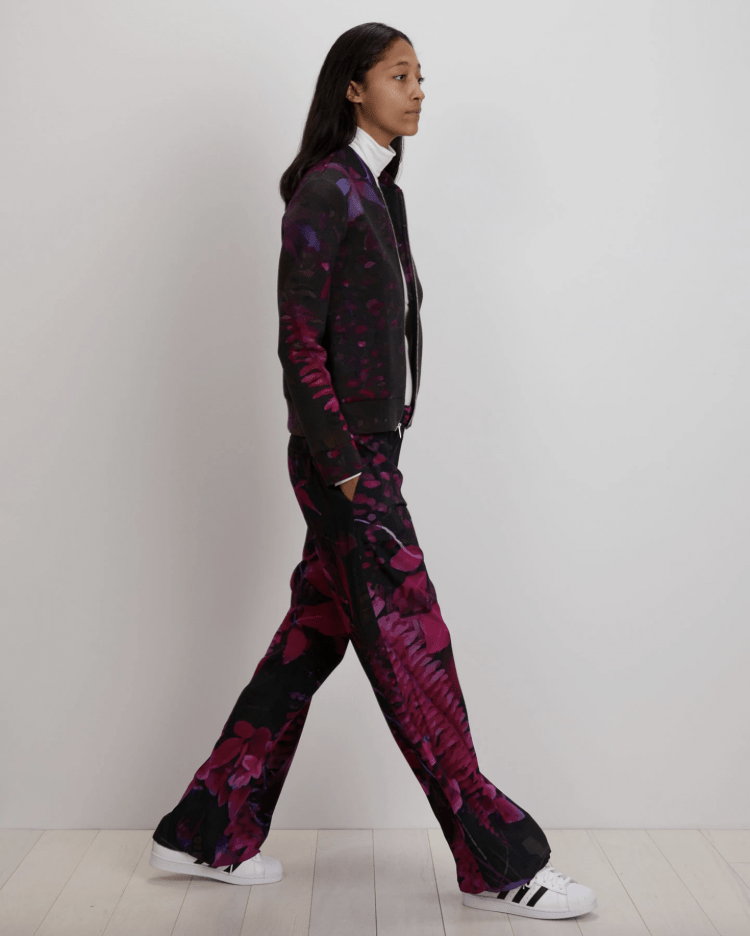 The bomber cardigan fabric was stiff and the seams in the unlined jacket scratched me when I slipped it on over a tank. The sizing was so weird; the sleeves were crazy long, the body also weirdly long hitting low on the hips. The print on one arm went in a different direction from the rest of the jacket.
I wasn't expecting haute couture, but with the price point, I expected the quality to be equal to department store brands like Vince Camuto, I.N.C., or Halogen. These reminded me of pieces I'd make back in high school with a Butterick pattern and my little Singer sewing machine, not mass-produced fashion from a well-known fashion designer.
The only reason I felt the price of these items from THE KIT was justified was because of the sustainable materials and methods for manufacturing. If those weren't in place, I'd equal the quality of these items to something found at a discount mart or crafted in a high school Home Economics class.
I was glad that THE KIT had easy returns because that stuff was sent back the same day. My money was returned quickly too. Unfortunately, I have no photos of these pieces on me.
My Second Purchase from THE KIT NYC Review: Fool Me Twice
As the year progressed, I kept seeing more ads for THE KIT on social media. I also saw some influencers I knew wearing and recommending the pieces. I saw the site kept looking better, the selection increasing, and thought maybe THE KIT got their sh*t together, maybe got a bit of funding and put it into manufacturing as well as the website and product photos.
I kept visiting the site seeing what THE KIT had new that I'd like in my closet and was also available in the brand's full size range. I really liked the Alex Jumpsuit, I also thought the Cobie Shirtdress looked like a piece that I could wear when the world opened for nice events and at home with sandals or sneakers. Unfortunately, no matter how often I revisited THE KIT's website, those pieces never were made available above a size 14.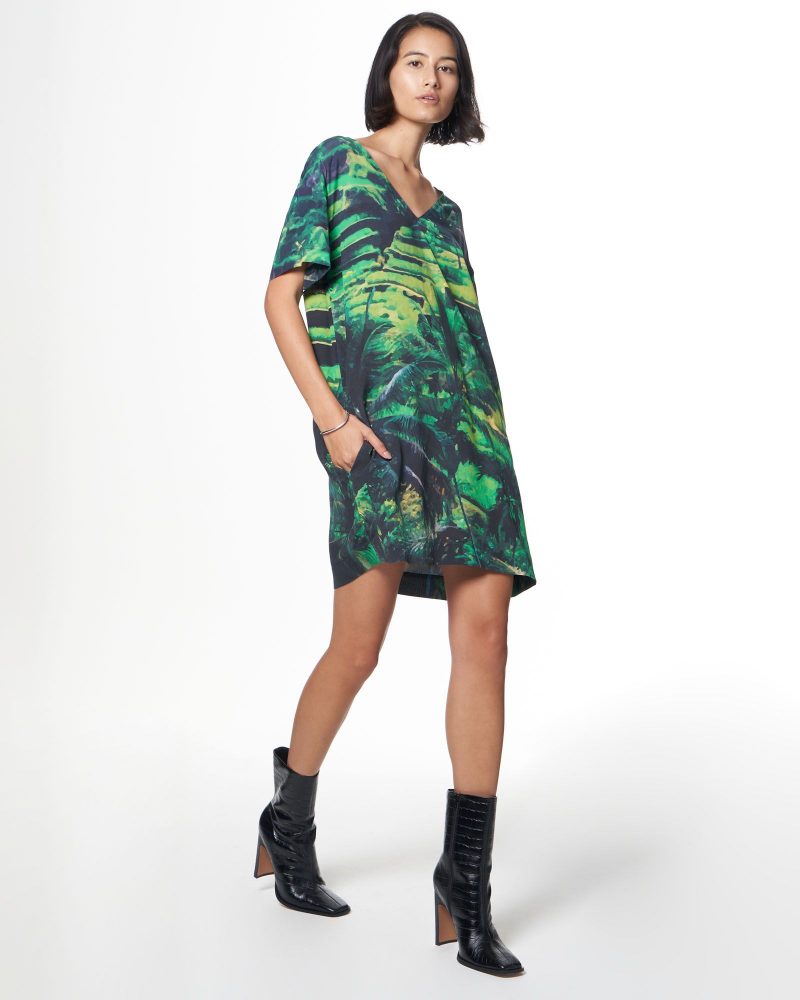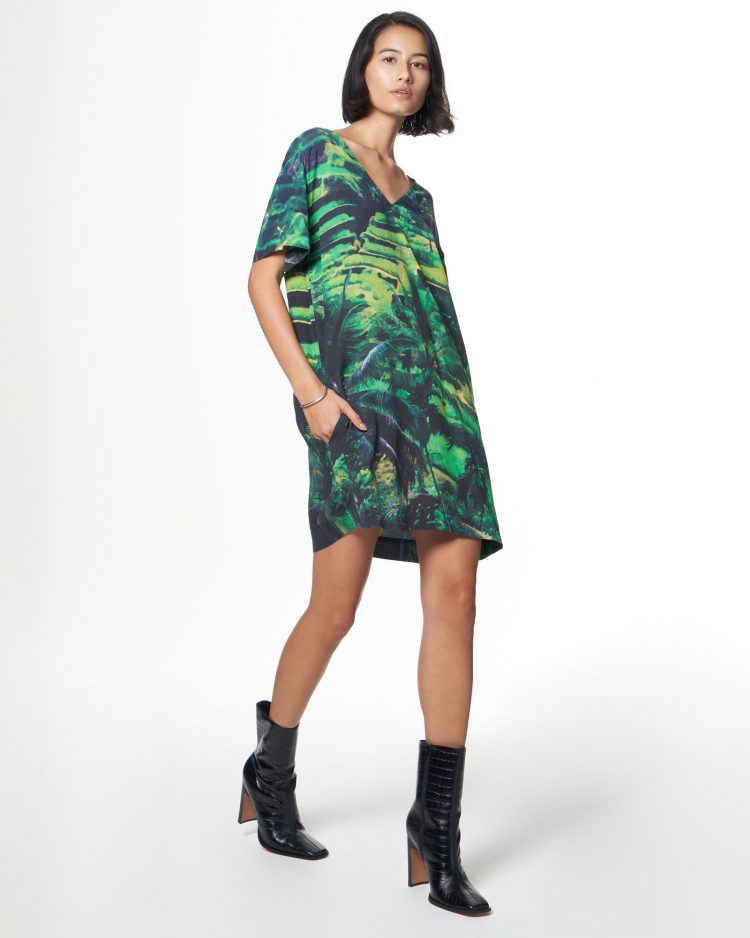 So, when my mom asked what I wanted for Christmas, I said the Kyle Dress in Lush Terrace, a green print. As one of the pieces available in extended sizing, it looked cute on the model. The model wore it loose and swingy and breezy; she wore it belted and it gave a completely different effect.
I envisioned THE KIT Kyle Dress with a Universal Standard Foundation turtleneck, opaque tights, and boots for winter. Come spring, I'd style it with a denim jacket and ankle boots. And summer, it would shine being worn with metallic Birkenstocks and hoops or maybe my gold metal belt and gold metallic sandals for a dressier occasion.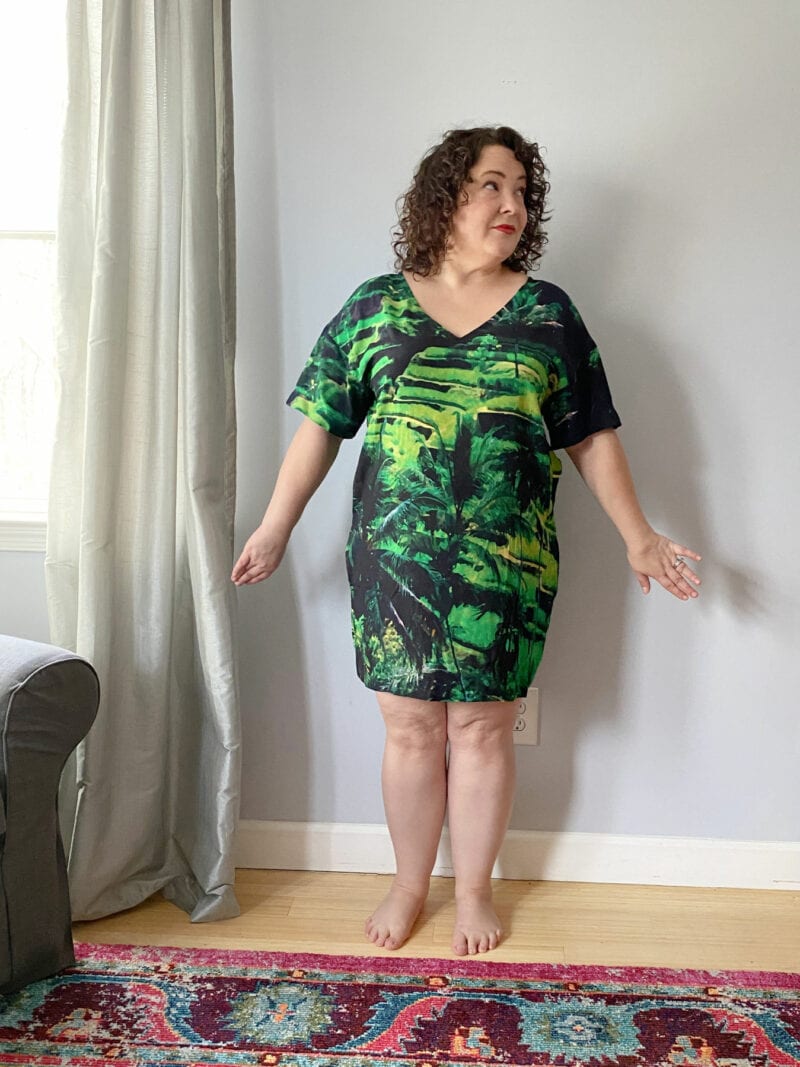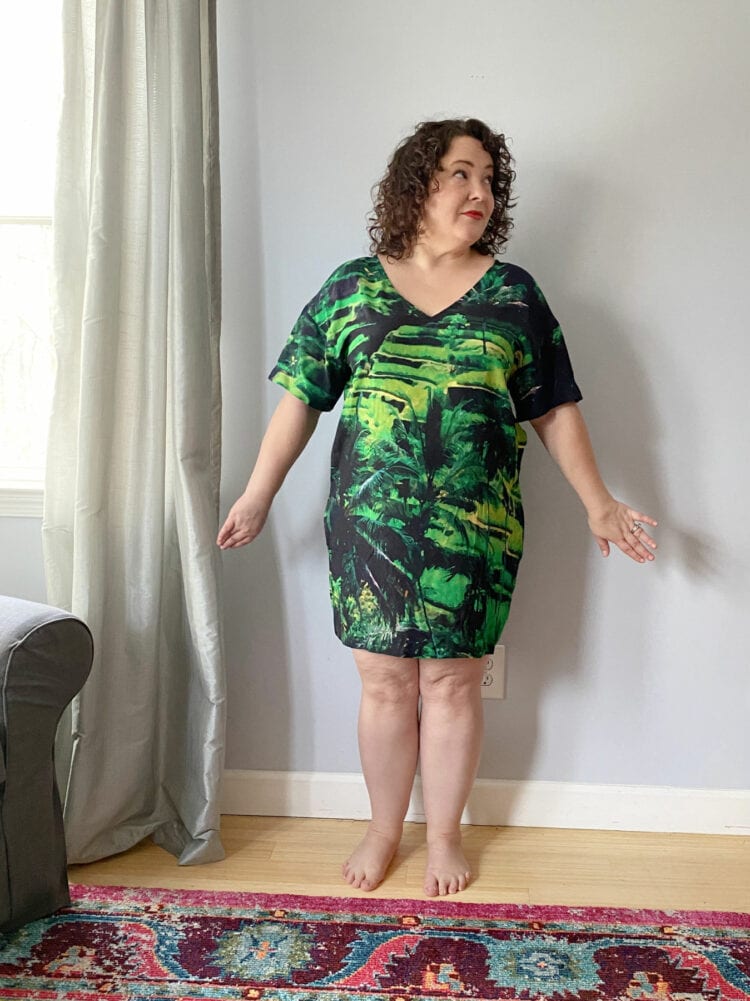 I received the dress as a Christmas gift and was again disappointed. Just like the pants I ordered a year prior, the Kyle Dress looked more like a Home Ec project than a garment from a well-respected designer's department-store level fashion brand.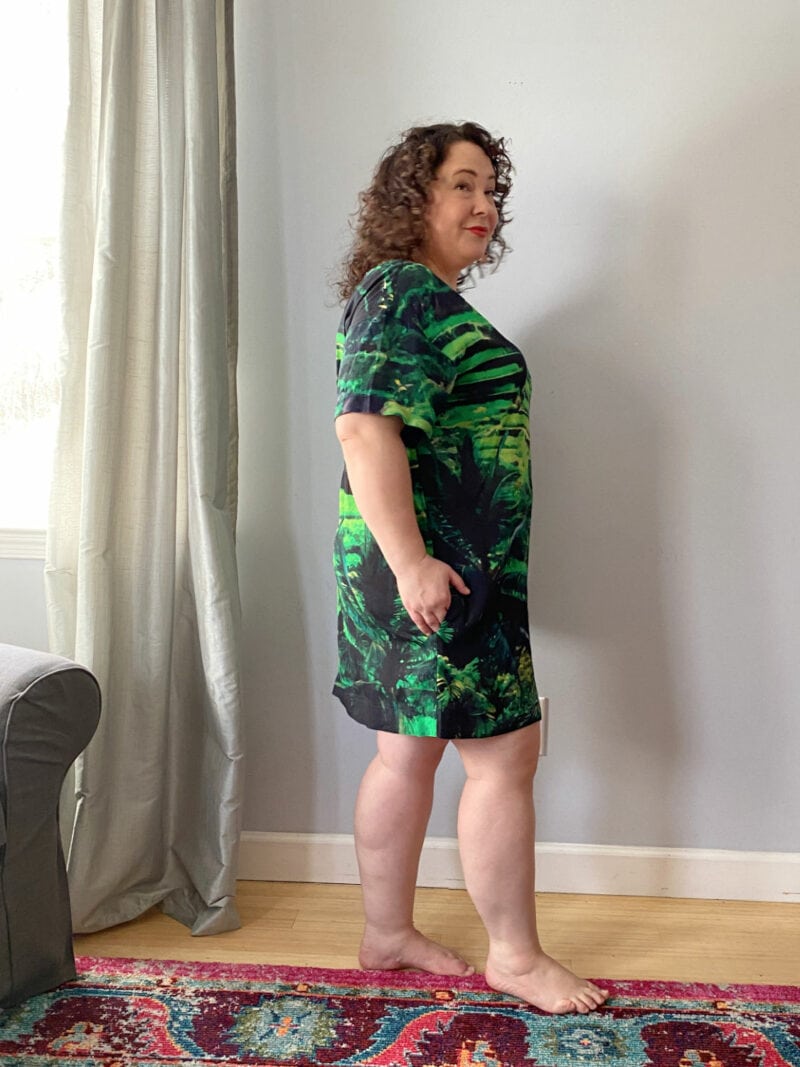 It looked like a cheap swim coverup you'd buy at a boardwalk shop along with a refrigerator magnet and a souvenir silkscreened t-shirt. I was surprised by how short it was on me; there would be no way to belt it like it was seen on the model. It was so boxy, like a scrubs shirt elongated to a tunic. And what was up with the incredibly low pockets?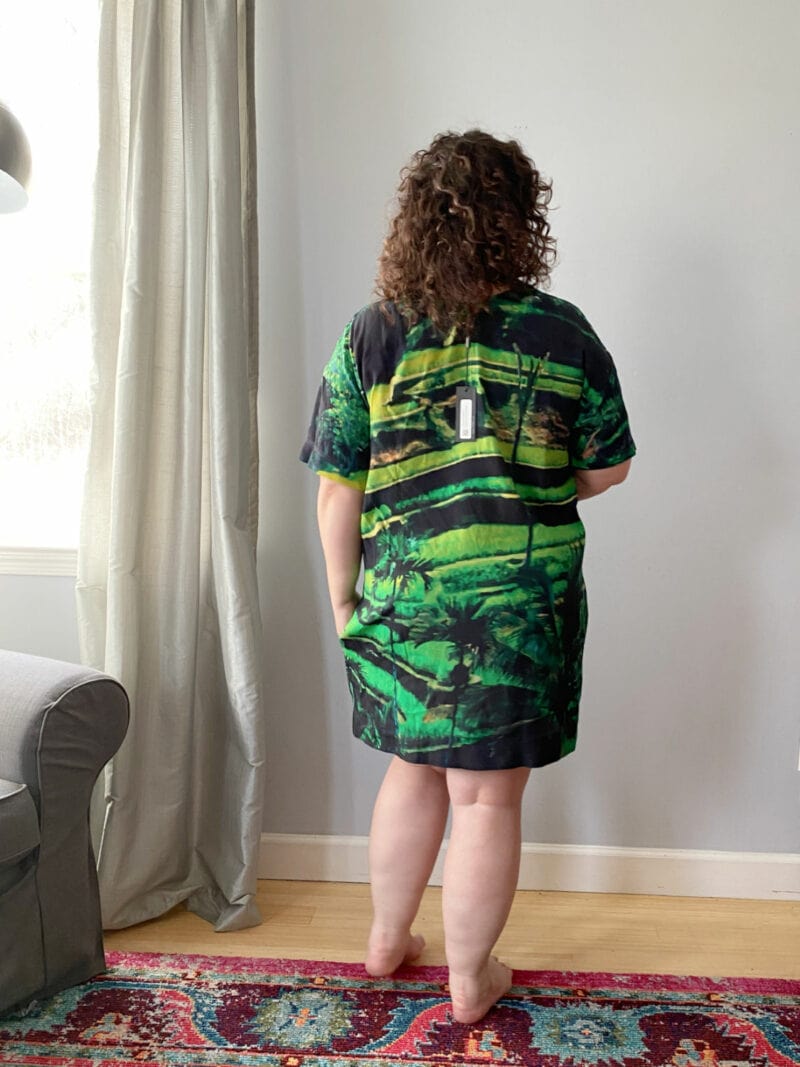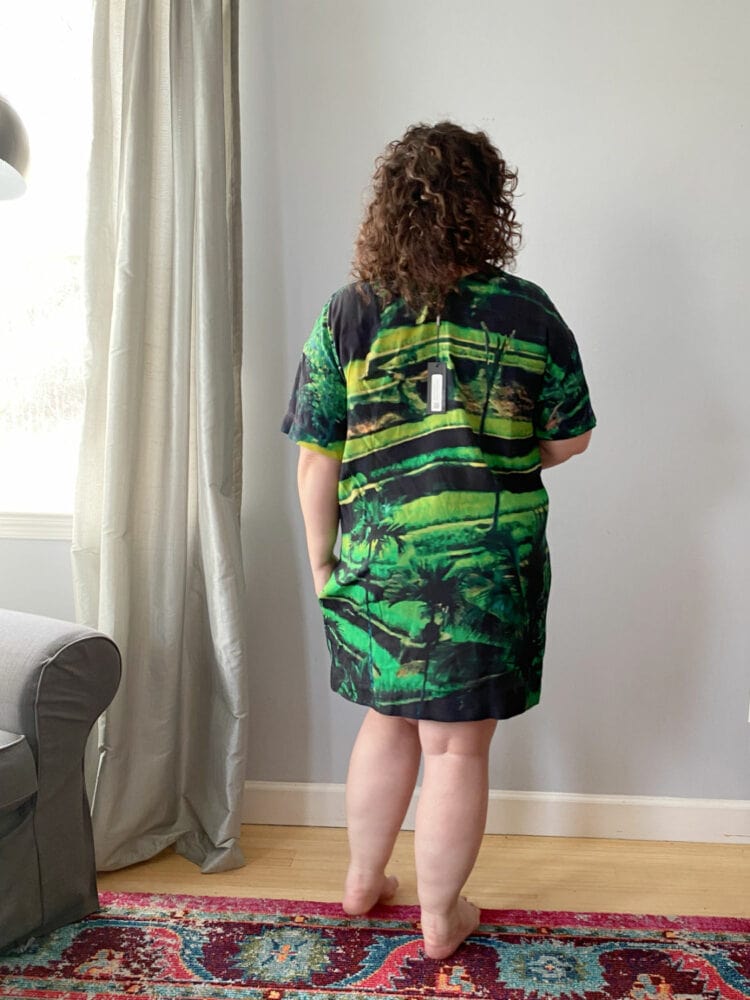 I chatted with two friends who own this dress. Both friends wear smaller than a size US 8. Both said they sized up (one went up two sizes, one went up one) to achieve how the dress looked on THE KIT NYC website.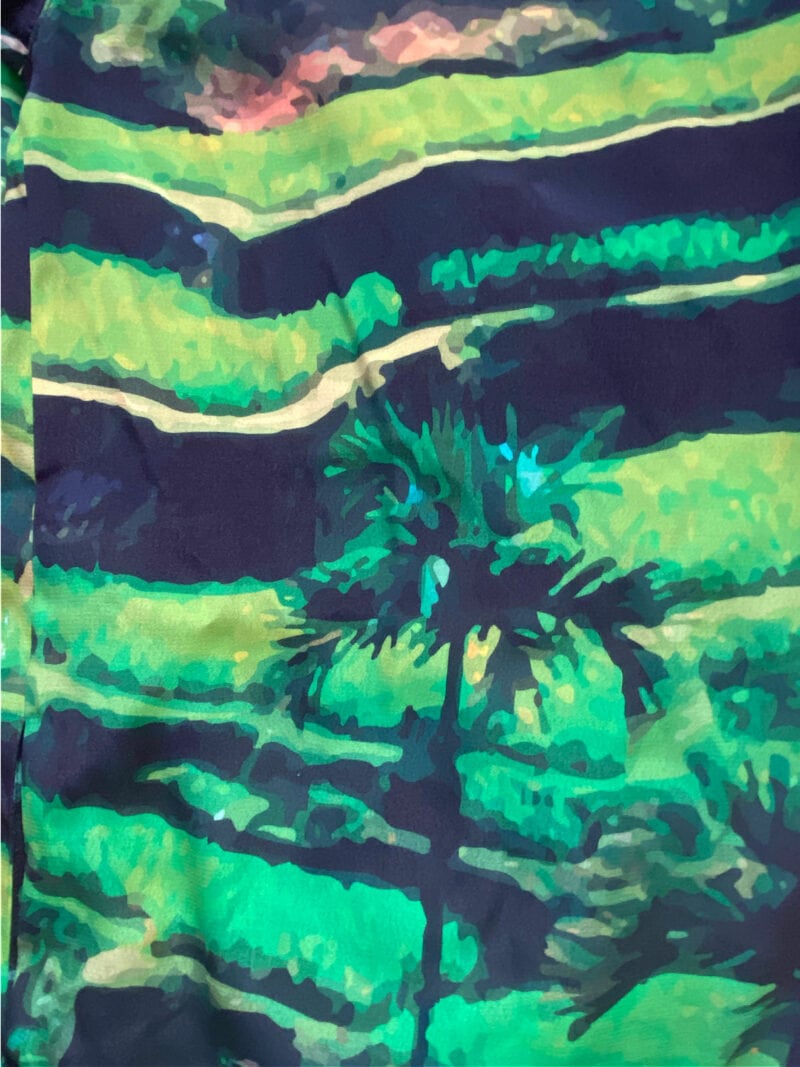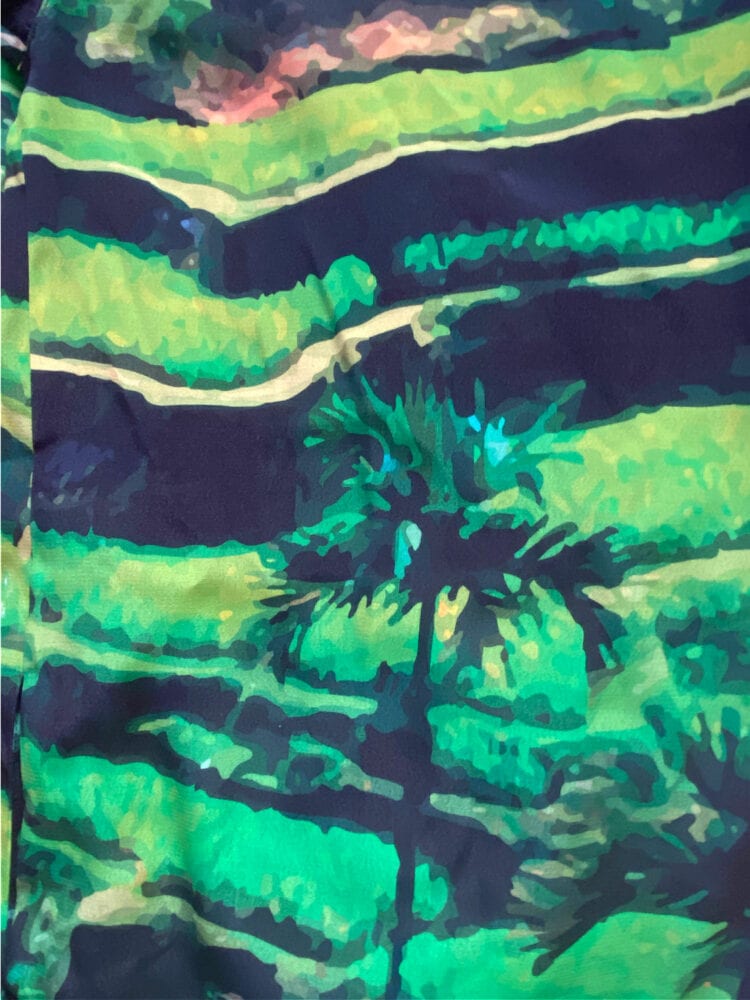 Considering I am a size 14 and already in a size XL, the concept of sizing up to get the proper look of a dress is impossible for plus size women, which are 67% of the US population.
My Third Purchase for a thorough THE KIT NYC Review: Call it Research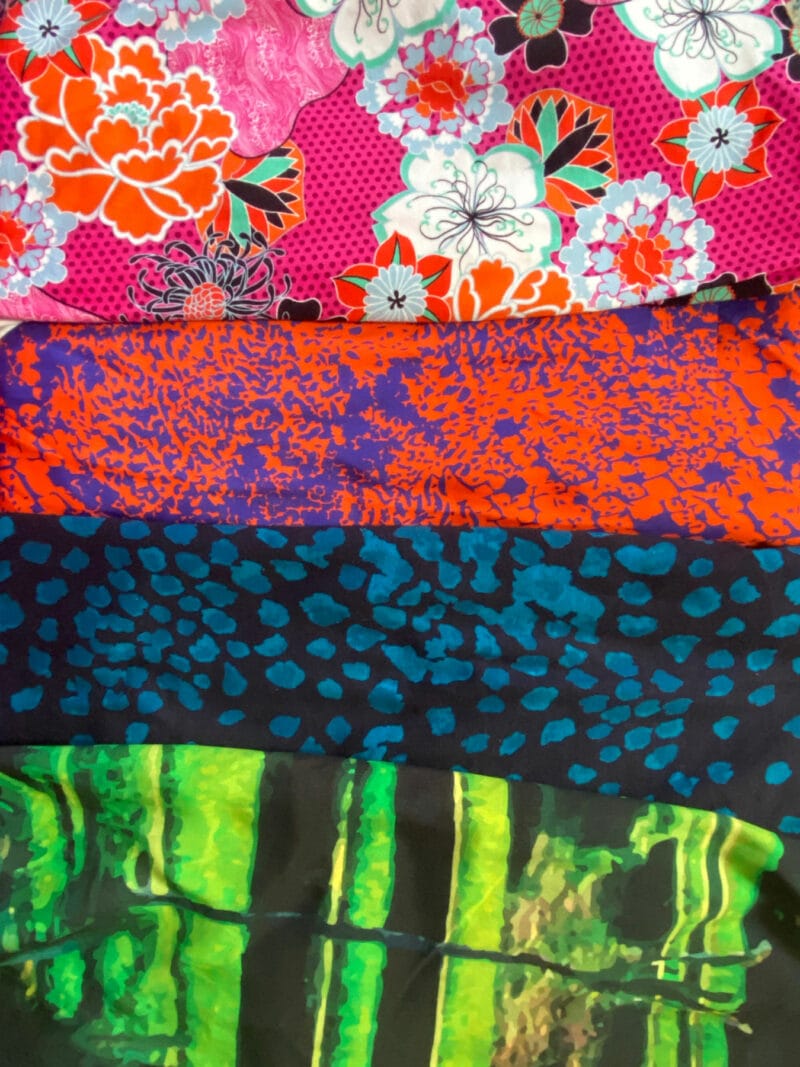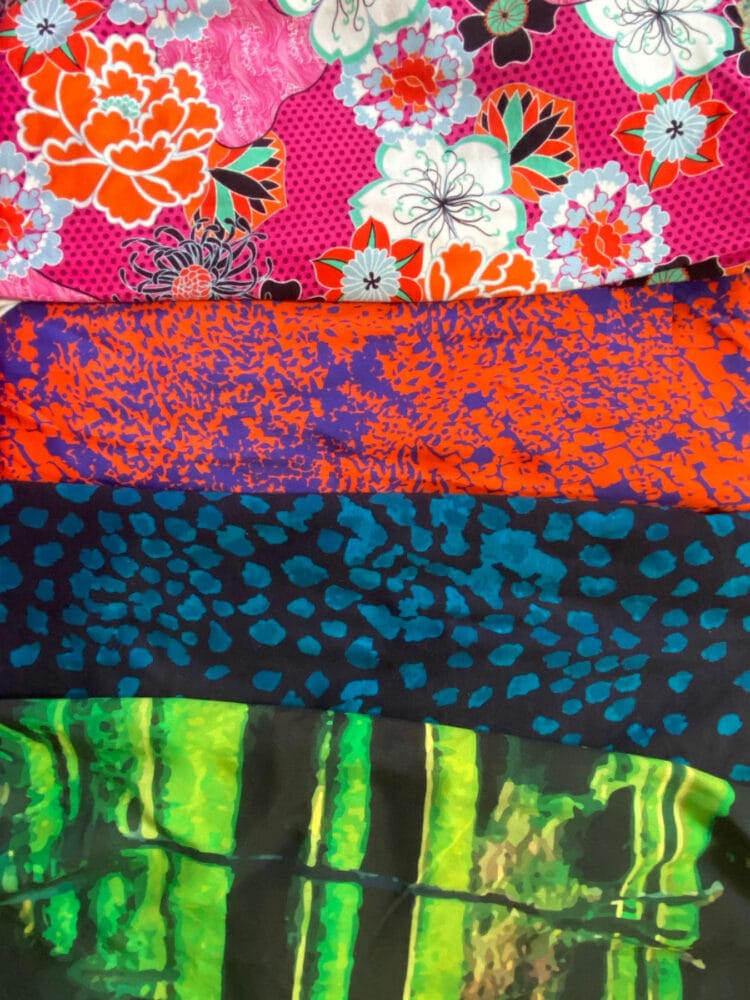 Once I knew I was going to write this THE KIT NYC review, I placed a third purchase. Consider it research; I placed an order of a variety of items so I could try a mix of fabrics and silhouettes before I shared my honest thoughts. I ordered:
The Issa Jumpsuit in Orange Complication: I know I am not the only woman who loves the ease and powerful feeling of rocking a jumpsuit. THE KIT offers two different jumpsuits; the Issa Jumpsuit is available up to 3XL while the Alex Jumpsuit is only available up to 14.
The Turtleneck in Pink Pop Floral: THE KIT's Turtleneck is by far the most popular item on Instagram. I have two friends and several influencer buddies who own it in a variety of prints. I chose Pink Pop Floral because I own a THE KIT NYC face mask in the same print.
The Midi Tee Dress in Moonstone: This was definitely for research as I don't need a dress like this in my wardrobe. However, I loved the look of it, liked that it came up to 3XL, and would have me experiencing another fabric offered from THE KIT.
THE KIT Issa Jumpsuit Review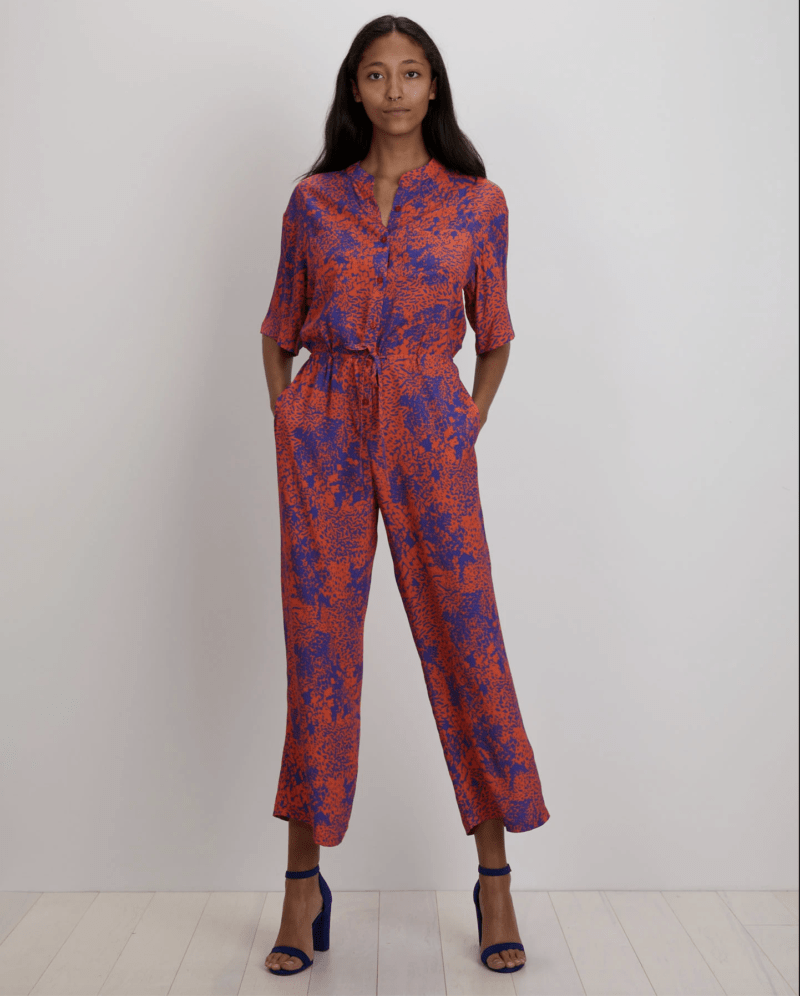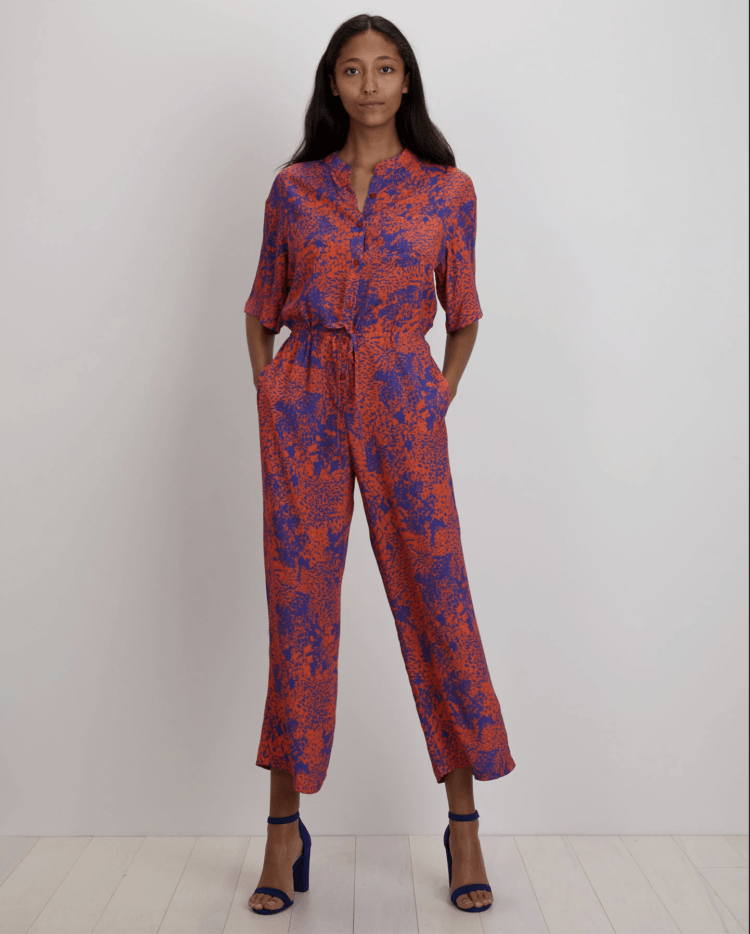 The Issa Jumpsuit from THE KIT is made from the same fabric as the Harper Pant and the Kyle Dress – a crepe fabric made from 55% viscose, 45% rayon. It is available up to 3XL; I ordered an XL.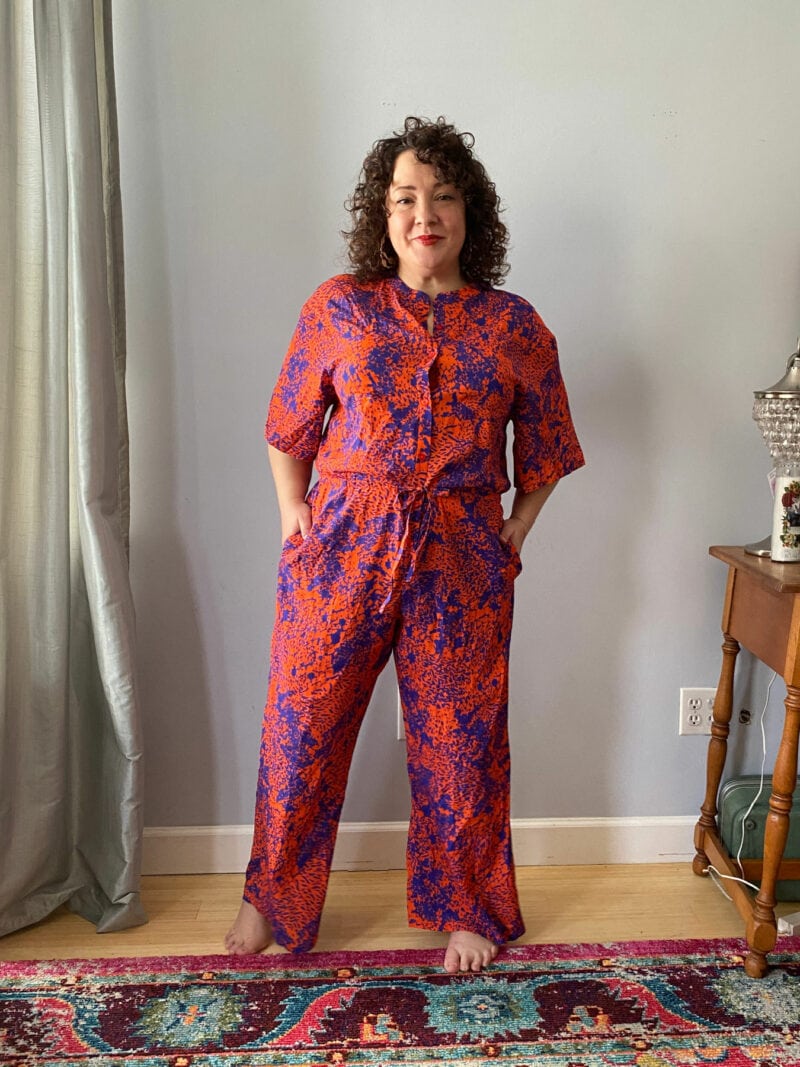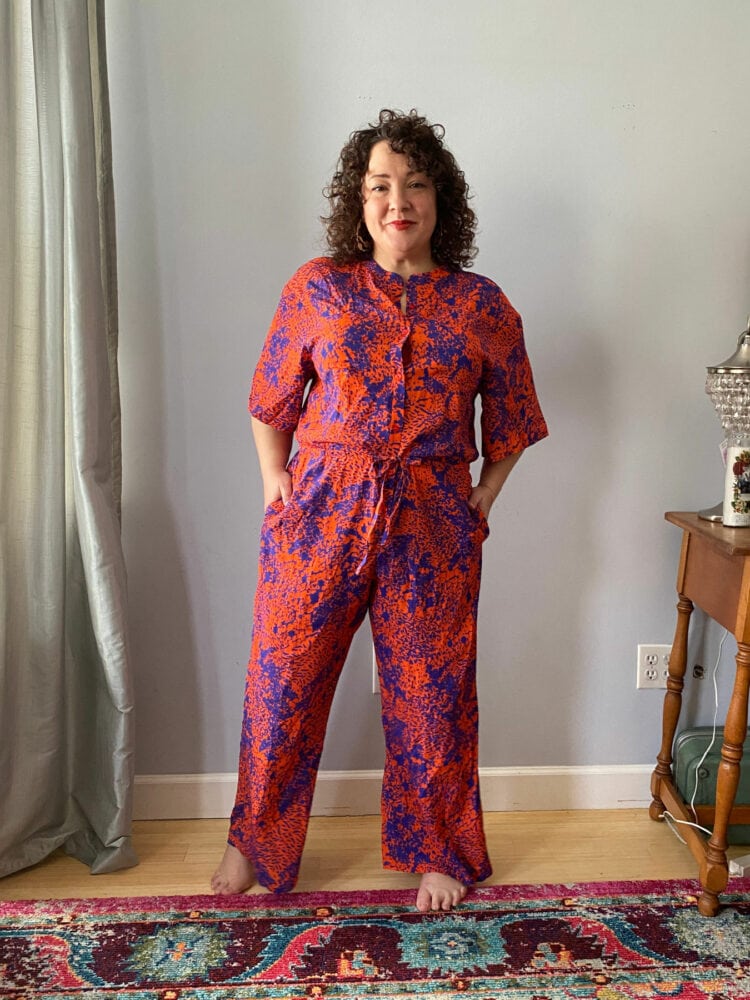 The print looks as bright and crisp as it appears on the website. While I ordered the print called "Orange Complication," the Issa Jumpsuit comes in a lot of other prints. Also, while I chose an Issa Jumpsuit in the viscose/rayon combo, some Issa Jumpsuits come in 100% cotton.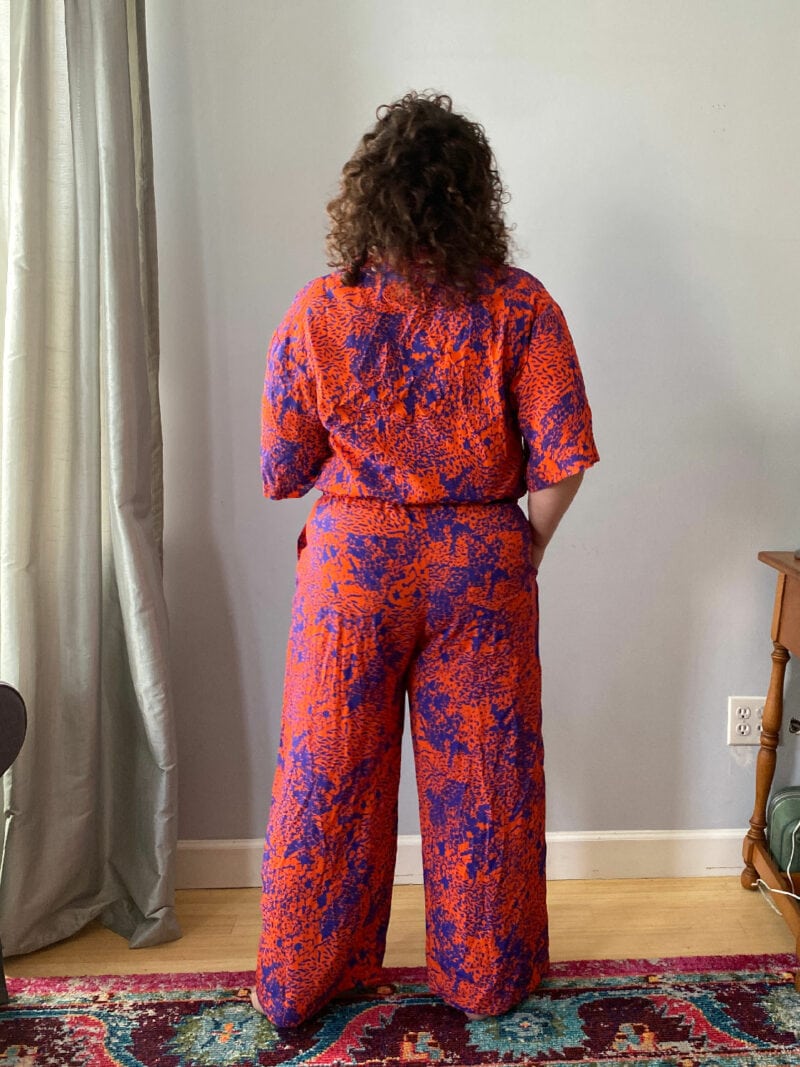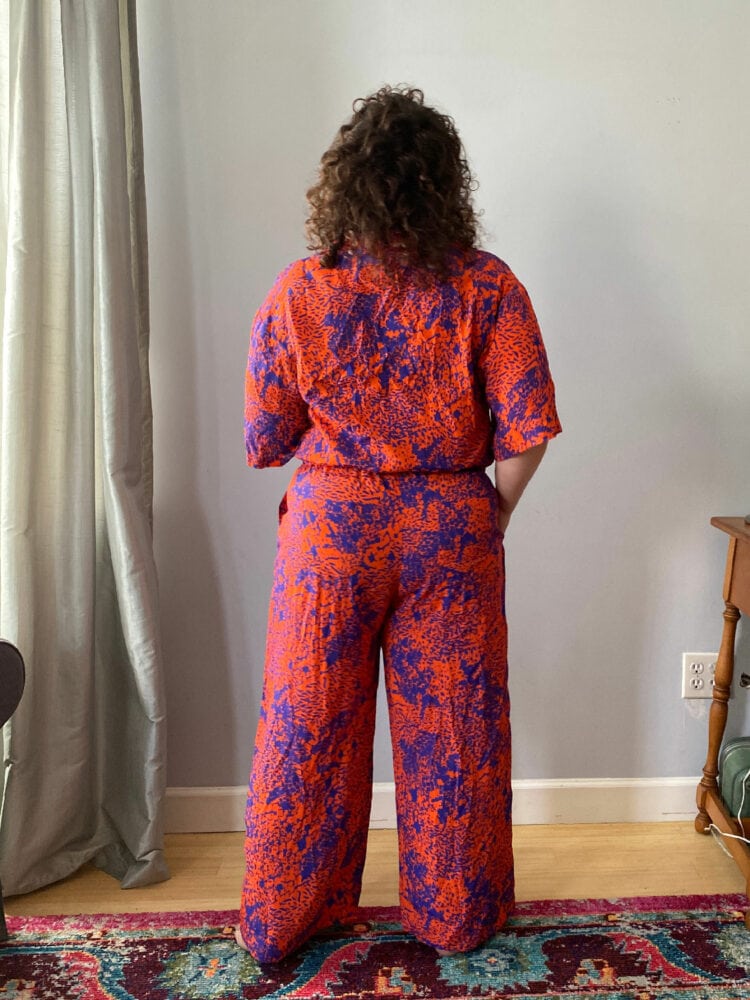 With a 26.5″ inseam, I know this jumpsuit is supposed to be cropped, but on my 5'3″ self I was expecting it to be ankle length. I have loved jumpsuits of this style because a cropped leg can look ankle length on me (see me in this cropped ELOQUII jumpsuit), and because a cinched waist can let me blouse out a too-long torso.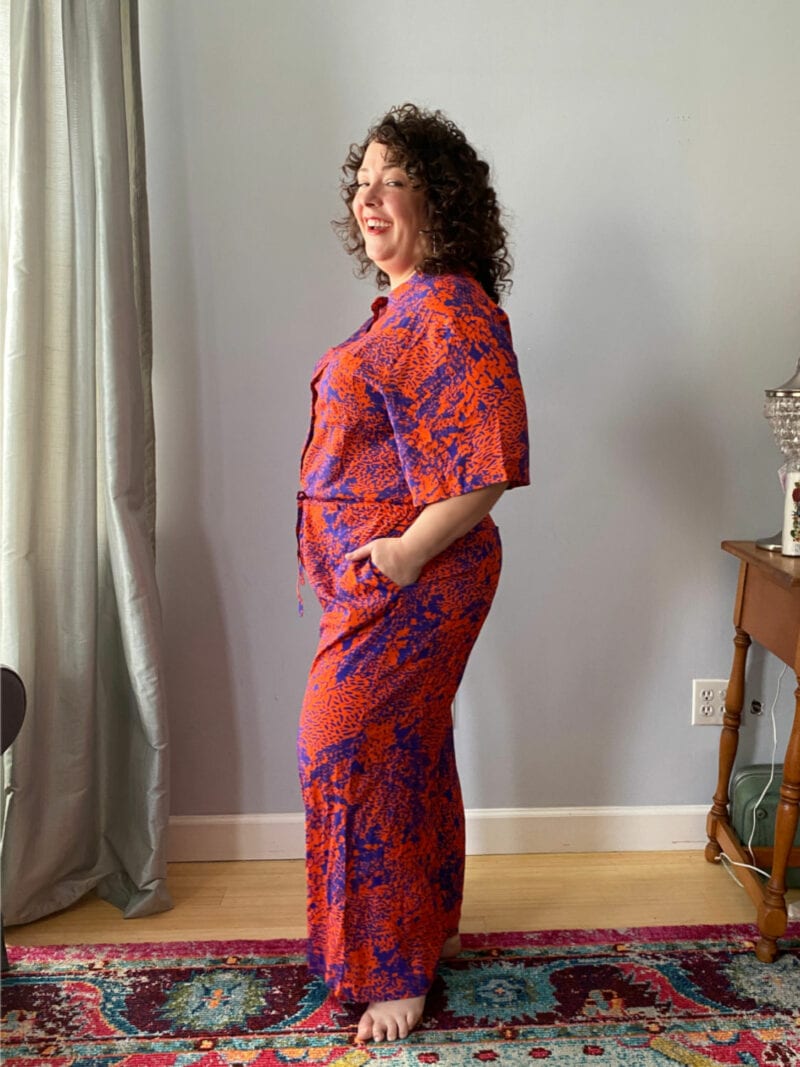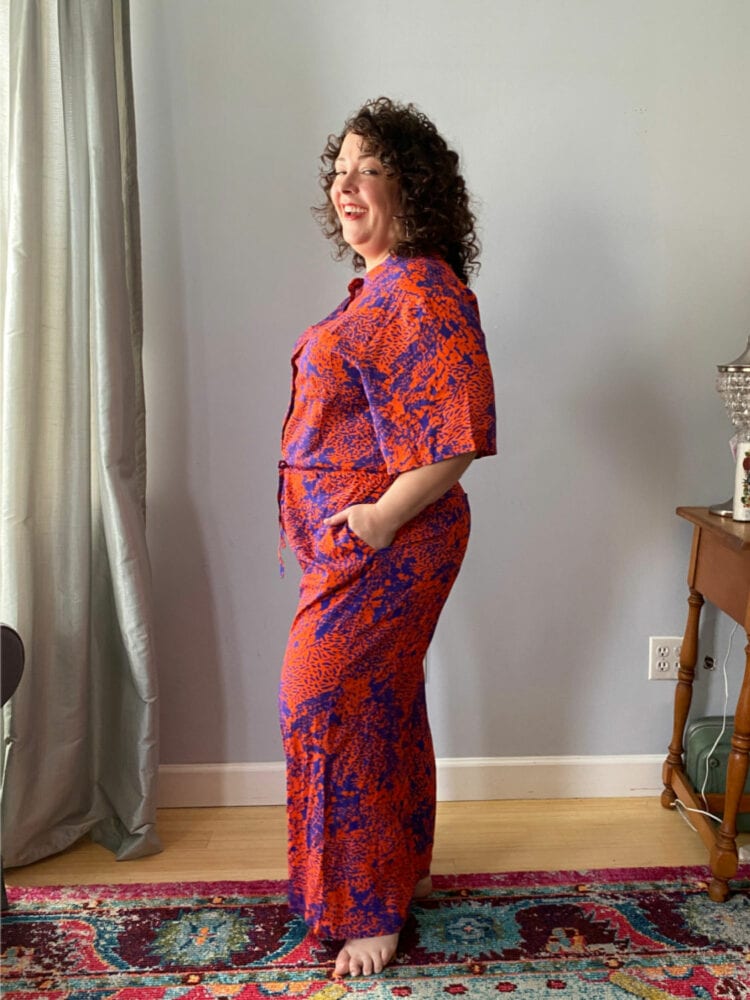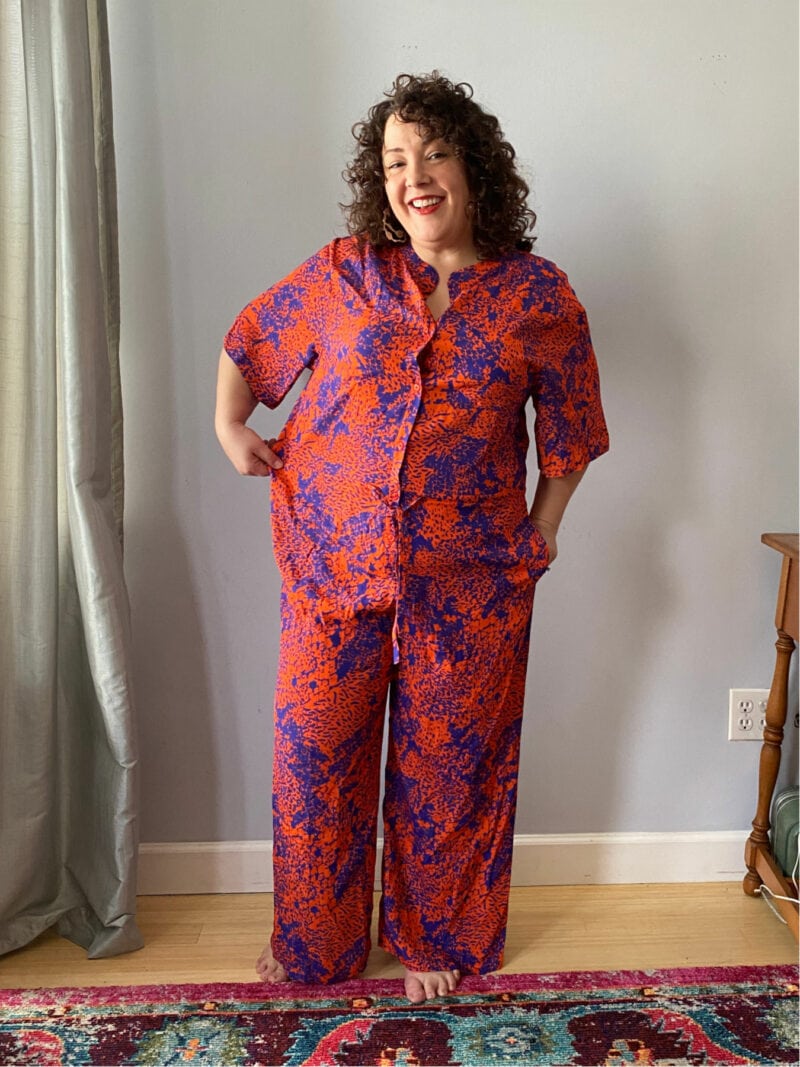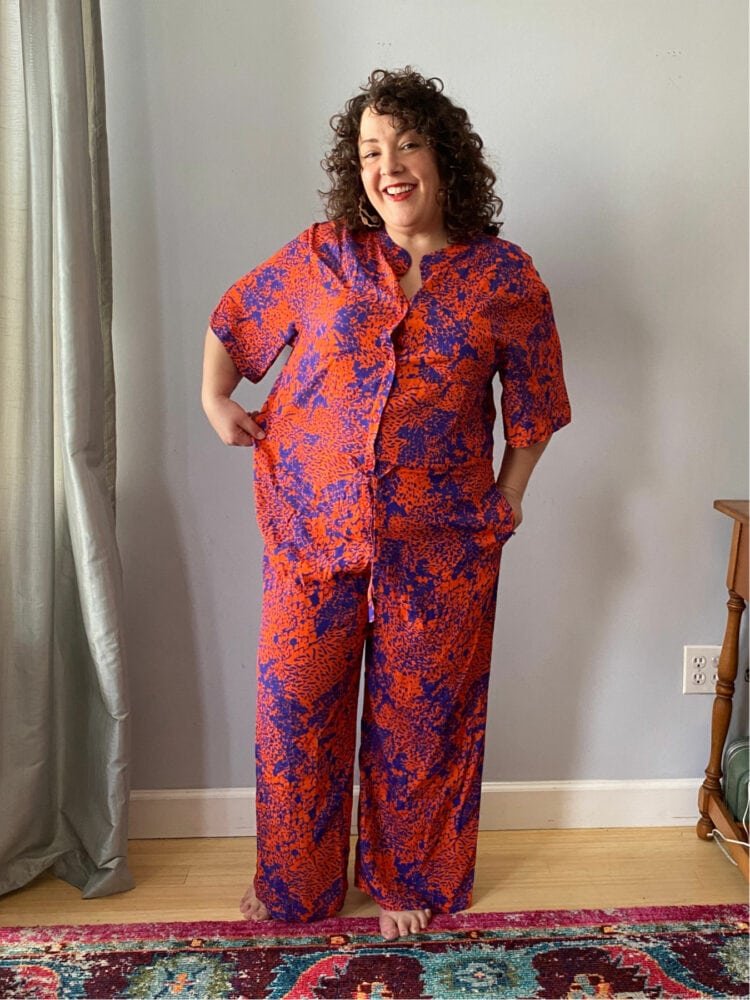 Again, I think if I wanted it to fit the way I envisioned, I think I'd have to size up and take it to the tailor. The jumpsuit is gaping at the bust; could be remedied with a minimizer bra and a safety pin, but likely would look more polished if larger.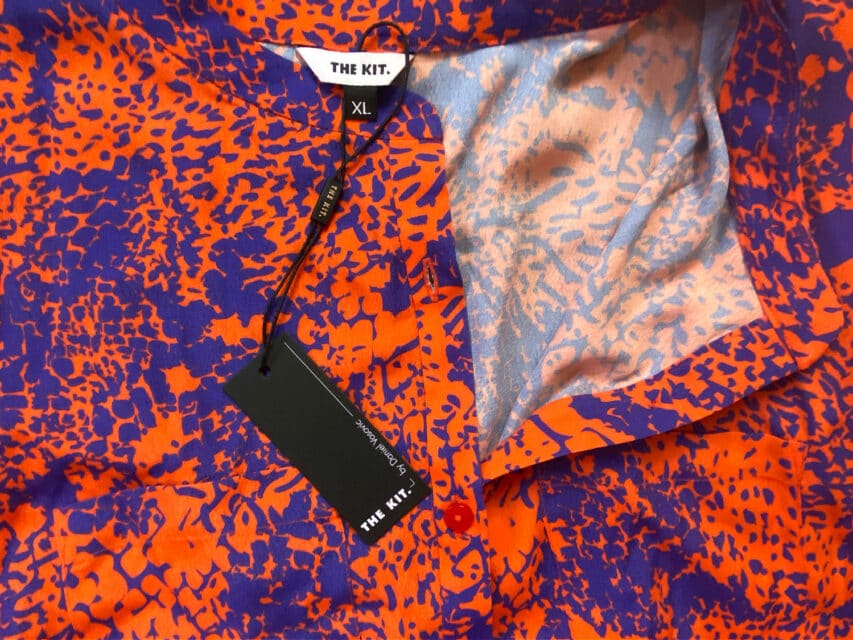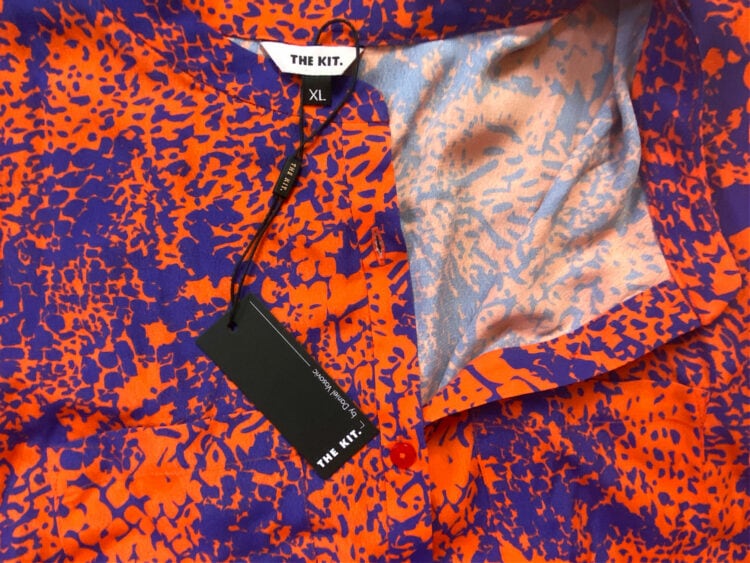 As you can see from some of these photos, there isn't a lot I need to cinch at the waist, which doesn't give me enough to blouse out the top and have the long torso look purposeful.
THE KIT Turtleneck Review
THE KIT Turtleneck is a soft knit made from 62% bamboo, 33% cotton, and 5% spandex. It is available up to 3XL, I went with XL. While I got the turtleneck in the print Pink Pop, it is available in a variety of other prints. The fabric is soft, the print looks exactly in person as it does online, the colors saturated.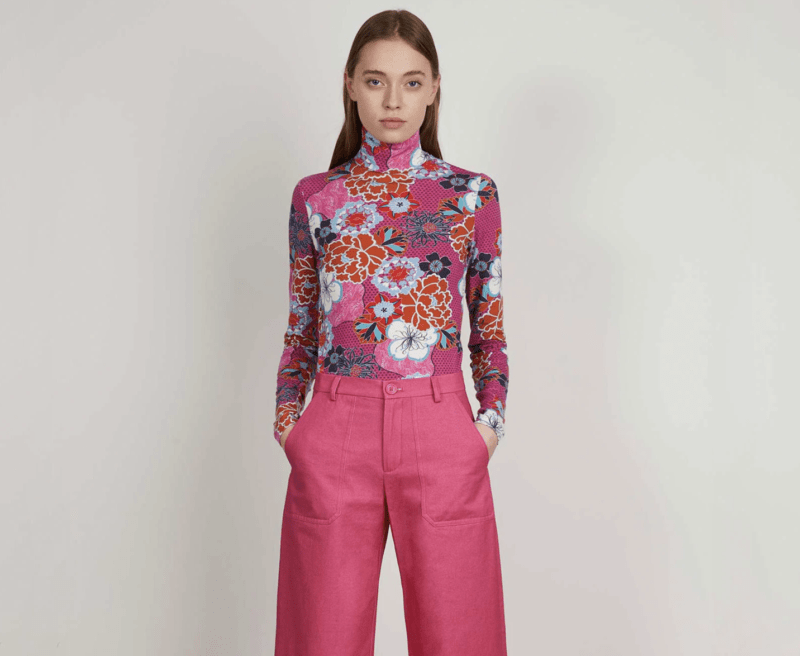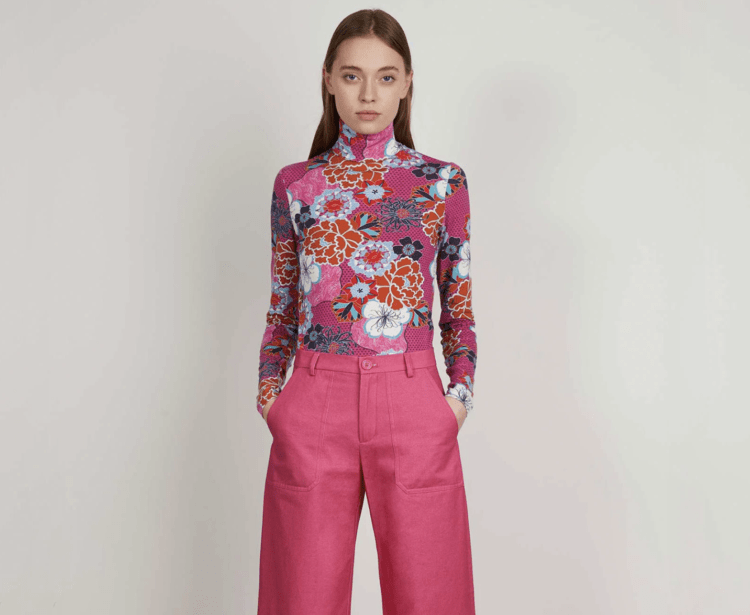 This is the only piece from THE KIT that I ordered and liked enough to keep. It's soft, but I find it runs a bit short considering I am 5'3″; I think it's because it's not cut for curves. This is a slim-fitting piece, closer to a bodysuit or base layer than a t-shirt.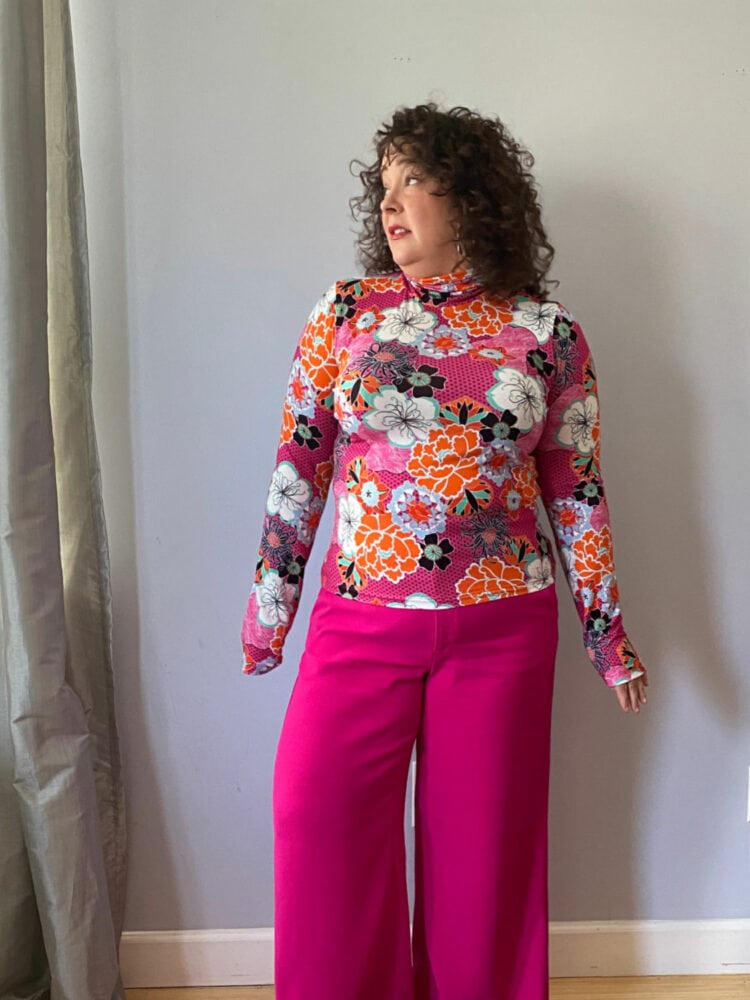 Again, I had friends who are smaller than I who bought this item; some went with their usual size and liked it fitted, some admitted they sized up to feel comfortable wearing it on its own and for daytime.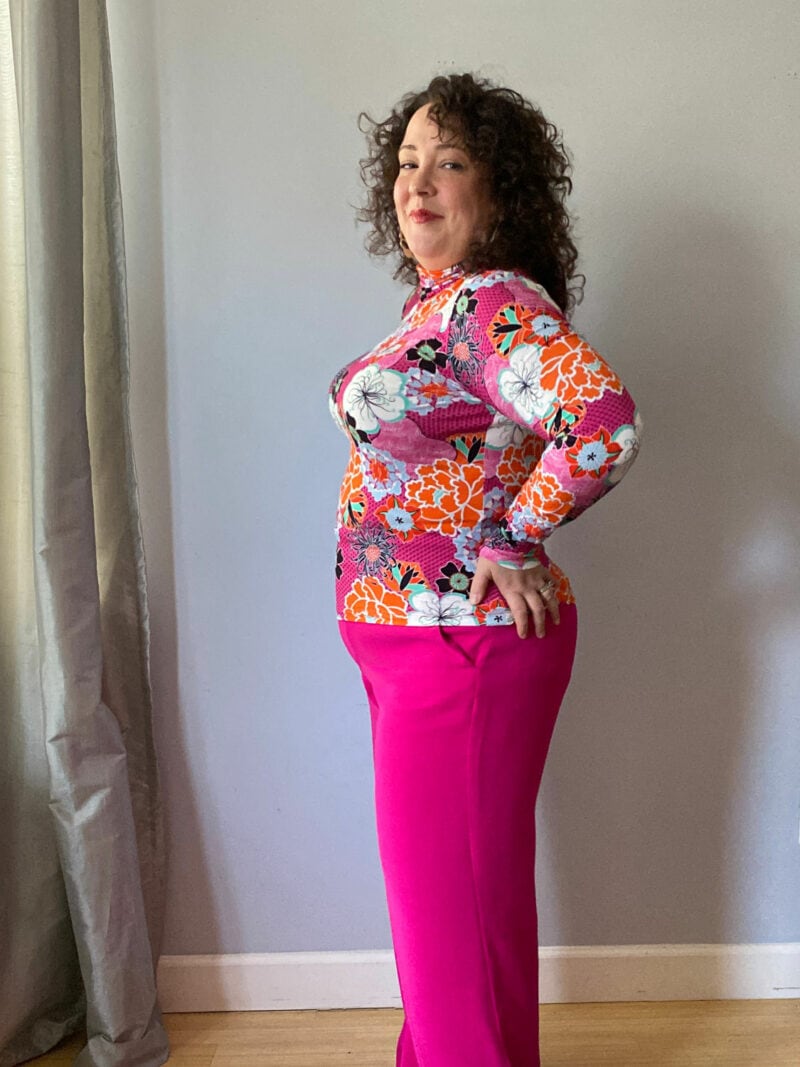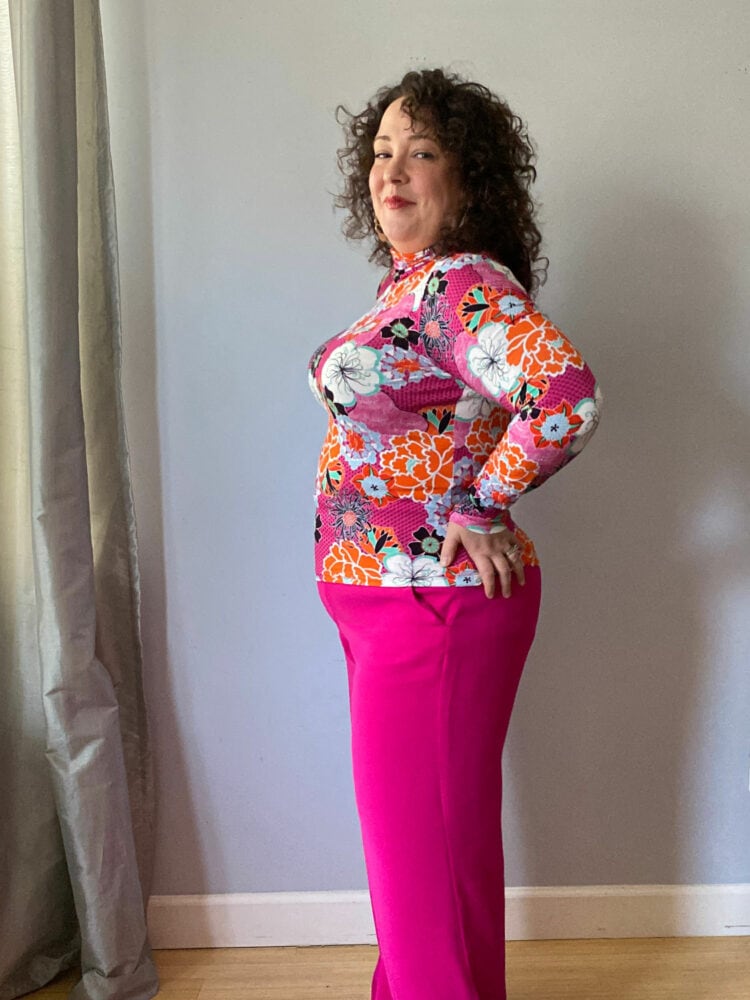 I've also heard you need to baby this turtleneck to keep it looking great. Hand wash or wash on the delicate cycle in a lingerie bag, lay flat to dry. A dryer will fade it, hanging it to dry can have the hem dry uneven, and even the spin cycle can stretch it out. I plan to baby this so it remains looking fresh.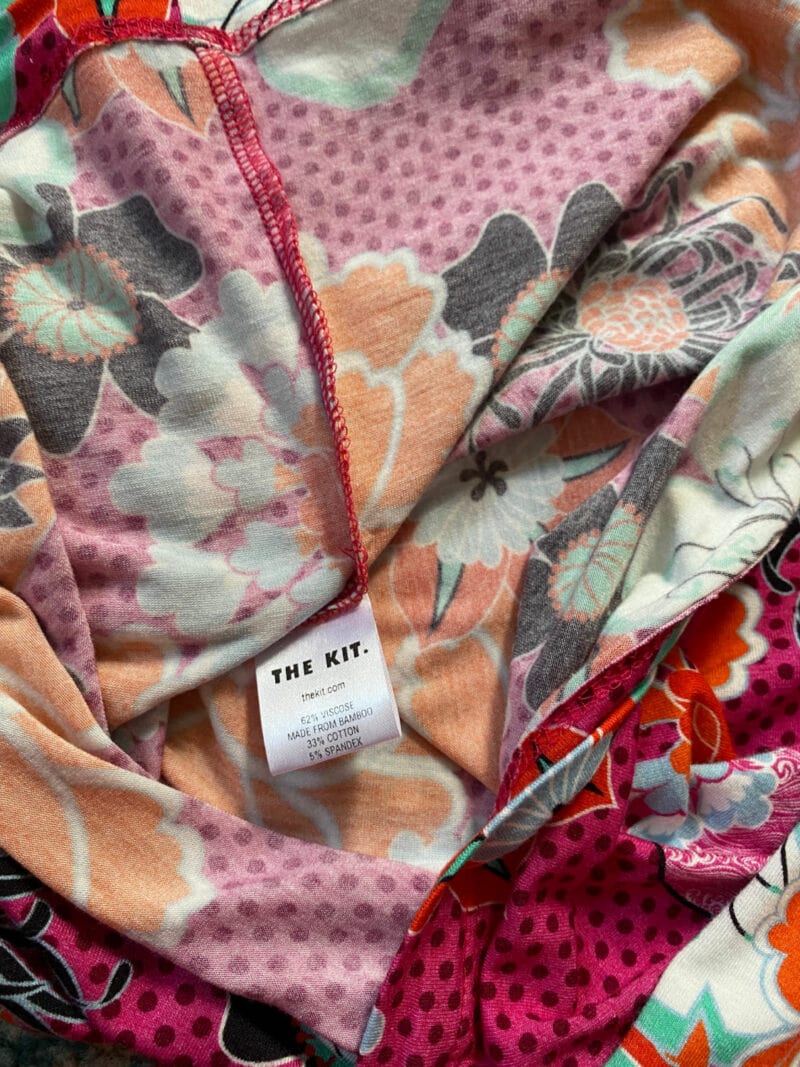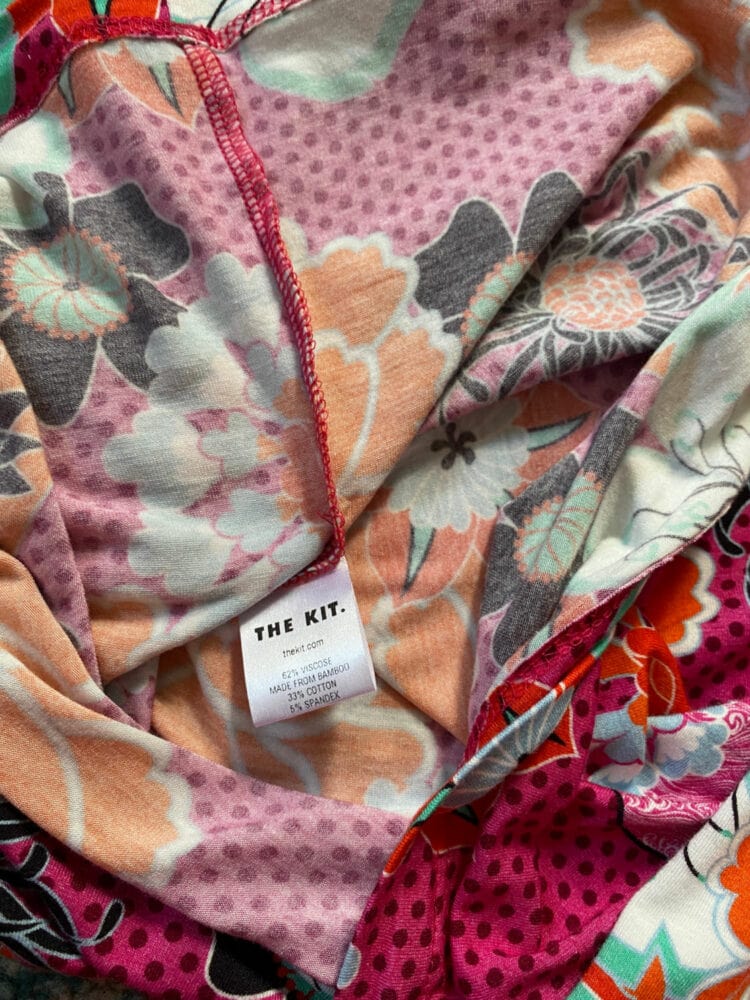 I compare that to my Universal Standard Foundation turtlenecks which are 94% modal and 6% elastane. They are to be machine washed on cold and dried flat but I've put mine in the dryer and hung them to dry and they still look like new (and I don't need to size up to not have it fit like a bodysuit).
THE KIT Midi Tee Dress Review
THE KIT Midi Tee Dress is made of 95% cotton and 5% spandex resulting in a fabric that feels like a lightweight sweatshirt without a fleecy or loop interior. It too is available up to 3XL and I again went with a size XL. While I chose the Moonstone print, the Midi Tee Dress comes in several other prints.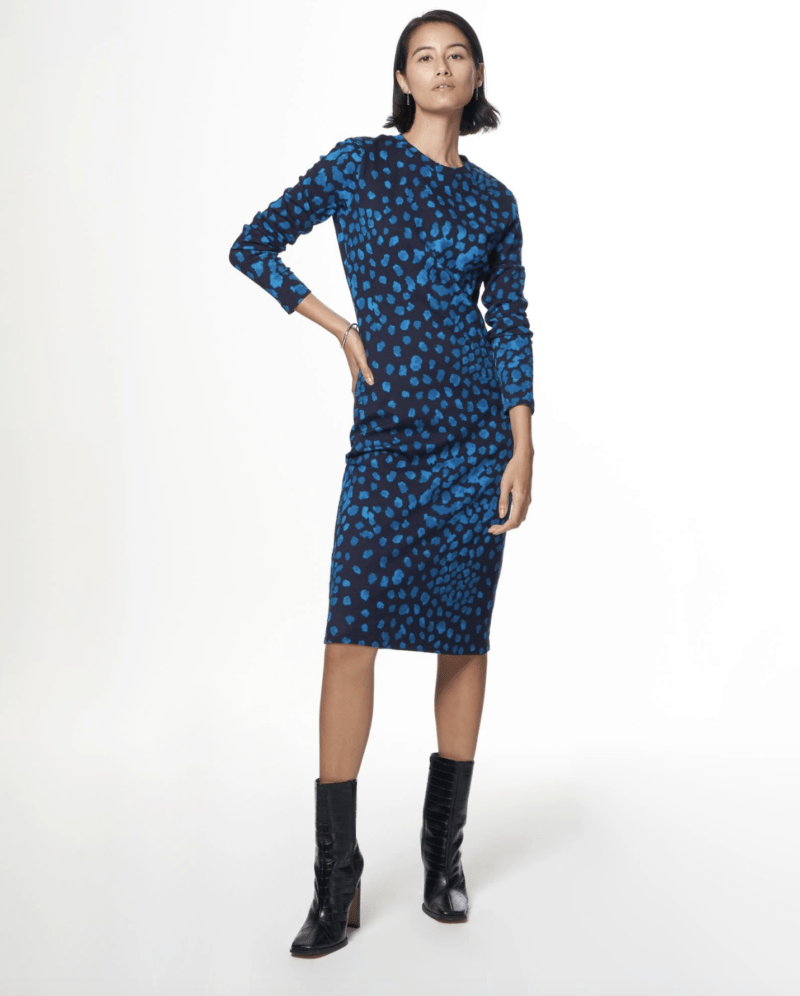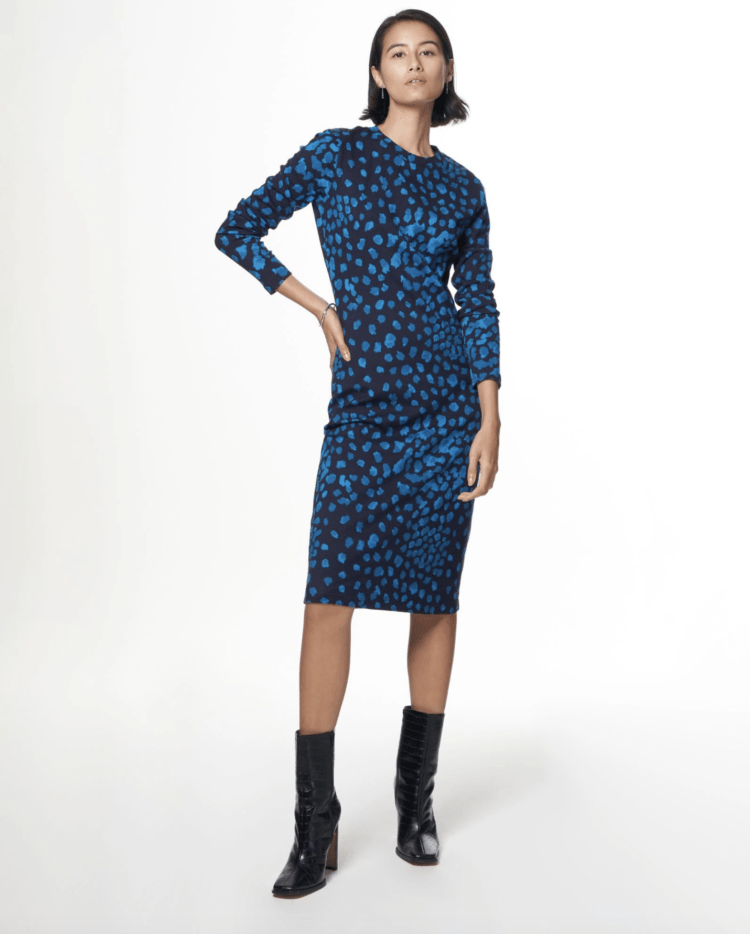 This dress is sexy. While it is essentially a sweatshirt dress, it's not so thin it shows every lump or bump, but still skims every single curve.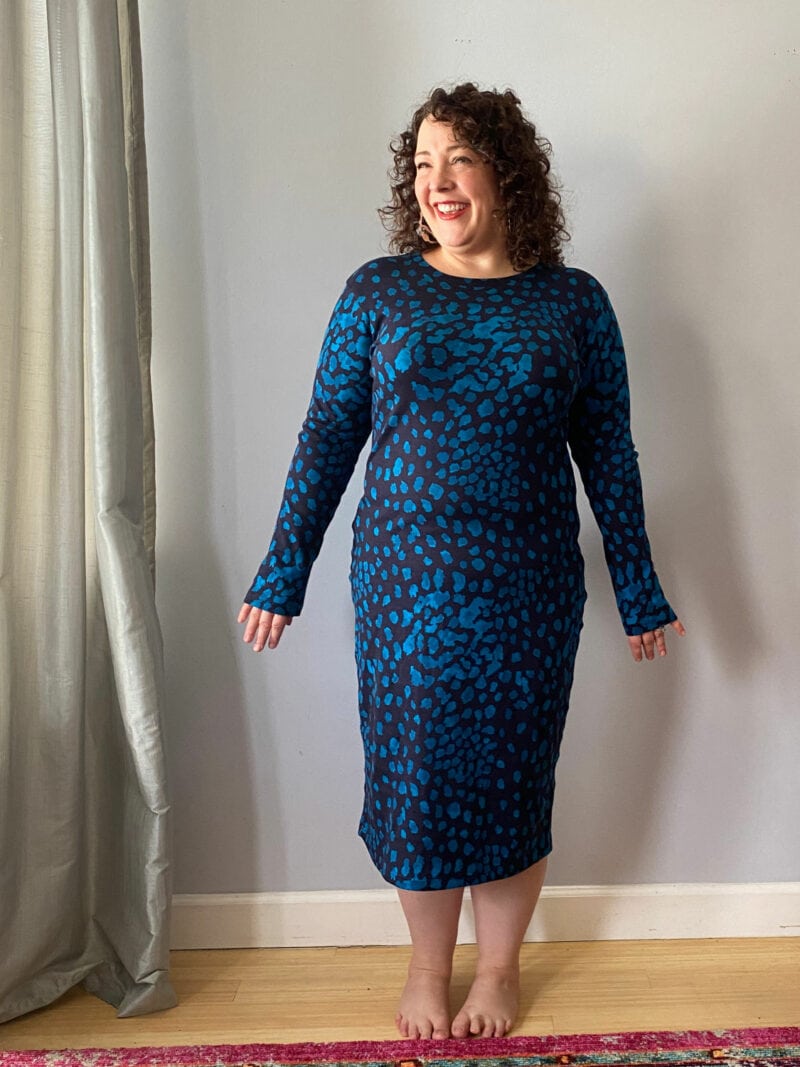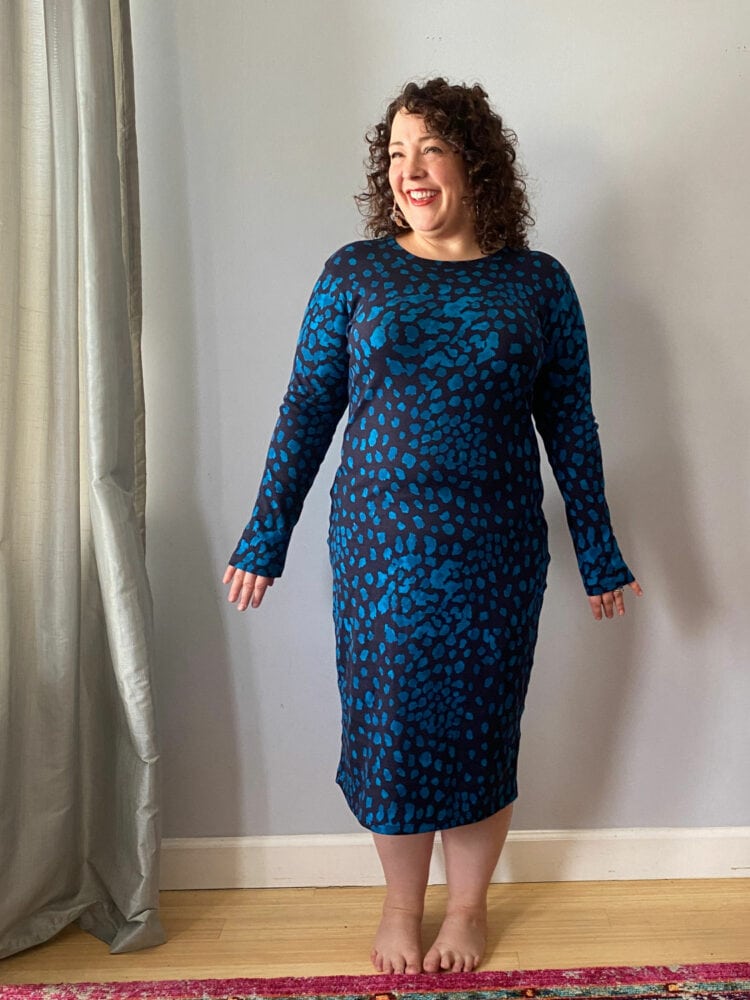 I considered keeping this dress in this size and having this tailored to shorten the hem and sleeves. I'd wear it out with tall black heeled boots in the winter and some trendy sneakers in the spring. But honestly, I don't need it, and I worry the print may fade with washings.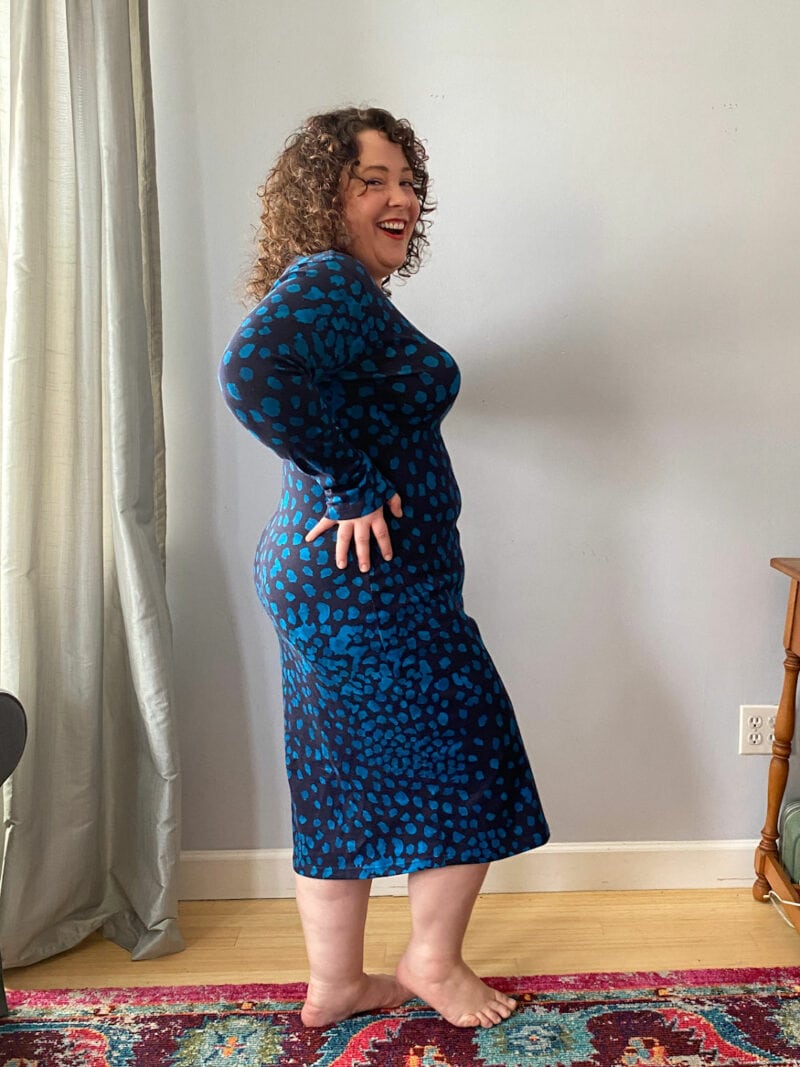 I have a follower on Instagram who shared with me that she has this dress in a different print. She says she loves it but she also admits she exchanged it for two sizes larger and had her tailor shorten it and add darts at the bust to make it fit properly.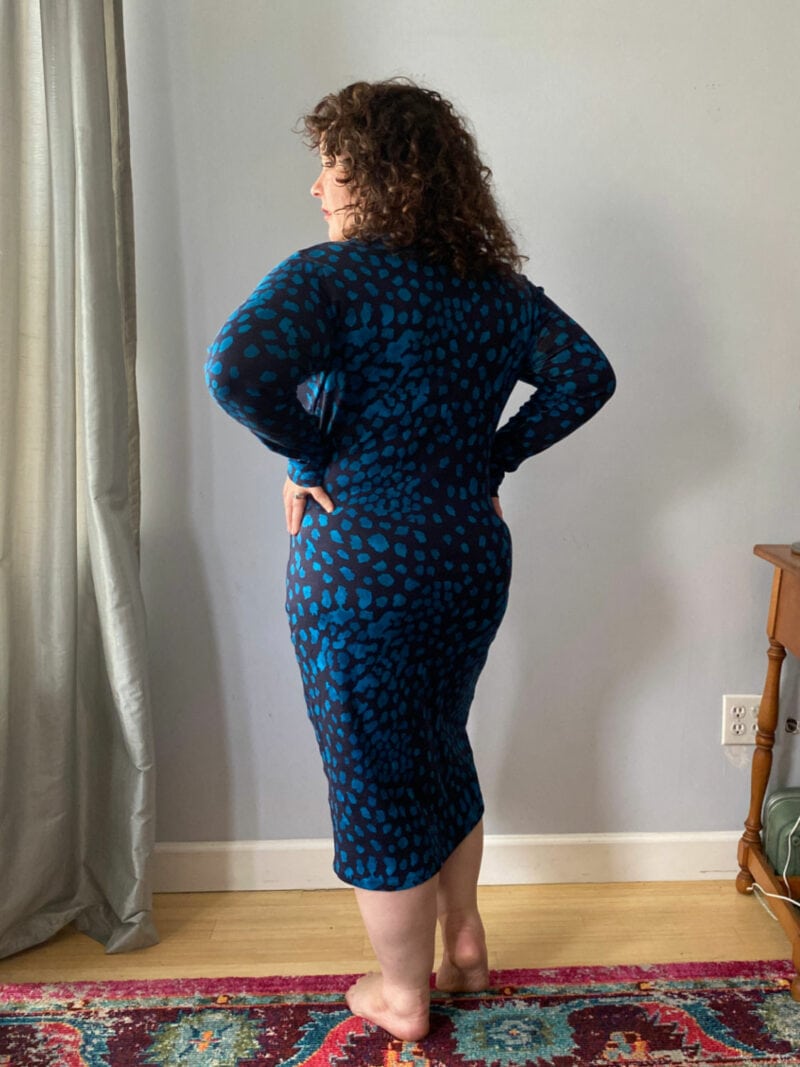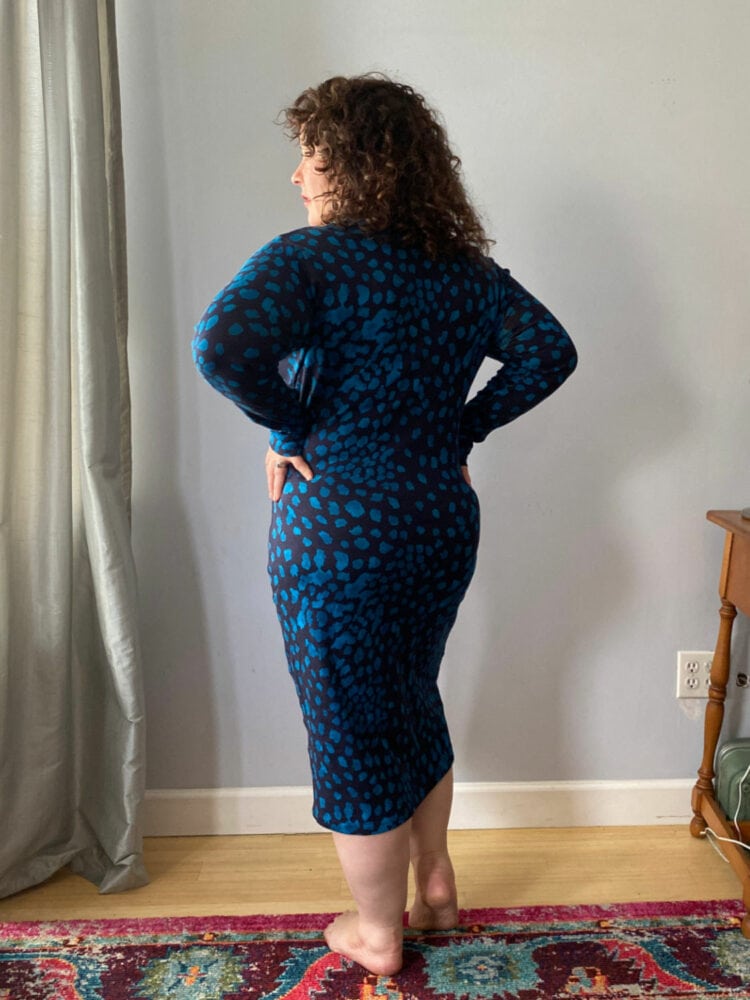 The reason the Midi Tee Dress and the Turtleneck work so well is because they are the most basic of basic items that fit well. They're essentially tubes with sleeves that will morph into whatever shape your body may be.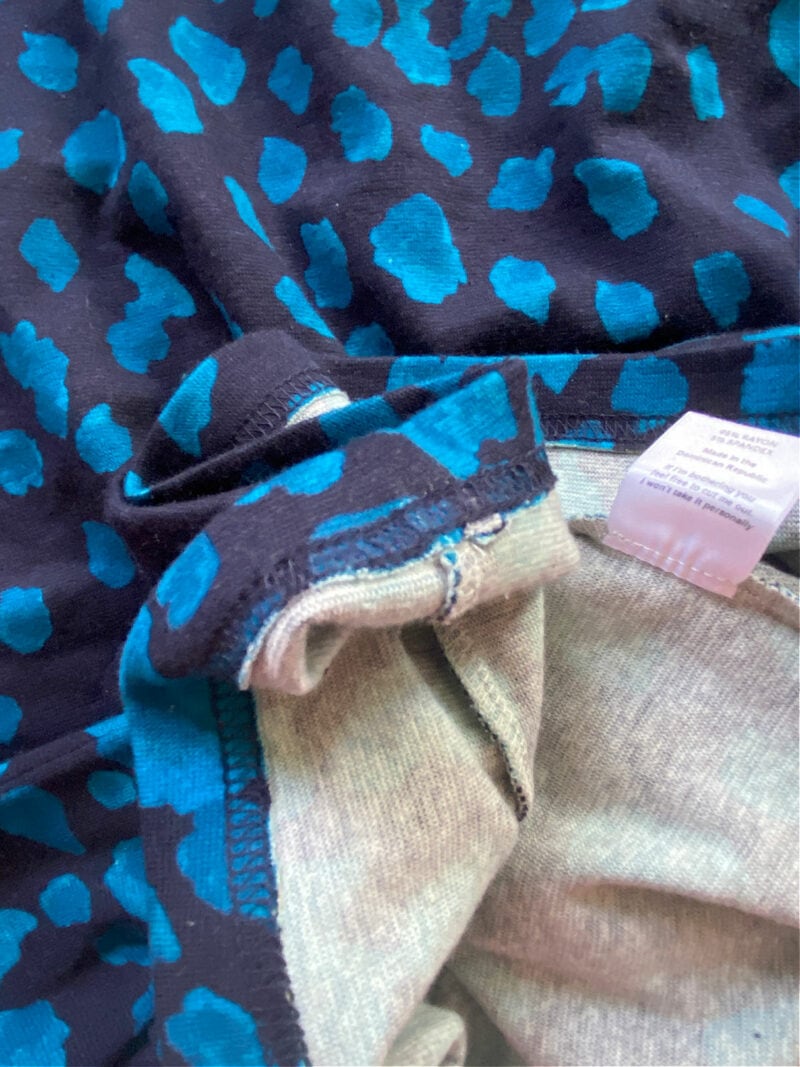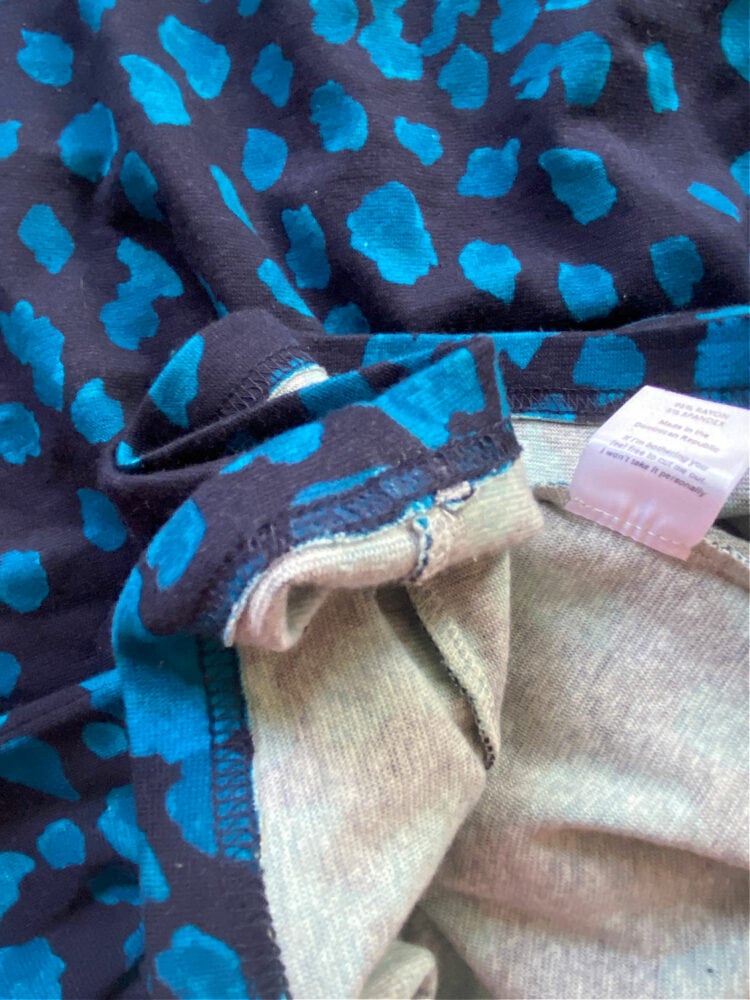 I don't think the design is revolutionary, but the prints are so good I can justify purchasing them just to have some fun and colorful variety in your wardrobe.
You Know What They Say…
I know, fool me twice, shame on me. Let's be real, if I'm fooled thrice I am a glutton for punishment. But the thing is, THE KIT is something we need in the fashion world. We need more fashion that is cool and colorful, while also being sustainable and size-inclusive. It seems these days we can only have one, especially if you are over a size 10.
THE KIT offers clothing that is modern, but also simple enough that it transcends trends. The prints are fresh, colorful, yet also sophisticated. With the most expensive piece at THE KIT under $170 and most under $100, THE KIT in theory, is redefining fast fashion by keeping it fast, but making it sustainable, fun, and simple enough that it will be staying in one's closet far longer than a single season.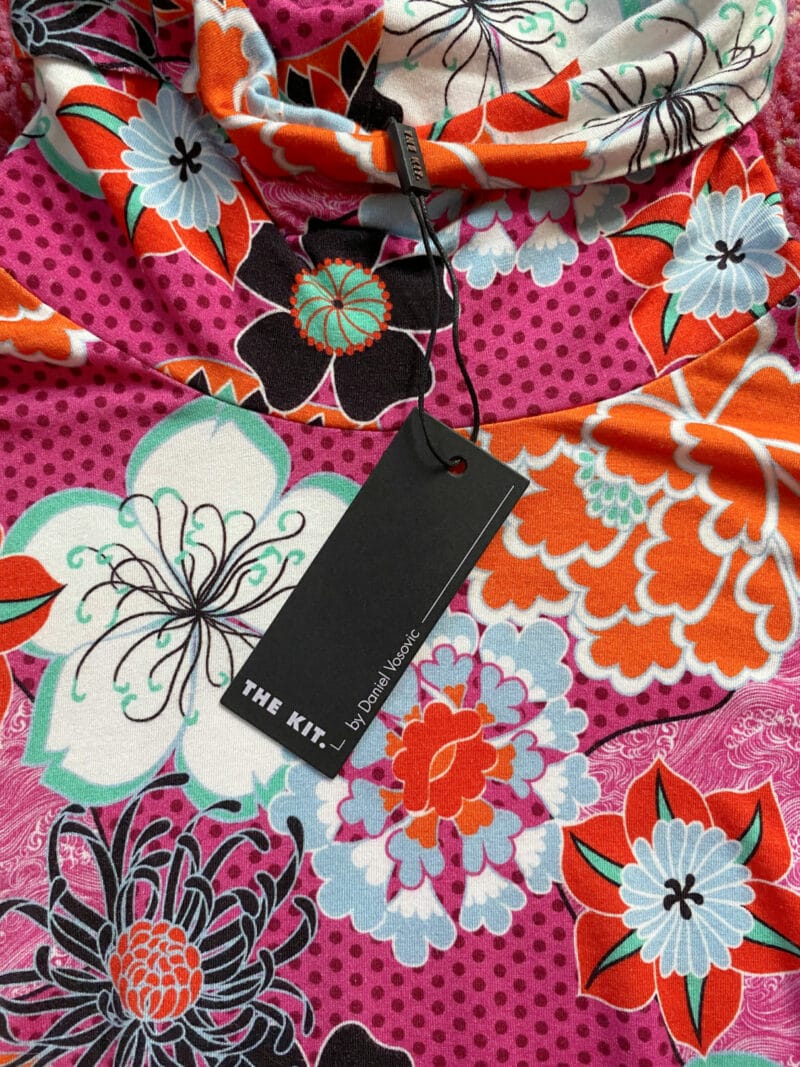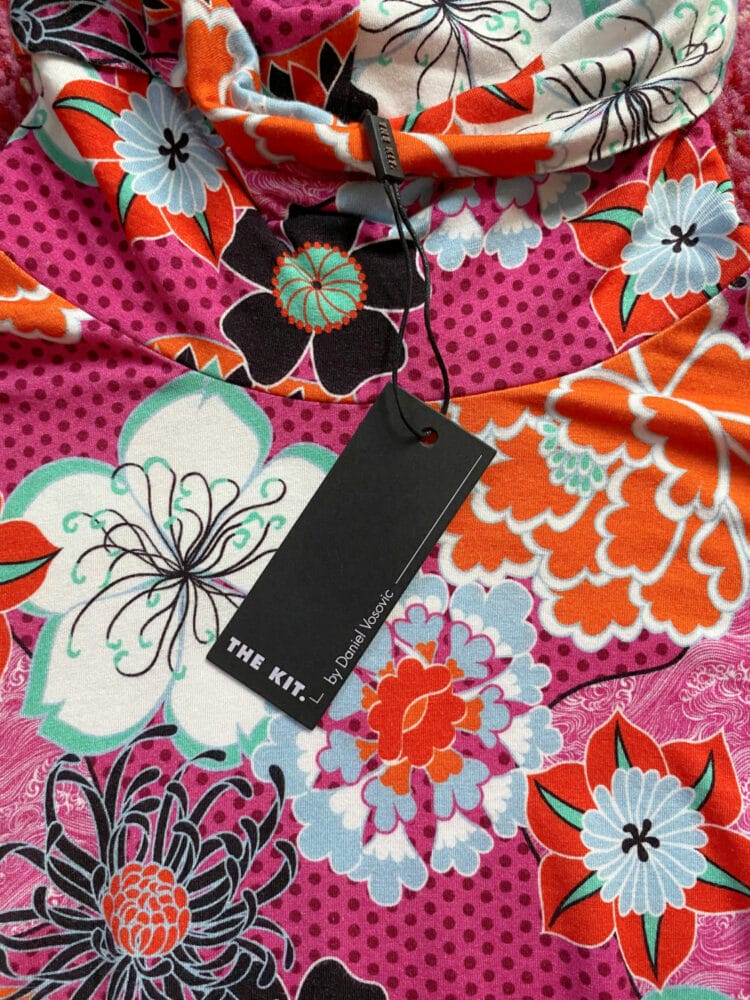 THE KIT NYC's Quality
I know that fabric choice determines garment price. I don't expect a reasonably-priced brand like THE KIT to make their garments out of silk, but I do expect to have fabrics that can properly absorb the dyes from the digital prints that make THE KIT NYC the brand that catches my eye and the eye of many more.
I understand the focus on sustainable fabrics; I can only think that bomber is no longer available because it received so many complaints for the fabric. I don't love the feel or drape of the viscose/rayon crepe fabric used in a lot of THE KIT's fashion, but maybe it's because it is both sustainable and takes dye well that it is used?
I also expect construction that is at least equal to the fast fashion brands a reasonably priced sustainable fashion brand is hoping to replace. I seriously have seen better-crafted garments from Forever 21 than some of the pieces I've experienced from THE KIT.
THE KIT NYC's Size Range and Fit
Maybe I am older than THE KIT's target demographic, but my body is the size that brands should be catering to if they wish to remain relevant. It's not about me, it's about the fact that at 5'3″ and size 14 (sometimes closer to 12, sometimes closer to 16) I am pretty darn close to the Average size/weight and the average height of an American woman.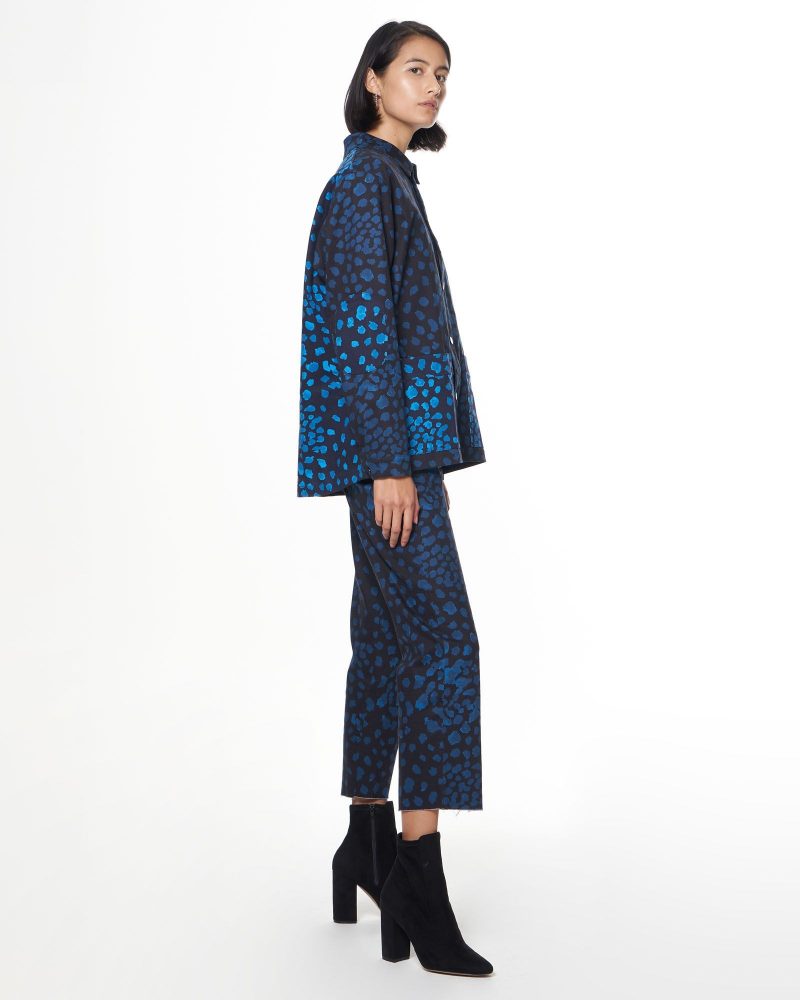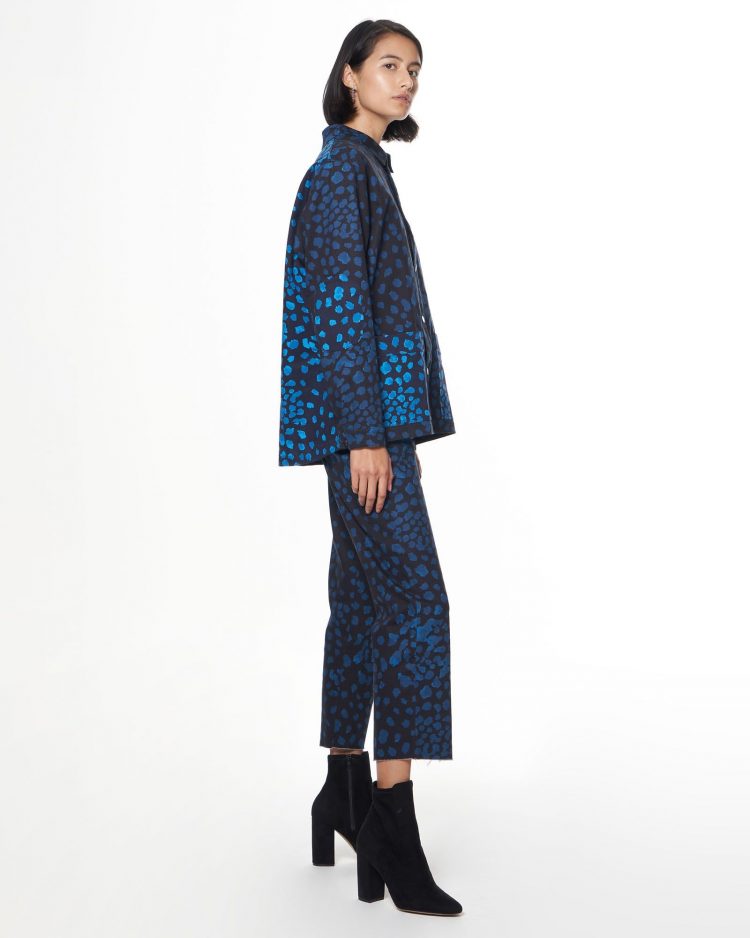 Not only that, at least 67% the female population of the United States wears plus-sized clothing (a size 14 or larger); as a woman who has been plus-sized and now sits on the cusp between straight and plus and writes about clothing in this size, I know this community has the money to spend on brands that acknowledge their existence and make at least a slight effort to cater to them.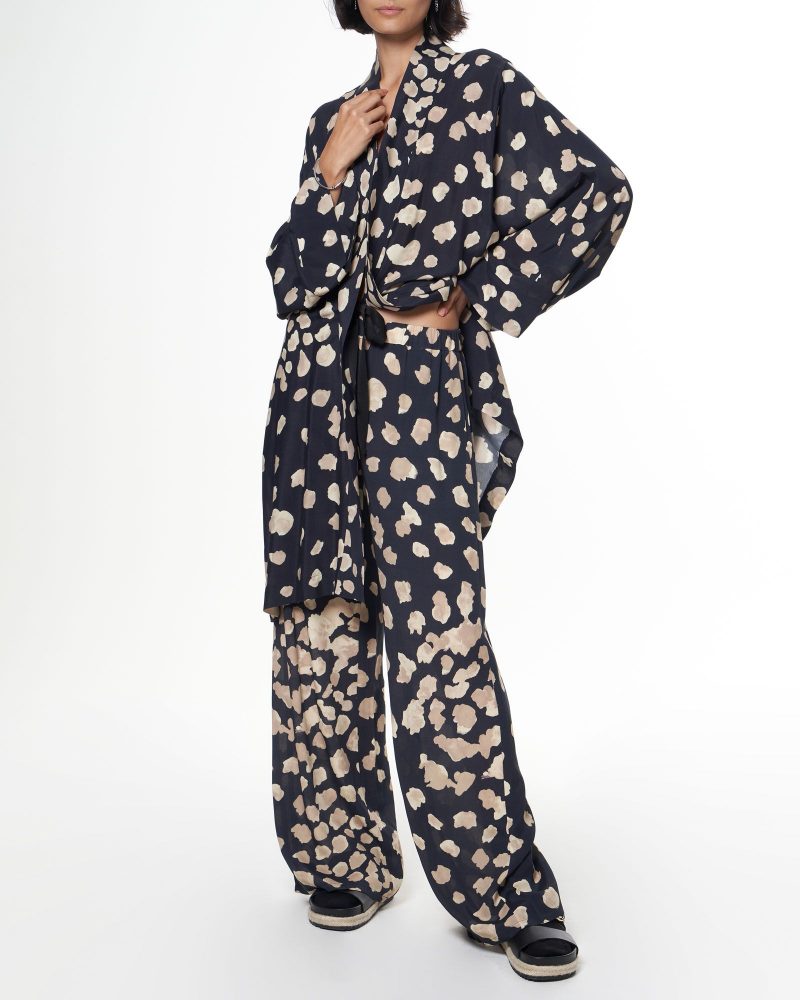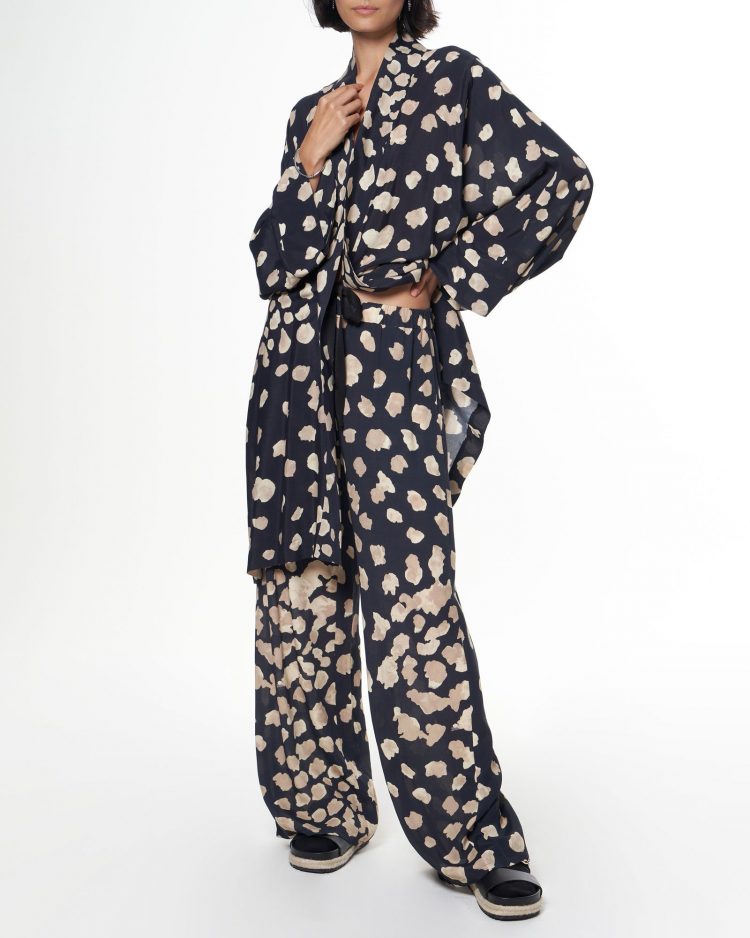 Why doesn't THE KIT have their entire collection in their full size range? Why is it only the super basic silhouettes that come up to 3XL? Considering THE KIT uses Resonance, the popular excuses by other brands for not having larger sizes doesn't work. You don't need to house extra inventory.
If THE KIT can offer a dress in a different new print every week, and offer new silhouettes every few months, why can't THE KIT also offer slightly better cut styles and maybe pieces size XL and larger not only available in every style, but created with a larger-sized fit model?
Congrats for… The Bare Minimum?
I am over congratulating fashion brands for doing the absolute minimum.
Yes, THE KIT has methods to reduce water usage and waste in comparison to other fashion brands, but the quality control and fit for those of us who wear larger sizes are lacking.
Yes, THE KIT has extended sizing, but it's only available on select pieces, and those pieces are the ones with the most simplistic and generic silhouettes. On top of that, most of these styles require sizing up for better fit. With a 3XL only fitting up to a size 22, this "inclusive sizing" excludes a huge percentage of the population.
Yes, THE KIT offers amazing color and prints which is so lacking in the sustainable fashion realm, but with inconsistent color saturation and print matching a lot of pieces may be tossed at the end of a season defeating any waste-reduction practices.
In an interview for W Magazine, Vosovic was quoted as saying, "…because I don't have to design far in advance, I can react to what people want or what's happening in the world around me." Daniel, the world is craving what THE KIT NYC would be if you put in a little more effort and thought.
Why I Took So Long to do a THE KIT NYC Review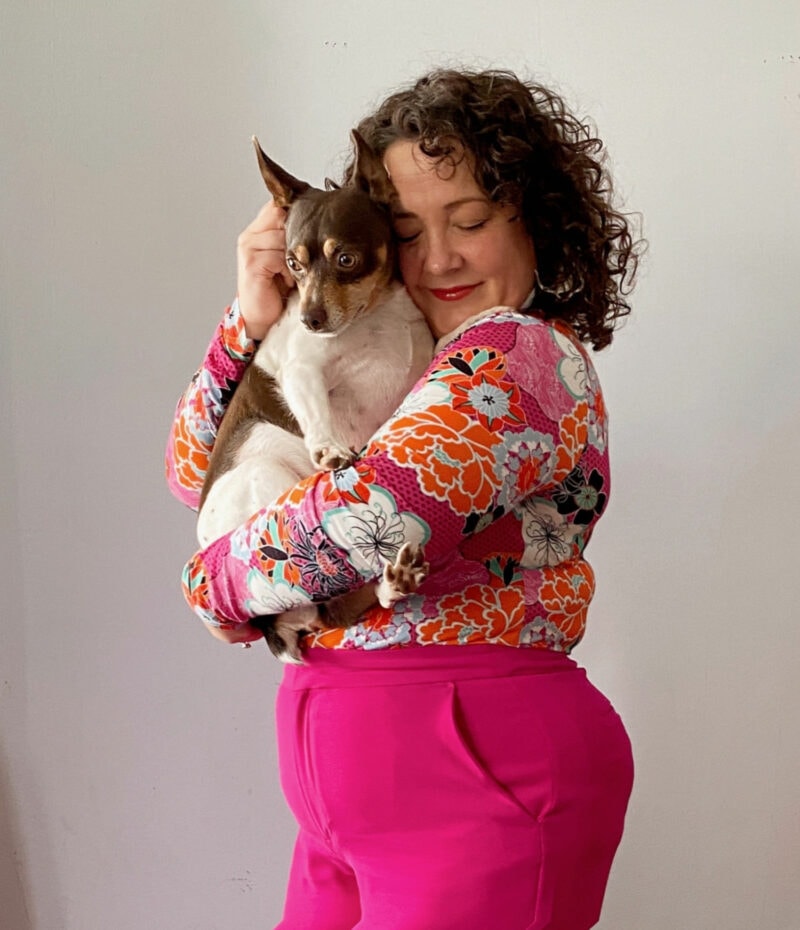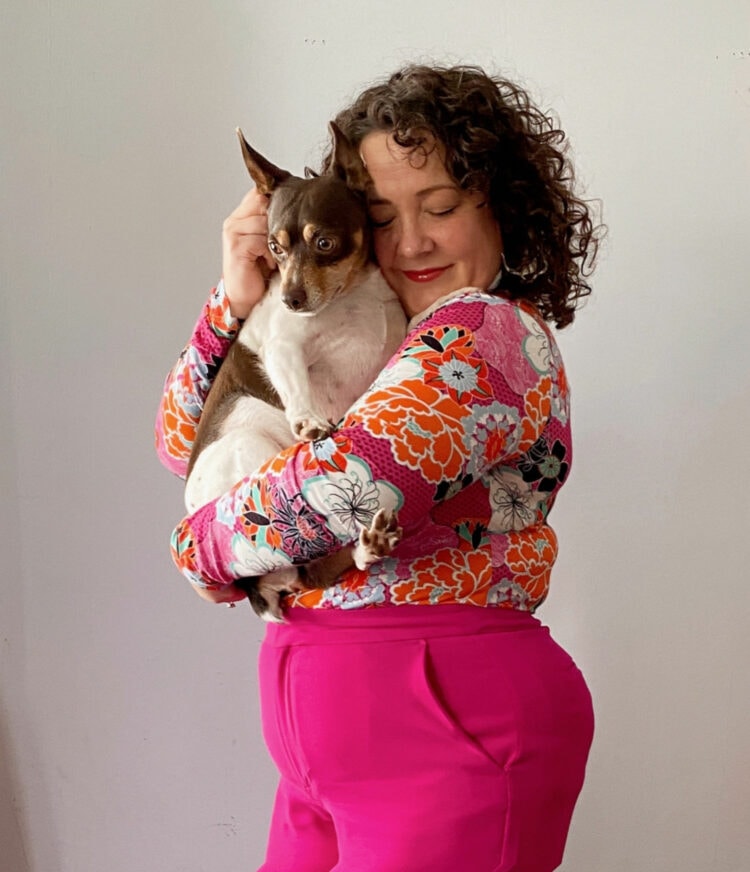 I really didn't want to do a negative review. I find Daniel Vosovic to be incredibly talented. The prints from THE KIT are gorgeous and unique. The collection a creative alternative to utilitarian basics but still allowing for a minimalist wardrobe. I love the sustainability aspect. The customer service for THE KIT NYC is great from speedy shipping to swift returns to replying to mentions and comments on Instagram.
THE KIT NYC is what I want in my life and in my wardrobe, and I know many other women feel the same way. I have been asked for over a year to do a THE KIT NYC review because there is such interest in this company.
I feel there is SUCH POTENTIAL with this brand, I don't want to dissuade people from trying the brand. It's not all bad, but the way the larger sizes are handled and the inconsistent quality made me feel I had to do some sort of PSA.
Have you tried THE KIT? I'd love to hear from you, especially if you are a size 14 or larger. What pieces worked for you? How did your garments hold up after laundering? What do you love, and what would you like to see from the brand?