This article may contain affiliate links; if you click on a shopping link and make a purchase I may receive a commission. As an Amazon Associate, I earn from qualifying purchases.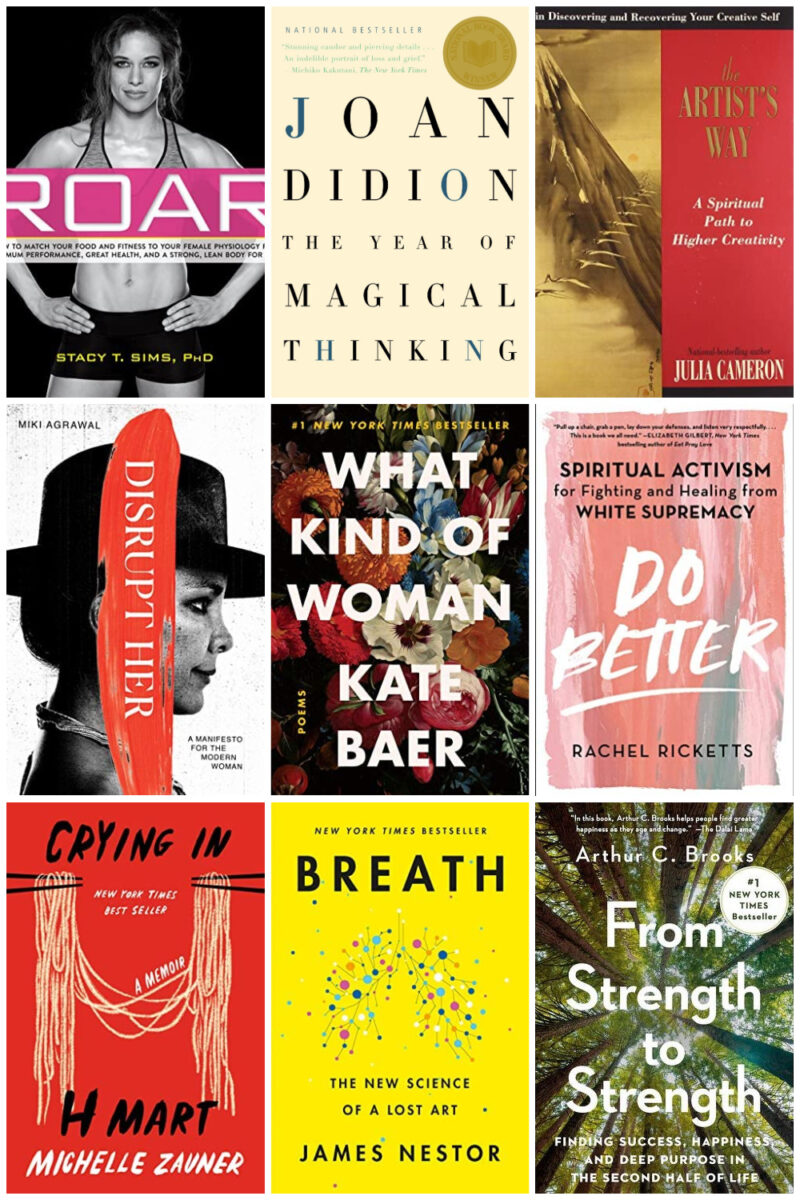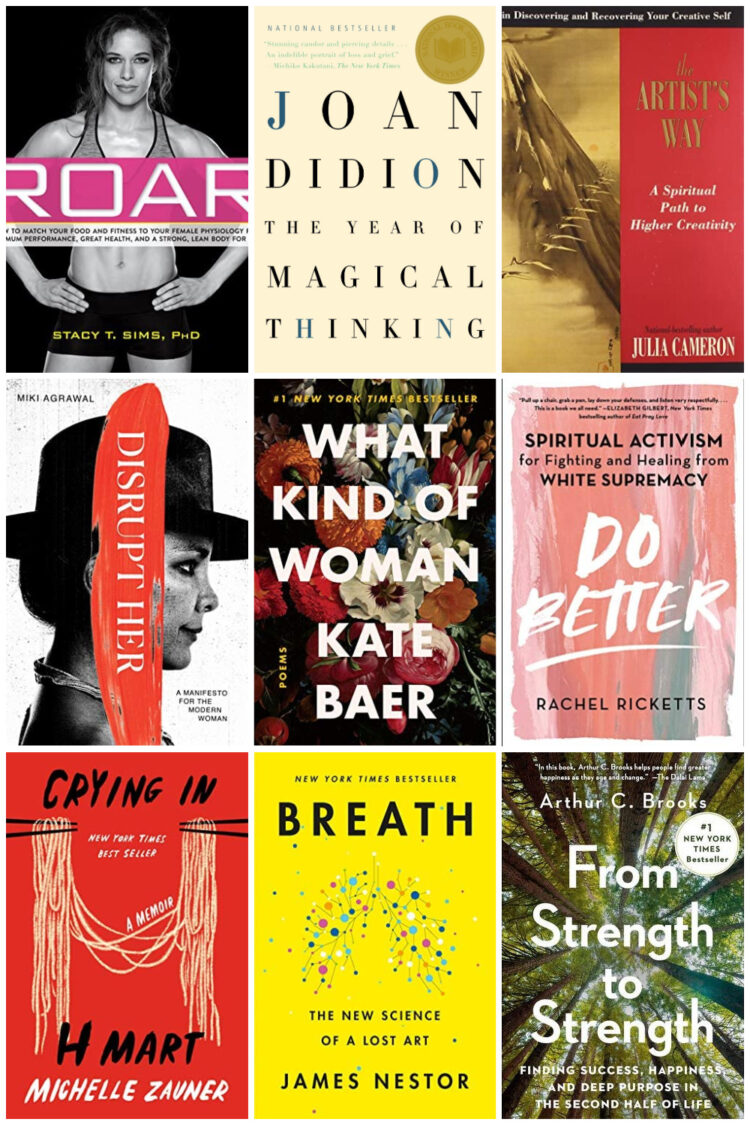 Recently someone asked me on Instagram for my recommendations for books that make great gifts for grown-ass women. While I don't read as often as I would like, I have had some books I found quite powerful in the past year or so. I also have several books on my to-read list that came highly recommended by my friends who are fellow grown-ass women. I think all the books below would be great gifts to give or receive. These aren't necessarily just for women, but books that have proven impactful for women our age.
9 Books That Make Great Gifts for Grown-ass Women
These are all books I have personally read and made a major impact on me. I think they would all make for really great gifts for a loved one, whether or not she is a grown-ass woman. And if you're curious who exactly is a grown-ass woman, I share my thoughts here.
For the Fitness Enthusiast: Roar by Stacy Sims, PhD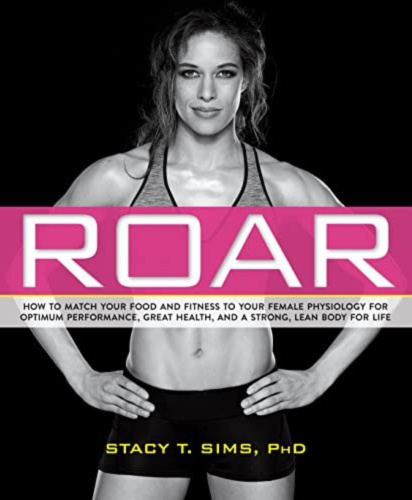 My husband listened to a podcast where Dr. Stacy Sims was a guest and said I HAD to listen to it. I get recommendations like this from him weekly and having a different job and lifestyle, I don't have a lot of time to listen to podcasts and usually disregard his recommendations. But he kept pestering me so one day I listened. And I am so glad I did. Stacy Sims' motto is, "Women are not small men" and her book, Roar goes into how to be a strong, healthy woman throughout her entire life.
While Roar is geared towards weightlifters and athletes, I gleaned so much information about how a lot of popular information about weight loss, bone health, food intake, supplements, and sleep are based on men's bodies. Sims offers researched and realistic alternatives to keep us women in our best condition throughout our life, with a focus on our menstrual cycle, hormones, and menopause. She doesn't focus on weight, BMI, or size but instead sees us as athletes, whether our workout is a morning walk around the block or training for our next race or competition.
Roar is a great gift for the friend who is getting into fitness, the friend who is an athlete, the friend who is always trying the next fitness or diet craze, the friend who is experiencing body and performance changes in midlife, the friend who is ready to focus on health instead of size. Sims is smart, supportive, and embracing of different lifestyles and priorities.
For the Mom Who Isn't Defined by Motherhood: What Kind of Woman by Kate Baer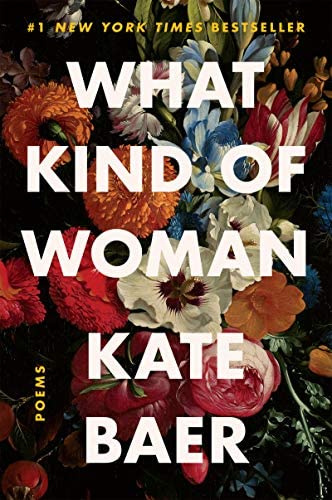 A reader gave me What Kind of Woman by Kate Baer, and I found it to be the greatest compliment and honor. I knew of Kate Baer from Instagram; women I followed would often share her poems and quotes and I'd find them beautiful, poignant, and often relatable. I have followed Baer on and off so many times, loving her work but not loving that platform to digest her writings. This book perfectly captures her thoughts and poetry, a curated collection that hit me hard page after page.
This is a small book, not a lot of work for the gift recipient. It's a beautiful book that can be left on a nightstand or coffee table and look cool, but can be flipped open to find a poem that was the exact thing one needed to read at that moment. Body image, relationships, the patriarchy… Baer discusses it all with beautiful poetry.
On What Kind of Woman, Baer often writes about motherhood; this is not a book to give to a person who is childfree or is an empty nester. But it is for the woman who loves her kids, but knows she is much more than just a mother or could benefit from a gentle reminder that will not make her feel bad about herself.
For Those Ready for Their Second Act: From Strength to Strength by Arthur C. Brooks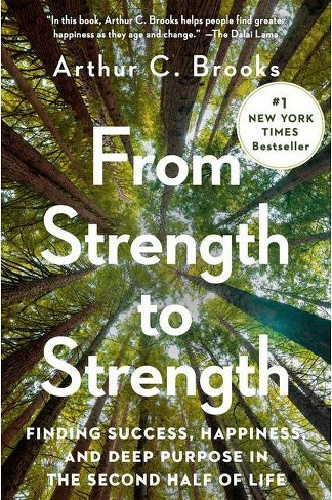 When I took two weeks off the internet earlier this year, I also read From Strength to Strength by Arthur C. Brooks. Have you ever read a self-help or resource book on just the right topic at just the right time? That was this book for me. Feeling a bit lost with my career, this book helped me not necessarily know my path, but know what I was feeling was normal and I wasn't near an end, but ready for my next curve.
As a grown-ass person, we may be at the height of our career, but even with that impressive title on our business card we may feel hollow, lost, bored, but not ready to retire and sail off into the sunset. We may be wondering what there is to life beyond the title and the career successes, but still need a steady income. That's where From Strength to Strength comes in.
While this book is geared more towards those in the C-Suite, individuals in a variety of jobs (even me, a blogger) can find reassurance, inspiration, and focus from this book. In fact, I keep my copy on my coffee table to pop open on a random page to motivate me and remind me of what I got from From Strength to Strength.
For Those Who Know We Still Have Lot More To Learn and Do: Do Better: Spiritual Activism for Fighting and Healing from White Supremacy by Rachel Ricketts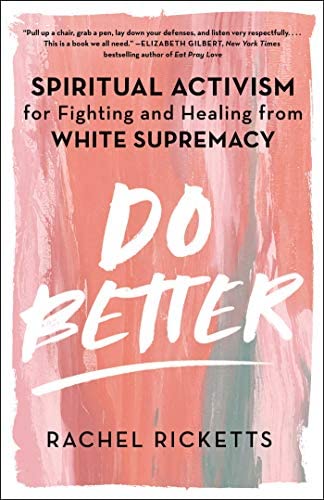 I was discussing with my sister how 2020 was a watershed moment for The United States of America, a time when we truly confronted racism and how just a couple of years later, we have fallen back in so many ways. And with a presidential election right around the corner, it's more important than ever to understand our roles in white supremacy and what we can do to fight it.
Do Better: Spirital Activism for Fighting and Healing from White Supremacy is the book to read after reading all the anti-racism bestsellers of 2020. It's what to read when you feel that what you gained from that reading list is starting to fade and you're getting sucked back into simpler times when we pretended things were fine.
It's a good book to read as we head into a new year; it's an extremely challenging but important read.
For Those Who Feel Creatively Stuck: The Artist's Way by Julia Cameron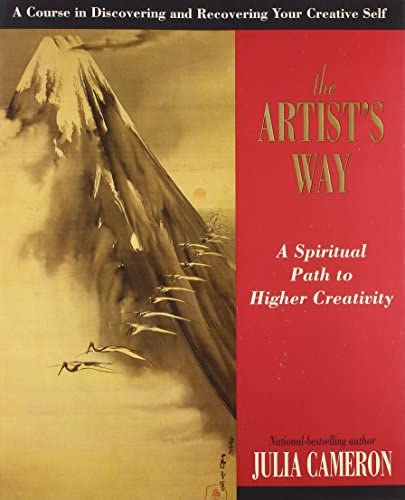 I have completed The Artist's Way by Julia Cameron three times in my life, and each time it was a different and inspiring experience. This is not a book for artists, but for anyone trying to spark their creativity. It is a 12-week program that is easy to incorporate into a busy life (and some of the aspects of the program may very well stick around after the three months).
Especially at our age, we can feel we don't have time for creativity. We are so focused on our jobs, our families, our responsibilities we don't schedule play and art and creativity. And going for so long with such creativity, it can be hard to even feel creative anymore. Take it from me, your creative spirit is still there, and this book can help it grow. I recommend the paper copy of the book, not Kindle. You will want to write notes in margins, fill out worksheets, and highlight paragraphs.
The Artist's Way is a classic, and if you look carefully at the bookshelves of celebrities as they do home tours, you often see a dog-earred copy. Originally published in 2002, this book is seen as beneficial even to seasoned creatives. It's a fantastic gift to give at the start of a new year; an alternative to restrictive resolutions but a path that helps one still achieve goals and dreams… maybe even ones they didn't realize they had before starting the book!
For Anyone Wondering if This Is All There Is in Life: Disrupt-Her: A Manifesto for the Modern Woman by Miki Agrawal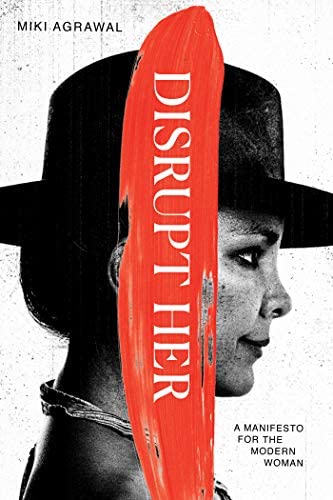 I was going through a period in my life where I was wondering if this was it. This was as good as it was going to get, time slipped through my fingers and it was too late for a do-over, a switch, a change. During this time I ended up going down a rabbit hole and found a retreat for women feeling that way, and the retreat's website had a book list. I was frustrated and tired and looking for some sign and ended up ordering almost every book on that list.
I ended up hating almost every book on that list, except Disrupt-Her. So glad I checked out the books before booking a spot on that retreat! But Distrupt-Her made up for it. It's hard to describe this book; I was looking at online reviews and one said they rolled their eyes at the first couple of chapters but was crying by the end and I think that's a fair assessment.
It's written like a manifesto, with some pages looking more like a vision board and some points feeling terribly woo or self-important. But Distrupt-Her: A Manifesto for the Modern Woman made me do a lot of thinking and had me give myself some grace when I felt like what I should be doing was hustling harder. I think this book would be best appreciated by Gen X and Elder millennials; do not Google the author before reading for best results.
For a Friend Navigating Grief: The Year of Magical Thinking by Joan Didion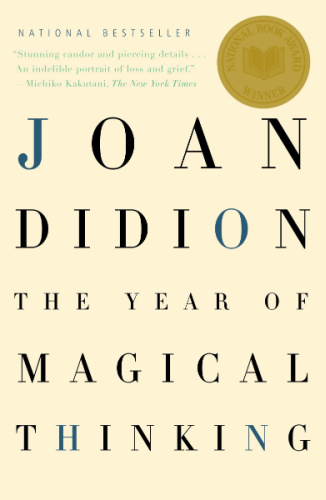 Losing loved ones… grief is different for everyone. The relationship with who we lost, the individual themselves, us, and the world around us. When I have lost loved ones, I have gone through many different points but there was often a point after the flowers and cards and casseroles where I have found some solace and sanity in others' stories of loss. And after losing a loved one several years ago, I appreciated The Year of Magical Thinking by Joan Didion.
Not a spoiler; Didion's daughter was in a coma when her husband suddenly died. The Year of Magical Thinking is the author's attempt to make sense of, "weeks and then months that cut loose any fixed idea I ever had about death, about illness … about marriage and children and memory … about the shallowness of sanity, about life itself."
I do not recommend this book to those who have not only lost someone, but with it had their financial life damaged. It could be easy to hate on Didion and all her privileges when grieving, even though she dealt with such tragedy. But this is a book that isn't trying to make things better; when you're grieving you know no book can fix things and it's nice to read something that agrees with that fact.
For the Health and Wellness Curious: Breath: The New Science of a Lost Art by James Nestor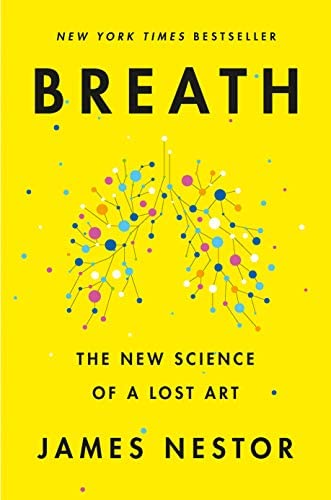 I reviewed this book in a Weekend Reads but found it so powerful I had to add it to this gift guide. James Nestor dealt with chronic nasal congestion and sleep apnea. Looking for a solution, he ended up going on a journey learning about how the breath and how we breathe can affect far more than seasonal allergies and our sleep. He documented this journey in Breath: The New Science of a Lost Art.
The point of Nestor's book is not for everyone to take on all of these methods, but to show how we may have a very narrow concept of what it means to breathe, and how our breath can affect so many aspects of our physical and mental health as well as our appearance, sleep, and temperature tolerance.
This isn't a replacement for modern medicine, but an addition, some food for thought. After reading this, expect to think differently (and think often) about the way you breathe and chew!
For Someone Who Lost (or is Losing) a Parent: Crying in H Mart: A Memoir by Michelle Zauner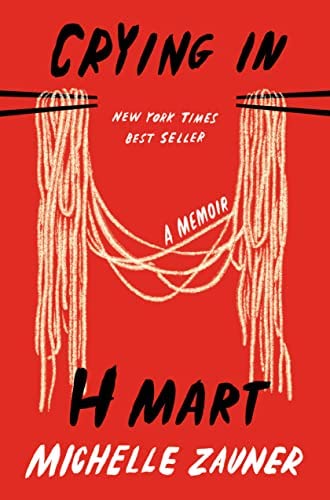 I still have my mom, but I lost my dad when I was just a few years younger than Michelle Zauner was when her mom passed from ovarian cancer. I grew up with few family traditions, we weren't religious, we no real culture beyond being suburban white people on the Eastern Seaboard of the United States. I am almost two decades older than Zauner; even with these differences I felt such a connection to the author's memoir that it took me months to finish Crying in H Mart because it brought up so many memories and thoughts as well as many tears I had to take breaks to process. But I never wanted to give up on this beautiful book.
This book doesn't tell of a charming childhood or perfect parents and I think that is why I loved it so much. I've always found it weird how folks practically deify the deceased, erasing any bad moments or toxic traits. The friction, the challenges, the hills that had to be climbed make us who we are, whether we like it or not, and make the relationships we have with our parents. Erasing the difficult past doesn't erase its impact on us, and Zauner found a way to share the difficulties with her parents while also beautifully understanding and loving her mother.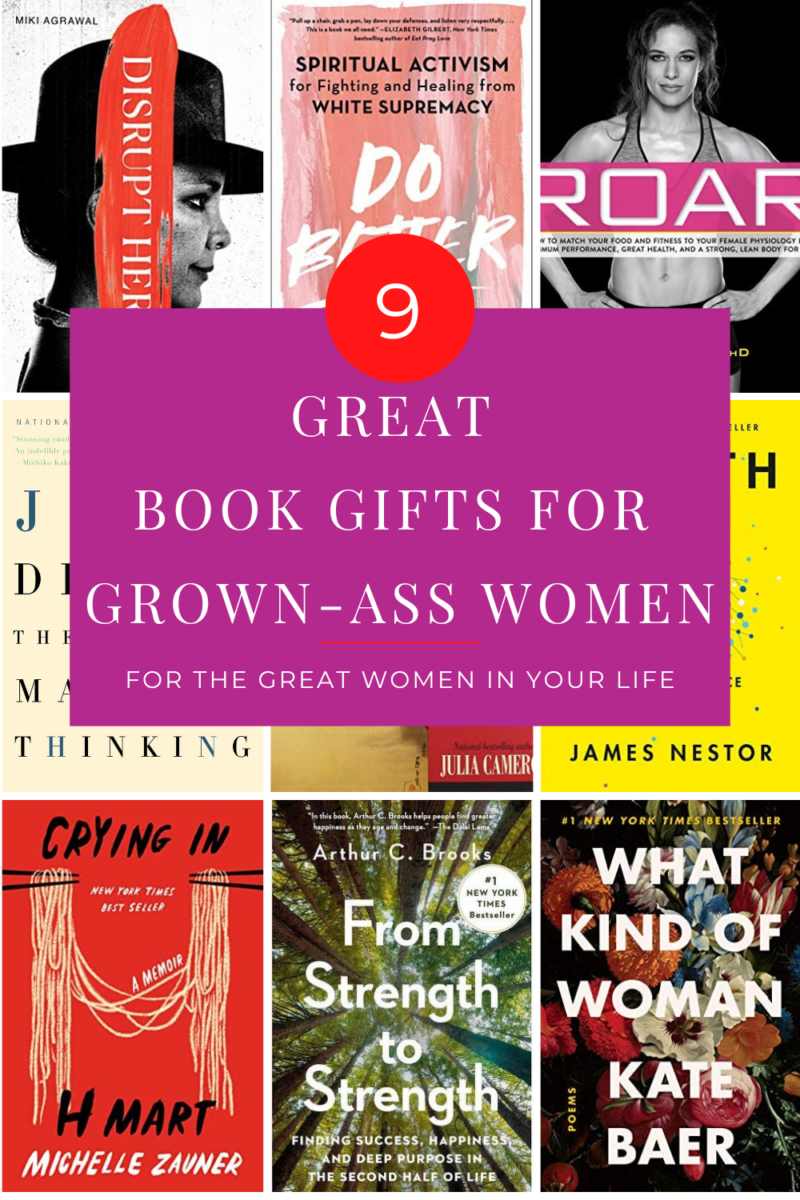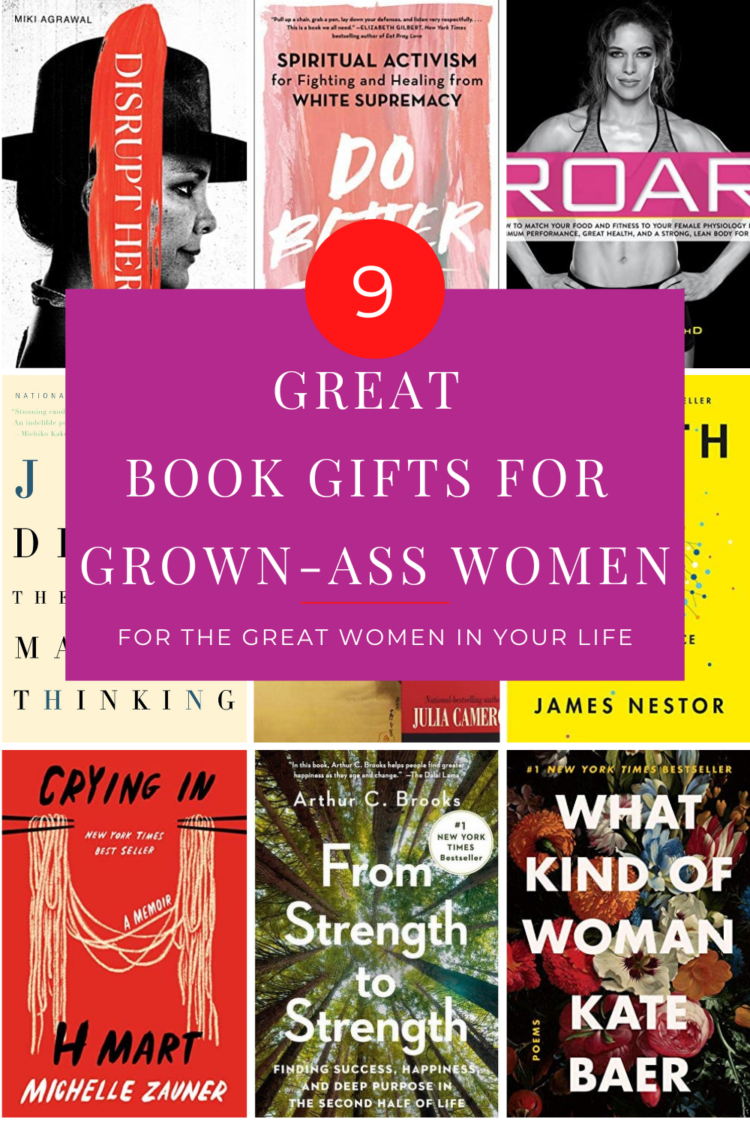 Any Other Books That Make Great Gifts for Grown-Ass Women?
This book list is not all-inclusive. There were many more I considered (and I totally left out some utterly fantastic fiction and autobiographies and gorgeous coffee table books) but I thought a list of 9 books would be far easier to digest than a list of 99. So I am asking you to share below in the comments your picks for books that make great gifts for grown-ass women and WHY (you know I am always about the why!). You never know, your absolutely favorite read may be THE perfect gift another member of the Wardrobe Oxygen Community has been searching for!