This article may contain affiliate links; if you click on a shopping link and make a purchase I may receive a commission. As an Amazon Associate, I earn from qualifying purchases.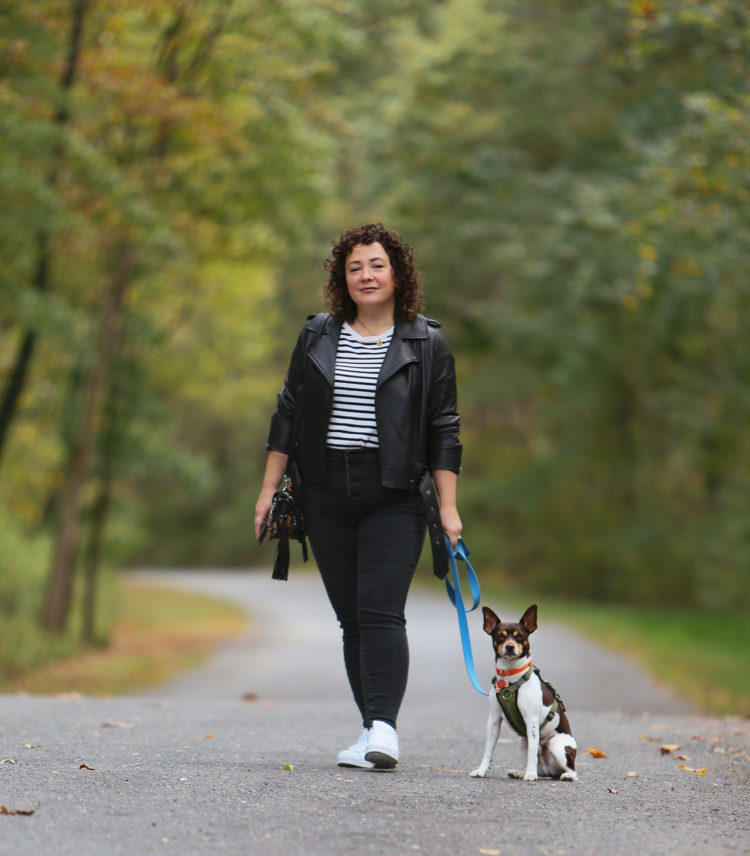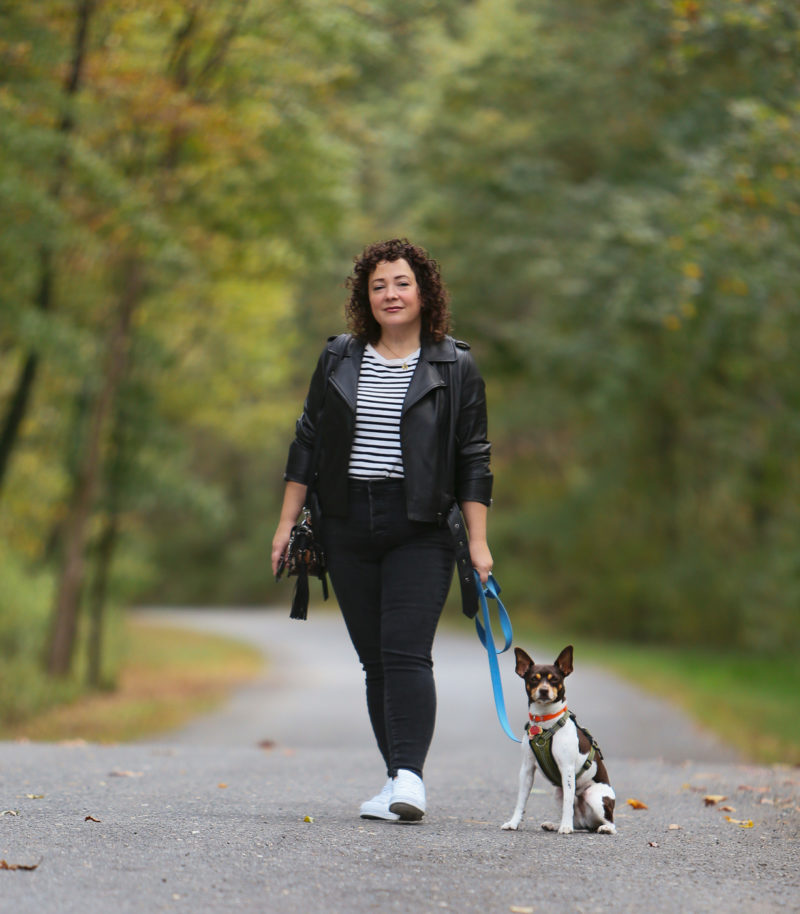 Since I was in 8th grade I have been on the hunt for the perfect leather moto jacket. Soft buttery leather, something that works with not against my shape, not too cropped but not too long, a style that can zip up when it's cold but also looks great as a topper over lightweight dresses. I think I may have found it; below is my Universal Standard Leeron Leather Moto Jacket review.
Thank you to Oscar for being my date for this photoshoot; isn't he the best accessory?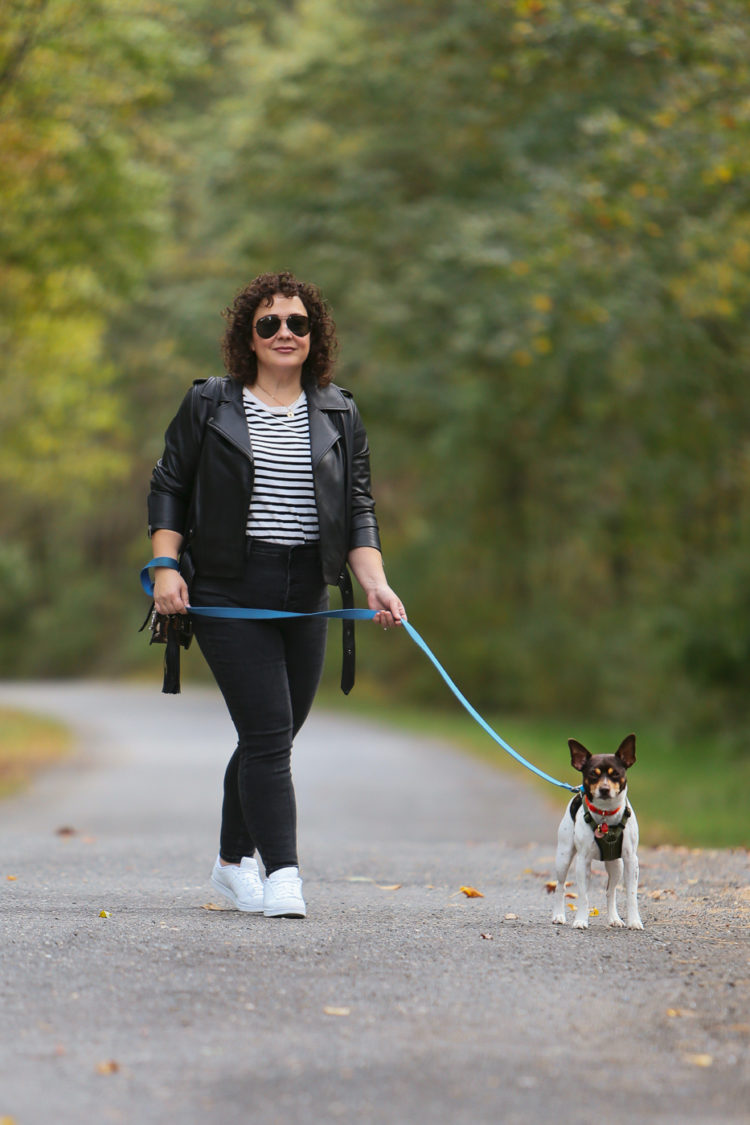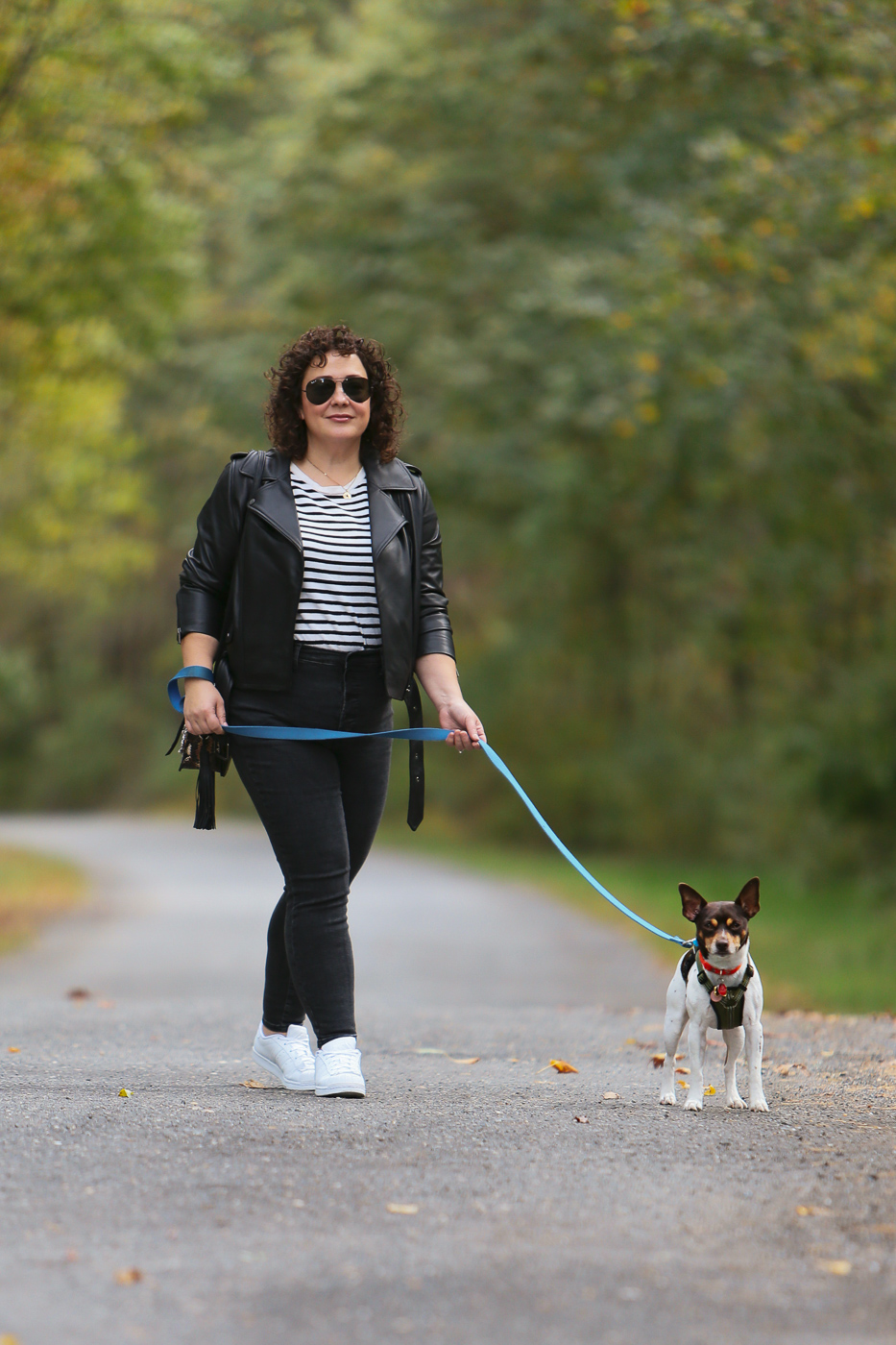 jacket | shirt | jeans | sneakers | necklace | sunglasses | bag
In 9th grade, I found a pretty fantastic leather moto jacket at Express of all places. It was on clearance but I still had to pay my mom back in installments. I wore the heck out of that jacket all through high school and still have it in my closet.
It's funny, back then I found it so timeless but now I put it on and see the shoulder pads and dolman sleeves it looks like the epitome of the late '80s/early '90s. I keep trying it on, hoping the dated details will fall in line with the "what's old is new again" fashion cycle. It never works; it likely won't be worn again unless I attend a costume party.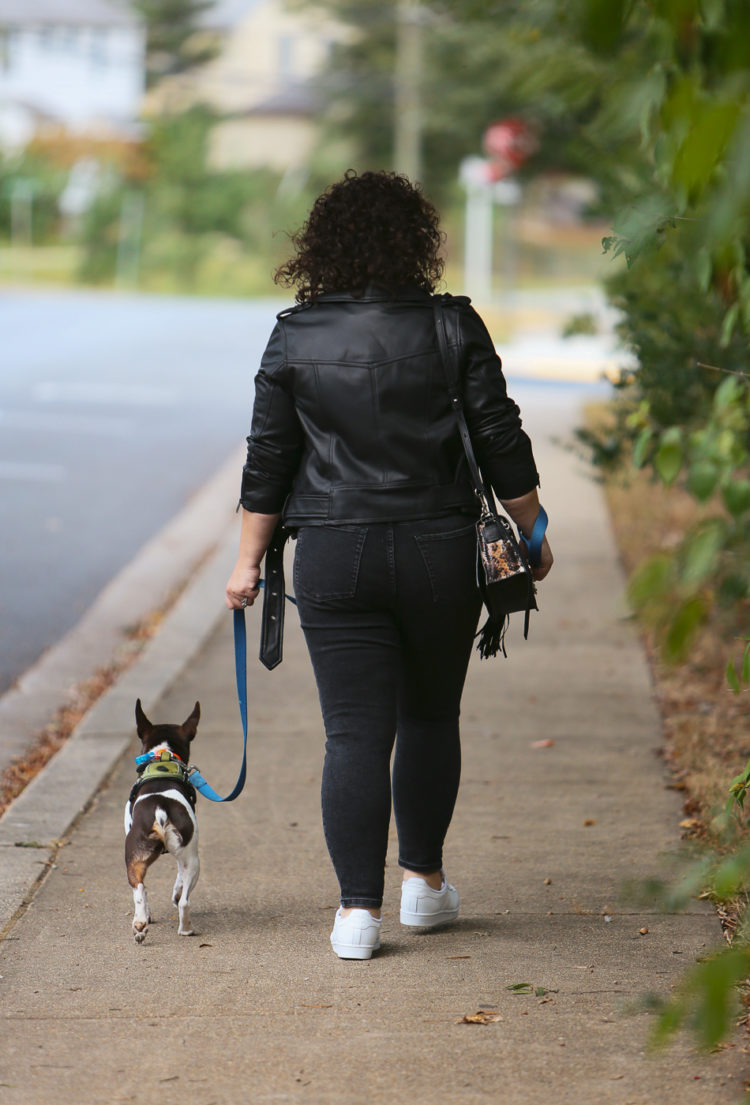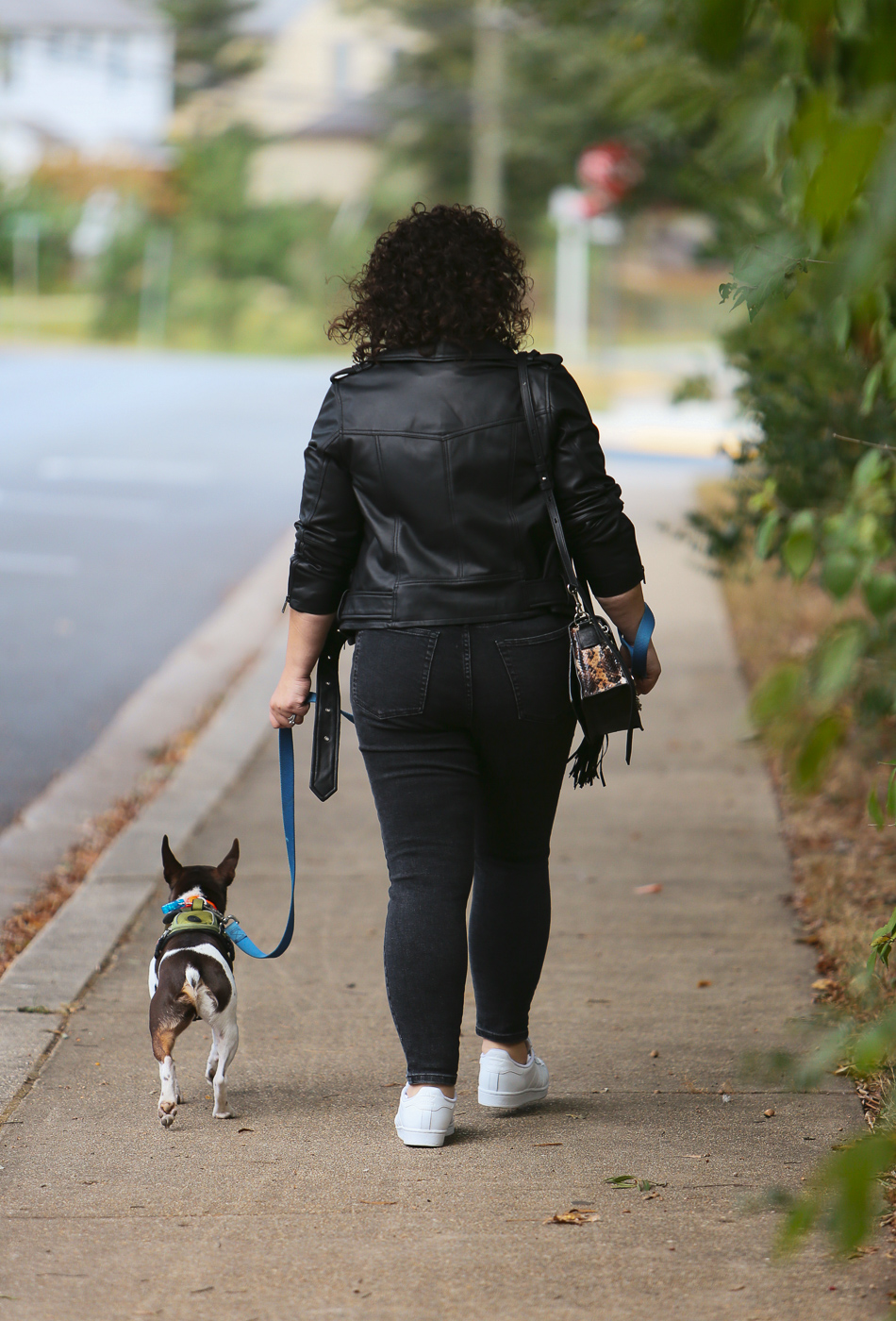 Jacket: Leeron Moto Jacket c/o Universal Standard (XS) | Top: J. Crew (old; similar) | Jeans: Authentic Stretch High Rise Skinny Button Fly c/o Everlane (32 Ankle) | Shoes: Adidas | Necklace: Modern Monogram Pendant c/o Jenny Bird | Sunglasses: Ray-Ban | Bag: ALLSAINTS (rented through Rent the Runway Unlimited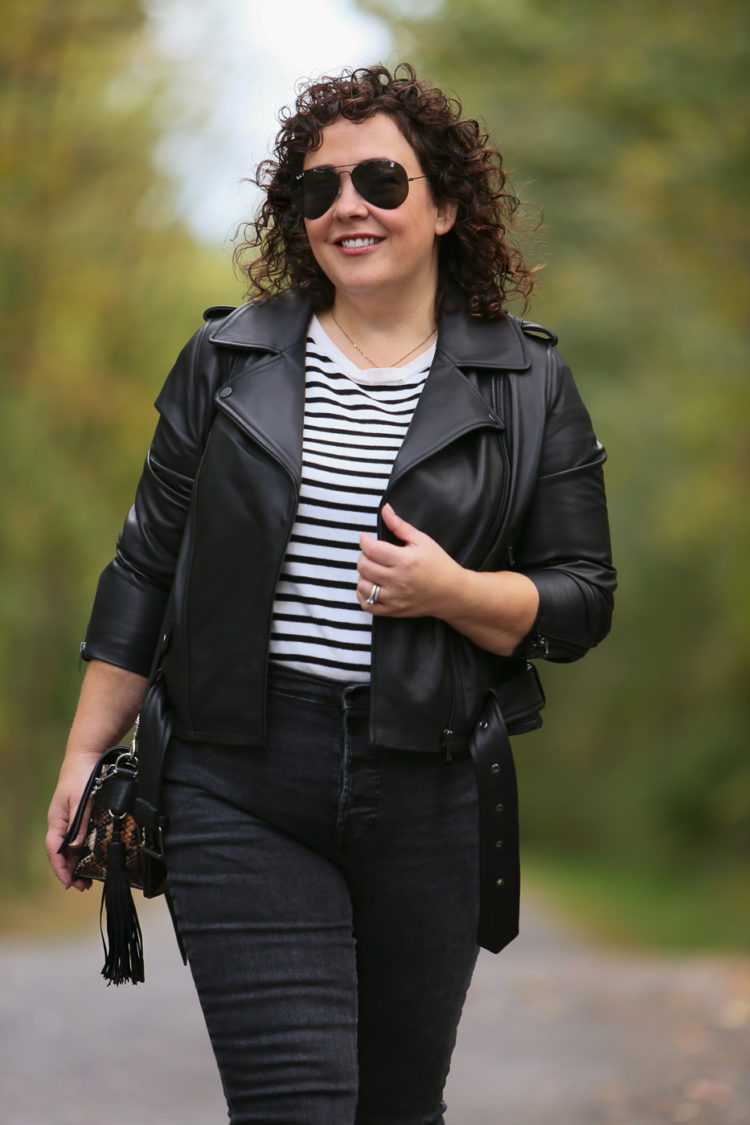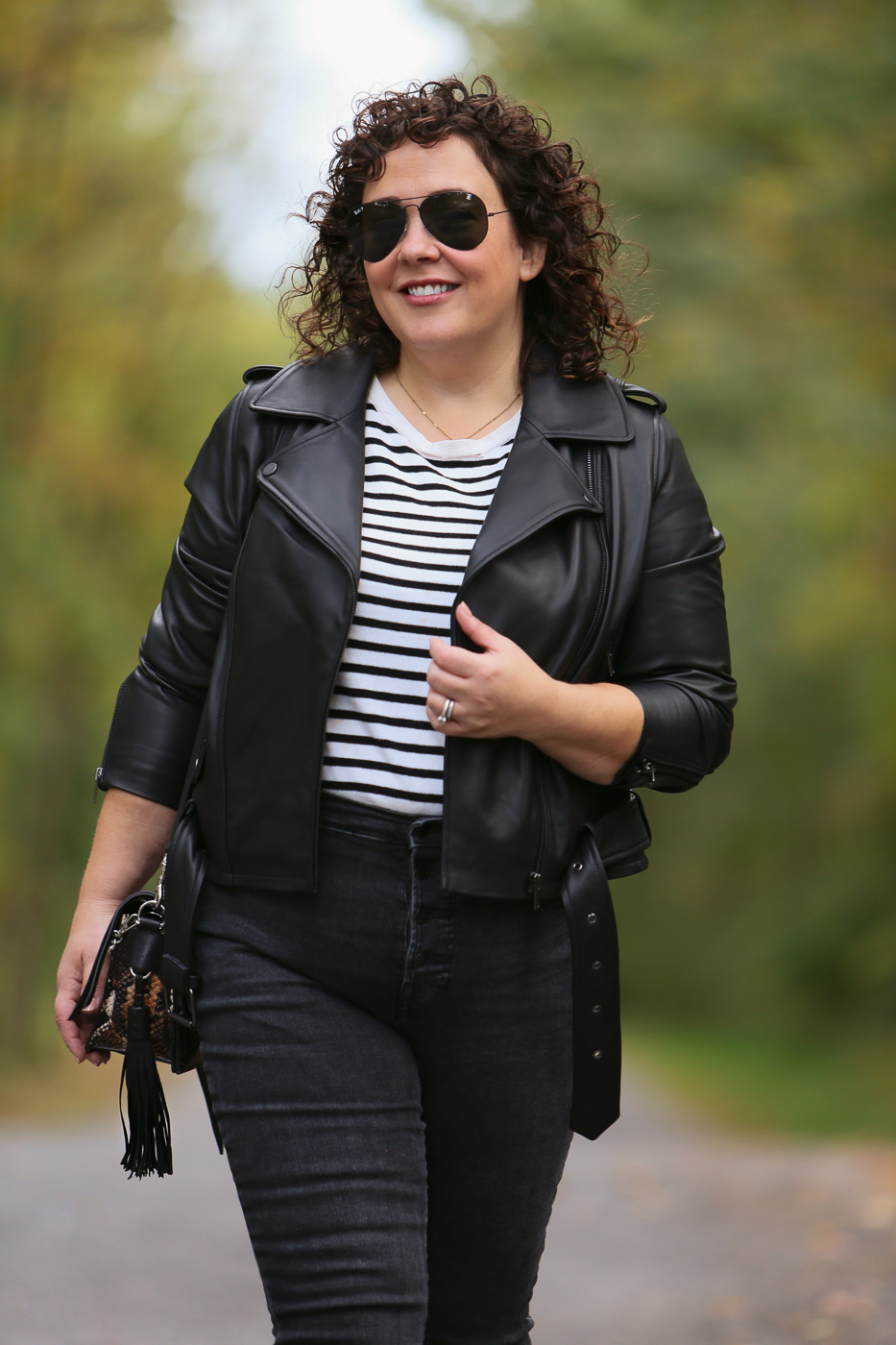 Last year I found a petite moto jacket from Topshop and it was pretty great. I should say is pretty great; it's still in my wardrobe. However, it's from Topshop so one can't be surprised by the heavy lower-quality leather. It is also insulated, so while it's a cute jacket to wear on a crisp fall day, it's not one that can be made part of an outfit and worn indoors. Also, the sleeves are a tad snug; no way I can wear it over a sweater.
Universal Standard Leeron Leather Moto Jacket Review
I wanted classic moto styling, no weird "feminine" updates that make the piece look dated more quickly or cheap. I didn't want detail overkill – sure there will be zippers and snaps, but I didn't want studs or superfluous hardware. And I'd love to have a jacket that is so soft I can push up the sleeves; even if they're the right length for my petite frame, I still love the look of a jacket with the sleeves pushed up, with or without the under layer showing at the hem.
So when I saw the Universal Standard "Leeron" leather moto jacket I got super excited. And I knew many of you were also on the hunt for a great size-inclusive leather moto, so I decided to write a completely honest Universal Standard Leeron Leather Moto Jacket review.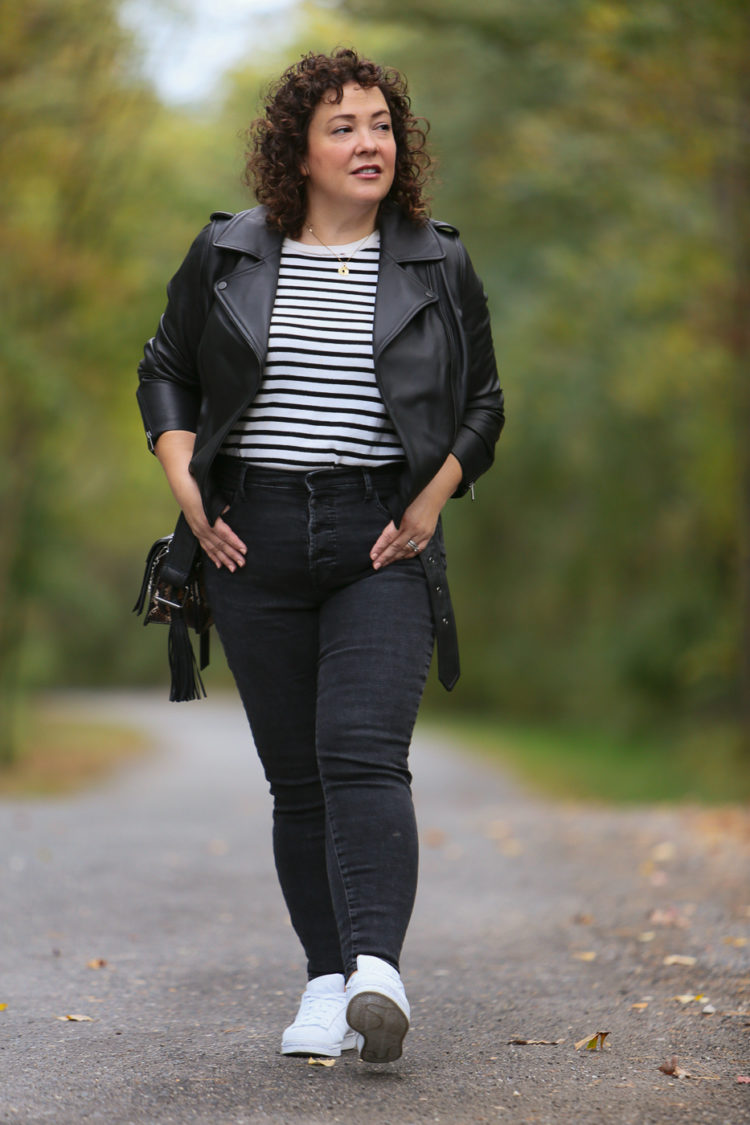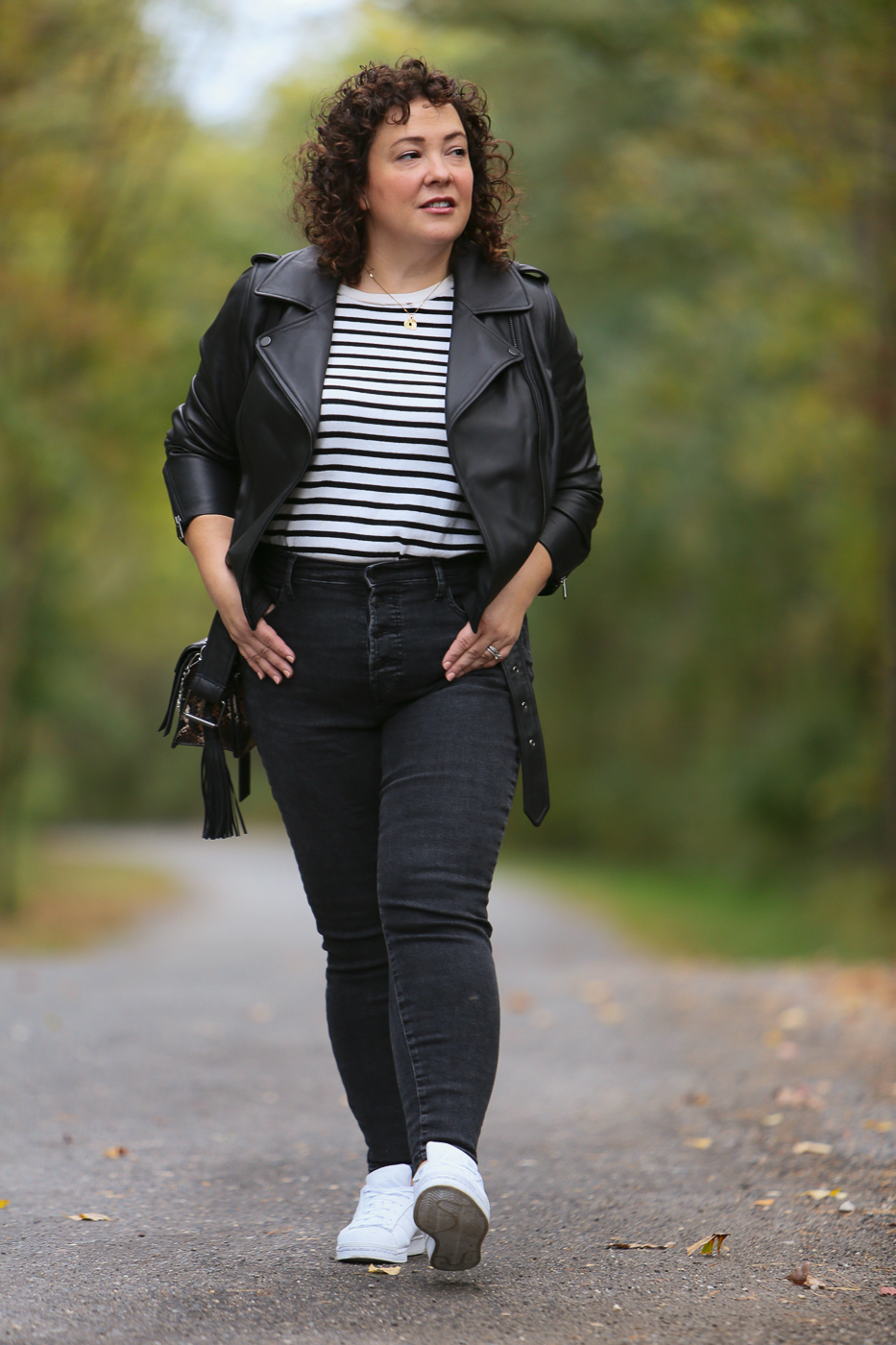 Dude, the Universal Standard Leerom leather moto jacket is nice. Like niiiiiiice. It's super soft buttery leather, not too shiny, clearly looks luxe. The hardware instead of being silver is black which makes it look a bit more elegant and easy to wear with any metal of jewelry.
What I love is the Universal Standard Leeron leather moto jacket is a true moto jacket – it has a proper belt at the bottom. It has two zipper pockets and a small pocket with a snap flap that is just the size for your lipstick or something of similar size. The collar snaps down, no wonky collars popping up yet you can still zip it up against the cold.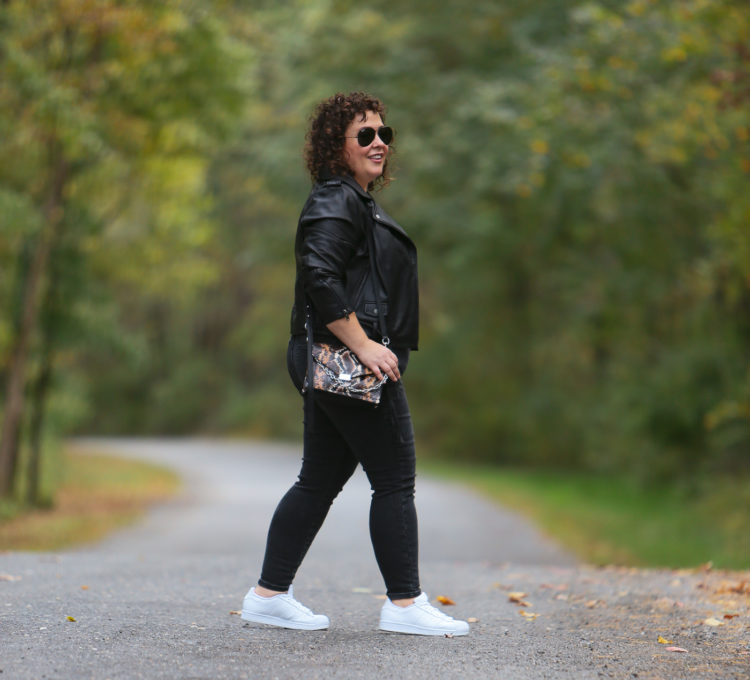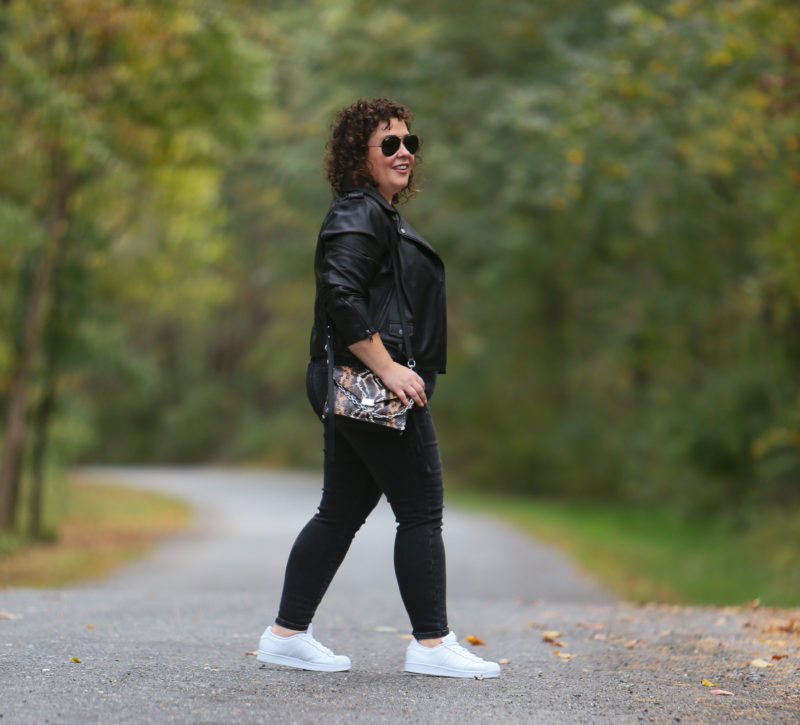 I have a large bust and many jackets tent out from my bustline. This one is soft enough that is has a bit of drape. The sleeves of the Universal Standard Leeron Leather Moto Jacket are long for me, but the leather is so soft I can push up the sleeves and still be comfortable (tip: push up the sleeves with them slightly unzipped, then zip them closed when they are at the right location. This will help them stay up).
The jacket is lined in a soft polyester knit; this jacket is NOT insulated and best for fashion or days above 50 degrees. However, I can fit a sweater under this coat which makes it more practical than my heavier moto jacket from Topshop. I'd say the only thing that makes this jacket not perfect is the sleeve length.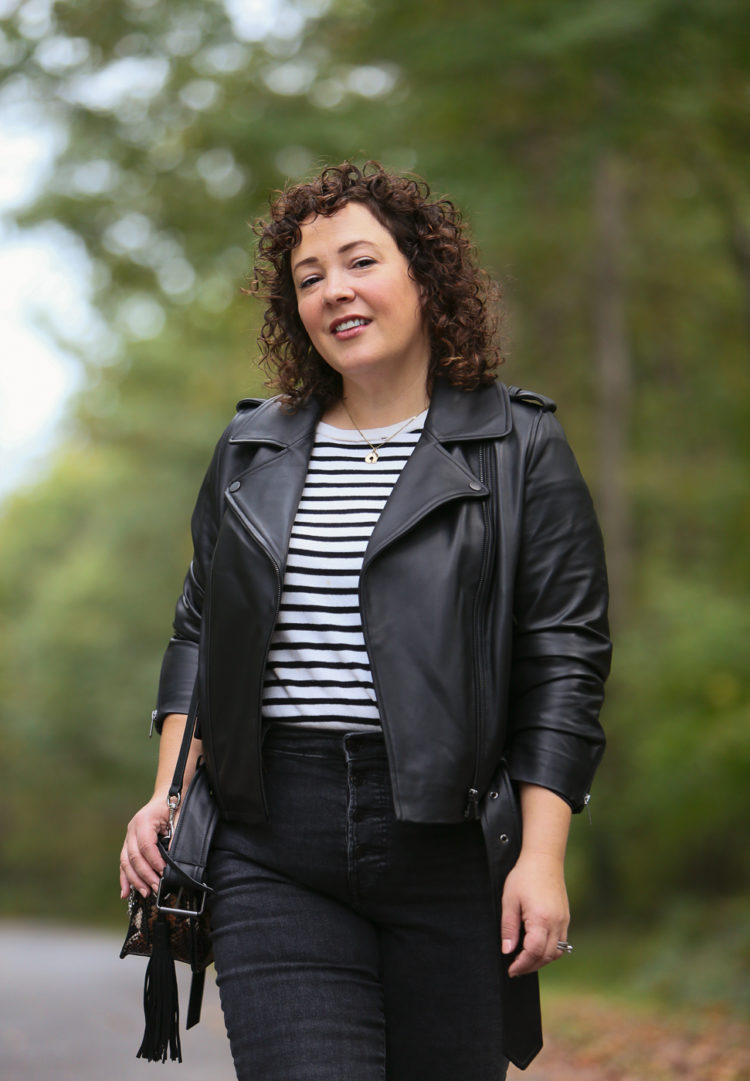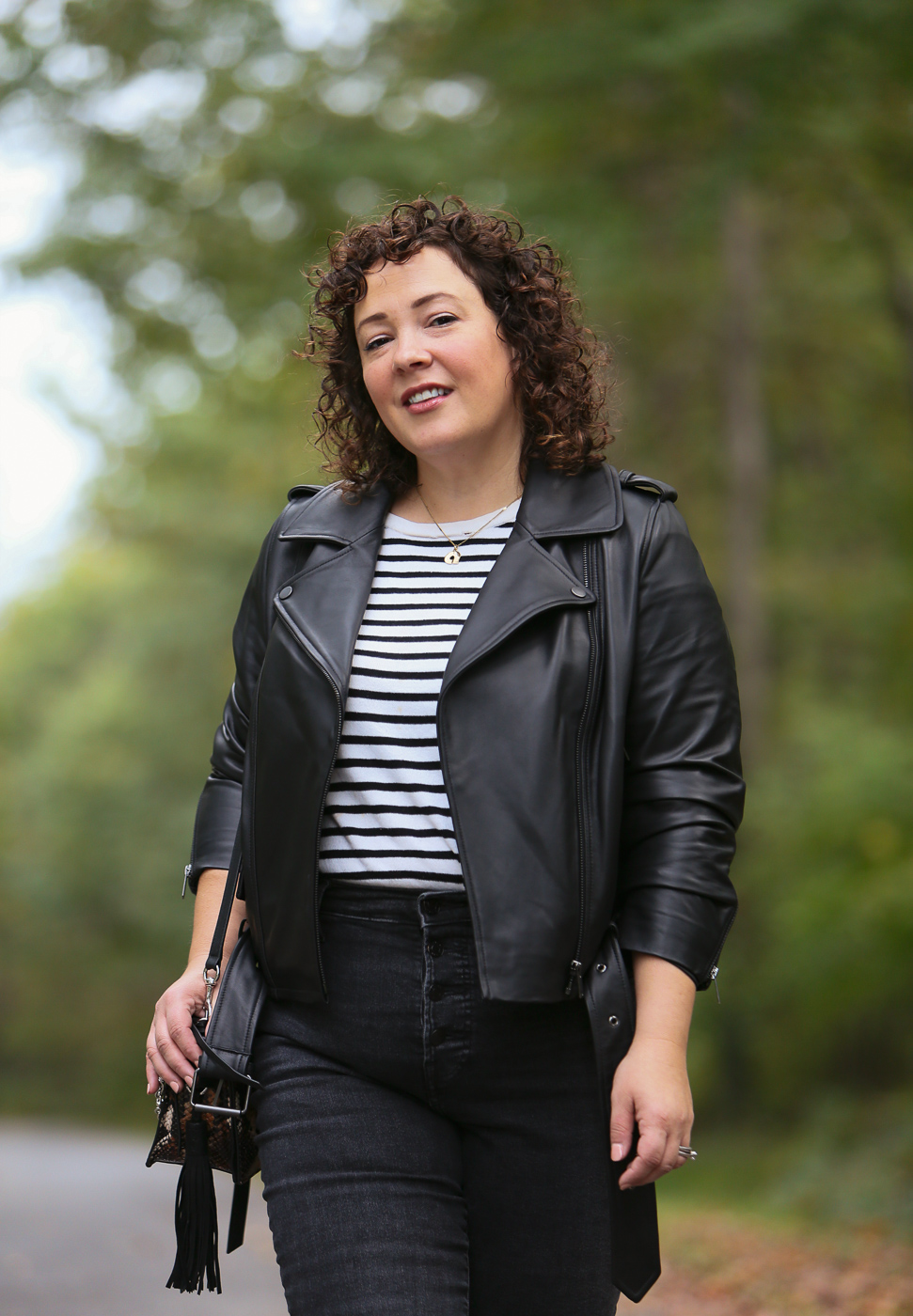 As for the rest of the look, this is a pretty standard out and about look for me. The striped top is a cotton sweater I got from J. Crew eons ago. When I wore this sweater last time, reader Lee found this sweater from LOFT which is similar; I've also linked to it above. I find striped tees to be so useful in a wardrobe. Imagine if I wore this same look with a solid tee, it wouldn't look as cohesive and like an ensemble.
The jeans are from Everlane; I initially reviewed them here and have worn them here and here as well. They are by far my favorite jeans for style, fit, and how they keep their shape all day. When I got them they only came in this color (Washed Black) but now come in blue.
If button fly isn't your jam, Everlane has this same denim (the Authentic Stretch) in a zip-fly and it comes in a variety of colors and washes. Everlane has some denim up to a 35″ waist; while the button fly only goes up to 33 (for reference I am wearing a 32 and I usually wear 12/14 in jeans), the zip fly goes up to 35.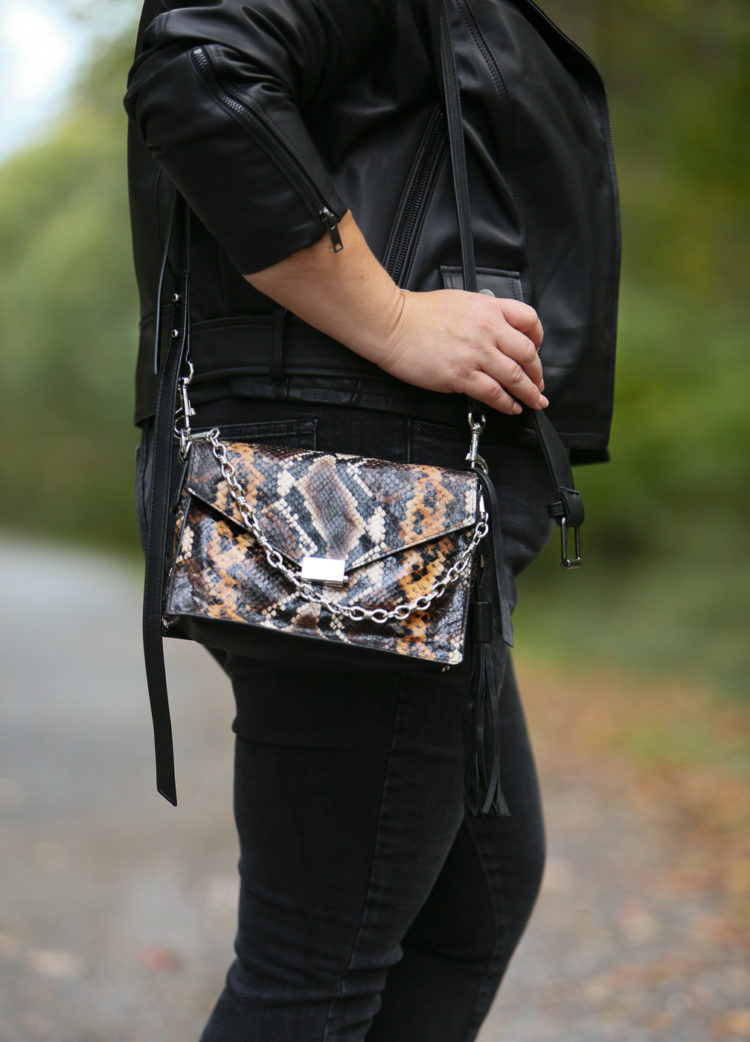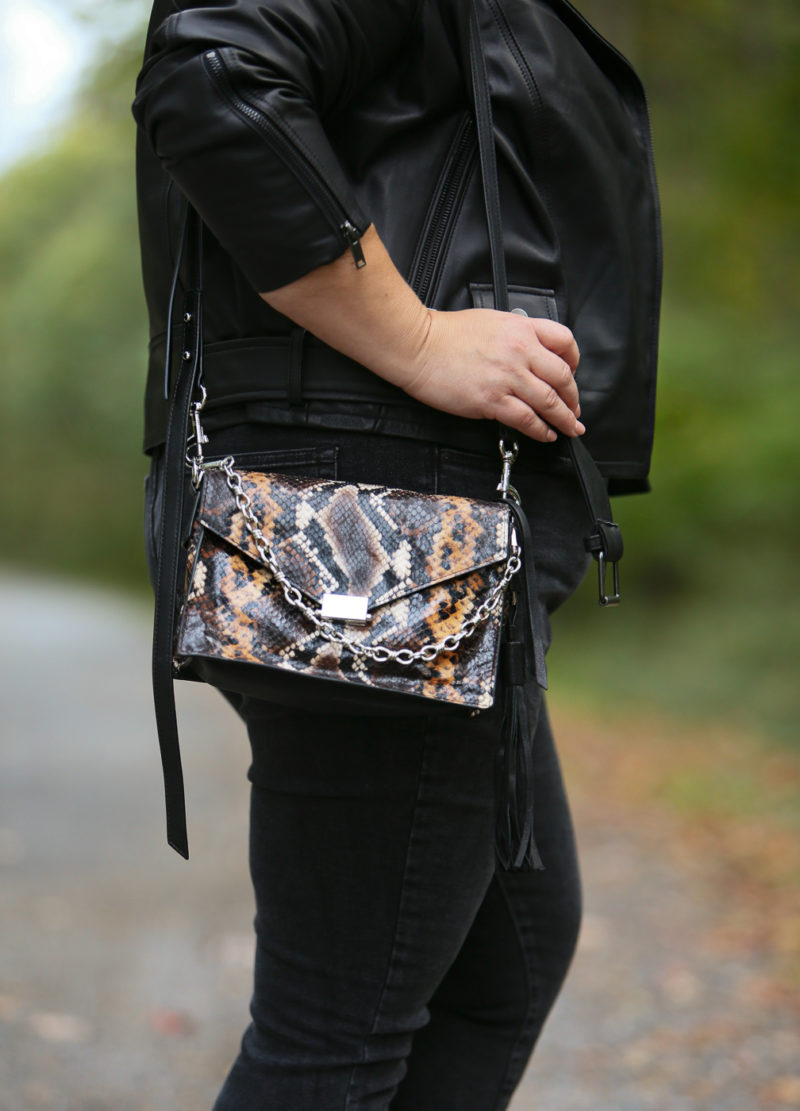 The bag is from ALLSAINTS and I got it through Rent the Runway Unlimited. It's a great bag but I likely wouldn't spend so much on a bag like this. With Rent the Runway Unlimited, I have been able to keep it for two months, and once I tire of it I can replace it with a new piece!