This article may contain affiliate links; if you click on a shopping link and make a purchase I may receive a commission. As an Amazon Associate, I earn from qualifying purchases.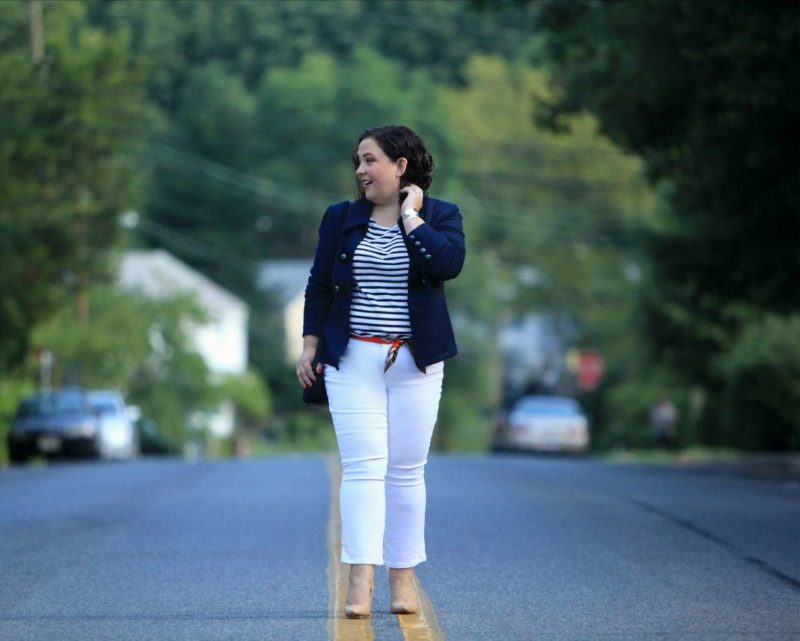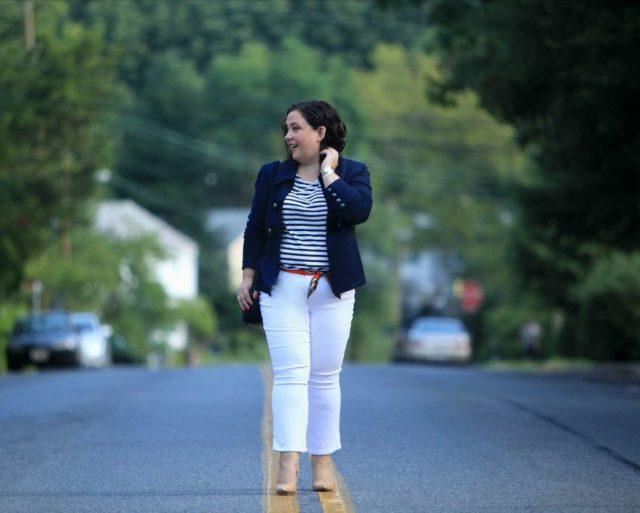 jacket | tee | jeans | scarf (as belt) | bag (on sale!) | cuff | shoes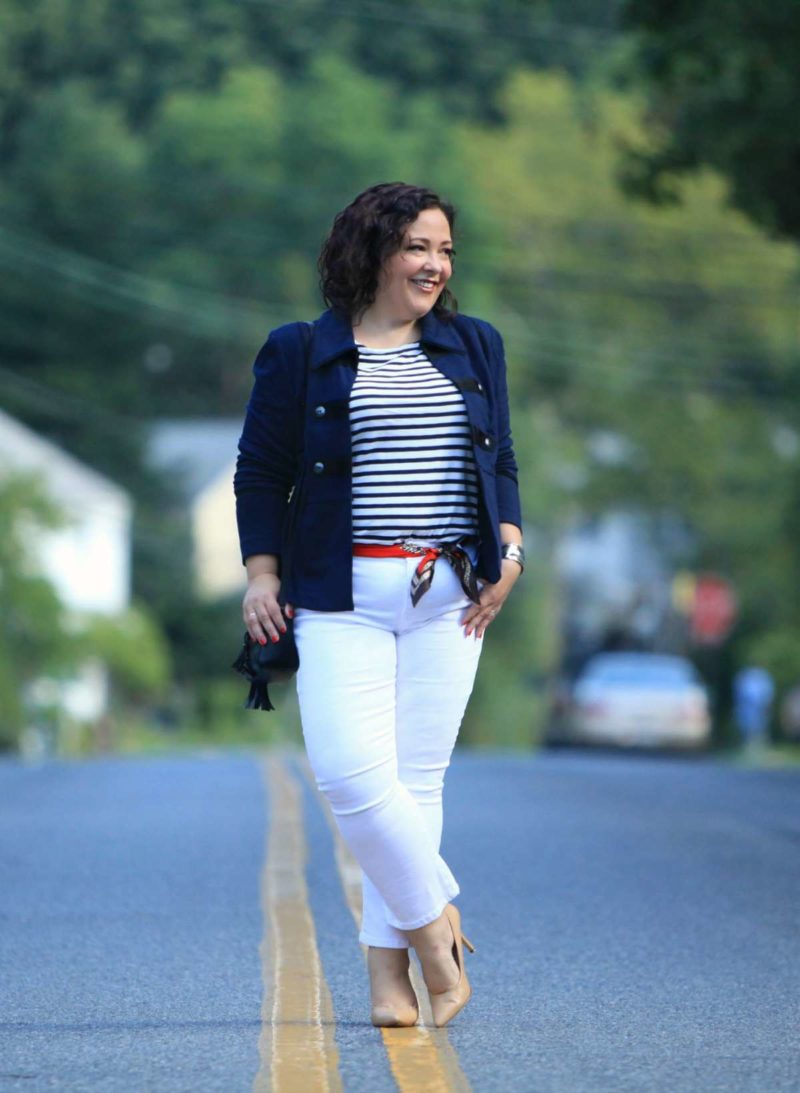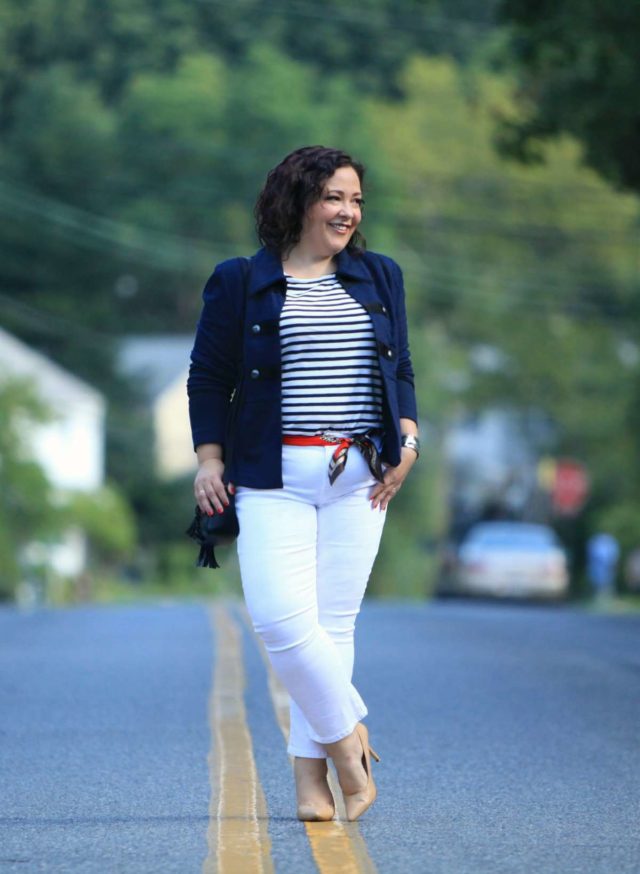 Jacket: In The Band Jacket c/o cabi (XL) | Tee: J. Crew (XL; similar) | Jeans: Kick It Crop c/o cabi (14; similar) | Bag: Rebecca Minkoff (on sale!) | Cuff: Had forever (similar budget-friendly option) | Scarf: Deidre Scarf c/o cabi | Shoes: Nine West
I featured this jacket in my capsule wardrobe inspired by cabi. cabi was kind enough to gift me this bag and gosh it goes with SO MUCH! I've wanted a band-inspired jacket forever and have had this picture of Hilary Swank from 2002 in a band-inspired jacket as inspiration for quite a long while but haven't found one that fit and flattered my curves. Now I do! And I've always been a big fan of black with navy!  While this is a jacket from a fall collection, I made it work for a cooler summer day at the more casual office I work at by pairing it with crisp white jeans and nude pumps.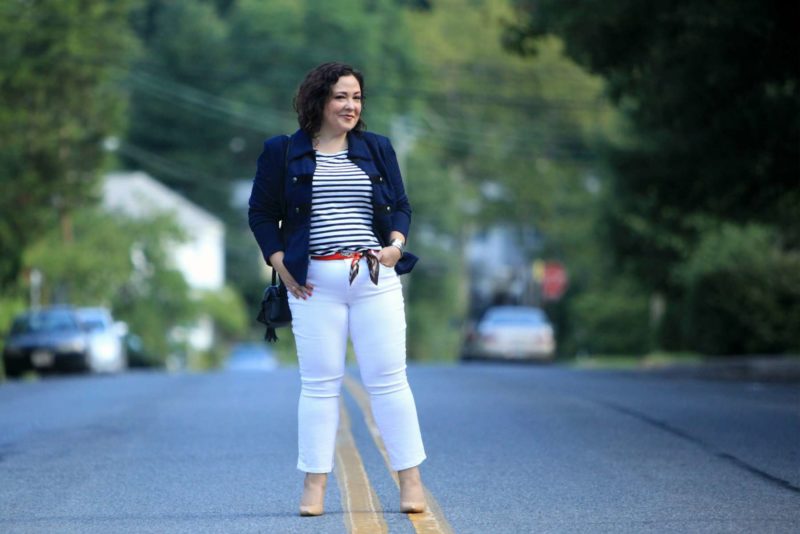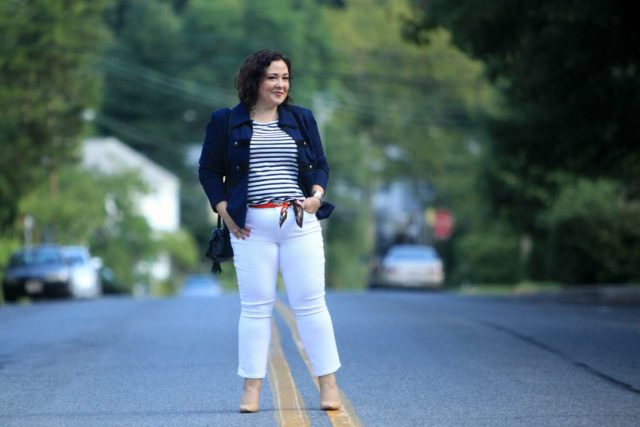 While I styled it here with my favorite J.Crew breton top, I see wearing this jacket over black dresses for the office, styling with a turtleneck sweater in the winter, and I've also worn it over the cabi crop tee. The jacket unlined and stretchy and has dark grey/steel buttons so it works with all metals of jewelry.  I have an XL which gives a more relaxed fit; I think an L would also work for the true shrunken fit that cabi envisioned when designing and styling this jacket.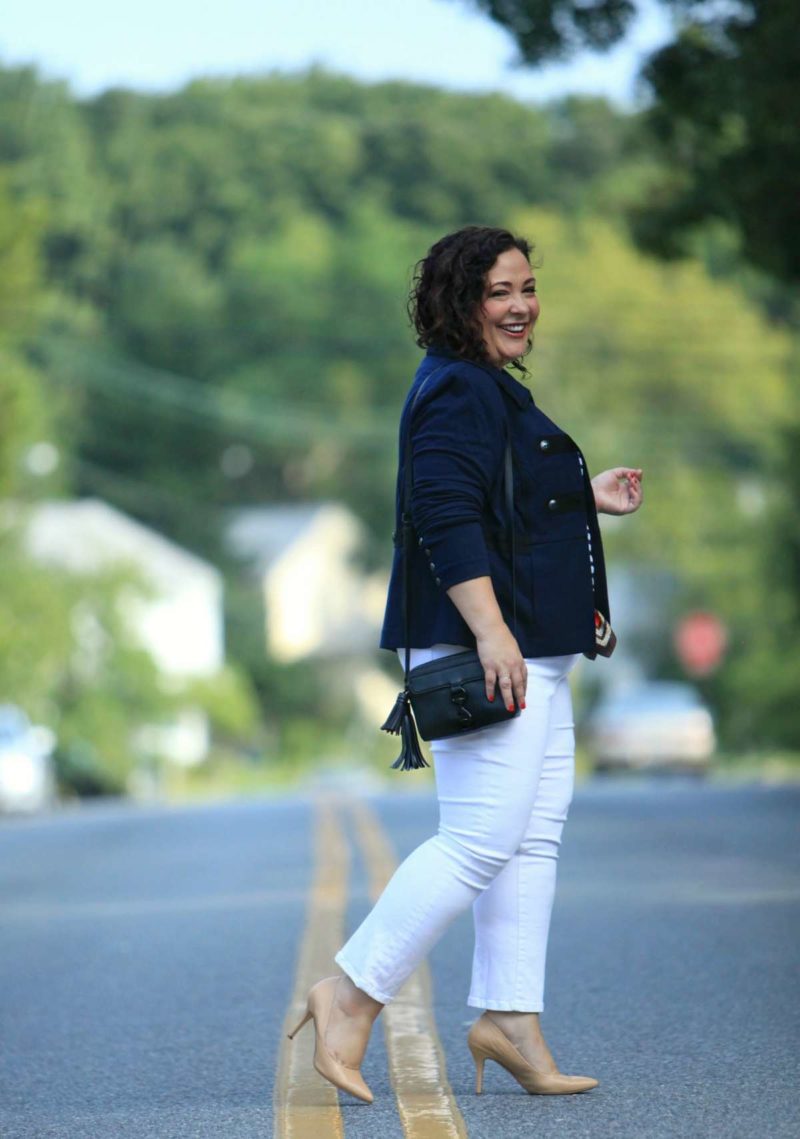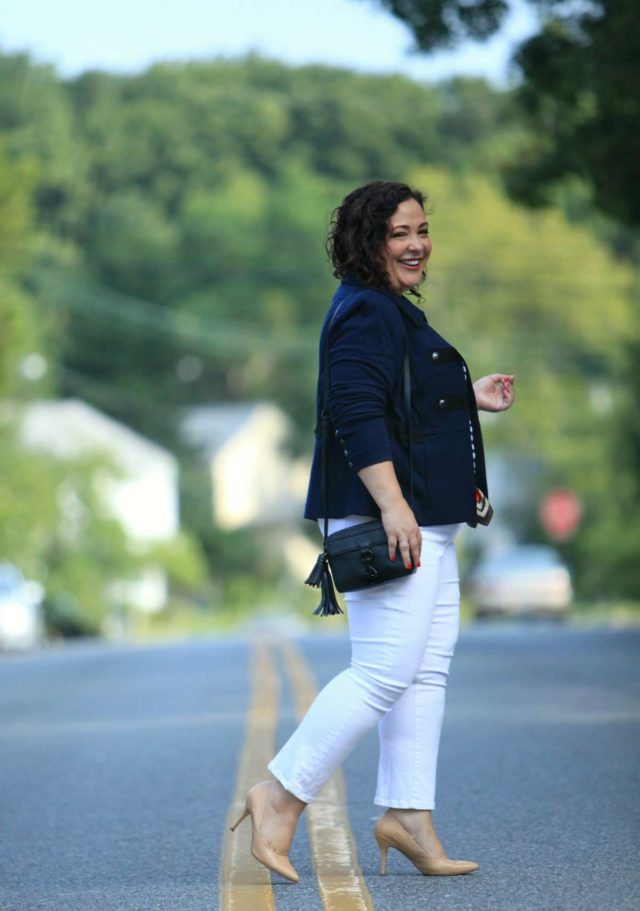 Jeans and pants are tough for me, when I find a style I'm known to stick with it and just buy it in a bunch of colors. I was hesitant to try cabi's jeans and pants since cabi was sending me the pieces and I wasn't trying on first at a party.  But when trying to pull together outfits for The Scoop last weekend I decided to try a few pairs… and was pleasantly surprised! Kick-flare jeans and pants has been a trend I have avoided; with short thick legs and wide calves it just looked ridiculous and I felt the trend would be a flash in the pan. These aren't as flare-y as others I've tried, more like a bootcut and I feel the width nicely balances the width of my legs. These are from the spring collection and no longer available online, but your local cabi stylist may still have pairs available. However, this look could be recreated with the Talbots white ankle jeans I also own.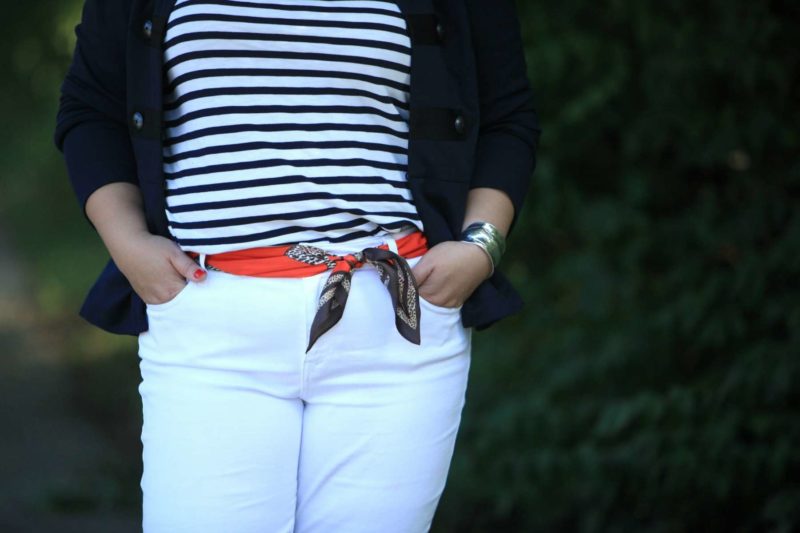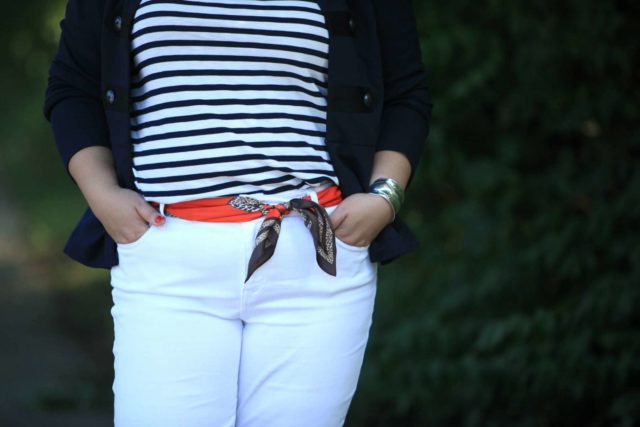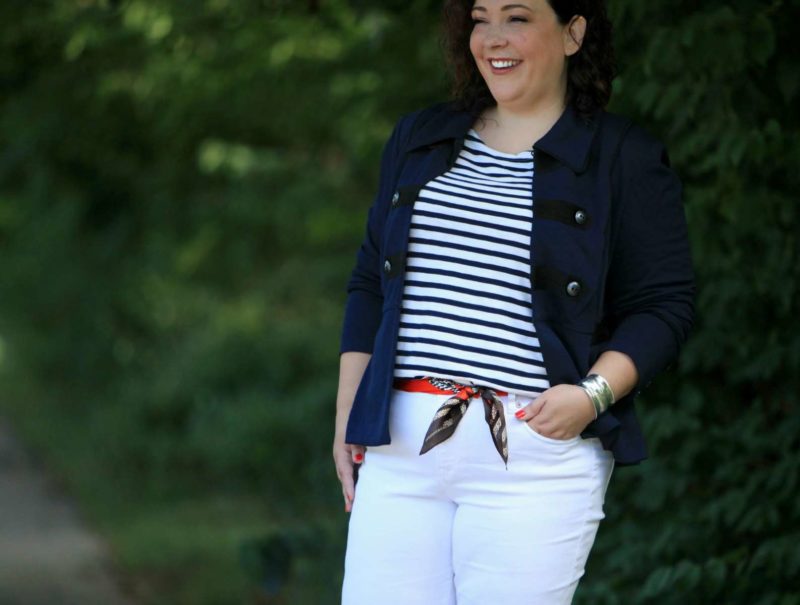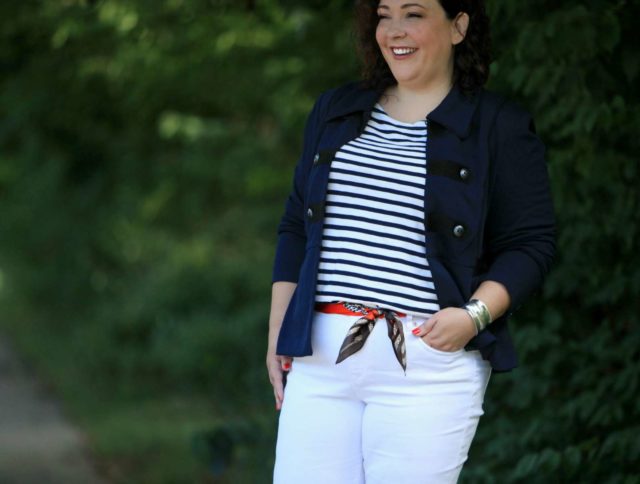 Can I tell you how psyched I am to find a scarf that isn't as big as a tablecloth yet can fit on me as a belt? I received this scarf from cabi as a gift when I went to cabi Conversations and wear it quite often. It's also a nice length for my "sturdy" neck; often I can only tie once and look like a flight attendant or tie twice and look as though I am trying to keep my head attached. As you can see from this picture on Instagram, no flight attendant or "The Green Ribbon" going on!