This article may contain affiliate links; if you click on a shopping link and make a purchase I may receive a commission. As an Amazon Associate, I earn from qualifying purchases.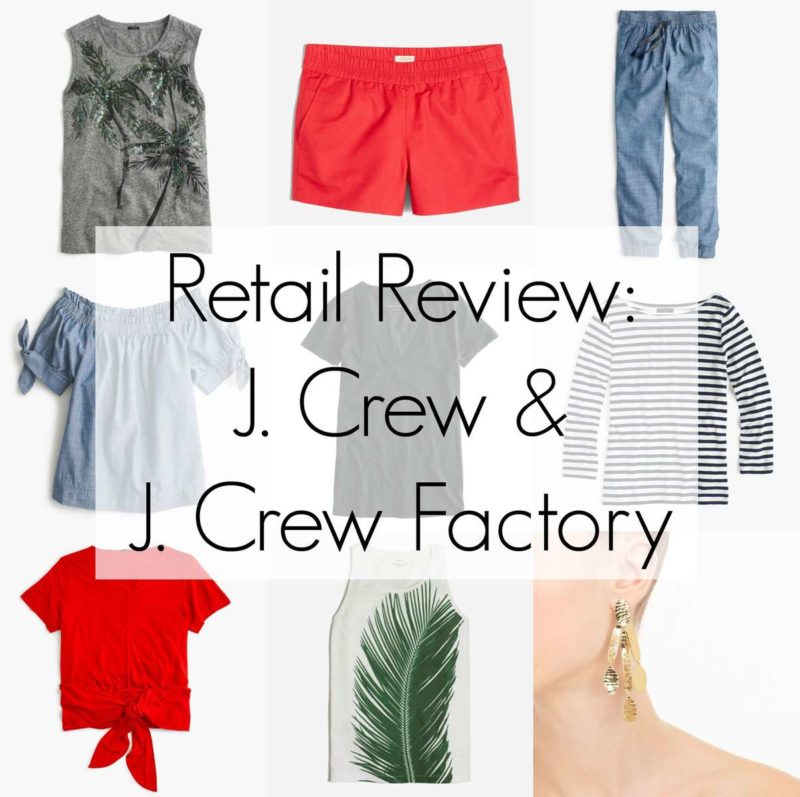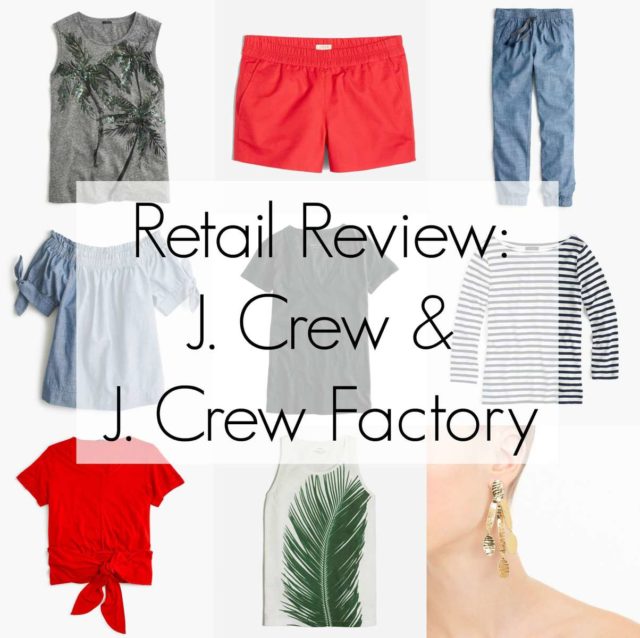 Summer is upon us in the DC Metropolitan area. While I write this wearing a light sweater and looking at rain outside my windows, we've had several days above 80 and even 90 degrees, and plenty of humidity. I've switched out my closet for my warm weather gear, but had a few holes to fill in my wardrobe for the season. J. Crew and J. Crew Factory are hit and miss retailers for me; they sometimes fit great and provide pieces I wear to death for years while other times everything fits like crap or is made from crap. And that's when I don't flip through their catalog or scroll through their site and furrow my brow wondering what Mickey Drexler is smoking to approve such pieces. J. Crew is going through transition – they're lowering prices, trying to return to their classic style, and Jenna Lyons left the helm. Their fall catalog got me excited for this change, but this spring and summer… well read below:
J. Crew
I was looking for some interesting pieces to spice up my summer wardrobe basics. I also have a few staples getting worn and were looking for replacements.
I already own this shirt, and it's not the one getting worn out (you can see me wearing it in this post). I don't know how I made this mistake… yes I do. I have a ton of striped shirts, all with different purposes. Heck, I'm wearing this same J. Crew striped tee as I type this! And I'm not used to J. Crew keeping the same item for more than one season. This one is a classic – I like the stripes a hair larger but it's not bad. Good weight, nice fit, a style I wear often and one of my favorites. Such a favorite, I own two. So while this is really nice, I don't need another one.
I will wear shorts in summer, but I don't feel very polished in them. Super lightweight pants are great for backyard barbecues, sightseeing, and times when it's hot, but I don't want to have it all out there. These pants looked cute and breezy and the type that would still look chic when creased and crumpled. And they may be, but not for my figure. These pants are not made for someone with a juicy booty and wide calves. They were a bit loose in the waist, loose in the front but skintight over my bum, loose in the thighs and then got tight in the calves. In summary, they looked like crap on me. But they're well made and if you have a straighter frame they could be great with a linen tank, breezy camisole, or a voile tunic. Miss.
So I thought this top this with the Seaside Pant would give the look of a jumpsuit but let me pee. This top is terrible. It's really short, I could hardly tuck it in, there's no room for boobs, the sleeves puff out weird, it's just all in all bad unless you're 17 and all bones. Miss.
I love wearing full skirts in summer, but have a hard time finding tops to go with them that don't hide my shape but don't show off too much. This t-shirt looked utterly brilliant, no need to knot my tees and it would look more polished too. And it is exactly like that in person. If you order it, it's going to look completely cray when you open it, like a pair of longjohns. But you wrap it, knot it, and it has room for arms, room for breasts, comes to the perfect length where it will cover enough of your waistband to not show skin but not so much it looks bulky. The only problem is… I have nothing to go with it. I don't know what I was thinking, none of my summer skirts go with red. I just liked the color so much I was blind to this fact. And it's a gorgeous bright red with a hint of neon or orange to it, and a gorgeous weight. The XL had plenty of room, I could have possibly gone down to L if I wanted a more fitted look. But I returned it because it's not practical for my current wardrobe. But don't be surprised if you see me wearing it later this summer in a different color. So hit?
These are super cool looking, super lightweight, but were a bit too yellow of gold for my taste. And I don't really need them. But if you don't have any statement earrings, these are a great choice and will have people giving you compliments all day long.
Reader Jennie emailed me asking if I've found a good replacement for the now-discontinued Old Navy Vintage V-neck tee which was the BOMB. And no, I haven't and that is why I ordered this to see if this v-neck tee could work. It doesn't. It's really soft stretchy fabric, the kind that clings and stretches out on curvy frames. It looks a bit heathered or distressed in the picture but in person it just looks old. The neck is HUGE, and that says a lot for a gal who has no problem showing off cleavage. It's really long, and it looked faded in the way that it's an old shirt that needs to be donated, not in a cool way. I found this to be a major fail.
This embellished tank is clearly a hit, I wore it last week on the blog and have worn it twice other times in real life. It's cute, and it launders well (I put it in a lingerie bag inside out so the sequins wouldn't catch on anything). I like that it's a pretty seasonless color and pattern so I can even wear it in winter with black and darker denim.
J. Crew Factory
I find each summer I have solid tops and solid bottoms that end up requiring accessories and styling to make an outfit. I always wish I had more interesting tops so I could throw on a top and a bottom and look put together. And speaking of bottoms I needed at least one more pair of shorts for the season.
This printed tank looked cute. The print wasn't too twee, and I thought I could wear under blazers to work but also style it with denim shorts and sandals as well as boho long skirts. I wasn't sure if the grey one from J. Crew would be too sparkly. This top looks cheap. It's more of a cream color than ivory and it fits terribly so my bra shows under the arms and all of the straps in front. Miss.
I mentioned before how much I love the J. Crew Factory Boardwalk Shorts. My navy pair is starting to look worn… main reason is because Karl also wears them when doing yoga at home and such. The hem has fallen and they've gotten a bit faded after two years of consistent wear by two people. I can't be the only one who has the same waist size as their partner! I prefer the 3" length so I ordered in two colors, figuring the ivory would be a good basic and dress up nicely and the warm cerise is a nice contrast to neutrals, chambray, and all my navy striped tees. While my navy ones are 14 and are fine, I decided to go with 16 this time so they wouldn't be so snug on the rear and thighs. The 16 is a bit too big, but not so much that they fall down. The cerise is great, it's a coral-red color and is exactly what I hoped (wearing them as I write this with a navy and white striped tee). The ivory is terrible. Somehow the same fabric looks weird and cheap in this color plus they are ridiculously sheer, like see the seams on your nude underwear sheer. So a hit and a miss.