This article may contain affiliate links; if you click on a shopping link and make a purchase I may receive a commission. As an Amazon Associate, I earn from qualifying purchases.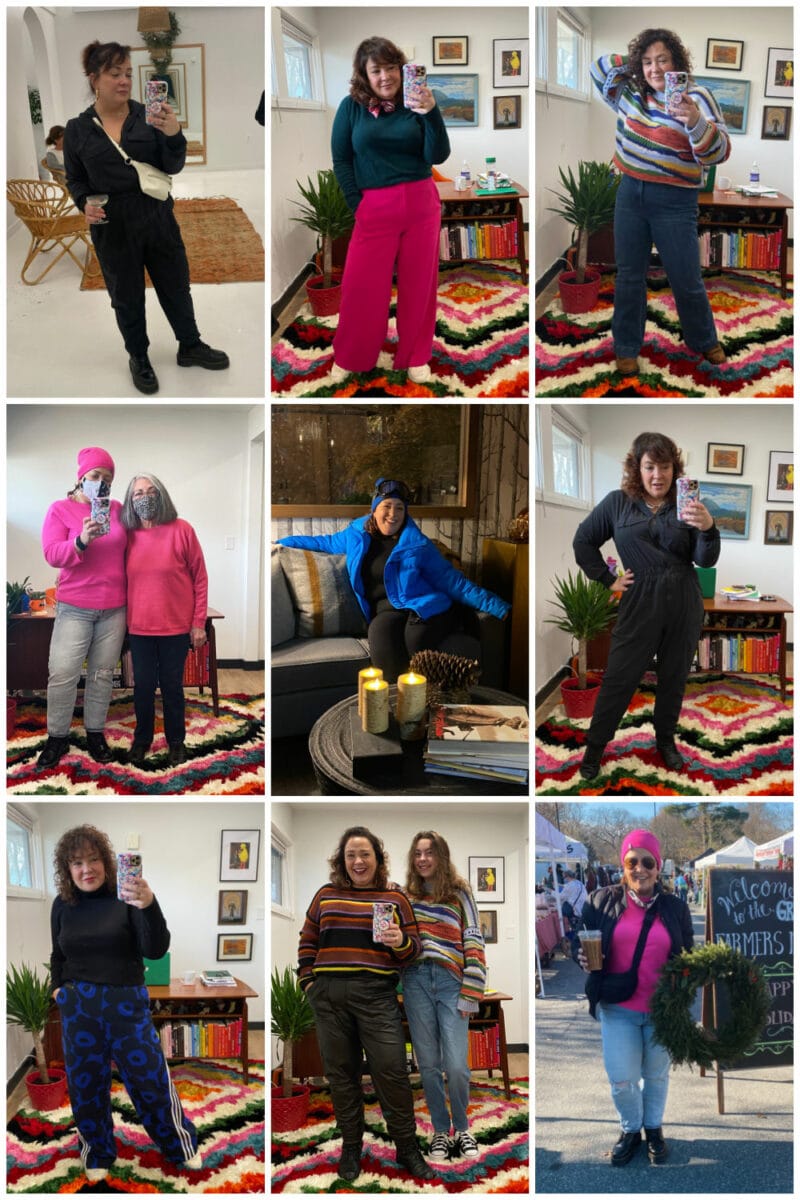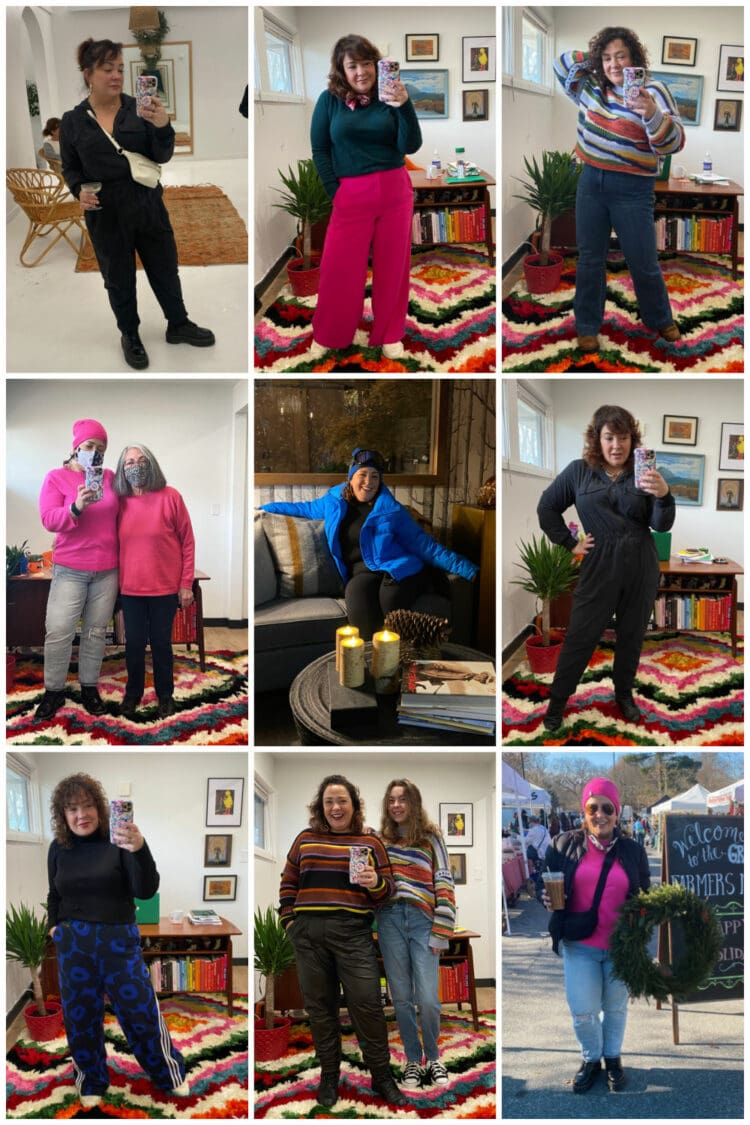 This week I actually went places other than my office! Farmers market, chi chi dinners with a dress code/theme, and an influencer event with no time to get ready. But don't worry, I also shared my office looks for the workweek!
Sunday: Farmers Market Attire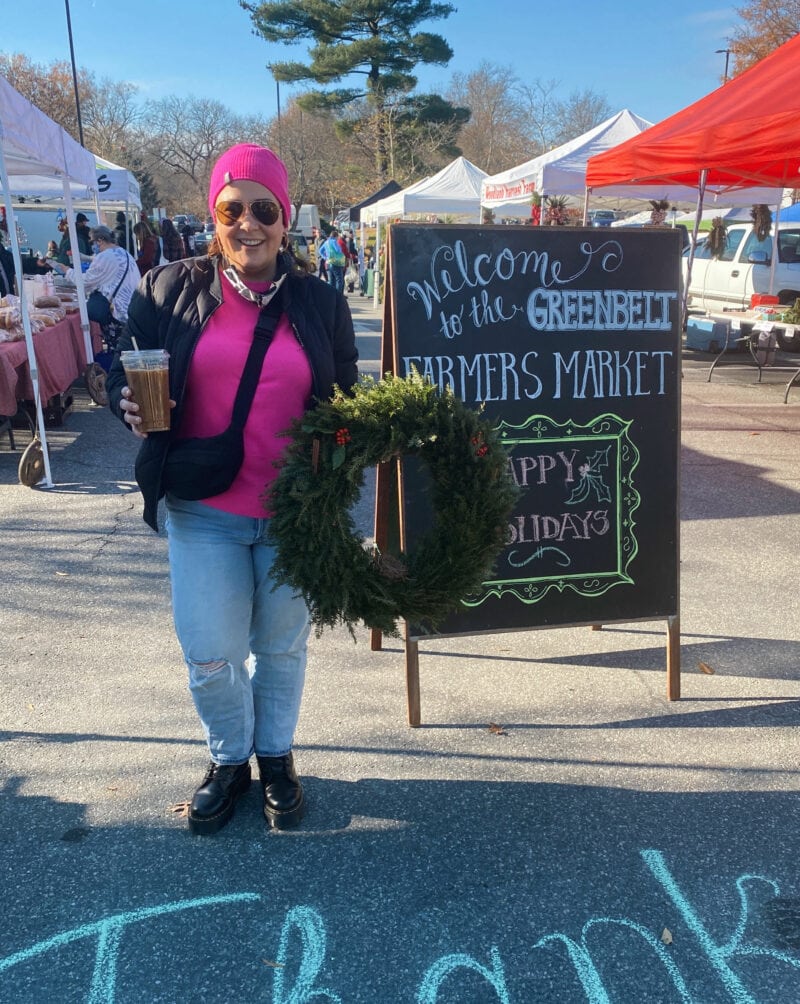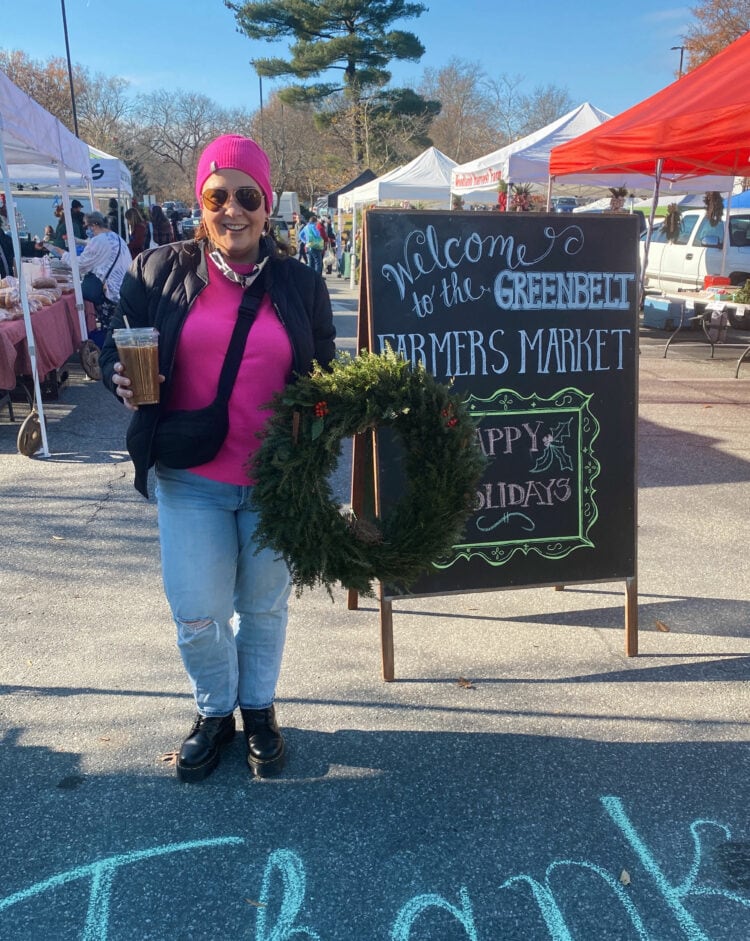 Sunday, our city's farmers market had their holiday market, plus my office building had an open house for the community to check it out. It was chilly, but not super cold. I dressed to be outside and comfortable on my feet for a while.
I'm wearing the Talbots Audrey cashmere sweater in size XL, Gap Cheeky Straight Jeans in 32 I've had since this spring, my black Dr. Martens 'Jadon', my Girlfriend Collective belt bag as a crossbody, The Universal Standard "Sophia" puffer bomber (no longer available, this is similar), ROKA aviator sunglasses, a Candace Cort face mask, and a North Face beanie I have owned for about a decade.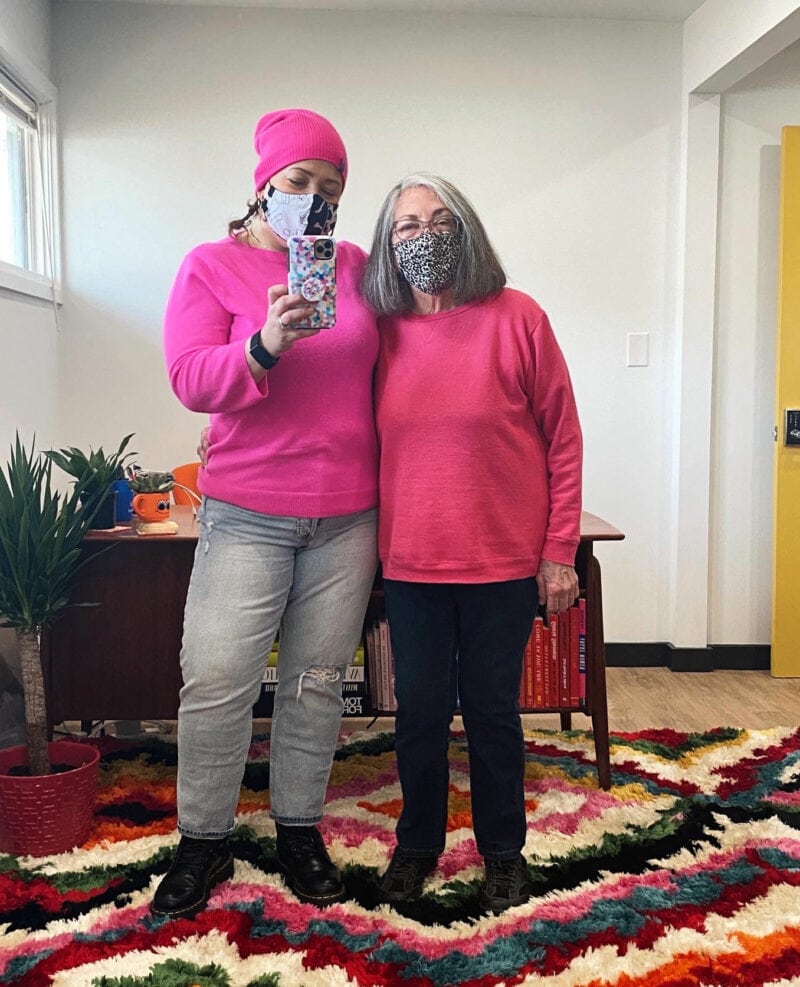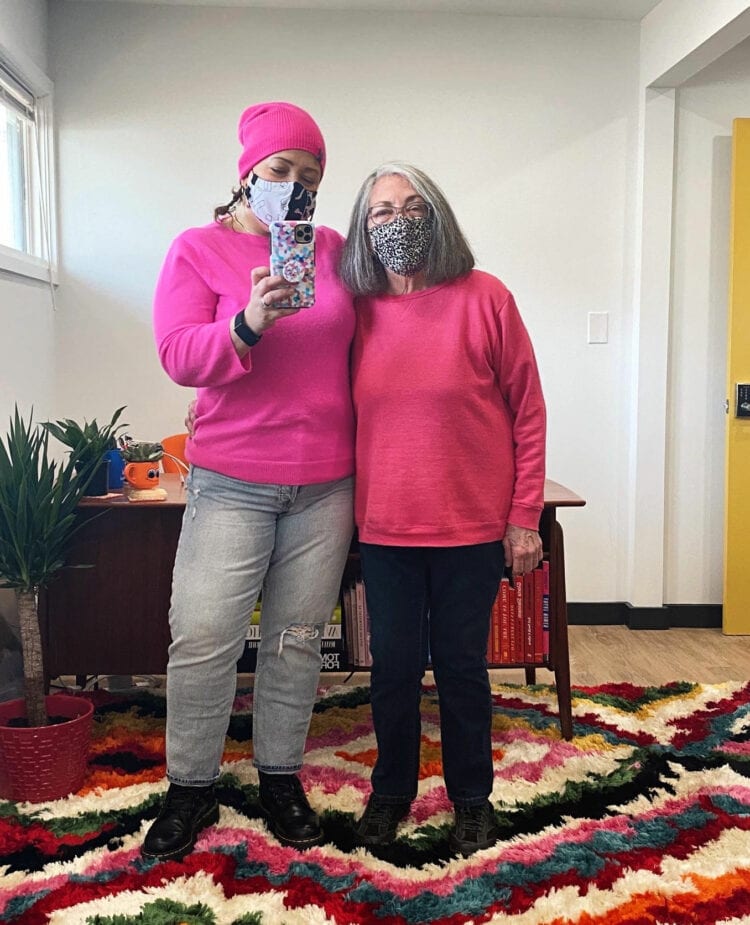 I stopped by my office and bumped into my mom, who was also looking pretty in pink! Of course, we had to get a selfie together!

Monday: Add Lipstick and Make it Streetwear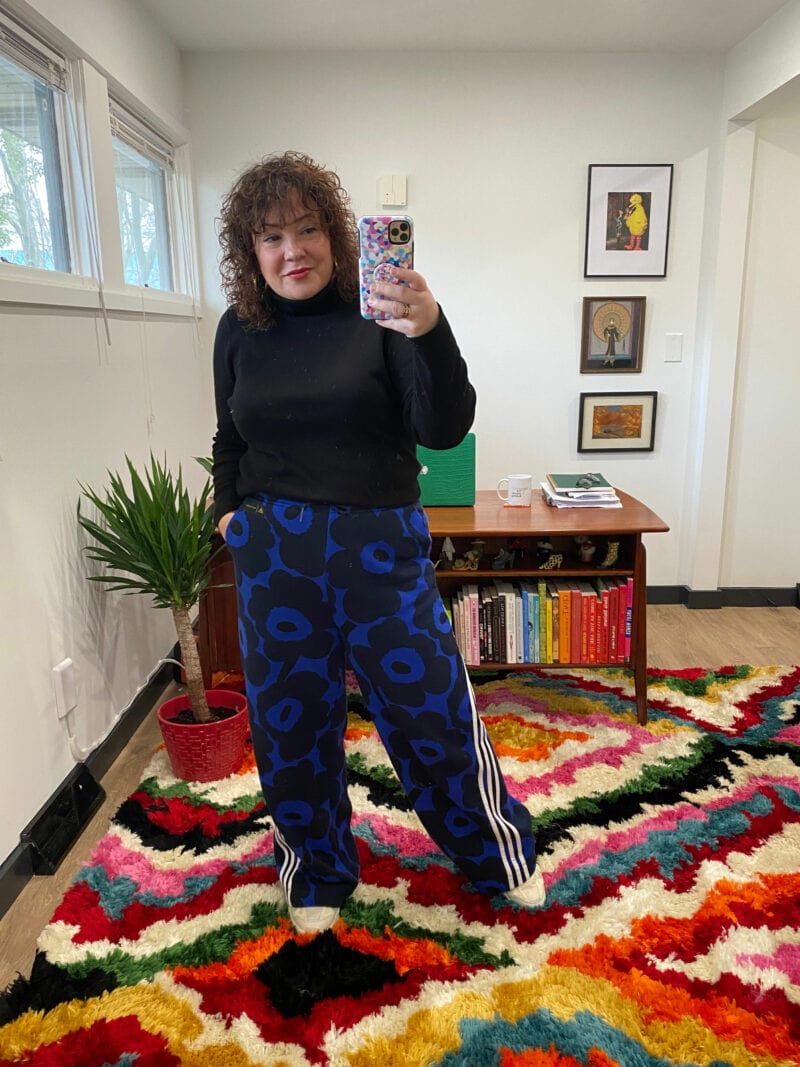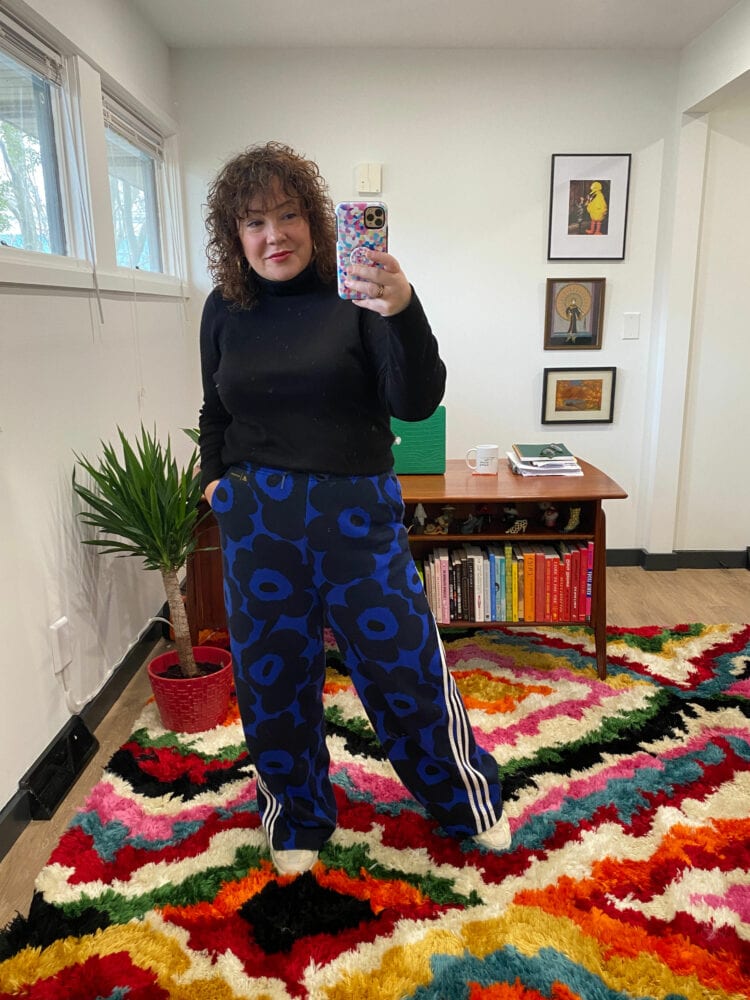 Monday I was running late so to be completely honest, I put on the same thing I wore Sunday evening when sitting at home – this turtleneck from Chico's in size 2 and these pants from the Marimekko x Adidas collab (size Large). Adding lipstick and earrings made this go from loungewear to streetwear.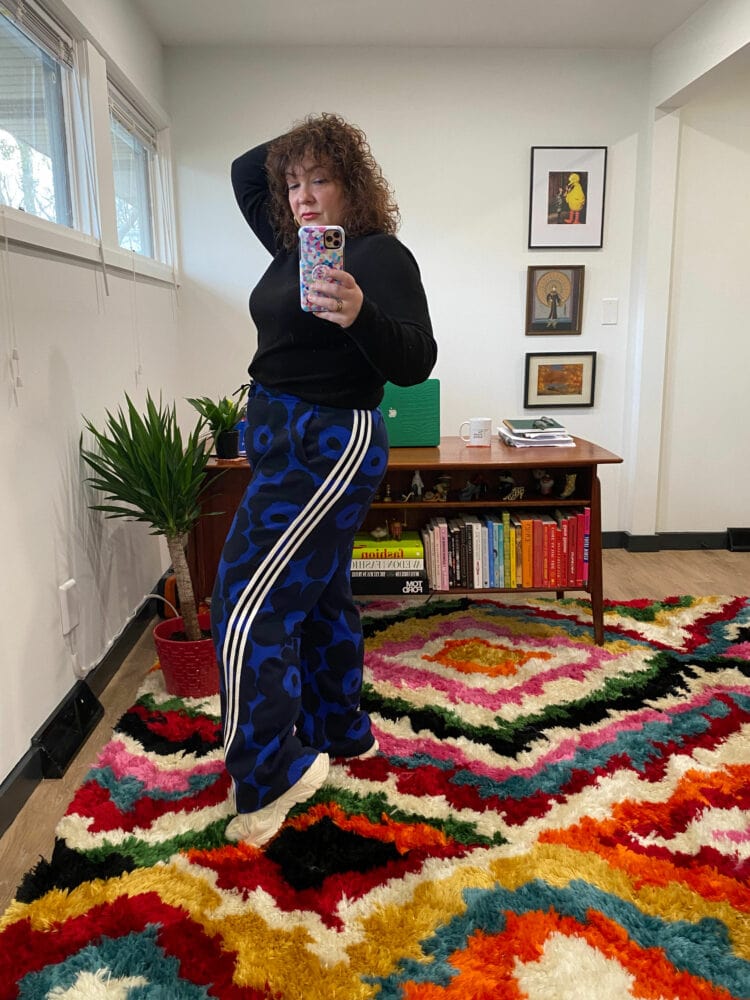 When I first mentioned these pants on Wardrobe Oxygen I said I was going to get them hemmed… and I haven't yet. I'm hiking them up to a weird height or having them puddle around my shoes and that's not cute. I have a pile I need to take to the tailor but just haven't had the gumption. This week running errands I went past my tailor and saw how he is inside a mall yet keeps his door closed and only one client in with him at a time, he had on a mask and face shield; he looked to be doing the most to be COVID safe and it motivated me to head to see him before the month is through.
For those who live in the area, I go to Mode Custom Tailors in Greenbelt. Mr. Kim inherited this business from his father; they have had the same location for almost 40 years. I have had mixed experiences when dealing with formalwear and the bust area; my sister recently had a similar situation with Mr. Kim so I want to share that up front. When trying to adjust things for a bust (threads or snaps to keep a neckline closed, darts for better shape), this isn't his forte. But tailoring a suit or suiting separates for any shape, size, or ability of body, he rocks at it. He's also good at random things like taking an item that fit you when you were a larger body and making them work for your current shape, tailoring activewear, and making jeans fit great without losing what makes them look great.

Tuesday: A Statement Sweater Makes an Instant Outfit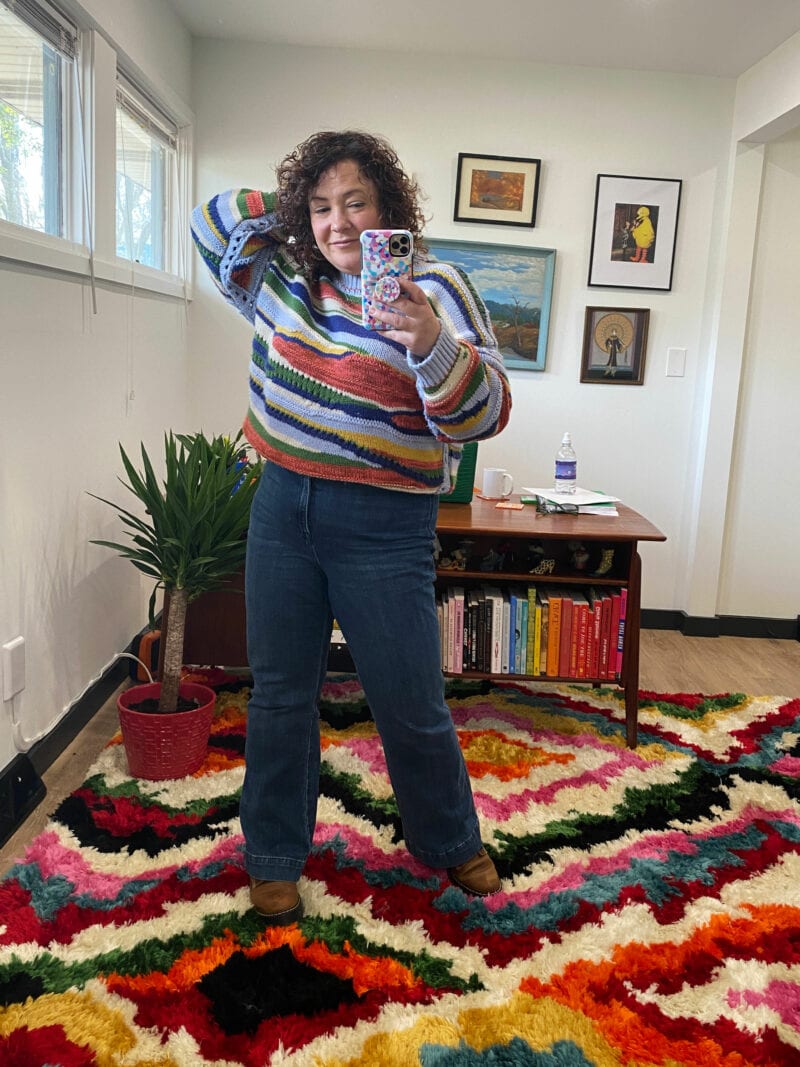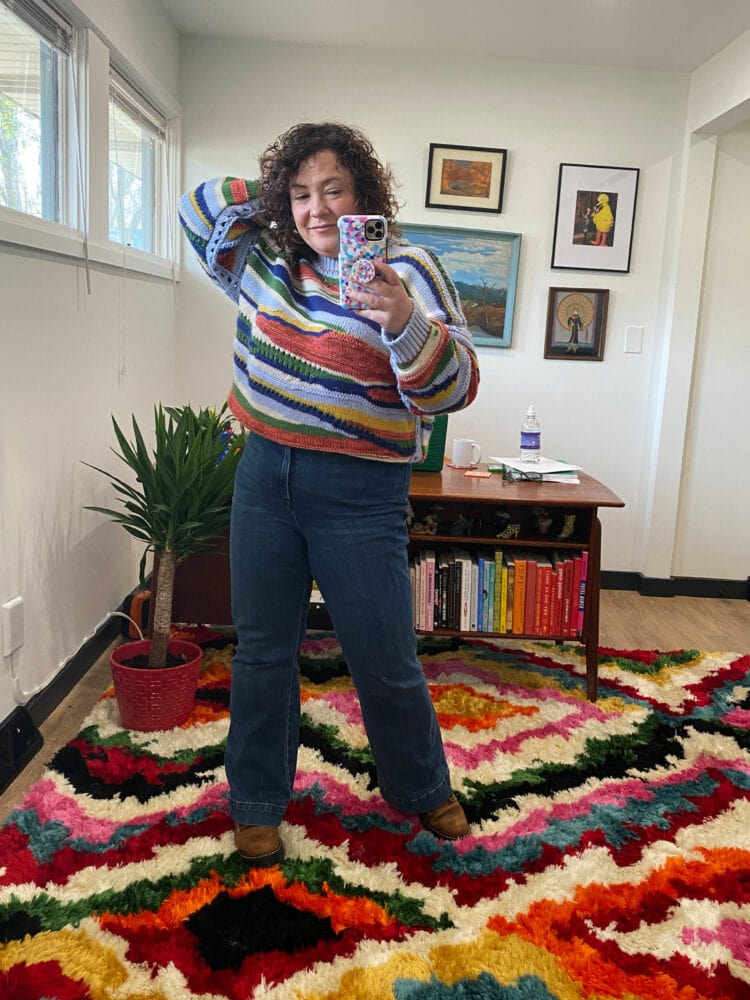 This was not a week where I was feeling super creative with my closet. Good thing my latest Rent the Runway order arrived with some statement sweaters. This one is from Aldo Martins, which makes very cool sweaters but they're like $200-$400 cool sweaters, so it's nice to be able to rent, enjoy as long as I want, and send back for something else while paying far less.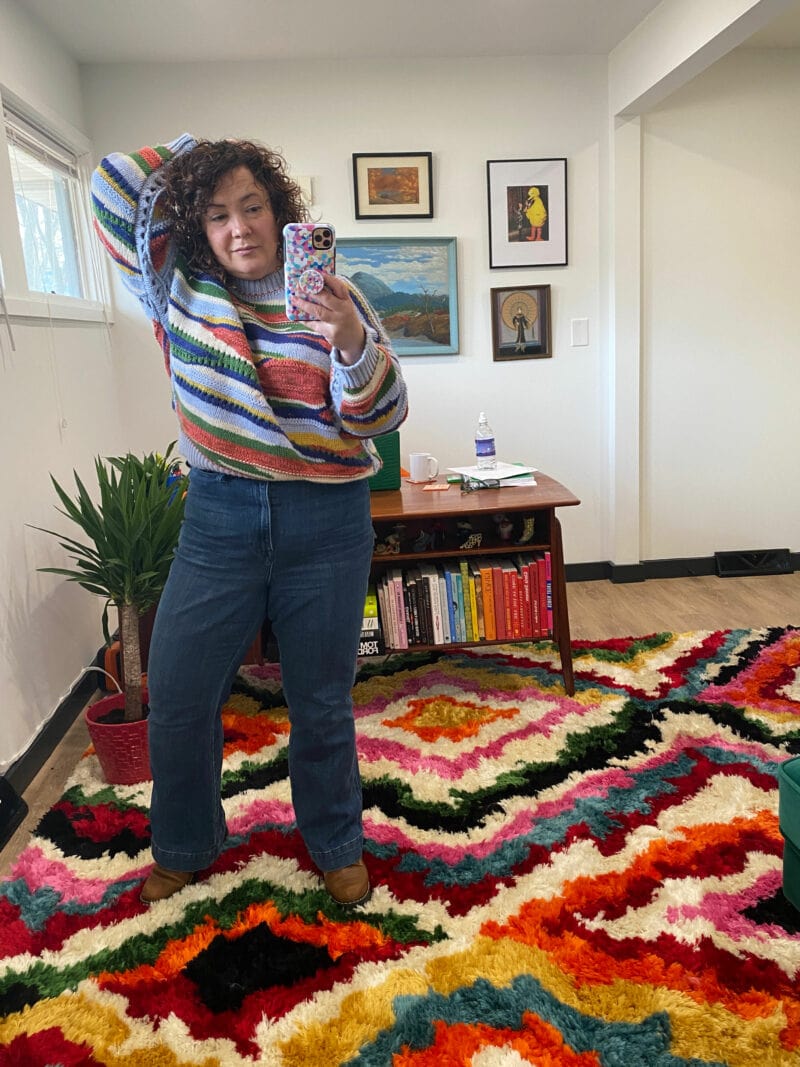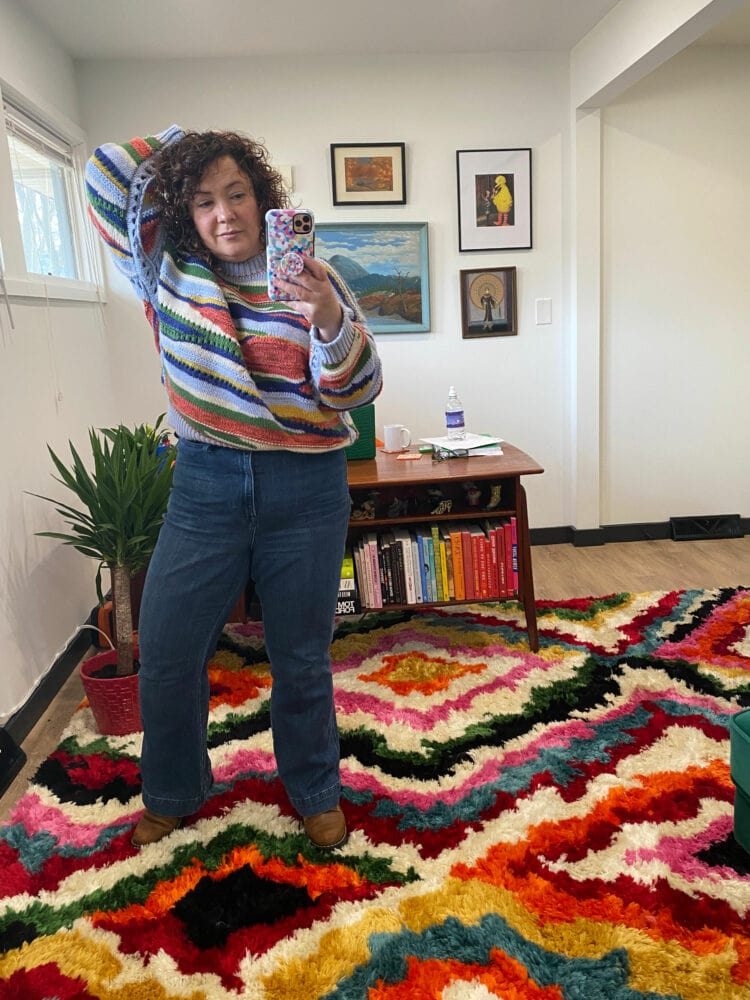 I paired them with my trusty high-waisted flares I got last year at Talbots (these look like an interesting alternative) and my Dr. Martens' Leona boots in brown. I tucked in this sweater just by tucking the very front just above the fly into my waistband and having the hem of the sweater fold under to create a tucked-in effect all around.

Wednesday: Dark Green and Bright Pink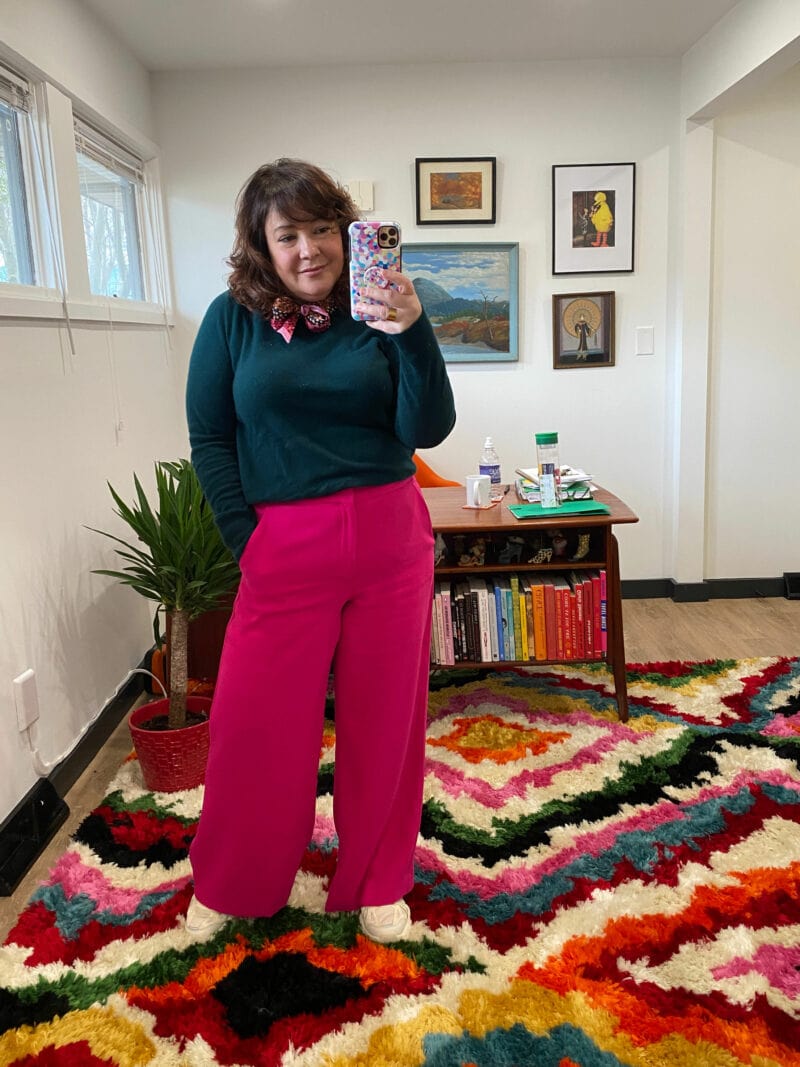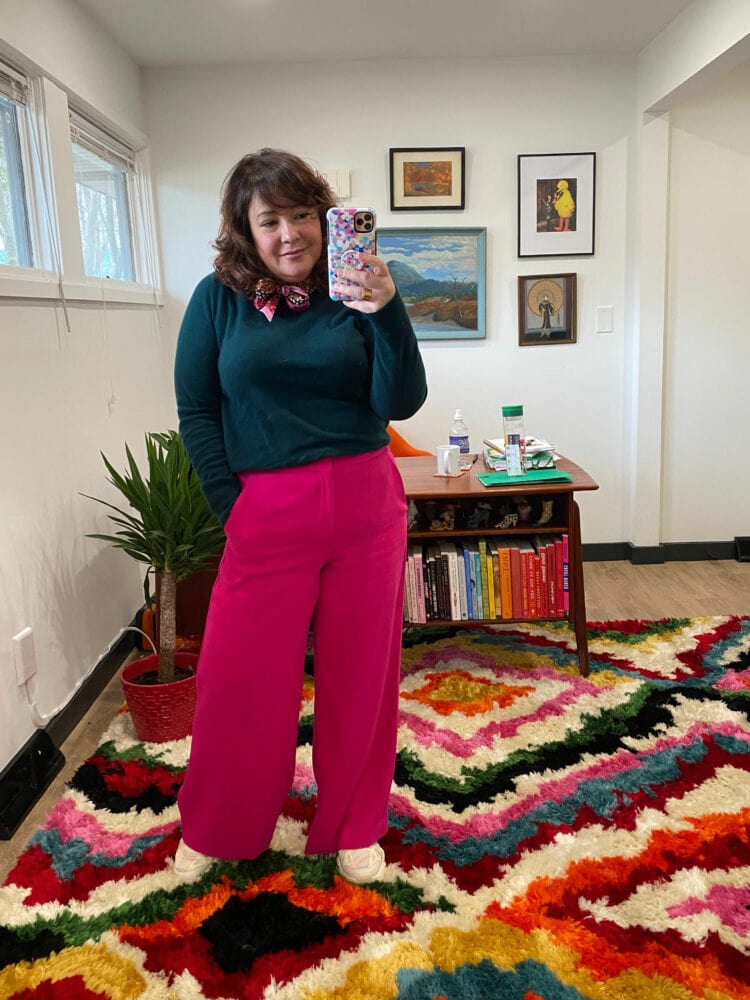 Who would have thought a pair of pink slightly shiny wide-leg pants would be so versatile? I seriously love these pants and wish I had bought more when Banana Republic had them. But if you have a chance for pink pants in your life, I say take it because they are the color that keeps giving style and fun ideas for almost every season (these may be a good alternative). Today, I decided to pair them with my dark green Universal Standard cashmere crewneck. Check out my Universal Standard cashmere review; this is me wearing the sweater after washing it per my how to care for cashmere tips.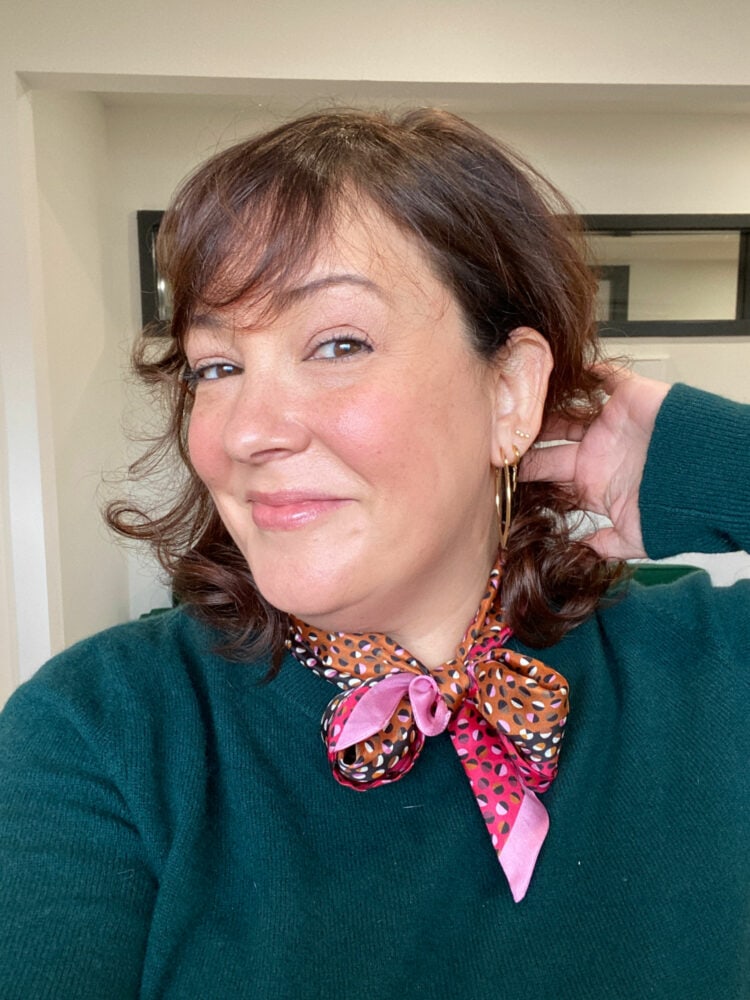 I don't wear scarves a lot, but I do love them. I have had this short oblong silk scarf from Ann Taylor for a few years. It doesn't have dark green in it but that doesn't matter; the pink pulls it together. I just tied it into an imperfect bow and wore it to the side. Keeping the bow a bit imperfect (I didn't pull out the loops to make it all full) makes it look less like a present or bow tie. And the bow instead of a knot keeps me from looking like a flight attendant and adds a feminine touch. A pair of gold hoops add shine and polish, especially since I went comfy casual with my FILA sneakers.

Thursday: Jump Around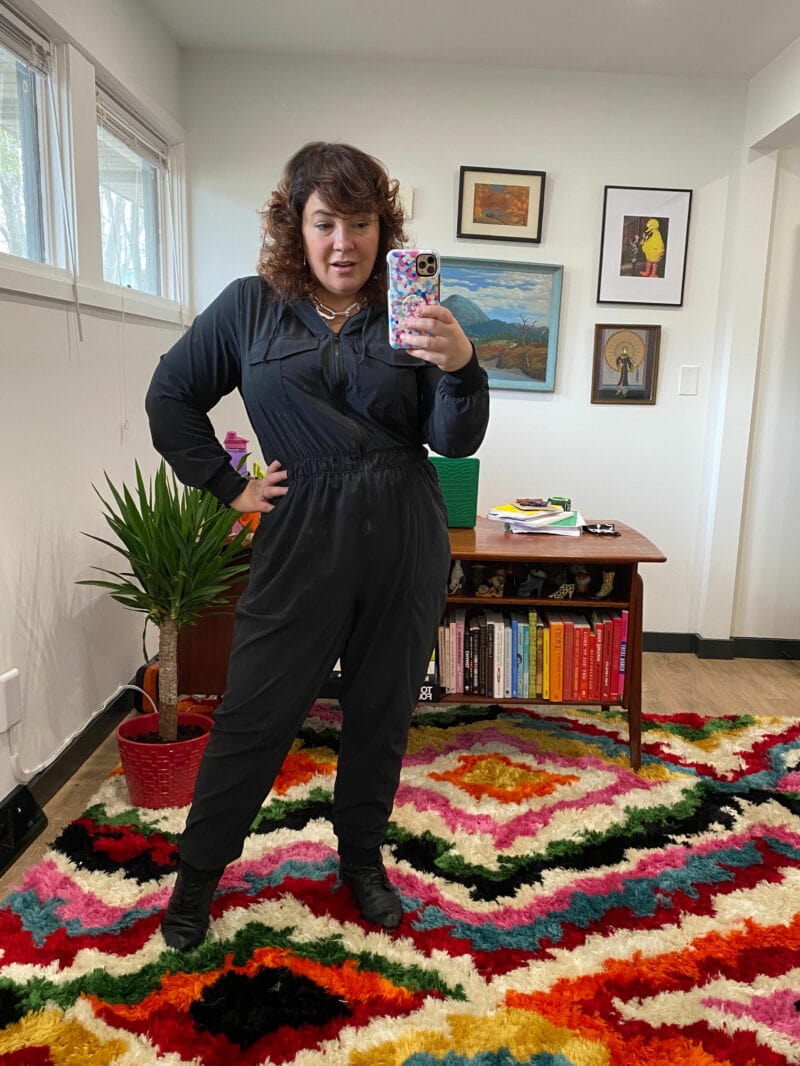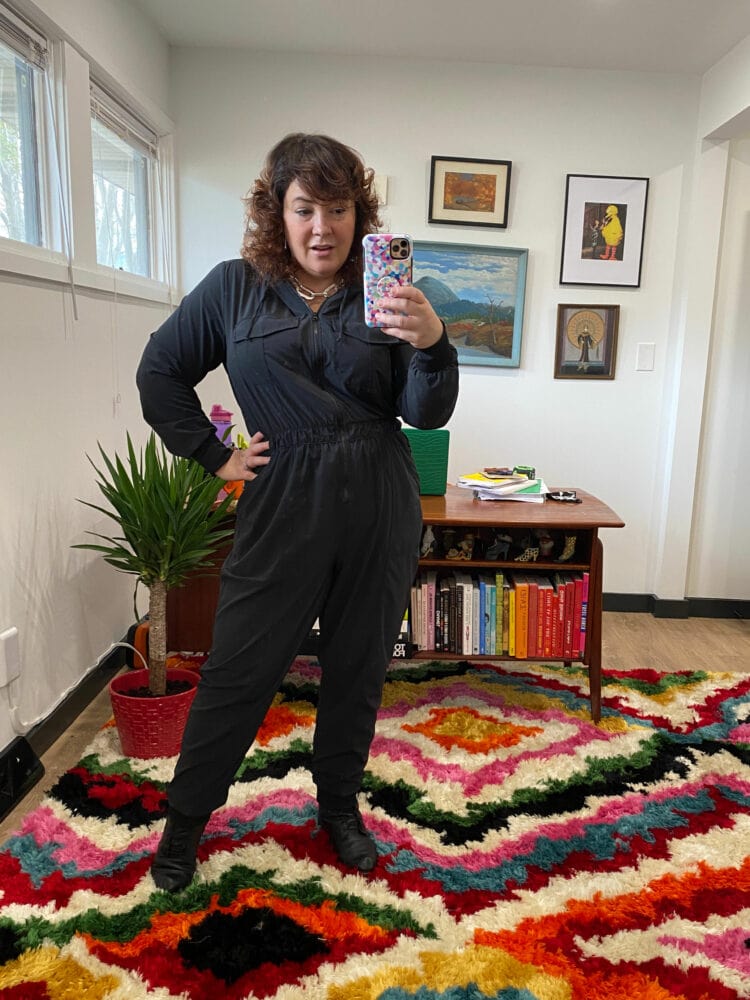 I am so glad I got this Zella jumpsuit this summer. I got it during the Nordstrom Anniversary Sale but would have paid full price for how often I wear it. It's lightweight and stretchy and doesn't wrinkle and will go into the washer and dryer with ease. The zipper front makes it super easy to get it on and off, and the soft knit cuffs and elasticized waistband give it shape and style. This is the kind of thing I can ball up into a carry-on to have a quick change look when getting to a travel destination.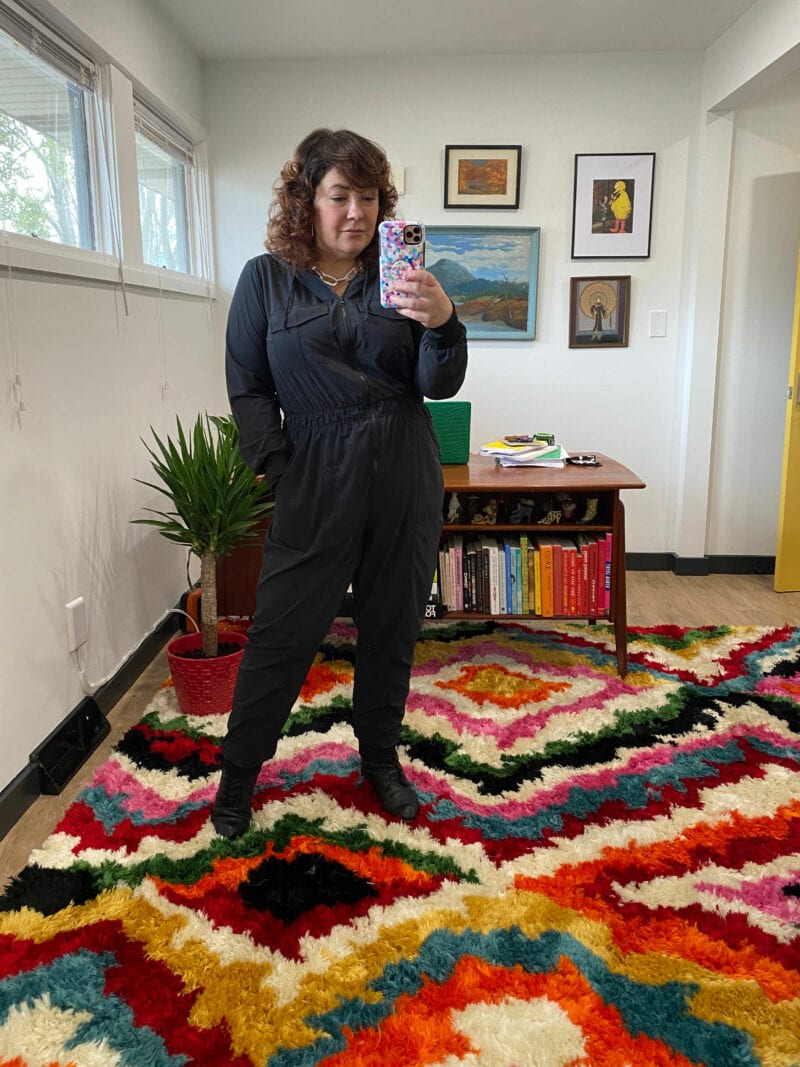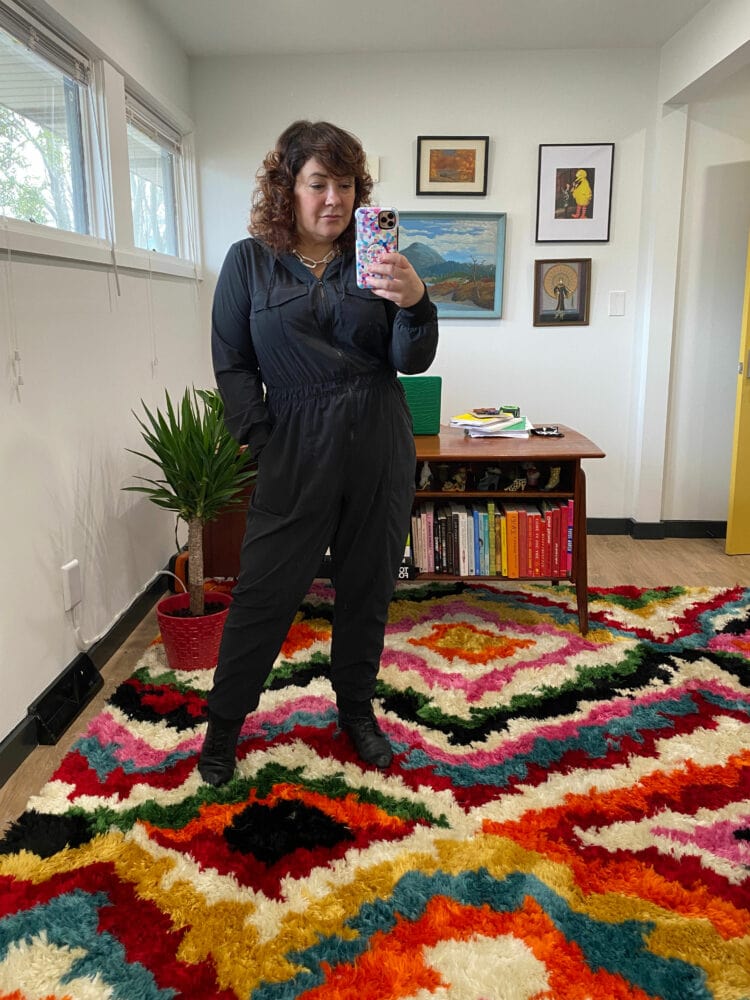 Sunday when I wore my Docs I realized I hadn't broken them in completely and they left a blister on my right ankle. So I kept it comfy with my La Canadienne boots which are super supple leather and fit like a glove. I added these insoles to them for extra comfort and support. These boots weren't cheap but they're such incredible quality I've worn them for years and know I will for many years to come. I added my Jenny Bird link necklace for interest.

Thursday Night: Après-ski at the Four Seasons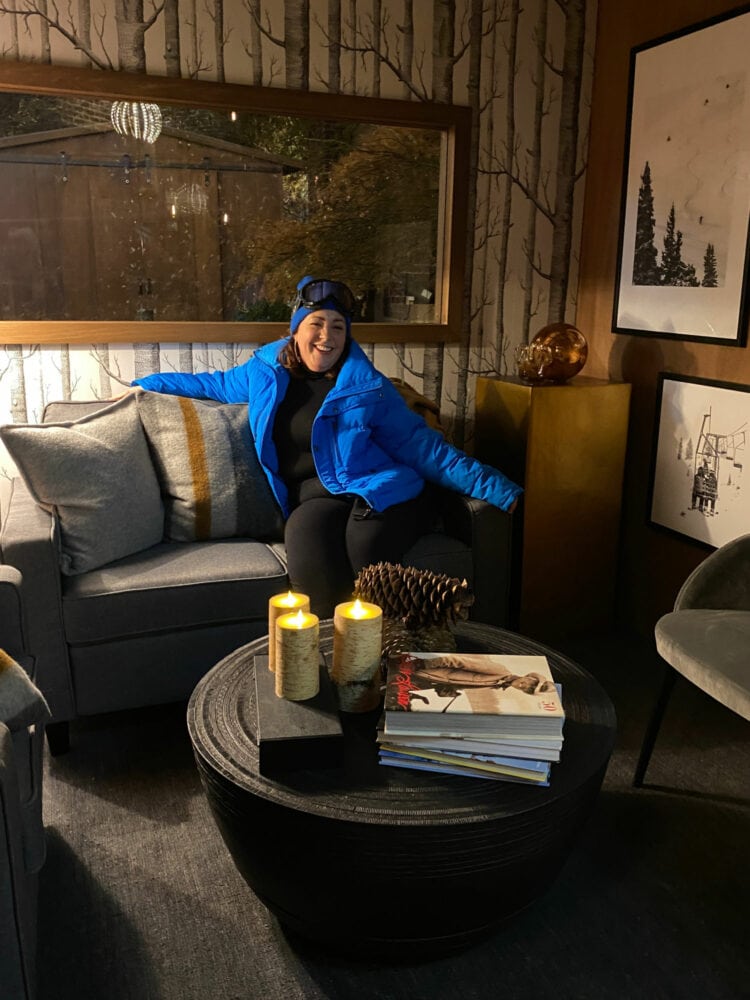 I will delve into this into a separate post, but Thursday night my friend Sylvia gathered a few of her friends to get a preview of the new outdoor chalets at the Four Seasons in Georgetown before they were able to be reserved by the public. We would be having food from Bourbon Steak, the restaurant in the Four Seasons, and Sylvia said the dress code was après-ski.
I haven't skied since 6th grade, I knew this would be an event with a lot of photography and videography, and I wanted to represent those of us who are often one of the biggest and oldest folks in the crowd with a look that was just as fierce and from brands that have a good size range.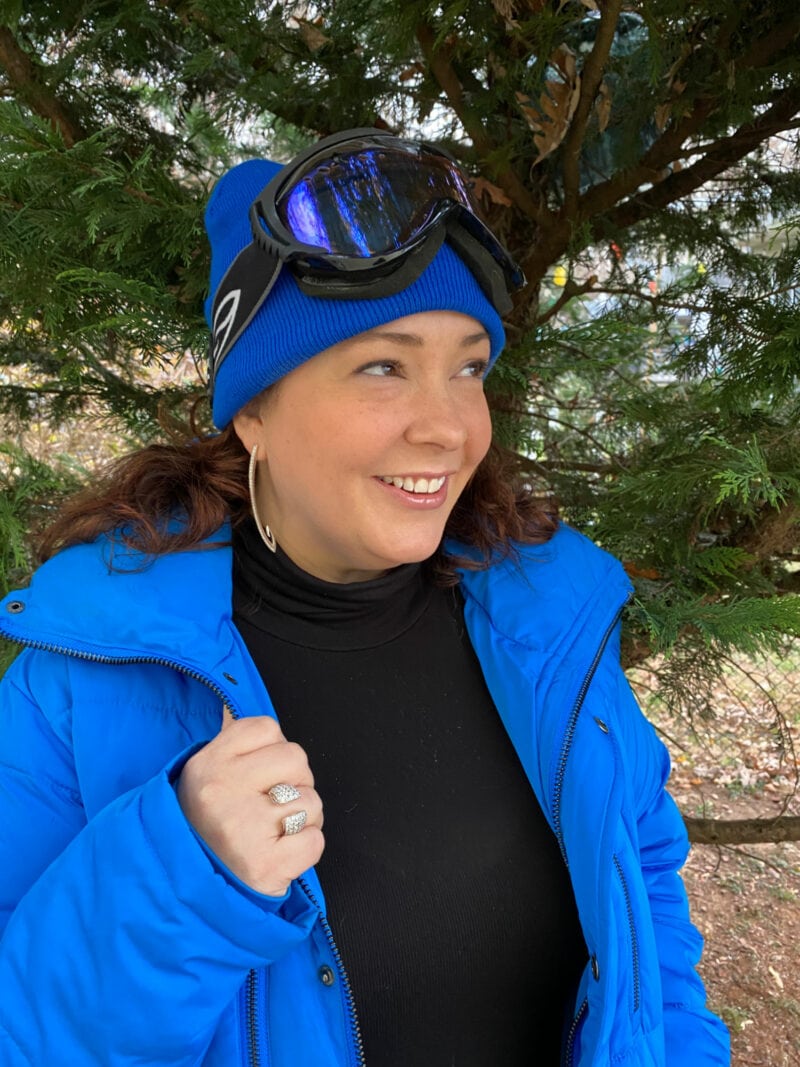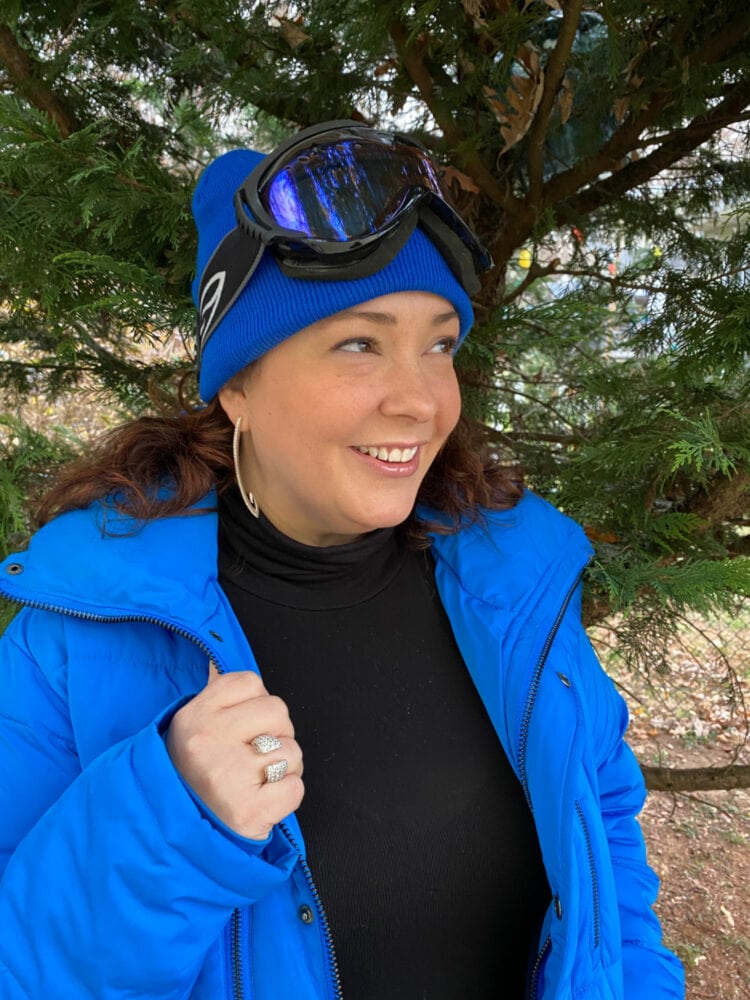 It's the top half of the Universal Standard 4-in-1 Hybrid Puffer, Universal Standard beanie, Universal Standard Foundation turtleneck (tucked in until I removed the coat, then I untucked it liking how it made it look like a catsuit), and Athleta Altitude tights (size large). Sorel "Cate" booties on the bottom and a pair of old ski goggles. REALM earrings and ring previously seen in this post.

Friday: Stripes and Faux Leather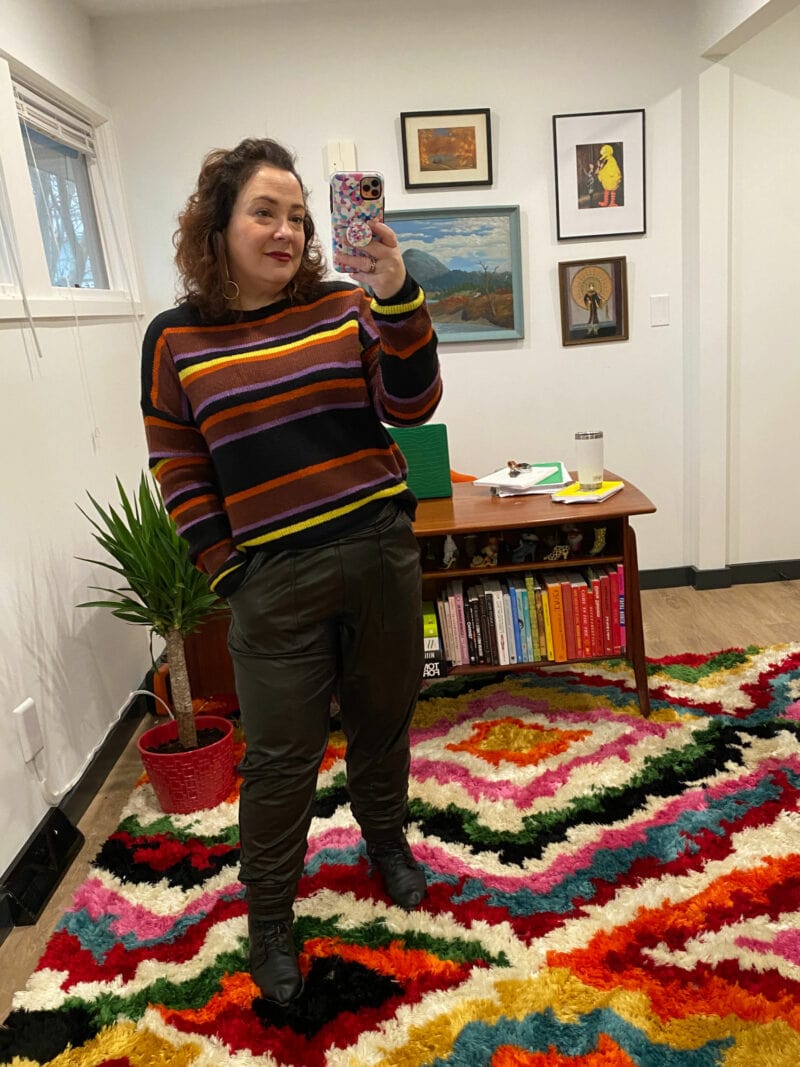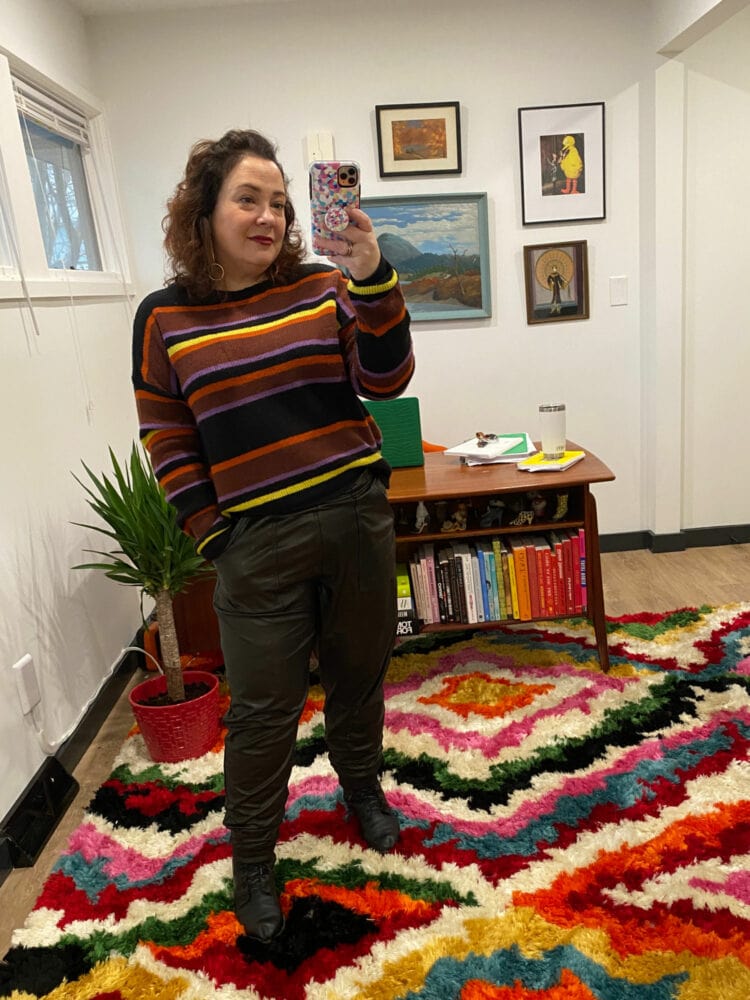 Another pair of pants I wear weekly in the winter are my faux leather joggers (read my Spanx faux leather joggers review). They're comfy and stretchy and warmer than many other pants in my closet and look luxe even though I feel I am in pajamas. I paired them with another statement sweater I rented from Rent the Runway: this striped sweater from Love, Whit.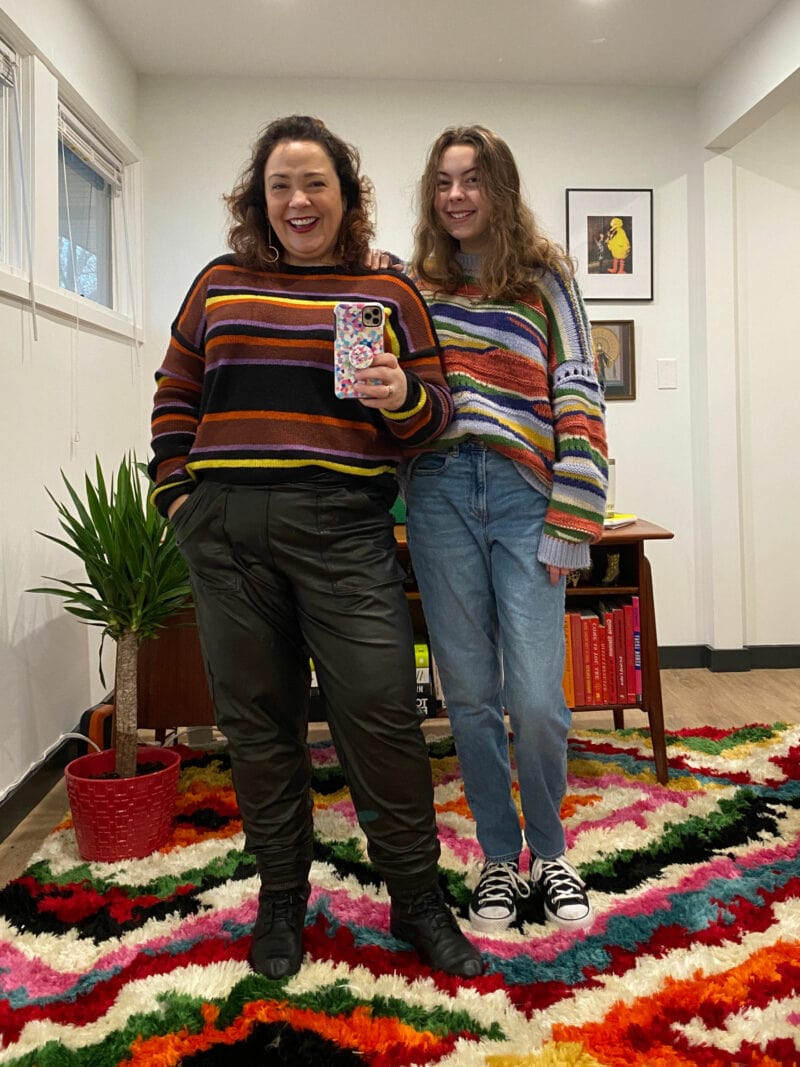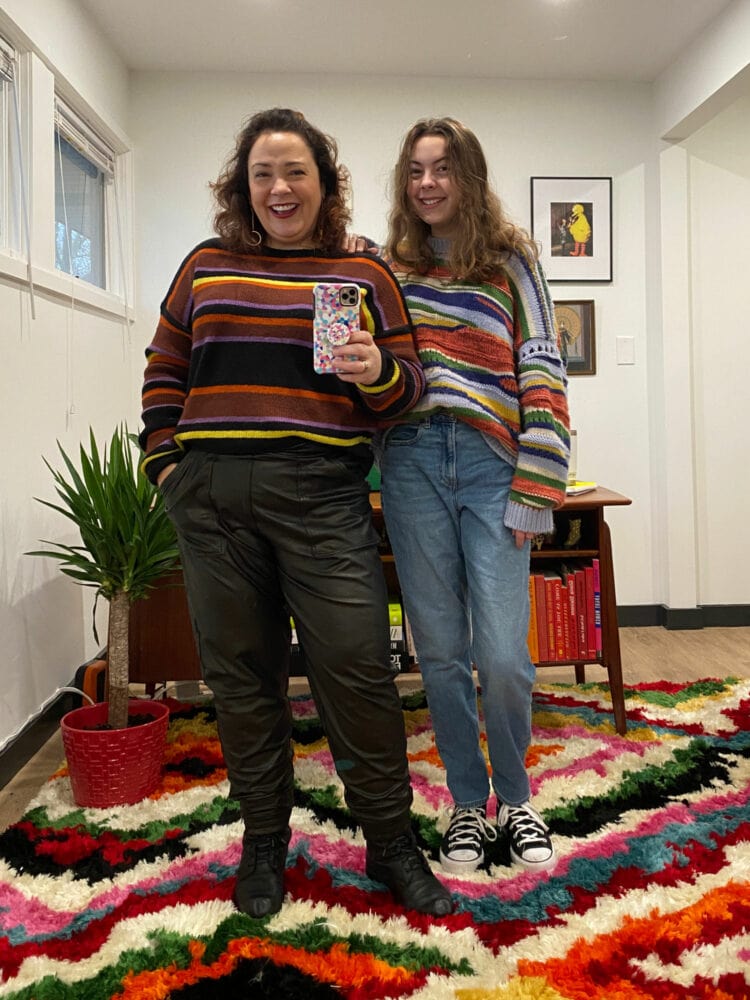 And does my daughter's sweater look familiar? She fell in love with this sweater and I figured I got to wear it, now she can wear it before I send it back to Rent the Runway. For my next membership delivery, I figure we can choose together what to get because she's now the age where she likes my oversized sweaters, and it gets us more for my money if we both enjoy the Rent the Runway membership!

Saturday: Running Late Fashion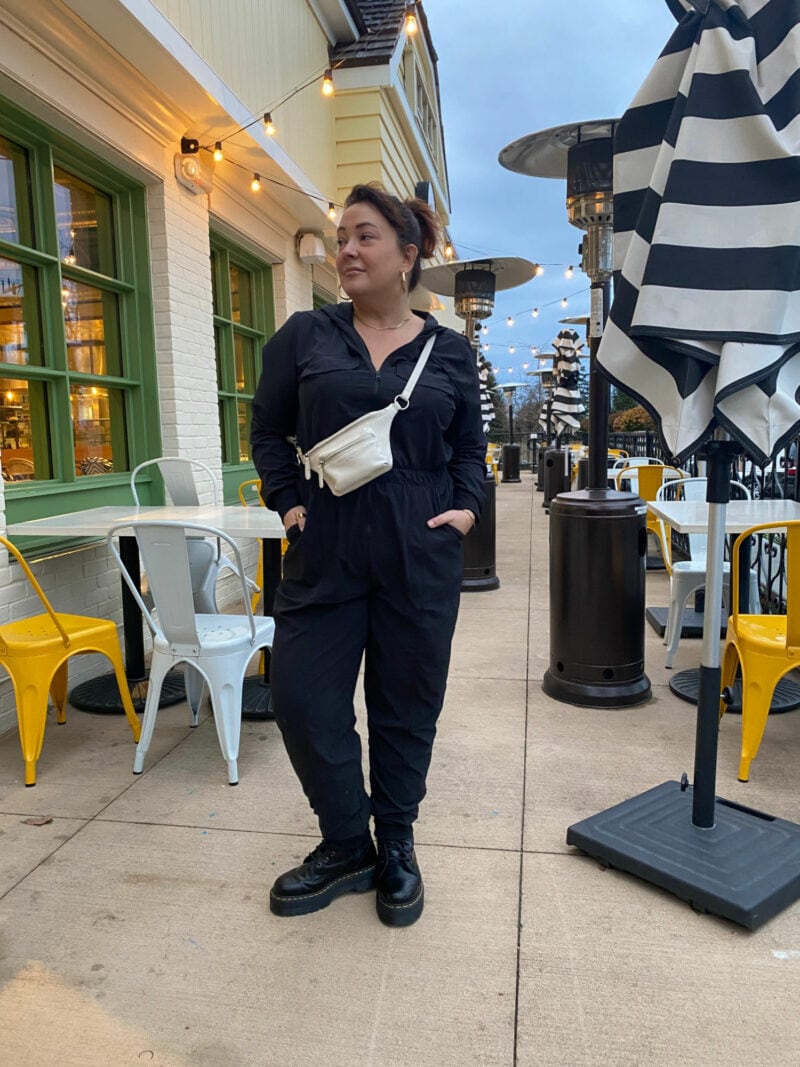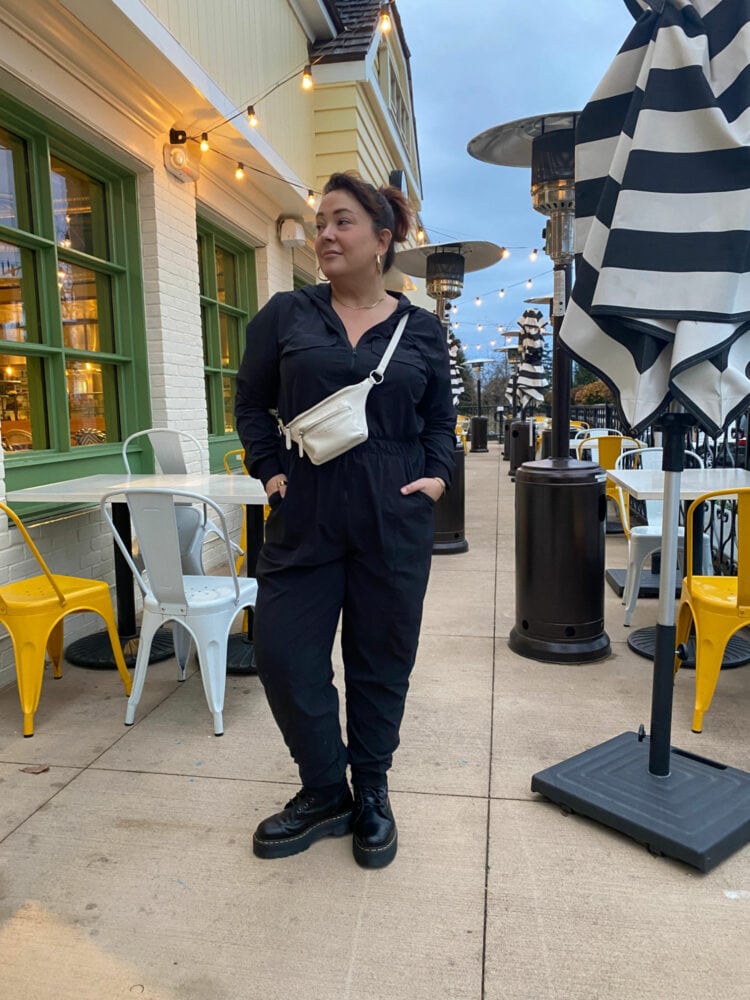 Who said weekends were a time for rest? Especially during the holiday season, they can be so exhausting! Saturday I was go go going, and then felt I had some time to fit in a workout since I had hardly done one all week. And then I did two stretches (because I am all about stretching) and suddenly I realized I had 15 minutes to shower and get ready for an influencer event at a local boutique!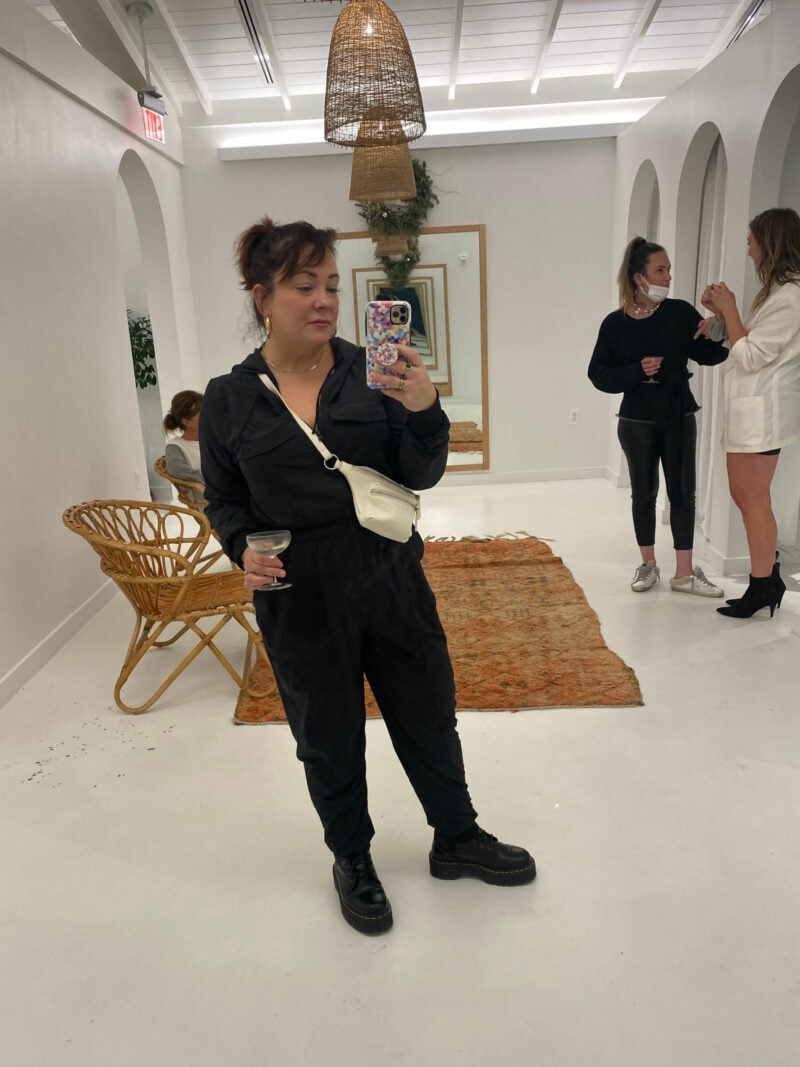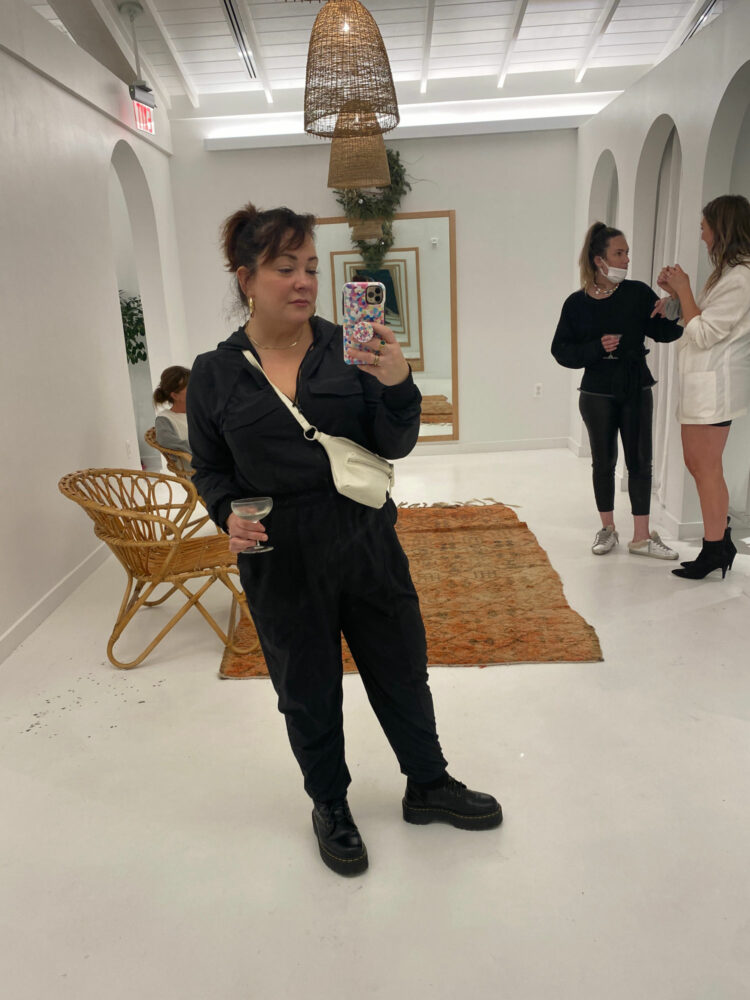 The Zella jumpsuit from earlier in the week was thrown over my bedroom chair so I threw it on with my Docs and gold hoops and yanked my dry shampooed but still wonky hair into a ponytail. I did a more natural yet glowy face and used my Brandon Blackwood belt bag as a crossbody and headed out. Folks were in everything from jeans to sequins so my outfit was fine and I arrived just a couple of minutes after my friends so it was a success in my book!