This article may contain affiliate links; if you click on a shopping link and make a purchase I may receive a commission. As an Amazon Associate, I earn from qualifying purchases.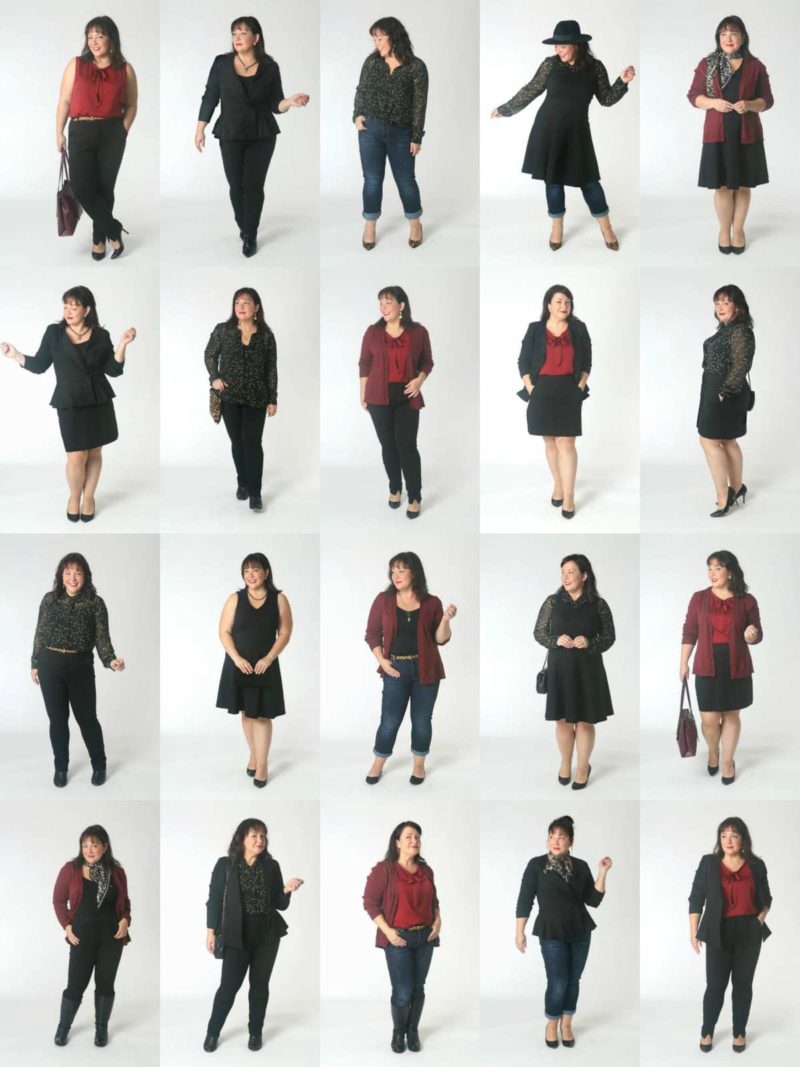 Thank you cabi for agreeing to be part of this project. While this post is sponsored by cabi, I had full creative and editorial control.
A cabi Capsule Wardrobe for Fall 2018
I think in capsules, and when sitting in NYC watching the live streaming of the cabi Fall 2018 fashion show I saw how the collection really lent itself to be a capsule wardrobe.  Similar colors, a whole collection of pieces in ponte knit, my creative juices were flowing and on the train ride home I made a list of 20 different outfits from just nine pieces from the cabi Fall 2018 collection.  This cabi capsule wardrobe creates 20 looks for work, weekend, and even a few social events.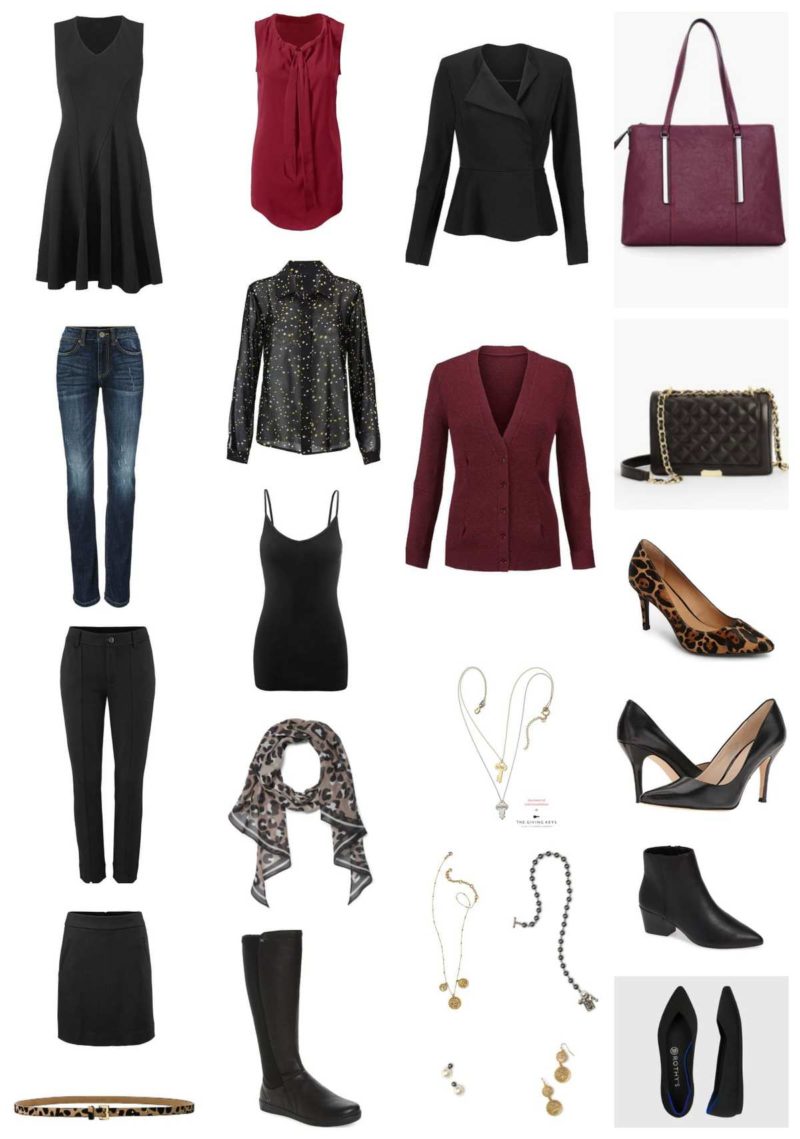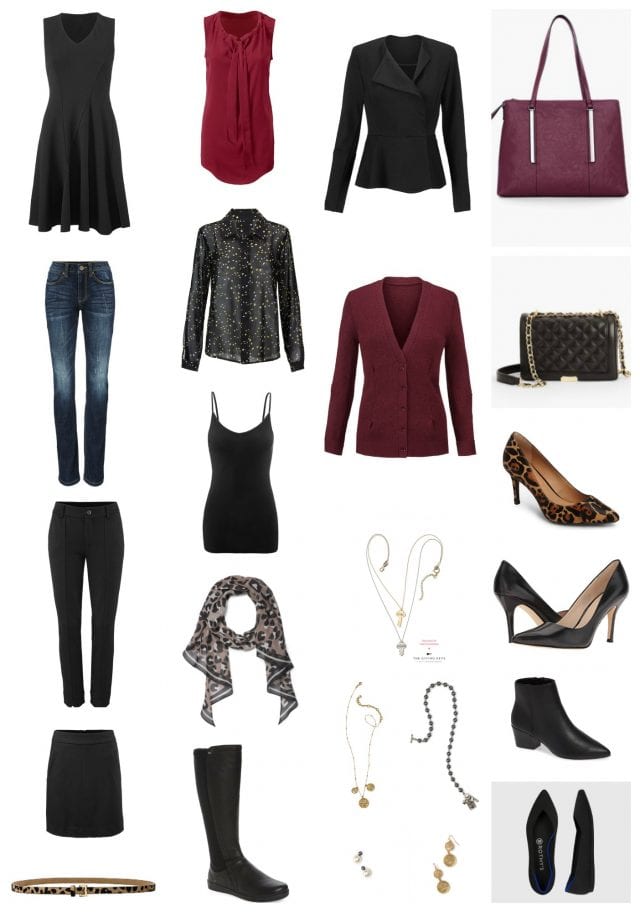 Shop the Capsule Wardrobe:
cardigan sweater | ponte knit jacket | long-sleeved blouse | silky shell | knit camisole | jeans | ponte knit pants | ponte knit dress | ponte knit skirt | scarf | gold earrings | pearl earrings | black pearl necklace | gold necklace | gold and silver necklace | tote bag | black purse | belt | ankle boots | leopard pumps | knee-high boots | black pumps | black flats
For sizing in the photos below, I am wearing either a size Large or size 12.  The ponte knit pants are a size 10.
Sample Outfits from the cabi Capsule Wardrobe
While I created 20 outfits from these nine pieces, it's easy to create additional looks.  Add in a few wardrobe staples already residing in your closet and you could create dozens of looks to get you through fall, winter, and into early spring. As the temps drop, a pair of high-denier opaque black tights will work with all the skirt and dress looks without sacrificing style. While many looks feature heels, they would look equally as stylish with a lower heel or flat shoe.  Below is a gallery of all 20 looks. Click on any thumbnail graphic in the gallery to see the full-size images and descriptions. Hover over the images to find arrows to advance and go back within the gallery. If there's an ad in the way, x it out to read captions. Click the X at the top right of an enlarged image to close the gallery and return to this blog post.
cabi strives to have their collections each season mix and match with ease, and often coordinate with previous seasons. I specifically chose these pieces because they had such versatility not just for working with one another, but for so many situations and social events.  My accent colors are shades of wine, a trend that is really hot this season but also colors that are flattering on a variety of skintones and not to look dated in a couple years. Even the statement pieces I added have lasting power and won't make you look like a fashion victim in a few seasons.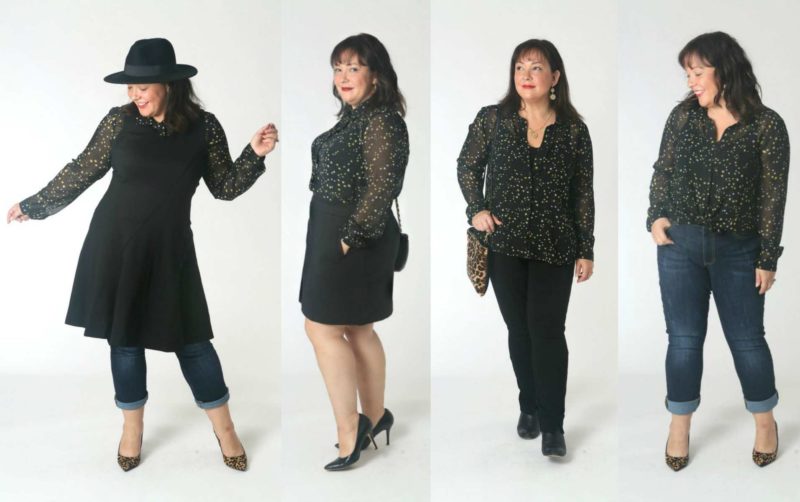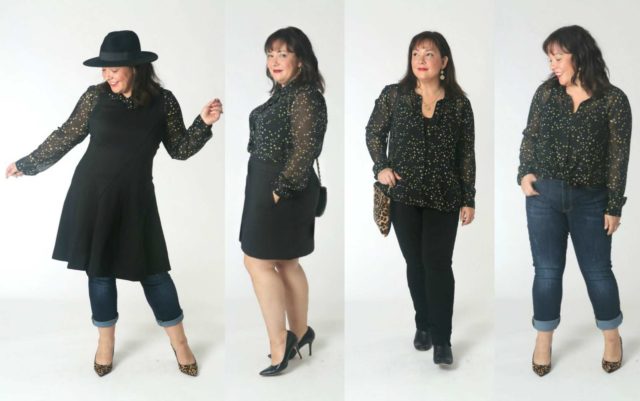 One of the first pieces from the cabi Fall 2018 collection that I had to have was the Galaxy Blouse.  I saw it at cabi Blogger Day and it looked amazing on every person who tried it on.  That day, I tried it with the Agency Trouser and Jacket and loved the combo.  Once the blouse was in my closet, I found so many chances to wear it.  It's a weekend favorite with the v-neck cami, some skinny jeans, and my black flats.  For a concert, I wore it untucked with dark ankle jeans and got quite daring wearing only a solid black bra underneath.  Because it's lightweight it layers great under sweaters, jackets, and even dresses.  This is a print that is very of the moment, but will still look chic this time next year.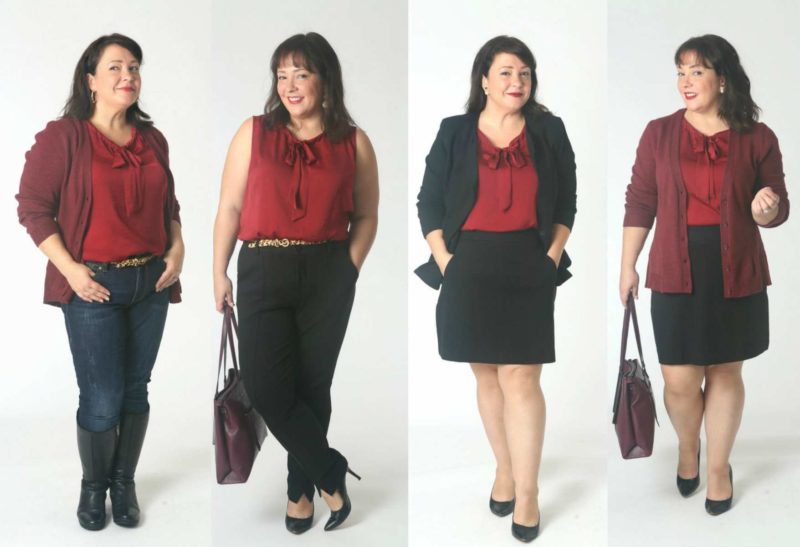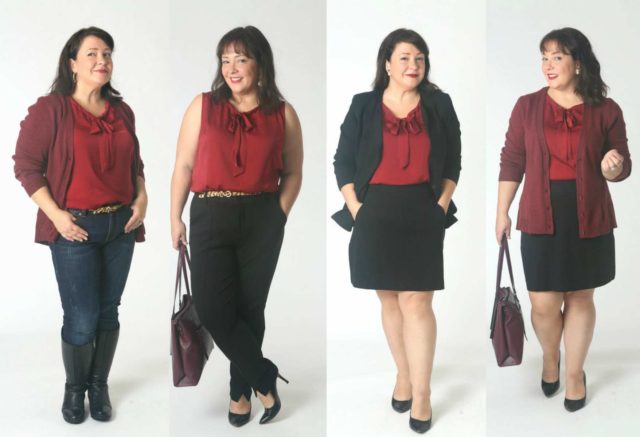 A silky sleeveless blouse or shell is a wardrobe workhorse.  With jeans and a cardigan, it adds polish to your weekend.  It's a perfect piece for any suit in your closet, and with a nice pair of pants or a skirt it is a great choice for Date Night.  The red color of the Cinch Top is so on trend for the season; while this wardrobe has a base color of black this red looks great with navy, gray, camel, brown, olive, and deep jewel tones like plum, violet, and teal.  I love the juxtaposition of the silky hammered fabric with denim and often wear it with my denim jacket and a pair of black ponte leggings.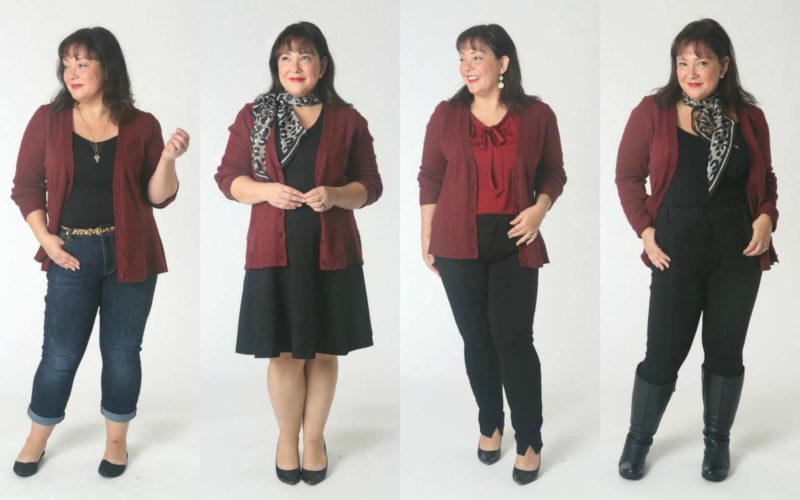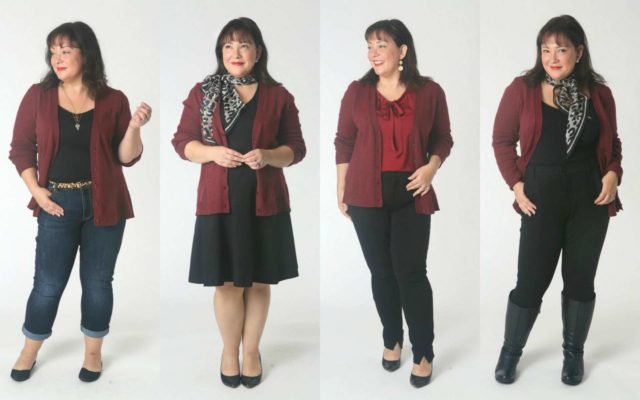 A cardigan is a great wardrobe addition for fall, but not all cardigans are created equal.  Some make you look boxy, some cling, and many have a weird band at the bottom that causes the torso to balloon.  The Catch Cardigan is the perfect weight, has a flattering length and neckline, and strategically placed darts to reduce bulk and skim the figure. It is a great addition for the office, the weekend, and even consider adding a couple sparkly brooches and wear it over a silky cami for a night out.  You can often find me in the Catch Cardigan with one of my favorite Breton striped tops.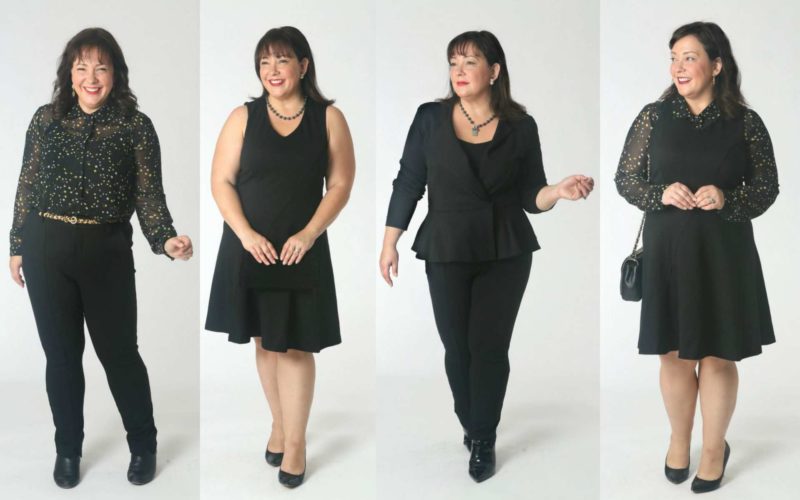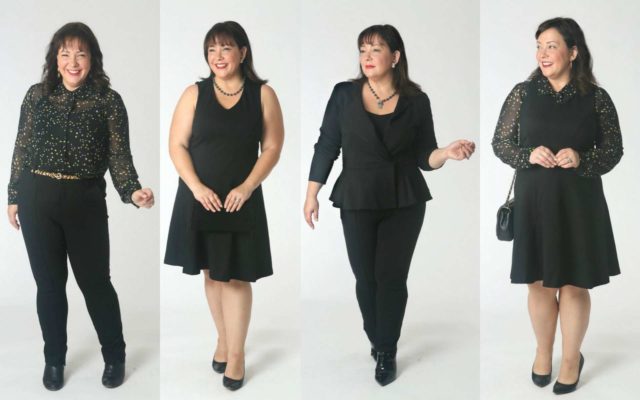 I love how cabi's Fall 2018 has a capsule of black ponte knit pieces that mix and match.  Along with the four pieces seen in my capsule wardrobe, cabi also has a wider-leg ponte trouser and a heavyweight legging with stylish zippers on the back of the ankles.  Whether you want versatility for the office, want pieces that can dress up and down, or you travel for business these pieces are classic, versatile, and comfortable.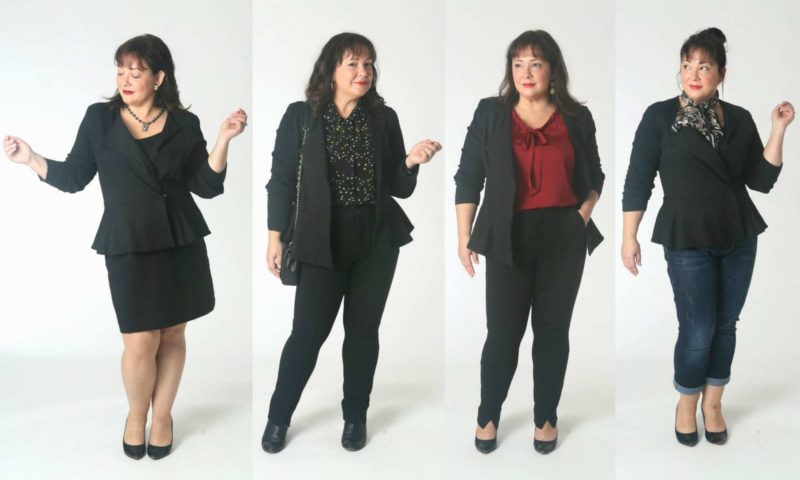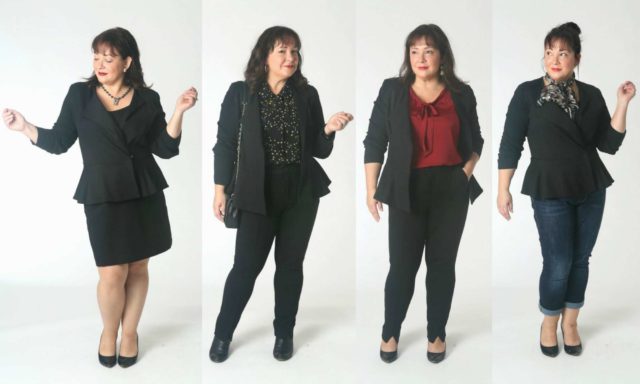 And my favorite piece from the ponte knit options is the Agency Jacket. While this jacket can look uber polished and professional, because it's ponte knit and unlined it's a great piece to throw on over your favorite t-shirts and jeans for a bit of warmth and style.  The peplum hem adds interest and figure flattery, and the tonal snaps make the jacket look great buttoned or open.
The goal of my capsule wardrobes is to get you to see shopping as well as your current closet with fresh eyes.  When adding to your wardrobe, look for pieces that can live multiple lives.  If it can't be styled three different ways it may not deserve to be in your closet.  I hope this cabi capsule wardrobe for fall gets your creative sartorial juices flowing. Thank you cabi for agreeing to partner on this project!