This article may contain affiliate links; if you click on a shopping link and make a purchase I may receive a commission. As an Amazon Associate, I earn from qualifying purchases.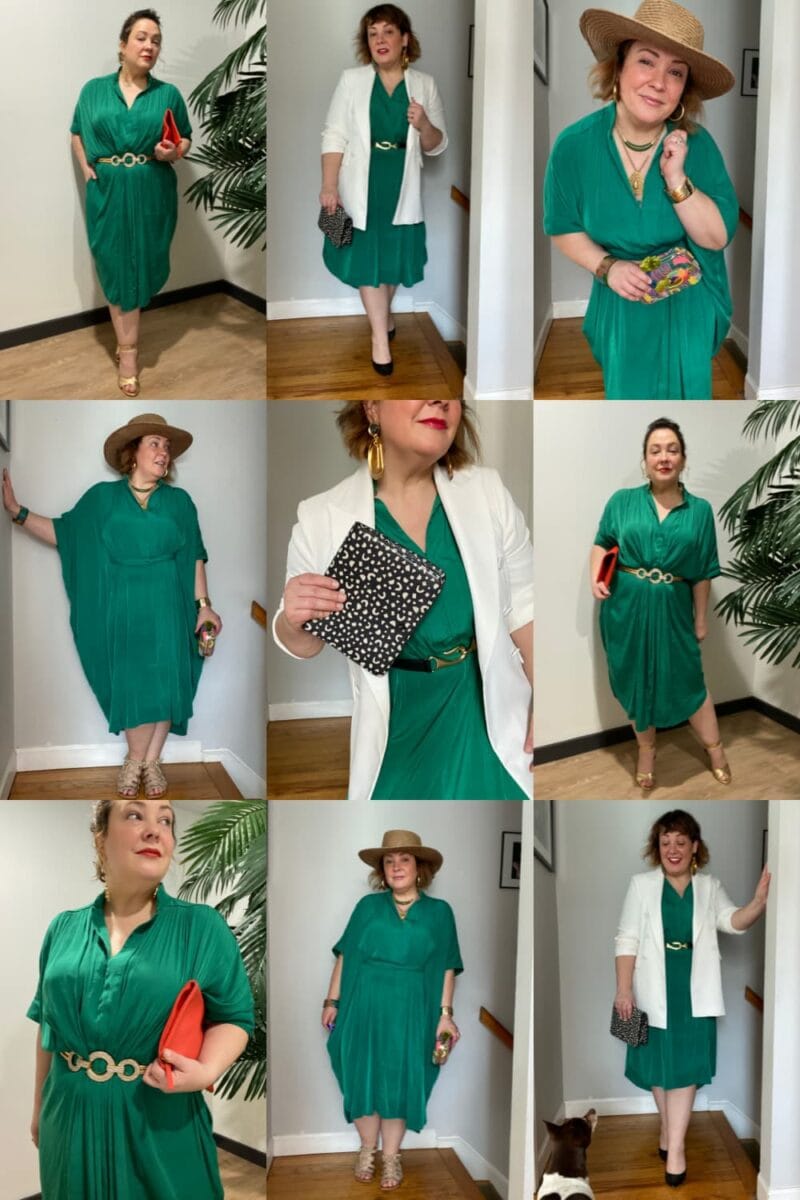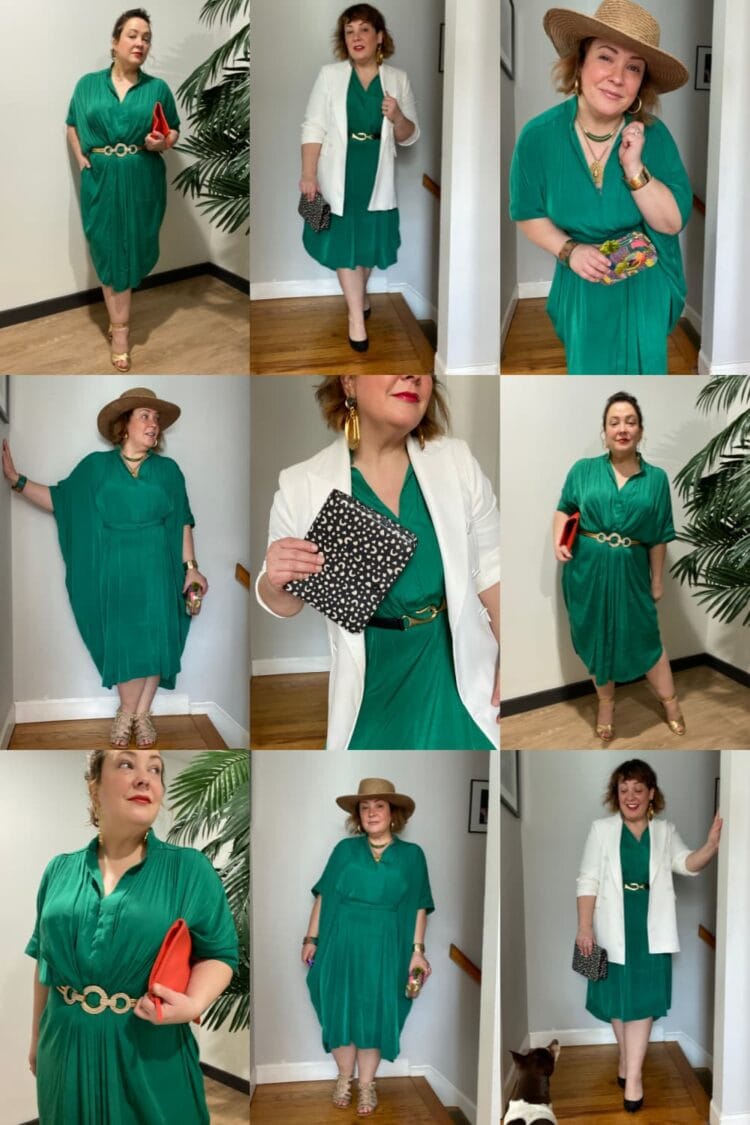 My friend Sylvia is one of the most stylish women I know and has a true passion for fashion. She decided to take a course on personal styling to better understand the business, the terminology, and learn how to be even better at what she is inherently good at. One of her course projects was to take a colorful dress and style it three ways on another individual and I offered to be her guinea pig. She decided to have my bright green ever by X Dress styled three ways.
The Ever by X Dress Styled Three Ways
I was intrigued by this activity. While I hired a personal stylist in the past, I do think my styling skills are pretty good and I feel no one else really gets my body/taste combo better than me. But as you will see, Sylvia suggested things I would never consider and it broadened my perspective and I ended up liking the results.
This was a completely virtual styling session; Sylvia never came to my house through the process, it was all done through FaceTime. We first went through my dress collection to choose which classic style of dress to use. The ever by X dress is essentially a shirtdress with its shirttail hem, button placket, and self belt. Sylvia decided to style it for work, evening, and vacation.
What is the ever by X Dress?
I've done a full ever by X dress review and my friend Carrie also reviewed how the ever by X dress fits plus sizes. ever by X is an Australian woman-owned sustainable slow fashion brand that only offers one style of dress that fits US sizes 6-24. This dress is made from a vegan silk and is machine washable. While the ever by X dress only comes in one style, it comes in three lengths and a vast variety of ever-changing colors. The ever by X dress in this post is the color Emeraldine in the petite length.
Styling the ever by X Dress for a Night Out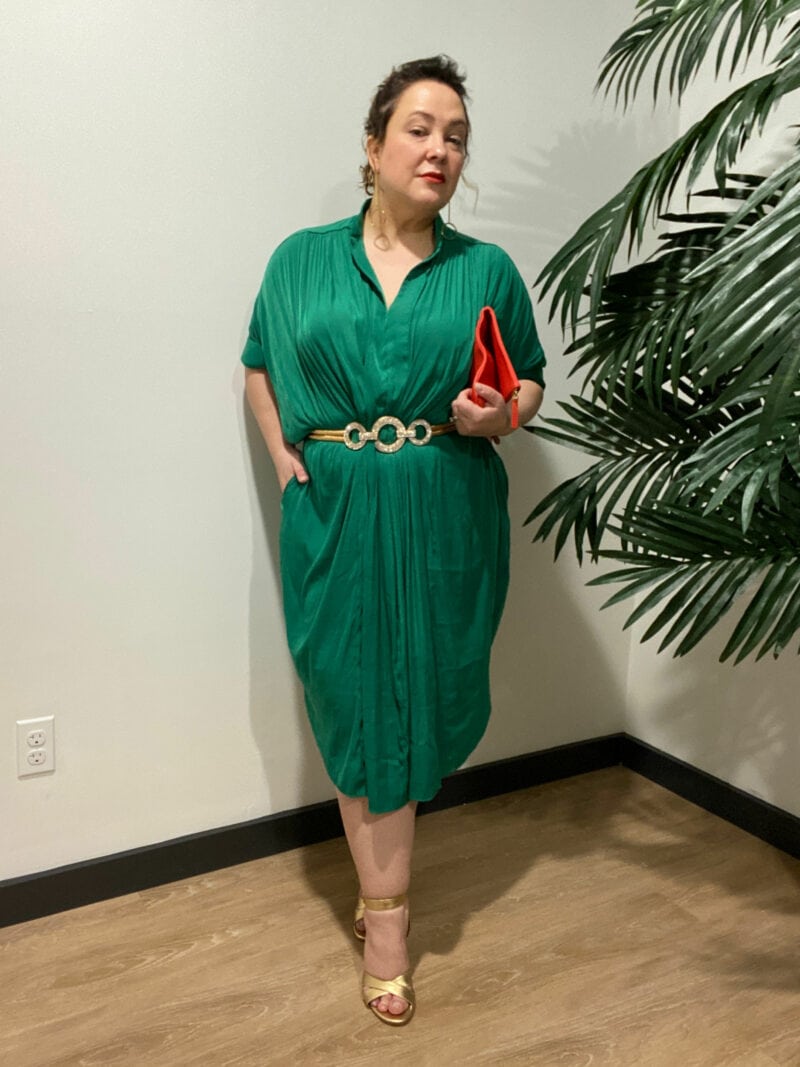 Sylvia loved the idea of gold with the green of the dress so she asked to see if I had any gold heels. I shared I have these in gold from Margaux (they aren't cheap but they continue to be the most comfortable and versatile heels in my wardrobe and they come in wide width).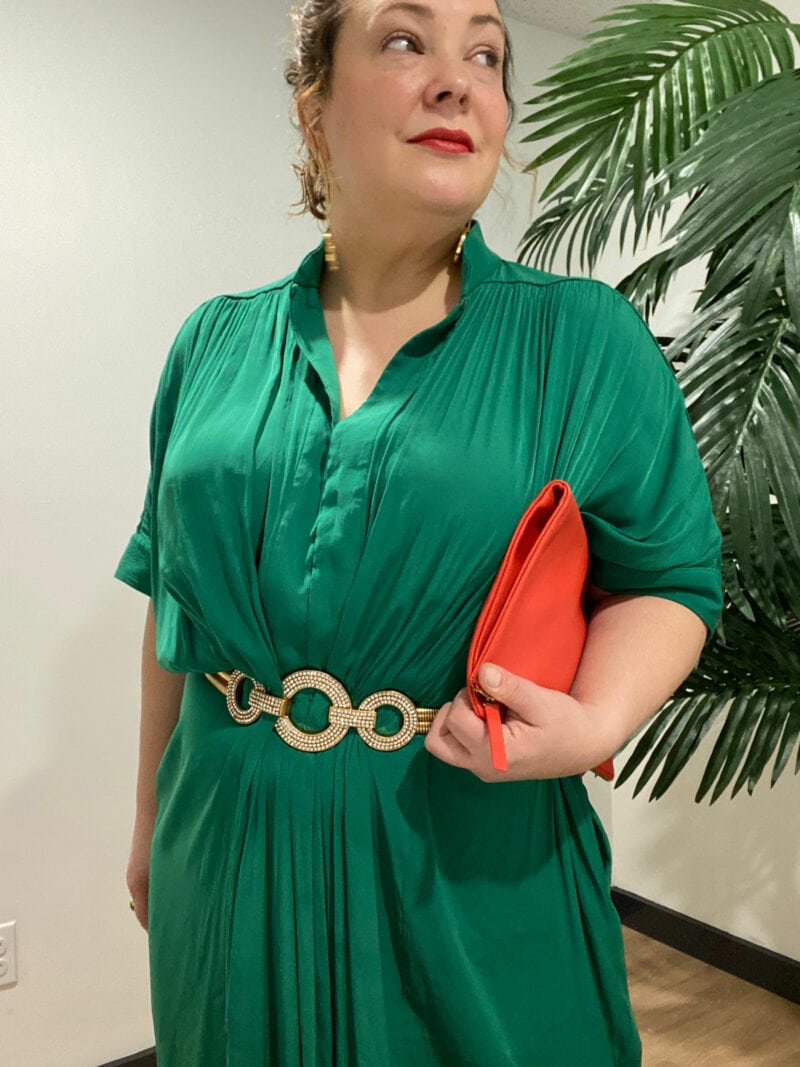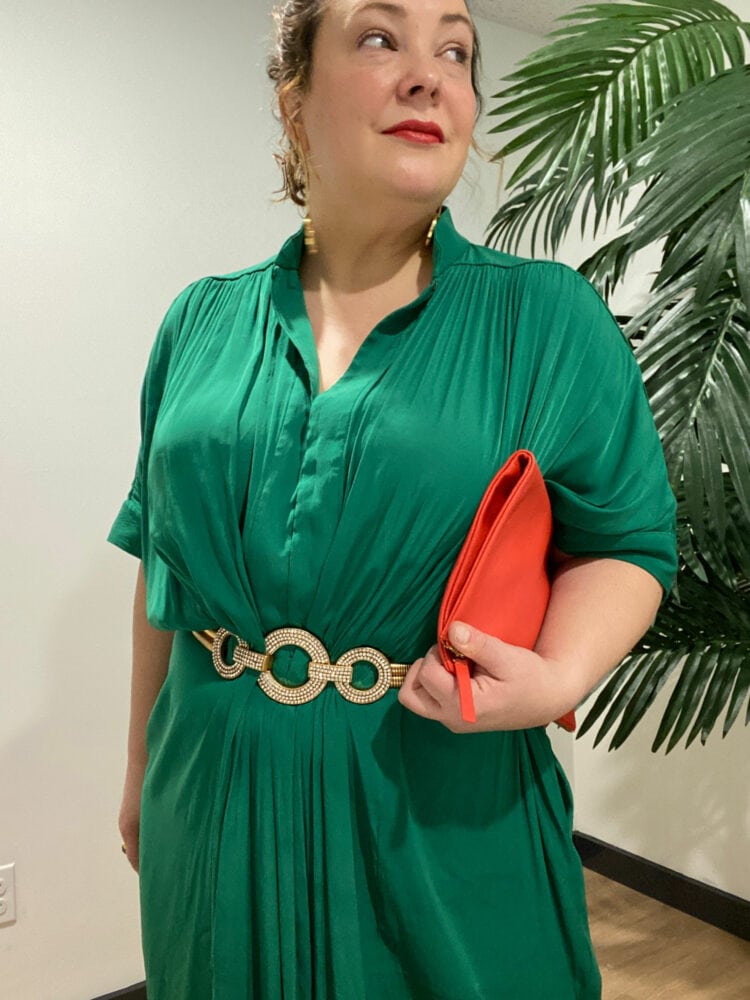 To continue with the gold theme, she asked if I had any gold belts and chose this gold elastic belt with a pave buckle I got a while ago from Zara. Choosing a metal belt instead of the self belt cinches the fabric better, and gives a more dressy/cocktail effect. This belt is no longer available but I have a carousel below of belts that will achieve a similar effect:
Sylvia asked about my earring selection, looking for something that wasn't a typical hoop but gave a similar effect. She chose my "Edie" hoops from Jenny Bird, which are a gold post with a ring dangling from the end. I love these earrings; they are no longer available but Jenny Bird is still a designer I go to for unique but very wearable earrings that are of quality but not ridiculously expensive.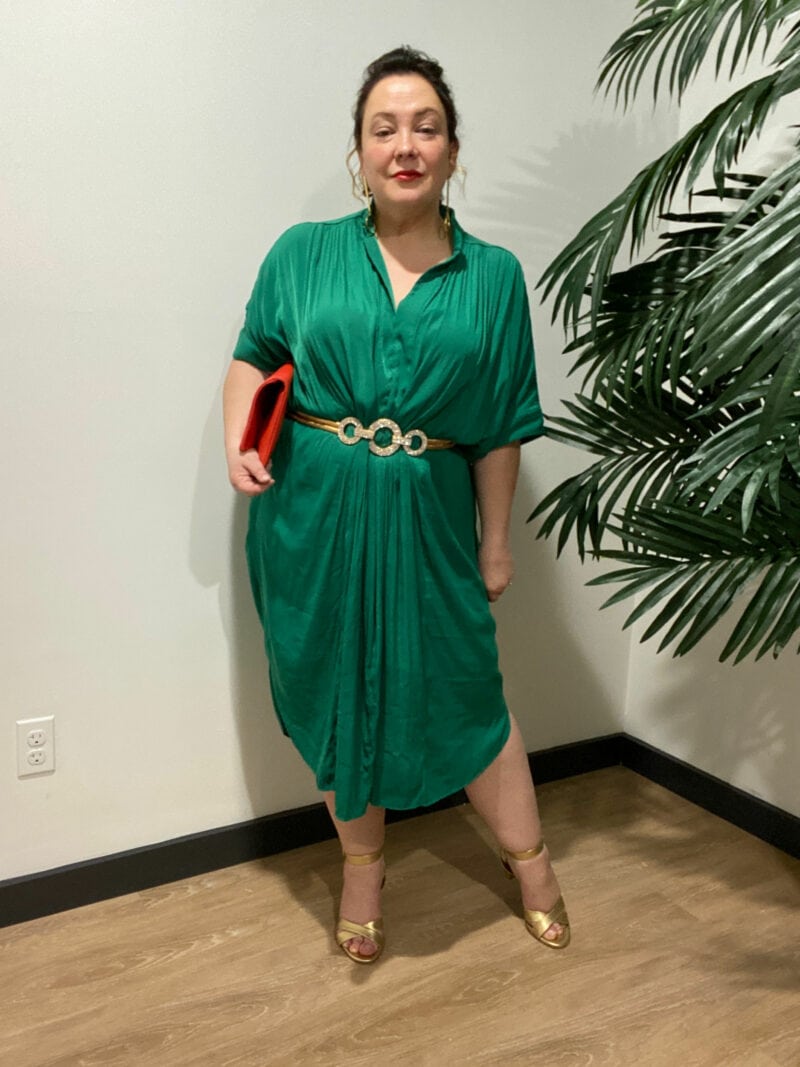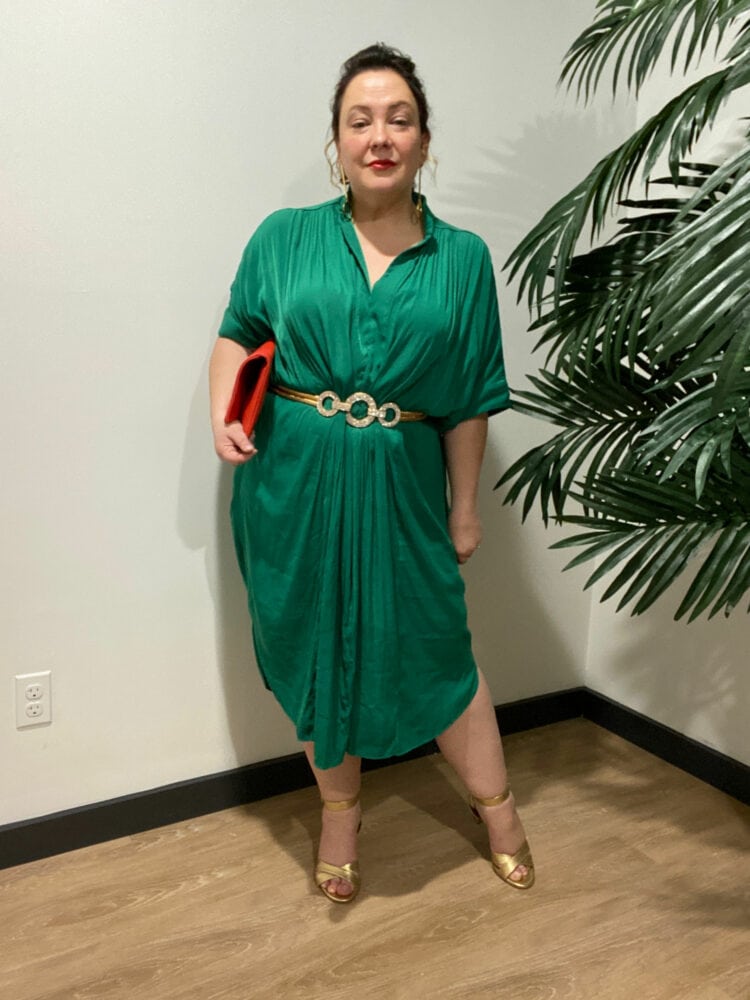 The thing I would have never chosen for this look but love is the bag. This bag is from Everlane and several years old (previously seen here and here). I would never think to pair a coral red bag with the green dress; the color combo makes me automatically think of Christmas. But the warm red and the bright green combo isn't holiday but modern and fresh. It taught me to not rely on classic combinations or neutral bags, and that a pop of color can be dressy and elegant.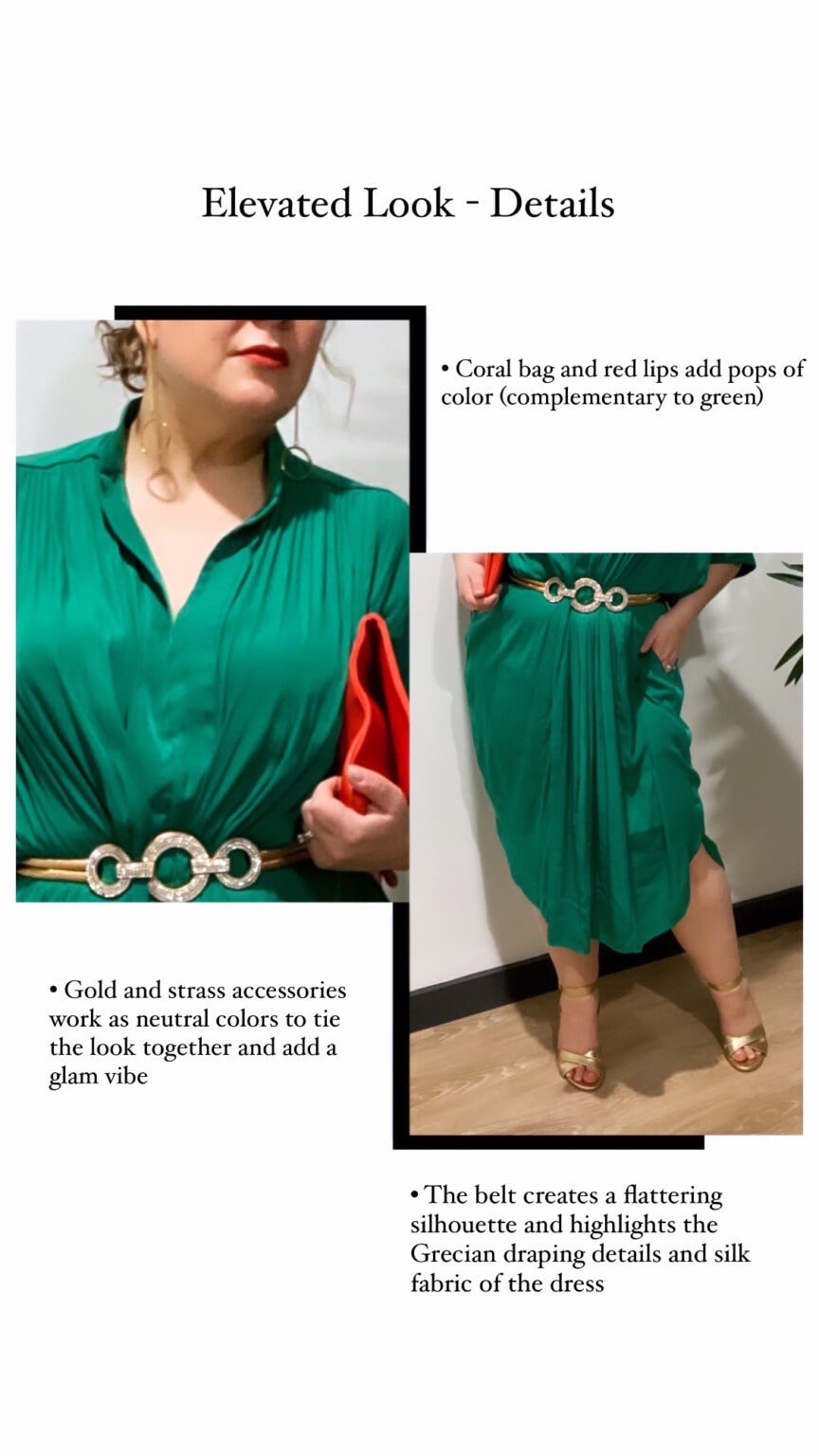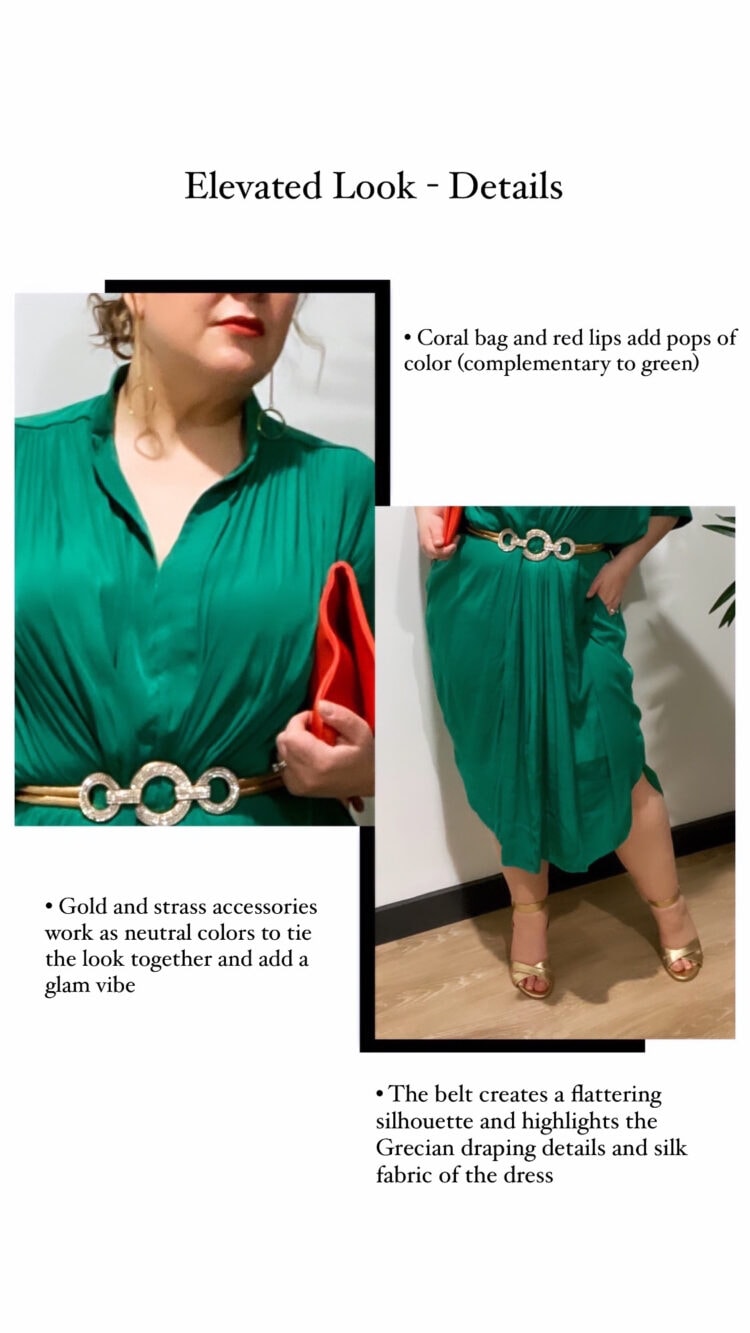 Sylvia then asked me to finish the look with a red lip (this lipcolor from L'Oreal) and to pull my hair up in sort of a windswept look with tendrils. This is another thing I wouldn't have done on my own but it really did elevate the entire look! What do you think of the result?
Styling the ever by X Dress for Work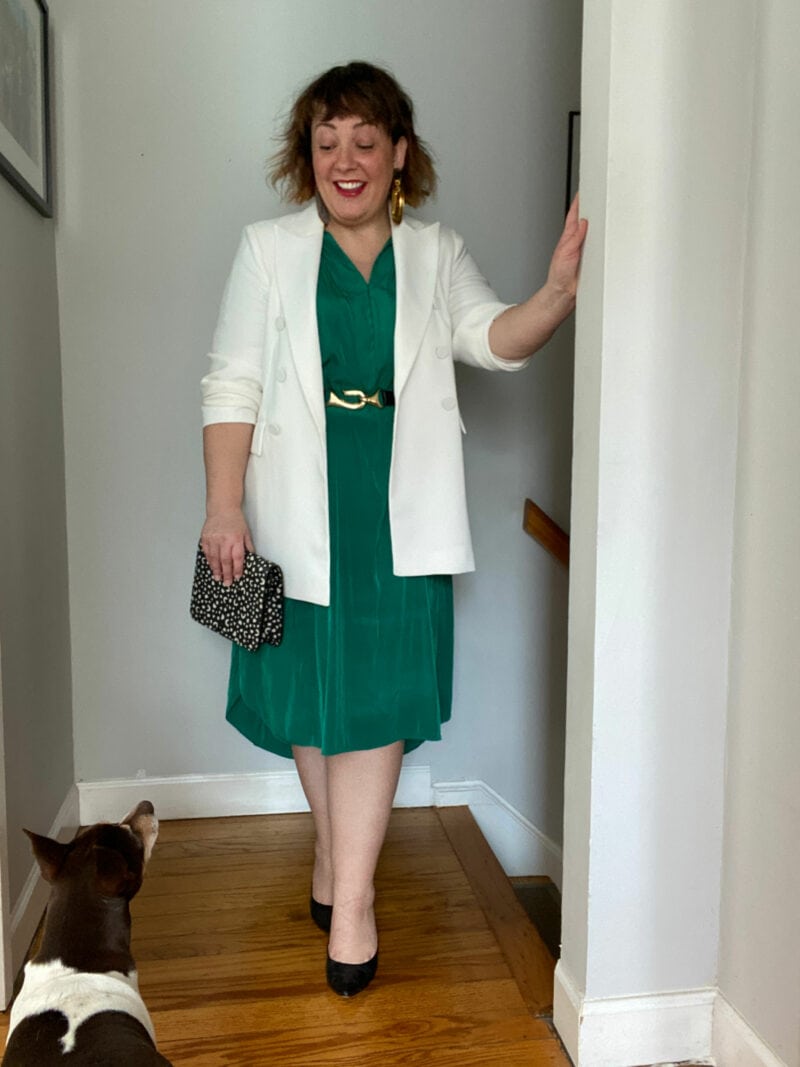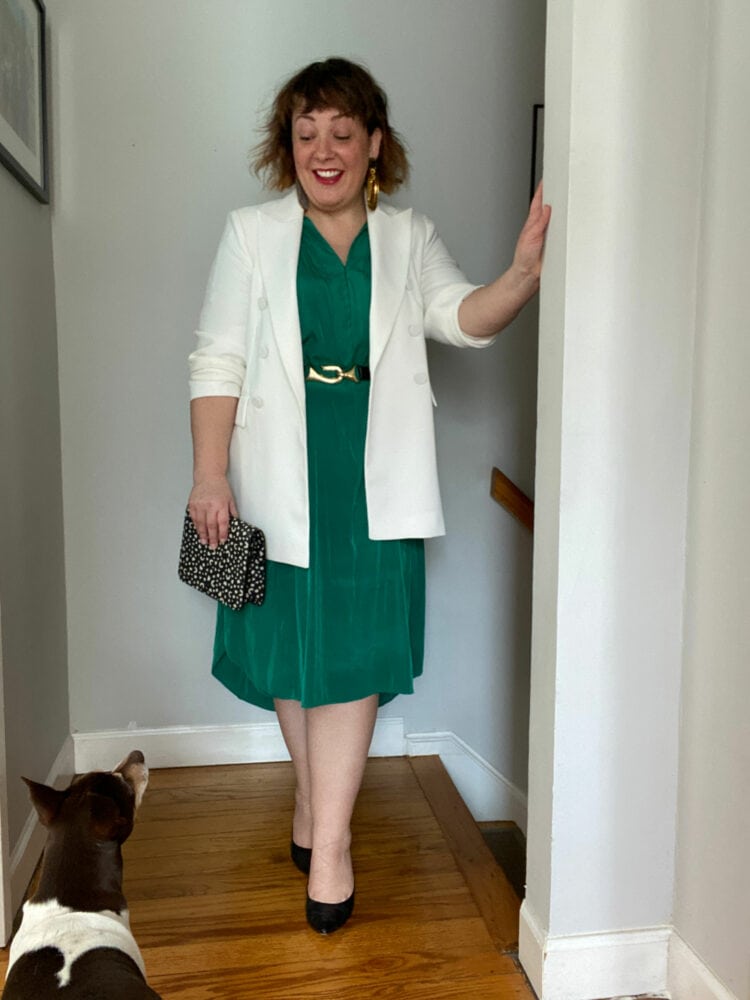 Sylvia asked me about my blazers collection. Since the pandemic, I have pared down my suiting and didn't have the selection I used to two years ago. We tried my black blazer (the Universal Standard Rio) and it was meh with the dress. We then tried this white double-breasted blazer that is from a Zara suit I wore in this post and when I was a guest for the DC stop on the Bad on Paper Podcast tour.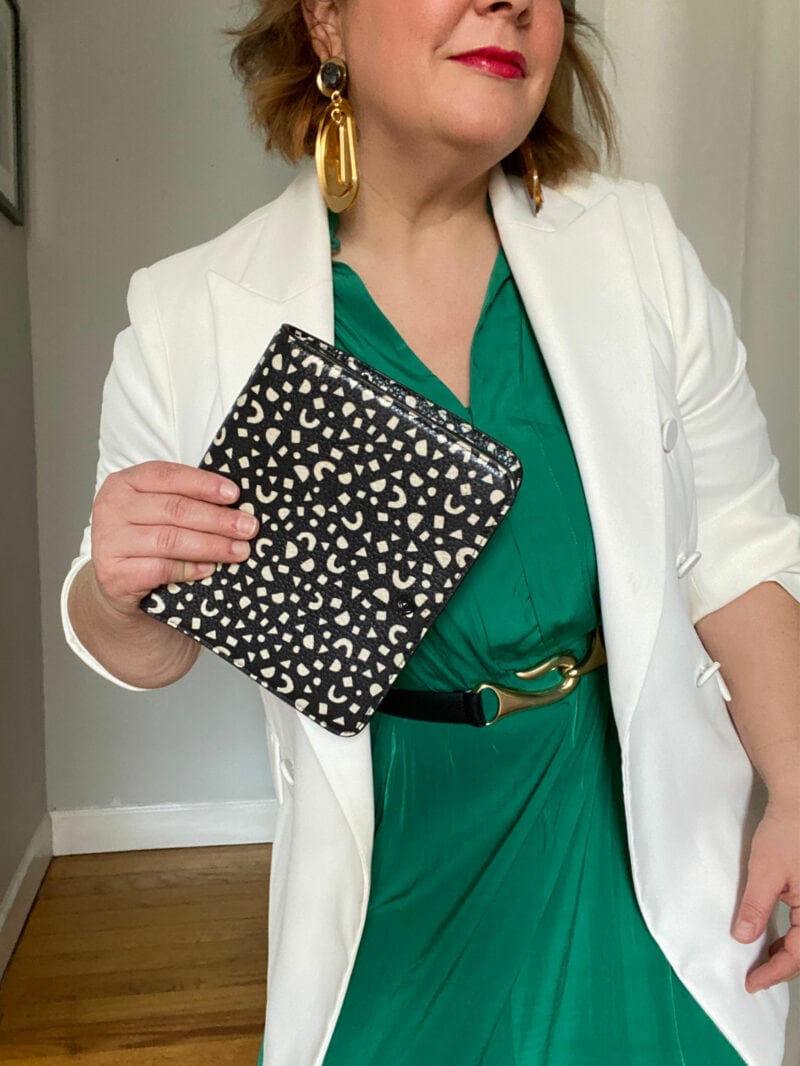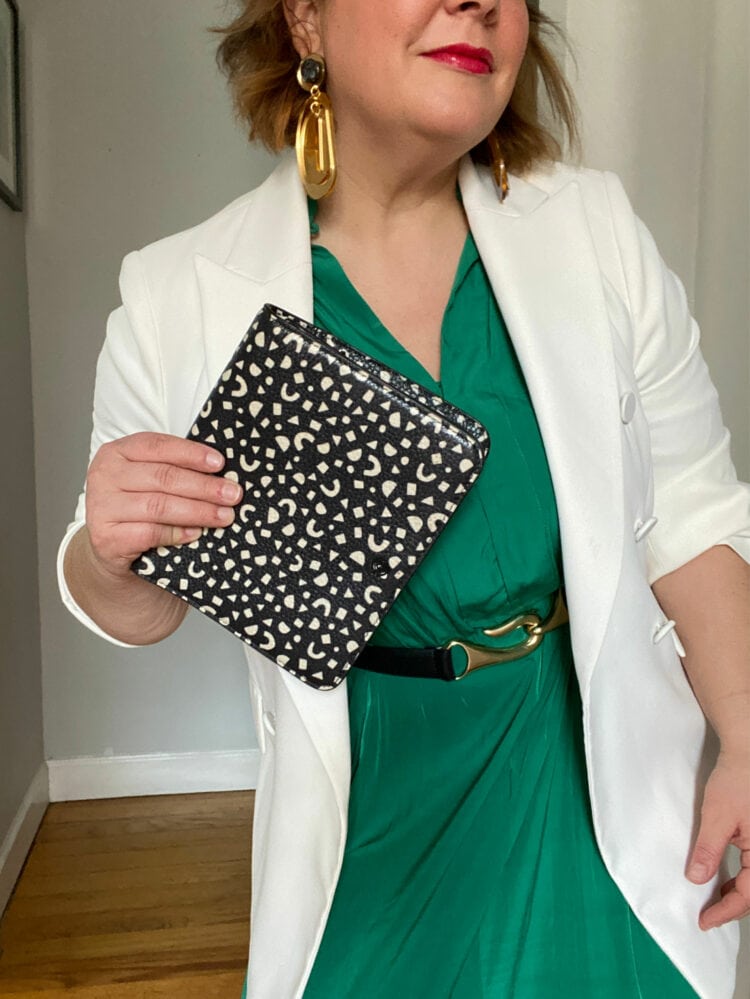 We tried the self belt but it didn't look polished under the blazer so we switched it for a belt I got at Chico's a few years ago. Chico's is a place I'll recommend until the cows come home for quality jewelry accessories. This belt is leather, the gold hasn't gotten dull or chipped and the belt adjusts in back so it can fit your natural waist or be a hip belt. Chico's has no belts right now, but watch this space because they always do belts really well (I have several Chico's belts in my wardrobe).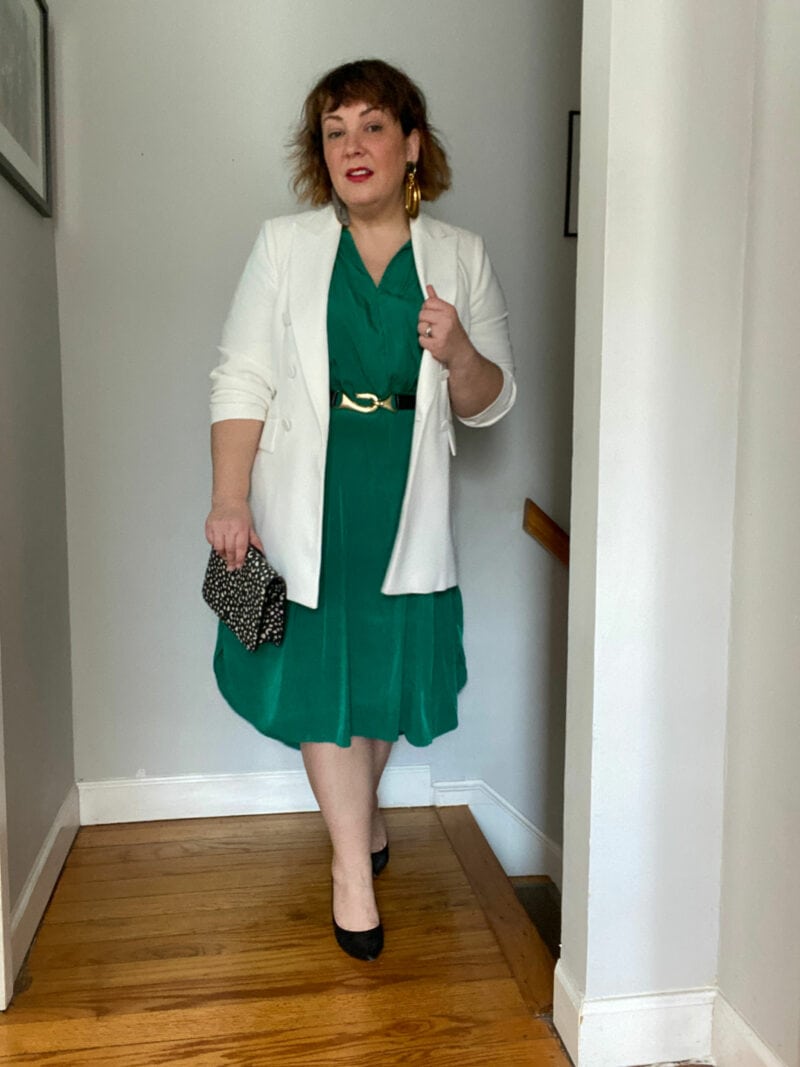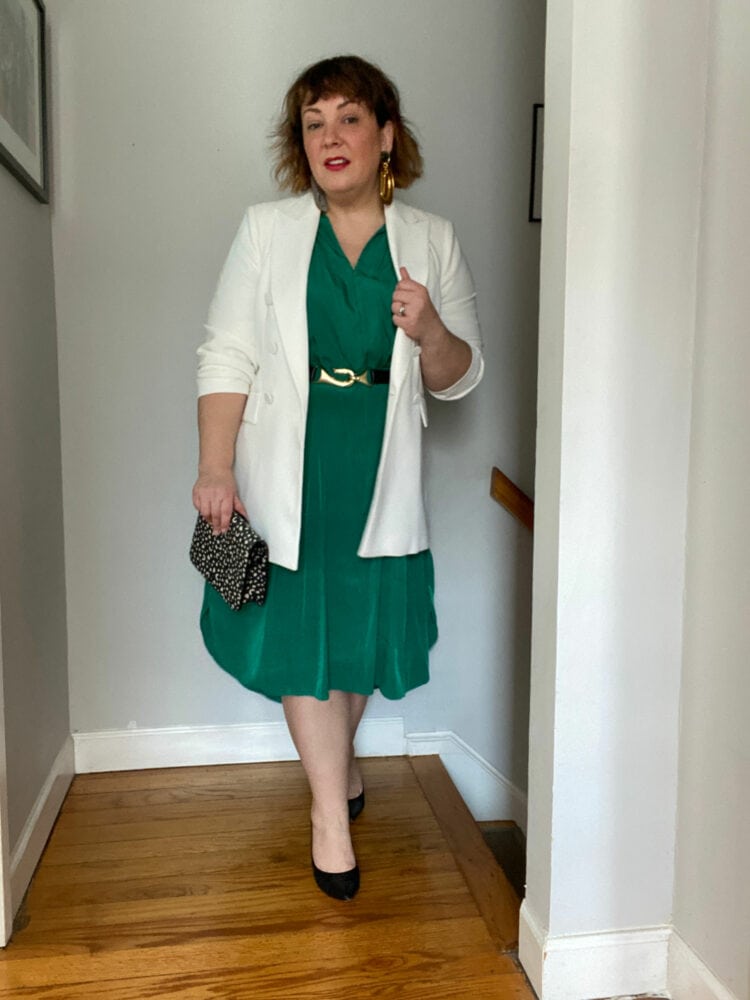 For shoes we tried a few different things – we tried some zebra print knit booties, leopard calfhair pointed toe kitten pumps, and were going to do my nude-to-me pumps but I couldn't find them. We settled on my black pumps, which tied in with the belt. To make it feel me, we added these bold gold mirror earrings from Copper Canoe Woman, which I purchased at B. Yellowtail. If you don't have big gold statement earrings, a gold hoop would also work.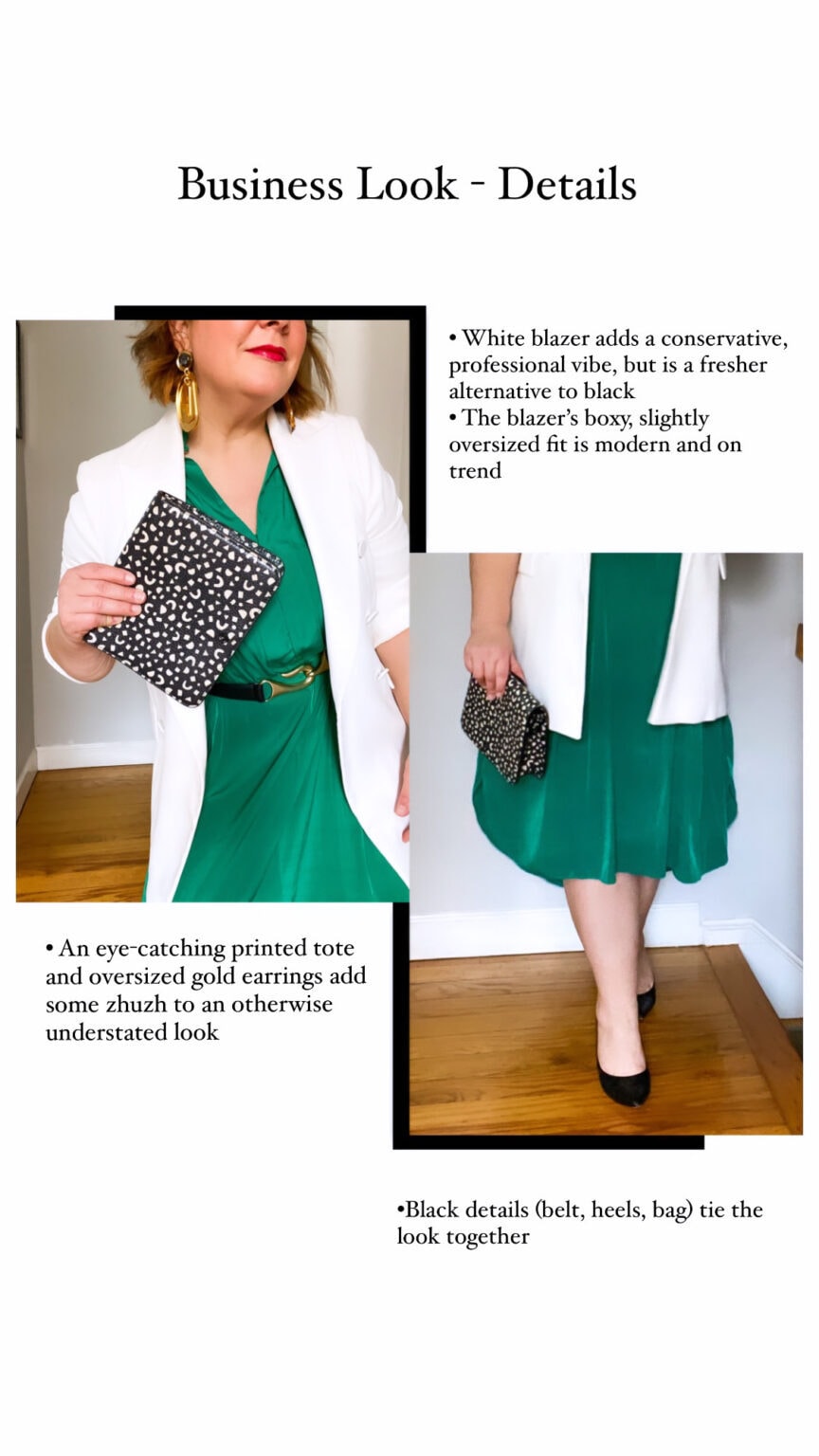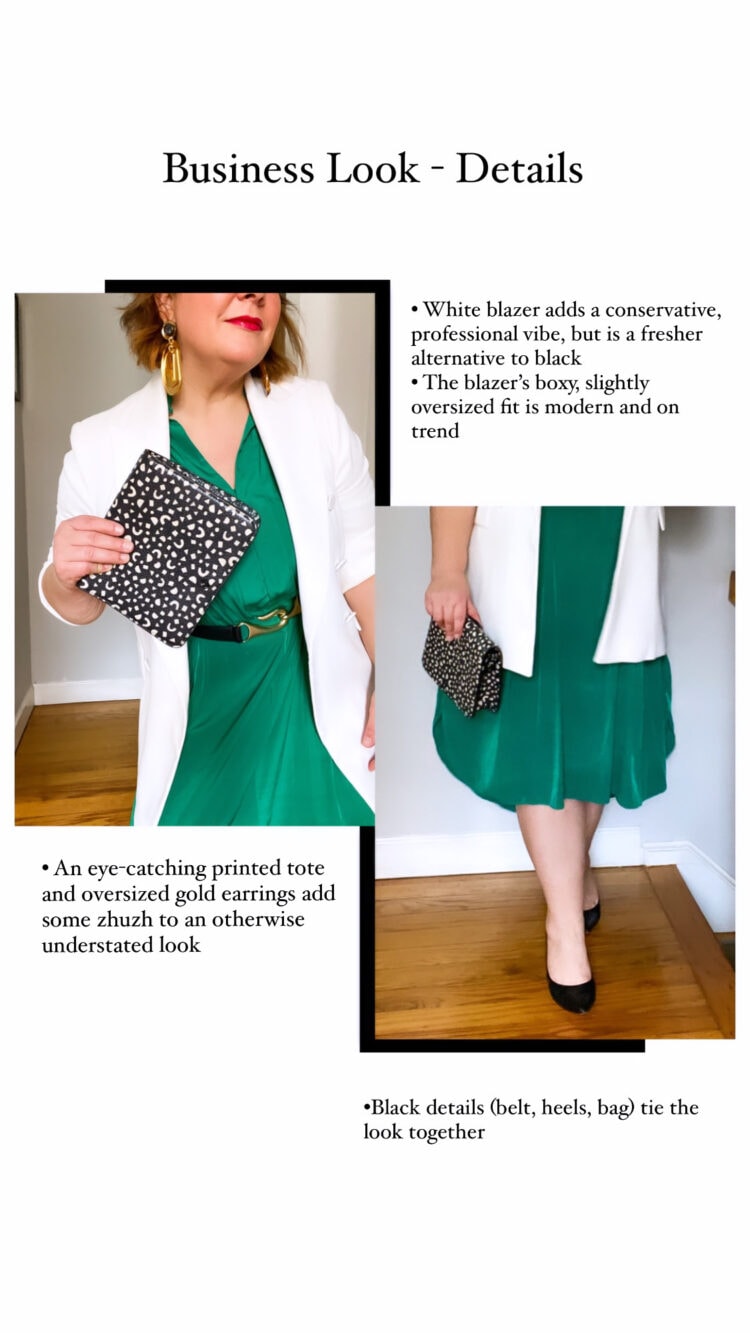 Sylvia recommended a red lip, and then for a bag we went through my selection and she chose this black and white graphic leather bag from Dagne Dover (a limited edition, no longer available though they still have the clutch in this print). The bag came with a shoulder strap and a wrist strap; we removed both to carry it like a clutch. I again wouldn't have picked this bag, but the black and white print really tied the whole look together to give a creative office vibe.
How to Style the ever by X Dress for Vacation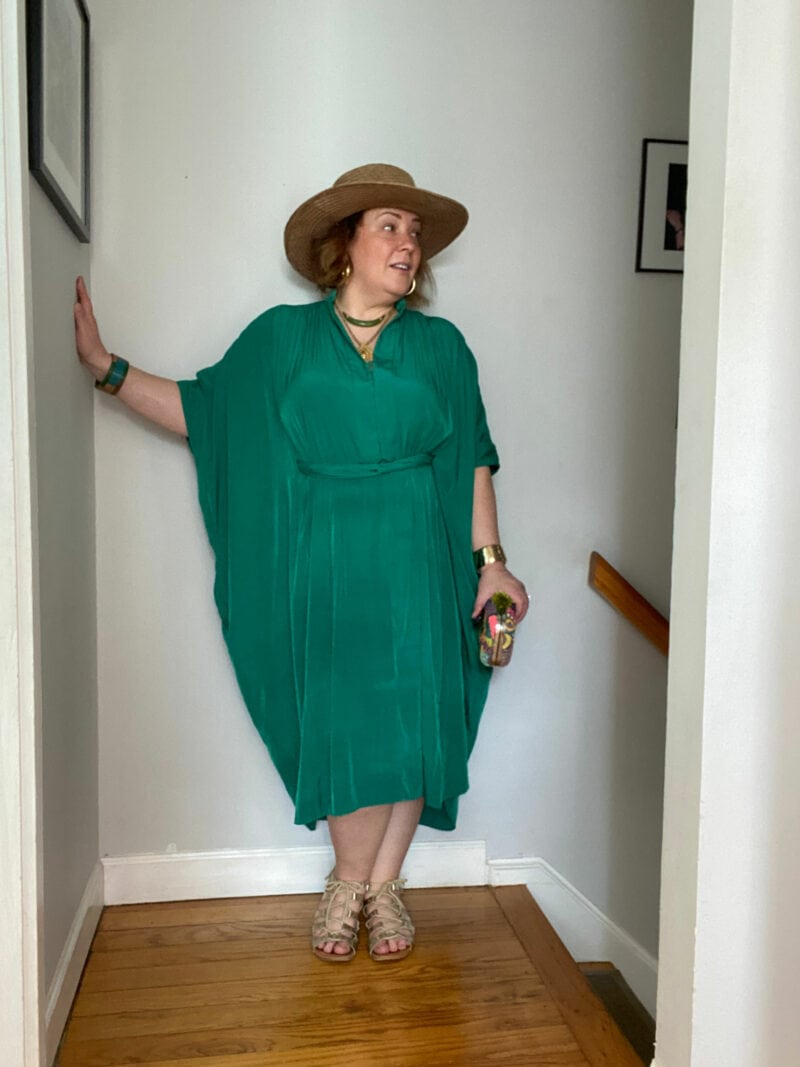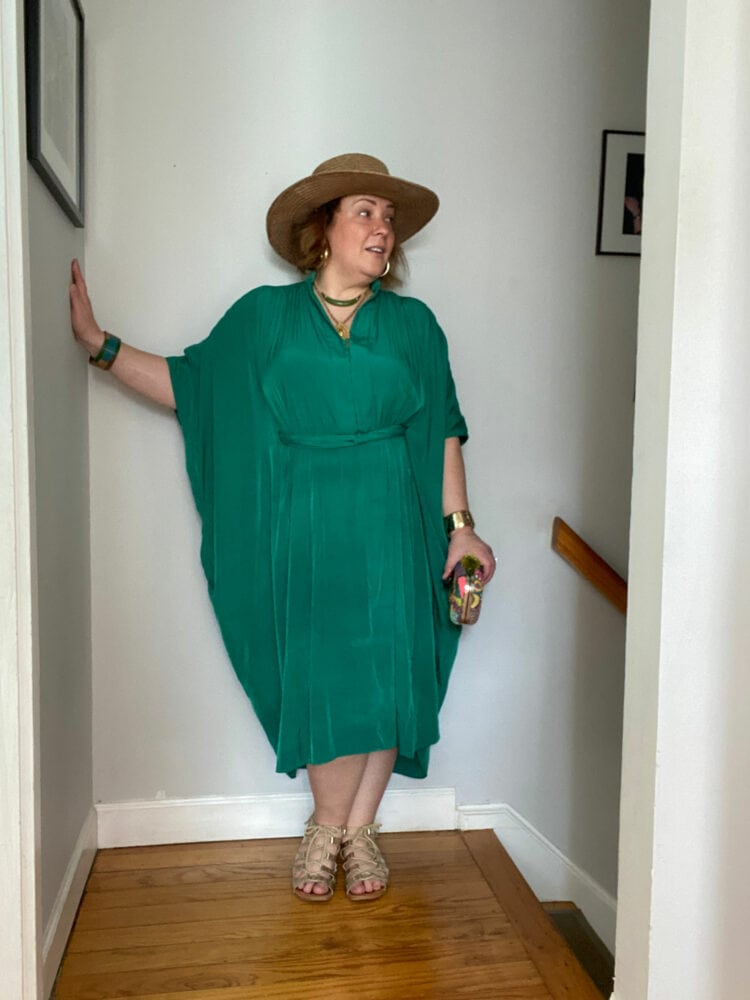 I have taken an ever by X dress on vacation and now won't travel without it. Wearing it without the belt like a caftan is an obvious choice, but Sylvia wanted to switch it up a bit by doing a cape-life effect. We did this by putting the self belt around my waist under the dress, having the ends come out the slits in the front, twisting the straps in front and then feeding them back through the slits to tie them behind my waist under the dress. Sounds complicated, but if you own the dress, it's actually quite easy and comfortable. You can also achieve this look with a skinny belt that will fit through the slits; have the belt against your body and feed through the slits, clasp in front over the dress and adjust the fabric.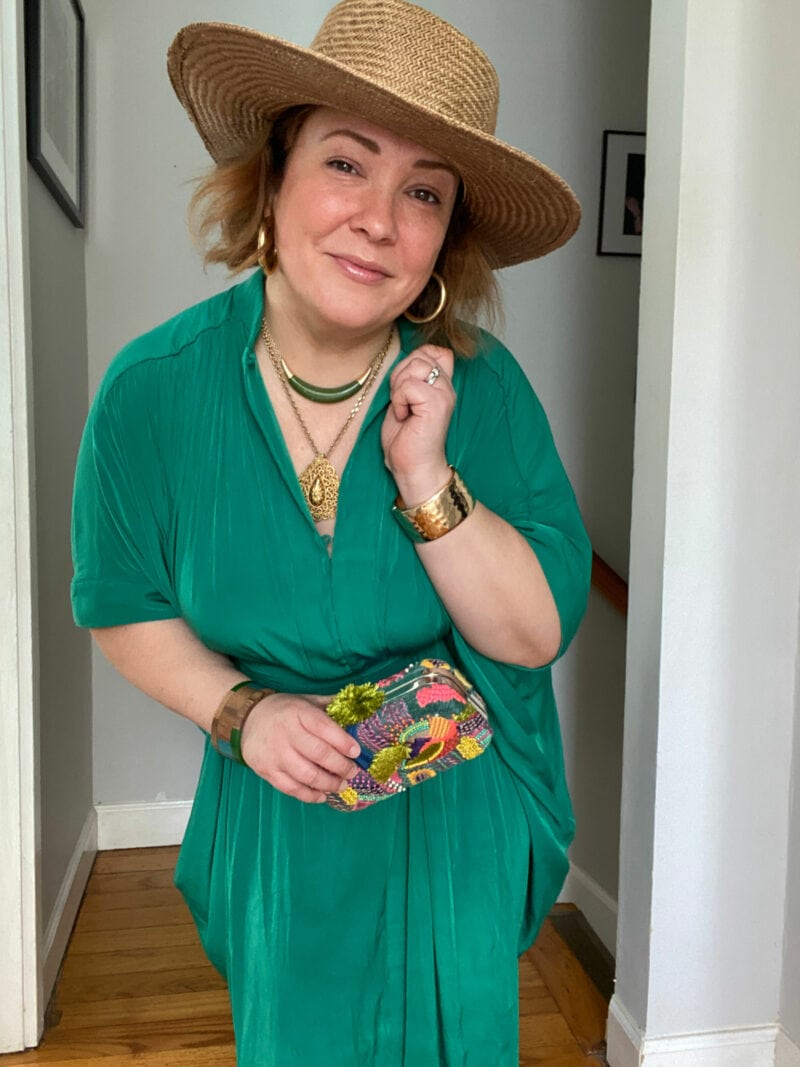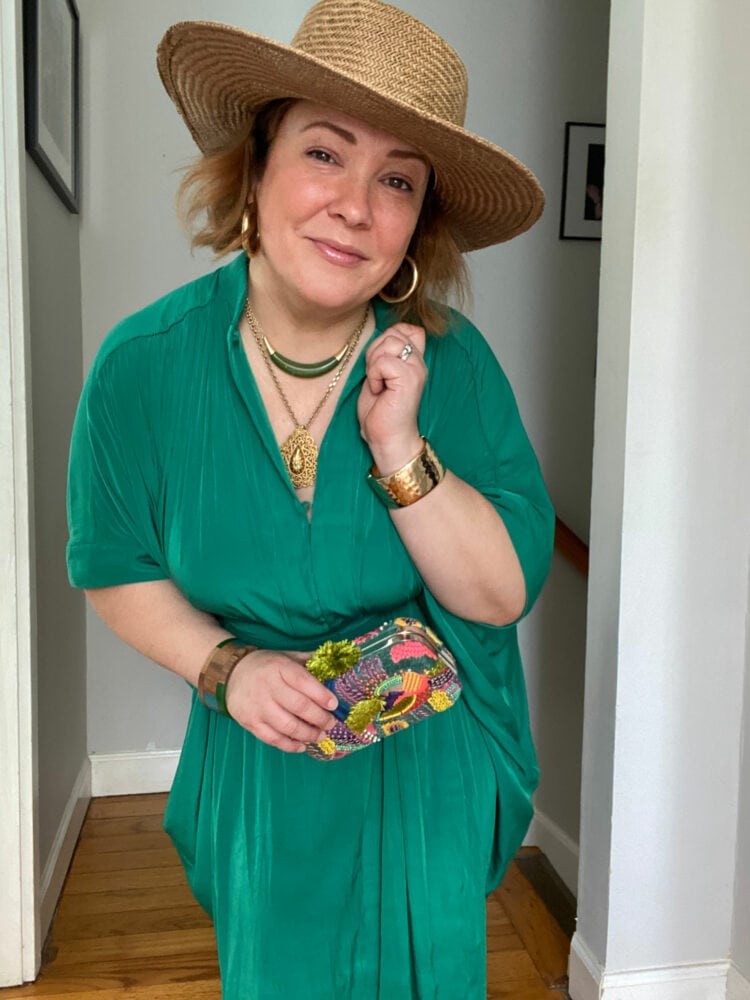 Sylvia wanted the look of lots of different necklaces and we layered a bunch of my gold and beaded necklaces but with my bust they all just fell to the center and didn't achieve what she hoped for. She then suggested unbuttoning two of the dress buttons to elongate and open the neckline and take two necklaces and shorten them so they layered, filling in the neckline. I shortened these two necklaces by placing a gold safety pin through the chains and then letting the excess necklace hang down my back. Again, this is something I wouldn't consider on my own but loved the result.
The gold and green necklace is cabi (very old); the gold necklace is vintage and I found similar on Etsy:
We played a bit with bracelets, Sylvia loved the gold cuff (Chico's from this fall) but wanted something on the other wrist as well. I pulled out this wood and acetate bangle (also Chico's from a year ago) and it had the same green as the dress. She asked me to put it on my other wrist and we both were surprised by how much we loved the mismatched bangle effect. I myself would never choose such a combo but don't be surprised if you see me rock it again!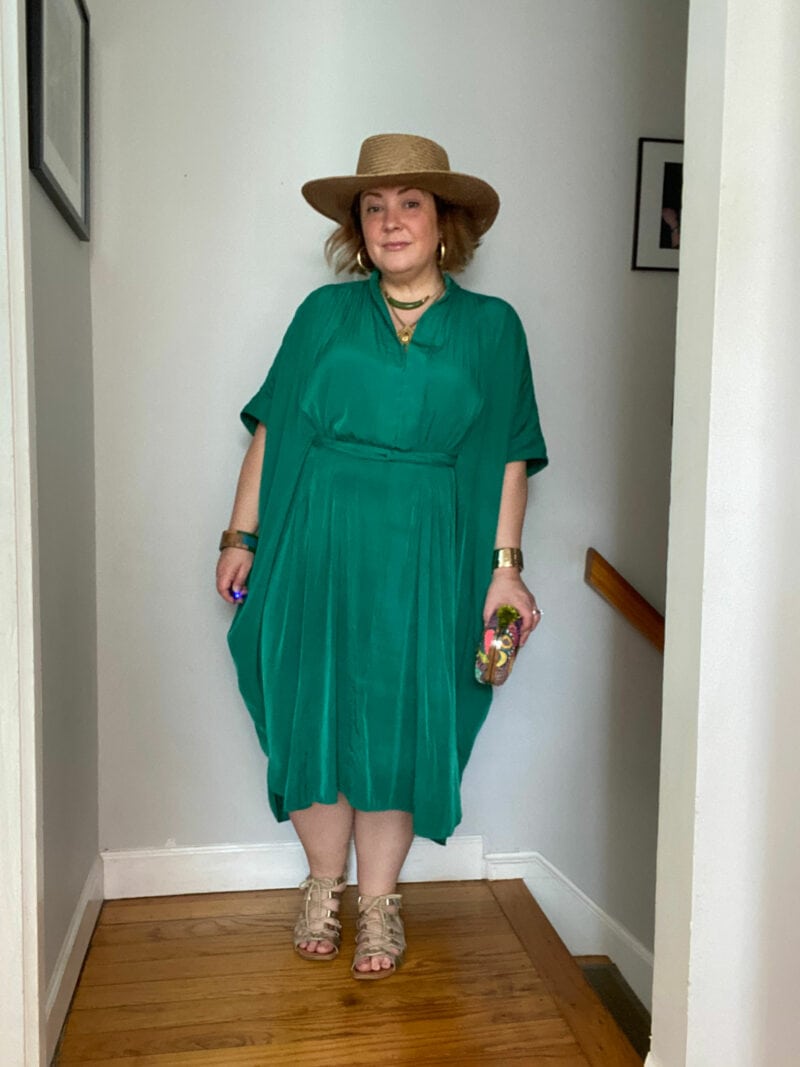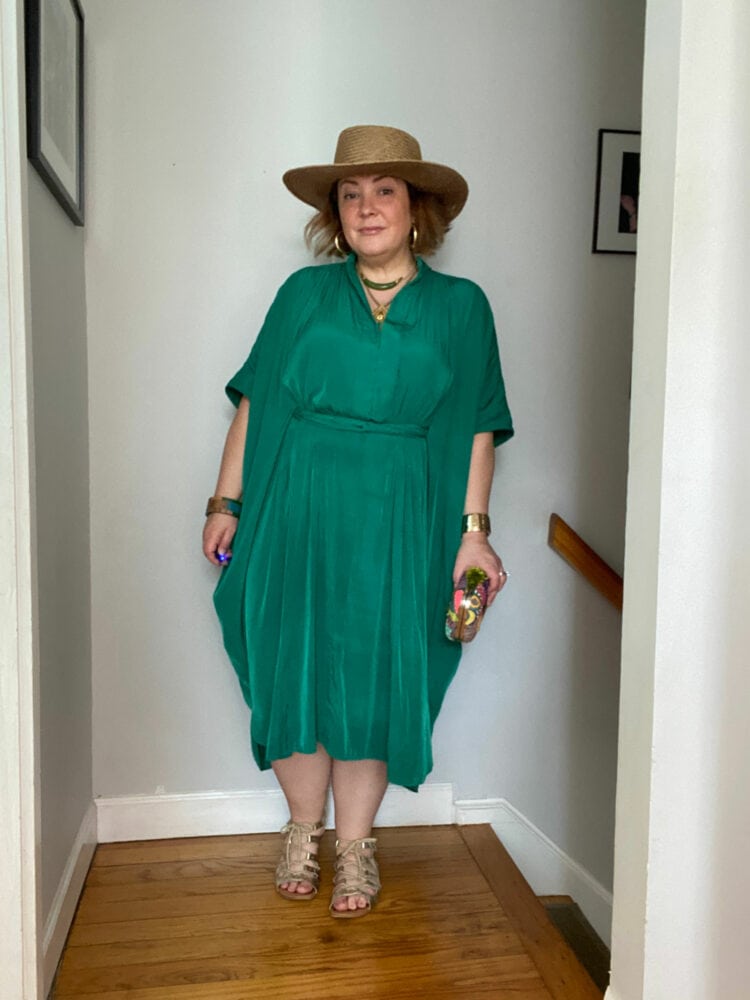 We tried a few scarves on my head, but it was looking like a hybrid between Little Edie and Little Steven so we checked out my straw hat selection. My big floppy hat was the wrong proportion, the fedora too proper, but this hat from Lack of Colour that I wore daily this summer at Fire Island, tipped a bit to the side, was perfect.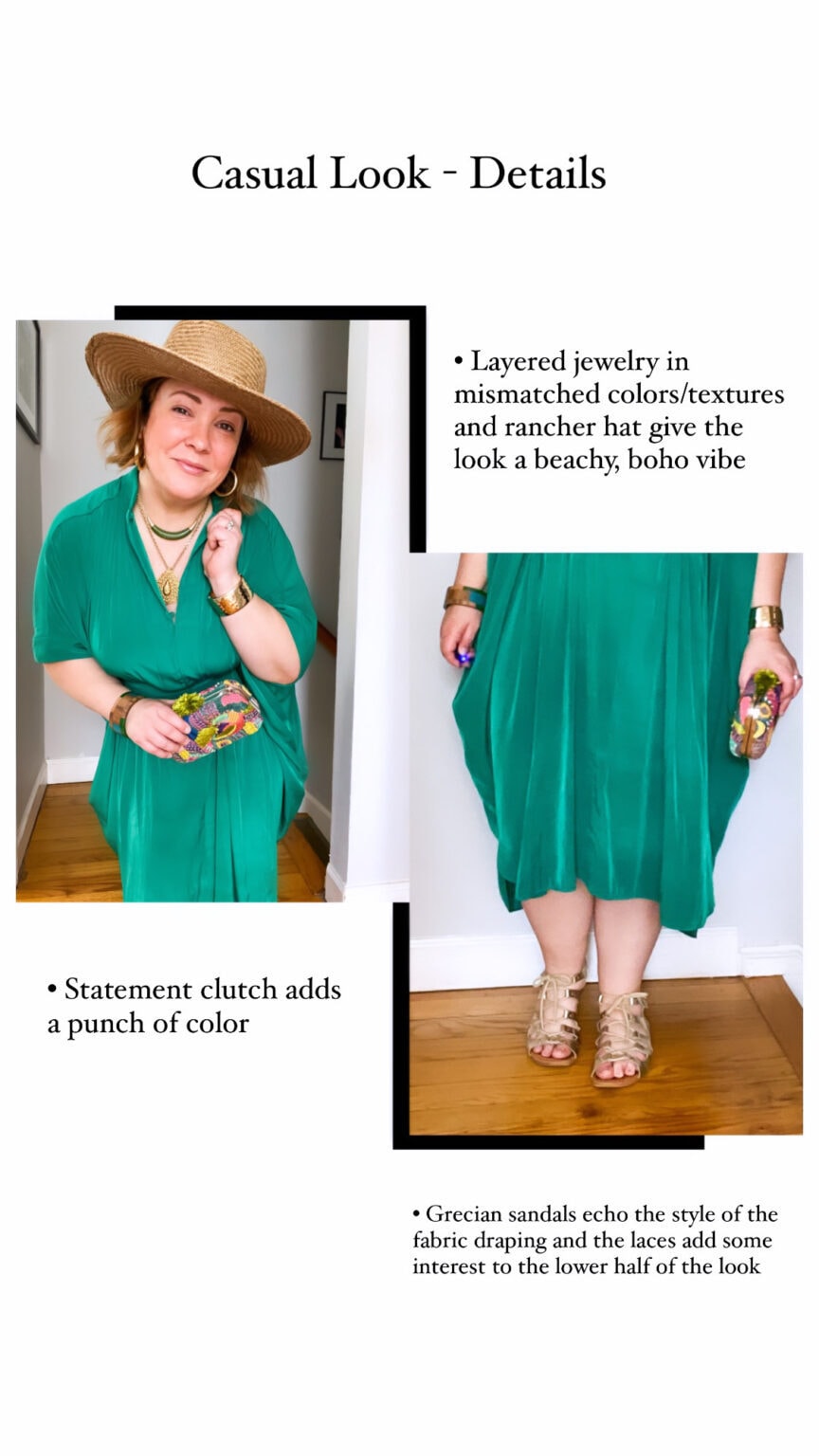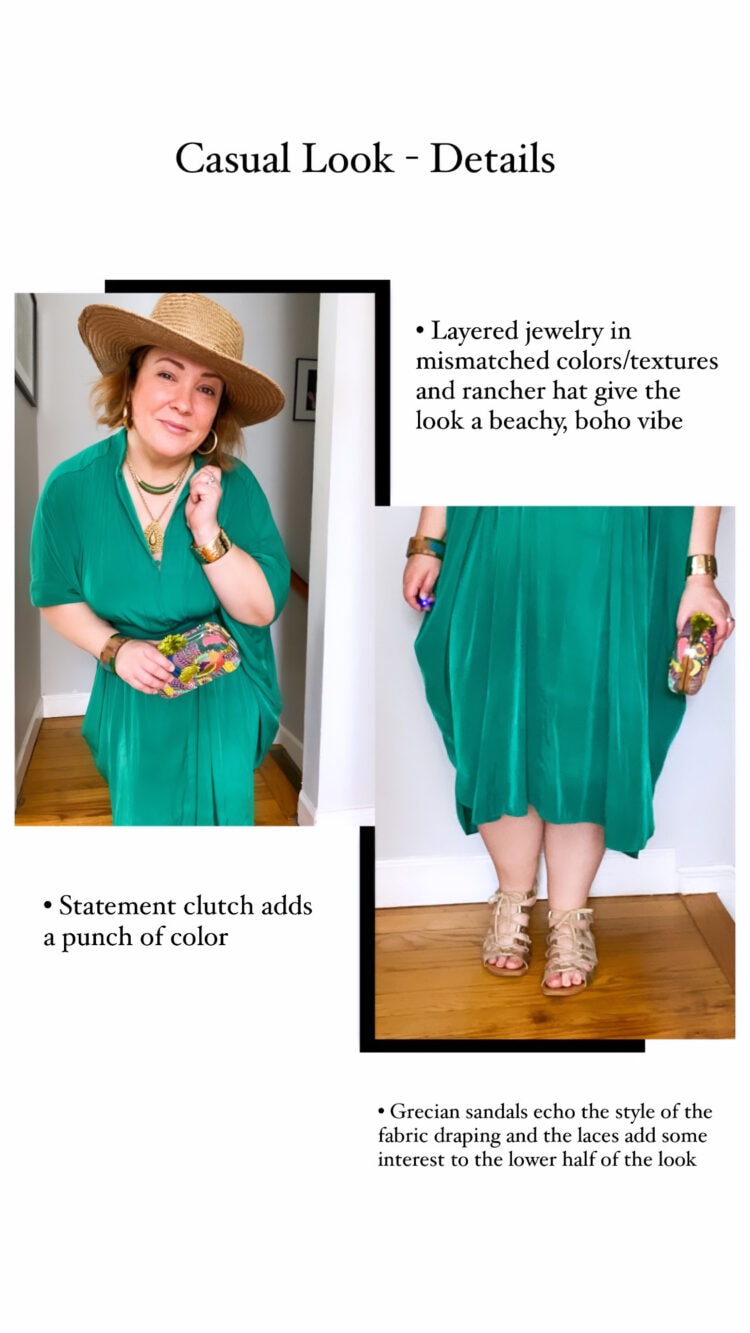 This bag is also Zara, it's pretty old (in fact my phone doesn't fit in it any more). I don't know I haven't shopped Zara in years and have rarely kept anything I ordered yet almost every Zara purchase is in one post (the only other thing is the earrings in this post). My summer shoe selection is limited; Sylvia went with my flat gold gladiator sandals that are neutral enough to let the outfit take the spotlight. Makeup was just brows and bronzer to give a summer holiday effect.
Working with a Virtual Personal Stylist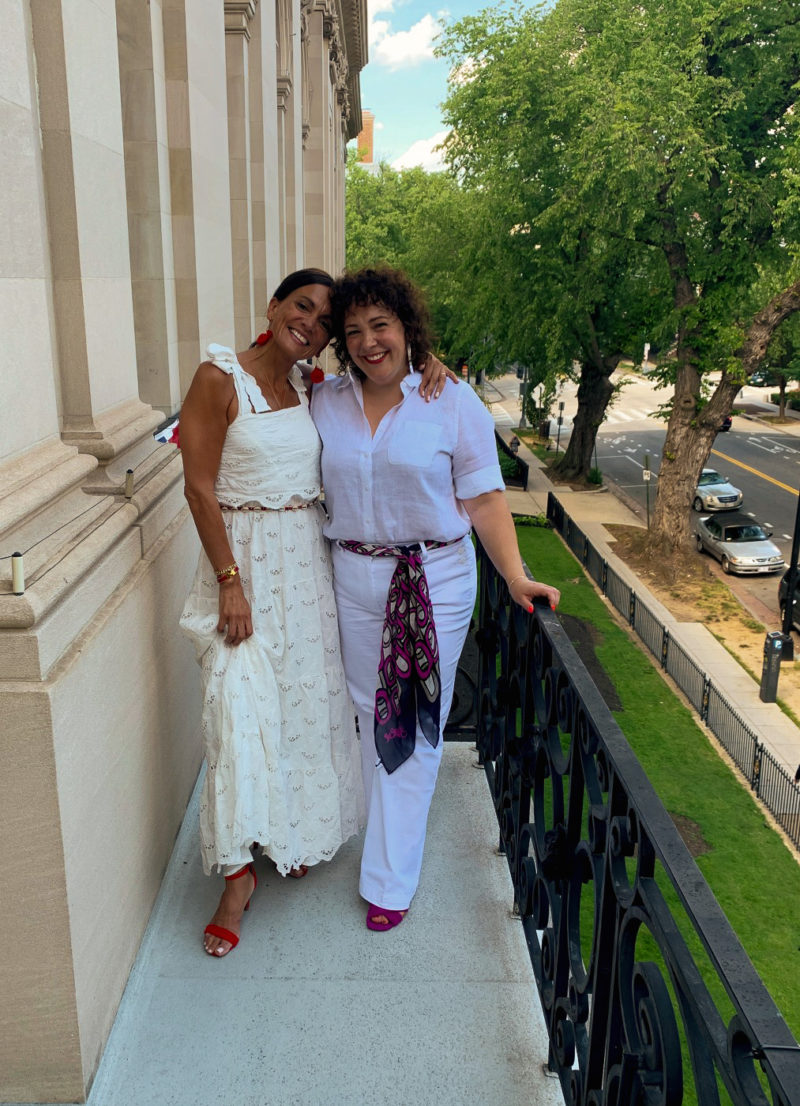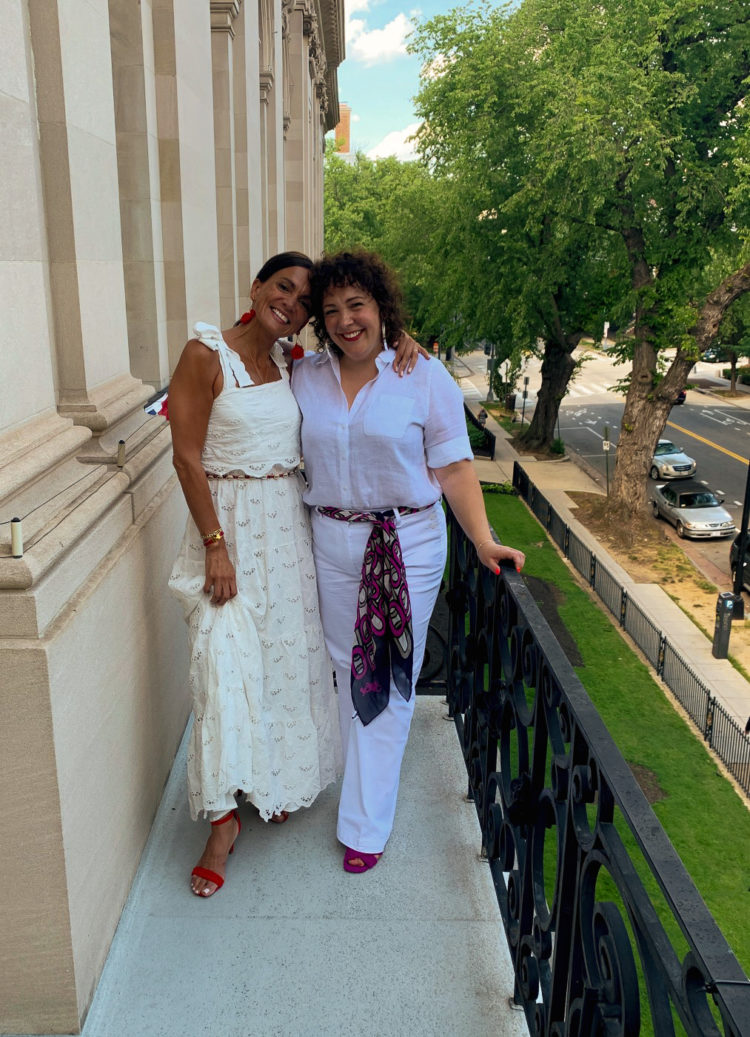 While I have been friends with Sylvia for many years, we have traveled together, and I have been to her house, she has yet to come to my house. I didn't plan for this, so my closet and bedroom were not as tidy as they would be if I were having guests. But she didn't care, she wasn't there to judge my home but help create outfits.
For the first look, we did it with me holding my phone while we FaceTimed, and then I'd occasionally prop it up on a shelf to show items. I then took the look with me to the office to shoot there. We then decided to create two more looks. Those were done in more of a traditional virtual personal stylist manner.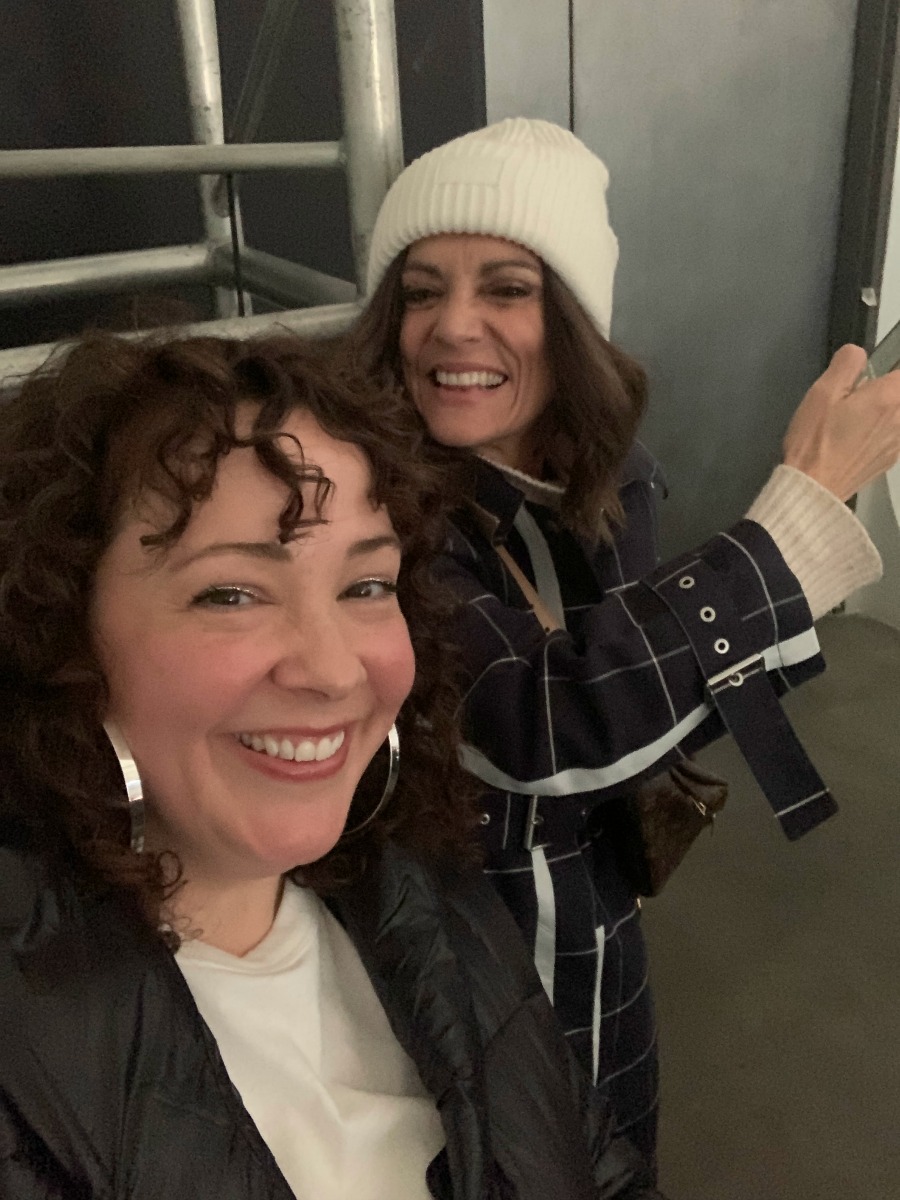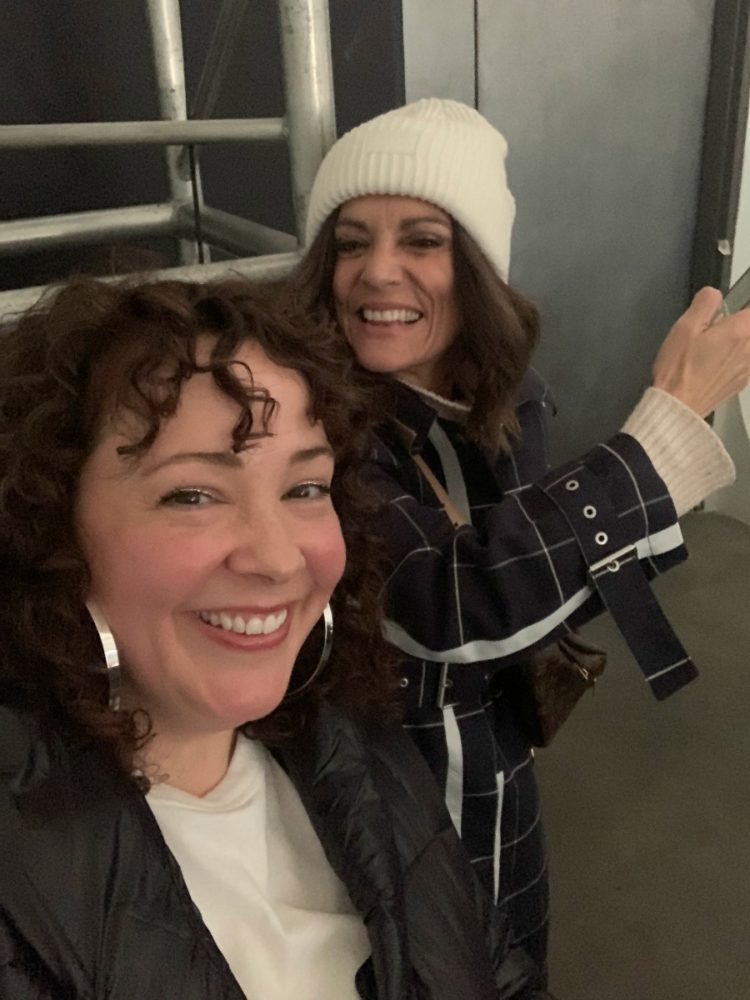 I have a PopSocket phone case, and a PopSocket holder affixed to my makeup mirror (good for filming my makeup for IG) and did that in selfie mode so I could stand back and Sylvia could see my head to toe look, but also be able to get close to show detail. Having a tripod would also work; I have two of this tripod and even sent one as a gift to my daughter's piano teacher because it packs up small but is so functional and sturdy.
This was a fun activity that helped me see my closet with fresh eyes. We tried a lot of pieces that had been collecting dust over the past two years and it helped me shop my closet for future outfits and situations. These three looks I wouldn't have put together on my own but I really like them and just having a collaborative creative session like this energized me!
Sylvia Colella can be found at her blog Simply Sylvia, but she's most often on Instagram at @sylviacolella. I hope my friend rocks her assignment for class, and look forward to seeing how she does as a personal stylist!