This article may contain affiliate links; if you click on a shopping link and make a purchase I may receive a commission. As an Amazon Associate, I earn from qualifying purchases.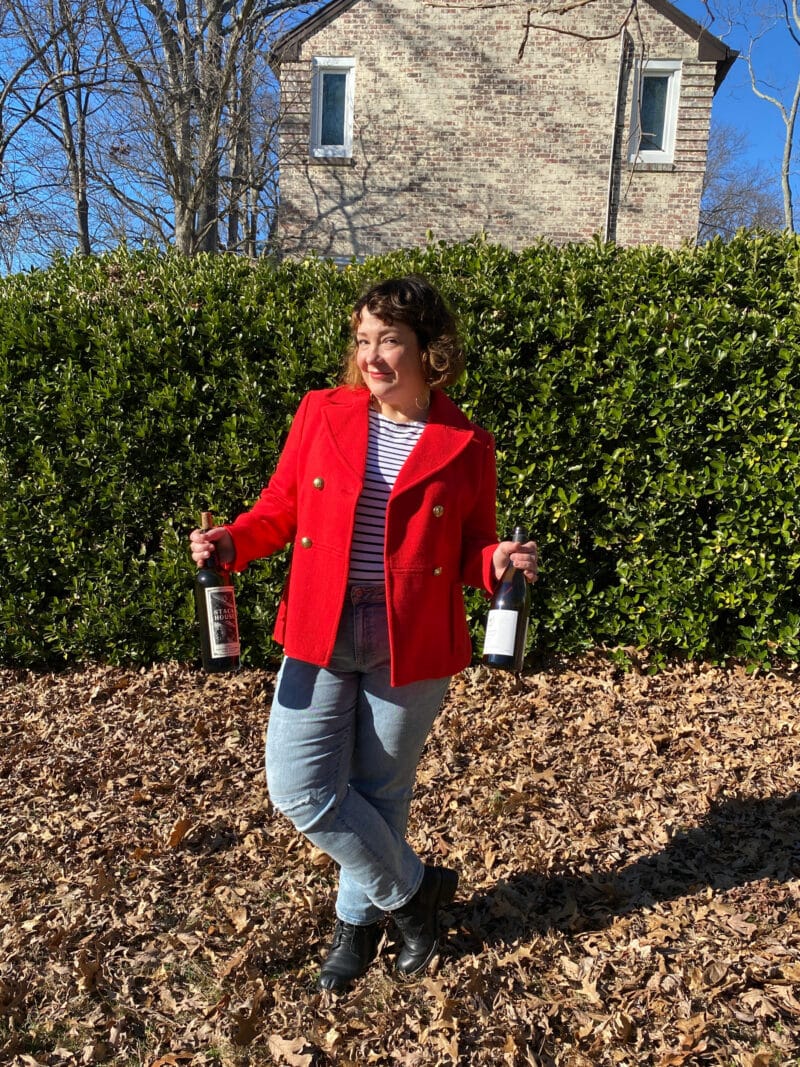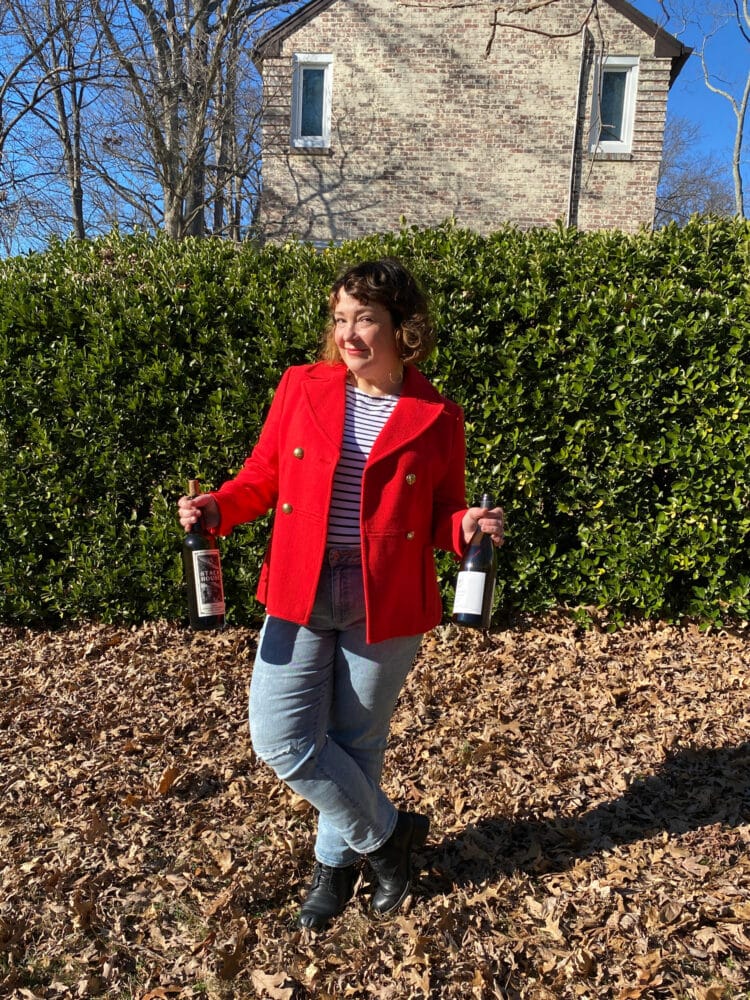 Anyone who has read Wardrobe Oxygen for a period of time or has followed me on Instagram knows that I love a Breton striped top. I regularly recommend them in my capsule wardrobes as they are easily found at most every price and size and mix and match so beautifully. I often have posts discussing my favorite Breton shirt of the moment and I enjoy wearing Breton tops because they elevate wardrobe basics. Jeans and t-shirt: ho-hum. Jeans and Breton: classic yet fun!
Because I wear Breton tops so often, I end up purchasing them often. I try to baby them, washing them on the gentle cycle and line drying them but I am not the only person who does laundry in the house. My other family members occasionally mistake my darling Bretons for a run-of-the-mill t-shirt and it ends up going through the wash and dryer with a load of other knits.
If you want to know if your dryer will truly affect the condition of your clothes, ask my Breton collection which over this fall and winter has come to look quite worse for wear… except for one. And it's the most unexpected shirt in the collection to survive a distracted teen's or a doing his best spouse's laundry day.
This is My Favorite Breton Shirt… and it's Less Than $25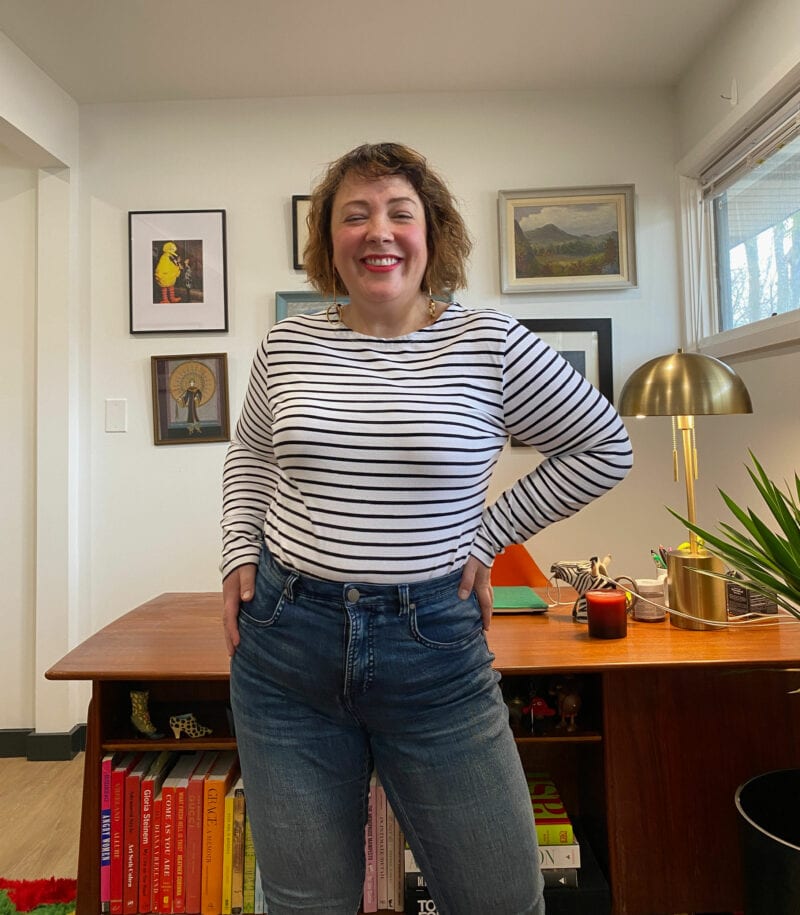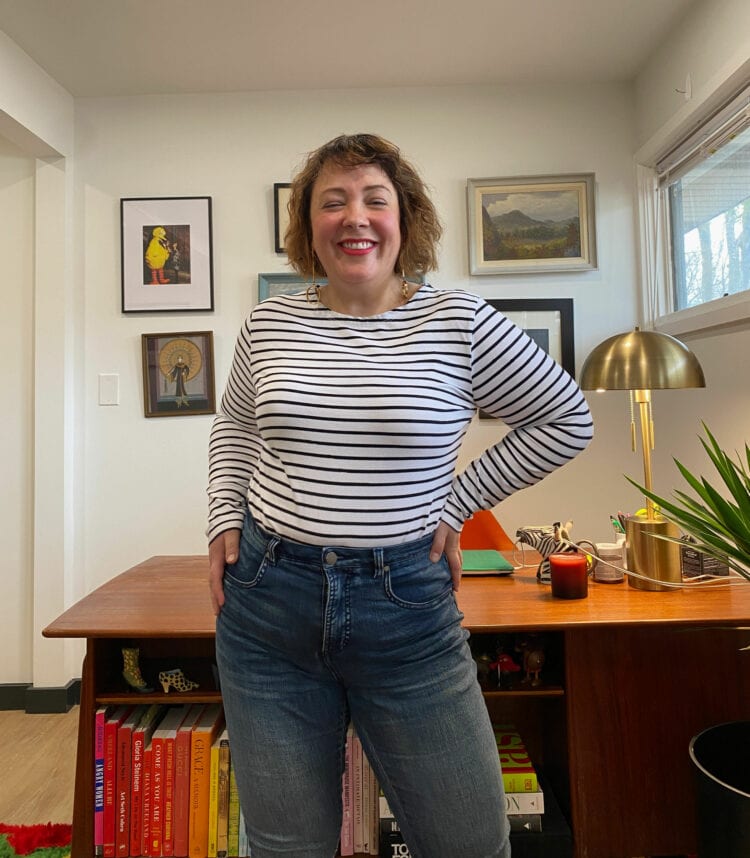 After a Wardrobe Oxygen reader recommended this Breton striped shirt on Amazon, I ordered one "for science." I actually ordered two, a Large and an XL to compare them and see which fit my busty size 14 body the best. I expected to return both, thinking they would be weird typical Amazon fast fashion. Shiny or see-through or sleeves too tight or… something.
I tried the XL first, and didn't even remove the Large from the plastic casing because the XL was perfect. Like really perfect. The white was bright, the black stripes were the perfect width and distance from each other. The neckline wasn't too high nor was it so wide my bra strap peeked out. It was long enough to tuck in and blouse out, and while the sleeves were a bit long on me, that is pretty expected being 5'3″.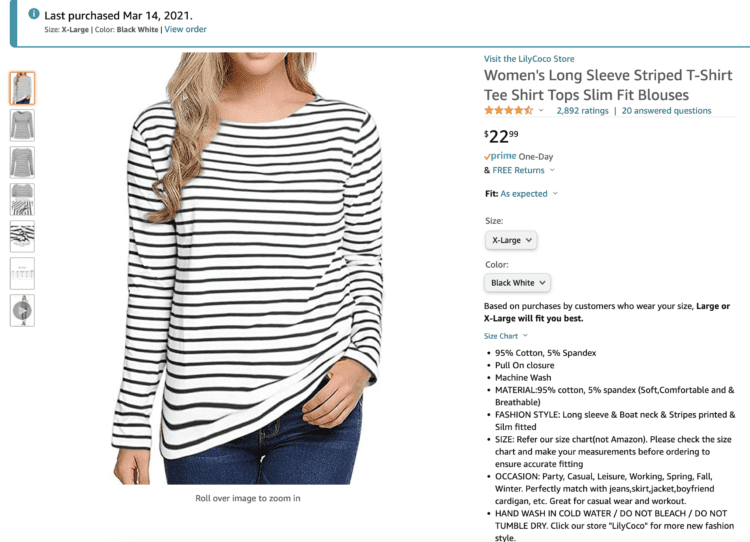 This Breton's shirt's quality and style rivaled my Boden Long Sleeve Breton. In fact, in my drawer I often would mistake the two if the light wasn't bright enough to distinguish Boden's navy stripes from this one's black stripes. But what really made this shirt shine was this past fall and winter of family doing laundry and using the dryer. A lot.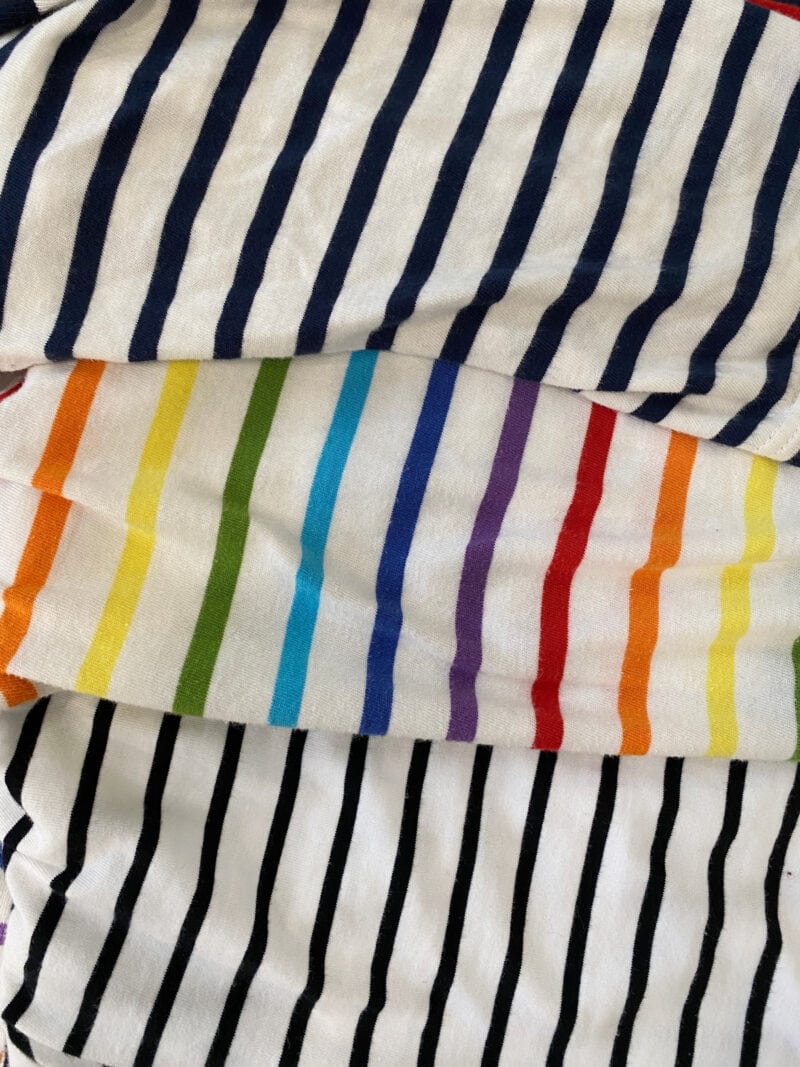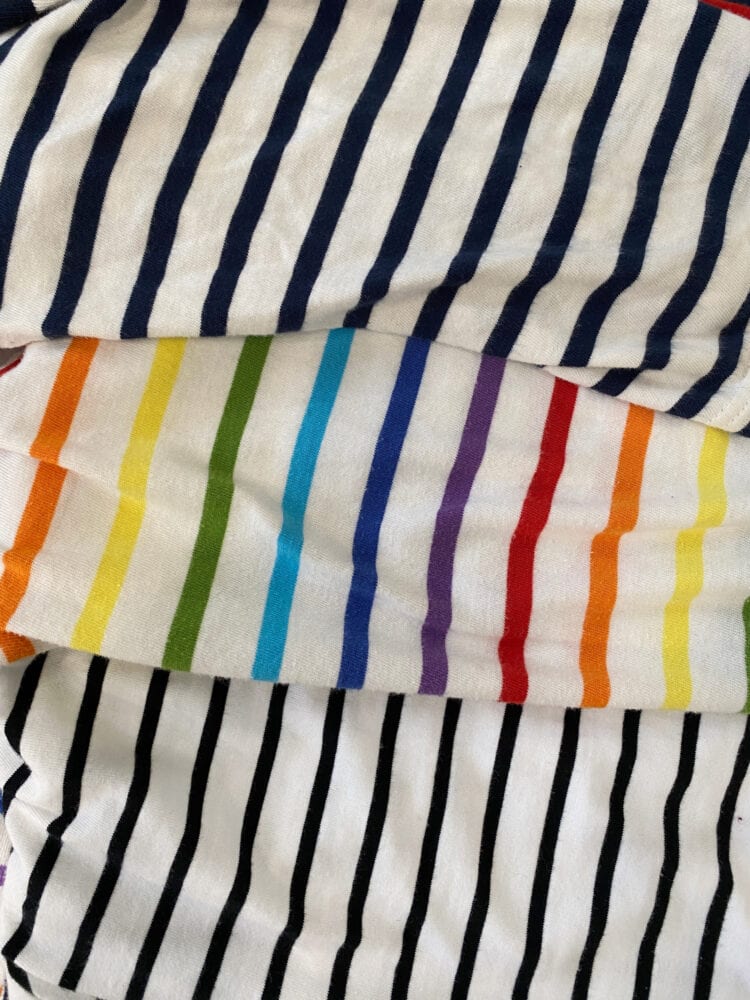 And this $22.99 Breton from Amazon? It held up far better than any of my other t-shirt weight Breton tops. It has been in the washer and dryer, it even went through with a load of denim and without any fancy laundry boosters, the white is still white, the navy stripes still crisp, the finish of the knit still smooth enough to wear out for brunch with a blazer.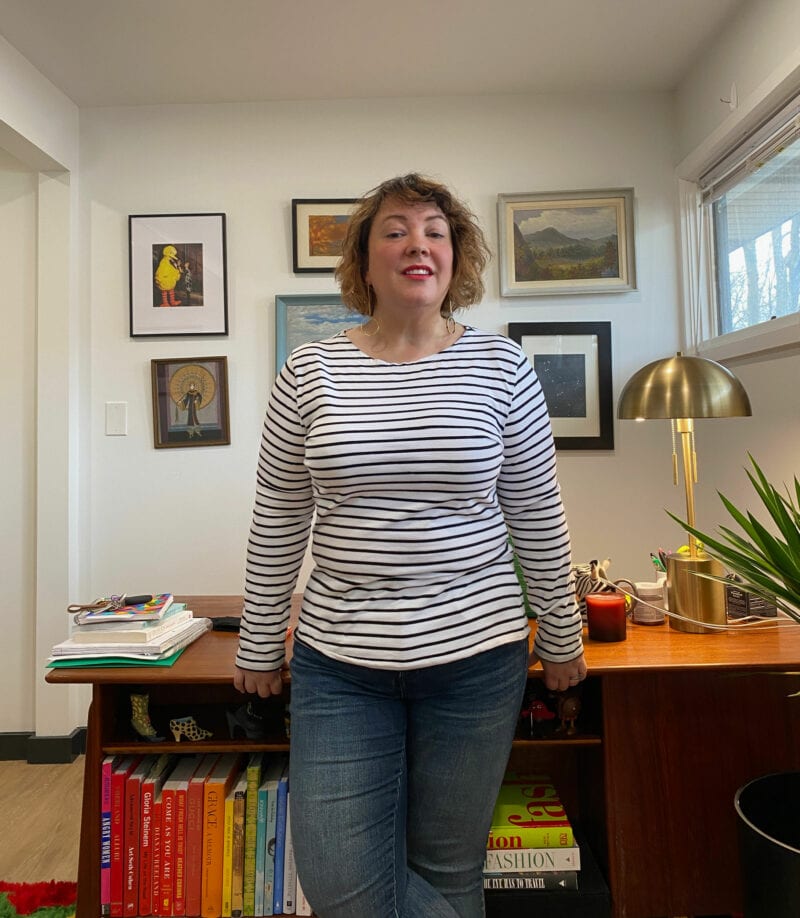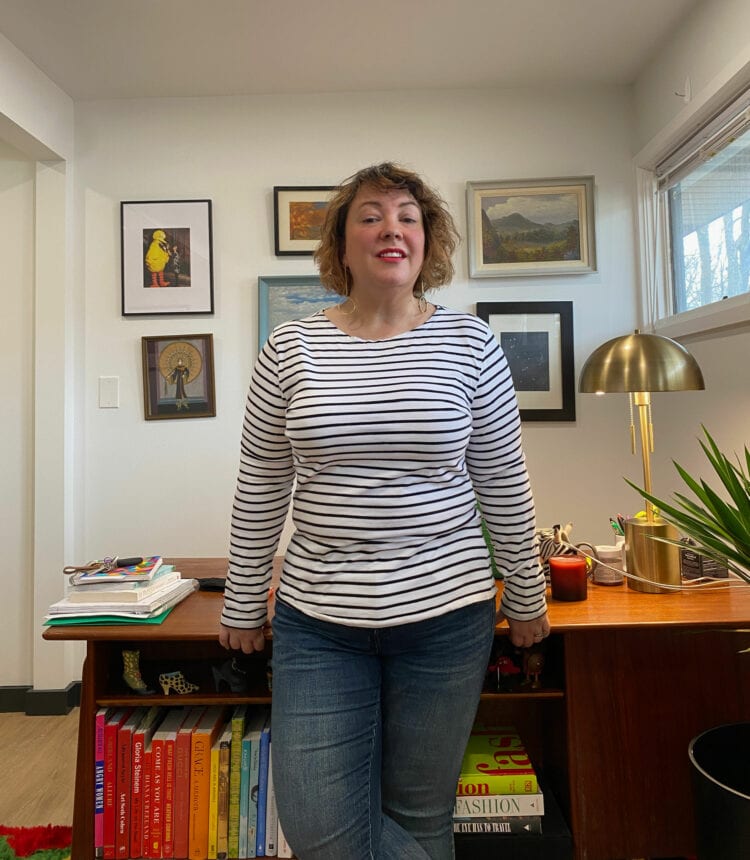 In contrast, last month when cleaning out my closet, I ended up taking my beloved white with navy Saint James Breton and putting it in the donate pile. I was grateful when my daughter snagged it for her closet. It was laundered far less than this Amazon one because two trips in the dryer pretty much ended its everyday life. The third trip was the death of it, shrinking it and leaving it so grungy it was only good for wearing at home but too snug for casual comfort.
I regularly say to shop for quality not quantity, but also know that a higher price doesn't equal better quality. And this striped top from Amazon, which comes in dozens of different colors in sizes XS-XXL, is surprisingly great quality for a low price. Thank you to the reader who originally recommended it, and dozens of you who have reached out saying you too love it after my quick mentions on Instagram Stories and in recap posts on Wardrobe Oxygen. This top is so good, it deserved its own post!
Other Breton Tops Currently In my Wardrobe: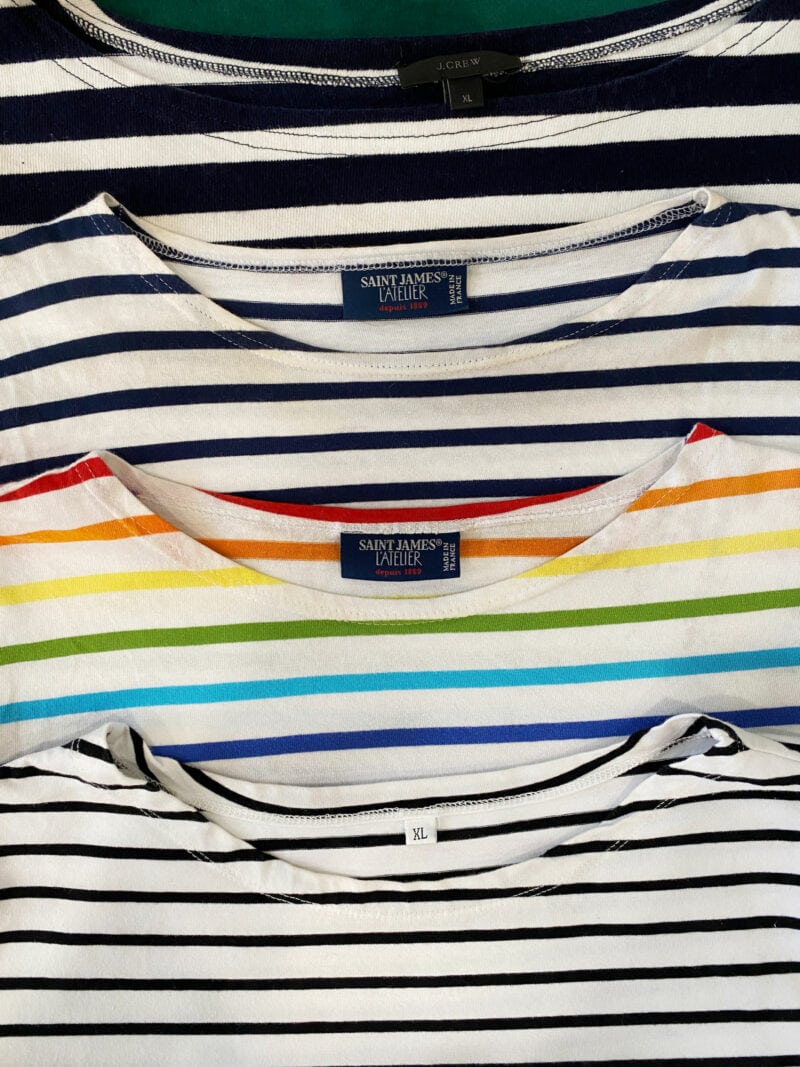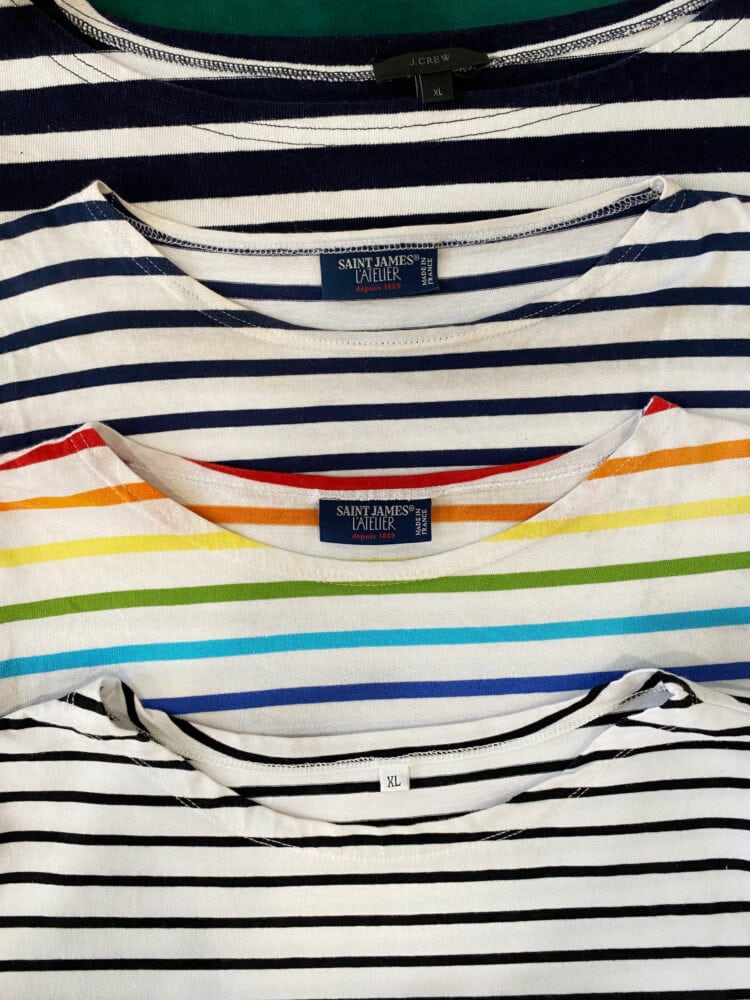 Do know this isn't the only Breton striped top currently in my wardrobe. I am on the hunt for some variety, but I also have:
This one from J. Crew but it's navy with white stripes, not white with navy. This is a heavyweight Breton, not like a t-shirt. This must be 3-4 years old but I go through stages where I love it, and then I don't, and lately I've been wearing it again.
This one from Saint James. I think because it was bought a size too large and has always been a casual pullover, it doesn't look as grungy after going through the dryer a few times. In fact, I am wearing it as I write this!
This one from Boden. I have it with the navy stripes, but honestly once it kicks the bucket I'll replace it with a navy one from Amazon.