This article may contain affiliate links; if you click on a shopping link and make a purchase I may receive a commission. As an Amazon Associate, I earn from qualifying purchases.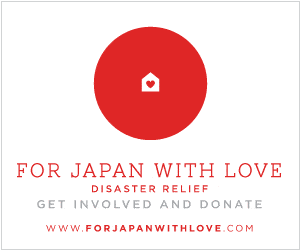 As many of you know, a very large percentage of bloggers have chosen to go silent today, participating in For Japan With Love, created by the owners of the blogs ever ours and Utterly Engaged.
This is an amazing act by these two bloggers, and those who have participated – a selfless act that has at the time of this post raised over $38,000 for Shelter Box USA, a group that provides emergency shelter and lifesaving supplies for families around the world who are affected by disasters at the time when they need it the most. Each large green ShelterBox is tailored to a specific disaster but typically contains a disaster relief tent for an extended family, blankets, water storage and purification equipment, cooking utensils, a stove, a basic tool kit, a children's activity pack and other vital items. A whole box costs $1,000 which means that by the end of today, I bet this event will give at least 50 families what they need to survive after this horrible tragedy in Japan.
I think For Japan With Love is a wonderful act and I am so glad that Shelter Box has received so many donations. It is so amazing to see the huge heart, the power, and the love within the blogging community, and how bloggers have rallied together to support such a noble cause. However I have chosen to NOT go silent on my blog.
Last Friday, I woke to hear the horrific news of the earthquake and tsunami. I raced to Twitter, knowing I could find the most up-to-date information on the tragedy and was disgusted to see my blog feed choked with tweets about runway collections, what pants to wear with flatforms, and how to rock nautical stripes. I chose to not tweet about anything not event-related that morning because I felt it was in poor form. It reminded me of when 9/11 happened.
On September 11, 2001 I was working as the visual merchandiser for the Express in Annapolis Mall. Our music system broke the day prior so we were making do with a boom box on the sales floor, tuned to a Top 40 station. I was busy prepping the store for 10am when the phone rang – it was my sister. She sounded strange, her voice high-pitched and a bit hysterical. "The Capitol is on fire. DC is on fire," she told me. I didn't understand and told her some of our staff never showed up that morning so I had to help the manager open the store. I hung up and continued with my business. When it was 10am, I turned on that boom box and had a hard time trying to find music. I then heard Tom Brokaw's voice – Tom Brokaw is never on the radio so I stopped to listen and learned about the tragedy.
We made an executive decision to shut the store and go home to be with our loved ones. Our customers had a different idea. I remember getting into a shouting match with a woman who refused to leave, telling me she had a "big date" that night and MUST get a new outfit. I told her I doubted she would be going on that date, tried to tell her what had happened to the Twin Towers and the Pentagon. She brushed me off and said she didn't care, she needed an outfit. I eventually got her out of the store, but not without her asking for my boss' number, claiming that she would "have my job" for "ruining her day."
I have felt this past week that many fellow fashion bloggers were like that woman in Express – aware of what is going on but refusing to dwell on it for fear it will "ruin her day." This week, many brave bloggers have come out writing about what is happening in Japan, some mentioning how other bloggers had their head in the sand and were ignoring what was happening in the world. I considered writing about it many times, but knew I wouldn't be as eloquent as they, and also worried that my post would look as though I was trying to make money/gain traffic from the tragedy. Instead, I retweeted the amazing posts, I donated to Red Cross, Doctors Without Borders, and Shelter Box my month's income from the blog, and I prayed.
After some popular bloggers mentioned this "head in the sand" mentality of their peers, many bloggers started writing about Japan. Some wrote because it was the right time for them to voice their feelings, some wrote in defense. And some wrote because they saw it as an opportunity to improve their Klout score.
One of the many reasons I have chosen to not participate today is because I feel that some bloggers are doing it just for the "cool kids are doing it" factor. I see bloggers who completely ignored Tweets about the tsunami last Friday, now going silent today (but not silent on Twitter and Facebook). I see them posting about For Japan With Love, but using it as a way to promote their Twitter and Facebook pages.
I feel that this wonderful blogger event has become a Livestrong bracelet – my husband had testicular cancer at the time those bracelets came out; our friends, family and I all wore one in solidarity. Next thing you knew, it became a weird fashion piece with folks not even understanding the reason behind it.
That doesn't mean all bloggers are this way, I know MOST are participating for honest, selfless reasons. I love the community of bloggers and how they will rally together to support an important cause. I support For Japan With Love because I KNOW it was created with LOVE. When I woke this morning to see a very quiet Twitter and a very quiet Google Reader, my heart swelled with pride at being part of such a community of amazing people.
However, I choose not to participate because I feel I would out of peer pressure, not because I feel it is important. What I do feel is important is for people to be aware, people to care, and people to do what they can, on their terms to help those in need. If you can give, please do. If you cannot, well I have seen the power of prayer and positive thoughts; I have seen great change happen from positive people with positive vibes. I ask you to give, I ask you to care in the way that seems most right to you.