This article may contain affiliate links; if you click on a shopping link and make a purchase I may receive a commission. As an Amazon Associate, I earn from qualifying purchases.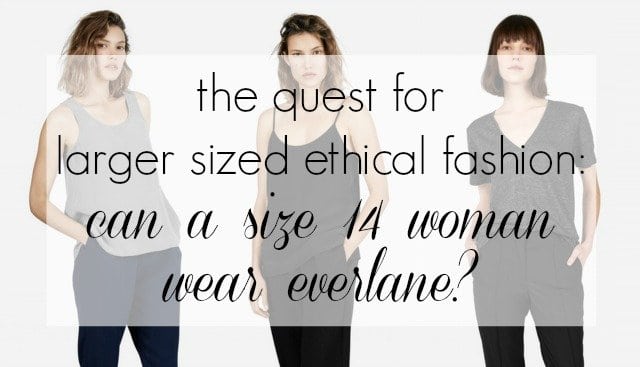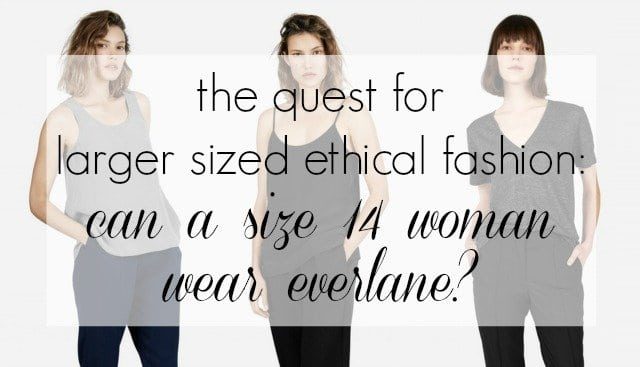 I'm trying to buy not just for the here and now, but the future. I know I am not alone in thinking this may be a temporary size for my body, but I am over holding off on personal style and quality clothing because of it. Let's be real, the last time I was under a size 12 Emerson was only a glimmer in my eye. If I do by chance end up that size again, I'd want some new clothes and would pay to have my closet favorites tailored to fit.
My Honest Thoughts on Everlane Sizing: Can a Size 14 Woman wear Everlane?
I've been hearing about Everlane for a long while. The brand even reached out to me a couple years ago offering to gift me some product from their line. At the time I was recovering from my broken arm and was a very solid 14, in some items a 16. I was trying to heal my body and my spirit from the injury, the last thing I needed was some too-tight clothing to come in the mail and make me feel even more like crap. So I accepted their Twill Weekender (it's a fabulous bag, well crafted, stylish, perfect size for a 2-3 day getaway, see it in this post) and they sent Karl a The Card Case (very nice and he used for a bit but didn't find the style to suit his daily needs).
But as I pare down my wardrobe and choose more quality of pieces, I would prefer these pieces to be made ethically. Again, I came back to Everlane. Everlane offers women's clothing up to a size L; there is no size chart on the site, you are encouraged to email the company directly to ask questions about fit. I found this off-putting. Again I don't believe I am alone in wanting to have a website provide everything I need and not have to wait to make a purchase. A size chart is a pretty standard option on sites, especially if your sizing is by letter instead of by number. But many blogs I follow say much of their collection runs big, so I decided to try a few items. I found most size L items were out of stock, these were the three that I ordered that not only came in a L but also were in colors or silhouettes I would actually wear on a regular basis. The results were not too pretty…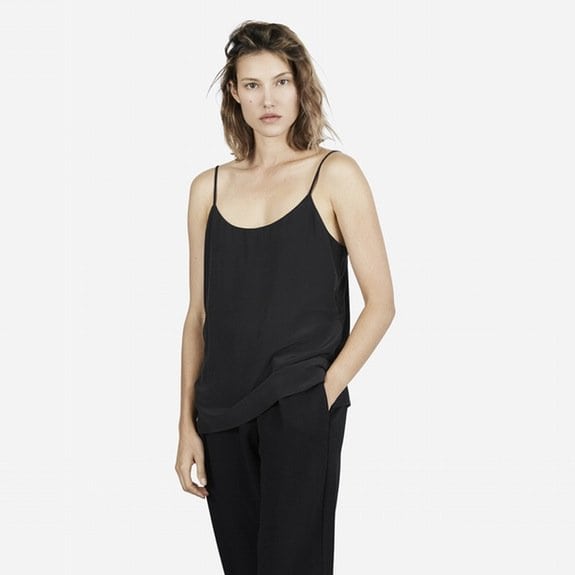 A spaghetti strap camisole in silk is such a great piece to have in your wardrobe. Wear in the summer untucked with a slim pair of jeans or ankle pants for a night out. Slip under a suit jacket. Wear under a dressy pantsuit for a cocktail party. Pair with a denim jacket and leather leggings. The options are endless. This one looked all loose and drapey on the model; I knew it wouldn't end up that drapey on me but figured there'd be enough room in the cut of the cami to fit my boobs and not show the shape of my belly button.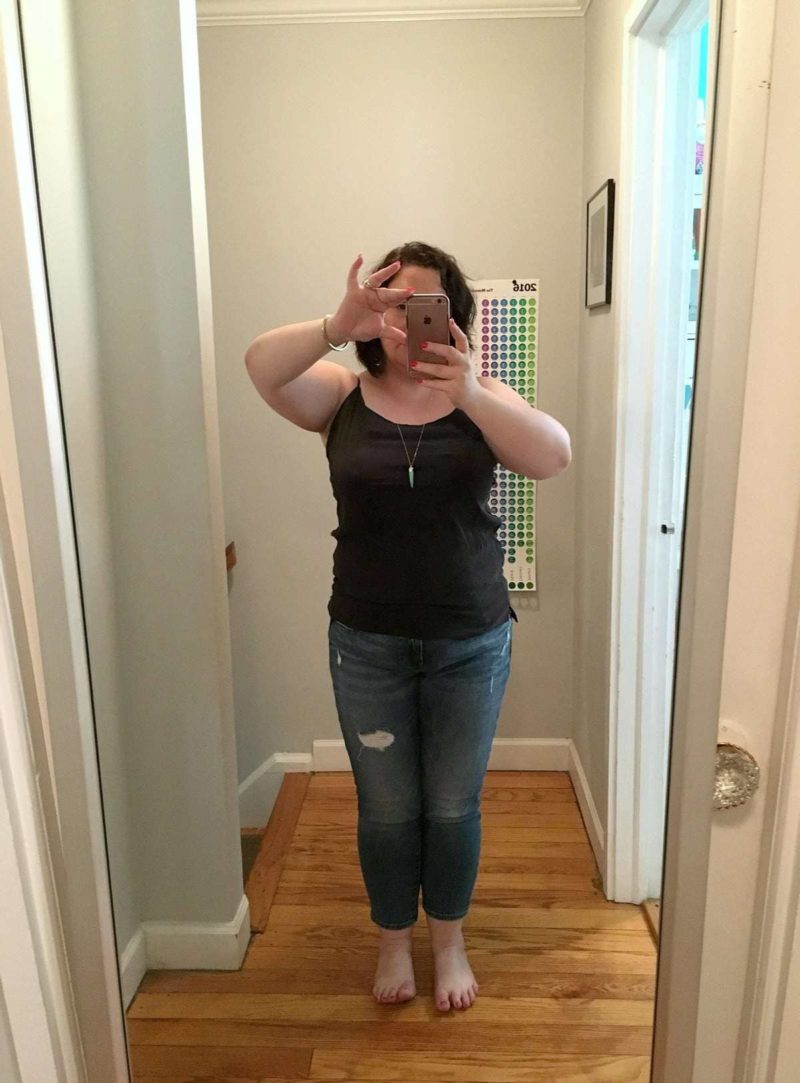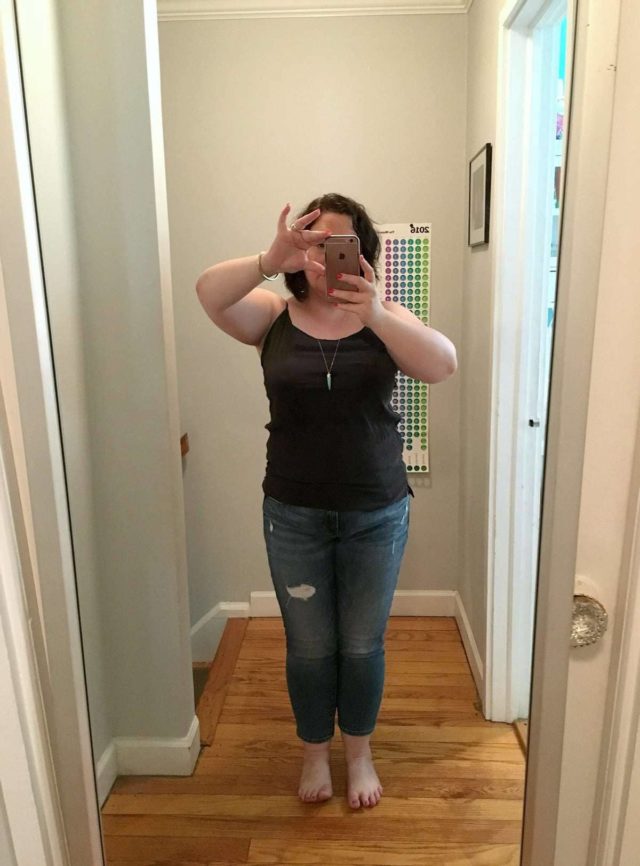 While my breasts do fit in the Everlane Silk Camisole, I think if I tried to shimmy on the dance floor or if it was the week before my period I'd be busting some seams. As it is, I had puckering between the breasts and on the back. With the straps at the adjustment it came with (3" adjusted on each strap), the tank was digging into my armpits. I lowered the straps (something I never do considering I am 5'3" and short waisted I usually shorten straps) and as you can see from the photo, it still sat high and weird.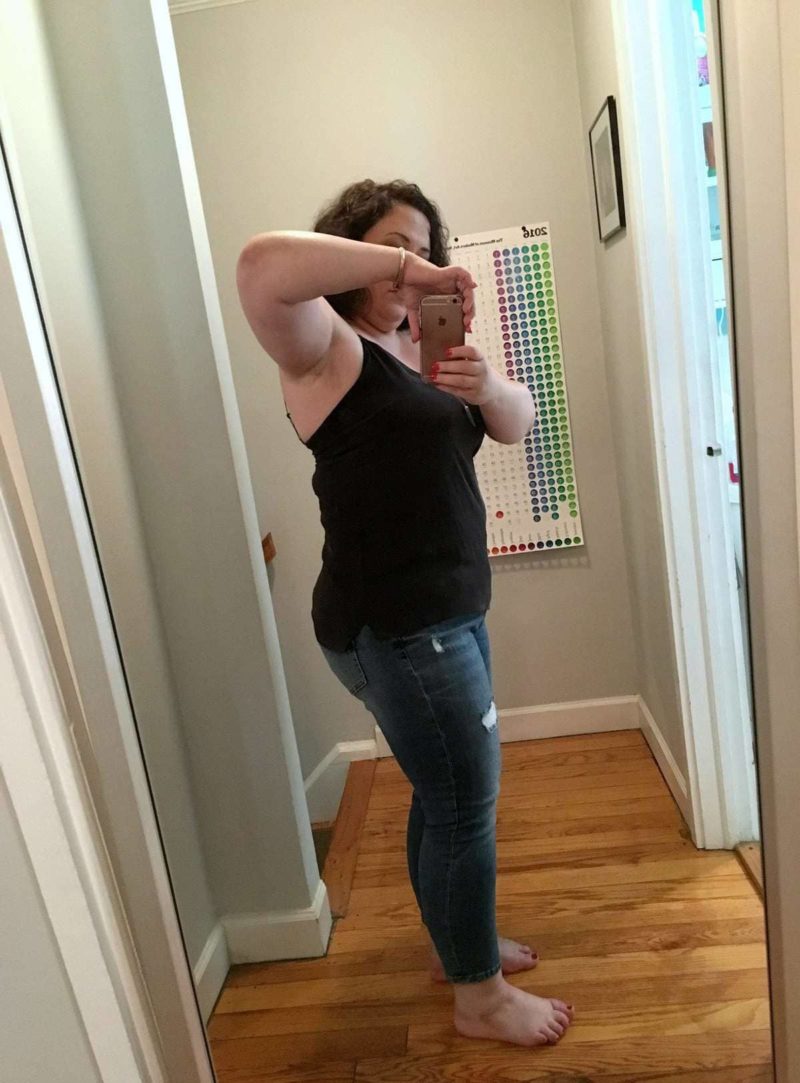 While the tank isn't so tight on the torso that you can see the indentation of my belly button, it's clear this wasn't cut for anyone with a butt. It was skin tight from the natural waist down, and with each step the back flipped up and started shimmying towards my jean's waistband.
The tank is a good quality of silk that isn't thin or cheap looking. The top part where a small bust would be is double-layered which is nice if you're able to go braless. I believe a large would comfortably fit a size 8 woman with slight curves. This size 14 woman required a second person to get her out of the tank without breaking it. FAIL.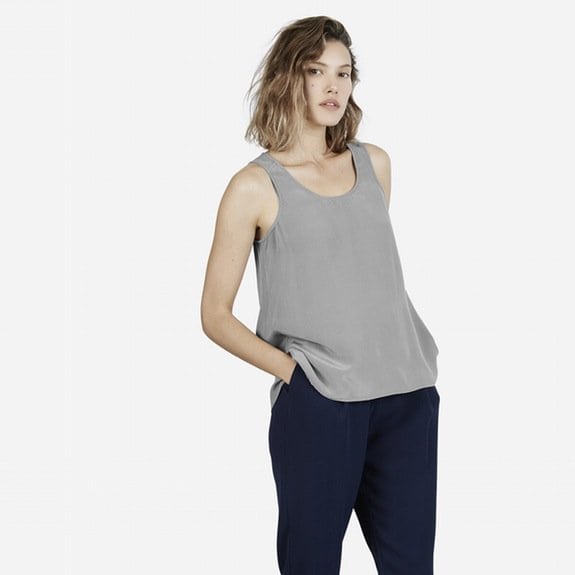 I ordered this tank because like the silk camisole, such an item is a wardrobe workhorse.  Imagine untucked with white linen pants and a long silver necklace.  Tucked in under a leather jacket with jeans and boots, or under a suit with heels.  The color is the type that can look tough or feminine and work with most everything already in my closet.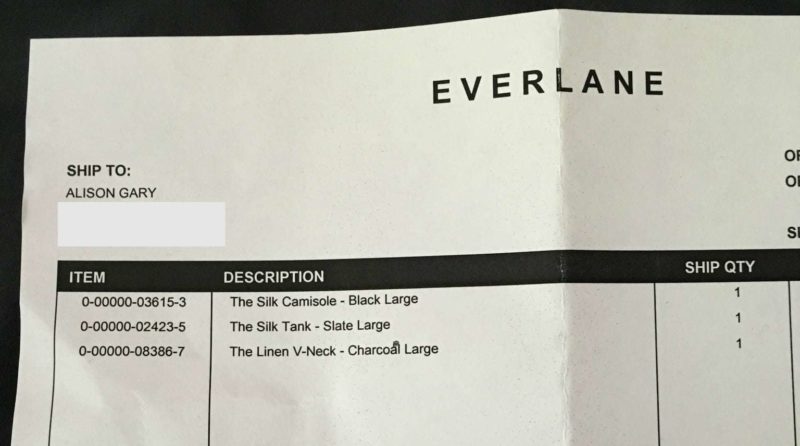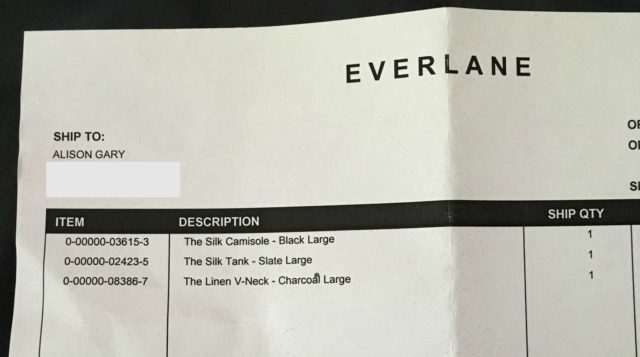 I can't properly review this because I didn't receive this. Though my packing slip confirms I ordered this, instead I received The Silk Round Collar shirt in a raisin color and size XS.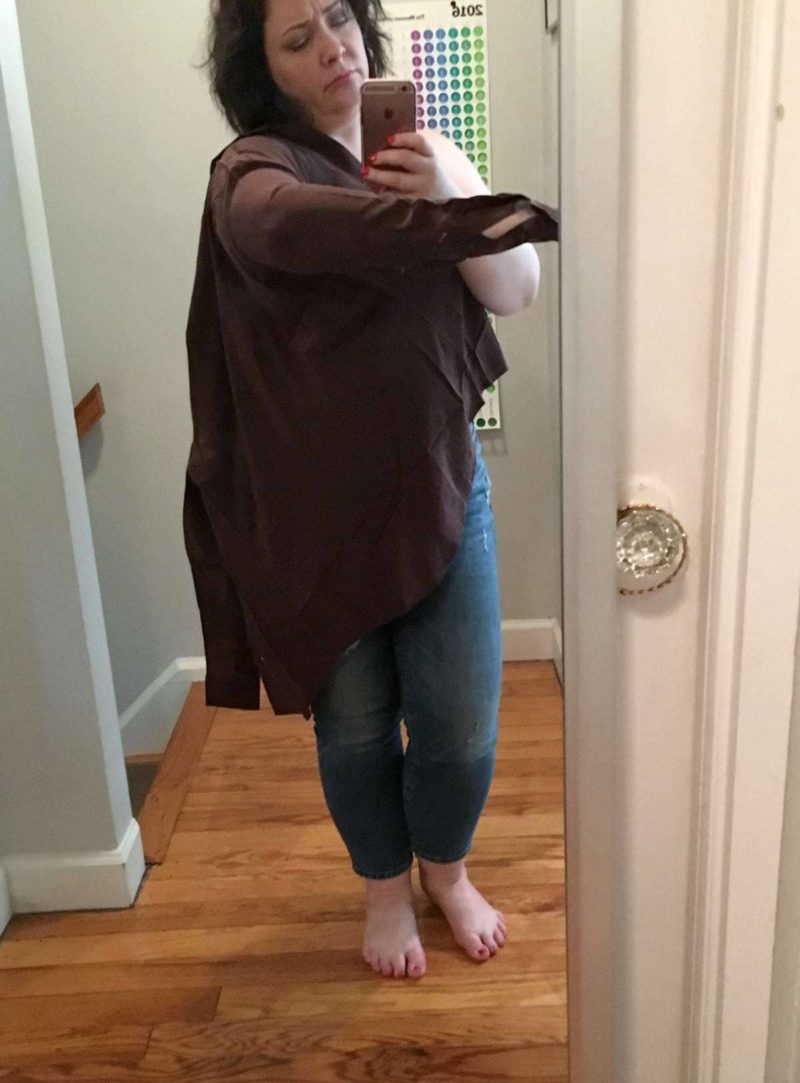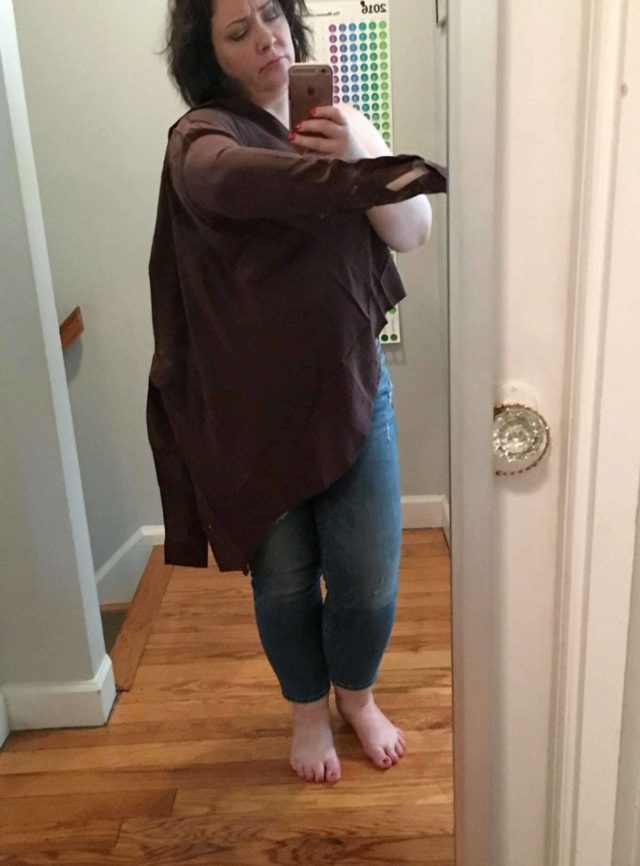 I didn't notice the XS on the label and decided to try it on anyway. Yeah, I couldn't even fit my arm in the sleeve. Must say I felt much better about life when I saw the actual size on the label! I know stores make mistakes from time to time, but one like this, especially from a brand that doesn't have free returns and mailing labels with their orders, is really annoying. FAIL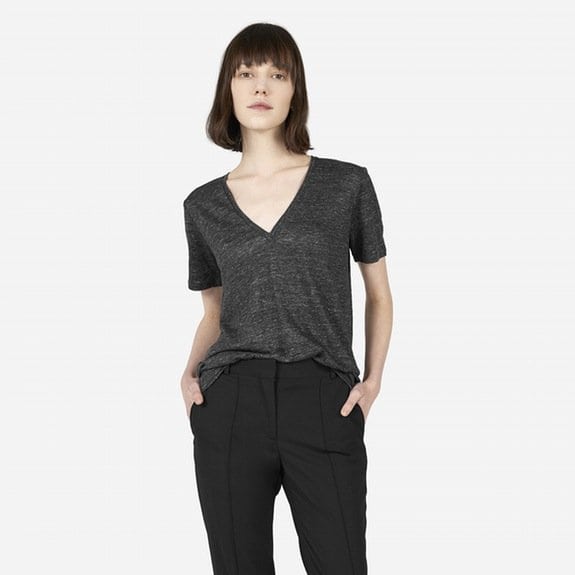 My beloved Old Navy vintage v-necks are starting to fall apart. Not a bad run for cheap shirts, but Old Navy no longer carries these exact shirts and I am now desiring a style that's a bit looser. I have linen t-shirts from J. Crew and Boden and love the slub finish and how they don't stick in the heat and humidity. I have a metallic navy from J. Crew and a white from Boden but have been desiring a grey or charcoal option.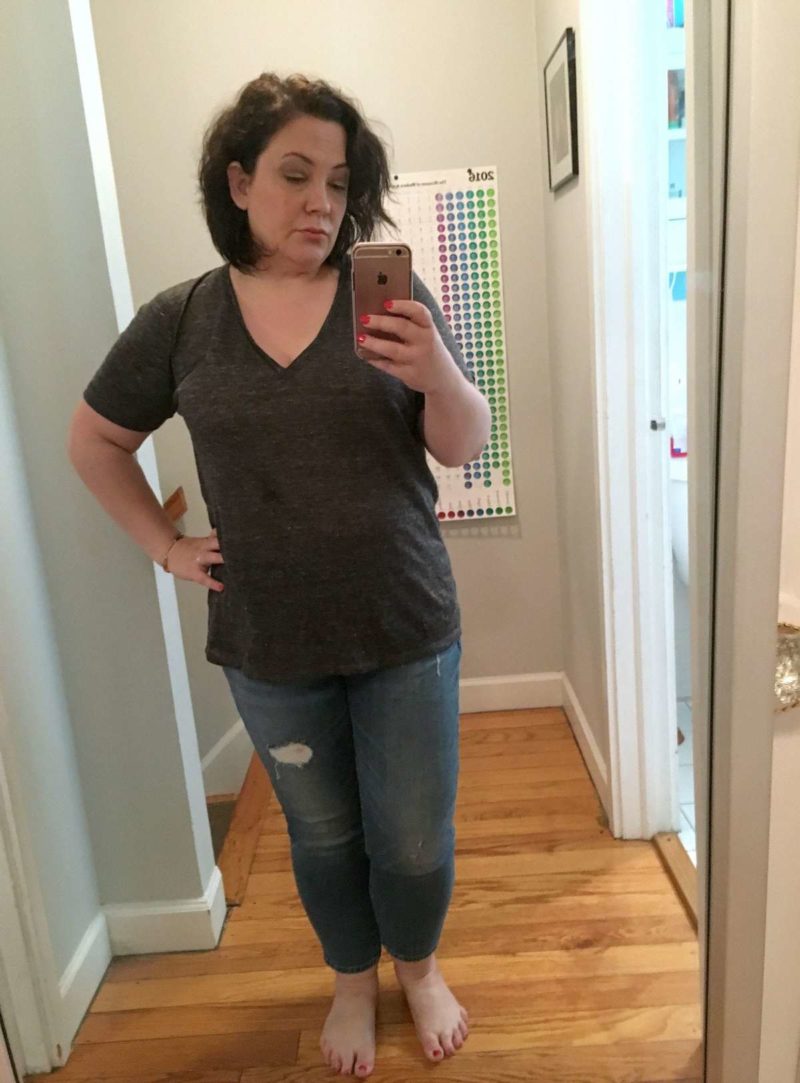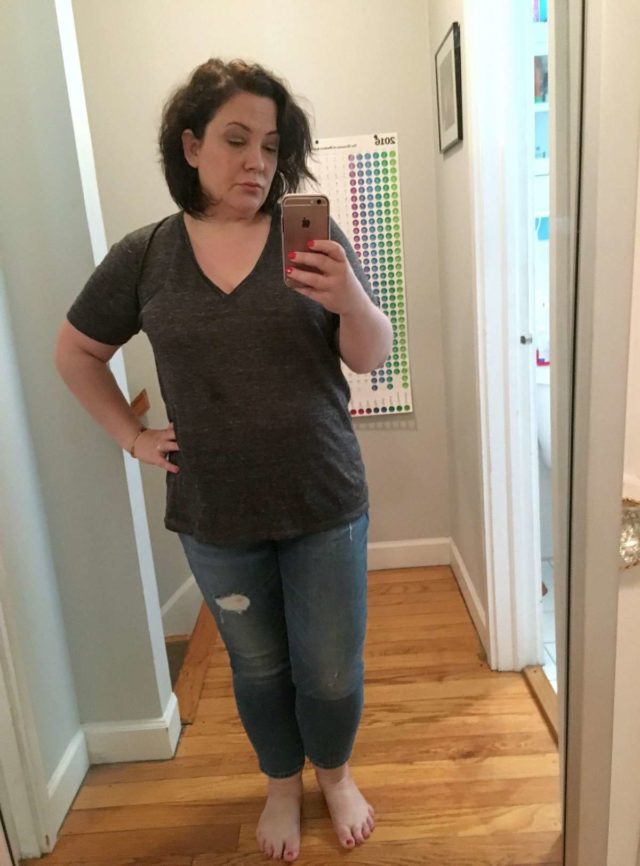 On the plus side, this shirt actually fits. The sleeves aren't skin tight, I don't get ribbing between my breasts from it being too snug in the bust, and it's a great length for tucking in or leaving out. I also like the color, a dark charcoal with little nubby flecks of white.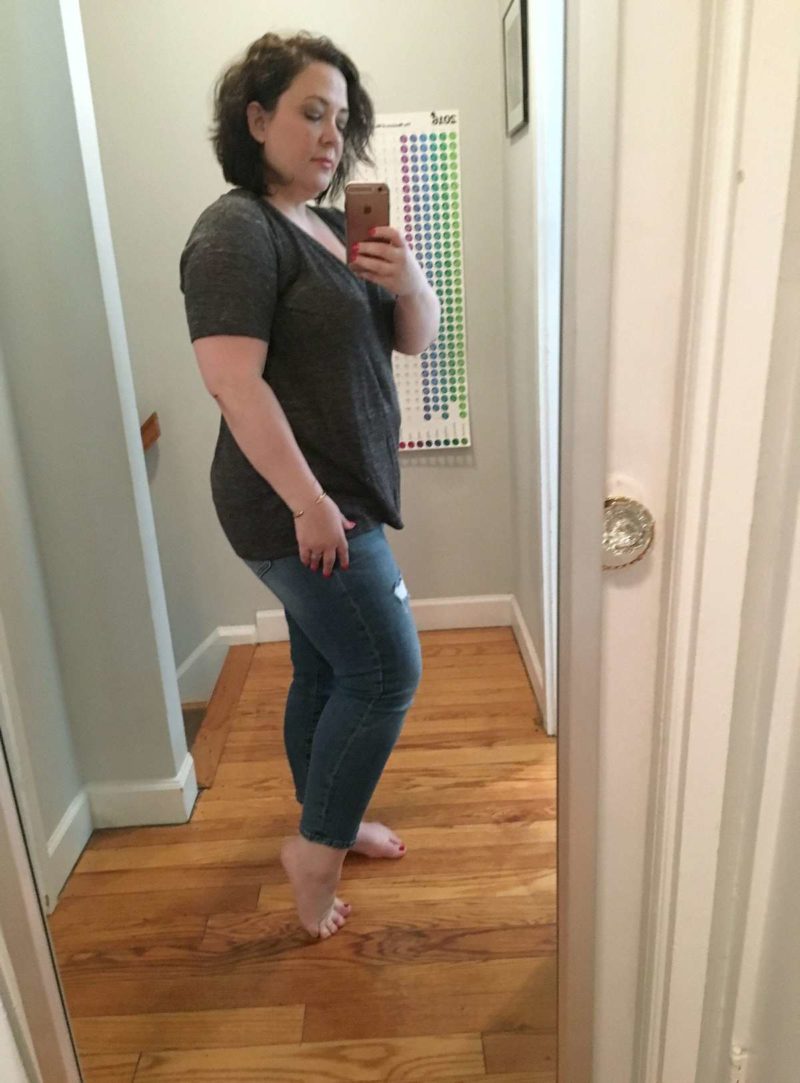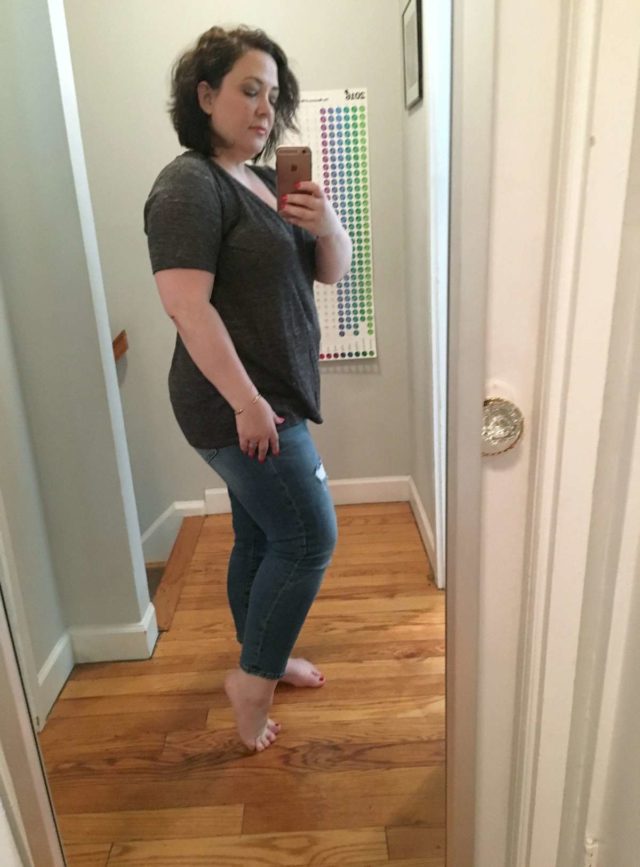 And now the negatives. This is a very rough and itchy shirt. I only wore it long enough to take these photos, but I feel if I wore it outside in the heat it would be as maddening as wearing wool in the summertime. And while it isn't tight, you can see it's not made for curves – see the gathering above the bust? That's because this shirt is made straight and there's no allowance for a bust of any size. And while the sleeves aren't too short, they ended right at the widest part of my bust making me look even larger. FAIL
To sum up, Everlane is not a brand made for a size 14 woman. I doubt much would work for a size 12 unless that woman was tall (distributing the size), and with slight curves. It is really unfortunate that Everlane doesn't provide for larger women considering the average American female is essentially my height and close to my clothing size.
There's been plenty of discussion in the past year about why there's isn't better options for larger sizes. Brands say it's expensive to have more fit models and patterns, companies say that larger sizes aren't bought as often as smaller. Many think it elitism and designers don't want to see their clothes on larger-sized women. I know from over ten years of writing Wardrobe Oxygen and knowing a good portion of my audience is a size 10 or larger that there is a desire for ethically made quality clothing in larger sizes. I see what links you click on, and what you purchase and know women in double digit sizes are willing to spend money for well made, well-fitting clothing. Every week I receive emails and comments asking me to review ethical clothing companies and feature more ethical fashion. But as a size 14 woman who isn't drawn to the minimalistic style, there's little out there for me to even try. Over and over sites recommend companies like Everlane for basics that are made with ethics and quality, but when the average American woman can't fit into their clothes, it makes such a wardrobe quite elitist.
I dropped $200 on this order and if the items fit, I would have kept them all and been a regular Everlane shopper, spending a few hundred each season and then wearing the items on the blog, recommending them to the over 150,000 followers of this blog. But because they don't and after all these years of being in business they have not increased their size range, I can only say that Everlane is a fail.
As ethical brands come on the market and provide fashion to women size 10 and over, I will try to review them. But know not every double-digit sized woman wants to be a pin up, likes drop crotches and asymmetrical tunics, or a wardrobe in the shades of oatmeal, olive, and bark. If you know of any ethical brands that cater to larger women and offer great style, share them in the comments. You never know, that may be the next brand I review!
What about you? What are your thoughts on Everylane sizing? Let me know in a comment below!