This article may contain affiliate links; if you click on a shopping link and make a purchase I may receive a commission. As an Amazon Associate, I earn from qualifying purchases.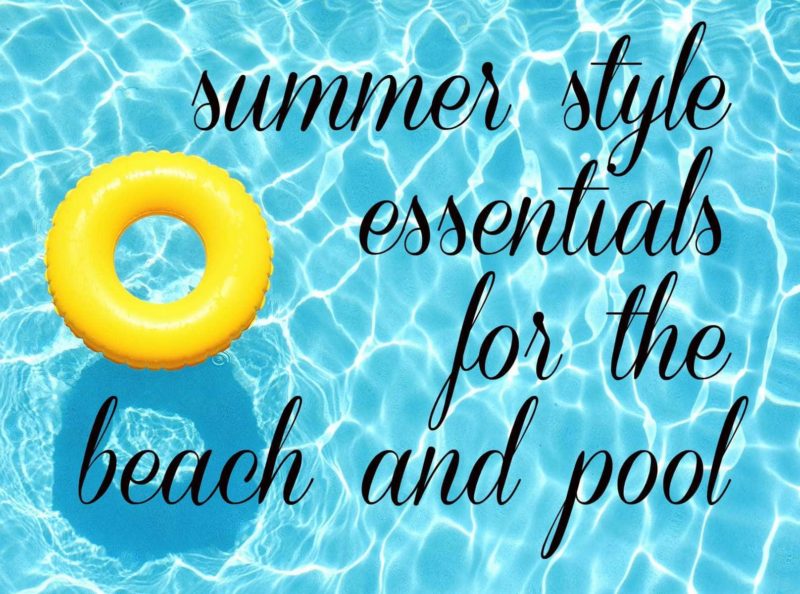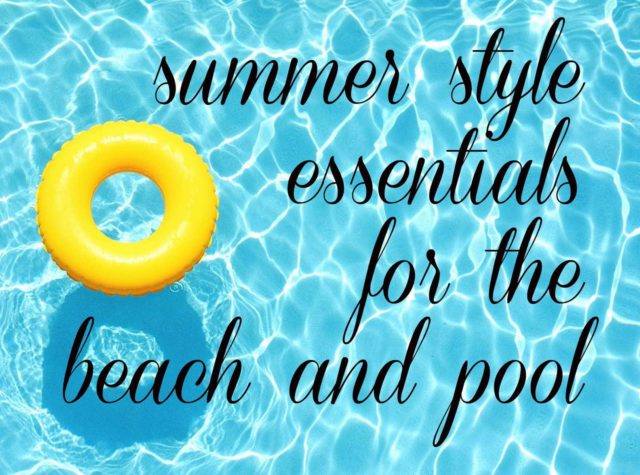 It's hot out, and the best way to beat the heat is heading to the local pool or beach. However, when you don't feel confident about your figure this may not sound like the most enjoyable adventure. First things first, no one is scrutinizing your body like you do. Second, what you wear and bring can really improve your confidence and mental outlook on the experience. Below are the items I own, use, and love to feel great, look great, and be well prepared for days at the pool or beach:
A Quality Bathing Suit
I believe in paying for quality bras… and also quality bathing suits. Bathing suits can seem ridiculously priced, but when you find one that lifts, firms, camouflages, and brings confidence, it's worth all the money in the world. But like bras, you can't expect to find a great fit at any old retailer and what works for your best friend/cousin/favorite blogger may not be right for you.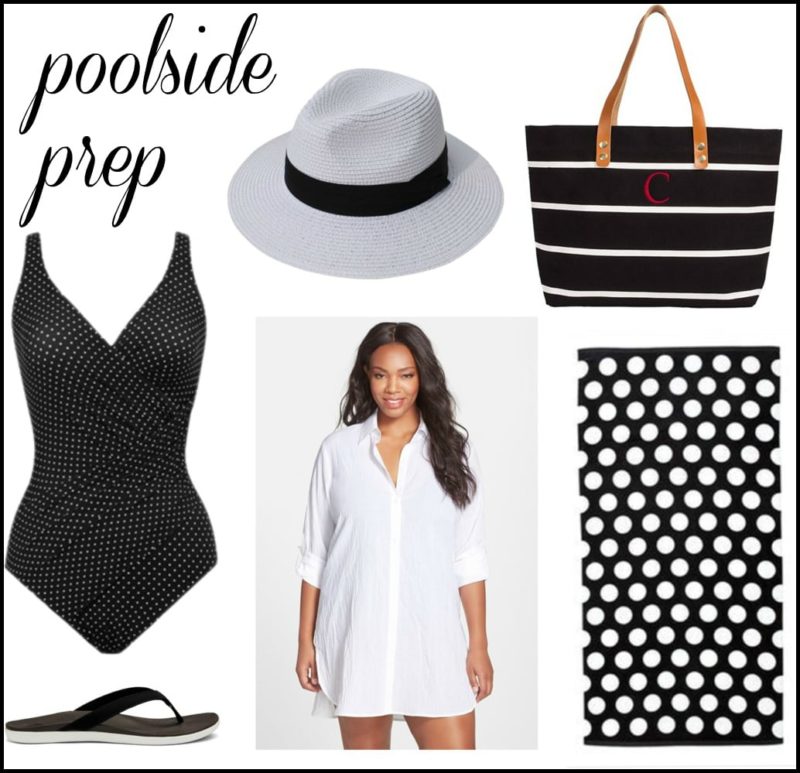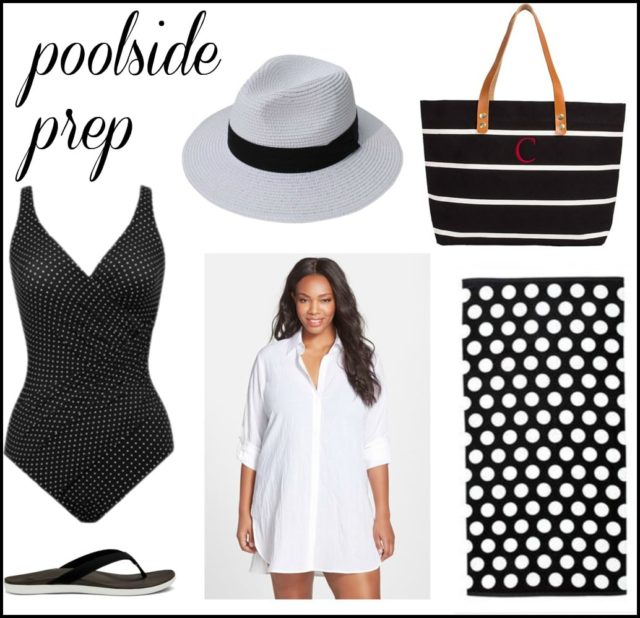 Shop Similar: swimsuit (standard) | swimsuit (plus) | flip flops | hat | cover up (standard) | cover up (plus) | bag | towel
Don't be afraid to order multiple styles and even sizes in the same style from retailers with free shipping and returns. You may be a 16 in one brand, a 12 in another, and even in the same brand another style may fit better in a size or two smaller or larger. Also go through the customer reviews; I often find the best reviews are those that are 2, 3, or 4 stars because these usually are free of emotion and full of facts as to why the suit is almost but not quite right for them.
What Style Swimsuit is Best?
I don't believe there is a certain style of suit you should wear when you've reached a certain age or if you have a certain body shape. I do believe that many suits created to hide troublesome body parts can actually make the wearer look older and bigger. I recommend trying not just what you think will make you comfortable, but something slightly outside of your comfort zone.
I'm a fan of strapless one-piece suits for those with smaller or firmer breasts; with or without a skirt it's a great option that's flirty, flattering, and draws attention up to your face. I find the types made for compressing the midsection do even better with supporting the bustline.  Most come with a removable strap you can put on when you want to swim laps or take a dive into the surf.  I have the 'Ray of Light' Avanti bandeau suit from Miraclesuit and find it supportive and flattering; J. Crew makes a really flattering bandeau one-piece that comes in larger cup sizes and a long torso option.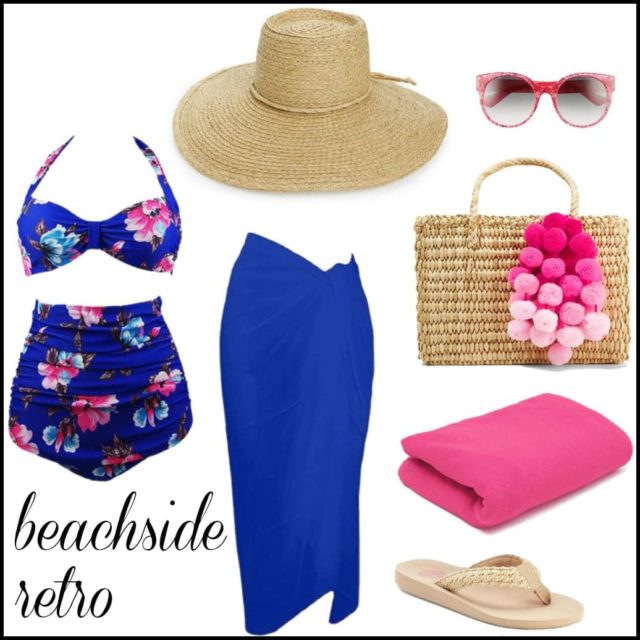 Shop Similar: swimsuit | hat | pareo | sunglasses | bag | towel | flip flops
Bikinis are surprisingly flattering for a variety of figures. These days you can find tops with wide straps, cup sizing, and plenty of support. Many bra brands also make swimwear and they come with great details like shaped cups, removable padding, adjustable straps, and wider bands for support.
If a bikini top isn't a comfortable option for you, a tankini top is a great alternative. Especially for those who are different sizes on top and bottom or those with a long or short torso, a two-piece suit can give you a more custom fit.  Lands' End has a great selection of separates to mix and match for the perfect bikini or tankini for you.
As for bottoms, high waist styles are back with rouching, control panels, boyshort-style lower leg openings, skirts and skorts, and even waists that go up over your ribcage. For a smooth look, consider the super high waist bottoms under a tankini; the layered fabric also helps the top from rolling up.  I have this one from Magicsuit and love how it goes all the way up to under my bust, to turn a bikini top into what looks like a one-piece, or keeping my tankini tops in place and preventing muffin top.
There's plenty of retro inspired swimsuits these days which is a great way to get coverage with plenty of style. Rouched torsos to whittle and disguise the midsection, skirts and more conservative leg openings, wider straps, and fun prints can all be found at a variety of retailers and this concept looks great on bodies of all shapes, sizes, and ages.  I love the Esther Williams collection of swimsuits that evoke her iconic style and come in standard and plus sizes.
Don't sacrifice functionality for style. These days there's plenty of styles that will let you swim laps, body surf, chase after little ones, and still look great. I'm a fan of Lands' End Tugless one-piece suits which are a classic style, figure flattering, and you don't have to worry about wedgies or slipping straps.
A Fabulous Swimsuit Cover-up
No matter your figure, a swimsuit cover-up is a wise purchase. While you technically can make do with an old tee shirt or dress, a piece made specifically for this purpose will likely be made with a shape to flatter and properly cover, and be of a fabric that handles moisture, sun, and sand.
For years my cover-up was one of my husband's old button-front shirts. He's over a foot taller than I so his XL Tall oxfords covered my rear without being a tent. However, this year I decided to get this cover-up shirt from Tommy Bahama and it's a gamechanger. The lightweweight fabric dries super quickly and catches every beach breeze, the sleeves aren't so long that I have giant donuts of fabric at each elbow, and it just looks more elegant. I've even worn it as a regular shirt, buttoned up over leggings and even tied at the waist with jeans and casual skirts.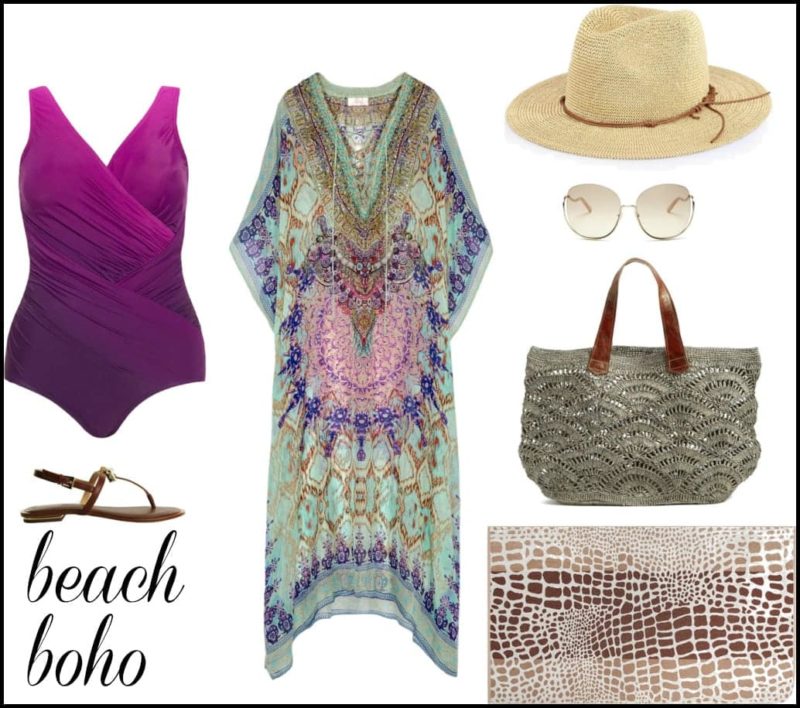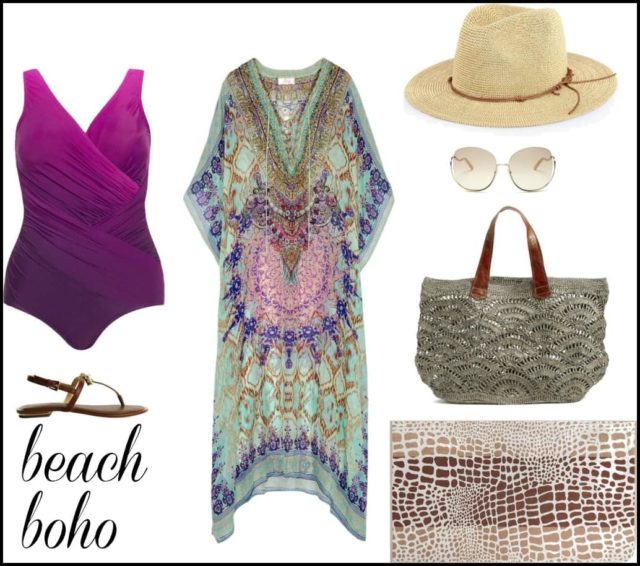 Shop Similar: swimsuit | sandals | caftan | hat | sunglasses | bag | towel
A cover-up is a way to show your personality. Love color and sparkle? Don't be afraid of a fabulous caftan. More sporty? A French terry pullover or romper is a great choice. A cotton caftan in cheery colors is perennially preppy chic and available in a variety of pricepoints (I have one from Needham Lane and like it very much). If you're comfortable with your top half but not your bottom, wide-leg drawstring pants in linen, cotton voile, chiffon, or lace are a chic alternative (and also look great paired with a coordinating tank or button-up tied at the waist). Cover-ups in crisp cotton or cotton voile dry much faster than jersey and don't cling in humidity.
A Flip Flop Alternative
Anyone who has read this blog for more than one season knows I don't like traditional flip flops. They're not good for your feet, they're not really good protection, they look cheap, and they make the worst sound when you walk. There's plenty of footwear available out there that can provide more support, more style, and still be able to survive the summer elements of salt, sand, water, mud, and more.
This summer, my flip flop alternative is the Birkenstock Arizona Essential. Completely coated in washable EVA, these shoes have been a great choice at the ocean and the neighborhood pool. I chose white, which has been easy to keep bright with soap and water and the occasional swipe of a Magic Eraser. I also wear these on weekends with midi and maxi sundresses, boyfriend shorts, and linen pants.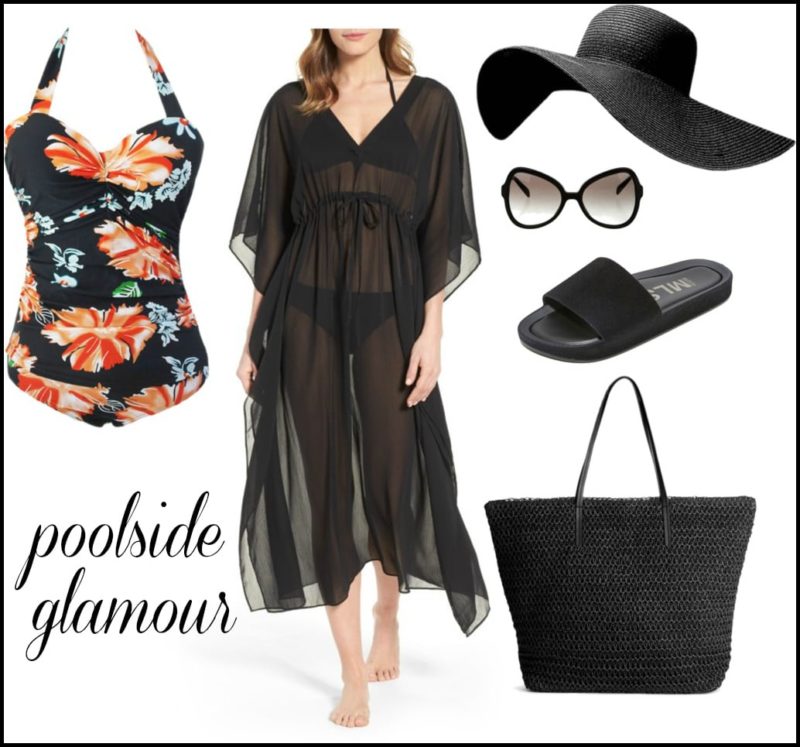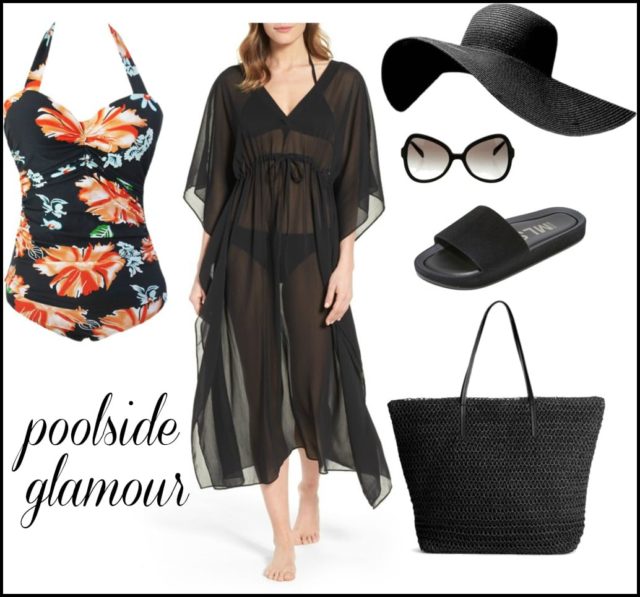 Shop Similar: swimsuit | caftan | hat | sunglasses | slides | bag
Consider a flip flop with more structure; brands like OluKai and Reef make attractive flip flops and sandals that are water friendly.  Vionic makes flip flops that are good for arch support and plantar fasciitis.
Sun Protection
Whether you love bathing in the rays or hiding in the shade, it's important to protect yourself from the sun. The sun will cause wrinkles, reduce elasticity, increase freckles and age spots, emphasize the look of stretch marks and cellulite… and oh yeah it can also cause cancer. There's no excuse in this day and age to go out in the sun without proper protection.
Don't Skimp on SPF
The number of SPF is how many times longer you can stay in the sun than without sunscreen. This doesn't mean that SPF 60 will prevent a tan and SPF 6 will protect equally yet give you more of a tan. It also doesn't mean a higher SPF will last longer on your skin. You should be applying at least the equivalent of a shot glass worth of water-resistant sunscreen to your body; it's best to apply it at least 15 minutes before going outside. Reapply every two hours or after sweating or going in the water.  Spray sunscreens make it easier to reach all parts of you, but it's easier to miss a spot. I like using both, starting first with the lotion on face, shoulders, décolleté and spots that get the most sun like tops of thighs, upper arms, and tops of feet. Then I hit everywhere with the spray. Formulas made for babies and children are usually very light on fragrance, gentle to skin, and water resistant.
Sunglasses are a Must
Sunglasses are an accessory that can really make your look. Luckily these days it's easy to find stylish shades that are also hardworking. Companies like Zenni offer stylish options for prescription lenses for less, and companies like Lens Direct have designer brands available for prescription sunglasses. Maui Jim makes stylish sunglasses with incredibly polarized lightweight lenses that are amazing for driving, outside sports, or just seeing the beauty of nature.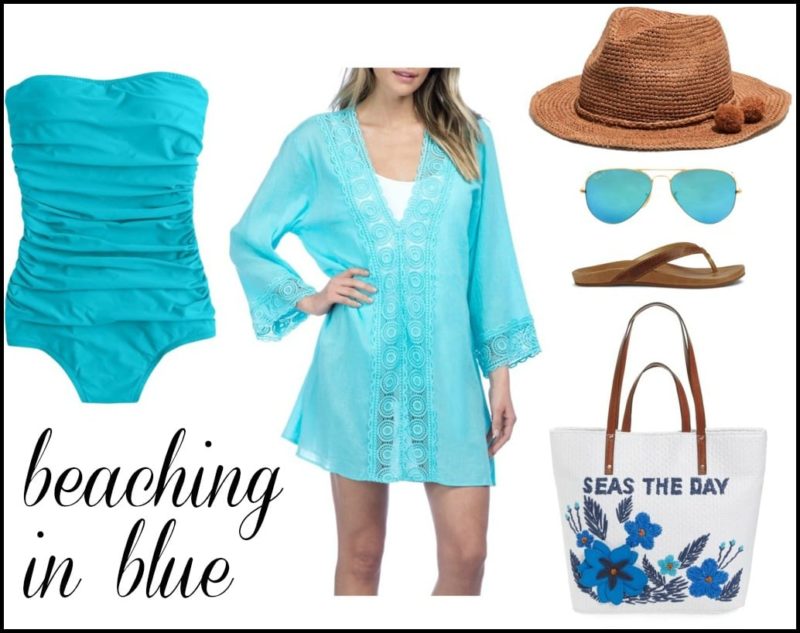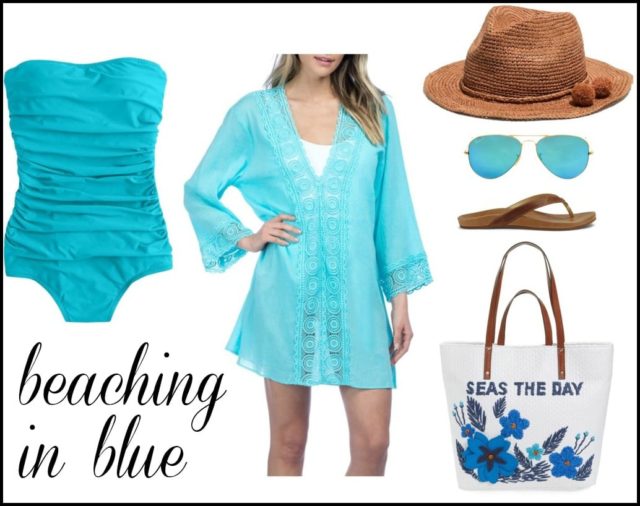 Shop Similar: swimsuit | cover up | hat | sunglasses | sandals | bag
One of the best pair of sunglasses I ever owned I found at a truck stop in Kentucky. You don't need to spend a lot for sunglasses, but it's worth it to spend time to find a truly perfect pair for your personal style and face shape, and buy a backup pair. I have a large face and find Ray-Ban 62mm aviator sunglasses to be the right choice for me. It's a style that is classic; I've been wearing them for a decade and don't feel the need to switch them out with current trends. Finding a classic style or a brand that fits your face nicely makes purchasing replacements easier and increases your personal style.
Hats are Hip
I am so glad hats are back in fashion, there's no reason not to wear one when you're out in the sun! While previous seasons have been very specific about trends, this summer it seems all styles are a go. I have an old Panama hat I wear to the pool and beach; since it's not new I don't mind if it gets a bit sandy or splashed with chlorinated water. It's a bit loose on me so it's easy to pile all my hair up in it to keep it off my neck. I have a packable hat that is great for shoving into a suitcase to have on hand for a tropical getaway, and a classic straw fedora I wear with sundresses and shorts for day outings and trips to the farmer's market.
Hats are also an accessory where you can find them at most any pricepoint. However, if all the hats in Target look wonky on your head, don't discount hats altogether. Sometimes with hats, price does matter when it comes to fit and style. The old Panama hat I wear I bought at Loehman's when I was in 8th grade; it's proof that quality can be worth it in the long run. When you have a hat that fits and flatters, you're more likely to wear it, not only upping your style quotient but also protecting yourself from the sun's harmful rays.
A Bag Just for the Occasion
For years I made do with a Lands' End canvas tote when heading to the pool or beach. I have a few of the and it didn't seem to make sense to buy a separate bag. That is, until Scout send me their Original Deano tote. The bag is lighter weight, it keeps it shape whether full or empty, I can rinse it if something spills in it, I don't freak out if it gets wet or sandy or salty. It protects the contents from the elements, and its structure keeps everything in place (unlike a canvas bag where everything falls to the bottom center).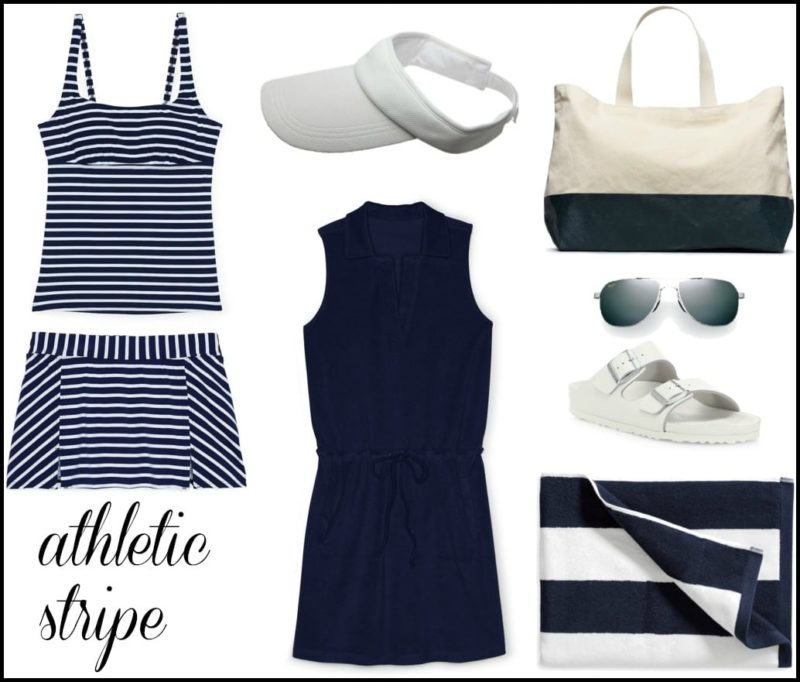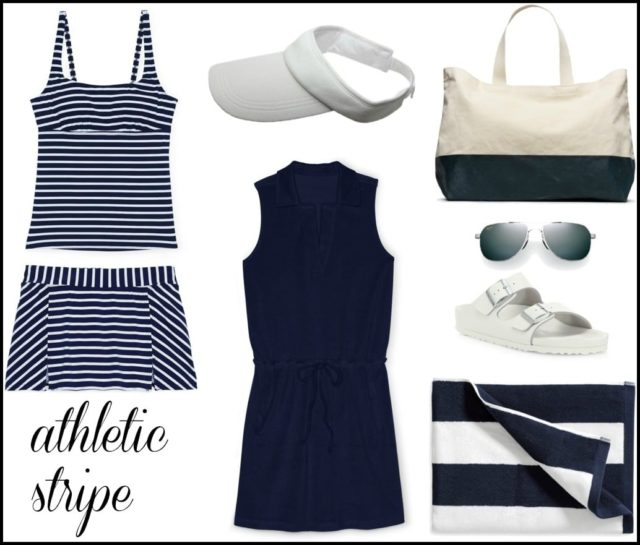 Shop Similar: tankini top | tankini skirt | visor | cover up | tote | sunglasses | sandals | towel
I keep the Scout tote with my beach towels so it's easy to find and pack up. I never use it for groceries or the farmers market so it's always at the ready. While you don't need this specific bag, look for one that coordinates nicely with your swimsuit and coverup (because, why not?), is lightweight, has a size and structure that works with your lifestyle, and can handle salt, chlorine, sun, splashes, or sand.  Mesh and woven bags are great for letting items air out and filtering out sand; if a fabric bag be sure it can easily be laundered.
A Grown Up Beach Towel
One of the best gifts I ever received was a beach towel from Lands' End. In my favorite color, this towel was monogrammed with my name. I received it over a decade ago. It's oversized, super thick, and even with years and years of washings, dryings, hanging over balconies dripping with salt or chlorine, being stuck too long in a trunk while damp, and being used in an emergency to dry off a wet dog, it looks almost new. When you're prepared for the event, you have more confidence. Accessories add polish and complete a look. And yes, a towel in this situation can be seen as an accessory!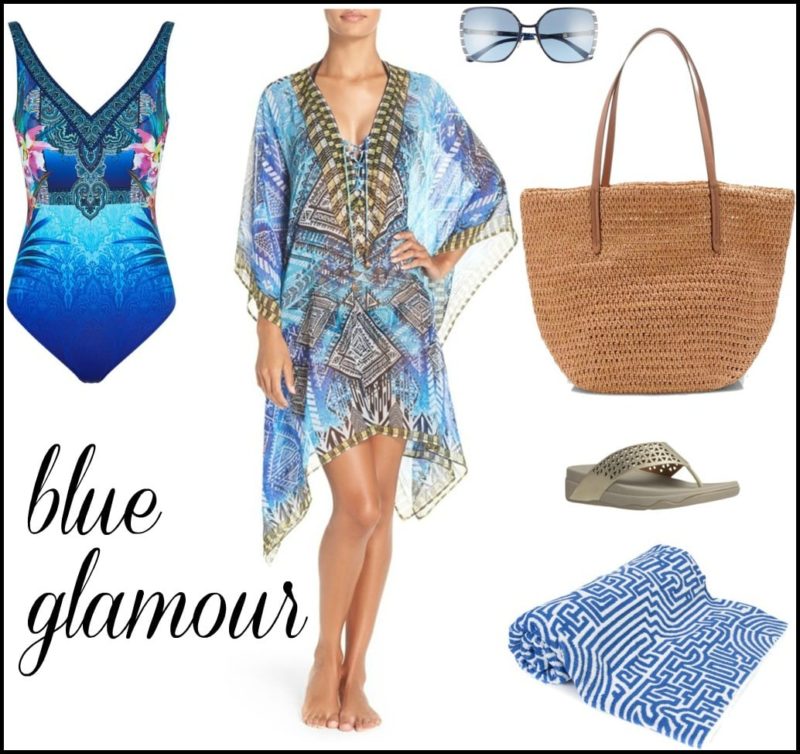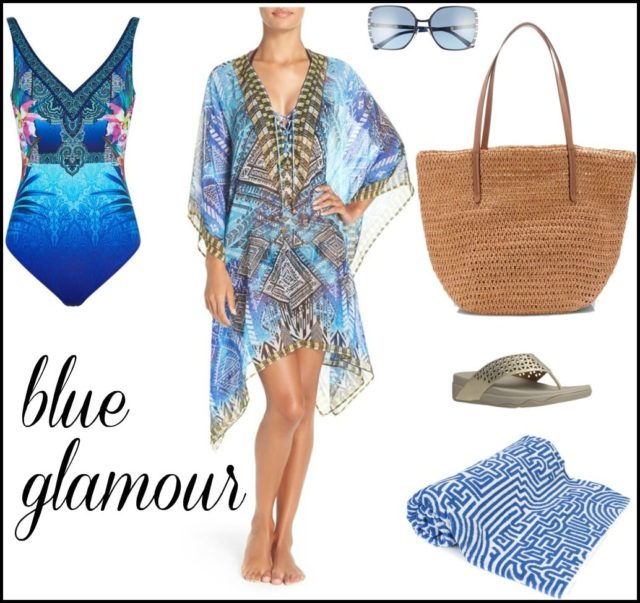 Shop Similar: swimsuit | caftan | sunglasses | tote | flip flops | towel
I can't rave about Lands' End towels enough. However, it's not the only place for high quality and nicely sized towels. Boll & Branch makes some of the nicest beach towels that hold up beautifully. Kassatex makes amazing beach towels and they can be found at a variety of retailers. I've found amazing towels at TJ Maxx and Marshall's too.
The Completed Look
I use the examples throughout the post to show how a pulled together look can really show confidence and style, and also draw attention away from your figure. These three selections aren't size specific or age specific, they are specific to one's personal style and taste. You deserve to have fun this summer. If your figure is holding you back, consider indulging, not punishing it. You never know, a new pool outfit may be just what the doctor's ordered!