This article may contain affiliate links; if you click on a shopping link and make a purchase I may receive a commission. As an Amazon Associate, I earn from qualifying purchases. 
I'm 62. I'm slim and small of bust. I run, bike, and do yoga and still work full-time. I like clothing, but I never seem to buy the right thing. I shop and shop, I'm ashamed to admit I have more than one closet in my home filled to the brim yet I never seem to have anything to wear. I found your site through Pinterest and the 'Old but Not Dead' capsule, but I'd never wear most of the things in it. I don't like black or color, I don't wear dresses, my daily accessories are my wedding set and necklace from my husband, and I won't wear heels. I admire Diane Keaton and Ellen DeGeneres but when I try to shop their look it feels too masculine. Would you consider another capsule wardrobe for women over 50 with lighter colors and no dresses?
I love your email, and I bet you aren't the only one who would rather emulate Diane Keaton than Diane von Furstenberg. Many women don't feel black is flattering as they get older, and prefer to wear softer colors near their face. And you are not alone in desiring a wardrobe free of skirts and dresses. This capsule wardrobe is a basic core collection of pieces to transition between seasons, but to get your sartorial juices flowing to see how simple separates can work together to create a cohesive and sophisticated look.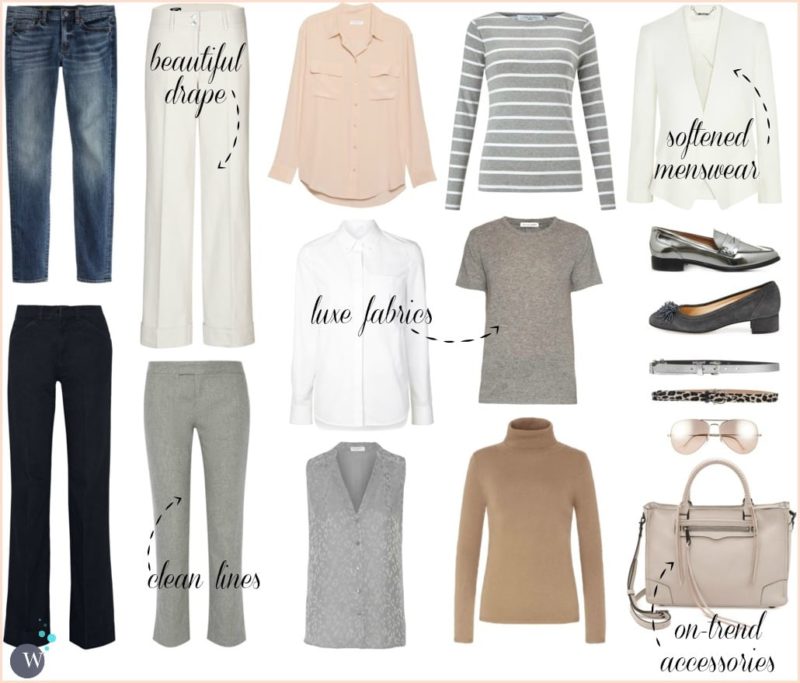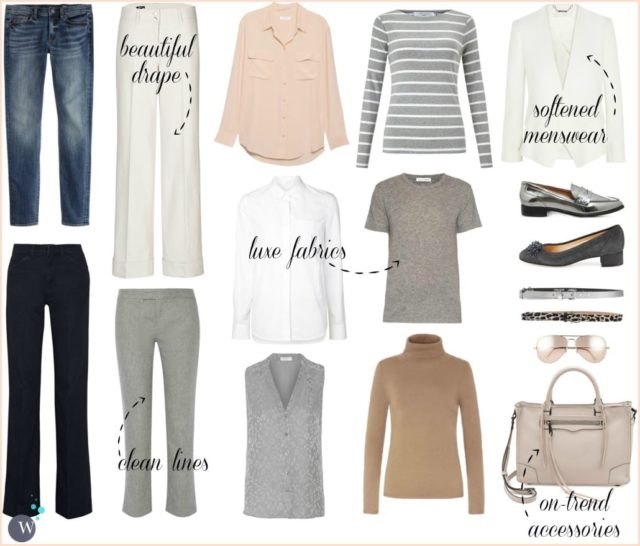 Shop Similar: girlfriend jeans | high-waist jeans | wide-leg pants | ankle pants | silk shirt | white shirt | silk shell | stripe tee | cashmere tee | turtleneck sweater | jacket | loafers | low heels | silver belt | leopard belt | sunglasses | bag
To get that "Ellen meets Diane" look, I chose pieces with clean lines and made with luxe fabrics that have good drape. With great fabrics and tailoring, you don't need a lot of accessories. Flat or low-heeled shoes that bring interest to the look, a couple belts to complete an outfit while drawing attention to your slim waist, and on-trend accessories that prove that you're "not dead" and add a modern edge to classic separates. While I kept this look to pale neutrals, you could easily incorporate a signature color or two or darken the look by switching out gray for navy.
When it comes to bottoms, I gave you two casual and two dressier options. First, a "girlfriend" jean (slimmer than the boyfriend from previous seasons, but still ankle length), and then a high waist bootcut or subtle flare jean in dark saturated stretch denim. Both looks are on trend, but not so trendy they'll be dated in a year or make you look like a fashion victim. For the pants, I went with an ankle-length with clean lines in wool, and a wide leg with great drape. The slim ankle pant is more Ellen, the looser pant more Diane, but both will mix and match great with all the tops and jackets featured, and both will work with a lower shoe.
For the tops, I went with a feminine take on menswear. A crisp white shirt, but with stretch incorporated so it skims the figure (and resists wrinkles). A silk shirt, but with classic styling and a looser fit to get a bit of a menswear vibe. The sleeveless blouse is also silk, a subtle jacquard pattern, and with buttons down the front to continue the menswear feel. For the knits, I kept them very simple and with clean lines; you'll want to shop for quality – cashmere, merino wool, and heavyweight soft jersey. When you simplify your wardrobe, palette, and accessories you need to focus more on fabric and fit.
Blazers are a great layering piece, especially if you're emulating Diane Keaton and Ellen DeGeneres, but you want to watch out for too structured or masculine of fits. Especially when you have a lean figure and embrace menswear details, classic blazers can feel too masculine. This blazer is in a soft color, and balances the structured shoulders with a soft closure and angled edge. Look for shawl collars, peplum details, belts, and soft fabrics like crepe, silk, and ponte to keep blazers from feeling too masculine.
Accessories complete a look, but there's no need to switch out your favorite pieces for big statement-making baubles. This capsule wardrobe is free of jewelry and proves such is not needed to complete a look. However, if you go that route you do need to pay more attention to detail. As I mentioned above, you need to focus more on fabric and fit, but also ways to pulls separates together into an ensemble.
Shop Low-Heeled and Flat Metallic and Grey Shoes:


Shoes are a great way to do this; these days there's so many fabulous styles of flat and low-heeled shoes out there you can really show your personality, soften a menswear feel, or even incorporate a color or texture with what is on your feet. For this capsule wardrobe, I chose a traditional loafer, but in a streamlined fit and in a metallic. I also went with A classic low-heeled round-toe pump, but in a luxe fabric with embellishment. Neither shoe is especially flashy, but the interesting fabric and details incorporate current trends and make simple separates purposeful and chic.
Belts are a great way to complete a look. Whether you wear it over a fitted knit like the camel turtleneck, or slip through beltlooks with a tucked-in top, it draws an entire look together, and provides an opportunity to add color, texture, pattern, or shine. I chose a soft metallic in a mesh that won't clash with the loafers, and a subtle animal print in calfhair, which works with leather or suede shoes.
Finally, I find it smart to invest in a quality bag and sunglasses, especially as you get older. These are finishing touches that show style and elegance. Steer clear of visible logos, but consider popular brands to show you have your finger on the pulse of current trends. Ray-Ban aviators have been stylish for many years and likely will for many more. There's a lot of different colored lenses available; I chose a soft rose which complements your wardrobe and likely will be flattering to your skin and hair. The bag is Rebecca Minkoff, a popular brand that makes quality bags that are functional, stylish, but have a bit of edge. The soft shade doesn't match anything in the capsule, but complements it all; if you have a signature color a bag is a great place to showcase it. It's actually more stylish to have your bag match nothing and just coordinate with your wardrobe, so don't be afraid to incorporate a random yet favorite hue.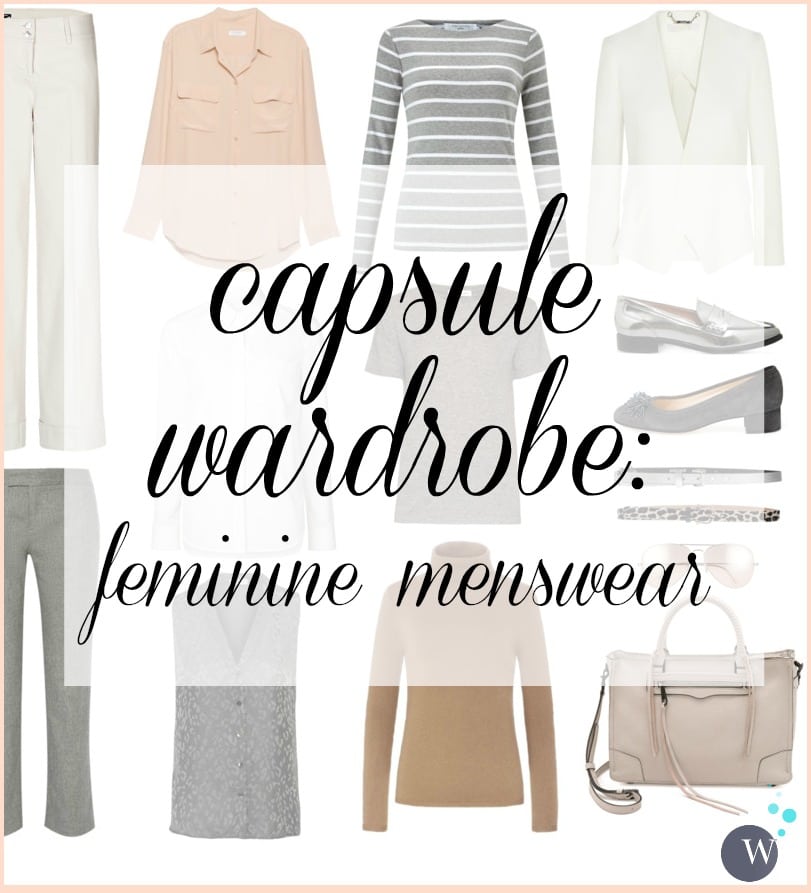 Shop the Look:


When simplifying your wardrobe, it's all about quality instead of quantity. You already have plenty of clothes, but it sounds as though you don't buy considering what you already have and need/use/love. Hopefully this capsule wardrobe can show you how you can have a lot to wear with fewer pieces. And maybe, you have such pieces already residing in your wardrobe!
Some possible outfits from this capsule wardrobe:
Girlfriend jeans, camel turtleneck, metallic belt and loafers
Girlfriend jeans, silk shell, jacket, silver loafers
Girlfriend jeans, grey cashmere tee half-tucked, grey loafers, leopard belt
Girlfriend jeans, white shirt untucked with sleeves rolled, grey suede pumps
Girlfriend jeans, silk shirt half tucked, leopard belt, silver loafers
Girlfriend jeans, striped tee, metallic belt and loafers, add a cardigan or leather jacket
High waist jeans, striped tee, metallic belt, suede pumps
High waist jeans, white shirt tucked in or tied at waist, metallic loafers
High waist jeans, white shirt untucked with cahsmere tee over it, suede pumps
High waist jeans, silk shirt tucked in, leopard belt, suede pumps
High waist jeans, striped tee, jacket, metallic loafers
High waist jeans, silk shell untucked, silver loafers
Wide-leg pants, silk shirt tucked in, metallic belt and loafers
Wide-leg pants, white shirt tucked in, metallic belt and loafers
Wide-leg pants, silk shell tucked in, suede pumps
Wide-leg pants, striped shirt, metallic loafers (could add a denim jacket or cardigan)
Wide-leg pants, cashmere tee, leopard belt, suede pumps
Wide-leg pants, camel turtleneck, leopard belt (could add a denim or leather jacket)
Grey ankle pants, grey cashmere tee, grey pumps, metallic belt
Grey ankle pants, striped tee, metallic loafers (add a denim or leather jacket)
Grey ankle pants, white shirt untucked with cashmere tee over it, metallic loafers
Grey ankle pants, camel turtleneck untucked, leopard belt over it, grey pumps
Grey ankle pants, silk shell, jacket, grey pumps
Grey ankle pants, silk shirt untucked, grey pumps
Grey ankle pants, a black tank or tee in your wardrobe, jacket, metallic loafers