This article may contain affiliate links; if you click on a shopping link and make a purchase I may receive a commission. As an Amazon Associate, I earn from qualifying purchases.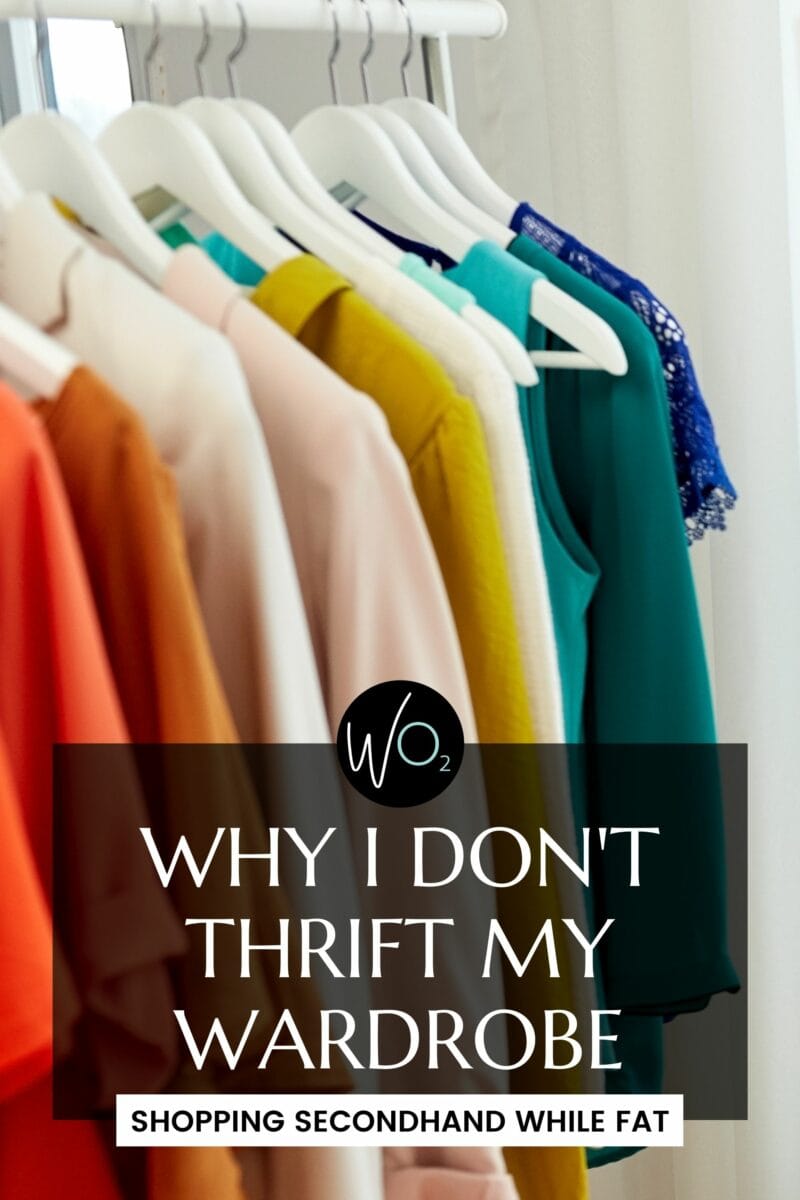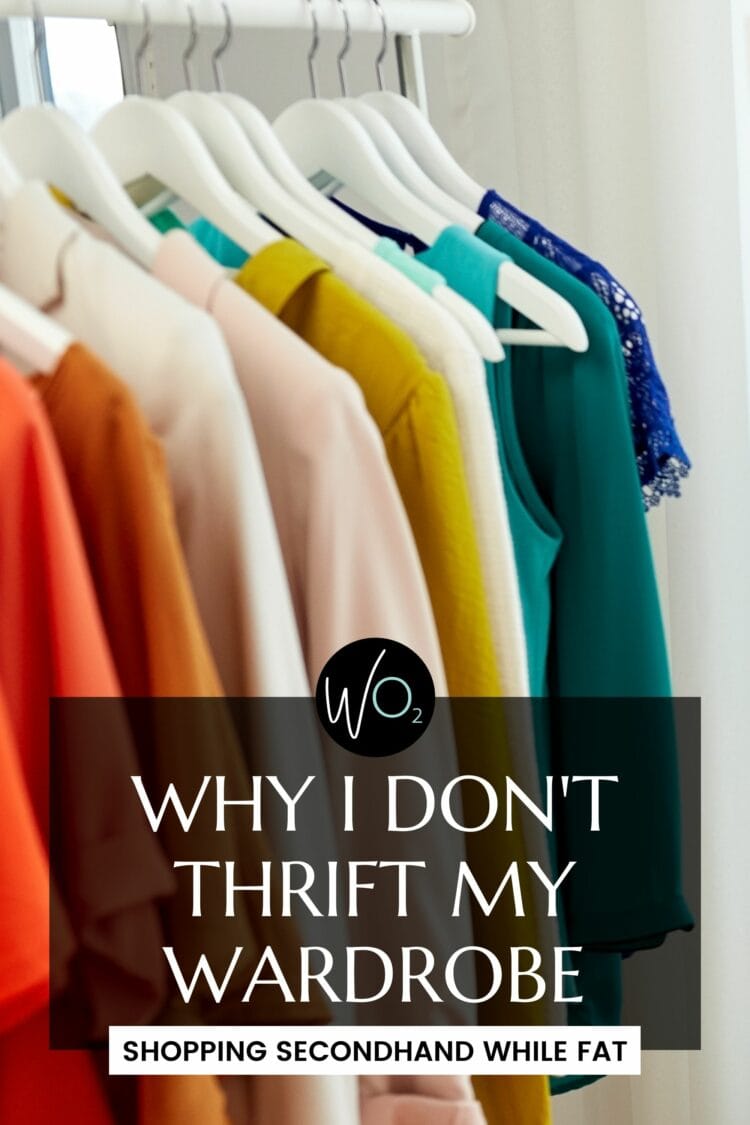 While I am a fan of sustainable fashion, I am not one who thrifts on a regular basis. I am regularly asked why I don't thrift my wardrobe if I am looking to live a greener existence. There are a lot of reasons why I don't thrift my wardrobe and after this most recent email from a reader, I share my reasons why:
When I was in college, the majority of my wardrobe was thrifted. Leather jackets, vintage jeans, rock tees, even cashmere sweaters I found in excellent condition for ridiculously low prices. My friends and I went after classes several times a month, spending hours going over racks with a fine-tooth comb.
When I was a single college graduate, I loved thrifting. I had a really big Goodwill near my home that would receive whole estates from the wealthy elderly folk who lived in the nearby town and scored insane things – vintage designer clothing, amazing homewares, gorgeous coats and bags. It was on my way home from work; I'd use the time to decompress from the workday, scanning racks, finding gems.
I had basic sewing skills and would occasionally repair and modify my thrifted treasures. I'd sew on new buttons, fix a dropped hem, add patches to worn shoulders.
I also loved taking my clothes to consignment shops; I'd use the store credit to buy new pieces for the upcoming season. I worked in apparel and would have contractor bags full of clothes from the brands I worked for, hardly worn. It was a pleasure to know these items would get a second life in someone else's closet and in turn, I'd have money to update my own wardrobe.
Why I Don't Thrift my Wardrobe
I am now over 40 years old. I am married with a child. I no longer work in apparel, but Corporate America. I have a middle management position which is over 40 hours a week and an hour-long commute each way. On top of that, I have this blog which is like a second job.
Thrifting isn't as easy to fit into my lifestyle. I occasionally go with my daughter to a thrift store near where she takes dance classes, but I rarely find items for me (though I score with great deals for her). But thrifting takes a lot of time, time I don't feel I have enough of these days.
Time is Money
While thrifting is economical, it's not a process where you can have a specific list, dash in and out. And having a busy life, I realize that time is money. I can't justify the hours away from the family, or even schedule the time when the stores are open and I am not at work, to make it happen on a regular basis.
On top of that, I am not the same size I was when I was in college finding leather jackets and cashmere sweaters at the thrift store. And I have found that this 40-year-old postpartum body isn't as easy to dress in mall brands, let alone thrift stores. Thrifting takes even more time when you are a larger clothing size.
The Larger Size You Wear, The Harder it Is To Thrift Your Wardrobe
I have friends like Vivi from Heart, Print, and Style who ROCK gorgeous thrifted clothes. But even she will admit that it isn't easy to find gems when thrifting.
While larger sizes can be found when thrifting, there's less chance for good condition or a cool style. Us larger girls don't let go of great fashion; if it fits and flatters we often wear the heck out of a piece before it leaves our closet. Almost every time I thrift and find something that is in my size that looks good on the rack, I pull it out and find that it is threadbare under the arms or between the thighs, it's stained, stretched out, or otherwise an example of a beloved piece that was worn until it was no longer wearable.
On top of this, smaller sizes love to size up to create slouchy looks or modify their thrifted finds. It is very hard to compete with single-sized thrifters who clear the racks for their online shops or upcycled creations. I know many thrifting and low-waste bloggers who purposefully buy plus-sized fashion at thrift stores to have a larger piece of fabric to create a completely different item. I get it, but it makes the larger sized options at thrift stores even more rare.
Dressing for My Current Self is Harder with Thrifted Clothing
When I was young, I thrifted sequined tops and dresses, vintage bomber jackets, distressed jeans. I'd wear men's Hawaiian shirts tied above my belly button, the sleeves rolled up and the collar popped. I'd belt a man's blazer and wear it as a dress and ironically wear the trends I originally wore in the '80s and '90s. Thrifting made my wardrobe so fun and my best clubbing and night out looks were from the thrift store.
But now I am a middle-aged wife and mom with a busy job. My social calendar isn't full of the kind of events where a sequined butterfly top or vintage JNCOs would work. I rarely go thrifting and find a piece appropriate for my conservative workplace, taking my kid to a playdate or picking her up from school, or going out to dinner with friends.
I have narrowed down my closet to make dressing simpler with a busy schedule. Filling my closet with fun but impractical pieces will only make my mornings more complicated. And any clothing collecting dust in a closet, whether it was purchased at Forever 21 or Goodwill, is wasteful.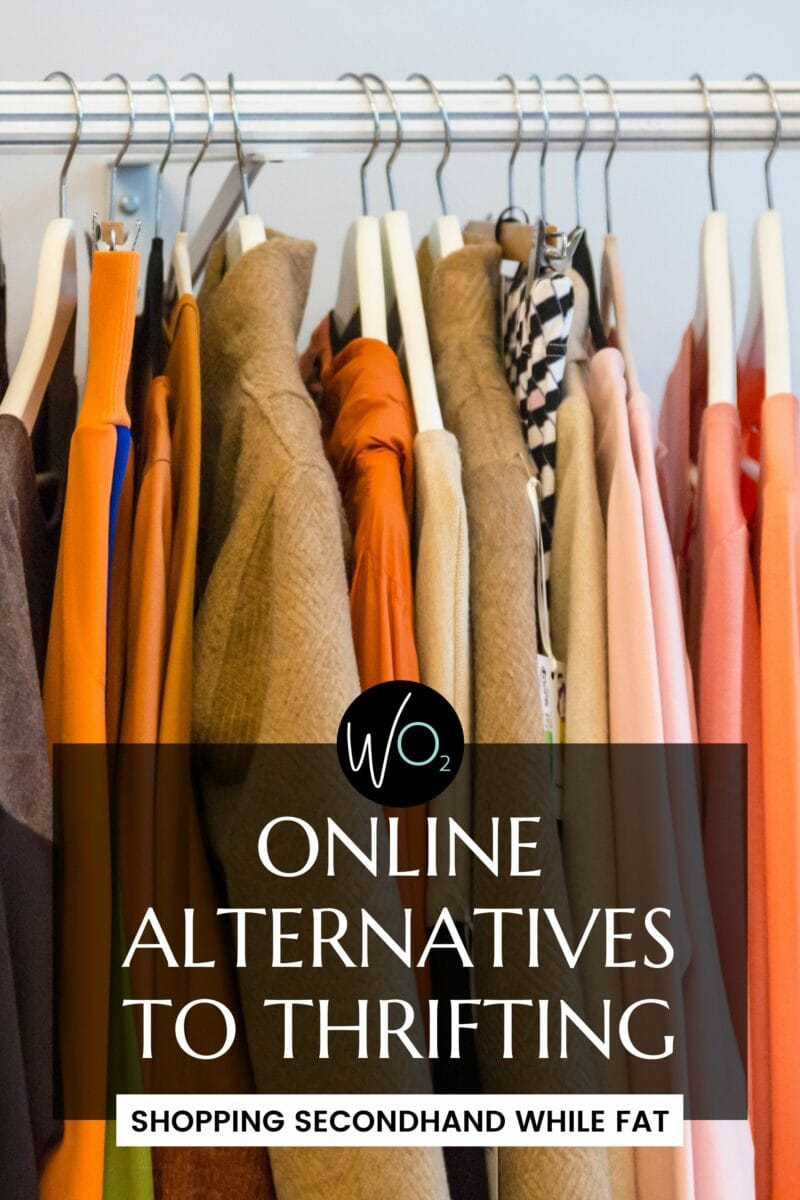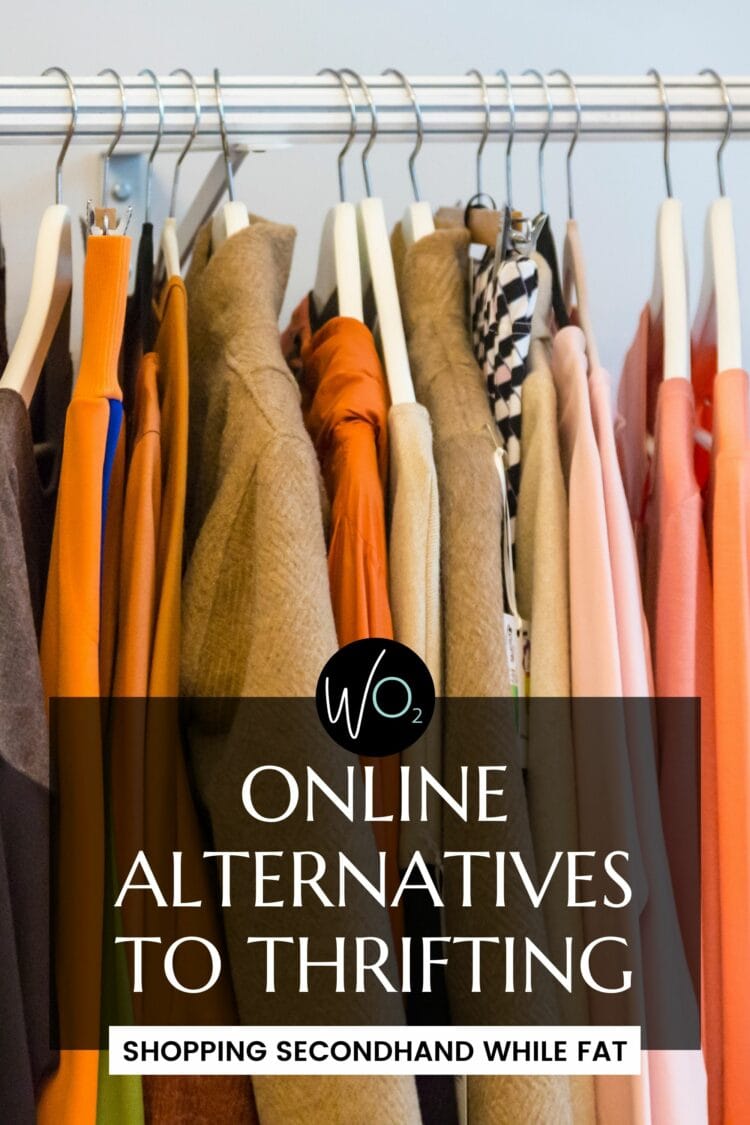 My Alternatives to Thrifting
That doesn't mean I don't purchase used clothing. In fact, a lot of my wardrobe is secondhand. I find shopping used online to be a better use of my time, and better for my ego.
eBay is a great place for shopping very specific pieces; you can search by brand, size, color, and more and even create alerts so you are emailed when new pieces that fit your criteria are listed. It's nice to filter out all the items that wouldn't fit so I can focus on what I could buy versus what I want but isn't available for me.
I'm now using Poshmark, and have found some great gently used fashion on the app. I love this for when I am looking for a specific piece from a specific brand from a past season. I find a lot of high-quality plus size fashion on Poshmark and can often find the same pieces being sold in stores right now in my size which is sold out, and often for less.
I've also found larger-sized vintage on Etsy, though it's still rare. However, there are some Etsy shops that are focused specifically on plus sized vintage fashion.
Shop Plus Size Vintage at Etsy:

Thrifting is a way to build a wardrobe for less while also being more ethical. Less in landfills, less production, and the ability to have a more unique personal style. If you have the time, I highly recommend it. And if you don't, there are great online alternatives that let you sift through listings instead of racks at any hour from any location!