Allie I am surprised you don't wear more clothes that are thrifted or from consignment. I buy most of my clothes this way it saves a lot of money and I find a lot of the brands you wear. You write about ethical fashion and this is a way to be ethical and also save money. Thoughts??
When I was in college, the majority of my wardrobe was thrifted. Leather jackets, vintage jeans, rock tees, even cashmere sweaters I found in excellent condition for ridiculously low prices. My friends and I went after classes at least once a month, spending hours going over racks with a fine-tooth comb, sometimes buying things that didn't fit us to share with friends who were that size.
When I was single, I loved thrifting. I had a really big Goodwill near my home that would receive whole estates from the wealthy elderly folk who lived in the nearby town and scored insane things – vintage designer clothing, amazing homewares, gorgeous coats and bags. I also loved taking my clothes to consignment shops; I'd use the store credit to buy new pieces for the upcoming season.
And now I am 40, with a daughter, a job with a long commute, a second job with this blog, and a family I don't see often enough. I do occasionally stop by a thrift store on the way home if I know Karl and Emerson are still at dance class and have gone on days off from work, but those times are pretty rare. I don't thrift much these days… in fact I don't do much in-person shopping at all.
Time is money, and I don't have a lot of free time. While thrifting is economical, it's not a process where you can have a specific list, dash in and out. I just can't justify the hours away from the family, or even schedule the time when the stores are open and I am not at work, to make it happen on a regular basis.
Thrifting takes even more time when you are a larger size. While larger sizes can be found, there's less chance for good condition or a cool style. Us larger girls don't let go of great fashion; if it fits and flatters we often wear the heck out of a piece before it leaves our closet. While we've seen great leaps and bounds in cusp and plus fashion in the past couple of years, thrift stores haven't caught up and vintage fashion in larger sizes is hard to find or usually of the housedress or knit separates variety. Also when you're soft and older, you can't rock that sequined tunic sweater or acid washed denim jacket with as much style or irony. That's not to say I haven't found some great scores at thrift and consignment shops, but it's far rarer now than when I was 26 and a size 6.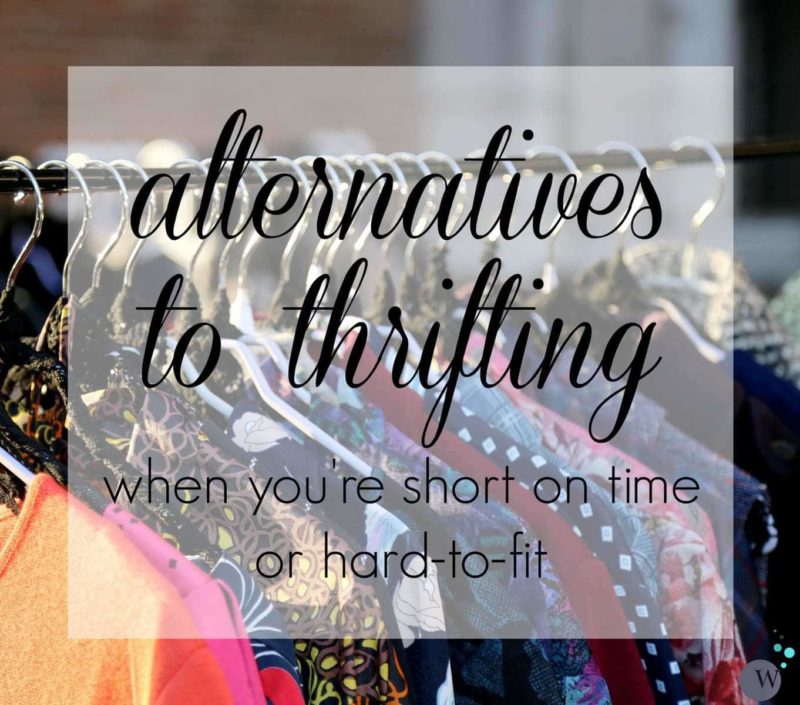 My alternative is shopping used online, and a lot of my wardrobe was acquired in such a manner. eBay is a great place for shopping very specific pieces; you can search by brand, size, color, and more and even create alerts so you are emailed when new pieces that fit your criteria are listed. I'm now using Poshmark, and have found some great gently used fashion on the app. I've also found larger-sized vintage on Etsy, though it's still pretty darn rare. I don't always state whether an item has been purchased on one of these sites just as I don't share whether a brand name piece was acquired from TJ Maxx, Nordstrom Rack, or Amazon.
But I agree with you. Thrifting is a way to build a wardrobe for less while also being more ethical. Less in landfills, less production, and the ability to have a more unique personal style. If you have the time, I highly recommend it. And if you don't, there are great online alternatives that let you sift through listings instead of racks at any hour from any location!