This article may contain affiliate links; if you click on a shopping link and make a purchase I may receive a commission. As an Amazon Associate, I earn from qualifying purchases.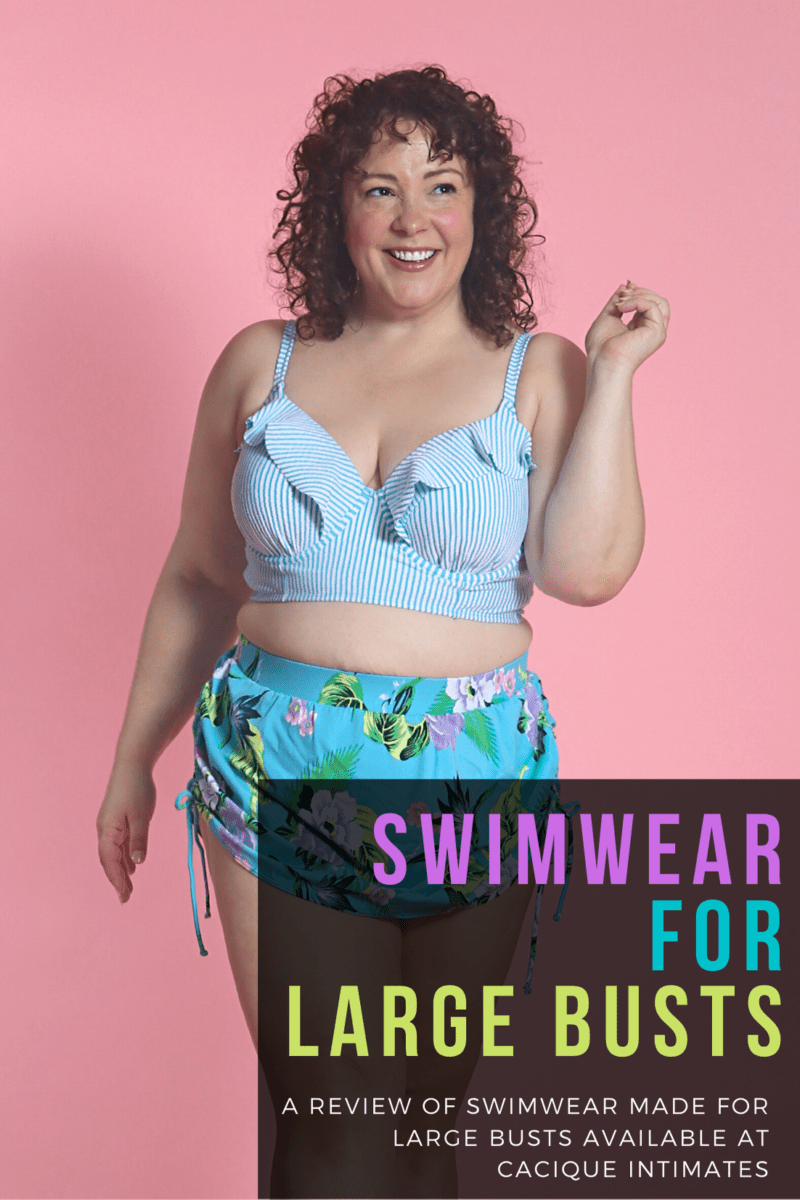 While we are all at home doing what is right for ourselves and the rest of the world, we will eventually be able to get back to normal and normal includes having fun in the sun at the pool, the beach, the lake, and even a sprinkler in your backyard. Cacique invited me to try out and review some of their selection of swimwear for large busts and sponsor this post. I've reviewed Cacique bras for large busts before and was interested in their swimwear. A lot of Cacique's swimwear has their bra technology built in, making it great for those of us who desire lift and support in their bathing suit.
This post is sponsored by Lane Bryant.
Swimwear for Large Busts at Cacique
Cacique let me choose the swimsuits to review. I wanted to do a mix of what I would wear, and what you readers have mentioned over the year that you're looking for or feel most comfortable in. Please know this is only a sampling of what Cacique offers; I invite you to visit their site and see all the other great suits they offer in size 14-28, cup sizes 36DD – 48H.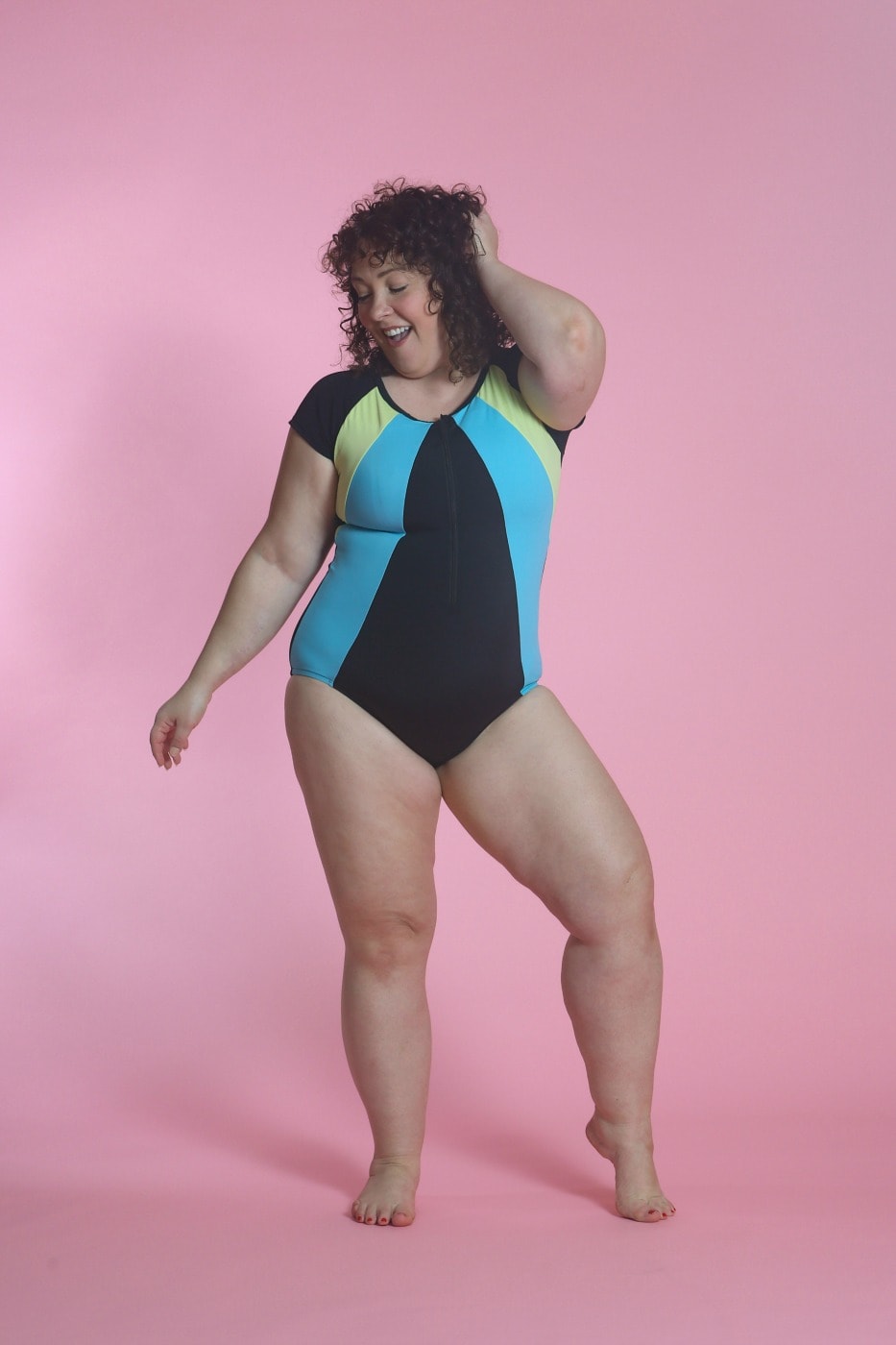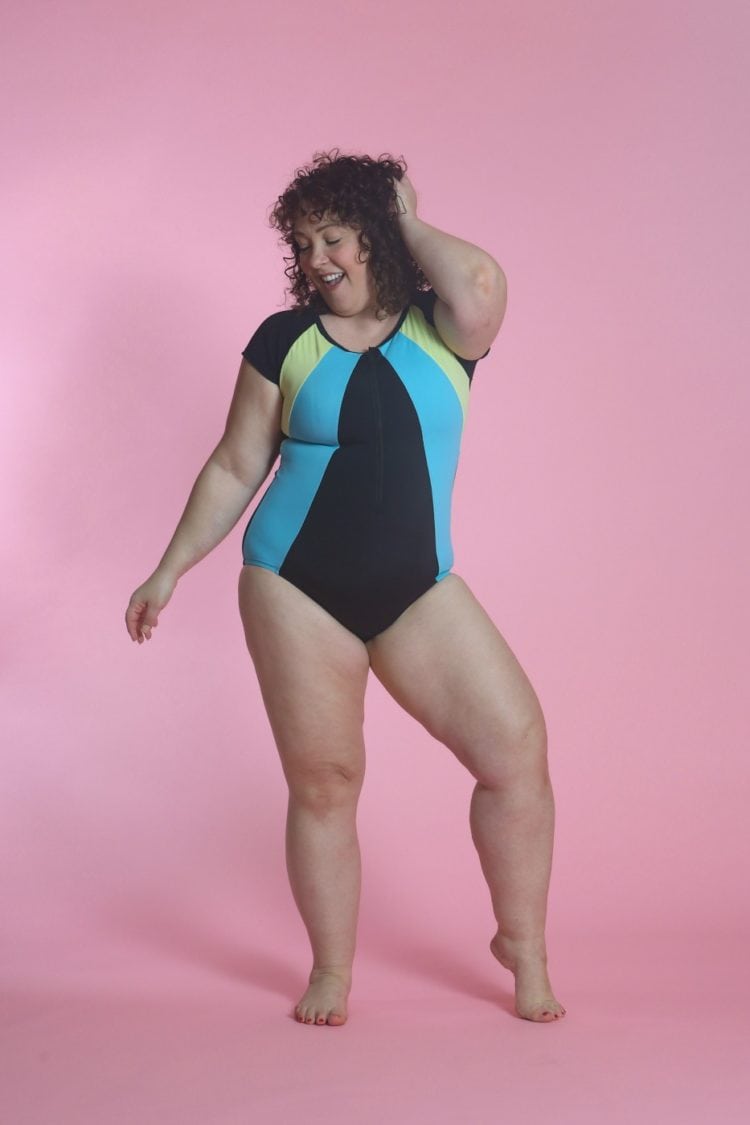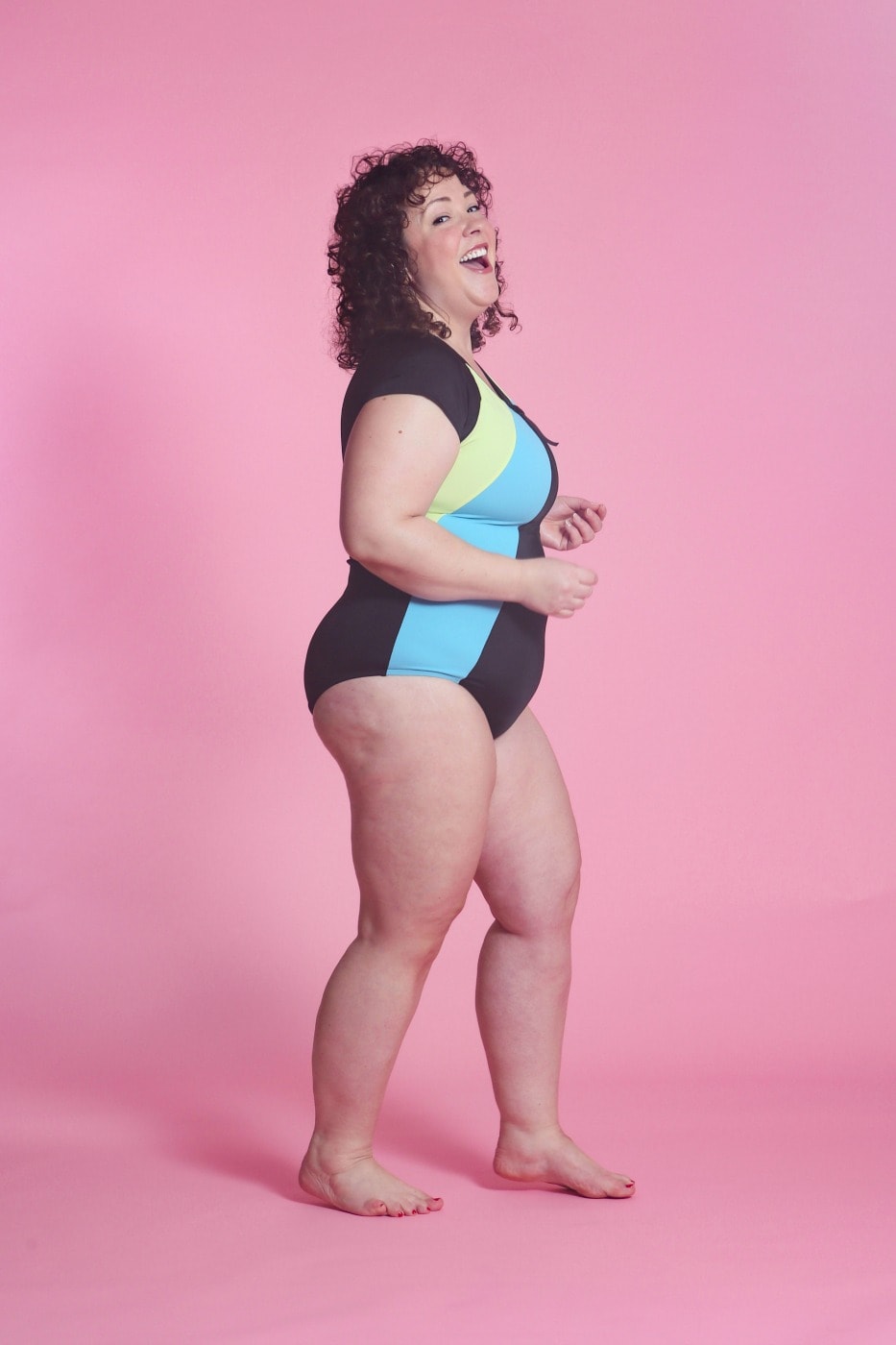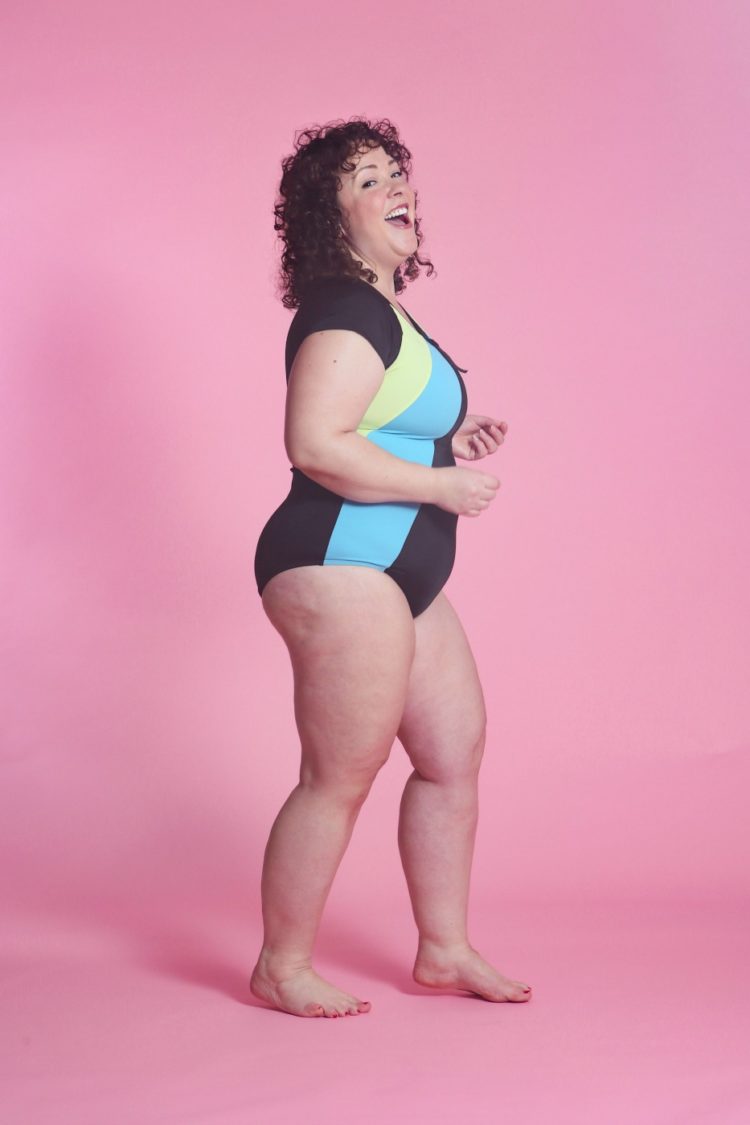 While I am comfortable rocking a bikini at the pool, I also like functional suits that will let me swim laps and spend time outside without getting a burn. I loved the wetsuit-inspired look of this suit, and was curious to see how it would support without wires. I have to say I am impressed. I not only like it, my 11-year -old told me the suit was "cool!"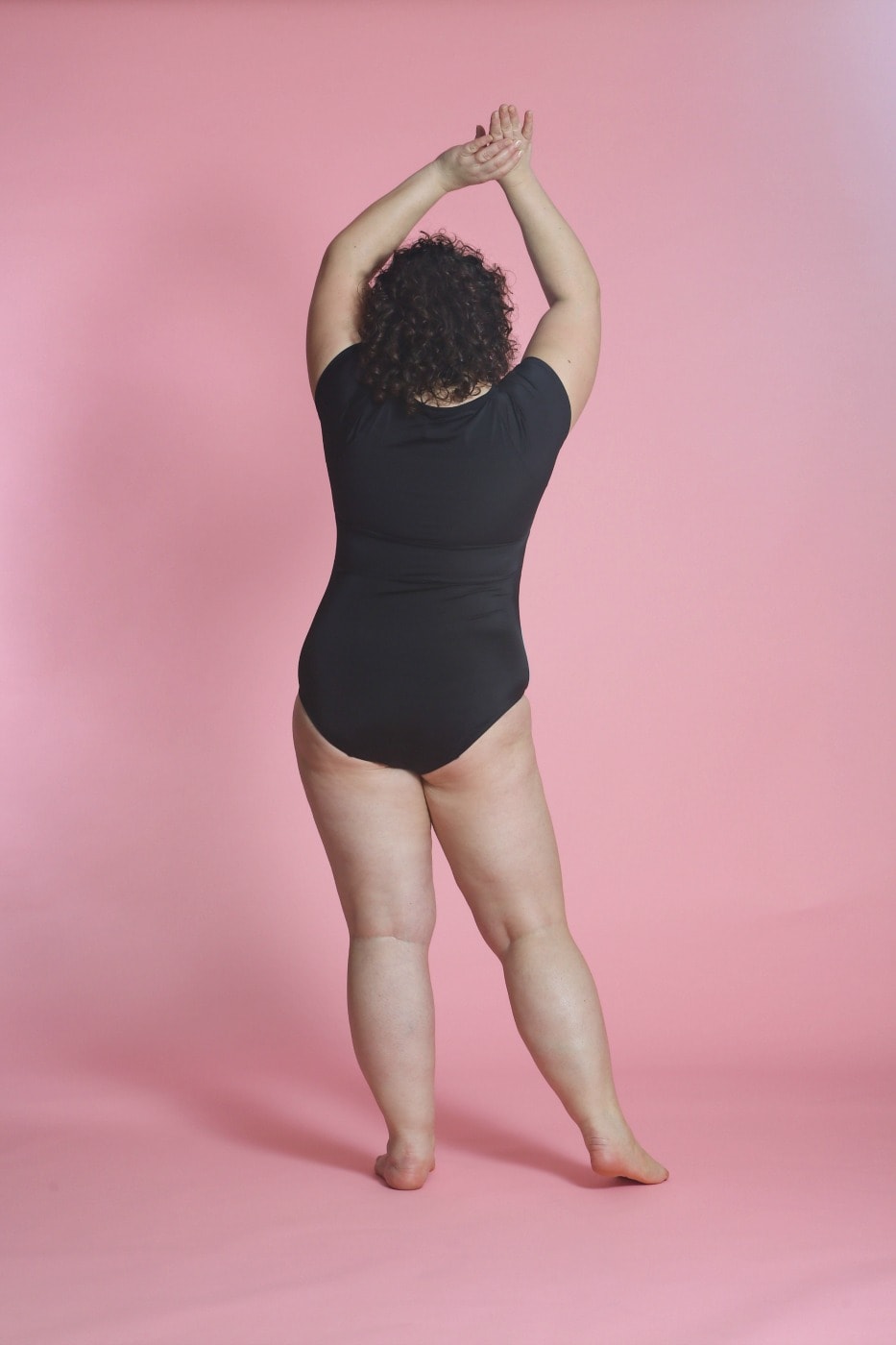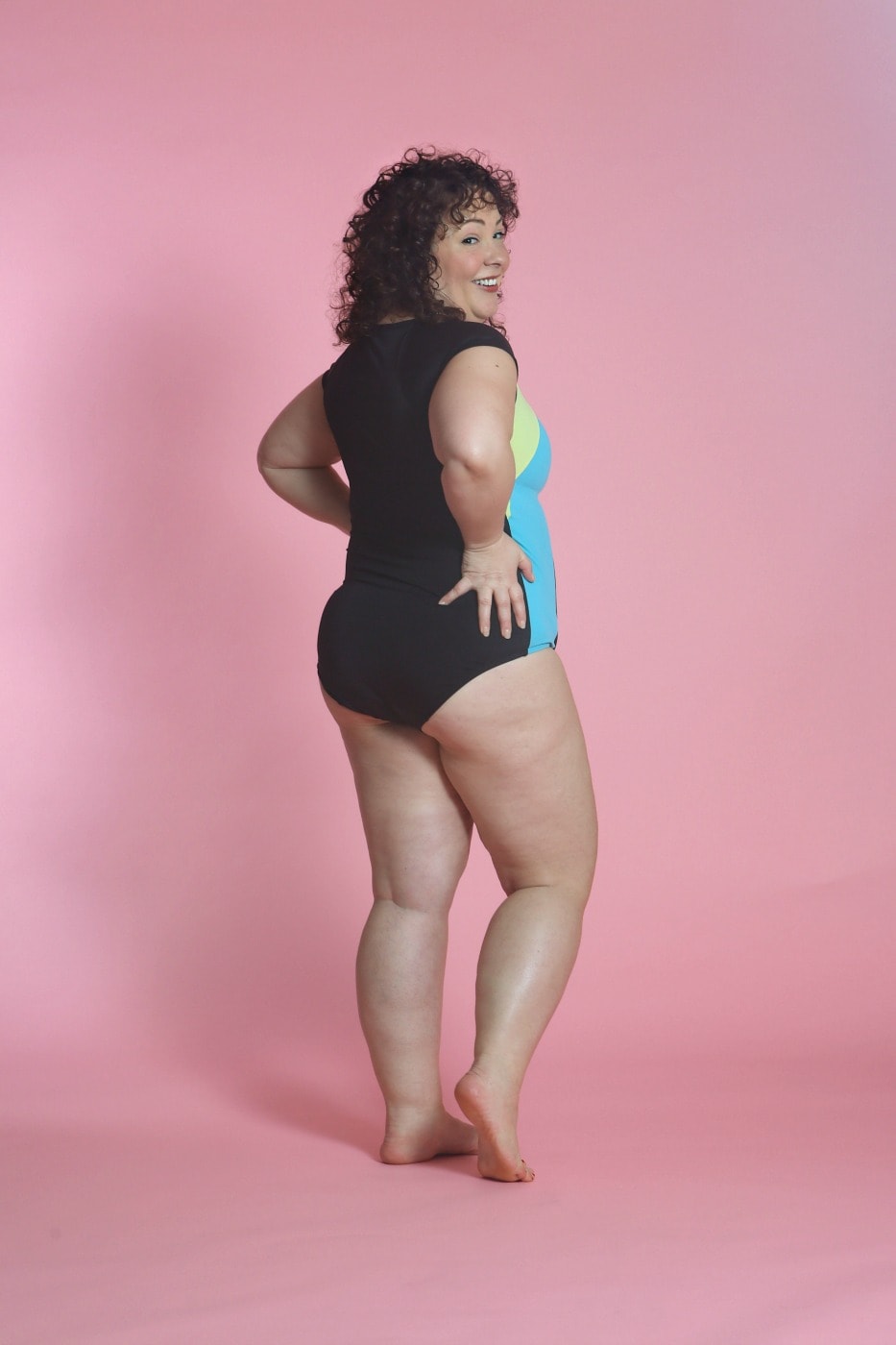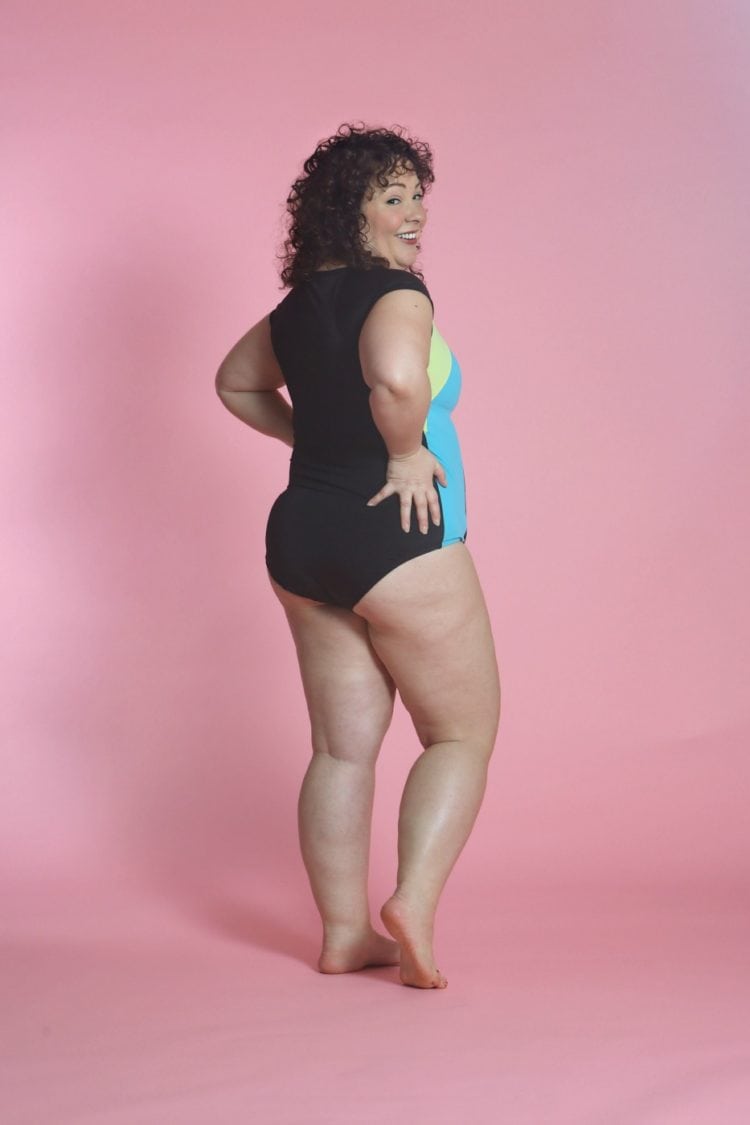 Inside the suit is a separate bust area with soft cups you clasp closed in front before zipping up the suit. It gives support and separation without anything compressing or digging into you. The suit has a powermesh lining to hold you in, but it really just keeps things a bit more… controlled without compression. This suit is extremely comfortable, no squeezing of my arms or riding up in back or gas pains from sucking me in while also being very opaque and hiding lumps and bumps. I love that it is functional and also fashionable; I'd be happy to rock this suit at the community pool or the beach in a few months!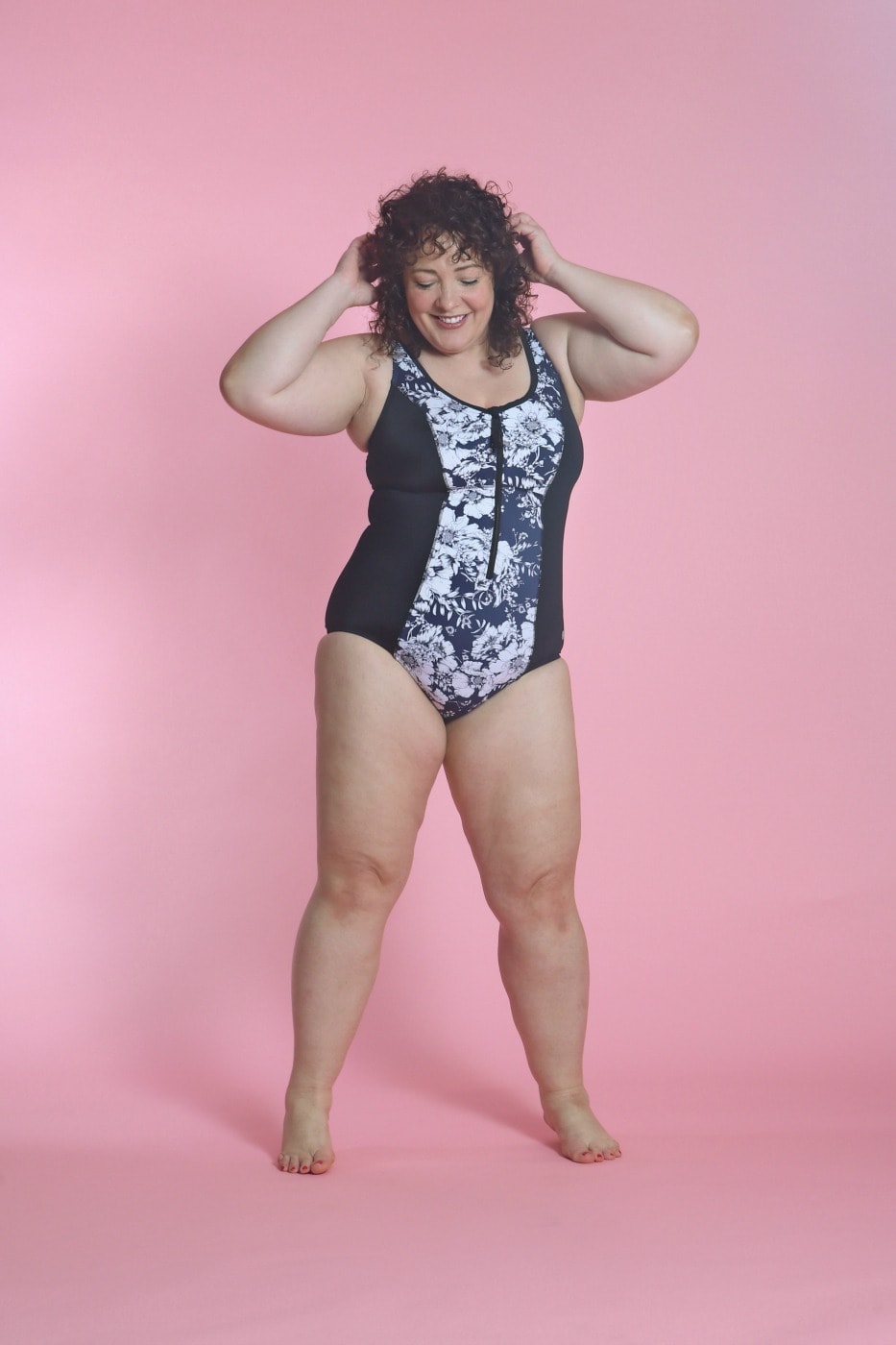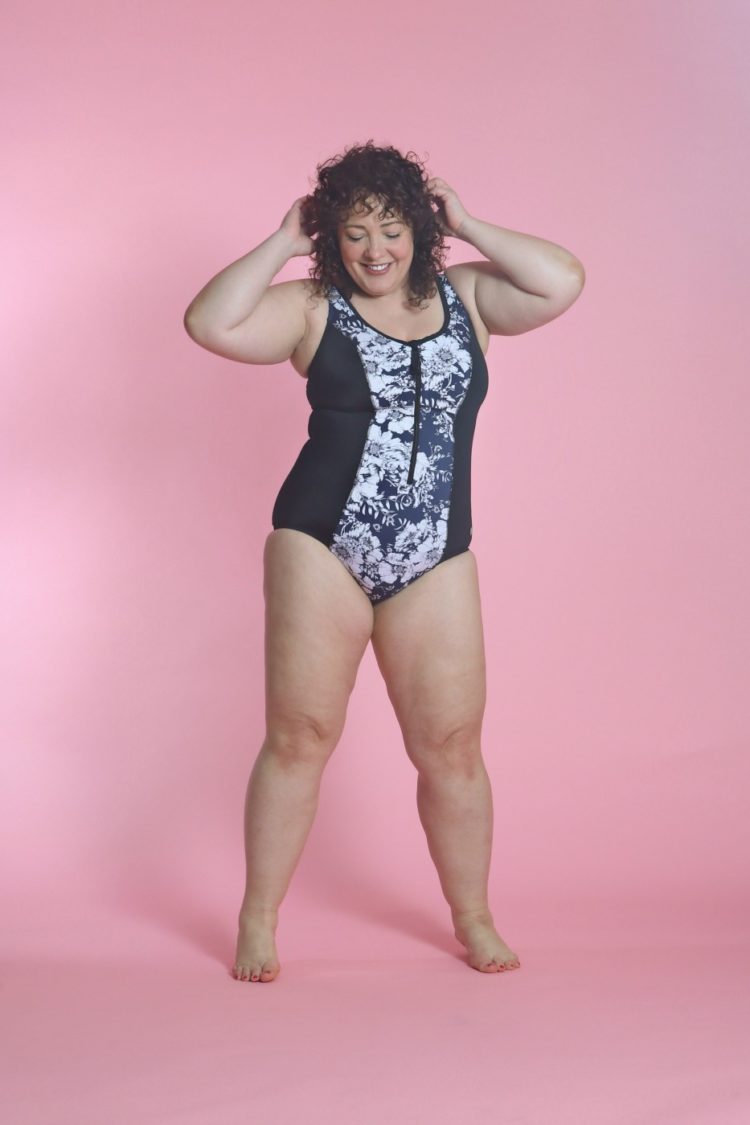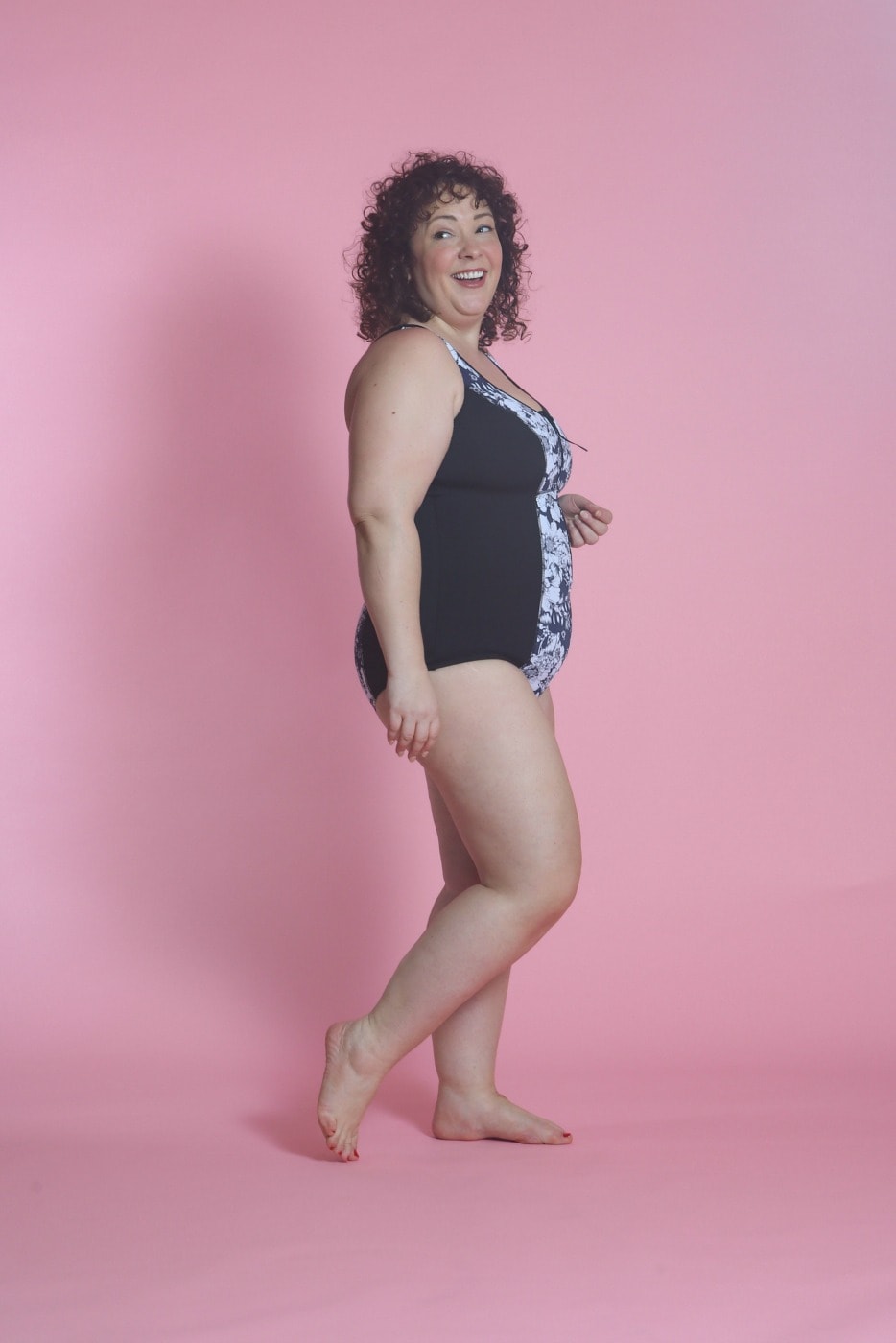 This suit is a similar concept underneath as the previous suit. Same no-wire bra functionality, same powermesh lining to hold you in without any compression or discomfort. However, this suit is made from LYCRA® XTRA LIFE™ which helps the suit keep its fit swim after swim. The suit is also heat, sunscreen and chlorine resistant with 50+ UPF sun protection.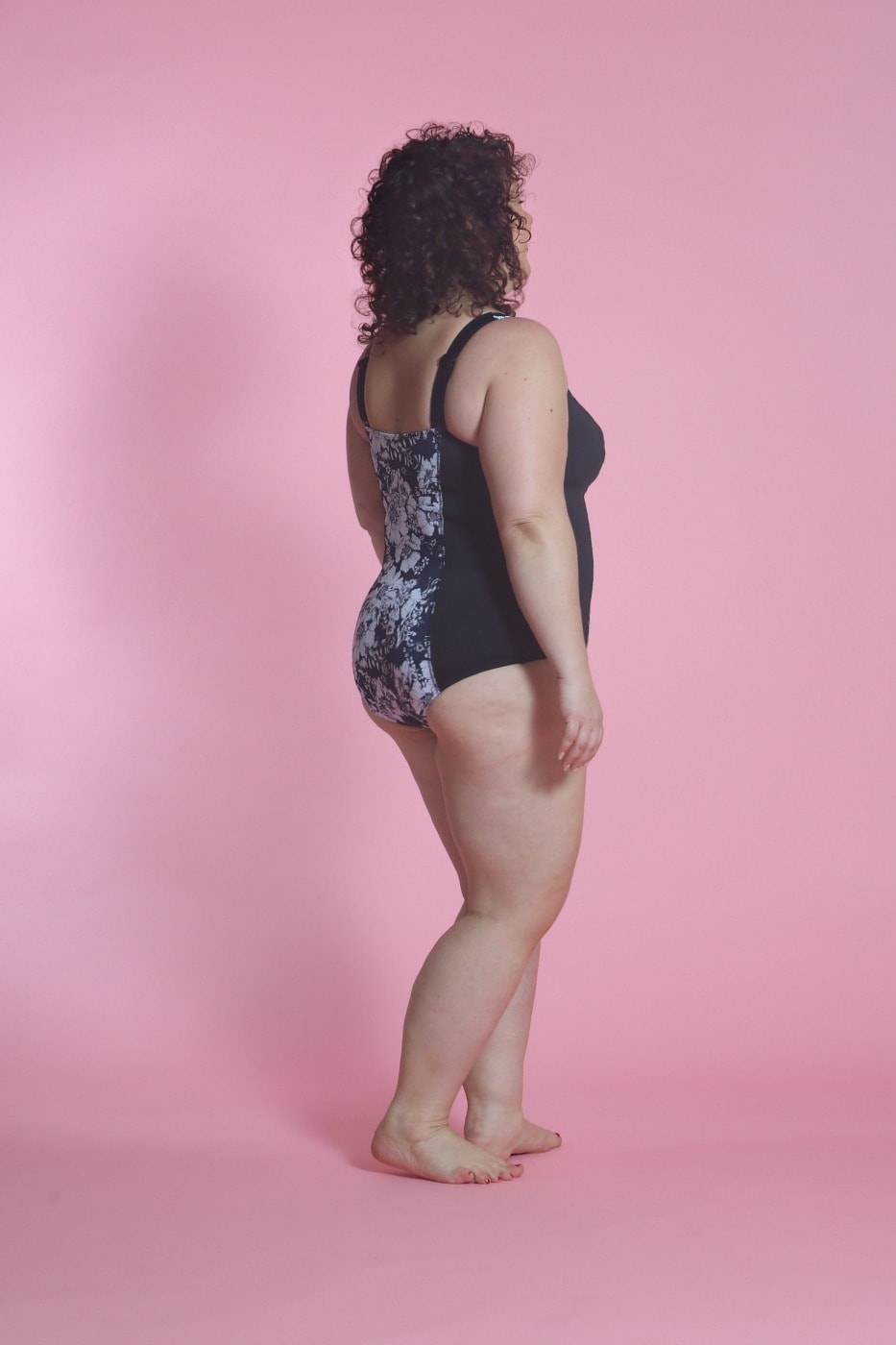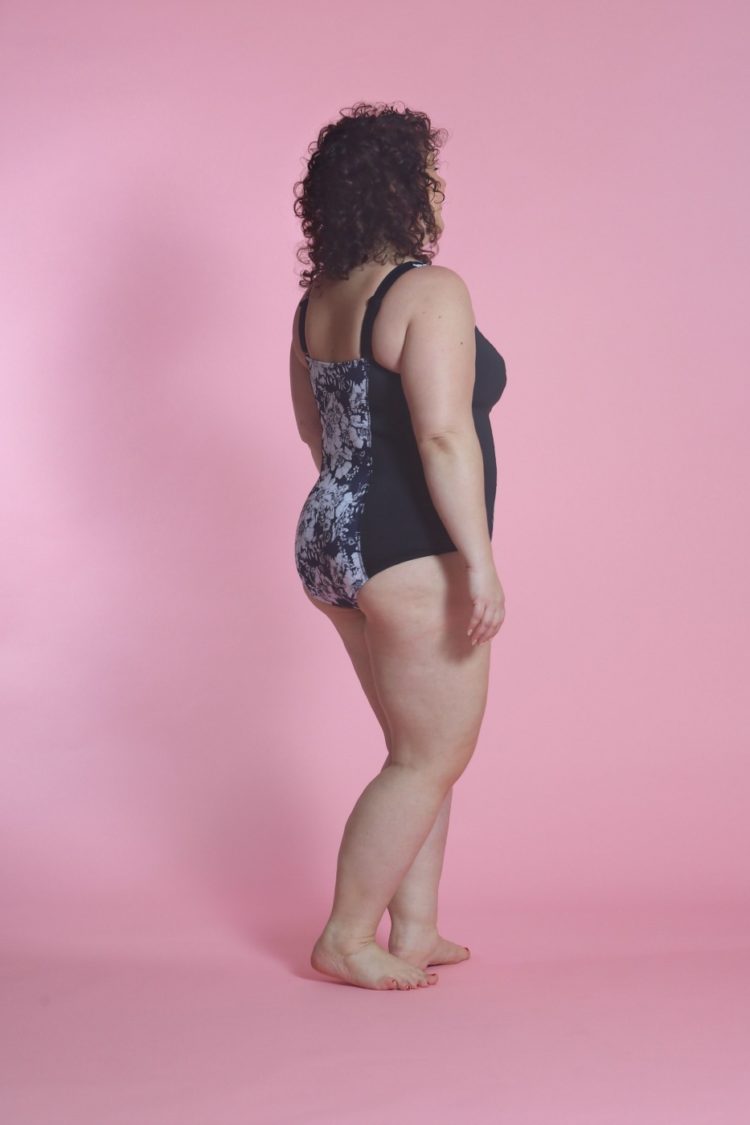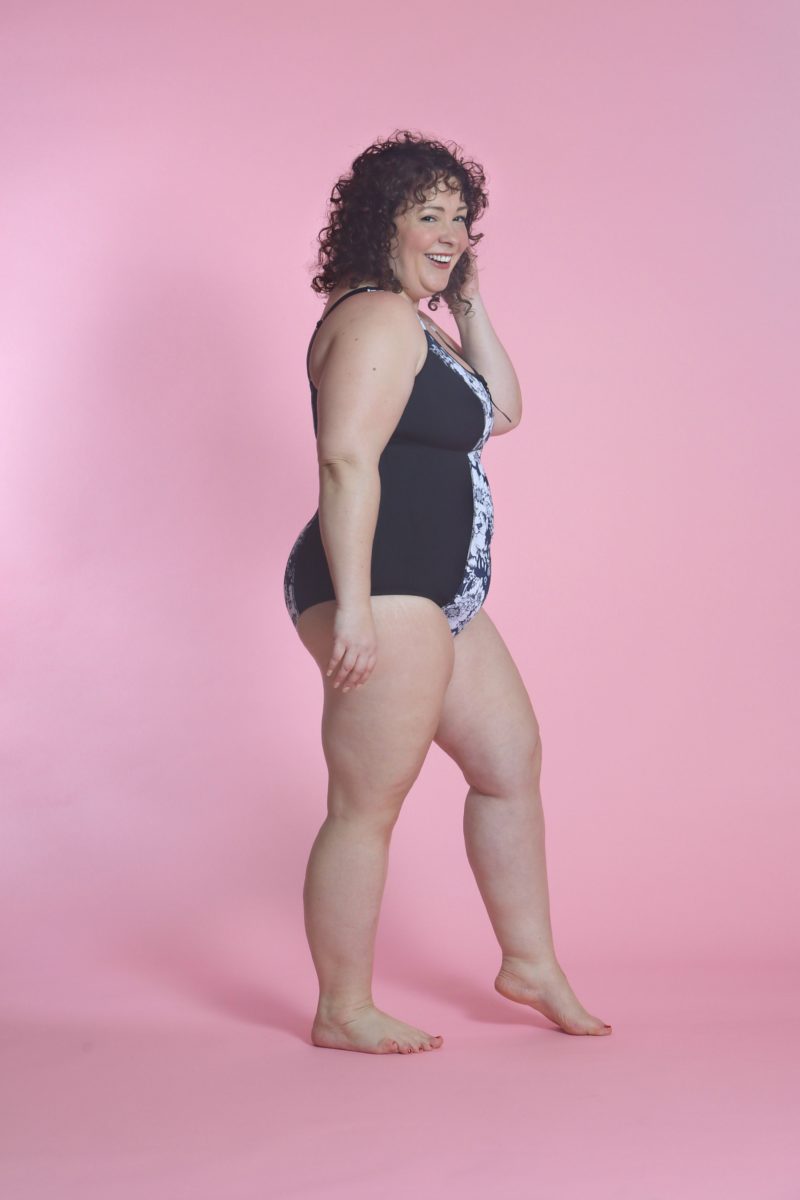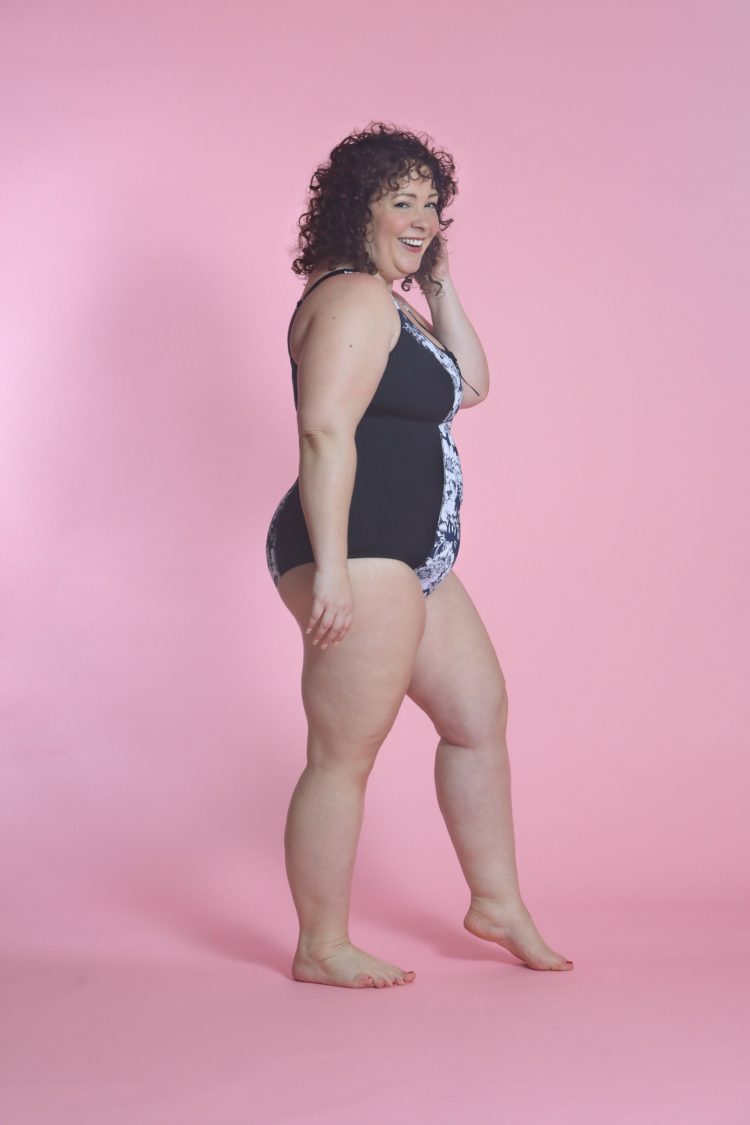 This is a nice suit. It's not my personal style but I would love it on others. Like the previous suit, it feels well made, it's comfortable, and stays in place even when I did swimming gestures and jumped around during the shoot. I like how you can adjust the straps to have them cross in back for extra support. I think this is a great suit if you want something for weekends at the pool, swimming laps, or catching some rays at the beach.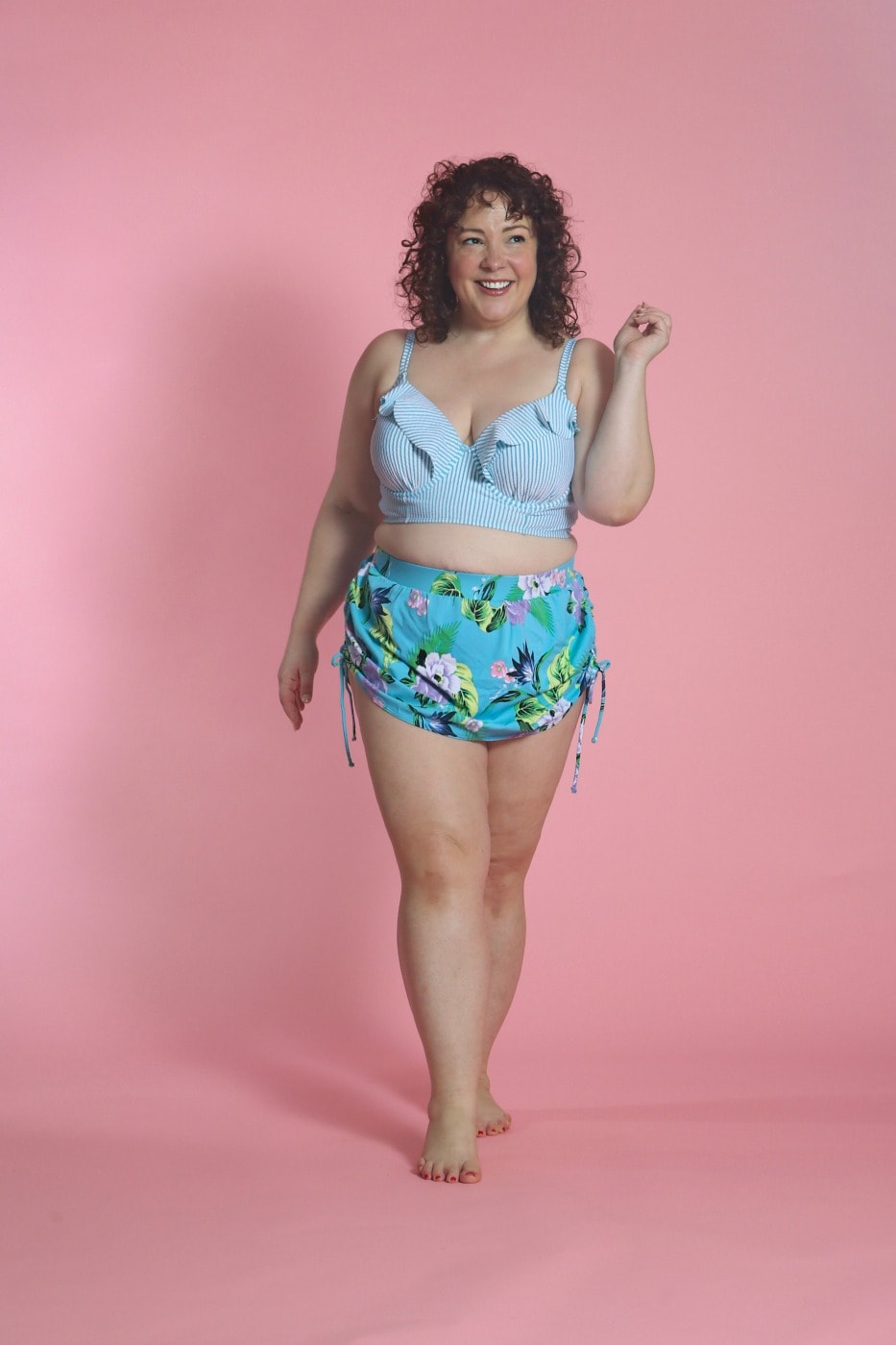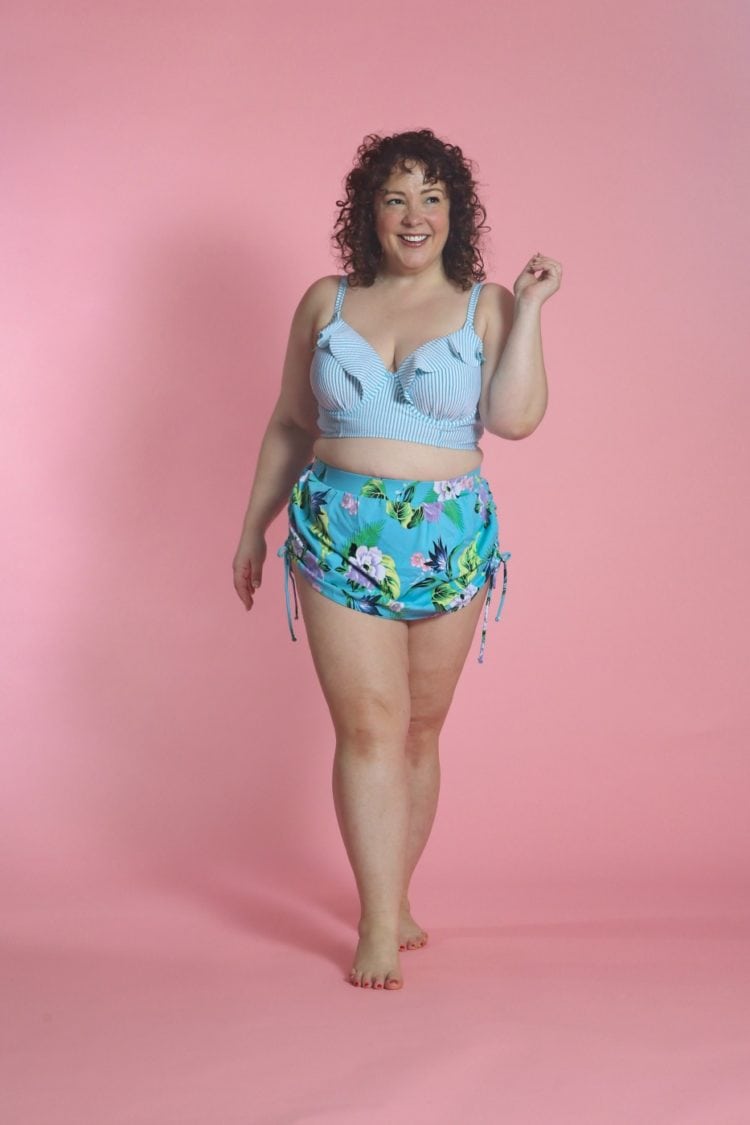 I really wanted to try one of the Cacique suits with the underwire bra technology and thought this seersucker top was adorable. From my experience trying Cacique bras and buying bra-sized swimwear in the past, I went up in the band size and down in the cup. As for the bottom, I know the mixed-print trend is hot and many of you have said you feel more comfortable with a skirt on your suit.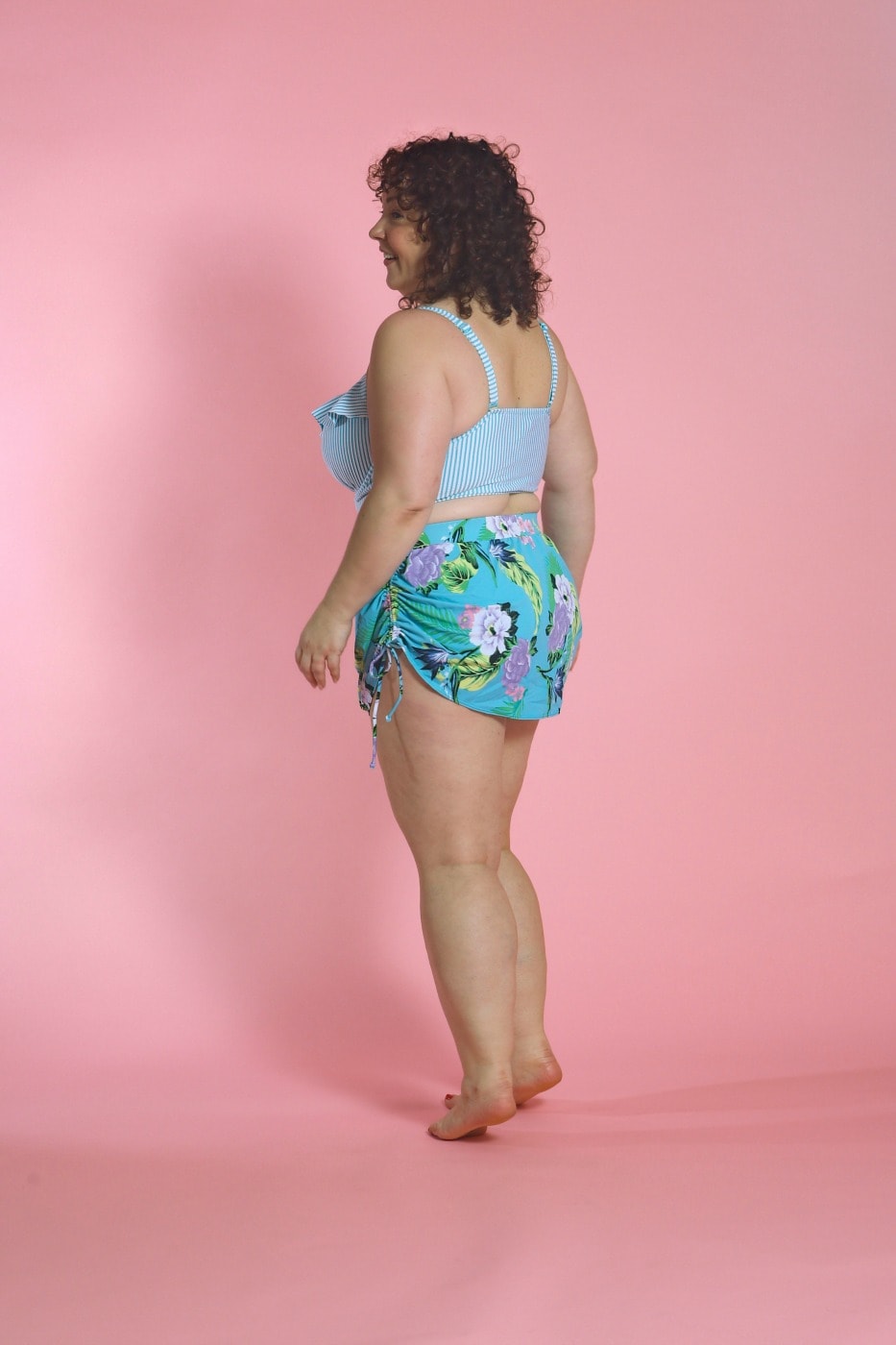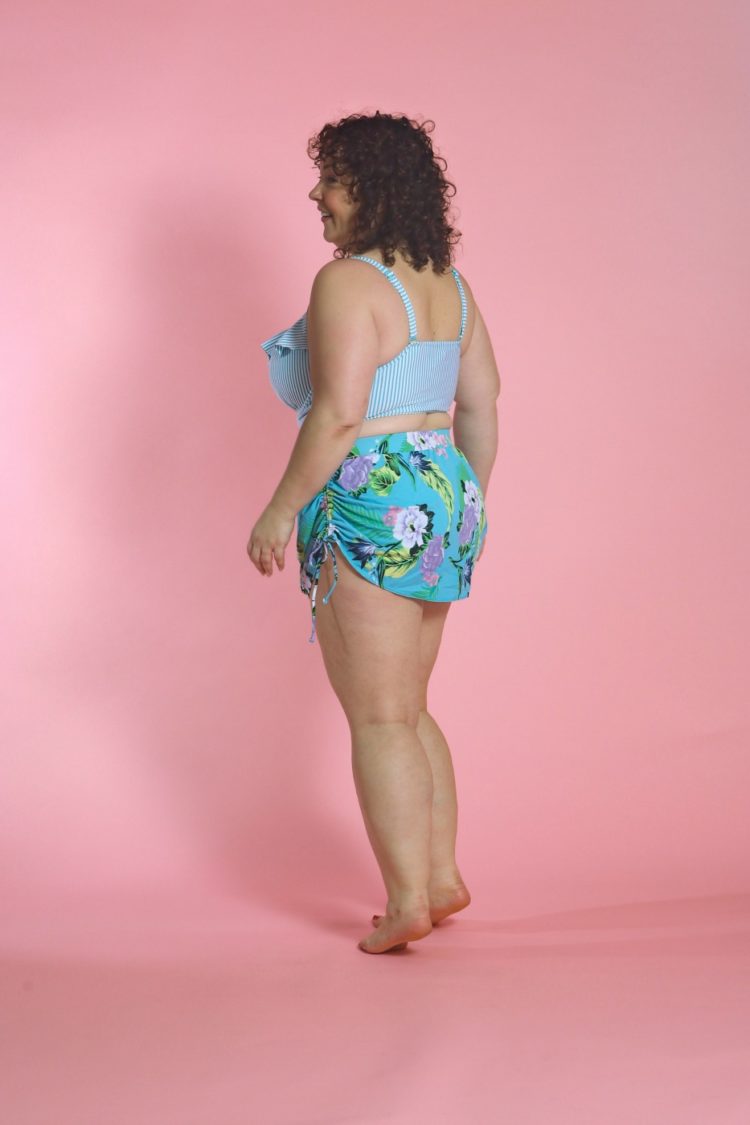 I wish I went with a 36 for the top. The cups weren't quite in the right places for me to feel secure. As for the bottom, I think it would work better on someone either who is taller, or who has wider hips as the skirt didn't lie on me quite right. That being said, both pieces are very good quality. The top's adjustable straps can be switched to cross in back for more support (and there is a cute matching bottom). The skirt comes in two prints and solid pink. The sides can be untied to adjust the length of the skirt. Underneath is a standard brief that is lined for opacity. I like the wide waistband that doesn't slide down and unlike swimskirts from some other brands, keeps it separate from the skirt so it doesn't bunch up.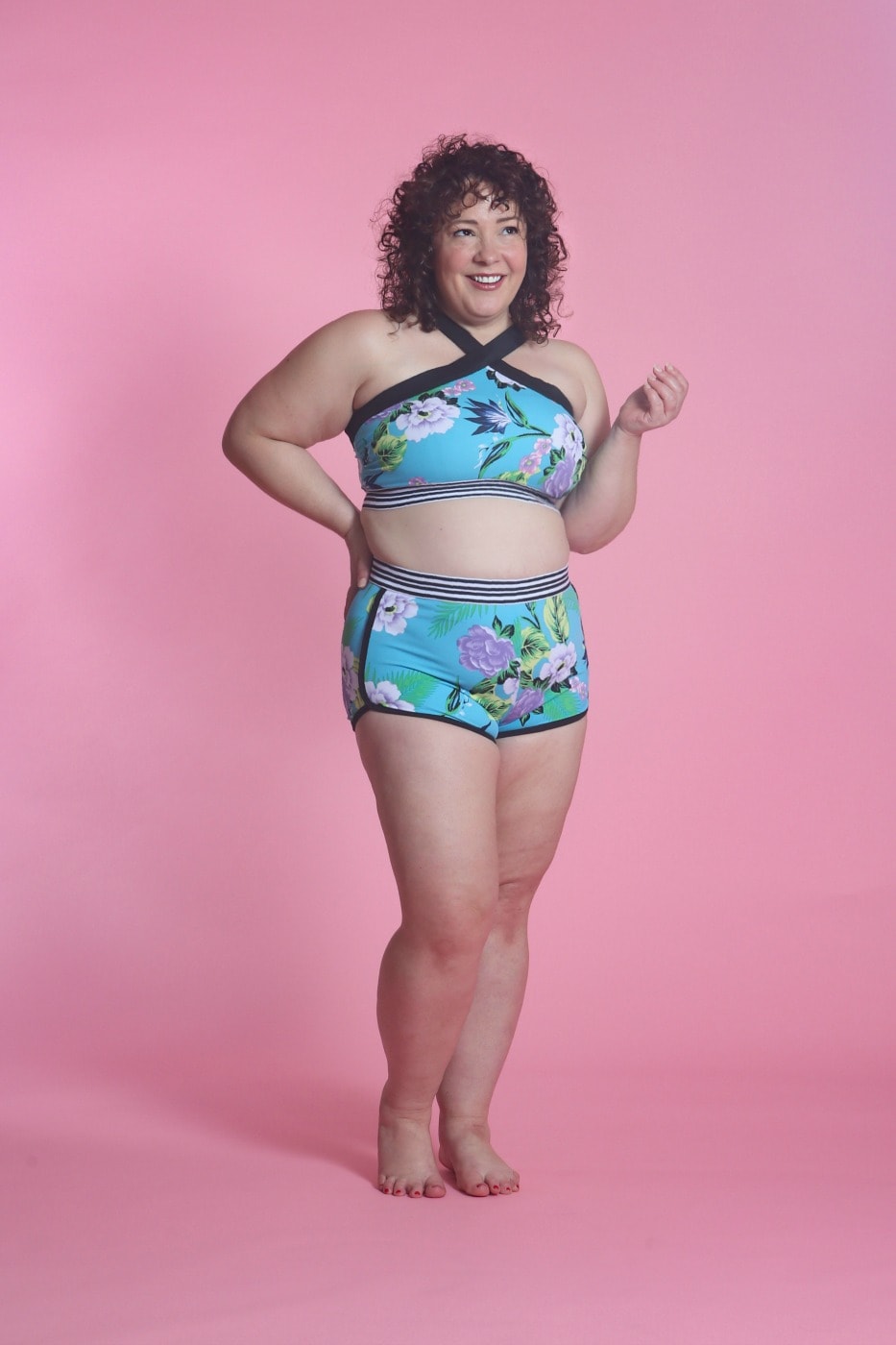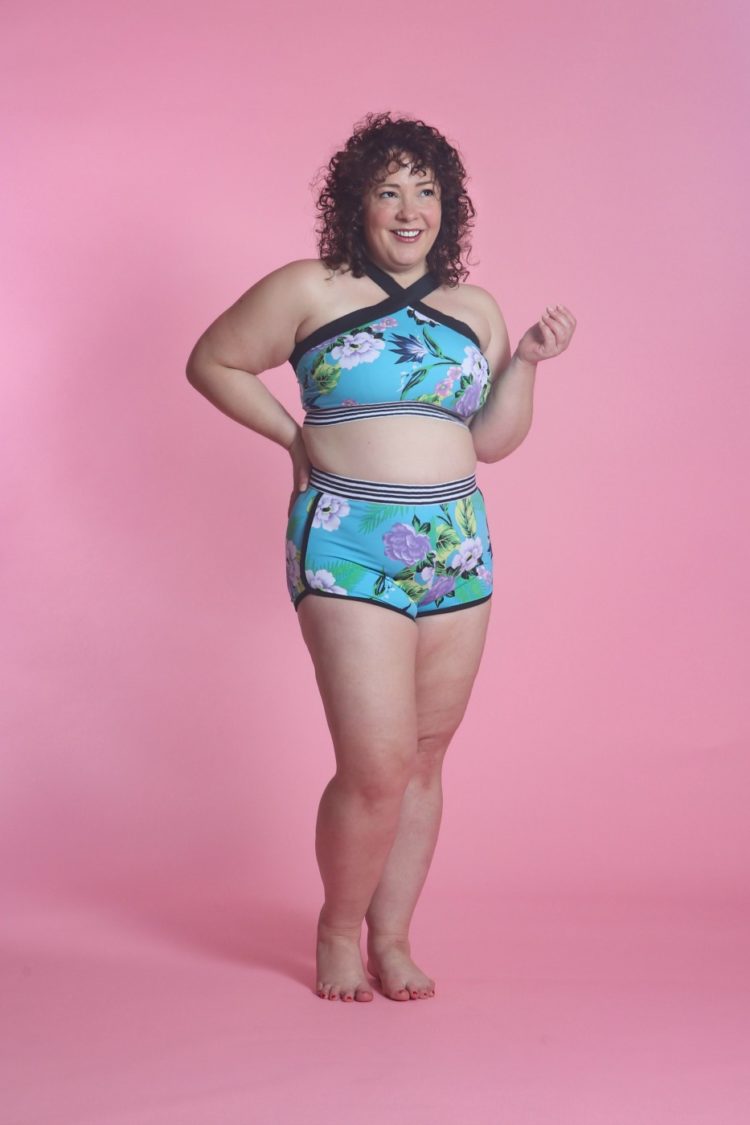 I thought this looked like a modern and fun swimsuit that would let you play in the surf or enjoy a water park without worrying about falling out. I liked the mix of the floral print with the black and white stripe too.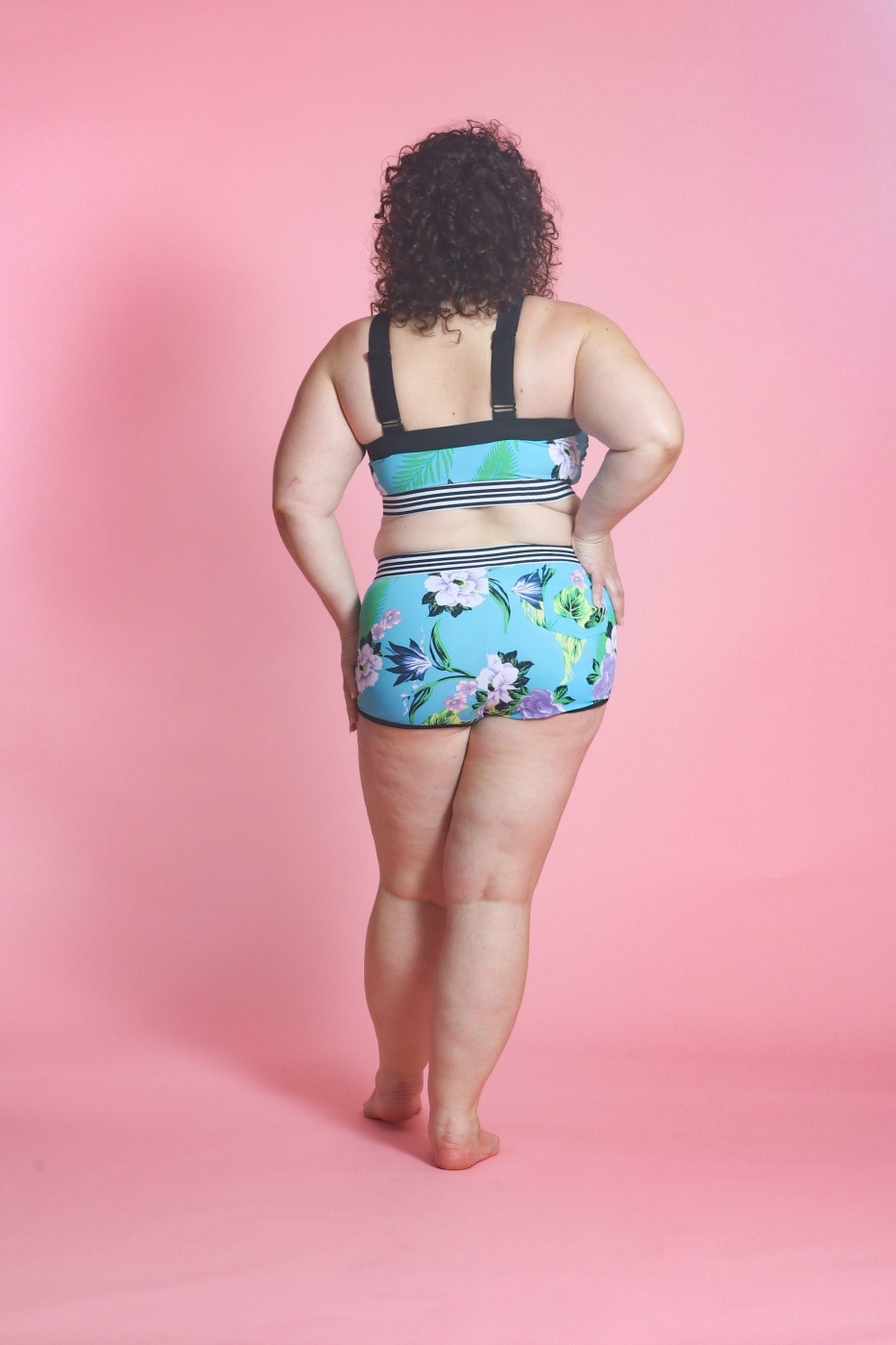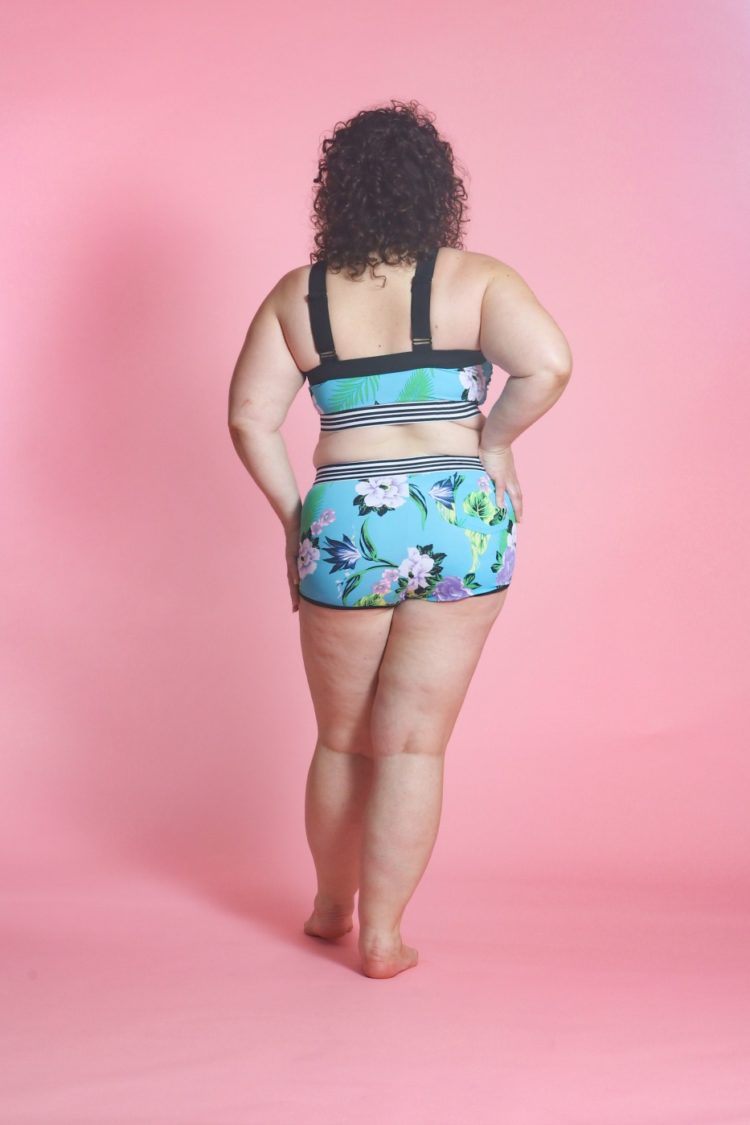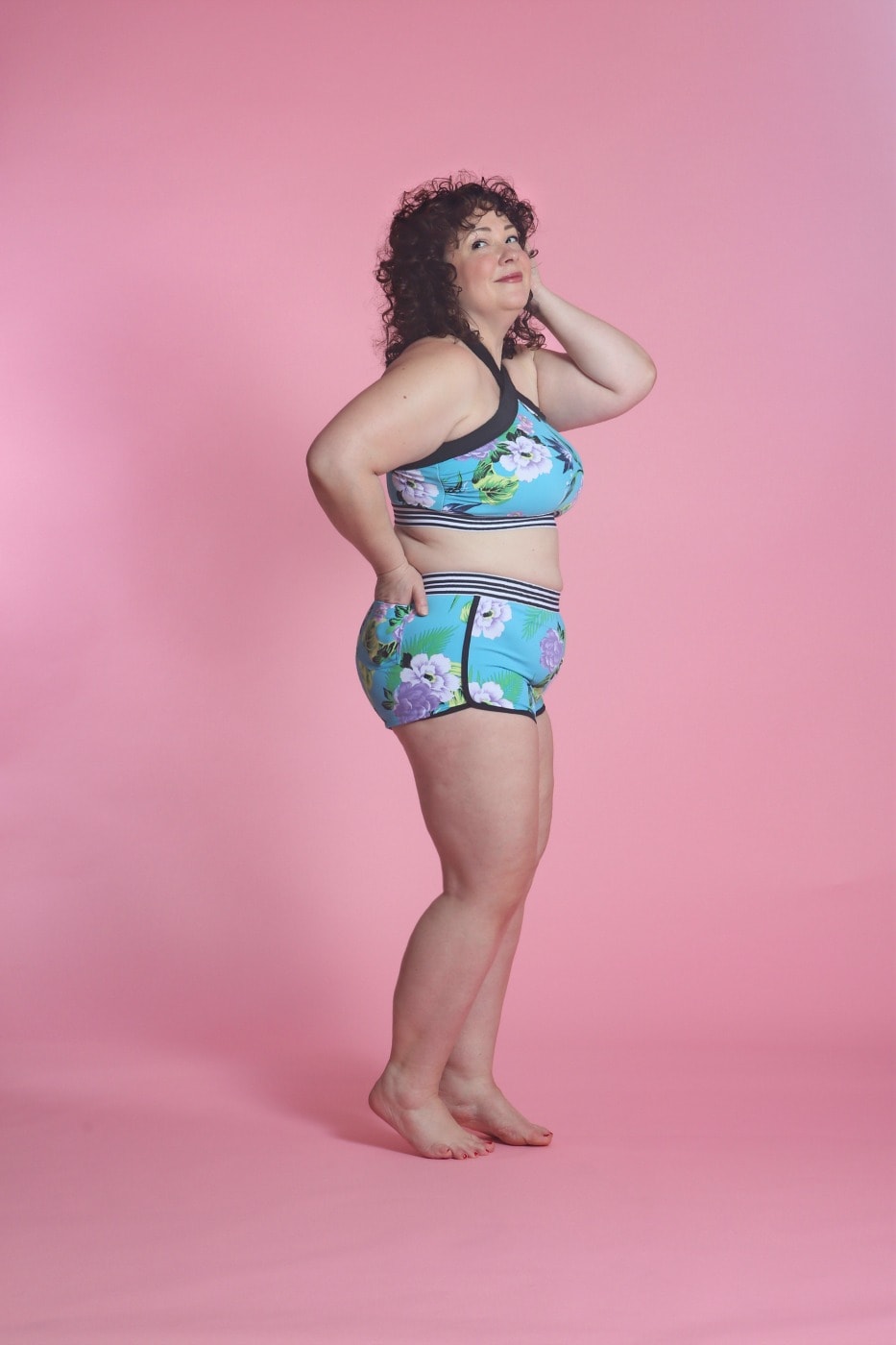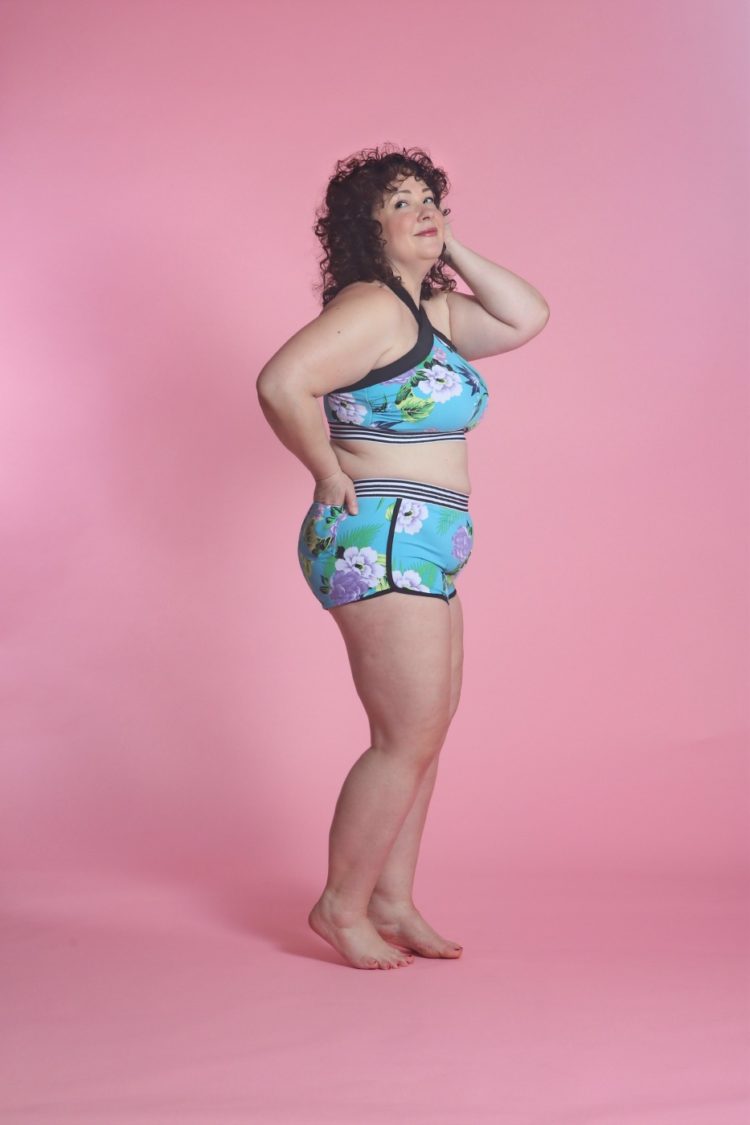 This suit was not made for my body. The shorts have a lightweight powermesh lining and while the lining does provide opacity, I would have been more comfortable with more power to have things look a bit more… contained. I also found the legs a bit restrictive causing them to ride up. I wonder if I would have liked it more in a size larger. The top is super cute but I think would be better for a smaller bust and a taller body so the straps would lie better. If you are a D cup or smaller, I think this top would look fabulous. This is the "Tropical Paradise" print and Cacique has several bottoms available in this print as well as solid colors seen in the top so you could create a great-looking two-piece look.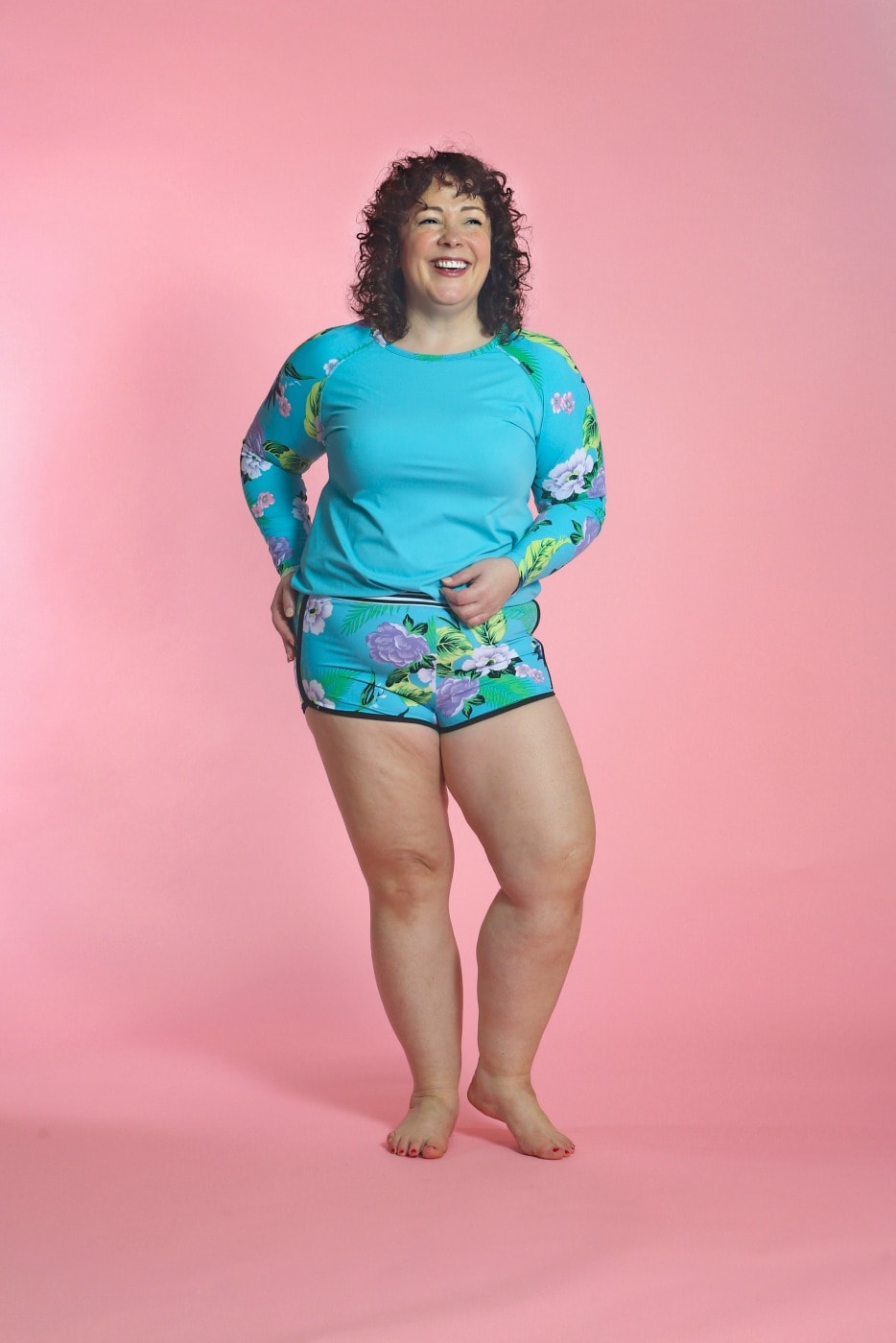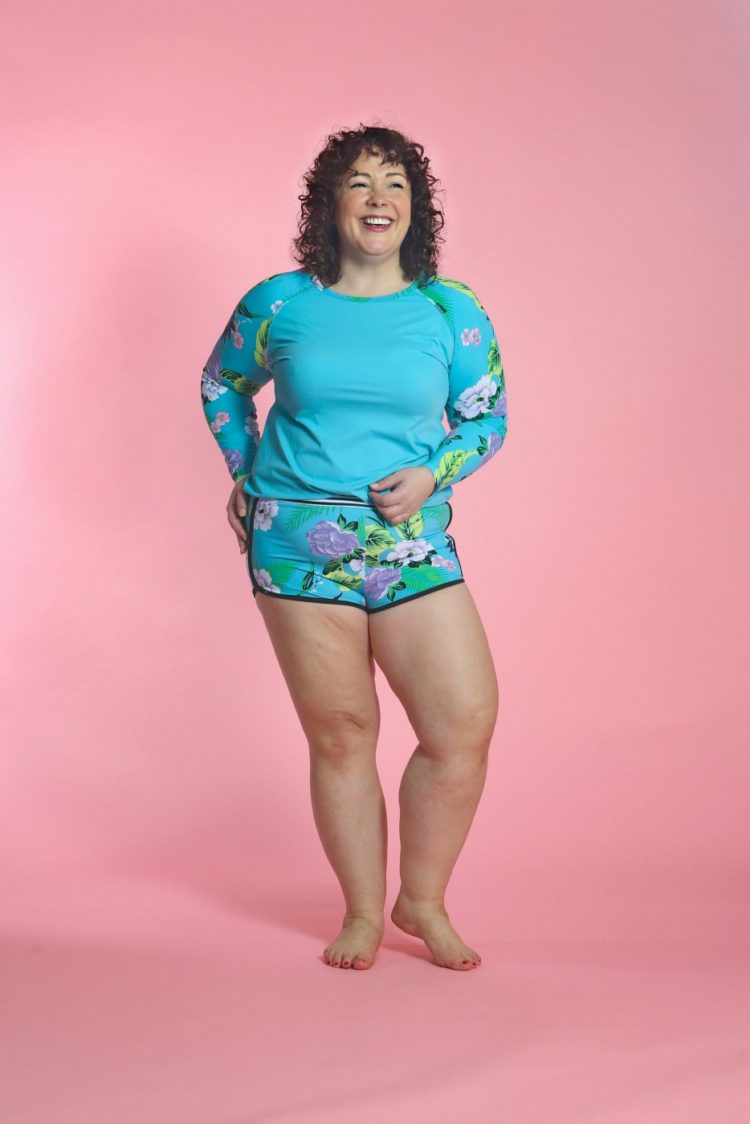 A swim tee is a smart purchase for modesty but also sun protection. It's also great when the sun goes down or there's a bit of a chill in the air and is a quick way to look more dressed when leaving the beach for lunch. This swim tee comes in solid navy and three colors with printed sleeves. The fabric has 50+ UPF sun protection too.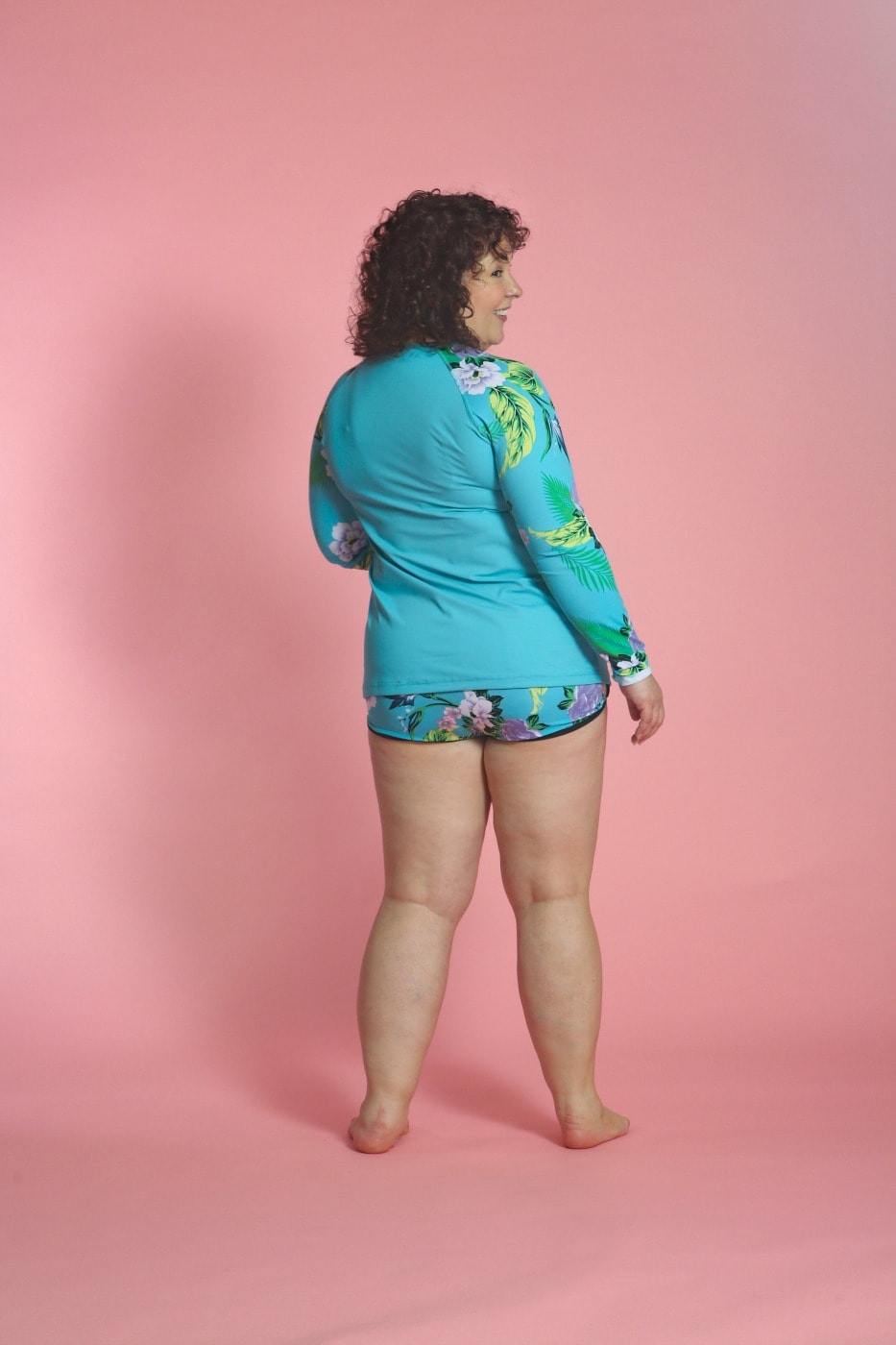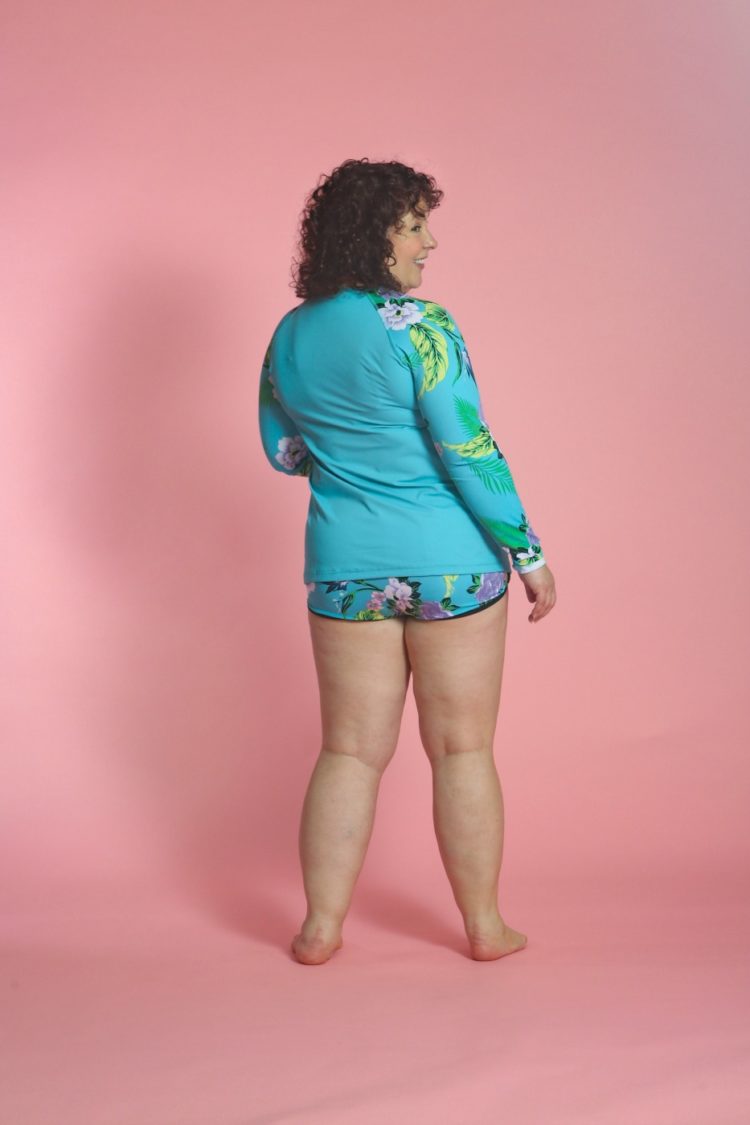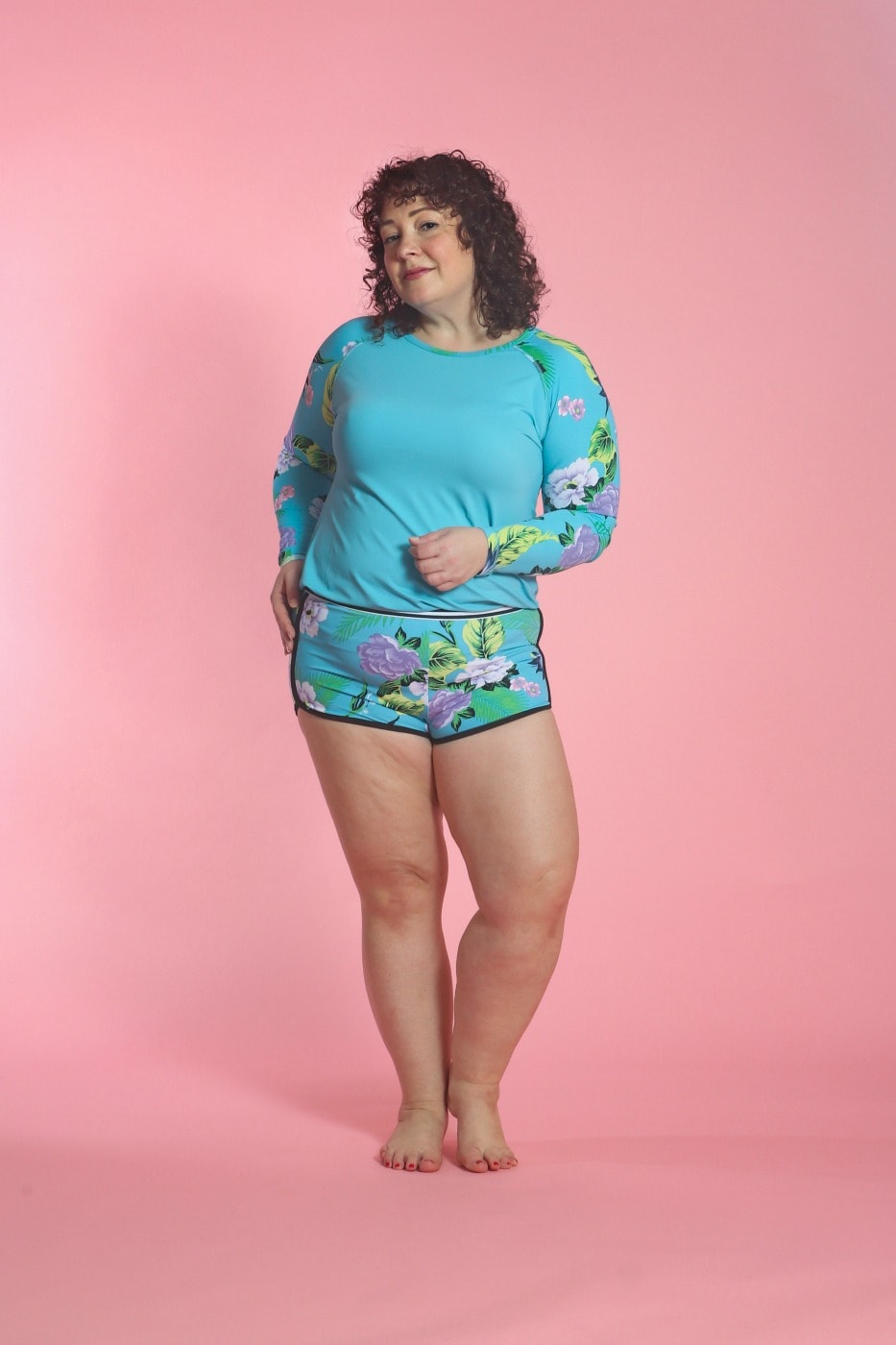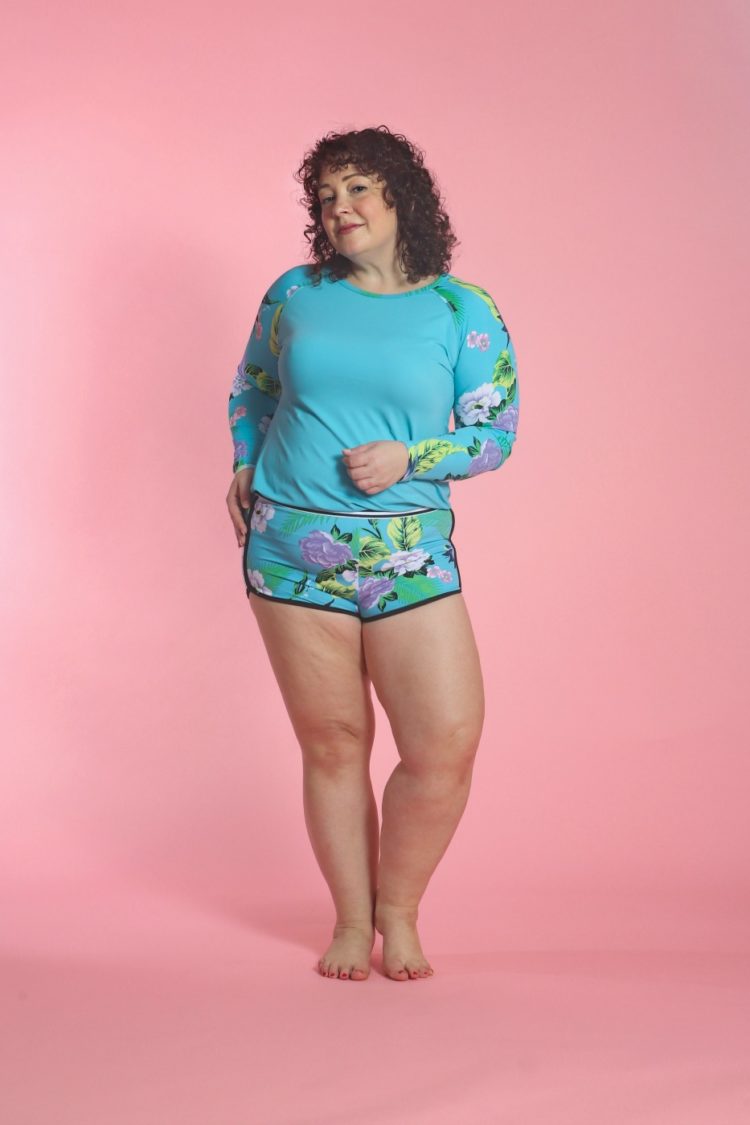 There is nothing wrong with this swim tee except that I am 5'3″ and on me, it is almost a swim dress. I tucked it in for most photos because it completely covers my entire swim bottom. But that shouldn't stop you, it's a great piece in the same fabric as the swimsuit separates so you can have a chic unified look!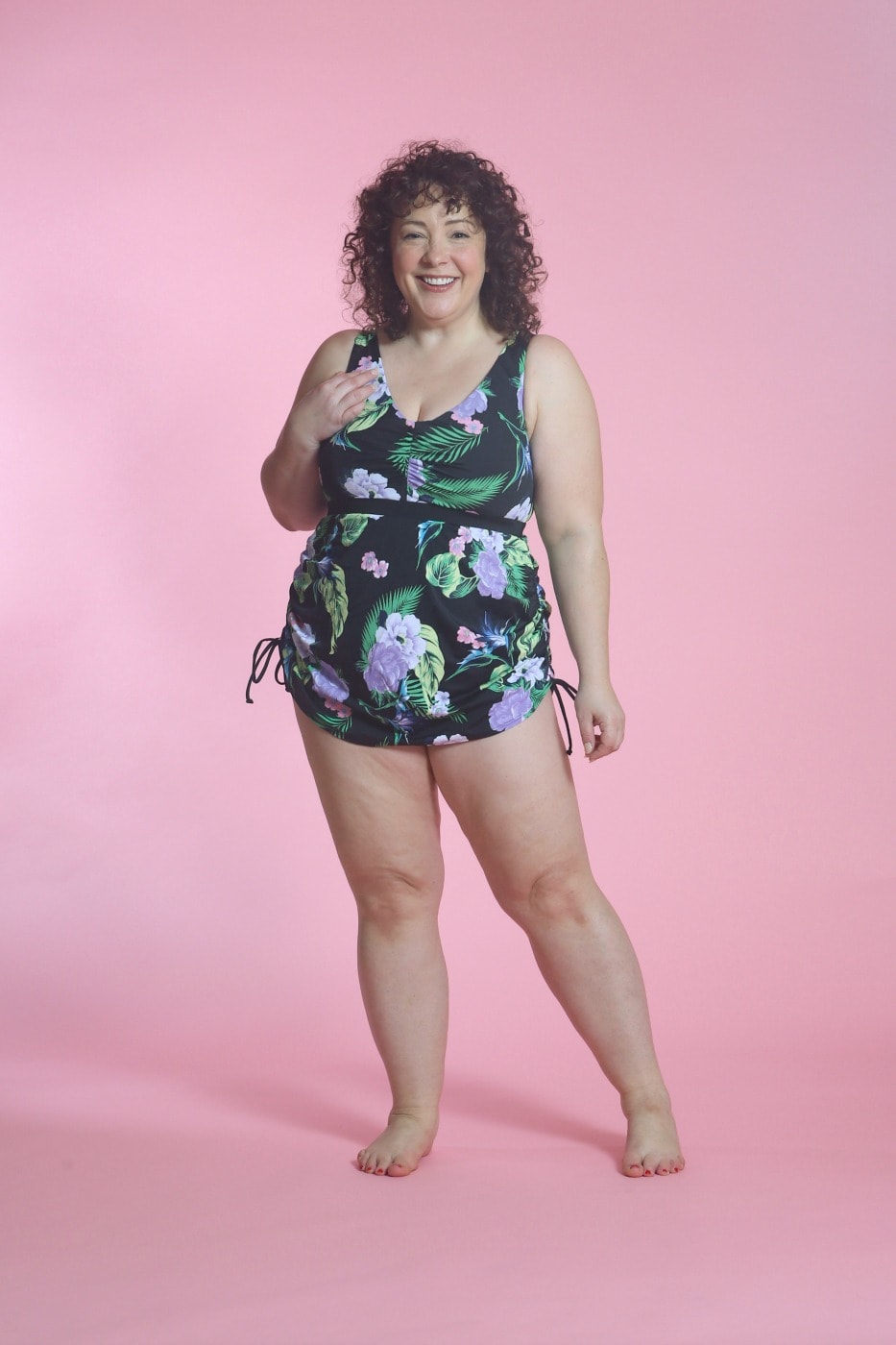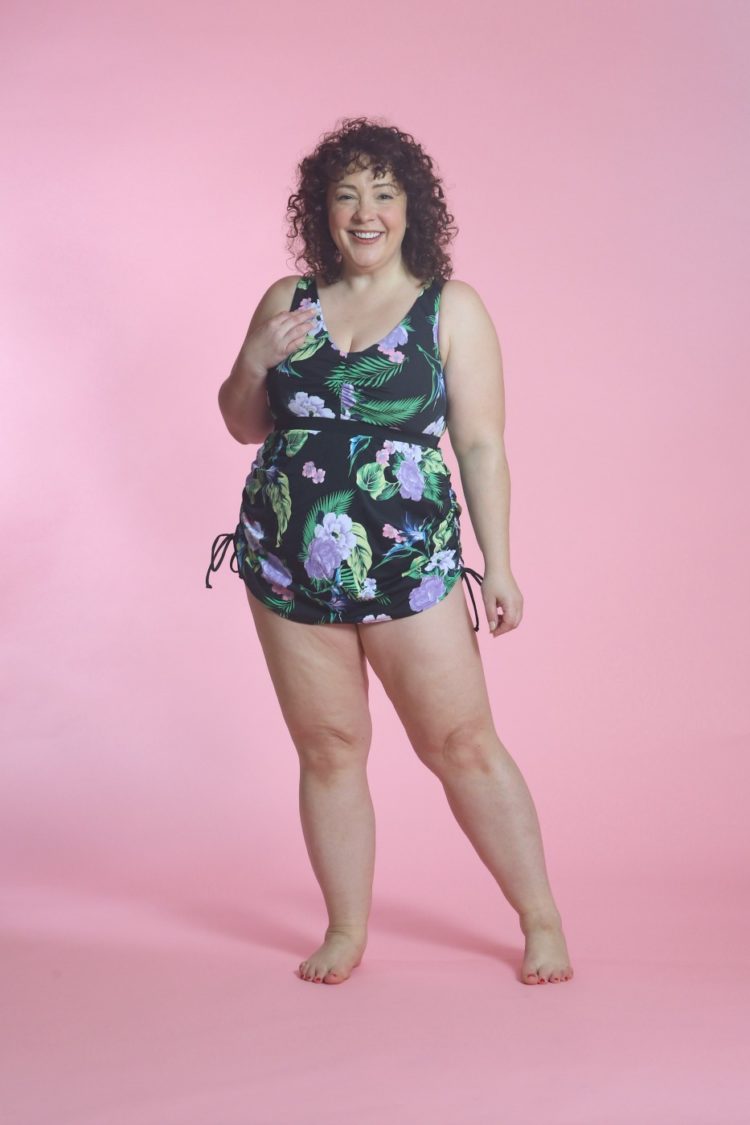 I thought this print was so pretty and such a good choice for a swim dress. I liked that it has adjustable straps for more support, and the skirt's length can be adjusted with the side ties, just like the swim skirt above.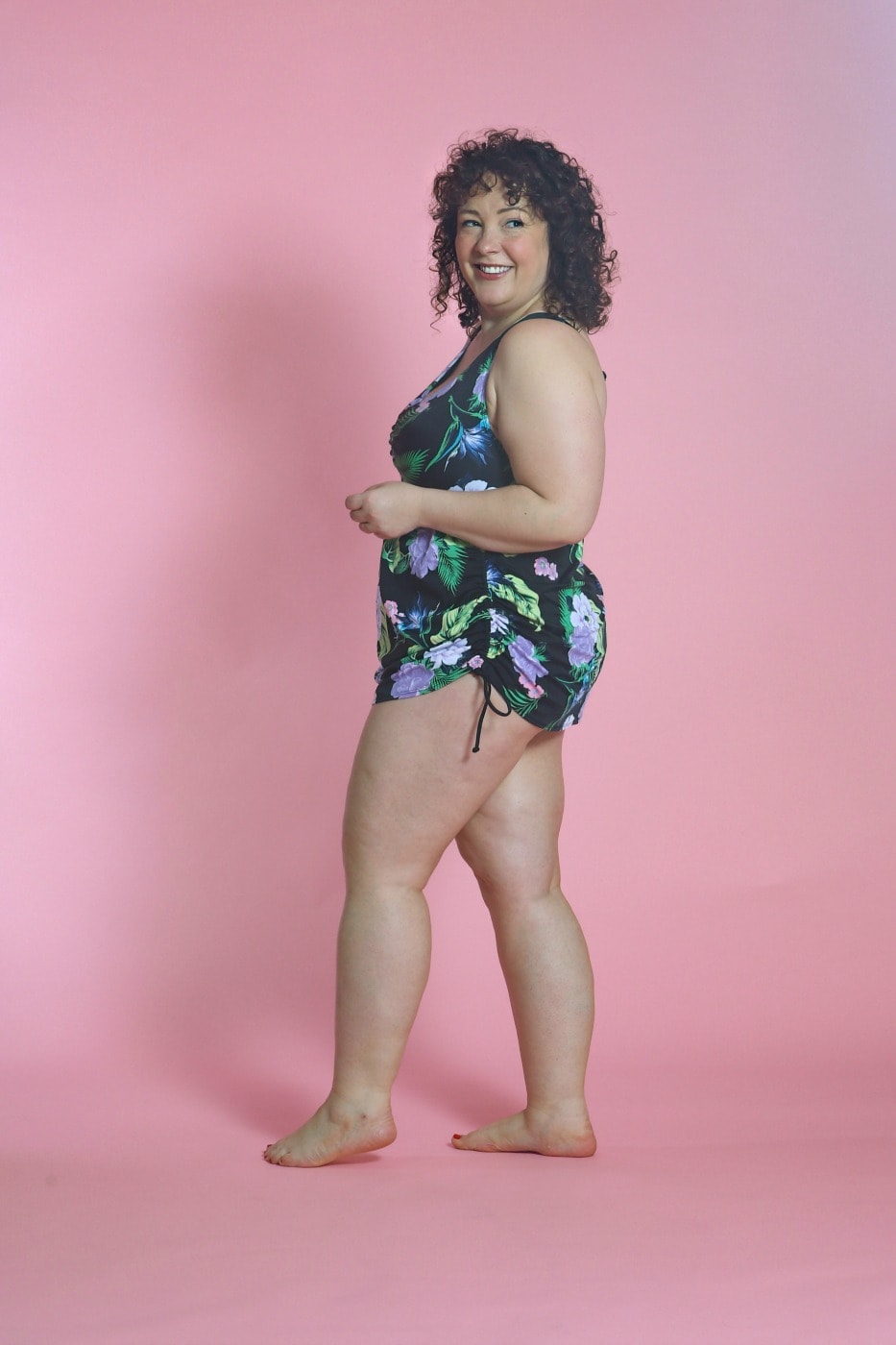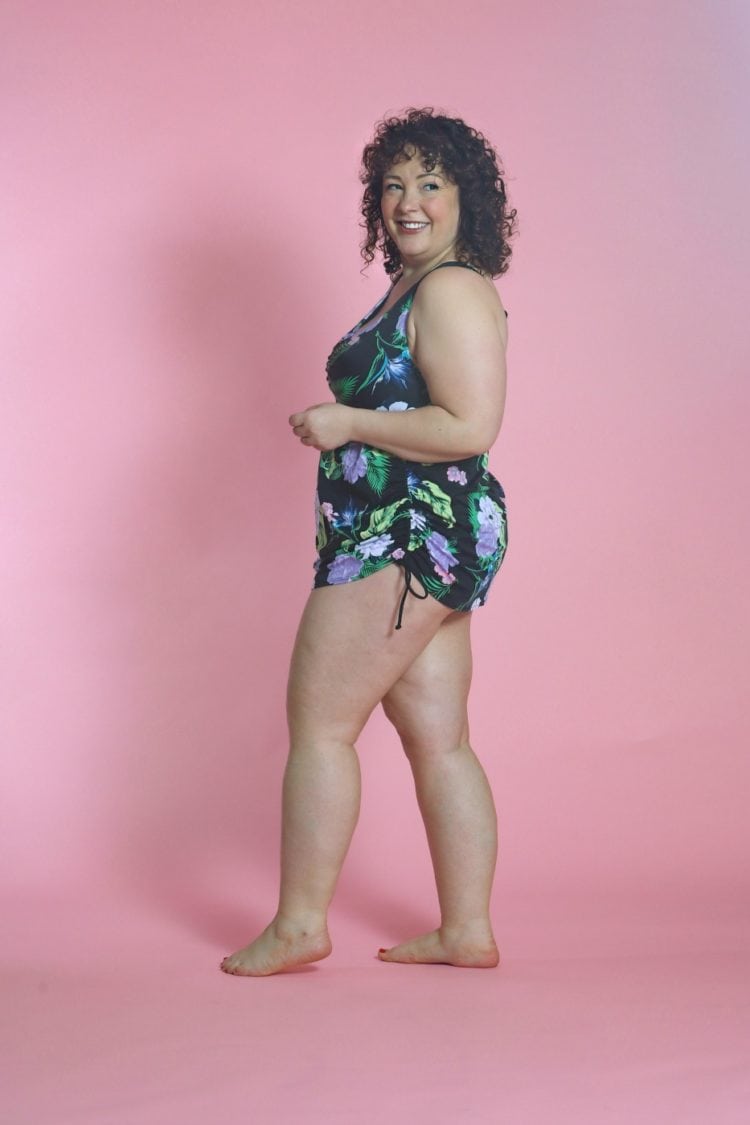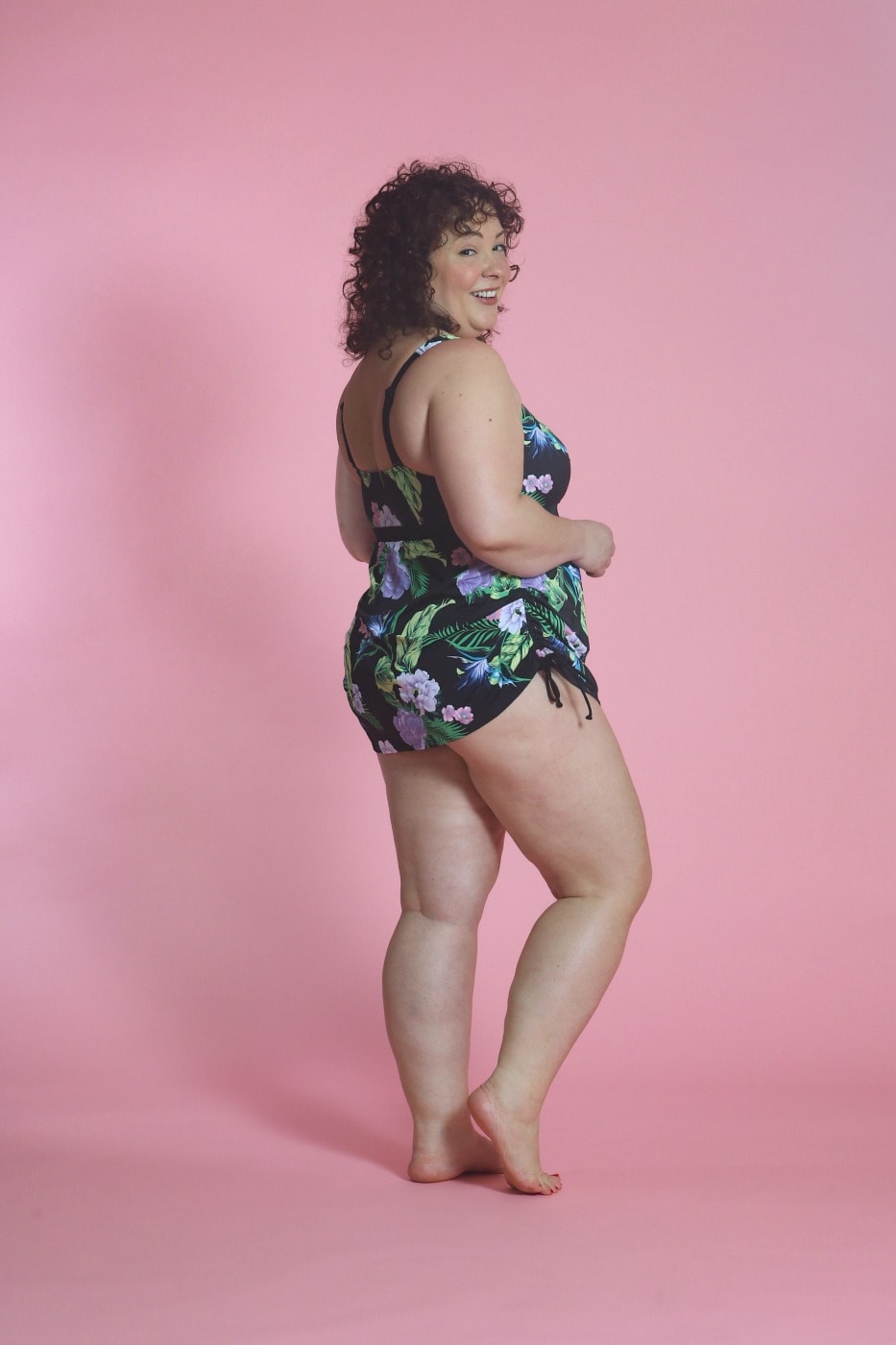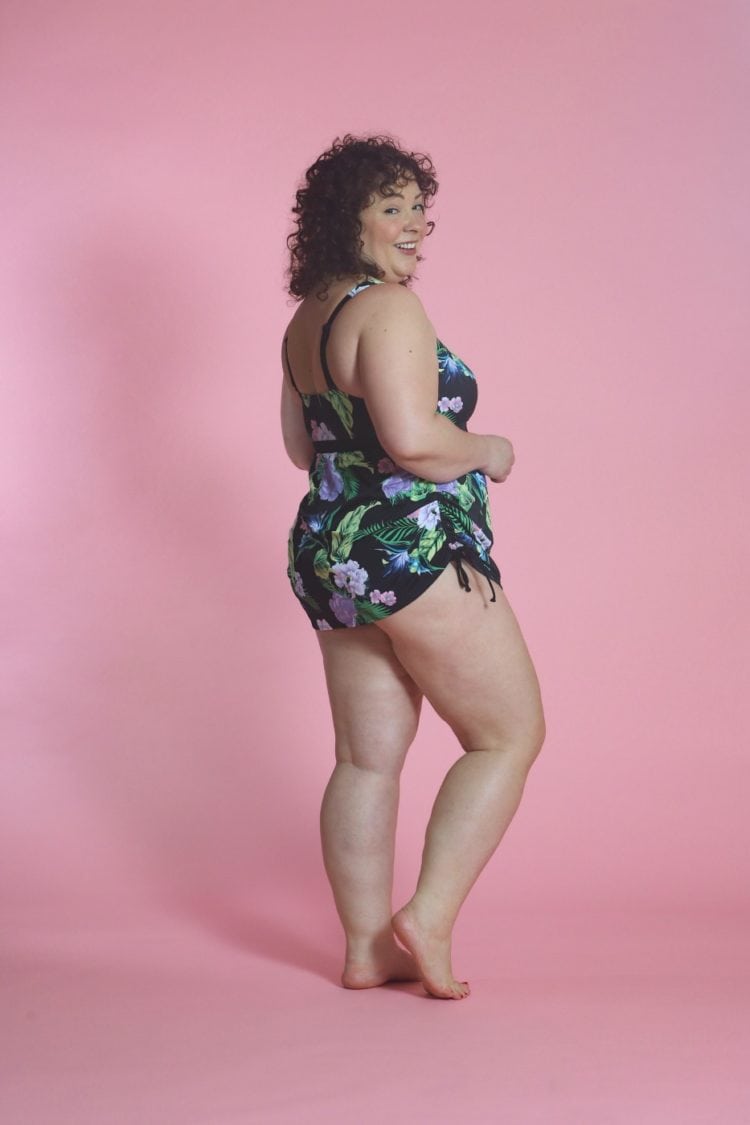 This suit is easy to get on, far easier than other "slenderizing" suits on the market, yet has the same powerstretch lining as the two one-piece suits at the top of this blog post. The built-in shelf bra with lightly-lined cups gives a decent amount of support and definition. If you like swim dresses, I think this is a nice choice.
Thank you to Cacique for sponsoring this post. I can't wait until we can all enjoy the beach and pool; I now have some great swimwear to get in some laps and have fun in the sun!