This article may contain affiliate links; if you click on a shopping link and make a purchase I may receive a commission. As an Amazon Associate, I earn from qualifying purchases. 
Pantone recently declared that
Rose Quartz and Serenity
are the two colors of the year for 2016. Describing Rose Quartz Pantone wrote, "The soothing, calming nature of colors in the Spring collections are led by Rose Quartz, a persuasive yet gentle tone that conveys compassion and a sense of composure. Like a serene sunset, flushed cheek or budding flower, Rose Quartz reminds us to reflect on our surroundings during the busy but lighthearted spring and summer months." Rose Quartz isn't a big surprise to me; for the past couple of years rose gold jewelry and accessories have become quite popular and this past year we saw blush pink on many runways and featured by many retailers. Even I, one who isn't a big wearer of pink, purchased a pale blush blazer.
Pink is considered a tough color by many; too much and you feel like Elle Woods from Legally Blonde, too bright and you feel like Barbie, and many feel it is a "soft" color and not the best choice when in the workplace. But a soft blush pink like Pink Quartz can be extremely flattering to many skintones and surprisingly versatile. Below are some Pink Quartz separates I've found online, and how I would style them to break all pink stereotypes.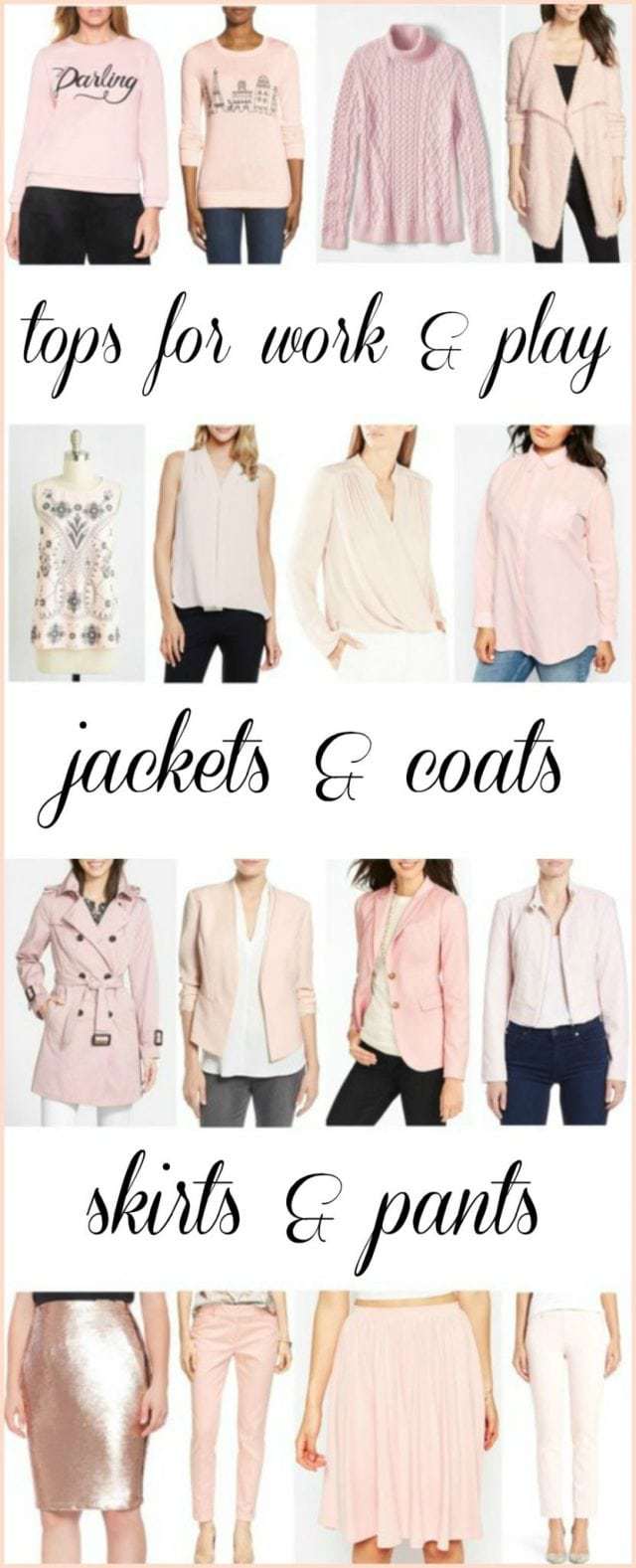 How to Style Pink Quartz Sweaters, Knits, and Blouses
A rose quartz top is an easy piece to incorporate into your wardrobe. The first row of the collage is of casual knits you can add to your wardrobe now.
How to Style Pink Quartz Jackets, Blazers, and Coats
As someone who doesn't wear pink regularly, I couldn't believe how versatile I found a blazer in such a color.  Pink Quartz is a shade that works well with a wardrobe of neutrals and will highlight black, white, and navy in a sophisticated manner different from jewel tones or primaries.
Pink Quartz is a great alternative to neutrals and this trenchcoat from London Fog (has a detachable liner – perfect for travel!) proves it.  Just as versatile as beige but more fun, a classic shape and styling makes this a piece you can wear during Pantone's year of Pink Quartz but also stylishly don it for years to come.
As I mentioned, I have found a pale pink blazer extremely versatile.  This open front blazer from Halogen has a modern cut and would look fantastic paired with your office trousers or slipped over a sheath dress, but could also look smart with jeans and a band tee or simple tank.  This Italian flannel blazer from Talbots has more classic of styling; wear to the office with a cashmere shell and trousers, or on the weekend with a Breton tee and dark denim.
I love mixing tough with tender, and this faux leather moto jacket from GUESS does it well.  This would be fantastic over a black, grey, olive, or cream dress for the office, or slip over an oversized shirt or blouse and pair with skinny jeans and booties for the weekend.  Pale pink works well with other subtle shades; mix with nude, ivory, tan, dove grey, cadet blue, peach, and candle for an elegant and modern feel.
How to Style Pink Quartz Pants and Skirts
A bottom in Pink Quartz is a great way to wear this popular color now but have it transition nicely into the spring.  Pale colors like this may seem appropriate just for the warmer months but can be winterized quite easily.