This article may contain affiliate links; if you click on a shopping link and make a purchase I may receive a commission. As an Amazon Associate, I earn from qualifying purchases.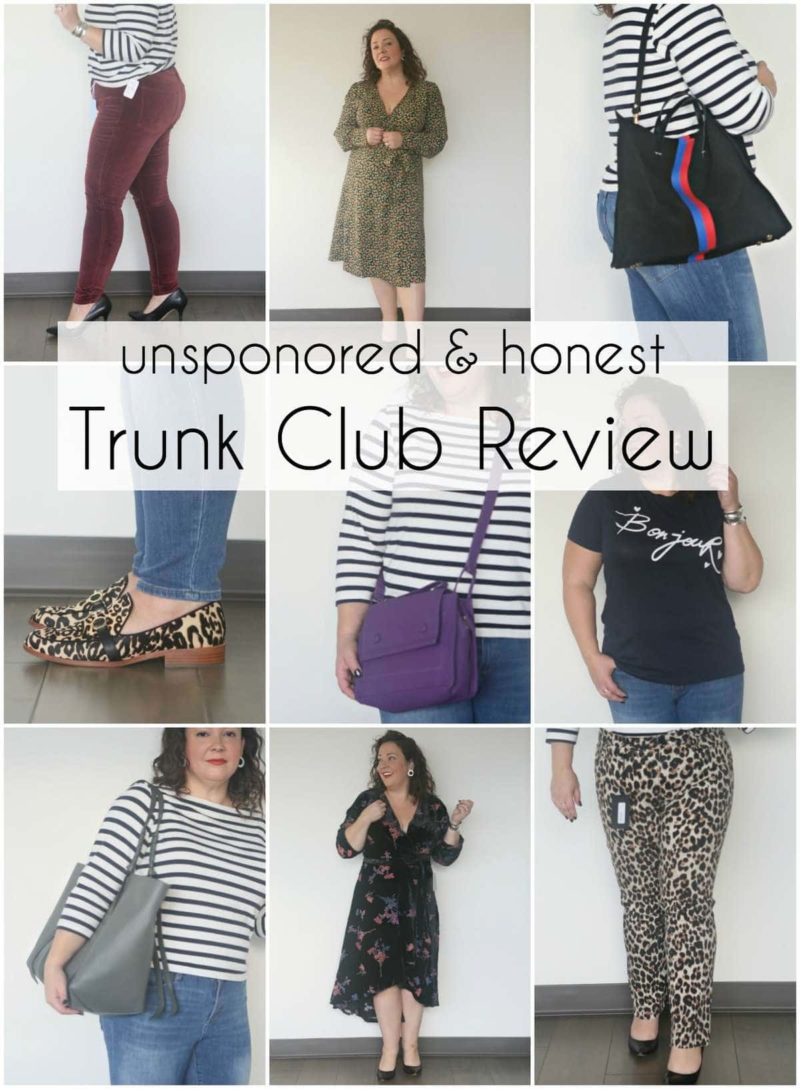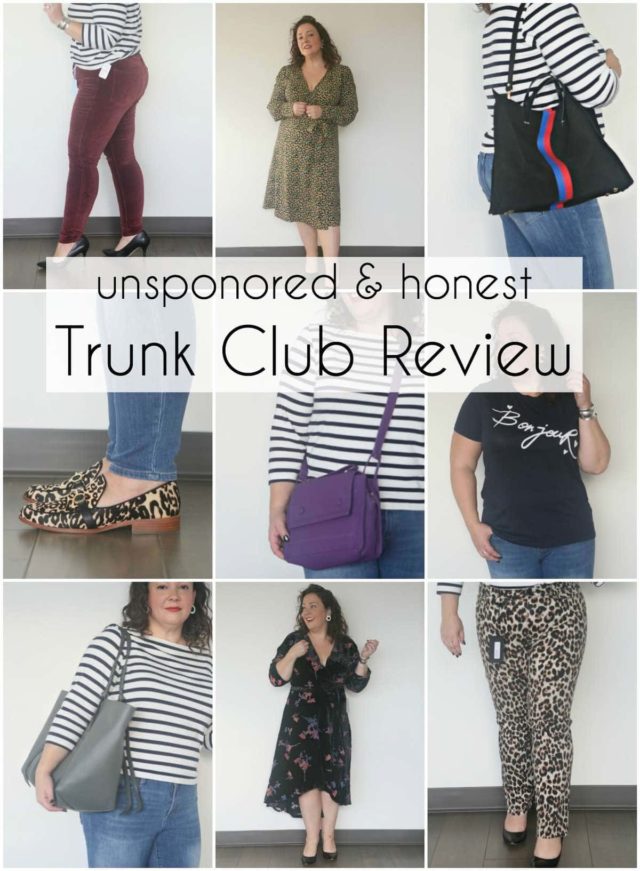 Fall is here… and my wardrobe is not ready. Most everything I wore this time last year no longer fits. Since working out on a regular basis I haven't lost a ton of weight (less than 15 pounds) but building muscle has drastically changed the size and shape of my body. It's not just my dress size, jeans fit differently in the calves, even a lot of my shoes are now too wide. I know what I need but I don't really know what I want so I felt this was a good use for Trunk Club. I've done a Trunk Club review before (see this post) and even visited the Trunk Club Clubhouse in DC. Both times I worked with the same stylist, so she has gotten to know my style and fashion quirks. I reached out asking for:
An everyday bag that is still cool enough to take to a blogging event
A pair of jeans that aren't your basic blue skinnies. Something edgy and incorporating hot denim trends for fall
A dress I could wear to a daytime wedding, a blog event, a date night
Trendy shoes available in wide widths
Tops that look good under blazers without appearing corporate. Focusing on colors that complement wine, burgundy, and berry since I already have that in my wardrobe
Kelsey knows my budget (I don't buy a lot so I am willing to pay a bit more) and my size. I have to say my stylist Kelsey got me and my needs pretty well with this Trunk plus added a few unexpected extras. Below, what I received in my Trunk Club Trunk and whether I kept it or returned it:
Pretty Dresses for A Variety of Occasions
Halogen Wrap Dress – Black Multi Floral, size Large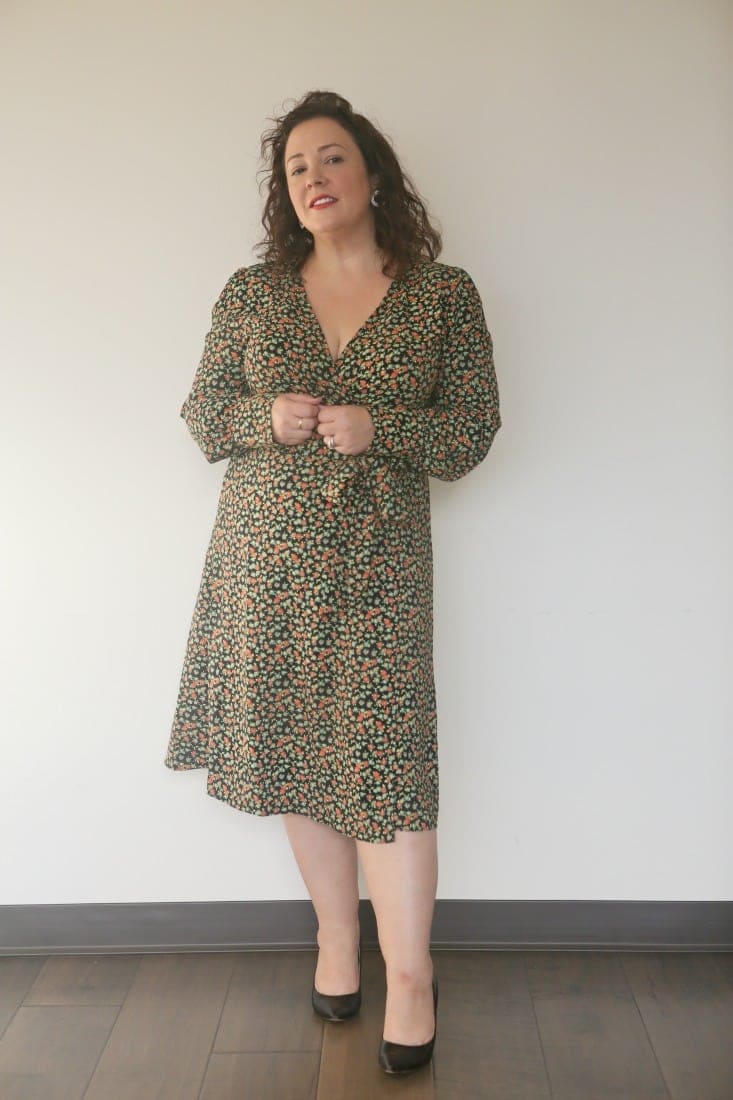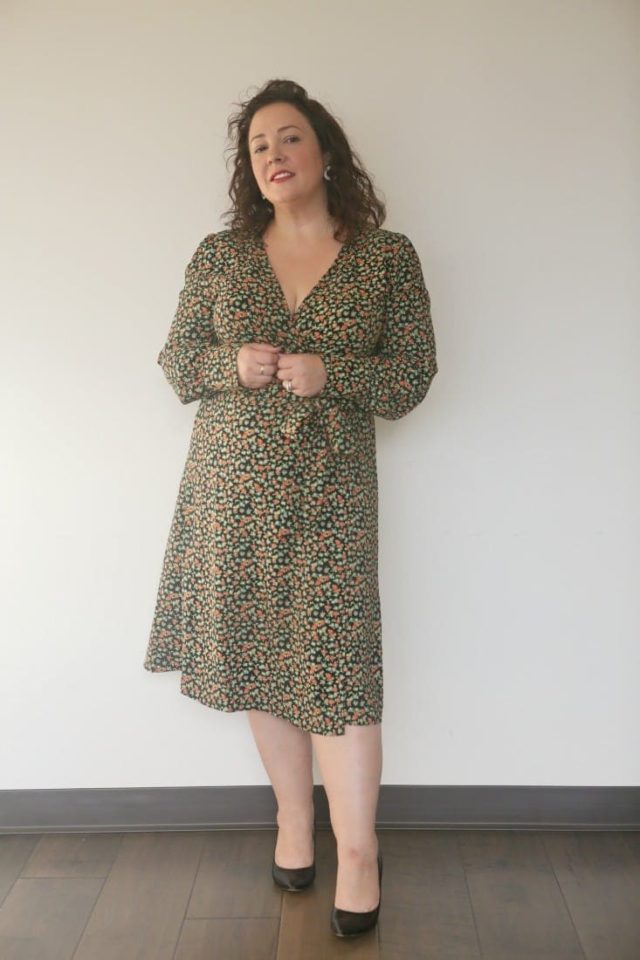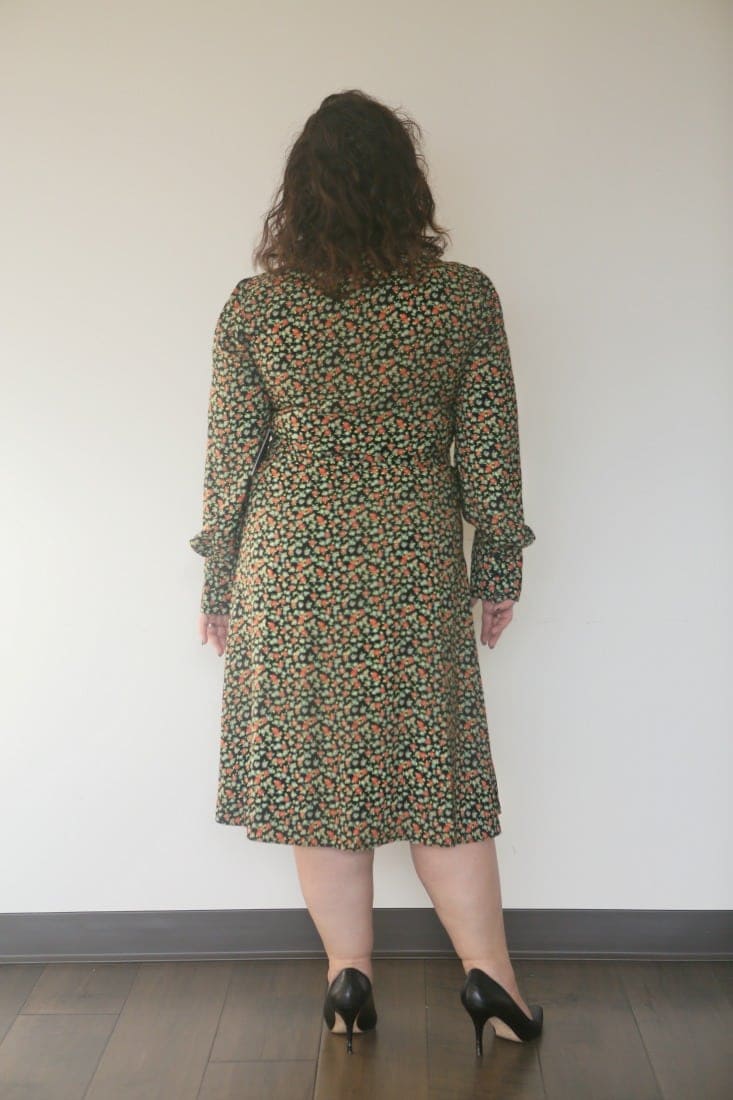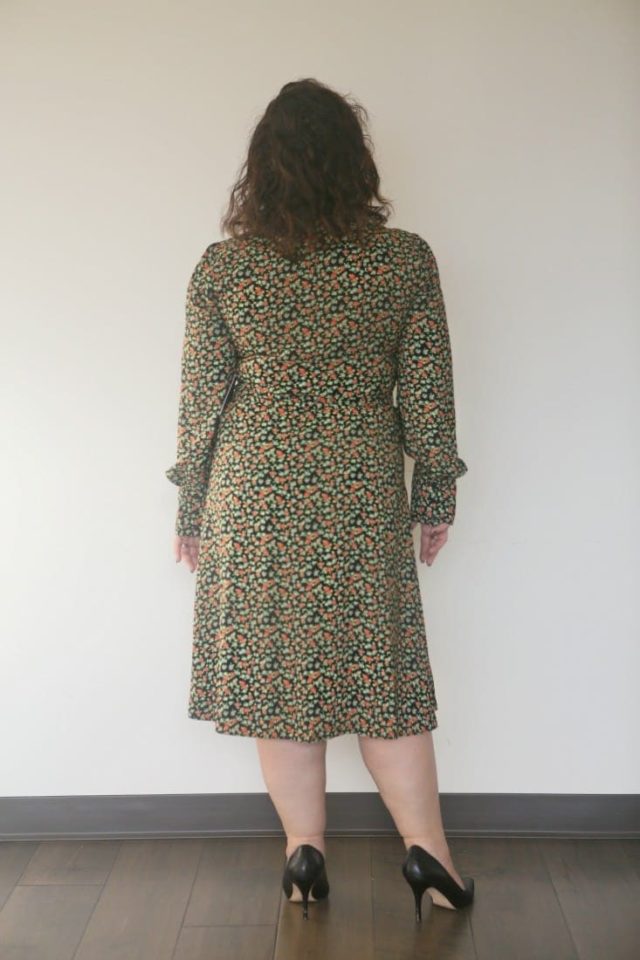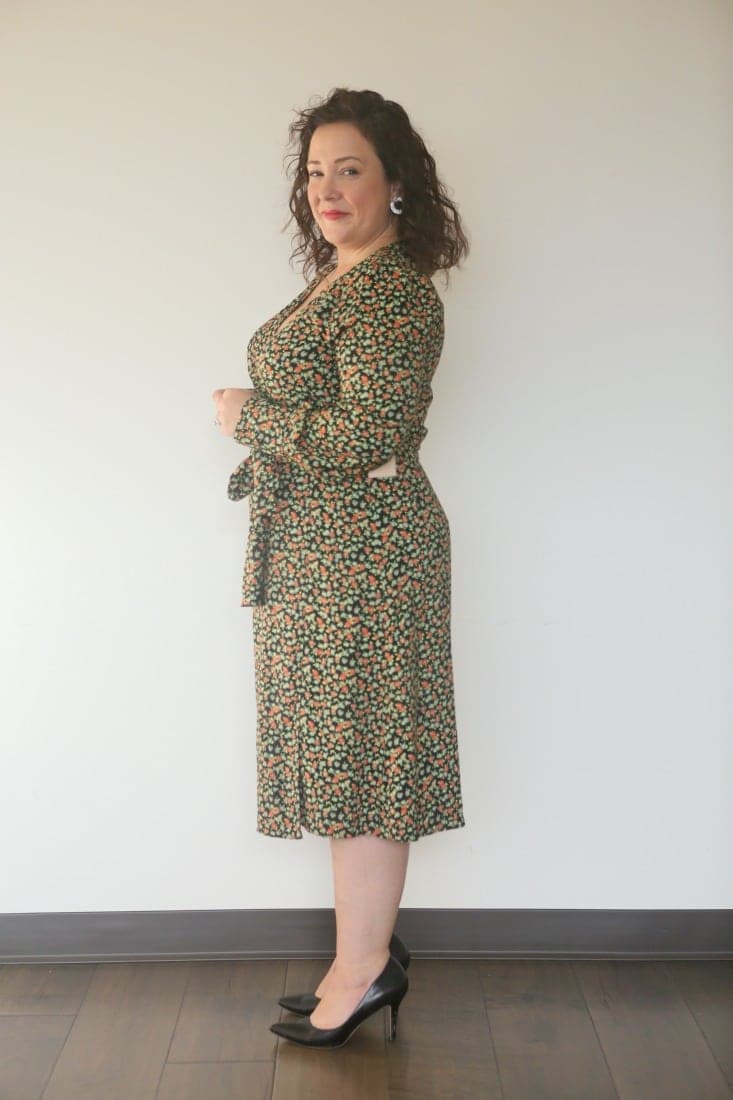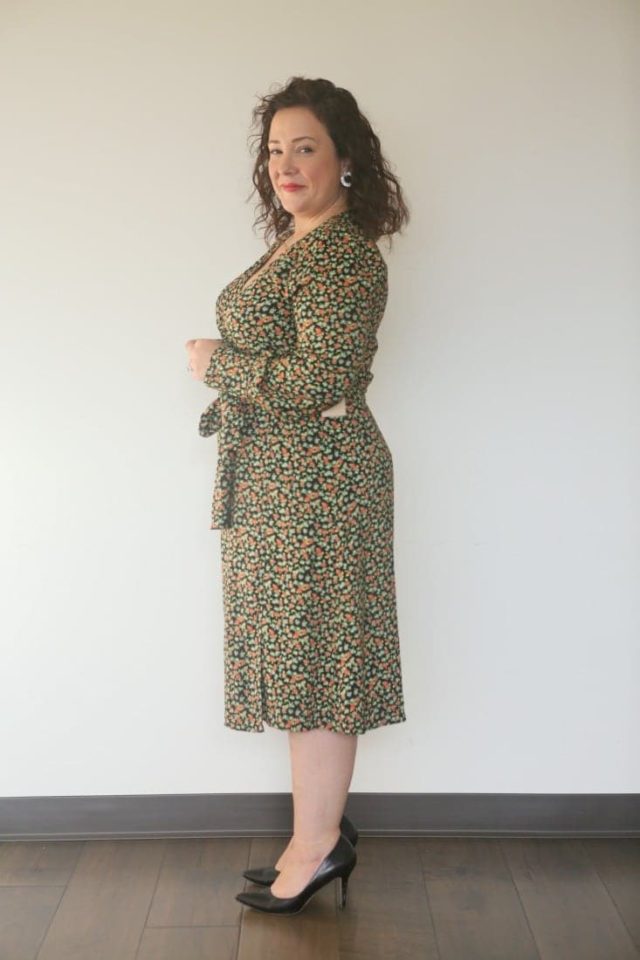 I was considering ordering this dress myself, but wasn't sure which pattern to choose (it comes in four prints and two solids). I likely wouldn't have chosen this print… but I like it! I think it would look good with black tall boots, or black tights and booties. I also think this print would look great with a denim jacket or a leather biker jacket. This is a really nice dress. It's the kind you can wear to work, but also wear for a night out. I don't have the neckline pinned, I likely would just to keep it a comfortable depth. I also think I would prefer this dress in petite as the sleeves are a bit too long. This dress isn't super stretchy like many wrap dresses; it has stretch but the fabric looks a bit more expensive and has a nice drape. I really like the cuff detail. I think I may exchange this dress for a petite. This dress retails for $99, comes in regular and petite sizes up to XXL.
Eliza J Floral Faux Wrap Dress – Size 14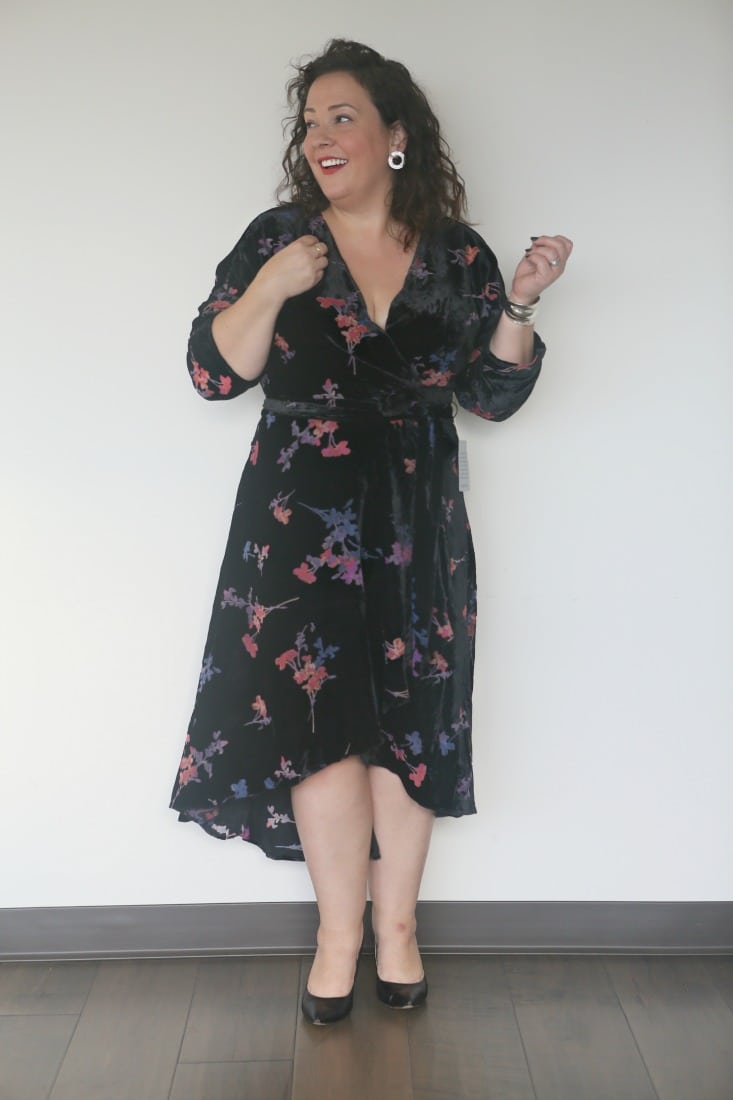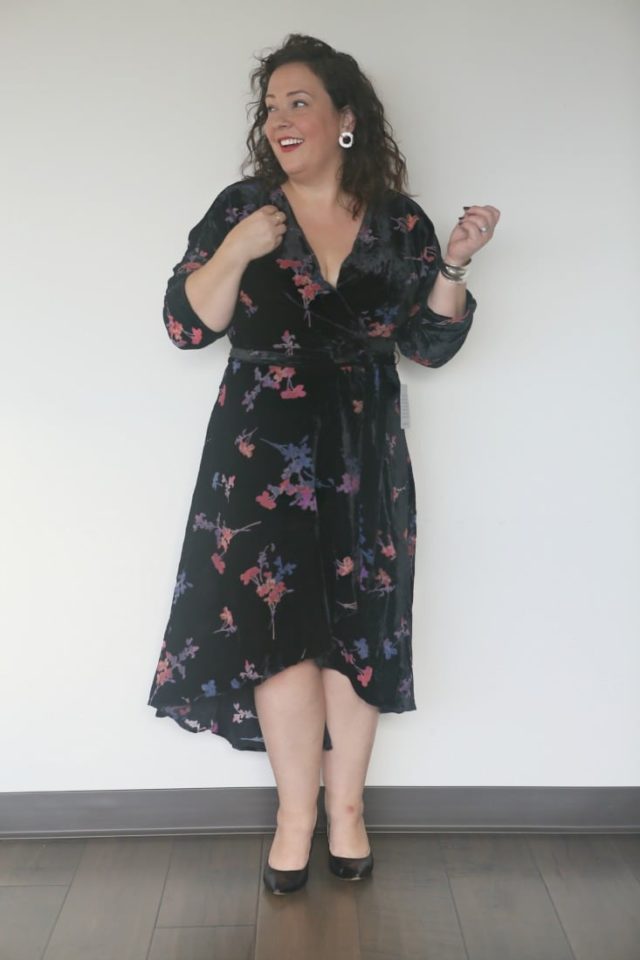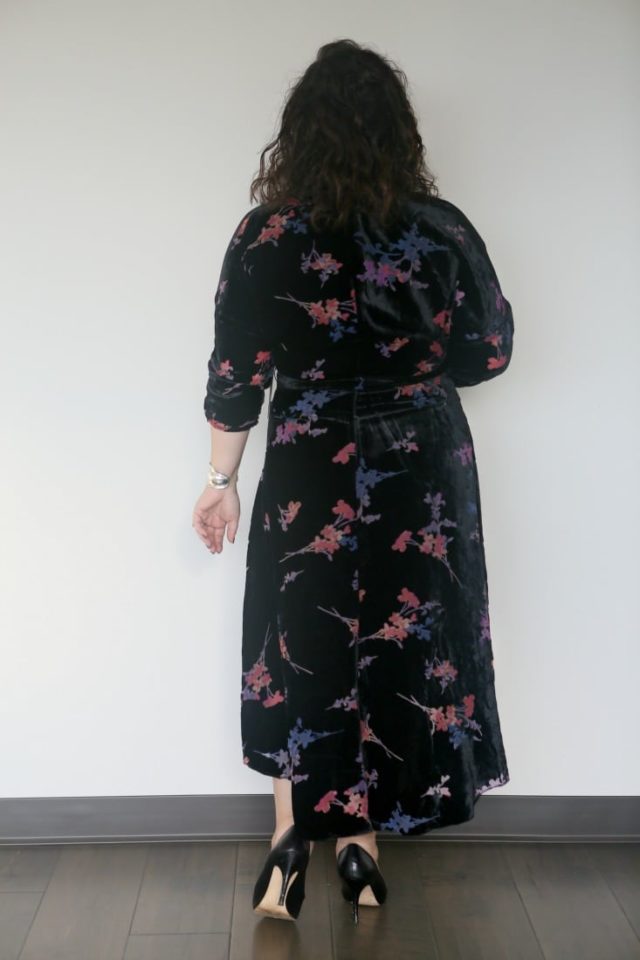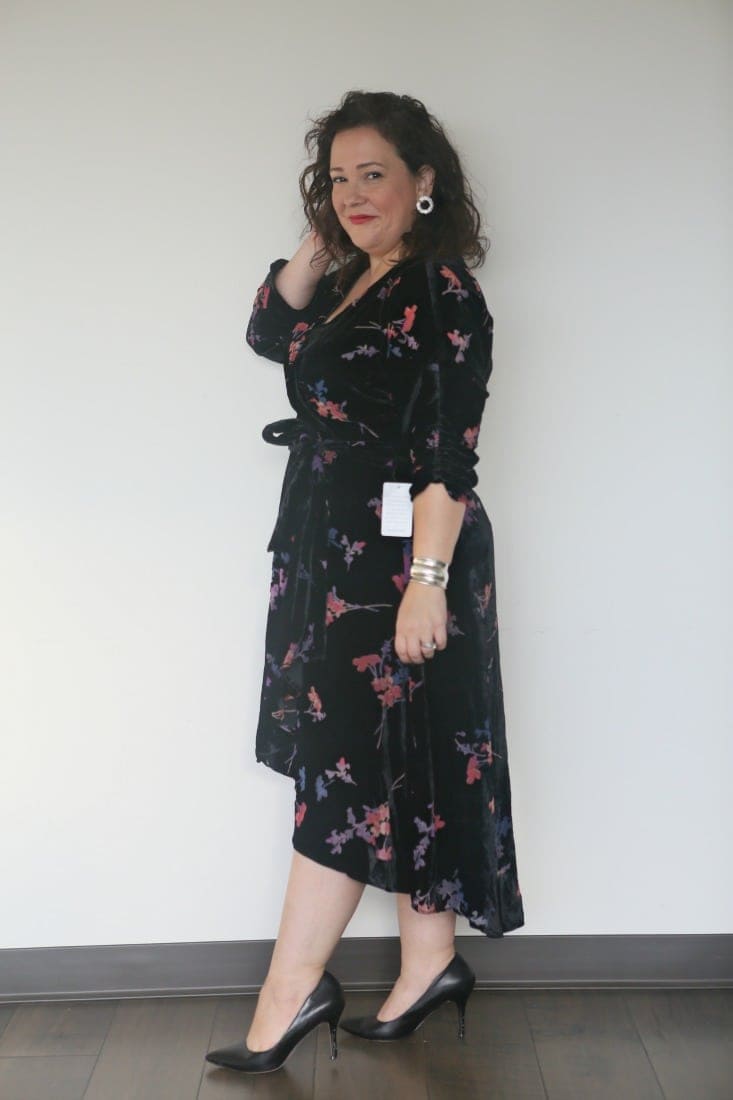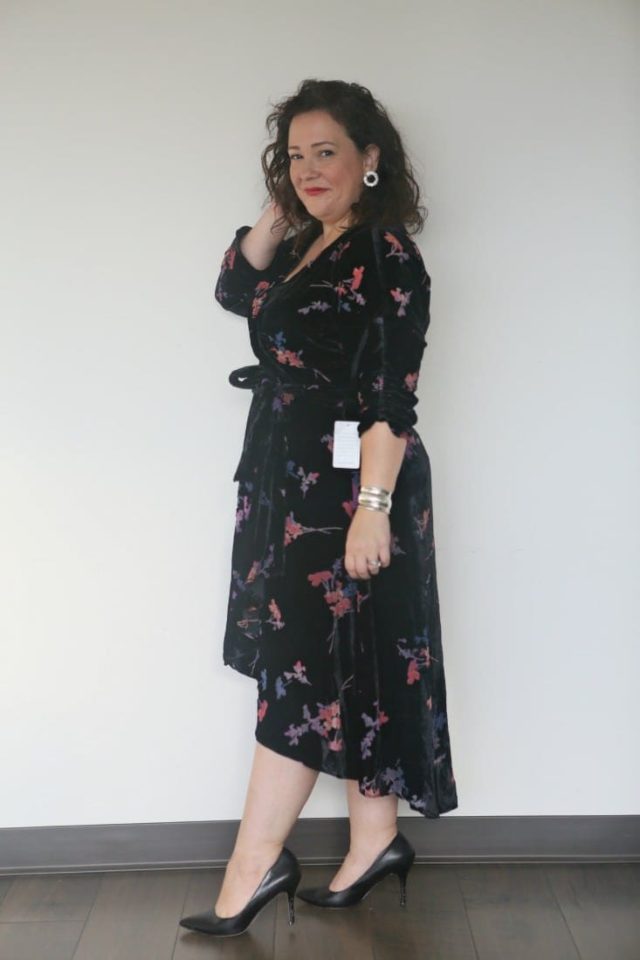 This dress looks way better in person than on the website. On the site it looks sort of frumpy, but in person the printed velvet is beautiful and luxe and has gorgeous drape. This dress is a faux wrap without stretch and has a back zipper. While "mullet" hemlines are out of fashion, this subtle high-low hemline still looks fresh. This is a gorgeous dress that I would love to grab for a date night, wedding, or social event… if it came in petite. The neckline is far too low and the fabric isn't the type where this could be remedied with a safety pin. The back bunches because my torso is too short. It's a shame because this is a really gorgeous dress. The dress retails for $168 in sizes 2-14; this link is for the same dress in plus sizes (selling for $188).
Trendy Jeans
PAIGE 'Hoxton' High Wasit Ankle Straight Leg Jeans – Sahara Leopard, size 32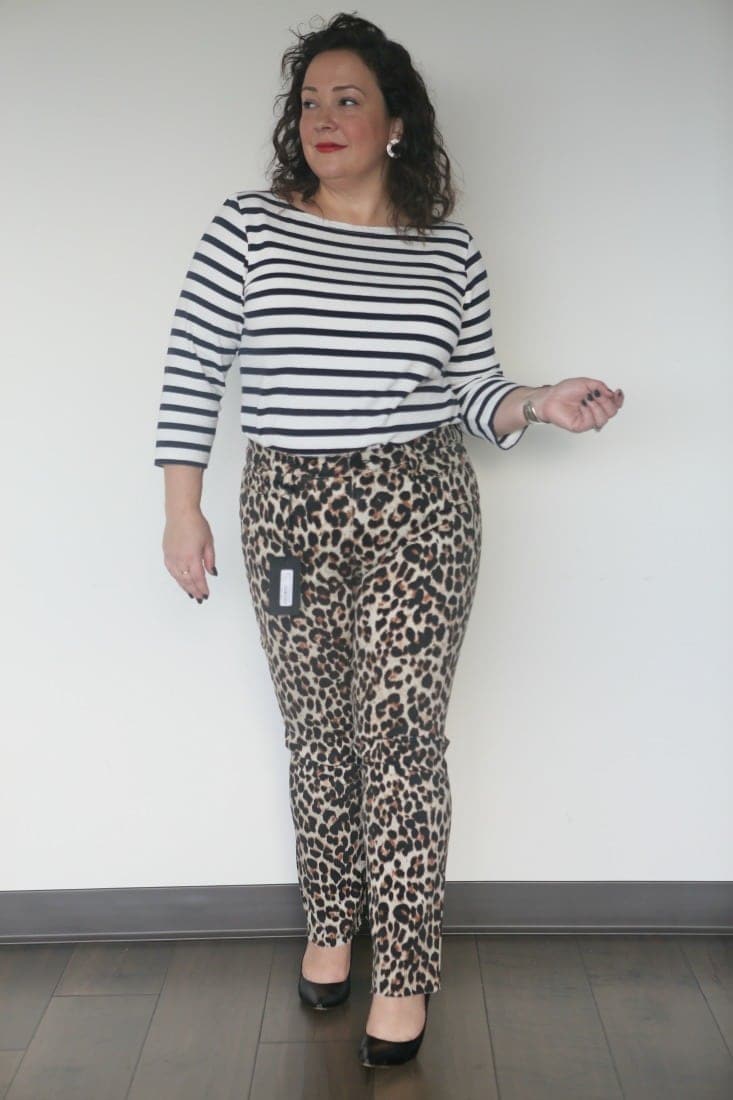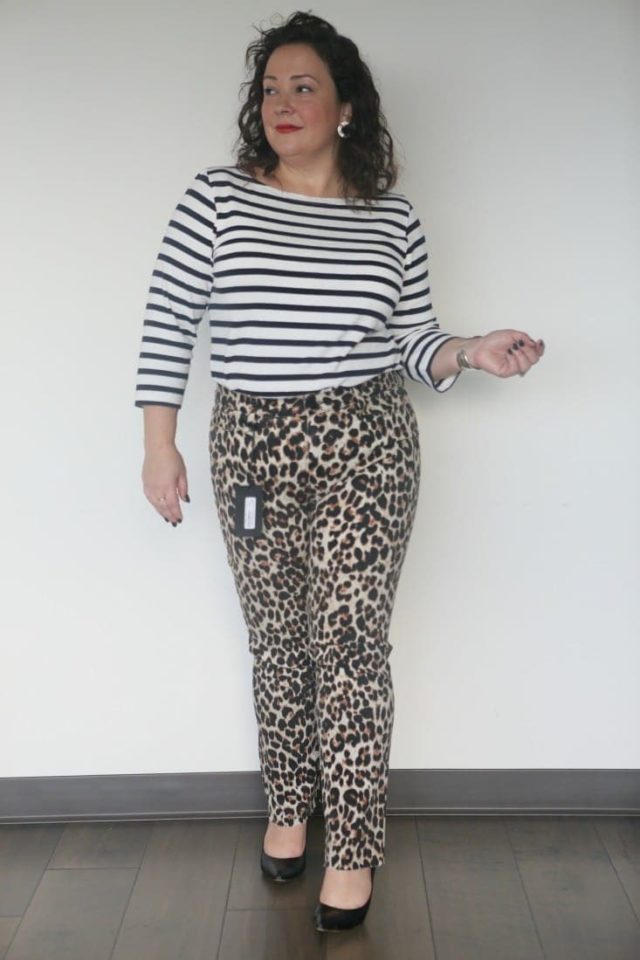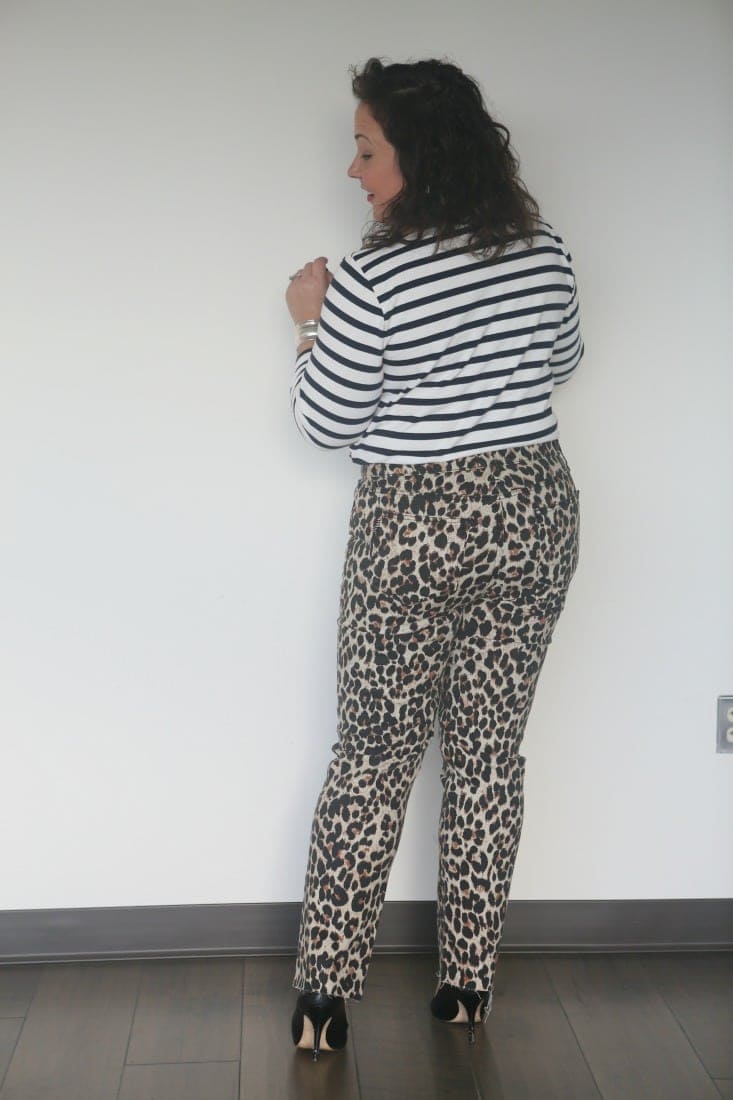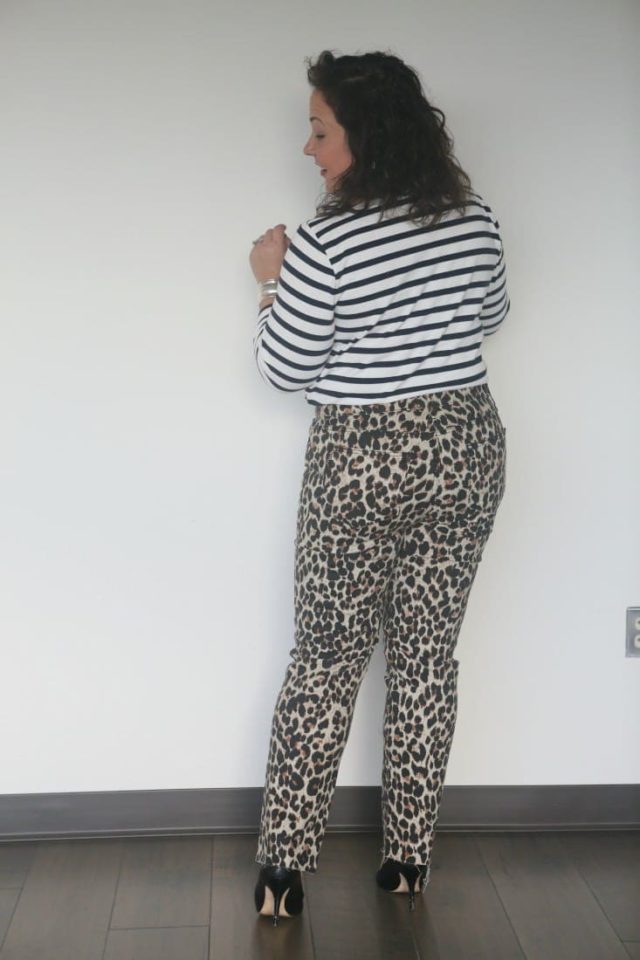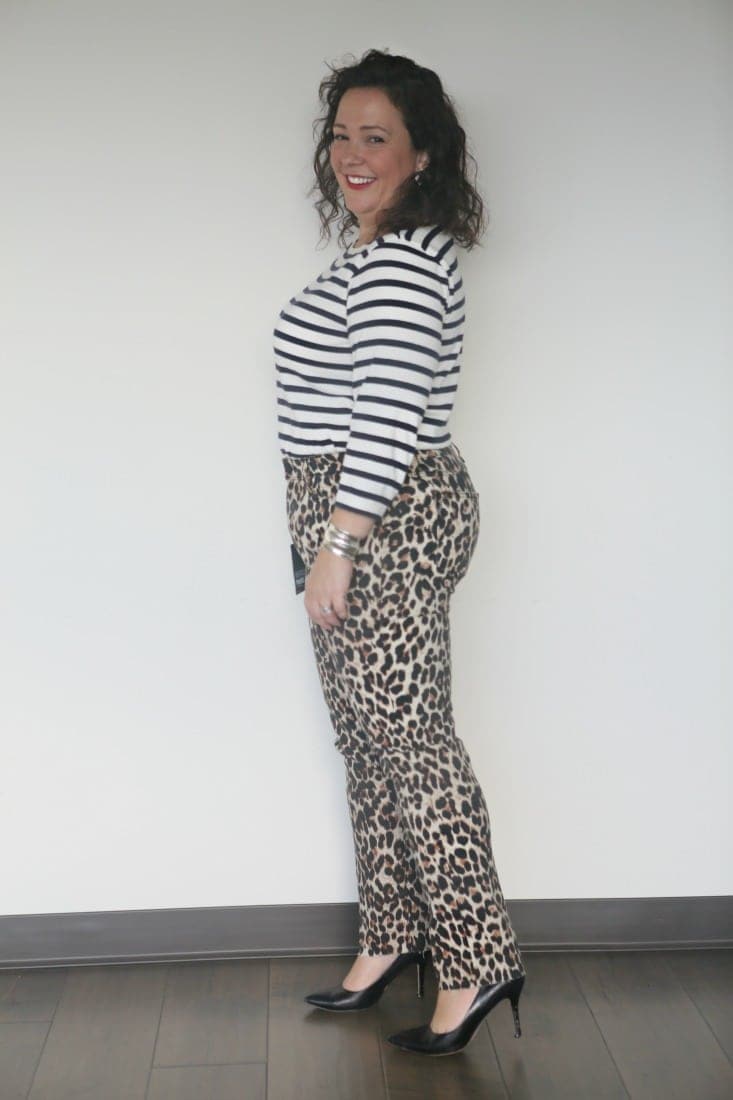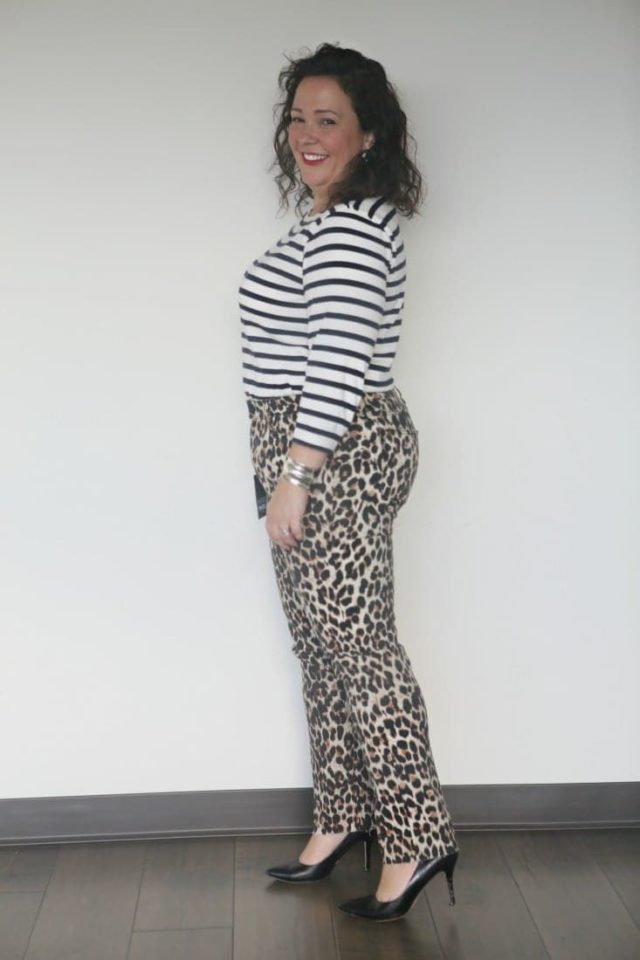 These are NOT jeans I would normally pick out for myself. Leopard print, high waist, and unfinished hem? It's like Kelly and Peggy Bundy combined. But then I put them on and was surprised by how well they fit and flattered! I started thinking of how fun they would be with a black sweater and black boots, a denim jacket and turtleneck, a silk blouse and pumps… But then I remembered I already have leopard pants (see in this post) and they don't even get a ton of wear so these would be a waste. However, I looked at the Nordstrom site and this style of jean by PAIGE comes in a ton of different colors, washes, and hemlines. I may consider getting them in a more neutral color… maybe grey? These jeans retail for $219 and come in sizes 23-32 (I think they run large, I am usually a 33 in jeans and these are super comfy).
FRAME Velveteen HIgh Waist Ankle Skinny Pants – Pinot, size 32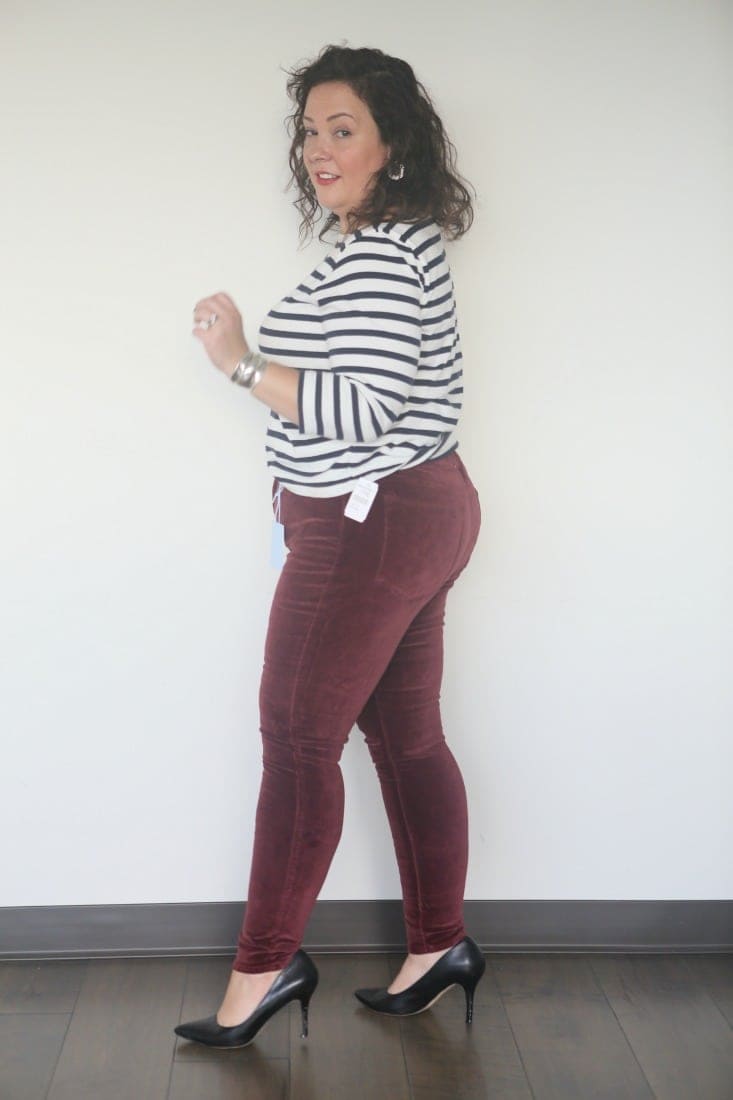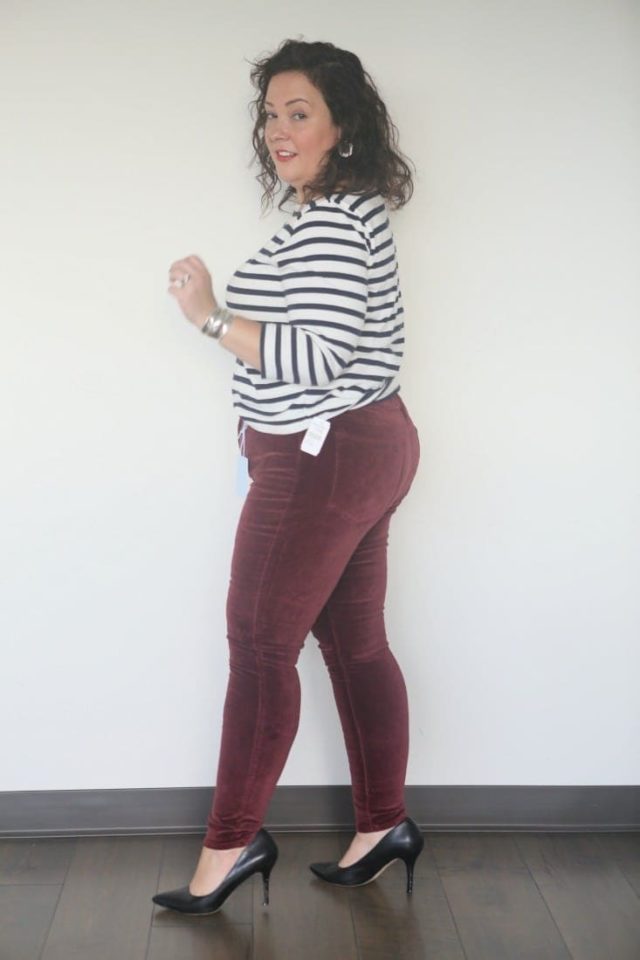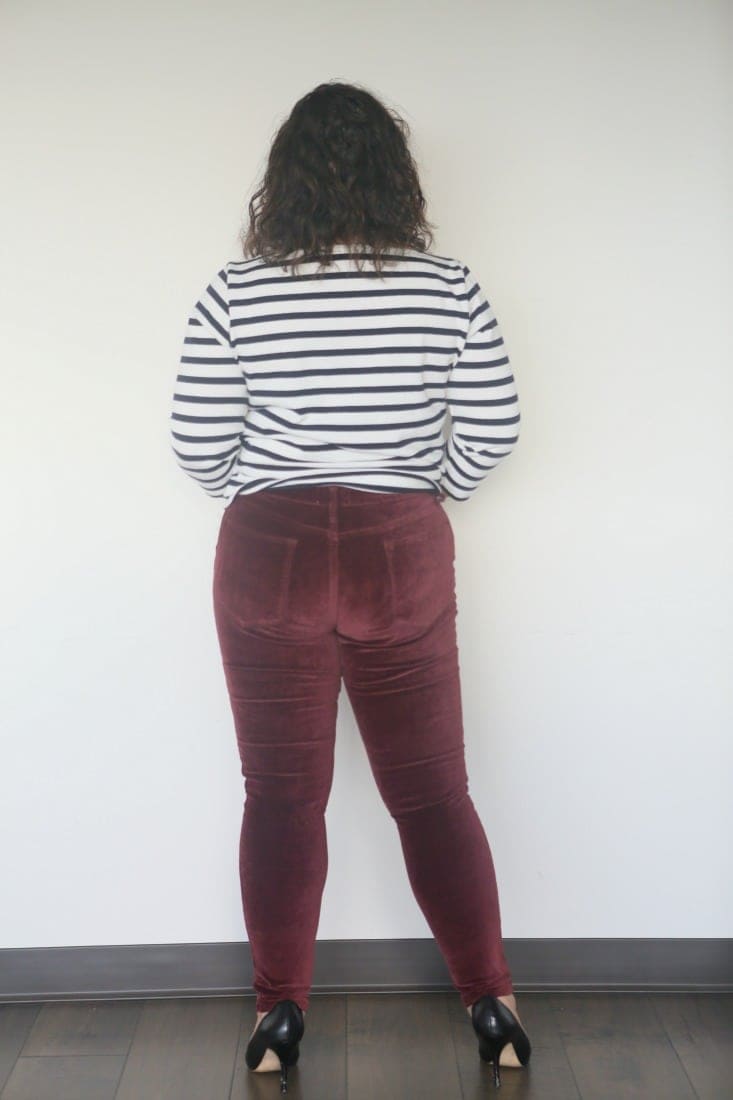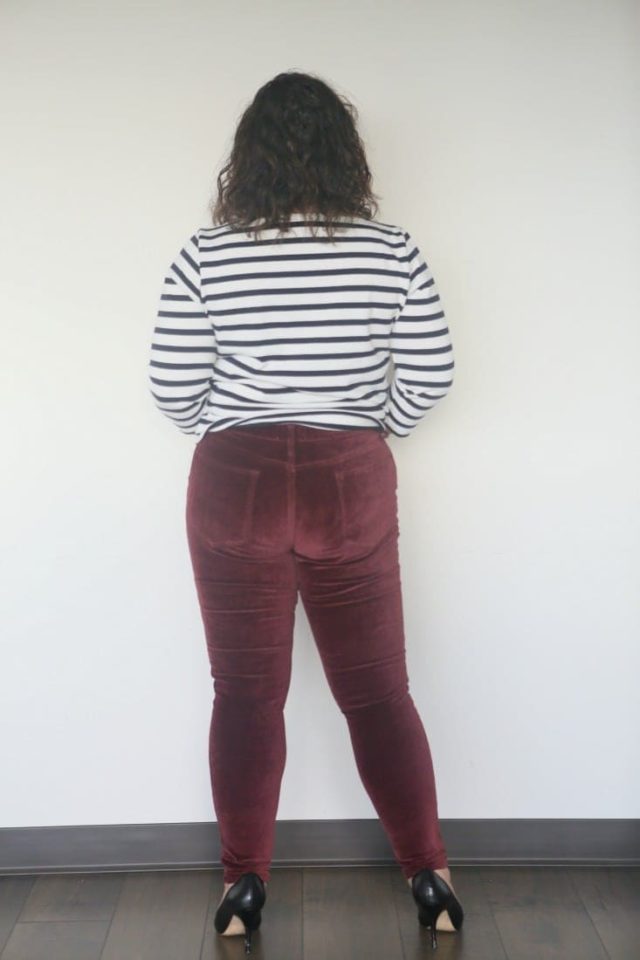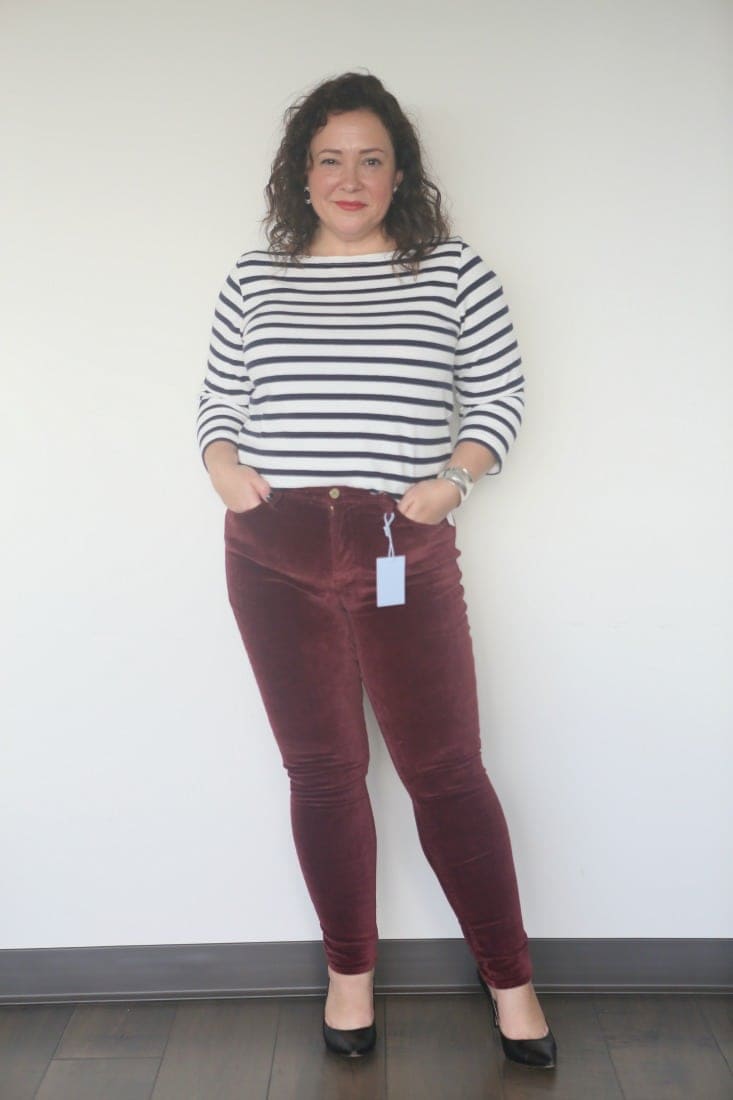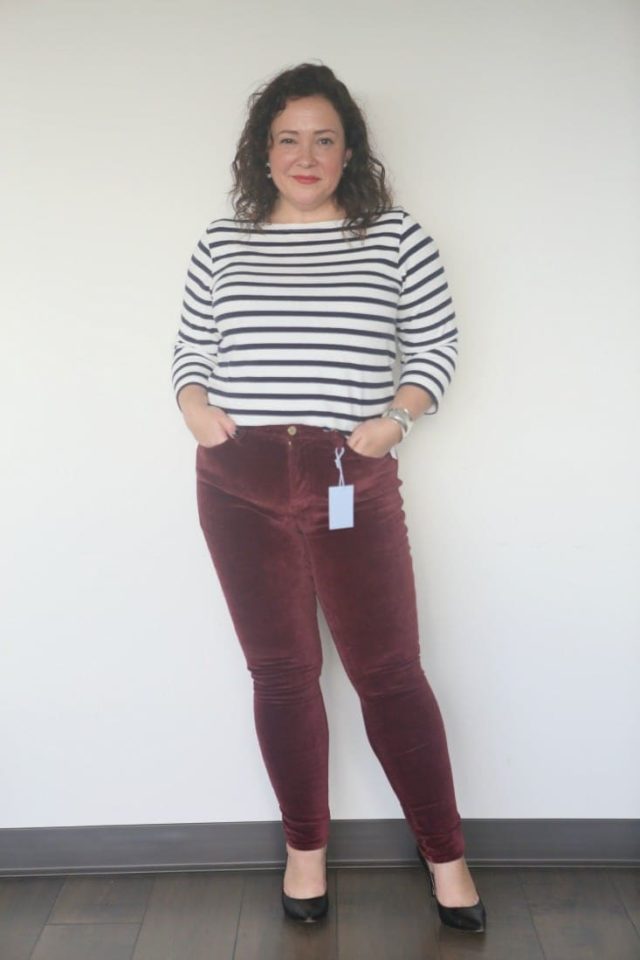 These jeans are not made for my figure. I struggled to pull these up over my calves, and they're super stretchy jeans, They make my butt, which I find one of my assets, to look saggy. However, they are a positively stunning color and the velvet is rich and gorgeous and totally on trend. They would look awesome with a simple sweater, or a band t-shirt and blazer. But they are NOT for me and considering how they fit, I doubt I'll try FRAME jeans again. These jeans sell for $235, come in sizes 23-33, and along with this color they also come in black.
MOTHER 'The Inside' Crop Jeans – Guilty Racer, size 32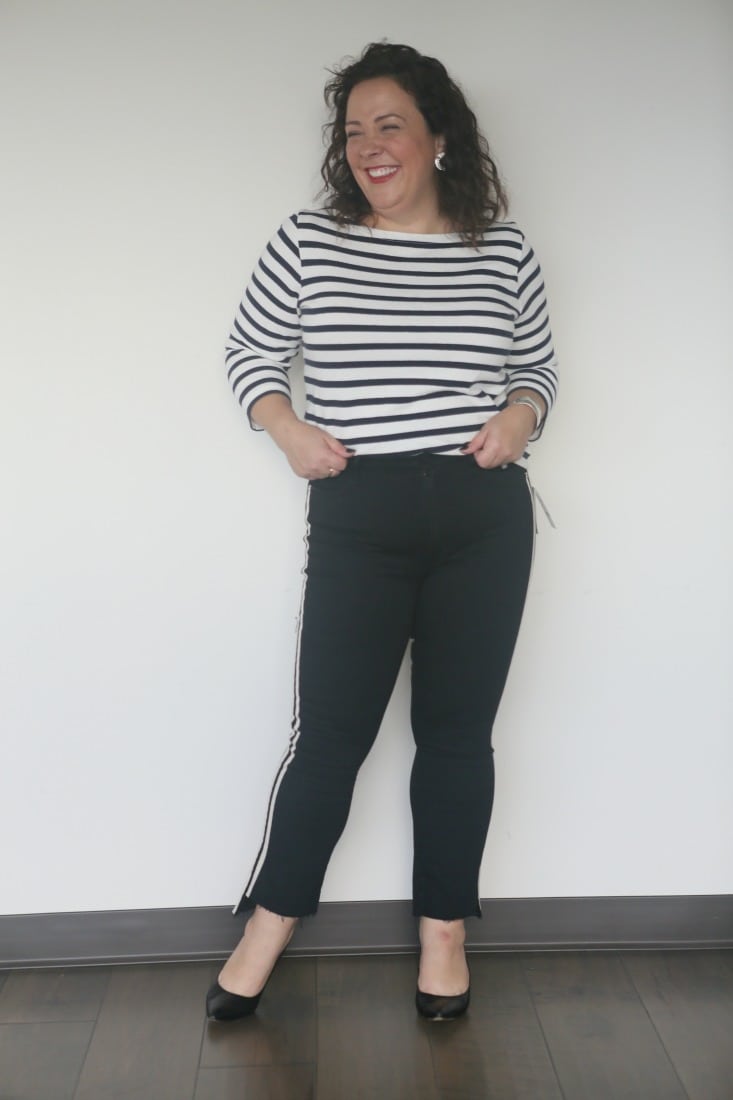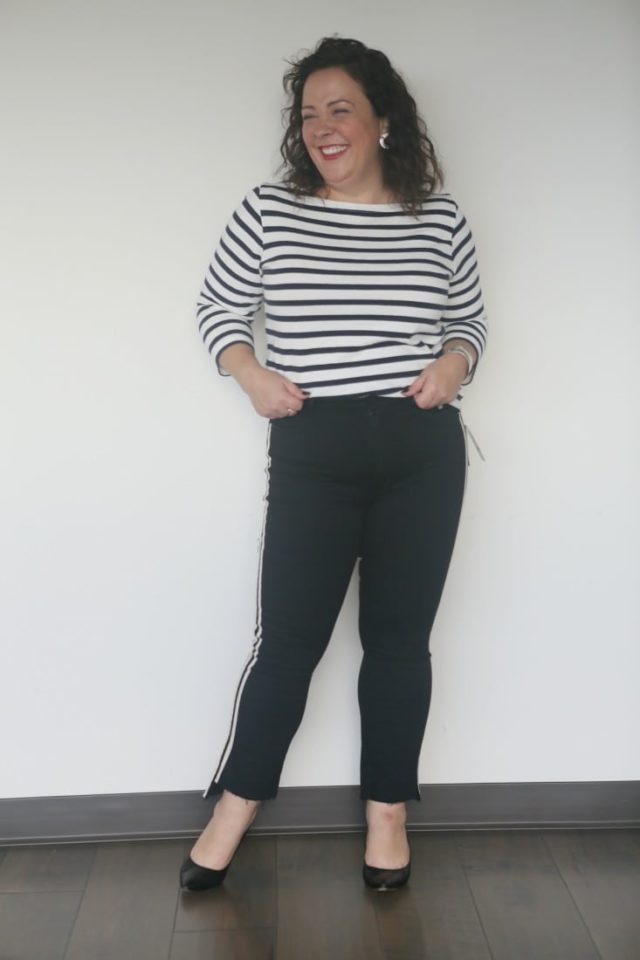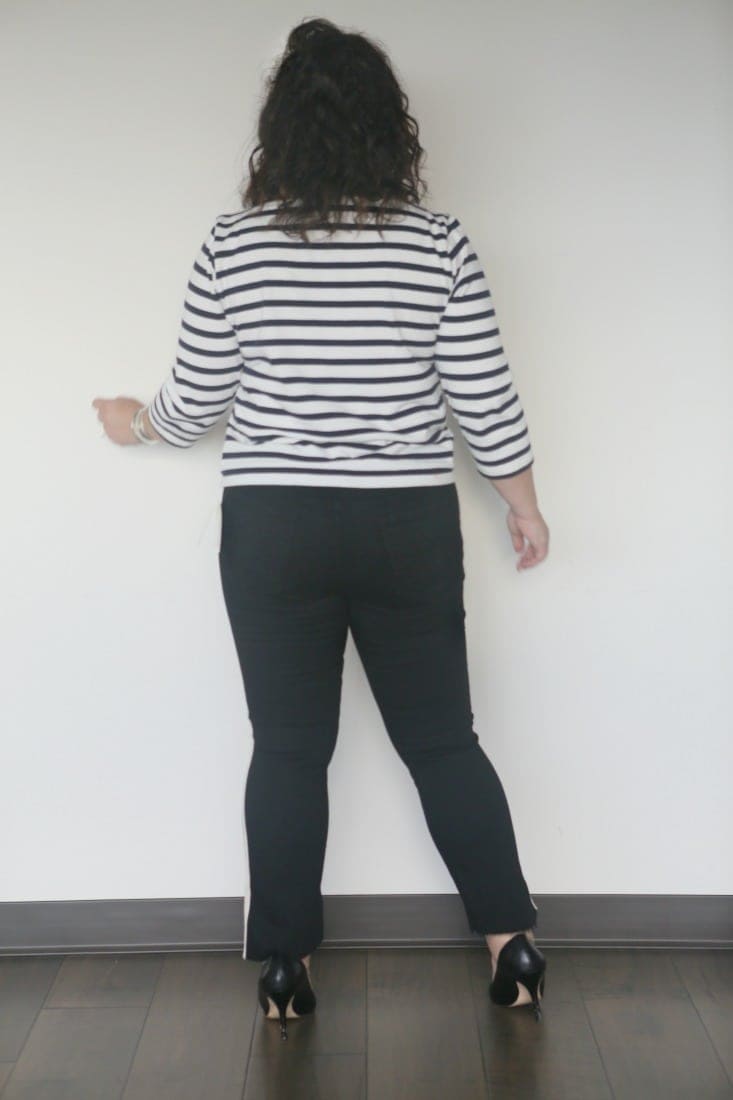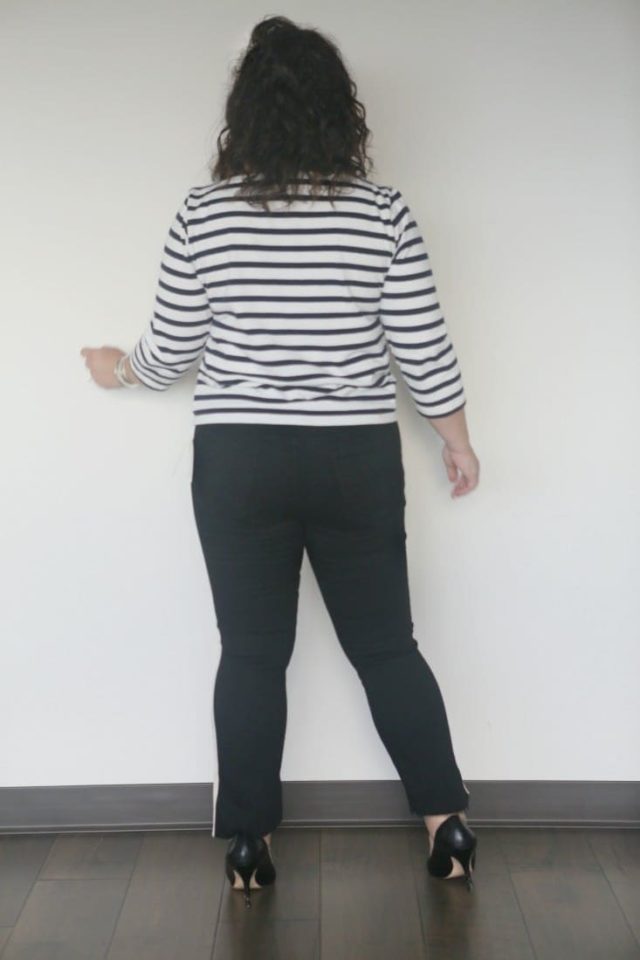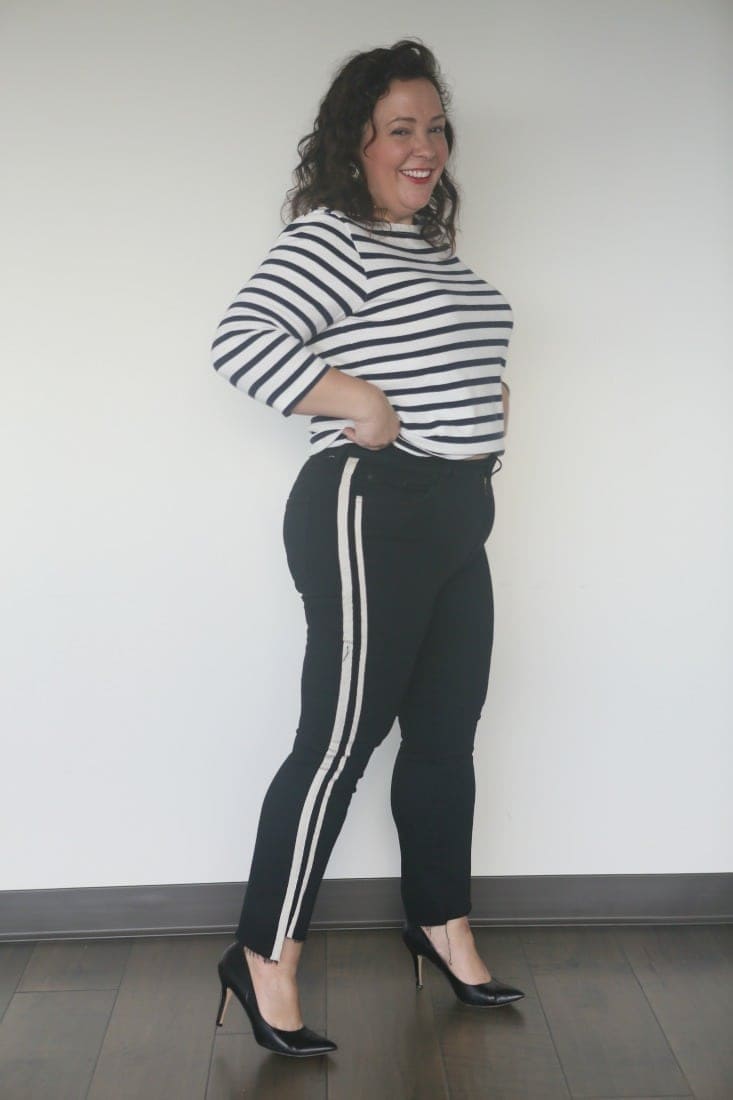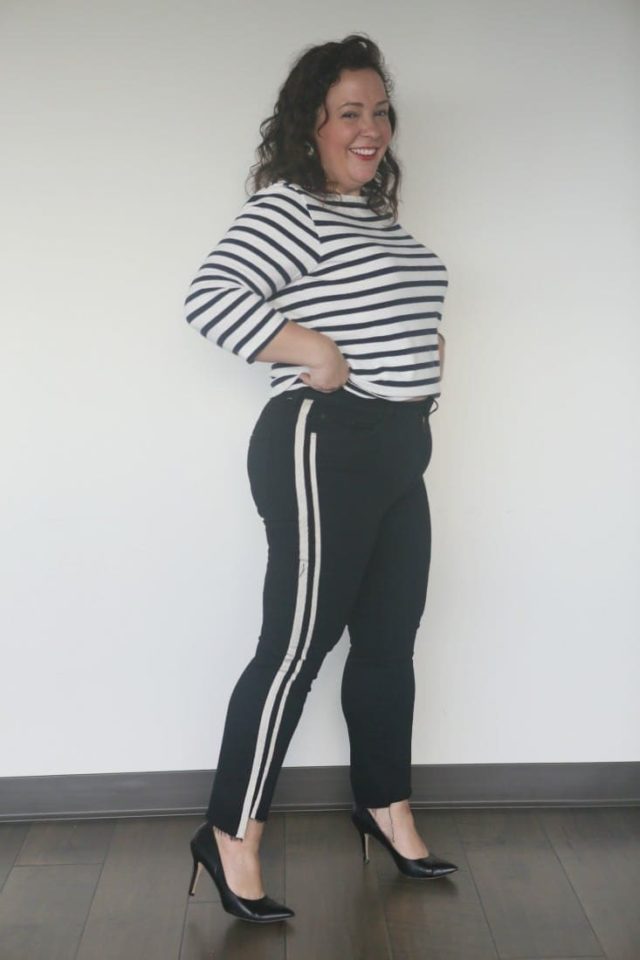 These jeans are pretty cool. The unfinished step hem, the stripes down the side, the saturated black color… these are the kind of jeans that make an outfit. However, I have black pants with white stripes like this and blue jeans with a faded stripe down the side so it's a bit too similar. 'The Insider' is a style of jean from MOTHER that comes in a variety of colors and washes (and even a badass pair of pants)… but they don't fit. The reason I can take these photos is because the denim is super duper stretchy (and it's that good stretchy with texture not the kind that will bag and stretch after 5 minutes). They are at least one size too small, and they don't come in a 33. Also it makes me a little sick to my stomach to pay over $200 for a pair of jeans that may be a fashion don't this time next year. These jeans retail for $218 and come in sizes 24-32.
Tops to Wear With Blazers and Jackets
Gibson V-Neck Shell – Blue, size L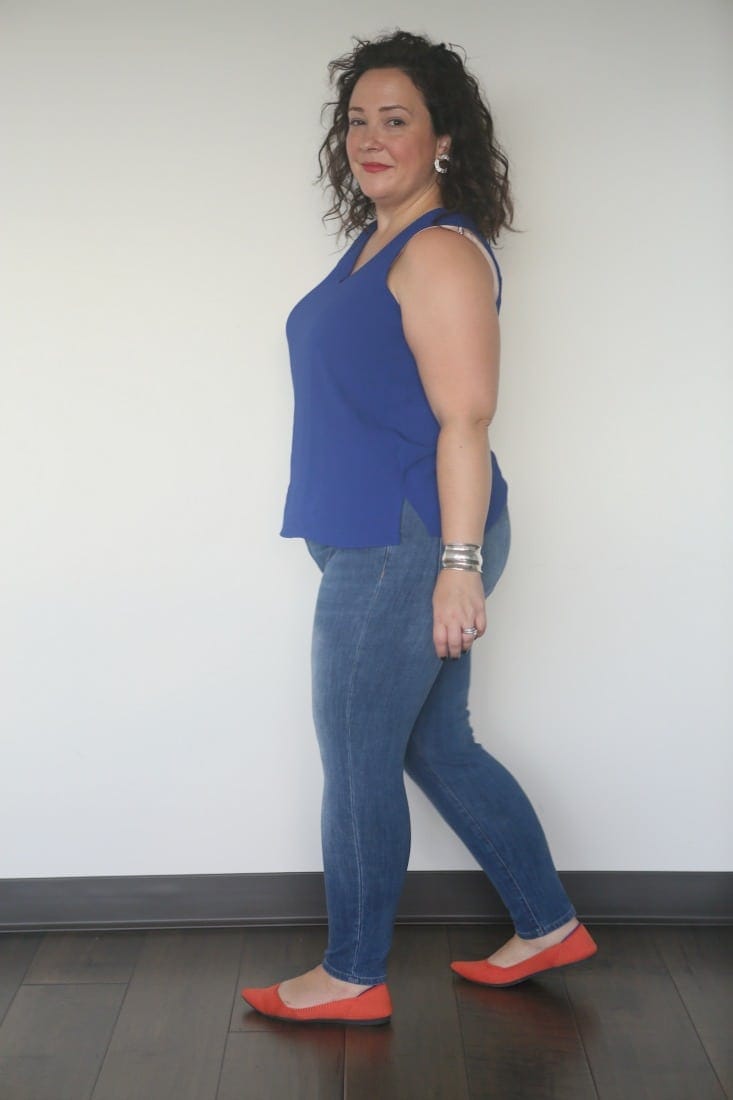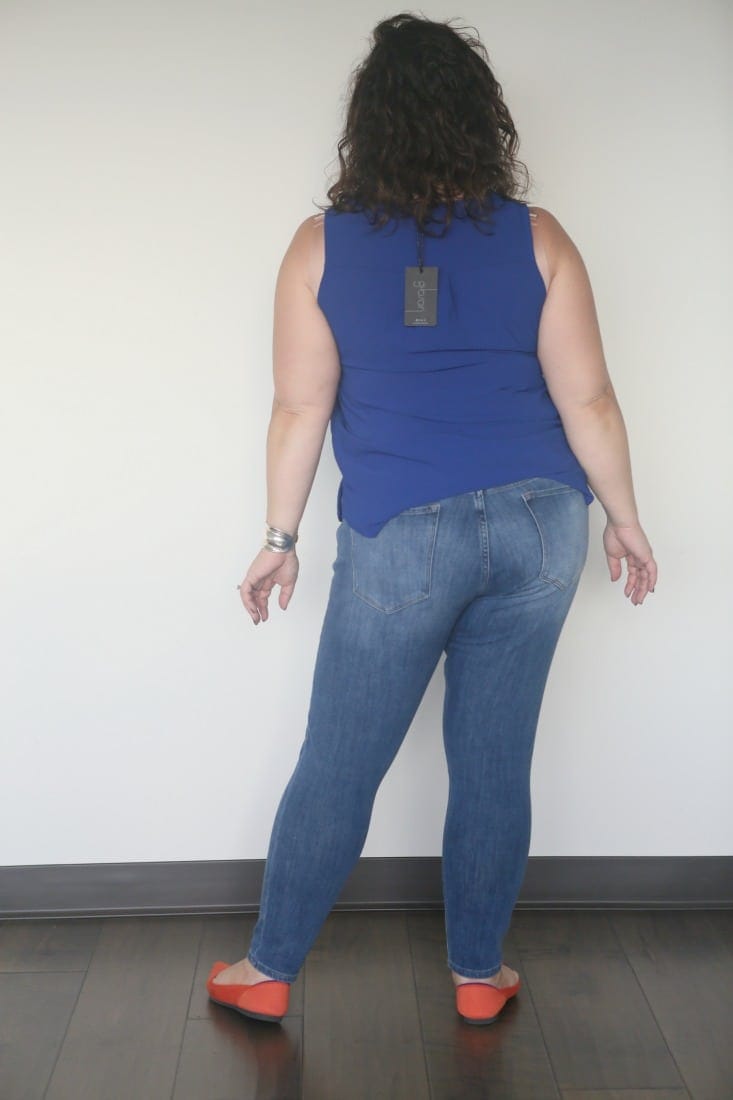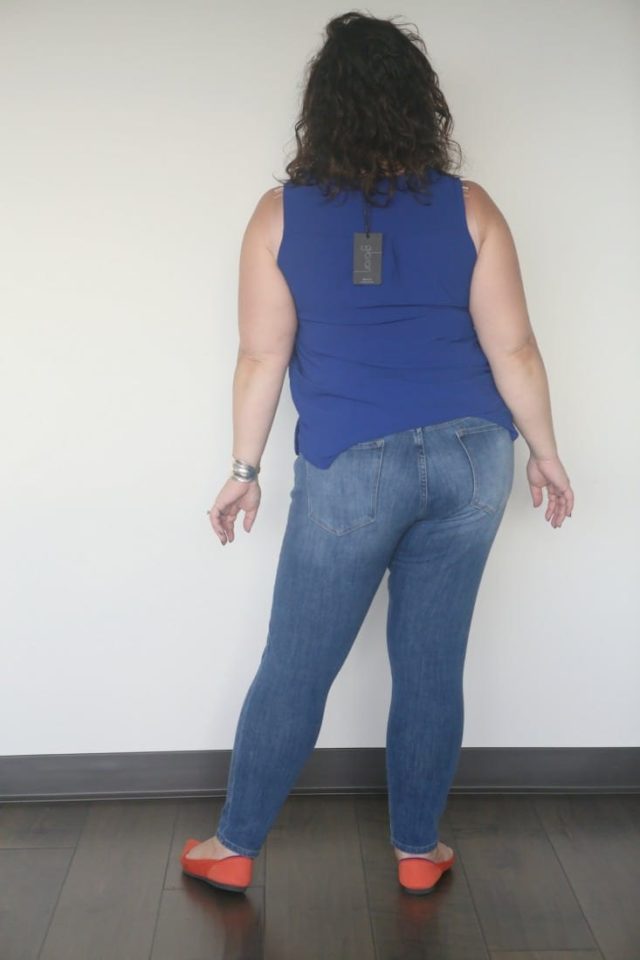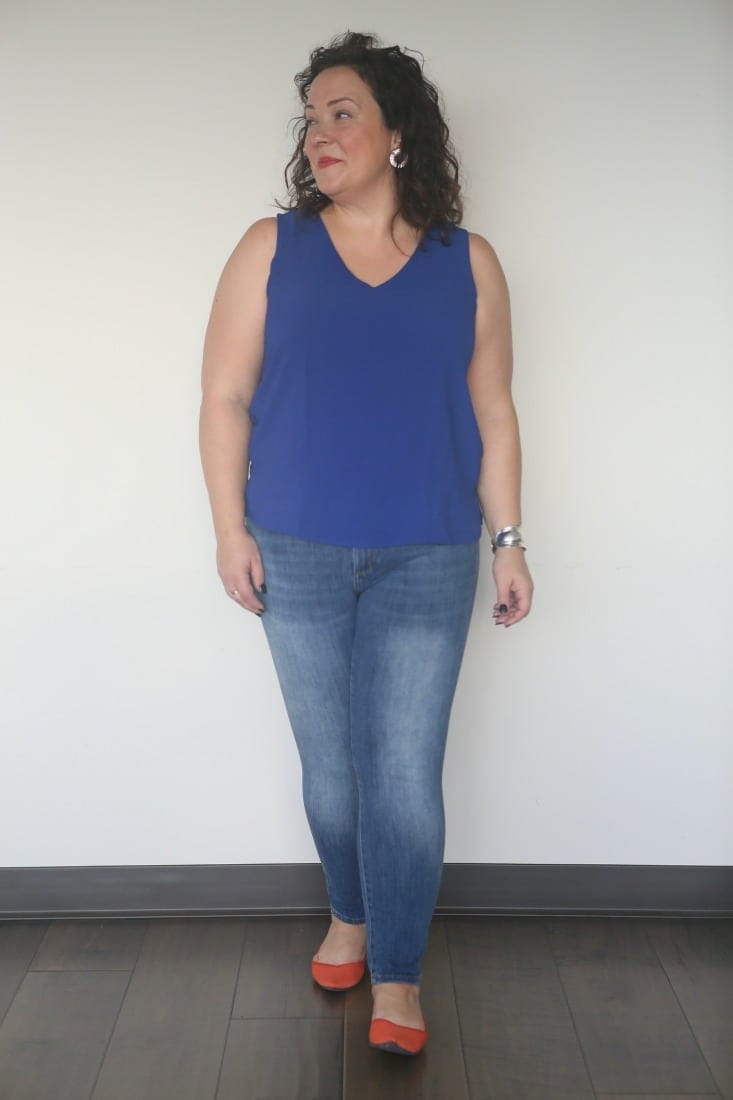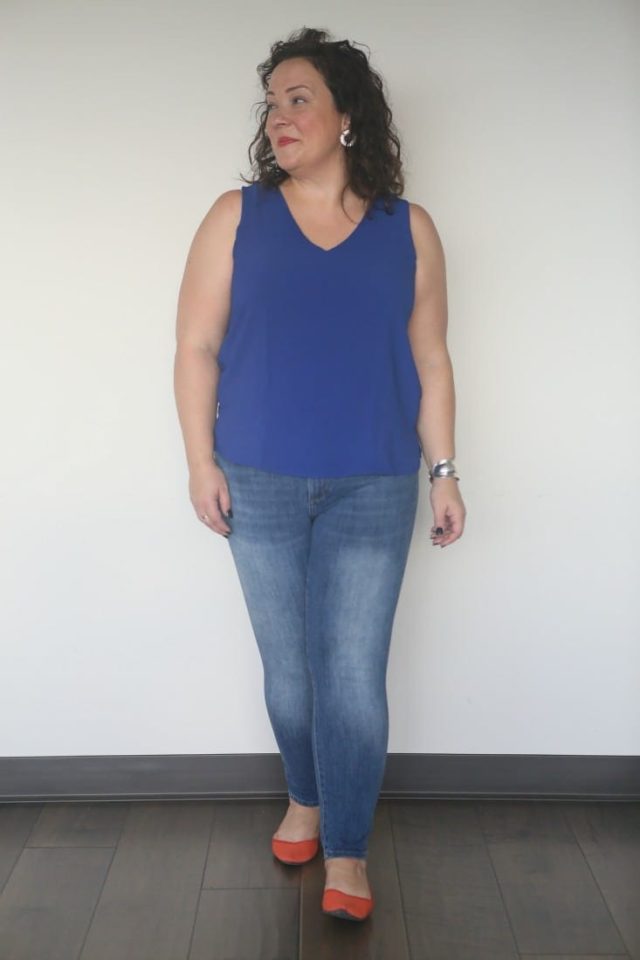 This shell is such a gorgeous shade of blue. This is the kind of blue that goes with unexpected things like burgundy, brown, and olive but also looks amazing with black, white, other bold colors, and classic neutrals. With a hint of texture, this shell isn't boring and would be great under blazers and soft jackets for the workplace or if you have a polished weekend style. I have neither lifestyle, and this shell just looks too corporate for my current closet. But if you're looking for a simple shell, this is a great choice. It comes in this great blue color as well as black and two prints. This shell retails for $49 and comes in regular and petite sizes up to XXL.
1901 Short Sleeve Graphic Tee – Navy, size Large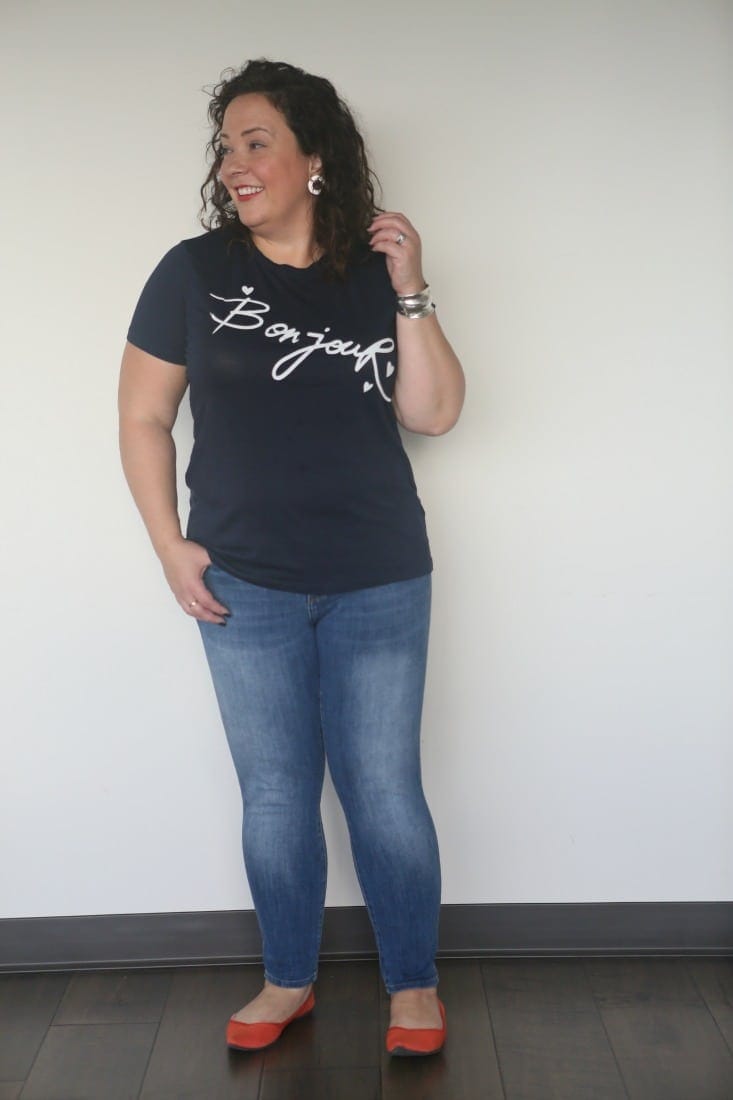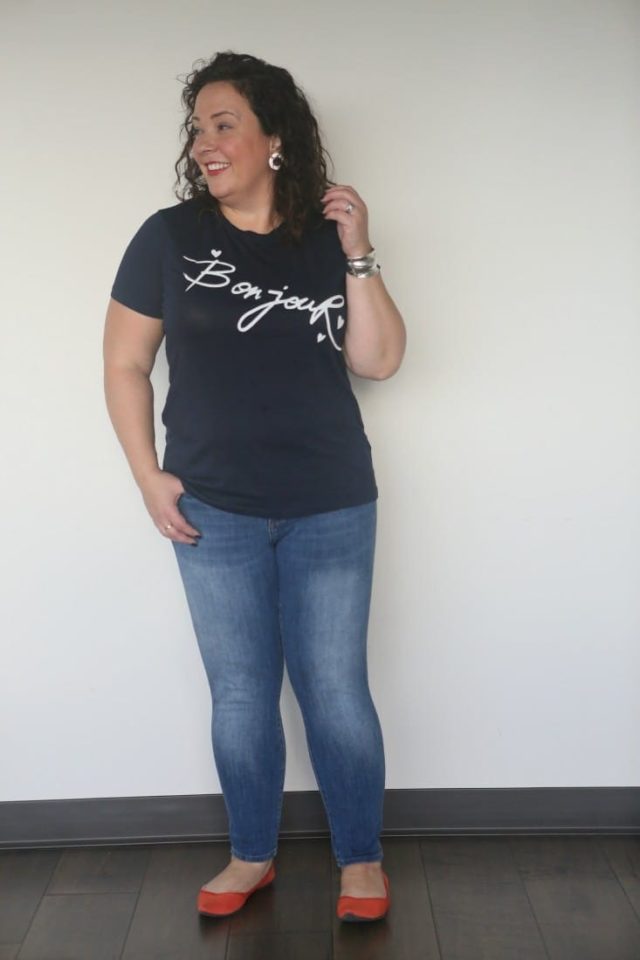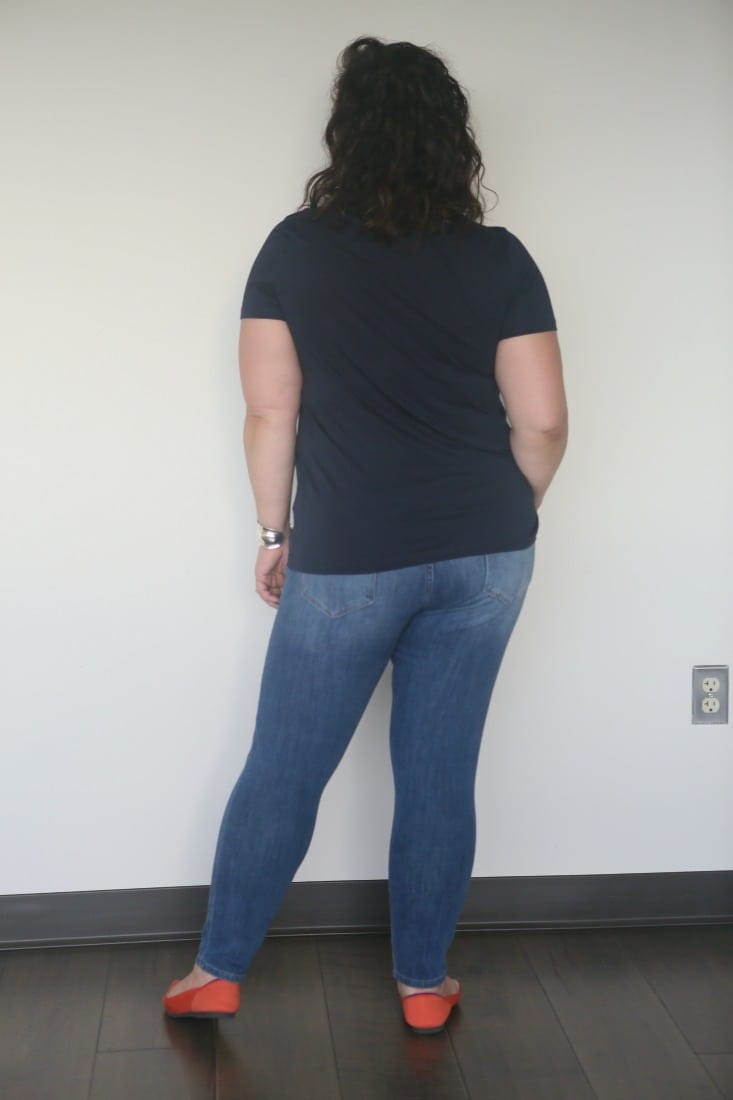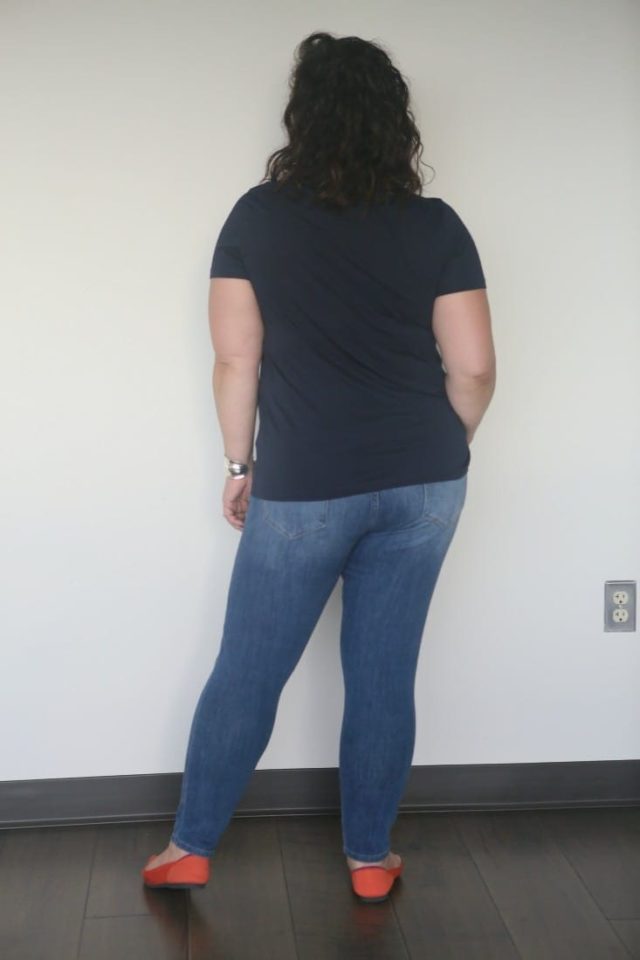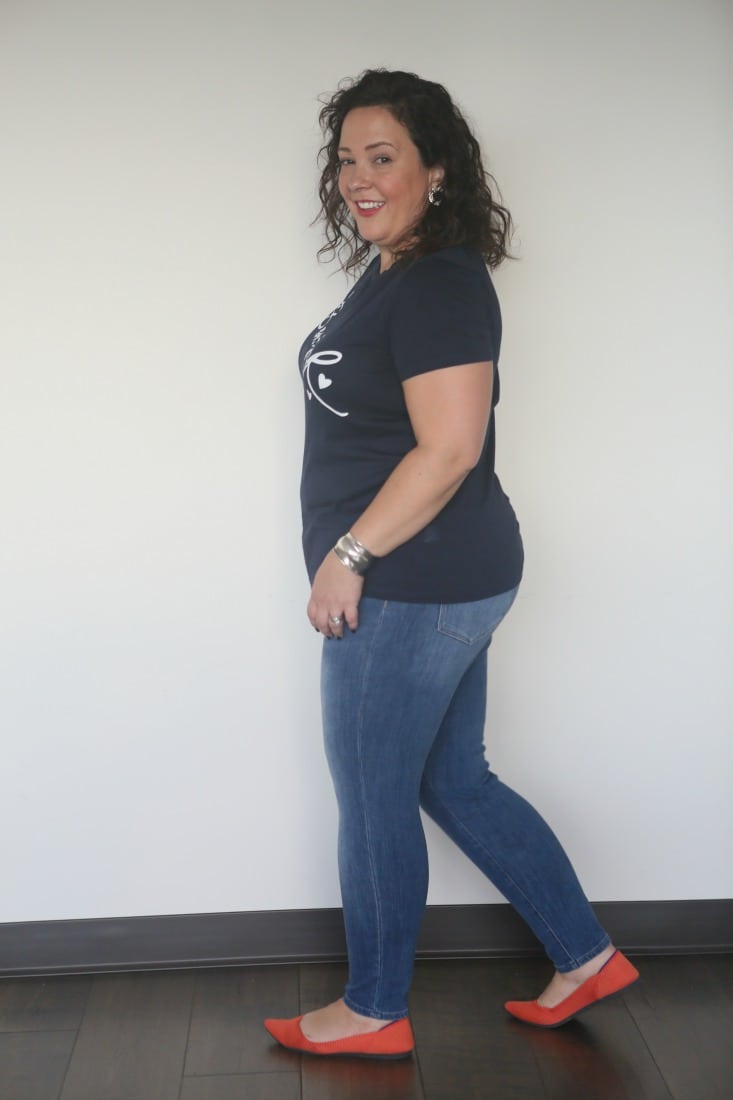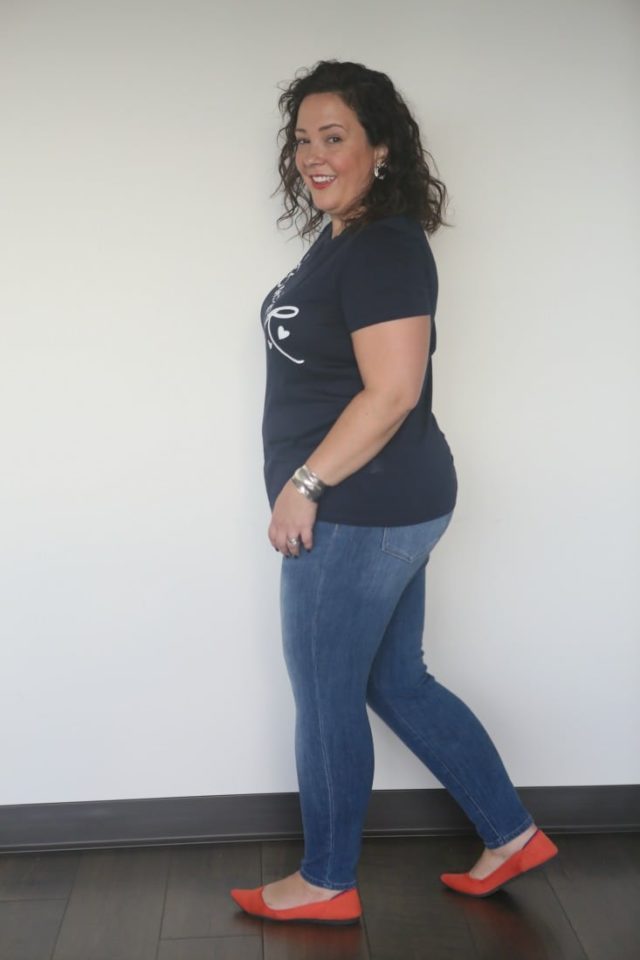 This t-shirt has already made its debut on the blog (see it in this post) but I am showing it again untucked and not under a blazer so you can see the fit. Also, this shirt has been through the washer and the dryer and still looks like new. While it's 100% pima cotton it is super soft and doesn't shrink. While I love this graphic, this same tee comes in four other options. This t-shirt retails for $35, comes up to size XXL and is available in regular and petite sizes.
Mural Oversize Blazer – Purple, size XL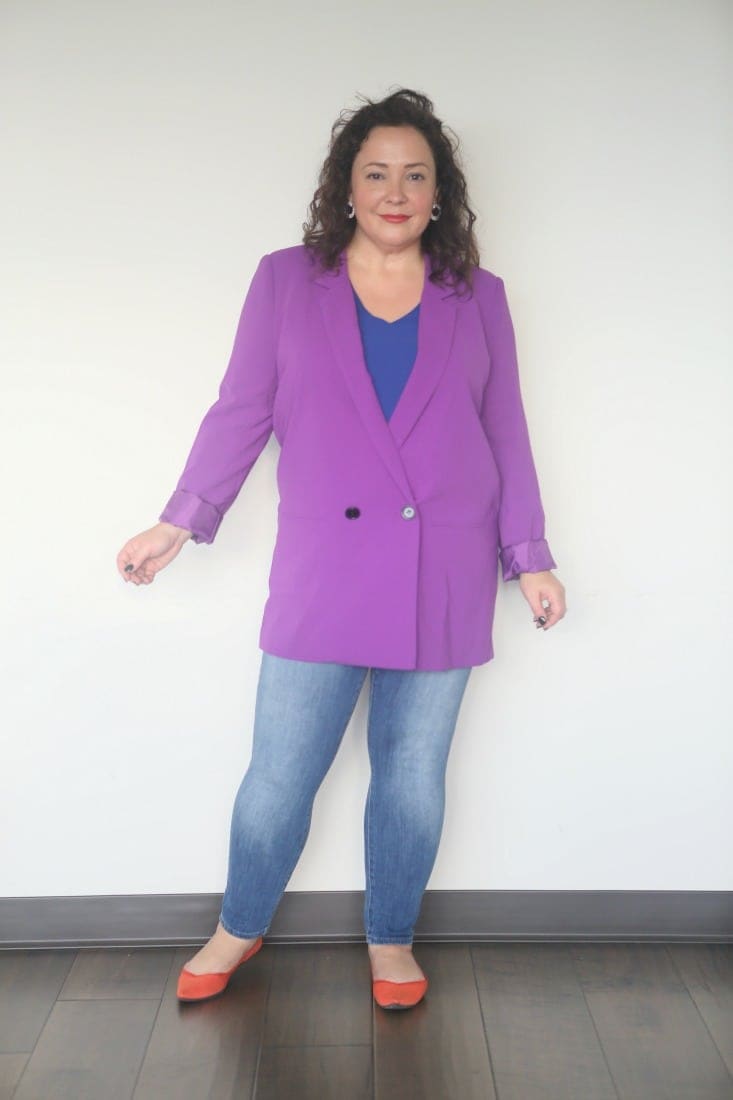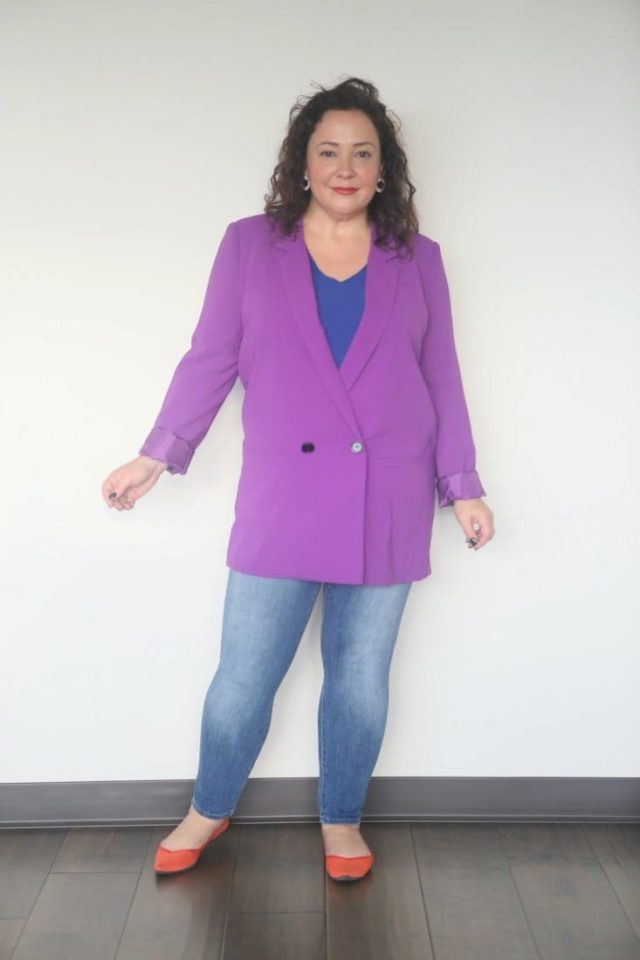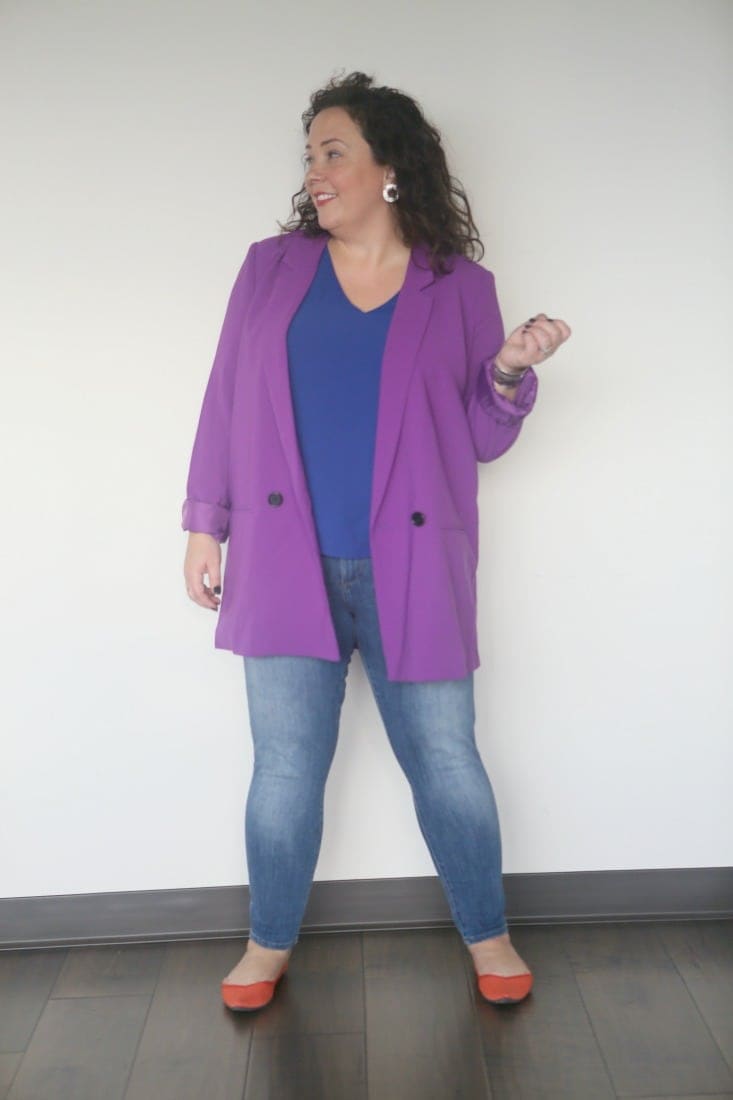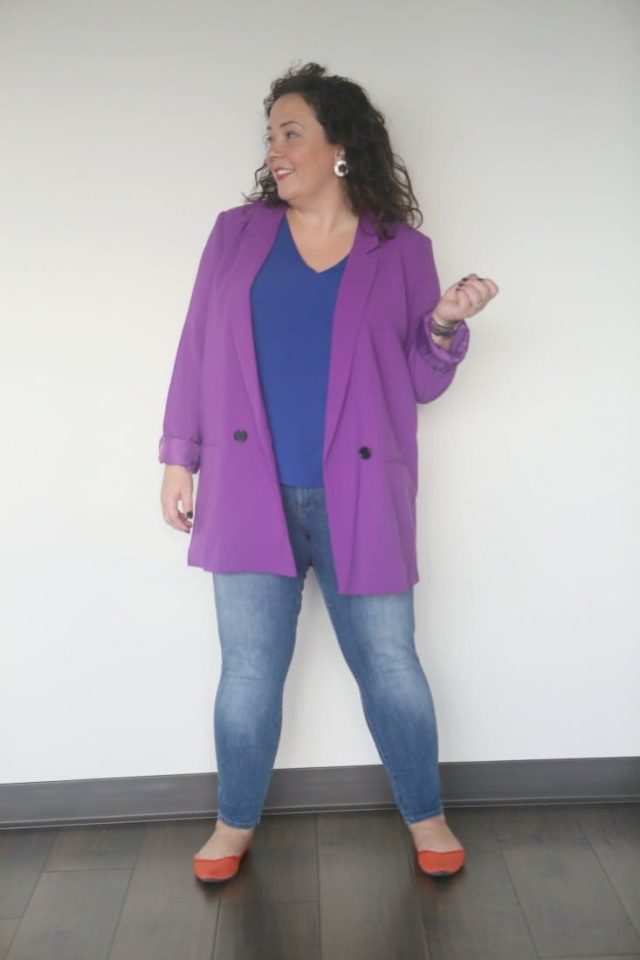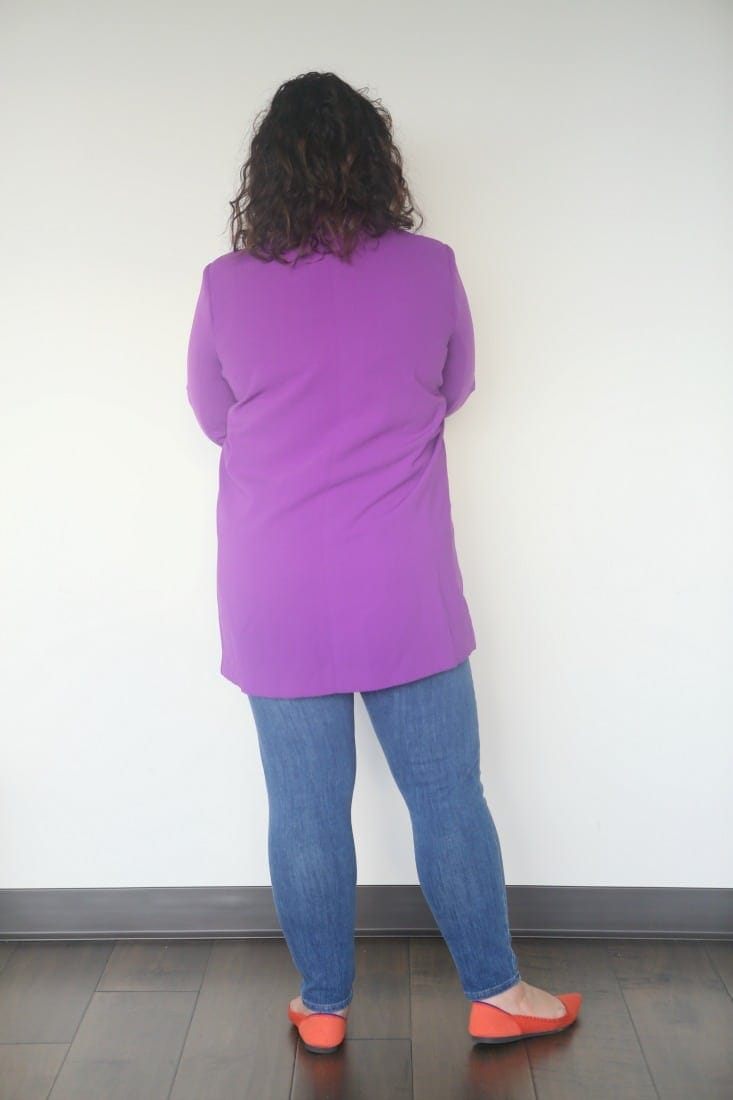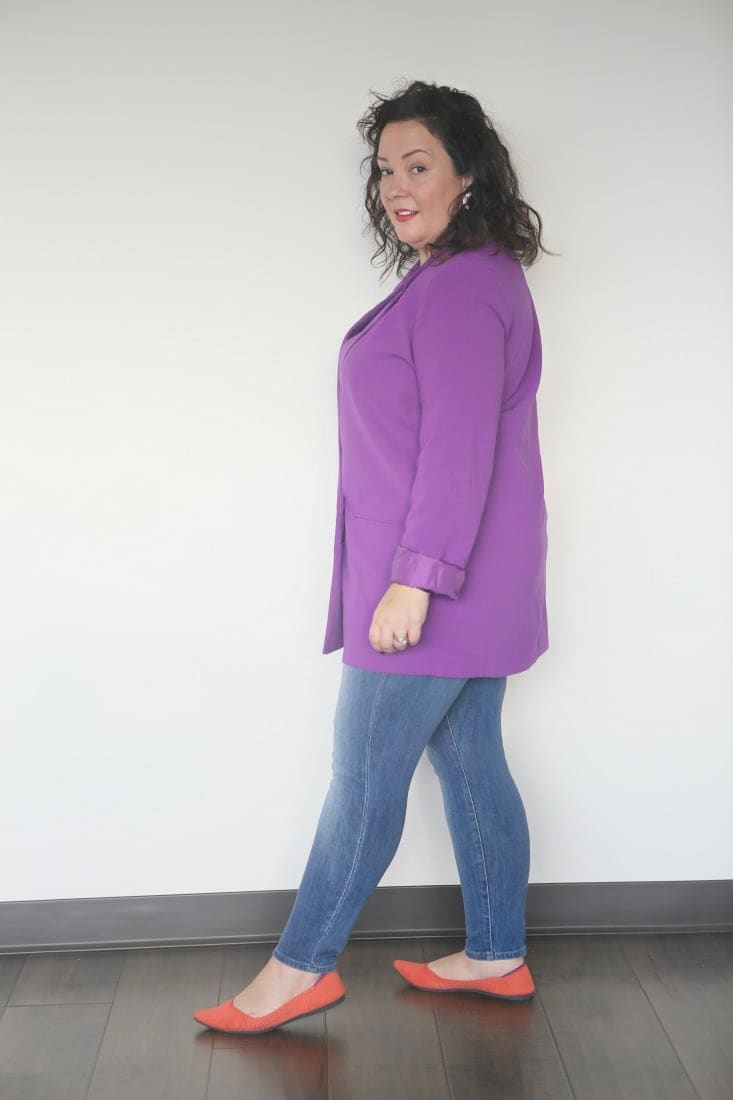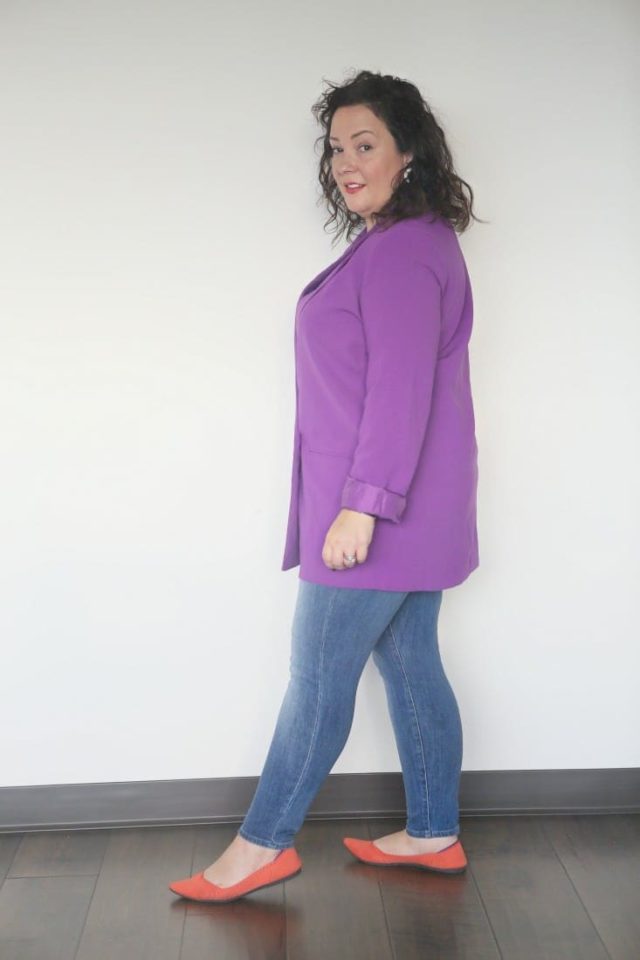 This blazer is the extra something in my Trunk that Kelsey thought I may like. And the concept is cool. Oversized "boyfriend" blazers are hot this season. Purple is an unexpected color but it looks so good with so many colors and is a nice contrast with classic blue denim. I've owned blazers from Mural before and like that they're reasonably priced but look good. This blazer does not look good. Karl said while photographing it that I looked like I was the one who framed Roger Rabbit. Going down a size wouldn't work as the upper arms just fit and I couldn't go slimmer. The sleeves are crazy long; I cuffed them twice just to have them hit the wrists. Looking at online reviews I seem to be in the minority as so many people like it. If I were taller and maybe less curvy I think it could look cool over leggings or skinny jeans, but I am neither and this is going back. This blazer retails for $75 and goes up to a size XXL; this link has the same blazer in three other colors and 40% off.
Casual Shoes in Wide Widths
Louise et Cie 'Bayne' Loafer – Leopard Pony Hair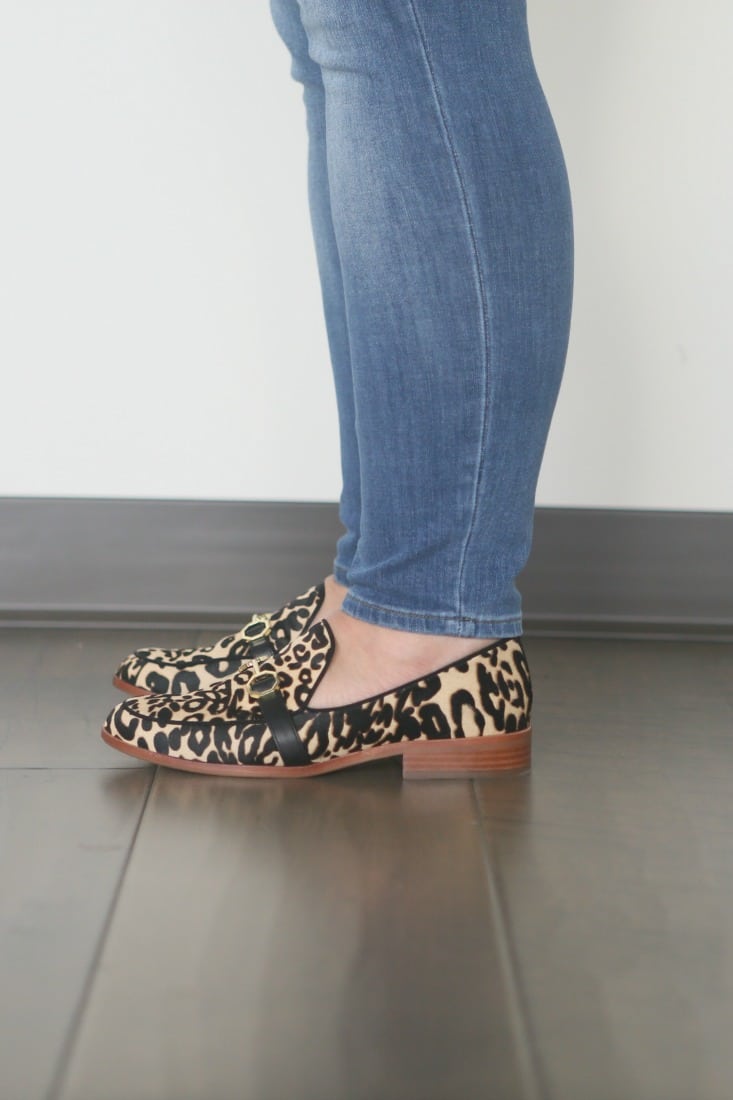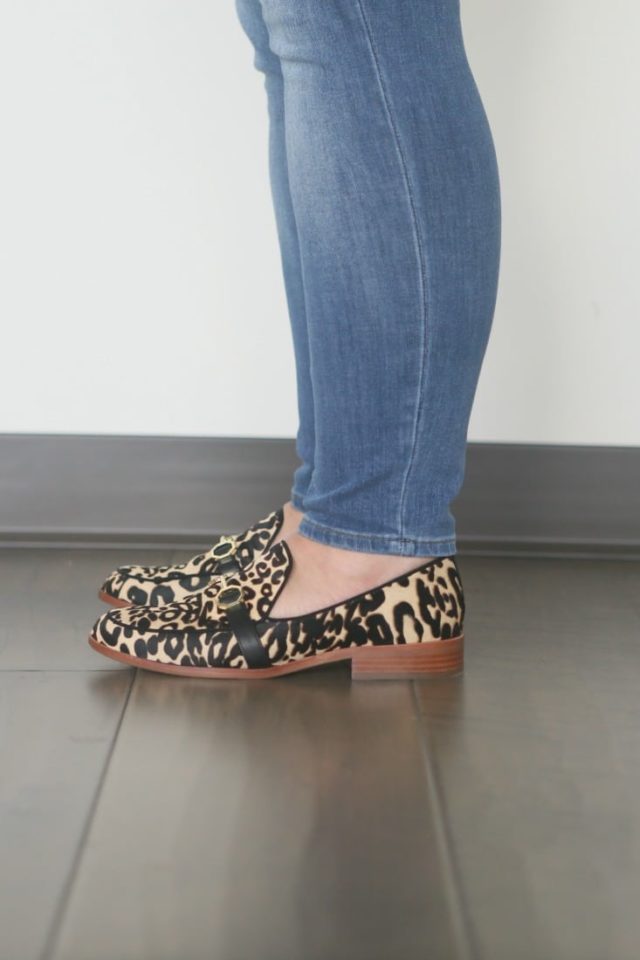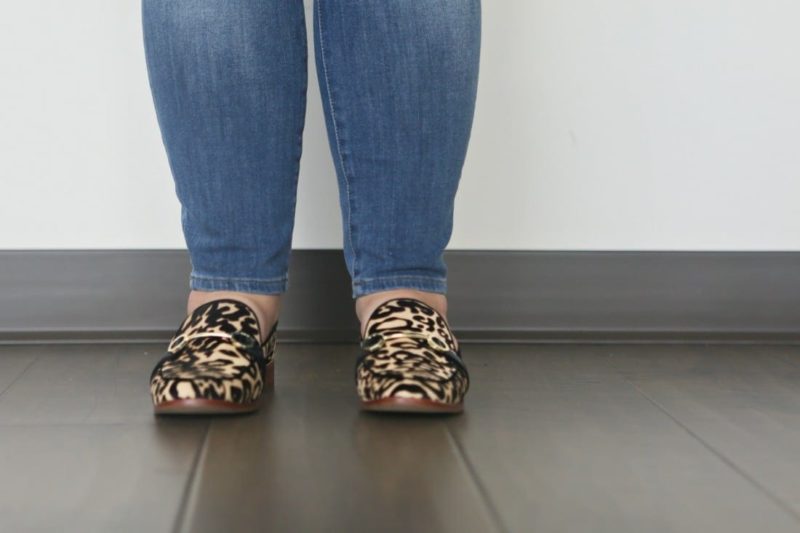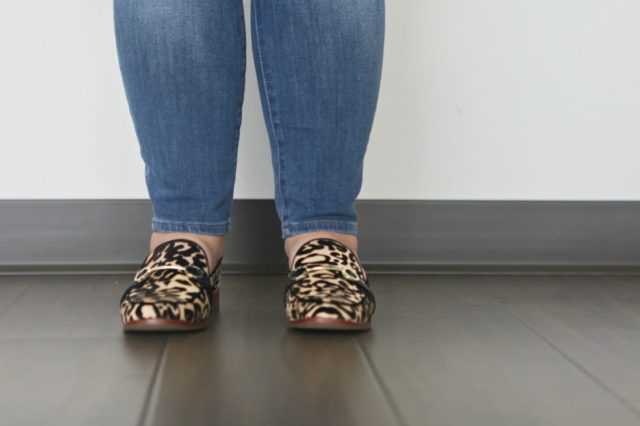 These loafers are GORGEOUS. I opened the box and squealed with joy. See, I love the look of loafers and for years have included leopard pony hair loafers in capsule wardrobes yet I've never owned a pair because my feet and loafers are not friends. My feet are not only wide, but puffy/tall and loafers make my feet look like loaves of bread rising out of the pan. I totally expected to not even be able to fit my foot in these loafers… but they did. I then expected the shoes to press on my instep and cause my foot to squish out like dough from all sides… and they don't really. They're also well made (I have other Louise et Cie shoes and they're pretty comfy and high quality). My only hesitation is how my ankles look with a high vamp shoe. I just don't think they're terribly flattering. I like that they provide more coverage than a flat for when the temps drop, but I worry I'll buy them and rarely wear them because they accentuate my cankles. These loafers retail for $139.95 and come in regular and wide widths; this link is for the same exact loafer but in three colors of smooth leather.
Bella Vita 'Eli' Cutout Bootie – Blush Suede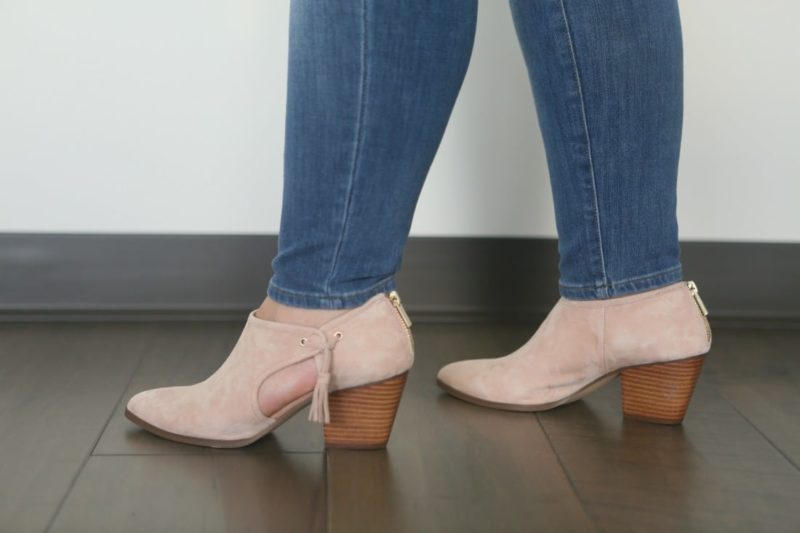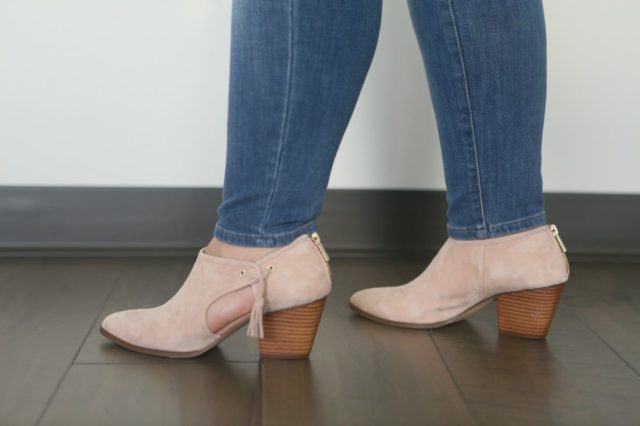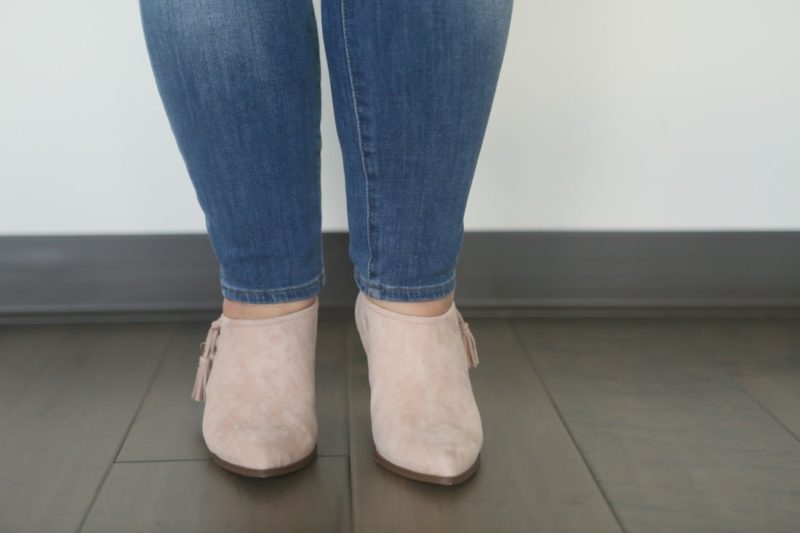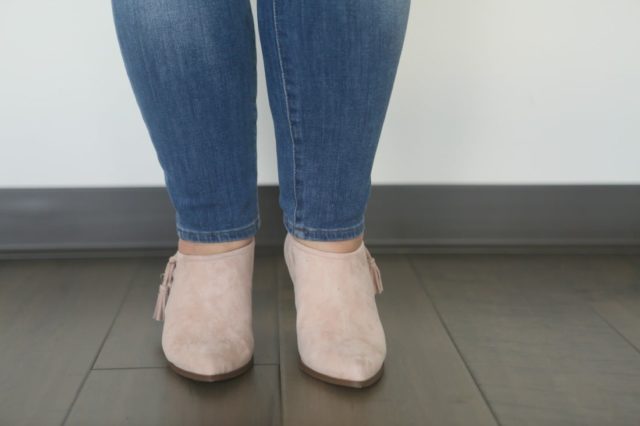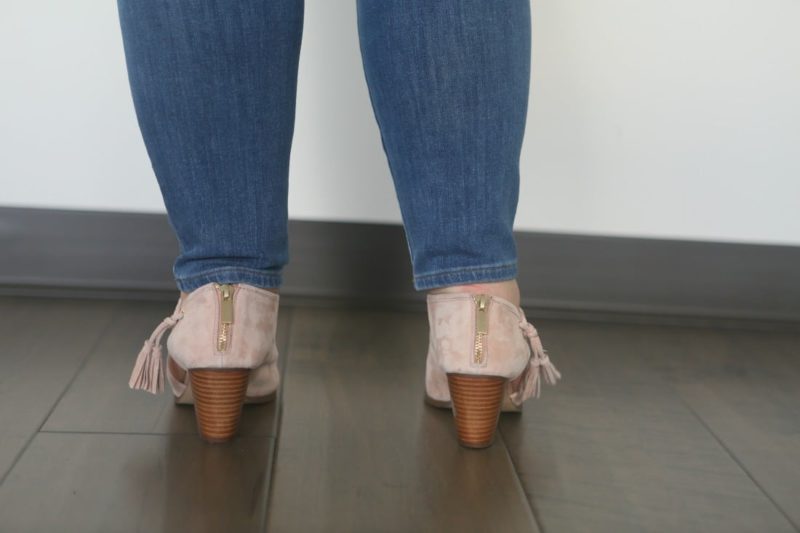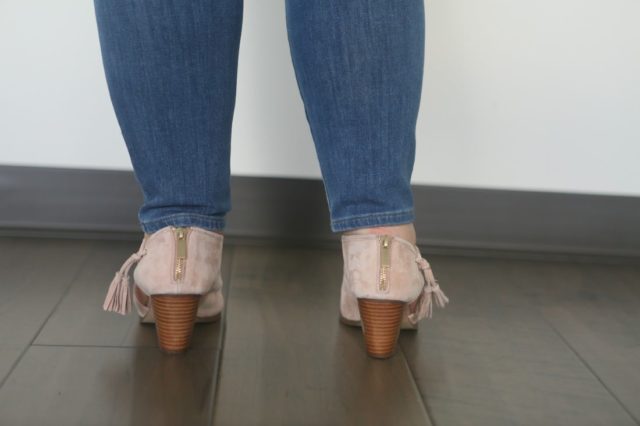 I love the look of a suede ankle bootie in a low-contrast color. They're so versatile. Wear with dresses and elongate the leg, look chic with jeans. However, as one with not just wide feet but wide ankles, it's hard to find booties that don't create a muffin top on my ankles if they can even zip up completely. I had a pair of beige suede ankle booties from Clarks but they were worn to death and retired. So I was excited to see these booties in my Trunk. And these fit… dare I say they're too wide (I NEVER say such a thing). They're also super comfortable. However, they're not right for me. The cutout looks cool… but then how do you wear socks to keep your feet from funking up the booties and to keep your feet warm as the temps drop? Also the tassels bother me. I think the back view is weird with the zippers and the tassels and the stacked wood heel… it's a lot for what I want to be a low-contrast neutral shoe. I think I'd appreciate these details more in black (this bootie comes in black as well as this blush color). So while these made me super excited because they fit, they're going back. This bootie retails for $124.95 and comes in narrow, medium, wide, and extra wide widths.
Everyday Bags with Style
Danielle Nicole 'Nolan' Faux Leather Crossbody Bag – Purple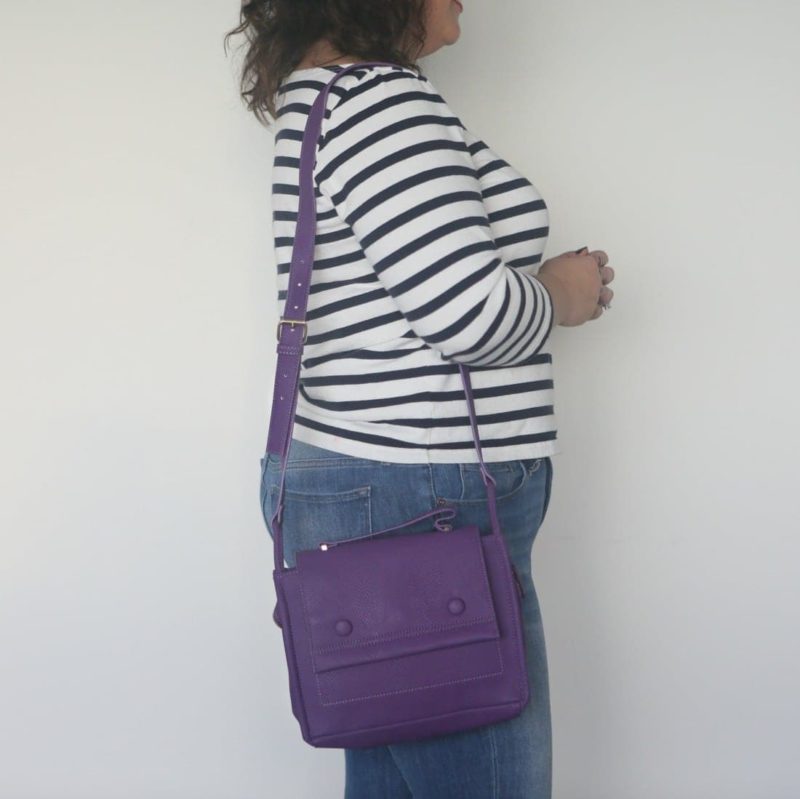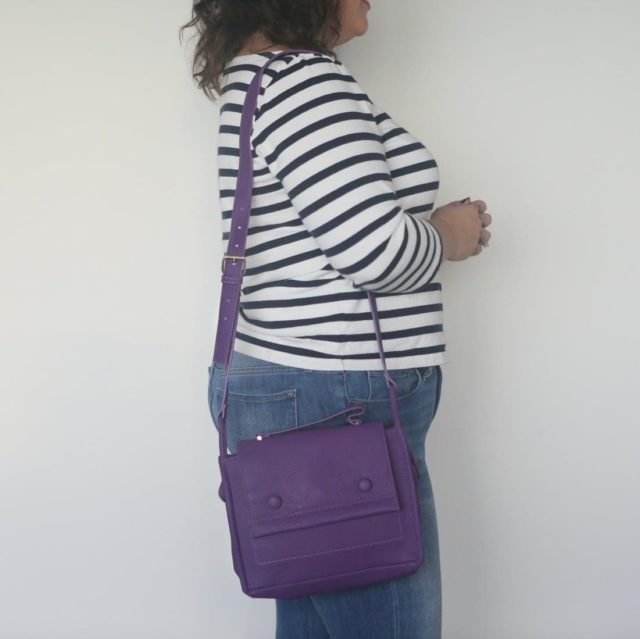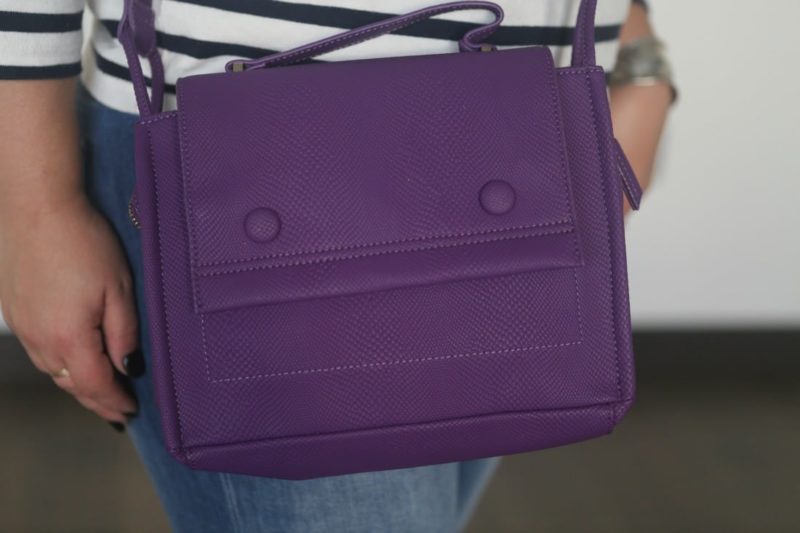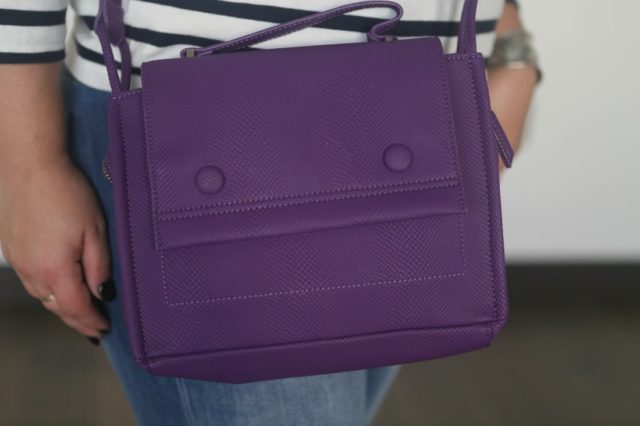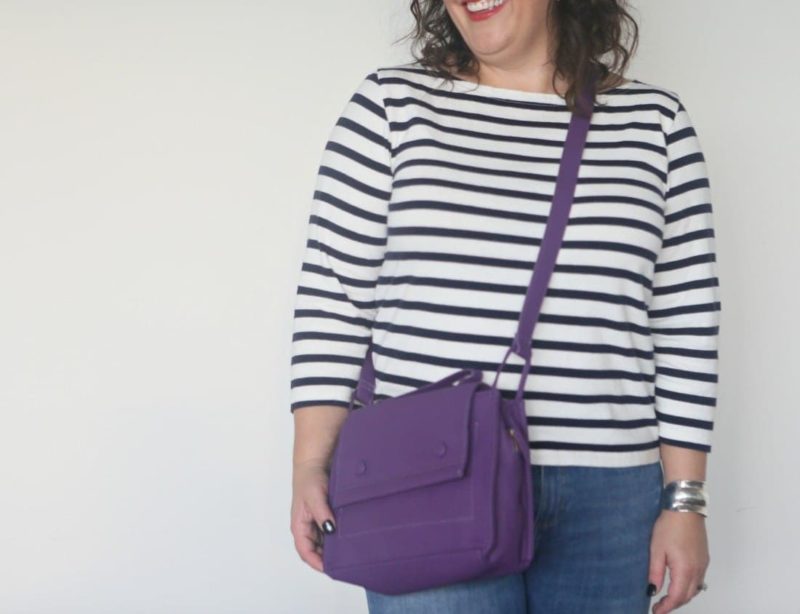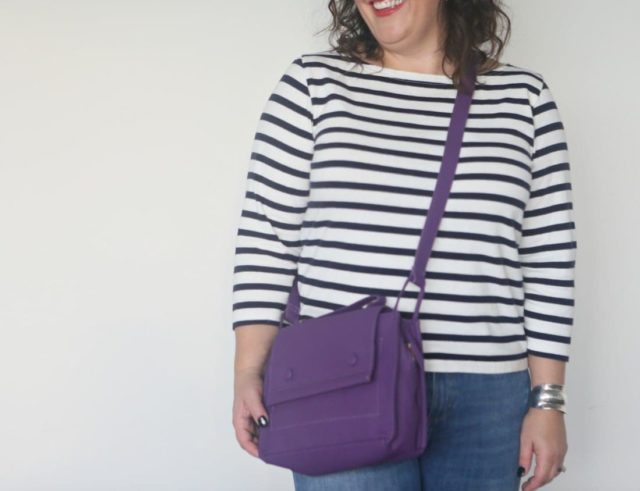 The purple pieces in this Trunk surprised me… but then I found I really liked it. I've never been one to wear a lot of purple, but after this Trunk I may incorporate more of it into my closet. This bag is a great size with a great strap length that works on the shoulder or across the body and really smart storage and pockets. The bag also comes in a sunny yellow. It's a practical bag… but I don't like it. I'm not against faux leather but it either needs to look a heck of a lot like the real deal or it needs to admit it's a different textile and rock its unique self. This bag does neither. The texture is described as snake-embossed but it just looks like a weird texture trying to be Saffiano leather. I usually appreciate a bag free of superflous hardware, but this bag having so little hardware made it look cheap. And for a faux leather bag, it's not cheap. If this bag came in faux patent leather, I think it would be chic, but I didn't dig this color and fabric combo. This bag retails for $98.
ALLSAINTS 'Voltaire' Leather Tote – Smoky Blue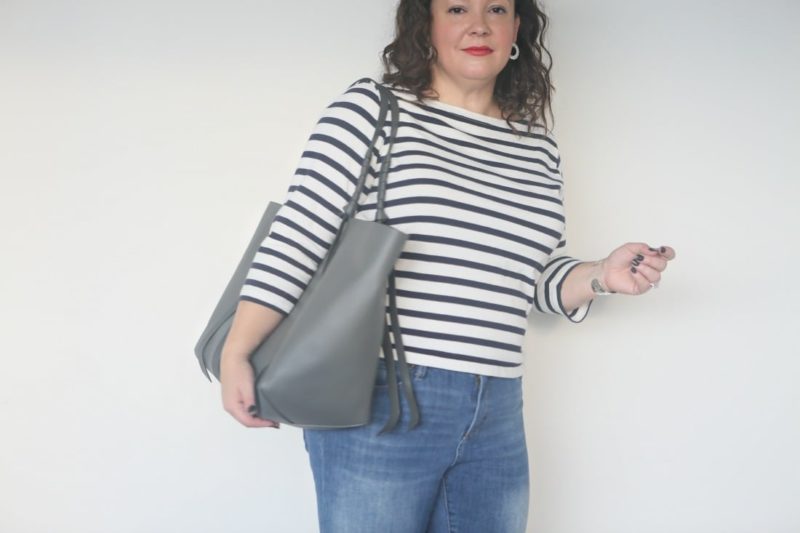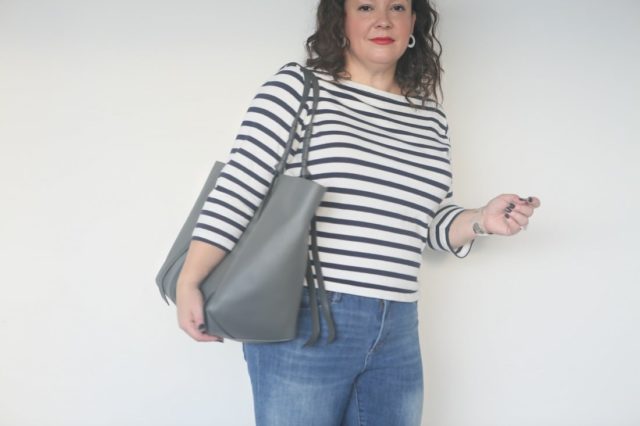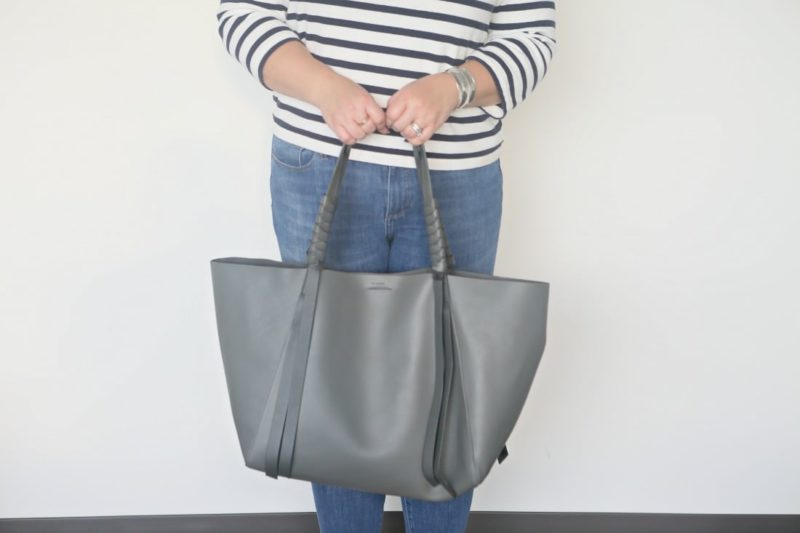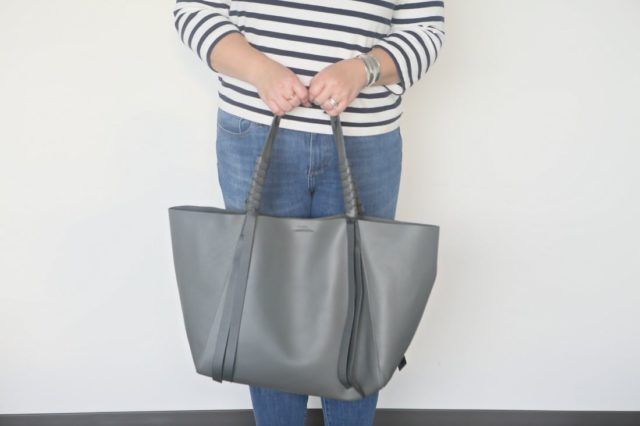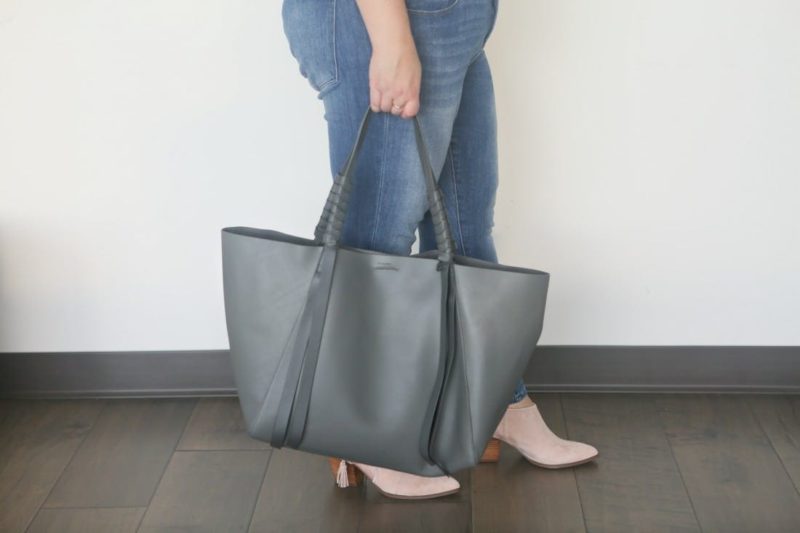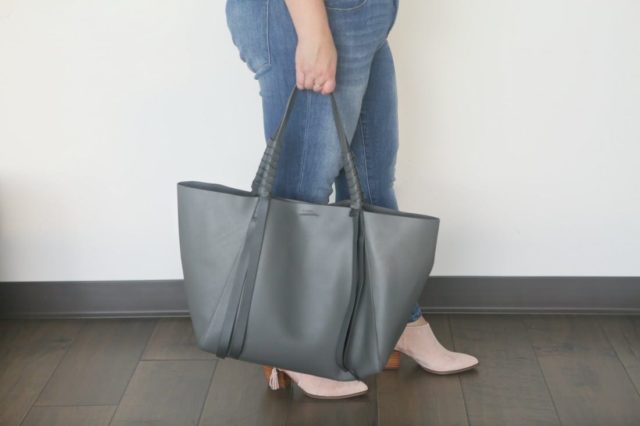 I love ALLSAINTS bags. Last year I invested in the North/South tote and that bag is sooo worth the money. It's gorgeous, durable, the perfect size, and looks expensive without being all covered with logos. This bag is the same. The leather is thick enough to survive all sorts of things but still supple and with that perfect bit of sheen. The color is so cool, like fog (if this isn't your thing the bag also comes in black). I love the subtle details – the tassels, the braided trim on the handles. There's a magnet closure and the size is comfortable under my arm even if I'm wearing a thick coat or the bag is filled to the brim. Even with straps long enough for comfort, I can carry it in my hand and it won't drag on the floor. This could be a great work tote, just slip a neoprene laptop case in there and you'll still have room for your change of shoes, lunch, files, and purse essentials without it getting lumpy. And if I didn't have my North/South tote I'd get this one. And I like it so much I am tempted to keep it, but that wouldn't be a smart purchase. But gosh it's pretty. One of you get it, love it, send me photos of you all over town with it so I can live vicariously through you. This bag retails for $368.
Clare V. Simple Stripe Suede Tote – Black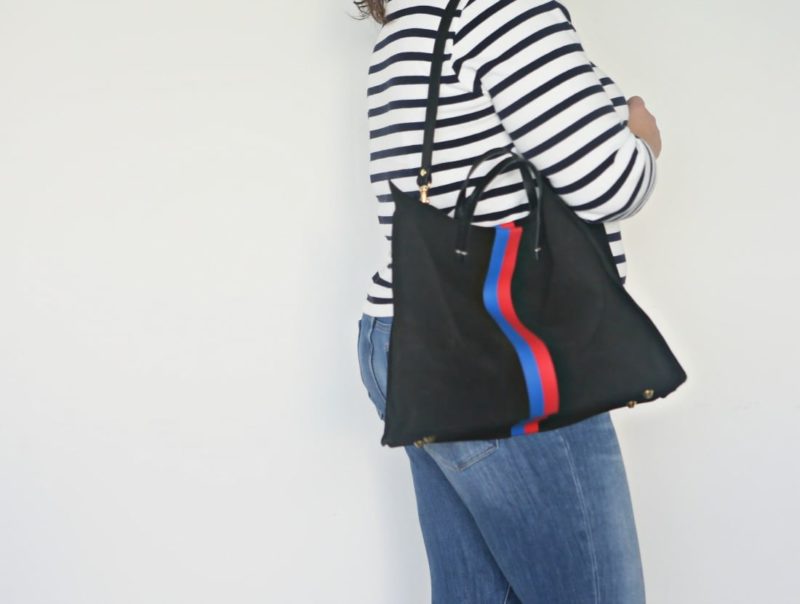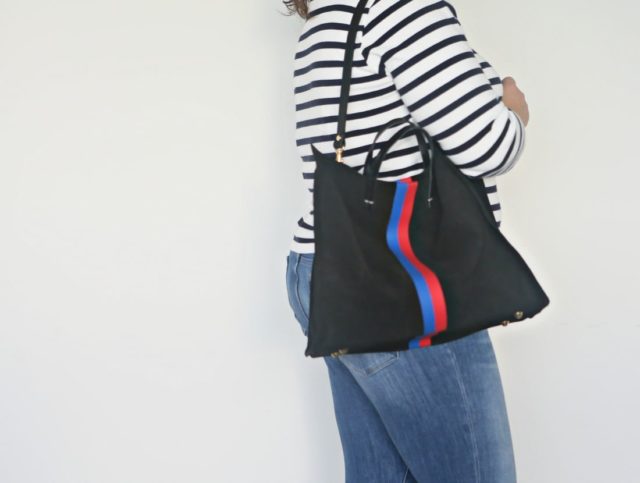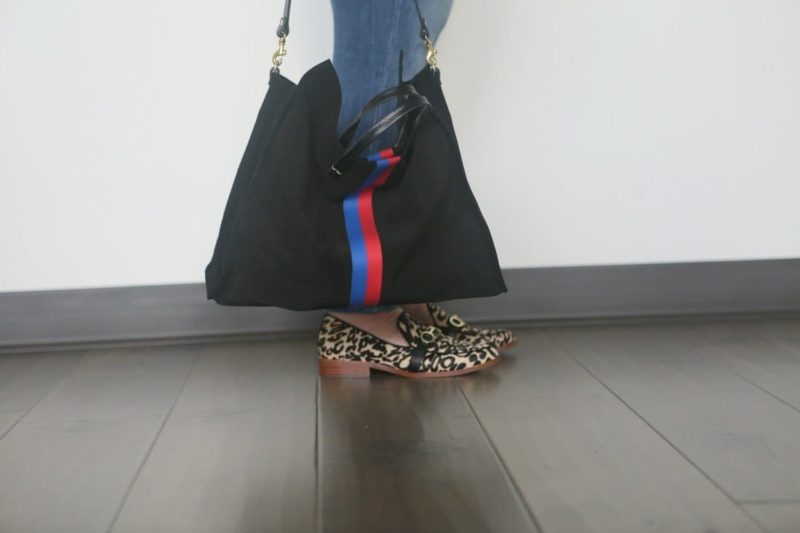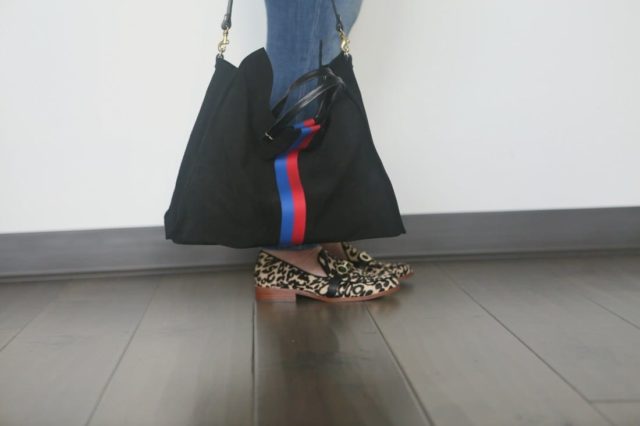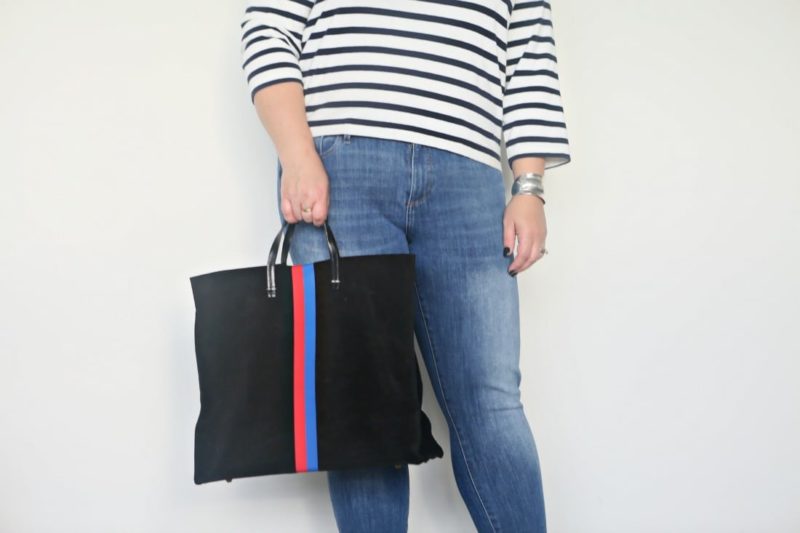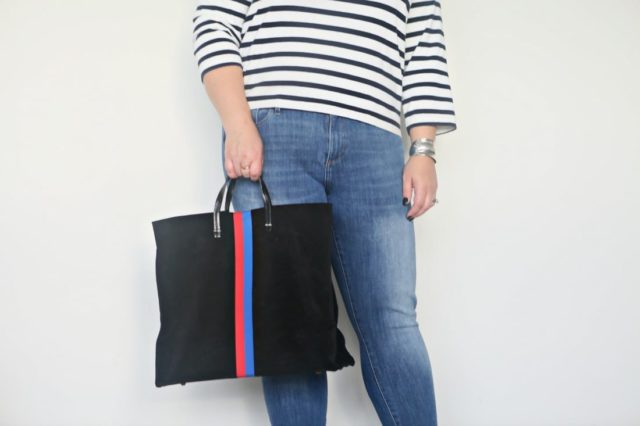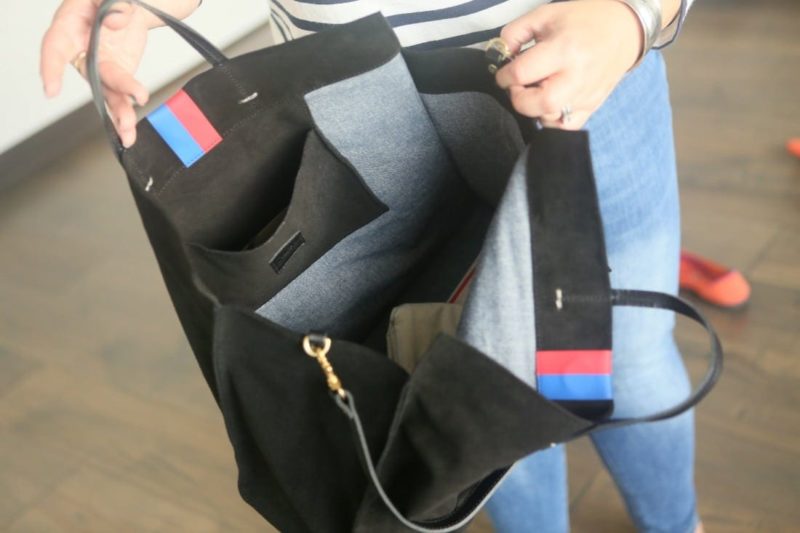 I love Clare V. If I were rich, I'd own a ton from the brand, but I'm not so all I own is one foldover clutch. But I saw this bag before Kelsey sent it to me, and admired it. The price is higher than I am comfortable with, but I think of how often I use my Clare V. clutch. I also didn't know which color to get (it comes in black suede, olive suede, marigold suede, white leather which gives a Gucci vibe, and camel suede). Kelsey picked the black which likely works the best with my wardrobe. I got it… and was underwhelmed. The short handles are thin, so if you put a lot in the bag they may hurt your hand or get stretched. The bag is very bare bones without lining or compartments. That's fine, but for the price I'd want a bit more… something. But then I put the bag on my shoulder with the removeable strap and I liked the bag a LOT more. It's chic, smart, looks designer but no logos. And I'd totally buy it… if it was under $300. But it's closer to $500 and that makes me throw up a little in my mouth for such a simplistic bag. This bag retails for $465.
My Fall Trunk Club Review
While the style was more "me," I didn't end up keeping a lot of it. However, I do NOT see this Trunk as a fail. I tried brands I would normally not try, silhouettes I'd assume I couldn't wear, and colors I normally don't gravitate towards and all were positive experiences. It helped me see what I own in a new light and narrow down what I actually need this season versus what I want after seeing NYFW and so many bloggers in fall fashion.
While I was not paid to do this review, all links in this post are affiliate links. If you make a purchase or sign up for Trunk Club through any of these links I may make a small commission. I am happy to honestly answer any questions regarding Trunk Club. Also, if you have used Trunk Club, whether or not your experience was positive, do share your thoughts in the comments to provide a balanced Trunk Club review to other readers of Wardrobe Oxygen.