This article may contain affiliate links; if you click on a shopping link and make a purchase I may receive a commission. As an Amazon Associate, I earn from qualifying purchases. 
All my friends are getting married, I have six weddings already that I know I am or will be invited to and I know more are coming. I'm single and haven't had a boyfriend in two years and on top of that I'm a size 20 while all my friends are tiny. I don't want to go to these weddings and get stuck at the single people table and be the sad lonely fat girl but I know I need to go. Any advice on what to wear to boost my confidence?
It doesn't matter what you wear to these weddings, if you feel you are a lonely fat girl and sit at that singles table looking sad you will look like a sad lonely fat girl. The best way to get through these weddings and life in general is to have a blast. When you live life completely it shows; it alters your face, your posture, your energy. So put on your favorite lipstick, slip on some heels (and a pair of ballet slippers tucked into your purse for the end of the night), and rock your fabulous self in a dress that is as full of life and joy and you and the event you are attending.
My personal recommendation is to steer clear of black unless it is a defining factor in your personal style. While black is versatile and acceptable at most American weddings these days, it can have one think you're uncomfortable in your skin or depressed. Many choose black because they feel it looks slimming but it's not going to make you look drastically different and can give the wrong impression. On the other hand, don't wear anything too crazy flamboyant; the day isn't about you and you can still look fun and vivacious without too much bling or cleavage. A bit of shape is far more flattering to the figure than a loose tent and shows you know style and you know your body. And I can't stress this enough – don't be afraid to spend money on this dress. If you choose wisely and it's not the same exact crowd at every event, you can wear it several times over the wedding season and also bring it out for holiday parties. The harsh truth is those of us who are larger or softer need to take more care with our purchases. Buy quality pieces, invest in tailoring for a custom fit. We're not built like mannequins and cheap fabric, unlined garments, and poor fit can make us look bigger and sloppy. If between sizes, go up a size and then hit your local bridal boutique to find someone to tailor it to a custom fit. A few dresses that have caught my eye and I would think perfect for weddings: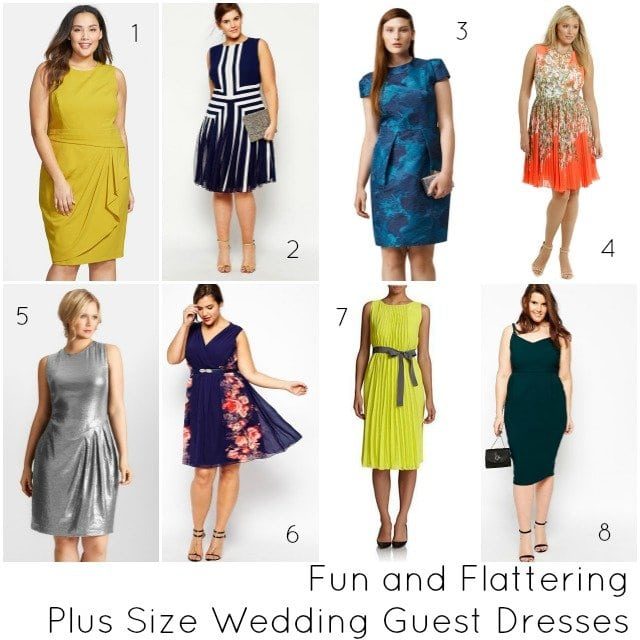 If you are unable to spend for a dress, consider renting.
You all know I am a fan of Gwynnie Bee – they are like Netflix for fashion. For a monthly fee you can rent everything from jeans to blazers to sweaters to dresses for work or play. The customer reviews help you decide which piece will work best for your figure and personal style, and you can send back a piece quickly in the pre-labeled shipping bag and get a new one from Gwynnie Bee in a jiffy.
Another option is Rent the Runway who now offers plus sizes. This is an especially great option if you're attending a more formal wedding and don't want to drop hundreds on a gown you'll likely never wear again. However, Rent the Runway has dresses appropriate for weddings of all formality and the rental price is that of a cheaper dress that may not make as great of a statement. With stylist notes and plenty of customer reviews with photos, you can get a good feel of what dress would be perfect for your occasion. You can use code RTRDC22F051 for $100 off new subscribers' 60-Day Trial of Unlimited-$50 off each month