This article may contain affiliate links; if you click on a shopping link and make a purchase I may receive a commission. As an Amazon Associate, I earn from qualifying purchases.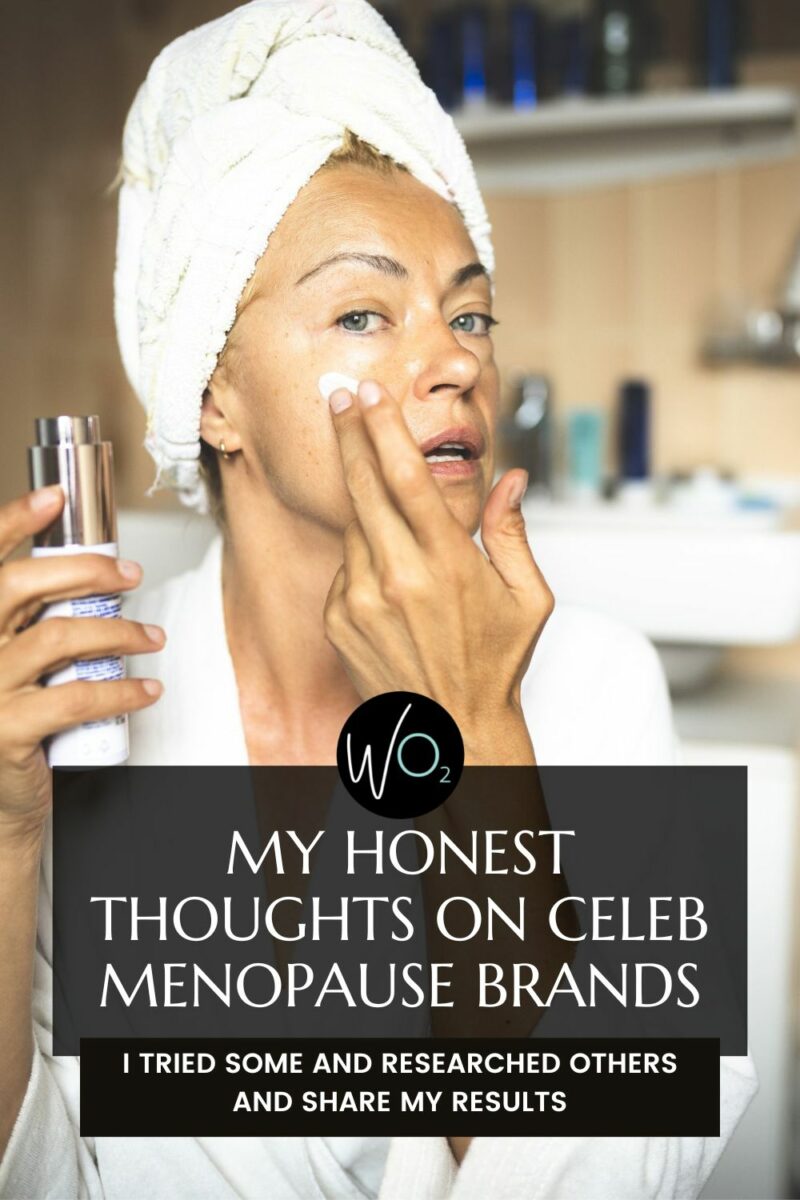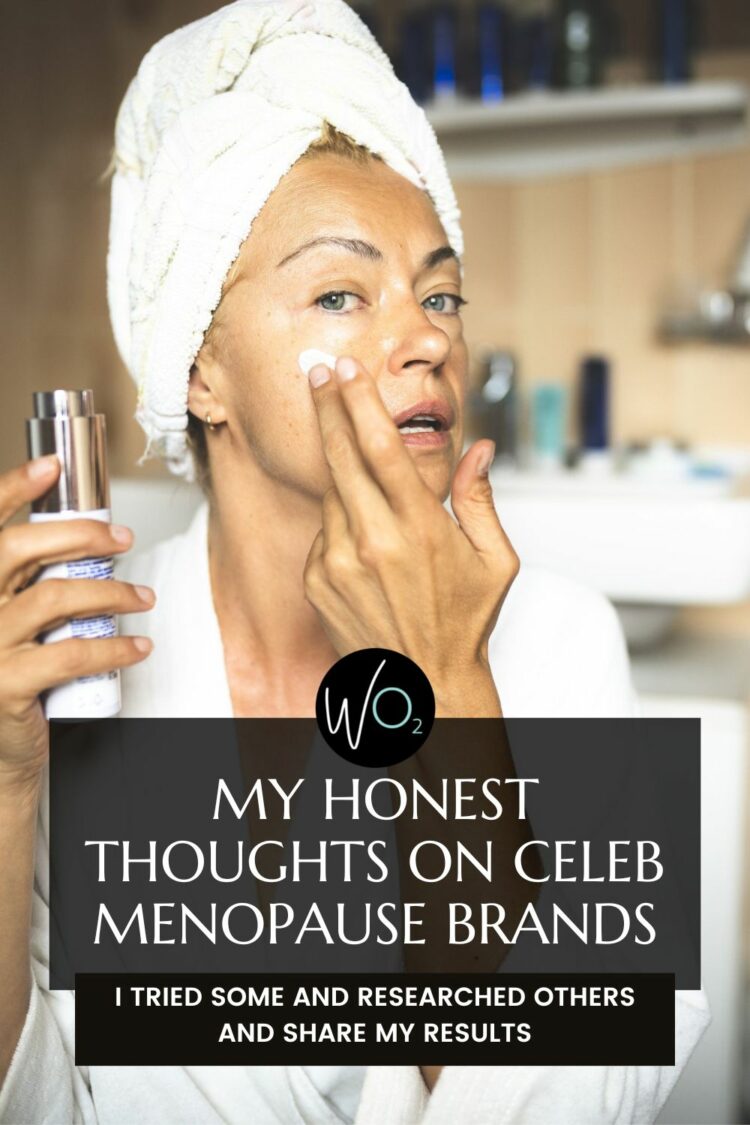 I am so effing OVER celebrity brands. We grew up with C-list actors on late-night infomercials and familiar faces from previous decades shilling long-term care insurance. Then a few industrious famous folk created products or added their name to products sold on QVC and HSN. Sometimes these celebrities created the actual products; more often than not they were just lending their name in exchange for profit share.
But with social media, celebrity brands are in overdrive. I blame Kylie Jenner, who we all know now had fake numbers to put her on the cover of Forbes but still made famous people believe they could create the next billion-dollar brand.
I Call Bullshit on Celebrity Menopause Brands
Tequila, canned wine, activewear, NFTs, skincare… who can keep count? Right now the trend seems to be celebrity products for middle-aged Generation X. Reading glasses, home fitness, mattresses, hair restoration, and menopause.
Well menopause is a more recent phenomenon. For most of time, menopause wasn't discussed. Women suffered in silence and doctors weren't much help. But in this day and age of internet and social media, we are able to share our experiences and find a supportive community. Social media also provides us peeks into the lives of some celebrities. We grew up with these famous women, and now we are going through menopause with them. We are hearing about their hot flashes and seeing the remedies they recommend.
There are websites and books and doctors and researchers and nutritionists and even TikTokers all dedicated to dispelling the myths of menopause and offering real solutions. But finding this requires time and research, and it's far easier when a familiar face with financial backing does the work for us. Right?
But what if the menopause products shilled by those familiar faces is just a bunch of overpriced bullshit?
But We Need Menopause Products!
While I may call bullshit on celebrity menopause brands, that doesn't mean I don't believe we who go through menopause don't need such products. I am glad such products are on the market. I've bought many of them with mixed results, but a lot of positive. While most of these celebrity-backed menopause beauty products are bullshit, there are some great products out there that can alleviate some of the effects of menopause without clearing out your wallet or consuming questionable ingredients.
As an influencer, I sometimes am mailed these products as gifts from the brands when they are launching or added a new product to their line. Search for over-40 influencers and you can find me. I've even written about perimenopause and discussed it on Instagram and my audience is around my age so I am a prime target.
I've seen so many of my peers get the same boxes of products I did, performing an unboxing on their Instagram Stories, and sharing a Reel a week later extolling the virtues of these lotions and potions. And I'm sitting here thinking, "This brand sent me this heavy box of shit and now it's on me to recycle the containers because I don't think anyone needs the remainder in the bottles." It has made me realize we don't all benefit from the same products, we don't all have the same business ethics, and I need to do my own research.
So I'm sharing the research I did on these celebrity menopause brands and why I believe this is all a bunch of bullshit to con Gen X women into dropping coin on crap they don't need.
It Started with Stacy London's Brand, State Of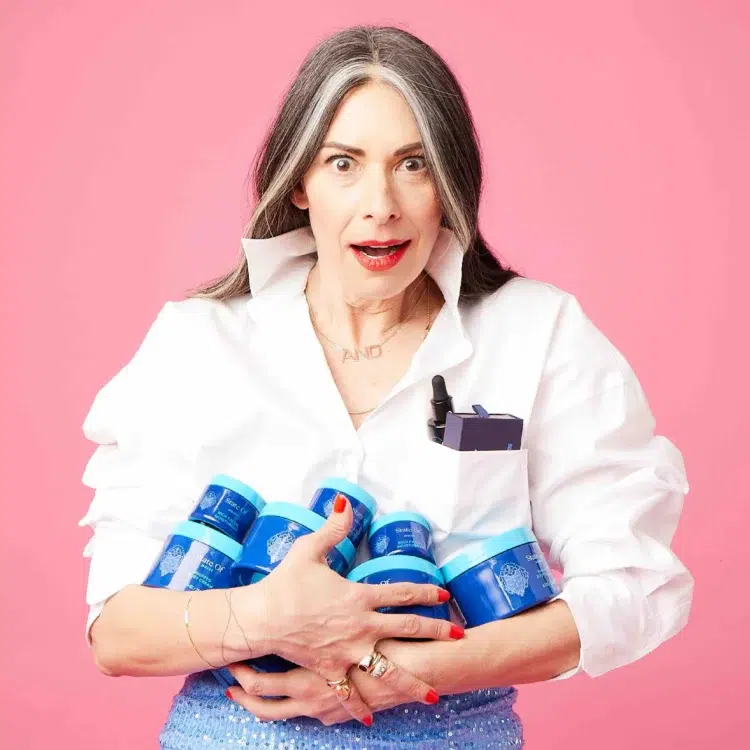 These lotions and potions are often backed by famous women we have come to love and trust. It started with Stacy London, a person I have admired for decades. She became a household name with What Not to Wear, but her journey since then has been inspiring. Stacy London has always been honest and open, sharing her trials and tribulations with us through writing, public speaking, and social media. When she started experiencing menopause, I was thrilled she was using her platform to share her experience and educate her followers.
She launched State Of, a line of body care products for menopause. It made sense, and I loved seeing a woman who was open about menopause creating products for us. But looking at the products and ingredients I was concerned. Very little information about sourcing, reasoning behind the ingredients, or testing. The reviews online seemed to primarily be from those who had to review in exchange for free product, a few said they tried to leave a negative review but it was filtered out. And most of those products… similar is already on the market.
State Of closed down at the end of 2022, but the site is still up showing the products:
One item that originally intrigued me was an arnica hand cream, which makes so much sense for the achy joints and muscles that come with menopause. A 2.5-ounce tube was $28… but you can get a 3.5-ounce tube of Kneipp for less than $20 on Amazon and it gets fantastic reviews for accomplishing the same thing.
State Of offered a cooling spray in a 1-ounce bottle for $12. This is some serious bullshit, it's essentially any face mist with menthol and peppermint oil added. Neither ingredient is that great for your face, but if you do want the cooling effects of peppermint you can easily create your own spray or buy this one from Tropical Waters, the same size, for $9.
State Of also had moisturizing suppositories infused with magnesium CBD to help with vaginal dryness and pain. You received 10 for $70. Sounds good, but when it comes to CBD I've done some research (you can find some of it here in my Equilibria CBD review). State Of doesn't state where the CBD comes from, what form of CBD it is, or even how much CBD is in each suppository. Instead, the brand FORIA has been creating CBD-infused sexual wellness products since 2014 and offers a similar product with 100mg of broad-spectrum organic CBD with 444 positive reviews. And on top of it, FORIA's suppositories are cheaper.
None of the products sold by State Of were inherently bad. I take issue with a company selling overpriced products with questionable ingredients to a vulnerable population. As women we are already dismissed by much of the medical community; menopause has not been properly researched or understood. We're desperate for someone to listen, to understand, and to help and this just feels like taking advantage of us and our wallets.
Stacy London has done a lot to bring attention to menopause, but since her launch of State Of, there have been so many other celebrity menopause brands offering the same thing – repackaged items already on the market with a higher pricetag.
Then Naomi Watts Came on the Scene with Her Menopause Brand, Stripes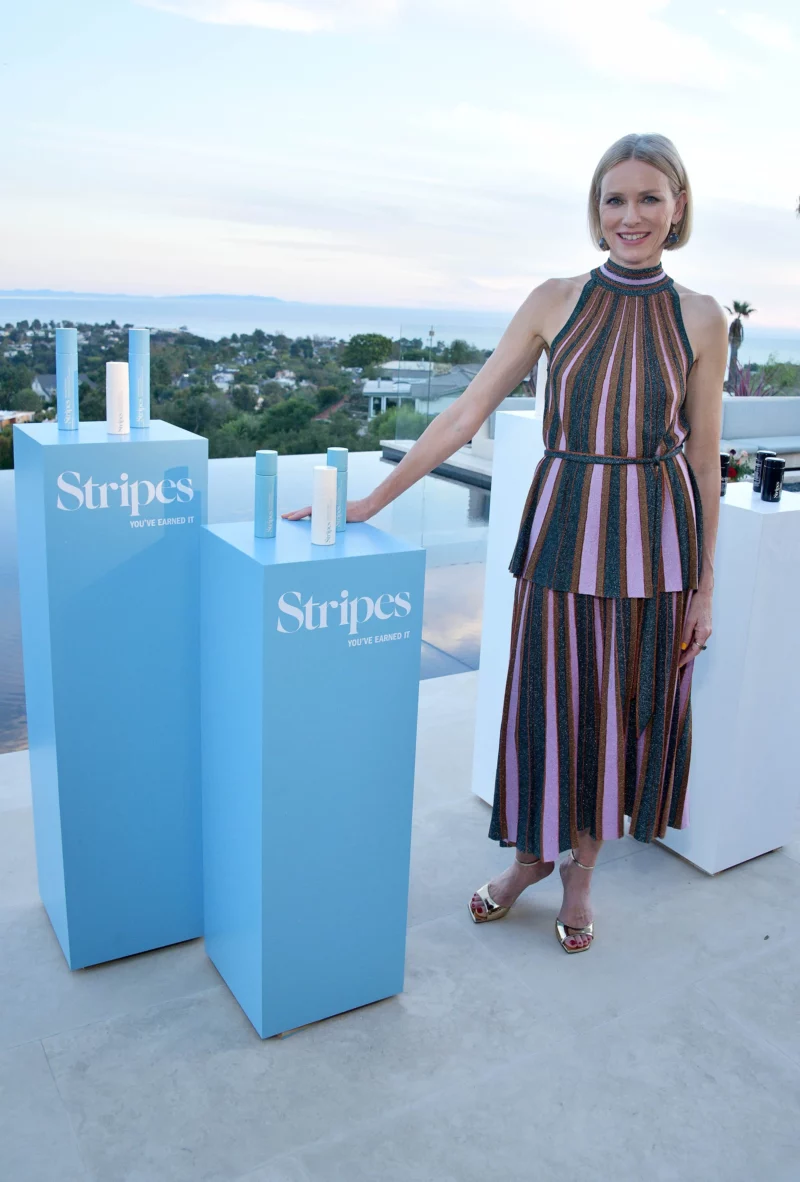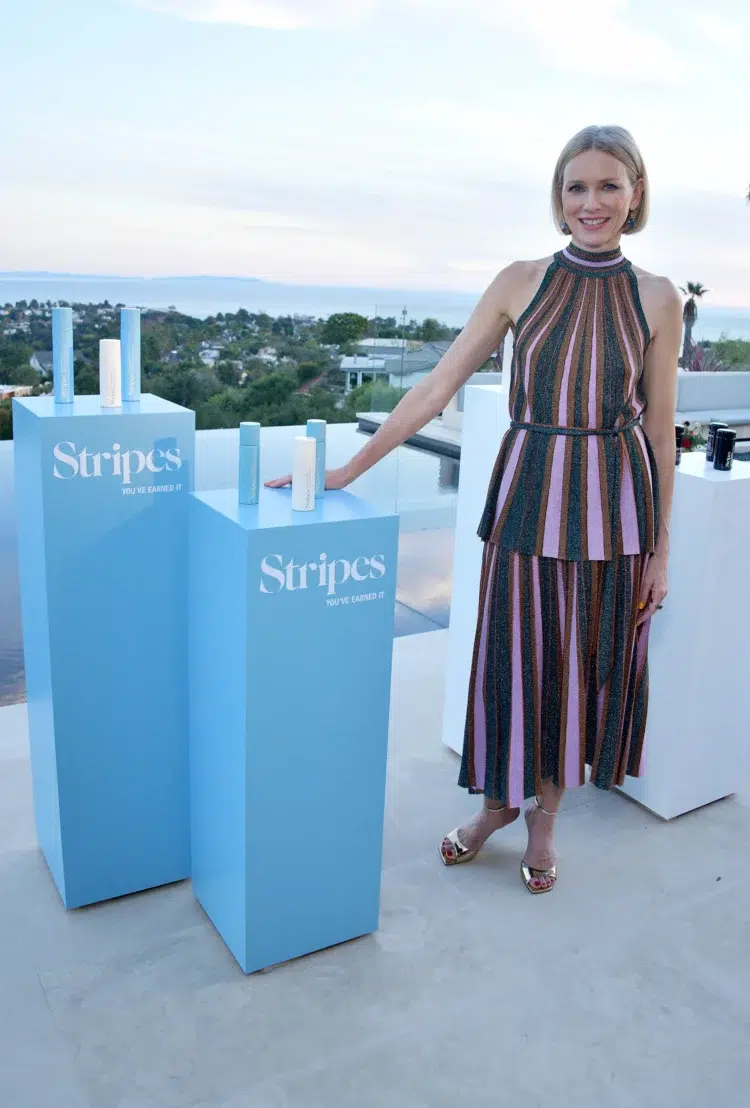 A couple of months ago, I received a big box in the mail from Stripes, a menopause wellness brand by actress Naomi Watts. It was one of those fancy fabric-covered boxes with the magnetic closure that come with expensive purchases. Inside was a formed insert holding six products from this new menopause line with details about the products, brand, and Watts.
The branding is soft blue, dusty rose, ivory, and dark green. The boxes are embossed with an "S" design. The bottles are opaque glass. The products themselves have punny names like "Vag of Honor," "Dew As I Dew," and "Resting Clean Face." I received products for hair, skin, vaginal/labial comfort, as well as a bottle of supplements.
I looked at the product descriptions on the website before opening the boxes… and I couldn't see a personal need for any of them. The skincare products didn't look very revolutionary (product goals are to brighten and hydrate), I'm not the kind who uses a hair mask, I already take supplements, and I already have something for hydration down there. I put them in the bin I have for reader giveaways and local donations but then I ran out of lube and decided to try Stripes' "Oh My Glide."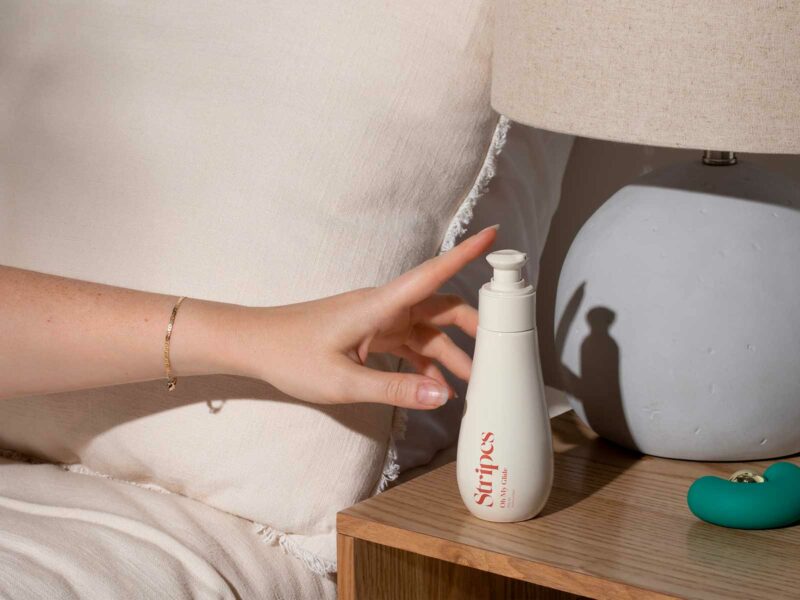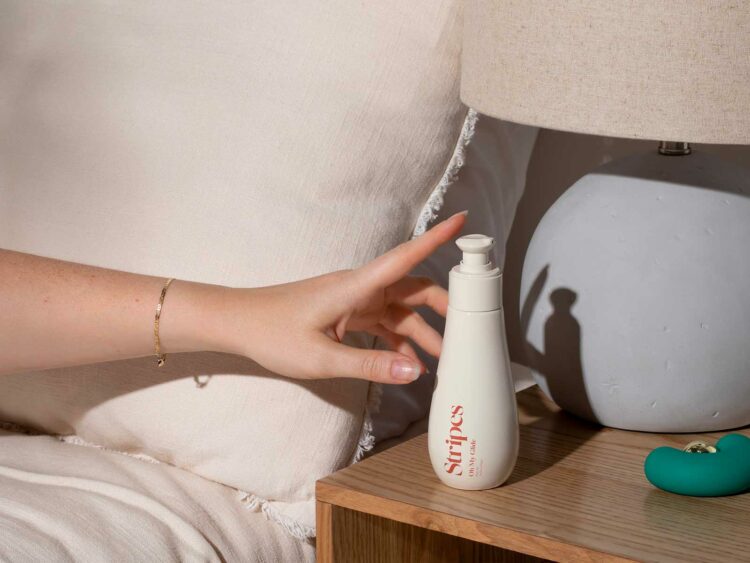 This lube came in an artfully shaped heavy opaque glass container with one of those little fingerprint pumps that are already slippery when not dispersing lube. It was a beautiful bottle, one you'd leave out on the bedside table like the photo above. But the bottle made no sense in a practical sense.
That bottle in the photo above only holds 3 ounces. it's thick glass and with that weight and the opacity, it's impossible to know much product is left. That delicate little pump top was so slippery (and stopped working after the third use). This bottle tipped over, rolled off the nightstand, and one time even flew across the room. Thank goodness it was thick glass; not a single crack. This fancy-dancy lube costs $40 for 3.3 ounces of product and wasn't any better than what I usually use.
Oh My Glide is made from Citrus Paradisi (Grapefruit) Seed Oil, Cocos Nucifera (Coconut) Oil, Butyrospermum Parkii (Shea) Butter, Ricinus Communis (Castor) Seed Oil, Persea Gratissima (Avocado) Oil, Squalane, Hydrogenated Castor Oil, Copernicia Cerifera (Carnauba) Wax, Bisabolol.
My gynecologist recommends coconut oil as a lubricant, as long as you're not using latex condoms. So does my mom's oncologist. My GP says any natural oil is fine as long as you're not using latex or non-silicone toys. Sweet almond oil keeps a liquid consistency, has almost no smell, and it doesn't look like anything but a natural moisturizer when sitting on your nightstand.
There are some articles that have clickbait titles stating coconut and other natural oils are dangerous as lube, but even reading the articles you see the fear is unsubstantiated and just an opportunity for affiliate links. Ask your doctor, do your homework, but know you don't need to spend $40 for 3 ounces of something you can find on the shelves of Whole Foods. All "Oh My Glide" did was motivate me to set up a "Subscribe and Save" of organic almond oil (16 ounces for less than $15).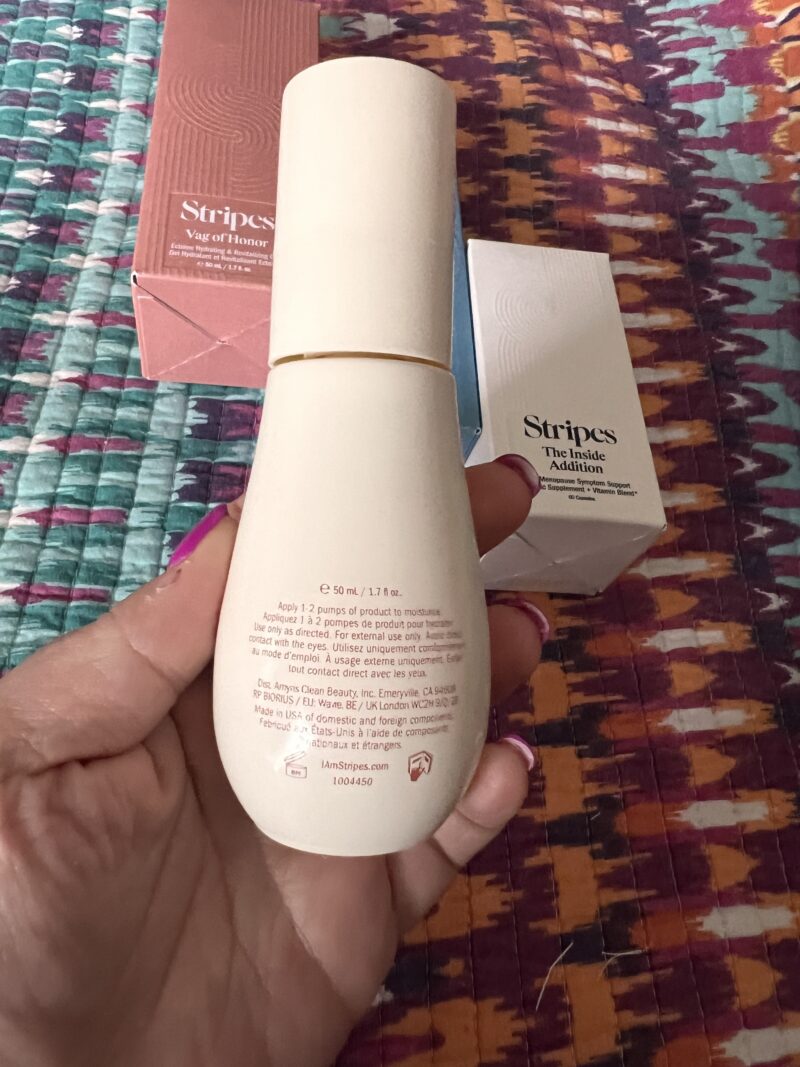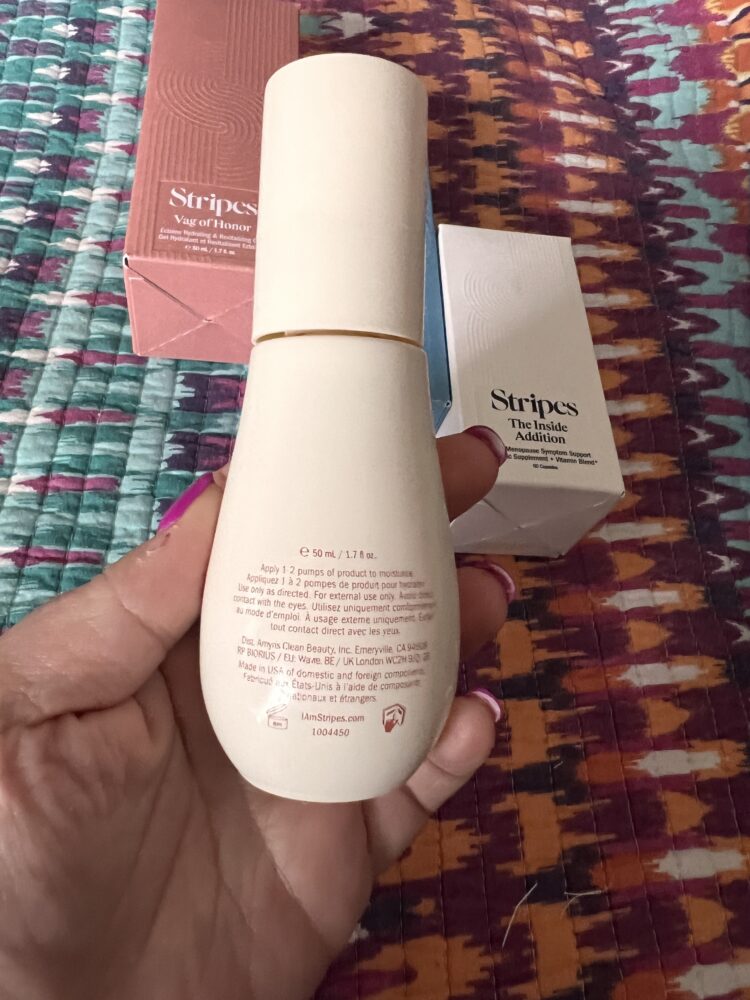 My friend Sharon from the blog Cupcakes and Cutlery also received a gift of product from Stripes. I was excited for her review as she tells it straight, and I know like me she is dealing with hot flashes and other peri/menopausal issues. Sharon shared she too was underwhelmed by the products. And like me, Sharon found the minuscule low-contrast font on the packaging to be ridiculous considering the age of the product consumer. Reading glasses weren't enough, I had to take a photo with my phone and enlarge it to read the back of the bottle.
But It's Bringing Attention to Menopause!
Driving home from a road trip, my husband and I were listening to an interview on a podcast. Three men created an adventure challenge to bring awareness to veterans' mental health. We were intrigued.
As we continued listening we realized the only veterans participating in this challenge were the three creators. The challenge sounded very complicated and very expensive. The men discussed the need for airplanes, securing places for the event in different countries, bringing scientists and doctors on board, and much more. They shared that while they were doing the challenge, "VIPs" could pay their way into participating in portions of the seven-continent adventure. I went online to investigate how much this all cost and how it was helping veterans.
I didn't find much about this specific challenge, but I found a similar challenge and it cost EUR 42,000 to participate. So these "VIPs" likely aren't the veterans who may benefit from such an experience. It sort of felt like these dudes had a great idea, but they also had the desire to have someone fund their adventure-seeking lifestyle, and maybe the whole point got lost in the sauce. That is what I feel about these celebrity menopause brands.
We don't talk about menopause enough. Those in the medical field aren't taught enough about menopause. Not enough studies are funded to treat menopause. The patriarchy has made it so anything that happens to our bodies is something private and considered disgusting.
Men will scratch their crotches, have hair growing out of their noses and ears, burp at restaurants and leave skidmarks in their briefs while popping Cialis but if a woman leaks a single drop of blood she is seen as disgusting and unkempt. God forbid she itches or sweats, let alone admit to having and wanting pleasurable sex.
If men had periods, not only would the products needed to care for it be free, there would be some invention to improve the whole situation. If men could be pregnant and deliver babies, the whole medical process for childbirth would be drastically different and far more humane. And if men went through menopause, there would be some rite of passage along with an entire aisle of products in every drugstore across these United States.
I am THRILLED that these celebrities are using their platforms to discuss menopause. We are normalizing something that half of the planet's population experiences if they are lucky enough to live that long. This discussion, seeing familiar faces speaking out, sharing their truths, it's forcing investors to rethink our age demographic, forcing medical professionals to seek out solutions, and encouraging studies to take place. This is all good. But that doesn't mean I support folks cashing in on our hot flashes with mediocre products.
Let's Keep Talking About Menopause
I look forward to what the future holds, I am excited folks are talking about menopause. I hope it makes this natural phase of life be more comfortable and accepted for future generations. And I am glad that there are some great companies out there already creating great products to alleviate menopause symptoms, and that menopause educators are becoming more accessible.
There are a lot of experts on menopause who now use social media and the internet to educate. A few great ones:
Dr. Jen Gunter is a Canadian OB/GYN and pain medicine physician who dispels the myths of menopause and educates through her books, newsletter, and podcast.
Dr. Stacy Sims is a U.S. exercise physiologist and nutrition scientist who focuses on female athletes, especially those who are over 40. She has a menopause course for athletes as well as a set of supplements through Momentous, a very reputable supplements provider.
Dr. Louise Newsom is a British doctor and menopause specialist who created Balance, a free menopause library, a free symptom tracking app, and also a menopause clinic in the UK.
Dr. Lauren Streicher is the Medical Director of the Northwestern Medicine Center for Sexual Medicine and Menopause and educates through public speaking, her podcast, books, and YouTube.
Dr. Lisa Mosconi is a U.S. neuroscientist who focuses on women, the brain, and aging. She has a TED talk about menopause and the brain, several books on brain health, and you will find many articles where she is quoted discussing menopause and brain health.
If you desire a menopause-specific product, Google is your friend. For example, Googling "menopause itchy ears" led me to understand that it's a thing and not just my thing. The drying of mucus membranes is why we get dry down there but also why we may have a persistent runny nose (the body compensating) or fantasize about swirling a fluffed-up Q-tip in our ear canal. It also led me to sea buckthorn, which helps with vaginal dryness and itchy ears.
If you're experiencing perimenopause or menopause, that means you're a grown-ass woman who early on figured out the VCR and figured out how to cook dinner, or at least an afternoon snack. You grew up on satire and SNL, you have a bullshit meter. It's time to dust that baby off. You deserve better than some celebrity-backed BS.
And as always, I welcome recommendations, education, and personal experiences in the comments. Do know if you share more than one link in your comment it will be held up in moderation, but I will approve it within a few hours.