This article may contain affiliate links; if you click on a shopping link and make a purchase I may receive a commission. As an Amazon Associate, I earn from qualifying purchases.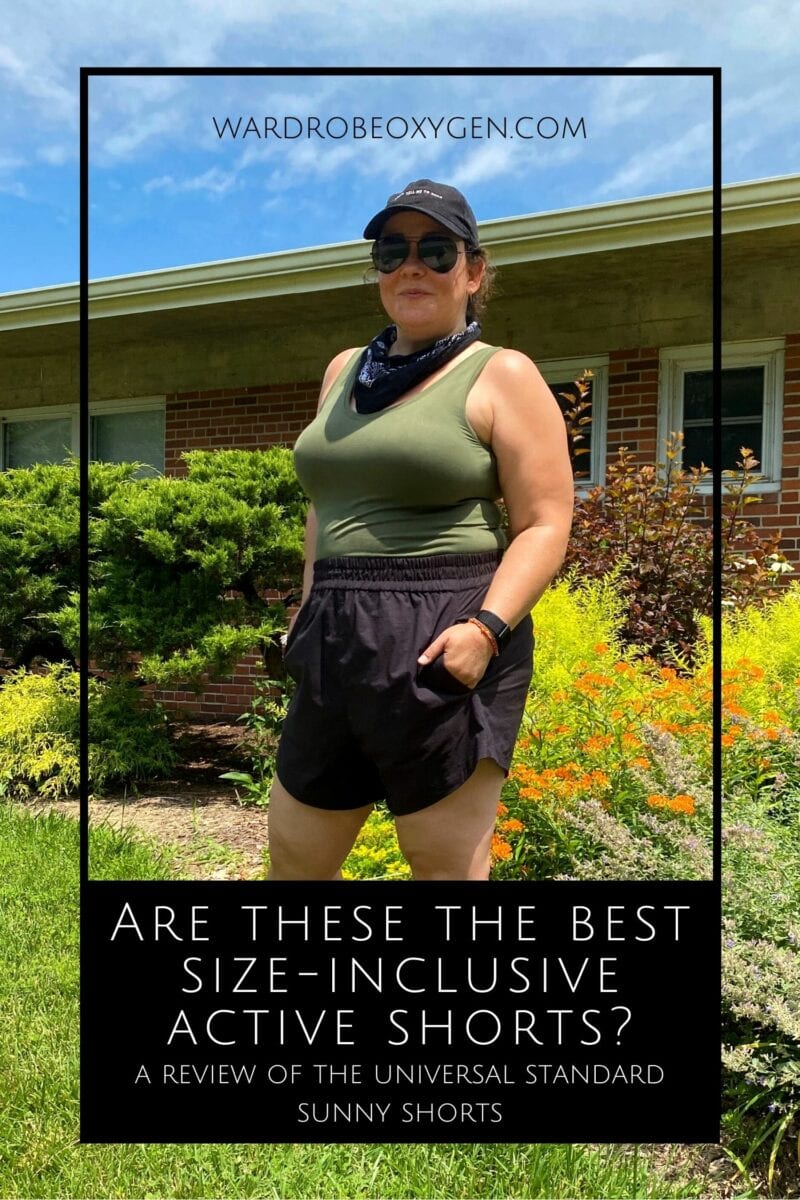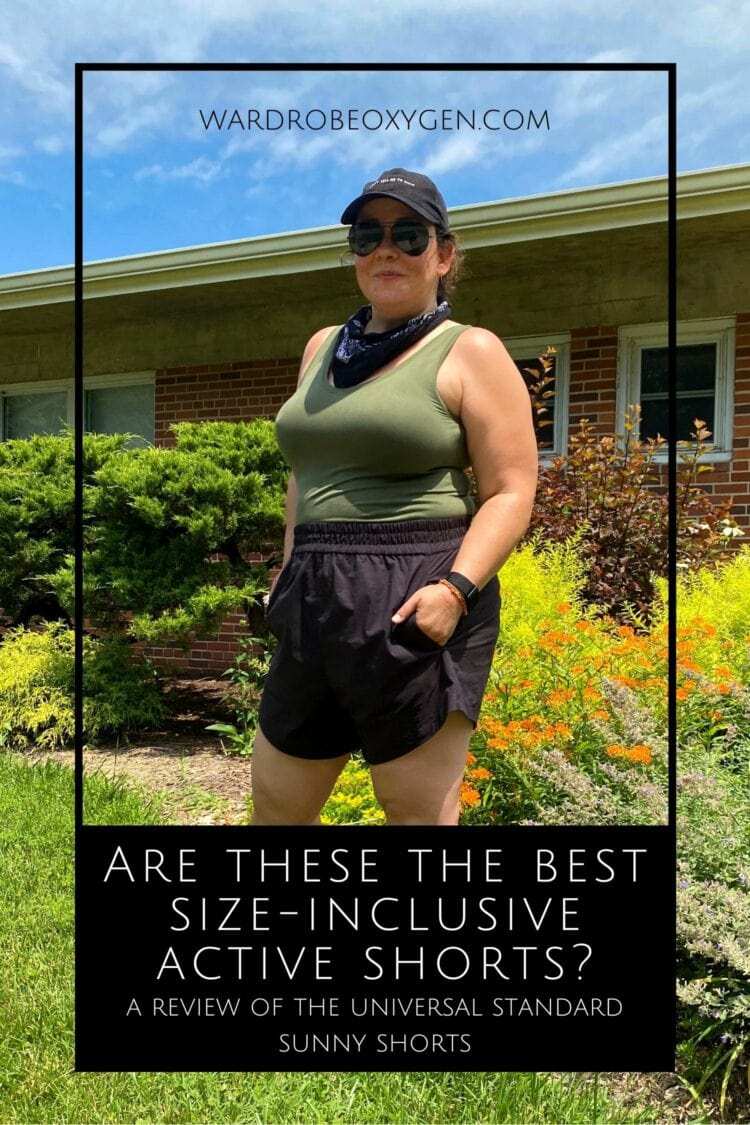 Universal Standard reached out in the Summer of 2021 and asked if I would like to try out their Sunny Swim Shorts. This was for an Instagram campaign (seen here). I know many like a bit more coverage with their swimwear and said yes so I could provide a thorough and honest review. What I realized when I received my two pairs is that these may be good swim shorts, but they are, in my opinion, the best size-inclusive active shorts. I decided to write an unpaid honest review of them.
I originally wrote this post in 2021, but after wearing my black and red pairs of Sunny Swim Shorts all throughout 2021 and 2022, and buying two more pairs in 2023, I felt it was time to update this review. I am also updating because Universal Standard updated these shorts for 2023 and the fit is slightly different.
I have owned Universal Standard Sunny Swim Shorts for years, have worn them dozens of times, laundered them quite often, thrown in the dryer, let them dry over a deck railing in the hot sun, left them to get funky at the bottom of a beach bag, and they're still around for me to truly review and spoiler alert… to truly love.
The Best Size-Inclusive Active Shorts: A Review of the Universal Standard Sunny Shorts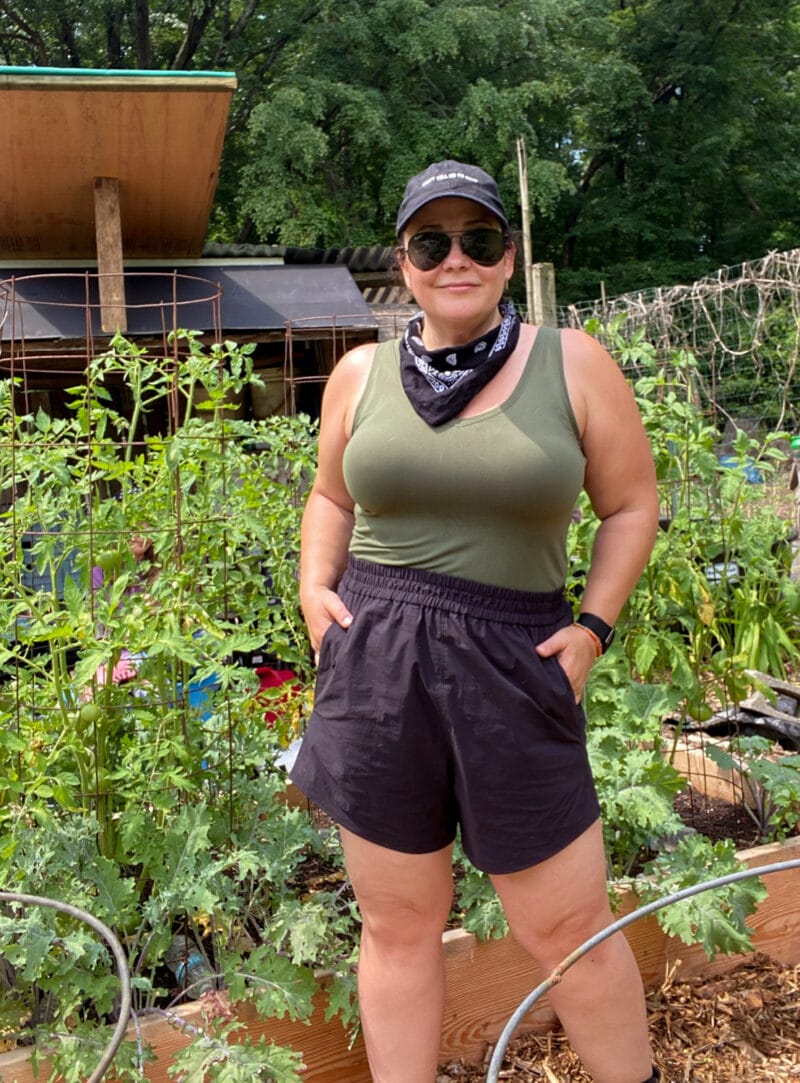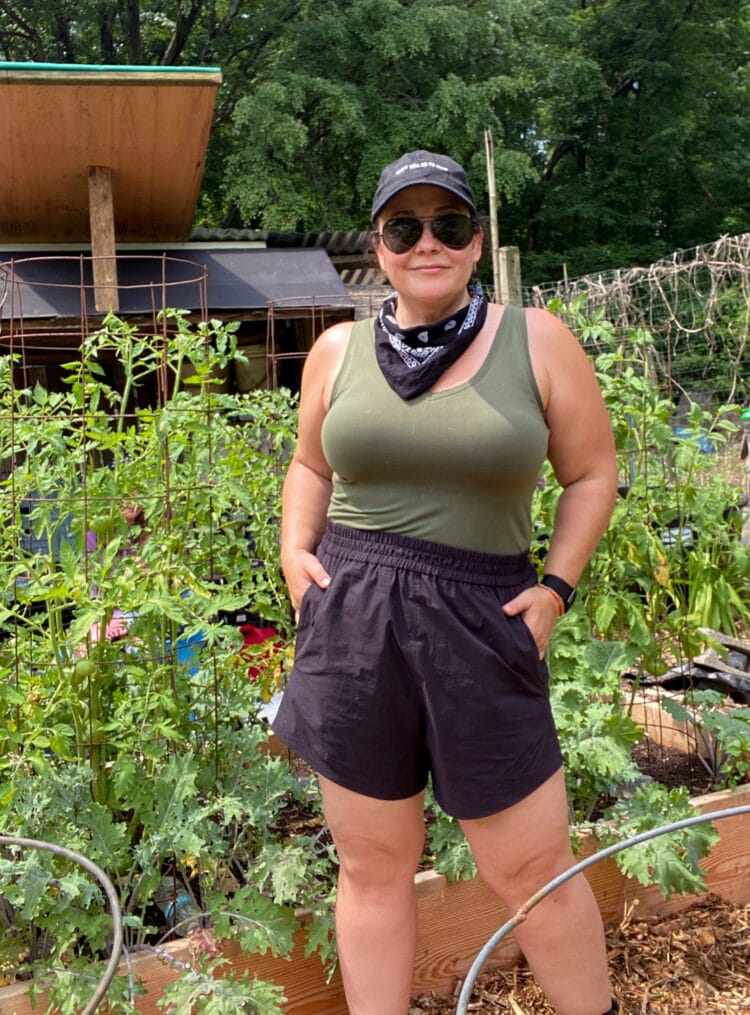 Why Do I Think These are the Best Size-Inclusive Active Shorts?
As a soft curvy woman, it's hard to find size-inclusive activewear that doesn't just fit but actually performs and works with, not against your body. These shorts really impress me not because they're full of high-tech details, but because of the little details other brands usually don't even think about.
The waistband is wide and the elastic isn't floating.
This means that the waistband won't fold over, and the elastic won't twist around and get weird with wear. These are shorts I found that when I pulled on, they stayed in place on the waist, even when I dove into the pool and pulled myself back out!
The inner thigh inseam is longer.
This means that the shorts are less likely to ride up when walking, causing you to have a better chance for chub rub AKA thigh chafing.
The pockets are deep.
Yes, you can put your iPhone Max in your pocket and it won't fall out!
The fabric is quick-drying.
I wore these in the pool, took them off, lay them in the sun and in less than 15 minutes they were bone dry. I found when wearing for sweaty occasions, they didn't stay damp and kept me feeling cool.
They're shaped for curves.
The curved seam above the rear, the angled hemline, the entire shape and the stretchy crepe-like fabric works with, not against curves letting you move and be as active as you like. Unlike a lot of shorts for curves that accomodate the rear, or the hips, these also accomodate the belly. Do note, if you don't have the bum/belly curves you may find these to balloon too much in the front.
There is no liner or panty.
While a built-in liner or panty may seem like a benefit, it makes fit all the harder, especially if you have soft curves or a long torso. The seam down the center is sewn flat, the other seams are traditional seams so you can choose how to use these shorts.
They don't require fancy laundering.
I have worn the HECK out of my Universal Standard Sunny Shorts. I've thrown them in an industrial washer with jeans and towels and all sorts of stuff, and then put them in an industrial dryer that was so hot it melted part of another garment.
They don't hold the funk.
You know what I'm talking about, those pieces of activewear that no matter what detergent you use or even if you strip them, they still have that smell of being worn for sweaty activities. I've worn these for seriously funky activities and they smell like nothing even after so many wears.
Testing Out the Universal Standard Sunny Shorts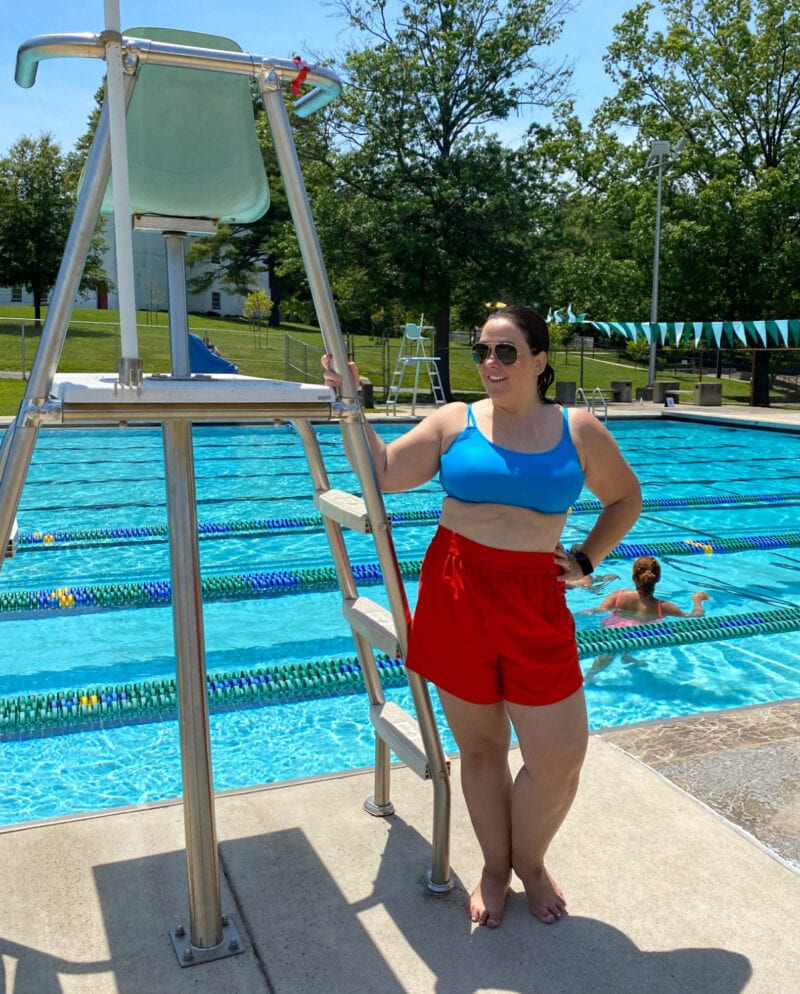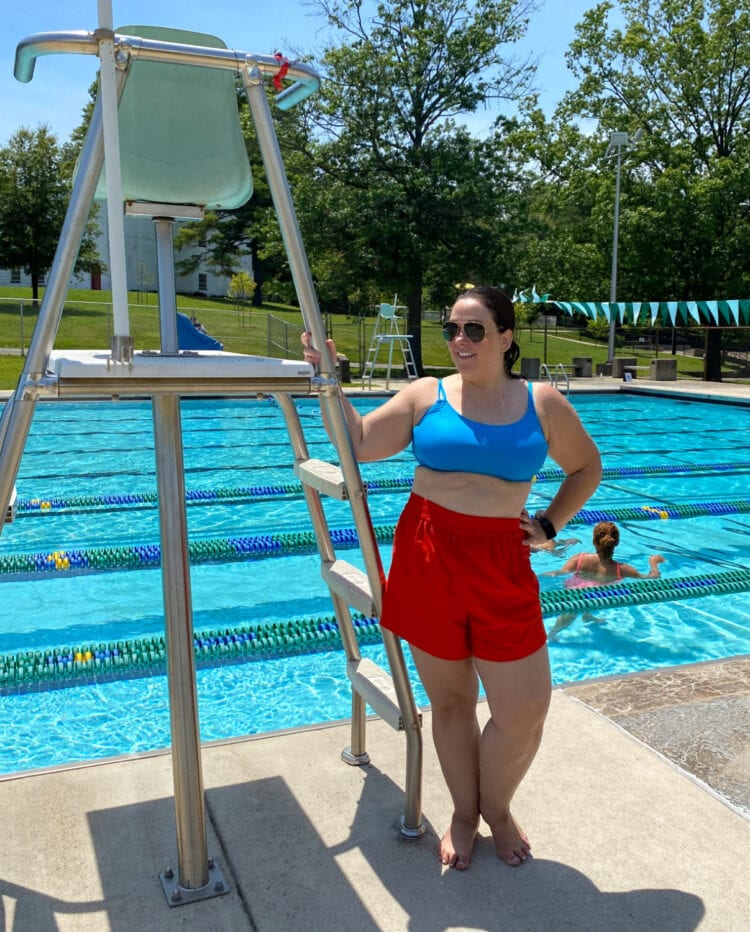 For the Pool
To test these shorts, I wore them to the pool. I dove into the pool hauled myself out of the pool not using the ladder, and jumped back in. I did somersaults and the breaststroke and even a few in-pool handstands to test them out.
If you have ever worn board shorts or trunks in a pool, these perform the same. The fabric is a crepe-like finish with a subtle stretch. When you jump in they will balloon like any loose garment in a pool. I didn't find the elastic waist to shift at all with my movement in or out of the pool, the shorts wet or dry.
I can't really review how they were as swim shorts because I don't wear swim shorts, I don't like the feel of them, and this was the only time I wore them in a pool. But I did like how they stayed in place at the waist, dried fast, and didn't look goofy or like I fell in the pool in my streetwear when getting out of the water.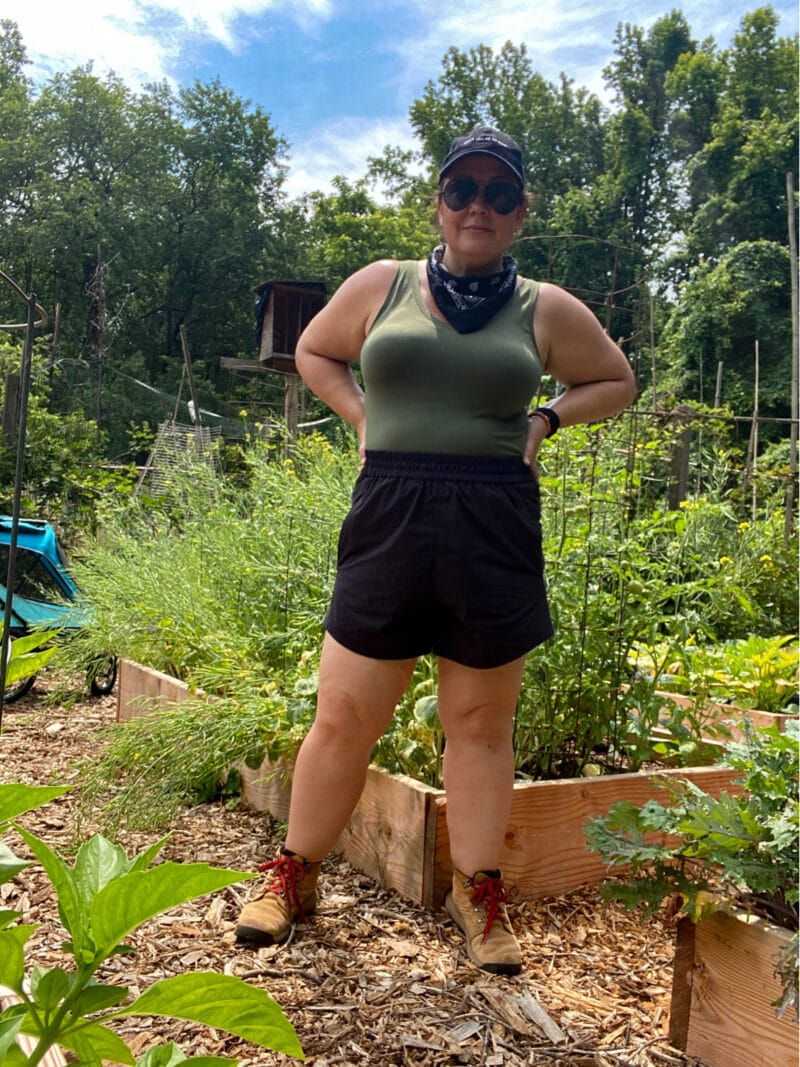 For Gardening
I wore these shorts from Universal Standard to our plot at the community garden on an incredibly hot and muggy day. Sweat was running down my back and legs, my vision was blurred by sweat, it was one of those days where all clothes feel oppressive and the idea of skin touching skin (and rubbing against itself) is utter torture.
These shorts did not ride up, even when I got sweaty. I walked a few blocks to and from the garden plot too, and I think through the whole two hours, I only pulled down one leg once and that was after doing the equivalent of a lunge to reach some weeds.
Two years later, I can share that if it's too hot to wear my overalls for gardening, I usually choose my Sunny Shorts. I know they'll let me squat easily, dirt will brush off them, they won't cling when I get sweaty or accidentally spray myself with the hose. I also like the wide waistband keeps tops tucked in even if I bend and squat.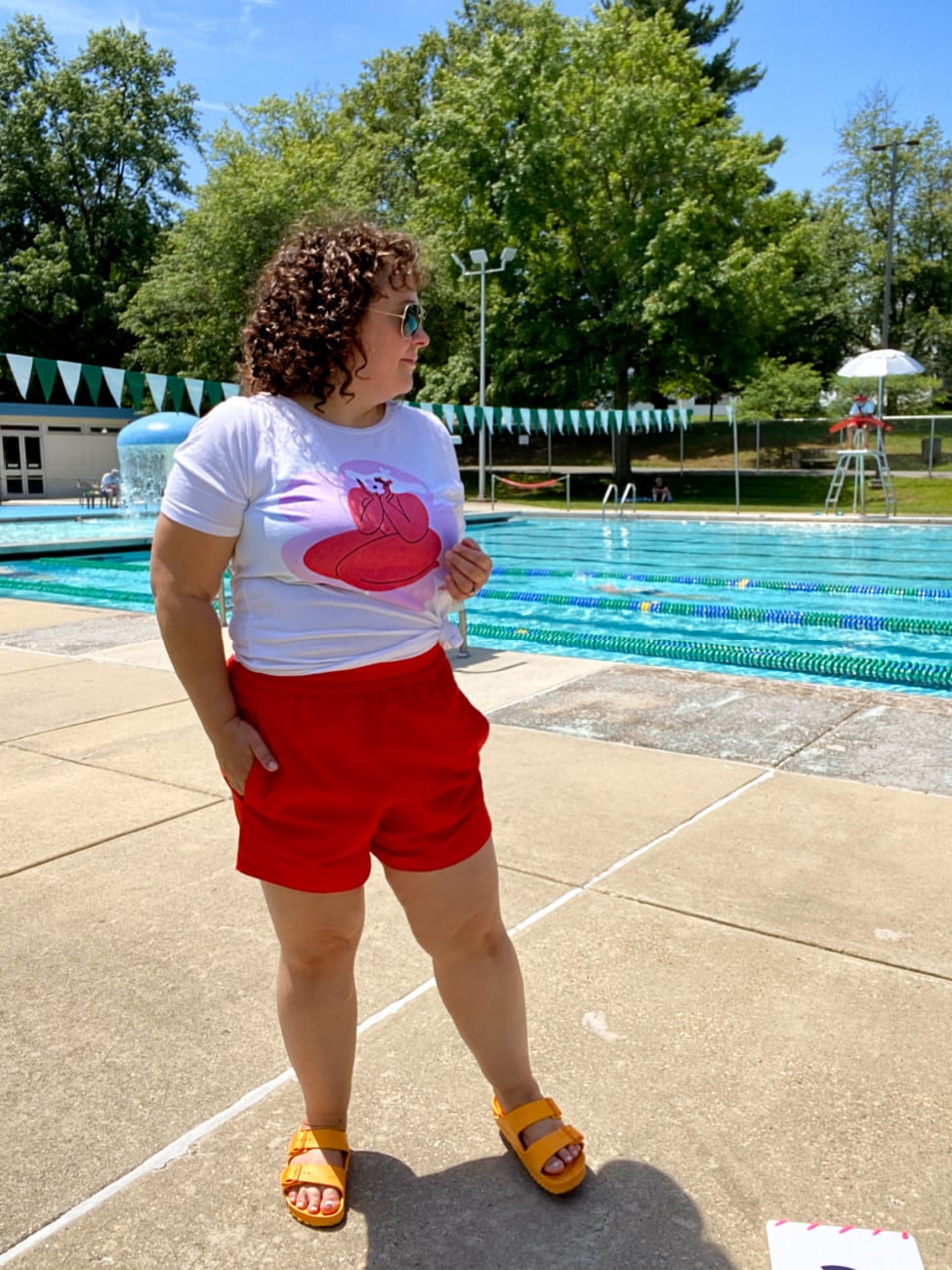 For Long Walks
I wore these shorts for an hour-long walk around my neighborhood. Even huffing and puffing up the highest hills in town, the shorts stayed in place. For comfort, I found a belt bag was better than having items in my pockets.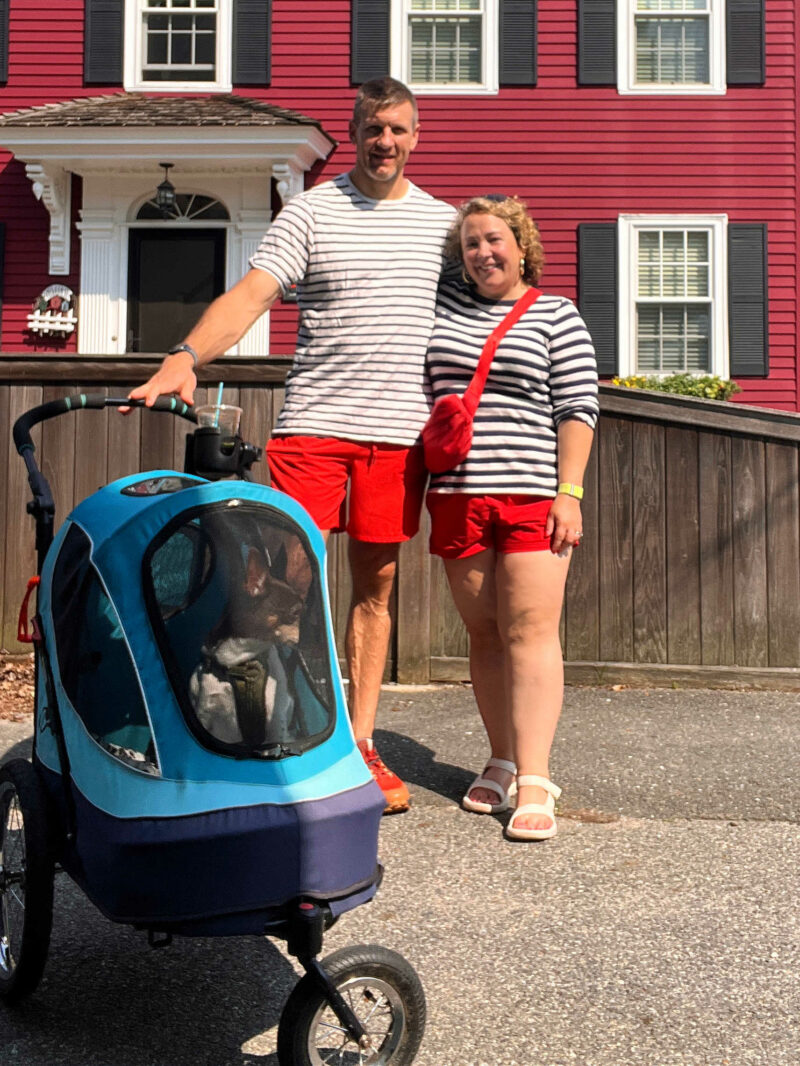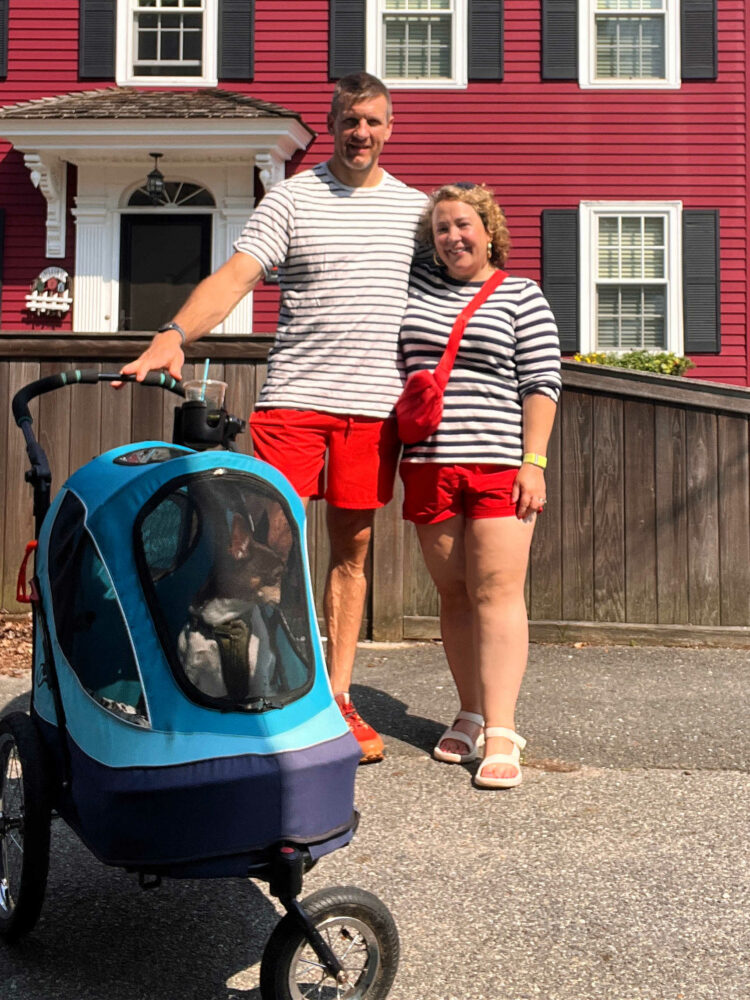 For Travel
I just got back from a family road trip, and I took my three-year old Sunny Swim Shorts with me. I wore them on the car ride since they are comfortable and won't be a wrinkled mess after sitting for hours. I knew they would be great if we did any kayaking or visiting a beach, and also be nice enough with a beach sweater for dinner or a tank top for a morning walk.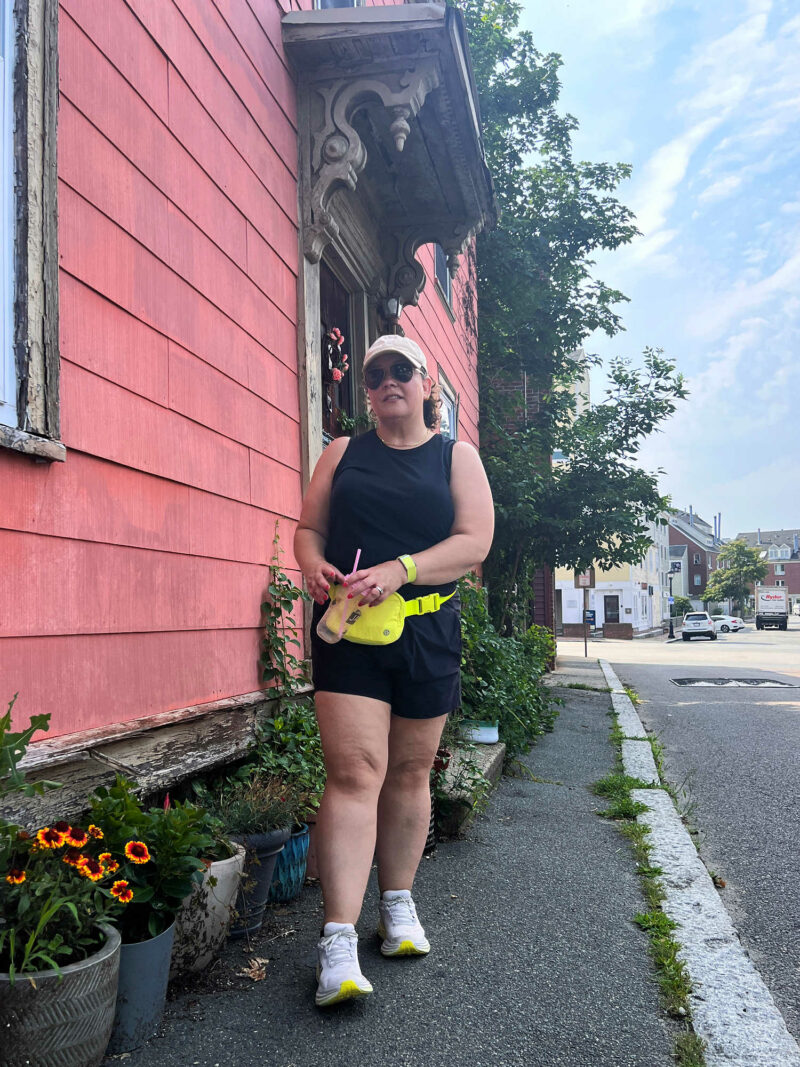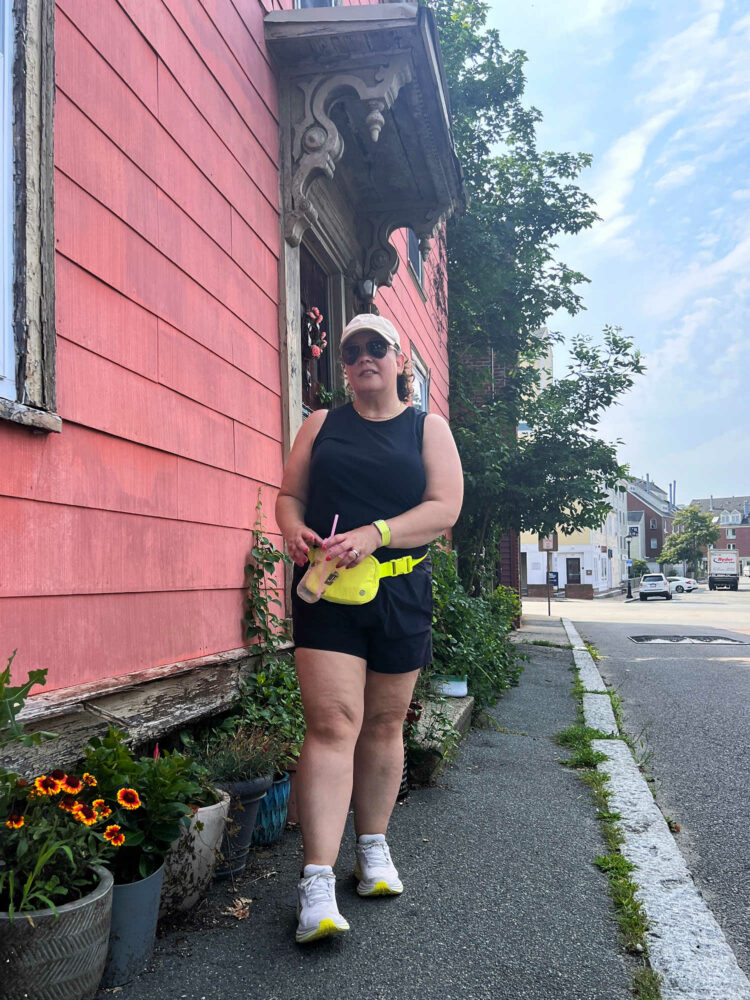 In fact, for this road trip, the only active shorts I packed were the Sunny shorts. No leggings, no bike shorts, nothing specifically for working out. Here I am after walking a few miles around Salem in the 2022 Sunny Swim Shorts with an old activewear top from Athleta and an older Lululemon belt bag. I was comfortable, chafe free, and didn't feel overly exposed walking through neighborhoods and stopping at a cafe for breakfast. They also don't cling when you get sweaty.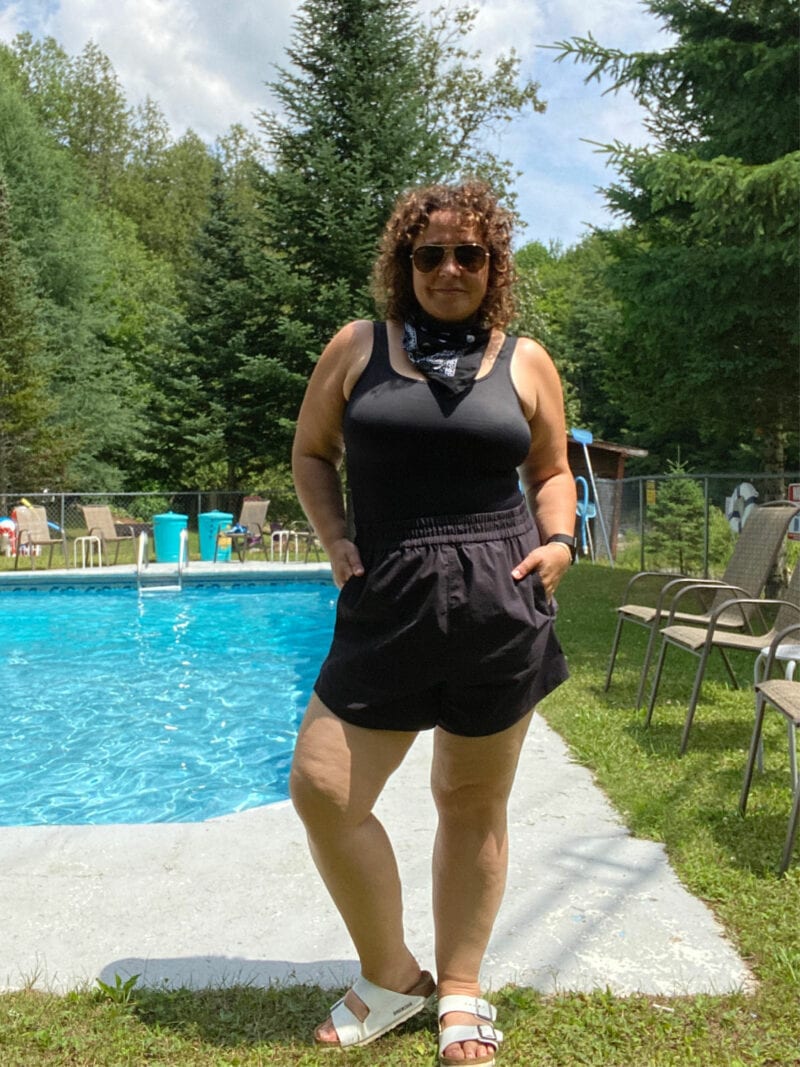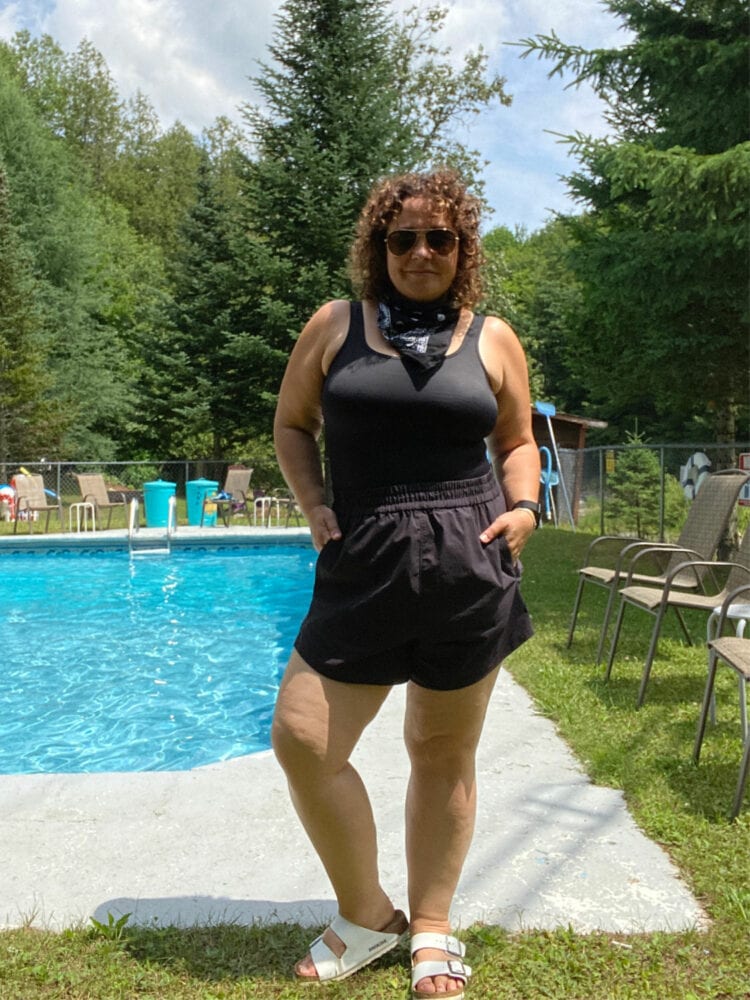 Last summer, I went on a two-week road trip with my family. We visited metropolitan areas, tourist attractions, small towns, and spent a week in a rustic cabin in the Northeast Kingdom of Vermont. I brought my black pair of Sunny Shorts with me and wore the heck out of them. Above, I'm wearing them in Vermont with a black one-piece suit, which was great when hanging at the pool with my kid but also walking to and from the cabin. I threw a no-iron linen shirt over it and tied it at the waist to have an outfit appropriate to head out to run errands or go out to lunch.
I wore these shorts with sweatshirts, with tank tops, with a Breton top… they went from the pool to the museum to the cafe to the kayak to yard work with ease.
Universal Standard Sunny Shorts Review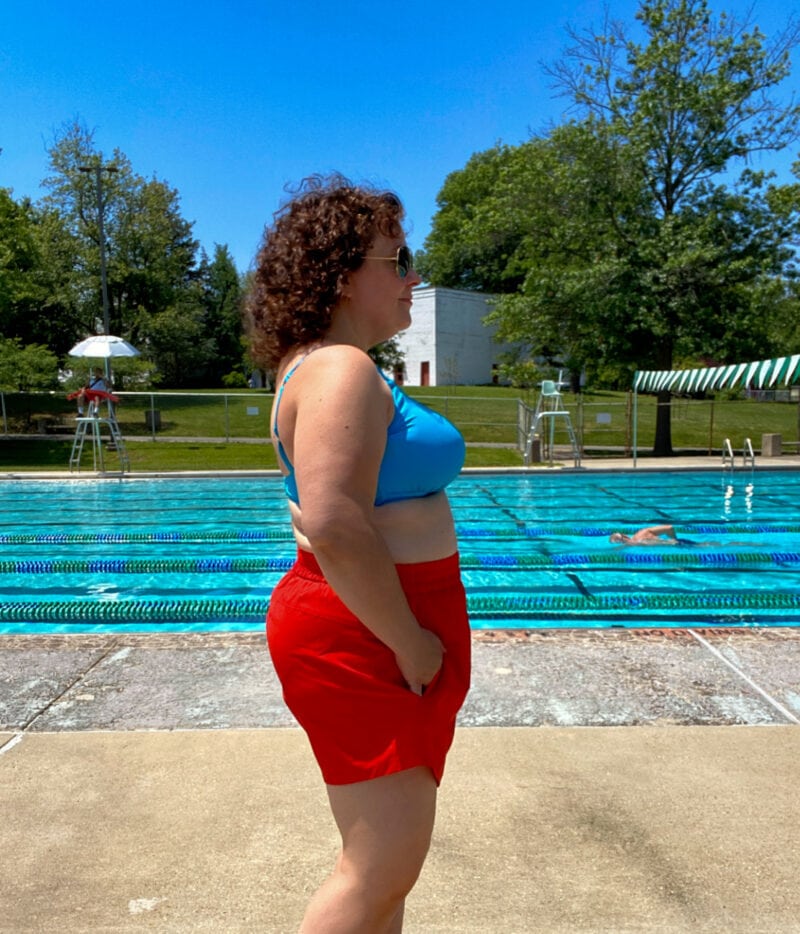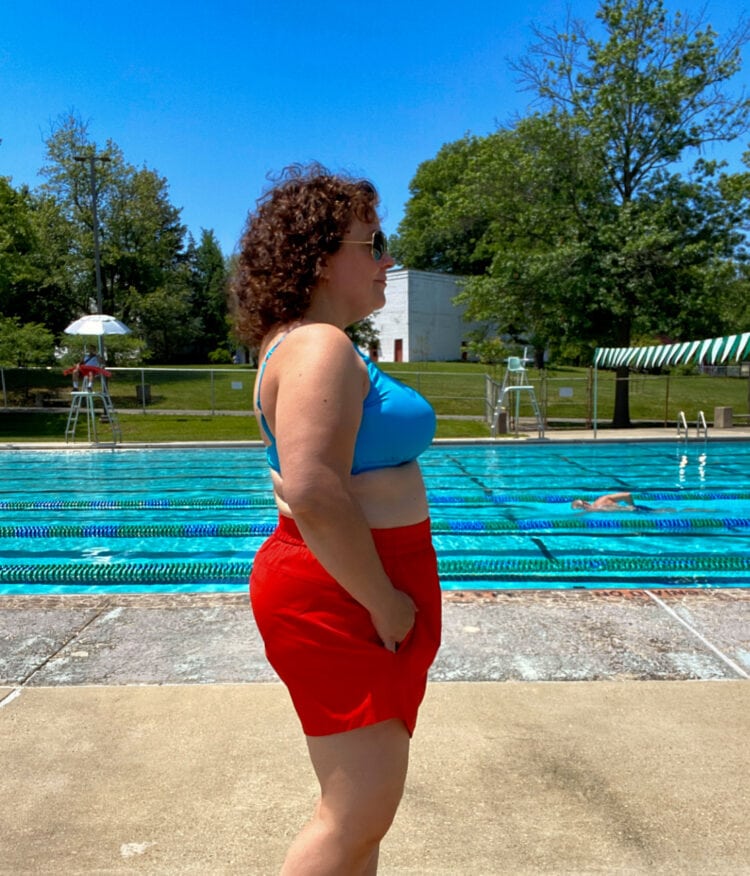 The Universal Standard Sunny shorts have front pockets and they are deep enough that you can put your iPhone Max in one and walk several blocks to the garden or farmers market and it won't fall out or hinder your movement. I found that the weight of the phone caused the pocket to drop lower than the shorts' hemline and peek out. However, the weight did not cause the shorts' waistband to droop.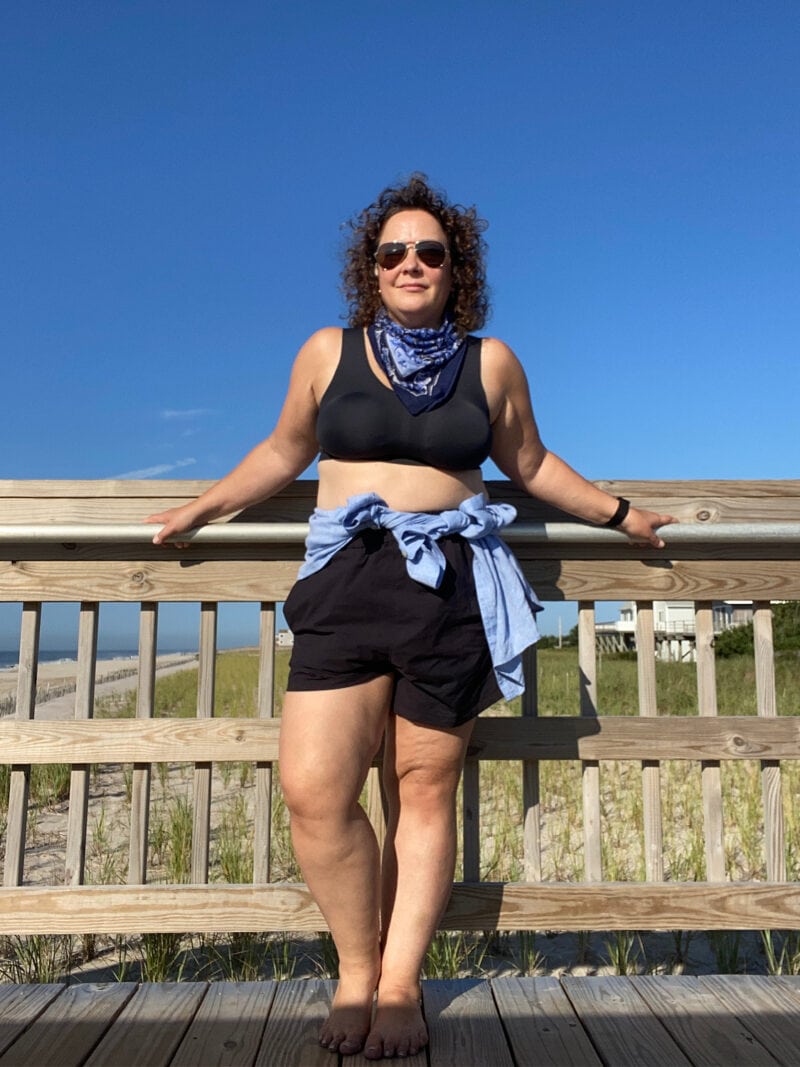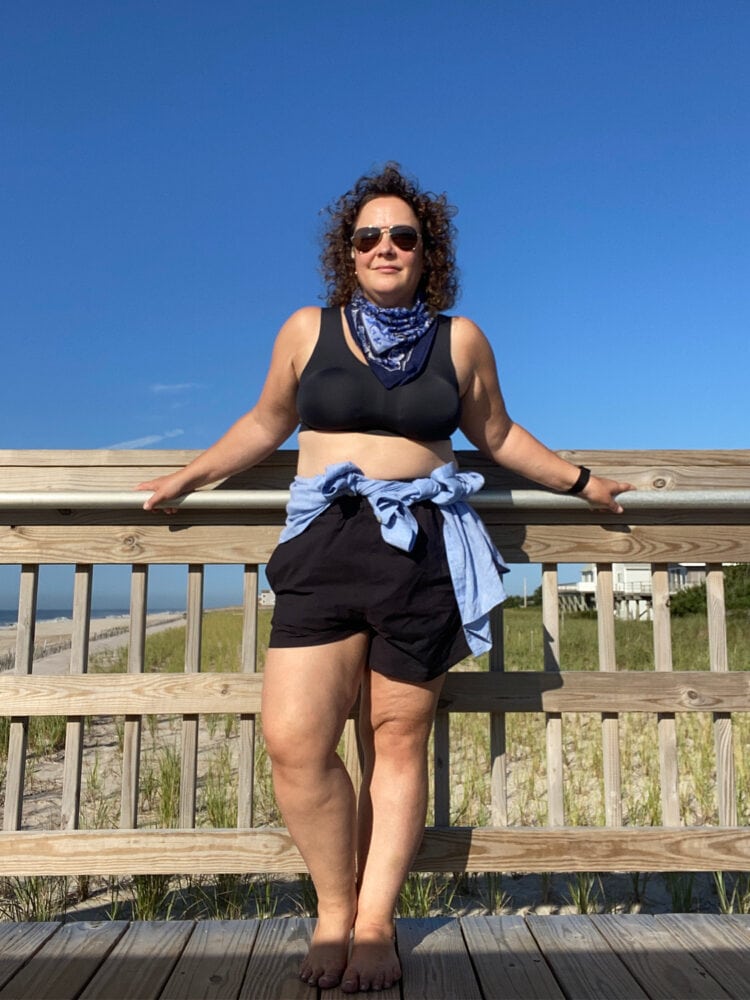 I have thrown them in the washer and the dryer and they feel, look, and perform like new. Above, I am wearing the Sunny Shorts when I went to Fire Island last August. These shorts were perfect for walking to and from the beach since they prevent chub rub, didn't feel heavy or chafe when wet, and repelled sand even when damp. But here you can see after walking for an hour on the beach, one leg rode up. I didn't end up with chub rub, but it's not the most… elegant look.
That being said, when I go kayaking and canoeing, every single time I wear my Universal Standard Sunny Shorts because they move with me, don't get all bound up on my thighs, the waistband doesn't pinch or restrict, yet I feel covered.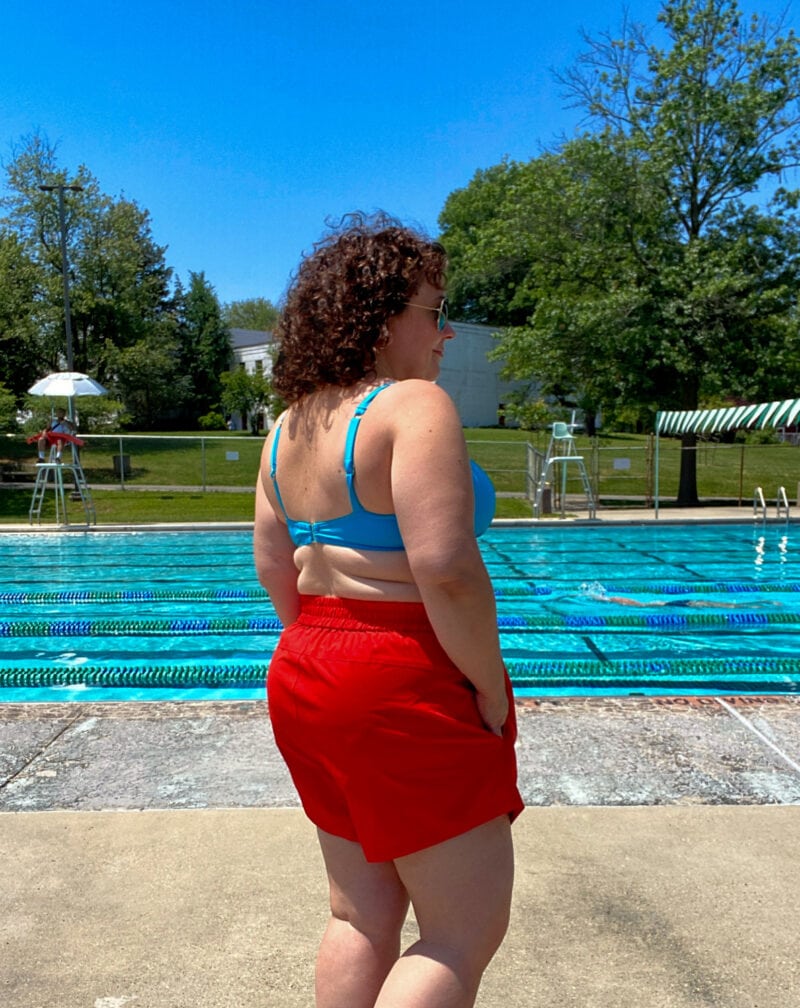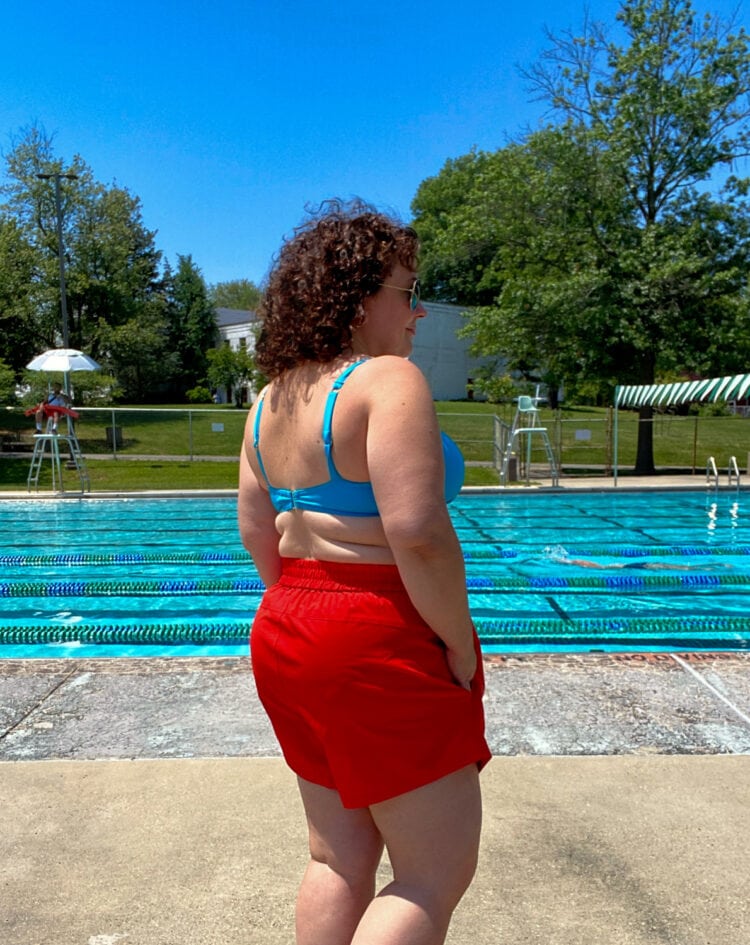 I'll be honest, I would have never considered these shorts if Universal Standard didn't gift me a pair. They don't look especially stylish or high-performance or special. But sometimes the most utilitarian item in your closet becomes your most favorite to wear. And let's be honest, it's hard to find durable, quality utilitarian items like this in inclusive sizing.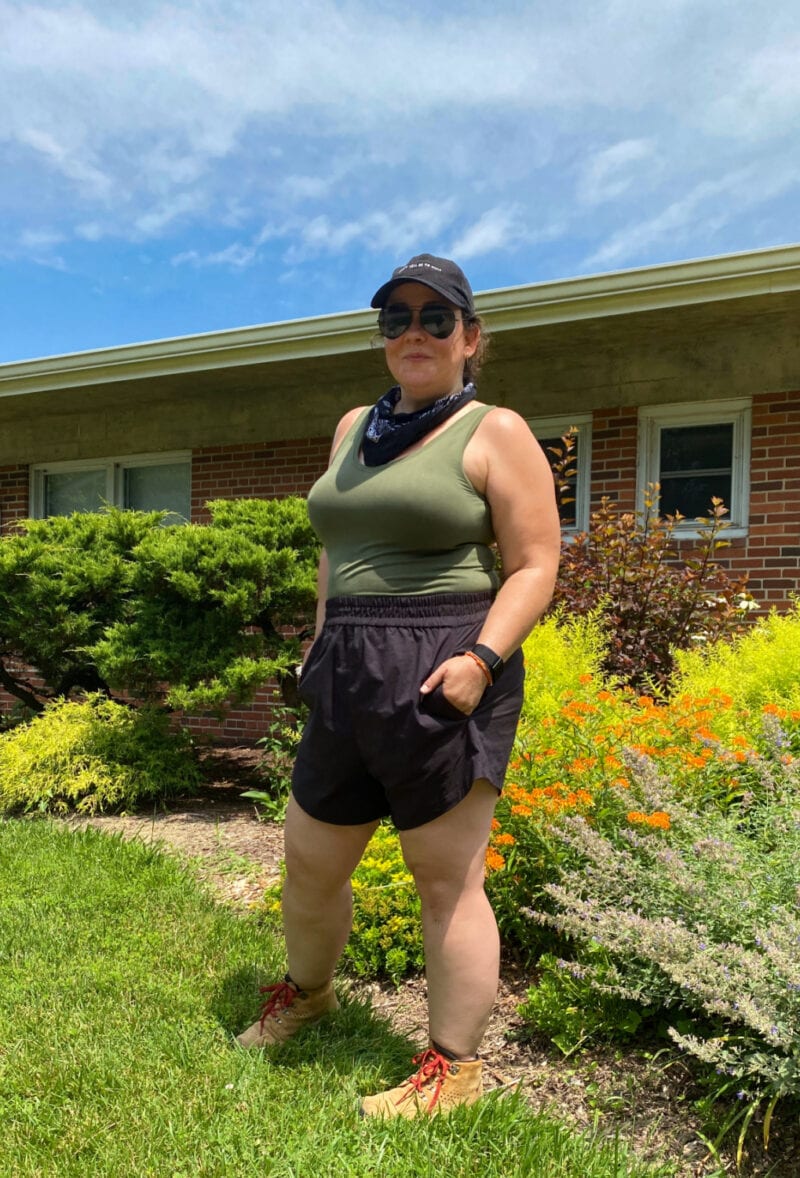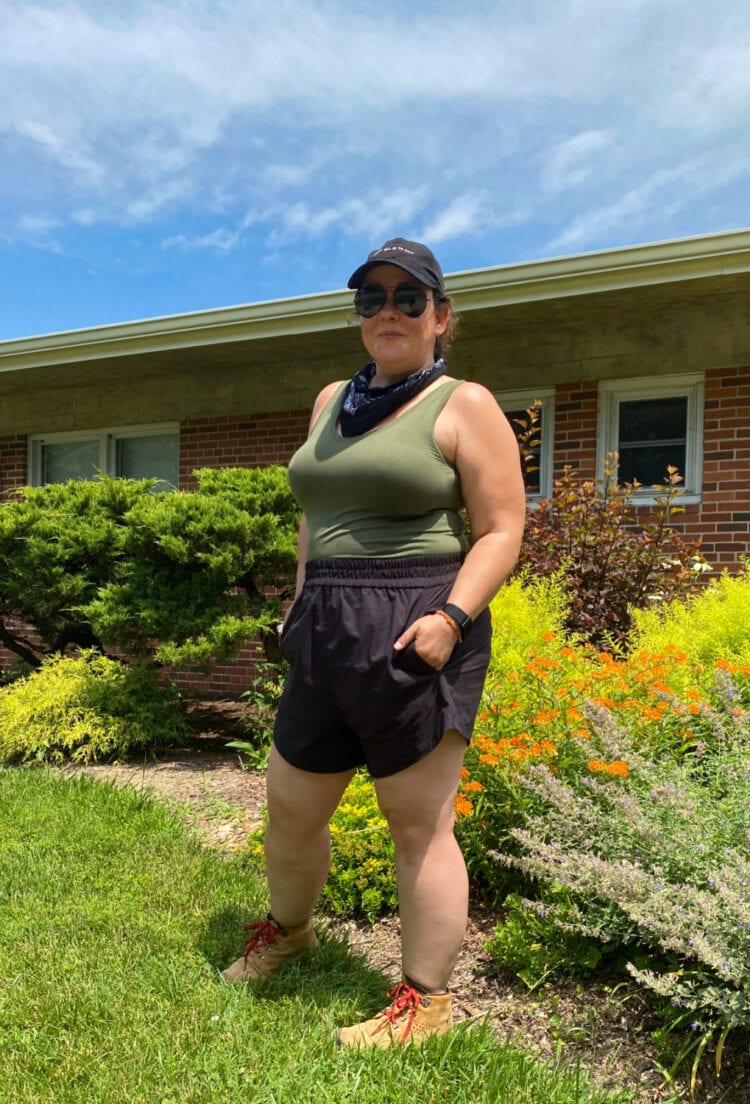 How Do the Sunny Swim Shorts Fit?
Since writing this review I received mixed reviews from the Wardrobe Oxygen community. Several also loved these shorts… and several did not.
The biggest issue many found was that the Sunny Swim Shorts from 2021 and 2022 are high-rise shorts and they are very full in the lower belly/crotch area. As someone who is 5'3″ with a round booty and a soft round lower belly, I appreciate this volume. But not everyone has the same shape I do. If you are more of a straighter shape, if your curves are more at your hips and thighs, these shorts will fit you differently and you may not like the result.
I am 5'3″ tall and usually wear a size 14 or XL in apparel. In the Universal Standard Sunny Shorts from 2021 and 2022, I am wearing a size XS which is my size with Universal Standard 99% of the time. I think this is the perfect size for me. These shorts are high rise on me, and there is room between my body and the short's crotch, which is normal for me and my petite self. However, I didn't find this to cause chub rub. The shorts are super comfortable, even when it gets hot. My 2021 and 2022 shorts in size XS have a 4.5″ inseam.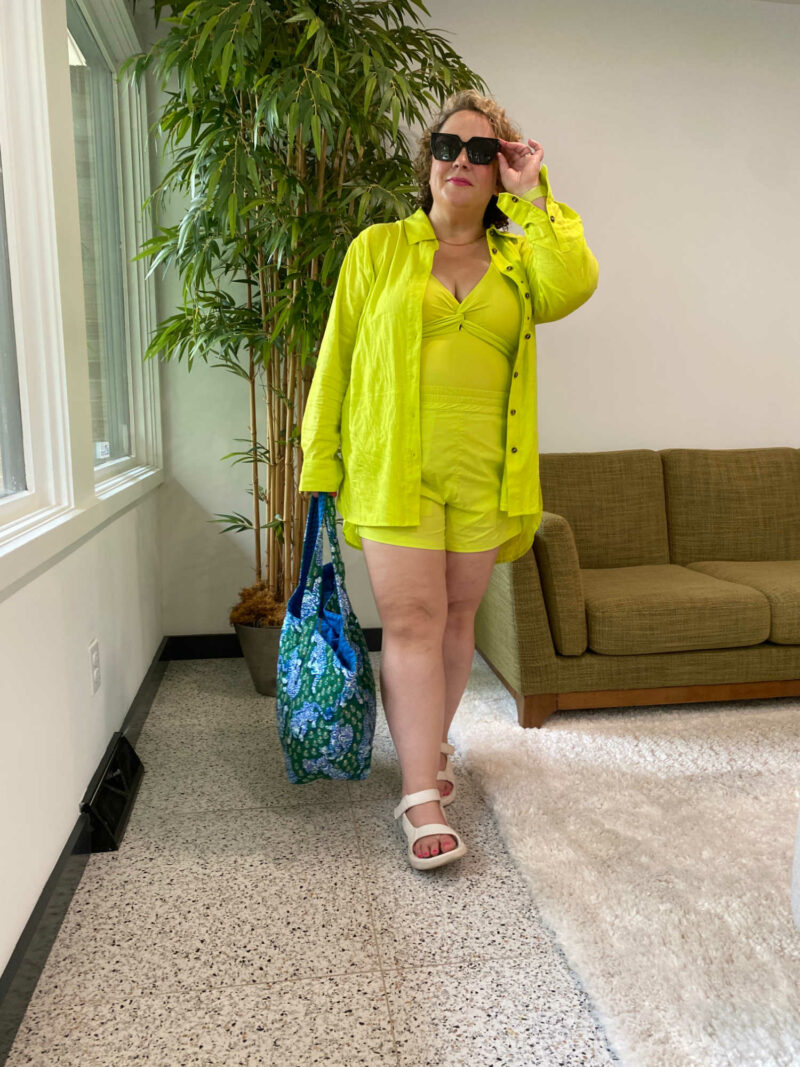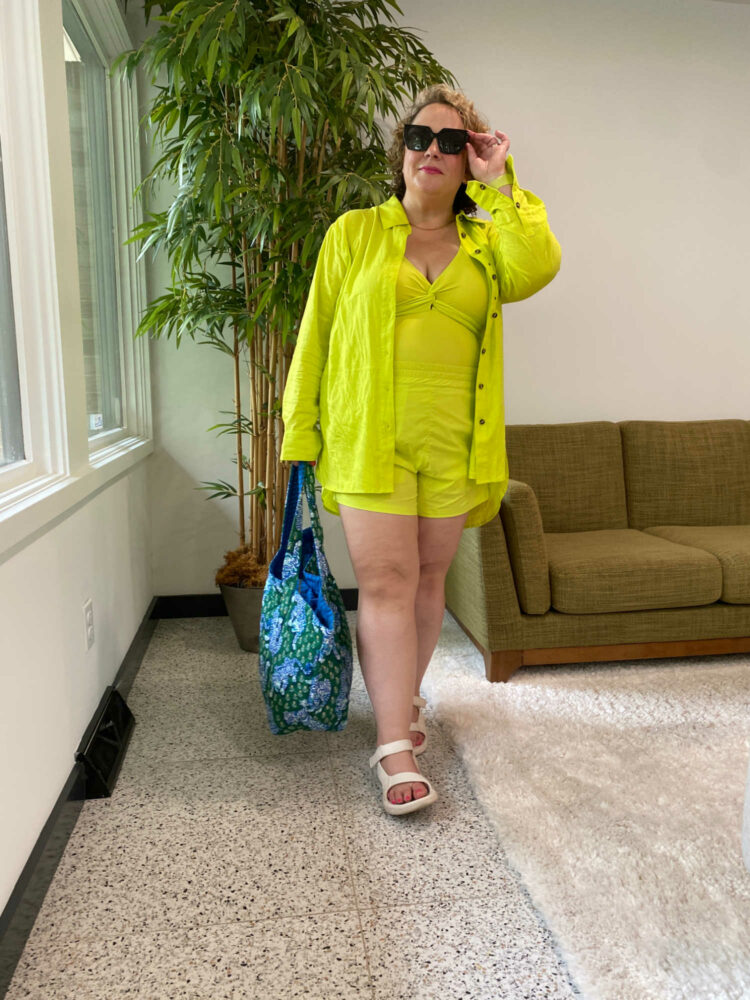 I bought a pair of the Sunny Swim Shorts in 2023 in the same size XS… and they do not fit the same. I think Universal Standard heard all the feedback about the shorts having too much volume in the belly area and creatd shorts that are the same fabric, same design, but are a hair shorter and a bit trimmer of a fit. My 2023 Sunny Swim Shorts have a 4″ inseam and I wish I sized up to S.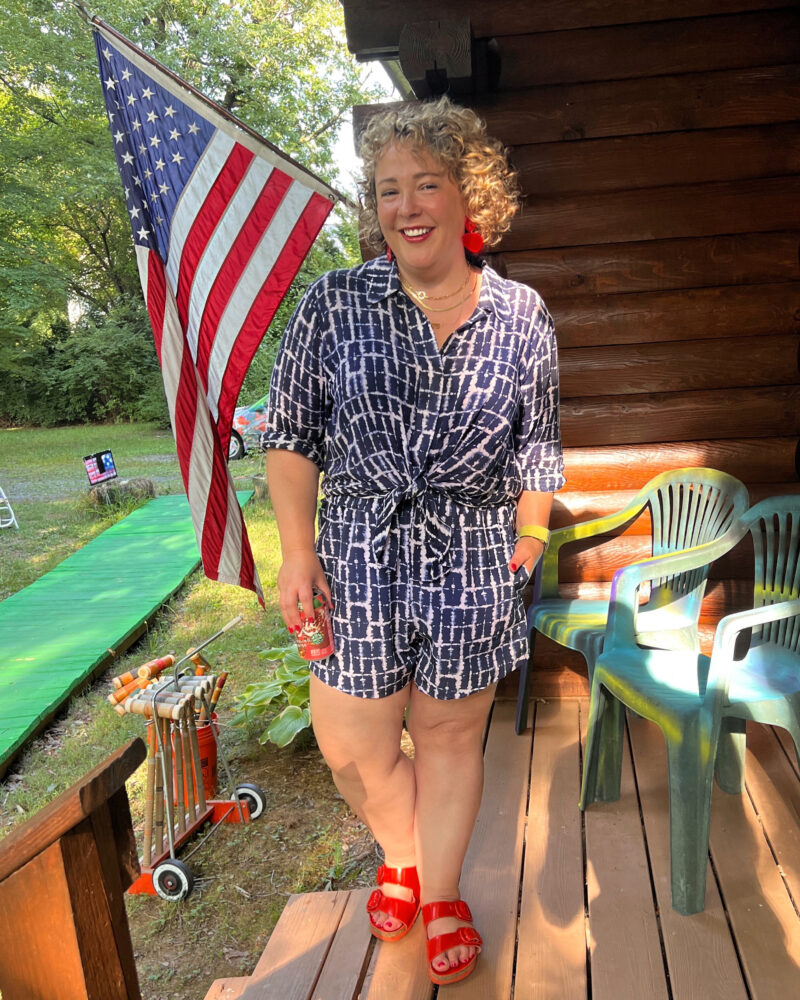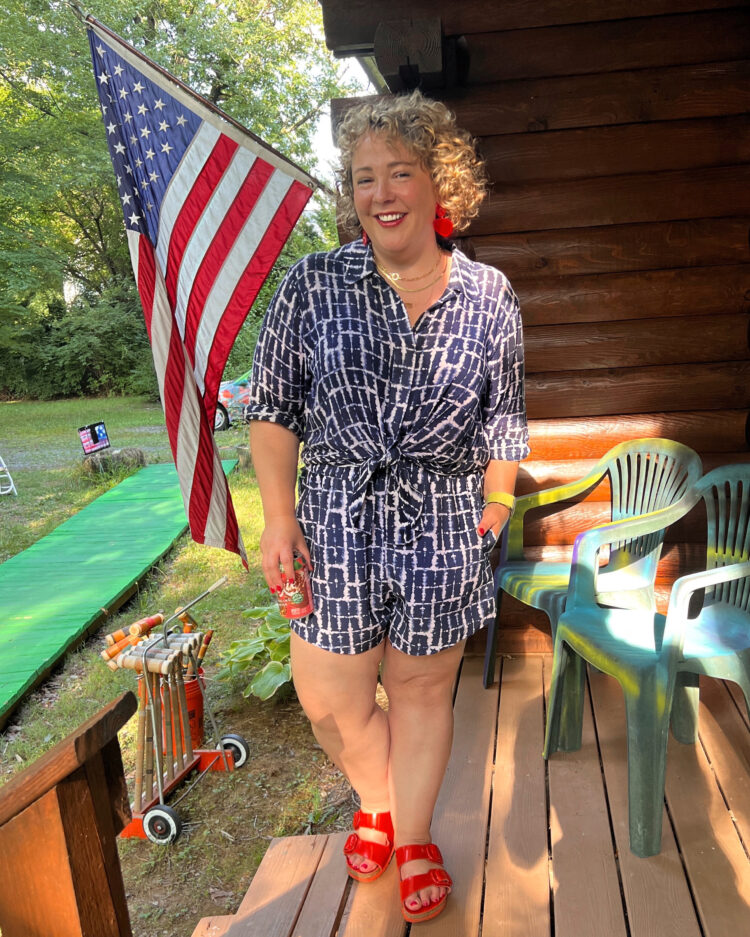 I bought a pair of the Sunny Day Shorts in the Shibori print and sized up to Small. I was glad, as this size fits more like the older version of the Sunny Swim Shorts.
The Sunny Swim Shorts are currently on final sale and severely discounted. I didn't realize this until updating this active shorts review. It inspired me to purchase three pairs in size Small – another pair of the Bright Melon which you see above (and I no longer wear because the fit is snug), the green, and the coral color. I live in these shorts, whether it's for travel, fitness, water activities, or just lounging at home.
But Are The Sunny Swim Shorts Flattering?
I have spent most of my life trying to find clothes that are flattering… meaning clothes that make me look thinner, firmer, taller. And these shorts do not do any of those things. However, these shorts perform. These shorts let me climb in and out of a kayak without thinking I'm going to bust a seam, and if I get sopping wet, I don't have neoprene or jersey or ponte sticking to my skin and chafing me. They are also heavy enough that if they get sweaty, they don't show a sweat stain on my rear or cling to me showing every curve, lump, and bump.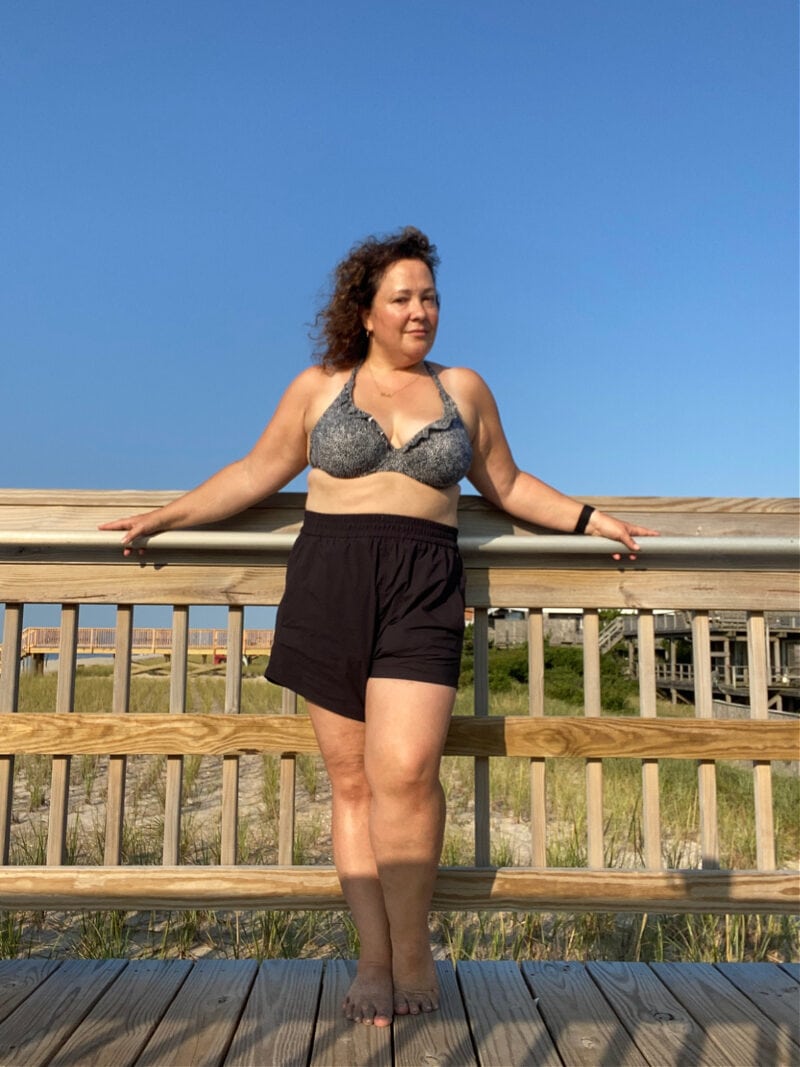 I can wear whatever undergarments underneath that make me feel great. I've even worn a pair of slipshorts underneath to offer additional modesty and chafe protection and it looks athletic, not weird. I've worn them when I am closer to a 12, and when I am closer to a 16 and they fit, function, and are comfortable.
Essentially, these shorts let me live life without thinking about what I am wearing. And when you're a certain age and/or a certain size that ability with clothing isn't easy to come by. They may not be "flattering" but as I get older, I realize that what is flattering is me living life to its fullest, not shifting and adjusting and feeling awkward.
The most stylish thing you can wear is confidence, and the reason I have worn these shorts so much is because they allow me to feel confident in situations where it's easy to feel otherwise.