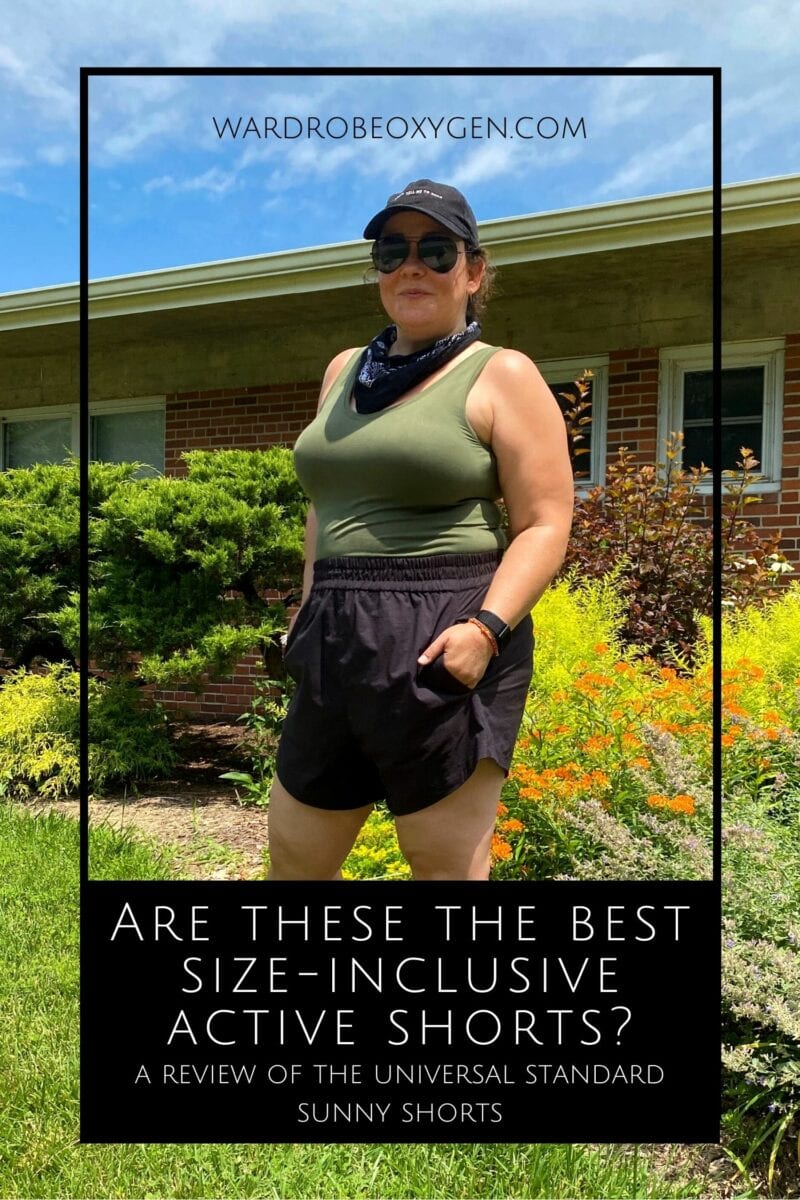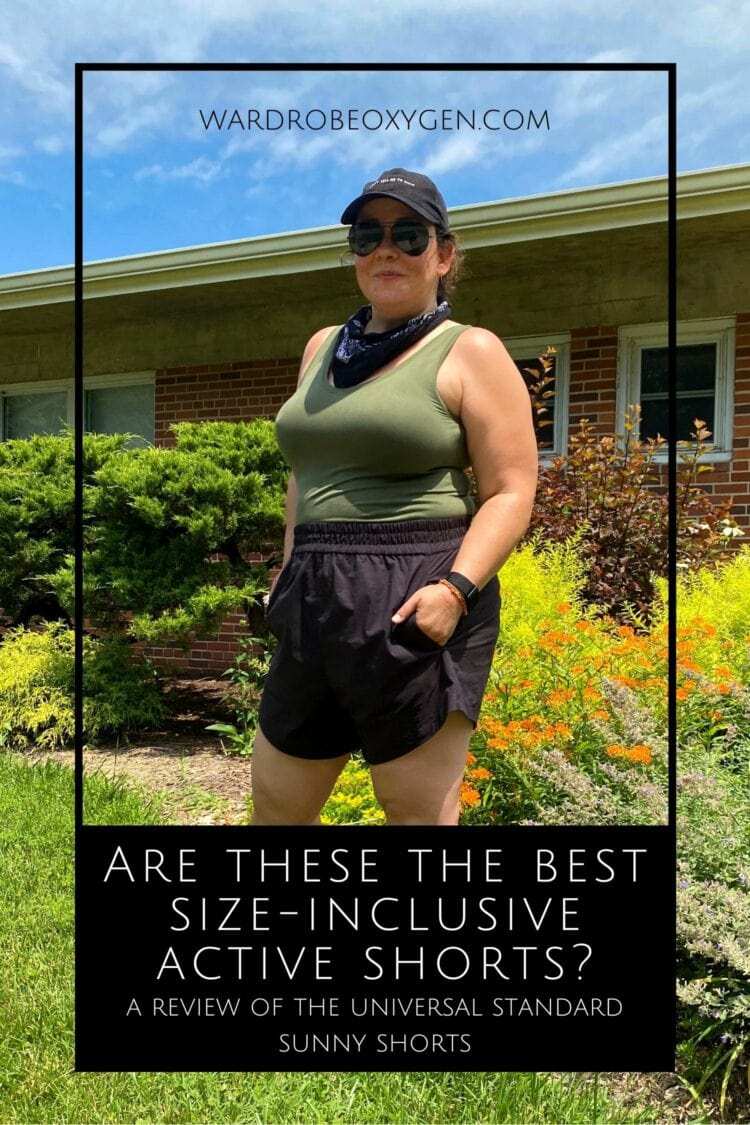 Universal Standard reached out recently and asked if I would like to try out their new Sunny Swim Shorts. This was for an Instagram campaign (seen here). I know many like a bit more coverage with their swimwear and said yes so I could provide a thorough and honest review. What I realized when I received my two pairs is that these may be good swim shorts, but they are, in my opinion, the best size-inclusive active shorts. I decided to write an unpaid honest review of them.
Why Are These the Best Size-Inclusive Active Shorts?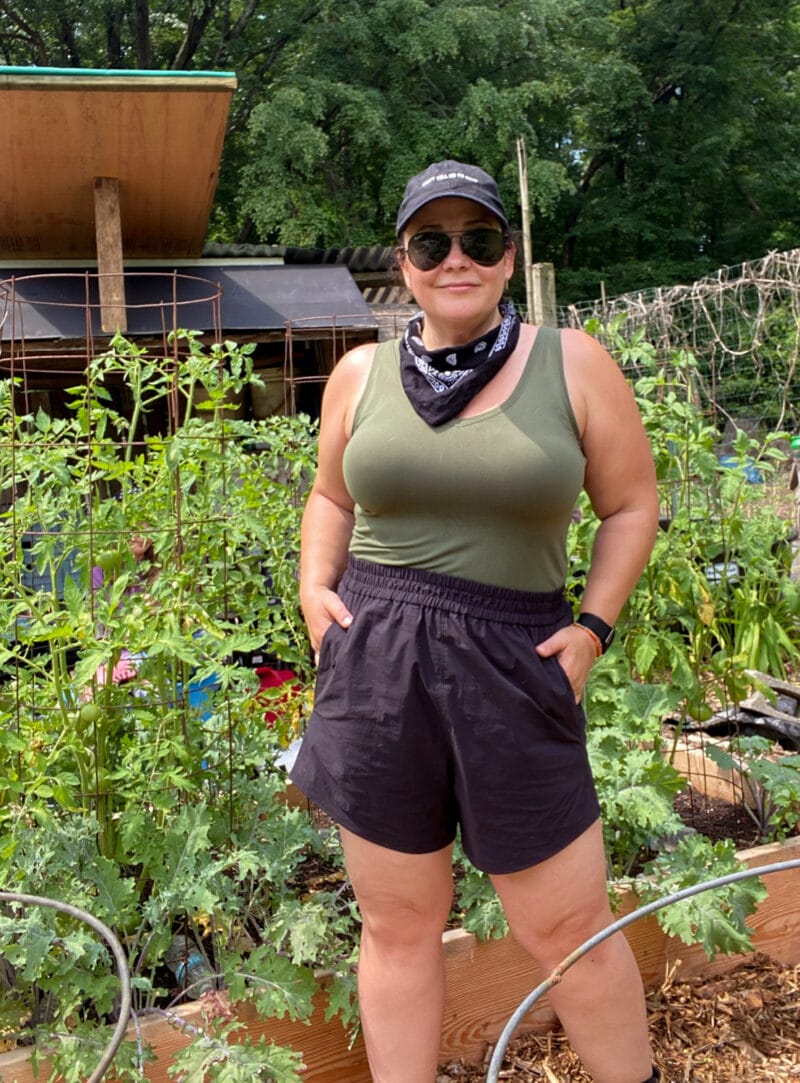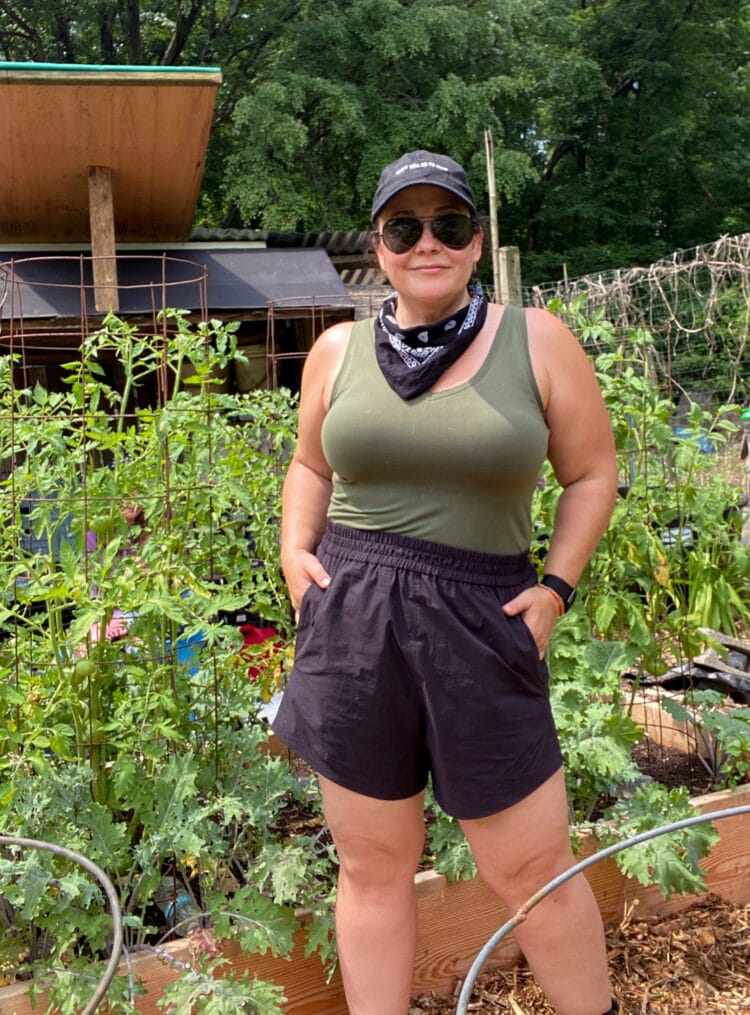 As a soft curvy woman, it's hard to find size-inclusive activewear that doesn't just fit but actually performs and works with, not against your body. These shorts really impress me not because they're full of high-tech details, but because of the little details other brands usually don't even think about.
The waistband is wide and the elastic isn't floating. This means that the waistband won't fold over, and the elastic won't twist around and get weird with wear. These are shorts I found that when I pulled on, they stayed in place on the waist, even when I dove into the pool and pulled myself back out!
The inner thigh inseam is longer. This means that the shorts are less likely to ride up when walking, causing you to have a better chance for chub rub AKA thigh chafing.
The pockets are deep. Yes, you can put your iPhone Max in your pocket and it won't fall out!
The fabric is quick-drying. I wore these in the pool, took them off, lay them in the sun and in less than 15 minutes they were bone dry. I found when wearing for sweaty occasions, they didn't stay damp and kept me feeling cool.
They're shaped for curves. The curved seam above the rear, the angled hemline, the entire shape and the stretchy crepe-like fabric works with, not against curves letting you move and be as active as you like.
There is no liner or panty. While a built-in liner or panty may seem like a benefit, it makes fit all the harder, especially if you have soft curves or a long torso. The seam down the center is sewn flat, the other seams are traditional seams so you can choose how to use these shorts.
I am 5'3″ tall and usually wear a size 14 or XL in apparel. In the Universal Standard Sunny Shorts, I am wearing a size XS which is my size with Universal Standard 99% of the time. I think this is the perfect size. These shorts are high rise on me, and there is room between my body and the short's crotch, which is normal for me and my petite self. However, I didn't find this to cause chub rub. The shorts are super comfortable, even when it gets hot. My shorts in size XS have a 4.5″ inseam.
Testing Out the Universal Standard Sunny Shorts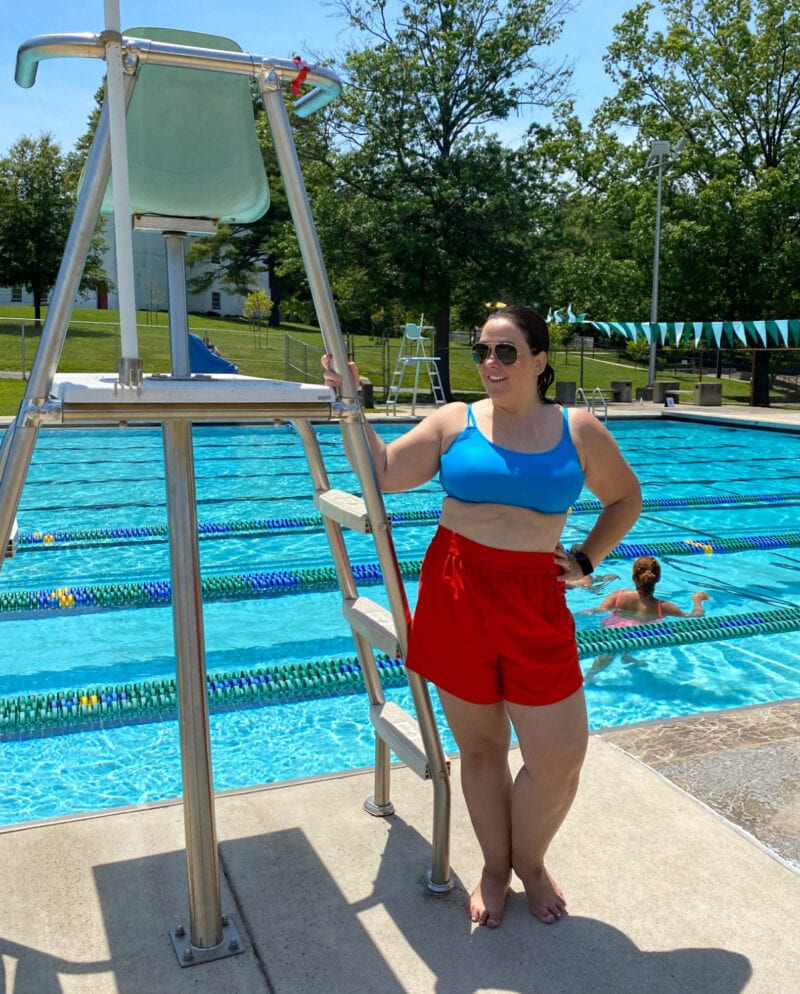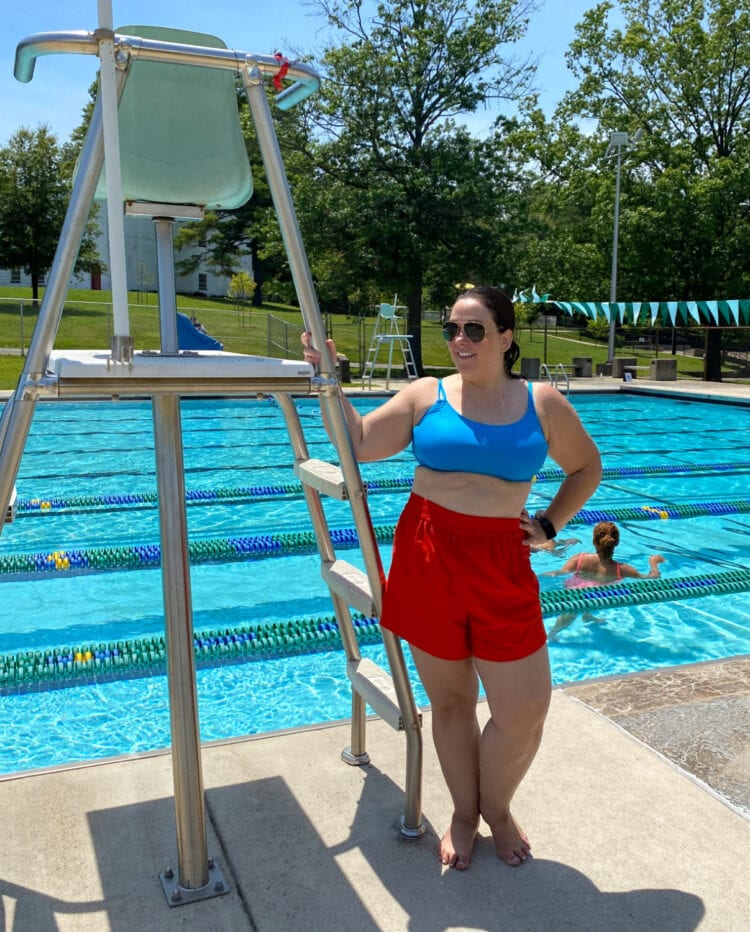 To test these shorts, I wore them to the pool. I dove into the pool hauled myself out of the pool not using the ladder, and jumped back in. I did somersaults and the breaststroke and even a few in-pool handstands to test them out. If you have ever worn board shorts or trunks in a pool, these perform the same. The fabric is a crepe-like finish with a subtle stretch. When you jump in they will balloon like any loose garment in a pool. I didn't find the elastic waist to shift at all with my movement in or out of the pool, the shorts wet or dry.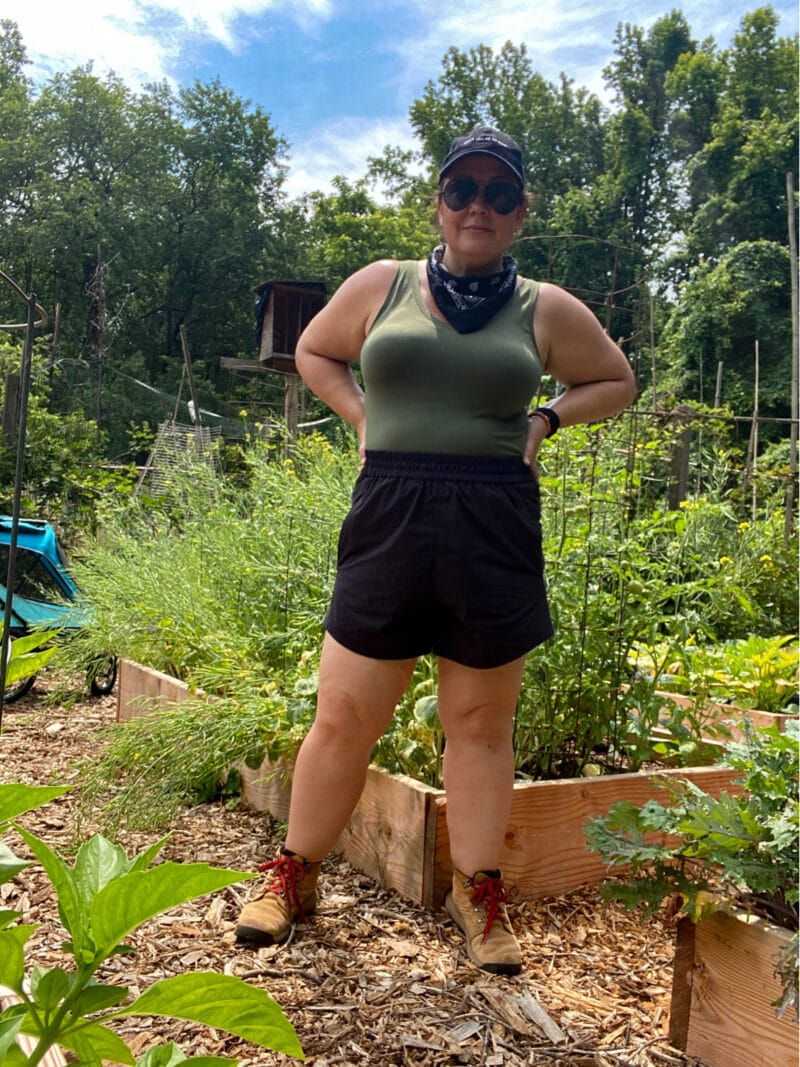 I also wore these shorts from Universal Standard to our plot at the community garden on an incredibly hot and muggy day. Sweat was running down my back and legs, my vision was blurred by sweat, it was one of those days where all clothes feel oppressive and the idea of skin touching skin (and rubbing against itself) is utter torture. These shorts did not ride up, even when I got sweaty. I walked a few blocks to and from the garden plot too, and I think through the whole two hours, I only pulled down one leg once and that was after doing the equivalent of a lunge to reach some weeds.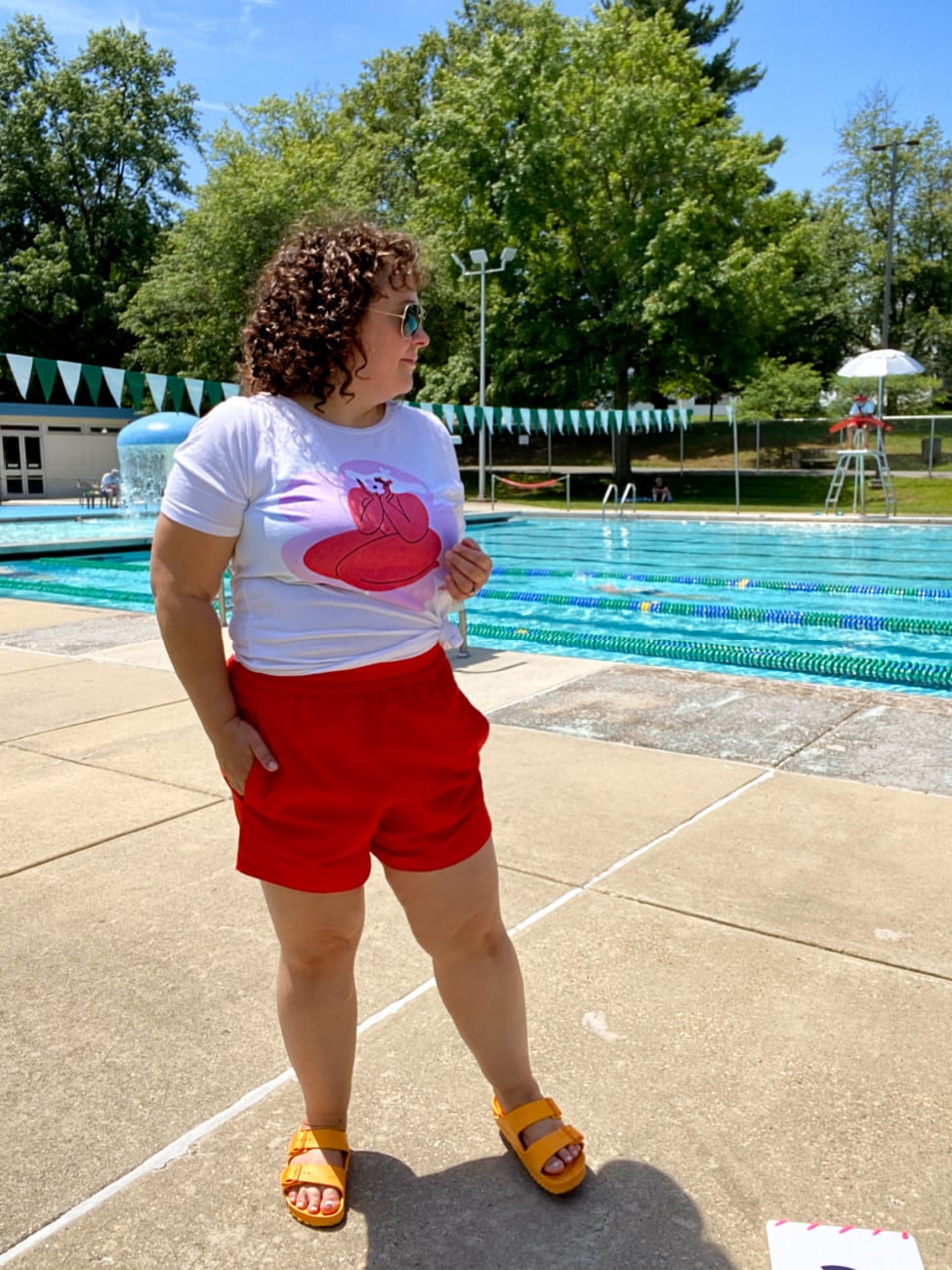 I wore these shorts for an hour-long walk around my neighborhood. Even huffing and puffing up the highest hills in town, the shorts stayed in place. For comfort, I found a belt bag (I used this one from Girlfriend Collective) was better than having items in my pockets. But I didn't have the shorts ride up the entire time.
Universal Standard Sunny Shorts Review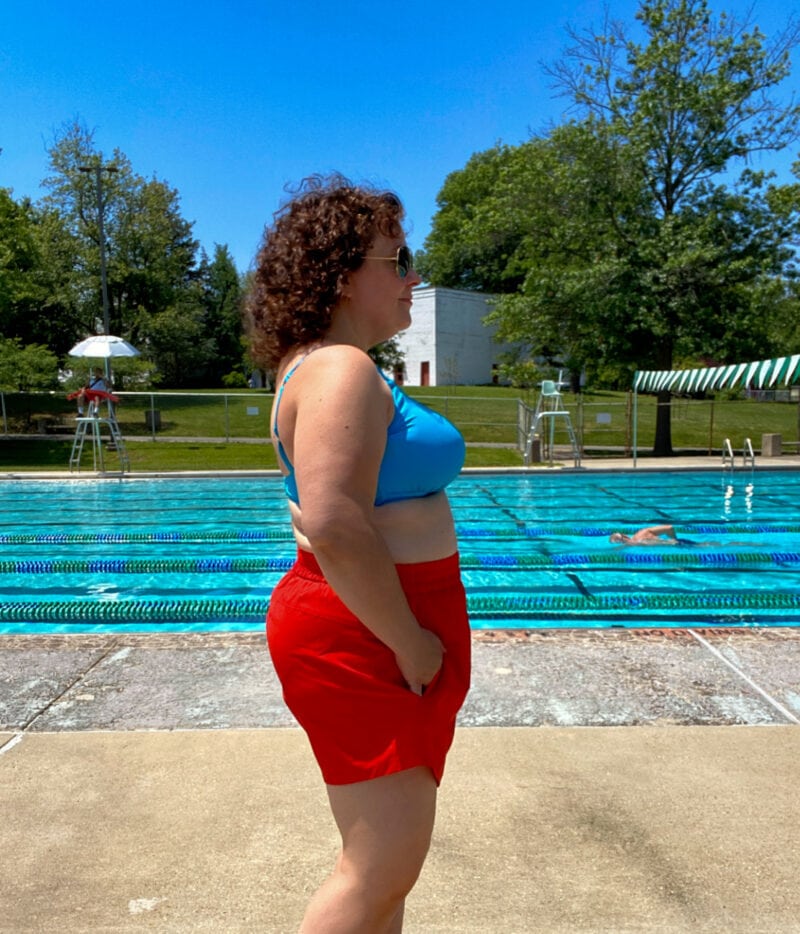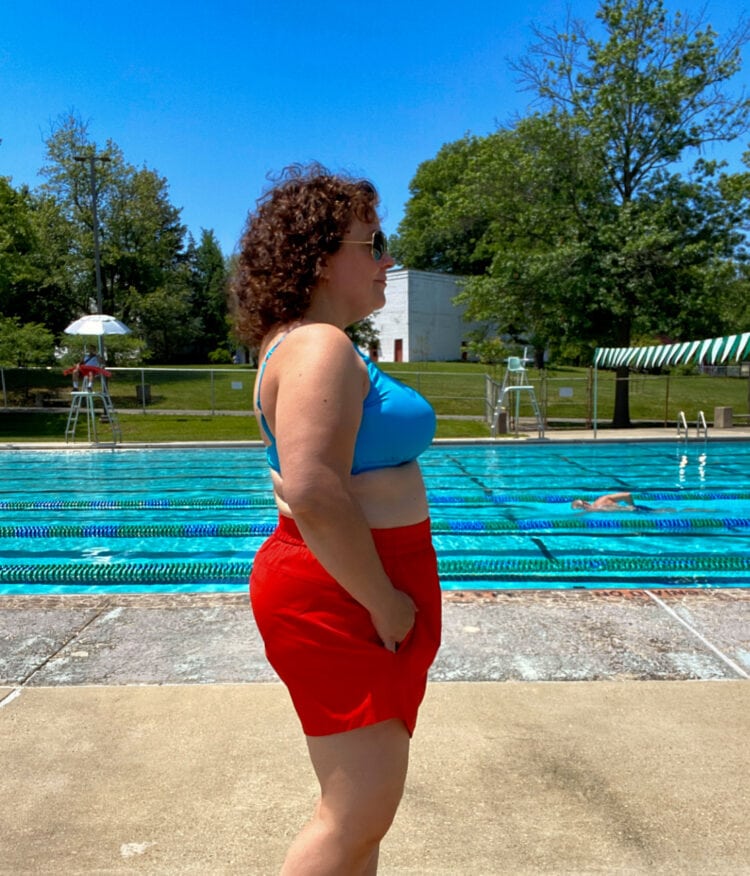 The Universal Standard Sunny shorts have front pockets and they are deep enough that you can put your iPhone Max in one and walk several blocks to the garden and it won't fall out or hinder your movement. I found that the weight of the phone caused the pocket to drop lower than the shorts' hemline and peek out. However, the weight did not cause the shorts' waistband to droop.
I have thrown them in the washer and the dryer and they feel, look, and perform like new. I plan to pack these shorts for all my summer getaways (did you see I featured them in my summer getaway capsule wardrobe?) and also use them for all my summer activities. I think these are perfect shorts for kayaking, canoeing, going to the water park (don't want to go into the wave pool but want to dry quickly after the log flume), and any other activity where you're moving, may get wet, but want to remain comfortable and look cute.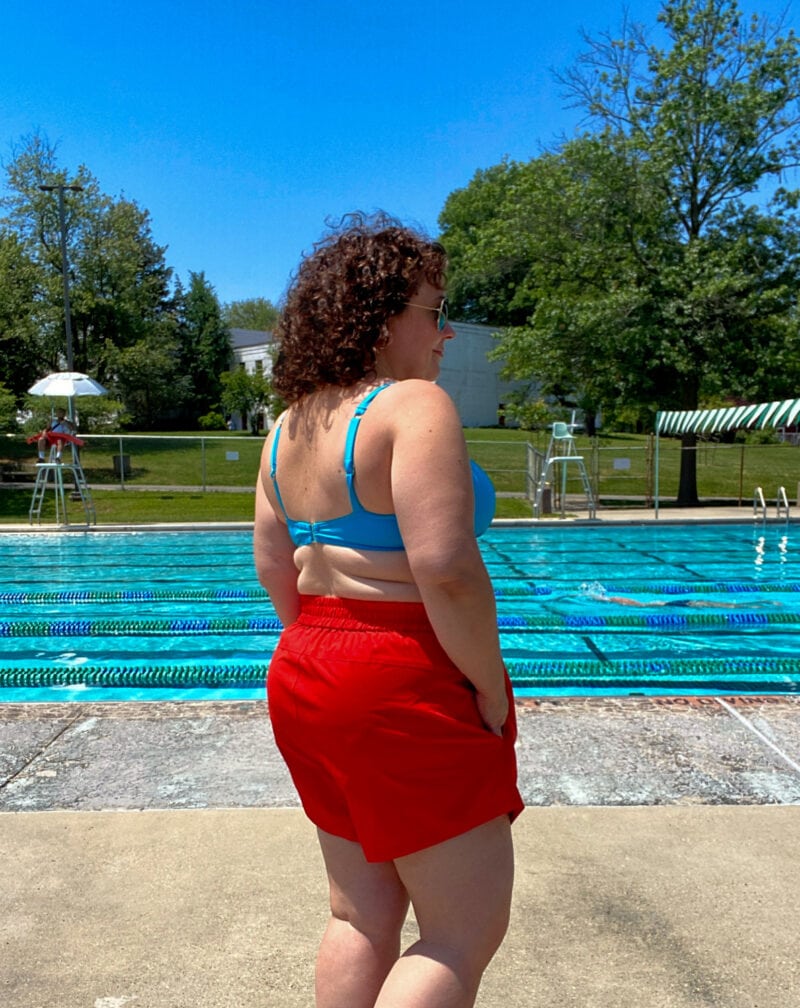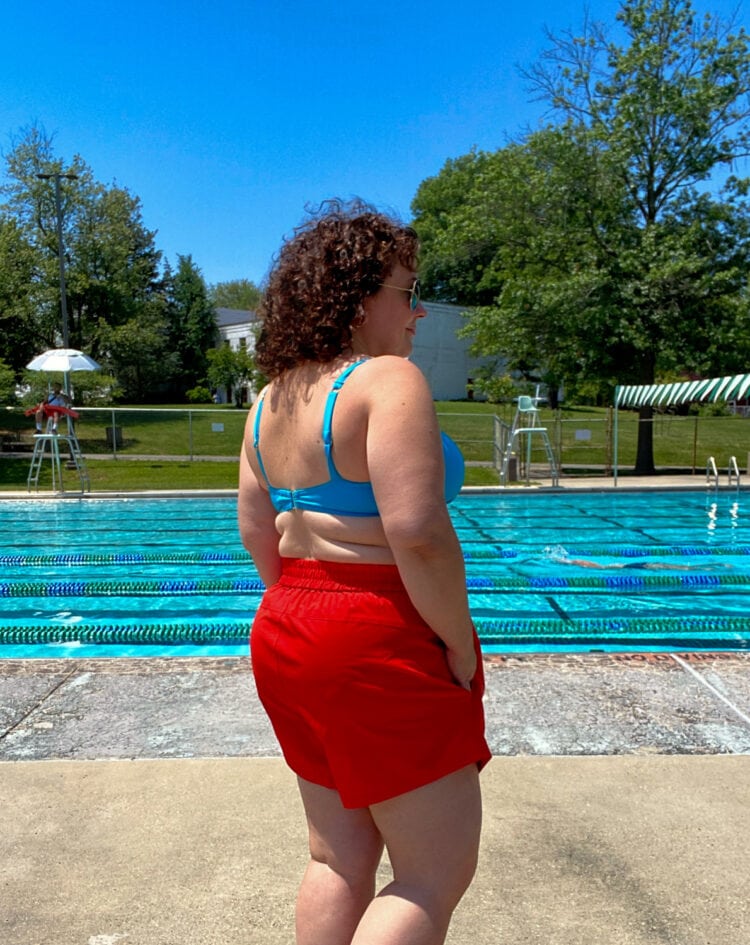 I love finding a pair of active apparel that not only looks good but performs well. And to find it available in sizes 00-40 is a rarity. I'm lowkey obsessed with my Universal Standard Sunny Swim Shorts, not for swim, but for all my other summer activities. I'm so glad Universal Standard invited me to try them for an Instagram post (seen here) because otherwise, I may not have tried them, and I surely wouldn't have come here to give my glowing (yet honest and unpaid) review of these awesome size-inclusive active shorts!
Universal Standard Promo Code (and an Andie Swim Promo Code)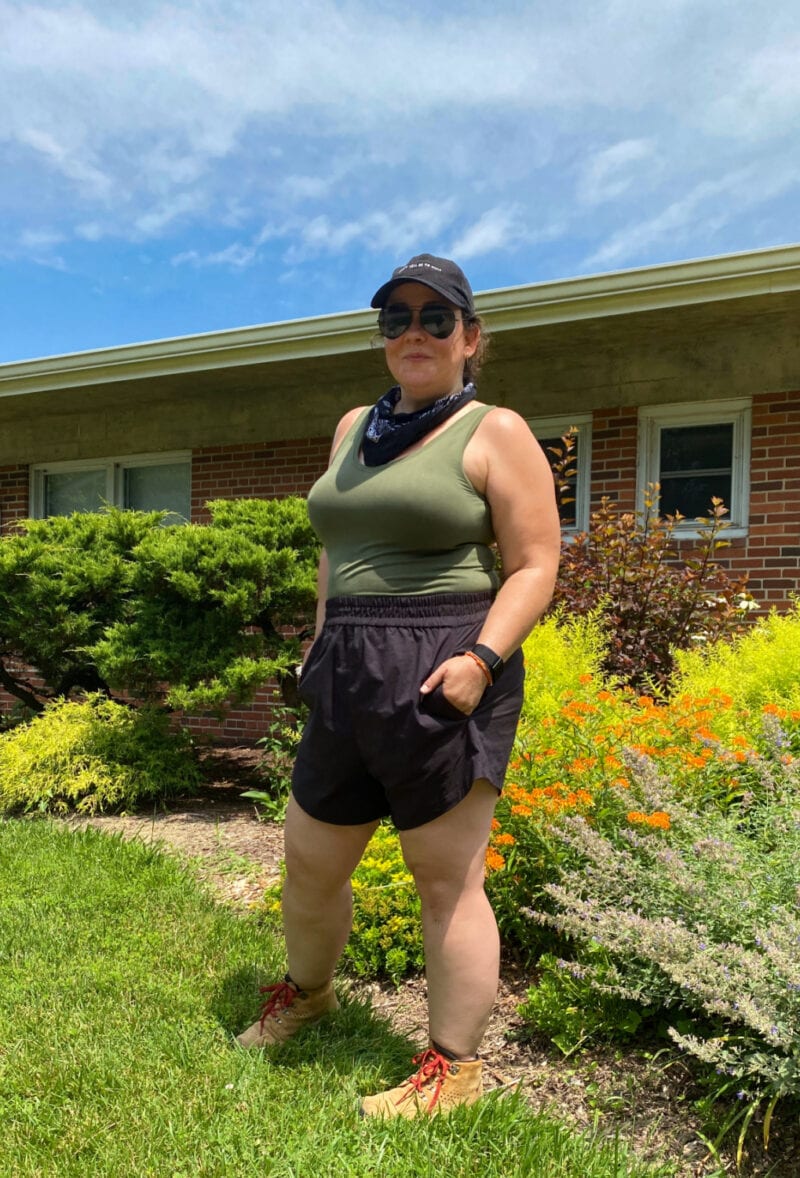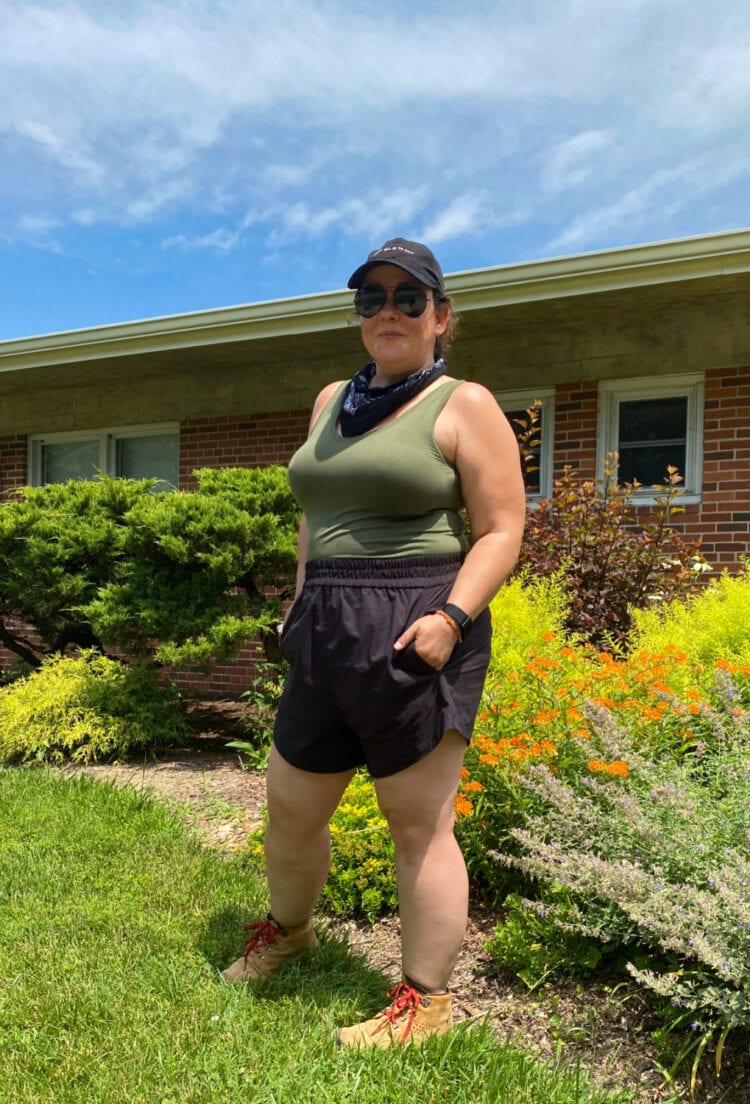 Universal Standard is collaborating with Andie Swim to promote their new Sunny Swim Shorts. The promo code USxAndie15 will give you 15% off at Universal Standard as well as 15% off the Best Sellers collection on the Andie website.
Andie Swim offers one- and two-piece swim pieces in sizes XS/2 through XXXL/24-26. Andie also offers a long torso option; if you are over 30″ from shoulder to crotch or 5'8″ or taller, or if you have a belly you might prefer the long torso fit. ​​ Here is the Andie Swim fit guide; they also have a fit quiz and offer free fit consultations.
For full disclosure, I also received this suit in XL from Andie for the Instagram campaign. I didn't wear it because it does not work with my body. While nice quality, this suit is lightweight, the cups are not designed for larger than a firm D chest, and the straps are far too thin and stretchy to offer support. The bottom did not fit my belly and rear and gave me a wedgie and I spilled out of the front of the leg openings. This would be a good suit for a straighter body or a younger/firmer body.
Shop the Post: