This article may contain affiliate links; if you click on a shopping link and make a purchase I may receive a commission. As an Amazon Associate, I earn from qualifying purchases. 
Sorry for being MIA, I had a mini-Staycation and tried to stay as much offline as possible. The Staycation (Friday through Tuesday) wasn't super exciting, but it was just what the doctor ordered!
My goals for the time off were to stay in track with Weight Watchers, move my body every day (at least a good walk), and to get myself a bit organized. I had things I needed to return to Ann Taylor, Ann Taylor LOFT and Nordstrom; I wanted to hit a mall to get a replacement Shu Eumura lash curler and some new mascara (had a store credit to Sephora burning a hole in my wallet), wanted to go lingerie shopping if time allowed. I also hoped to get at least one project completed around the house (paint a bookcase or rocking chair, hang a new piece of art I bought in Rehoboth, try out the bookcase currently in the office as a media cabinet in the living room).
I can't even remember what I did on Friday, though believe it wasn't anything too exciting. Think a nap was involved and watching a bit of Days of Our Lives! I do know I took a long walk with Emerson in the morning, and we played at a playground for a long while. That night, my husband grilled salmon and we invited my sister over for dinner. I do know I packed up my returns to Nordstrom and hit up USPS.com for a porch pickup the next day.
Saturday, another day where I don't really remember what I did. Know I went for a long walk with the family and another with just Emerson, scrubbed a toilet and a bathtub, did some laundry. My husband and I hung the new art piece in the kitchen. That night we had four friends over and my husband cooked ribs. On his way to the market for the meat, he bumped into one of our neighbors. This guy has two smokers in his back yard. He came over while my husband was at the market and gave us a big bag of his homemade dry rub mixture, a big bag of hickory chips, and his old cast iron smoker box that he used to use prior to owning smokers. That smoker box looks like an antique and as though it was well used and loved. Such a sweet gesture! This is why I love living in a small town – I know my neighbors, they know us, we really are a community. In fact, my husband was gone over an hour even though the market is three blocks away because he got into so many conversations with neighbors!
Saturday night was awesome – it was some of our very dearest friends (front porch friends a la HIMYM). We didn't do much that was exciting – Emerson was down for the night, we had a couple drinks and sat around and talked. The guys went outside to grill and chat, us women sat inside and caught up with one another. The food was fabulous. One of our friends recently went to Spain for the Running of the Bulls and he hooked up his camera to our TV to show us pictures. It was a moment where I felt, "I have become my parents." I thought of their generation when they would have friends over, share slides from a recent vacation while sipping a glass of Scotch. We were doing the 2010 version with a digital camera hooked up to a flatscreen, while drinking a microbrew. It wasn't depressing to realize I had become my parents, it was funny and it was nice. To spend this evening in my home with my dear friends, sharing our lives, my baby upstairs happily asleep… it was fabulous. I couldn't imagine a better way to spend my Saturday night.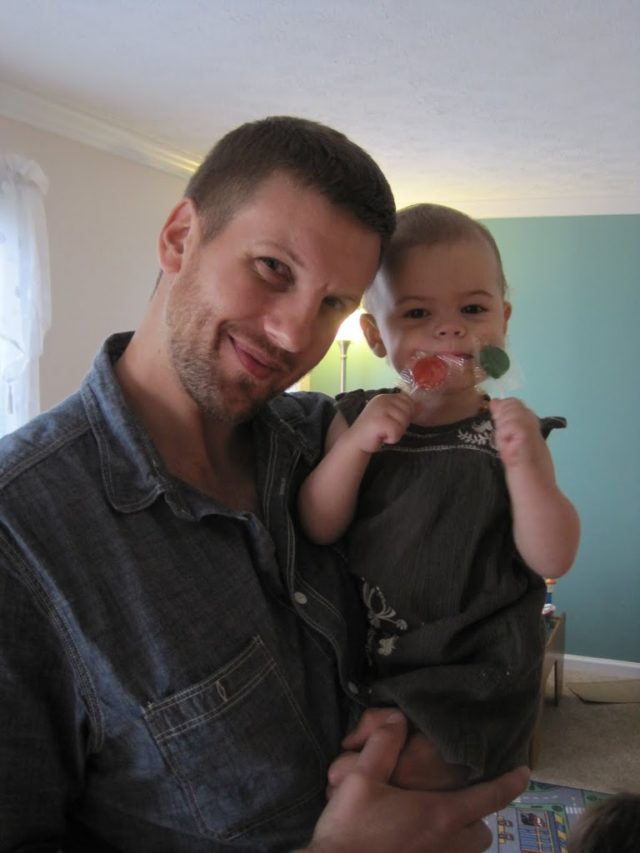 Love that Emerson is young enough to find lollipops pretty but not something to actually consume!
Sunday, we went to my husband's relative's house for a family get-together and to celebrate his uncle's 60th birthday. I wore my purple Gap dress (it's an easy go-to outfit) and Emerson wore her gray embroidered Gap dress. Gosh even my husband wore a Gap shirt – talk about brand loyalty! It was a nice day – the relatives who hosted we haven't seen in years and they have a daughter who is 3 and totally fell in love with Emerson. She kept giving her tours of the house, talking to her, teaching her things. Emerson's cousins who are 3 and 5 were also there, as well as another relative who is almost 6. The house was full of fun toys and Emerson really enjoyed her time there. We came home and took a long walk together.
Monday, I had a dentist appointment at noon, which really cut up the day. We were hoping to do a field trip to Calvert Cliffs as a family. We figured we would hit the mall once Emerson got up from her nap, but she slept until almost 4pm! Instead, we hung out at home and got our exercise with a morning walk and playground time, and an evening hike in the Ergo carrier.
Yesterday, we hit the mall (striped Ann Taylor scoop tee and NYDJ dark narrow jeans and brown croco Sofft sandals). We returned an item to Crate and Barrel that we received as an anniversary gift but don't need, my husband got some tea at Teavana, I returned items to Ann Taylor LOFT, and we hit up Sephora. My husband actually likes Sephora – he likes having a variety of colognes, and cares about his skin. I had a store credit from returned Christmas presents so it was a fun Sephora shopping trip. I got two travel sizes of DiorShow mascara, a full sized tube, Tarte's Indellible Wink in black (love the plum), and a new Shu Eumura lash curler (did you know these will soon be unavailable in the US? Only available in Canada and overseas. If you want one, get it while you can!). My husband got Yves Saint L'aurent Por Homme and a Clinique for Men bar soap that he really likes. I really wanted to find some new lip colors, but Emerson was letting me know that though her parents love the store, she was not a fan. We then chose to walk to the nearby strip mall (all about moving the body) instead of driving, and hit up Trader Joe's. Their fish is so cheap compared to wild caught we can get at our local market or the farmer's market so we stocked up. We also got sushi for our lunch and freeze-dried fruit for Emerson as snacks (freeze dried fruit isn't as sugary as regular dried fruit, isn't as messy, and Emerson adores it. Great to have in the bag when on the road longer than expected, for snacks when out & about, etc.).
We got home and Emerson was ready for her nap. My husband and I opened a bottle of wine and ate our sushi at the coffee table, kneeling on the floor. We watched the Glenn Miller Story on OnDemand and then had a nice nap until Emerson woke. My husband had to teach yoga, so Emerson and I went to the playground for a while, then came home for dinner, some quiet play, bath, and bed. I marinated some of the tuna steaks we got at TJ's, grilled it up with some asparagus, paired it with leftover salad from Monday's lunch and we had a nice light dinner.
Even the night of ribs, I stayed on track with Weight Watchers. Days when I knew I would have ribs or beer, I had a low-points lunch and breakfast. I didn't do any exercise videos or hit the gym, but every day I walked for at least 30 minutes (usually more). I filled the fridge with things that are WW-friendly and brought home my beloved Camelbak water bottle and toted it around everywhere. I have no clue if I have removed weight this week, but it felt good.
And I have a produce review! Lately I have had a MAJOR issue with my contact lenses. It seems that with the slightest bit of sweat or a watery eye, I am suddenly blinded with makeup. I will take out my contact and see the lens is coated and smeary and the makeup will NOT come off. For a long time I thought it was my mascara, then I thought it was my concealer. Well I think now it may be the Almay foundation that I heart so much. So I decided to try something else.
Max Factor Pan-Stik Foundation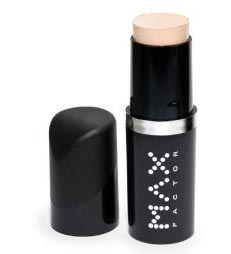 I was $7 away from free shipping with Drugstore.com (I totally love drugstore.com, and love it even more that I get 6% cash back with Ebates). I decided to see what drugstore-brand foundation got the best reviews. And it seemed that people were mondo fans of Max Factor's Pan-Stik foundation. I also saw it was being discontinued. I am FAMOUS for falling in love with discontinued makeup, and I thought… I bet I will like this stuff. I am not brand-loyal with foundation – I am always switching so I wouldn't be heartbroken if I couldn't get a replacement when this ran out. And for $8.49 I figured… what the heck.
I ordered the Max Factor Pan-Stik in Medium, thinking it looked the most like my summer skin tone. I read the reviews and saw some people apply straight from the tube, some use a moist sponge, some dab, some brush… it seemed pretty versatile. I already own a foundation brush and sponges, so I figured I could try a variety of application methods.
The Medium is perfect for my skintone – seriously, this stuff blends in almost as well as the Almay True-Match. The product comes in a stick like a giant concealer (or like Nars The Multiple), but has a creamy consistency that blends nicely. Reminds me a lot of MAC XXX in consistency. I first tried it with a damp cosmetic sponge and that gave a nice sheer finish like a tinted moisturizer. I was them able to dab the product over to give stronger coverage for spot treatment. The next time, I tried the product by dabbing on the face and then blending with fingers. Again, it did a great job and blended nicely without looking obvious. I never did the brush because I think the product is too thick for that method.
I like this product for summer. I do wear sunscreen daily, but still end up getting some color. The Max Factor Pan-Stik is great for spot coverage or all-over sheer coverage. Just that bit to even the skintone, cover the bumps, but let the natural color and freckles show. The only thing is that it isn't as long wearing as my Almay – this will come off faster when sweating, but is excellent for casual or office wear. The quality of Max Factor's Pan-Stik is that of department store brands – no cloying scent, no weird greenish or orangey tone. The packaging is great – the cap snaps on securely so no mess in the purse or cosmetic bag.
I am not sure if this has resolved my contact lens issue, but it seems to have been reduced. So it doesn't seem to be that all makeup is going into my eyes, just that certain makeup seems to go in the eyes more easily and stick more than others.
I used to wear a lot of Max Factor back in college – their 3000 Calorie mascara was a must-have for me. Over time, I stopped using them. The brand was not always found in my local stores, and there's far more hype and advertising with other brands (and really, when it comes to drugstore impulse buys, it often is because of an ad seen on TV or in the magazine). However I can see why Max Factor has a cult following and why so many people are upset to find it won't be available in the States for much longer. I hate to recommend this product as that it won't be available much longer, but it is a nice product that can rival many of the higher-end cosmetics out there.